Our First Visit to Star Wars Galaxy's Edge at Disney's Hollywood Studios
In case you missed it… you can read about all my excitement in scoring our spots at the Annual Passholder Preview Event at Galaxy's Edge AND see the video when we surprised the kids with our trip here!
Disney did a fantastic job managing the preview event.
We were able to sign up for a set time slot for our access to Galaxy's Edge.
Our time slot was from 9 am until 1 pm but we decided to still get to the park nice and early.
I had seen online that the preview event was still a large chunk of people and I didn't want to be stuck in some line or large mass of people when our event time started.
It worked out so perfectly that we had the first time slot of the day! We got into the park and headed to the area.
We didn't have breakfast OR even fix the girls hair and planned to do both while we waited but barely had time because they ended up opening for our timeslot EARLY! Whoop whoop!
The feeling when we entered Batuu was so amazing. You could just FEEL the excitement from the crowd.
I totally started crying. Just thinking about how this was a moment that my kids will tell their kids about. An experience they will NEVER forget.
I was walking beside another lady who was wiping her eyes and I said "I know! It's emotional! I'm totally crying too"
And yall she looked at me like a crazy person and said "Um no I'm not crying, it's sweat"
Oh okay cool.
We followed the masses through Batuu and to the location of the first ride open in the area – Millennium Falcon Smuggler's Run.
It was another awesome moment seeing all of the cast members lined up greeting us.
All of our first impression when walking through Batuu was that it was SO WELL DONE and just AMAZING.
It was a genius move by Disney to NOT base the land off of any already known area from Star Wars.
Star Wars fans get HARDCORE and if any details weren't done "just right" then people would be upset. So by basing Batuu of off Star Wars ideas and concepts rather than "actualities" they had more freedom to be creative and imaginative while still sticking to the theme.
The kids were beyond thrilled and just truly in awe and Britt kept saying "I can't believe we are HERE."
We had little to no wait for Smuggler's Run. (Posted time was 20 minutes I think?).
We didn't mind walking through the line to see all the awesome details.
This ride groups people together in groups of 6 and since we had 5 people it worked out great for us to just get to ride JUST our crew!
We are working through watching all the Star Wars movies and it's INSANE how WELL DETAILED Disney made the Millennium Falcon. It's perfection. Truly.
Zach's favorite detail is the sound when you walk through the halls. Exact clanking sound from the movies!
While waiting to board, a cast member hands out cards to each group and while you wait you have to decide who gets which job for the ride.
RIDE TIP: There are two of each job and the pilot positions are the most involved roles, followed by the gunners and lastly the engineer.
The pilots legit drive the ride. So the first time we rode it, Zach was the main pilot. I was an engineer which is located in the back of the ride (if you get motion sick…be the engineer) and I didn't feel sick at all with Zach as the pilot.
The girls were the gunners and it'd the second best view of the ride and second most hands on.
The gunners and engineers both do the same type of task – push a button every time it lights up. Very simple and easy and it's totally possible to pay attention to the ride while completing your task.
We all agreed – the ride is INCREDIBLE!!!
As we left the line was 55 minutes. We felt so thankful to have the experience to literally just walk on Smuggler's Run!
We decided to walk back to the very start of Batuu and literally walk every single inch of the entire land.
We didn't want to miss a single thing and knew that this low of crowds were an opportunity that we may never have again!
I know I've totally said this already…but the details are AWESOME 🙂
I love that the merchandise in Galaxy's Edge does NOT say Star Wars on it. Everything is extremely well done and I wanted to buy all the things!
Every cast member was also very "in theme"
Every person we chatted with said "Bright Suns!" In reference to the multiple suns the planet of Batuu has.
(sidenote…in evening time they say "Rising Moons!")
They also call the bathrooms – refresh rooms. And yup, awesome details in there too!
Kye was IN HIS ZONE. Kid has such a wealth of Star Wars knowledge and loved pointing out details and explaining things to us.
The bottles of water and soda are also themed throughout Galaxy's Edge. $6 for a tiny bottle of Sprite…WORTH IT.
I am interested to see how long characters roam in the land freely.
It is SUPER cool to walk around and see some of your favorite characters hanging out…however I do prefer actual meet and greets.
I do not know if they are still doing meet and greets in Launch Bay or not but we saw the same characters you can meet there: Storm Troopers, Chewbacca, and Kylo Ren.
However, we also had several interactions WITH REY! We met her in Disneyland and it was amazing and so awesome to see her at Hollywood Studios!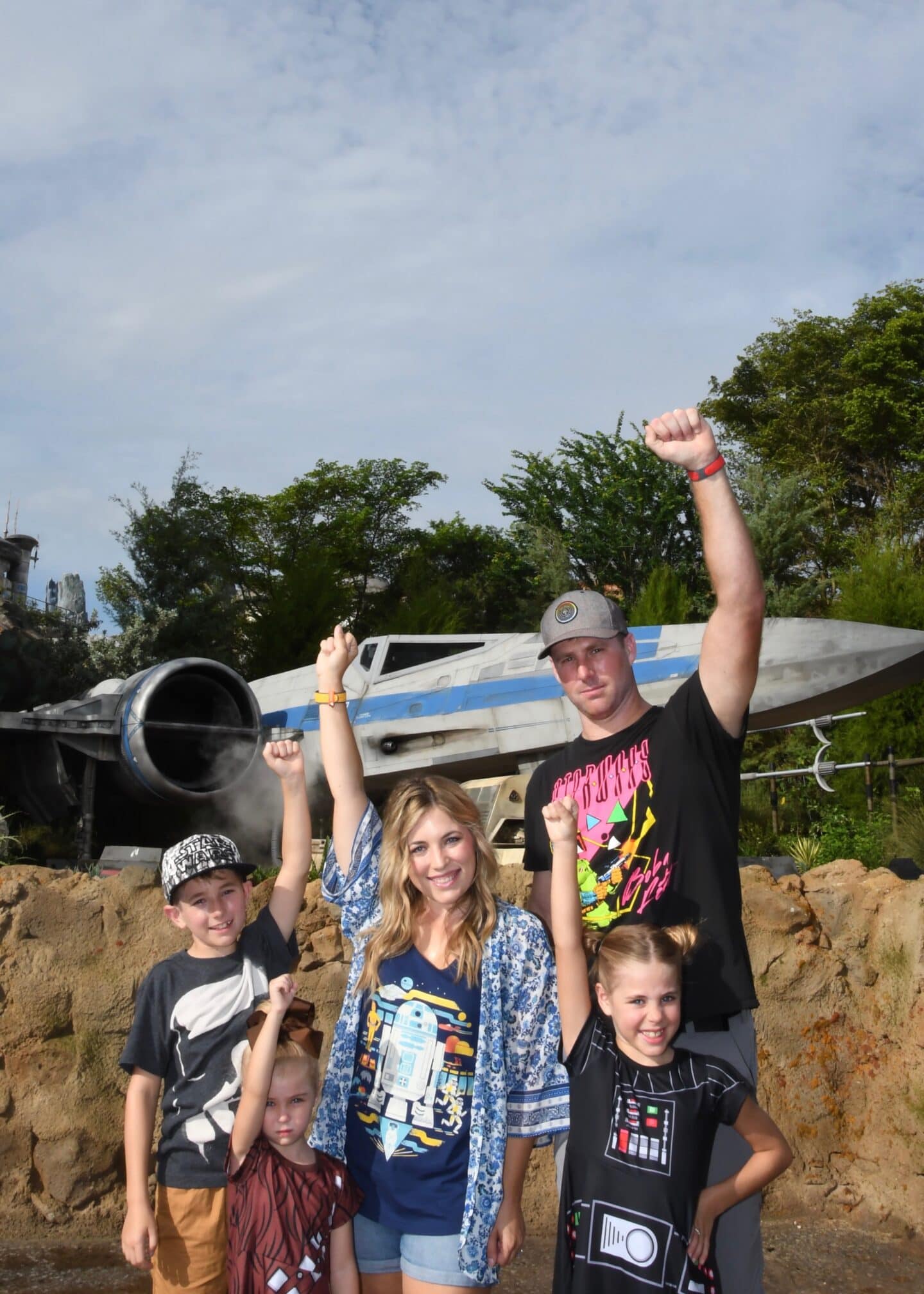 Britt was over the moon about seeing Rey and she was so sweet to pose for pictures for us!
The British accent girls united 😉
All the fun merchandise!
So cool how they have all the awesome vehicles on display throughout Batuu as well!
The marketplace area is so pretty and so inviting and we slowly made our way through every single little shop and mart and just soaked it all in!
If you visit Galaxy's Edge the photo pass spot inside the marketplace is SO pretty with great lighting!
I adore the precious stuffed animals but stayed strong in only buying a Christmas ornament and each kid got a special Batuu pin!
We headed over to another really cool area that is set up to be an artifact display area and I truly at first thought it was a type of Star Wars Museum or something but it's actually another gift shop location and where you can build your own super fancy lightsaber.
We stopped by the sit down quick service restaurant located in Galaxy's Edge – Docking Bay 7 Food and Cargo.
We had planned to eat there but looking at the menu we decided against it…the food looks WEIRD ha!
We then just headed back to Smuggler's Run to ride it again!
This time Kye was the main pilot and I said "YUP I AM DONE"
No more rides for me haha! I felt pretty sick after his driving!
I WILL ride it again in the future. I loved the ride and really was fine the first time around with Zach driving but whew that second time!
Another really fun detail is that when you use the Disney Play App you can decode the Batuu language seen all throughout the land!
This is the view of the Millennium Falcon from above the ride area.
Zach and the kids went to ride it a third time and I went back to the marketplace to get a snack and then headed back and snagged some solo pics in front of the Millennium 🙂
The popcorn is SO GOOD and with that themed Sprite? EPIC SNACK TIME ADVENTURE.
As part of our pass holder event we could also sign up to build a lightsaber or enjoy time at Oga's Cantina.
We opted for Oga's and went and got in line to enter the restaurant.
Oga's Cantina is not really a restaurant. If you've seen the movies…it's like those "bar" type places that the characters visit when trying to find someone.
Yes, Oga's does serve alcoholic beverages but they have some snack options as well as fun non-alcoholic ones too.
It is also group seating, or at least it was for our event. We had two couples sitting with us.
We ordered blue milk (comes with cookie!) and a cotton candy type thing that we thought was a drink but when it came it was a jello…and surprisingly good!
We let out our typical huge grown over the dang paper straws in the blue milk.
I mean it's MILK GUYS. How can you drink MILK with a PAPER STRAW? UGH.
It was hilarious bc one of the couples across from us heard our distain for the straws and started launching into all the environmental stuff and literally at that same moment Britt knocked over her ENTIRE cup of blue milk and it went everywhere on the table.
The couple got up real quick after that haha
The cast member took such great care of us and brought us another one and the milk is good but THAT COOKIE. AMAZZZZING.
We had a limit of 45 minutes in the area and had plenty of time to enjoy our treats and check everything out!
The girls loved embarrassing Kye with their dance moves and Britt wanted to get a pic of Daddy and Mommy snogging 😉
We went over to the Droid Depot and the kids decided to all pitch in $33 each to be able to build a droid to share.
They are $99 which is expensive but also not that expensive considering the Sephro droids are $150.
We had a long wait and Zach was not very happy about it but once it was our turn he was more into it!
They say that it's a limit of 2 people to build the droid but we just kinda all went and did it and no one said anything so it worked out great to all be part of!
There are a number of options for the droid which was an appropriate amount of choosing. Not too many to be overwhelming, but enough to make it feel custom and personalized.
The kids decided to name our BB droid…BB BLAZE and he turned out awesome!
After our droid building we felt complete with our experience in Galaxy's Edge and decided to go ahead and hit the road as we had to drive home and wanted to be able to get Spear from Mrs. Charlotte plenty before bedtime!
We were allowed into Batuu at 8:15. We rode Smuggler's Run 3 times, enjoyed Oga's, built a droid, explored every inch of the planet, took every photo pass photo and saw every single merchandise item and left the land at 12:55.
It was SUCH A FUN DAY!
We have heard really great things about The Rise of the Resistance. I've heard it will be based off of The Void experience that we did for Kye's 9th birthday
It opens in December and I'm assuming we won't ride it for quite a long time but who knows! Maybe we will luck out and crowds won't be too crazy insane? We shall see!
We hit up the McDonald's close to Disney for lunch before we drove home and we were all SO exhausted. It was like all the adrenaline left our systems and we just crashed.
This McD spot is def one we will stop at again – such a great spot and so much cheaper than Disney food!
It was SUCH an incredible weekend. So fun and memories we will truly hold onto forever!
I've had a lot of questions regarding the droid we built and it is really, really cool. And the kids loved playing with it that day.
And the next.
And then it ended up in Kye's closet and we haven't seen it again. Which, duh, we knew would happen. But if you ask the kids about it they are adamant that they are glad they spent that money on it.
I don't think it's something to avoid doing…but just know going in that it won't be the most played with toy probably that your kids own!
I've also had lots of questions about our outfits. The only new thing I bought was my tank top 🙂 We had everything else already and you can shop all of our looks here: