What is a Walt Disney World vacation without a hug from Mickey Mouse? Anyone planning a Disney vacation (especially a first visit) wants to know how to meet characters at Disney World.
Even seasoned Disney guests may not know all the tips and tricks to meet their favorite Disney World characters.
I am a HUGE character fan. Yes, I'm a "Disney Adult." And meeting my favorite Disney characters is one of my absolute favorite things about visiting the Disney parks.
It is a magical experience, and I've shed many a tear over a special Disney character moment.
Due to the pandemic, Disney went a few years without any traditional character meet and greet experiences. I was overjoyed when character hugs returned!
It was so exciting that my daughters and I planned a trip to Disney World specifically for character meet and greets. We were eager to get our hugs from our favorite characters, meet Disney princesses that we've missed and, of course, our Disney World character autographs!
We decided to have a Disney World Character Challenge where we aimed to meet EVERY SINGLE Disney character at ALL of the Disney World theme parks in just two days! You can read the first part of that experience here and the second part of our Character Challenge here.
Even as long-standing Disney Annual Passholders, we still learned SO MUCH about Disney World character meet and greets and I wanted to pass that knowledge along and hope that these tips for how to meet characters at Disney World come in handy: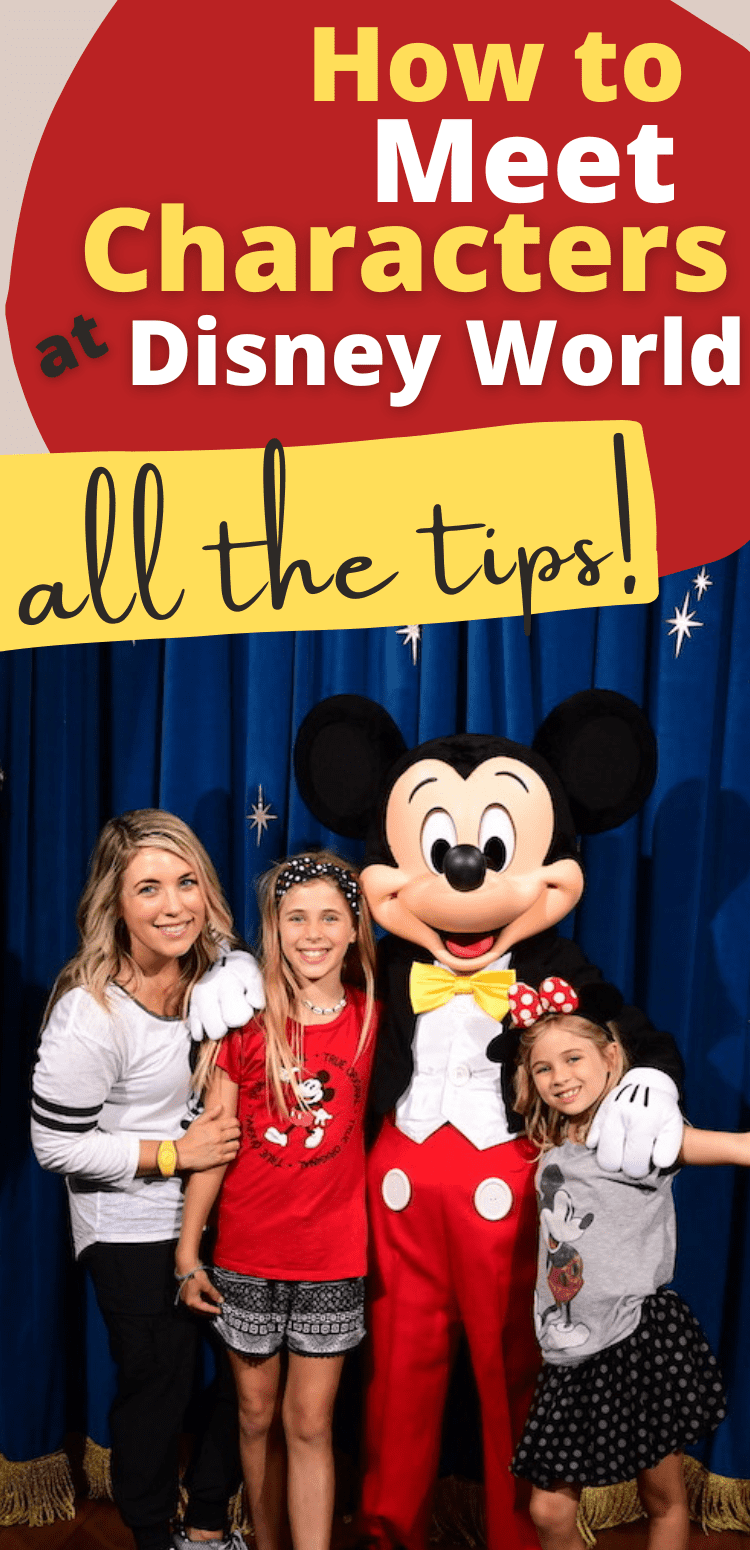 How to Meet Characters at Disney World
I want to first go ahead and say that this post will only cover how to meet characters at Disney World. Walt Disney World Resort is located in Orlando, Florida and is NOT the same theme park as Disneyland Resort or Disney California Adventure are both owned by the Walt Disney Company but are theme parks located in California.
We have visited Disneyland and the character interactions do occur in different ways with many different characters than at the Florida location!
Disney Cruise Line is also another option for character greetings and each individual cruise ship sailing as it's own variety of the type of characters we know and love!
I'm also not covering anything related to Universal Orlando…but if you're interested in visiting Universal Orlando Resort for Harry Potter characters and experiences I have lots of info to help here!
Let's get into sharing all the details for how to experience character greetings at Walt Disney World Parks: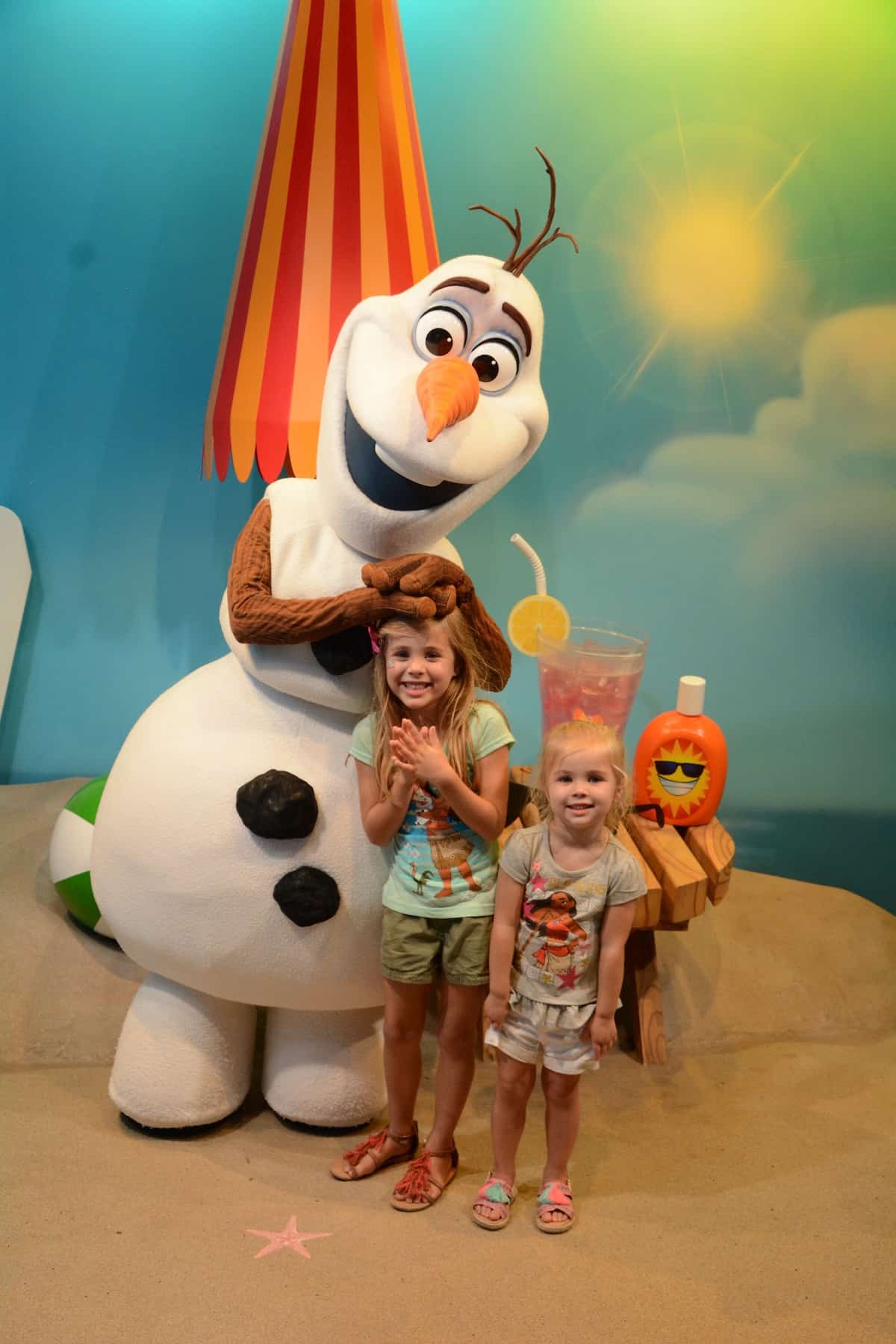 What Are Disney World Character Meet and Greets?
Disney World Character meet and greets are a chance to meet the popular characters at the Disney parks.
Traditional character greetings include both face characters as well as non-speaking special characters too.
During the pandemic, Disney had distanced meet and greets. Characters interactions with guests were from a distance rather than one on one meetings.
These types of experiences can still be currently found throughout Disney World. For example, Stitch hangs out in Tomorrowland at Magic Kingdom.
He comes and goes on a stage and will pose for quick photos or possibly even have dance parties, with guests down below.
During these types of distanced interactions, guests are not able to get any autographs.
There are no cast members on hand taking photopass photographer pictures. And the character's body language is very much a "hurry up" vibe.
When I refer to Disney World character meet and greets I'm referring specifically to individual character meets. Personal character experiences and character interactions.
From fur characters to Disney princesses Disney World character meet and greets are a specific character interaction that you'll cherish whether it's your first time on a Disney World trip or your 1,000th.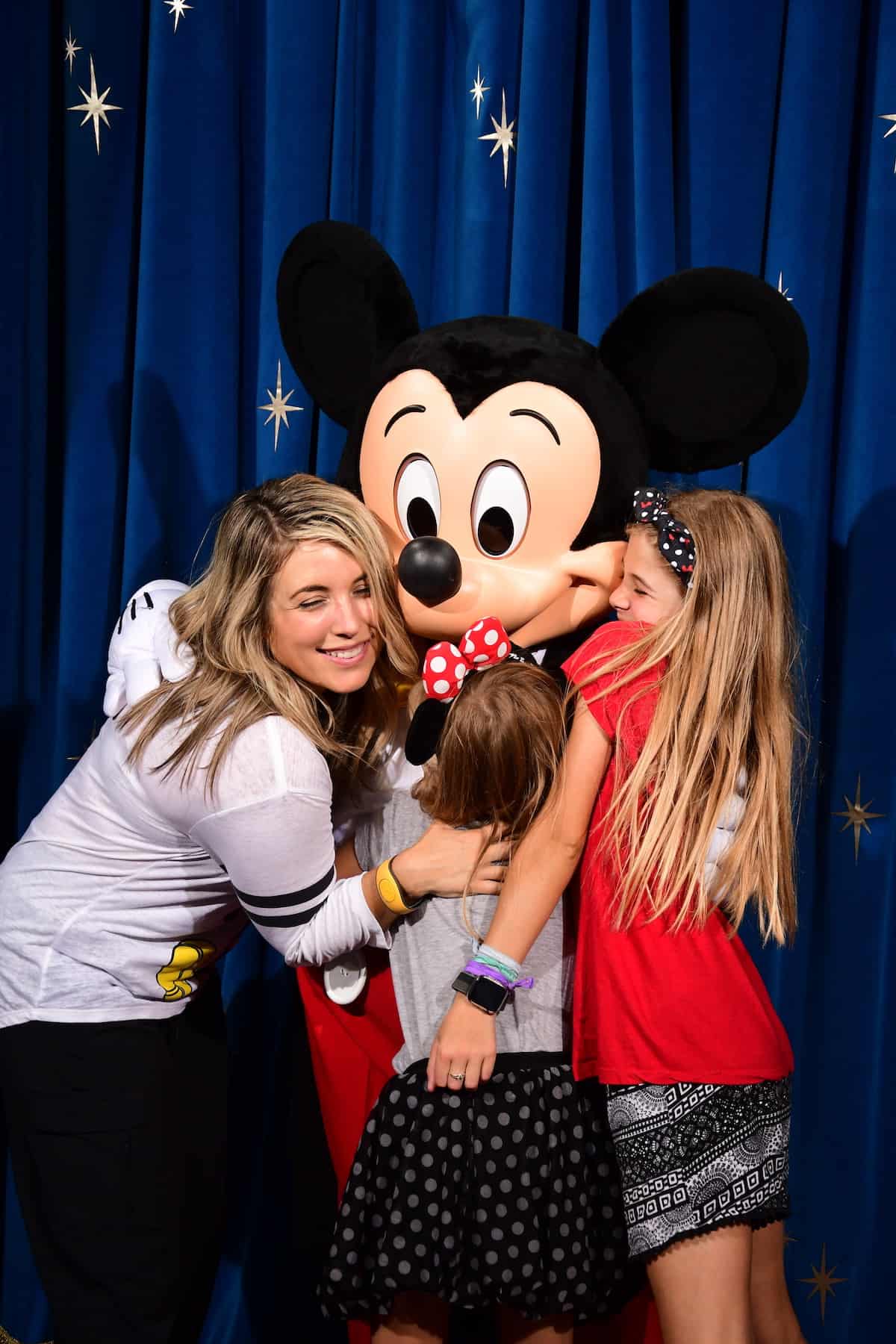 —–> Check out our 6 bedroom rental house 3 miles from Disney World theme parks!
Are Disney World Character Autographs Worthwhile?
When it comes to how to meet characters at Disney World there is a good chance that the first thought most people picture in their minds are long lines for Disney World character autographs getting signed!
Signature books are a popular Disney souvenir and for good reason! For many children, THE main reason they WANT to meet Snow White or Minnie Mouse is so they can have that signature in their autograph book.
For many years I was anti-autograph books. To me, it takes away from the authenticity of the character experience.
The character (or their character attendant) see the autograph book and putting their signature on those blank pages becomes the focal point of the interaction rather than hugs and chats with the children.
The same goes for the child – when a child is focused on their signatures they miss out on interacting as well.
However, over the years I've come to accept that kids just LOVE character signatures. Disney autographs are a BIG part of the magic of Disney for many kids.
While it's not how I personally want to spend my limited time with my best friends, my children enjoy it.
What the Disney character autographs take away from the experience for ME is something that adds to the experience for them.
So my official stance on Disney World character autograph books? Avoid 'em for as long as you can but if your kids enjoy them – go for it.
I have used my children's autograph books as a photo album. We are mindful to leave the page beside the signature blank so when we get home from our trip we can get the photo of the child with the character printed and then have it in the book for them to cherish!
Fair warning as well – just because a character has a meet and greet location does NOT mean they will sign books. Olaf, for example, hands out cards with his signature on them instead of signing (when you have sticks for hands it makes it tricky to hold pens!).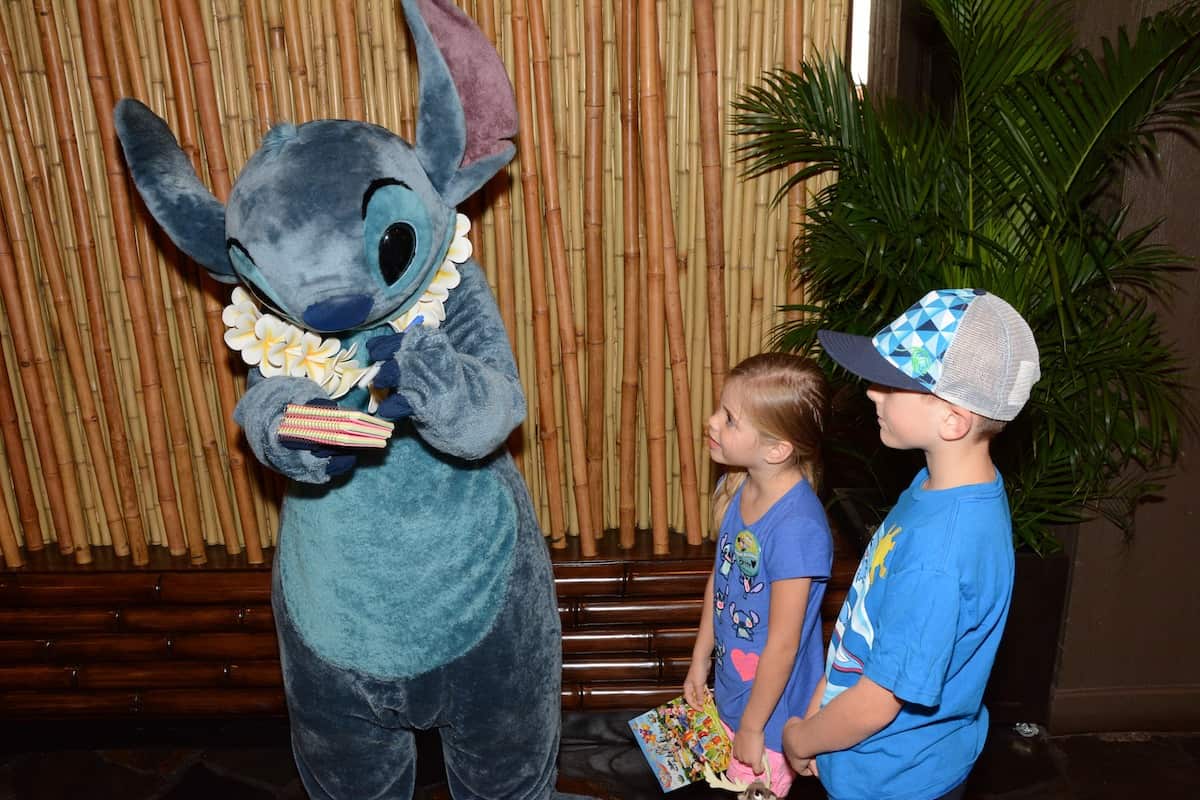 Tips for the Best Books for Disney World Character Autographs
Looking for the best Disney autograph books for your next Disney Vacation?
Gifting your children new books for their Disney autographs are also an easy way to surprise them with their next trip to the happiest place on earth 🙂
You can even write a special note on the first page letting them know which Disney character autographs they'll be able to get on their next Disney vacation!
Be sure to include yours or your child's name in the front cover of the autograph book and it's even a good idea to include your cell phone number as well. That way a cast member or fellow guest has an easy way to contact you should the beloved Disney autographs book get left behind!
—–> Planning a fun way to get your kids excited for the trip? Try one of these Disney movie themed nights!
You can purchase Disney World autograph books at the parks – they are not, however, readily available and can be tricky to track down (the largest gift shops at each park should have them!). They are also more expensive and do not have a lot of options.
I like to purchase as much as I can in advance of our Disney travels. It not only saves money – but also cuts down on wasting precious park time roaming the stores.
When purchasing a book for Disney character signatures be sure to also purchase a pack of clickable sharpies! This pack is PERFECT.
You want the marker to have a fine tip (but not extra fine!) to allow the signature to really pop.
Yes, cast members typically have plenty of markers as well as regular pens on hand at Disney character meals and character autograph locations. However, it's always a smoother process and a great idea to have your own ready to go!
The different colors make it fun, however, just choose ONE marker per character. Characters have a hard time being overloaded with kids and books and markers being thrown at them.
A fun game is to have all of your kids agree on the ONE color of marker that best represents that character. Try using green for Peter Pan or Tinker Bell. Or have a fun debate as to whether blue or yellow best represents Donald Duck!
Also, it's best to have the books prepped as well – A great way to help eat up some of the long wait times in line to have the kids use that time to get their books ready for the characters to sign as well as to choose the marker they want to use!
When it comes to prepping the books – simply have each autograph book opened to the next page.
Tip: It's easiest for Mom or Dad to hand the books in a stack to the character. Keeps things running smoothly and efficiently!
While I am typically a big fan of Amazon I cannot in good faith recommend the autograph books available there. Instead, I'd look to Etsy to find great quality and affordable Disney character autograph books (bonus – most of them can be personalized for free!).
I prefer the side-bound books to make it more of a book feel and to make it easier to add photos so it can double as a memory keepsake from the trip!
I love the colorful options of this one and the classic Disney nods with this one.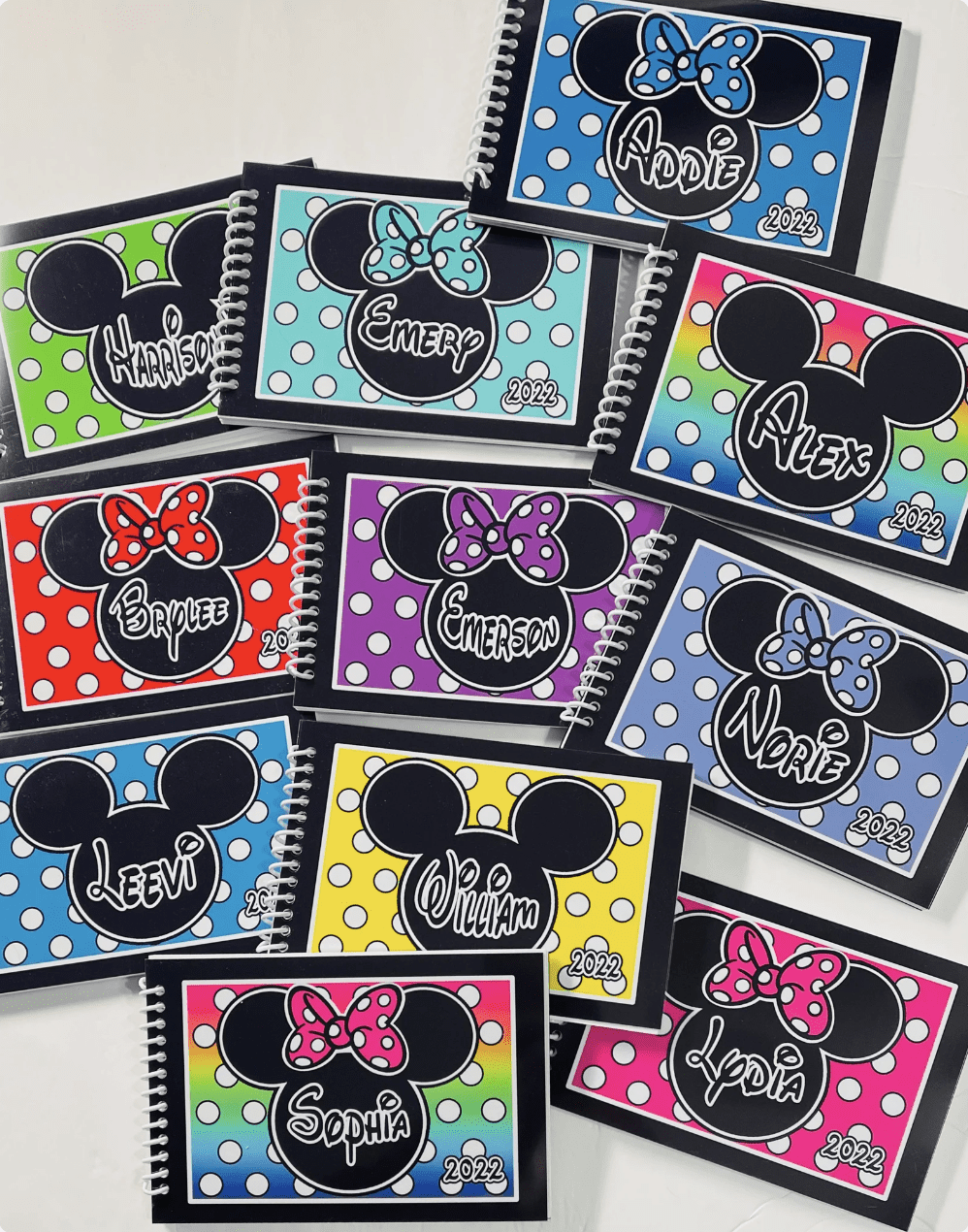 Best Character Tip: Using the Disney World Character Locator
The BIGGEST tip I learned on our character challenge mission is to utilize the Disney World Character Locator on the My Disney Experience App from your cell phone!
Personally, I'm pretty opposed to how Disney World has come to focus more and more on technology while at their parks.
Not a fan of Disney Genie or Genie + and how it requires you to be constantly glued to your mobile device during your Disney World trip.
However, the Disney World Character Location Finder made it possible for my daughters and me to meet all of the characters while on our own character-style scavenger hunt! Without it, we would have NEVER been able to make it all happen!
The Disney World Character Locator is slightly tricky to find. A fellow park guest showed it to me while we were in line to meet Captain Jack Sparrow at Magic Kingdom and I, naturally, shared the knowledge with all of the other guests I met in lines while following characters around the parks!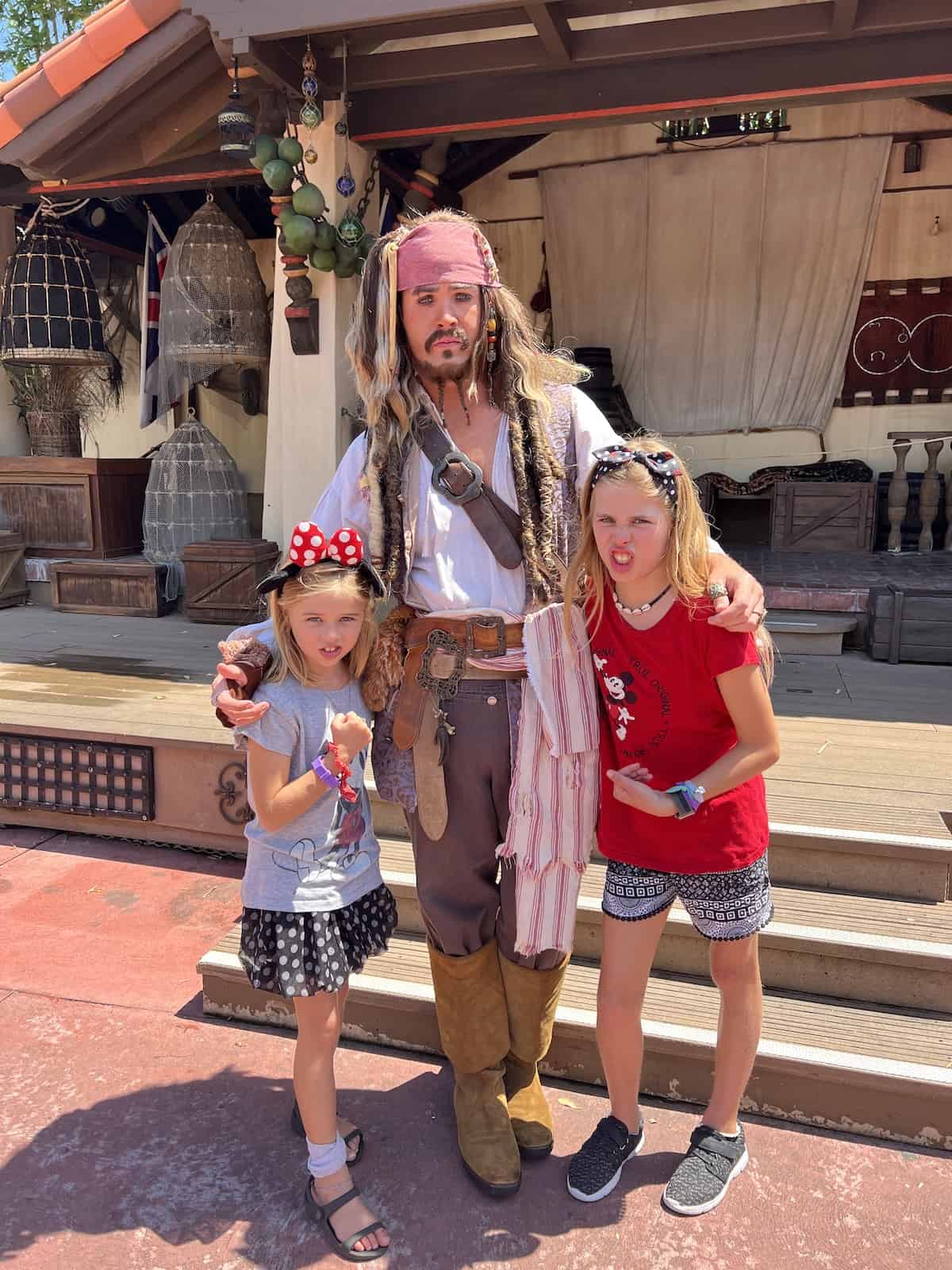 While on the My Disney Experience App. Click the "locator" button on the bottom of the screen (to the right of the home button and left of the plus sign).
Then at the top corners, you will see options to filter or show list and in the center, you will see a drop-down option that most likely says "Wait Times."
When you click the "Wait Times" drop-down you are able to select a category. It's like your own personal Times Guide!
You can select wait times, attractions, characters, dining, entertainment, and even other helpful items like restroom locations, photopass spots, shops as well as guest services.
Obviously, we're discussing how to meet characters at Disney World while using the Disney World Character Locator so for the purpose of this post, you'll want to select the category "Characters."
After selecting Characters you will see little Mickey Heads pop up on the map. This is showing all of the character locations at that specific park.
Most likely your app is pre-set for Magic Kingdom and these Mickey Heads show you exact locations for meeting all the characters currently visiting guests at Magic Kingdom.
You can tap on the Mickey Heads and the info will pop up for which character is meeting at that location, the name of the specific location, as well as giving you the option to get directions to that location.
In my example below I've selected to meet my favorite princess, The Little Mermaid (aka Ariel) and the app shows that she's meeting in Fantasyland at her Grotto.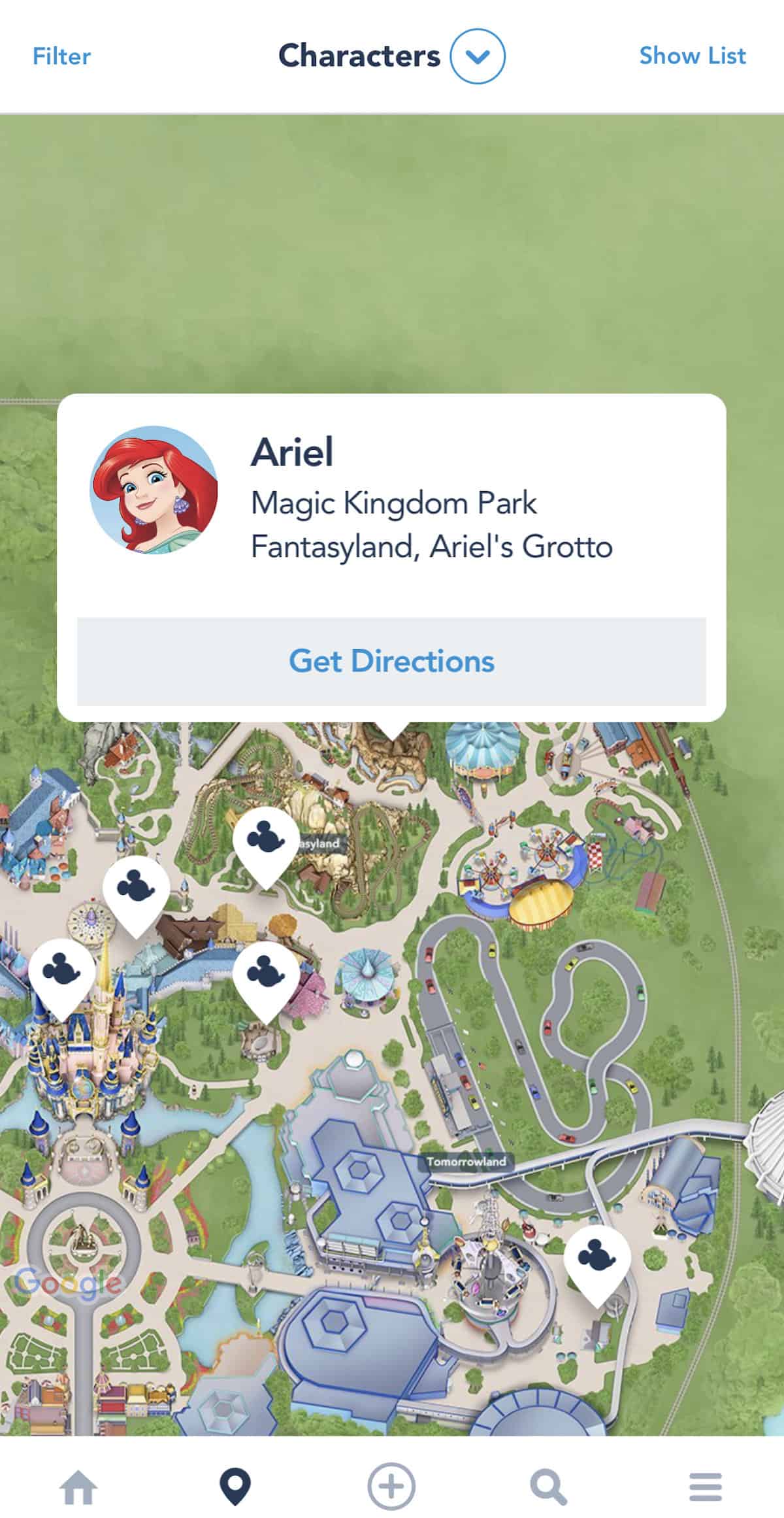 You can opt to get directions or just tap on the character's name and you will then be redirected to a screen showing a bit of background information about the character as well as their meeting times.
A character schedule varies from day to day as well as character to character. A lot of characters meet all day while others have specific times.
A Disney character meet location may be the same every day, while a different character may be more of a roaming location with different locations for their meetings depending on the time of day, time of year, or some other random deciding factor that we may never know!
Some character locations always remain a spot where characters meet, but the actual character meeting at that location may change. That's why having a list of the characters within the app is so helpful!
In this example, I have selected Mickey Mouse who meets guests at Town Square Theater on Main Street. It shows that he'll be there all day – from 9 AM until 10 PM.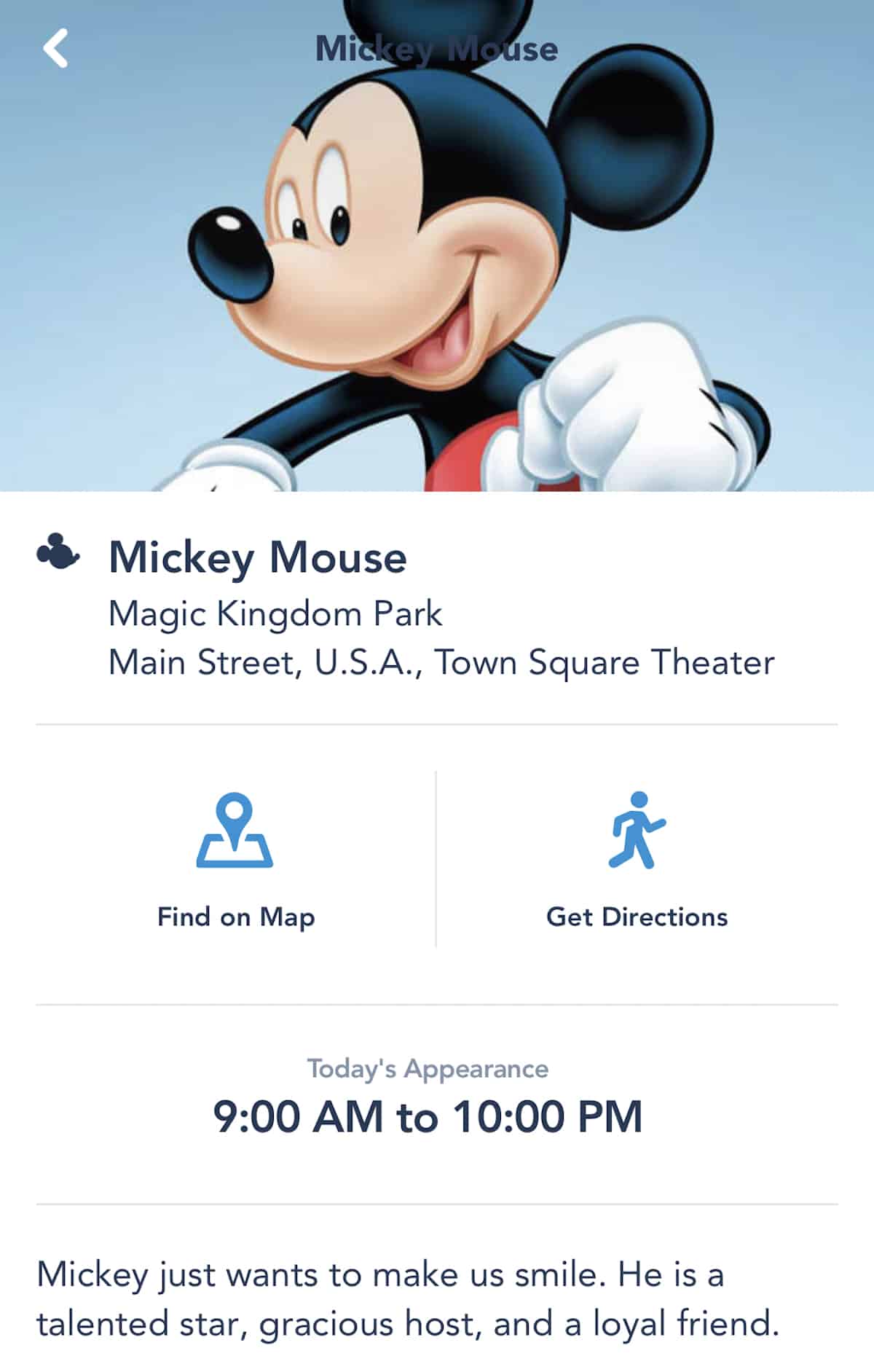 However, if I instead select Merida in the interactive map I will see that she is meeting in the Fairytale Garden with her next appearance today beginning at 2:00 PM and her last appearance at 4:15 PM.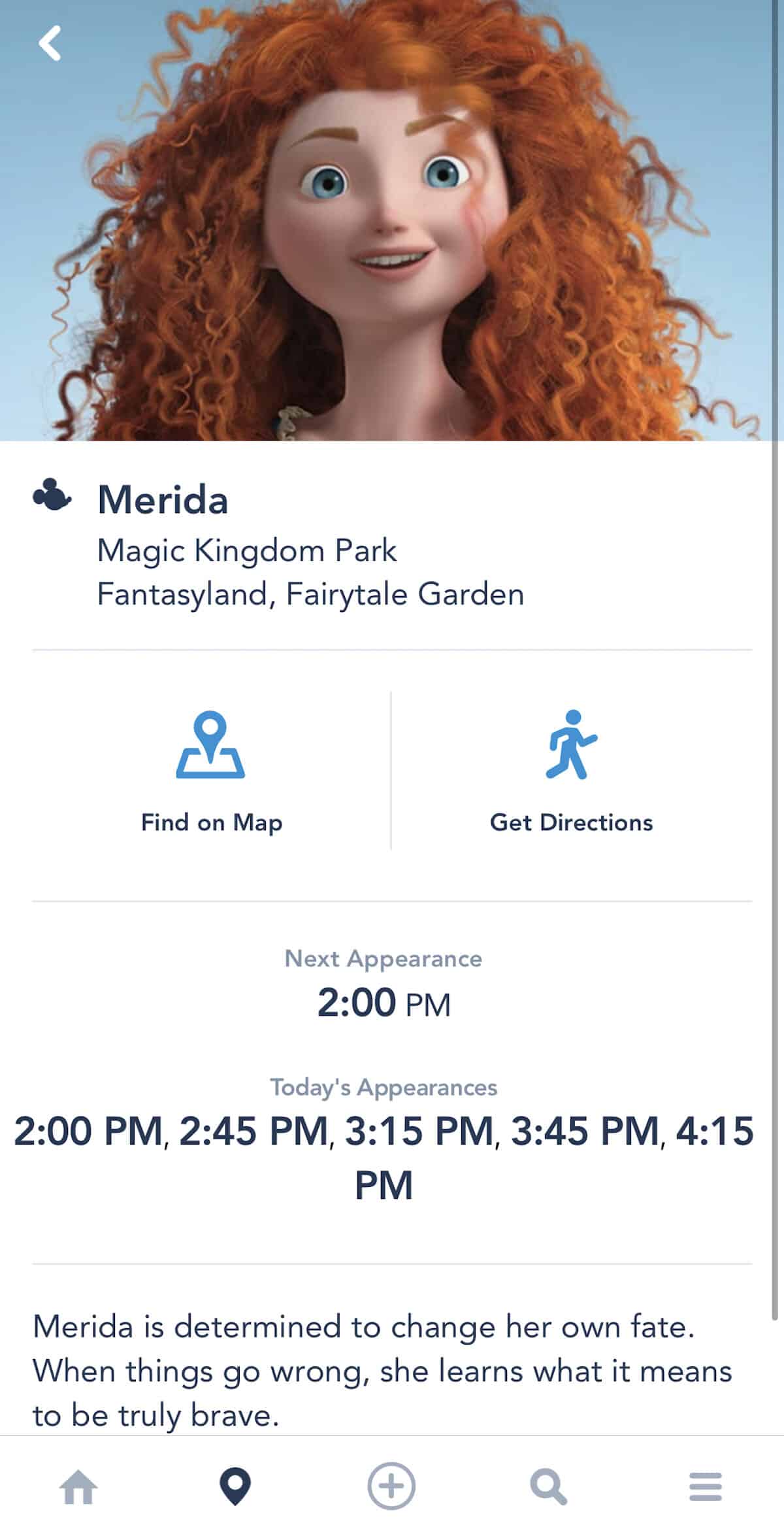 From the home screen, while still in the Character Finder category, you can also select "filter" in the top left corner and choose from any of the Walt Disney World theme parks.
Meeting characters can occur in any of the theme parks at Disney World. A lot of characters tend to hang out at Epcot but many can also be found at Magic Kingdom and Disney's Hollywood Studios.
Animal Kingdom tends to have the least traditional meet and greet experiences so if meeting characters or finding that favorite Disney World princess is a high priority for any family member in your group then it's a good idea to have alternate plans for meeting pals if you're only park day is at Animal Kingdom.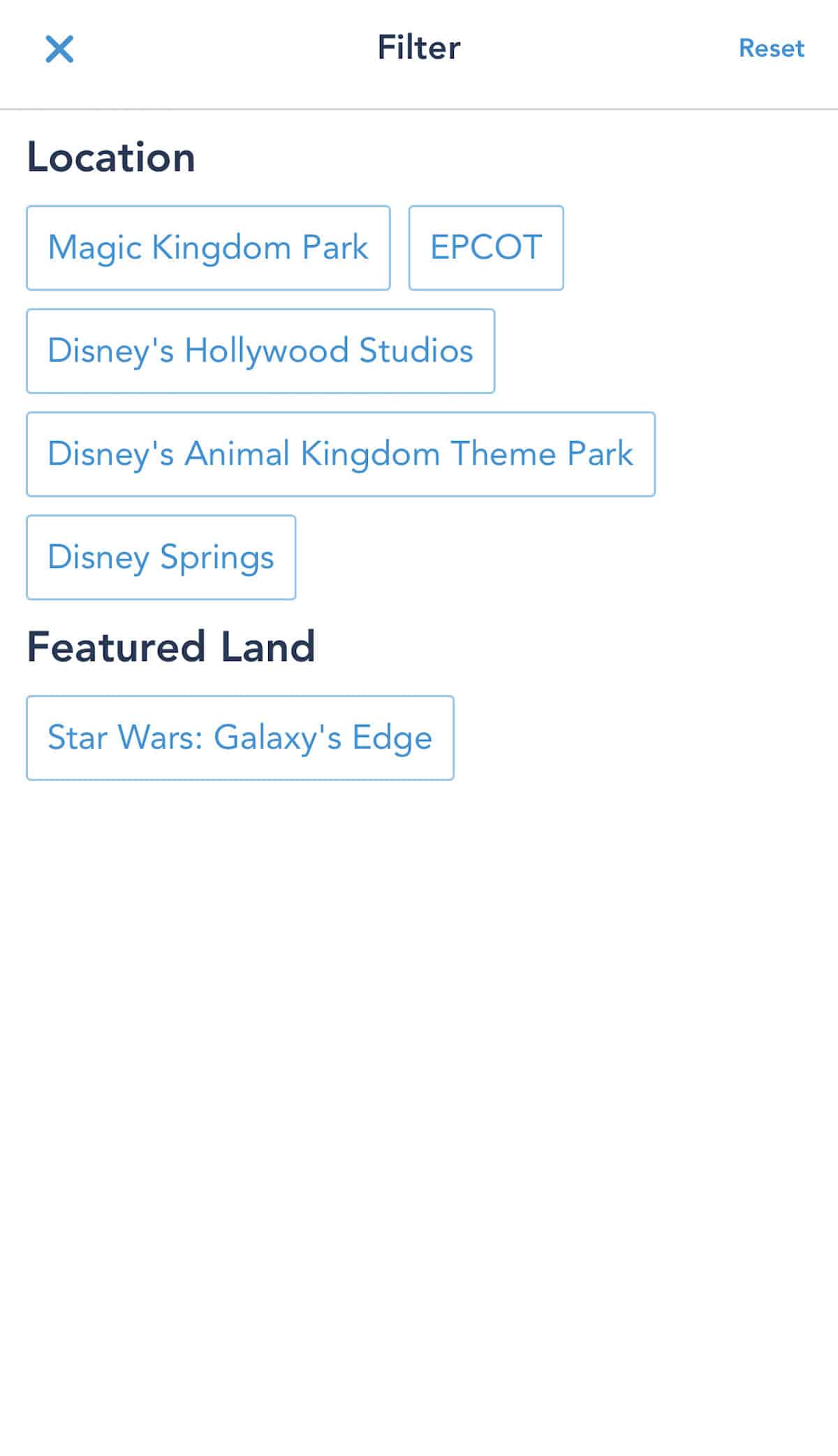 From the list of filter options let's select Epcot. We can then see from the map that characters are meeting today in Future World as well as around World Showcase.
It's a personal preference but I don't like looking at the map view when finding characters. At the top right of the screen, I like to select "show list" which then lists all the characters meeting in that park today in alphabetical order.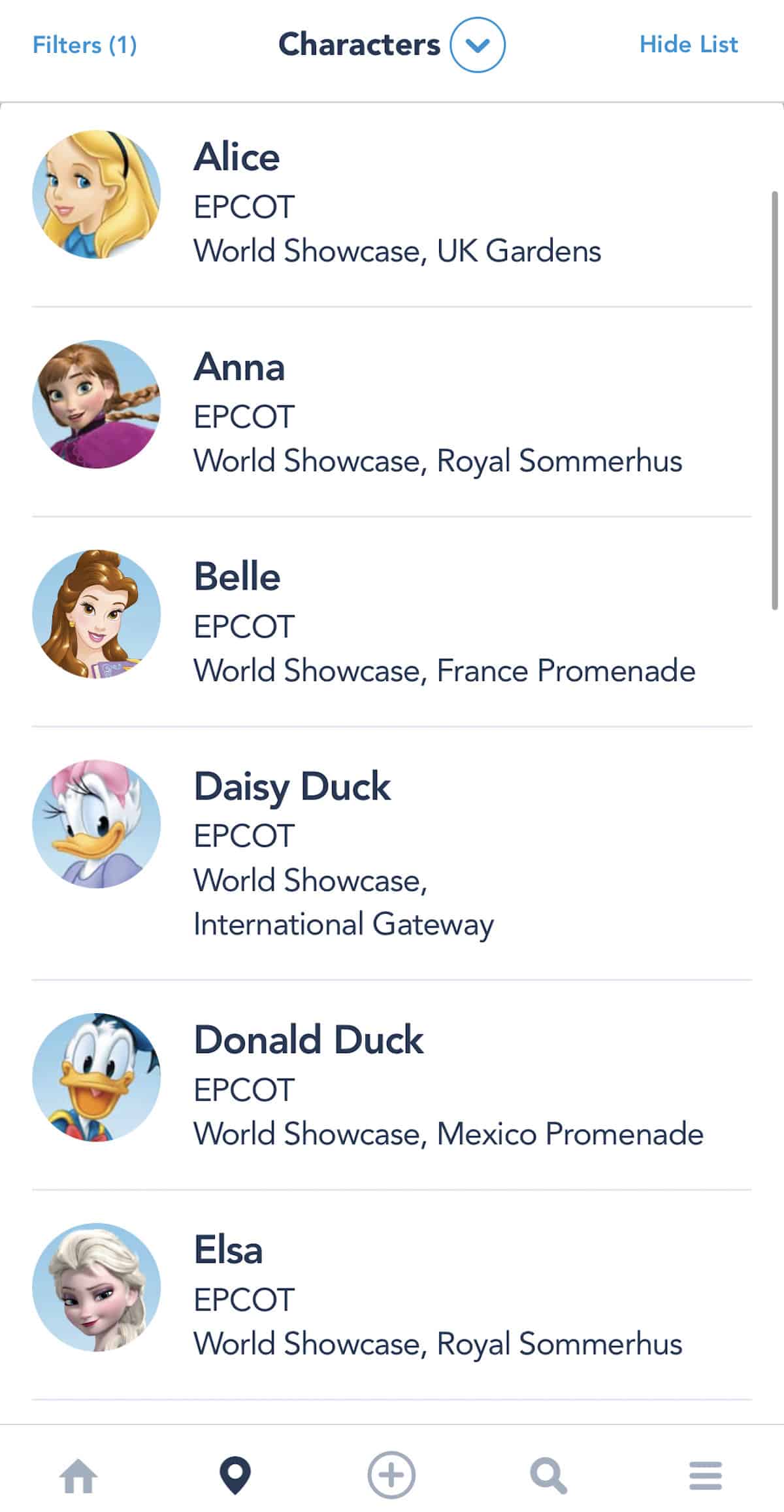 From there I can select the individual character I'm interested in, as an example let's go with Mary Poppins. Selecting Mary Poppins takes me to her home screen and shows more information about her, where she's meeting, and the time for her next appearance.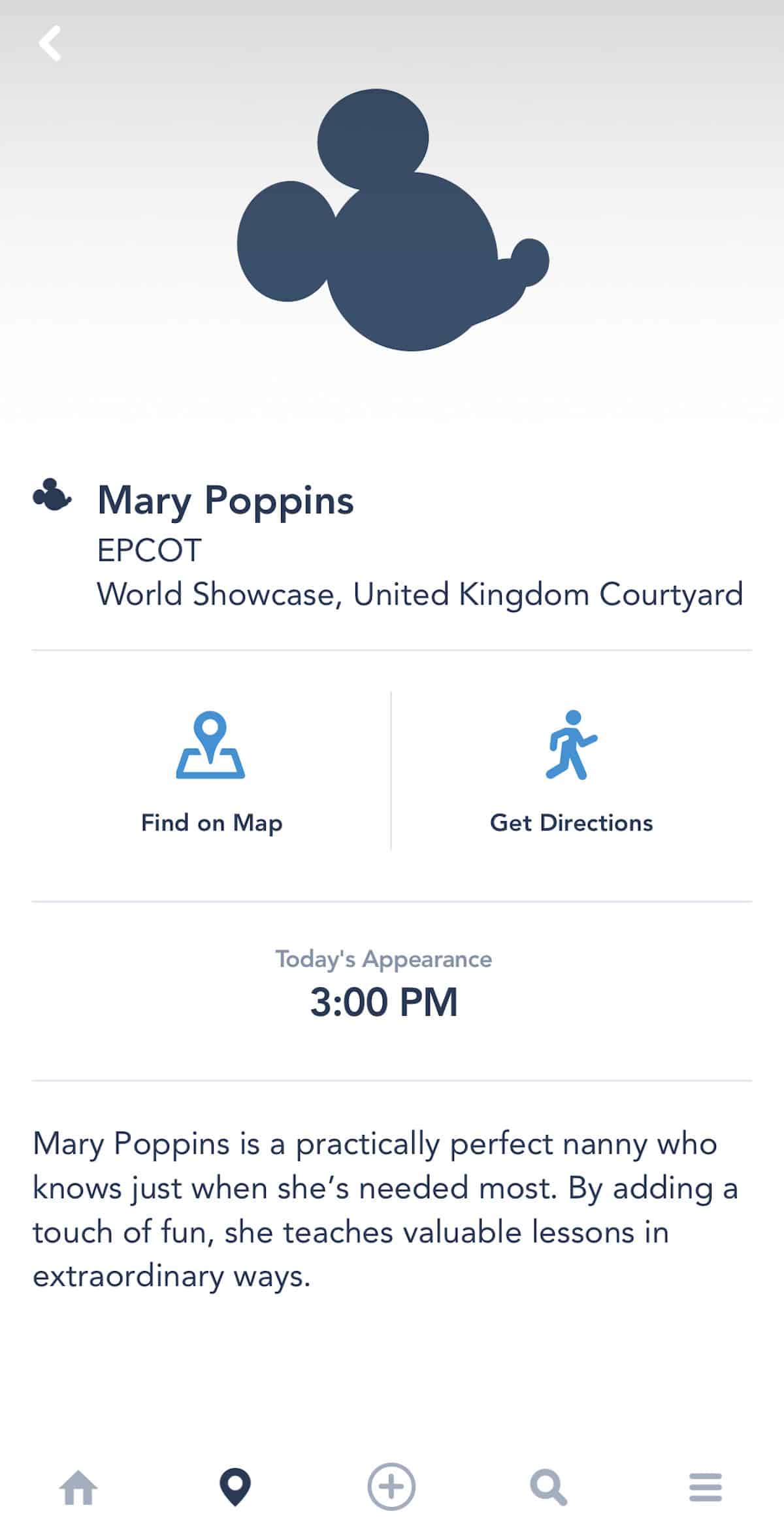 The best times to check out the character locator for planning out your day is as SOON as the parks open for the day. This will allow you to see ALL the meet and greet times for every character at that park for the entire day so you can plan your day accordingly.
It's a good idea to have a small notepad or to utilize the notes app in your phone to write out any special character that you don't want to miss and their specific locations and available times.
My only frustration with the Disney World Character Locator is that it's not super helpful when trying to plan in advance. Since the meeting times and locations CAN vary so greatly it's tricky to have a solid game plan ahead of time.
If meeting characters is a high priority during your visit it's wise to leave plenty of space in your park itinerary so you can be sure to meet your favorites while still making sure you are able to ride that favorite Disney world ride on your list too.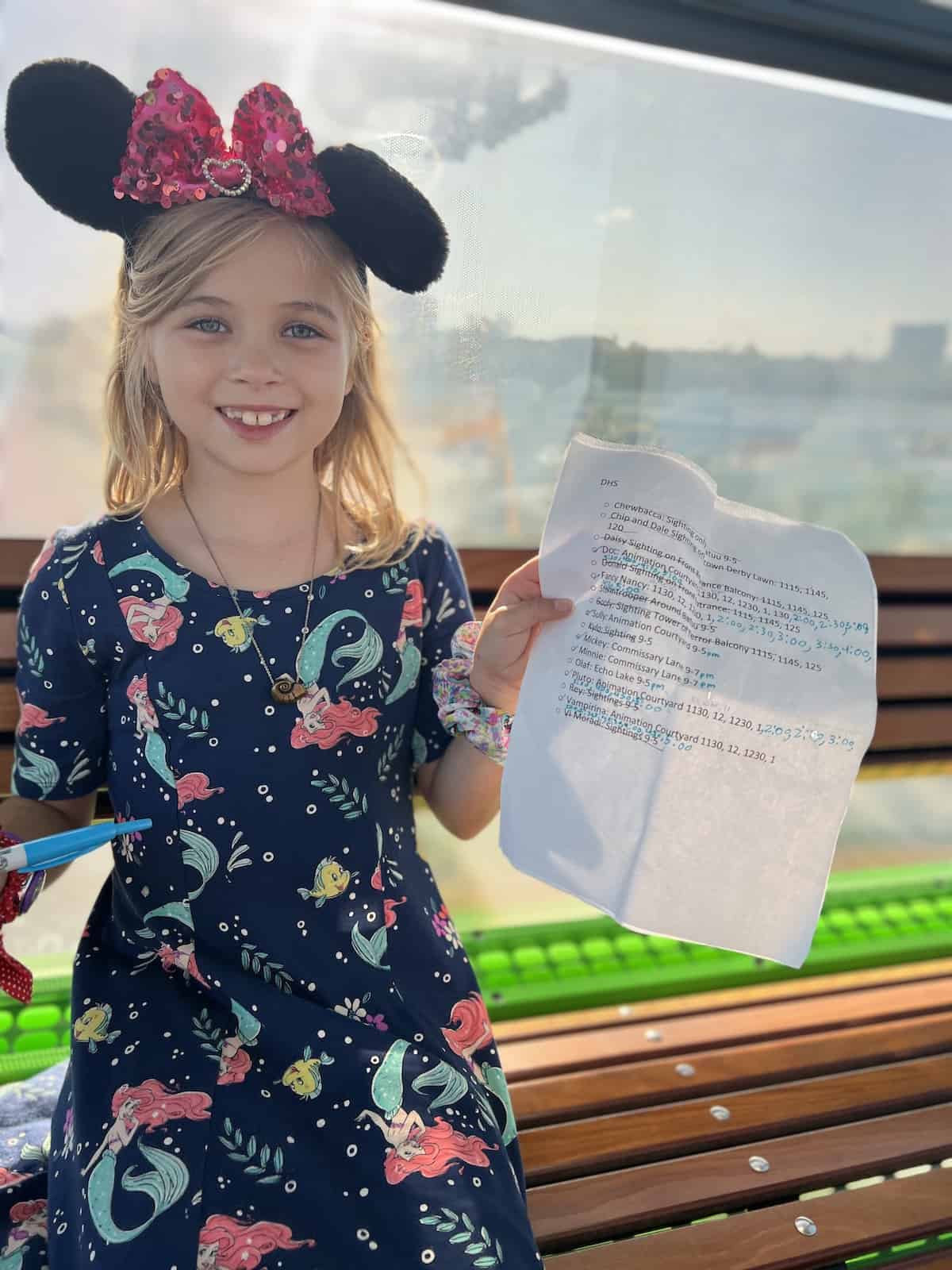 How to Meet Characters at Disney World Resort Theme Parks
I have a friend who was SO disappointed to learn that Disney characters do not just freely roam throughout the parks.
We see advertisements for Disney World and they lead us to believe we will be greeted by the princesses outside of Princess Fairytale Hall. That we'll march with the toy soldiers in Toy Story Land and battle against Kylo Ren at Star Wars Launch Bay.
The reality is that when planning a trip to Disney World planning is the KEY word. Especially for that special first visit!
—–> Planning a first visit? Be sure to watch THESE Disney movies before heading to the parks!
First I highly recommend checking out the crowd calendar. Know what to expect when it comes to crowd levels.
—-> Wanna know THE BEST time to visit the parks when the kids are out of school? Read here!
Even as an annual pass holder I still have my annual subscription to Touring Plans! It's SO helpful in every element of Disney World Disney trip planning and their crowd calendar is crucial in mapping out a solid gameplan for our days at the parks.
(and yes, Touring Plans has options for Disneyland as well as Universal Studios and Islands of Adventure and other theme parks too!).
—-> Learn more about Touring Plans and sign up for an account here!
When Disney World is super busy? ALL lines are long – including those for meeting characters. Ideally, you'd want to book your park days based on the crowd levels. Choosing the least crowded park each day of your trip, whenever possible.
—-> Looking for the best price on Disney World Tickets? Be sure to check out Undercover Tourist here!
Once you have your park days planned out, find out which characters generally meet at each park. A great way to do this is to login on your MyDisneyExperence App and visit the character locator!
I am old school in that I like to handwrite everything out to keep track so I make a list of each day of our trip, which park we are visiting, the predicted crowd level, and what are our "must do" items for that day.
When it comes to character meetings – strategy plays a role in the ability to get the shortest wait times!
I have learned two tricks when it comes to character meetings: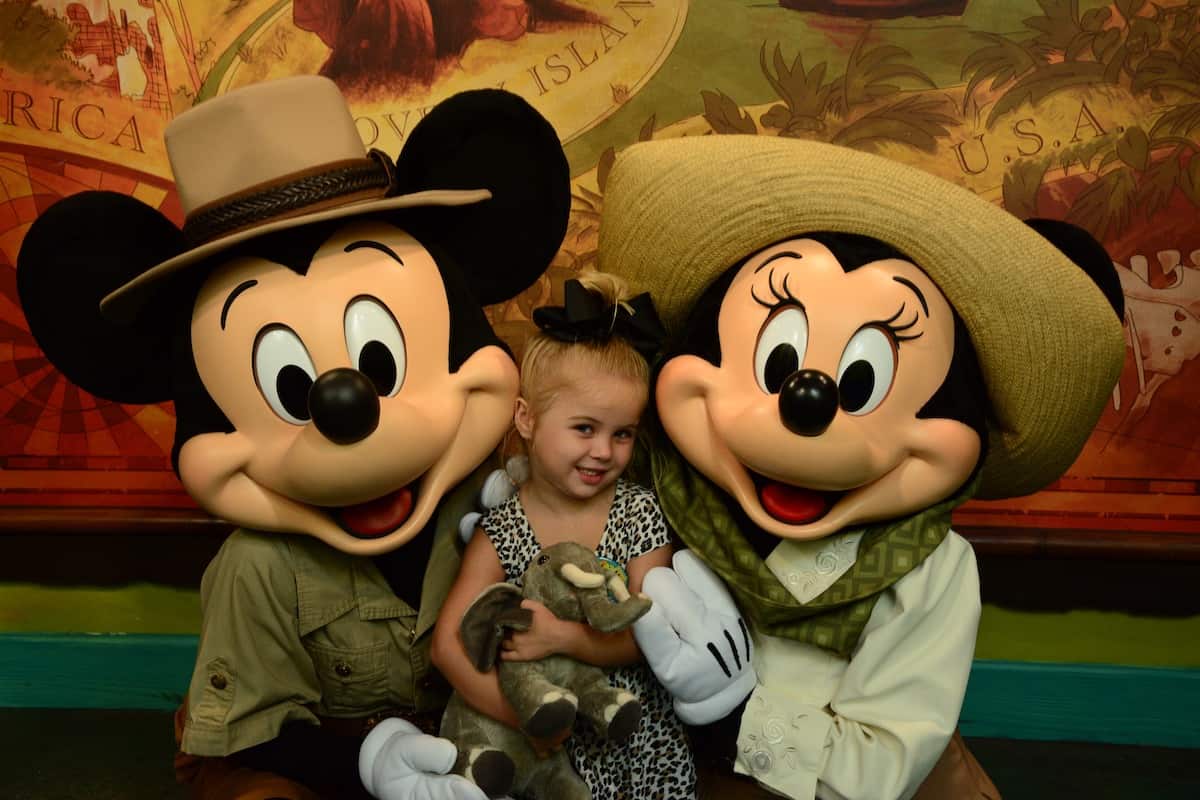 Permanent characters are best to meet at odd times of the day
Mickey is a permanent character at every Disney World theme park. He has a designated meeting location and a pretty consistently set time frame every day where he meets guests. And at some parks it's literally from park open to park close.
He meets at the Red Carpet Dreams location (at Hollywood Studios) along with Minnie Mouse. On the day that we recently visited their meet time was park open to an hour prior to park closing.
When it comes to meeting Disney characters, Mickey Mouse is a must-do for a LOT of people.
He may even be a TOP priority which often means the wait times will be the worst at park opening, around lunchtime, around 3 pm, and closer to park closing.
I have found a sweet spot tends to be just after the park opening rush but just before the "we sleep in and then arrive at the parks at noon" crowd.
We experienced this at Epcot when visiting Anna and Elsa. I was watching their wait times all throughout the day and noticed they had a very long wait at the opening and then the time dropped before it picked back up again at lunchtime.
Our timing worked out where we happened to be ready to meet them right at 2:00. At that time 2:00 was the magical time that guests were allowed to park hop.
Guests who had started their day at Epcot may have then been park-hopping over to another park to finish their day.
Guests who began their day at another park may have been park hoping to Epcot to start their afternoon.
It's a sweet spot! We literally WALKED RIGHT IN and met both Elsa and Anna with ZERO wait. No one in line in front of us. No one in line behind us.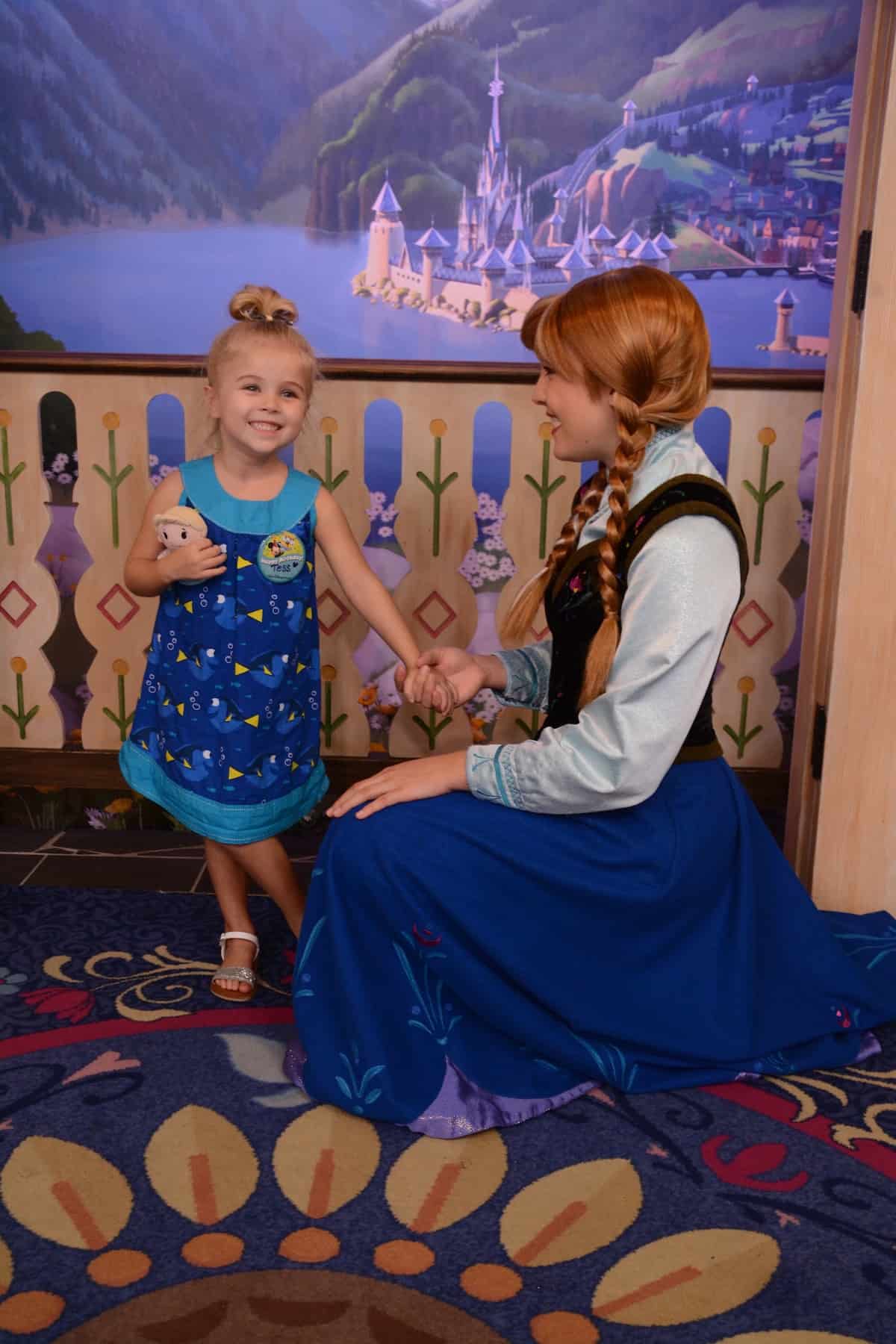 Non Permanent Characters are Best to Meet BEFORE their Allotted Times
Yes, read that again.
Non-permanent characters are best to meet BEFORE their allotted times.
It may sound like it doesn't make any sense but trust me on this one!
If Daisy Duck, for example, has meeting times of 10:30, 2, and 3:30 it is best to be AT her meeting spot 15 minutes PRIOR to her meeting time.
Find out her exact location via the character locator and then arrive at that location by 10:15. I can all but guarantee that there will be very little to no line, especially if you're meeting her at her first meeting time of the day!
But even if you aren't planning to be at the earliest booking – we've arrived to meet Snow White mid-day but 15-20 min prior and had no one in front of us.
Often it's not even obvious at the location that it IS the location. I've had to ask cast members to make sure I'm in the correct spot!
It may sound silly to arrive 15 minutes early, but it's worth it. Not only does it result in a much shorter wait but you're also able to meet that character without "double waiting."
Characters take breaks. Frequently.
If they have several meeting times, they will be taking several breaks. Typically every 25 minutes they take a five-minute break. In addition to waiting in line to meet the character, you also wait that additional time for them to go and come back.
By being in line 15 minutes prior to the official time, you minimize the likelihood of having to wait both in line as well as wait through the break.
Another advantage of being 15 minutes early is that you're often the FIRST in line.
There is something special about being either the first to meet a character or the last! While you can't really predict if you'll be last in line, by arriving early you do up your chances of being first.
Often characters interact in a special way with guests – and frequently it's those who are first or last in line.
I've had my kids get to walk through Magic Kingdom with Jasmine and Aladdin. Be "stolen" away by Chip and Dale. Or even just having Cinderella walk up to greet you is so special!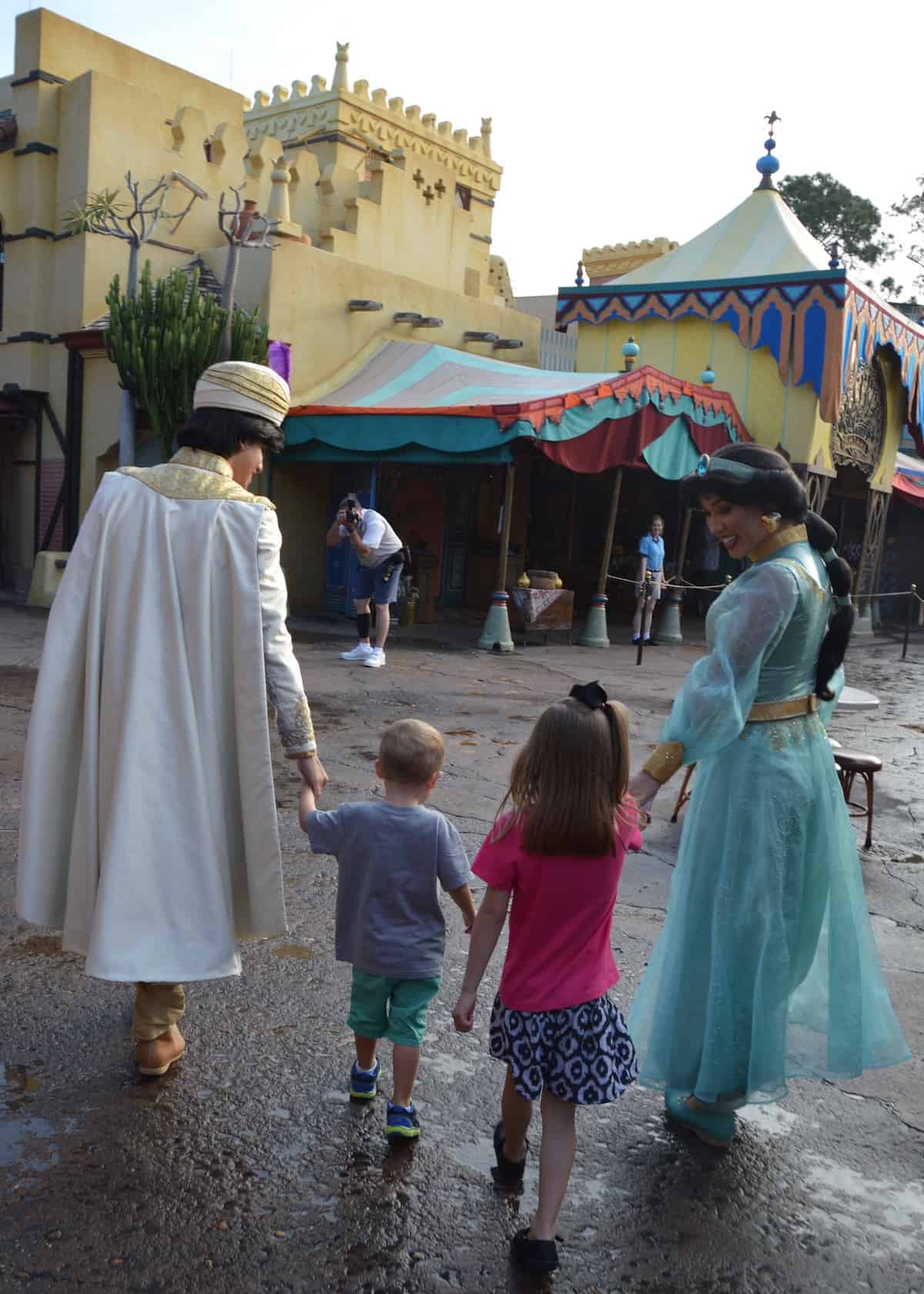 Wait Times and Character Meetings
While I love the Character Locator on the app to help in finding character locations, character meeting times, and to help plan my day – the wait times for characters are not, historically, accurate.
Again I love Touring Plans as they have the ability to see accurate wait times rather than trusting the wait times that Disney has posted.
Especially now with Disney charging for Genie+ and Lightning Lanes…wait times cannot be trusted. Naturally, Disney will show inflated wait times because they want your money.
While I'd love to tell you that character wait times are typically shorter than the posted time…that's actually not the case.
Usually, wait times are longer for character meetings than the posted time. Recently we met Rapunzel and Tiana and the posted time was 35 minutes and we waited over an hour.
Disney can predict ride times pretty accurately (even if they choose not to!). The ride is a set length of time. Barring any break downs or hold-ups they can roughly predict how many people can board and disembark an attraction in a given time frame and how long it will take for guests to enjoy the attraction from start to finish.
Meeting characters isn't something that can be predicted. We recently were in line waiting to meet Donald Duck and a little girl ahead of us DID NOT LET GO of Donald.
It was THE cutest, sweetest most precious thing ever. She hugged and hugged Donald and he just kept on holding her (yes, it's true – characters won't let go until you do!).
We all literally thought she may have fallen asleep in his arms. Duh, I cried. It was just so sweet!
And then the next family had their turn and their little boy copied the girl's lead in front of him…he didn't let go either!
—-> Wondering the best age for your little one to visit Disney World? Read my tips here!
It was all adorable and precious…and took up a LOT of time.
Every autograph book. Every extra picture. Every hug. It all takes time. A bigger family? More time. A crying kid? More time. A Disney adult, like myself, who wants an individual picture with their favorite character? Yup, more time.
More time during the meeting experience also means more time for the people in line.
Know that going in! You will most likely wait longer than you think. Thankfully, most of the time, the longer character lines are indoors in air conditioning!
When getting in line for characters bring the snacks, bring the little toys, bring the drawing books, bring whatever fun distractions you have. (This card game is PERFECT for wait time lines – we love it!)
Set yourself up with the expectation that you'll be waiting awhile!
The rough average "they" say when it comes to characters is to plan for 5 min per family in front of you. If you can see the full line you can sort of guesstimate your own wait time number.
Non-permanent characters won't have any sort of listed wait times. And many of their meeting locations are not indoors. Again, this is why getting to their meeting times early is so crucial!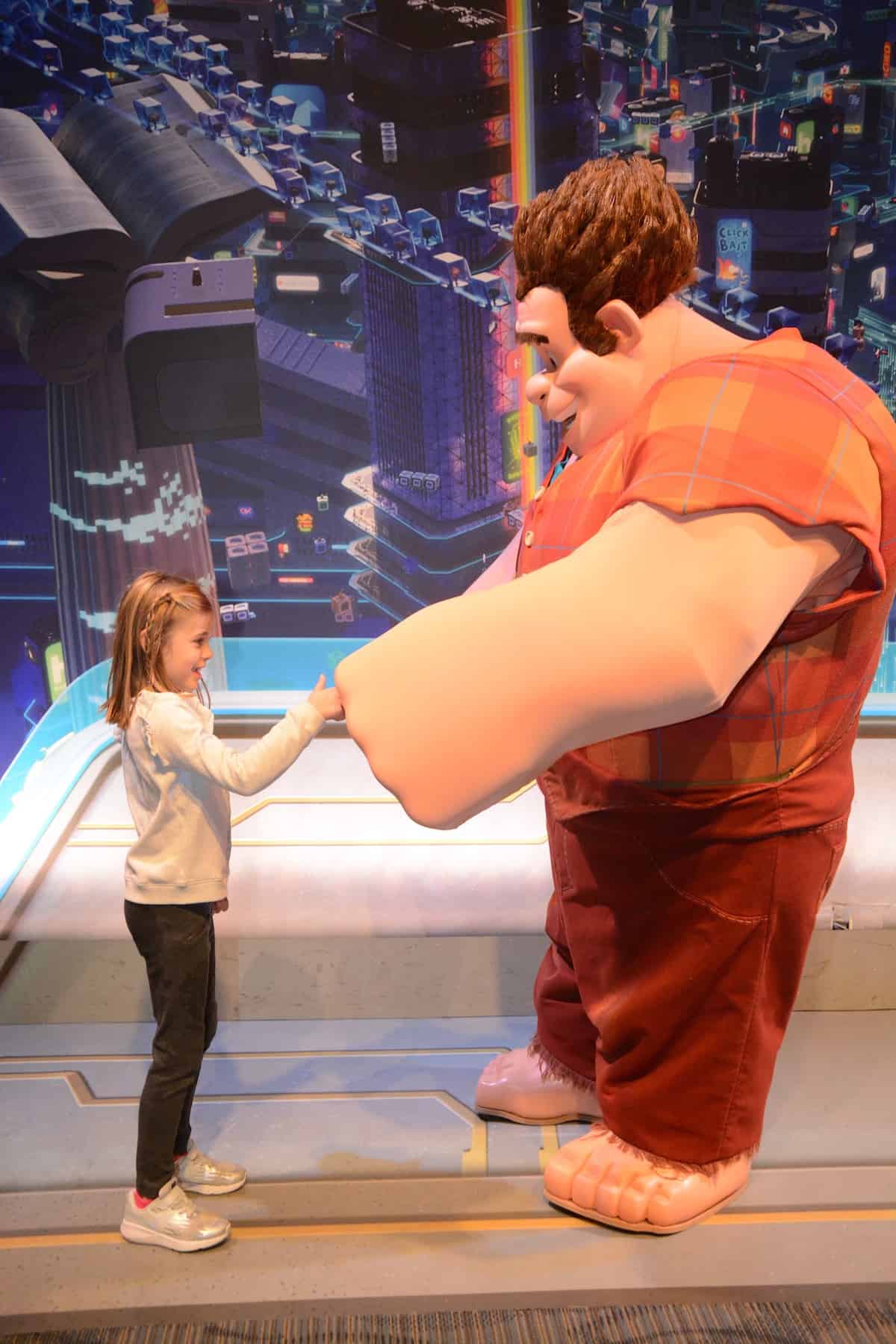 Disney World Character Meet and Greets: Worth the Wait
THE most important thing is to ENJOY YOUR MOMENT.
It's easy to feel rushed. You've waited in line, you know others are behind you waiting in line.
I'm super guilty of this myself. Rather than ENJOYING the moment I feel like I need to hurry, hurry, hurry.
People are waiting. They are frustrated. They are annoyed that I'm taking so dang long with all my kids and all my autograph books and all my pictures.
When your line gets to the point that you just have a couple of people left in front of you – take a breath. Remind yourself to STOP. And ENJOY the MOMENT.
Let your kids lead. Let them ask all their questions. Let them dance with a princess. Get a check up from Doc McStuffins. Let them be silly!
Yes, Disney is MAGICAL. But the magic can only happen when we allow it to!
The magic isn't in the planned moments. It's not in the rides. Or the shows. The Disney magic happens in those in-between moments!
Instead of looking at Disney World character meet and greets as something to check off a list, consider it as an opportunity for letting the magic happen. And when your turn comes? Sit back and watch it unfold!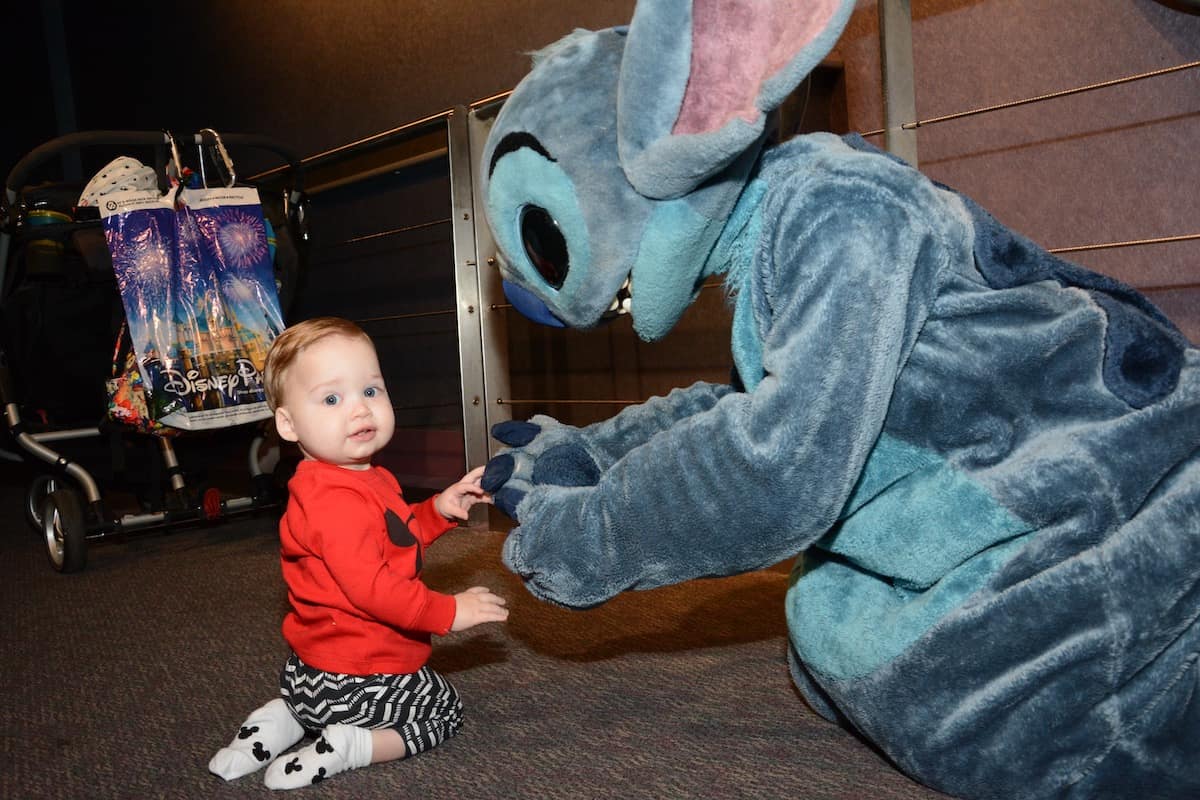 How to Meet Characters at Disney World when there ISN'T a Meet and Greet Option
Not all Disney Characters have meet and greet locations. In fact, many don't! Some characters are impossible to meet at all and others can only be met at select locations or even certain times or during certain events.
If you have a favorite character that you or your child has to meet then hopefully one of these options will be available!
Disney Dining Character Meals
I love meeting characters in the parks but my husband? Not. His. Jam.
We have found that participating in character dining experiences is the best way for our family to have character interactions for multiple reasons.
No waiting in lines!
No wasting valuable park time!
Character dining means FOOD!
Characters come directly to us!
My husband is able to sit and enjoy a meal, my kids are able to interact with their favorite characters, and we all get to fully enjoy the experience without any rush!
Another perk of character dining is that Disney World dining experiences aren't just located inside the theme parks.
I love booking character meals on our arrival or departure days. Again, I'm all about saving that valuable theme park time!
Disney World has gorgeous resort properties and booking character meals that are located within their properties allows you to see more of Walt Disney World has to offer.
I love booking Disney World dining at resorts like Chef Mickey at Contemporary Resort, 1900 Park Fare at Grand Floridian Resort and Ohana at Polynesian Resort.
I've never been able to be a guest at any of these properties (here's why I actually do NOT recommend staying on property at Disney World) so character dining at those locations allow our family to get to have the experience of the property without the cost of the stay!
—–> My tips for saving money on food at Disney World!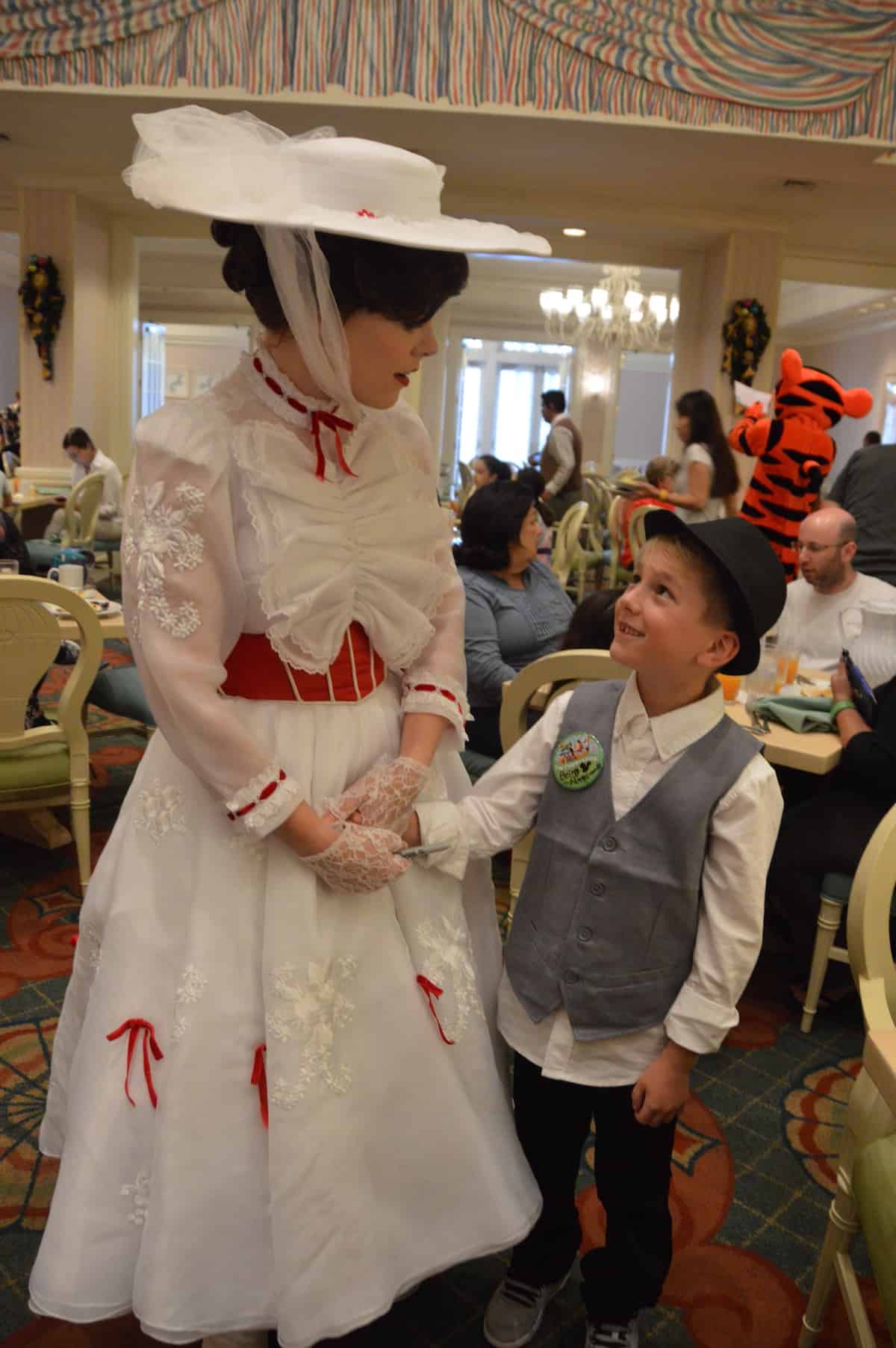 Disney Special Events and Parties
Disney World has many special events throughout the year including the Run Disney events where many characters can be found along the race line (Confession: I've considered taking up running JUST so I can meet the rare characters at the races!).
Walt Disney World also has a variety of After Hours Events and parties with opportunities to meet less frequent characters.
If you're wondering how can I meet rare characters at Disney World?
Parties may just be for you! Both the Mickey's Not So Scary Halloween Party and Mickey's Very Merry Christmas Party offer a wide selection of character meeting opportunities.
Of course, all special events and parties require additional fees and ticket purchases to attend.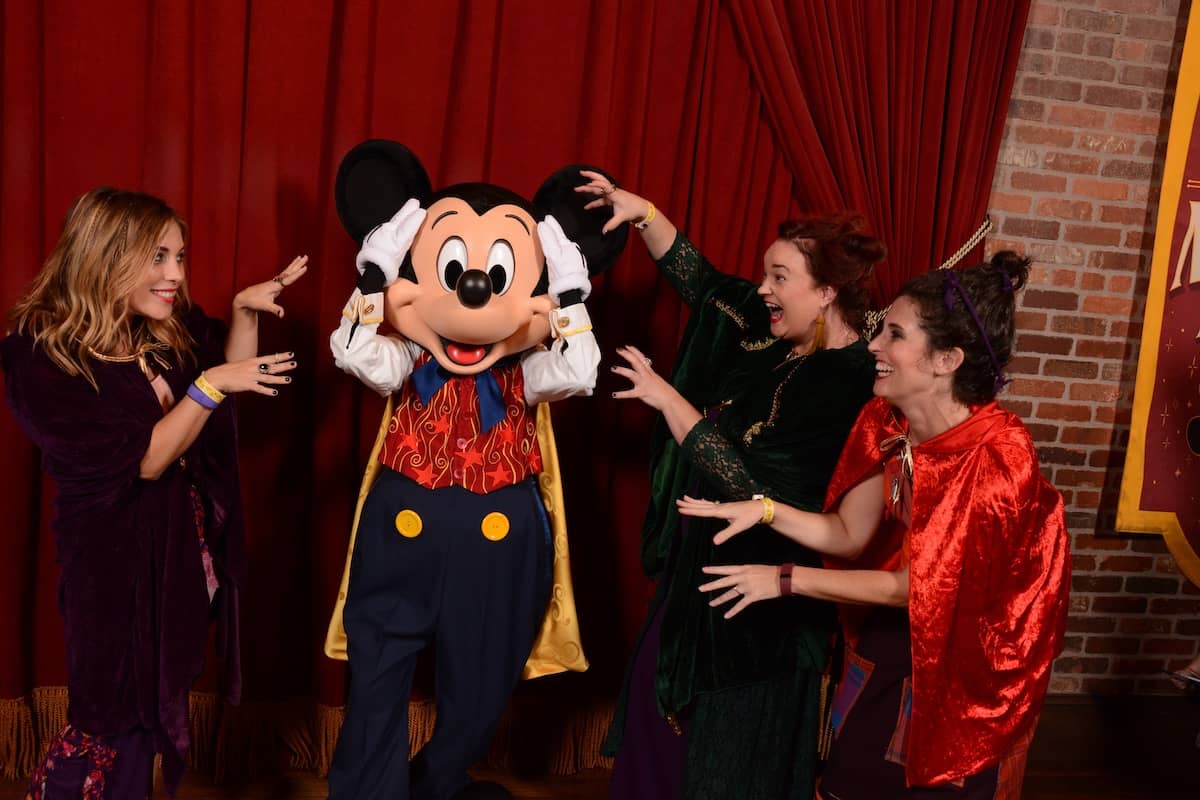 Parades, Shows and Cavalcade Characters
Often it may be the case that you just don't have the time or ability to meet characters face to face.
I love that Disney does such a fantastic job of incorporating favorite characters throughout the parks all throughout the day!
You can check the app for showtimes, parade schedules, and character cavalcades.
Cavalcades have been a wonderful addition to Disney in recent years. The Disney Adventure Friends Cavalcade has a variety of princesses!
I love parades and cavalcades as a next-best option to meet and greets. While you may not be able to hug your favorite characters, you can wave and make eye contact!
The characters do a fantastic job of interacting with guests along the parade routes and always make the moment special. Get a great viewing spot so you're up front as they roll on by and shout out if you have a favorite character or princess.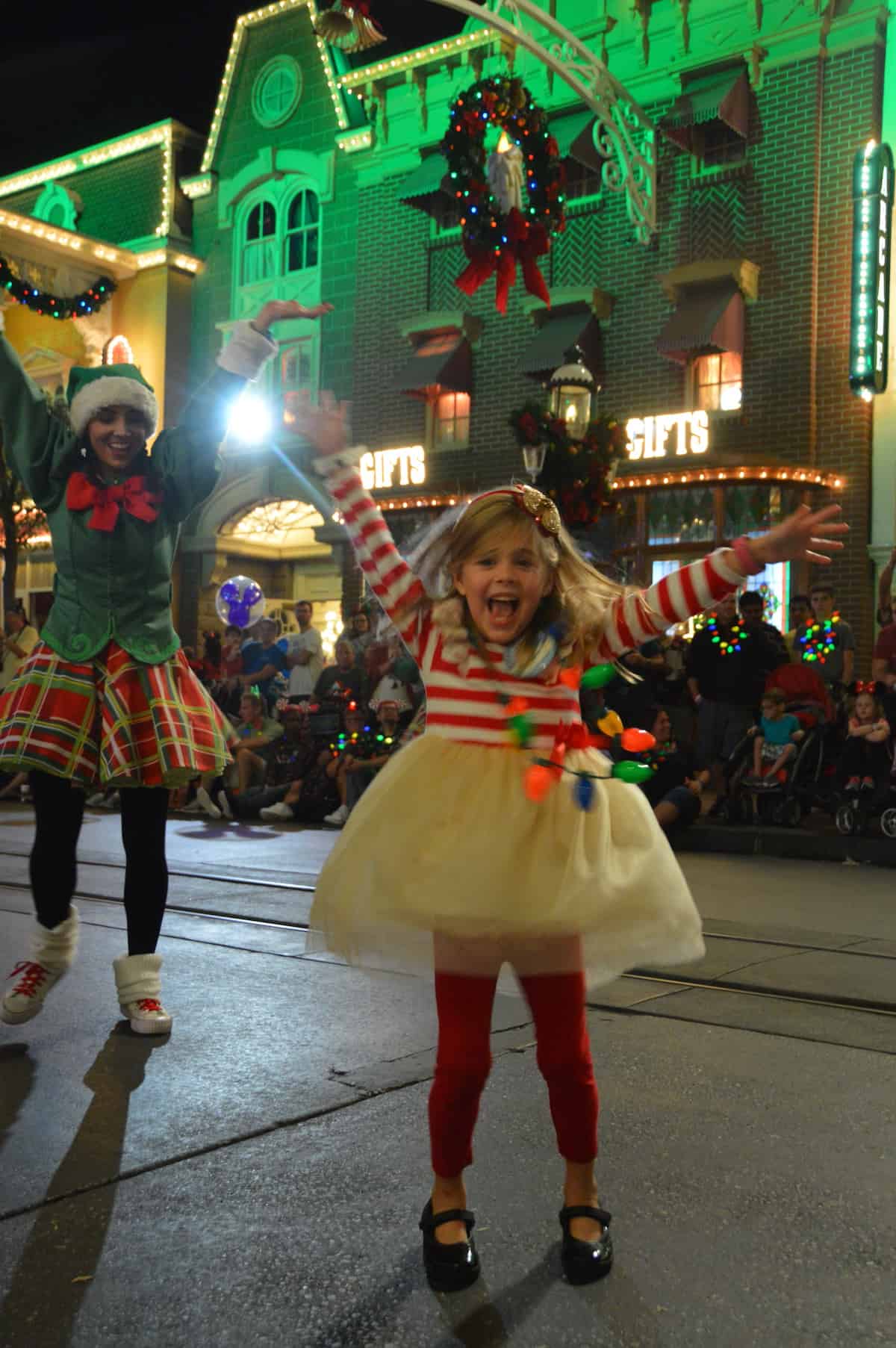 The Festival of Fantasy Parade at Magic Kingdom is probably the most popular. One of the best places for parade watching is not on Main Street USA but is instead in Frontier Land or even Liberty Square.
Magic Kingdom Park and Hollywood Studios both have cavalcades while Disney's Animal Kingdom has a boat version of the cavalcades which ride around Discovery Island down Discovery River.
My least favorite option for character interactions are shows. I would prioritize character time at the parks as meet and greets being the top choice followed by parade or cavalcade and lastly shows.
Stage shows are great and fun! But the characters are performing. They aren't interacting. Watching a show will allow your child the opportunity to SEE those favorite Disney princesses or other favorite characters but watching a show will not allow them the opportunity to interact with those characters.
It's better than nothing! And if push really comes to shove…watching the fireworks shows at the parks also provides a glimpse of pretty much every Disney character and film.
—–> Learn about my secret spot for THE best view of the fireworks at Magic Kingdom here!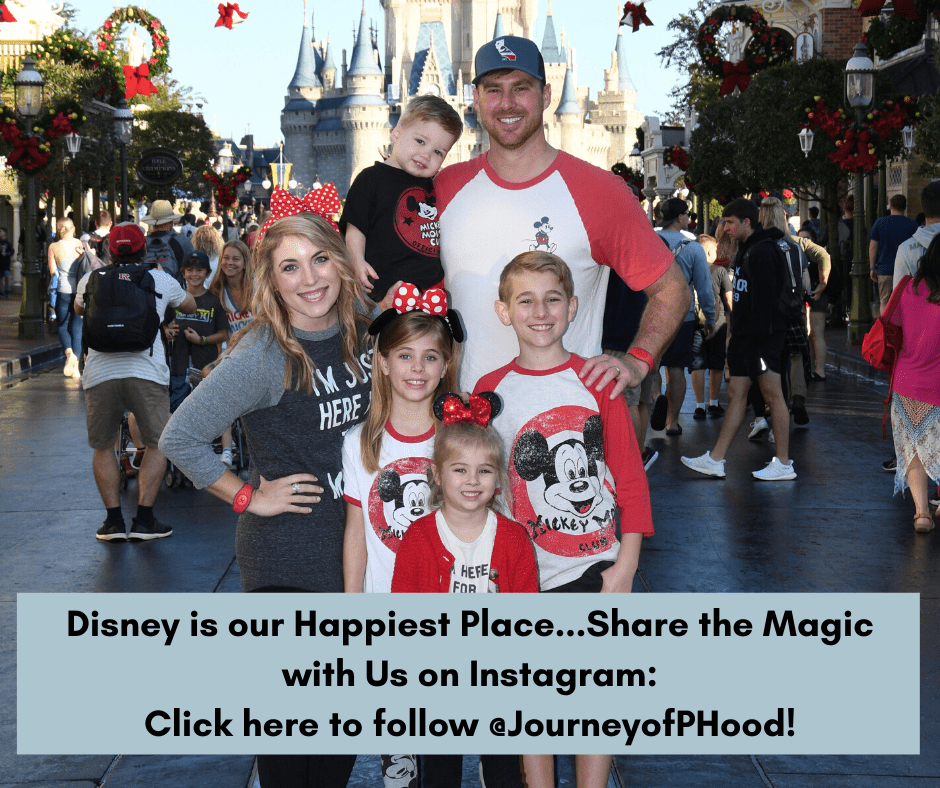 How to Meet Characters at Disney World: Frequently Asked Questions
How Much are Autograph Books at Disney World?
Autograph books at Disney World vary in price. I've seen some as low as $9.99 and as high as $25.99 at the parks.
As I mentioned earlier, they can be tricky to find at the parks as well. If you're looking for an autograph book I recommend any of the gift shops near park entrances as well as any of the larger park gift shops.
If you're planning a trip to Disney Springs during your visit it's also an excellent place to pick up an autograph book!
My personal recommendation would be to purchase your Disney character autograph book prior to your travel.
Even if you arrive to the Orlando area and need to grab an autograph book you can visit any of the stores surrounding Disney World – Target, Walgreens, even Publix and they all have autograph books and other merchandise on hand, typically on sale.
Where is The Best Place Where to Meet Princesses at Disney World?
Probably the best place to meet princesses at Disney World is Epcot. You can walk around the entire World Showcase and meet the majority of your favorite princesses.
Epcot is a secret gem for a Disney princess meet and greet experience. Elsa, Anna, Aurora, Snow White, Belle, Ariel, Mulan, Jasmine, and more!
Magic Kingdom also has several princesses on hand for meeting and greeting. Rapunzel, Tiana, Elana, Cinderalla, Merida, Ariel, Belle, Jasmine and more!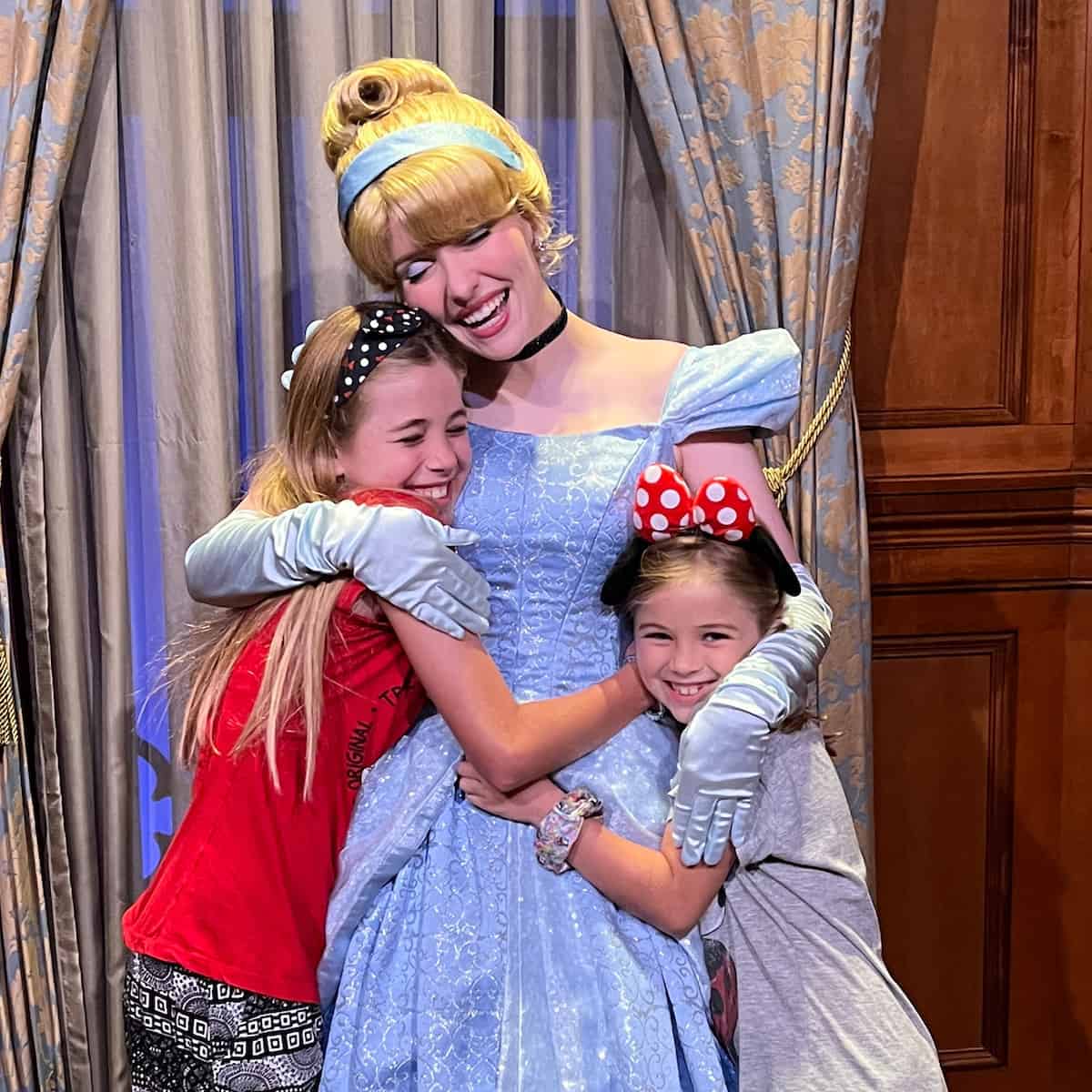 My personal best place to meet princess though is at Cinderella's Royal Table.
The restaurant is located inside Cinderella Castle at Magic Kingdom. Yes, both park admission, as well as a reservation, are required.
The ideal time for a dining reservation at Royal Table is first thing in the morning, especially if you can somehow snag a pre-park opening reservation.
Walking down an empty Main Street. Getting to go inside the castle. Having a delicious breakfast. It's SUCH a magical start to the day!
Not only is the food delicious but the views and lightning and backdrop are stunning. It's the ideal spot to meet Disney World princesses!
Usually, Cinderella greets guests as you enter her castle and then classic princesses like Snow White, Princess Jasmine, Princess Ariel and Princess Aurora come by your table to visit.
If you want to really go all out you can also book your little princess an appointment at Bibbidi Bobbidi Boutique where she can be made over into a princess and become Disney Royalty herself!
This is also located at Magic Kingdom inside the castle so a great tip is to coordinate your booking prior to your meal at Cinderella Castle for the full Disney world princess experience from start to finish.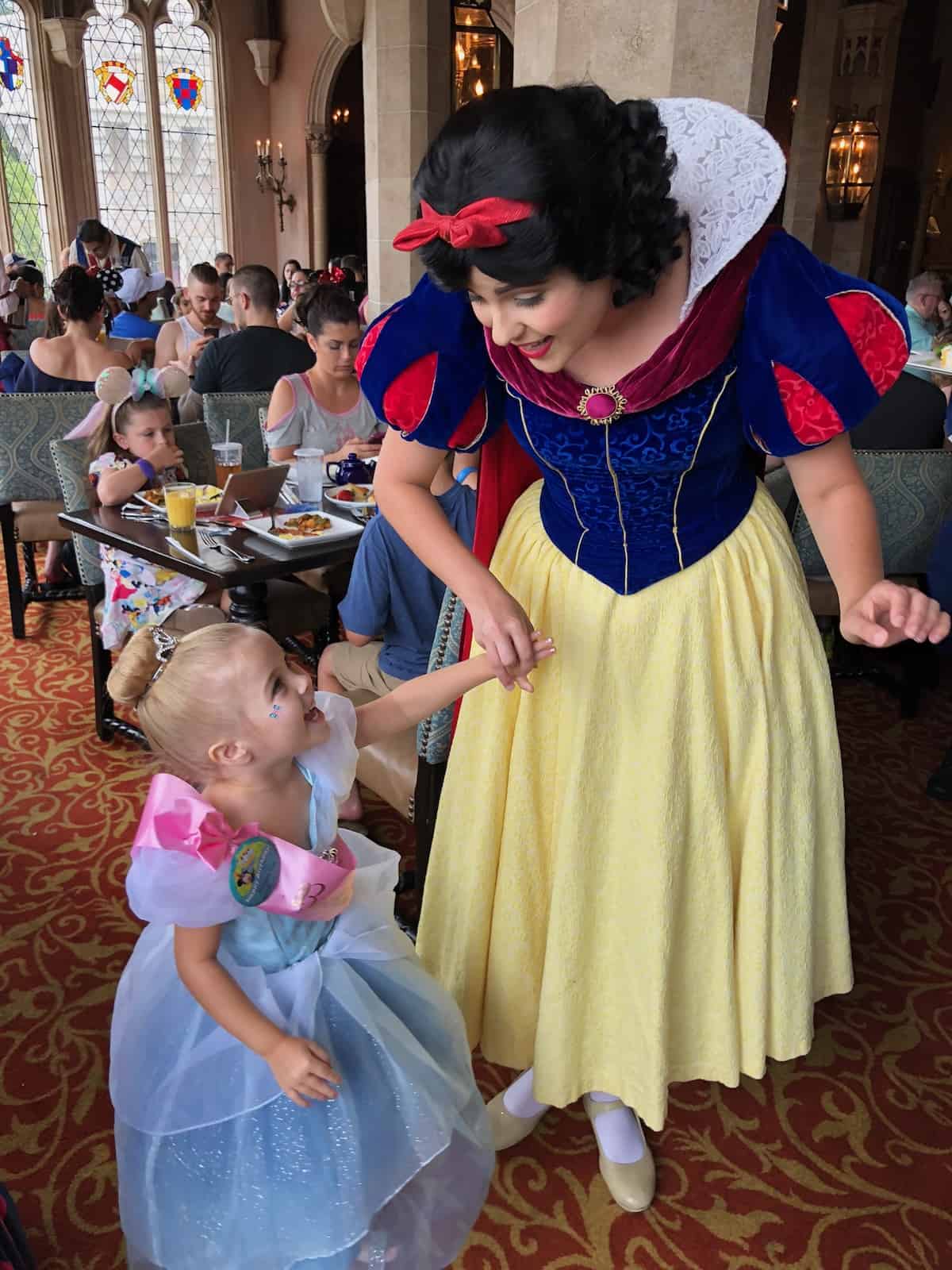 Can You Meet ALL the Characters at Disney World?
Is it possible to meet ALL the characters at Disney World?
My daughters and I met every single character who was, at that time, available for meet and greets at any of the Walt Disney Resort theme parks.
However, character hugs had JUST returned and Disney was in the process of slowly bringing back all the beloved characters to the parks. So we were able to meet all 34 characters in 2 days.
I do not want to make the assumption that it's possible to meet ALL of the Disney Characters at the parks when they are ALL doing meet and greets!
I think it's a SUPER fun challenge though! For us to accomplish our goal we didn't ride a SINGLE ride. We had to be hyper-focused on characters. We loved it and had a blast!
—–> Want more tips on rides? Be sure to read this post to help map out your plans!
If you have multiple days to visit the parks and make meeting characters your main focus, I do think it's possible to meet them all – you just need a lot of planning!
Disney also does not have every single character from all of their movies and shows available to meet. Some characters are very rare. Some stop doing meet and greets as they become less popular over time. Some characters are never represented at all in the parks.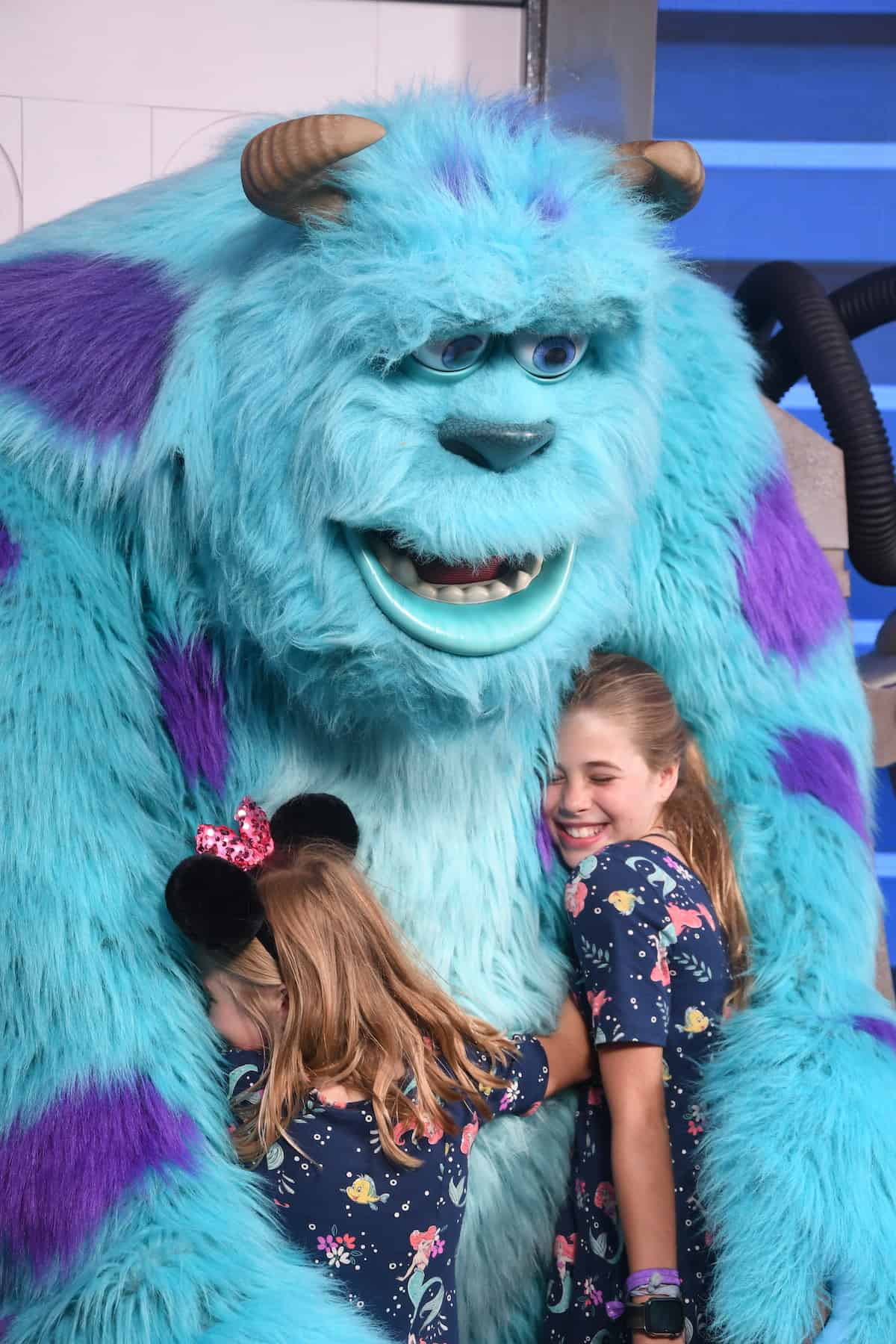 How can I meet Rare Characters at Disney World?
The best places to meet rare characters at Disney World are at the Mickey's Not So Scary Halloween Party as well as Mickey's Very Merry Christmas Party.
Often these events have long lines for character meetings. My best tip?
LINE UP EARLY.
If there is a character you want to meet – get in line PRIOR to the party start time.
Sometimes characters start meeting PRIOR to the party. I've heard of Jack and Sally meeting guests as early as 4:30! It doesn't hurt to try.
In the past Disney has had a dance party at Magic Kingdom (in Tomorrowland). It's been a fun spot to dance, play and interact with characters.
We've been able to break it down with Mike and Sully from Monsters Inc as well as Mr. and Mrs. Incredible! Hopefully this is something they will bring back soon!
If you are REALLY into characters there is also a super secret character meeting opportunity referred to as Character Palooza.
(Technically the Character Palooza is only at Hollywood Studios, at Epcot it's referred to as Epcot Training and at Magic Kingdom it's Frontierland Hoedown)
This is when Disney has characters in training and is a super special, super magical opportunity to interact with characters you may NEVER see at the parks.
The Character Palooza is NOT something to be attempted by a casual Disney goer or a first-time visitor.
It requires a lot of patience.
It's a completely random occurrence that takes planning as well as a whole lotta luck (and Disney magic!)
I have participated in the Character Palooza a couple of times and each time it was AMAZING. You can read about my personal experiences here and here.
If you're wanting to know more about the Character Palooza be sure to visit Kenny the Pirate as he has his own Character Locator system that really helps!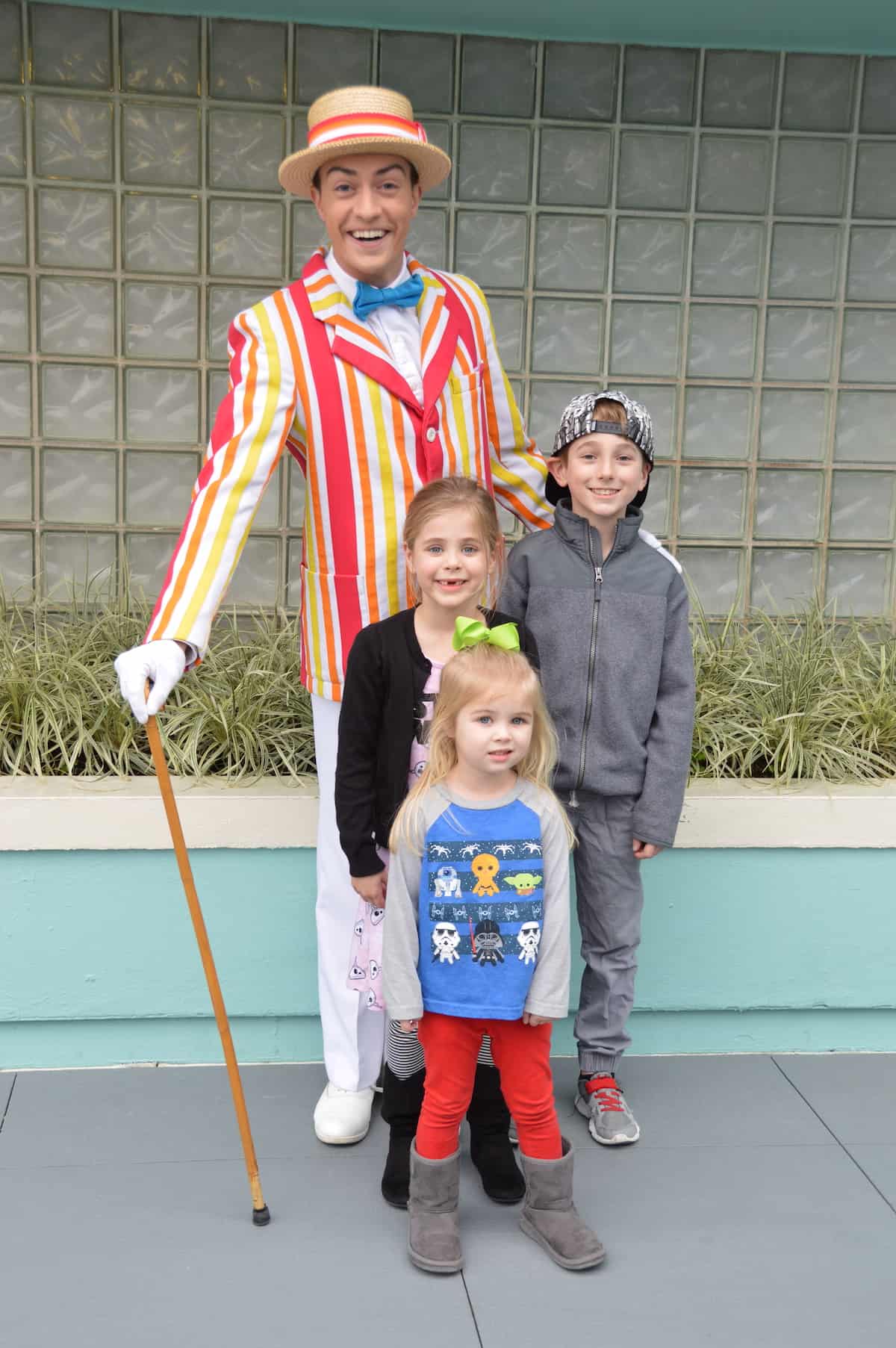 Are there Disney characters at Disney Springs?
Unfortunately, no there are no character meetings or even sightings at Disney Springs.
At Christmastime, however, Santa makes an appearance!
And even though there are not any roaming Disney characters at Disney Springs there are a lot of fun Disney elements that can help add to the Disney experience.
There are statues of several characters throughout the Marketplace area of Disney Springs which still allow for some fun photos! Plus you can see several of your favorite Disney pals come to life through the LEGO creations by the LEGO store at Disney Springs.
Love LEGO? Consider adding a visit to LEGOland during your Disney Trip!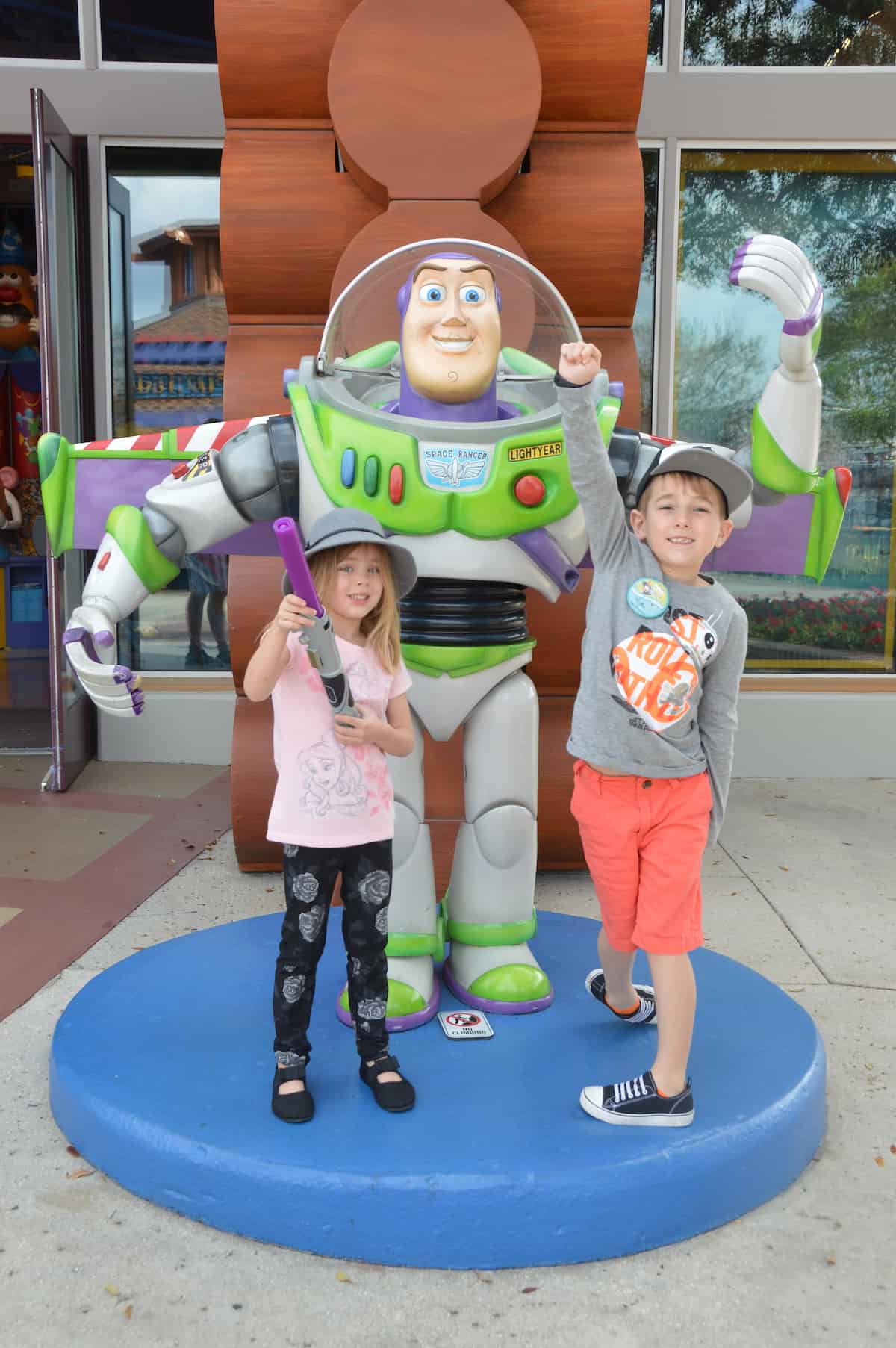 Planning a Trip to Disney World?
My favorite planning tool for Walt Disney World parks is Touring Plans. Being a member of their site allows you access to crowd calendars and daily itineraries to avoid waiting in lines! Learn more here!