This is my personal review on the Disney Enchantment Treats and Seats (the current Disney Fireworks Dessert Party at Magic Kingdom Park). I am a total Disney-Mom. I love all things Disney and having the opportunity to experience the Disney Magic with my babies is one of my greatest joys in life.
My youngest son, Spear, celebrated his 4th birthday at Disney World and I wanted to plan something extra-special for him. In the past, we've loved the Pirates and Pals Fireworks Dessert Voyage but it is not currently sailing.
Walt Disney World had just recently announced that they were bringing back some of their fireworks dessert parties. I decided to look into the options as I've actually never done a fireworks party or fireworks viewing special events inside Disney World and thought it'd be a great opportunity to give one a try! Plus who wouldn't want to take a birthday boy to see the new Magic Kingdom 50th fireworks?
Here is my review of our Disney Enchantment Treats and Seats Fireworks Dessert Party experience!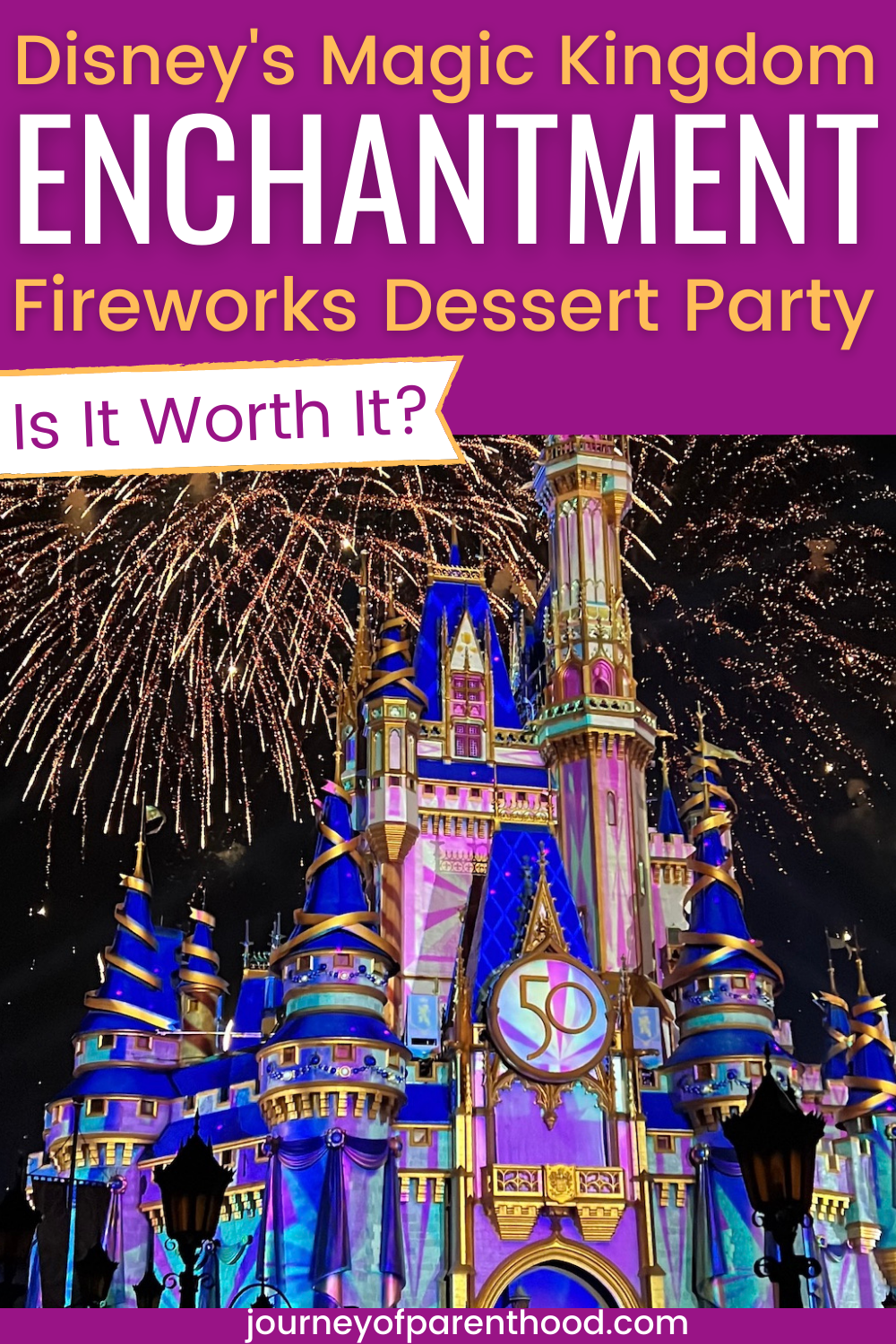 What is Disney's Enchantment?
Enchantment is the newest fireworks night show at Magic Kingdom at Walt Disney World Resort in Orlando, Florida. The new Disney Enchantment replaced Happily Ever After (the BEST show ever… why a new firework show was "necessary" I will never understand) and is part of the Magic Kingdom 50th anniversary magical celebration.
(Fun fact: I was actually there to see the very first showing of Enchantment on the 50th birthday, you can read the post here!)
The new fireworks show has a beautiful blend of fireworks and castle projections that showcase several newer Disney films that little ones are sure to recognize and have excitement over seeing.
What are the Disney Enchantment Dessert Party Options?
Disney theme parks are currently offering very few dessert party options at their parks. There is not currently any fireworks party offered at Disney's Hollywood Studios, Epcot, or Animal Kingdom.
I was excited to hear the Magic Kingdom news in the announcement of the Magic Kingdom dessert party options returning for Enchantment as part of Disney World fireworks shows!
There are currently three different Magic Kingdom dessert party options:
Disney Enchantment Treats and Seats
This party option is the most expensive of the three Walt Disney Company dessert parties offered. All three parties are exactly the same in food options, drink options, and location. The reason the Disney Enchantment Treats and Seats Dessert Party is the most expensive? Because this 50th fireworks dessert party is the only one that takes during Enchantment's presentation.
This means you are able to enjoy your treats while also enjoying the views of the Magic Kingdom's nightly fireworks show from your seats at Tomorrowland Terrace. One of the best things about this package option is that you don't even have to leave the observation deck and get to SIT rather than stand during the magic kingdom fireworks – however there is also an additional charge for that chair 😉
In my opinion, the fireworks viewing spot from Tomorrowland Terrace isn't all that wonderful. When I was looking through the options I quickly decided to save a little money and possibly also have better views by going with one of the lower priced party options.
Currently, the Disney Enchantment Treats and Seats Fireworks Dessert Party is priced at $114 per adult (ages 10+) and $69 per child (ages 3-9). And no, that price does not include park tickets!
Please note you do need to check in 60 minutes before the fireworks start to be able to enjoy the full event.
Disney Enchantment Pre-Party
The Disney Enchantment Pre-Party Fireworks Dessert Party is the same Disney dining food offerings, drink options, and location as the Disney Enchantment Treats and Seats option. However it takes place before Enchantment (as the name would suggest!).
This is the option I chose for Spear and I as it was cheaper than the Seats and Treats and took place before the fireworks show. We were able to attend the party, enjoy our snacks and desserts, and then were escorted to our viewing area for the fireworks.
The big difference, aside from price, in this dessert party option instead of the Treats and Sweets party is that after we had our fun at the party we were directed to the Plaza Garden for viewing. This viewing area is standing only, no seats included.
Prices for the Disney Enchantment Pre-Party are currently $99 per adult (ages 10+) and $59 per child (ages 3-9). This does not include park admission.
For this event you need to check in 90 minutes prior to the fireworks start time to allow you to fully enjoy the party as well as have time to find your viewing area for the show!
Disney Enchantment After-Party
Yup, you guessed it – the Disney Enchantment After-Party is the exact same as the Pre-Party however it takes place after the fireworks end.
For this event you need to check in 60 minutes prior to the start time for Enchantment and then you will be escorted to the Plaza Garden viewing area for the fireworks show. Following the show you will go back to where you checked in at Tomorrowland Terrace to then enjoy the desserts and drinks!
This is the same price as the pre-party (currently $99 per adult (ages 10+) and $59 per child (ages 3-9)) and also does not include park admission.
I didn't choose this option because I knew we would want to be getting out of the park as quickly as possible once the fireworks ended so Spear would be able to get in the bed. No way was I loading him up with sugar after the fireworks were over!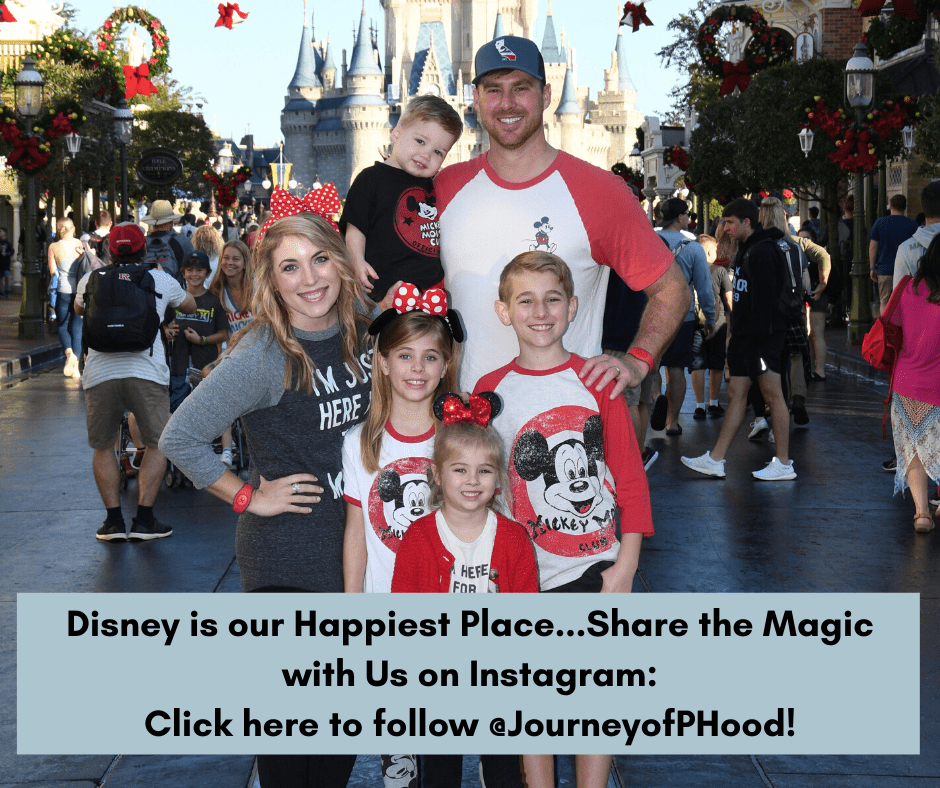 Where is Disney Enchantment Treats and Seats?
All three Enchantment Fireworks Dessert Parties are located in Tomorrowland Terrace inside Magic Kingdom theme park. Tomorrowland Terrace is one of the Disney World restaurants (or at least it was before parties took over the location) and is easily located when entering the park from Main Street U.S.A.
Simply walk down Main Street (towards the front of Cinderella Castle) and turn right at the end (where The Plaza is located). You will pass bathrooms on the right and then will be walking up to Tomorrowland Terrace area.
Sidenote but this area is also an excellent cut through to get to Tomorrowland and allows you to pass the famous Purple Wall on your way there too 🙂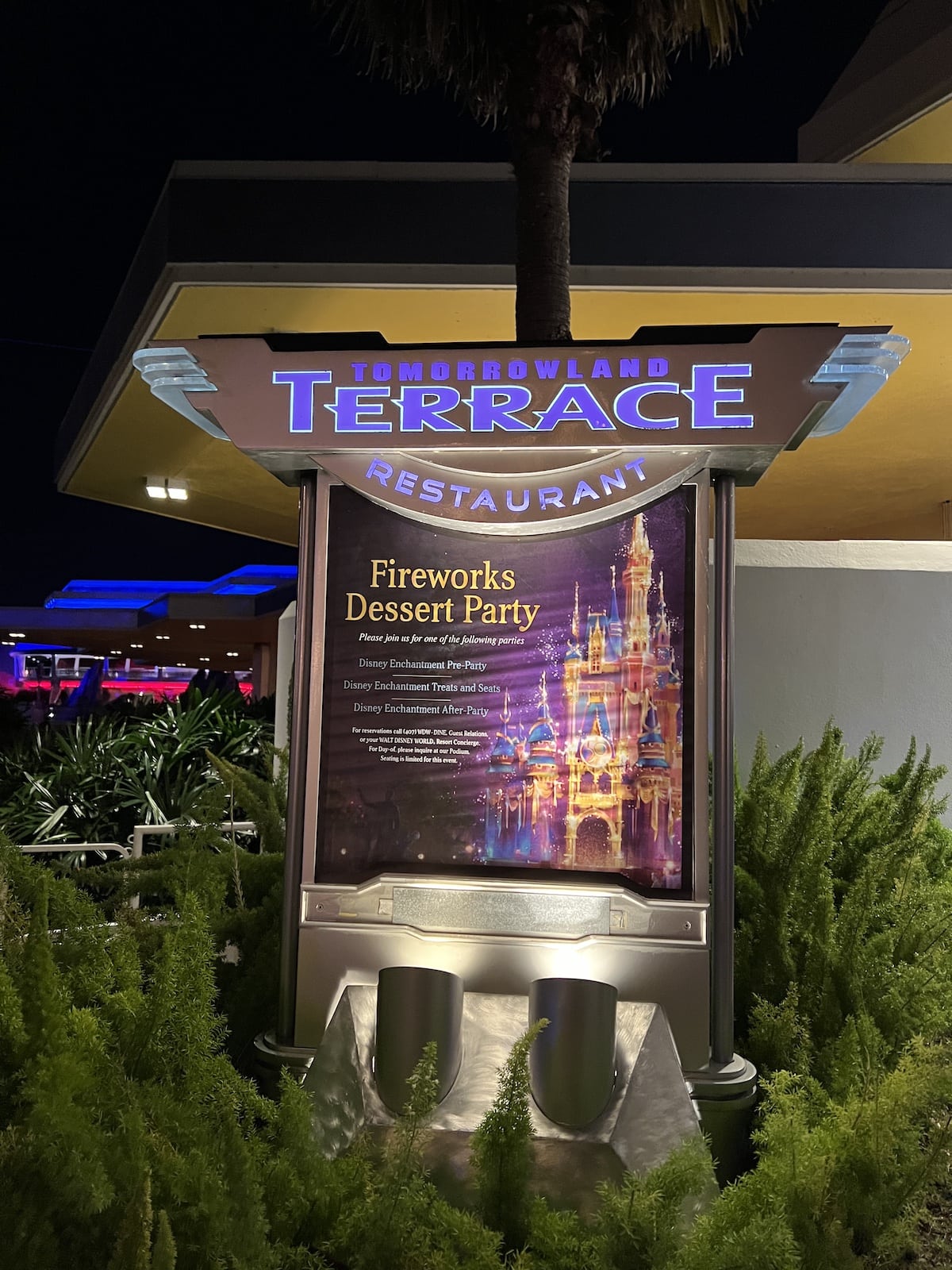 When Do I Need to Check-In for My Fireworks Dessert Party?
For the Enchantment Treats and Sweets party as well as the After-Party check-in is highly suggested 90 minutes before the Enchantment start time.
For the Pre-Party 90 minutes before show start time is recommended.
Spear and I arrived at Magic Kingdom at 5:00 ish and went over to ride Tiki Room and take some photos together and do a little shopping prior to our check-in time.
I do NOT think you HAVE to check in RIGHT at your recommended check-in time. However, keep in mind that the later you arrive the less time you will have to enjoy your treats and the later you will be escorted to the designated viewing area.
I was paying a ton of money for this so I wasn't about to waste ANY of the time allowed for it! We checked in at 6:36 for our Pre-Show party. Enchantment that evening was starting at 8:00 so this gave us almost the full 90 minute experience.
It was a bit confusing at check-in due to all the different party options and different guests showing up for different events all at the same time yet at the same location was a bit complicated for guests as well as cast members. It was also in November so by 6:30 it was DARK which only made it tricker to navigate.
I was thankful we had PLENTY of time and didn't feel rushed whatsoever. My main reason for booking the party was to give Spear a special experience with just he and I but mostly it was because I knew it'd be tough for him to SIT and WAIT for the fireworks. I knew having the party would be both a fun experience but also provide him with entertainment and something to do while we waited for the show and provide us with seats without us having to claim them hours before start time.
Spear was SUPER excited about getting to wear his special party bracelet (given to each guest at check-in). We were escorted to a table (Which was a nice touch! It's not a full-service experience like you receive at table service restaurants, but the cast members did a fantastic job of making the event feel special) and then able to go through the lines for the desserts and drinks. I let him choose everything he wanted to get, which was a treat in itself for him! He even got to drink out of a big boy cup 😉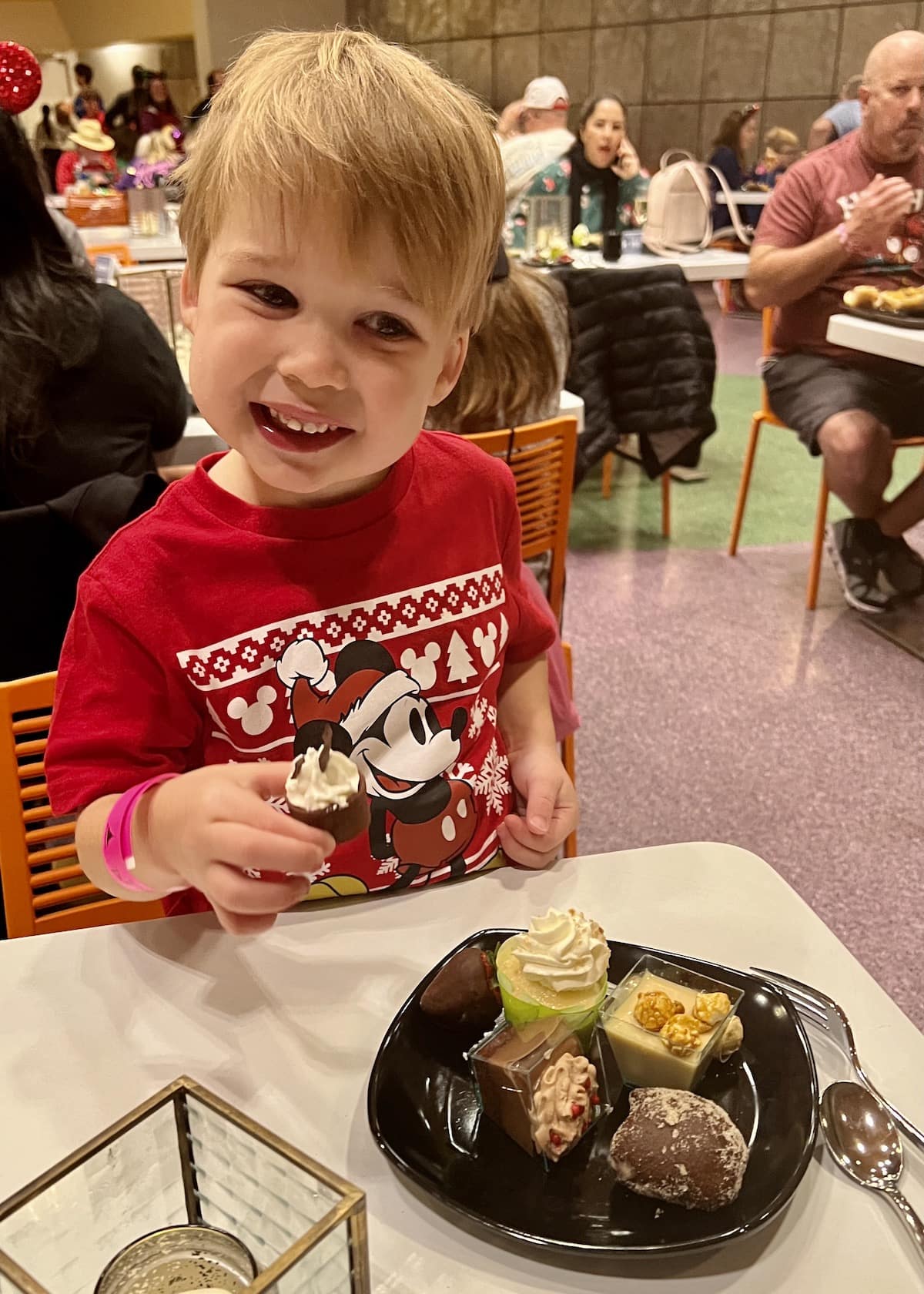 What is Included in the Disney Enchantment Treats and Seats Package?
Unlimited beverages, desserts and assortment of beer and wine for ages 21 and up are all offered during the Enchantment Treats and Seats dining package as well as during the Pre and After Party.
All the food and drink options from Disney World dining are the SAME for all three parties at Tomorrowland Terrace Restaurant.
Beverages Included in the Disney Fireworks Dessert Party
There is a wide variety of options of beverages available on the menu at the Fireworks Dessert Party. Water (with lemon – my fav!), as well as tea, milk, lemonade, strawberry lemonade,. and even POG juice, are on hand! Hot tea, coffee, and hot chocolate were also available. The hot chocolate hit the spot on the cooler night for us!
Our favorite though was the sparkling cider. It is served in fancy flute glasses – just perfect for toasting and celebrating!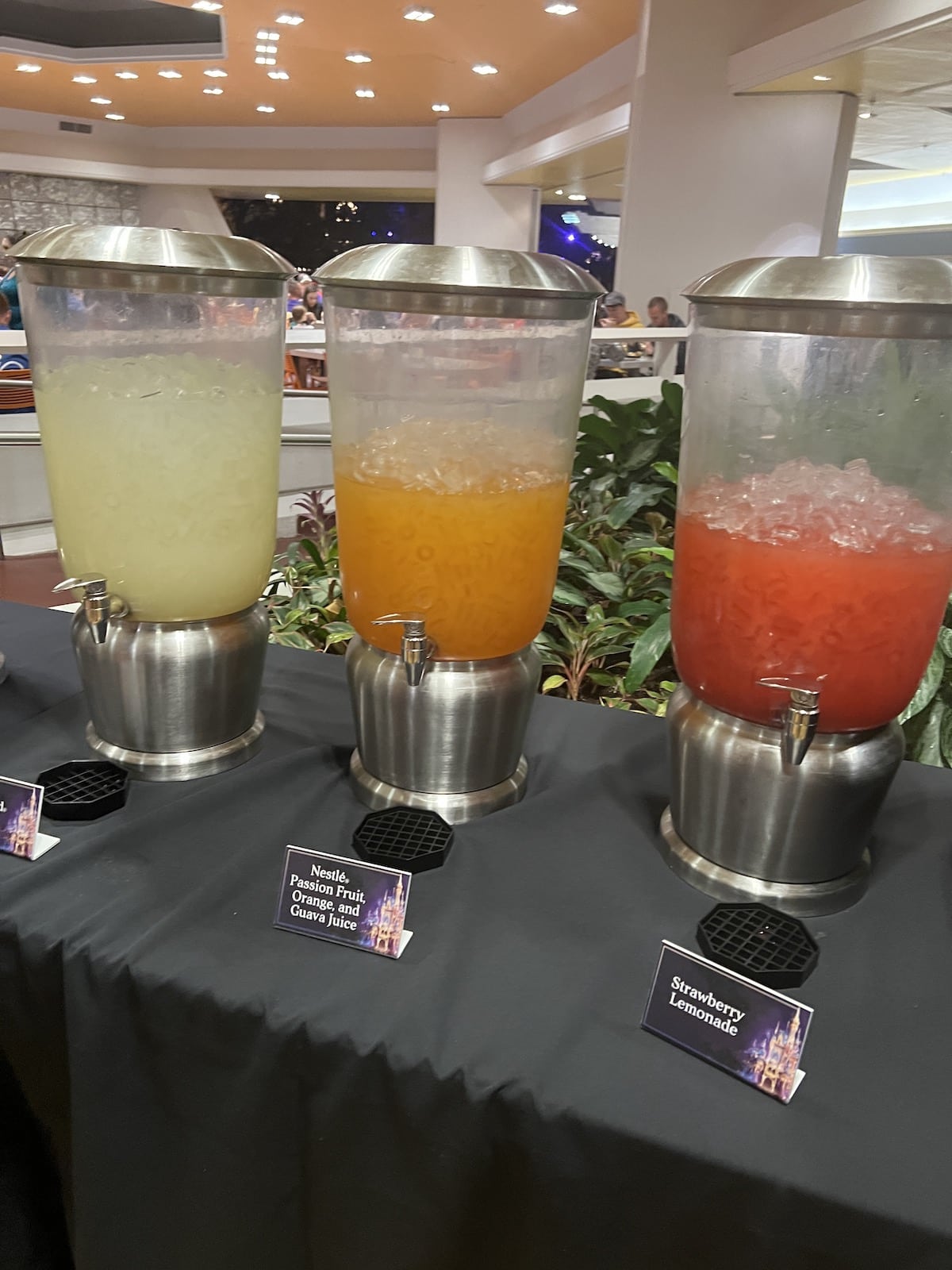 Food Included in the Disney Treats and Seats Party
My biggest tip: EAT DINNER PRIOR.
I had packed some dinner for Spear to eat (which is totally allowed to bring in with you during the party…my favorite money saving tip for Disney is to bring in your own food) but did not pack anything for myself thinking that they'd have some substantial Disney food offerings during the party.
I was way wrong. Not only is there truly nothing aside from desserts outside of a bit of fruit, crackers and a bit of cheese but the desserts themselves are not substantial in the least. It is all very light desserts with lots of pudding, mousse and other cream-based offerings.
Here's my dinner 😉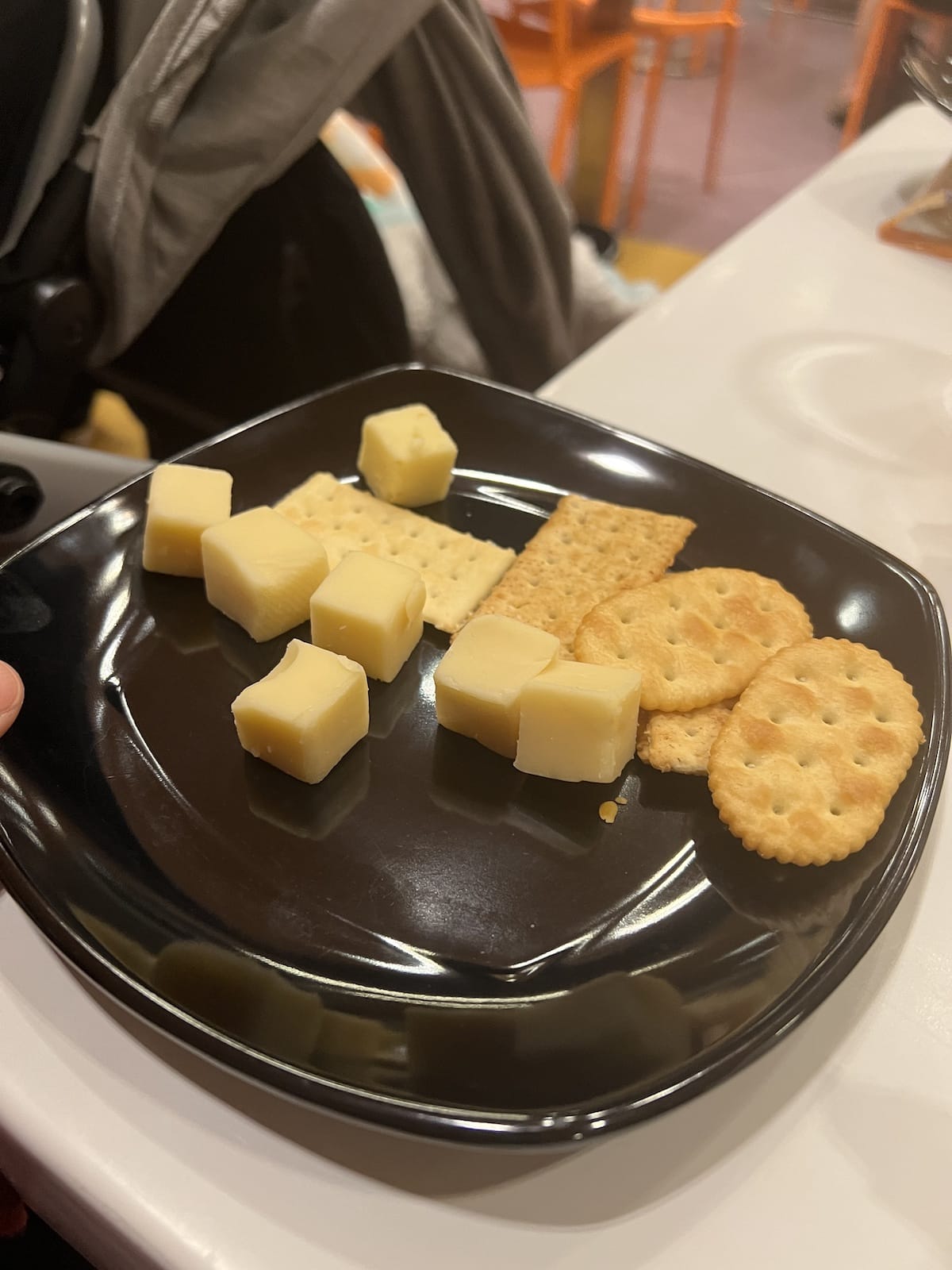 When I read desserts I was hoping for a cookie or brownie or even a Mickey ice cream bar. Heck, anything Mickey-shaped would have been exciting! When you pay a substantial amount of money you do tend to expect some sort of themed desserts prepared at a dessert event.
Instead the sweets offered included: Oreo Cheesecake Mousse, Chocolate Silk Pie, Chilling Chamber Pop with Graham Cracker Crumbs, Devil's Chocolate Pudding, Firehouse Donuts, Chocolate Covered Strawberries, Butterscotch Pudding with Caramel Popcorn, and Tres Leche.
I was zero percent impressed with the desserts offered during the event. It did NOT take away from our joy or fun, but for the price I cannot believe Disney didn't have a better selection of family-friendly desserts. Spear picked at his and didn't really eat much of any of them nor did he love any of them either. None were exciting or special or worthy of being considered a "party food."
I love to host parties for our family and, not to brag, but I do better with sweets and desserts than Disney did when they planned this event!
The best dessert was probably the butterscotch pudding and that is only because the caramel popcorn on top was so yummy! The chocolate covered strawberries had too much hard chocolate that made them difficult to eat and even the donuts were too dry to be enjoyable.
Basically, the desserts are a bummer. The drink selection was more exciting for us as Strawberry Lemonade is such a treat, who doesn't love POG juice and the sparkling cider MADE the night!
What to Expect During the Disney Enchantment Treats and Seats Fireworks Dessert Party
It was a tad tricky getting our plates and items with me being the only adult present with my wild-man Spear. We made lots of trips to and from the table in order to get everything we wanted without dropping anything!
There was a constant flow of guests coming and going throughout the evening and it all flowed smoothly. We did not feel the least bit rushed!
We got our items and our seats and taste tested everything. Spear had time to eat his dinner that I had packed and I fueled up on the crackers and cheese 😉
Most of all through we had SO MUCH FUN toasting over and over with our sparkling cider. It was THE highlight of the evening for us both. It was so fun and Spear was SO adorable about it that even the family beside us asked to take a picture of us because they enjoyed watching us!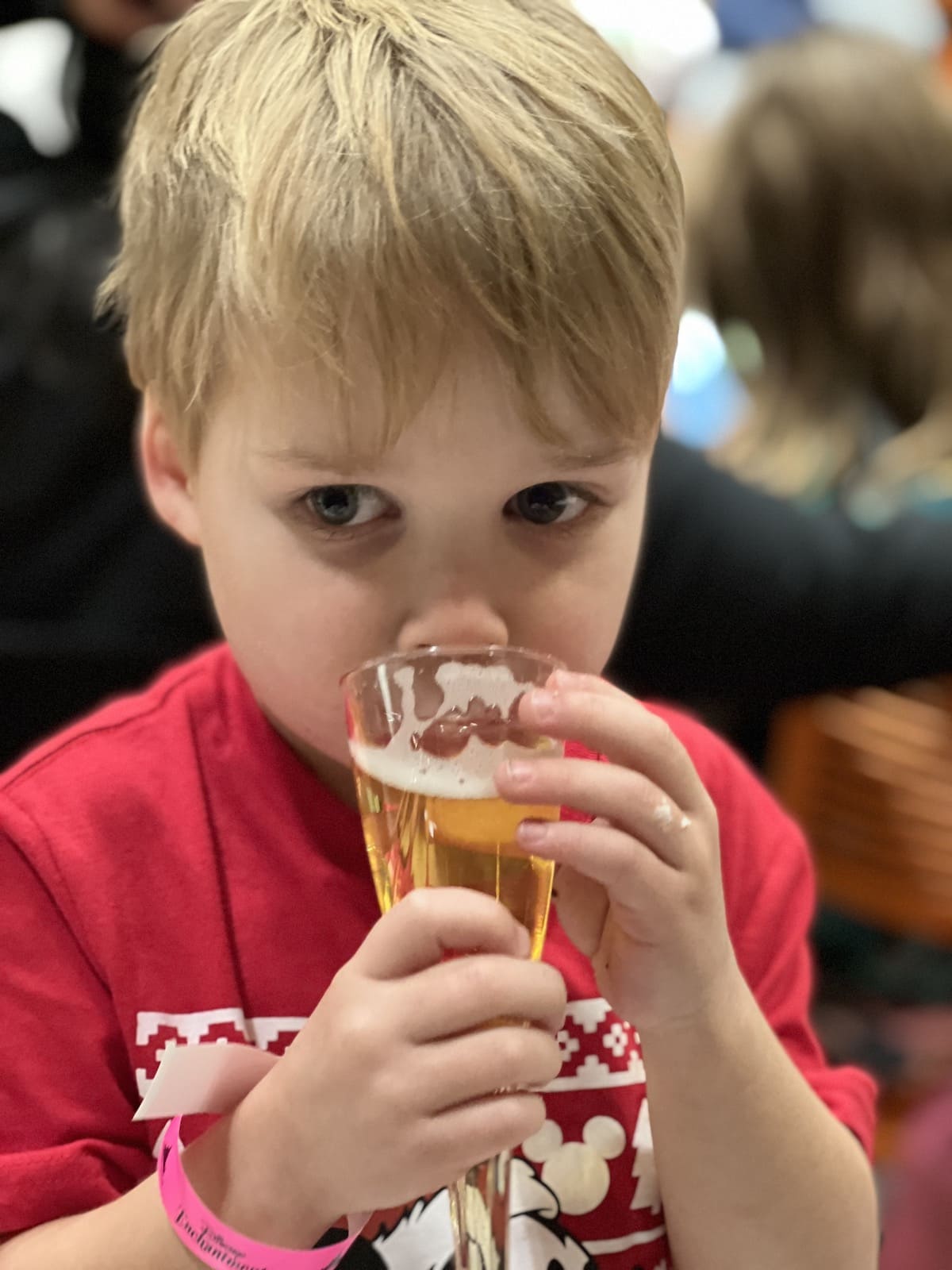 We also LOVED the hot chocolate as it was another special treat for Spear. He has talked and talked about going back to our "fireworks date" to have special drinks and hot chocolate. It was THE PERFECT temperature too. I swear it's magic only Disney can master to make hot chocolate that ISN'T burn-your-mouth hot!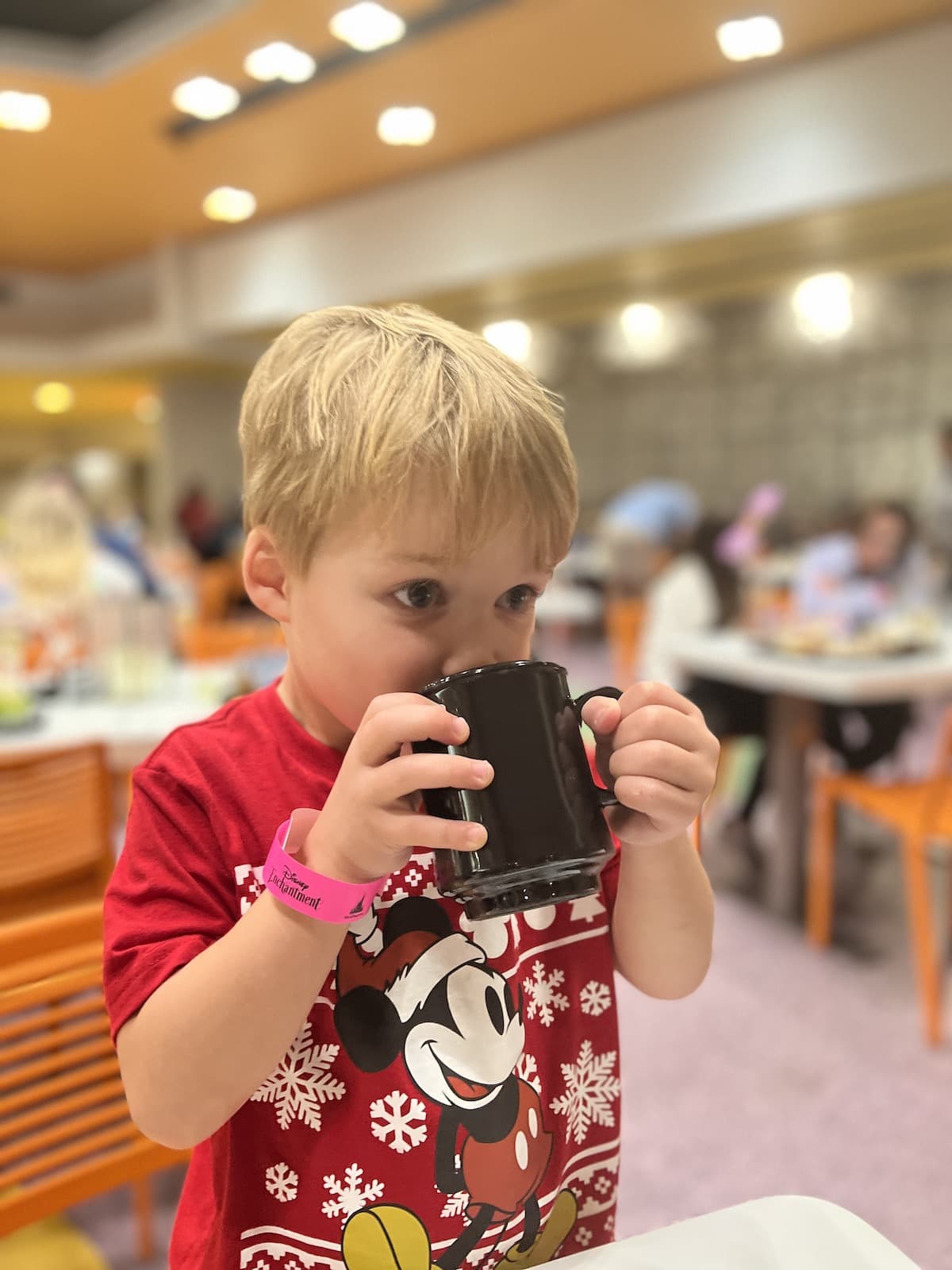 Where is the Viewing Area for Disney's Enchantment Dessert Party?
Once we finished enjoying our time at the party we contacted a cast member and they helped us get rolling to our seats. We left the party area about 30 min prior to the fireworks start time.
I am NOT sure if this is an always-thing or if we just experienced a bit of Disney Magic but another cast member also offered to get us to-go hot chocolates and gave Spear a special chocolate treat to take with us to the viewing area as a Birthday celebration for him!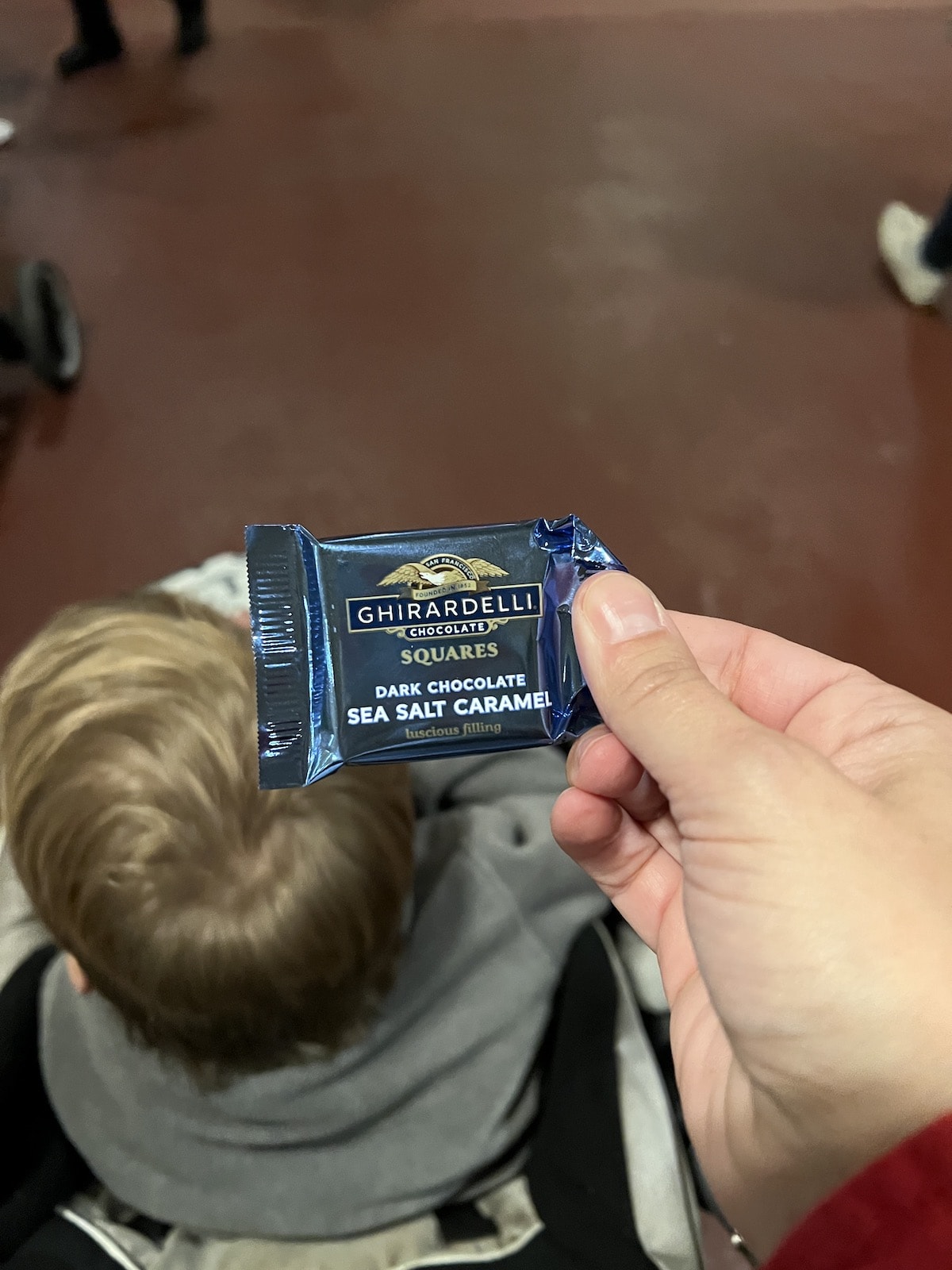 The viewing area for both the pre-party as well as the after-party are both located at the Plaza Garden viewing areas. If you're unfamiliar with this location it is at the very BACK of the hub area at Magic Kingdom. Basically, we were positioned directly in front of the Plaza restaurant.
This view area is also standing only and by standing only they mean shoulder to shoulder standing. It was CRAMMED.
I was shocked and a bit nervous as we approached the area. I can't believe the high price paid for this event to then have such a terrible viewing selection!
Thankfully we had a SUPER friendly cast member as our guide. She was short like I am and she understands the short girl struggle when it comes to fireworks viewing. She seated us in the wheelchair viewing area which had TONS of space and allowed us to be able to fit comfortably as well as see beautifully.
In our viewing spots, we even had room for Spear to be able to get out of his stroller and play with toys while we waited for the fireworks display to start.
I do NOT think we would have been this lucky with the seating arrangements if I'd brought all four of my kids or had my 6'6″ husband with me. I DO think if you have little ones and have a stroller and are super kind to cast members that there is a good chance of being directed to the more spacious viewing area, but obviously it all depends on how many guests with disabilities are visiting the parks and needing the area at that time.
The closer it got to showtime I did see other families with strollers also being ushered into the same area! It is located directly in front of the regular dessert party viewing area so the views aren't that much better but having the SPACE was huge. It allowed me to see much better to be able to be as far back as I could be in that area (you can see our view in this photo) and we weren't smushed in beside a ton of other people which greatly improved our enjoyment for sure!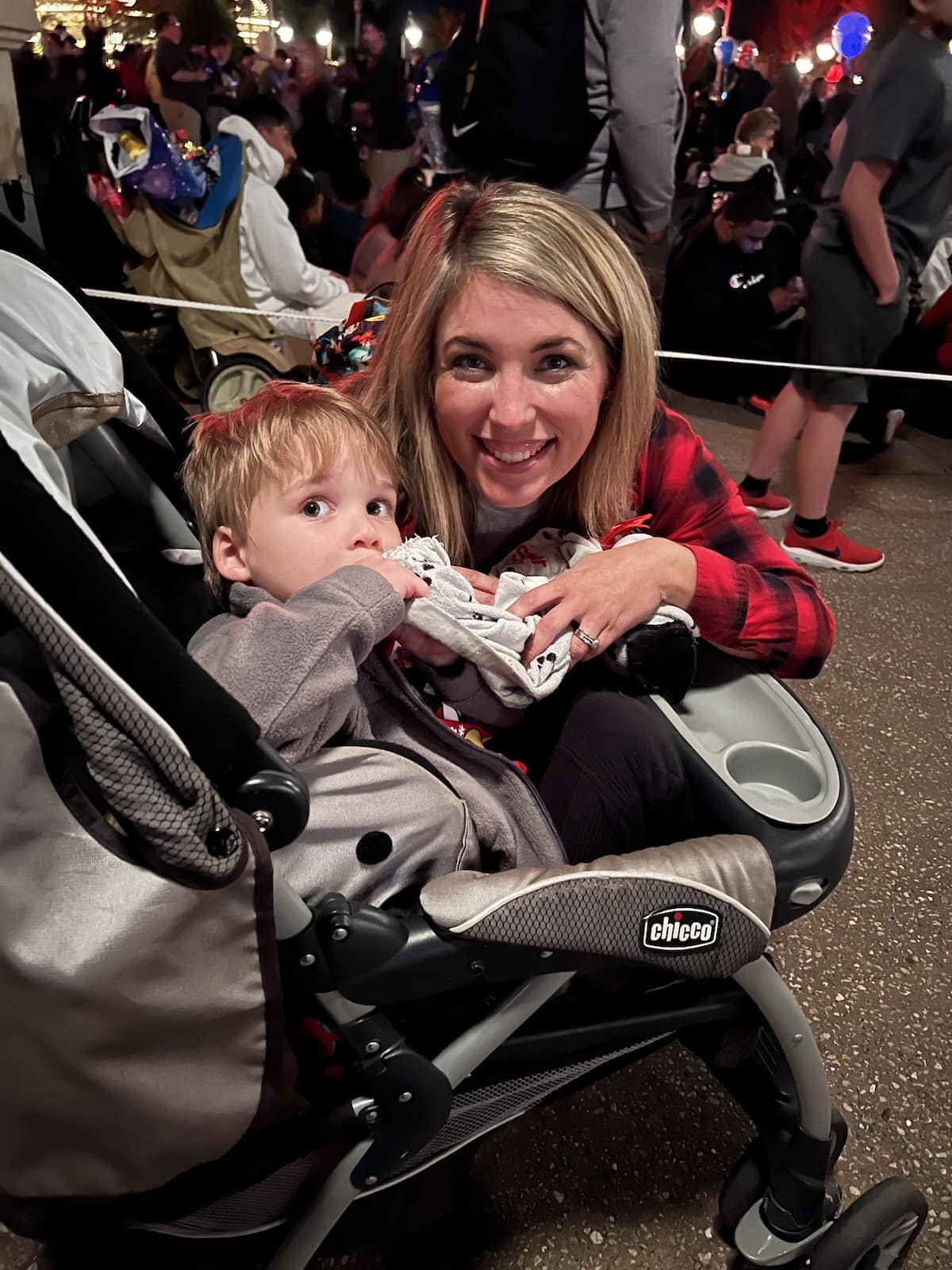 The timing was perfect as Spear did not have to wait too long for the fireworks to start. Spear did not fully understand what fireworks even were so I explained them to him as best I could before the start of the show and I spent the whole time watching HIM.
Seeing it through his eyes was so, so special for me. He's my last baby. My last first fireworks moment. I soaked it alllll in.
To be honest, I didn't love Enchantment the first time I watched it. This time though? I loved every second because I was getting to experience it with my baby boy together!
He especially loved seeing all the projections on Cinderella's Castle and loved the special effects so I do think closer viewing would be even more fun for him but having our viewing spot was wonderful too!
I was overcome with so much emotion in this moment. These are the moments I love most as mom and I cherish these experiences with my children. He loved this night but I will NEVER forget it. As much as it was a gift for him, it was truly a gift for ME too. I'm so thankful to get to have these memories!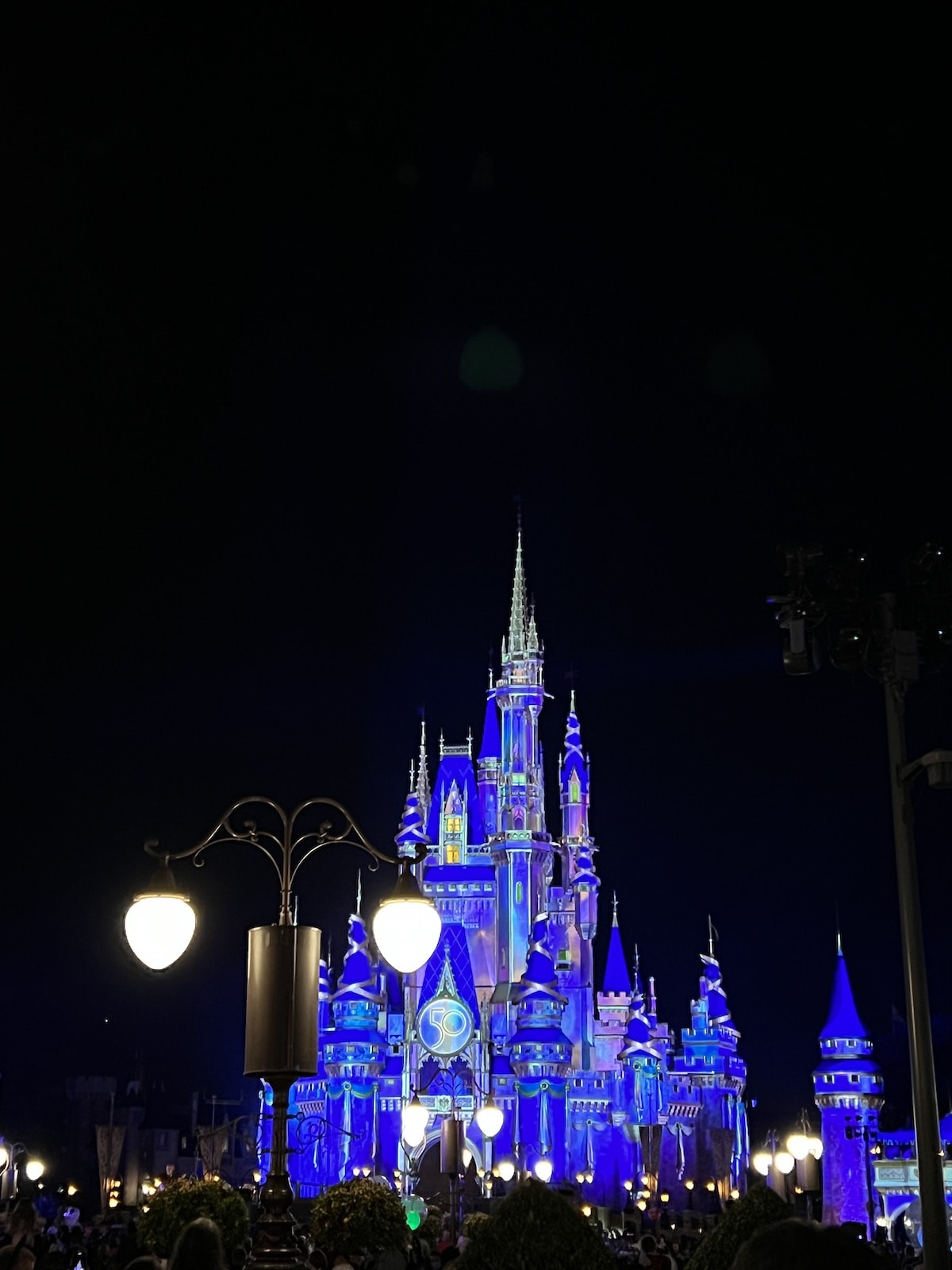 What Time Does the Fireworks Start at Disney World?
A super common question is what time does the fireworks start at Disney World and specifically what time are fireworks at Magic Kingdom? I always recommend checking the official Disney World calendar 60 days before your trip and then again 30 days as well as right before your travel. Park hours and entertainment times can vary and can change, even up to the last minute!
During our travels, the new show, Enchantment, start time was at 8 PM. Expect for fireworks to start later in the summer months as it does need to be dark prior to the start time. This is a big reason I took Spear to see Enchantment during his birthday trip as the earlier the start time, the better when it comes to little ones!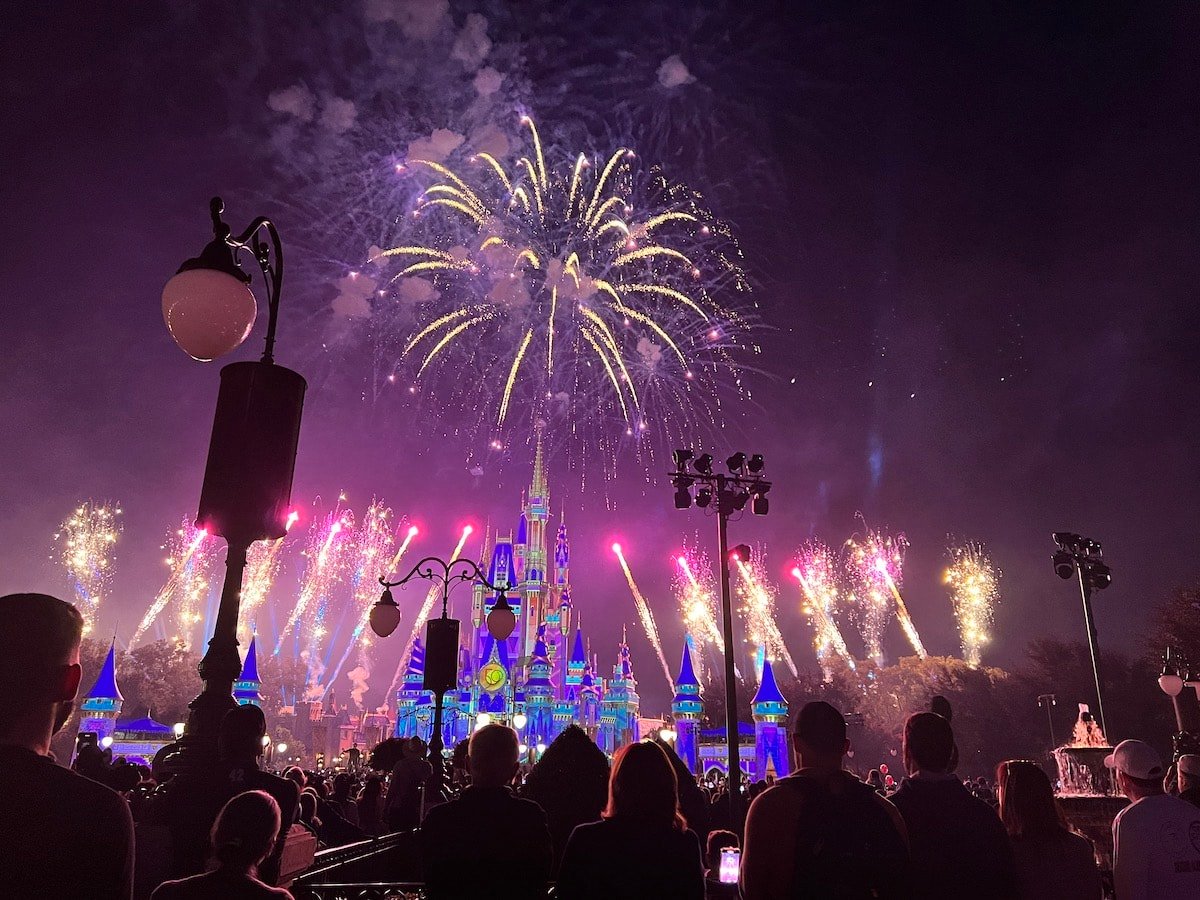 Is The Disney Enchantment Treats and Seats Package Worth It?
I almost canceled my reservation several times. I knew going into the Enchantment Dessert Party that it would most certainly NOT be "worth it" with the price we paid to partake in the event. However, we visited during Thanksgiving week. One of the most crowded weeks during one of the top peak seasons of the entire year at the parks. Enchantment was just a little over a month old (it debuted on October 1st, 2021). I knew the crowds would be INSANE and I knew that crazy crowds + my crazy when he's sleepy boy would nottttt mix well.
I wanted to ENJOY Enchantment together. I wanted it to be a FUN experience for us BOTH. So I stuck with my party plans and even without the best view of the Disney World Fireworks or the immersive projection effects, I'm still glad I did!
I often talk about the "Disney Bubble" and how people justify spending all sorts of money on things because Disney makes it seem like the more you spend – the more magic you receive.
(This is especially true when it comes to staying on property…it's nottttt worrttttthhhh itttttt)
I know I was totally guilty of falling for that Disney trap when I booked this event for us. It was overpriced. The food offerings were disappointing. The viewing area for Enchantment was basically terrible.
Do I recommend booking Disney Enchantment Treats and Seats Fireworks Dessert Party? NOPE.
Am I glad I did it? YUP.
For us and our situation the party made sense. It allowed me to avoid navigating crazy crowds solo with my young child. It provided us a fun experience together. It gave us the opportunity to watch the fireworks without having to stake out a spot hours in advance. I'm GLAD I did it for this particular situation.
Will I do it again? No. Will I tell friends and family that they should do it? No.
But Spear and I had an incredibly magical night together. We had SO much fun and it's a night he talks about on a regular basis to this day, over 4 months later. He says for his next birthday he's going to take me on another "fireworks date." And anytime we talk about going somewhere as a family he asks if they have fireworks and hot chocolate there.
I will also add if you have a husband who is really not into the whole wait forever to watch fireworks and then wait forever in a massive crowd of people to exit the park that HE may enjoy and appreciate the dessert parties. Let's be real, having a happy HUSBAND at Disney is well worth any price 😉
I cherish these memories and loved our special quality time together!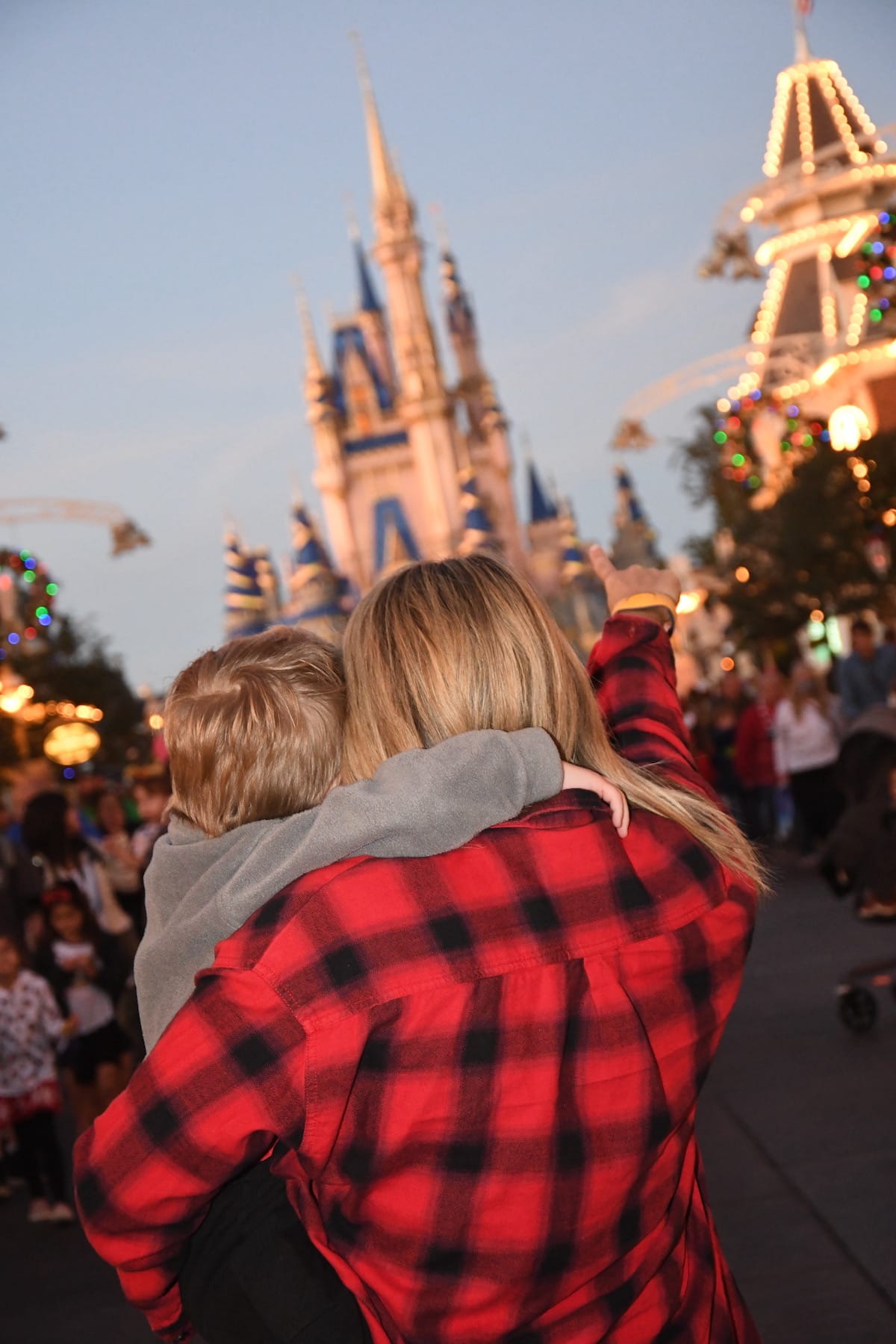 Another perk of booking the party was that since we were seated so far back from the castle we had an earlier start than more of the crowds and a VERY smooth experience exiting the park. Usually, it can take me over an HOUR to get to my car but we were out super quickly without any major incidents and didn't feel overly crowded or cramped as we made our way to the exit either.
The ferry is typically the easiest way back to the parking lot from Magic Kingdom after fireworks end so we headed straight there and were able to watch the water pageant on our way (which is one of my favorite 50th touches!).
Tip: If you're not exhausted already and feel like taking a bit more of a walk the pathway is now open to walk by the Grand Floridian as well as the Polynesian (two of Disney's resort hotels) to the parking lot!
It's so funny how different each kid is. Tess, my second youngest, is 7 and still ALWAYS falls asleep in the stroller on our way to exit the parks after fireworks. Spear though? He was not tired at alllll. He stayed wide awake the entire walk and we had so much fun on the ferry ride back together talking about the different lights and what they were of and how boats dock and what animals live in the water. He's def my fellow night owl 🙂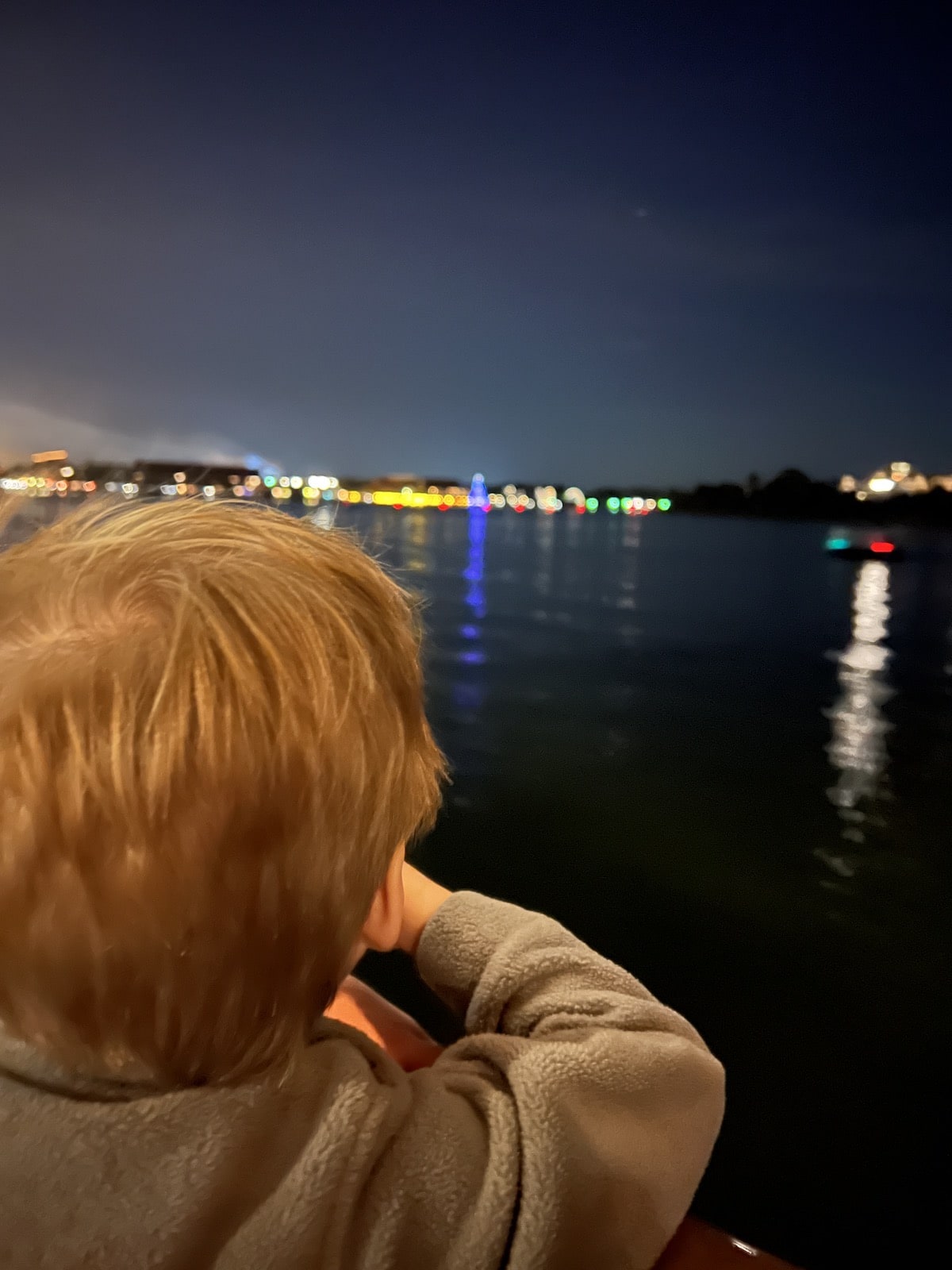 If you are interested in booking one of the Enchantment dessert parties be sure to check for availability beginning 60 days prior to your travel date! More info can be found here.
Where is the Best Place to Watch Fireworks at Disney World Magic Kingdom?
If you came to this post looking for a glowing review of the dessert parties you're probably feeling a bit discouraged and a little disappointed. Look on the bright side – I just saved you a TON of money 😉
And on top of the money saved, I have good news for you! I will also share with you one of my very best personal Disney World secrets. The best place to watch fireworks at Disney World Magic Kingdom.
Yup. I know there are several spots considered best places for viewing the nighttime spectaculars at Magic Kingdom but I know THE best spot and I'm willing to share it – and all it'll cost you is park admission (plus the actual Mickey-shaped treats you may choose to buy while you wait for the show!).
I started to share all the details of my great spot for the nighttime show in this post but realized I'm PRETTY passionate about this so I wrote THIS post alllll about the BEST place to watch fireworks at Magic Kingdom! You're welcome 😉
Planning a Trip to Disney World?
My favorite planning tool for Walt Disney World parks is Touring Plans. Being a member of their site allows you access to crowd calendars and daily itineraries to avoid waiting in lines! Learn more here!
More Posts to Help You Plan: