There is nothing quite as magical as taking the whole family to Disney World for vacation, but navigating an amusement park with people of various ages and sizes does have its difficulties. You may be wondering if height may prevent some of your family from participating in all Disney World has to offer. What are the Disney World height requirements and how do they impact your Disney travel plans?
I am a self-proclaimed "ride wuss." If a ride has a height requirement, I probably won't want to ride it. That is a big reason why I LOVE Disney World so much! Disney World has ENDLESS options for the ENTIRE family to enjoy!
We've been visiting Universal Orlando more frequently as a family and, while we love the memories we're making there and have a blast each visit, no theme park can come close to the family togetherness through shared experiences the way Disney World can!
While Disney isn't a thrill ride-only theme park destination, Disney World does have height requirements. There are several rides with a minimum height requirement and even some with a maximum requirement. However, many attractions do not have any height requirements, and anyone over 48 inches will be able to enjoy pretty much everything.
With so much to do at Walt Disney World theme parks, planning can be crucial. To make things easier and to help you and your family get the most out of the trip, this post has broken down everything you need to know about Disney World height requirements. Hopefully, this quick reference can be beneficial as you plan your next Walt Disney World vacation!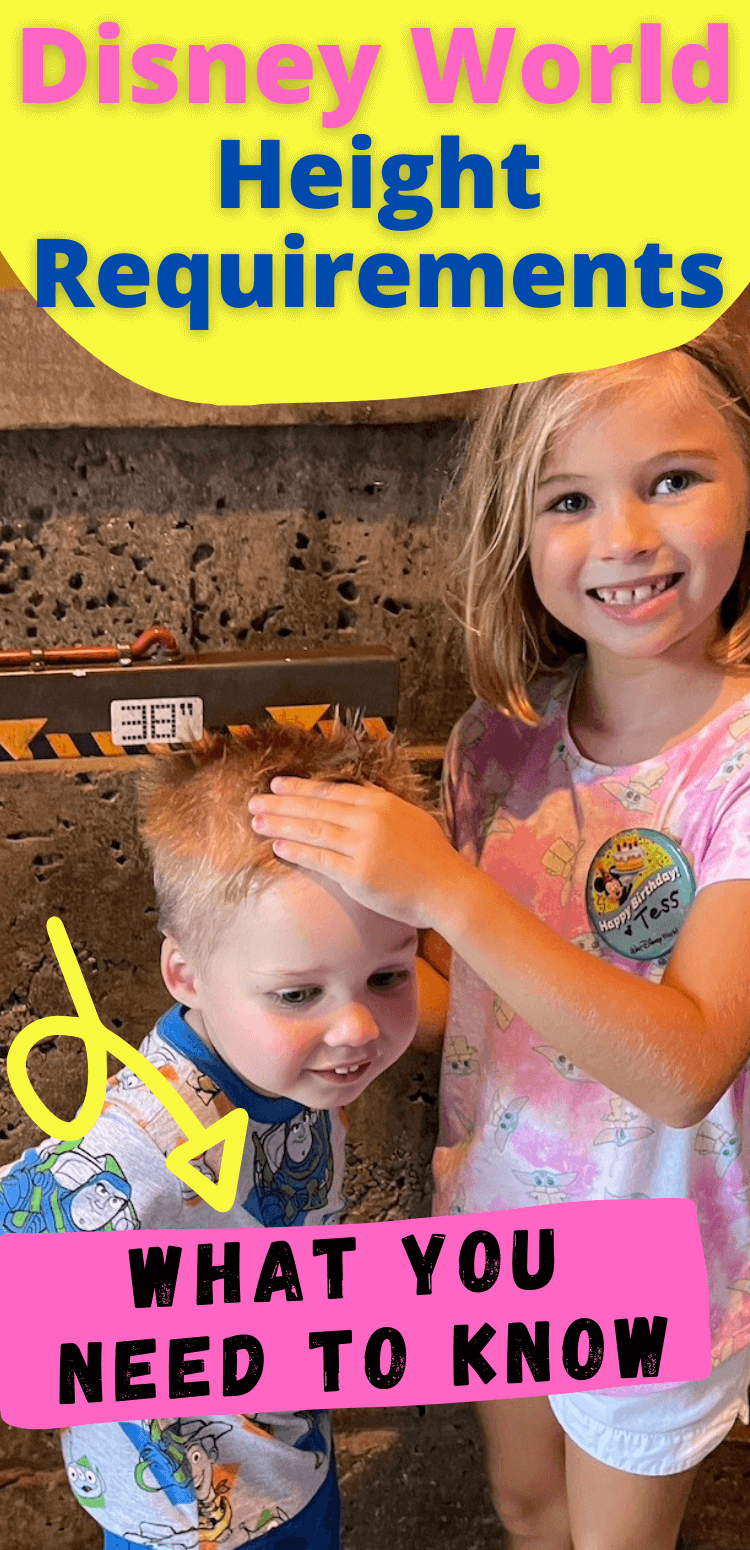 Why Does Disney World Have Height Requirements?
Height requirements are a matter of guest safety. There are usually put in place on attractions that use some sort of device to fasten passengers into the ride and which would not be able to safely secure people under a certain height.
Of course, Disney World has a ton of attractions that do not require special harnesses and which do not have height requirements. As a basic rule, you can expect rollercoaster-like rides to have height requirements while virtual experiences and slower rides (such as the boats in It's a Small World) do not.
There are also a couple of places, especially in Disney World's water parks, designed specifically for toddlers and smaller children which have maximum height requirements. This is to keep these areas a safe place for small children to play, and anyone over the maximum height would have a hard time fitting into the attraction anyway!
If some members of your party are under 48 inches tall then you will likely run into some things they cannot do at Disney World. This can be disappointing and frustrating for many eager vacationers, so you need to plan ahead. I find that doing this research in advance can really help minimize disappointments.
I have a little thrill-seeker in my crew who also happens to be on the shorter side. It is heartbreaking for her to visit theme parks and have to watch her older siblings hop to and from all the rollercoasters while she's left with her little brother because she's not tall enough.
Knowing in advance what she is and isn't able to ride helps me better navigate the day for her to ensure we have FUN things planned that she will enjoy experiencing during those times where the older kids take part in activities she's not able to take full advantage of yet.
It is also important to note that just because your child is TALL enough to ride an attraction, doesn't mean they should ride the attraction. It's important to keep your child's personality and preferences in mind. My older daughter is very tall for her age and before she even turned three she was able to ride Seven Dwarfs Mine Train at Magic Kingdom. We rode it as our first ride of the day on her second visit to Disney World. She. Was. Terrified.
Not only was that an awful experience for her, but it then created an awful experience for us all the entire day! She became petrified of ANY ride. We assumed because she was tall enough that she'd love it and when she didn't it really made her fearful of thrill rides well into the future. It would have served her much better to hold off on the ride until she was older and expressed interest in riding it rather than just tagging along with her older brother.
Now, let us look at each park and what you can expect from its height requirements, as well as every Disney World ride that doesn't have a height requirement either!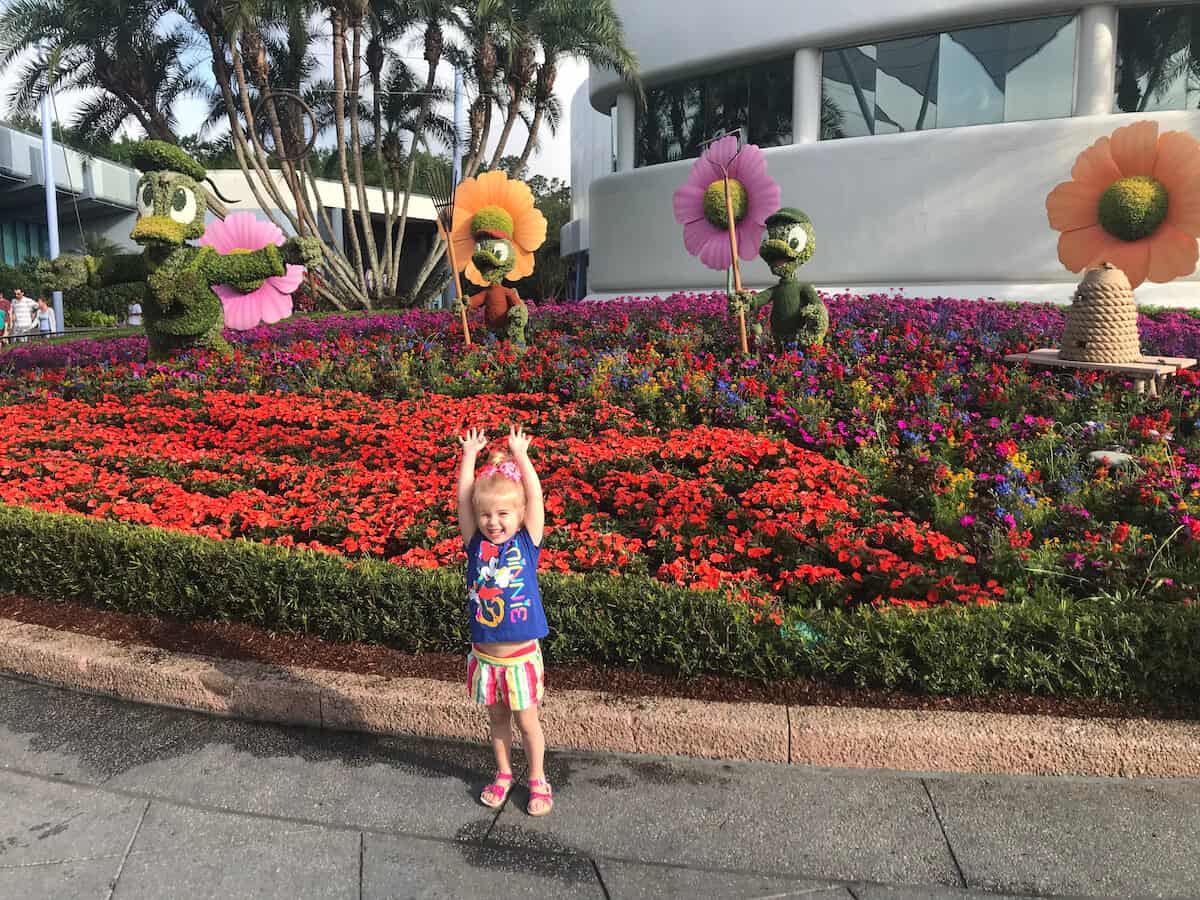 Magic Kingdom
The Magic Kingdom has several different sections and more attractions than any other Disney park, and the overall magic theme means that here you will find lots of charm aimed at the whole family, which also means not a lot of Magic Kingdom height requirements!
To me, Magic Kingdom IS Disney World. It's THE park that is a must-do for any family visiting WDW.
Here are the few attractions at Magic Kingdom that do have height requirements:
Space Mountain – 44 inches minimum
Splash Mountain – 40 inches minimum
The Barnstormer – 35 inches minimum
Big Thunder Mountain Railroad – 40 inches minimum
Seven Dwarfs Mine Train –38 inches minimum
Tomorrowland Speedway –32 inches minimum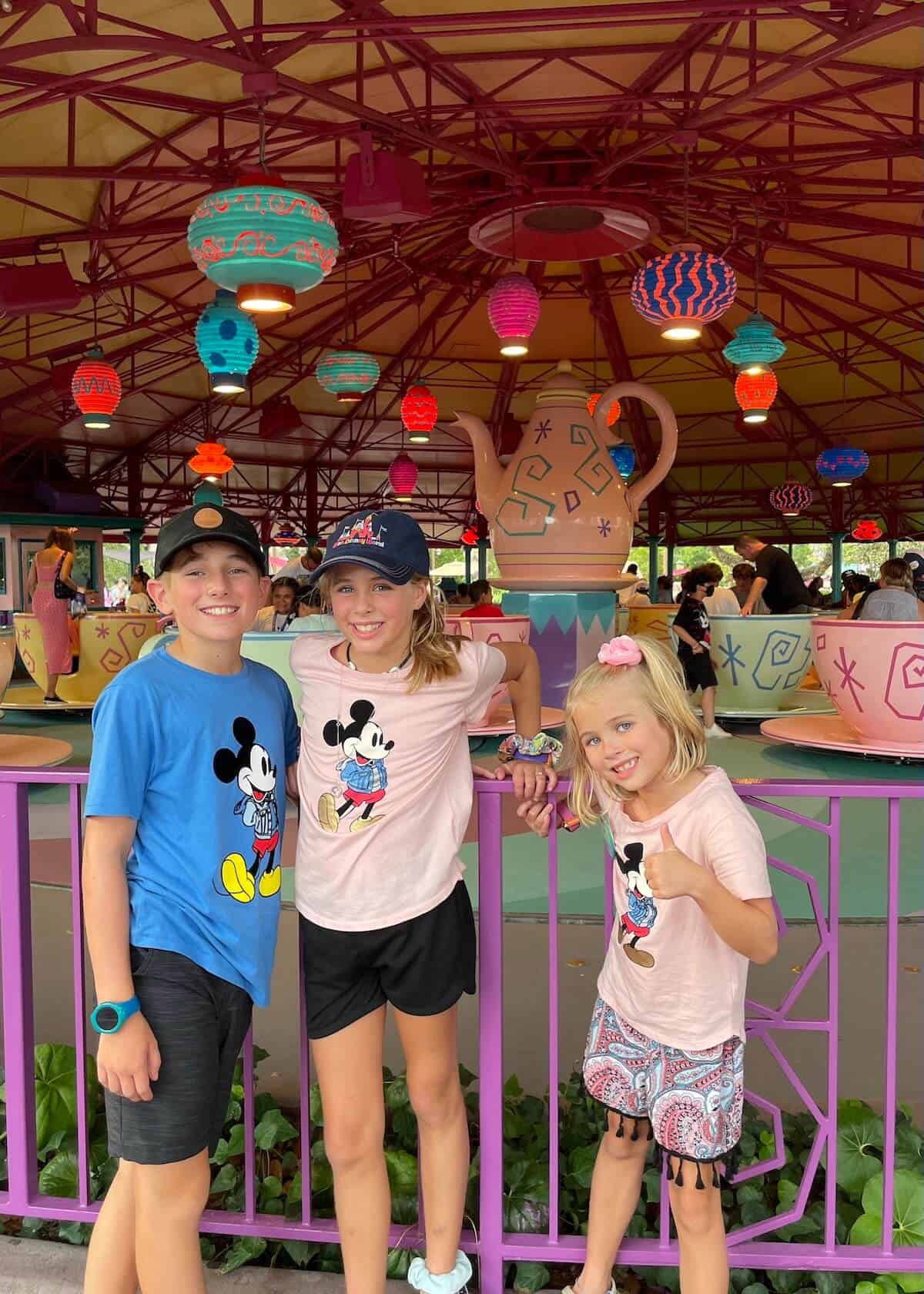 Here are all the attractions at Magic Kingdom that do not have any height requirements.
Astro Orbiter
Buzz Lightyear's Space Ranger Spin
Casey Jr. Splash 'N' Soak Station
Country Bear Jamboree
Dumbo the Flying Elephant
Enchanted Tales with Belle
Frontierland Shootin' Arcade
The Hall of Presidents
Haunted Mansion
It's a Small World
Jungle Cruise
Liberty Square Riverboat
Mad Tea Party
The Magic Carpets of Aladdin
The Many Adventures of Winnie the Pooh
Mickey's PhilharMagic
Monsters, Inc. Laugh Floor
Peter Pan's Flight
A Pirate's Adventure
Pirates of the Caribbean
Prince Charming Regal Carrousel
Swiss Family Treehouse
Tomorrowland Transit Authority PeopleMover
Tom Sawyer Island
Under the Sea ~ Journey of the Little Mermaid
Walt Disney's Carousel of Progress
Walt Disney's Enchanted Tiki Room
Walt Disney World Railroad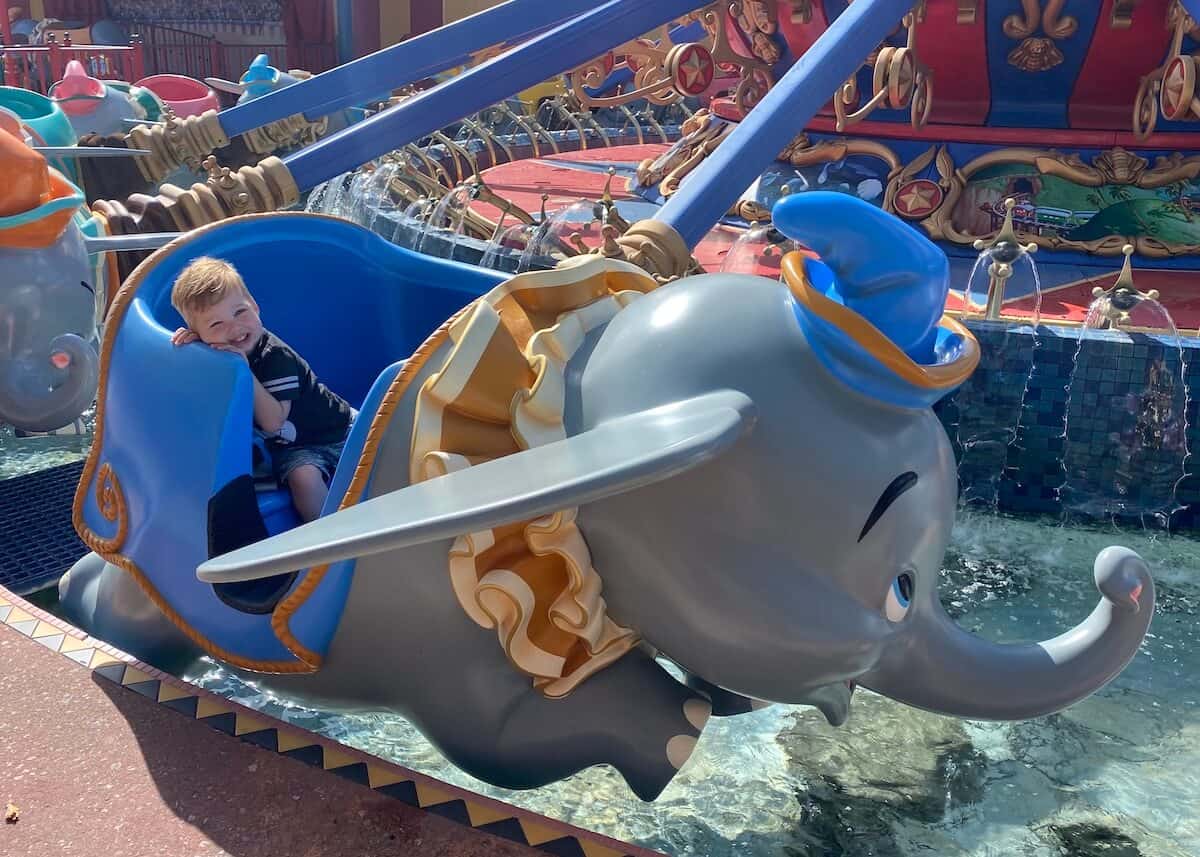 Epcot
With its famous festivals such as the Food and Wine Festival as well as the Flower and Garden Festival, Epcot certainly has a reputation of being a more adult-themed Disney Park but does that also mean the attractions have more height requirements? Actually no!
Don't sleep on Epcot with your kids. There are a LOT of changes taking place but it still has a ton to offer!
Here are the attractions with height requirements at Epcot:
Mission: SPACE – 40 inches minimum
Soarin' Around the World – 40 inches minimum
Test Track – 40 inches minimum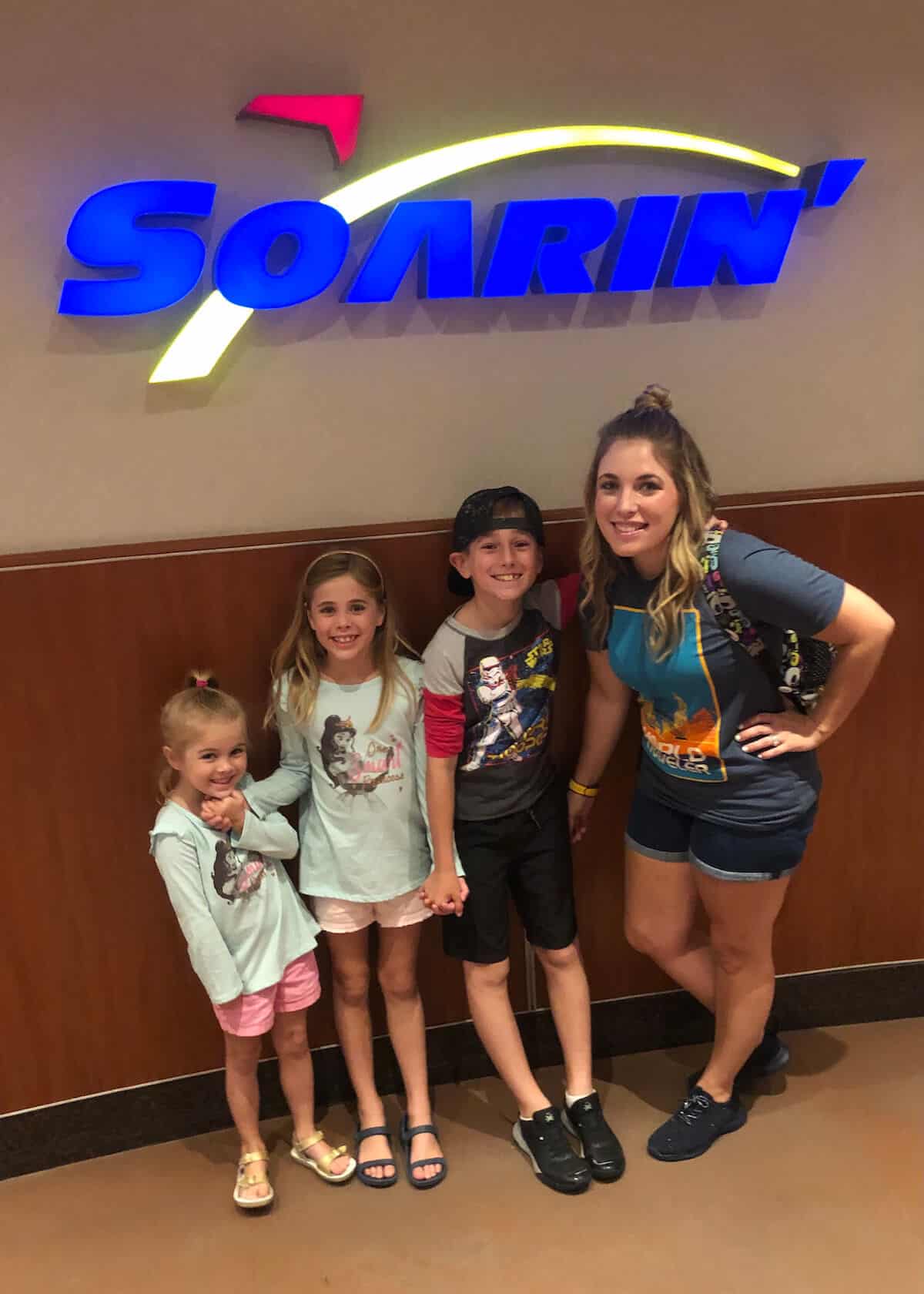 And here are the attractions at Epcot without any heights restrictions:
Remy's Ratatouille Adventure
Advanced Training Lab
The American Adventure
Disney & Pixar Short Film Festival
Frozen Ever After
Gran Fiesta Tour Starring The Three Caballeros
Impressions de France
Journey Into Imagination With Figment
Living with the Land
O Canada! (Now Known as Canada Far and Wide in Circle-Vision 360)
Reflections of China
The Seas with Nemo & Friends
Spaceship Earth
Turtle Talk With Crush
Awesome Planet
Beauty and the Beast Sing-Along
ImagineWorks – the "What If" Labs
Walt Disney Imagineering Presents the Epcot Experience
As you can see Epcot is focused on experiences rather than rollercoasters. Very few of its attractions have height requirements which means that it can be a great park for shorter guests. It's also super educational which totally justifies having kids miss school for your trip, right? 😉
But if you are trying to plan your Disney vacation around school schedules, here is the best time to plan your visit!
Be sure to walk around the World Showcase and experience all the different cultures and countries represented! The World Showcase is an awesome spot for plenty of snacking too (Here's my tips for saving money on food at Disney World). Plus stop by the Kidcot Fun Stops for a fun craft for the kids in each country (and it's FREE!)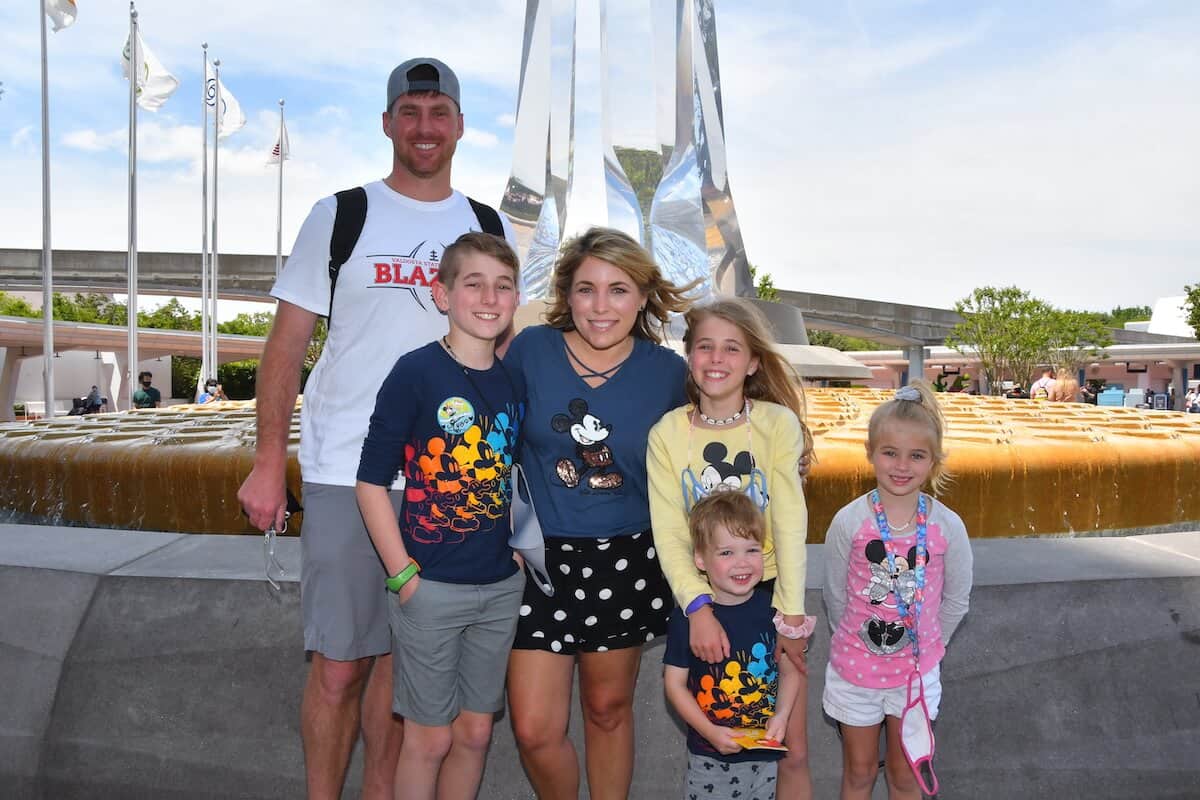 Hollywood Studios
With the recent addition of Star Wars Galaxy's Edge (aka Star Wars Land), Hollywood Studios is an exciting place to be, but unfortunately, that excitement translates to faster and louder rides.
Almost all of the attractions at Hollywood Studios do have height requirements. This is the Disney Park with the most rollercoasters and intense rides.
If you have a thrill-seeker in your group THIS is the Disney park for them!
Here is a full list of the rides and Hollywood Studios height requirements:
Alien Swirling Saucers – 32 inches minimum
Millennium Falcon: Smugglers Run – 38 inches minimum
Rock 'n' Roller Coaster Starring Aerosmith – 48 inches minimum
Slinky Dog Dash – 38 inches minimum
Star Tours – The Adventures Continue – 40 inches minimum
Star Wars: Rise of the Resistance – 40 inches minimum
The Twilight Zone Tower of Terror ™ – 40 inches minimum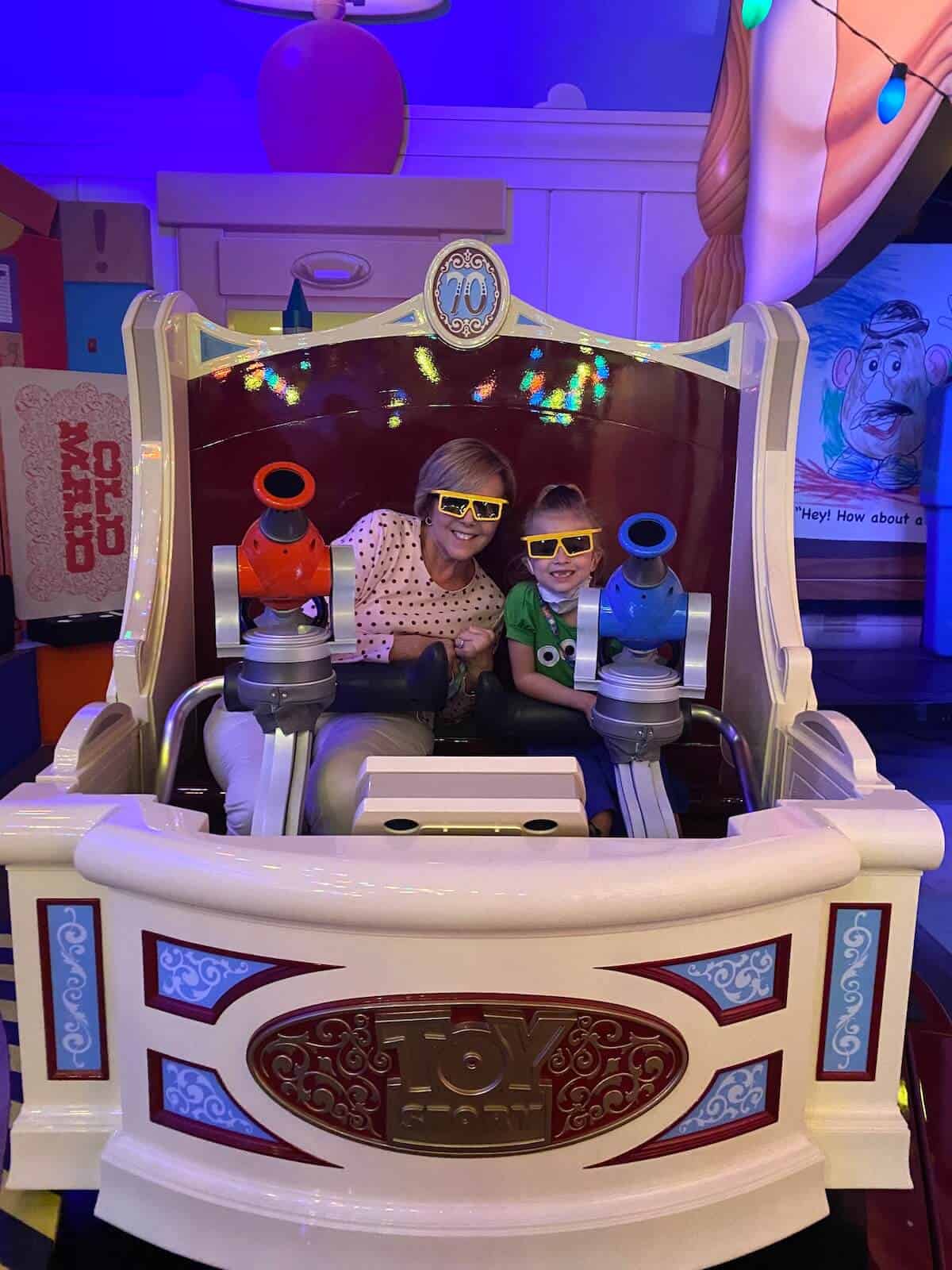 Here are the rides and experiences at Disney's Hollywood Studios without height requirements:
Muppet*Vision 3D
Toy Story Mania!
Mickey and Minnie's Runaway Railway
Lightning McQueen's Racing Academy
Vacation Fun – An Original Animated Short with Mickey and Minnie
Beauty and the Beast Live on Stage
For the First Time in Forever: A Frozen Singalong Celebration
Disney Jr Dance Party
If you have a guest under 38 inches tall, then unfortunately Hollywood Studios does not have a lot to offer. It may be best not to plan a full day at this park if you have little ones in your group!
However, there are several show options at Hollywood Studios and my youngest son's absolute favorite ride at Disney World is Mickey and Minnie's Runaway Railway so we DO spend a TON of time at Hollywood Studios. I take him to the interactive shows and also find a spot where he can run around a bit and he usually does very well which allows the older ones to do their things.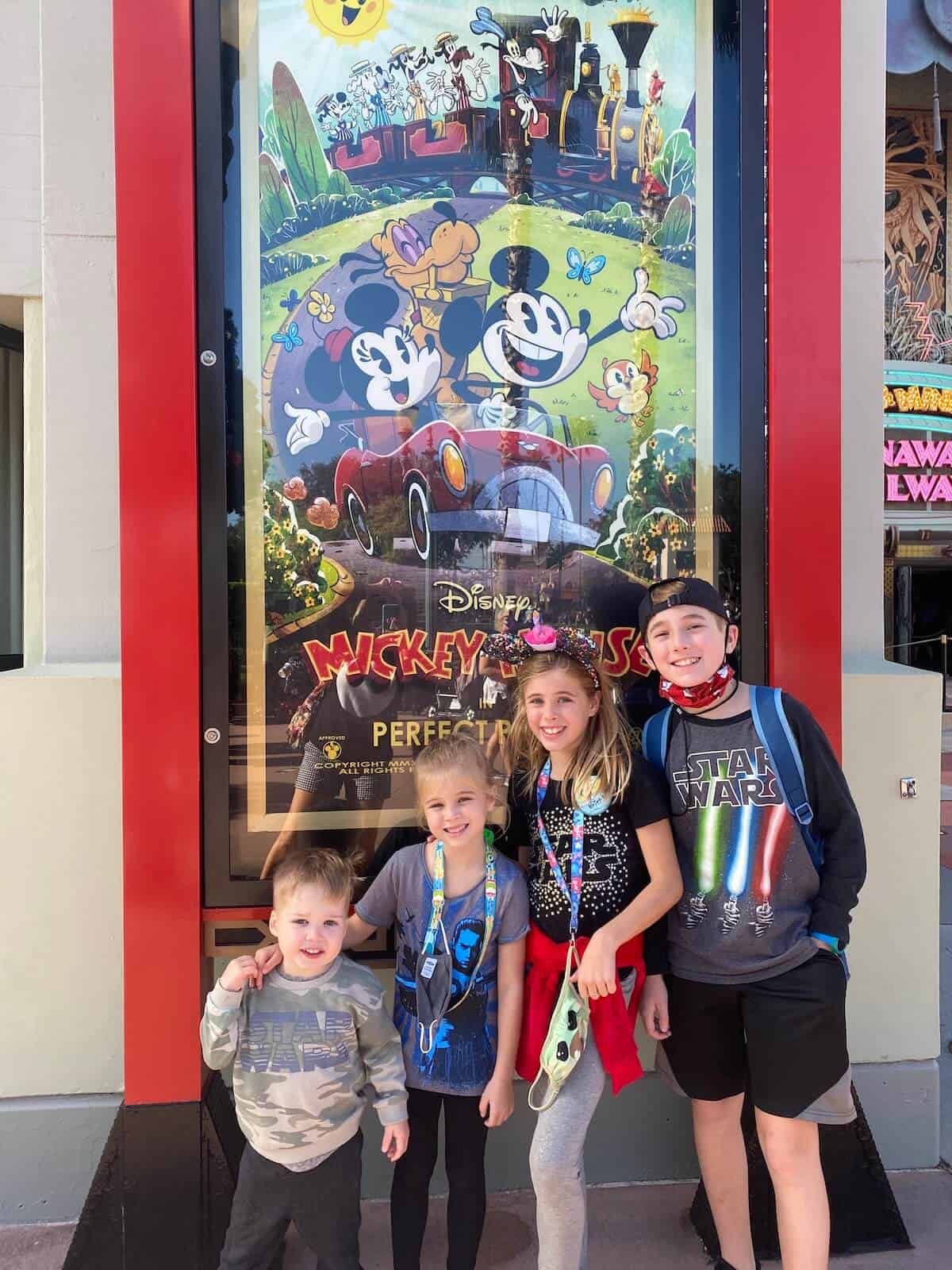 Animal Kingdom
Smaller guests are sure to be fascinated by the animals at the Animal Kingdom. Luckily, there are also plenty of rides without height requirements here for them to enjoy. 
Animal Kingdom is slowly creeping up there in the must-do list for thrill-seekers at Disney World. My older kids LOVE the rides at Animal Kingdom and it's become a favorite park for our family!
These are the rides with height requirements:
Avatar Flight of Passage – 44 inches minimum
DINOSAUR – 40 inches minimum
Expedition Everest – 44 inches minimum
Kali River Rapids –38 inches minimum
Primeval Whirl – 48 inches minimum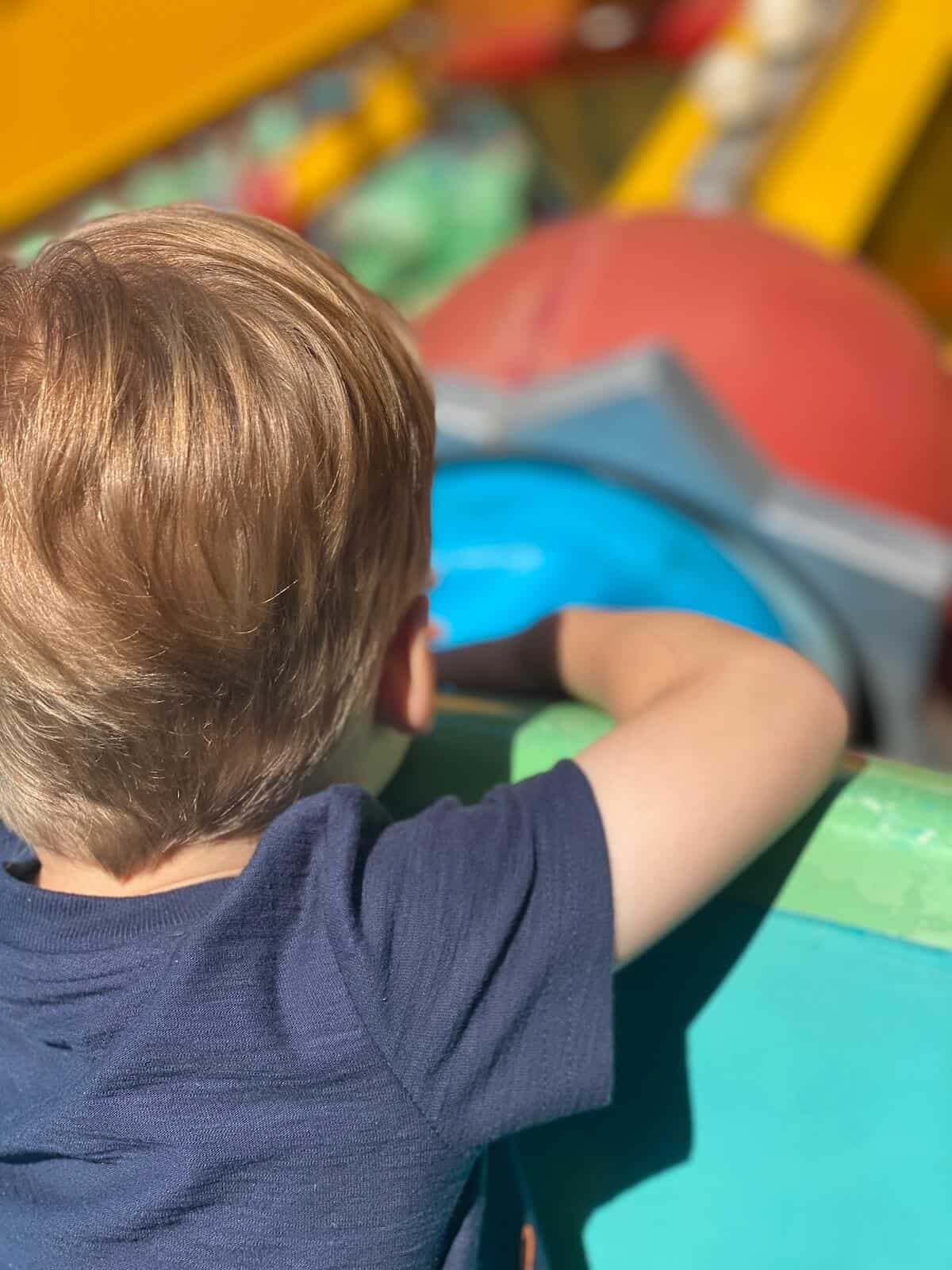 Here are the rides and experiences at Disney's Animal Kingdom without height restrictions:
Affection Section
The Boneyard
Conservation Station
Discovery Island Trails
Gorilla Falls Exploration Trail
It's Tough to be a Bug!
Kilimanjaro Safaris
Maharajah Jungle Trek
Na'vi River Journey
Tree of Life
TriceraTop Spin
Wildlife Express Train
Festival of the Lion King
Finding Nemo the Musical
Feathered Friends in Flight
Animal Kingdom has the most balance between rides with and without height requirements, but the majority are still without any height requirements. It is a great stop for any family and there is plenty to do and see even for the little ones!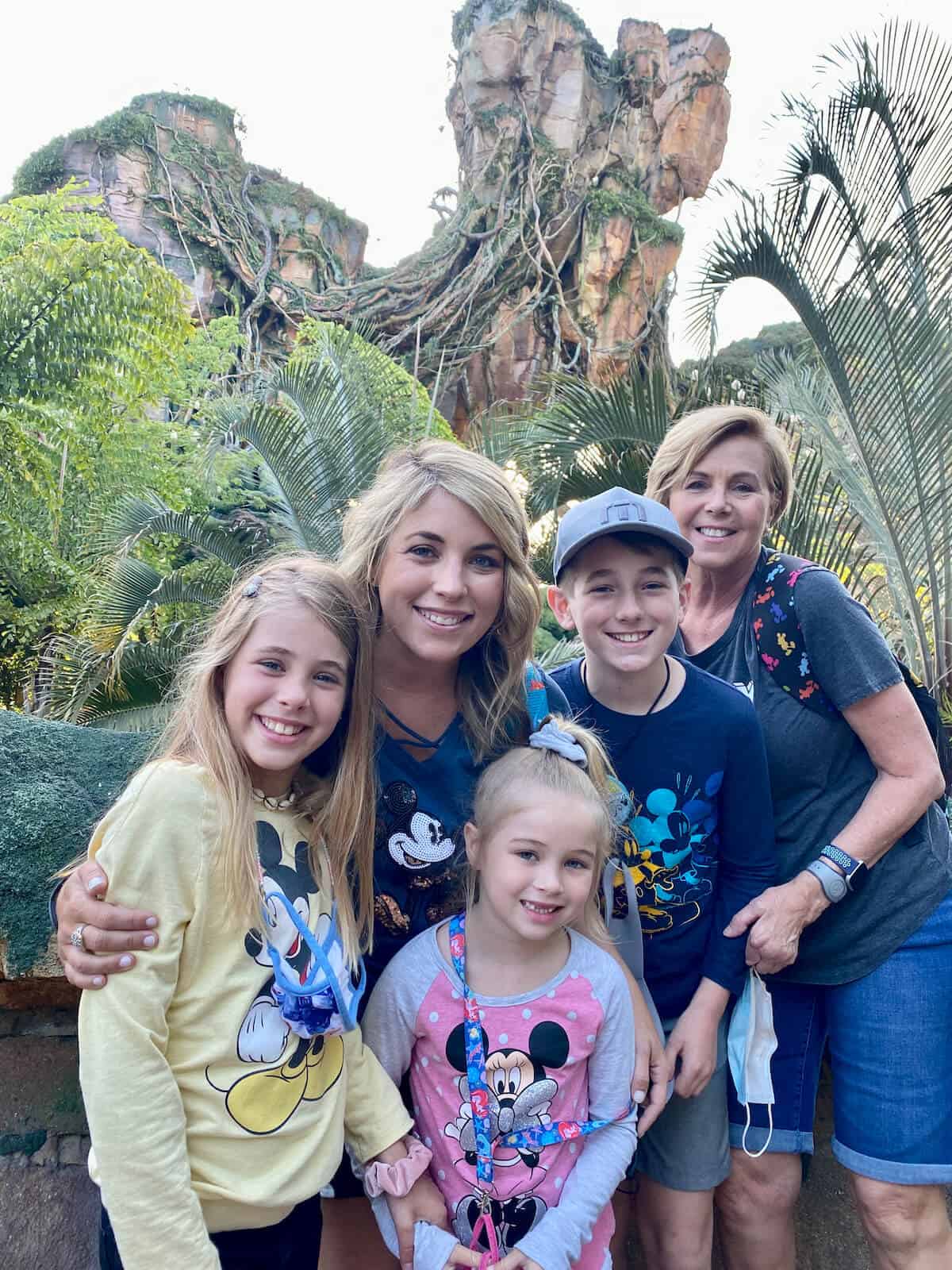 Water Parks
If you are planning to visit Disney during the hotter months of the year, you may want to cool down in their two water parks: Typhoon Lagoon and Blizzard Beach.
I do not personally have experience at either of the water parks as a family but hope to visit them in the future!
Here are the Typhoon Lagoon attractions with height requirements:
Bay Slides – 60 inches maximum
Crush 'n' Gusher – 48 inches minimum
Humunga Kowabunga – 48 inches minimum
Ketchakiddee Creek – 48 inches maximum
Here are the Typhoon Lagoon attractions without requirements:
Castaway Creek
Gangplank Falls
Keelhaul Falls
Mayday Falls
Miss Adventure Falls
Storm Slides
Typhoon Lagoon Surf Pool
Here are the Blizzard Beach attractions with height requirements:
Chairlift – 32 inches minimum
Downhill Double Dipper – 48 inches minimum
Slush Gusher – 48 inches minimum
Summit Plummet – 48 inches minimum
Tike's Peak – 48 inches maximum
These are the Blizzard Peak attractions without requirements.
Cross Country Creek
Melt-Away Bay
Runoff Rapids
Ski Patrol Training Camp
Snow Stormers
Teamboat Springs
Toboggan Racers
Just like rollercoasters, water slides have height requirements for safety. Make sure to pay special attention to the fact that these areas also have attractions maximum height requirements on areas designed for younger children.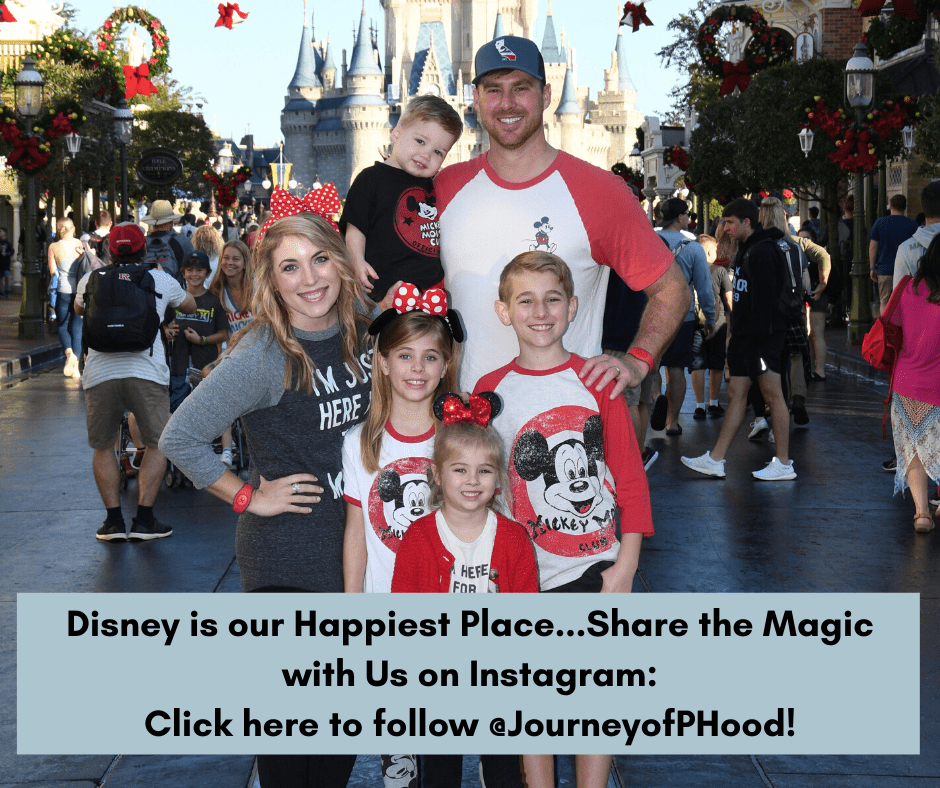 Disney World Height Requirements: Is Height a Reason to Postpone?
If you were dreaming about taking your small child to Disney World, this article may have contained some disappointing news. Maybe you will not be able to take your kid on as many rides as you thought. Are the height requirements enough of a restriction to postpone a Disney vacation until your kids are taller?
Disney World knows that a large portion of their audience are children and thus on the shorter side. They do their best to keep rides targeted towards younger children without height requirements. This means that the things your little one will probably enjoy most likely do not have height requirements.
On the flip side, many of the rides with height requirements are meant for a slightly older audience. They tend to be fast, loud, and sometimes dark, all of which may frighten younger children.
Overall the height requirements at Disney World tend to match the appropriate target audience age, which means that most people do not find these requirements to be overly restrictive or to be a major deterrent to a Disney vacation.
However, the answer is not as easy as "go to Disney, no matter your child's height." There are LOTS of things to consider when deciding the best age for a first visit to Disney World and height is for sure one of those important deciding factors.
Disney is expensive and when you're working to make sure you can afford your dream Disney vacation you want your children to be able to have THE most magical time possible. Defining that really depends on YOUR individual child and family and what you want to DO together while visiting Disney World.
For example, if you have an 6-year-old son who is obsessed with Star Wars but is 38 inches tall it makes sense to wait a year! Waiting for that 40 inches in height to be able to allow him to fully experience all of the attractions in Galaxy's Edge will be a game-changer for his trip! In that scenario, I do think height is a reason to postpone!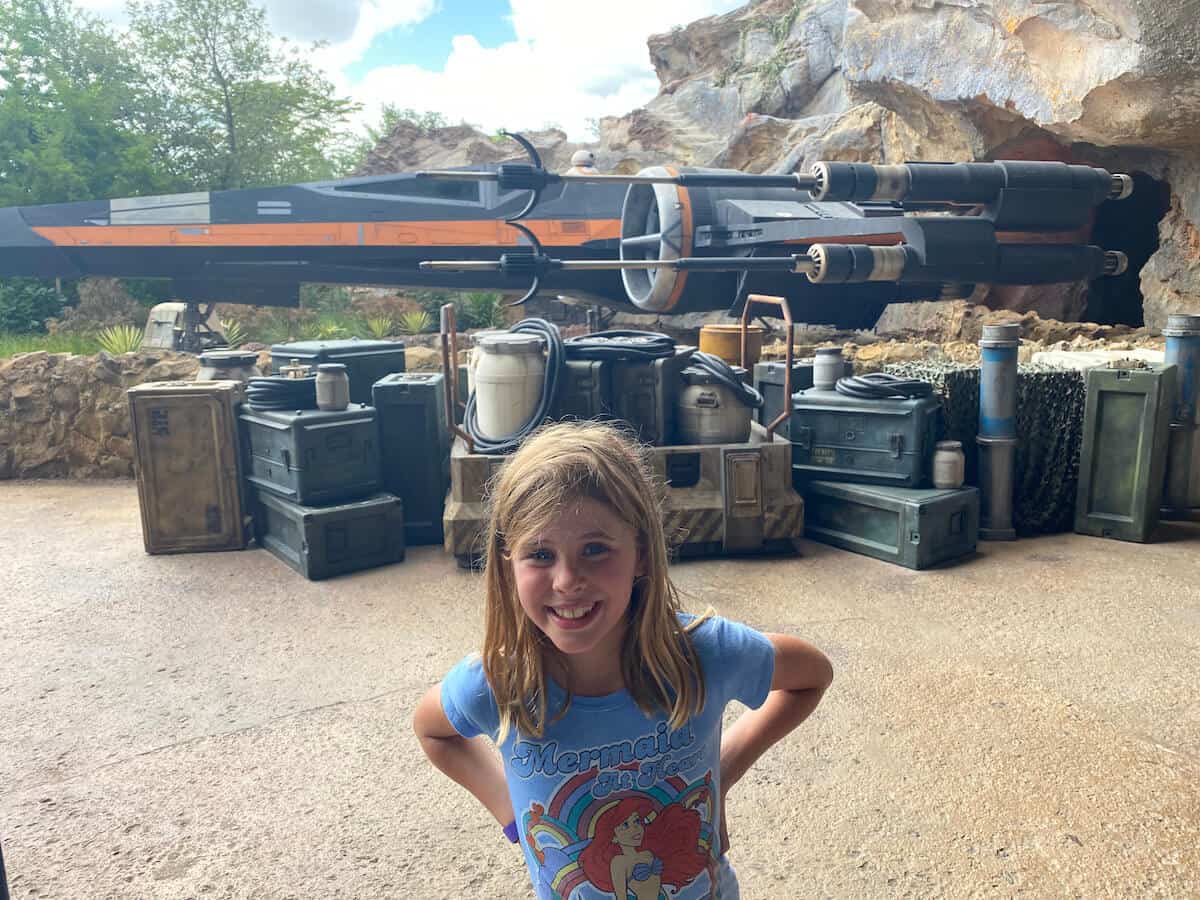 Rider Swap and Single Rider Options
Do not stress though if you have a mixture of heights in your traveling group. Disney offers TONS of things to do that do not have a height restriction. Disney World is my favorite place and I don't like thrill rides at all so surely a child who isn't quite tall enough for the thrill rides will still find lots of magical experiences 😉
If you're a thrill-seeking kinda parent then you may be worried about how you will get to enjoy the thrills while also taking care of the non-thrill riding kid, don't worry about it either! Rider swap is a super great option for families that allows one parent to ride with the tall enough kids and the other to then trade places and ride the ride once the first parent finishes.
In order to take advantage of the rider switch services, you need to go to the ride with your smaller child in toe in order to have the cast member assign you the rider switch pass! It's super simple and really opens up the options to allow everyone, no matter their height or thrill enjoyment level, to have a magical trip! With child swap, you're able to fully enjoy both the little moments with your little one as well as the excitement and joy of the older kids too.
Another great option to take advantage of when it comes to Disney World rides is the single rider line option. Some rides allow for guests to split up on the ride and fill in available single rider seats on the attraction. This makes for a shorter wait time than the standby line and is a great option for older kids and thrill-seekers to help cut down on long-line waits!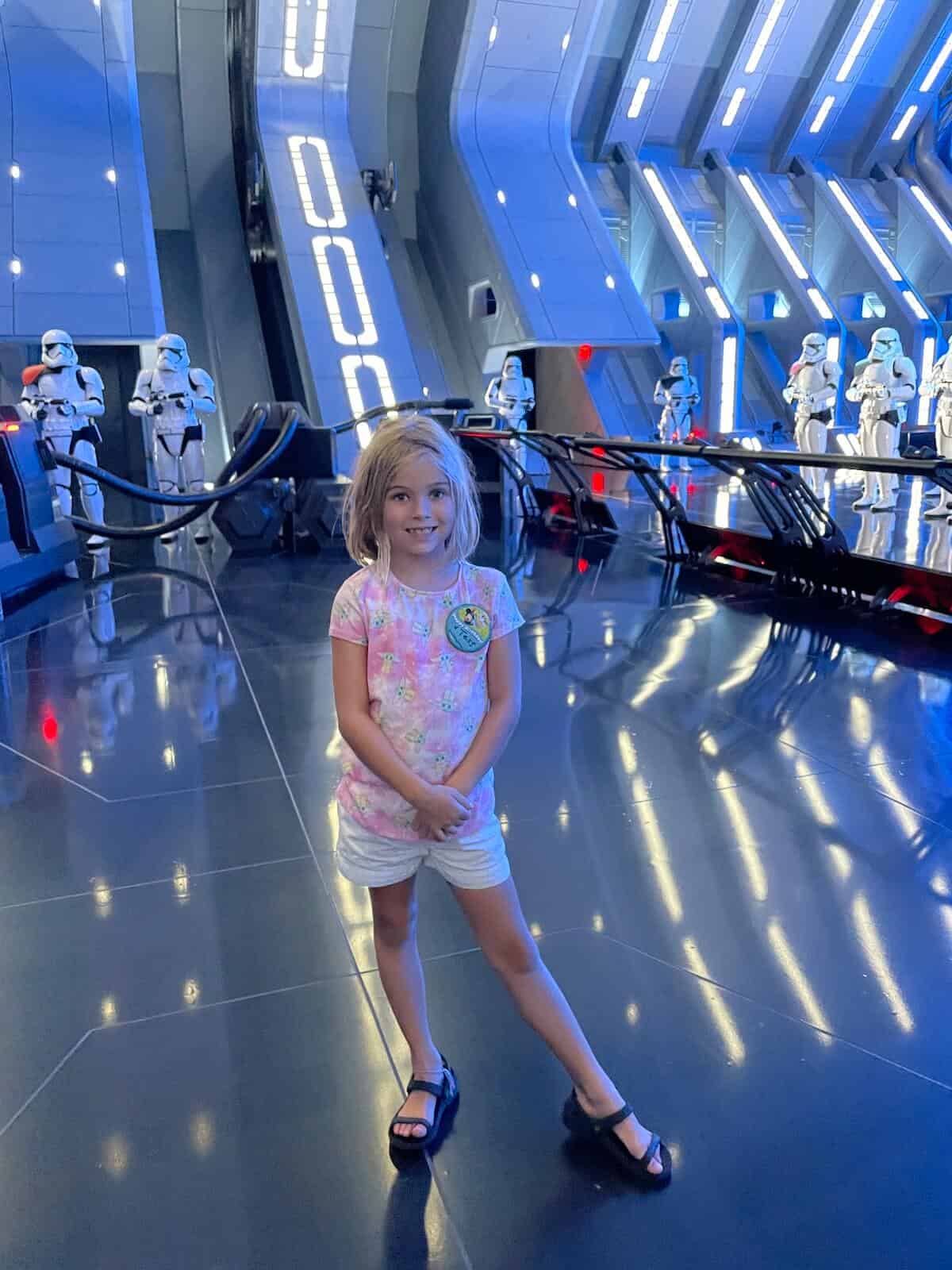 Final Thoughts on Disney World Height Requirements
Disney World wants to keep its visitors safe, and sometimes that means telling people they cannot ride something. If you head to Disney World knowing where height may prove an issue then you can plan your vacation to make sure everyone in your party, at any height, has a great trip!
When approaching an attraction, the height restrictions will be clearly displayed and a cast member will be at the entrance to do a height check. Often rides have a second height check closer to boarding the attraction at the front of the line.
Yes, sometimes it has happened to us where our child will measure and be tall enough for the ride at the start of the line and then have the second height check before boarding and not be tall enough. We've had experiences where a child was able to ride a ride because they were deemed within the height requirements and then went to ride the ride again and were turned away.
We've even had a child clear the height requirements at both the entrance of the attraction as well as the boarding area for the ride only to have a cast member help our child get buckled into the ride vehicle and then STOP the ride and have them exit.
It is very wise to be aware of not only the Disney World height requirements but that even a child who measures tall enough at home may not quite be tall enough by Disney's measurements. If your child is right on that border be sure to talk through the process with them and set their expectations low. I tell mine they may be able to ride the ride but don't make any promises that it will be a sure-bet either! It's always best to assume it's a no-go so that way they can be super pumped if they are able to ride it rather than disappointed if for some reason they aren't at that measure marker at the parks!
And while you're in the process of preparing your child for their first Disney trip, be sure to watch these Disney movies in order to be familiar with the most popular characters and ride themes while at the parks!
Planning a Trip to Walt Disney World?
My favorite planning tool for Walt Disney World parks is Touring Plans. Being a member of their site allows you access to crowd calendars and daily itineraries to avoid waiting in lines! Learn more here!