What are the best ways to eat on a budget the Disney parks? Can you bring in outside food to Disney World? These tips for Saving Money on Food at Disney World will answer all your questions!
Disney World is a wonderful place to vacation as a family and a great opportunity to create memories together that will last a lifetime.
However, going to the Disney parks is also a very, very expensive family trip.
There are not a lot of options when it comes to saving money at Disney World.
Ticket prices continue to rise and do not show any signs of slowing down anytime soon!
However, one big way to cut costs on your Walt Disney World vacation is in the area of food. Here are 6 easy ways to start saving money on food at the Walt Disney World parks!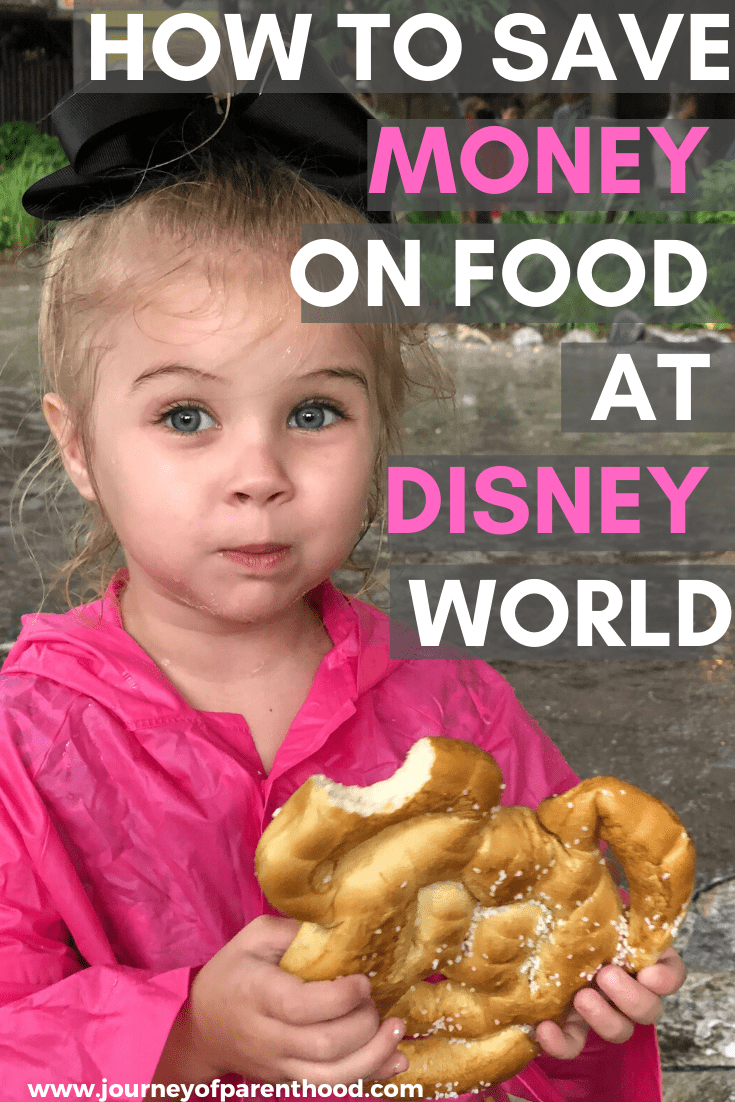 Disclaimer: post contains affiliate links.
Disney Dining: The Meal Plan May Be For You!
Many people LOVE the Disney Dining Meal Plan for their Walt Disney World family vacation.
In order to have the option to purchase a dining plan you have to have a reservation at one of the Disney World Resorts on property at Disney.
Disney is magical. And, for our family, we believe you can fully experience the magic at Disney without staying on property so it's not something we do very often.
And even when we do stay on property? We don't utilize the Disney World dining plan.
However I do have a great guest post here that can help you decide if the dining plan is for you!
Many people say that eating on the Disney Dining Plan saves them money on their vacation and that may be true.
For us? It's never made sense financially and we instead save money on eating on our Disney trips in these ways:
Saving Money on Food at Disney World: Eat Outside of the Parks
Food at Disney ain't cheap.
Easy solution for saving money on food at Disney? Eat off-property.
If you're staying on property and don't have transportation, pack food in your suitcase.
Yes, I'm serious!
Our family visited Disneyland and we literally filled an entire suitcase with food items.
We ate breakfast every morning in our hotel room and had plenty of food to bring into the parks with us to use as snacks and to use as side items to help fill up without spending as much on meals.
A great tip is to place an Amazon Prime Pantry order and have it delivered at your hotel so you have all the food items you'll need during your stay… without packing them in your luggage!
If you opt to stay off-property you have even more options for saving money on food at Disney by eating outside of the parks.
Most off-property accommodation options near Disney are also in areas with TONS of restaurants, fast food, and grocery store options.
Leave the parks before dinner and grab a pizza. Set up a crock-pot at your rental house with dinner to be ready after your day.
Take a mid-day break and each lunch in your room or at your rental house!
We own a rental house three miles from the parks so anytime we visit we typically leave the park around lunchtime and eat our lunch at the house and we often cut our nights early too so we can eat dinner there as well!
Tips for Saving Money on Food at Disney: Bring Food Into the Parks
The BIGGEST tip for saving money on food at Disney – bring your own meals into the parks.
Our local theme park doesn't allow outside food to be brought in.
Neither does our local zoo.
But Disney World? The most popular theme park in the world?
Yup. They allow you to bring in outside food! There are only a few requirements for outside food at Walt Disney World Resort:
No alcoholic beverages
No glass containers
Nothing that needs to be reheated or frozen (you can't exactly use a microwave at the Disney parks 🙂
No pungent odors (so leave your blue cheese at home, haha!)
It's a HUGE way to save a lot of money! It's also super helpful for families with dietary restrictions.
We are basically pros at bringing food into the parks at this point.
We have our kids eat some fresh fruit in the car on the way to the parks in the morning then bring a quick breakfast item for them to enjoy as we wait for the park to open for the day.
We then always bring a soft cooler with us and pack our own snacks and lunch items for the kids to eat.
(This large cooler is AWESOME for the whole family. Fits so much, is lightweight, and is book bag style!)
Typically we leave the parks at lunch time and the kids will eat the lunch in the car (rather than carrying the cooler around all morning) but if we think we'll be staying later we will bring the cooler in with us. I recommend ice packs vs loose ice so it doesn't melt everywhere!
There are TONS of great spots to sit and eat at the Disney theme parks!
We do not typically bring food for my husband and I to eat into the parks. If it's lunchtime we usually just wait to eat until we take our mid-day park break, if we will be in the parks at dinner time we usually will buy a quick service, counter service or heavier snack item as our dinner inside the parks (still much cheaper than all of us buying food).
When we are in the parks at dinnertime I usually plan it out where our kids eat their dinner while we sit and wait for the fireworks 🙂 A great way to pass that time and secure a great place to watch the fireworks show at the same time!
Favorite Foods to Bring Into the Parks for Kids
Breakfast Items:
Lunch and Dinner Items:
Grapes are a good option and my go-to for fruit because they are the least messy!
We typically will pack sandwiches as a main items and then a few favorite snacks.
Be mindful not to overpack food as you'll want to splurge a little on fun snacks and those are filling!
Great Items For Bringing Food Into Parks
When I pack food for my kids I love using these containers instead of a Ziploc bag.
They are divided so food doesn't leak into other compartments, they are dishwasher safe and they fit easily into coolers.
This cooler can fit three of the containers easily – unfortunately we have four kids so we have to use a bigger cooler!
I also use these ice packs as they keep things cold while not taking up a lot of space.
We also always have water for our kids – I like to use these thermoses as they hold up GREAT when dropped (a million times haha), keep ice cold, are easy to clean, and have a little ring to hook over your finger when carrying a bunch of stuff 😉
Shop All Our Items for Packing Food for Disney Here:
Saving Money on Food at Disney World: Drinks
It's really awesome that Disney allows outside food into the parks… and it's additionally awesome that they offer free water at any place where fountain sodas are sold.
Quick service, sit down table service restaurants, counter service and even many snack carts offer free unlimited ice water.
Even though water is available at no cost it is not always as easy to come by.
Sometimes there is a long line to wait in just to ask for water or you may be in a spot where there isn't really a convenient place to get water.
Hydration is SO crucial in the Orlando heat so I always make sure to drink plenty of water prior to coming to the parks and to always have a water bottle on hand.
In the mornings I drink 1-2 bottles of water on the way to the park and then carry one as we walk into the park and drink that as well.
We bring several bottles of water with us in a cooler into the park to drink throughout the day (a great tip is stick them in the freezer the night prior and they will stay cold all day as they thaw!).
When at home we use refillable water bottles but Disney is a bit behind on the availability of refill stations so using disposable water bottles is easier for the parks and ensures we will have water on hand when we need it.
Many people are often confused regarding the Disney Dining Plan and the refillable cups at the hotels.
The refillable cups received as part of the dining plan are only able to be refilled at the stations located on-site at Disney Resorts… not inside the parks.
Disney offers both bottled sodas as well as fountain drinks. Typically snack carts only sell plastic bottles of soda.
Quick service and table service restaurants offer free refills on sodas and fountain drinks and many quick service restaurants have self service refill stations which makes it easy to enjoy unlimited sodas if purchased.
I have no advice or insight regarding drinking alcohol at Disney World as we don't personally drink alcohol. I will say when seeing the prices of those drinks I'm glad we don't 😉
Disney World has transitioned away from both plastic straws as well as lids for their fountain drinks.
The paper straws they offer are awful and totally fall apart when using them.
I highly recommend purchasing reusable straws to bring to the parks! We use these 🙂
Spending Less on Food at Disney: Quick Service, Table Service and Snacks
Disney has SO many great options for eating both inside their parks as well as at locations such as Disney Springs as well as within many of the Disney Resort Hotels. If you want the experience of Disney dining while still saving money on food, here are some tips:
Table Service Dining at Disney
Table service meals most typically require reservations and are typically a buffet, a set family style menu, or have menu options to choose from.
If a table service restaurant offers a buffet or family style meal – the price is set by age for that meal.
And Disney considers an adult anyone ages TEN or older. Yes, your ten year old who only eats chicken nuggets? They pay the full adult price for the buffet meals!
On the flip side your child that is under age 3? They eat for free! It can kinda help to mentally balance out spending that money on the ten year old when you know your 2 year old is at least eating free…especially if the two year old does have a healthy appetite 😉
When a full menu is offered adults are able to order from the kids menus, sharing meals are totally allowed, and you can also still bring in your own food into the table service meal.
I have allowed my kids to eat a packed meal while my husband and I order from the menu and it's not an issue!
Often when you mention to cast members that you are trying to save money they will make suggestions of things to order that are great for sharing or give other tips that allow the dollar to stretch further with your meal.
Here are some of the best places to get a good value on a tight budget:
Plaza Restaurant on Main Street in Magic Kingdom – this isn't a bad option for a sit-down experience though some say it lacks Disney magic! Still, its convenient location near the entrance makes it ideal!
Sci-Fi Dine In Theatre Restaurant at Disney's Hollywood Studios – As far as popular restaurants go, this is one of the best options if you want a dine-in experience at a cheaper price. It offers a more affordable price range (especially for sandwiches) and the atmosphere is a blast!
Sanaa at Disney's Animal Kingdom – This Indian-style restaurant is a great option if you want a unique dining experience – you can get a front-row view of the animals while you eat!
Via Napoli in Epcot – It's said that splitting a big pizza with a large group is the best way to save money – I think this would work with kids, but adults might walk away still hungry!
Quick Service and Counter Service Meal Options at Disney World
Quick-service restaurants do not require any reservation and usually offer ample dining room seating to allow for an enjoyable meal together during a break in your park day. They're generally considered the best restaurants for getting food at a reasonable price at Disney World!
Anyone can order from either the kids menu as well as adult menu.
Items can be shared and often quick service locations have some sort of bar offering toppings or free items.
Our favorite places for quick-service menu items:
Pecos Bill Tall Tale Inn in Frontierland, Magic Kingdom is our favorite quick-service restaurant at Magic Kingdom as they have a full salsa bar with toppings!
Casey's Corner on Main Street is a great deal! They have hot dogs and other ballpark-type foods at reasonable prices!
Flame Tree Barbecue in Animal Kingdom has decently priced barbecue sandwiches!
Yorkshire County Fish Shop in Epcot – great if you like fish!
Woody's Lunch Box in Hollywood Studios – super fun Toy Story theme with well-priced snacks and entrees. Just expect it to be busy!
Backlot Express in Hollywood Studios – a really fun dining experience with plenty to see!
It is also fine to bring in your own outside food into quick service restaurants.
We personally always also order something from the menu when we bring in our own food, it is just considered Disney etiquette not to take up a table in the restaurant if you're not actually ordering anything!
Most of the quick service food isn't stellar. It's typical theme park food.
Knowing this – we try to eat as much as we can outside of the parks or by bringing foods in with us and saving our money for the awesome snacks and the amazing table service options!
Counter service locations allow you to walk up to a counter and order your food and sit wherever you'd like – at nearby tables or eat on the go.
They are another way to grab a quick bite to eat and to try Disney World food options!
Disney World Snacks
If you are budgeting for your Disney trip I highly recommend spending LESS on quick service foods and MORE on SNACKS.
There are so, so many delicious and fun snacks and Disney is constantly adding and changing snack options in the parks that always make it fun to get a treat!
Most snacks are pretty large and can be easily shared (I mean if you're willing haha).
Many snacks are also hearty enough to be a "meal" depending on how much food you need to eat to be satisified.
Personally? My go-to dinner at the parks is a Mickey Pretzel with cheese sauce 🙂 Deliciously, filling and FUN 😉
If your crew enjoys popcorn the best cost effective snack at Disney is the popcorn bucket.
Buy a bucket and KEEP IT and you can purchase refills for just $2!
And the great thing? You can keep using the SAME bucket for future trips to Disney too. We've had the same bucket for 2 years now 🙂
When they refill your bucket you can also ask for extra cups to split the popcorn out among your kids to easily share without passing the bucket.
Also the bucket has a great handle that can easily hook on your stroller too!
Keep an eye out for popcorn stations… sometimes they have fun variety of flavor offerings.
We will do a Disney snack on occasion (and for sure have our favs) but also pack each child a baggie of snacks to bring into the parks with us too.
The kids LOVE having their own snack bags and we let them control when they eat what they have packed.
We do not do many snacks at home regularly and we reserve super fun special snacks just for Disney which makes even Fruit Roll Ups a super magical treat without spending the money on buying Disney snacks at the parks 😉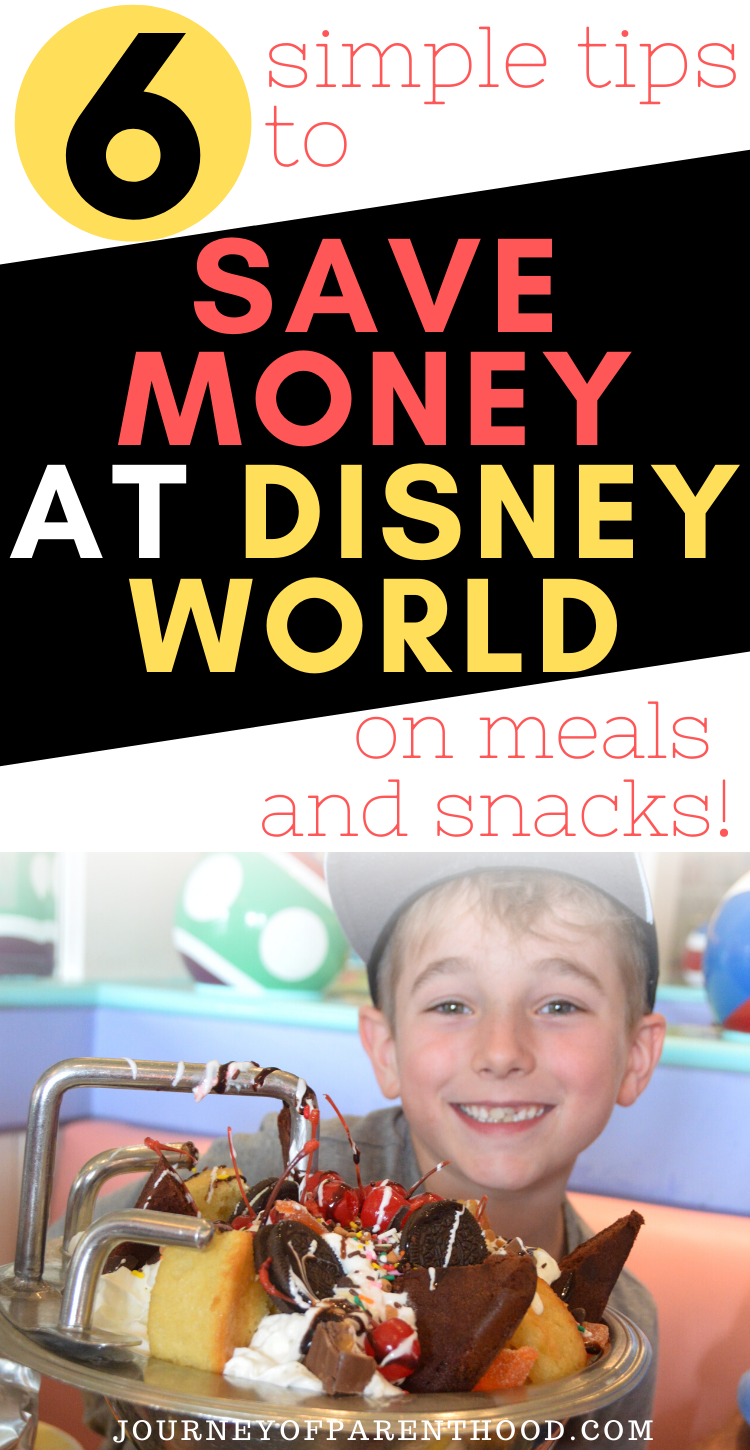 Saving Money on Food at Disney: Using the Discounts
We do our best to save money at the parks but we also LOVE all things Disney and that includes Disney food and Disney restaurants.
We love character meals and they are not cheap. We know going in that they will cost us a large chunk of money but the magical experience is worth the cost.
There are a few ways to save money on food through discounts at Disney:
Become a Disney Annual Passholder
Becoming a Disney Annual Passholder can make financial sense depending on how many days you plan to visit the parks within a year time period.
It's well worth doing the math and considering the savings with the passholder discounts when deciding if it's a worthwhile investment for your family.
Many restaurants offer 10 – 20 percent discounts with an annual pass (you can see the dining benefits here)
Having a Disney World Annual Pass also gives the passholder a 20% discount on Disney merchandise which is typically anything purchased inside a shop at Disney…including packaged snacks and sodas!
It is usually cheaper for us to walk into a gift shop and buy a bottle of soda or a bag of snacks than it is for us to purchase that same soda or bag of snacks from a snack cart in the parks!
Tables in Wonderland Card
The Tables in Wonderland Card is an additional discount card that may be purchased by annual pass holders in addition to the cost of their annual pass.
It is also worth sitting down and writing out the math to see if a Tables in Wonderland Card will benefit your family.
We enjoy eating at table service and character dining options when celebrating special occasions and have found that using the Tables in Wonderland Card saves us money each year even after factoring in the cost for the card.
You can learn more about the Tables in Wonderland card here!
Disney Chase Visa Rewards
I signed up for the Disney Chase Visa Rewards card for one reason: to be able to have access to the special cardholder meet and greets (currently there is one in Epcot as well as Hollywood Studios – by showing your card you get special access to one character meeting in each of those parks with much shorter lines).
There are other advantages to having the card and it is the card I use whenever spending money at Disney World in order to earn extra points that can be cashed out in exchange for Disney Gift Cards.
There are also other cardmember perks as well that vary from room discounts to discounts on Disney movies and shows (including Disney on Ice) and often dining discounts as well.
Another fun tip: Joffrey's locations at Disney World offer a discount for Disney Chase Visa Rewards cardholders!
You can learn more about the Disney Chase Visa Rewards card and apply for one here!
Disney Gift Cards
My favorite method for saving money at Disney is to use Disney Gift Cards as much as possible.
I pre-buy the gift cards in advance before our trip.
This helps me budget for our trip and allows me to save money by buying the gift cards at a discount from either Target or Sam's Club.
I used to be hardcore about stocking up at Target for my Disney Gift Cards (5% off the gift cards using my Redcard) but Target has been cracking down on gift card purchases and it's been a huge pain to be able to purchase enough gift cards.
This lead me to finally join Sam's Club (which I know I should have done a LONG time ago) and it's GREAT.
While the discount on the Disney Gift Cards at Sam's Club isn't as much as the discount in buying them from Target, there is an additional advantage for buying them from Sam's instead of Target.
I'm able to buy the gift cards from Sam's using my Chase Sapphire Rewards Card which is THE best credit card for reward earnings (we flew FIVE of us across country to California using points for FREE).
By doing this I'm getting the Disney Gift Cards at a discounted rate from Sam's and also racking up all those points with the Chase Sapphire too!
You can learn more about joining Sam's Club and receive a $20 Sam's Gift Card when you join here!
Learn more about the Chase Sapphire Rewards card here…and see how you can earn 60,000 bonus points when you sign up!
Disney Gift Cards can be used at ANYTHING Disney owned. You can use them for booking a Disney Cruise, for paying for your Disney Hotel Stay, for paying for your Disney Dining Plan, for purchasing any merchandise at the parks, and (yes!) for any Disney meals or snacks too!
It's a great way to plan ahead for your travel spending, stick to your budget, and a way to not "think" about the money while you're on your vacation – you spent the money in advance when you purchased the gift cards so you're able to spend without worrying!
Tips for Saving Money at Disney World: Final Thoughts
We love all things Disney and I think a really important fact to keep in mind when it comes to spending less on a Disney World Vacation is that the memories matter most.
Years from now your kids won't remember the Disney World food – what they will remember are the Disney World memories. The moments. The togetherness. The rides. The magic.
Do not feel pressured to over-spend on food (or merchandise either!) – your trip will be magical if you eat at the parks or eat a sandwich from home!
Cutting costs on food is a great way to be able to afford a Disney Vacation!
Another great way to afford a trip to Disney?
Check out our Disney Rental House located in a gated community just three miles from Walt Disney World theme parks – we offer a discount to blog readers!