Why is spring break is the best school holiday break to book your Disney vacation? Here is why we recommend spending Spring Break at Disney World!
School holidays are a common time for families to schedule their Walt Disney World vacation.
You can bet that anytime kids are out of school, the parks will be significantly more crowded.
It's a trade-off: Either visit Disney when school is in session, requiring your kids to miss school and most likely have unexcused absences or go when kids are on school break and battle the insane crowds.
Here are the reasons why Spring Break is the best time to book your Disney family vacation and how to manage the crowd levels during that season!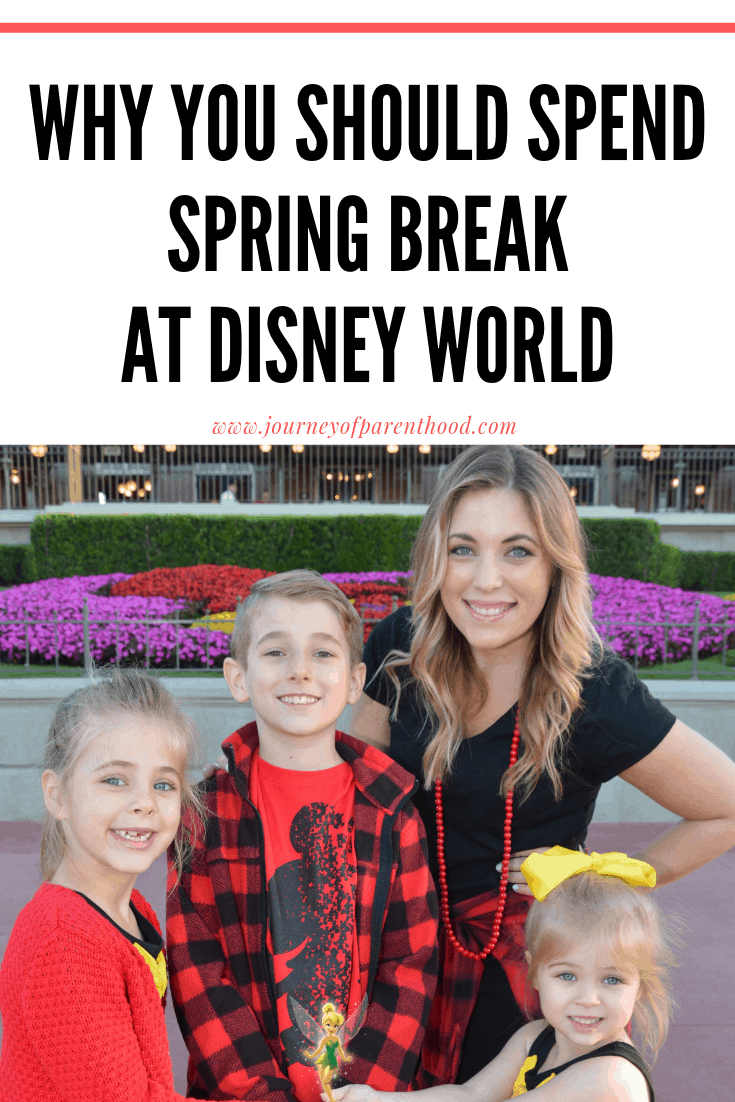 Spring Break: The Least Crowded Holiday for Your Disney Trip
Spring Break is the ONLY school holiday that varies from state to state and often even county to county.
Thanksgiving is Thanksgiving.
It's the same day across the country so ALL students are out of school that same week.
Christmas is Christmas.
Exact dates for Christmas break may vary, but pretty much they stick close to around Christmas Day and for sure the days between Christmas and New Years.
Same with other holidays like MLK and Presidents Day.
Everyone is off of school for these dates, meaning if people plan a Disney trip…it'll very likely be during these times.
Spring Break weeks can be anytime in March or April depending on where you live and how your school district decides it.
Locally our school system even has a totally different Spring Break than the neighboring ones!
Some systems base Spring Break off of Easter, but many others pick a random week during that time period regardless of when Easter falls.
A great rule of thumb is to google search the Spring Break dates for the county where Disney World is located (Orange County).
If your Spring Break is different from the local Spring Break then you know, at the very least, that the locals won't be visiting the park at the same time you are!
Which can really help cut down on the crowd levels (especially if you're visiting Disneyland in California which tends to have more local visitors…that county to check is, ironically also Orange County).
With Spring Break dates varying so much in given areas, the odds are good that your Spring Break won't perfectly align with others in the same way that the set breaks like Thanksgiving will align.
This not only means lower crowd levels but also easier to book and cheaper to book vacation rentals.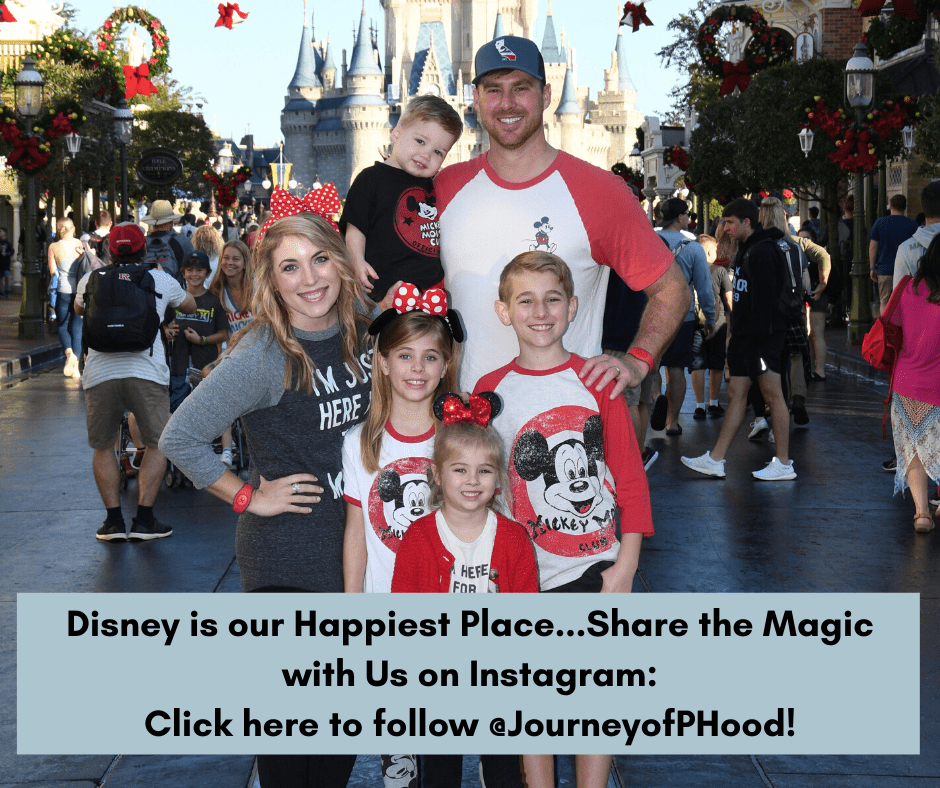 Planning a Disney Trip? These Posts Can Help Get You Started:
Spring Break: Great Weather for Your Disney Vacation
A common time to visit Disney World is during the summer months.
It used to be considered THE most crowded time to visit the parks.
But y'all that Orlando heat is NO JOKE in the summer.
My kids and I visited the parks last June and it was 105 and felt even hotter walking on that black pavement in the parking lot.
It's HOT and it's pretty dang MISERABLE.
People have caught onto the misery that is the Florida sun and have started avoiding summer break at all costs.
Which has made crowds MUCH higher at cooler weather times of the year like Thanksgiving and Christmas.
However, Spring Break is also a beautiful time to visit Walt Disney World Resort.
It's a nice time before the heat settles in.
Temps may vary and layers are wise, but overall it's some of the most beautiful weather I've seen at the parks.
In the South we joke that we only have two seasons: summer and one week of winter.
But truly Disney in April is like feeling Disney World spring has arrived (or at least as close as you'll get to it in central Florida!).
Last year over Spring Break my kids and I actually needed to wear jackets in the mornings and evenings! It was chilly!
And anyone who has visited Disney World knows…chilly is MUCH better than HOT!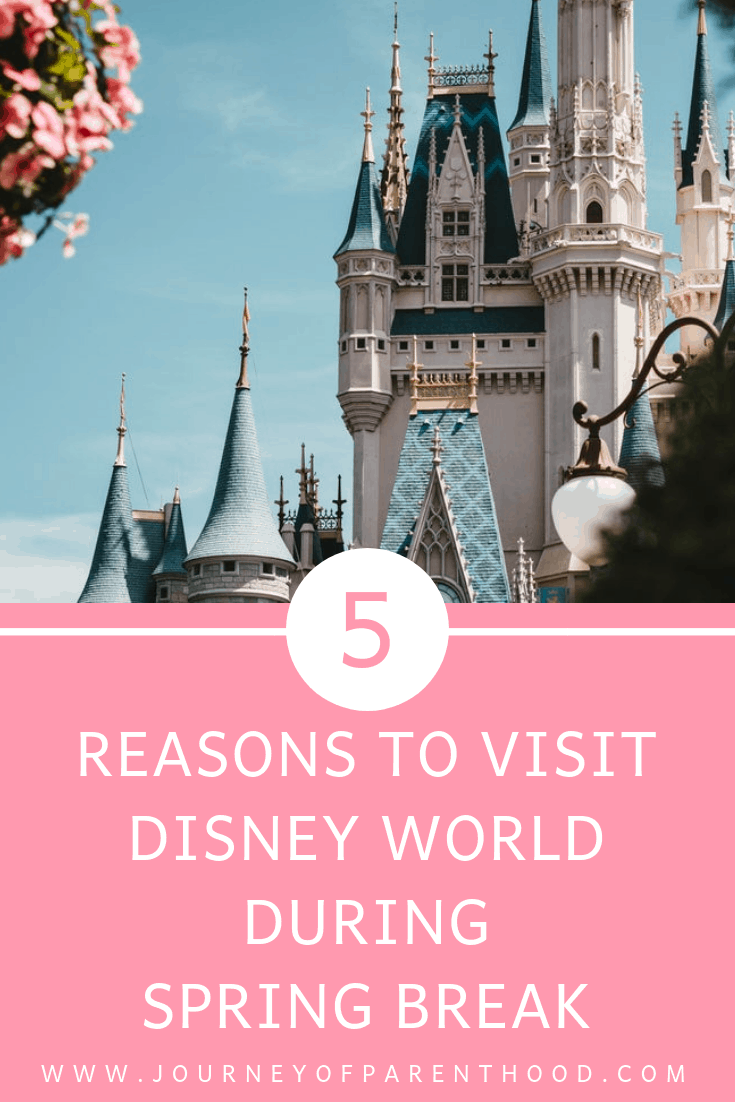 Spring Break at Disney: The Best Days to Visit the Parks
When traveling over Spring Break it is still wise to be mindful of which days to visit the theme parks.
Ideally, you'll want to plan your park days for mid-week whenever possible.
That way you're avoiding crowds who come for a long weekend stay.
All of the parks are typically equally crowded across the board.
Magic Kingdom is always the park I prioritize when aiming for the lowest crowds so I'd be sure to book that day as close to mid-week as possible.
An advantage of visiting Magic Kingdom over Spring Break is that it's a time of the year where there aren't any parties.
Once you enter August – December Magic Kingdom has a steady flow of either Mickey's Not So Scary Halloween Party OR Mickey's Very Merry Christmas Party.
Both of these events require a separate ticket and force guests who don't attend the party to leave early on in the evening – thus creating a MUCH shorter park day.
The other three parks vary in their crowd levels, depending on which parks have the newest attractions.
At the time this post has been written (before April 2019) Toy Story Land at Hollywood Studios just opened and is drawing the largest crowds with Animal Kingdom still being a close second with Pandora a very hot ticket item.
Star Wars Land (Star Wars Galaxy's Edge) is opening soon at Hollywood Studios and will draw MASSIVE crowds for a LONG time to come so if you're visiting Disney over Spring Break in 2019 I HIGHLY recommend getting your fill at Hollywood Studios before it becomes a madhouse this fall!
Update: Now that Galaxy's Edge is open and both Millennium Falcon Smuggler's Run and Rise of the Resistance are running as well as Slinky Dog in Toy Story Land…Hollywood Studios is a bit INSANE.
However, it's still very manageable with a park plan and early morning arrival!
Epcot is currently a sleepier park.
Easier to navigate regarding crowds and still has great attractions. (Frozen is my personal favorite ride ever!)
It too has new attractions on the horizon and will increase in it's crowd levels once they open (Disney is doing it's best to spread out that crowd for Star Wars…we'll see how well they do with that!).
Be sure to check the Disney Calendar for your travel dates when deciding which parks to visit on which days.
A great tip is to avoid any parks that have an Extra Magic Hour (especially in the mornings!) UNLESS you are staying in Walt Disney Resort property hotels, in which case you WANT to visit the parks that have that extra magic hour!
This calendar will also show you park hours so you know which parks will open early and which will be staying open later.
My personal favorite thing about visiting Disney World during more crowded times of the year is that parks often open at 8 am. I LOVE an early morning at Disney World!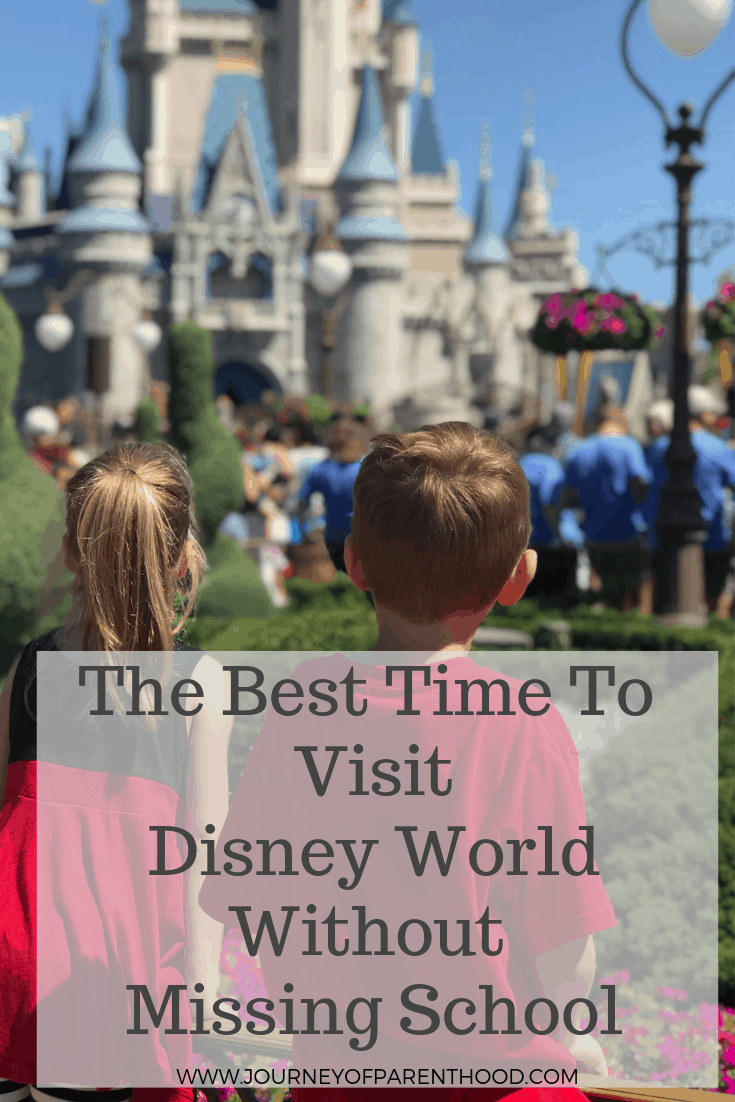 Spring Break at Disney: How to Manage the Crowds
Yes, Spring Break will be less crowded than Thanksgiving or Christmas or July 4th or New Years Day or MLK or President's Day.
But guys. It's Disney. It'll still Spring Break Crowds. It's still gonna be pretty dang crowded!
The best tip across the board in managing crowds at Disney World? Especially during a school holiday? Arrive Early. 
Period.
Get to the parks prior to park opening.
It is THE least crowded time of the day at ANY of the parks.
And it's THE ONLY time to be able to walk on attractions, especially those high ticket items like Flight of Passage or Slinky Dog or Smuggler's Run which will quickly have a three-hour wait once the park has been opened for about 30 minutes.
Basically, when you are looking a level 10 of Disney World crowds you can expect moderate crowds in the morning time.
Still a busy time, but a much less busy time. By arriving early you'll literally be hopping from ride to ride!
So arrive early. And when you do? HAVE A PLAN.
I cannot even begin to explain how crucial a game plan is for a successful trip to Walt Disney World.
Even as an Annual Passholder I STILL plan out my days at the parks. 
The first element in a successful Disney plan is booking your FastPasses.
You want to book these at either 60 days in advance (if staying on Disney World property) or 30 days in advance (if off property).
Disney allows each person in your party (kids under 3 don't need a fast pass) to book three passes per park per day in advance.
Once you use all three that day, you're allowed to then book another FastPass. 
—–> Be sure to read all of my FastPass Secrets Here!
Need Fastpass Tips for Each Park? Be Sure to Read These Posts:
Once you have your FastPasses in place it's wise to make an itinerary.
What rides and experiences you're going to do each day of your trip and in what order.
By using the Touring Plans site you can easily plan your trip and have the advantage of their advice and wisdom in knowing which rides will be the shortest wait times throughout your day!
They also have an awesome Disney World Crowd Calendar that will help you know in advance which parks will be the most crowded (and least crowded) each day of your Disney World Spring Break trip!
Another great way to beat the crowds during a high-crowd level time is to utilize park hopper options (an add-on to your ticket price) which allows you to jump from park to park within the same day.
If one park is too crowded, you can leave and head to a less crowded one and spend time enjoying what that park has to offer.
Planning your Disney trip will take time and effort but it will all pay off when you have your Magical trip!
Spring Break at Disney: Book Now!
It's never too early to book your next Disney trip.
The further in advance you book your Spring Break trip to Disney World the better in order to lock in lower prices and secure a booking that will fill up the closer you get to your travel dates. 
If you're looking to stay off-property be sure to check out our rental house located in Emerald Island which is only 3 miles from the Disney World theme parks.
Our home has 6 bedrooms, 4.5 bathrooms, a pool, hot tub, and an awesome game room for the kids.
We even offer a discounted rate for blog readers!
As a hardcore Disney lover, I believe anytime is a good time for a Disney World trip.
However, if you're limited to traveling during times when kids are out of school then THE best time to visit is Spring Break!
More Helpful Disney Planning Posts: