Moms and Daughters Weekend at Disney – Feb 2020
We celebrate the older kids' birthdays at Disney World and it's really worked out smoothly for Tess and Britt as both of their birthdays are near or over school holidays (Tess is in summer and Britt's is usually a week or so after Thanksgiving)/
It's tricky with Kye as his birthday is early March and there is no school break in March at all, usually.
This year is especially tricky as we used the February school break for his ski trip with Zach and the girls and I will go on our Disney Cruise over Spring Break.
We plan to celebrate Kye's birthday at Disney over Spring Break but thought we'd also use a weekend in February, closer to his actual birthday, to do our solo park time with him for his bday.
We had our Disney Rental House blocked off to use the last weekend in February and had fastpasses and dining plans made for that weekend.
Then Kye got invited to attend a local leadership conference and opted to attend the conference over having his Disney birthday weekend (I know…who's child is he? haha!).
Super proud of him for making such a MATURE decision!
Zach also found out he needed to work that weekend so really it all worked out and Zach proposed for the girls and I to still go down for the weekend.
Yall know I will never turn down some Disney time!
I thought of my friend, Julie, who is also a passholder. We've mentioned going together since we've both had passes and this was the perfect opportunity!
Her daughter, Ella Kate, is in kindergarten and I knew she'd get along great with my girls and it was another fun friend weekend!
We checked the girls out of school Friday afternoon and headed down and oh my word the traffic.
I've never had such bad traffic going to Orlando! It took us 4 hours to get a little over halfway when the whole drive is usually 3!
The girls did SO WELL and we stopped at Cracker Barrel for dinner which hit the spot.
I never think to go to Cracker Barrel but it's GOOD! It also always reminds me of my Uncle Spear and I love moments to remember him!
We made it to the house around 8ish and all headed to bed!
Zach had actually just come home from the Disney House the day prior.
He'd spent a few days down there doing some upkeep type stuff (an advantage of us using the house so often is we're able to really be on top of things!) and got NEW CARPET installed!
It looks SO GOOD yall!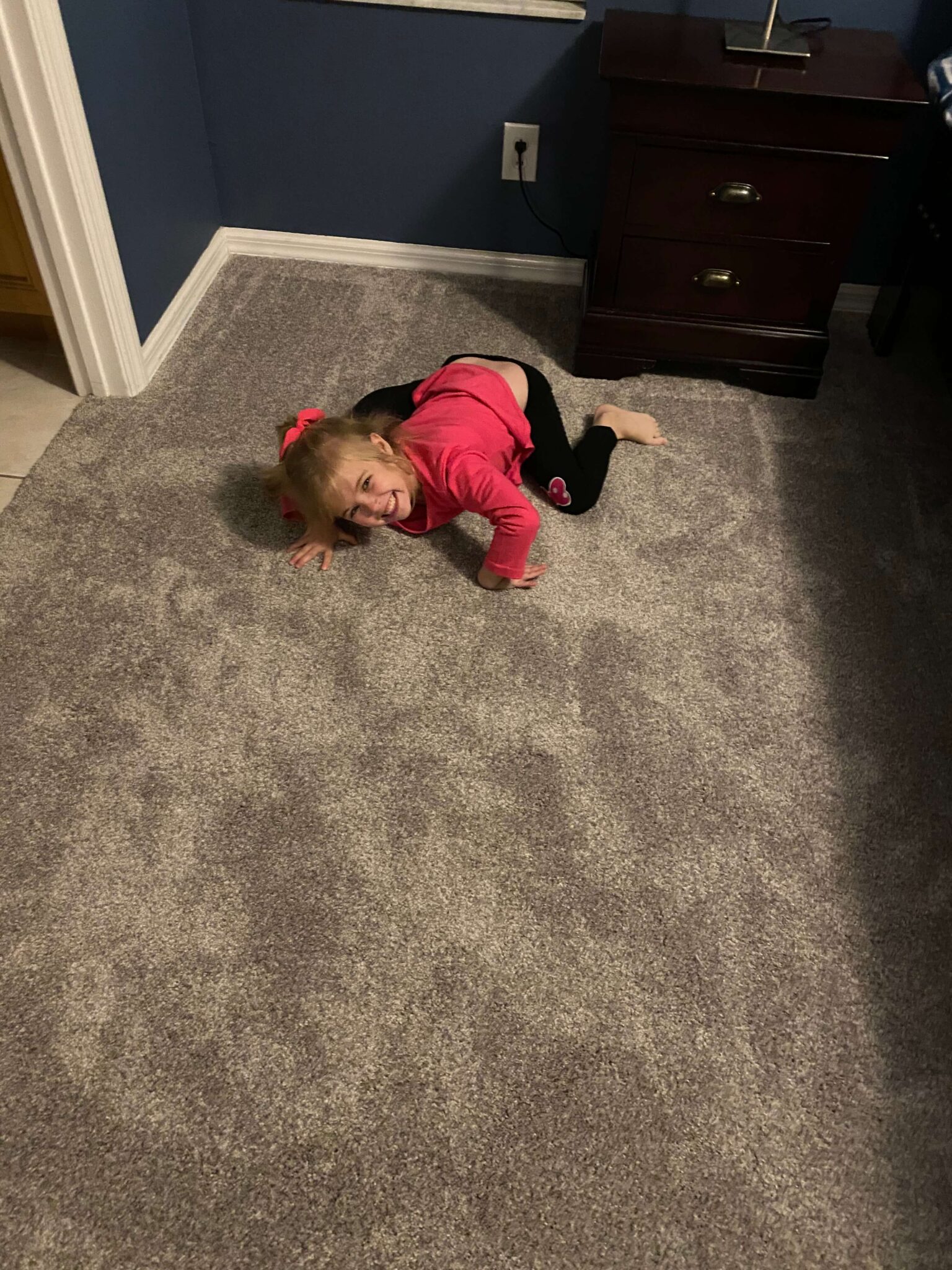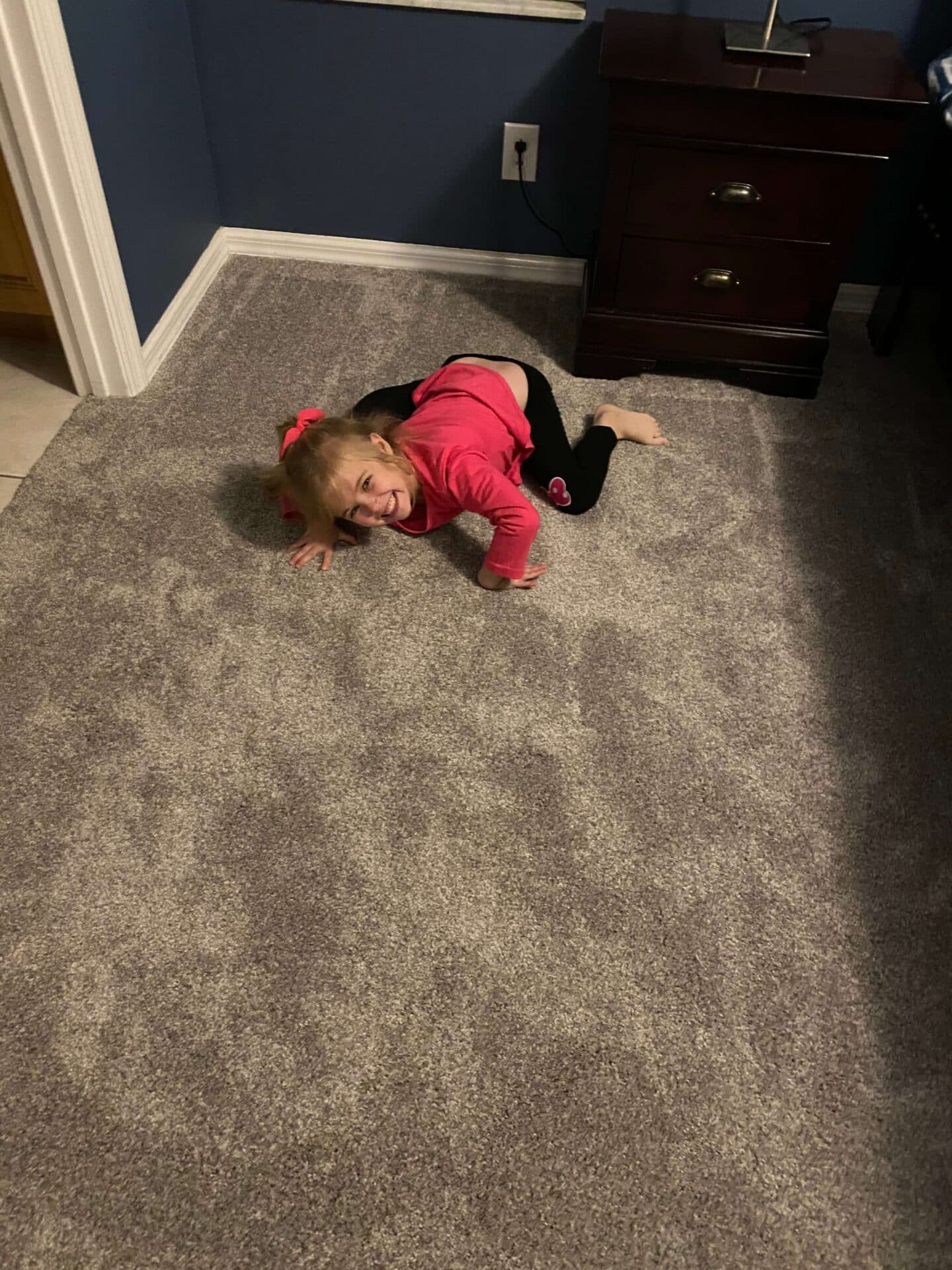 The girls all did SO WELL on the long drive and Julie and I enjoyed the chance to talk and visit too, even though we would have much preferred to have gotten down there quicker 😉
It was also obvious that Julie and I are Disney Moms…we both were like "okay goodnight!" as soon as we got the girls to bed haha
No late night talking when you have a BIG day at the parks planned for the next day!
When Kye had planned out his birthday weekend our plan was for he and Zach to go to DHS on Saturday so I had grabbed fastpasses at Epcot for the girls and I that morning and then I'd booked Be Our Guest for dinner for Kye and I that evening to have our solo park time at Magic Kingdom together.
When plans changed I just figured we'd still go to Epcot as it's a very chill park and really enjoyable with the girls and I was able to snag BOG for us ALL for dinner as a surprise.
A fun goal I have for myself is to eat at ALL the character dining options at Disney World and Be Our Guest for dinner is the last one I needed to eat at in order to finish phase 1 of my goal – all the character dining inside the parks!
We didn't stress about leaving super early and it really all worked out SUPER well.
The park opened at 9 and we left our house by 8:10ish. We did preferred parking (a perk of being with another family because we could just split the cost) and only waited a few minutes before we were allowed into the park.
We weren't among the first in the pack but still made it to Frozen with only a 20ish minute wait and it was even shorter than that!
It was so funny because Tessie and Ella Kate had the EXACT same sweatshirt! We all had a comfy vibe for the day and I loved that we all looked so coordinated together and that it was totally unplanned 🙂
There is something SO NICE about being CHILL at Disney.
It was nice being with Julie too because I knew she felt the same way I did that day – no pressure, no agenda of "must do" items, just very down for whatever and go with the flow!
Passholder Emily is totally the coolest Disney Emily 😉
It was fun having a girls day too because everyone was ALWAYS down for pictures!
It was fun seeing how my girls acted with a third girl in the group.
Britt acted more mature than usual, she was still very Britt but didn't complain as much and didn't seem as dramatic about things.
I was proud of her as she was actually a very calming presence in moments where the younger girls needed that positive example.
And Tess…WHO was she?!?! I couldn't get over how silly and outgoing she was! Ella Kate has a super fun bubbly personality and it really brought out that side of Tessie too!
It was so cute seeing them together all day and the joy the three of them shared!
The mamas were in desperate need of coffee and Julie hadn't ever had Joeffry's! I mean the donuts alone are MUST HAVE!
We grubbed and then decided to hop in line to say hey to Minnie – why not right?
We were SO CHILL that Julie even forgot her stroller hahaha you KNOW it's chill when you totally forget the stroller, right?!?
Love seeing Minnie in her classic outfit!
Right now Epcot is kinda all over the place with so many changes coming and I'm SO glad the girls were ALL about some character meeting as we got to have some variety with the characters being in different locations than the norm.
Minnie doesn't typically meet here (usually it's Pluto or Daisy I believe) so it's neat having a different background with her 🙂
Spaceship Earth is set to close in May for TWO YEARS.
I haven't really heard what the plans are, if they've even been announced yet?
But regardless I def wanted to make sure to ride it in case we don't get to again before the closure!
So crazy to think that Britt will be TEN before it opens again!
Ella Kate and Julie have never ridden it and opted to hit up the gift shop a bit while we rode. I'm VERY team "don't pressure people to ride stuff" so when EK didn't wanna ride she didn't need to ride!
Something I always love and appreciate about Disney is that even when parks are in a hardcore construction phase they still find ways to make things special.
The new butterfly wall at Epcot is one such area!
Later in the day it was SLAMMED with people wanting to get pics and it's so genius of Disney…take the time to paint on a wall and it brings the masses and frees up some of the wait times!
We jammed out to the Jammitors a bit and then rode Figment!
Right now at the exit of Figment, there are two character meet and greets: Wreck it Ralph characters and Inside Out characters.
Joy was solo but had a short line and Britt and Tess wanted to meet her while Ella Kate played a bit in the play areas.
I love how Joy's dress has an Epcot vibe!
Tessie decided to do a Force / Elsa Freezing Things pose ALL DAY.
Zach said when he looked through my pics on IG that he kept cracking up at Tess and her consistency with her pose!
Originally I'd gotten myself and the girls a fastpass for Frozen for that afternoon but since we rode it first thing we swapped it out to be able to ride Nemo with our friends!
The girls were all so cute with excitement over getting to see all the animals and we took our time walking through the entire The Seas area!
Our dinner reservations were EARLY so we wanted to go ahead and eat a pretty substantial lunch nice and early too.
We headed over to Mexico and the nachos nevvvver disappoint 🙂
While there we checked the line for the "Donald Ride" and it was crazy long but his meet and greet was surprisingly short so we hopped in to meet our favorite duck!
We wanted to do the Chase Visa character meet and greet but that line was crazy long (I mean we were at Epcot on a Saturday so it wasn't shocking that it was pretty crowded!).
Instead, we opted to watch the Pixar Film Fest (a first for EK and Julie). It's SUPER cute but it takes up a chunk of time.
In our case, it was perfect but if you have a FULL day at the park and aren't in super chill mode…skip the Pixar Film 😉
As we walked in to watch the film festival we ran into MICKEY!!!
We decided to watch the movie first then go meet him. He's in such a perfect hidden spot and the pics turned out AMAZING 🙂
We headed towards the exit to park hop over to MK and ran into another short character meet line – this time for Goofy!
EK was so adorable asking him if he was a dog or a cow 😉
To get to meet FOUR characters and ride 4 rides plus watch the film was pretty great considering we were so chill all morning 🙂
Goodbye Epcot – see ya real soon!
We rode the monorail over to Magic Kingdom and were able to snag fastpasses for Aladdin's carpets.
As we entered the park we happened to walk in right on time for the Festival of Fantasy Parade!
I LOVE unplanned magical moments like these 🙂 We had a GREAT view and loved getting to see so many characters up close!
We stopped on our way to Aladdin to grab some quick castle pics since we knew we probably wouldn't be back in front of it until after dark that evening.
Aladdin was the only actual ride we rode at MK! None of us minded either 🙂
We weren't able to secure any other fastpasses and it was pretty crowded so we just slow rolled our dinner and enjoyed that time together.
I have eaten at Be Our Guest for both breakfast as well as lunch but have never eaten there for dinner.
We weren't impressed with the breakfast but LOVE lunch!
Neither of those meals though includes a character meeting so in order to say I've eaten at all of the character dining locations…
I had to have dinner at Be Our Guest!
I LOVE the environment at BOG. It's one of the most well done theming at Disney for sure.
We had dinner at 4:10 and got checked in smoothly and a bit of a wait outside, but not bad at all.
Once we were seated, however, it took well over 20 minutes for a cast member to come and greet us and take our drink order.
Julie finally asked someone and I guess there was a mix up about who had our table, no biggie as the girls were happily coloring their placemats while waiting and we weren't in any sort of rush but I have heard that the wait at BOG, even with a reservation, can often be frustrating and I can see that perspective if we'd had evening plans at the park!
When it comes to dining inside the park I do think Disney should do all they can to keep things running quickly and smoothly as you're paying double time – for the meal as well as for the park admission!
We traded off walking around with the girls to look at all of the decor.
I have also heard mixed things regarding the food at BOG for dinner.
You CAN request to trade out any food items on the kids menu…like french fries aren't on the menu and neither is chicken fingers I don't think but you can request them!
My girls both love steak so they were pumped to have that option and Britt ate her ENTIRE thing.
The meal is fixed with three courses and I loved everything.
I got the lobster bisque and the steak and both were delicious.
I was also fighting a cold so I loaded up on more coffee 😉
The kids meals came with both a drink as well as a super fun dessert platter.
They had a white chocolate Chip with edible paint to decorate him with! They LOVED it and didn't want to eat him!
Beast is the only character meet and greet at this meal.
I do not understand why he isn't with Belle. I understand she is at Enchanted Tales with Belle but Ariel is both at her Grotto and at Cinderella's Castle so I feel like it'd be totally fine to have Belle at both locations.
Beast was introduced and walked through the main dining area but has his meet and greet in his study.
Which worked out fine! It was NOT a long line after we ate and we didn't feel like we were rushed in the meeting either.
It is a tad tricky to find though and we had to ask someone!
Sometimes photopass pictures are a struggle and this was def one of those times which is disappointing and I do think they should make sure the lighting is better for these photos.
Prince Adam was SUPER sweet and we all fell in love with the Beast – we see what Belle saw in him 😉
Britt is my kid who ALWAYS has to go to the bathroom and needs to not feel rushed when those moments come so we let her take her time before we left.
Overall I really enjoyed Be Our Guest for dinner!
I don't think it's a "must do" since Beast isn't a must-meet character but it was a fun experience and meet and greet and great food and atmosphere!
After we finished eating we headed to grab the strollers and saw that Enchanted Tales with Belle was only a 20 minute wait so we hopped in line!
Britt was Maurice and Tessie was Mrs Potts.
The play is always so cute and a great way to meet Belle which flowed nicely with our Beauty and the Beast evening!
We went ahead and secured a spot for Happily Ever After and were very close which really allows full appreciation of the projections!
I LOVE Happily Ever After.
There hasn't been a single time that I've watched it and not felt emotional. It was fun being around people who were seeing it for the first time (yall know I talked up some random strangers #extrovert).
Some jerk dude was behind us and filmed the entire fireworks show with a SUPER BRIGHT light. SO RUDE.
I didn't let it ruin our experience but it still bugged me so much. Have common courtesy ya know? EVERYONE around us was SUPER annoyed by it but what can you do?
I let Britt stand in the stroller and then Tess sat on the handle bars of the stroller and I leaned forward to hold onto Britt and keep the stroller steady and provide a place for Tess to safely lean.
As a short mom you gotta do what you gotta do right? 😉 WORTH IT.
We decided to skip fighting the crowds and instead just browse a bit in Emporium.
We stopped by the fire station to grab some Sorcerer cards and then did some shopping!
The girls and I got a Beauty and the Beast ornament to remember our trip and we also picked out a bday gift for Kye.
On our way to check out I noticed these ADORABLE little trinket boxes and saw that my letter E was the theme of Enchanted Tiki Room SO DUH I HAD to have it!
Britt's is for Big Thunder Mountain and Tess's is Tomorrowland. Aren't they just SO CUTE?!?
We opted to take the ferry on the way back and then hopped on the monorail to get back to Epcot. The fancy parking spot sure was nice for that walk back to the car 😉
I love that Julie snapped the sweet pic of me snuggling Tessie 🙂 I will forever love holding my babies.
And super cool moms let the girls have a sleepover even when getting back so late!
We took the time when tucking them in to go ahead and get a movie set up for the next morning.
We told them at 7 am they could start playing the movie. #GENIUS.
This mama didn't get up until 8:30 and I'm not even remotely mad about that!
We let the girls swim as we got everything packed up and the house all cleaned before hitting the road!
Our plan was to hit up O'Charley's for brunch and we were SO PUMPED about it…and then SO BUMMED when we learned the location near the Disney House shut down permanently.
The next hour or so was a bit of a cluster (our drive down and drive back had some struggles huh? SO glad I had Julie with me…it was great getting to chat and know each other better and helpful to not be solo in the tough traffic moments too!).
We hit the 11:00 hour where places didn't have breakfast and where those that did were CRAZY crowded.
We FINALLY ended up at Dunkin' Donuts (after driving through McD for the girls).
The girls were being kinda whiney about how hungry they were…and then it hit us…they hadn't eaten since dinner the night prior at like 5 PM…and it was 11:30 am the next morning. #momfail.
No wonder they were CHOWING DOWN haha!
While it was all a bit of a fiasco the donuts and coffee helped make up for it and we had smooth sailing the rest of the day heading home!
We had a really great weekend and loved getting to experience Disney with friends! It was our first time doing something like that and it went SO well!
I was especially impressed with how beautifully all the girls got along. Usually three is a crowd but they all played wonderfully together and no one ever felt left out or ganged up on.
We all felt like we did a good bit considering we didn't have much planned for our time and for it being pretty crowded too.
Def another Disney weekend success and we're so glad Julie and Ella Kate were able to come with us 🙂