Hawaiian Christmas decorations + Lilo & Stitch = probably the most obscure first birthday party ever! But I love how this turned out and I hope you do, too!
Deciding on a theme for our son Spear's first birthday was super tricky. Zach and I thought up several ideas and even chose a theme but just didn't love it. So I kept brainstorming.
Spear really loves Stitch. He's meet him three times at Disney and every time he just LIGHTS UP and has so much JOY. To be honest though? Zach and I aren't big on Stitch. He's naughty and wild and not really an ideal favorite character ha! Plus a Stitch party in December is kinda odd.
However, Lilo and Stitch does have a lot of elements I do love: it's set in Hawaii AND all the music from the movie is by Elvis. I kept muling it over and finally came up with the idea to do a Hawaiian Christmas Party with touches of Stitch throughout.
I assumed it'd be a crazy easy party to plan. I mean Hawaiian Christmas… how hard could that be? Um. Apparently pretty tricky! There just isn't a lot of Hawaiian Christmas decorations out there and like ZERO ideas on Pinterest. Same goes for Stitch. His movie is SO old at this point that there is very little merchandise and very few ideas floating around for a themed party.
I was able to find ideas when I finally thought to search "Christmas in July" which makes sense! I do really love a unique theme and a bit of a challenge in my party planning. It makes the end result so much more rewarding when I had to really get creative!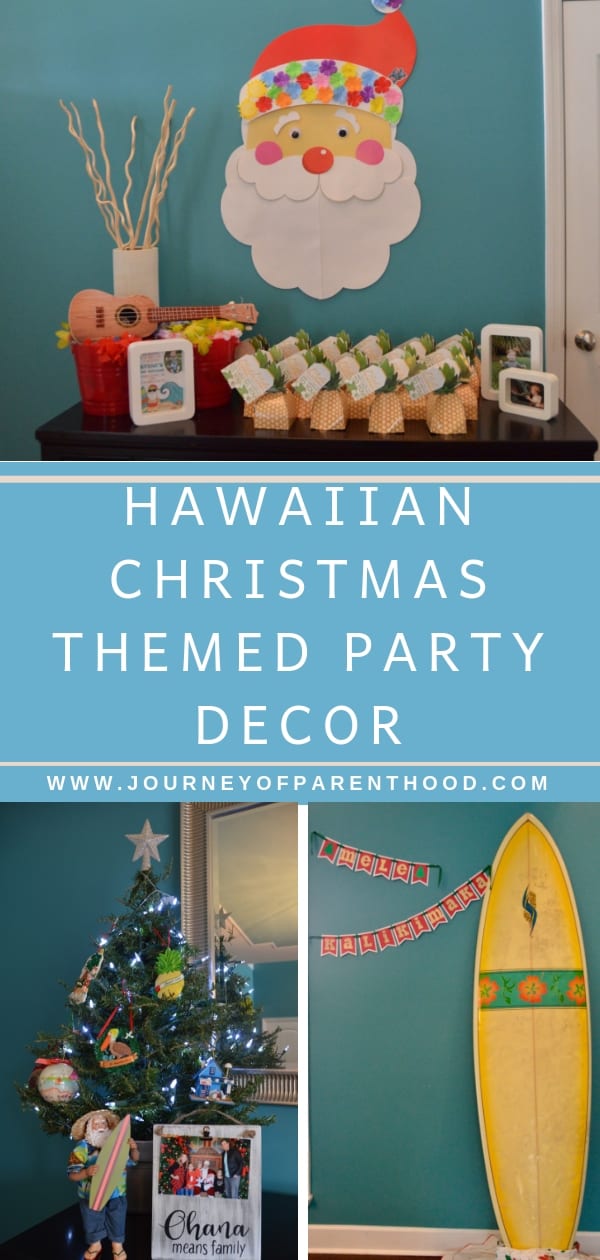 Disclaimer: post contains affiliate links
Hawaiian Christmas Party Invites & Decorations
I ADORE his invitations!!! I worked with Aqua Love Designs and she was amazing in adding little details to really make his invites special. To incorporate Stitch into the mix I used a picture from his 9 month session with Captured by Colson!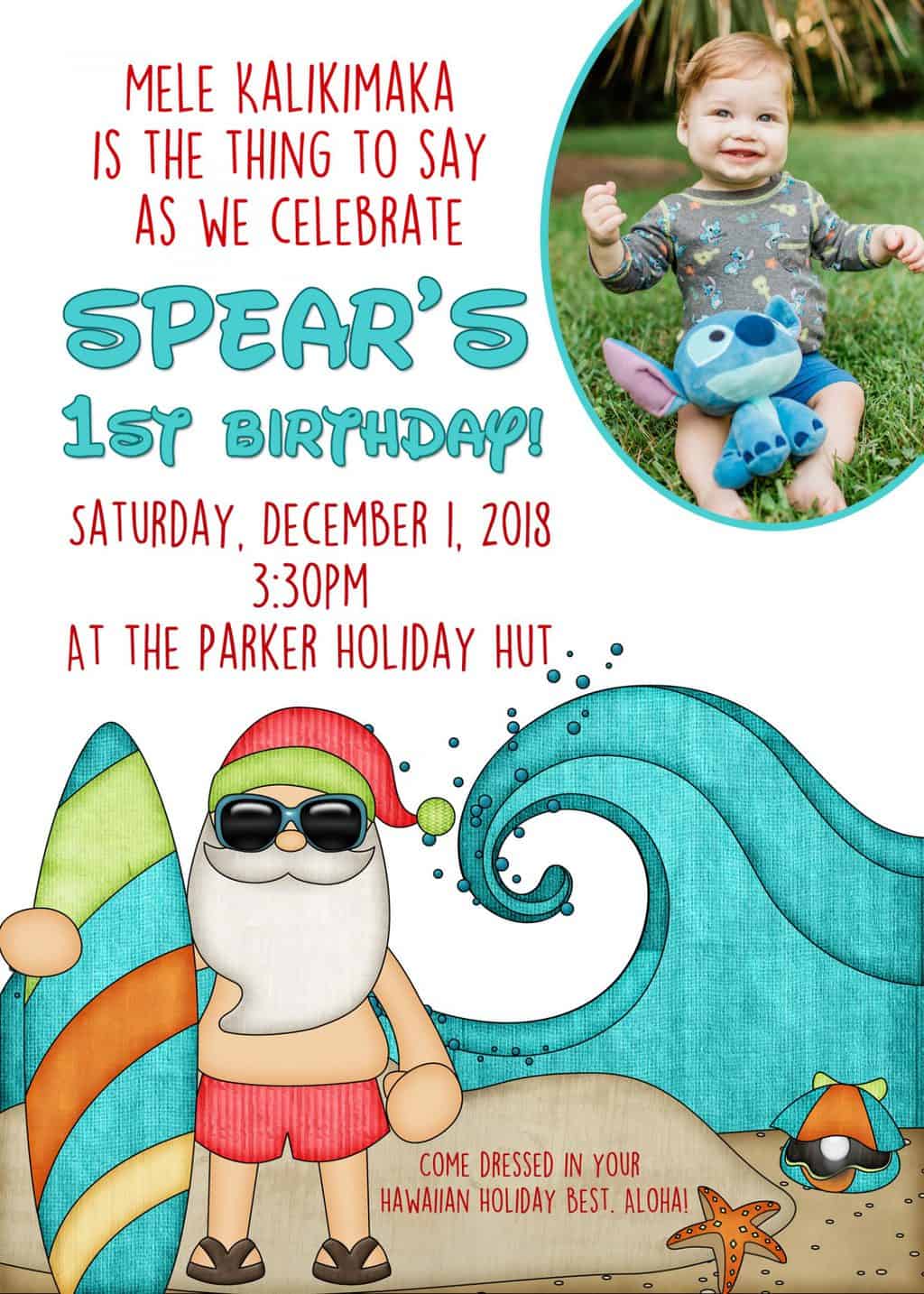 I like to have an area at all of our parties for people to take pictures (which has become less organized during the actual party the more kids I have haha). Zach had the GENIUS idea to bring MY surfboard down from the attic. Yes, I have a surfboard. Yes, it was custom built for me. And yes, I only took it out to the ocean ONCE.
It really came in handy for this party though. It matched the Hawaiian Christmas decorations perfectly! Zach propped it up in our old Christmas tree stand and we covered it with my grandmother's tree skirt (love that she was represented in the party)
Mele Kalikimaka is Hawaiian for "Merry Christmas." Hawaiian culture is my FAVORITE. People assume I'd live at Disney if I could but I'd totally live in Hawaii given the chance. I worked with Bells N Berries on the banner and they were kind enough to swap out their "Merry Christmas" one for "Mele Kilkimaka" for me!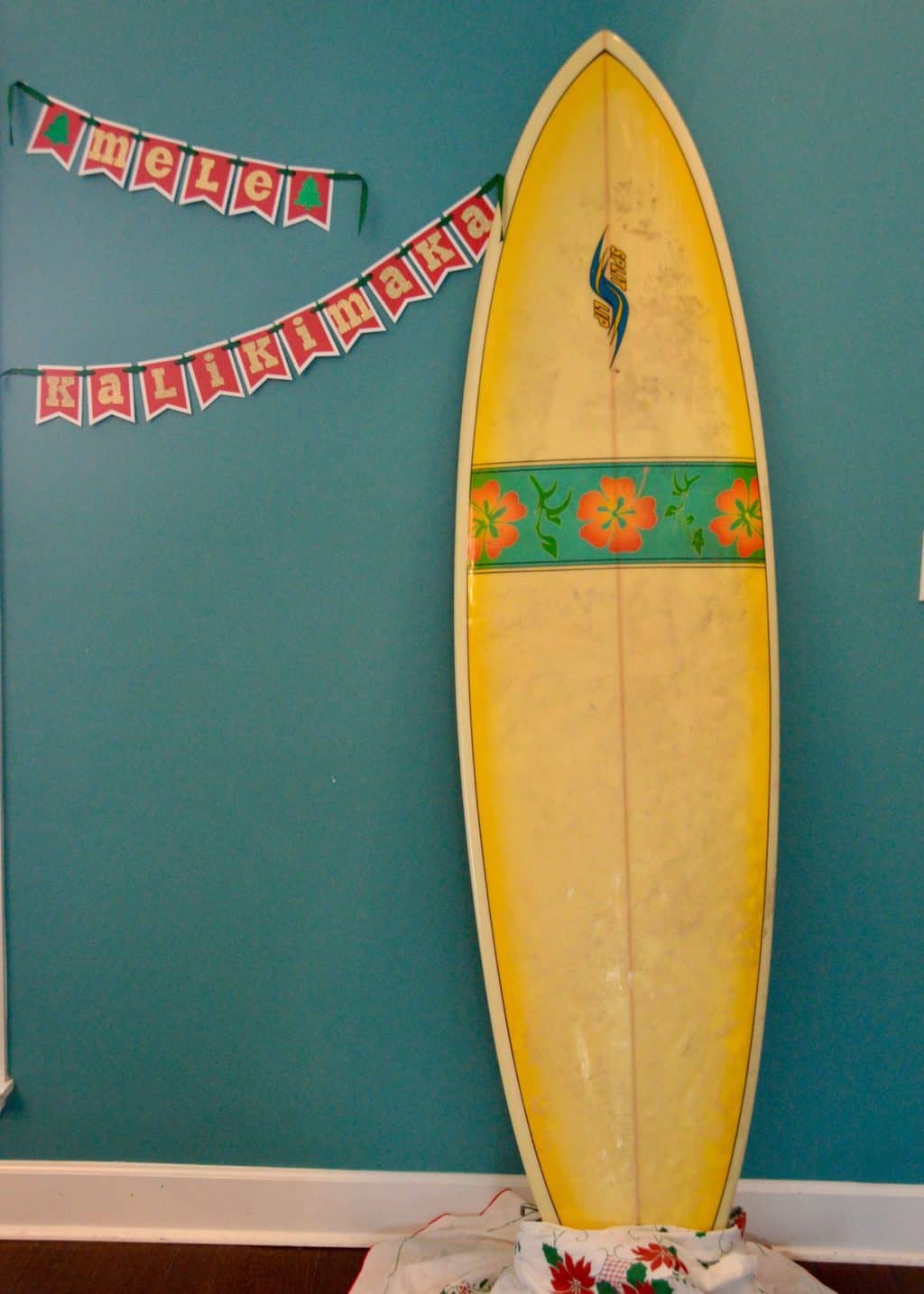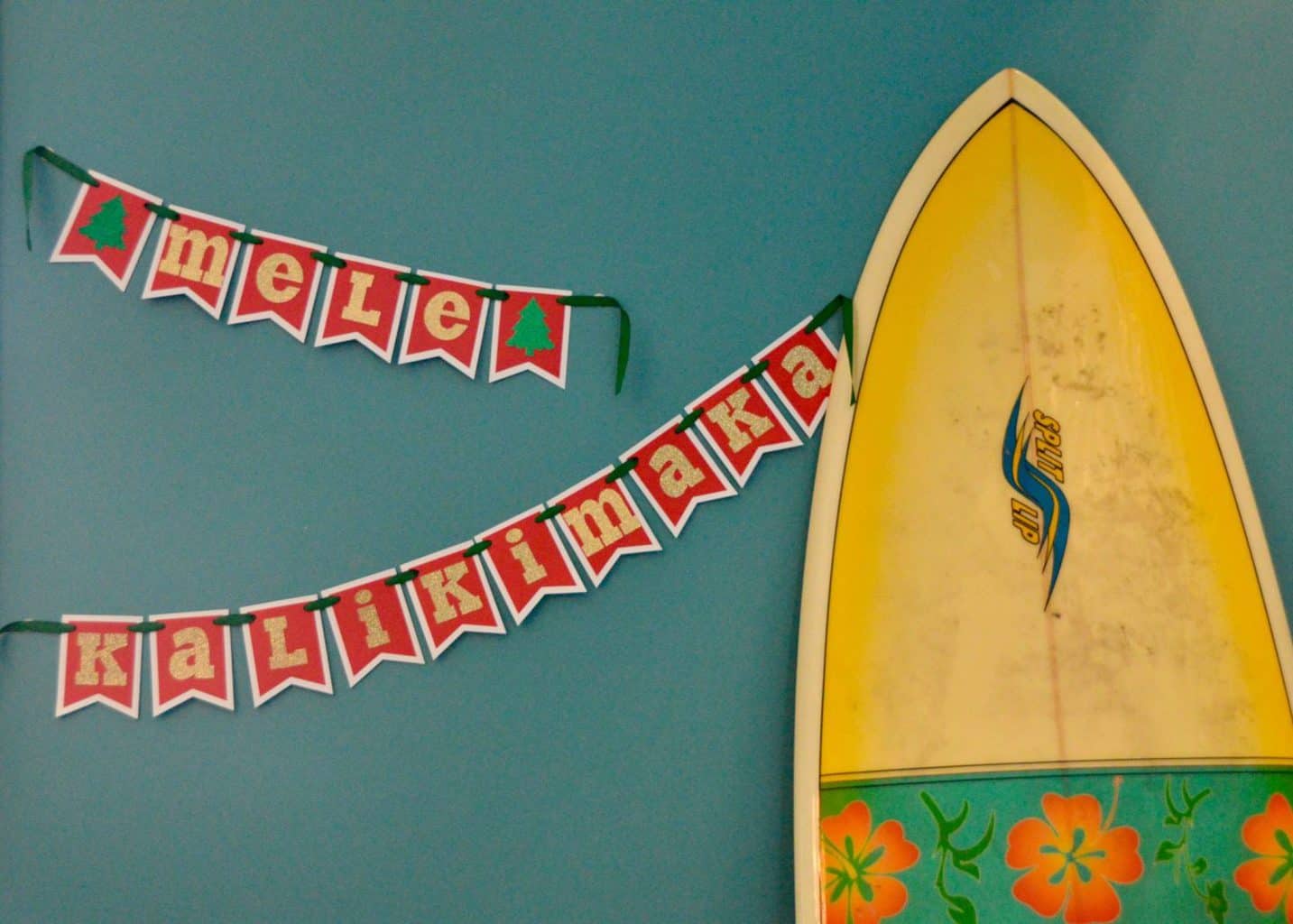 I wanted to really blend traditional Christmas with Hawaiian theming which wasn't too, too difficult and gave me a chance to use a lot of leftover party stuff I had from Tess's Flamingo Party. I had TONS of leftover paper umbrellas and used them to make this wreath. It was super simple (I just cut the stems of the umbrellas down a bit and then stuck 'em in) and turned out cute!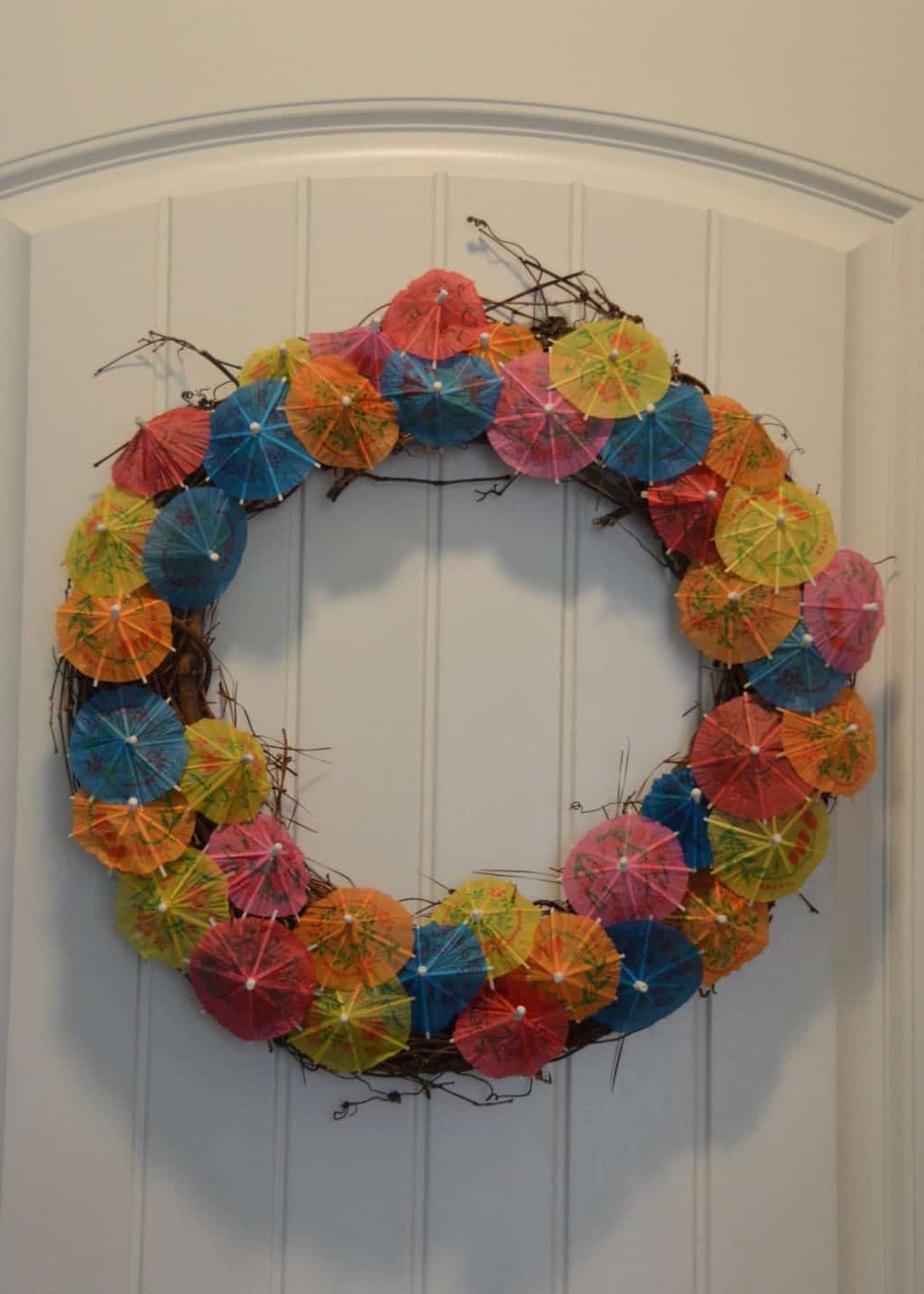 The Party Favor Table
I had a lot of fun with the favor table! I also had a lot of leftover leis from Tess's party so I was able to have plenty to hand out one to each guest as they arrived. I opted not to do any props for pictures other than the leis as the surfboard was plenty and in recent parties it's been too crazy to mess with photo props…I'm lucky if I'm able to just snap the dang pics 😉
I picked up the Santa from Hobby Lobby and was SHOCKED when I opened him to put him together and realized how huge he was! He really made an impact and helped greet all the guests. To add some Hawaiian flare to him I hot glued Hawaiian flowers on his hat (and snuck a little Stitch in their too).
For the favors I purchased Christmas candy, stamps and little coloring books and then put them inside pineapple favor boxes and labeled them with these ADORABLE free printable tags!
Then, of course, I filled some frames with pictures of Spear with Stitch!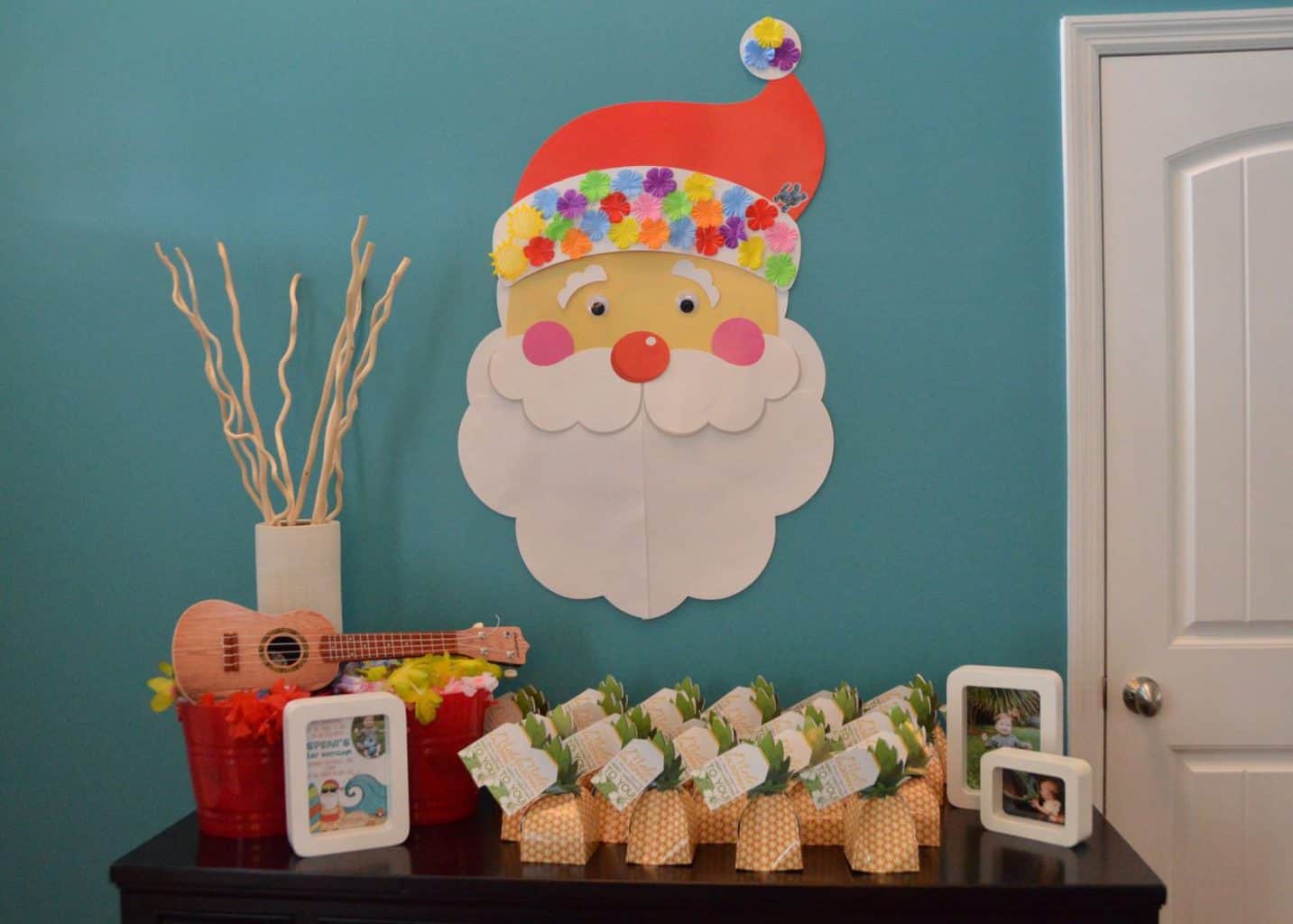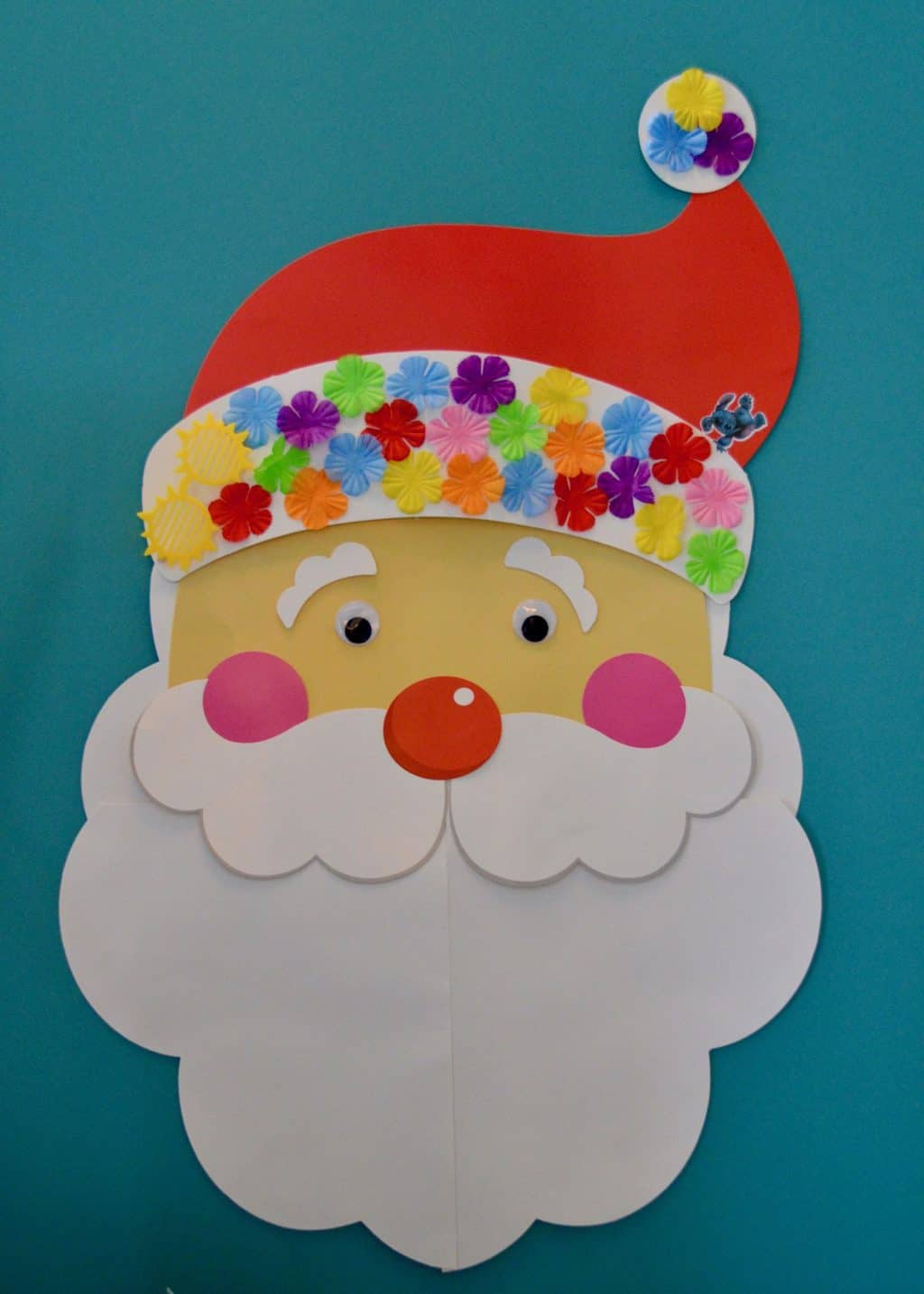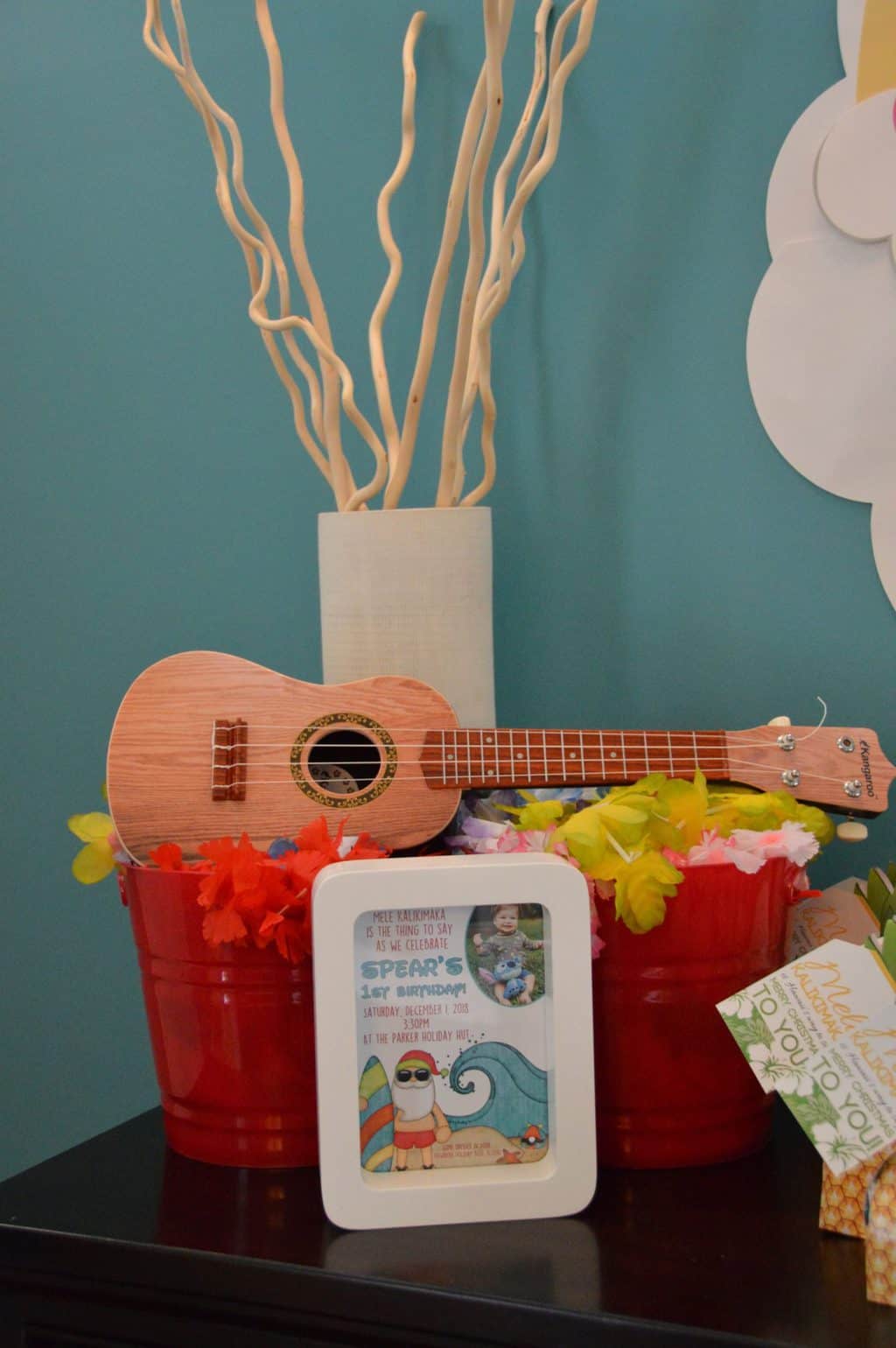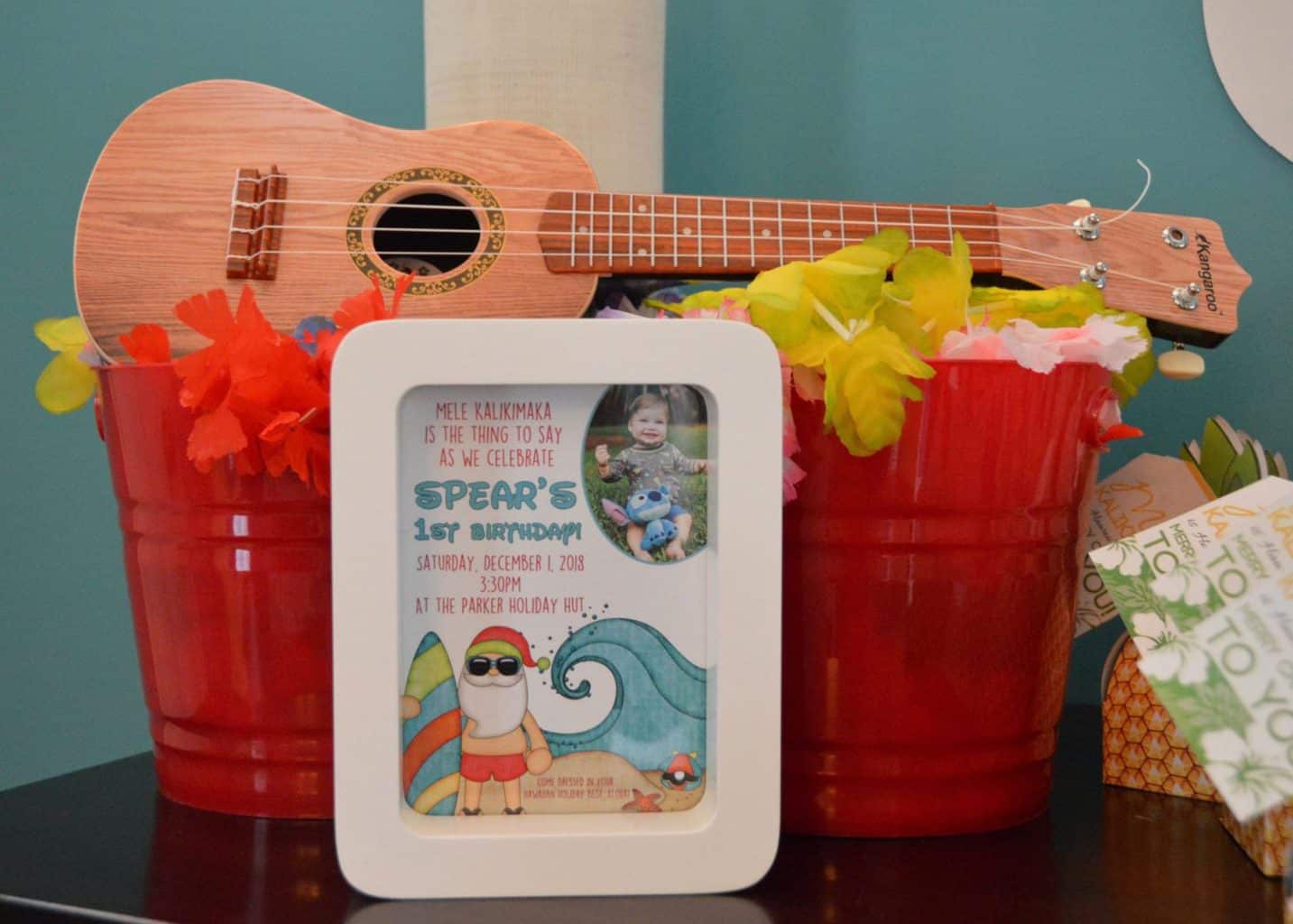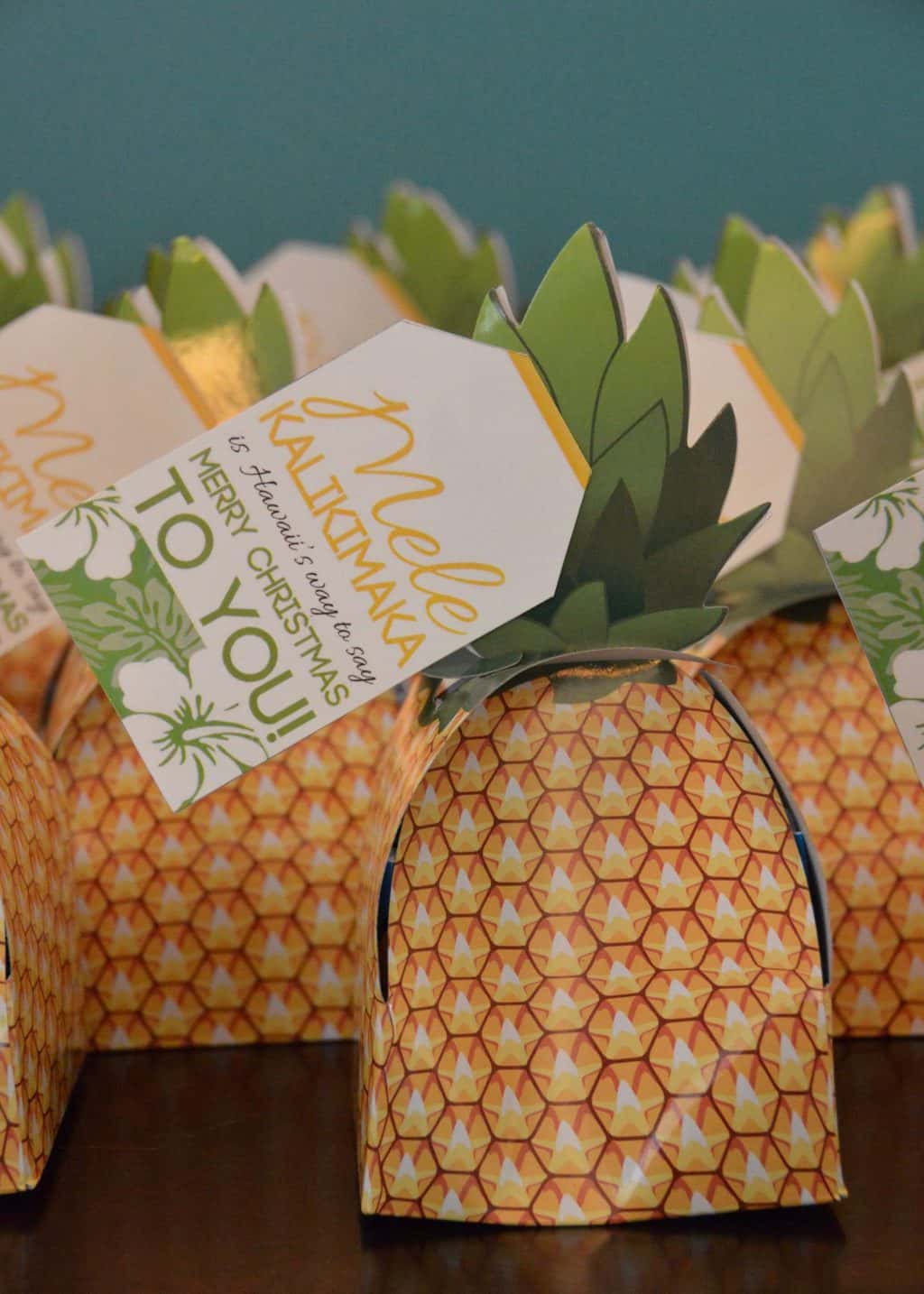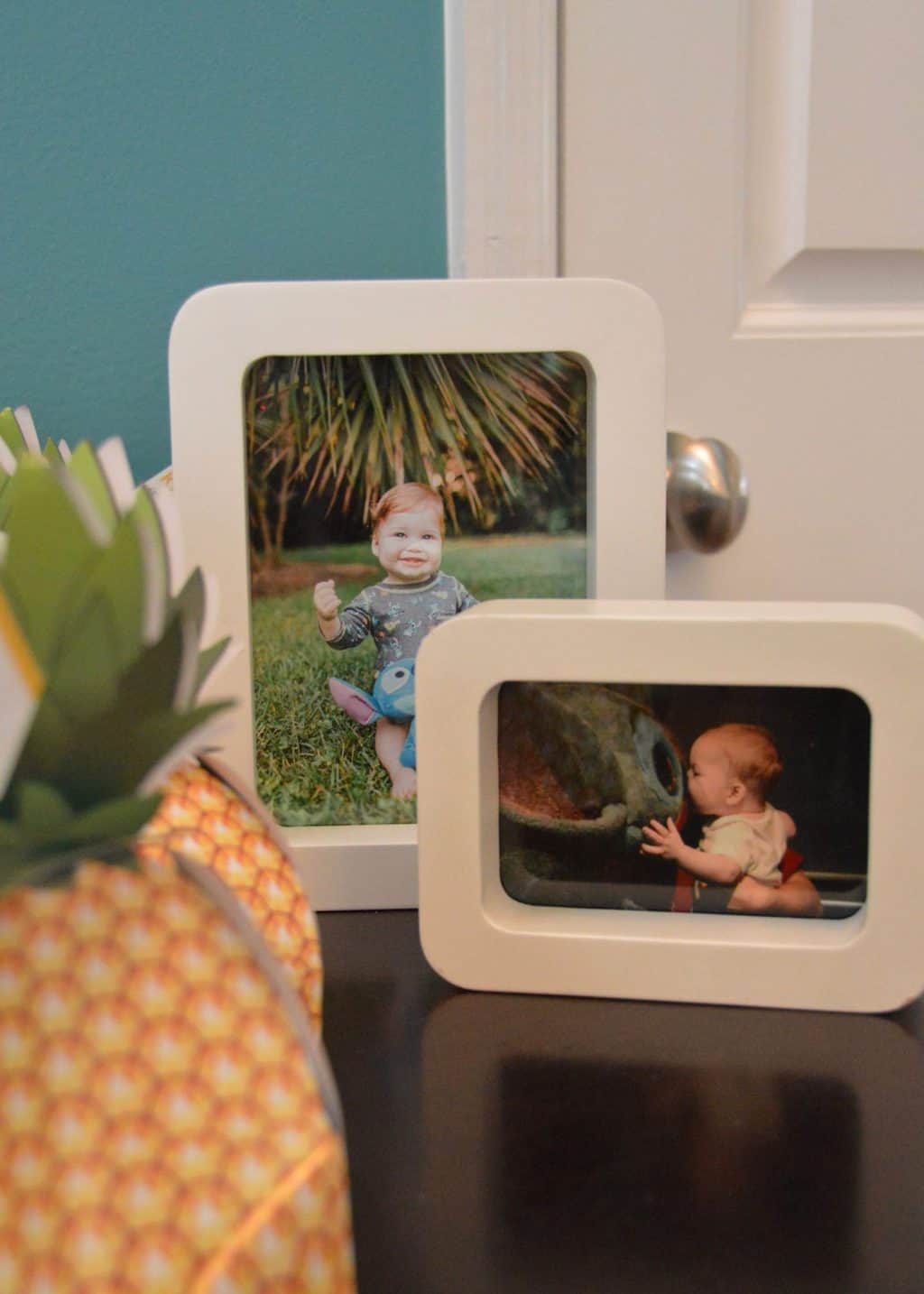 My typical Christmas decor is white and silver so I had to do a bit of purchasing to incorporate more traditional reds and greens for the party! (These are from Hobby Lobby)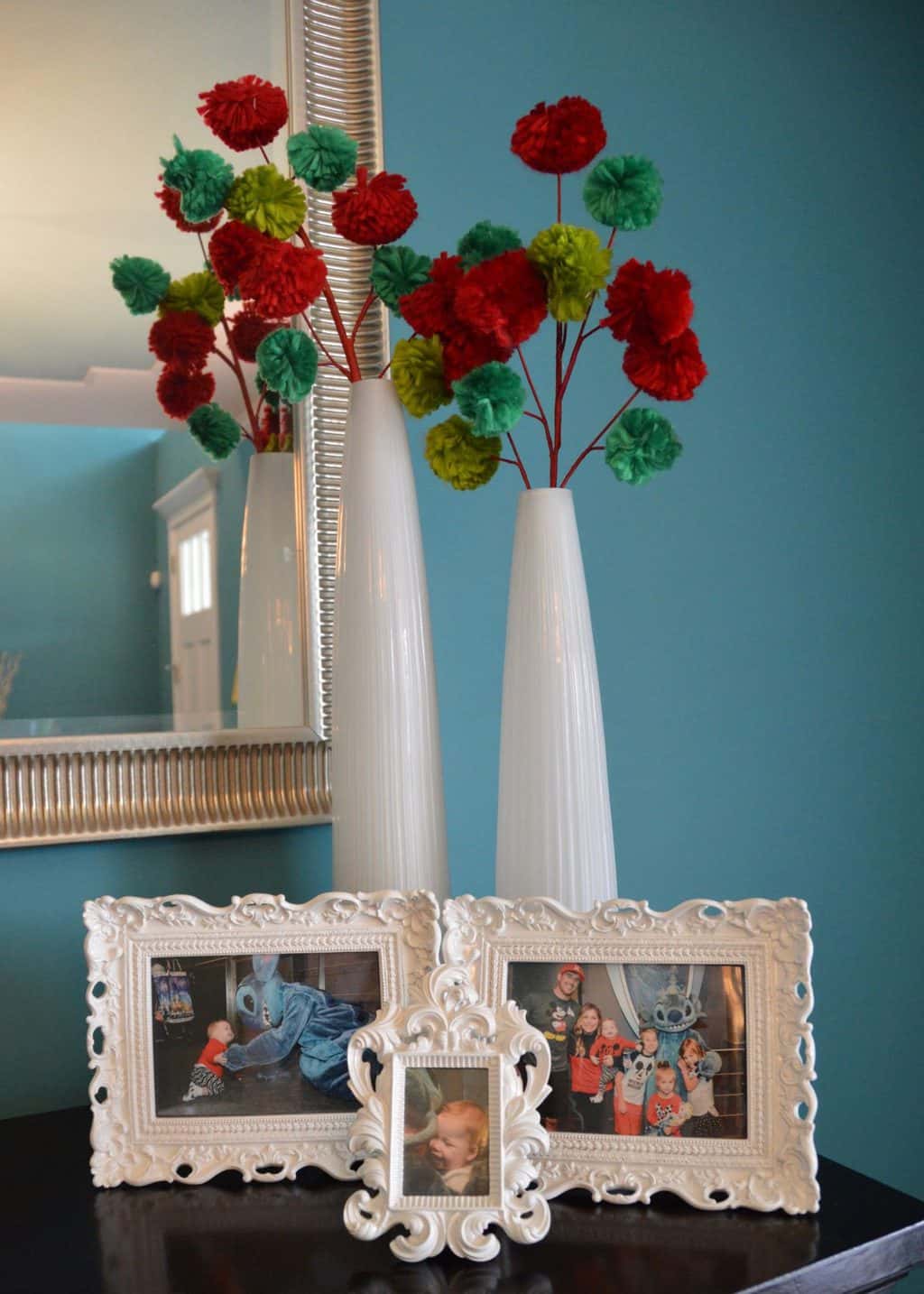 I have a little tree I decorate every year with white and silver balls and display it in the dining room. This year I pulled all the tropical-themed ornaments we have and used them to decorate it so it would work as part of the party decor! Love free decorations 😉
The Hawaiian Santa was a BEAST to find. I felt like I had to have ONE at the party, right? You can't have a themed party with Hawaiian Christmas decorations without a Santa dressed in a tacky Hawaiian shirt! I ended up getting him from Michael's and he wasn't cheap but the ones I found on Amazon were double the price so I rolled with it.
As one of Spear's birthday gifts, I ordered him this picture display item from Woobies Corner. "Ohana means family" is a quote from Lilo and Stitch and is the third reason I felt like it was a good fit to incorporate the characters into his party theme. I like the nod to adoption that the movie has without being overkill!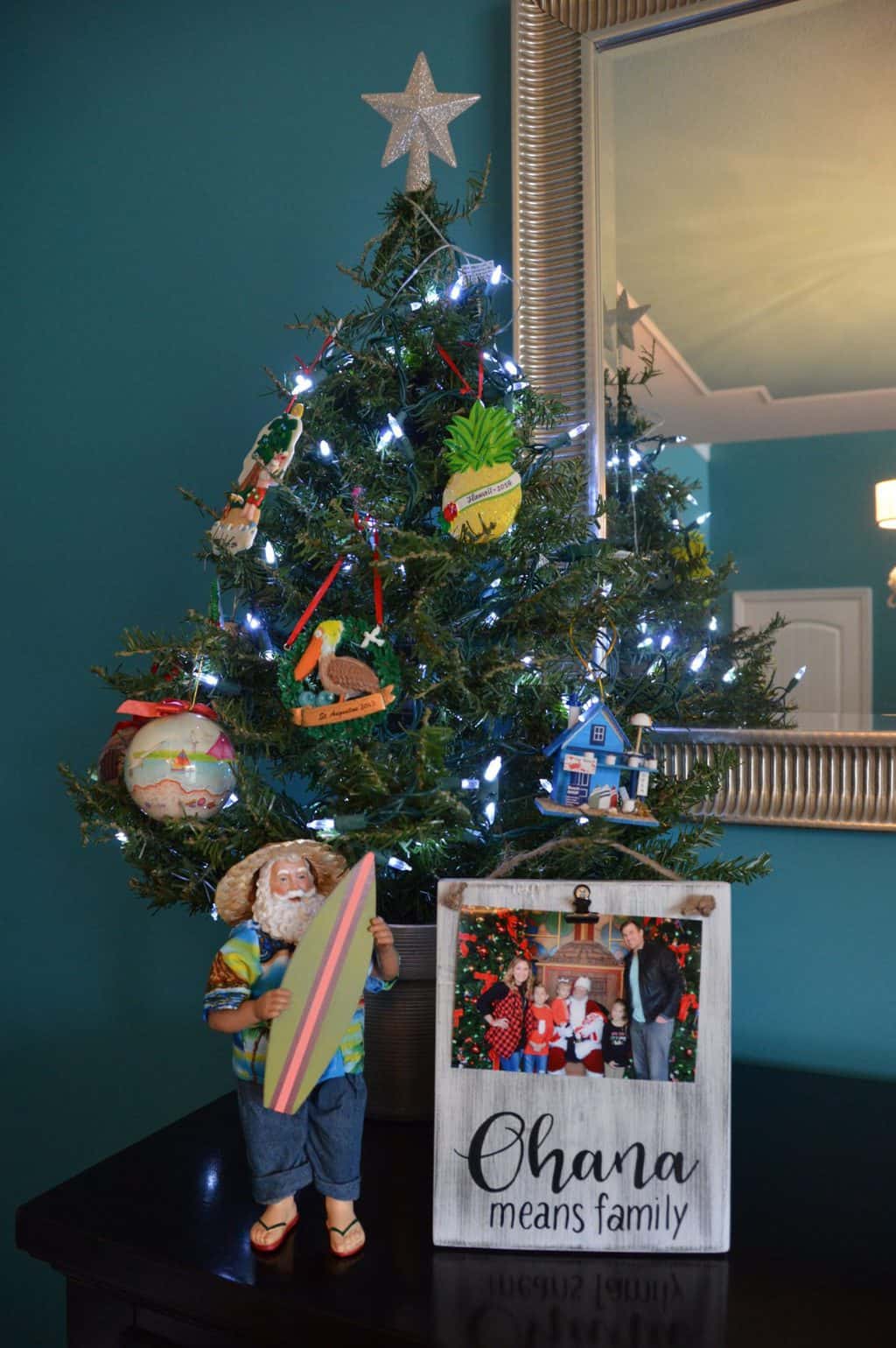 Birthday Slideshow & More!
Even though the main theme was Hawaiian Christmas I wanted some obvious Stitch-theming too since Spear loves him so much! I decided to do a more Stitch focus when it came to the present area.
This banner y'all was the best birthday banner I've ever purchased! Incredible quality and Candy Lite Crafts worked with me to make it more personalized and to really work with the theming of the party. I LOVE IT. We split it up and put his name over the entertainment center where his birthday slideshow played throughout the party (with music from the movie soundtrack as well as Hawaiian Christmas songs).
The Stitch stuffed animal was a gift for Spear for his birthday (from Disney) and I repurposed the same frame I use every single party or baby shower (which was originally Katie's grandmothers and then used for Casey's wedding and now used for every event I host ha!) to showcase Spear's monthly pictures!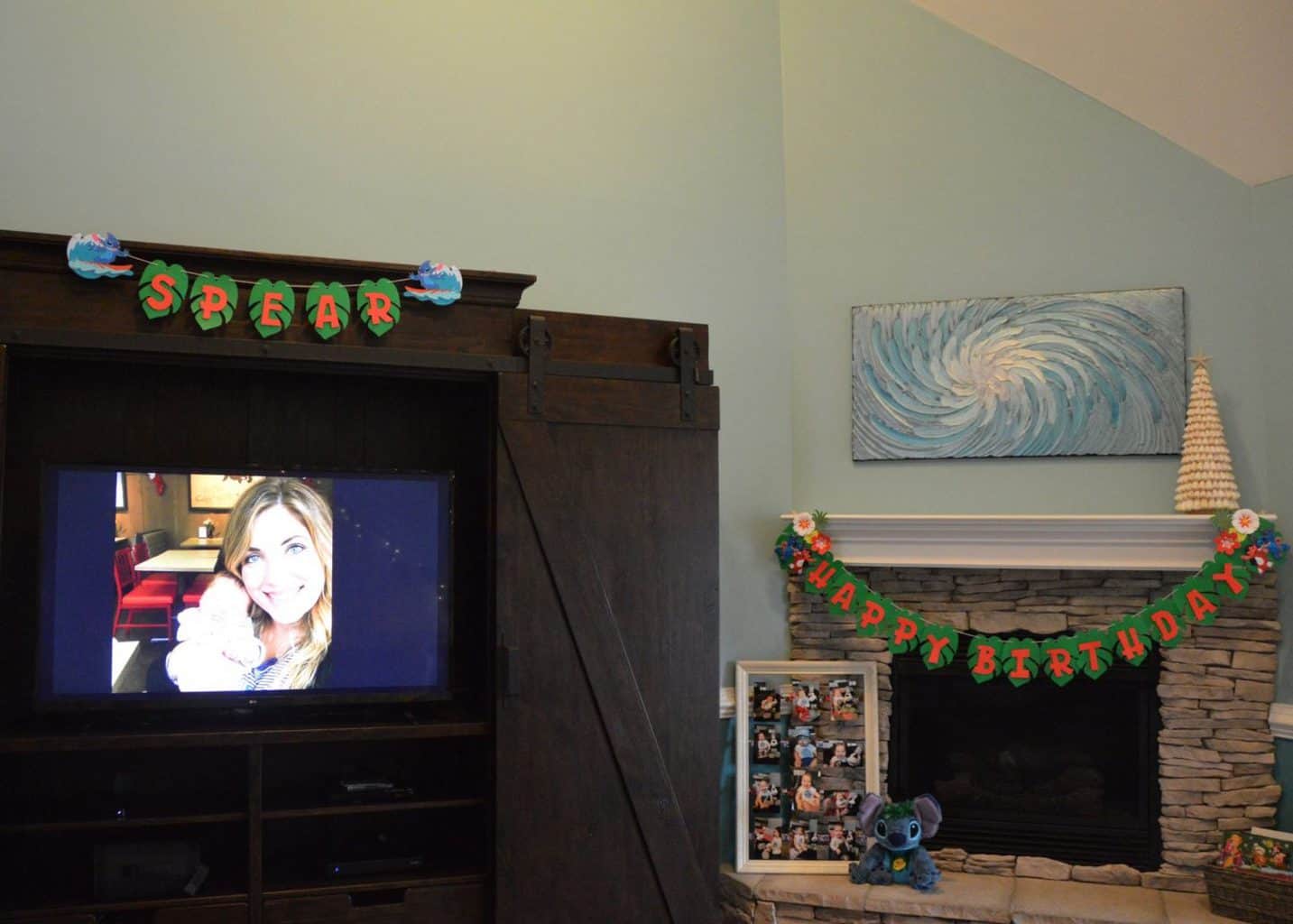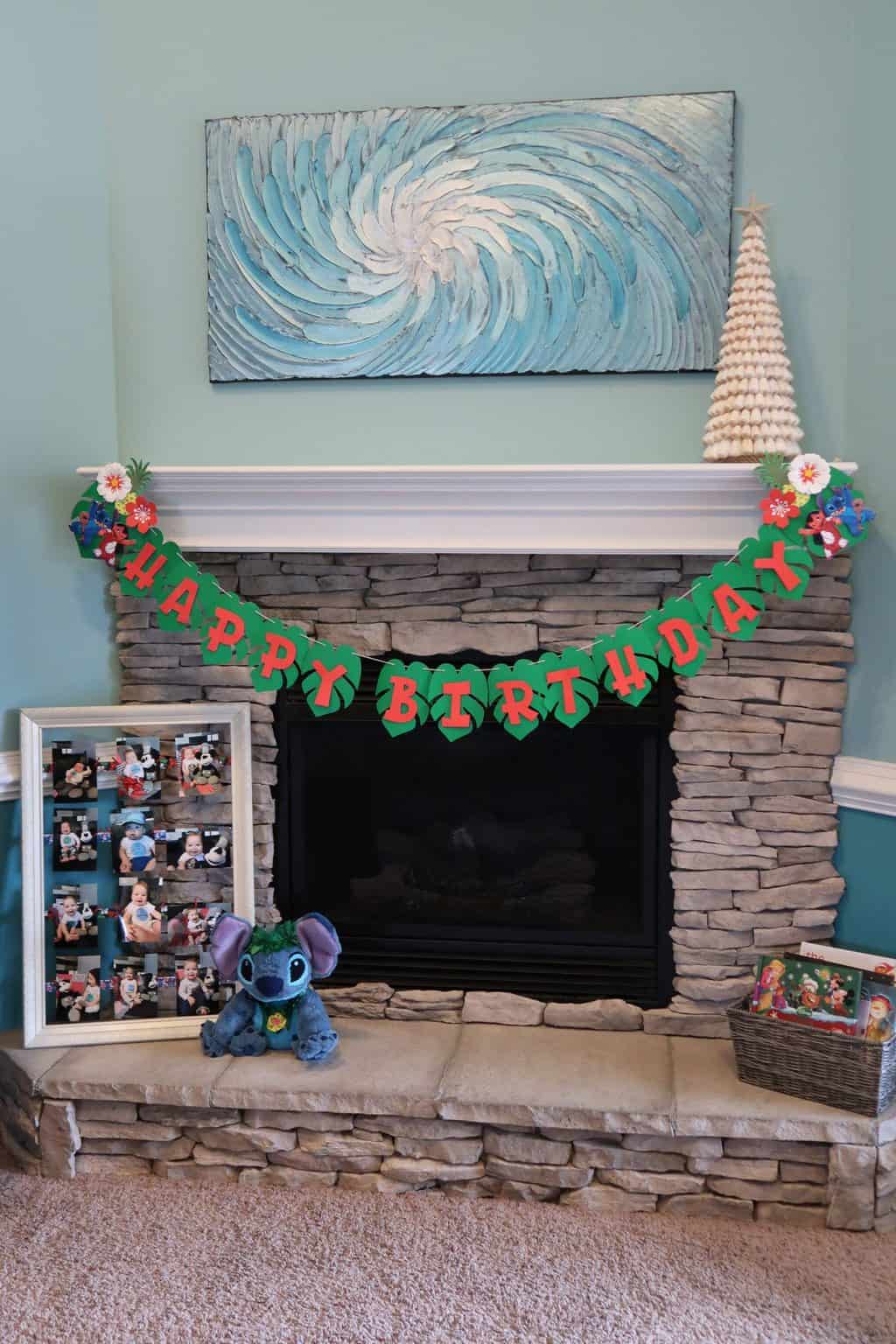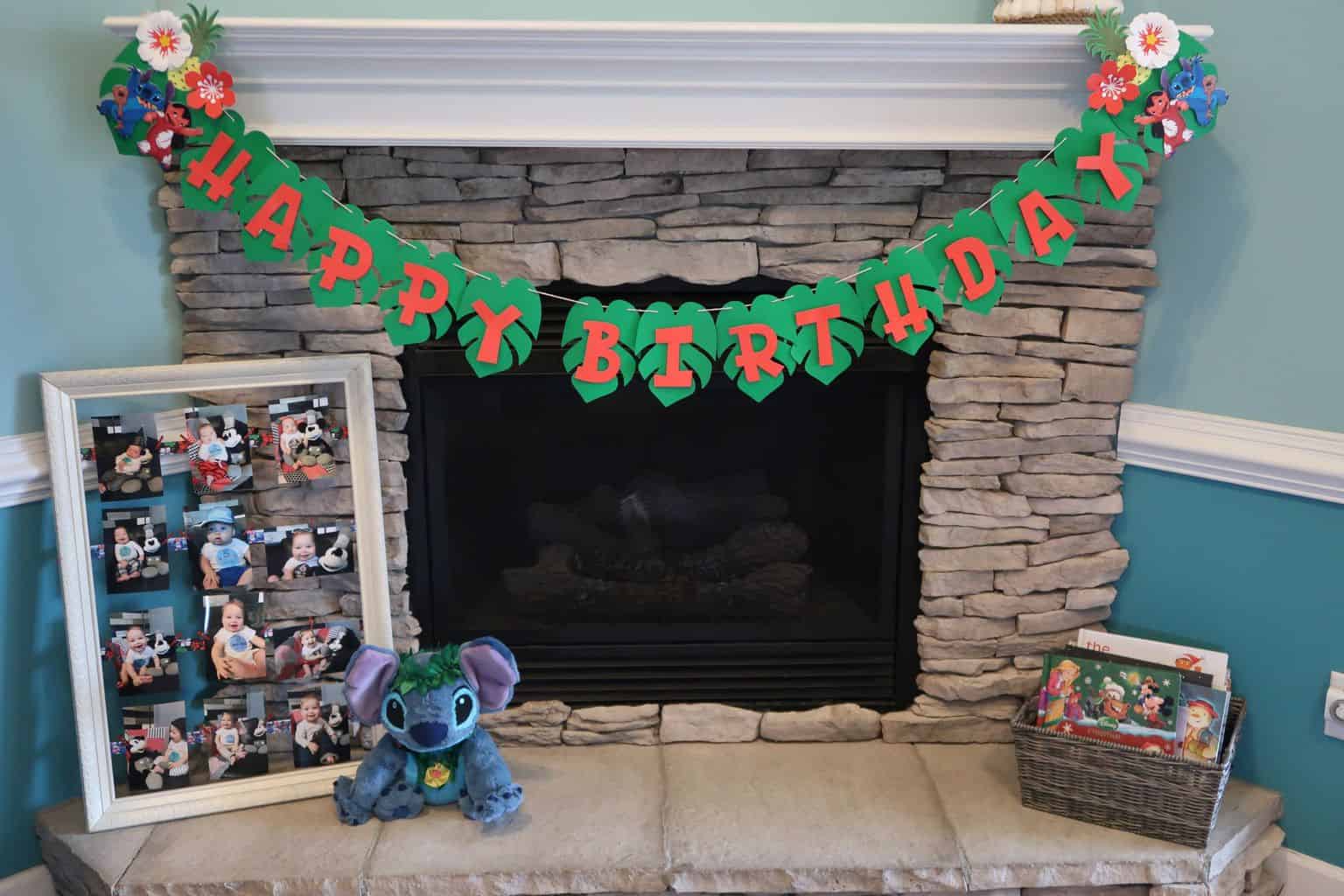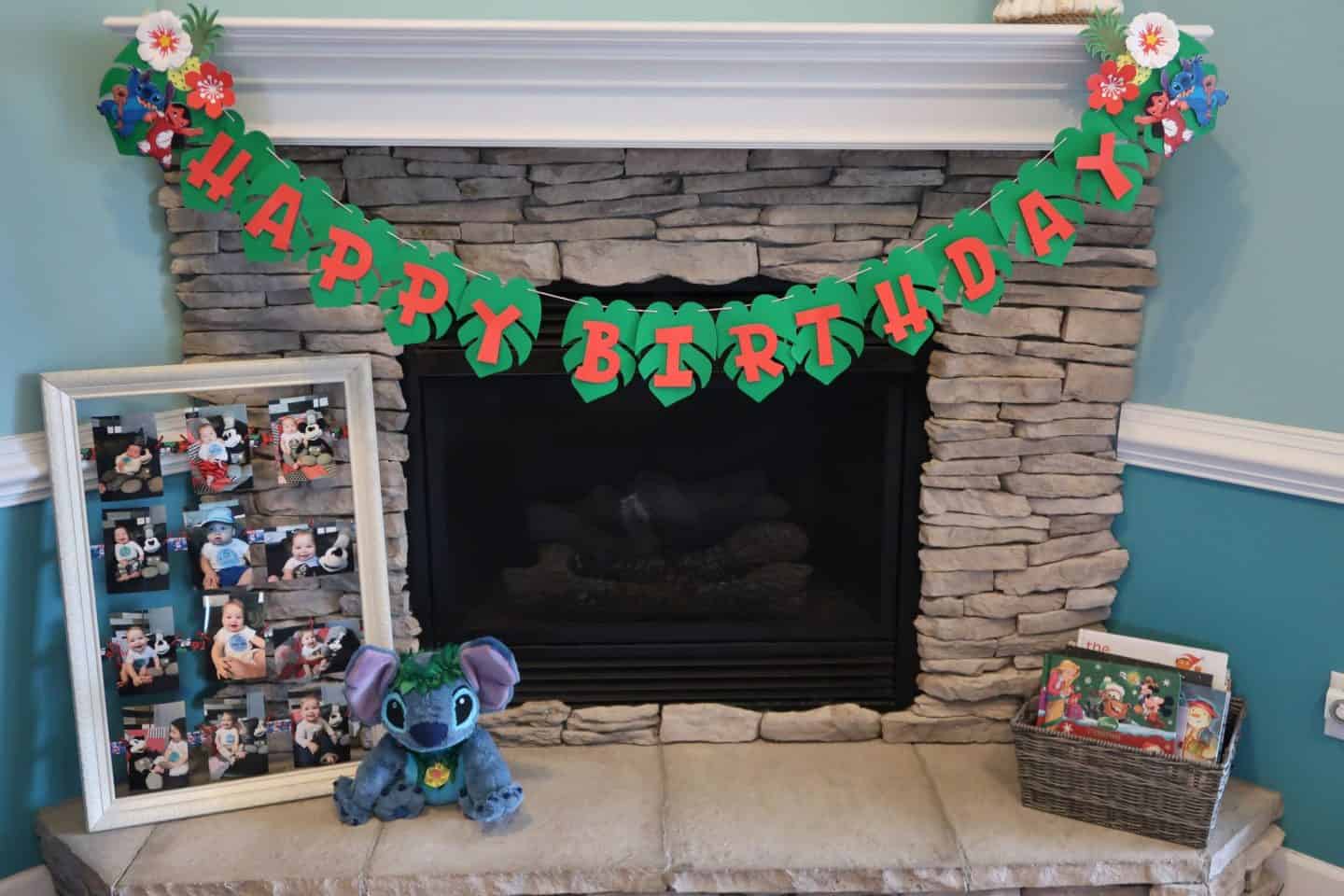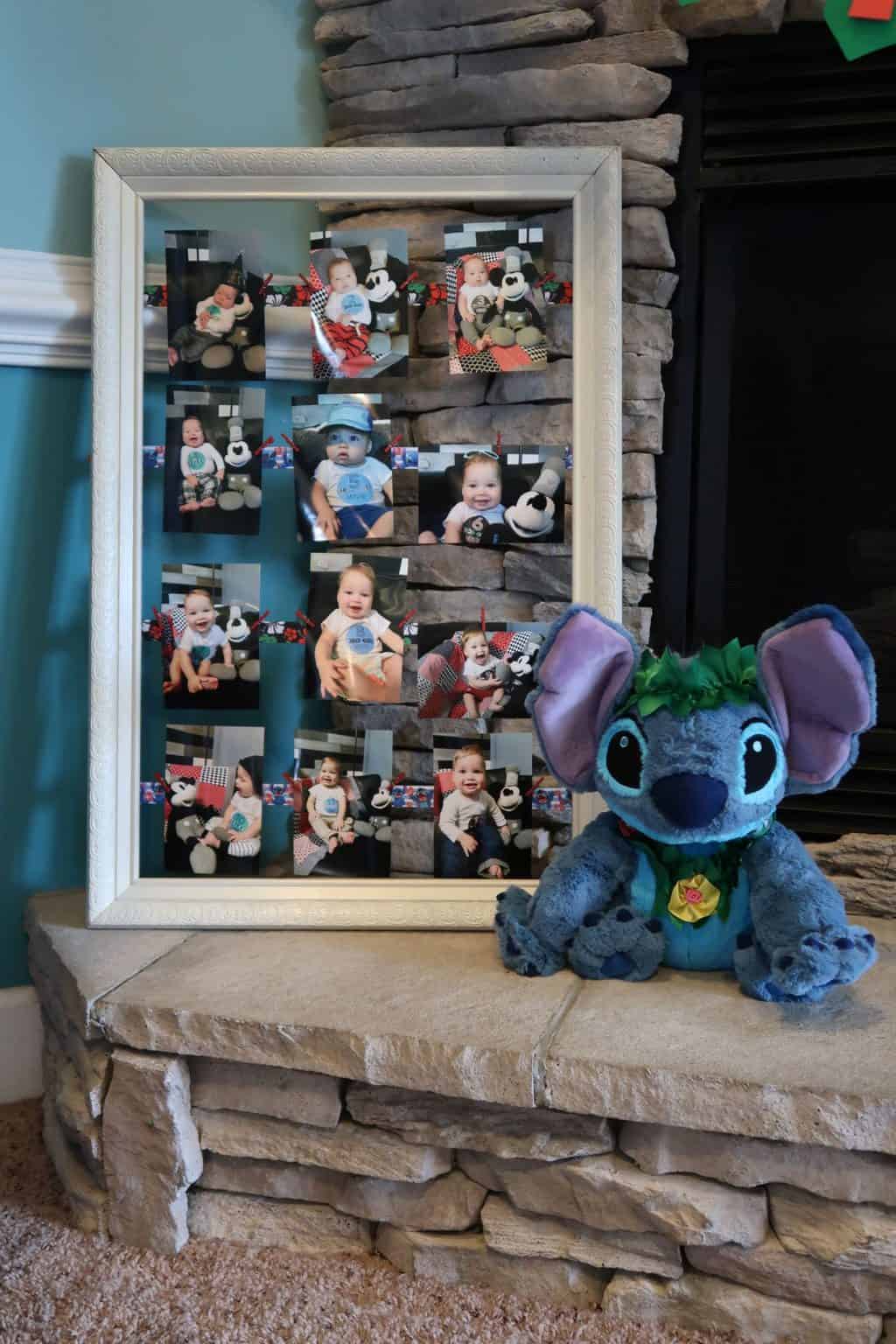 12 months of our baby boy!!!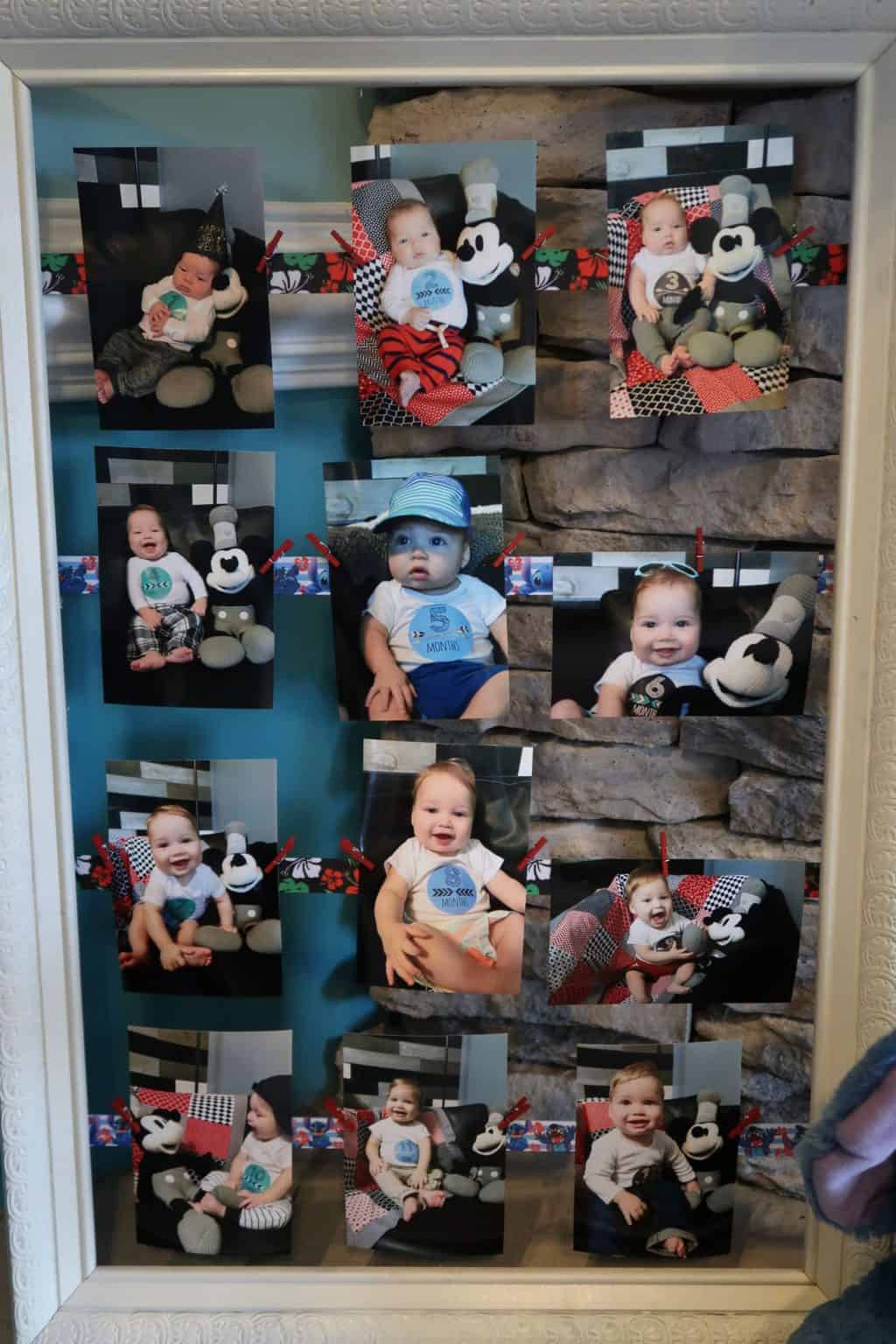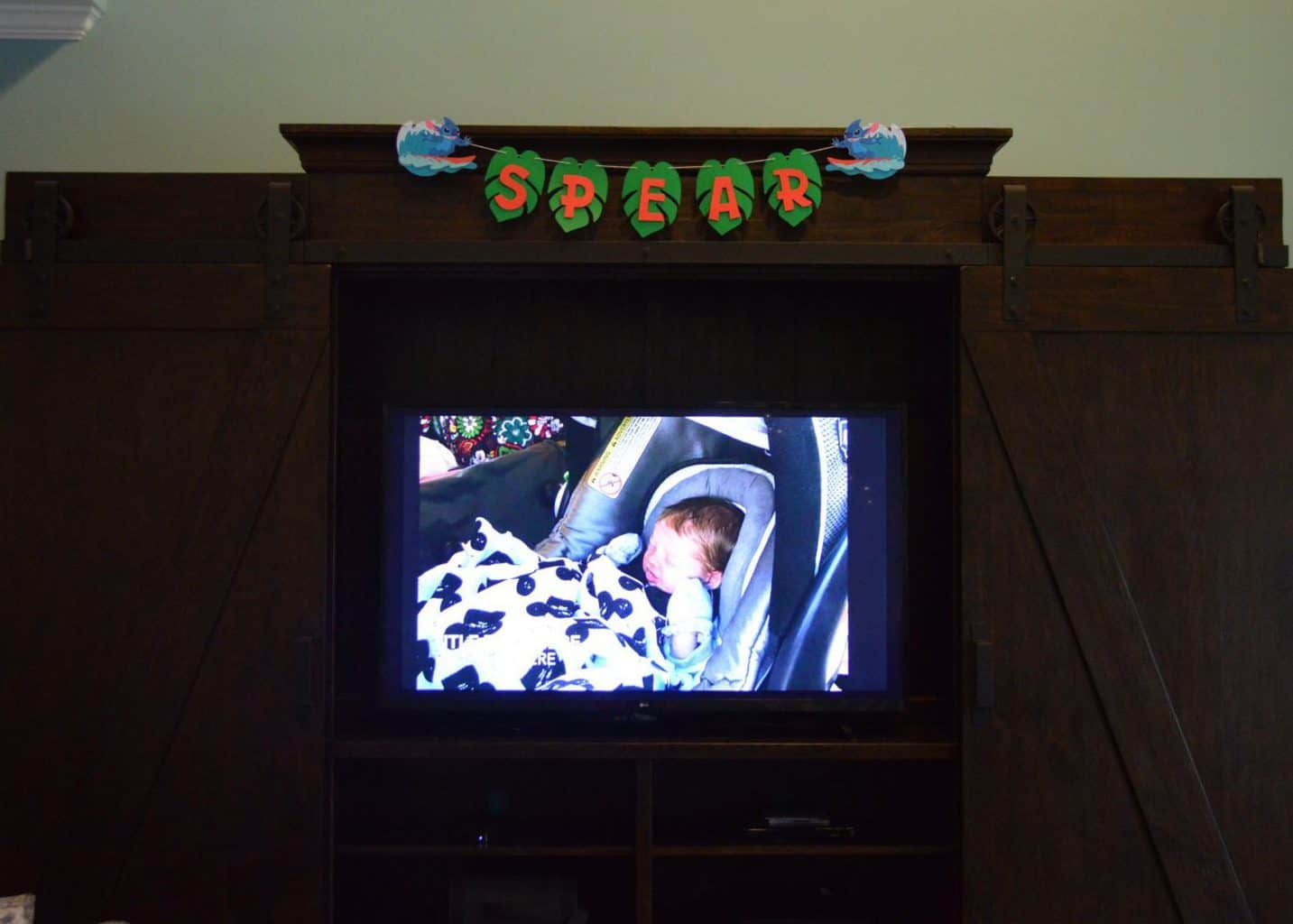 The downside of December birthdays is that the Christmas tree is out but with this theme, it actually WORKED as part of our Hawaiian Christmas decorations (emphasis on Christmas in this case 😉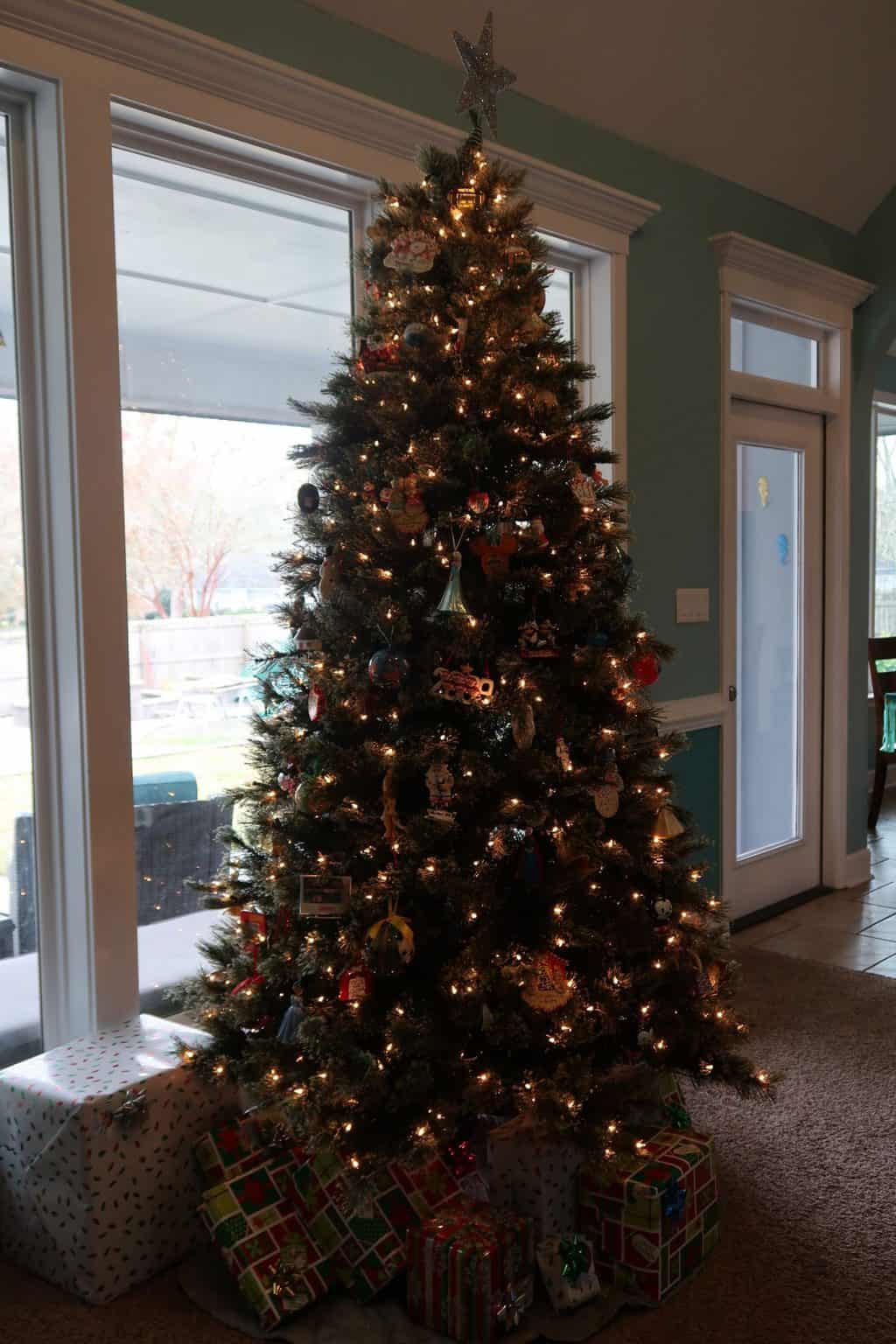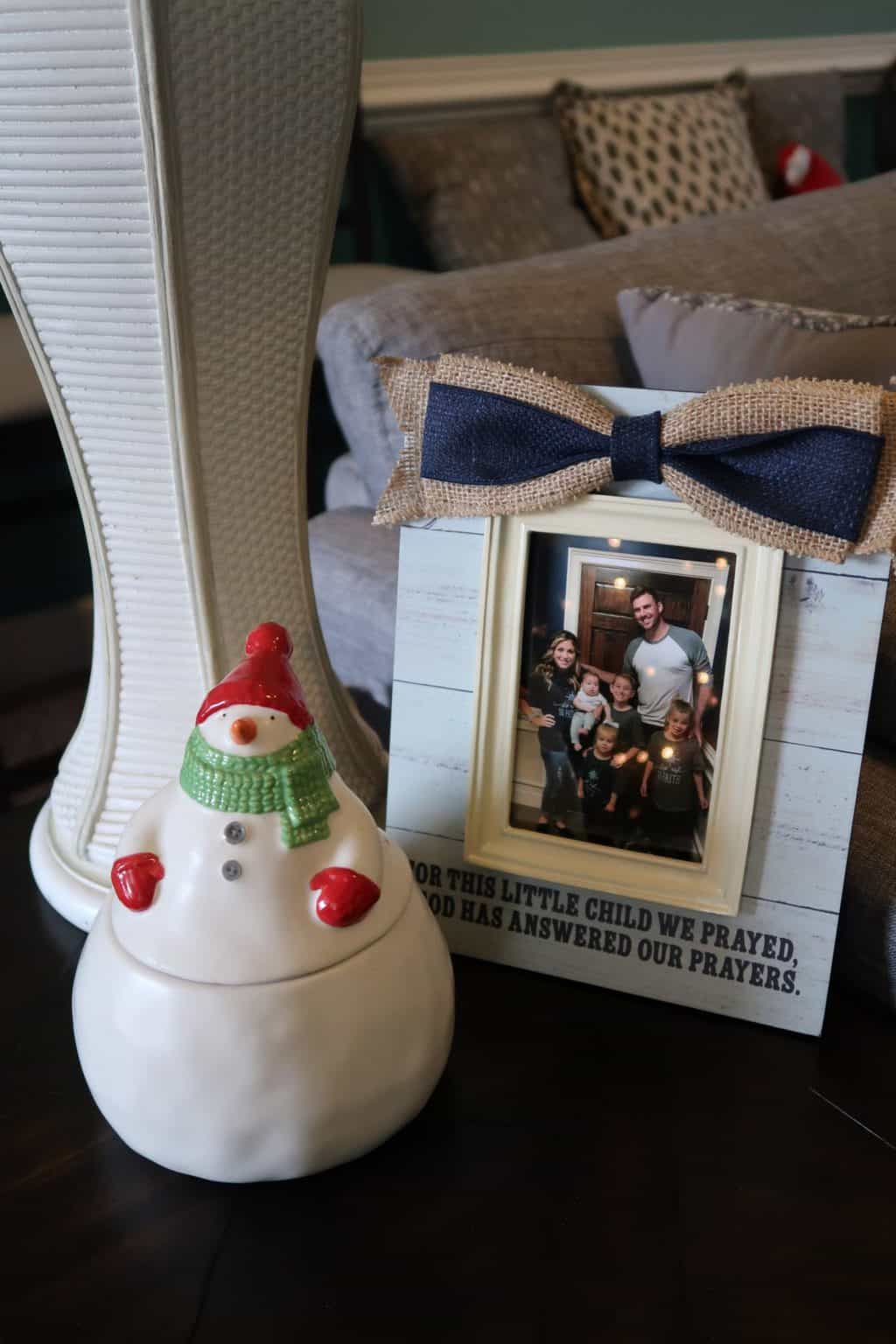 Hawaiian Christmas Party Activities & Food
Most of the time the parties I host involve a lot of crafts and activities but for a first birthday, I just don't think it should be all about the other kids and should be focused on the birthday child. For a first birthday, I focus most on the FOOD since it's typically a more adult-heavy party and less on the activities!
For this event, I bought a simple foam ornament craft set with lots of Hawaiian-themed stickers so kids could make their own ornaments. We also got glass ornaments and Zach filled them with sand to allow the kids to add shells and rocks to them. Cute, simple, and easy (at least until your kid drops the ornament and sand goes everywhere ha!).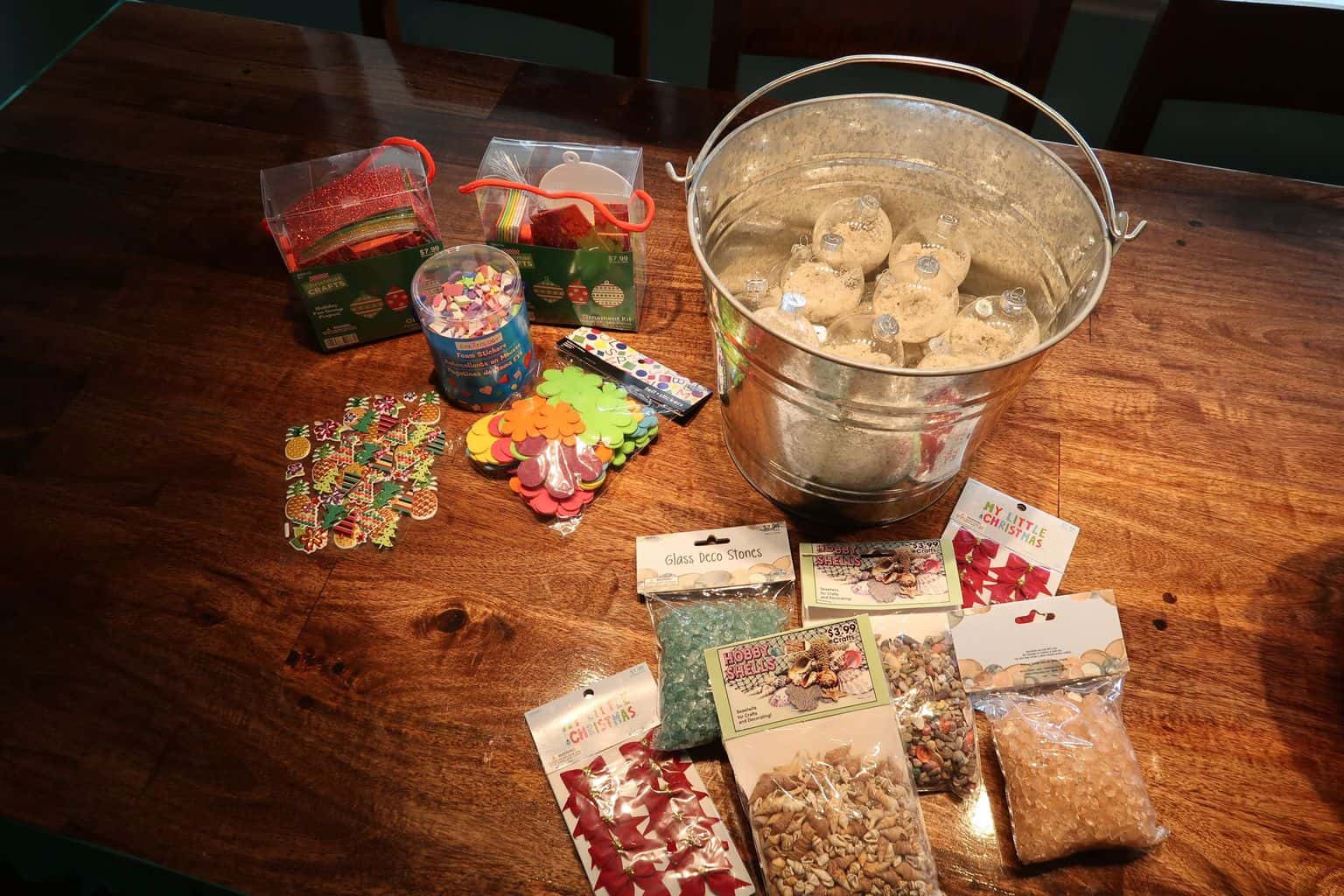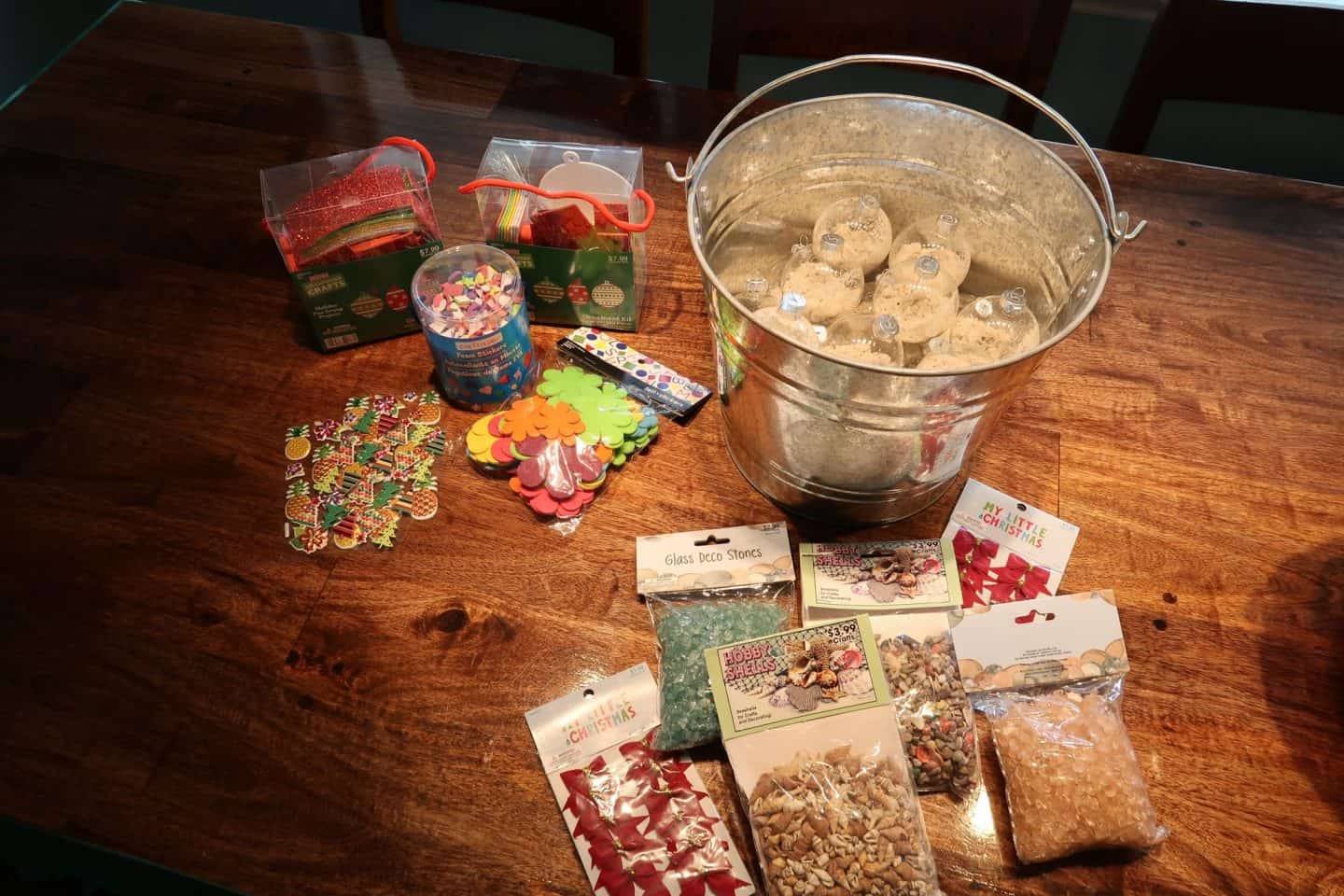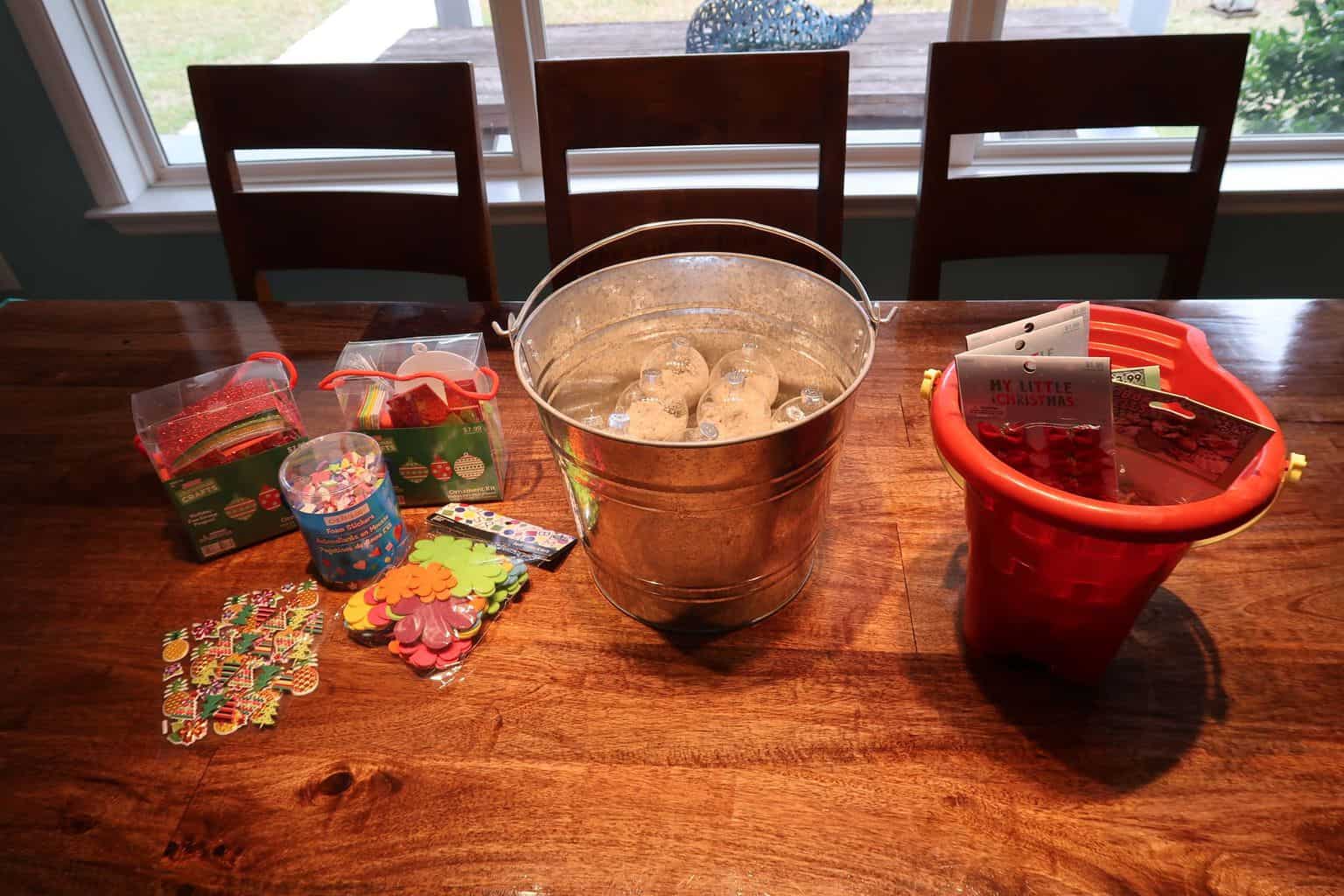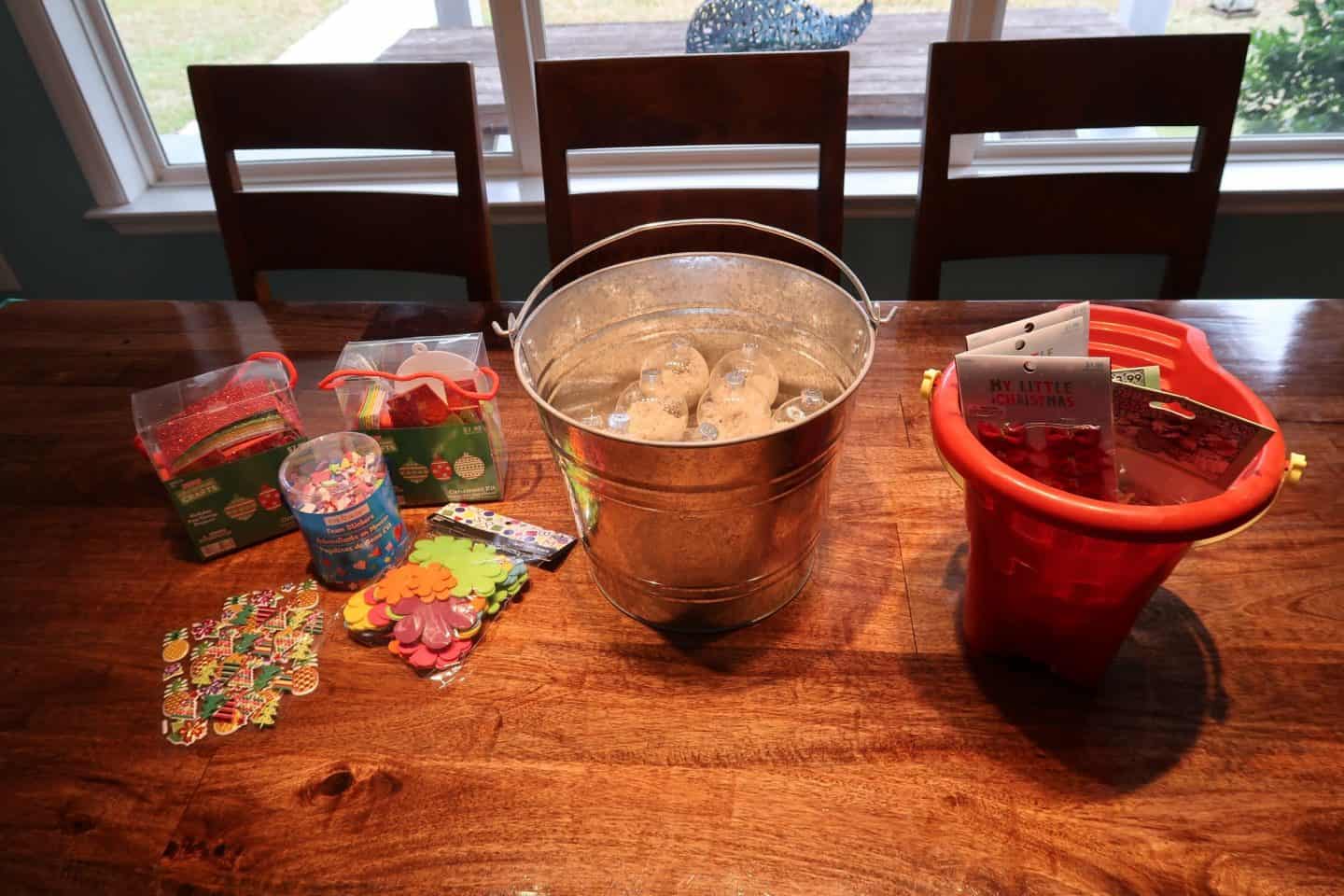 I had this crown from Kye's first birthday and was excited to let Spear wear it…and then totally forgot about it!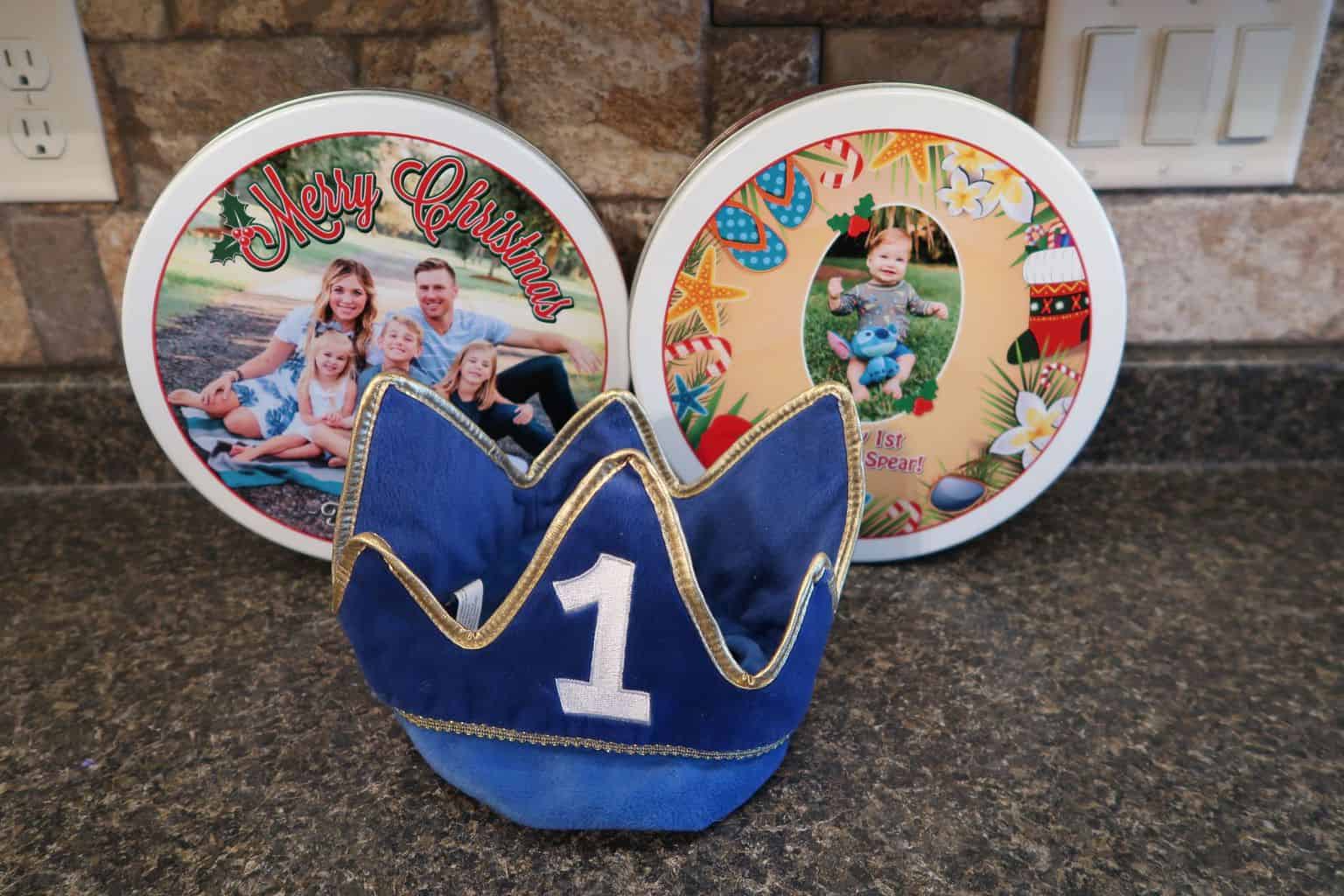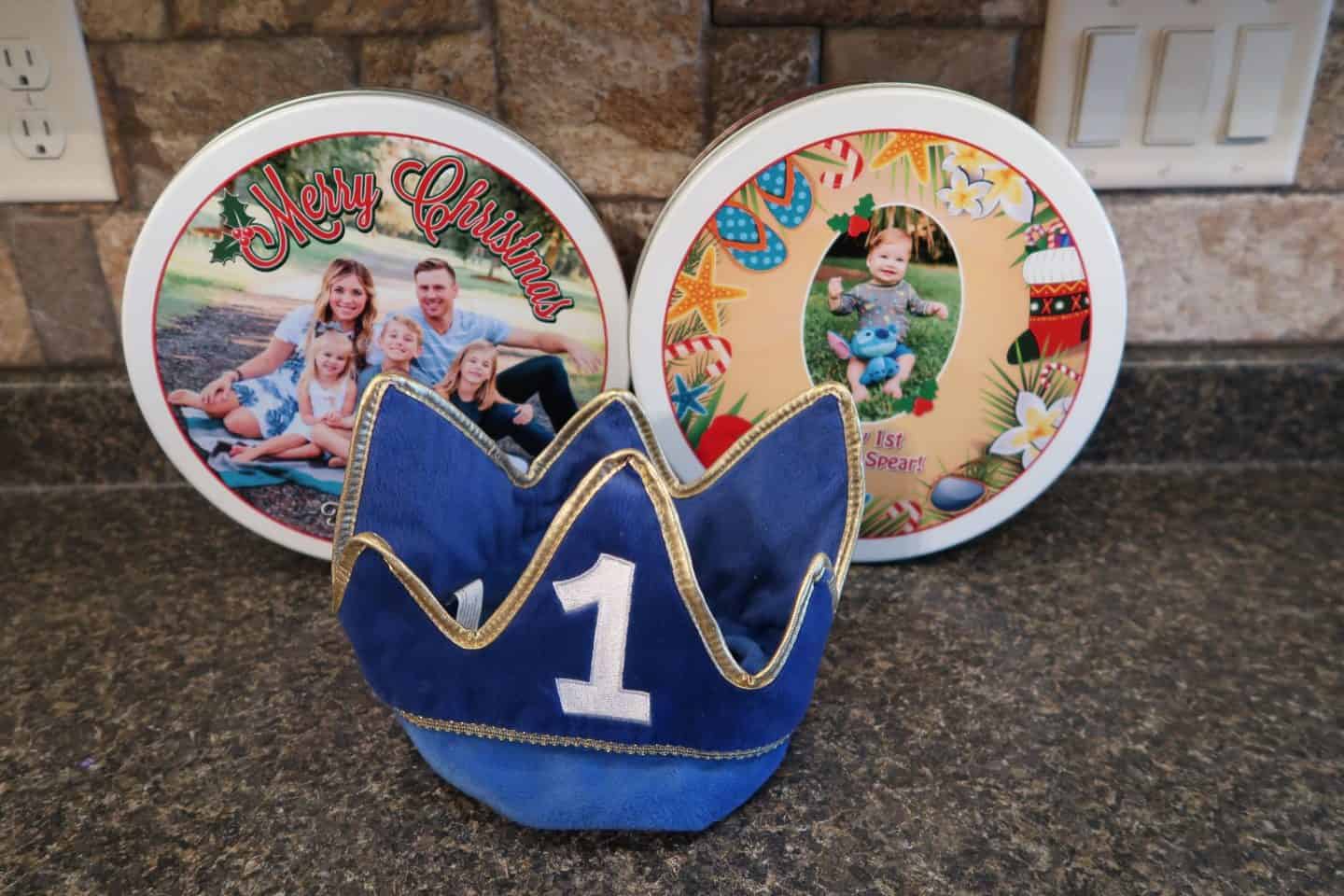 Although we only had a craft for the kids to entertain them…we also pulled out our snow cone machine for some "Hawaiian Shaved Ice"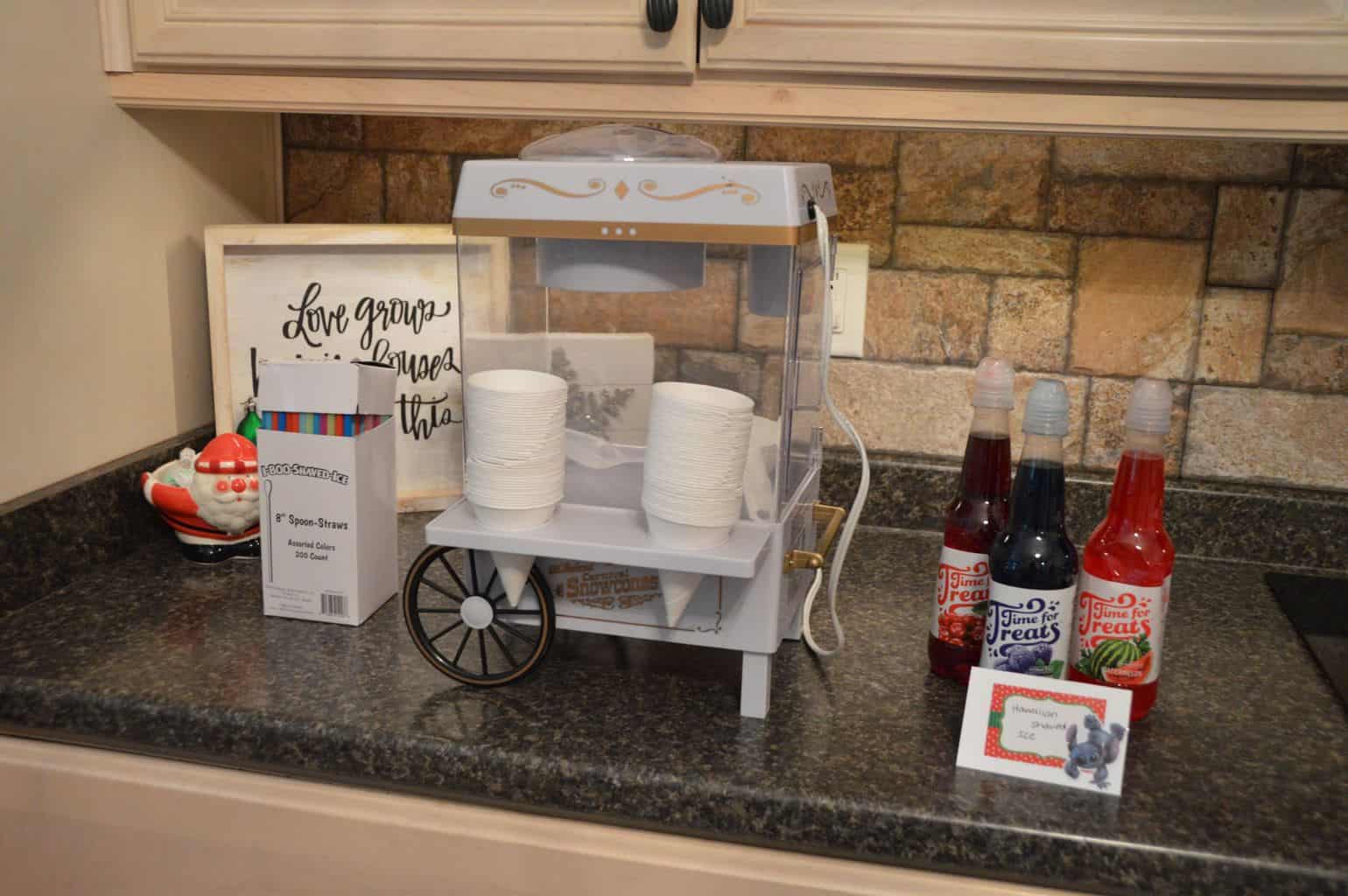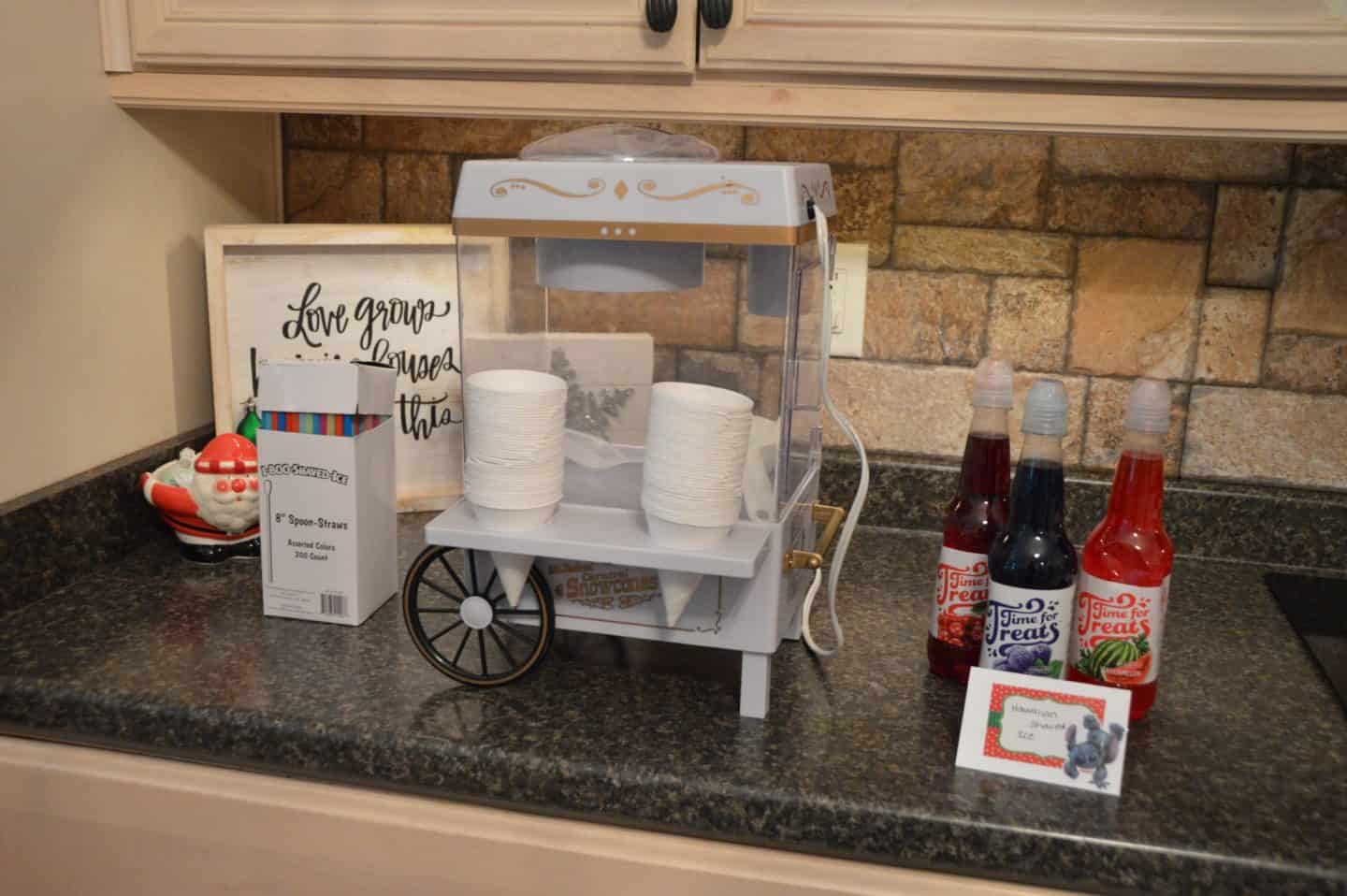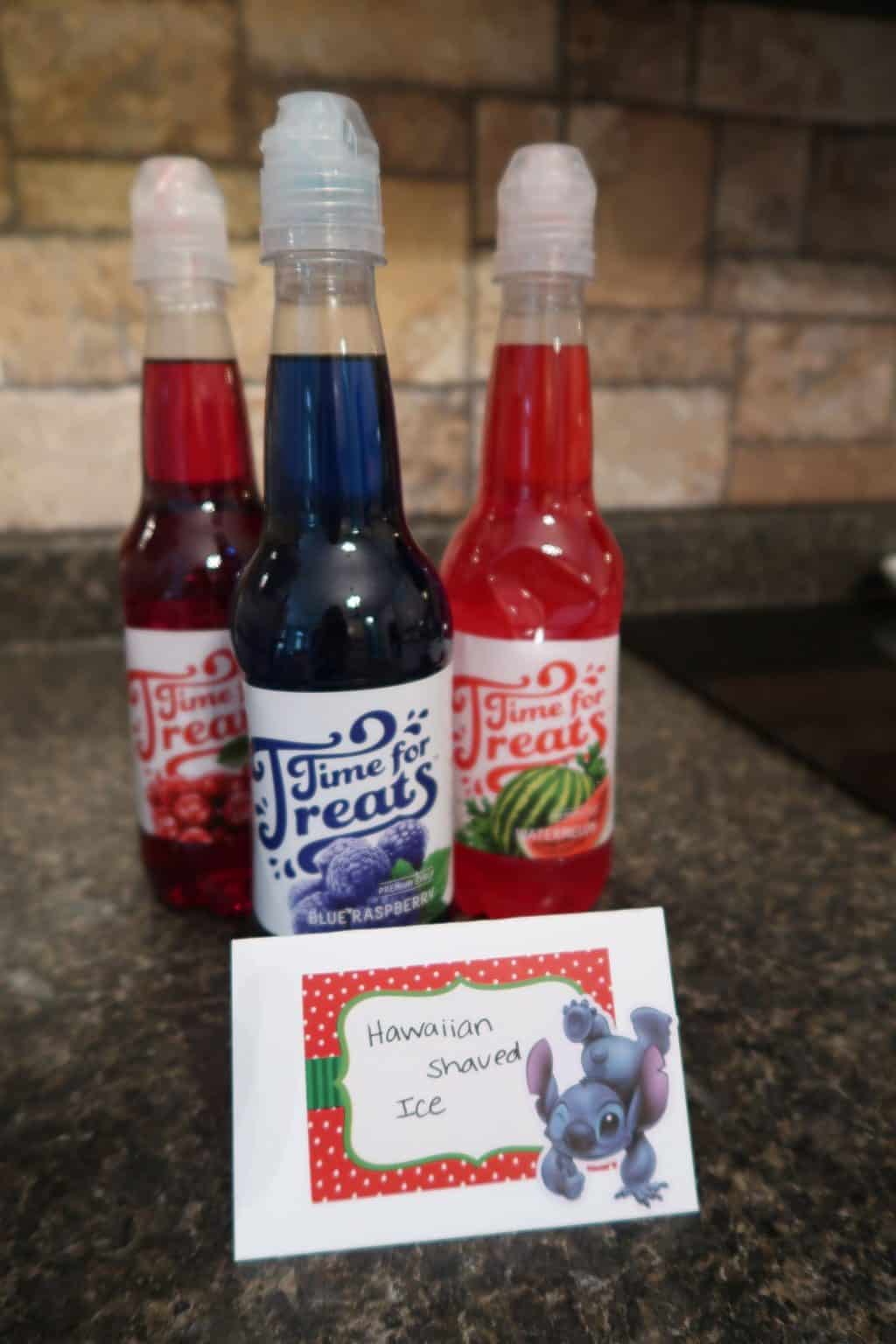 For Spear's high chair I used a banner from Bells N Berries and added a few holiday touches from Hobby Lobby as well as a couple of Stitch stickers. It was SO easy to put it all together and I love how it turned out!
Publix does a free smash cake…but only with the purchase of a cake or tear-apart cupcakes. I struggled to find just regular cupcakes as that's what I originally wanted but went for the pull-apart in order to get the free smash cake (they won't sell you a smash cake separately!). I didn't LOVE either the pull-apart OR the smash cake. Not really impressed at all with how either turned out (like who thinks red icing on a smash cake is a good idea?) but whatever! I made a little '1' to stick in it and rolled with it!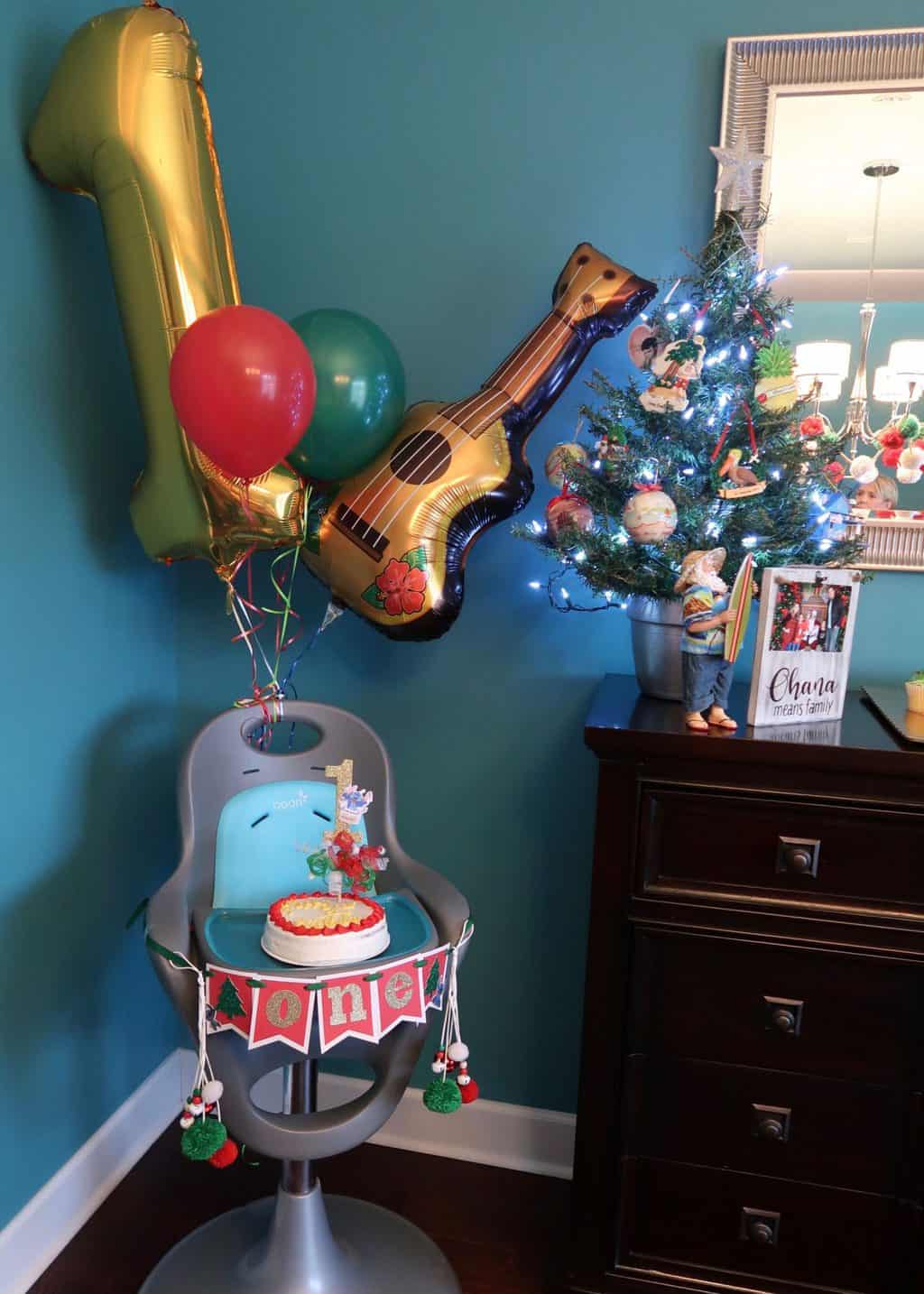 I found the gold 1 from Hobby Lobby and added a Christmas bow and Stitch sticker!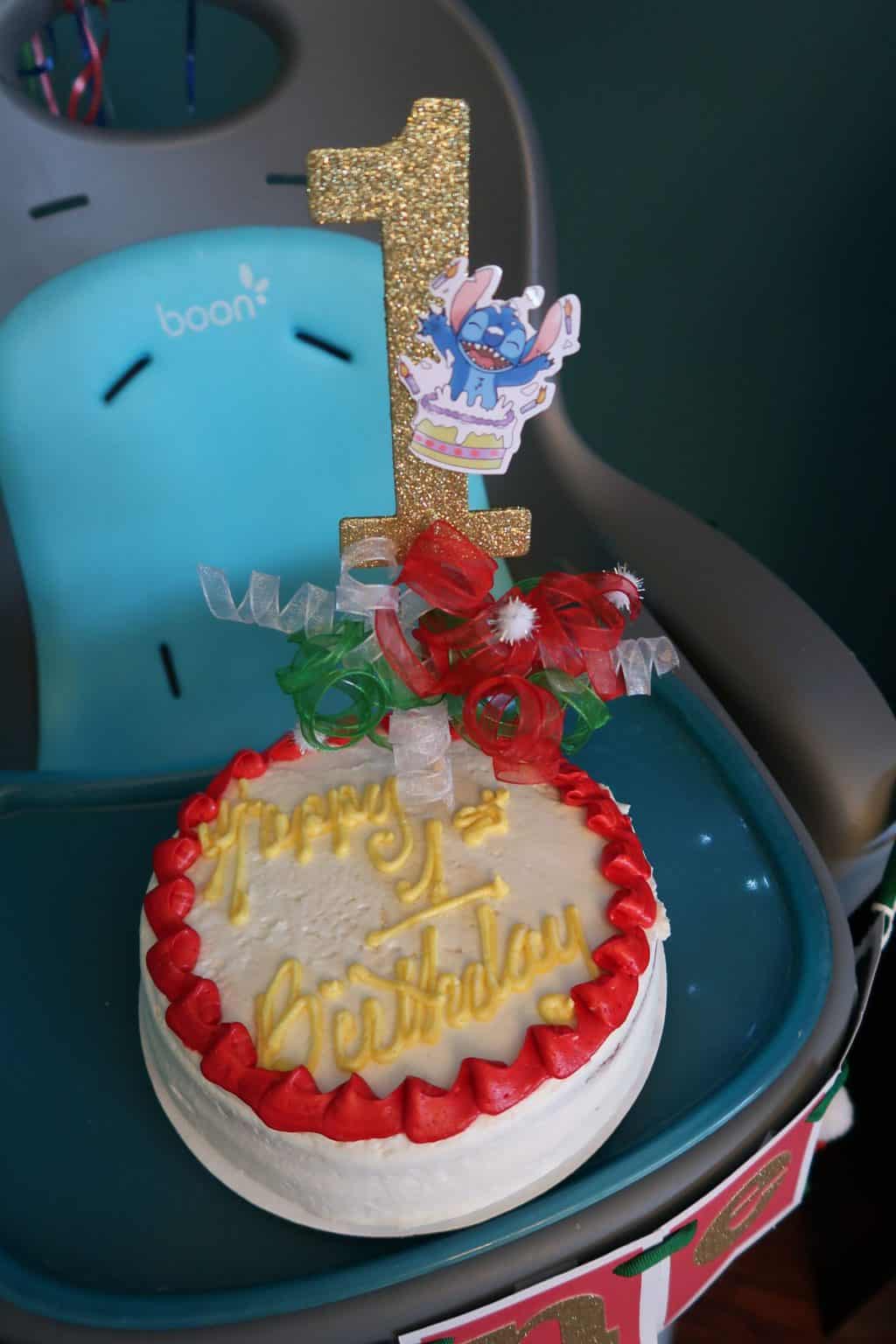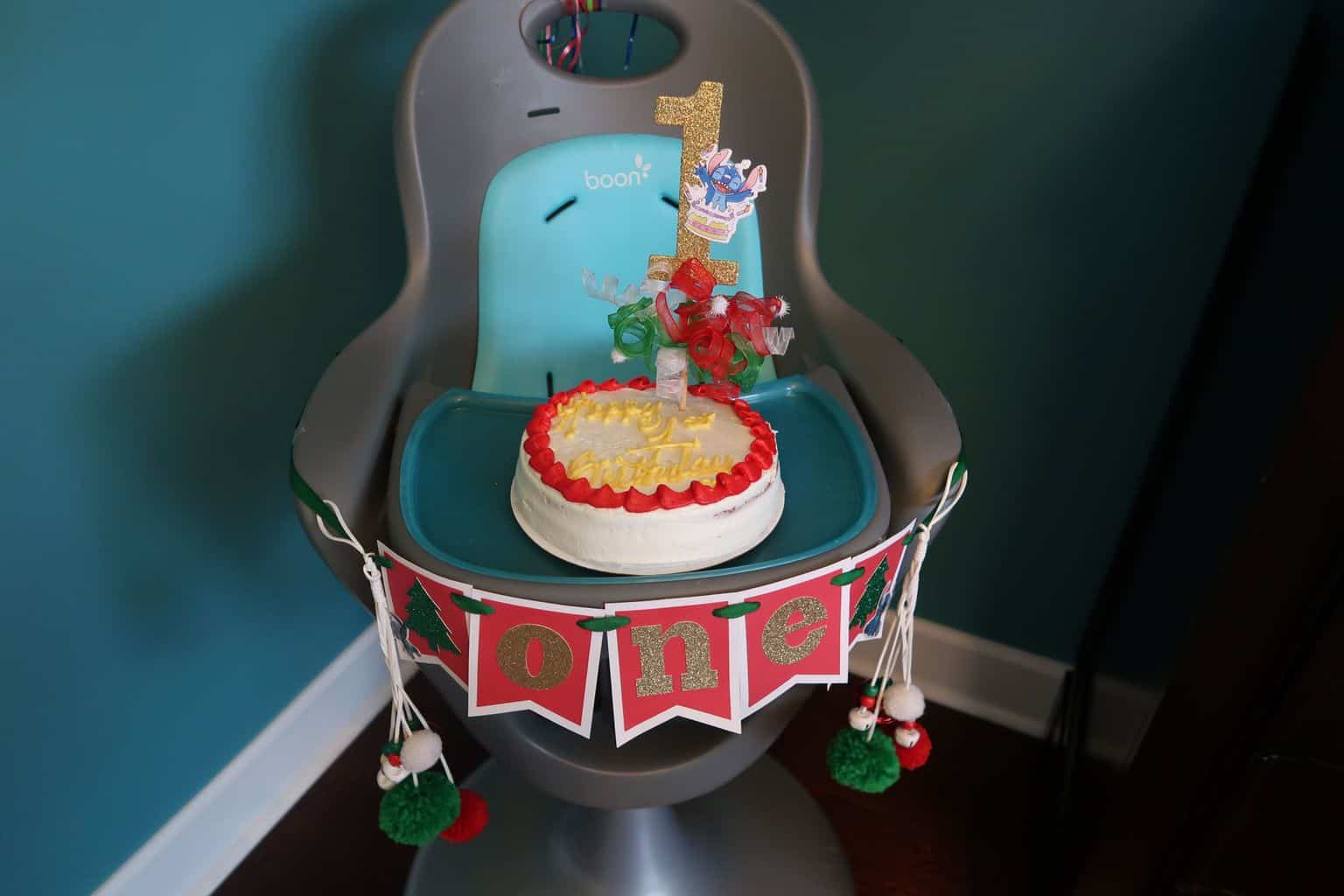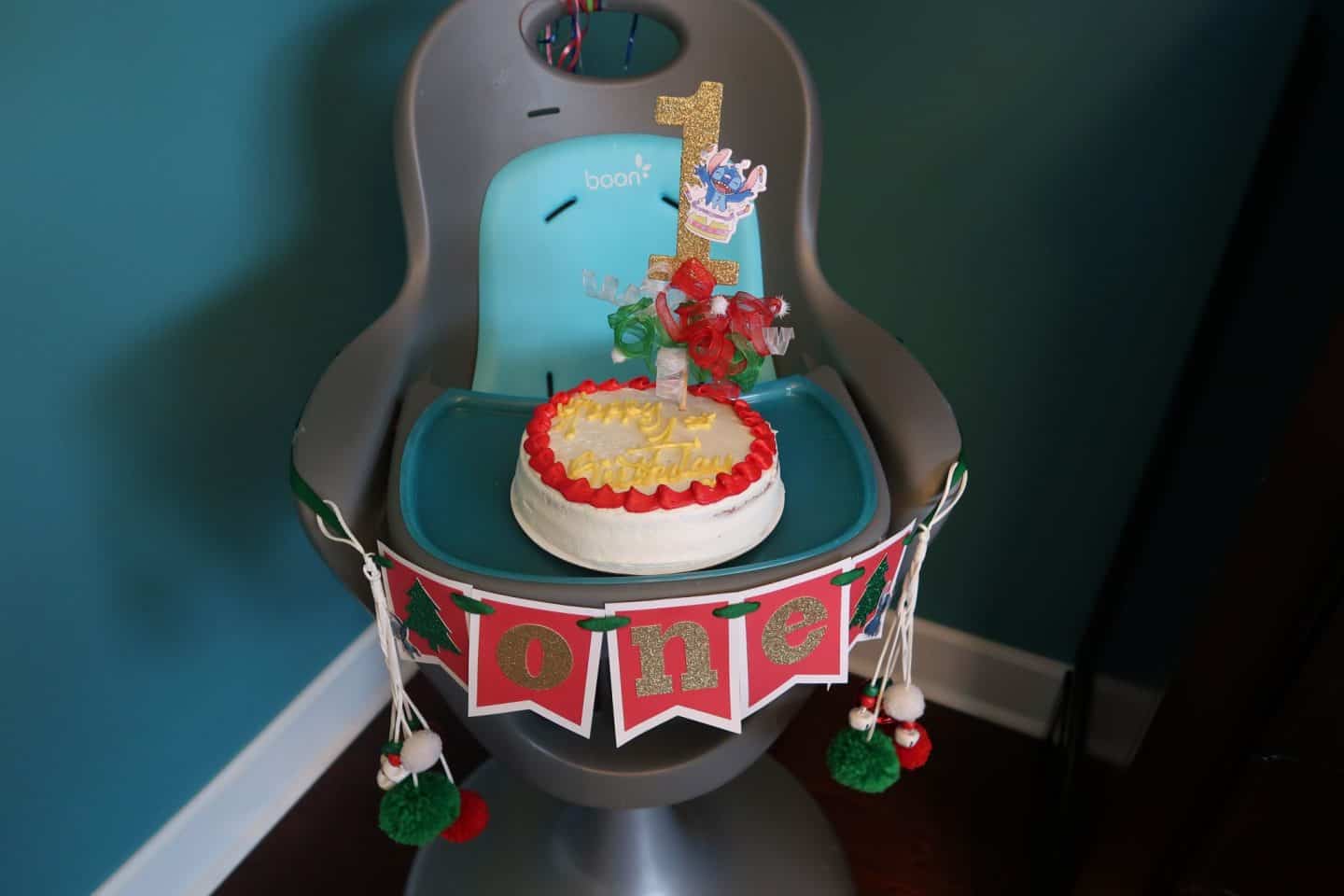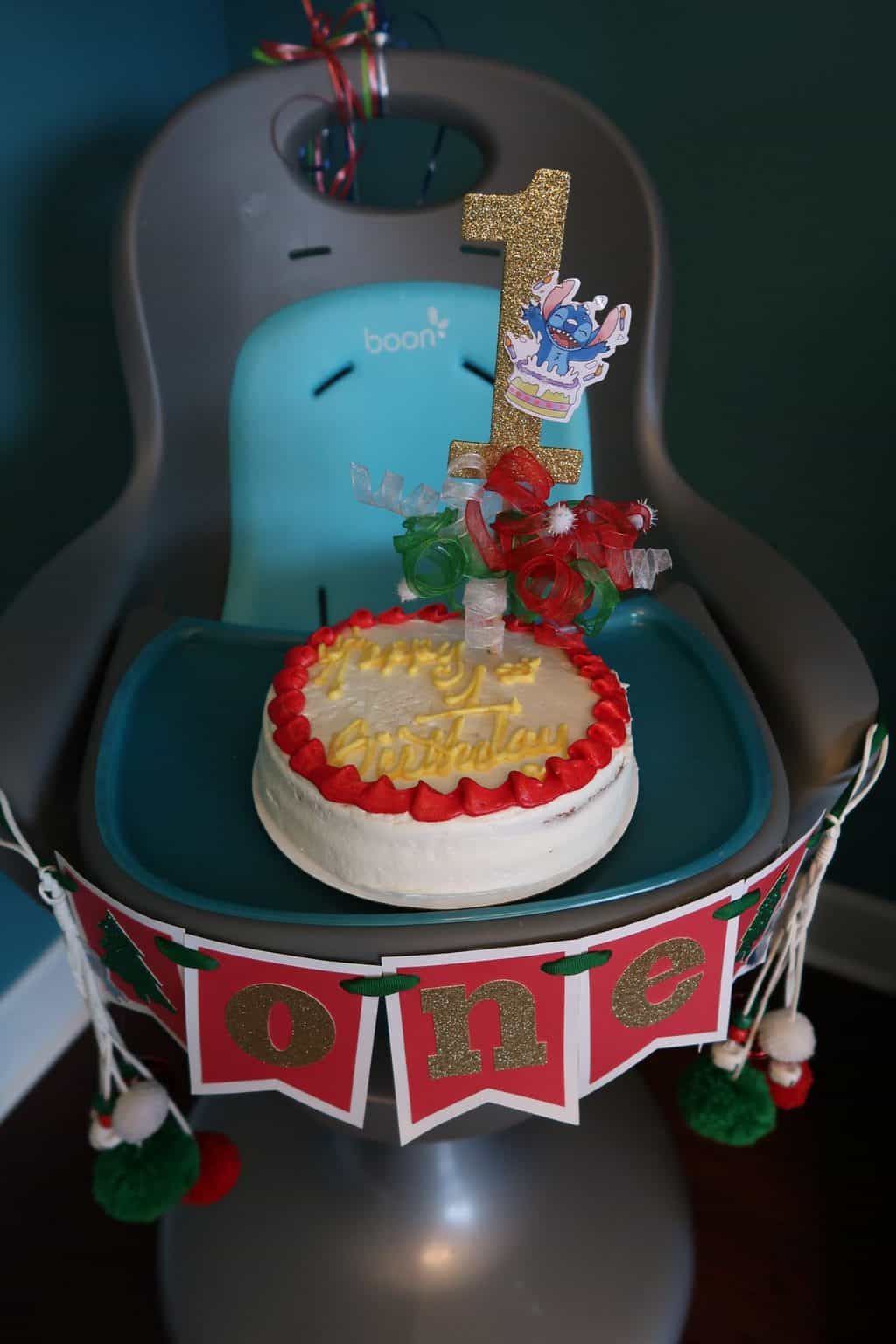 I'd asked for a Christmas tree with Hawaiian flowers but they look more like poinsettias to me? Def my least favorite cake ever for one of my parties but you can't really change it once it's at your house!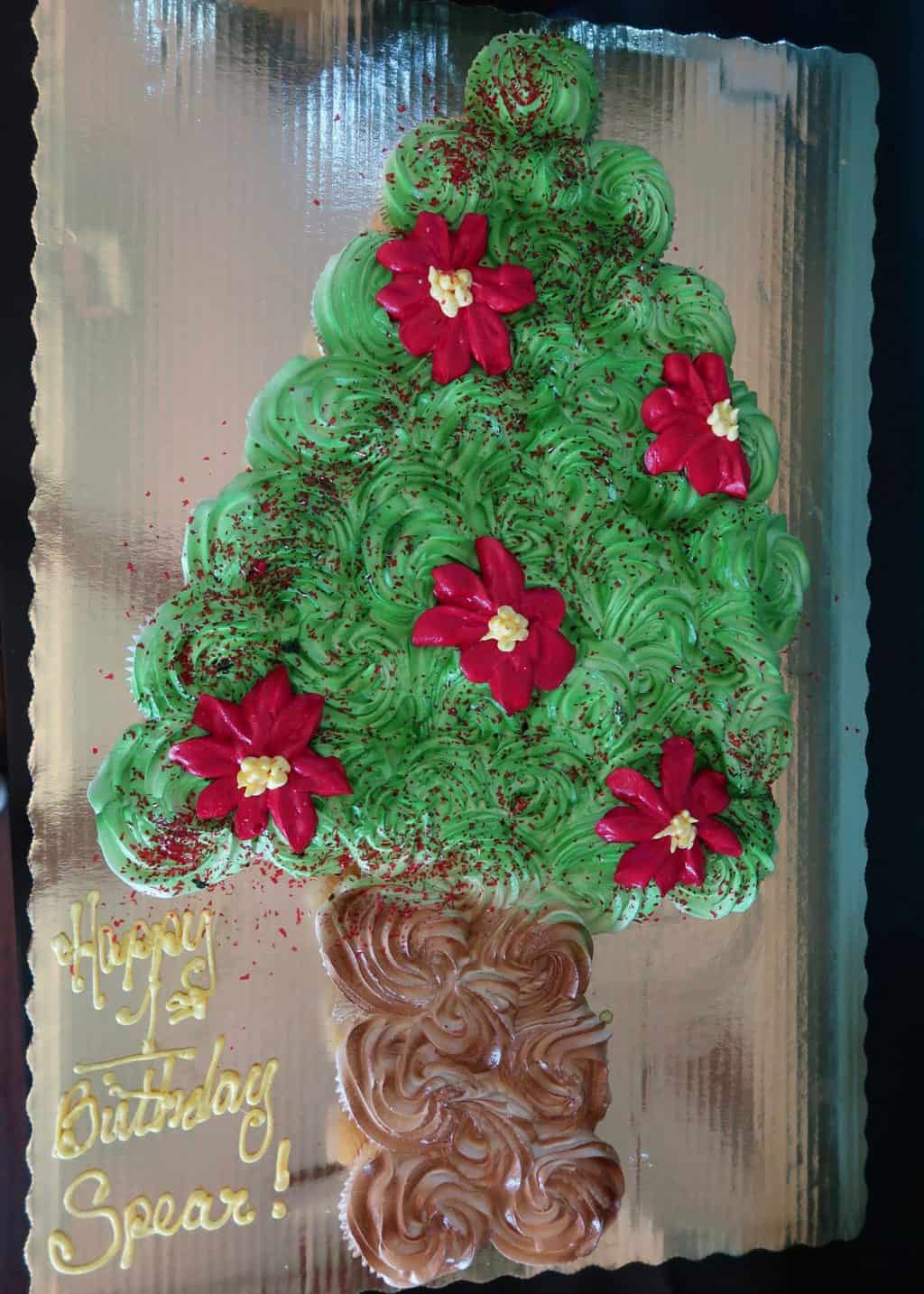 I went with simple holiday colors for the plates, napkins, silverware, and cups and I put some Hawaiian umbrella straws out for the kids to enjoy!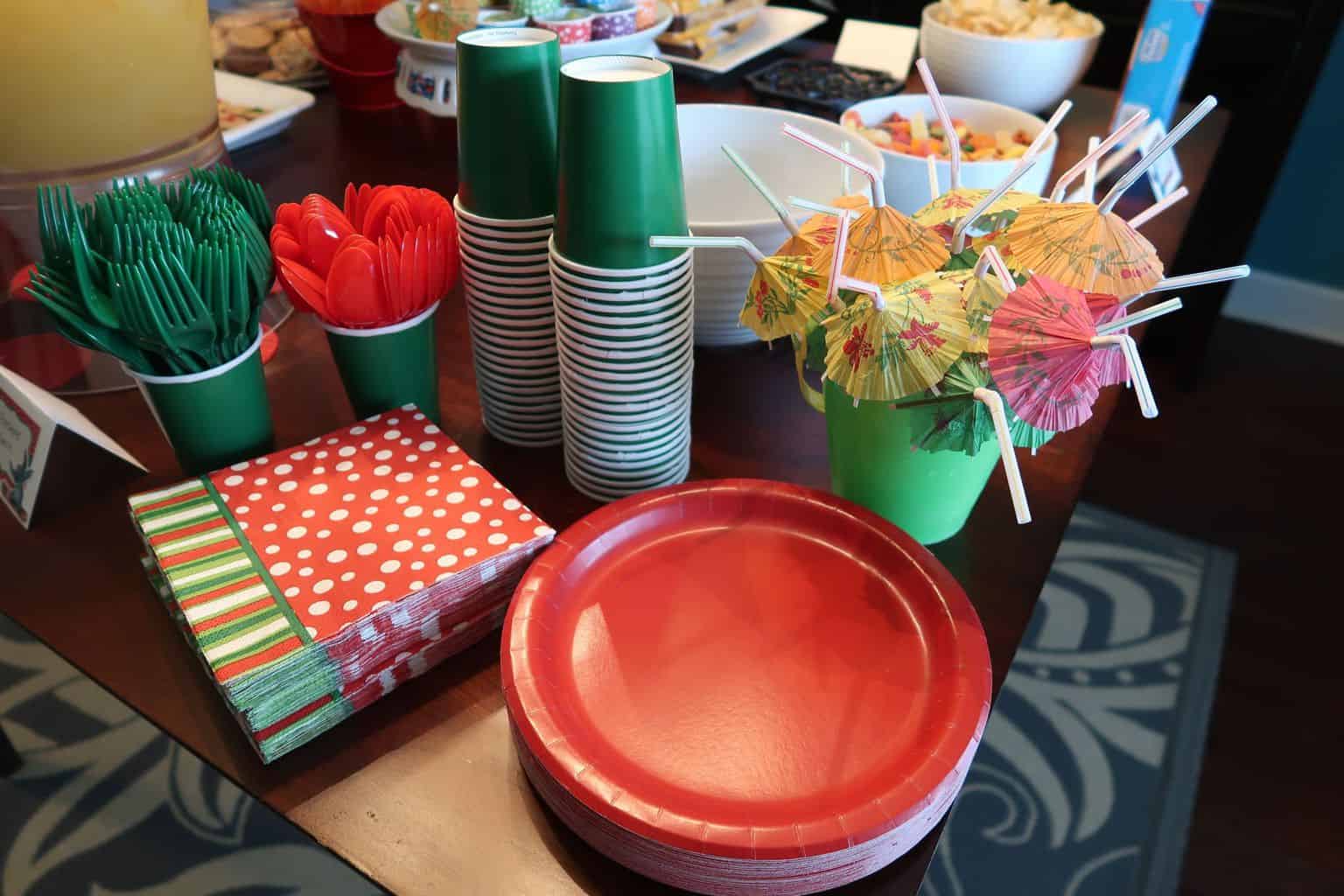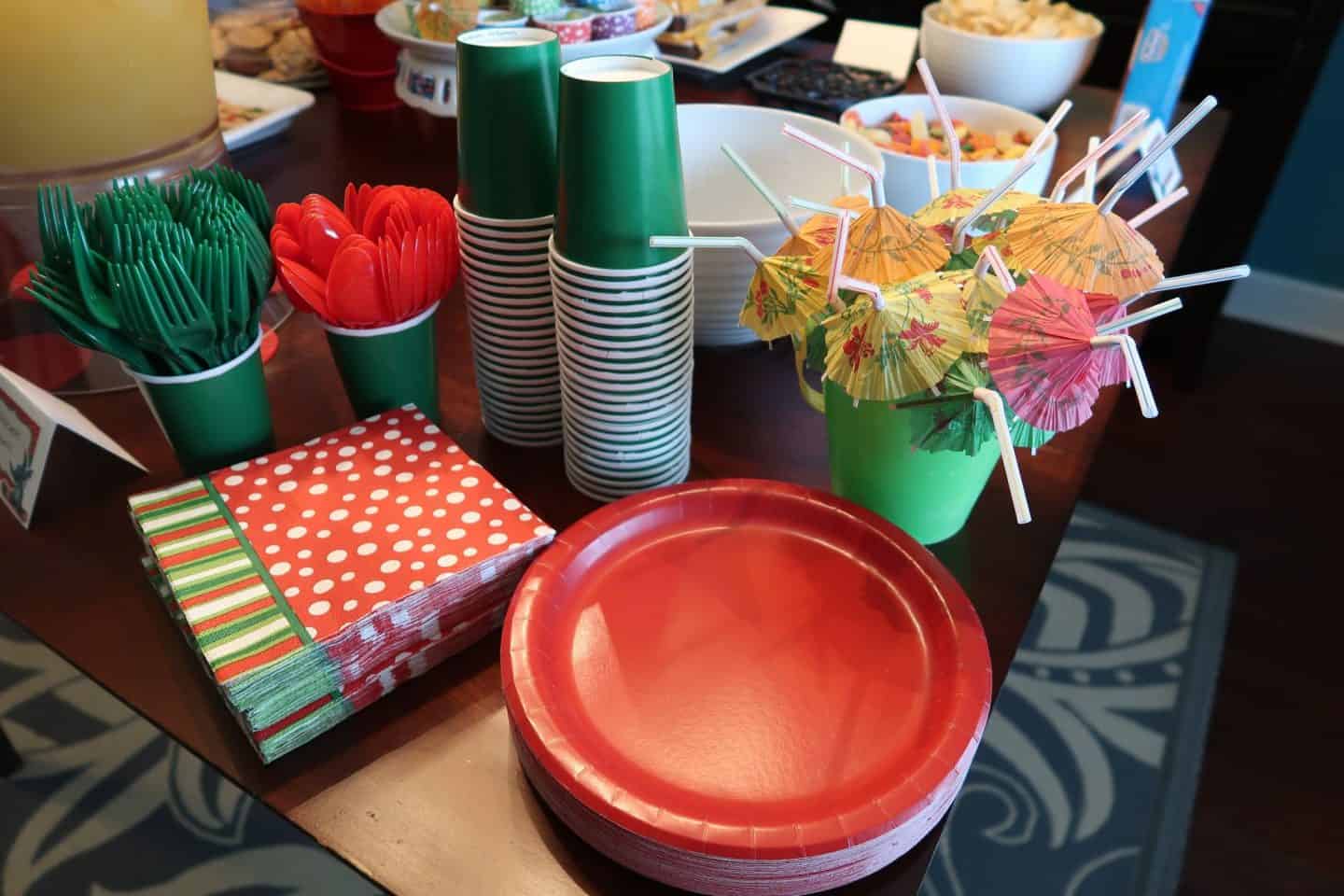 Those Fresh Beginnings cookies never disappoint though 🙂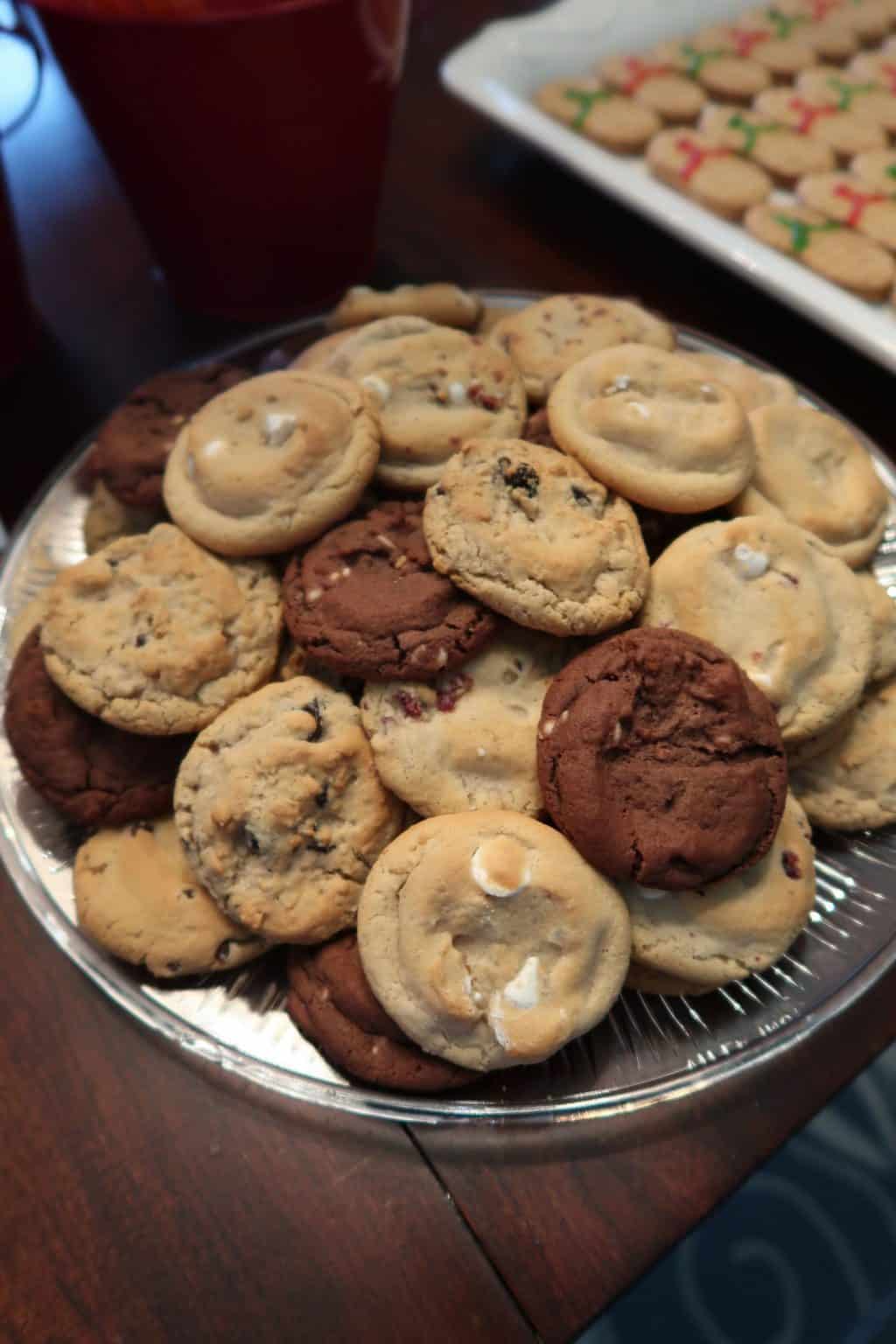 The only real labor-intensive item regarding the party food was these flip flop cookies (and they were a BREEZE). I used Nutterbutter cookies and gel icing to make them. I did red and green to tie in the holiday theme to a luau treat!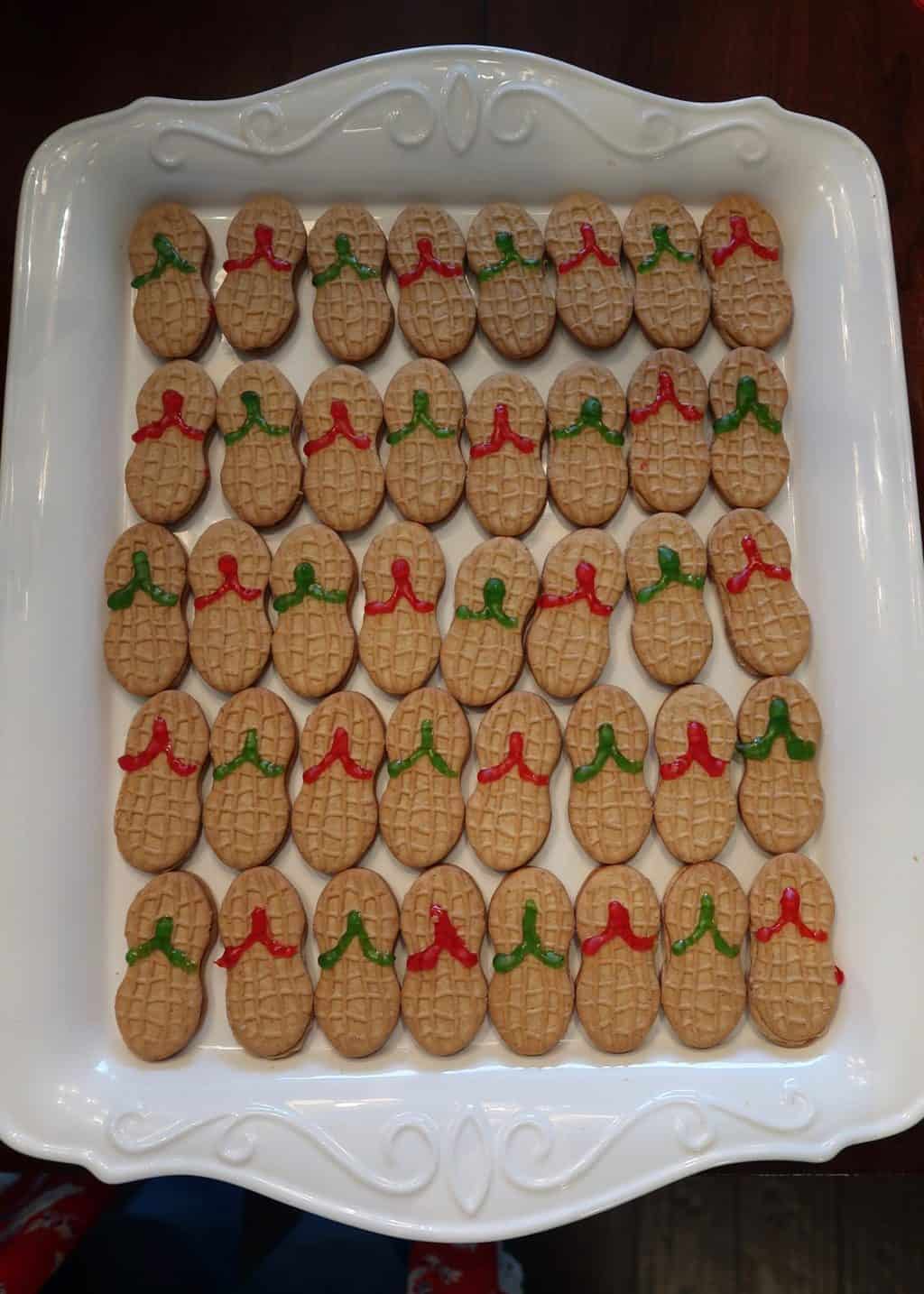 I made this Pineapple Punch for the party and it was a HUGE hit. I should have doubled the recipe for sure!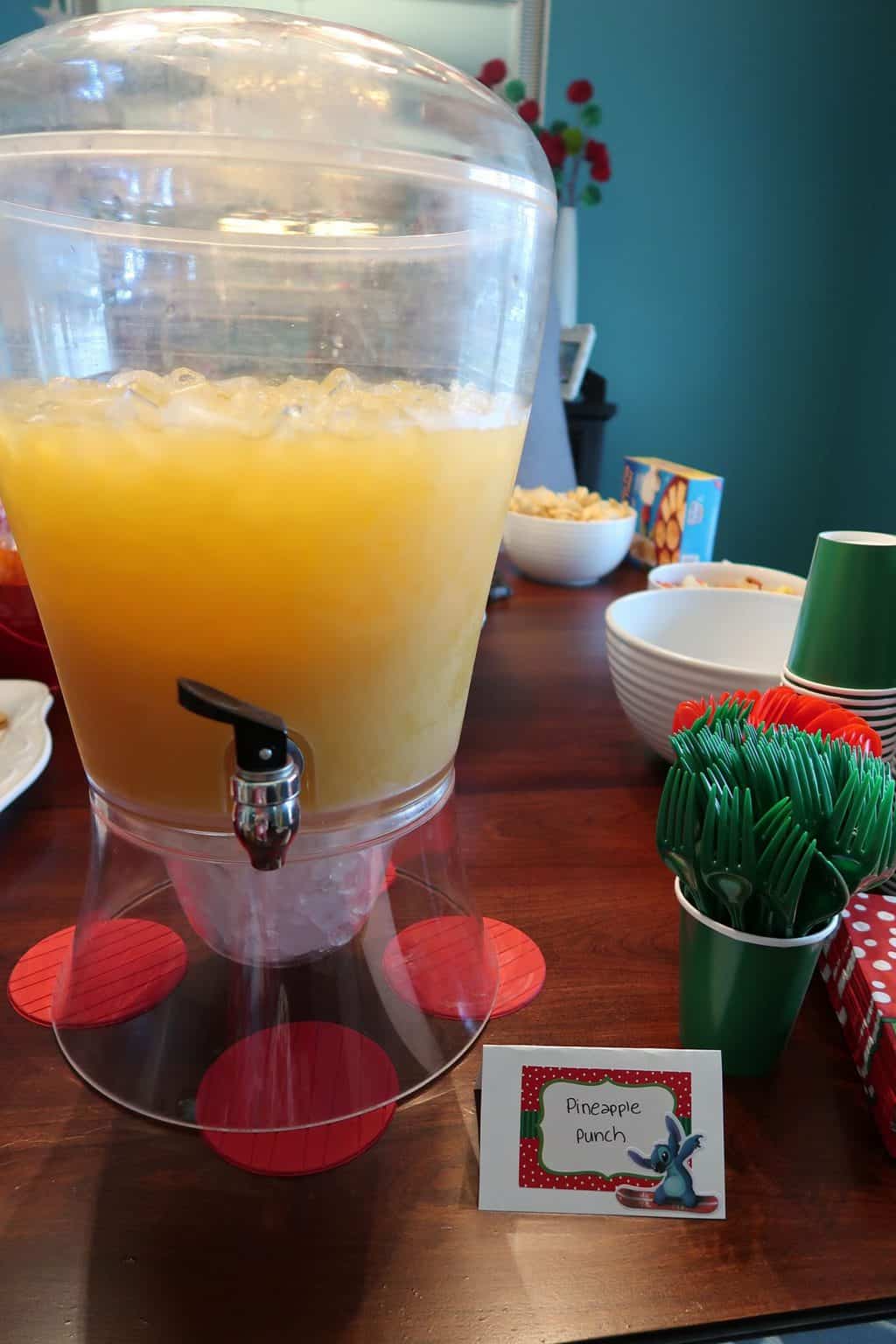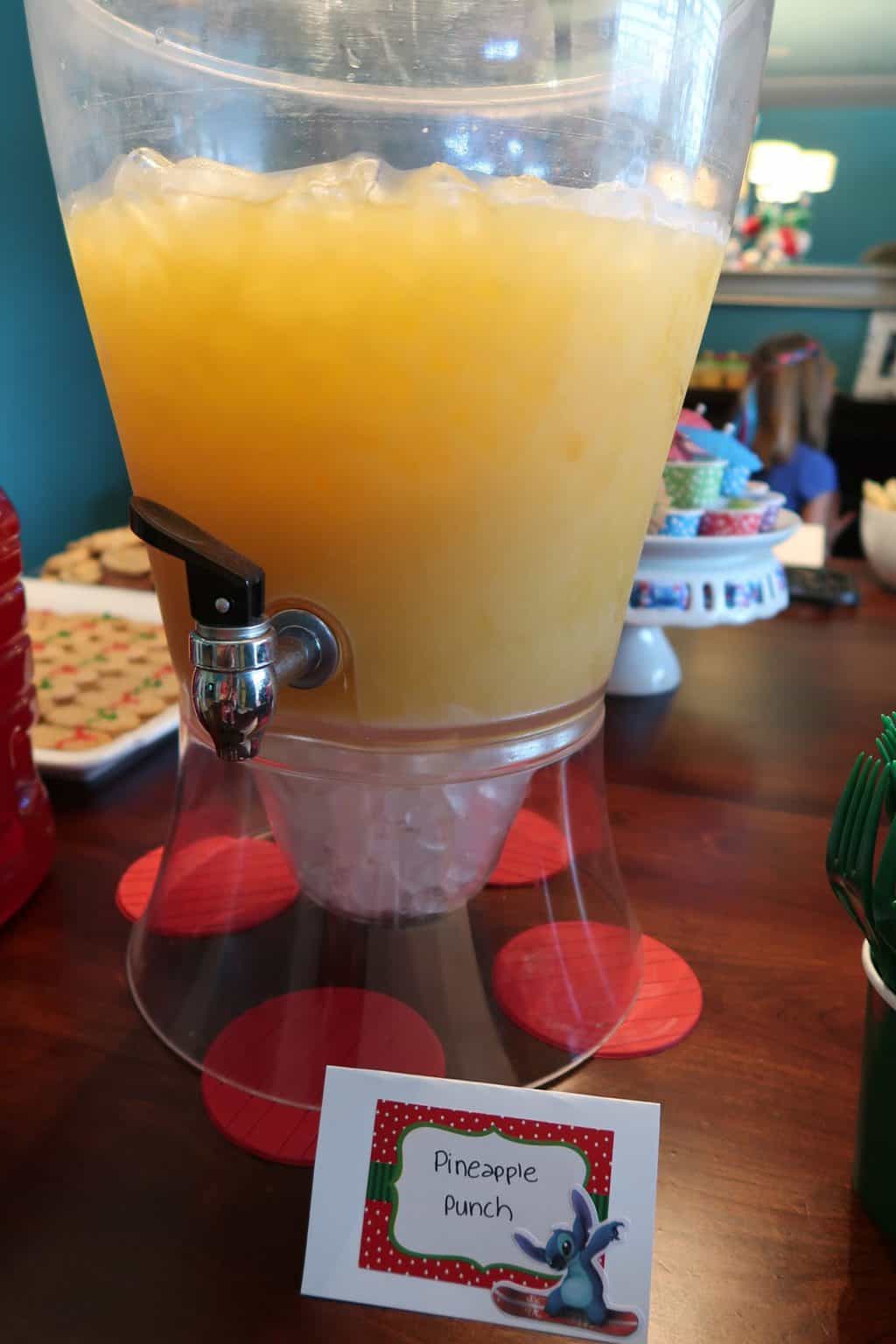 Can't have a Hawaiian themed party without Hawaiian Punch 😉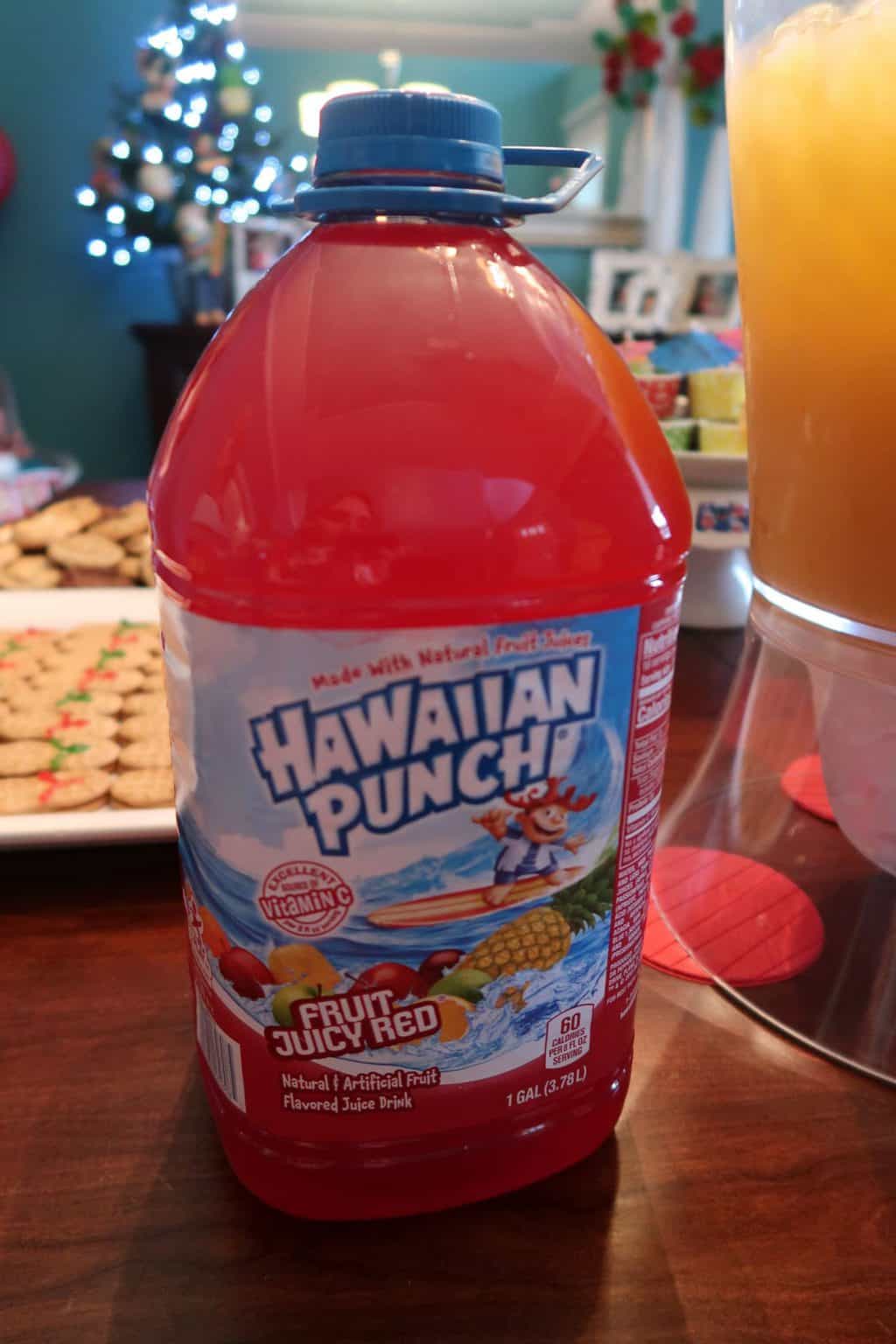 And a little melted snow 😉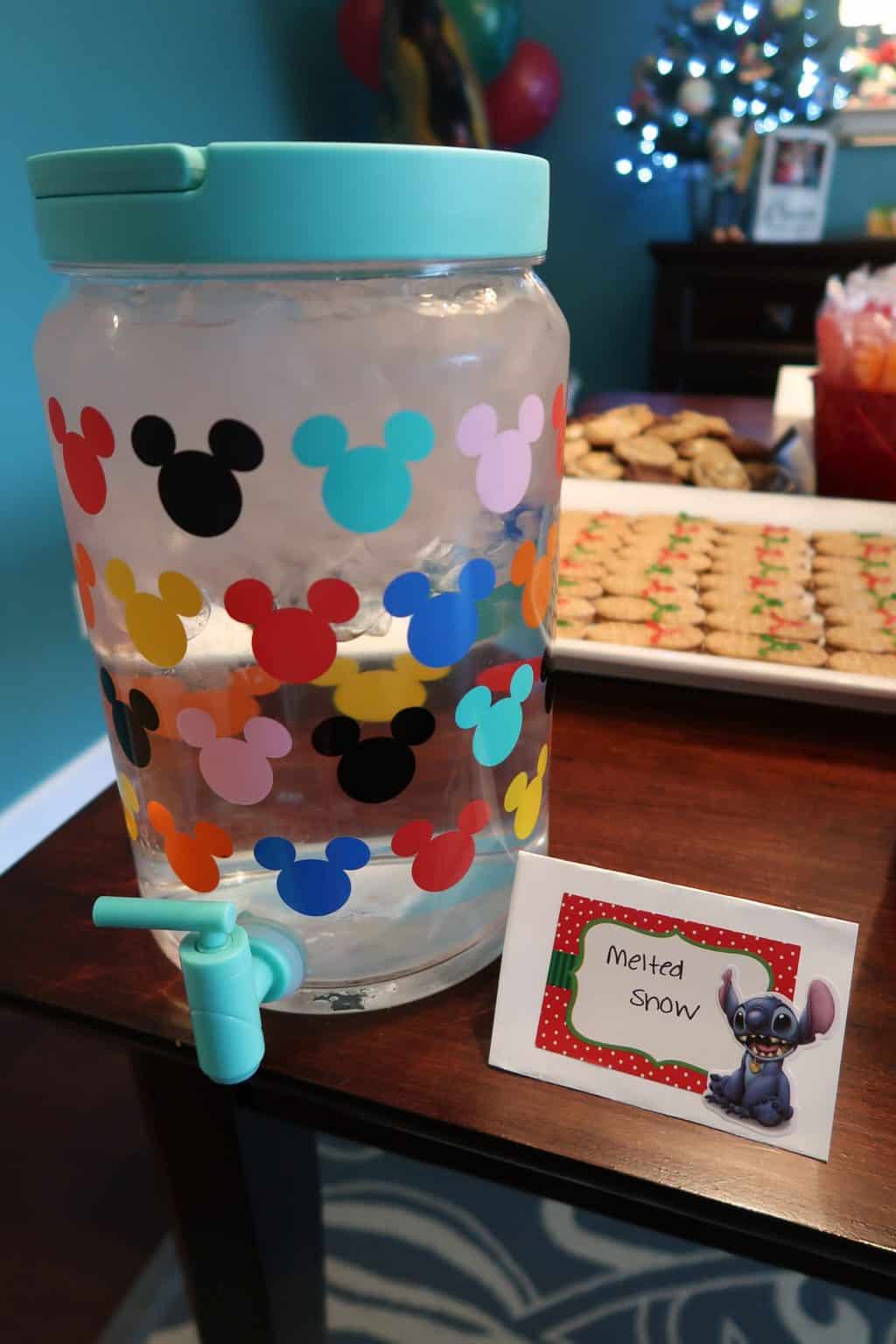 The Lava Rocks are from Oriental Trading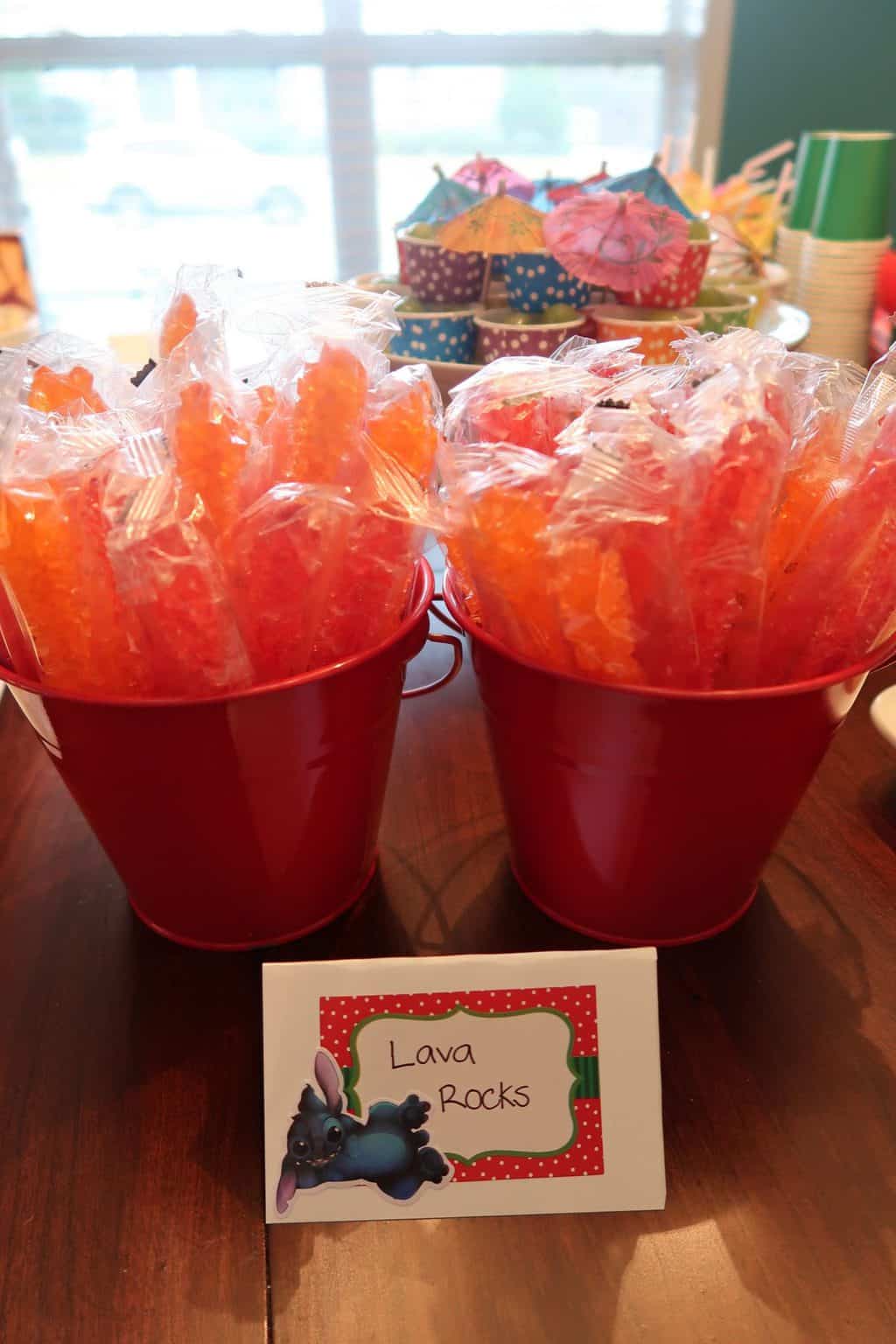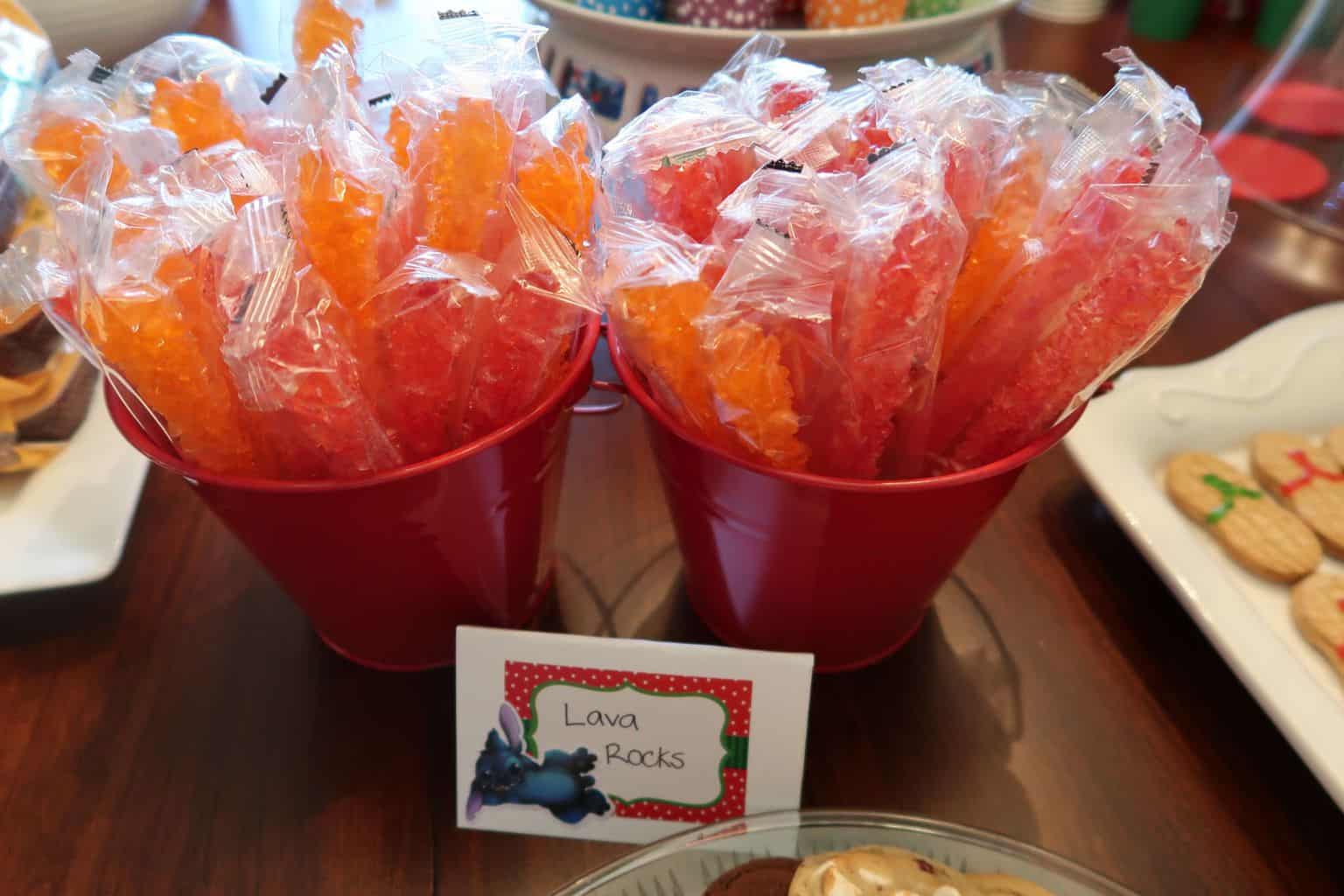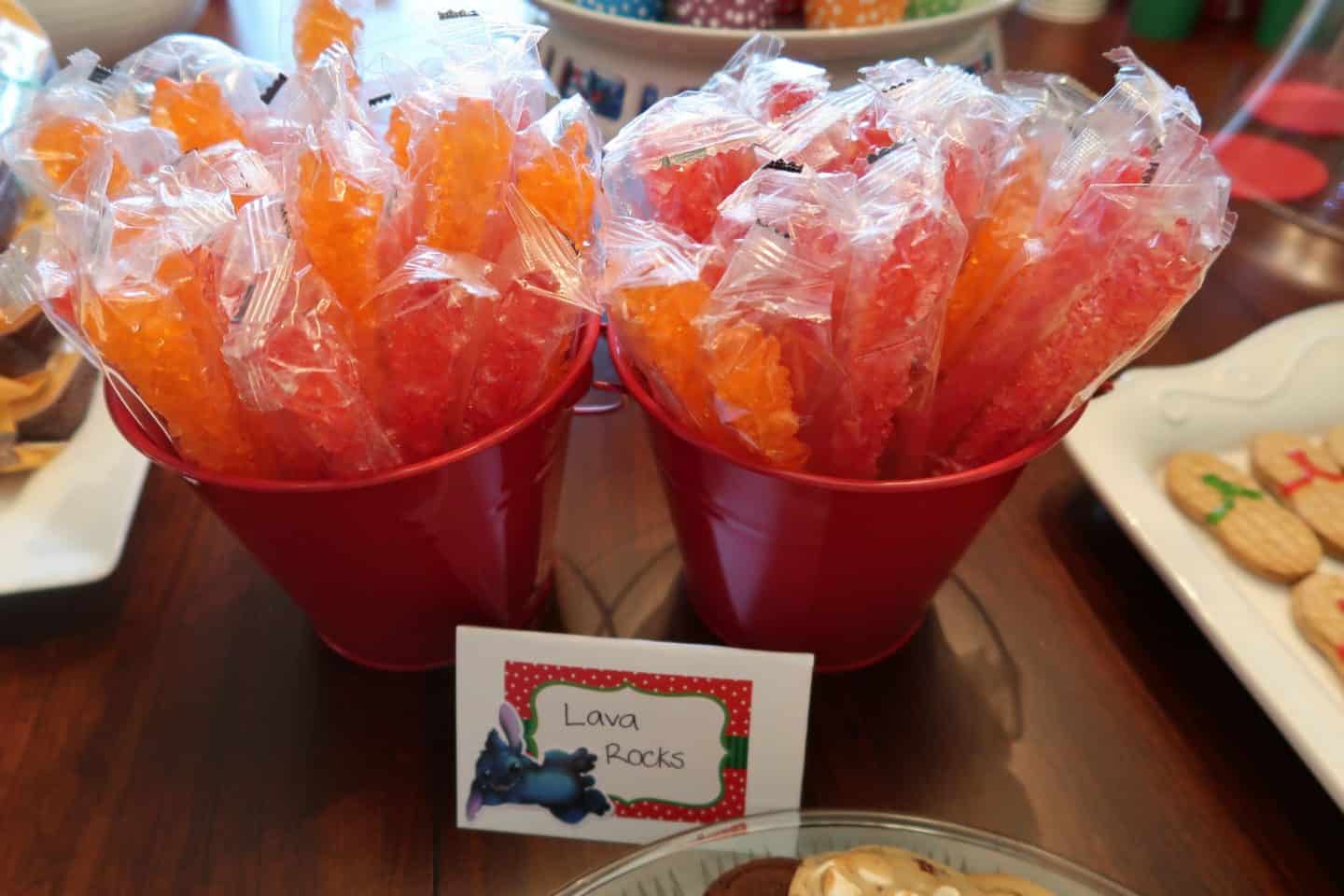 For Lilo's Hawaiian mix I found a recipe on Pinterest but then couldn't find hardly any of the ingredients they recommended so I just sorta made my own! I used Chex mix, gold fish (hidden mickey ones!), m&ms (holiday colors of course), dried pineapple pieces, orange slices candy, and peach ring candies. It was a great snack for the kids!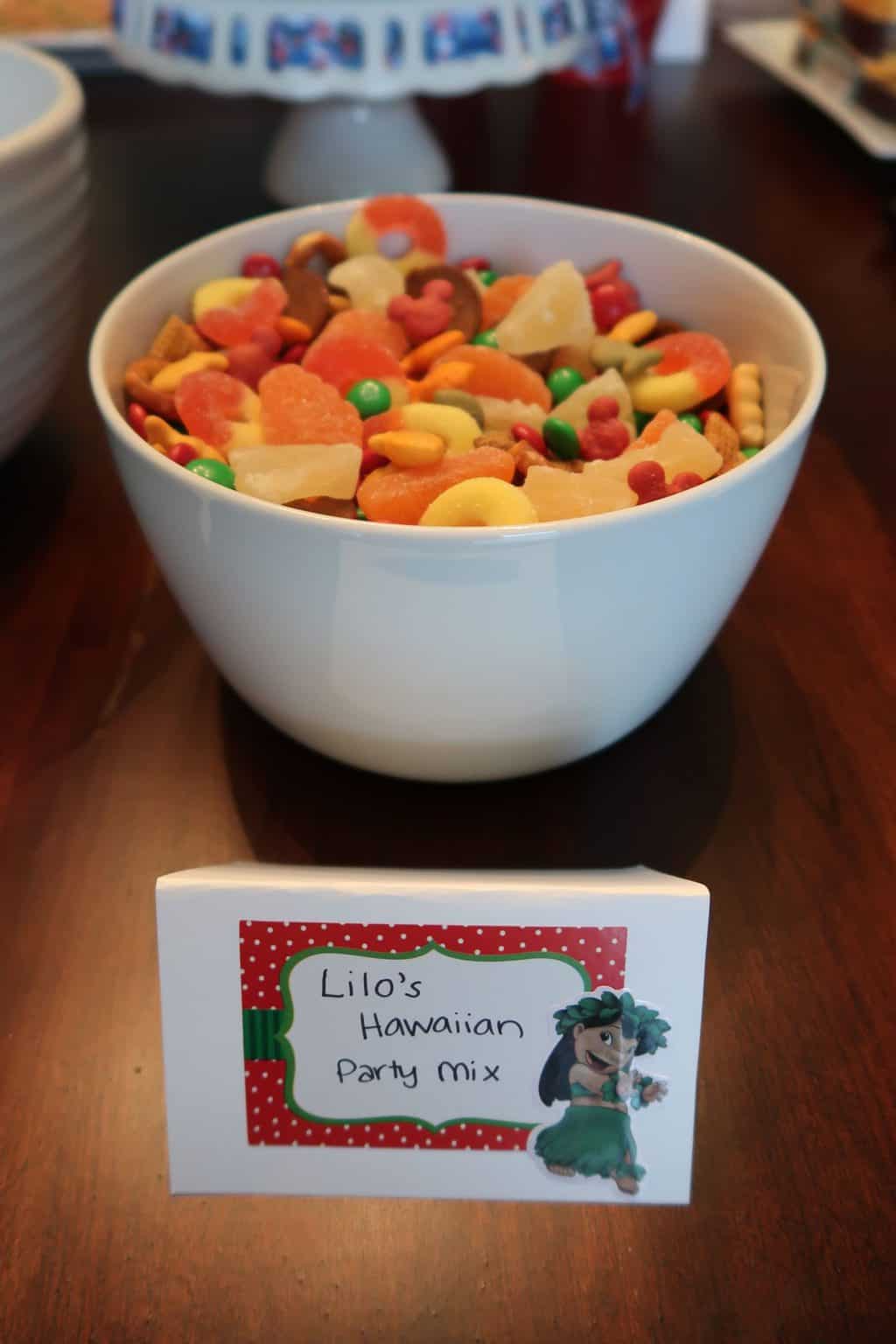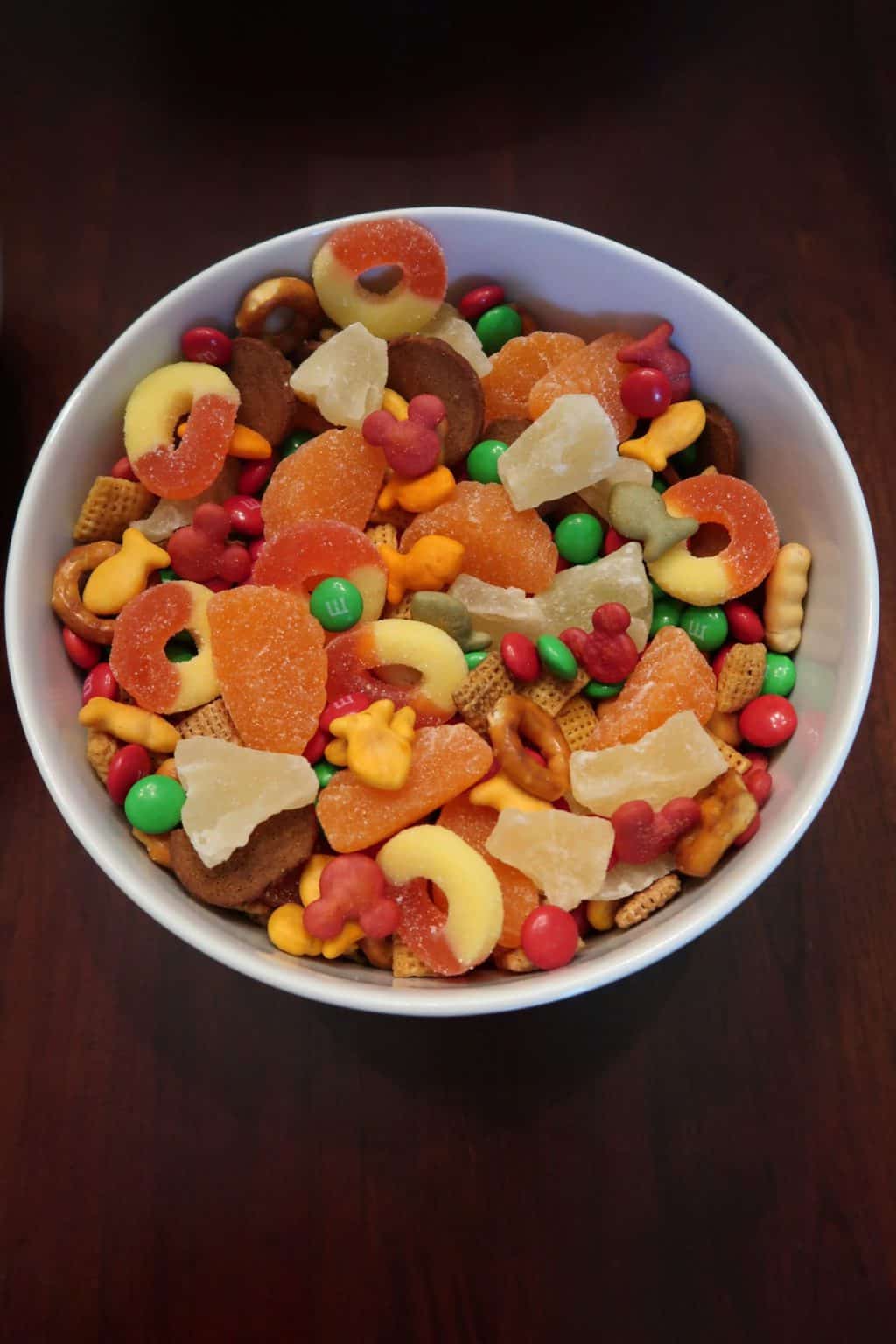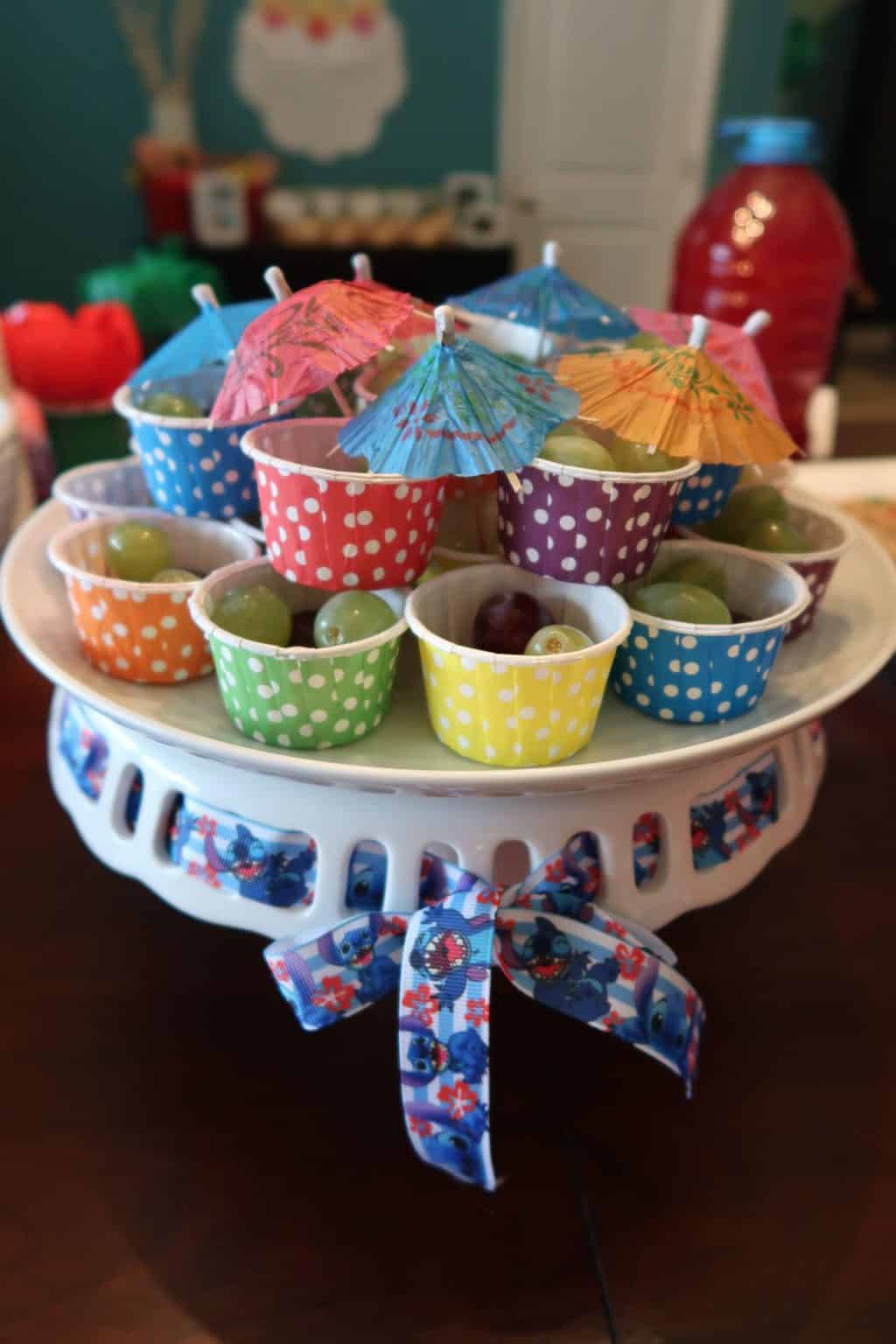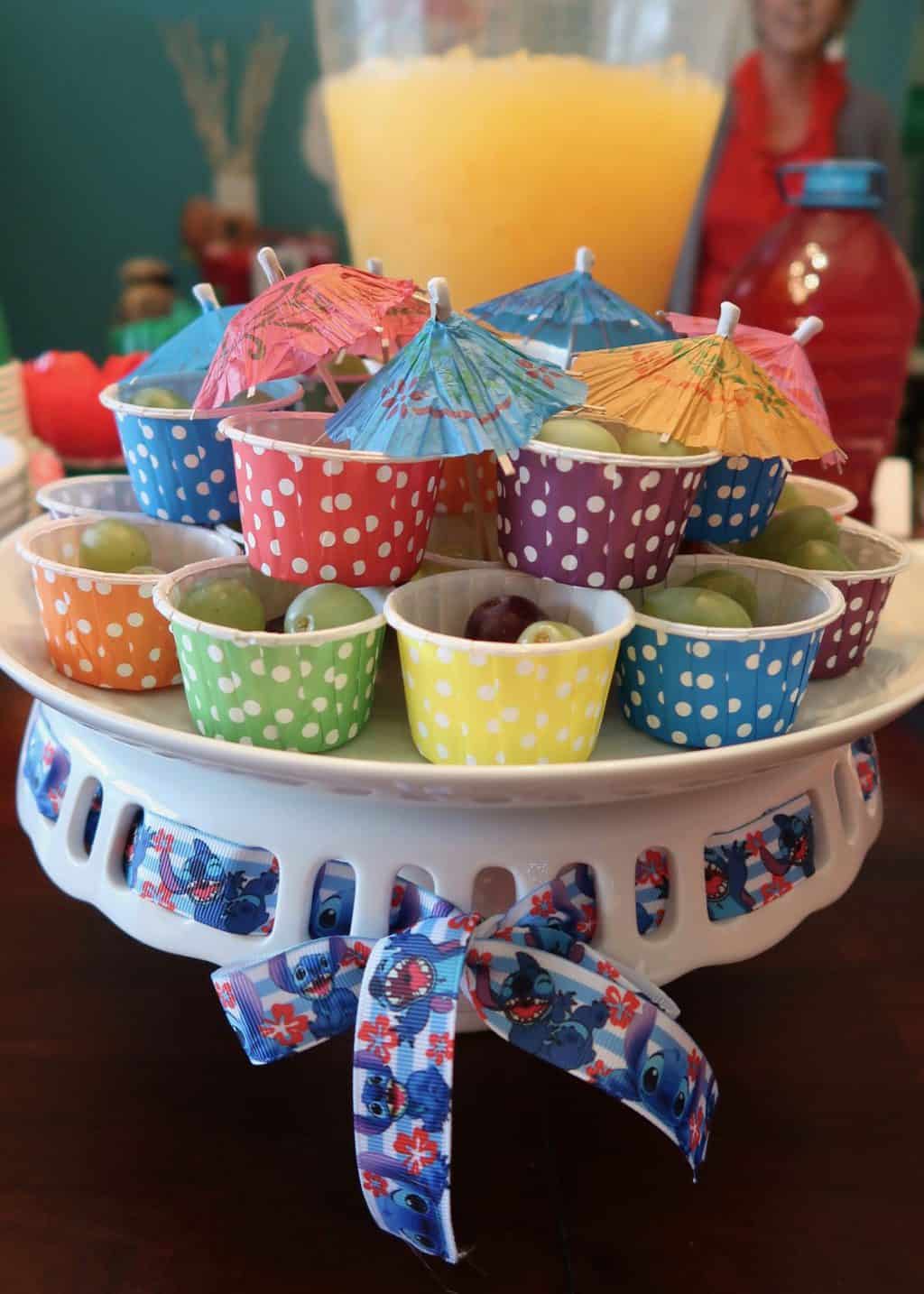 This Hawaiian Cheese Dip was a first for me and I was nervous about it because it has pineapple as an ingredient but everyone raved about it and I regretted not making double of it too!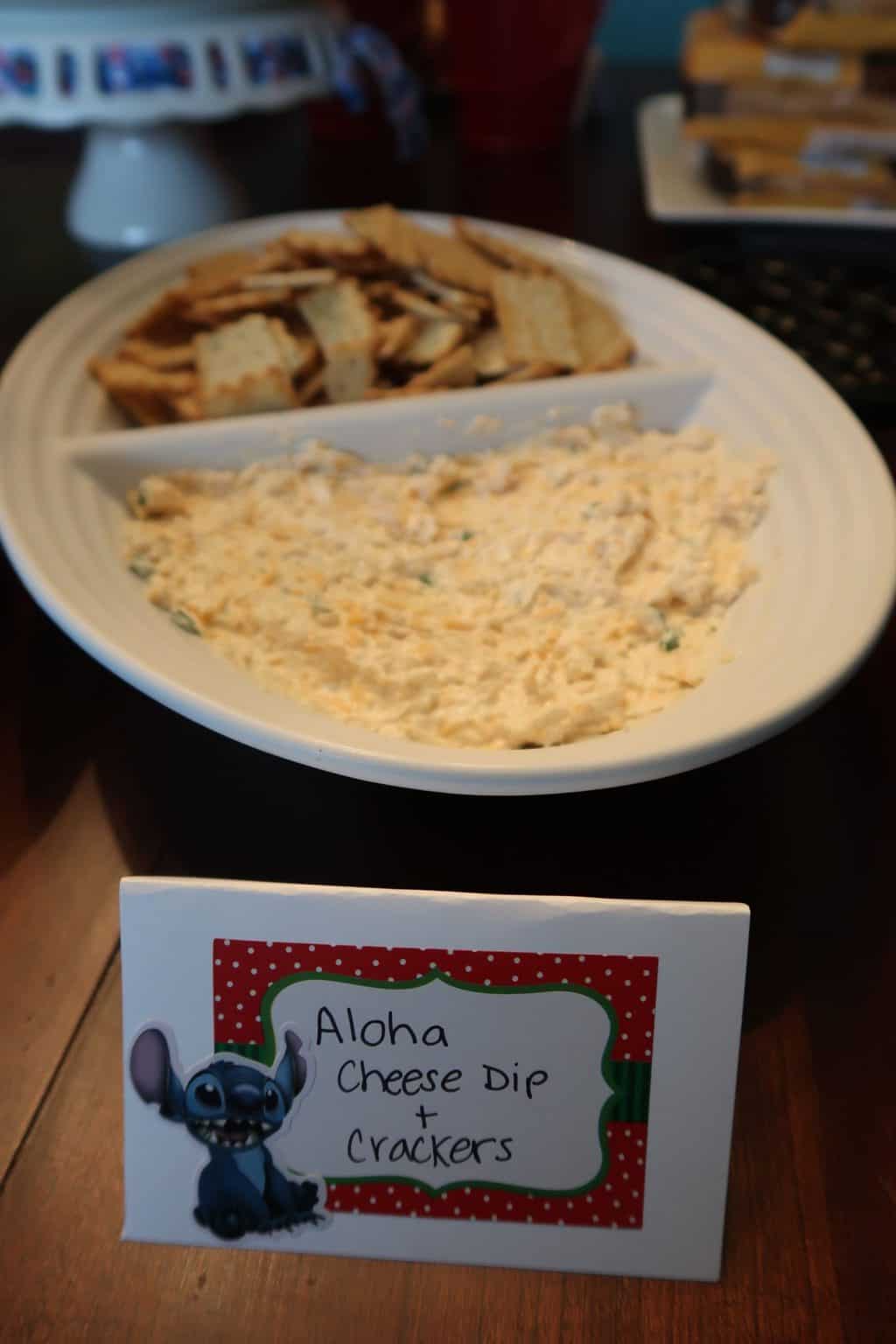 Zach makes THE best sausage balls and they were perfect for our "coconuts"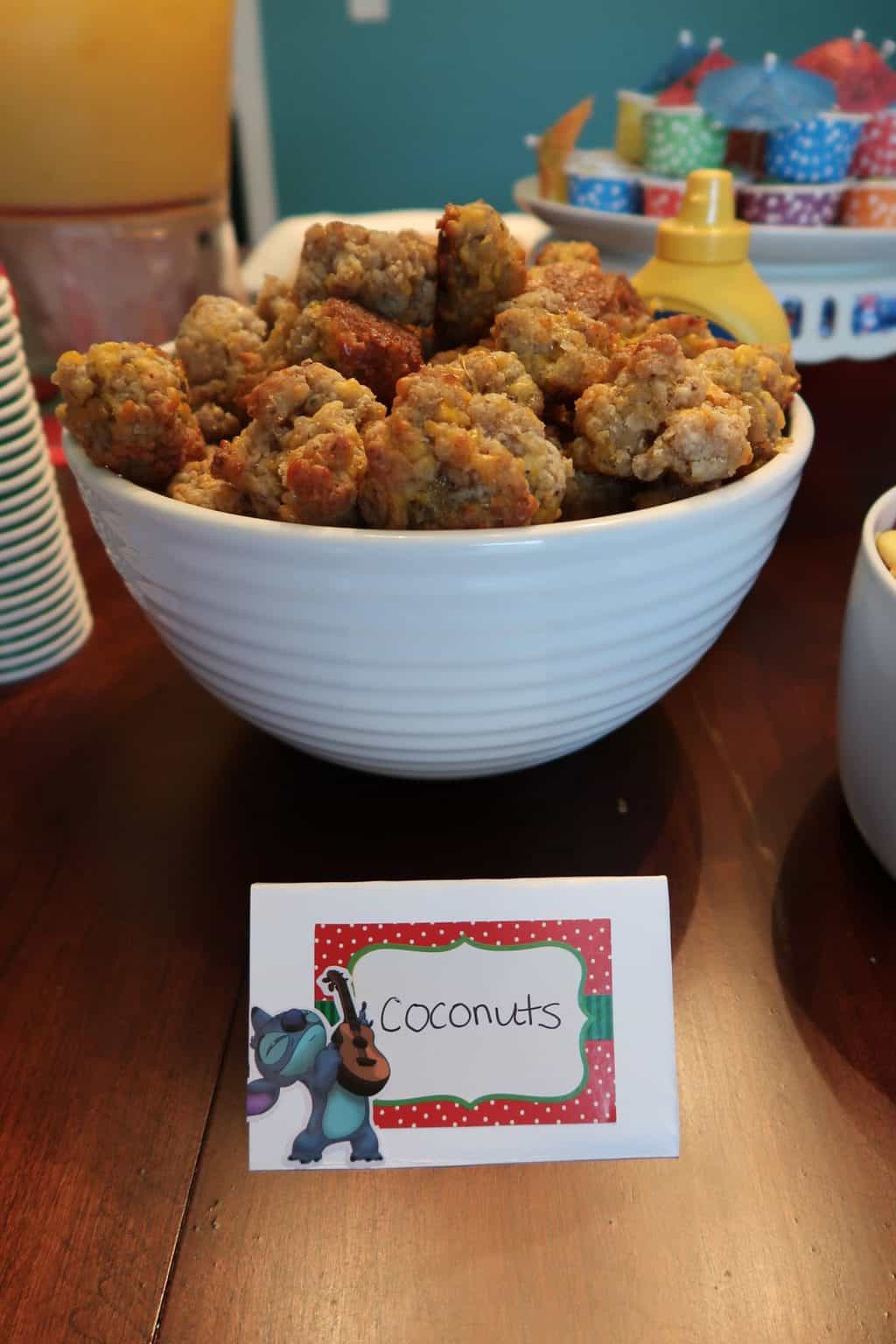 Buffalo Chicken Dip is always a party win too…I made this recipe in the crockpot then transferred it over before the guests arrived.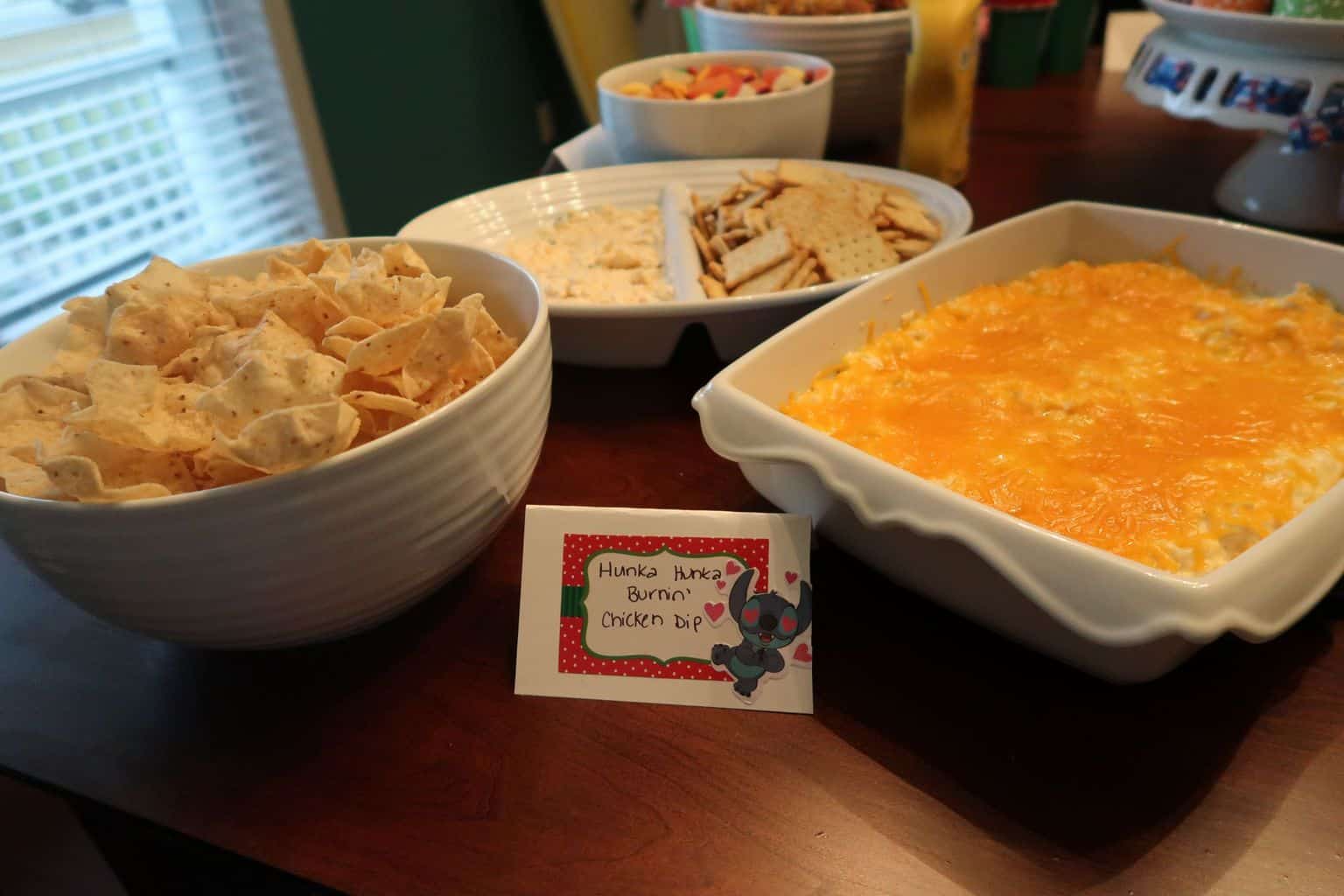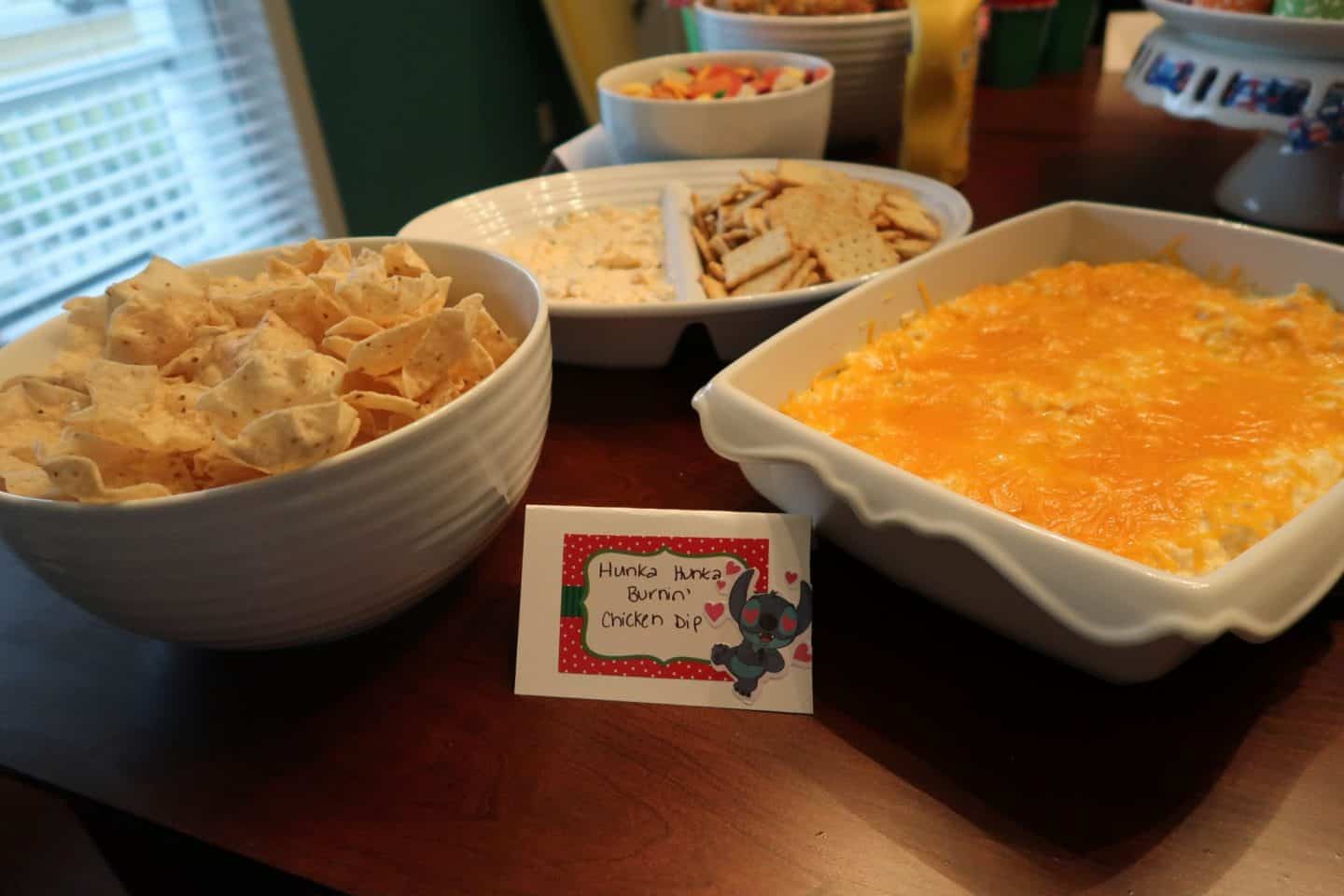 Another first and another HUGE win was this AWESOME pulled pork. SO easy and SO tasty. I'm adding this to the regular rotation for our family dinners. I paired it with Hawaiian Sweet Rolls so guests could make little sliders.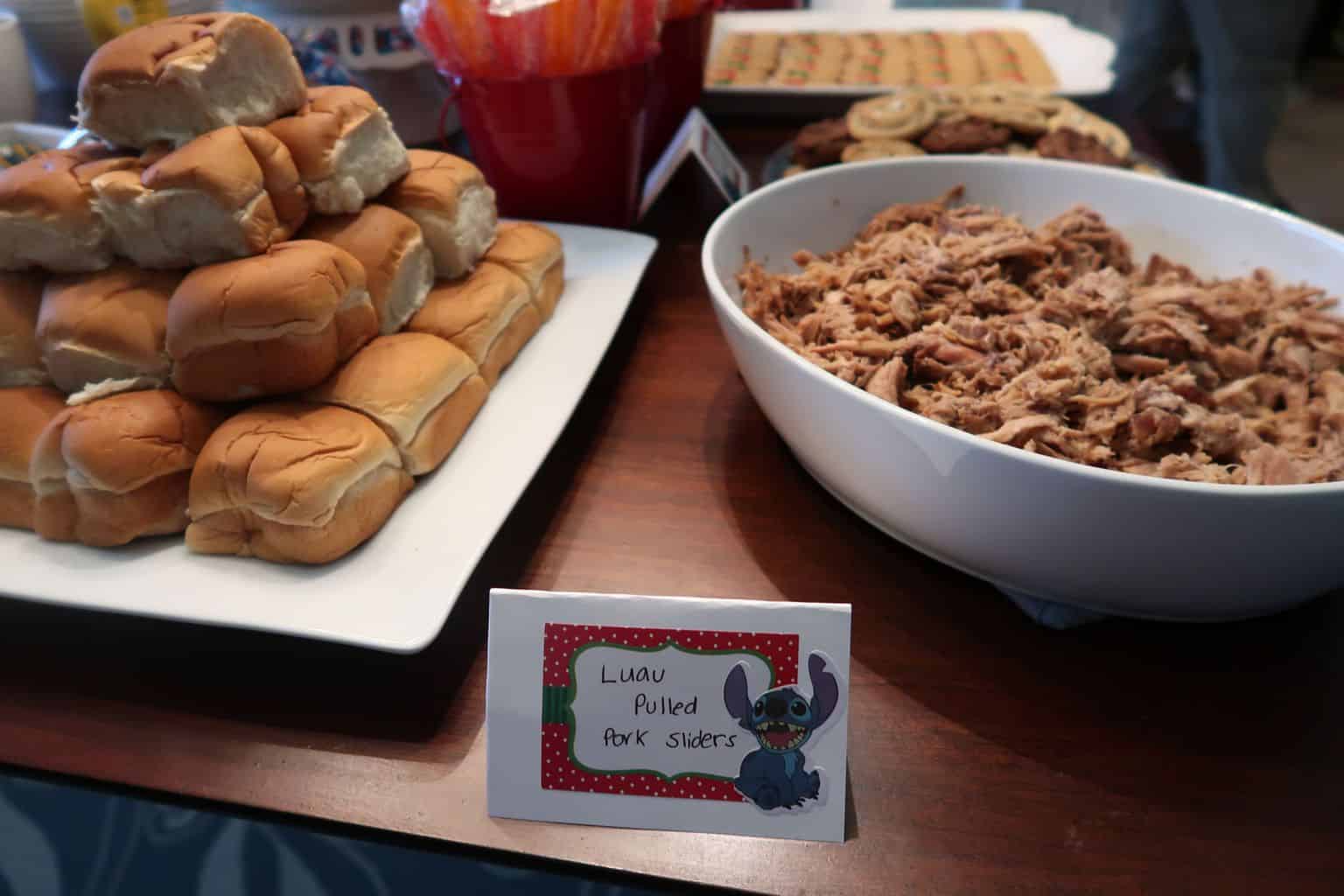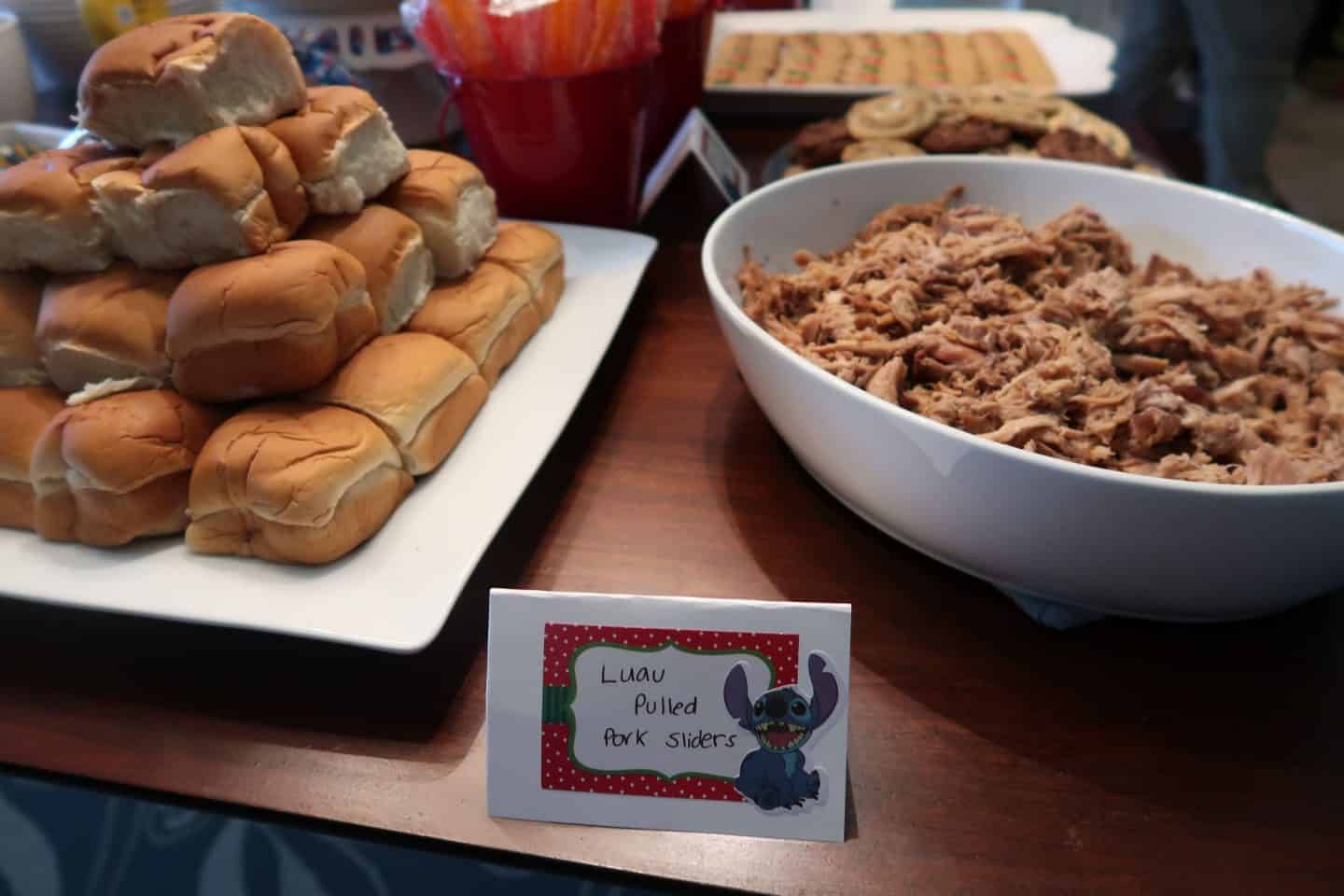 Along with all the food, craft, and fellowship I also finished up both Spear's baby book as well as an Adoption Book and had them sitting out for guests to glance through 🙂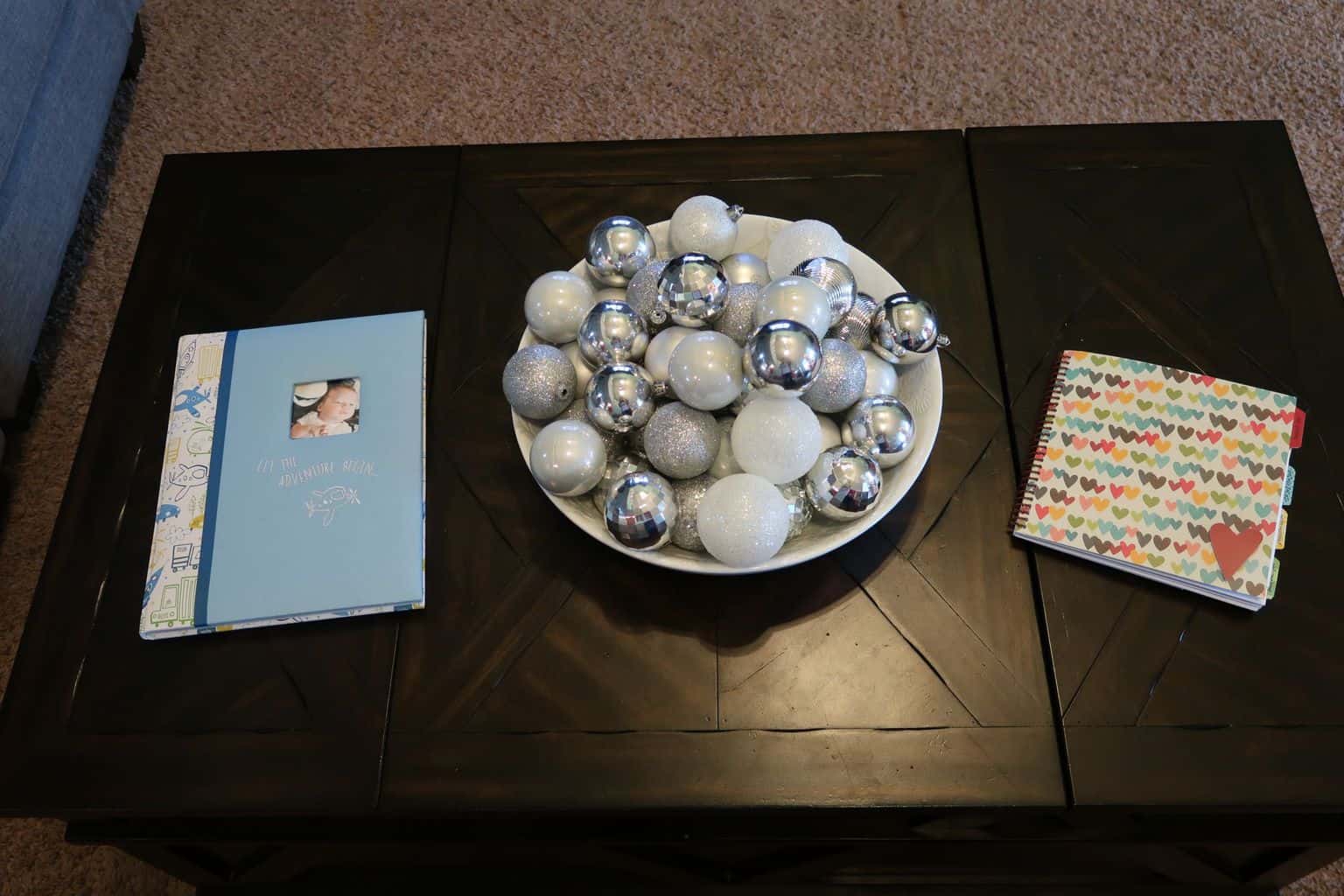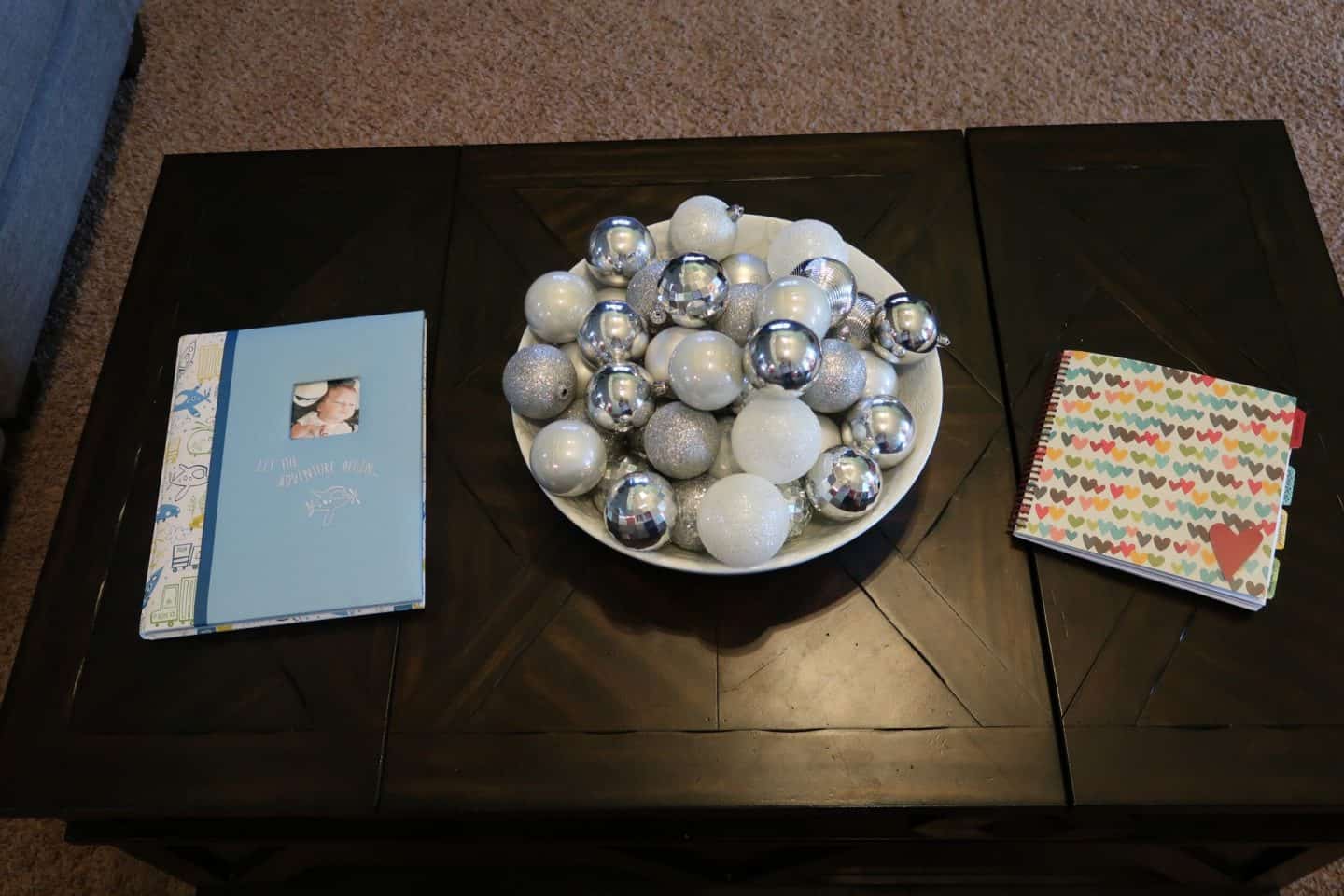 The theming all came together even better than I'd hoped for and I received many compliments that it was the cutest party yet! I did love how it incorporated Christmas for a December birthday baby without being too much Christmas too!
Wanting to plan your own Hawaiian Christmas / Lilo and Stitch / Christmas in July party? Here's where I found all the Hawaiian Christmas decorations featured in our event:
Want to see more of my inspiration for the party? Check out my Pinterest Board!