Get ready, mamas, because now it's your turn to gear up for the season with some awesome summer essentials just for moms!
Something I've LOVED to do since first starting my blog is to put together giveaways for my readers and now that has also translated over into Instagram and the following there as well. It's always been fun to give things away and gift-giving is totally one of my love languages so I see it as a way to show my love for those who have stuck by me for this long 😉
Recently I thought it'd be fun to do a giveaway for a cute beach bag and put a couple of my favorite summer items along with it. As I started to think about summer things that I LOVE I realized… I feel pretty dang passionately about SUMMER.
I love it. My favorite me-time activity is laying out in our pool reading. I love the sunshine. The sun-kissed babies running in the grass. Making memories as a family on summer vacation. I LOVE SUMMER.
And that has led to me also loving some summer items. Summer essentials for moms, if you will. I realized that the "must-have" items I tend to be asked about the most frequently are my summertime favorites and thought it'd make for a fun blog post as a place to keep all of my recommendations and tips and favorite summer essentials for moms in one place to easily reference in the future!
If you're not following me already over on Instagram… come hang out 🙂
If you're looking to refresh with the must-haves and fun summer essentials for moms then I've got you covered: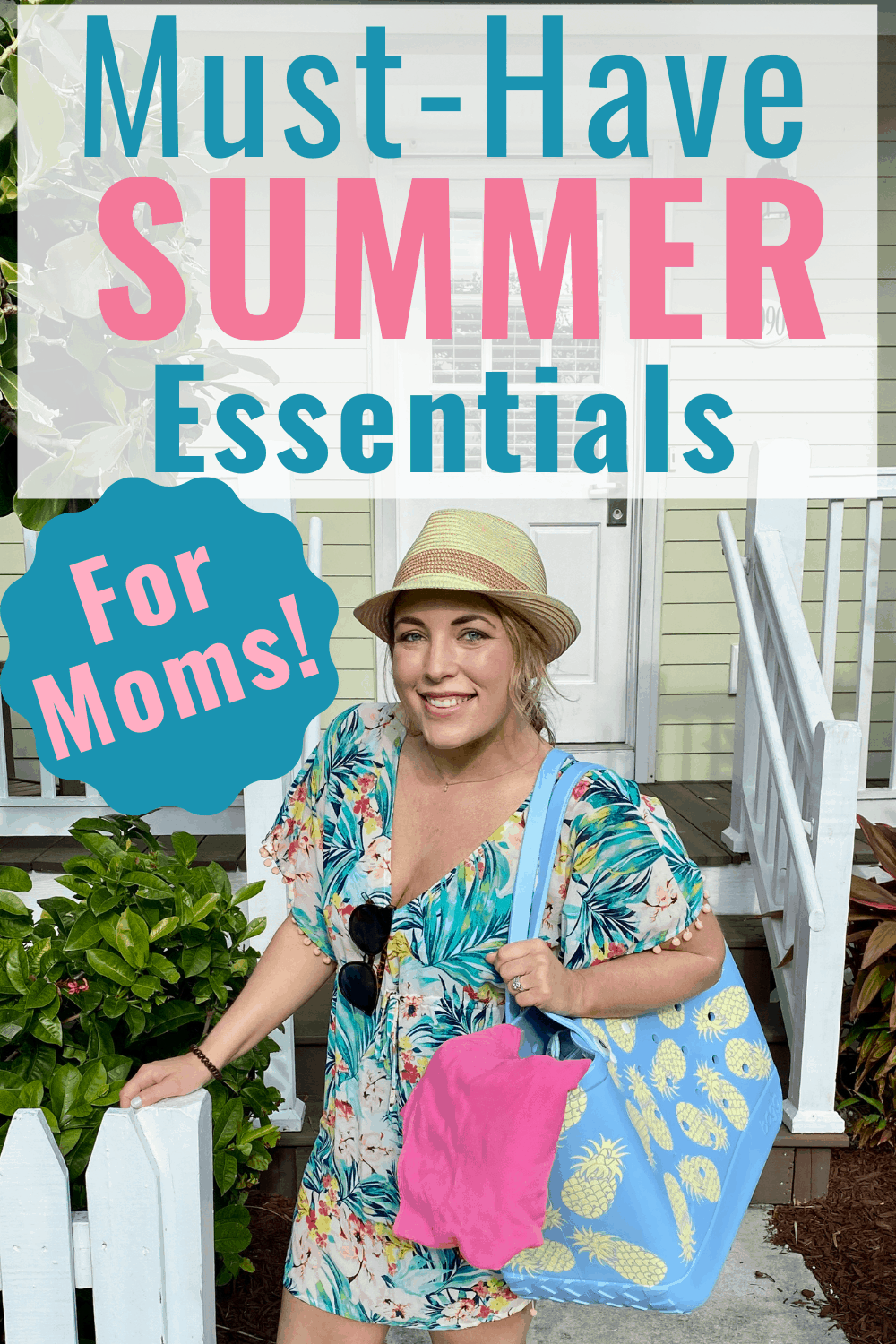 Disclaimer: post contains affiliate links.
Best Summer Essentials For Moms
Here are all of my must-have favorite summer essentials for moms. I love 'em ALL and had to keep stopping myself from over-gushing about everything I'm sharing in this list. I hope it's helpful to others too:
Dock & Bay Quick Drying Towel – For Sports & Gym
I'm NOT a "fancy person" but had a friend I trust highly recommend these towels. I got a couple and OMG they are LEGIT game-changing towels. They are of excellent quality and dry SUPER fast.
The best part though as a mom? They fold up REALLY small. There is nothing worse than a trip to the beach as a family of 6 and need to carry all the massive puffy beach towels.
These fold up really easily for storage and don't get heavy or that dripping wet soggy situation after being used either. Plus they are simple to toss in the washing machine when you get home and they don't shed all over everything!
Worth. The. Hype.
Check Out Dock & Bay Quick Drying Towel Here!
SOJOS Fashion Round Sunglasses for Women
When I think of summer essentials for moms the first thing that comes to mind is my sunglasses. I own the tortoise and the black pair and they are LITERALLY the only sunglasses I wear. I've owned pricier sunglasses in the past and have NEVER had a pair of sunglasses that look this good on me or fit me this well.
I have a pretty large head and I can even wear these on top of my head without any pain! I've recommended these sunglasses to everyone I know and have also purchased them as gifts and they LOOK GOOD ON EVERYONE. Truly!!!
And the great thing is you don't have to be overly careful with them at the pool or in the car or at the beach. If you lose 'em or break 'em they are cheap to replace!
Check Price For SOJOS Fashion Round Sunglasses for Women Here!
Large Bogg Tote Bag: Great Summer Essential for Moms!
Bogg Bags are one of those things that I kept seeing friends have and heard they were AMAZING. I'm not one to buy into something just because everyone else has it so I took awhile before getting my own Bogg Bag and now I don't know how I lived without it. It is THE best bag for the beach – BY FAR.
I went to the beach with friends and two of us had a Bogg and the other didn't and her stuff got soaked and wet when the waves crashed higher on the shore while all of our stuff was totally dry thanks to the Bogg Bag.
It's really the perfect summer essential bag for Moms because you can fit ALL the things. Towels, swimsuits, snacks, you name it! I own both the smaller one as well as the larger version. The smaller one is perfect for those beach trips with friends or times when it's just my husband and I or one kid or something. But the big one is ideal for family outings!
Check Price For Large Bogg Tote Bag Here!
CaliCase Universal Waterproof Floating Case Pouch
I am one of those people who are VERY careful when it comes to my phone and taking it near the water stresses me OUT. I leave a case on my phone at all times as well as a glass screen protector. I've tried waterproof cases in the past but they've always required me to remove my loopy case and then won't work due to my glass protector!
I have FINALLY solved my waterproof case problem just in time for summer! The CaliCase is awesome because it is large enough to fit my entire phone INCLUDING while being able to leave it on my loopy phone case AND it works flawlessly even with my glass screen protector on it too!
These cases are super easy to use and come with a clip and strap and we've even used it at the water park with my son's smartwatch and it worked perfectly! A great spot to store a wallet or keys too and a great item to toss in the beach bag or take to the pool and allow for snapping all of those "Mom watch me!" moments over the summer!
Check Price For CaliCase Universal Waterproof Floating Case Pouch Here!
Transparent Waterproof Cosmetic Bag With Zipper: A Summer Essential for Moms!
I noticed a friend using these clear zip pouches in her pool bag and thought it was SO GENIUS. Perfect for sunscreen so when it leaks it doesn't get everywhere. Perfect for snacks. Perfect for trash. Perfect for stuff you don't want to get wet. Perfect for stuff that DOES get wet. I use 'em for EVERYTHING!
This past year they've been especially handy for storing our masks and keeping them organized but now that it's summer and guidelines have loosened up I'm back to using my pouches for ALL THE KID THINGS! I even use them when traveling without my kids as it's so helpful to separate things out and I love the pouches are clear so I can see what's in them and know what I'm hunting for in my bag!
Click To Check Price Transparent Waterproof Cosmetic Bag With Zipper Here!
CeraVe Anti Aging Face Cream with SPF
I am hardcore about getting my skin checked by a dermatologist every year. I'm also big about asking for her recommendations when it comes to skincare and sun protection. She raves about CeraVe products, especially the skin-renewing day cream with SPF 30.
This is great to wear every single day under makeup or just as a daily moisturizer sunscreen. I use it year-round but especially am mindful to use it in the summertime.
Click To Check Price For CeraVe Anti Aging Face Cream with SPF Here!
Isle of Paradise Fake Tan Drops
I try really, really hard to protect my face from the sun and because of those efforts, the skin on my face is much paler than the rest of my body. I invested in these self-tanning drops last year and they are the real deal! My skin tans very easily and I've never had any self-tanner look orange or look "too dark" due to the natural color of my skin so I went with the dark shade of the tan drops and they've been perfect!
As part of my morning routine, I just use 1-2 drops mixed in with my tinted moisturizer and I'm good to go. The only thing to make sure of is to wash your hands REALLY well with soap and water after applying!
Click To Check Price For Isle of Paradise Fake Tan Drops Here!
EltaMD UV Daily Face Sunscreen Moisturizer
Another excellent product that my dermatologist as well as an esthetician I've seen swear by is this tinted daily moisturizer with SPF 40. I mix the self-tanning drop with this each morning. In the summertime, I often don't even wear any foundation and just will wear this combo!
Whenever I visit the beach or have a pool day or visit a theme park I always keep this on hand in my book bag or beach bag. I reapply this to my face throughout the day. It helps keep the sun damage away and helps my skin continue to have an even skin tone and has just the right amount of tint to help me feel confident!
Click To Check Price For EltaMD UV Daily Face Sunscreen Moisturizer Here!
Urban Decay All Nighter Long-Lasting Makeup Setting Spray
This has been one of those game-changer products in my life and definitely makes my list of summer essentials for moms. I read about it on a Disney World planning thread on Facebook YEARS ago and I've been swearing by it ever since then. I keep a travel size in my bag and it's amazing at helping set my makeup. I can be in 90-degree temps all day long and my hair will be a sweaty mess but my makeup will STAY PUT!
Check Price For Urban Decay All Nighter Long-Lasting Makeup Setting Spray Here!
Womens Foldable Wide Brim Roll Up Sun Visor Hat
I have a super mega big head. Like literally I measured and it's 24 inches and most hats only go up to 23 inches haha.
I actually feel like I look pretty good in hats… when I can find any that FIT! I was SOOOOO excited when this new wrap hat trend started up because this hat is PERFECTION for me. It fits great and looks great and is super comfortable (often hats that do semi-fit start hurting after a while). I wore this all day long at the beach and it was perfect and never flew off my head once in the beach breeze either!
The ultimate, perfect summer hat. Plus it rolls up to make it super easy to pack and store and travel with without worrying about it getting damaged or having a funky weird fold line in it or something either!
Check Price For Women's Foldable Wide Brim Roll Up Sun Visor Hat Here!
Softlips Lip Protectant SPF 20
While I'm pretty much a pro at this point at protecting my face during my summer layout sessions I often struggle with my lips getting too much sun. I do NOT like lipstick and I know many lipsticks have SPF in them but I just don't wear lipstick so I don't get that natural protection it can offer.
I've tried a ton of different SPF lip stuff and usually, it's super thick and feels like I'm wearing sunscreen on my lips. but the Softlips ones are perfect! I keep one of these in my purse at all times and wear it as a general chapstick even when I'm not needing or wanting the SPF protection. It feels great and I love that it comes in a pack of two!
Check Price For Softlips Lip Protectant SPF 20 Here!
Tinted Mineral Lip Conditioner SPF 15
I really love how the Softlips are completely clear but sometimes I do want (or at my age it's more of a NEED at times) some lip color and this is my favorite SPF lip tint. I often will layer a bit of it with the softlips too! The color is natural and not overkill which I like as I'm just not a "lip girl."
Check Price For Tinted Mineral Lip Conditioner SPF 15 Here!
Summer Essentials for Moms: Kindle Paperwhite
I took a LONG time to jump on the Kindle bandwagon. I just always have loved holding a physical book. My favorite me-time activity is laying out at the pool with a book and I always felt part of that experience was reading an actual book. I also always assumed any sort of screen would make it impossible to read in the sun or while laying on a float in the pool.
Hello Kindle. My bff, Katie, finally convinced me to get one and it's been a truly life-changing experience for our family. Zach literally reads his Kindle EVERY SINGLE NIGHT to help him fall asleep and we even got one for Kye too. It's awesome. Works GREAT outdoors and is also waterproof! I LOVE my Kindle and consider it one of my summer essentials for moms for surrrre.
Check Price For Kindle Paperwhite Here!
OLUKAI Women's Ohana Sandal
We are a theme park kinda family which means I do a LOT of walking. I had foot surgery in 2012 and the thing with any sort of foot surgery is that the foot never really goes back to "normal." I get pain and inflammation with a lot of walking and am ALWAYS on the hunt for cute shoes that are also COMFORTABLE.
I'm usually very cheap-cheap and all about the deals but when it comes to shoes I'm willing to pay more money if they are comfortable. And these are worth EVERY penny. I think I also found them from a Disney Facebook Thread of people sharing their best shoes for the parks and I am SO glad I made the investment!
I first purchased them in 2016 and have owned them for 5 years and literally wear them 80-90% of the time when we visit Disney or anywhere else where a lot of walking is required of me. It's the first pair of shoes in my LIFE that I've worn out! It took 5 years of pretty hardcore wear and tear to finally reach the point where I needed to replace them and I didn't hesitate to buy another pair!
Check Price For OLUKAI Women's Ohana Sandal Here!
Waterproof Wet Bag: Mom-Approved Summer Essentials
I didn't have a wet bag until TESS was a toddler and I literally don't know what in the world I did before I had this thing! It is SO handy all the time in the summer but especially when going places where the kids change out of wet bathing suits. I just toss 'em in the bag and don't have to worry about everything else getting wet because the wet bag keeps the wet stuff in it and keeps the other stuff dry that's not in it!
I also highly recommend this bag for potty training purposes. I keep a pair of dry underwear and even extra clothes IN the bag and then when/if accidents occur I can toss the wet stuff in the bag and change the kid into the dry stuff! The handle makes it super handy to carry into bathrooms or changing rooms too.
Check Price For Waterproof Wet Bag Here!
Summer Essentials: Handheld Fan
Some girls don't sweat. I'm not that girl. I don't just sweat…I sweat from my head so my hairline gets sweaty which is just NOT CUTE. I also get melasma which is when your skin pigmentation gets darker in certain areas. Mine isn't just sun-triggered, it's HEAT-triggered. Literally, if I start to get hot I can FEEL my melasma kicking into gear so I really have to keep my skin cool.
I am team stay as cool as possible when out and about. Even if we're not at the theme parks I will carry a mini handheld fan with me. I'm not ashamed to bust this thing out at a zoo or even just walk around town.
I've used a TON of mini fans over the years and this one is the clear winner. It's a bit bulkier than some that I've had BUT it charges via USB, has an awesome loop to put on your wrist to carry it easier, AND it has three-speed settings. It gets the coolest I've had a mini fan feel.
I really especially love the hand strap feature! When I'm out and about and pushing a stroller it's so handy to just let the fan hang from my wrist to use as needed!!!
Check Price For Handheld Fan Here!
Inflatable Lounge with Headrest & Cup Holder
Laying out and reading is one of my absolute favorite self-care activities and the BEST is when it's hot and the pool is cool and I have the ultimate lay-out float to read my book and soak up the sunshine, so of course I had to add it to my summer essentials for moms list!
Again, I've done my homework on floats. I've invested in some pretty fancy pants floats over the years but my favorite? A good old inflatable from Amazon. This is another item that when it pops or gets a hole in it, I don't even question it – I replace it right away. The kids know that this is MOMMY'S float and they aren't allowed to jump on it or rough house on it. It's basically my thrown for summer 😉
When it comes to laying out in a float you want that perfect balance of not being TOO dry but also not TOO wet and this float achieves that. I love the foot cut out to put my legs through and it allows me to grip my toes on the stairs or side of the pool if I need to stay more stationary too. I also love the back of the float and the armrests. I can relax comfortably without worrying about my hair getting messed up. Plus, duh, the cupholder is essential for holding my phone or water bottle!
Check price For Inflatable Lounge with Headrest & Cup Holder Here!
Off Shoulder One Piece Swimsuits
Finding the best "mom bathing suit" can be a hardcore struggle. I know everyone has their own opinions but I'm personally a one-piece bathing suit kind of person and we are also raising our girls to only wear one-piece suits for as long as they live with us anyway!
The goal with a bathing suit as a mom is to find something that is flattering while also not looking like a grandma. That has coverage without looking like a mumu. That allows you to bend over and pick up a kid without flashing the world.
I discovered these suits a few years ago and have like 5 of them at this point in a variety of colors and patterns. They are THE ultimate mom-suit! I LOVE the ruffle as it's cute and allows for no tan lines! The suit is super comfortable and super flattering and I LIVE in these all summer long!!!
Check Price For Off-Shoulder One-Piece Swimsuits Here!
Summer Essentials for Moms: Cover Up Pants
I was raised from early childhood to never walk around in just a bathing suit. Team cover-up for life over here!
The last few years though I've really been loving the ruffle one-piece swimsuit I shared above and the only downside about it is that you really can't wear a coverup over it. It's awkward looking and bunches up!
I found these cover-up pants last summer and they changed the game for me! I own the white and black (and am on the hunt for others to add to my collection too). They are not only comfortable but also easy to toss in a bag and super simple to throw in the washing machine too.
They are VERY flattering and allow me to feel covered without feeling bulky or like I'm wearing too many layers in the dang summertime heat. They look awesome with the ruffle bathing suit and turn it into a full LOOK! I ALWAYS get compliments when I wear this combo!
Check Price For Cover-Up Pants Here!
Women's Rolled Cuff Jean Shorts
I think a common thing moms look for every summer is the perfect bathing suit and the perfect pair of shorts. I'm realllllly picky when it comes to my shorts. I don't like them too long and I don't like them too short. I've found that 4 inches is the IDEAL length for me but 4-inch shorts are a STRUGGLE to find.
I also don't like my shorts to fit super tight on my thighs and I'm not a stick-thin leg kinda lady. So I need shorts with some ROOM.
I have bought a billion pairs of shorts over the years and have spent all kinds of money trying to find that ultimate pair. Like probably seven years ago I had a pair from Old Navy that I STILL LOVE. They have fit me and looked cute during all body phases and stages and sizes and I've been on a mission to find more pairs that give me that same comfort and confidence as that old trusty pair.
This year I FINALLY FOUND THEM. And…they are from WALMART which is SO dang random! I very rarely have luck at Walmart! But these shorts are THE JAM and so dang flattering as well as very "on trend" as they offer that higher waist fit and are adorable with the front tuck look. I've bought them in every color.
Originally I sized up two sizes but I'm actually re-buying them in just one size up rather than two. I've lost some weight and the two sizes up one are just too baggy at this point on me so I'm going to see how the one size up works! They are stiffer denim so they don't have any stretch and that's why I def do recommend sizing up at least one size!
Check Price For Women's Rolled Cuff Jean Shorts Here!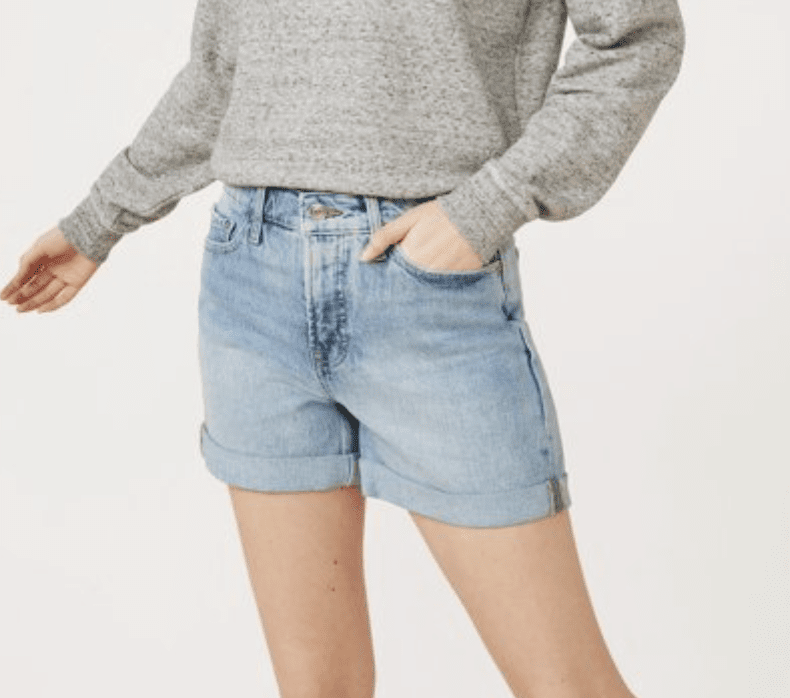 Short Sleeve T-Shirt Dress
Another one on the list of summer essentials for moms is that perfect summer dress. I LOVE a v-neck and LOVE an easy t-shirt style dress and these are a killer deal and killer find and so flattering and comfortable.
I've been wearing mine with my denim jacket tied around my waist to give some added shape to it too and I own them in several colors. I've been wearing them so often that I've actually added more colors to my cart too! For as cheap as they are it's def an item I don't mind buying several of!
Check Price For Short Sleeve T-Shirt Dress Here!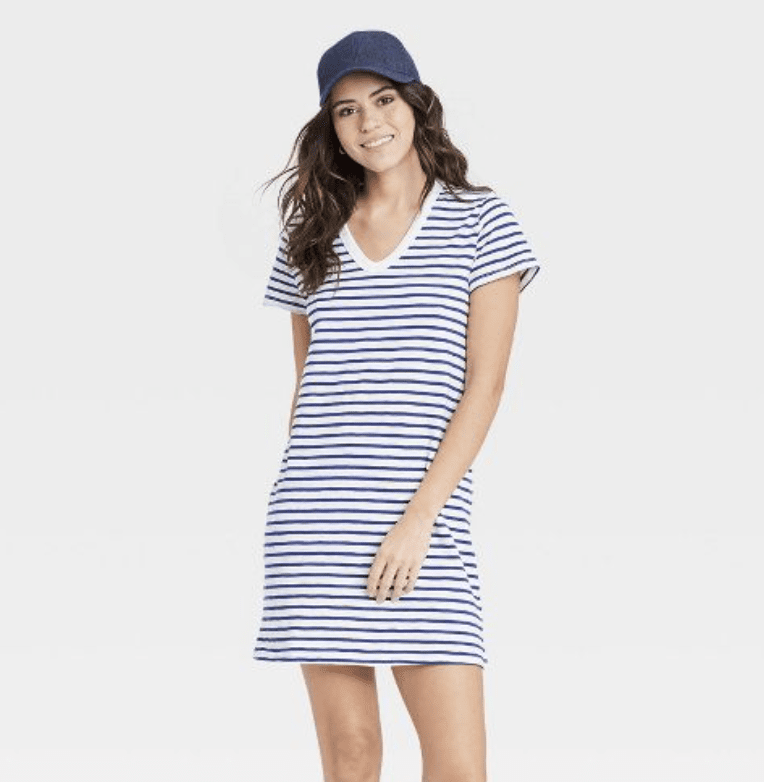 Summer Beach Straw Bag For Women
While I love the Bogg Bag for family outings that include a visit to any sort of body of water, I also use this purse non-stop as an everyday bag for on-the-go fun during summertime!
I've had it for several years now and it's an AWESOME summer look as well as amazing quality. I've used it on trips with friends and they've all bought it during our trip because it's THAT good. It looks great with any look (and can dress up even the simplest summer outfit).
It is the perfect size to fit ALL the things while also not being heavy. The straps are awesome and I never worry about them breaking on me…and I will fill this bag UP too. I've carried multiple water bottles around in it all day without any issues. There is also an inner zip pocket perfect for keeping things I need handy and the opening of the bag has a snap closure.
I've seen so many versions of this bag in shops with a billion different brand name tags on them and see them being sold for over double the price I paid and I still would always choose my version over any of the pricier ones I've found!
Check Price For Summer Beach Straw Bag For Women Here!
The BEST Baby and Toddler Pool
I know most of the items on this list are must-haves for MOM for summer but, trust me, this pool IS a "mom item" too. Especially if you're planning a beach trip with a baby or toddler for this summer. I am obsessed with this pool… so much so that I devoted an entire blog post to why I love it so much and why I cannot recommend it enough! We have a pool in our backyard and STILL use this pool too. It's WAY better than any water table or plastic fill-up pool for a baby or toddler. Read more about why this is the best toddler pool here.
Check Price For The BEST Baby and Toddler Pool Here!
You can also see my favorite summer essentials for moms in my Amazon Shop Here!
Summer Essentials for Moms: Final Thoughts
So there you have it, my list of summer essentials for moms! If you've used any of the products I recommended, I'd love to hear what you thought of them! And if you have any summer must-haves you just can't live without, feel free to share them in the comments!
Looking for More Outdoor Fun?
I have several posts about all of our favorite outdoor items for all seasons: