With summer right around the corner, it's a good time to start stocking up on all your swim gear. And if you have a child under the age of two, then that is most likely going to include a hunt for the best baby pool float!
Water safety is a big must when you have little ones. While it's super fun to splash around in the swimming pool on a hot summer's day, we all know the risks of swimming and it's important to stay safe and teach your kids how to swim as well.
Where we live even early spring can mean time outdoors and around the water and many local stores quickly sell out of must-have water activity items.
I am a HUGE believer in the benefits of water safety swim lessons and each of my four children has taken part in a survival swim class with an instructor. I don't play around with car seat safety and I don't play around with swim safety!
Our home has a swimming pool in the backyard so concerns about our children staying safe around water are something I have to be very mindful of and focus on.
You can read more about our adventures in water safety swimming lessons here!
Even if you don't have a pool at your home, children are still often around large bodies of water. And when you have a baby or young toddler, it's not enough to just put some arm floaties on them and watch them go.
Most of the time, they're just too little to know what to do, but it doesn't mean you have to exclude them from the fun or get an early start on teaching them how to swim by exposing them to water in a positive way.
Flotation devices are not recommended when it comes to water safety and kids.
Floaties, Puddle Jumpers, and other sorts of items give children a false sense of security around the water which can cause a child to have too much confidence around pools, lakes, and the ocean.
These devices can also give parents that same false sense of security which can result in parents not watching children as closely while around the water.
Children need CONSTANT, non-stop, adult supervision in and around any type of water. Yes, even the bathtub.
That's where baby pool floats come into play. When you have multiple children in the water at the same time it can feel like an impossible task to keep eyes on them all at all times.
As a mom of four, I GET the struggle. I always joke that a day at Disney World with all four of mine solo is wayyy less stressful than swimming in our backyard pool!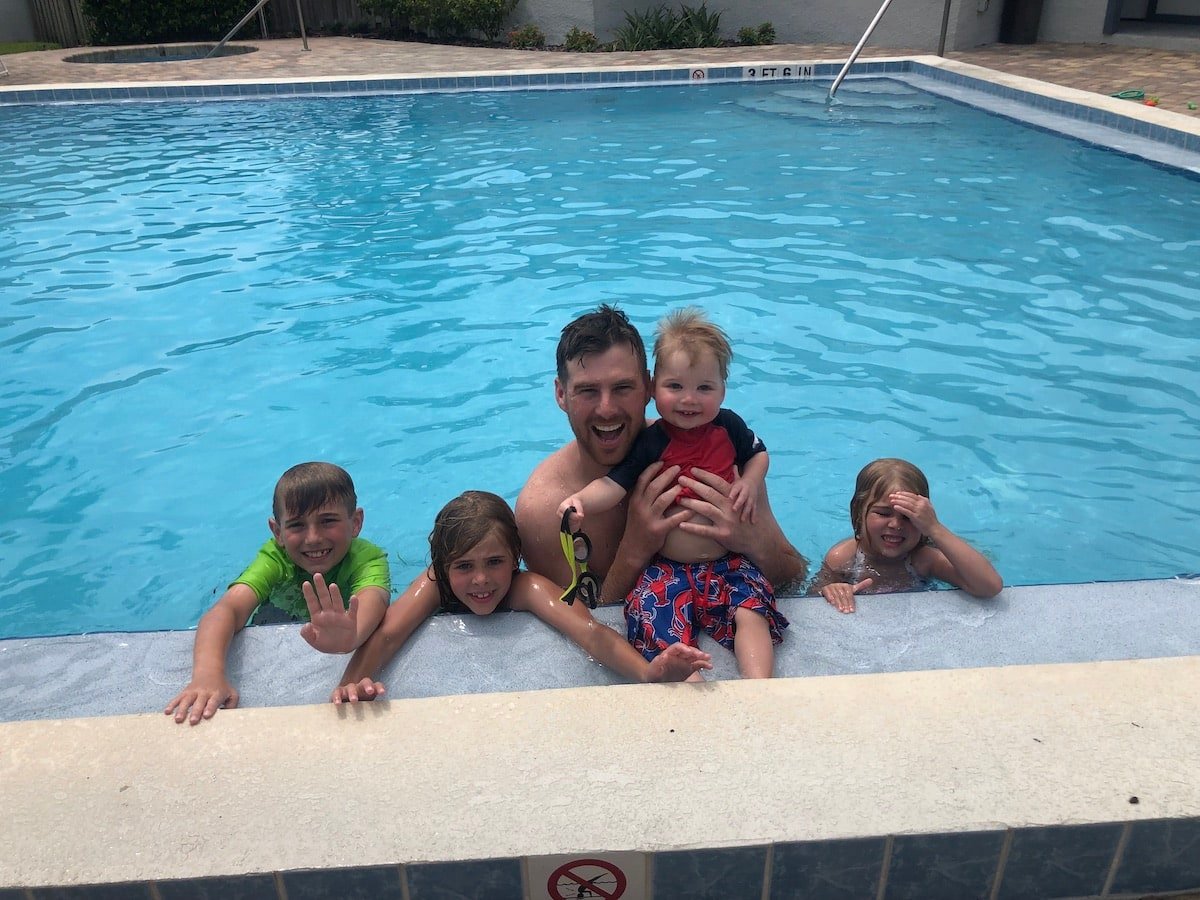 The key to being able to enjoy the water fun of summer months with multiple kids is to get the older kids swimming and learning water safety skills as young as possible and have a safe place for babies and pre-swimming toddlers to be able to be.
This way I'm able to keep my hands on the baby in the baby float while also keeping my eyes on the older kids at the same time in our own pool.
Inflatable float devices are designed to support a baby's head and body while still giving them a taste of what swimming is like and helping them feel comfortable around water from an early age before they are old enough to take baby swim classes or water safety lessons.
It's a great way to introduce them to swim safety from an early age while spending time together in the water!
Here are my top recommendations for the best baby pool float. It's a good idea to invest in a baby pool float prior to your new baby being around the pool area. Not only do they help to keep baby safe by having them at less than an arm's length, but positive water play discourages a fear of water and can hep your baby start their pool experience as a little water baby from the very beginning!
Disclaimer: post contains affiliate links and was originally published in April 2022 but has been updated for accuracy and current opinions.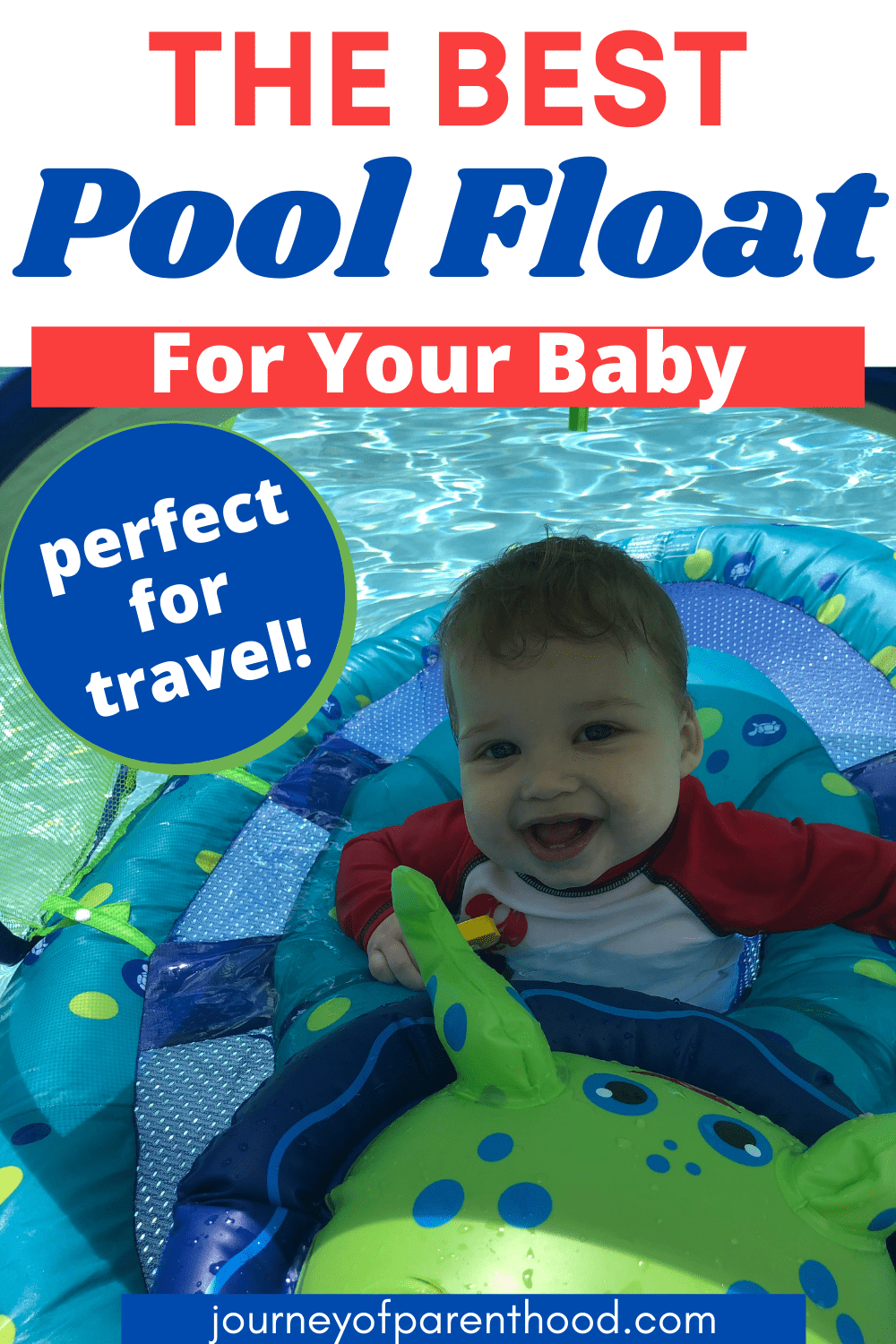 The BEST Baby Pool Float
Swimways Baby Spring Float Activity Center
The Swimways Baby Spring Float is the best baby float I've ever found and we've had great success using it with our babies through the years!
It comes in two styles: a blue octopus or a red lobster. Both are adorable, although the lobster is a bit more expensive for some reason, at least on Amazon. The blue octopus (which I recommend) is under $30!
It's great for a baby's first time in the water because it has a fun "activity center" built-in with pool toys and sensory toys that can help the baby build positive associations with the water! (And give them something fun to do other than float around!)
I am all about keeping my little ones occupied and entertained with toys and such so I can be freed up to keep my eyes locked on my older kids. The more the baby has to play with, the easier it is to be in the water with them.
The little toys are also excellent chew toys for babies. My youngest loved the little starfish foam toy and used it as a teether when he was teething. He loved it so much we stopped keeping it in the pool and started carrying it in my purse for on-the-go 😉
I also love how easy it is to get the baby in and out of this infant pool float. A free swimming baby and toddler is a baby and toddler who will be more comfortable with the water and catch on quicker to those survival swim lessons!
I try to make sure swimming baby time is part of our family water fun time each time we're in the pool – even if it's just a brief dip under the water. The more babies are exposed to water, the easier it will be to teach them potentially life saving lessons.
The swimming baby inflatable also has great safety features including sun protection (UPF 50+) with a removable canopy designed to block direct sunlight, child safety valves (so baby can't get to them) and dual air chambers (so if one inflatable ring pops, the other stays afloat).
It's made with a soft mesh seat designed to be cool and breathable and a broad base to prevent tippage! And, as an extra bonus, it's foldable for easy storage and transport!
The durable material is made to last and the leg holes are comfortable for baby's little legs.
Since our favorite infant pool float folds for easy storage and we have had ours for years and continue to keep it on hand for guests who come to visit and swim in our pool.
The ease of storage is BY FAR what sets this float apart as THE BEST. We can grab it and pop it open and boom it's ready to go for the water. No needing to spend a bunch of time inflating it.
And then when we're done it's a breeze to store so we're also not having to worry about it getting damaged or deflating or getting ripped or torn.
I have gone through SO MANY of the inflatable style of infant pools and toddler and infant pool floats. They are more of a pain than they are worth!
This one though? We bought ONE and it lasted us through two babies who were over 3 years apart in age and we still have it on hand for when babies come to visit!
An additional perk of the easy-fold and store design is that this pool float is excellent for travel. No worries about needing an air compressor to inflate it. No concerns over it popping or getting a rip. It folds up easy, includes a carrying case and is PERFECT for all your summer road trips or even airplane travels to the beach or other water fun-filled destinations!
Highly recommend as my top pick for the best pool float, especially for babies who are old enough to support their own head and neck since it's an upright float! And of course, parental supervision is still a must for any of these. Again, NEVER take your eyes (or hands!) off of your baby while in or near the water. 🙂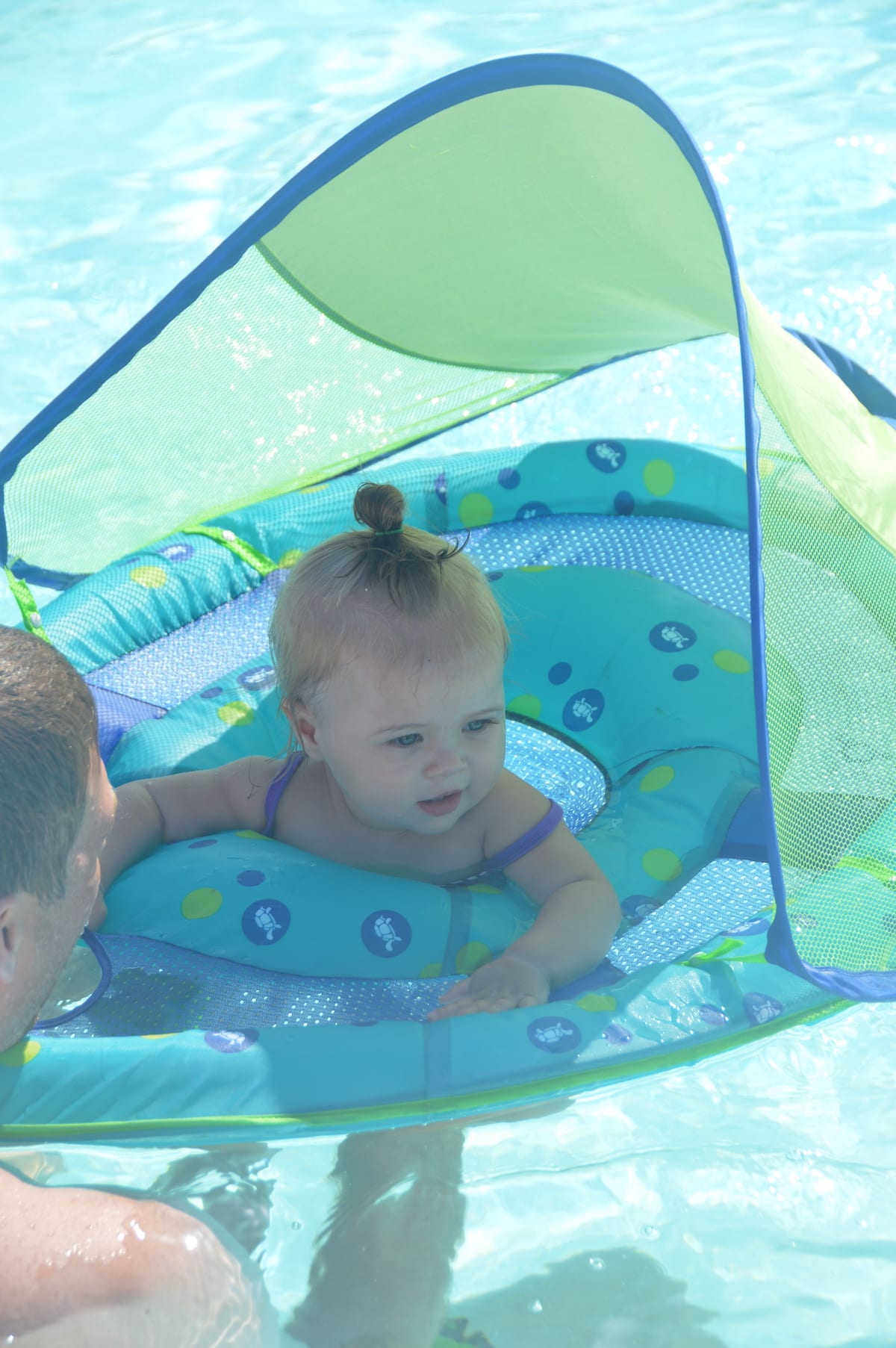 Okay without the toy? Swimways has finally made a toy-free version of their famous baby float at a lower price point!
Keep young babies within arm's reach with with this simply designed Swimways infant baby spring float that has the same removable sun canopy and comfortable holes for baby's legs!
Shop the Swimways Baby Spring Float Sun Canopy without the play center here!
I'm all about saving money and if this version was made available when my babies were infants I'd probably go this route and then just purchase some baby pool or bath toys to hand to baby while in the pool.
More Baby Pool Floats to Consider
Obuby Baby Float Ring
From my favorite baby pool float pick to my least favorite…
You may have heard of baby neck floats before and let me just be the first to say, I can't find a single good thing about them. They look incredibly unsafe and I would highly recommend staying away from them!
If you've considered purchasing a baby neck float then I'd recommend this model instead! It's about as close to a baby neck float as I'd get but even then, it doesn't really technically count as a true "neck float." I
t's still a float ring but the baby or toddler is leaning forward on their stomach and secured with shoulder straps.
This float is designed for young babies as well as older babies. It supports the arms, chest, and neck while their legs kick behind them, so all in all, a pretty neat design!
It has all the expected safety features but the really cool thing is that it comes in different sizes, making it a good choice for a small baby all the way up to a young toddler.
The Obuby comes in one color (blue/green) and the three sizes available are small, large, and extra-large. (No medium, I guess? Maybe it was redundant!) All are under $25 on Amazon!
Intex My Baby Float
This is another popular and well-reviewed baby pool float known for its signature yellow color and dual inflation chambers that make a double ring.
It's a simple design, but a good one! You have probably seen these at your local pool before. I know I have!
The smooth seat straps allow plenty of room for baby to grow into it and the inflatable back rest helps support baby's head and neck.
Its large circumference is known for being stable so while supervision is still required, you will be much more at ease while you're at the pool!
Prior to discovering our favorite pool float, I used these for my little ones.
I really didn't like how much of a pain it was to inflate and how it didn't store well between seasons. I try to keep pool floats safe from the heat in storage but so often they end up damaged and don't make it to the next summer.
Which is why I'm not a huge fan of inflatable floats and avoiding owning an inflatable baby pool as well.
I also wished it had some sort of canopy to block from the sun. Strange that a baby float doesn't offer any protection from UV rays or shade for baby's delicate skin, especially on baby's face but it works fine in a pinch but is for sure not my ideal choice!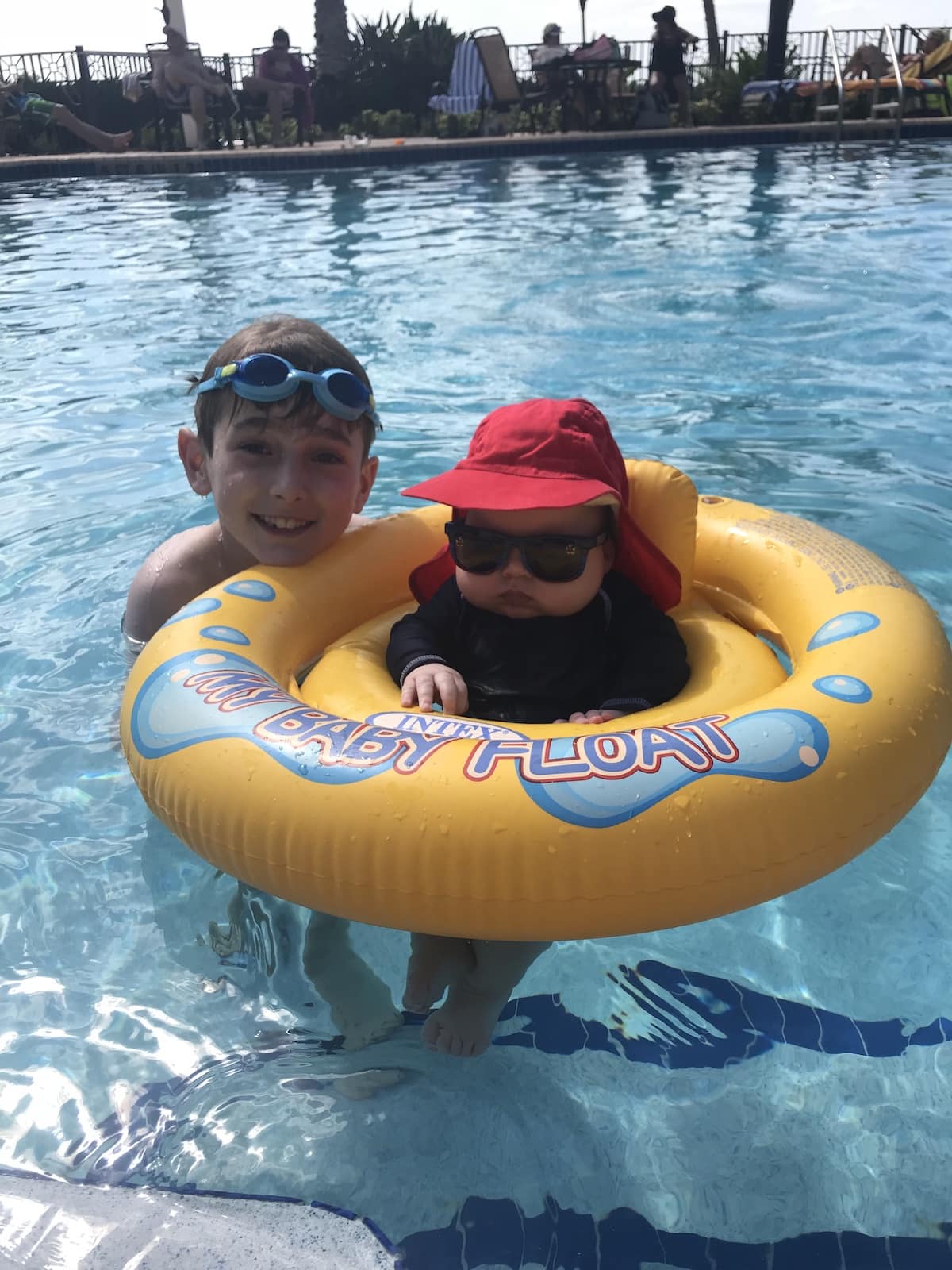 Laycol Baby Swimming Float
Here's another baby pool float that comes highly recommended, and this time we've got a detachable canopy! Definitely, an ideal feature if you're going to be in the hot, hot sun or on the beach. Protecting baby's skin is a must but it's easy to forget to reapply sunscreen on time!
Speaking of, if you need sunscreen tips, check out my post on how to keep kids protected during the summer months.
This Laycol Baby Swim Float baby float comes in four different colors: light blue, dark blue, pink, and yellow. All are priced differently on Amazon, of course, but all under $35! There are also different sizes available and these are all priced the same, which is odd but convenient!
Flamingo Baby Pool Float
For a fun option, you can never go wrong with a pink flamingo-shaped pool float! This is a baby-safe version of the popular pool party inflatable raft!
How cute would it be to get a picture of older children lounging on the swimming float with baby in the baby swimming float? Perfect for a flamingo themed birthday party too!
It has dual ring inflation and a removable sunshade, and the reviews say that it's very sturdy and well-made! Plus, it's under $20 on Amazon, which is a great deal for the quality!
We had one similar to this for my oldest daughter when she was an infant and the fully inflatable type of float is frustrating and limiting. It takes forever to inflate, is difficult to store, and the canopy just doesn't work all that well! YES, it's cute but it's just not super practical.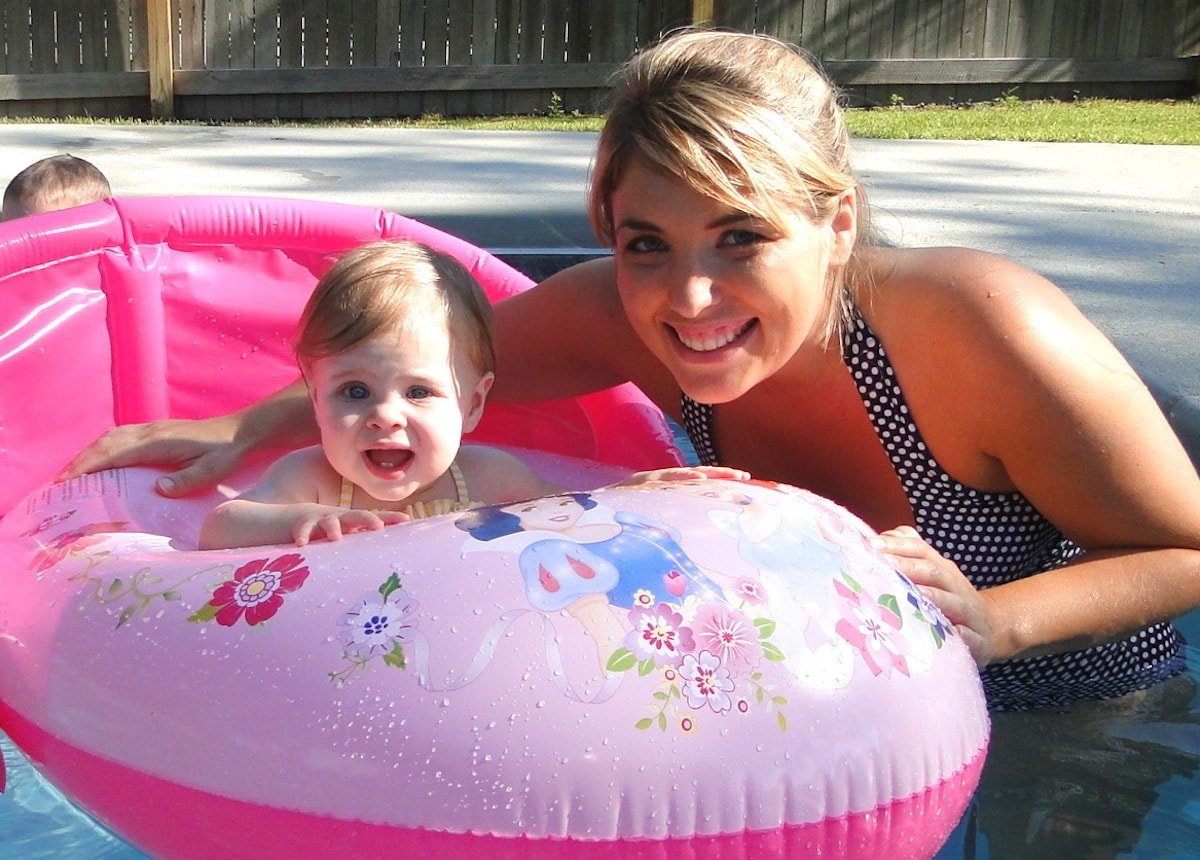 Eagleston Crab Pool Float for Babies
Here's another fun shape that babies and young children will love! This Eagleston brand baby pool float is shaped like a crab, but that's not where the party stops.
This one also has a sun canopy that offers UPF 50 protection and a safety harness to strap baby in. You can also adjust it so that baby is either leaning forward or sitting upright, making it a good choice for small babies and toddlers. Recommended for age six months and up!
It also comes with an air pump, which is handy, and is currently listed on Amazon for under $30!
Mambo Baby Float
The Mambobaby Float is a newer to-market float since my last update and it's one for infants and toddlers that I have not had personal experience with. However, the reviews look AWESOME and it makes me jealous that I don't have a little one to use it with!
Features I'm drawn to right off the bat are that it does not require inflating. It has a retractable canopy but it also features an adjustable strap harness for baby to wear offering extra safety measures for baby!
My favorite part though? That baby float suits two positions! Both sitting baby upright with a comfortable backrest and support for little heads as well as a raised front offering abdomen support for laying baby on belly!
LOVE the versatility of this comfortable seat for babies of all ages I just had to add it to my buying guide as I feel confident it's one of the best baby pool floats on the market today.
If you've had personal experience with this float I'd love to hear more about it!
Check out the Mambo Baby Float Here!
When Can Baby Go in Chlorine Pool?
While considering which baby float is the best baby float for swimming pools it's also common to ask when can baby go in a chlorine pool?
As of publication date the American Academy of Pediatrics does not have a firm recommendation regarding when to baby on their first trip to a chlorine pool.
We all know a chlorine pool, even saltwater pools, involves the use of a variety of pool chemicals. It's important to keep that in mind when testing the pool water with your baby.
Not only is it important to keep any potential effects of chlorine and skin irritation or potential allergic reaction but it's also important to test the temperature of the pool prior to taking baby swimming.
A warm pool is desirable over a cold pool but it's also important not to have the water temperature be too warm either. Young babies are unable to regulate their own body temperature so taking your infant swimming in pool water with temps similar to the warm bath they are used to at home is always a good rule of thumb!
As previously mentioned, we have a pool in our backyard so all of my babies owned the smallest sizes of swim diapers and were experiencing pool days with family members from a very young age.
I do have one child with eczema so we are mindful to rinse him off following swim sessions and later him up with highly moisturizing lotion to help prevent his skin from becoming too dry or irritated after swimming.
Deciding the age to take your baby into a public pool, wading pool, family pool or other natural bodies of water is a personal decision as to your comfort level and what you feel is best for your baby and unique situation.
What About Baby and Toddler Pools?
If you're visiting the beach or going to a pool party with lots of kids around, you may not want to get in the water with your baby or toddler.
In some situations, it can be too anxiety-inducing as a mom to have to keep and eye on everybody AND let your toddler swim.
That's when you need an inflatable toddler pool beside you so your little one can splash around and have fun without you having to worry!
Again, still keep a constant eye on your toddler but I have found that putting just a little water in the bottom of a toddler pool can make my life a LOT easier when my kids swim in the summertime.
An advantage of using a little pool water location for baby is that it also allows baby to avoid being in the chlorinated swimming pool water with chemicals that may cause skin irritation their sensitive skin.
Having a wading pool is also a great way to introduce baby to the fun of pools while minimizing the effects of chlorine. It does not, however, minimize the drowning risk! A baby (or toddler) can still drown in a small pool. Just as important as it is to keep constant eyes on your baby in a larger body of water, it is still equally important to keep constant eyes in a kiddie pool too!
One of my best swim safety tips with little ones is to keep them in constant "touch supervision" meaning you're close enough to touch them at all times!
Over the years we have learned a LOT about baby pools and toddler pools and have discovered THE very best toddler pool option! Check it out here! (Hint: It's NOT an inflatable baby swimming pool like you may be expecting!)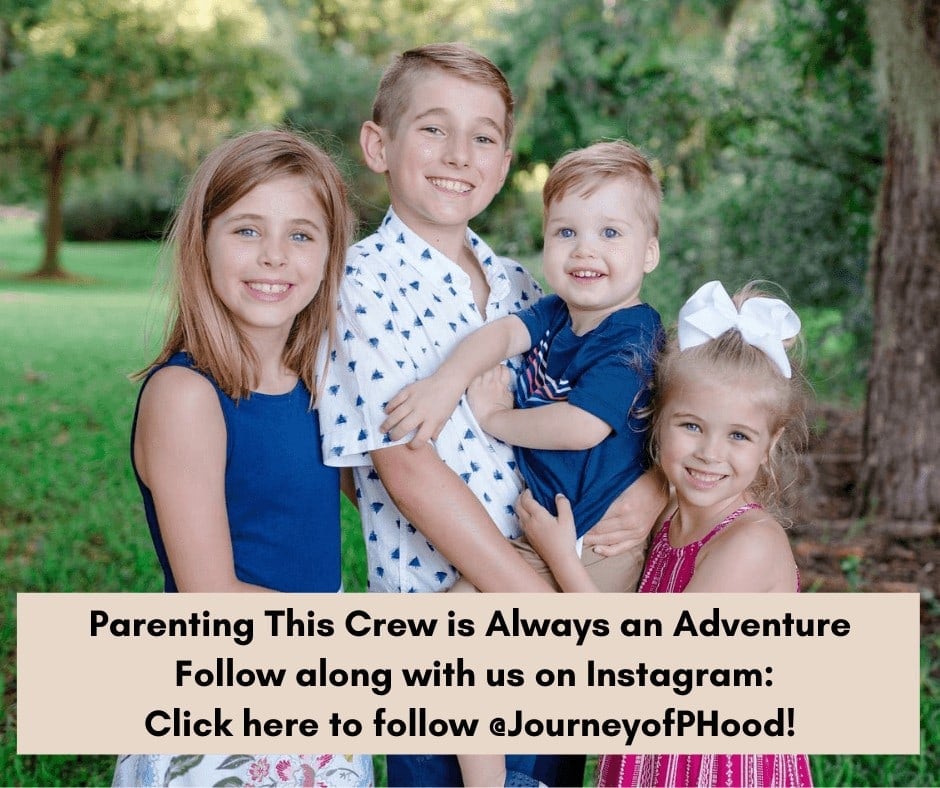 Best Baby Pool Float: Final Thoughts
Swimming should be a fun summer activity for the whole family, not just for adults and older kids!
By introducing your baby to water at an early age, you'll be building positive associations with swimming and swim safety that'll last them a lifetime!
And having a good baby float with ensure that your little one is safe and happy as you soak up the sun and float baby around the pool!
Just keep in mind that all of these swimming pool floats are designed for babies old enough to support their own heads to older toddlers learning how to swim on their own.
As always close supervision is required no matter what.
Are there any favorite baby floats you've found that aren't on this list? Feel free to share them in the comments!
See all our swim safety posts for all 4 of our kids here:
Other posts you might like: