While summer seems to be a popular time of year for family photos, the cooler seasons are a great time to take pictures, too! If you're wanting to plan family photos in the fall or winter, here are some of the best family picture ideas for outside – perfect for natural light photography and for those must-have Christmas card photos.
Honestly, I think the fall and winter seasons often get overlooked for family photos. Sure, it's usually a bit colder, but those fall colors are gorgeous and that winter snow for those who get to experience it? Breathtaking!
Definitely one of the best things about fall and winter photos are all the possibilities that open up that the warm months just can't offer! It's the perfect time to get those holiday card photos squared away or to snap some updated pics for social media!
We've done fall family photos and winter family photos before and they've all turned out great! Though I'll admit we live in a typically warmer climate, so we didn't have to bundle up as much. But just because it's cold where you are doesn't mean you can't have a great family photo session!
As long as you layer everyone up and have a game plan, you'll be set up for success and get some great pictures!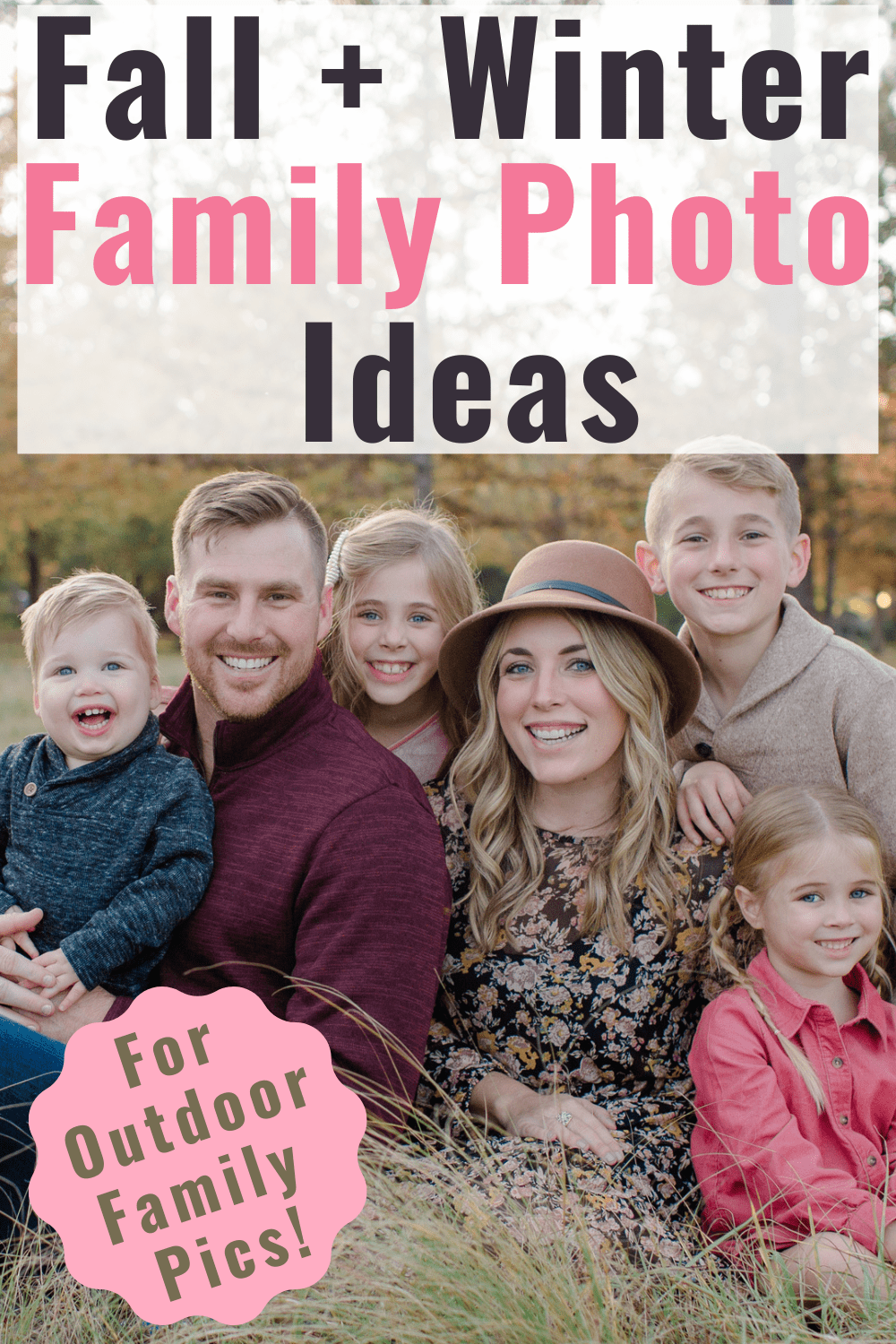 Before we dive in, let me answer some common questions with these tips on getting amazing pictures outside in the fall or winter:
1. Plan it well in advance so the entire family knows what's coming! That way, you also have time to get everyone's outfits together.
2. With that said, plan your outfits! The pictures will look better if there's a common color scheme, though not everyone has to wear the same thing. You can choose any color palette you like, from seasonal to neutral to bright and bold!
3. Hire a professional photographer who specializes in family portrait photography. A good photographer is worth their weight in gold and will make the photoshoot experience so much easier! If your friends and family members don't have a recommendation, Facebook or Google-search photographers in your area and do some price comparison. Trust me, it makes a huge difference to have a family photographer on your side!
4. Take advantage of the natural terrain. If you have access to woods, mountains, a river, a lake, or any other natural landmark, use it as your backdrop! Fall photo shoots and winter photo shoots benefit AMAZINGLY from letting nature do the work!
5. Local parks and other easily accessible areas are also great locales for fall and winter photos. Here are some ideas:
Fall family pictures: a corn maze, an apple orchard, a pumpkin patch, hay bales, or just a place with lots of colorful leaves!
Winter family pictures: Christmas tree farms, evergreen forests, snowy hills, frozen ponds or lakes, anywhere with lights (especially if you're looking to do some Christmas card photos!)
6. Choose the right time of day. Natural light is the best light, but the harsh mid-afternoon sun can really make it hard to get the best photos, especially of small children. (Squinting, you know!) The "golden hour" is so popular with photographers because it's when natural light is at its best: that's usually at dawn or dusk. If you can take advantage of the best time of day, do it! A huge perk of planning family photos during the fall and winter months is that the magical hour is earlier in the day since Daylight Savings Time has ended. This is ideal when photographing little ones as they aren't having to stay up late to take the photos!
7. If it's cold, plan accordingly: extra blankets and coats for when you're not posing, hand warmers, and even some hot cocoa in a thermos! Having props and accessories is always a bonus with family photos so this is a great chance to work the cute stay-warm items into the session too.
8. Make it fun! If you have young children, you know how difficult it can be to get them to stay still for more than two seconds. Getting candid shots of them running, playing, and having fun can help offset some of that energy. Also, bringing drinks, snacks, and activities helps give them an incentive, too!
Get ready to add some great family picture ideas outside to your Pinterest board!
Fall Family Photo Ideas Outside: Our Family
Here are some great family picture ideas outside in the fall… though depending on where you live, this might be what winter looks like for you, too! Below are some photos from our Fall 2019 family photo session as well as others of our fall photo shoots followed by some other gorgeous fall photo shoots from around the web!
All of our family session photos are taken by the mega talented Captured by Colson. If you're in the South Georgia, North Florida area be sure to reach out to her for your wedding, senior, or family portrait session.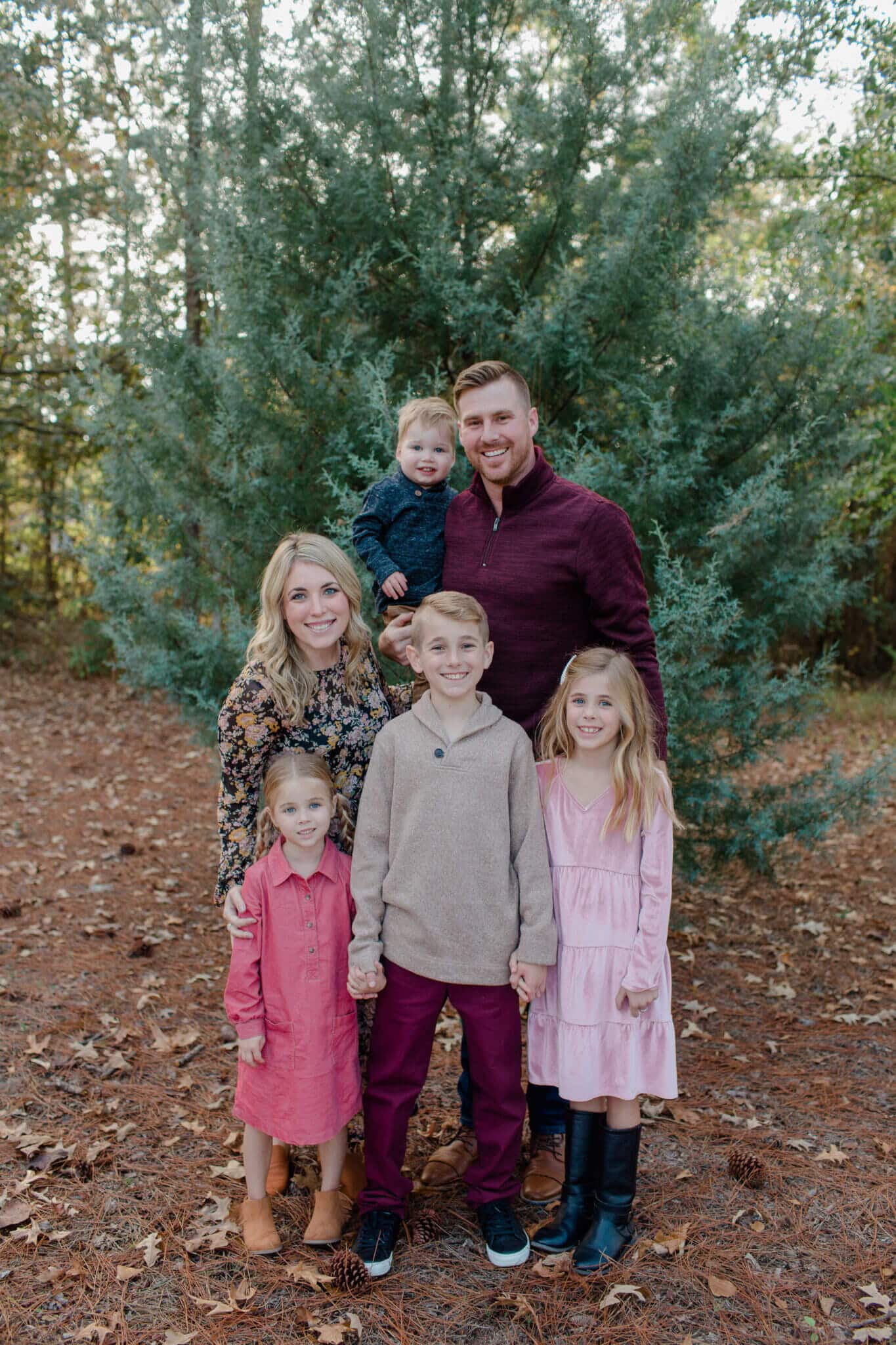 We decided to go for a jewel-toned color scheme that year and I just love how well all of our outfits blended together! It kind of bridged fall and winter which is perfect if you're planning to use your fall pictures for your holiday cards!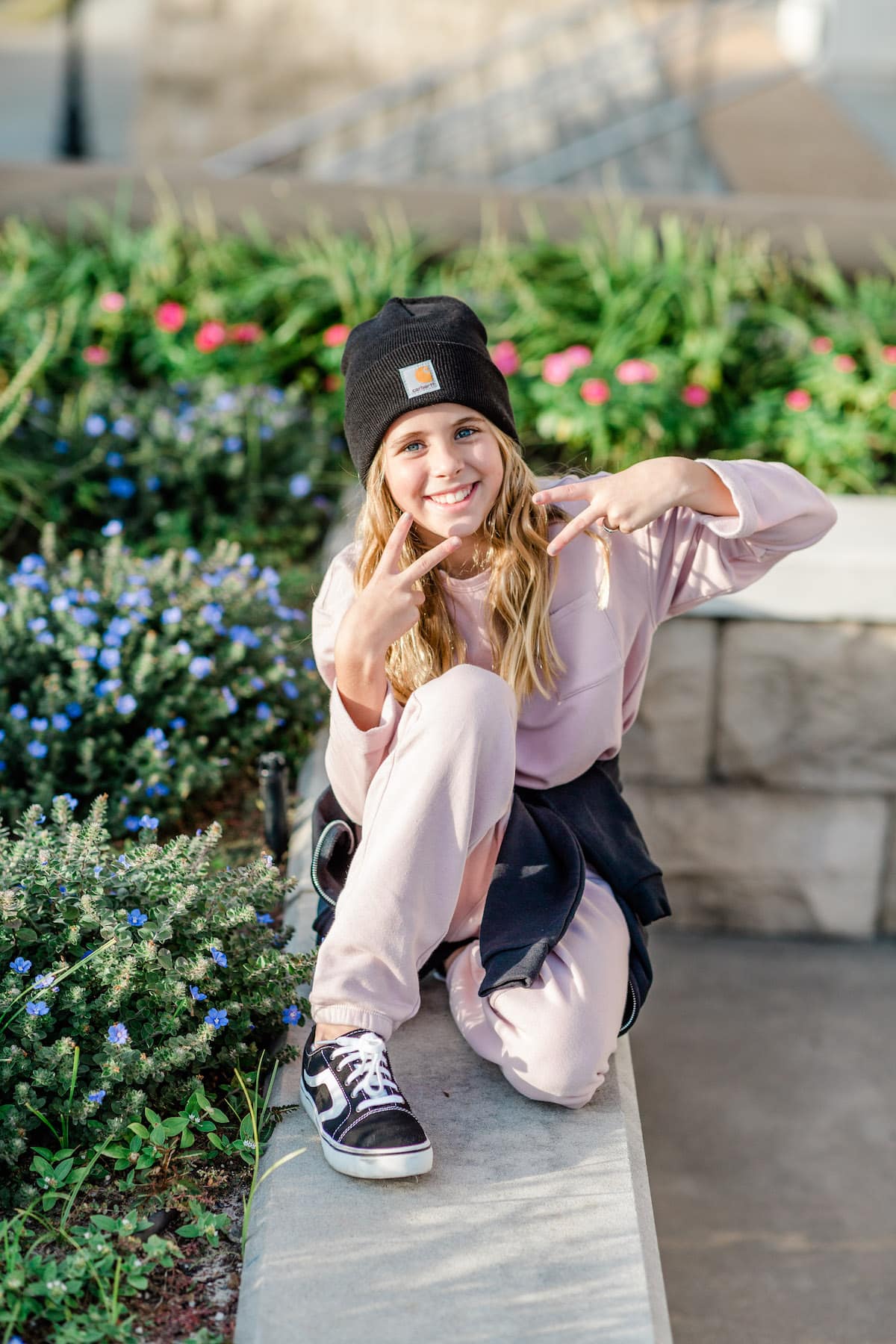 For our fall 2021 family photo shoot we went all in on the fall chill vibes and wore beanies and sweats and took the photos at our downtown courthouse to really tie in the urban feel of the session. These were some of my favorite family pictures to date!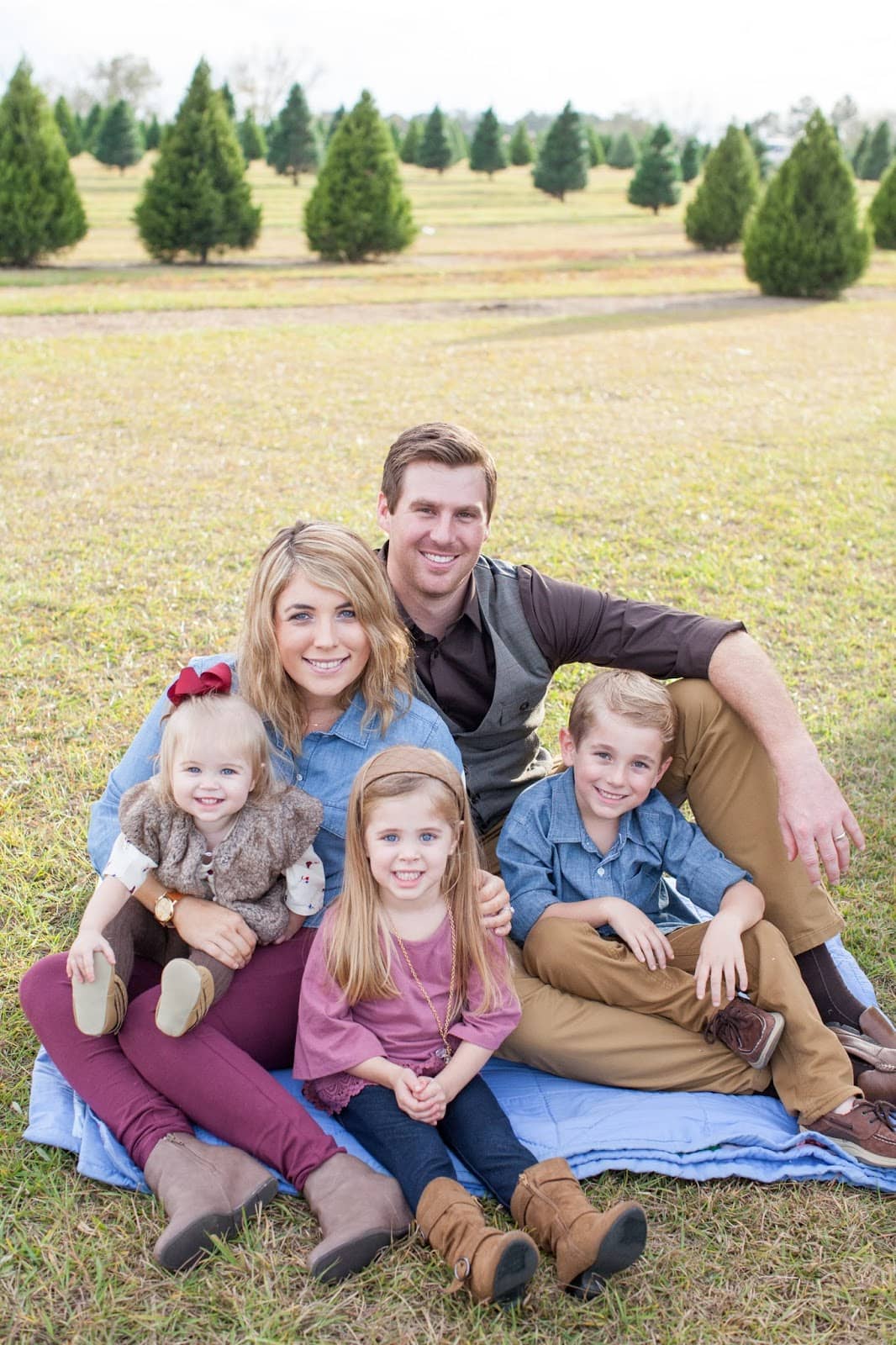 We have also had some fall family photos taken in our local Christmas Tree Farm. We combined color schemes that went well with fall but the winter vibe that a tree farm brings. I'm so glad we had these photos taken at this location because it was always a special Christmas tradition in our family to cut down our own Christmas tree together and now the tree farm has closed down. I love these of Tess so much that I have the one of her framed by herself on display in her treehouse bedroom!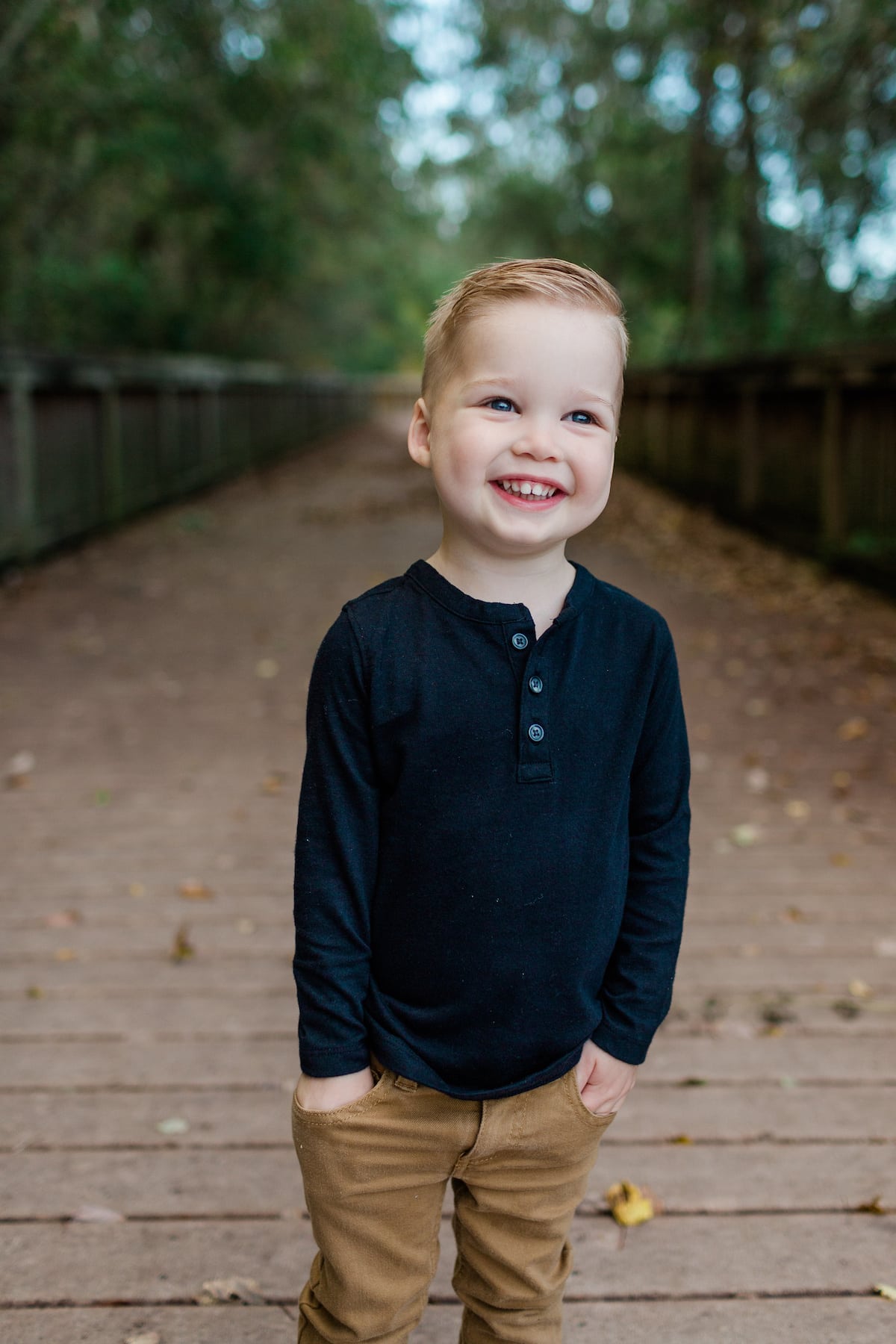 In the fall of 2020 we went with classic plaid for our photo session with pops of tan and gold to really give that fall vibe. Even though we live in South Georgia we do have a few trees change color and a couple of leaves fall now and then 😉 We were able to find this gorgeous spot at a local park!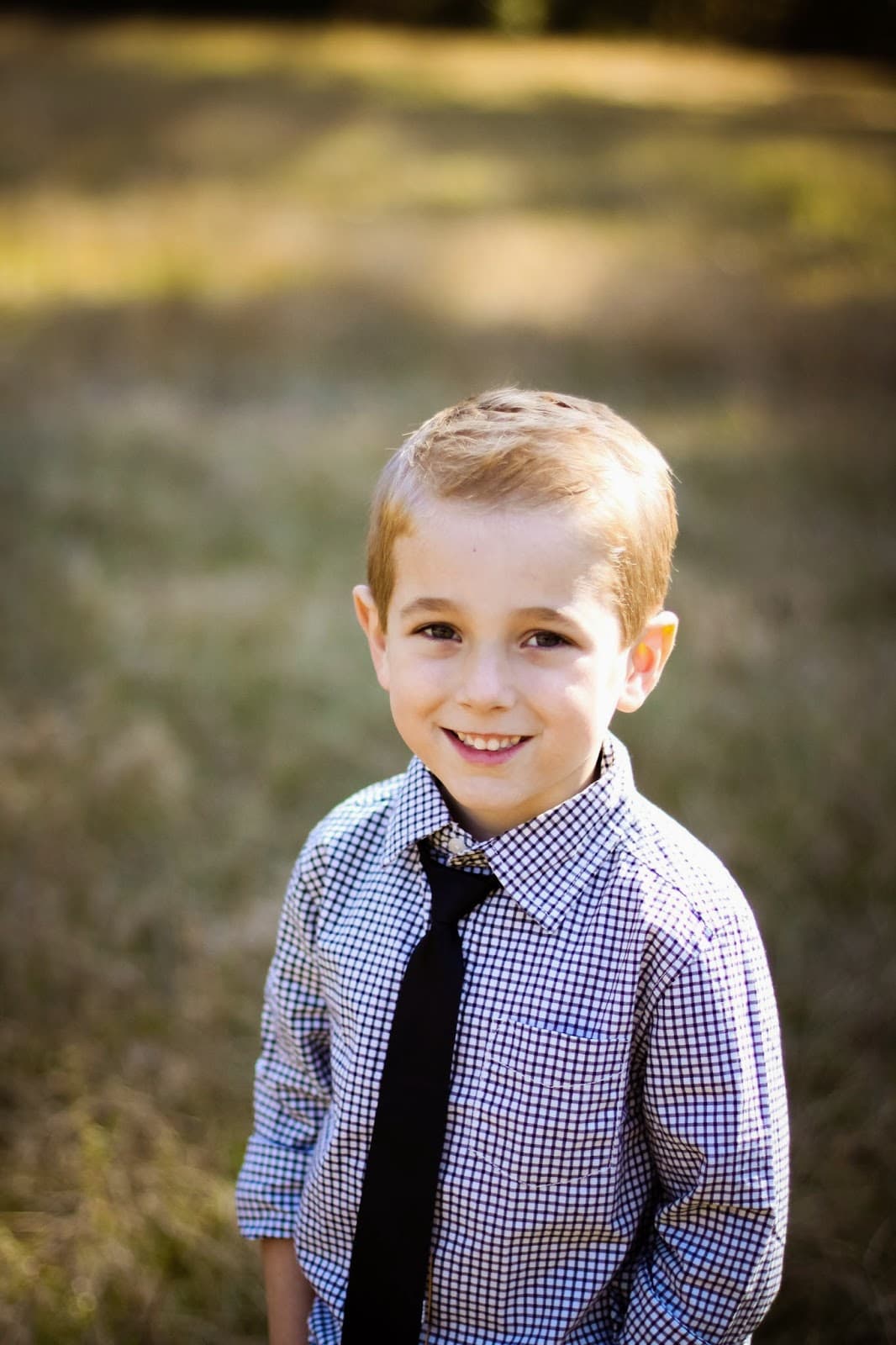 In the fall of 2014 we did a similar black and white color scheme for our family photos. A great tip when you have a baby in colder months is to be sure to have plenty of layers to help keep the baby warm and happy. It was easy to achieve with our smiley little joy baby! Even if you live in a warmer climate where there aren't a lot of fallen fall leaves or autumn colors you can still give the appearance of cooler weather by having the setting sun in your session and using a patch of dying grass 😉
Fall Family Picture Ideas Outside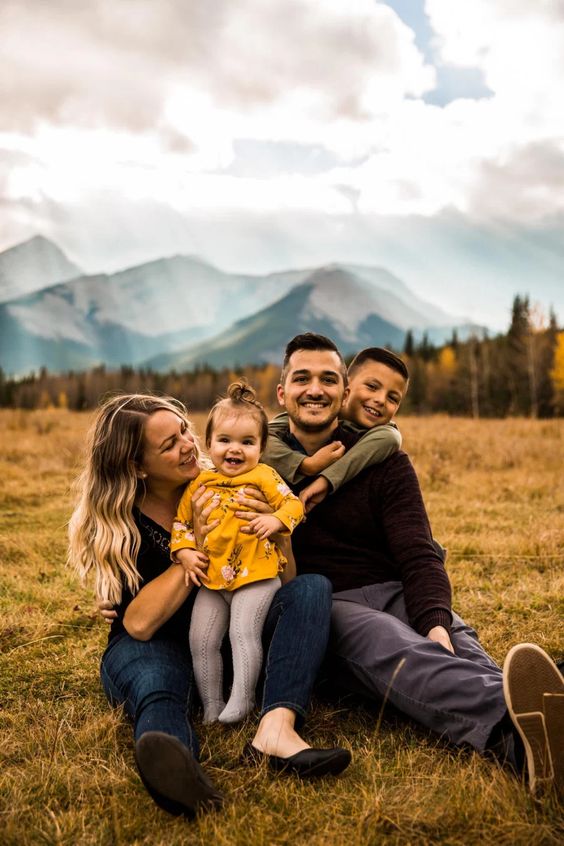 How nice is it to have access to mountains? Whether you live near a mountain range or not, finding a location that takes advantage of your region's fall colors is a must! This family's decision to dress their little girl in yellow really makes everything pop!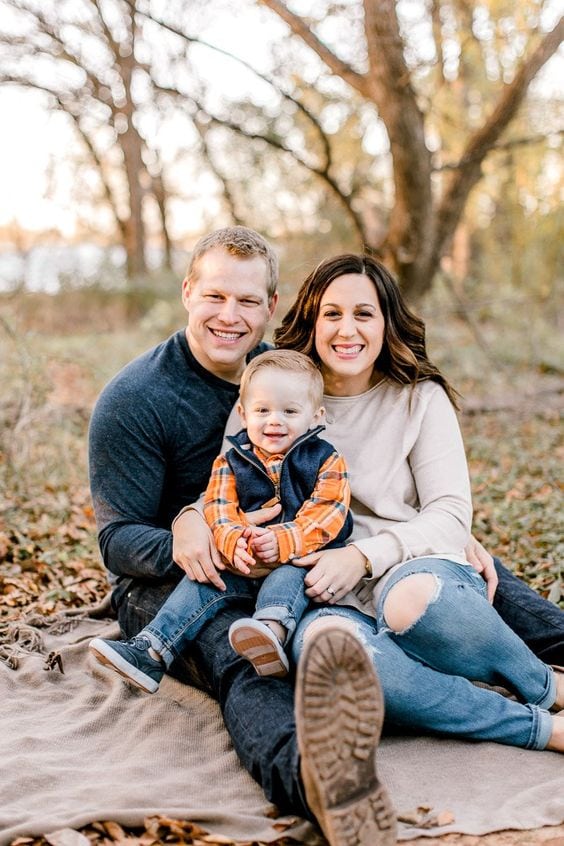 With fall photos, you can never go wrong with a blanket spread out on some fallen leaves! Even if they aren't super colorful, the neutral backdrop actually helps keep the family as the focal point!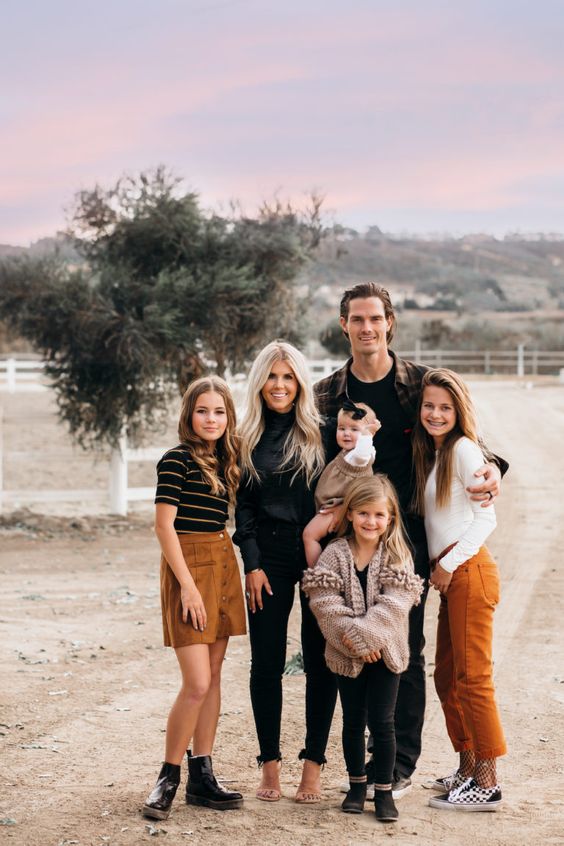 Even if you don't live somewhere with falling leaves or wooded forest, you can still get some stellar fall photos by using what you have available. I love this family's decision to let that desert landscape do the work and then dress in fall colors to set the tone! A family farm is always a great spot for the perfect meaningful outfoor family photo.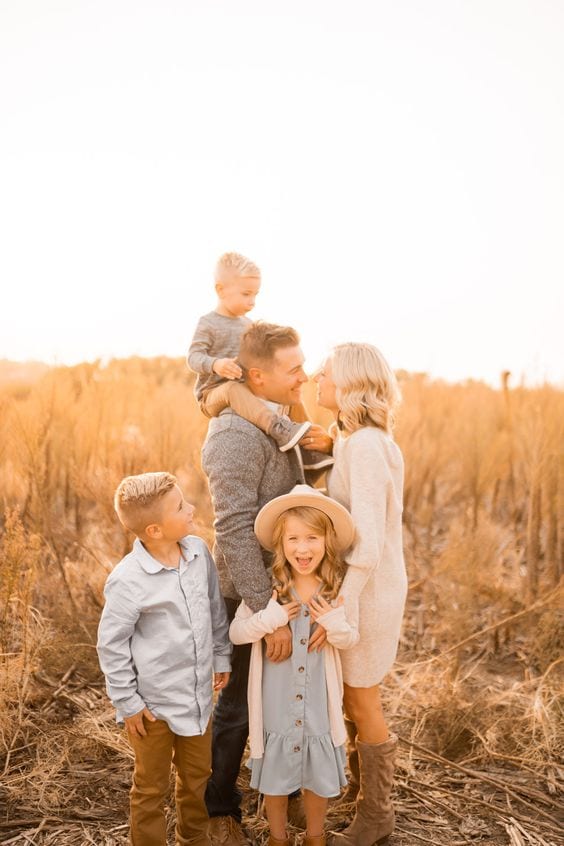 A good photographer will know how to take advantage of their surroundings, which is why it's such a great idea to find one who's done a lot of family photography! What looks like dried-out crops takes on a soft, warm look that really makes the family glow and allowing each child to showcase their unique personality in this more candid shot is a fabulous family photoshoot idea!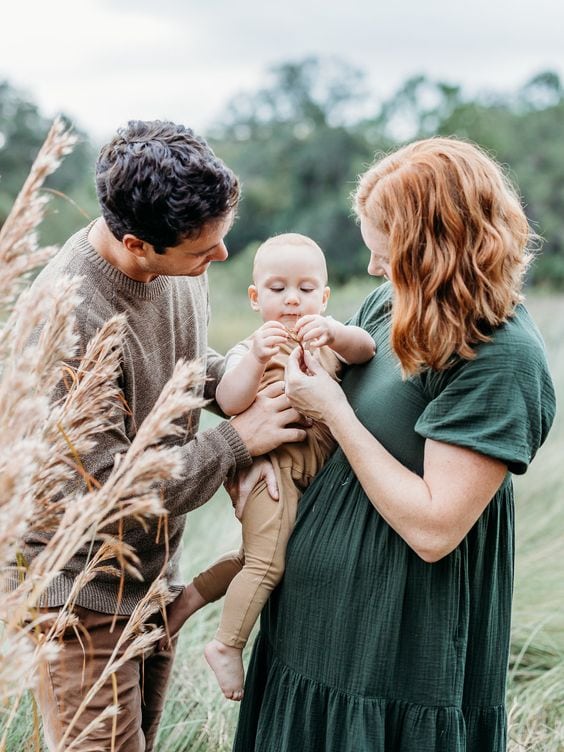 If your region is still pretty green this time of year, lean into it! Neutrals and jewel tones make beautiful fall family pictures, and native plants and greenery make a great backdrop!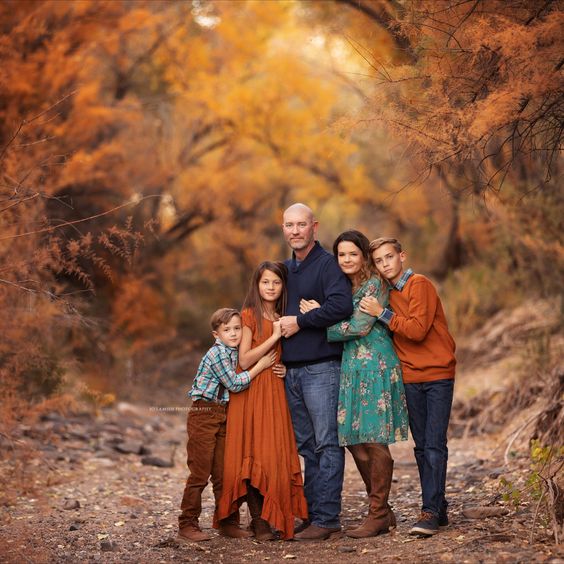 Of course, if your region really blooms in the fall with vibrant colors, lean into that, too! Finding a good clearing in a local park or forest frames the photo perfectly and gives it that breathtaking pop of fall color! Such gorgeous outdoor family photos.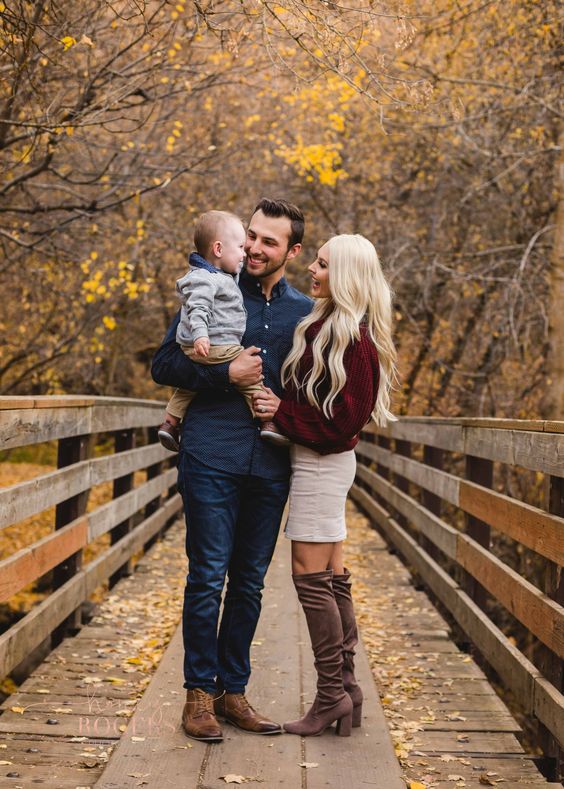 An old bridge also makes a great location for a family photo session. It frames everyone perfectly while adding some visual interest! Bonus points if there's some fall leaves or freshly fallen snow on the bridge, too!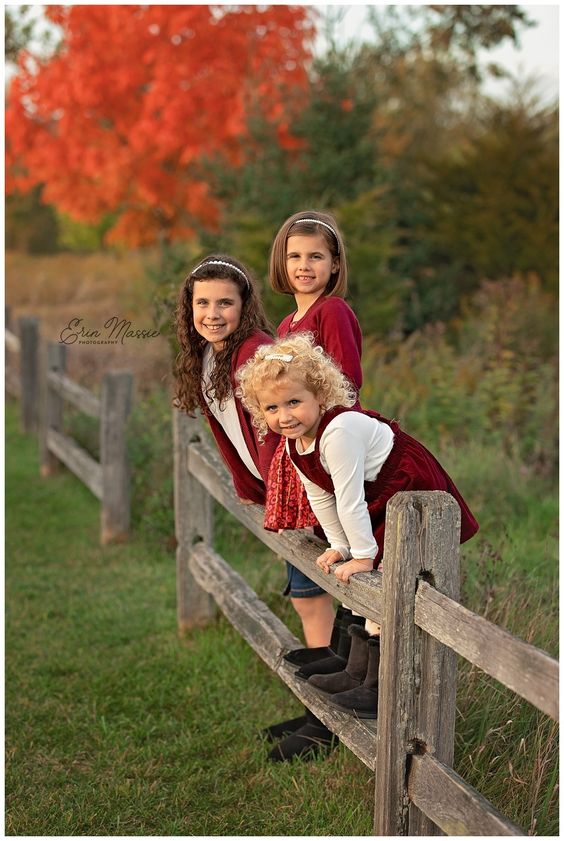 This is a cute idea for the kids if you have access to an old country fence like this one! It's always fun to have your photographer find creative angles, especially if they're able to frame some fall color in the shot, too! Such pretty colors for outdoor family photos.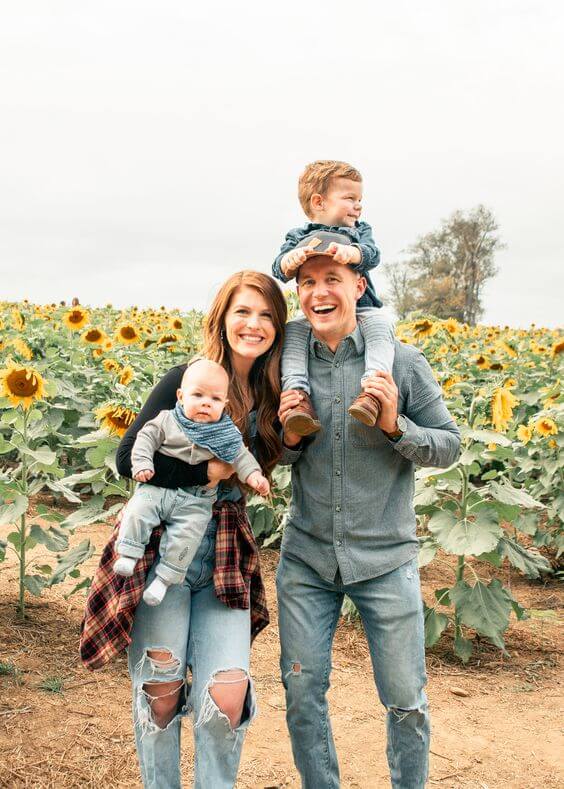 Love, love, love the idea of a photo shoot in a sunflower field! It's a unique take on a fall family photo shoot that makes for some really fun pictures with a beautiful background that just screams fall 🙂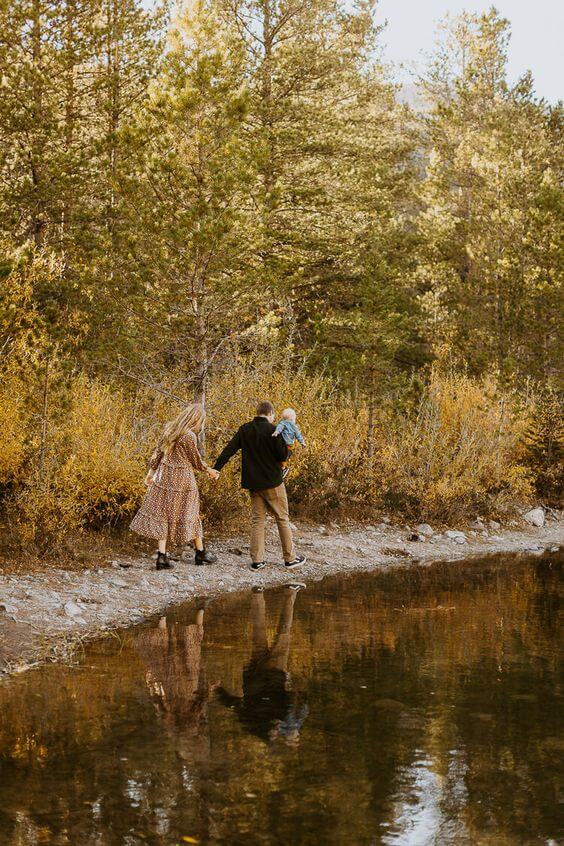 Another neat shot, and a creative idea if you have access to a nice body of water like a lake or a pond. Love the muted fall colors and the reflection of the family on the water – it looks like something you'd see in a painting!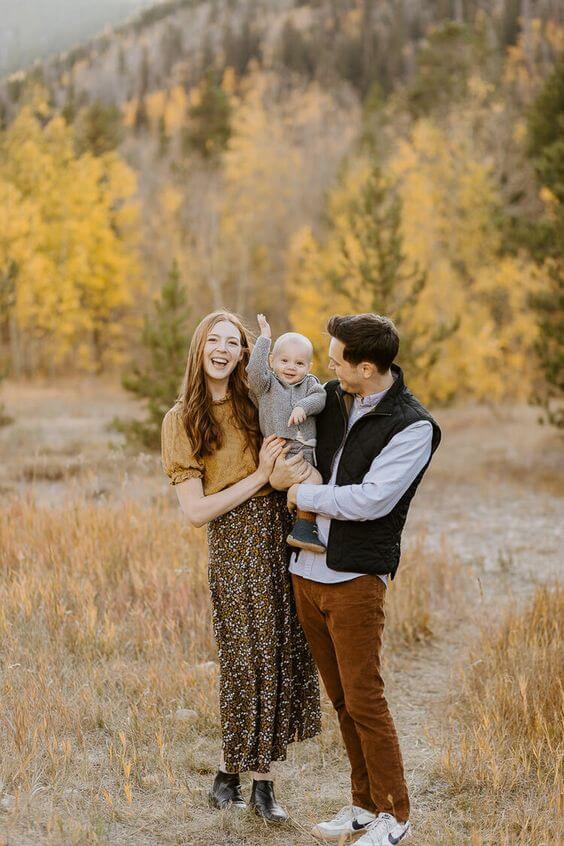 Once again, finding an area that really showcases your region's fall season is always a win when it comes to fall family photo ideas. Matching your outfits to the terrain is also a good call and really ties everything together!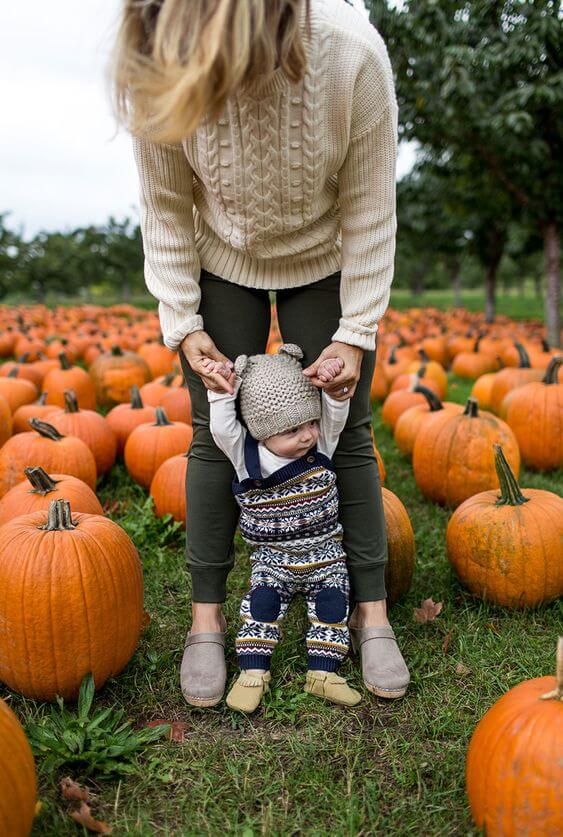 Of course, if we're talking about places to take photos in the fall, we have to mention the pumpkin patch: a fun, seasonal location that you don't get to see for the rest of the year! There are so many great family picture ideas outside that involve pumpkins!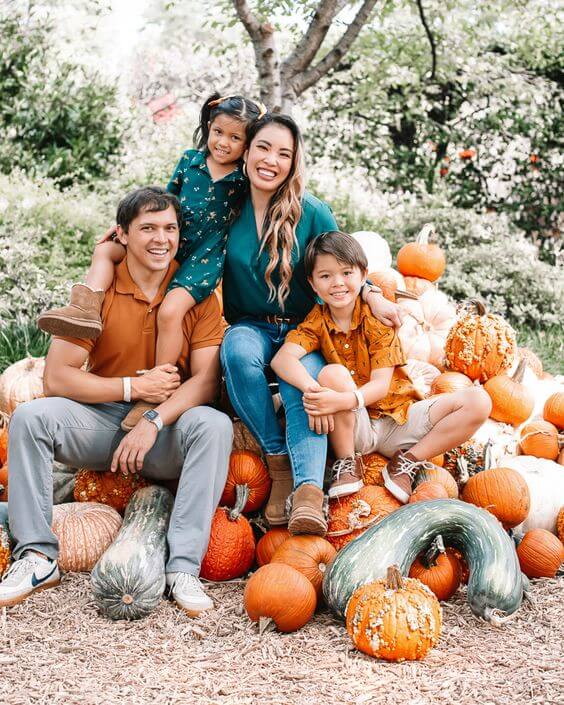 Another creative pumpkin patch idea: gather 'round atop a heap of ornamental gourds and, of course, dress in complementary colors that make the whole photo pop!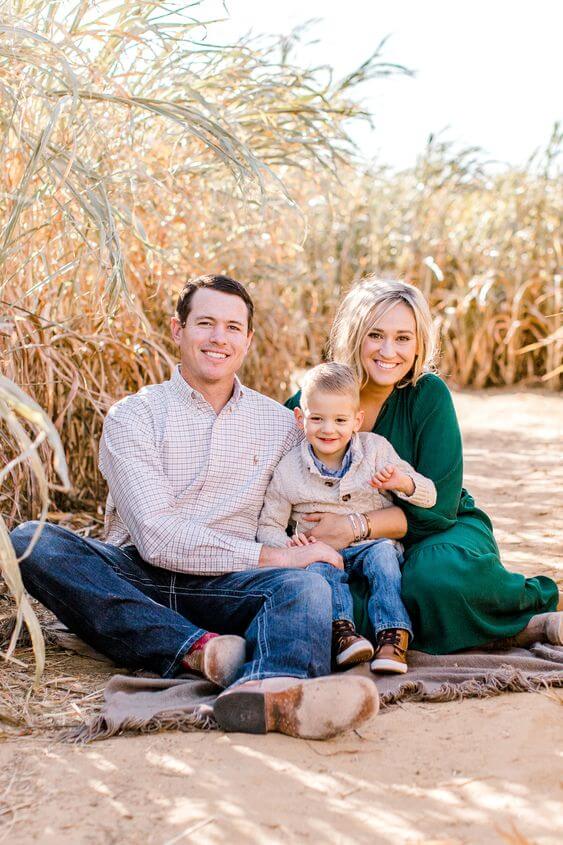 Why not take family photos in a corn field? It's a light, neutral background that lets the family's smiles shine through!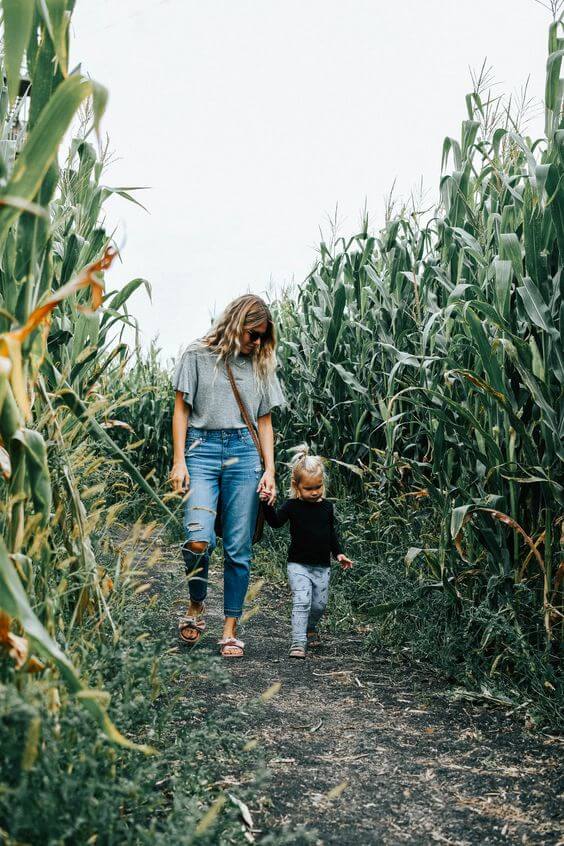 Walking through a corn maze is a great way to get some candid shots and capture a memorable moment!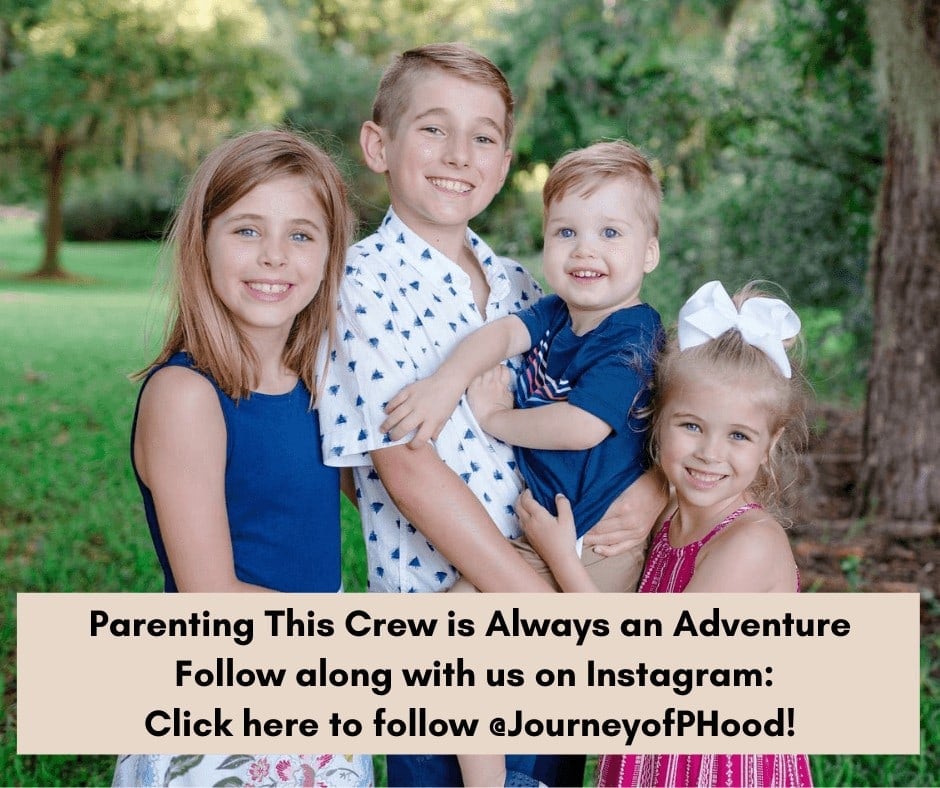 Winter Photoshoot Ideas: Our Family
Winter family photos don't always mean Christmas photos, though certainly they often coincide! Not every region gets snow, even in the winter, but that doesn't mean you can't get some incredible family portrait sessions! Below is our Winter 2018 session followed by some other lovely family picture ideas outside… snow or no snow!
I love looking at family photoshoot ideas and hope some of our outdoor family photoshoot sessions help inspire you for your own photoshoot ideas too!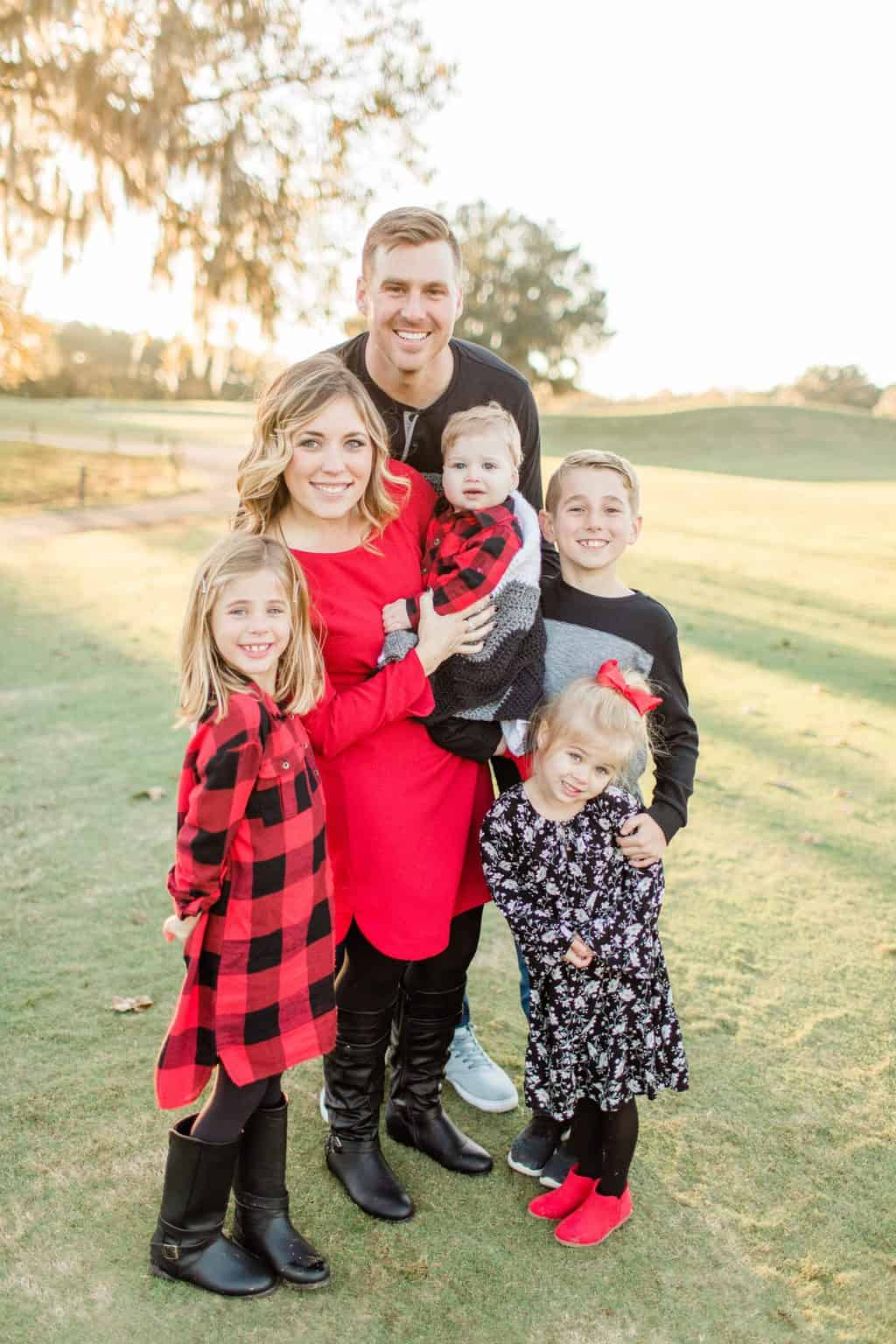 We really leaned into red and black for the color scheme that year and took advantage of some brick staircases for some great family portraits! (Even though it just so happened to be really cold that day for Georgia!)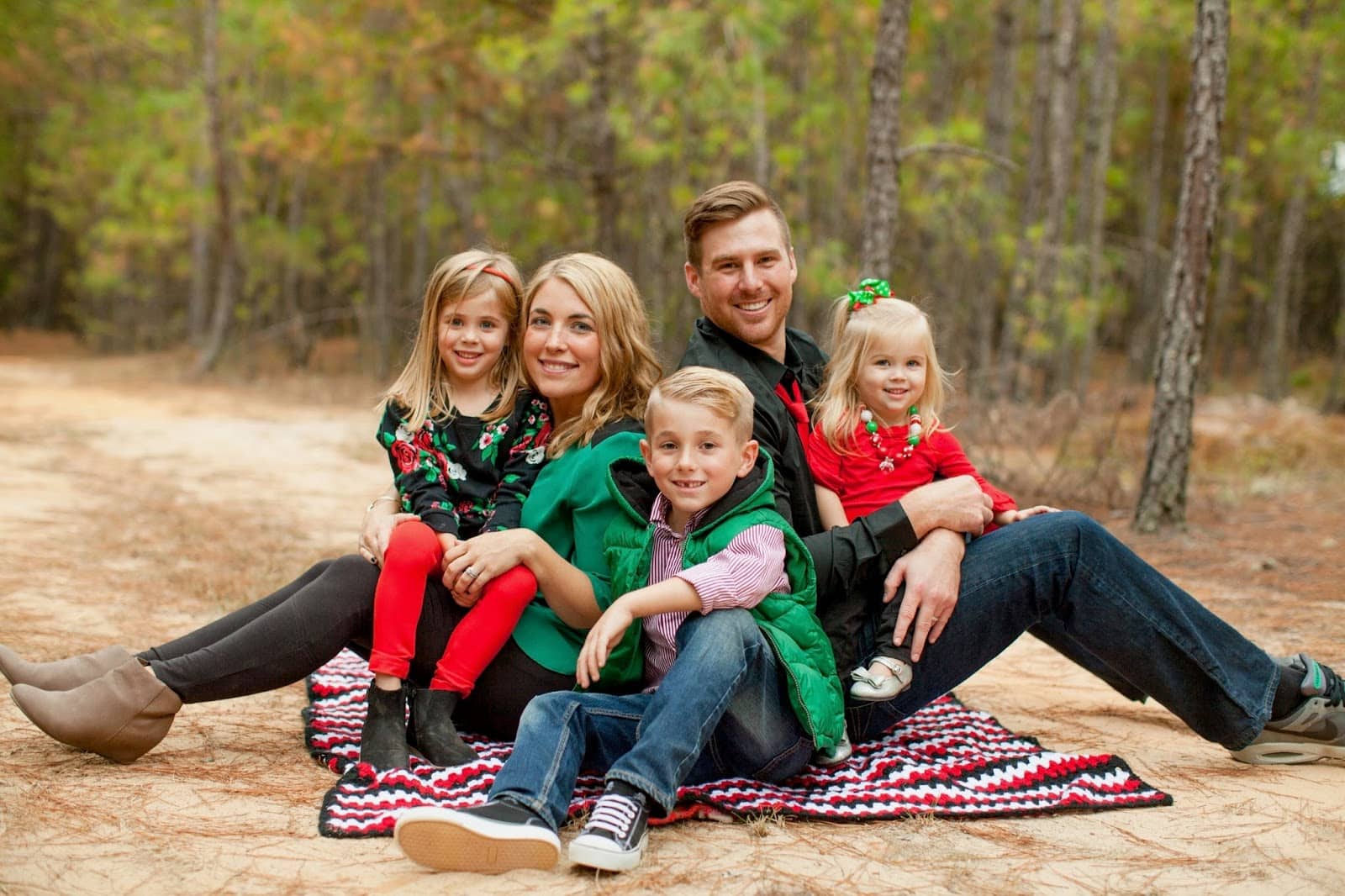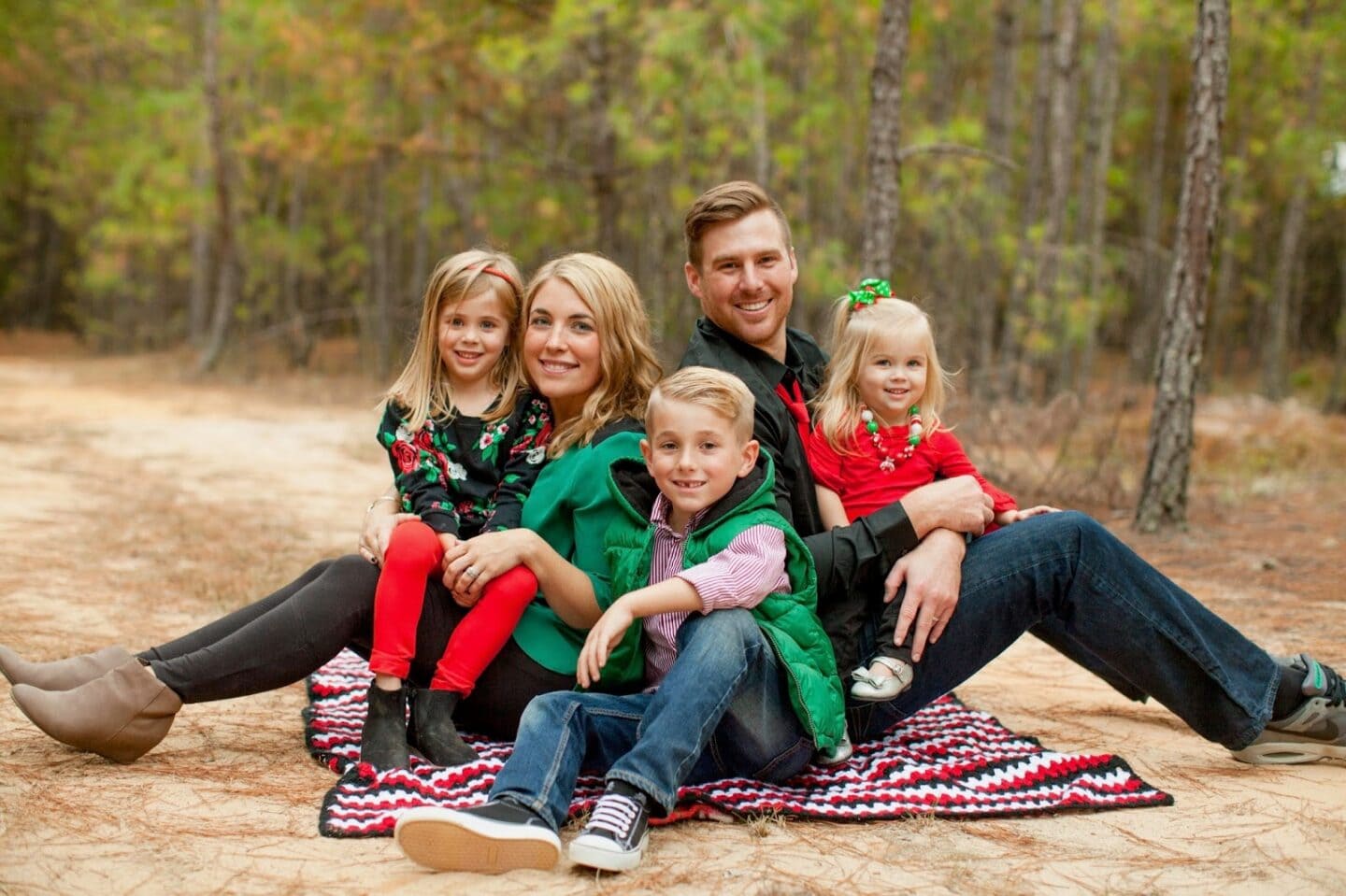 We also did a Christmas vibe kinda theme in our Fall / Winter 2016 family photos. Pulling red, black, white and green together is an easy way to make photos FEEL like winter and Christmas time even if you don't live in a snowy "winter wonderland" location!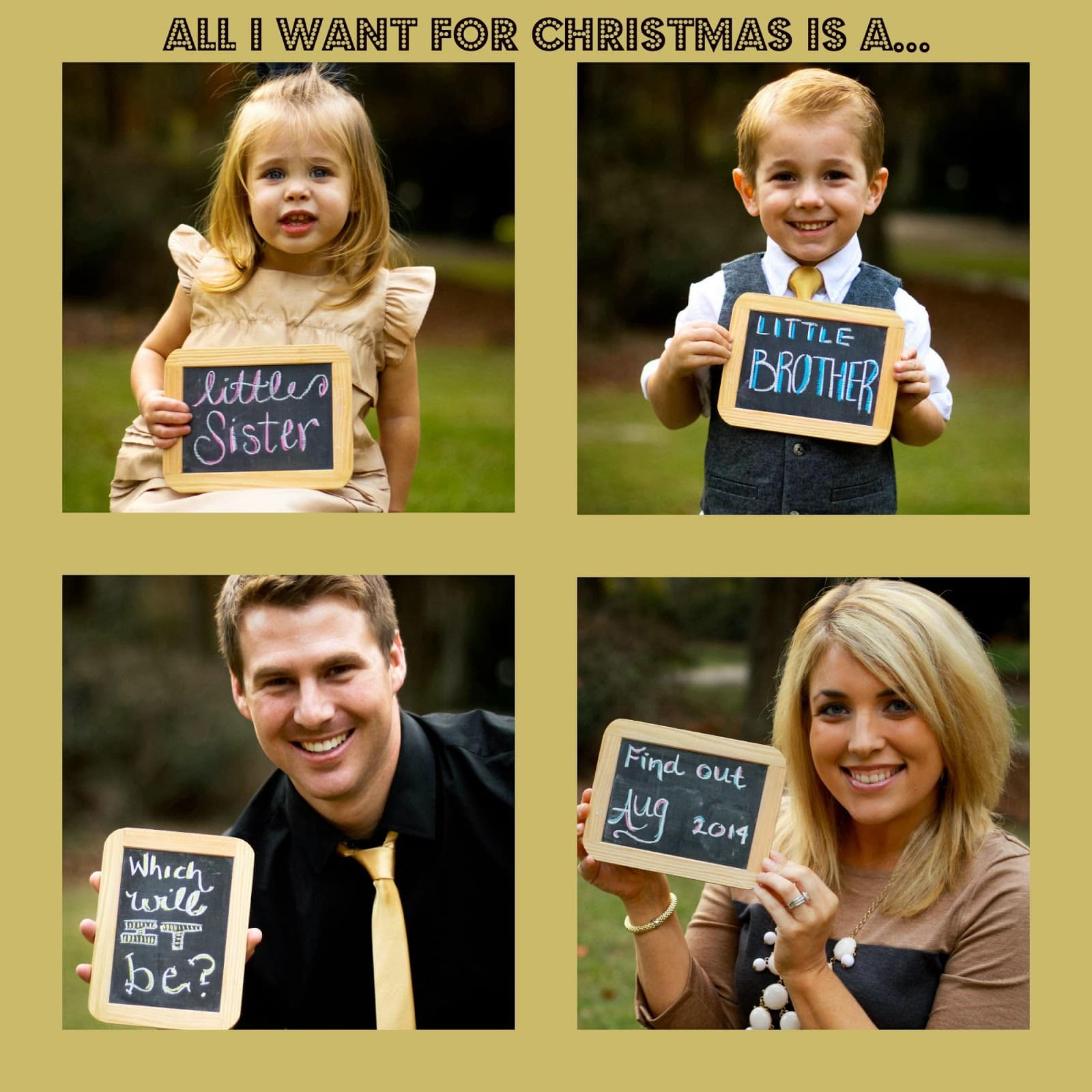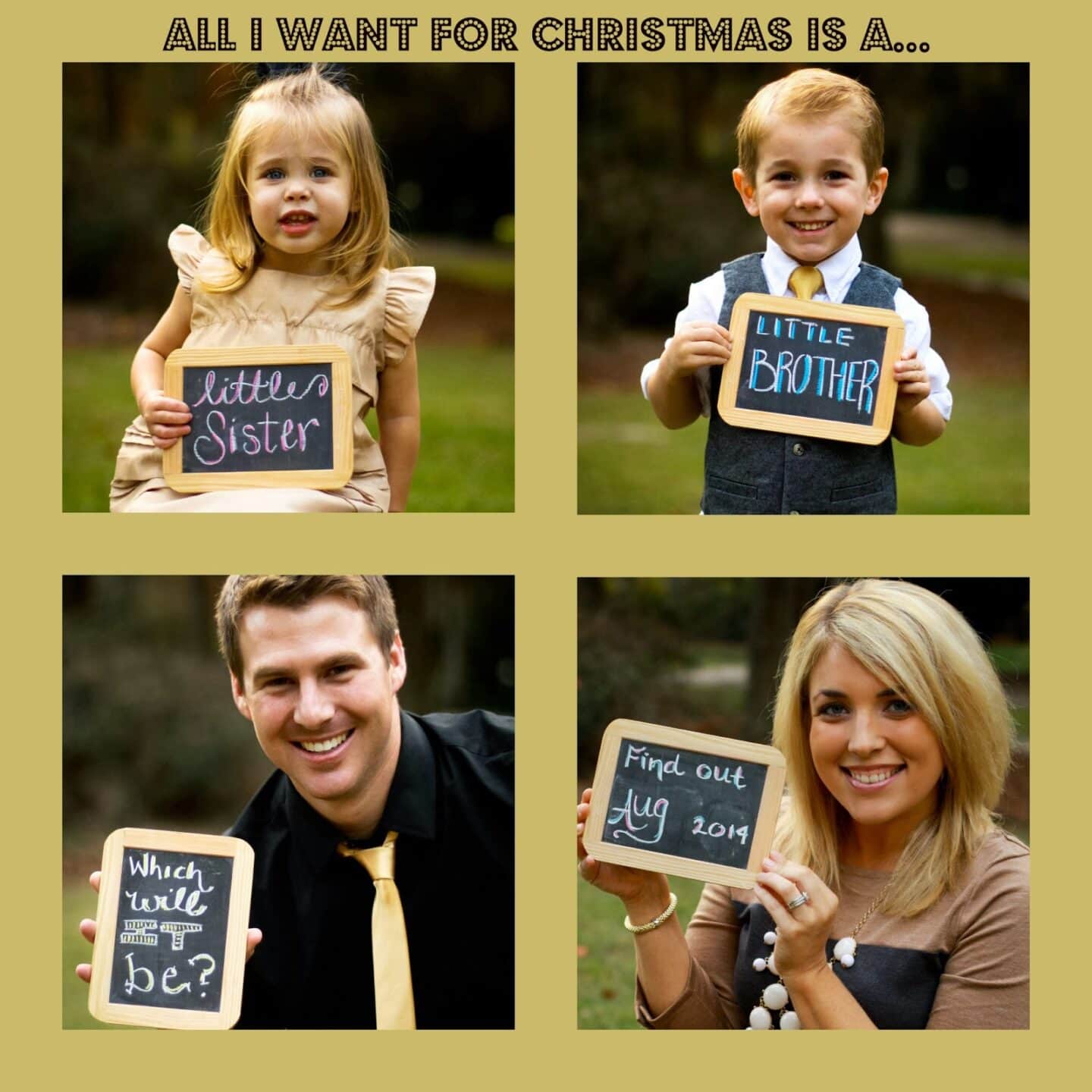 Our Winter 2013 family photos doubled as a pregnancy announcement for our third baby 🙂 Christmas is such a magical time to announce a pregnancy or share the exciting, happy news with family and friends. We were also blessed to have TWO of our four babies be December babies so we were able to share their birth announcements and have their newborn photo sessions be during the beautiful holiday season.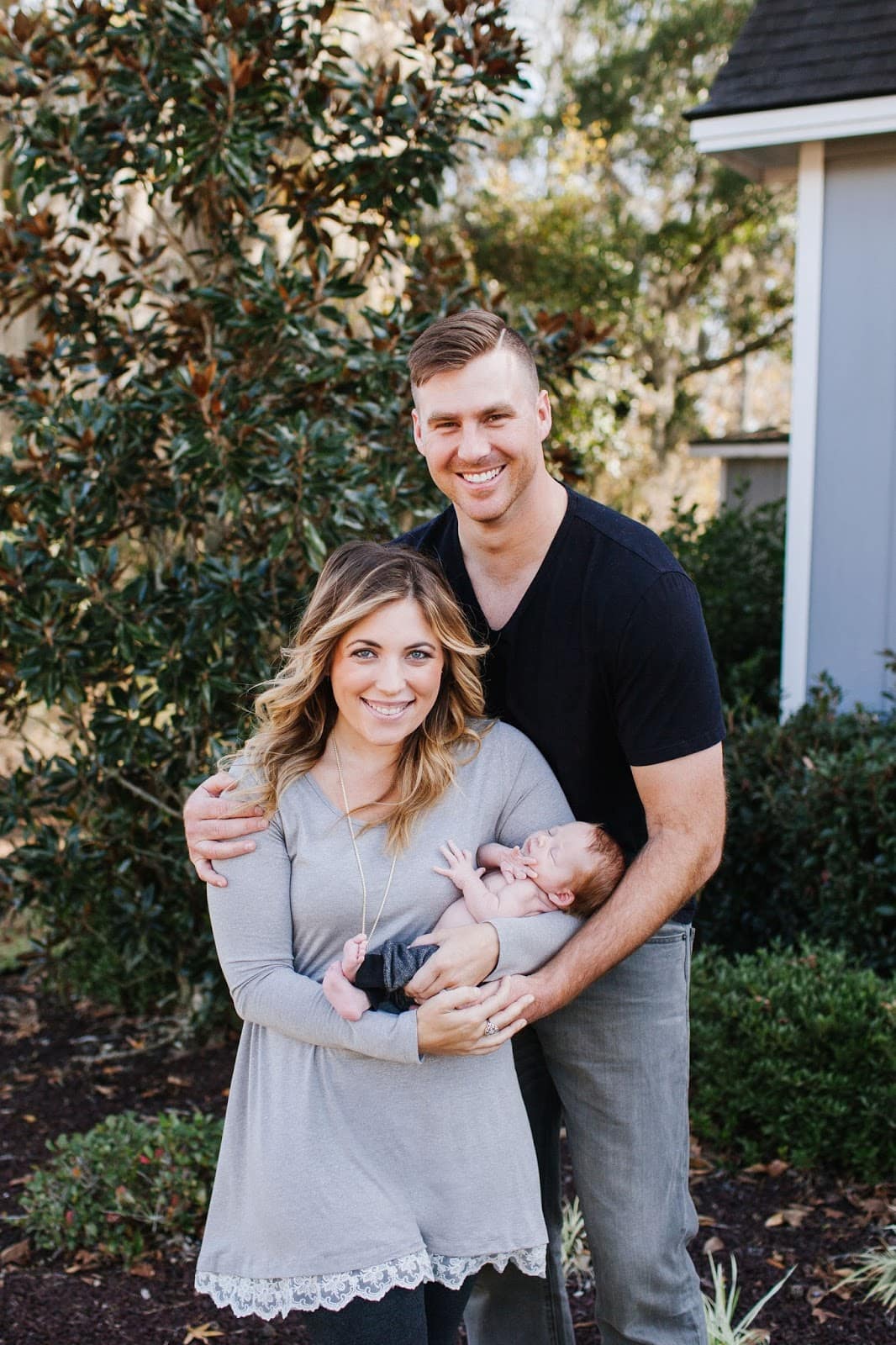 When having winter babies can make a lifestyle or outdoor newborn photos a little tricky but it's also a great excuse to take the photo session inside and snuggle with your newborn next to the fire or use Christmas props in part of the session. Our youngest son, Spear's, newborn session was in December 2017 and our oldest daughter, Britt, had her newborn session in December of 2011.
Winter Family Photo Ideas Outside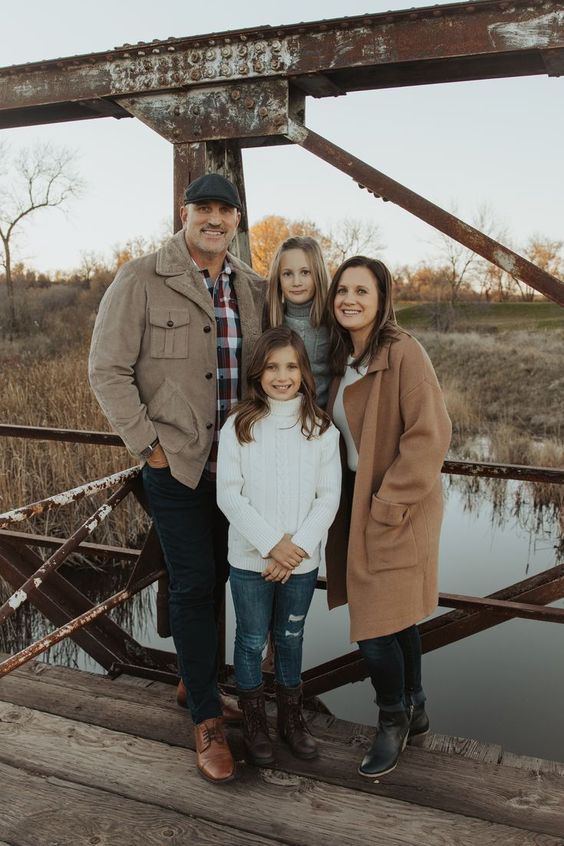 Just because you don't have snow on the ground doesn't mean family photos outside will be ugly or bland! Taking advantage of local landmarks like old bridges and bodies of water make for some subdued and super pretty photos!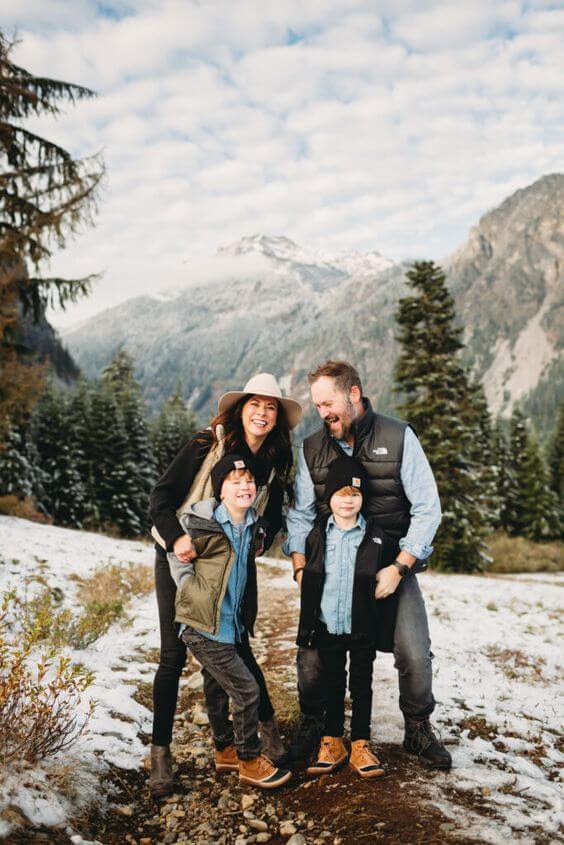 Yep, once again, sure is nice to have mountains around… but boy, does it make a great backdrop! Pine trees and snow on ground? An extra bonus! Truly breathtaking!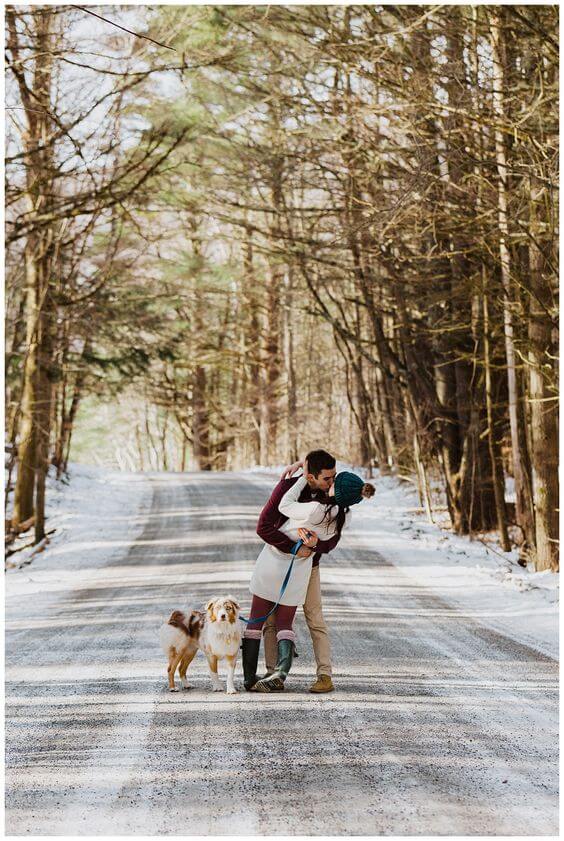 Getting a cute shot like this one in the middle of a snowy road is a really sweet idea – and getting your furry friend involved is never a bad thing, either!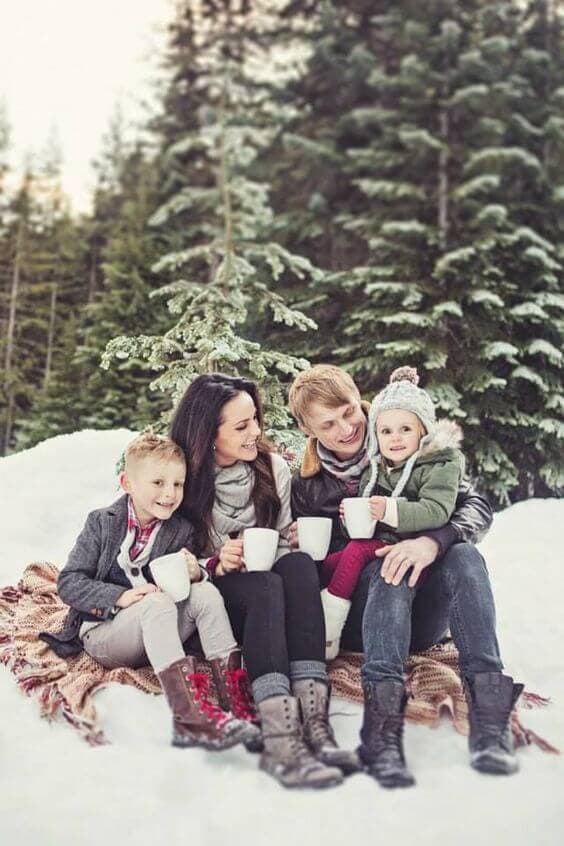 It's the small details that really make these lovely winter family photos sing. The blanket and cups of hot cocoa (or apple cider, whatever you like!) make this photo look like a little winter picnic. I love the simple photoshoot idea of holding a cup of something warm to sip on through the session.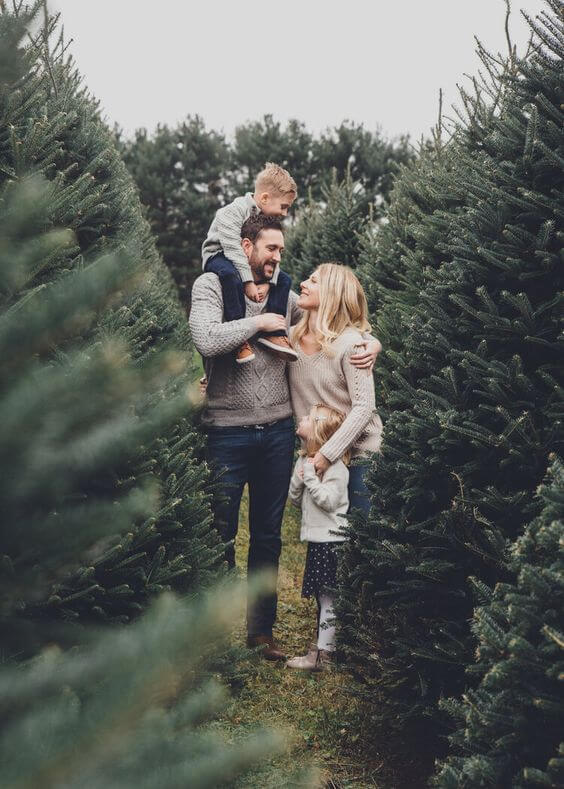 The local Christmas tree farm is a great location for winter family photos, or if that's not available, an evergreen forest will do just as nicely!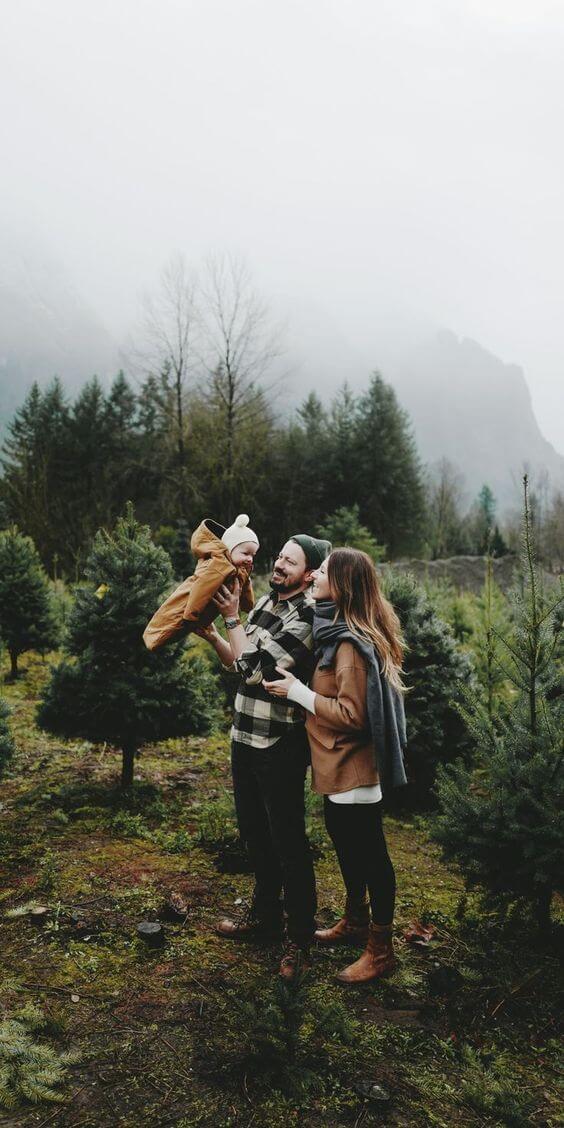 These deep forest greens are just gorgeous – and the misty mountains in the background add some great contrast! Pro tip for professional photos: overcast makes for some of the best lighting no matter the time of day!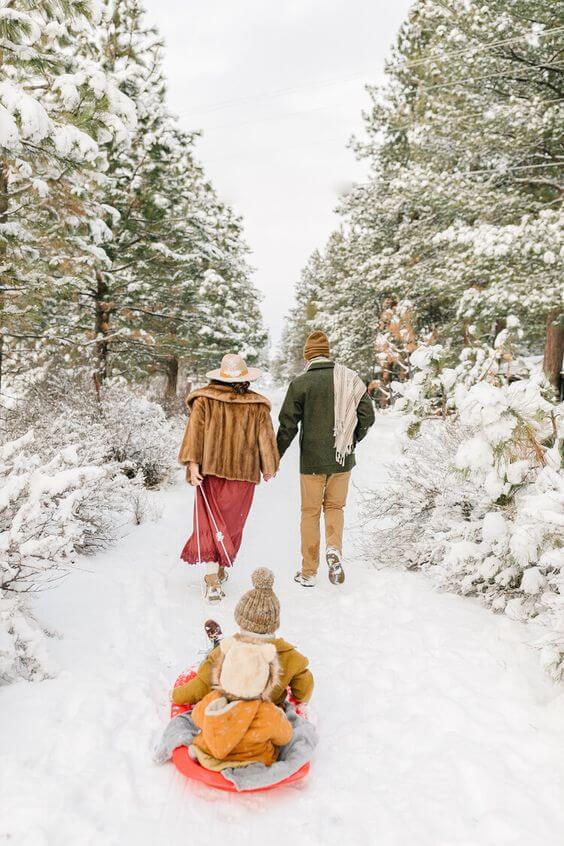 When there's lots of snow on the ground, why not make the best of it, bundle up, and get some adorable shots with a sled? This is one of those special moments that's so fun to get on camera!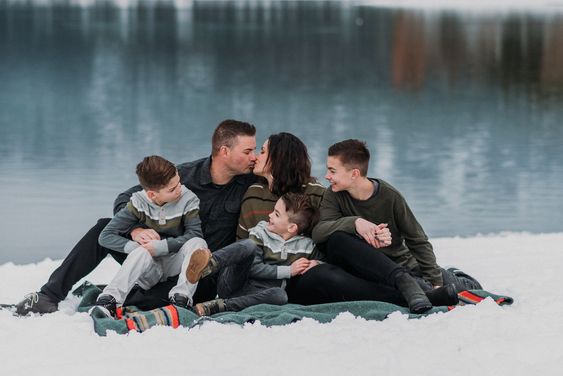 A frozen or wintery lake makes a fantastic background for winter family photos! So pretty without taking away from the family! It's so sweet when you can see lots of love in photos like these!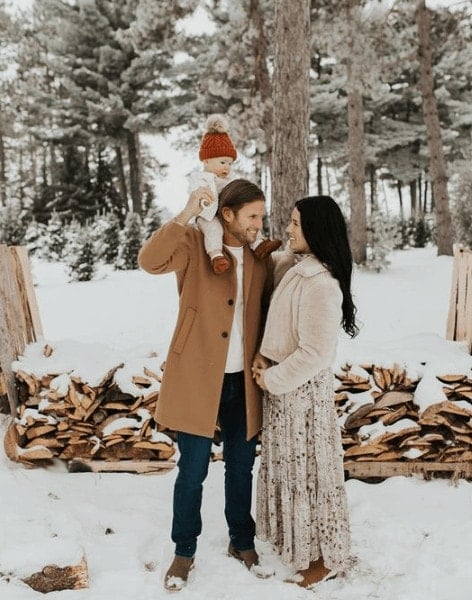 Stacked logs or other rustic touches add a little something special to a snowy landscape like this one! The soft, neutral colors are really easy on the eyes!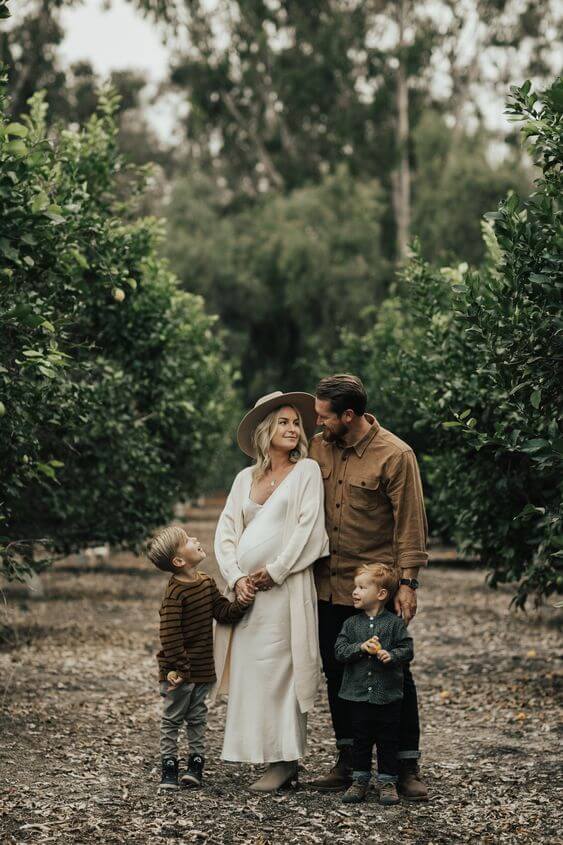 Once again, just because it's green in the winter doesn't mean you're at a loss for family picture ideas outside! Take advantage of those evergreen trees for some truly great photos!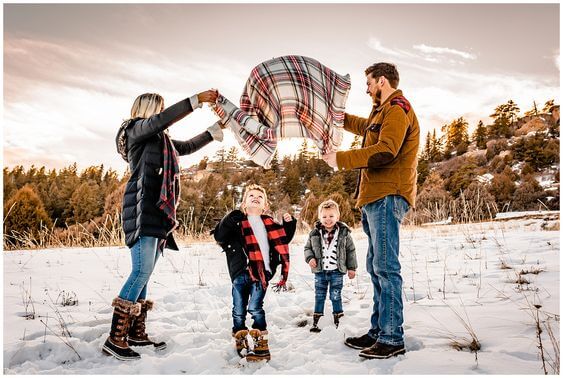 Action shots make for some of the most memorable photos and are a great way to add visual interest! It also helps a lot when you have little kids in the cold to keep them moving and do fun things that will make them smile!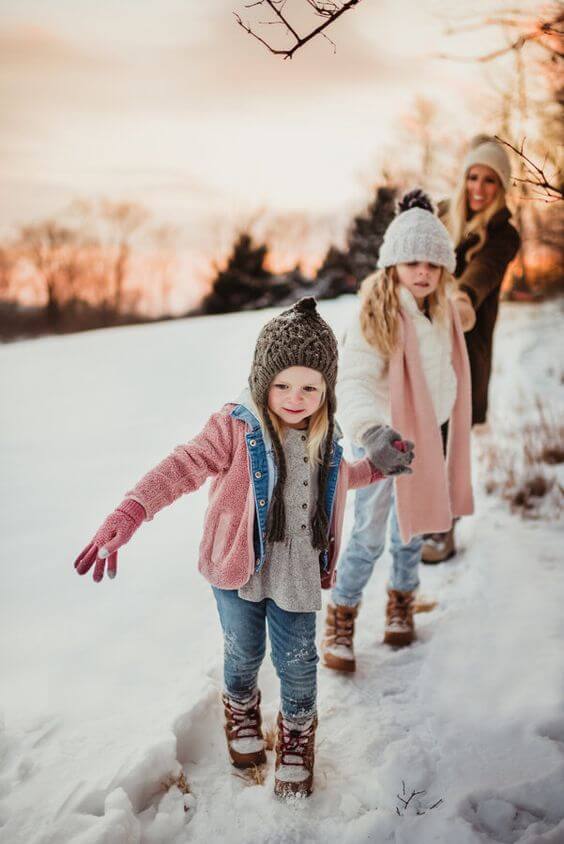 This is why photographers love the golden hour: photo shoots that use those beautiful sunset colors to their advantage turn out with some amazing pictures, especially against that pure white snow!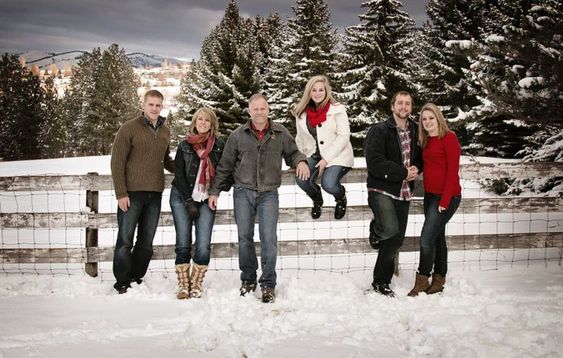 When you have a great view like this, of course you have to use it in your winter family photos! An old country fence is another nice touch that can help with posing family members, too!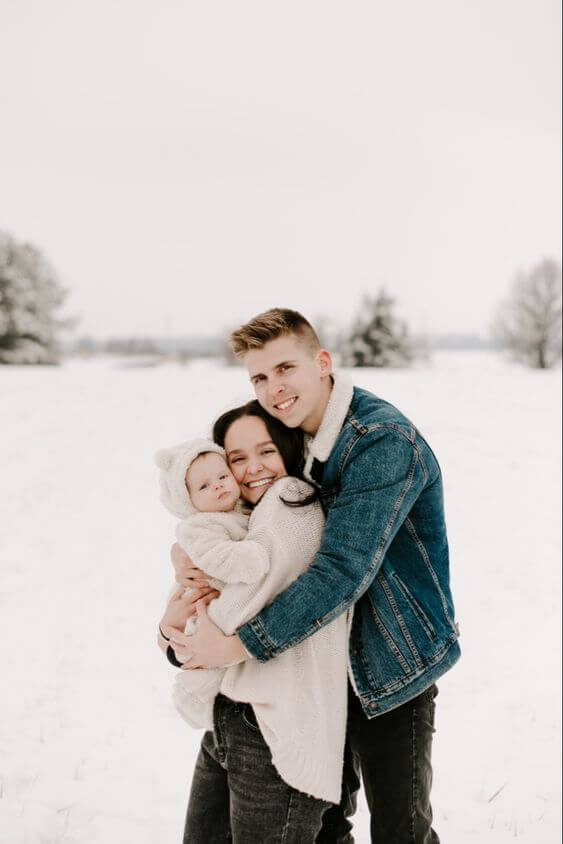 Last but not least, when everything is blanketed in white (including the sky!) you have a blank slate to work with! The overcast sky lends itself to soft lighting that really captures the moment!
Final Thoughts
I hope this has convinced you to give fall or winter photos a shot! It really is a fun way to make some memories, and with a little bit of planning, it can be a very good experience for everyone!
If you've come across any other great family picture ideas outside that you didn't see mentioned here, feel free to tell me about them in the comments!
Check out more tips and ideas for planning a family photo shoot:
You can also check out all of our past Fall and Winter family photo shoots here: