We typically have family photos taken two times a year. I love having updated pictures of our kids and put a lot of thought and planning into our child photo ideas for each family photo session!
Our professional photographer is Lindsay, from Captured by Colson, and she always does a fantastic job at every photo shoot we have together. We all have a great time during the session and our special bond with Lindsay allows us to have creative ideas together and her fun, upbeat vibe at each session brings out better results for the pictures than I could ever have in my own photos of them!
Since we do have family photos taken so frequently I really try to come up with different ways to make the sessions fun and provide variety and different ways to highlight our family and especially our children at all their different ages.
When I was hunting for outfit ideas I was a bit discouraged. I feel like at this point we've done every possible color palette and every possible outfit combination. I wanted something FUN and different and noticed that Old Navy's website has a "family matching" section. When I looked there all they had at the time were sweatshirts and comfort kinda styles.
I had a lightbulb moment and thought "that's a good idea…why not!" Why not lean into the whole chill vibe concept. Go comfortable with our session! Wear super chill clothes and have it be less stress, more fun. Toss out the idea of a classic look for fall photos and instead keep us all feeling comfortable throughout the entire session!
It really ended up being a great idea as the comfortable outfits meant it was easier to capture natural poses, have fun with interesting shots and different angles and Lindsay was able to get alllll the authentic smiles too!
We even tossed in some Carhartt beanies as a fun prop and it was our first time having new head-to-toe outfits (I even grabbed these matching shoes for the whole fam too!) and we got THE BEST RESULTS! Plus since I did buy all comfortable clothing items everything WILL be worn again by the kids too. They've rocked all these looks at school time and time again already!
I am blown away by how awesome these turned out. I love them all so much and it's one of my favorite sessions to date – for sure!
The time of day was AMAZING. Lindsay is so great at planning for the perfect time and always finds that golden hour of natural light that is just perfection. However, you can't always plan for weather and living in South Georgia often means it's unpredictable. Sometimes we are freezing in November, and sometimes we are sweating. Thankfully it was GORGEOUS weather. I also love that our session was scheduled for early November (the 4th actually) as I think it helped us have a little bit of a better chance of that pretty weather on our side.
Child Photo Ideas – Pics of the Kids
Family photography, in my opinion, isn't just about getting that perfect family photos. It's about having good photos of every family member on their own as well. My kids are super comfortable in front of the camera and the relaxed atmosphere at our sessions always allows for them to have an authentic moment and show off each child's personality through candid moments and quiet moments focused in on JUST them!
Kye – 12 Year Old Boy Photos
I love a layered look on Kye. Last year I did an open flannel shirt over a plain t-shirt for his outfit and I thought he looked so handsome and he also felt very confident so I thought a nice idea would be to incorporate a similar style for his photos this year too.
We made sure to do a variety of photos using the beanies as well as not having them as I wanted to make sure we got that perfect shot of each kid and could truly see each child's face too.
Older children can be tricky with family sessions because they can put on that "frozen smile" that just isn't natural and looks so forced so I really appreciate that Lindsay takes SO MANY to make sure I get the best photographs of my babies!
Kye looks SO GROWN in these. I can't quite believe it. He is for sure more of a teenager than he is a little boy anymore.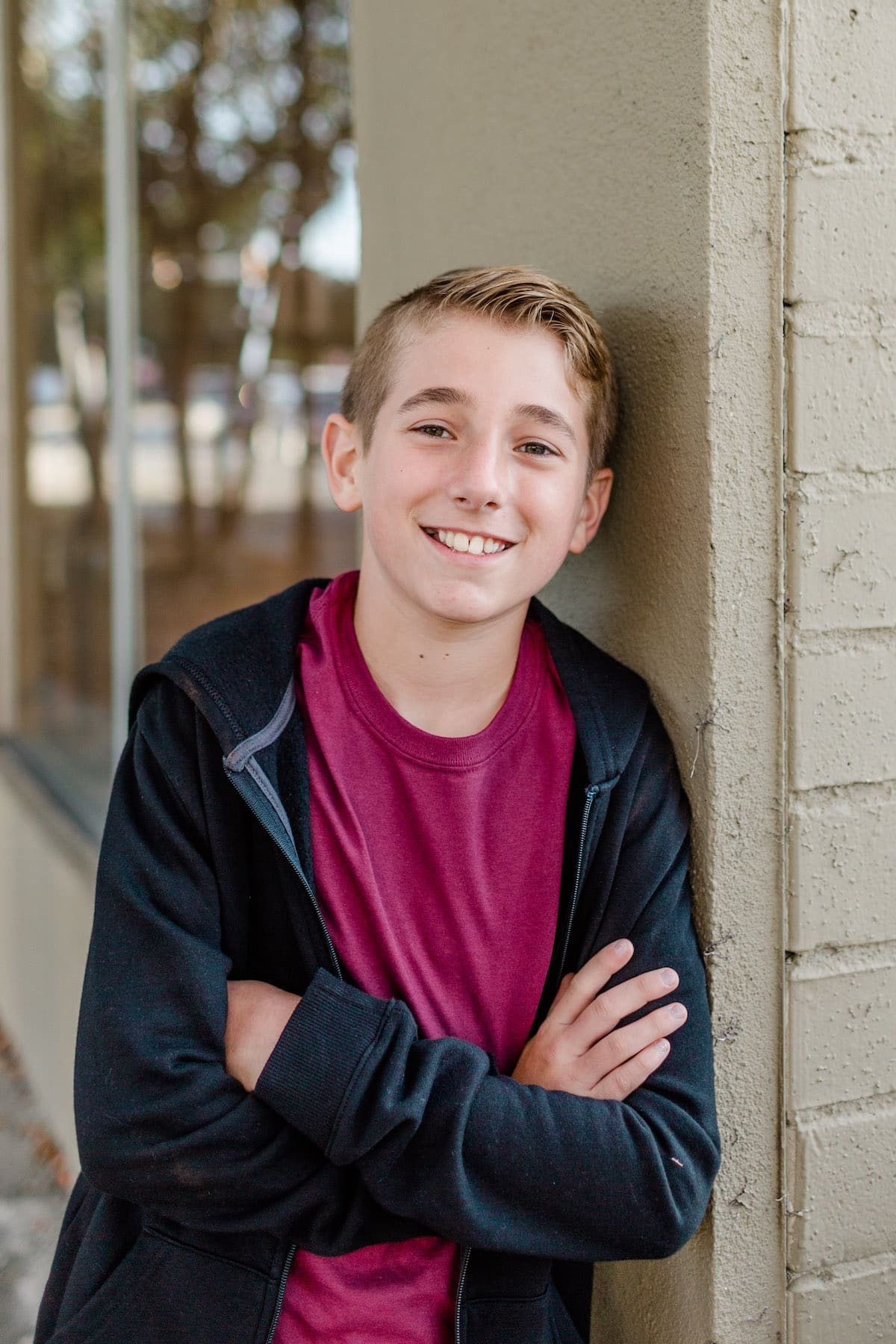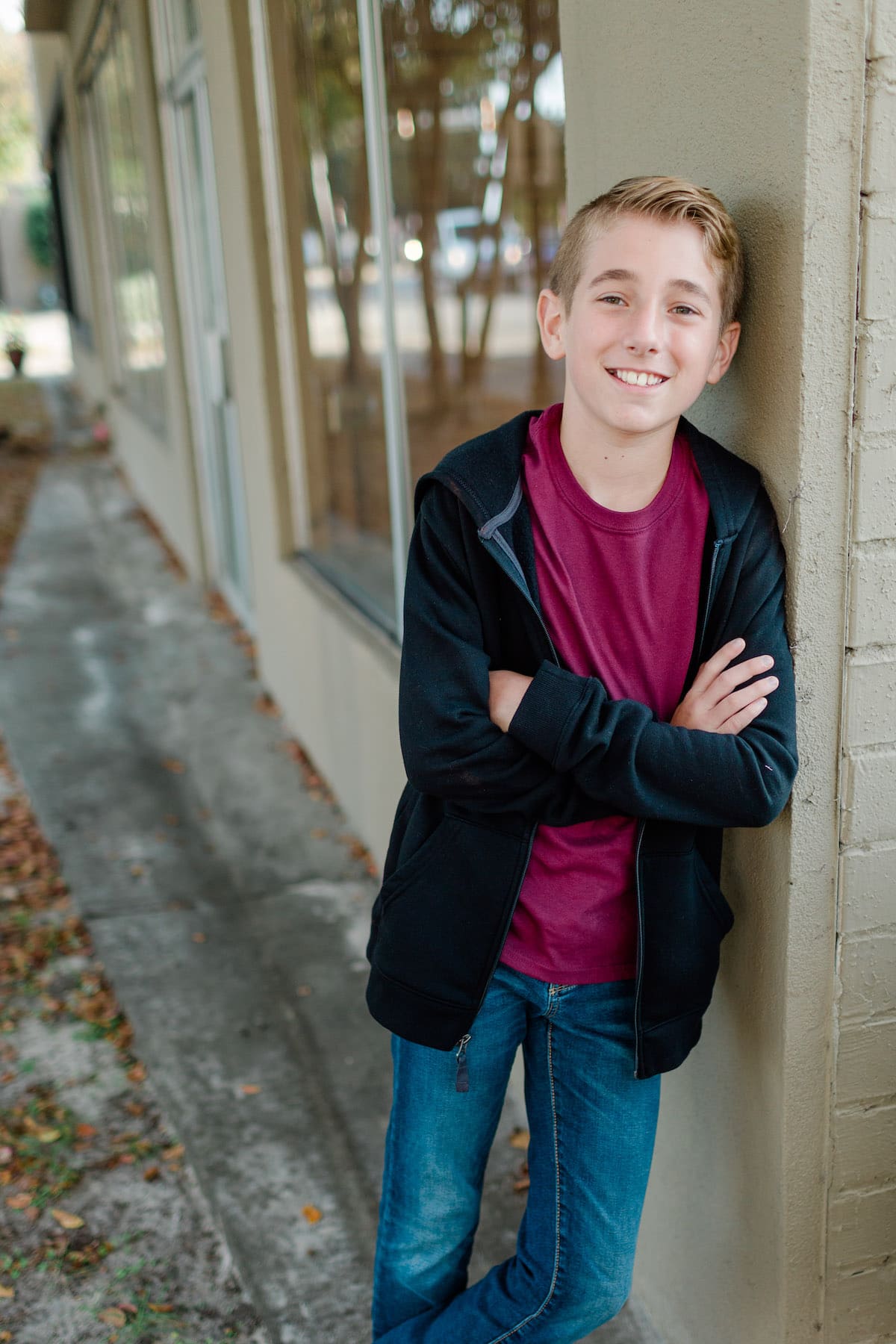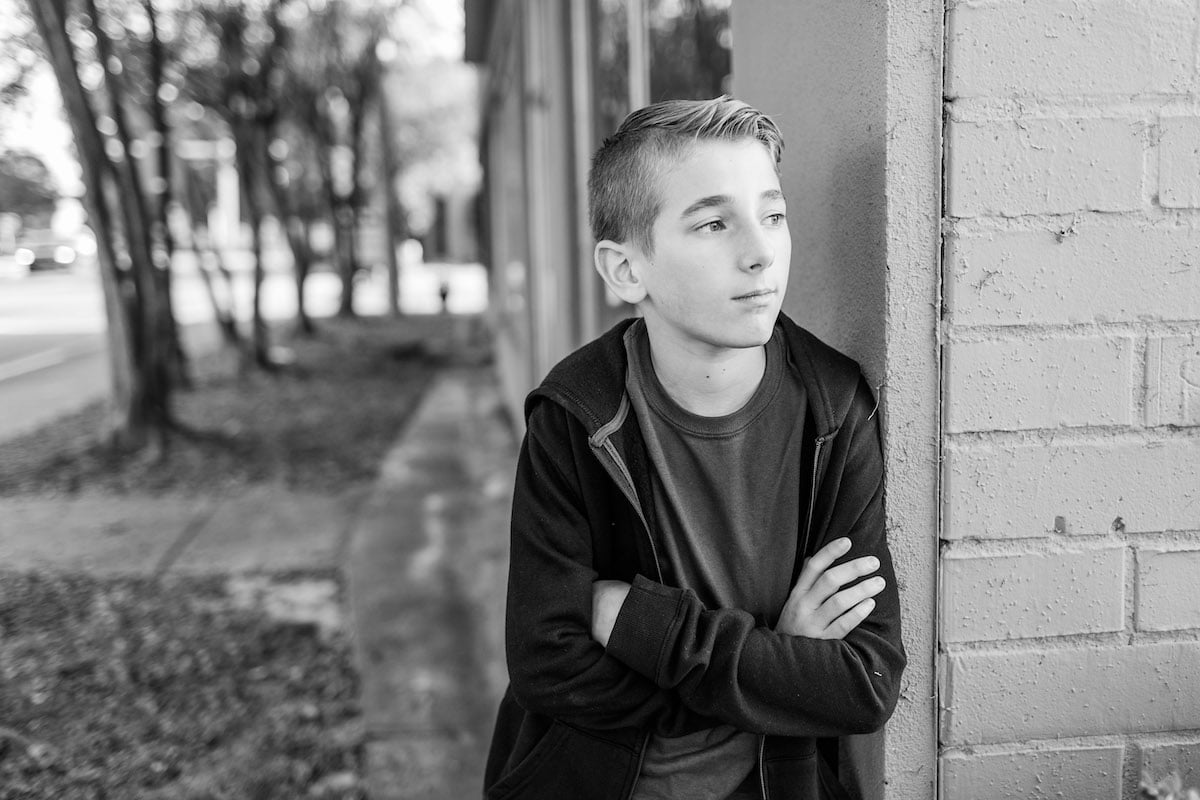 He ROCKED the beanie look and looks SO handsome! I really love the serious shots of him and the low angle really shows off his height!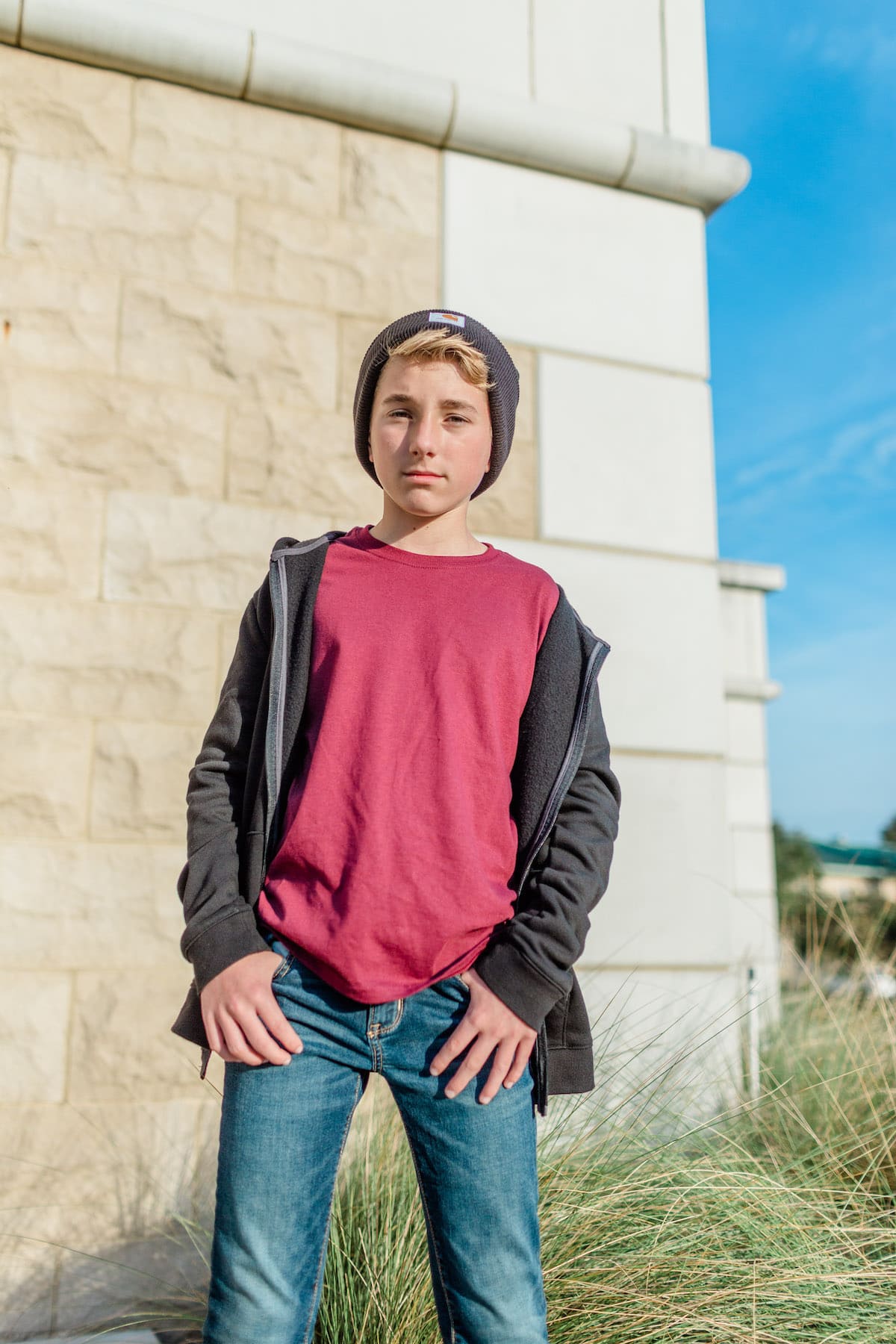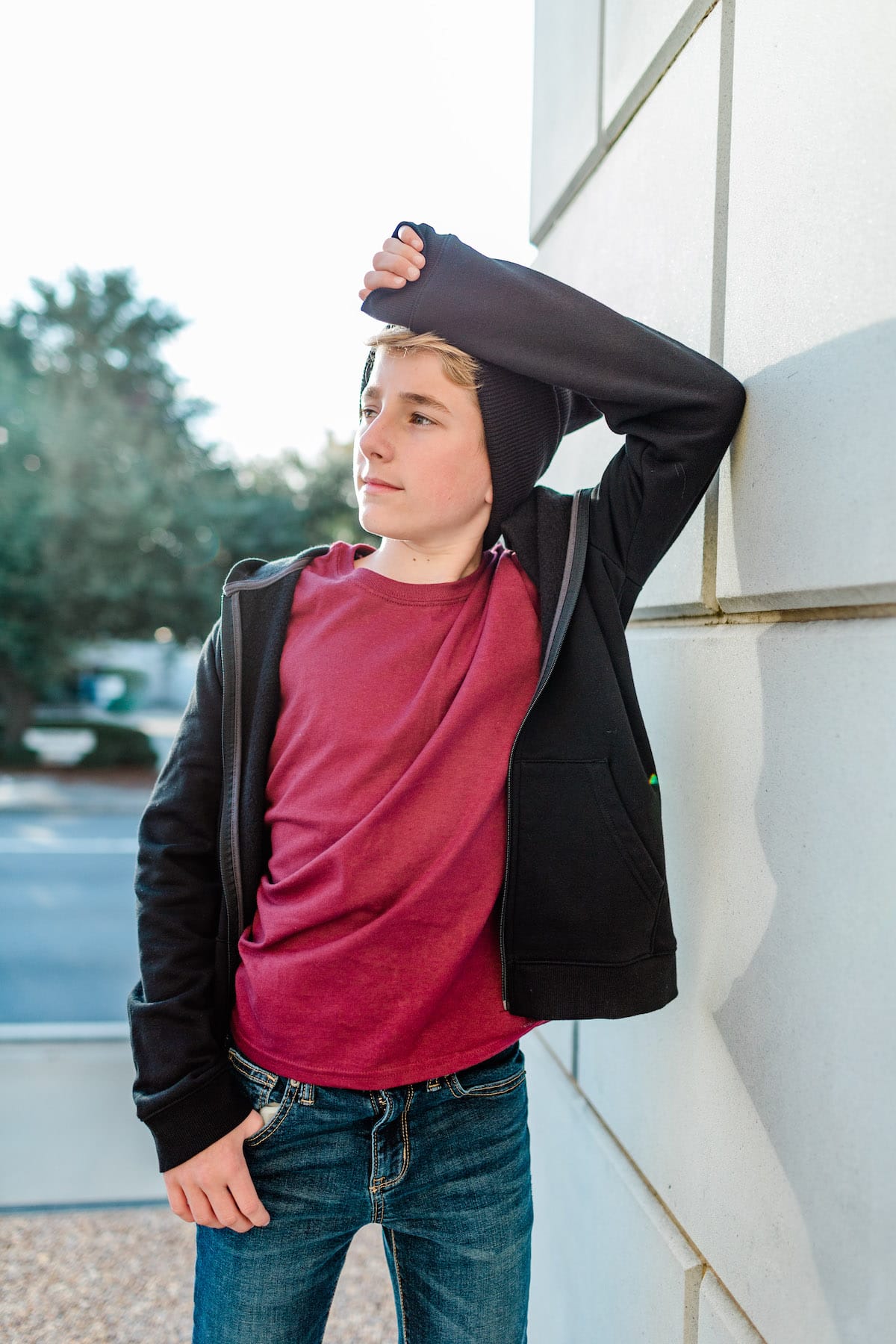 Totally giving me Peter Pan vibes right?!?! Reminds me of the year he dressed up like Peter Pan for Halloween!
Hands down my favorite of Kye from this session!
We always make sure to get solo pictures of each child alone but also with each parent!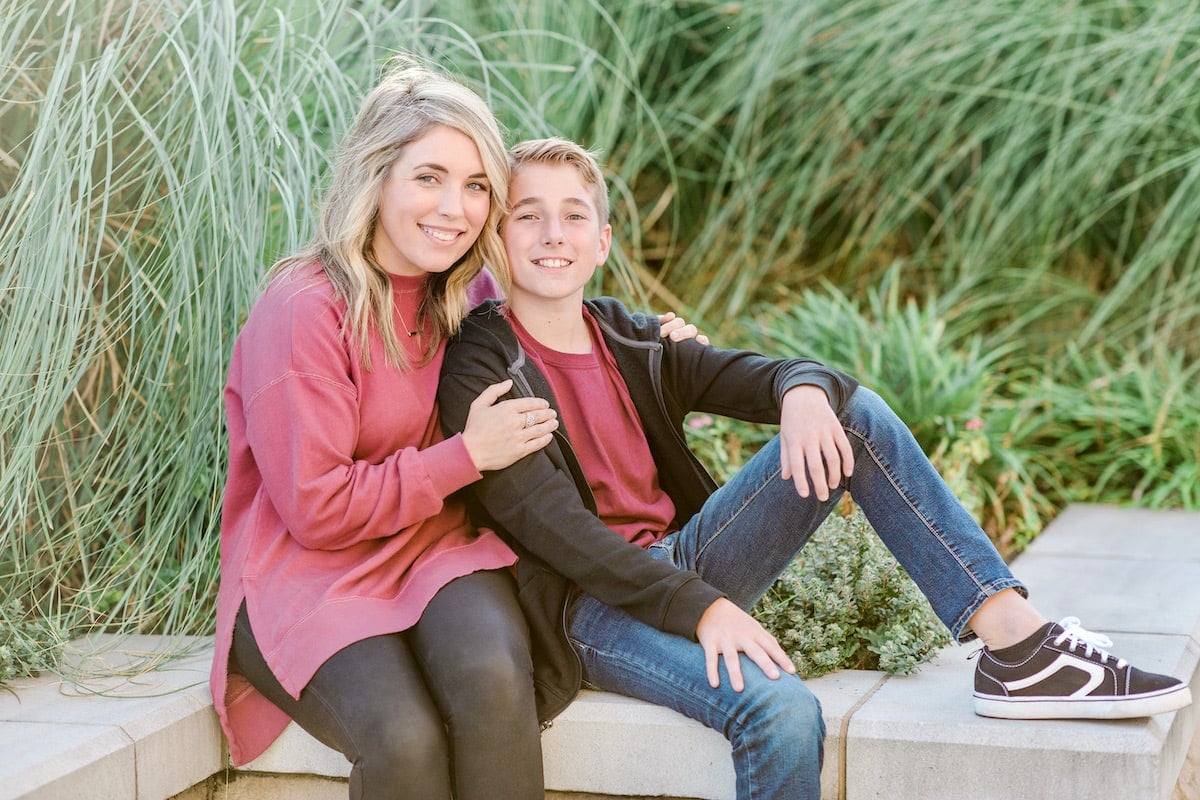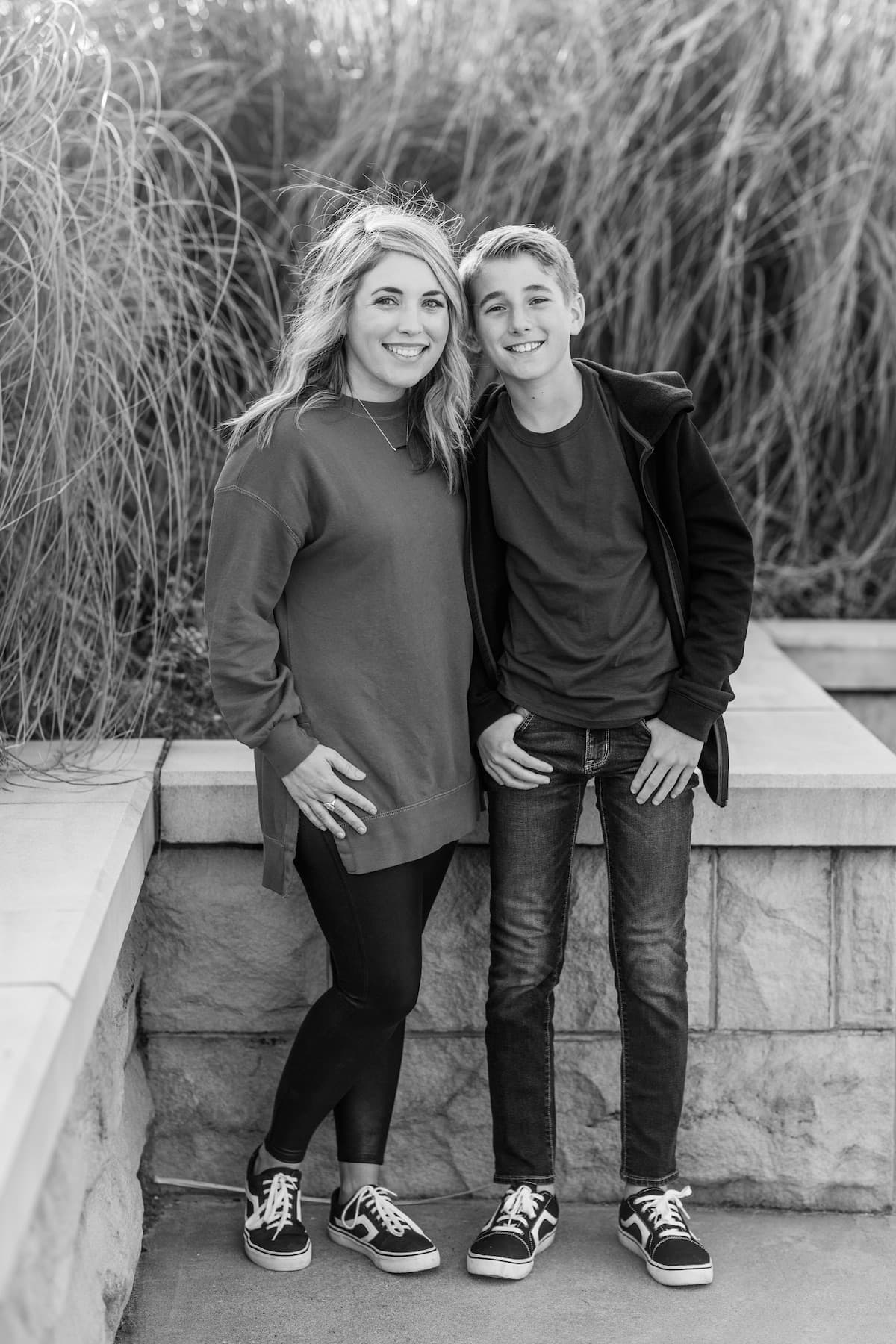 We have an ongoing family joke that when Kye and I stand next to each other that the ground must always just be uneven because he can't possibly be taller than me, right?!?! That's not allowed yet!!!
Family photo sessions always have a bit of chaos to them and this time we totally forgot to get a picture of Zach and Kye solo but thankfully Lindsay came through it the clutch and cropped Spear out of this one!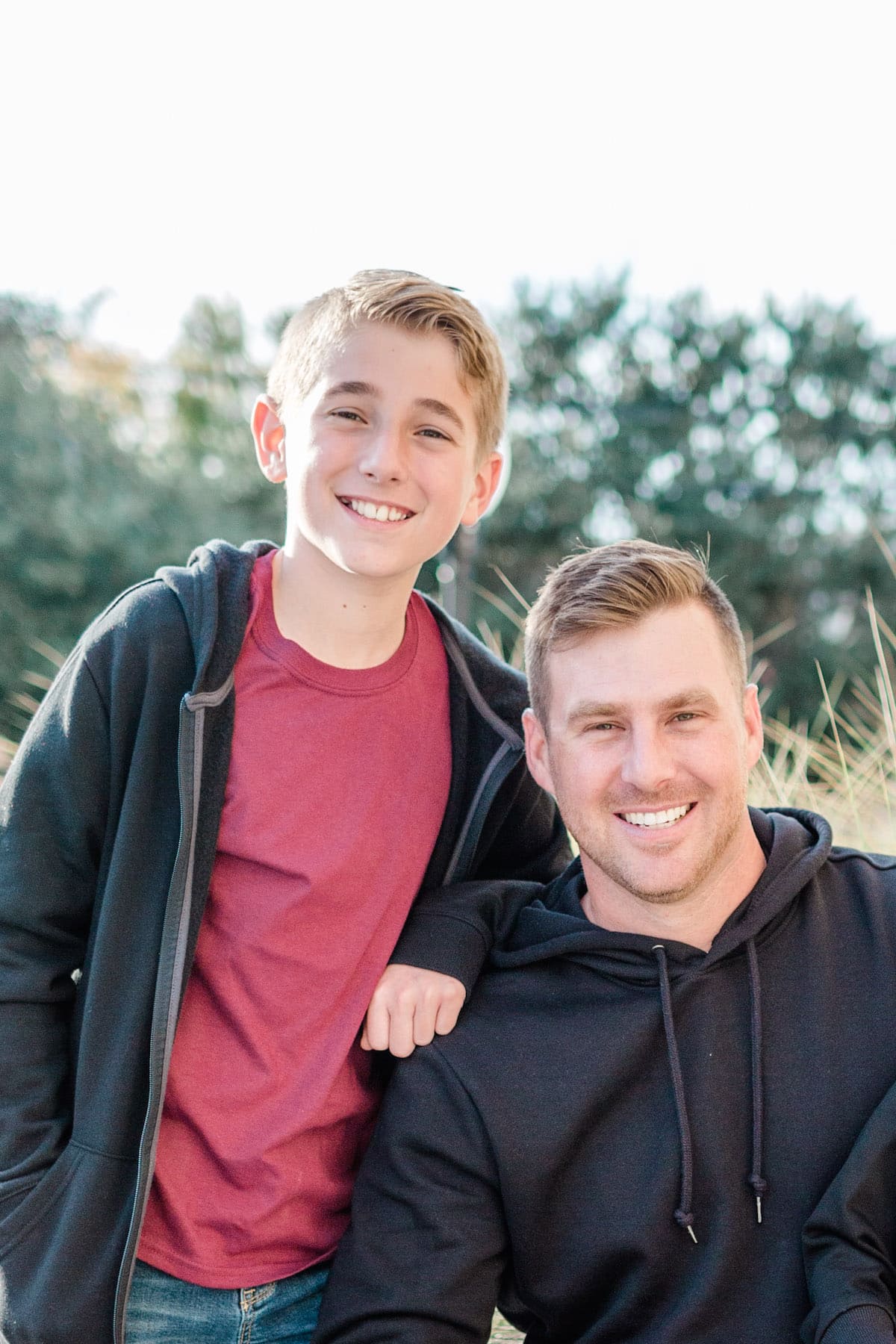 Britt – 9 Year Old Girl Photos (Almost 10!)
My little girl is growing up so fast. When I decided on the "chill theme" for our photo session I knew Britt would ROCK IT. And she def did!
The important thing to keep in ming when it comes to kids photography is to really let them be their most natural self. Forced smiles are my least favorite but when we give them the freedom to have their own playful ideas that's when the best moments happen both behind and in front of the camera!
Lindsay specializes in weddings and seniors and has also recently started focusing on teens and pre-teen kids photography so she had a BLAST with Britt and Britt equally enjoyed the unique perspective of the shots and getting to be the focus point of the photos for a bit!
Britt found this shell necklace in the wave pool at a water park waaaay back in April and has literally worn it every single day since then. Another huge perk of having such a casual family photoshoot is that I didn't mind her wearing the necklace. The small details like these are what I'll look back on and consider the sweetest thing in our photos. I know we'll say "remember that necklace Britt wore non-stop?" 🙂 THIS is why photos are so important – I want to have these little moments to always cherish and remember!
Britt also really loves gymnastics and loved that her outfit included pants so she could do her handstand and back bend freely!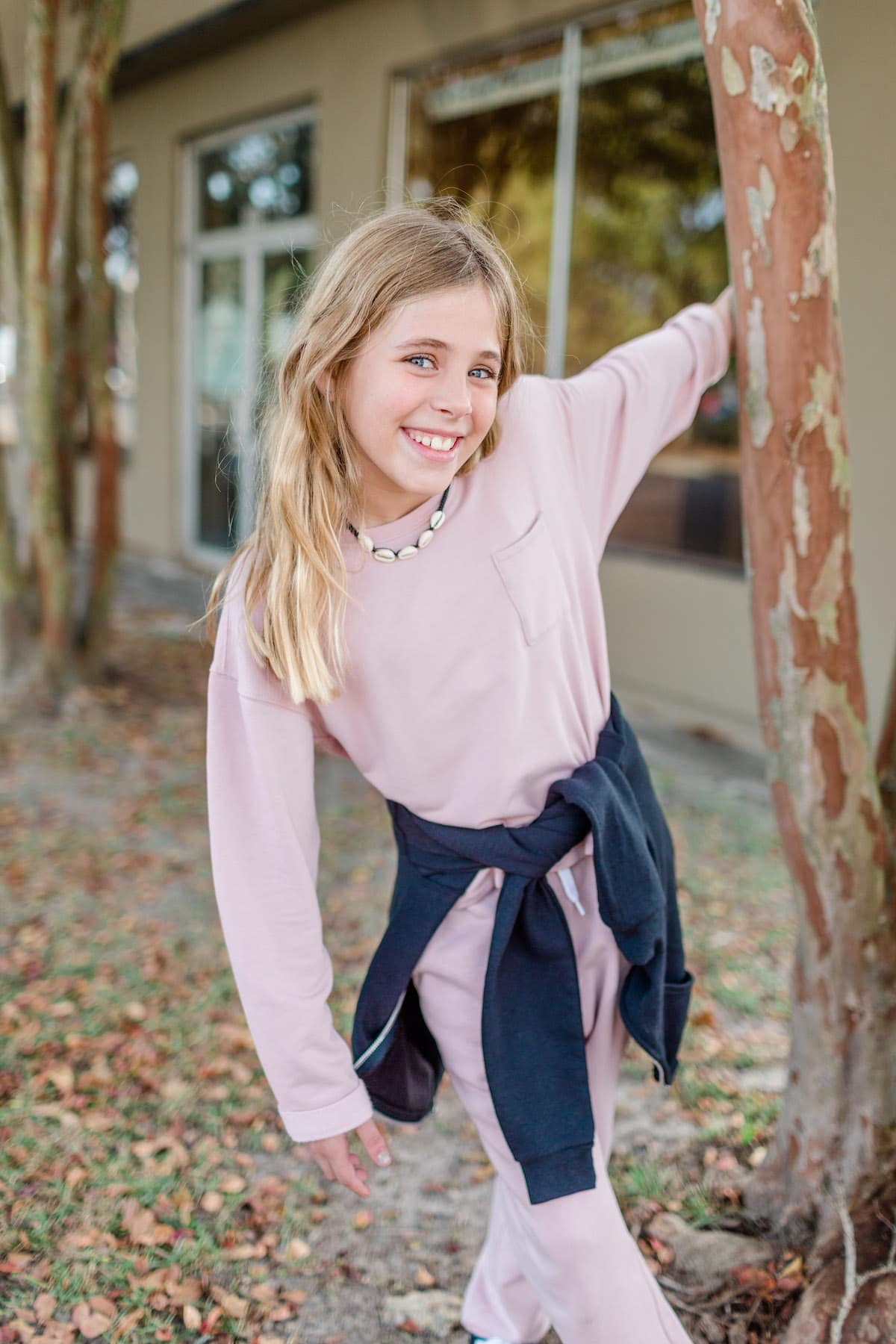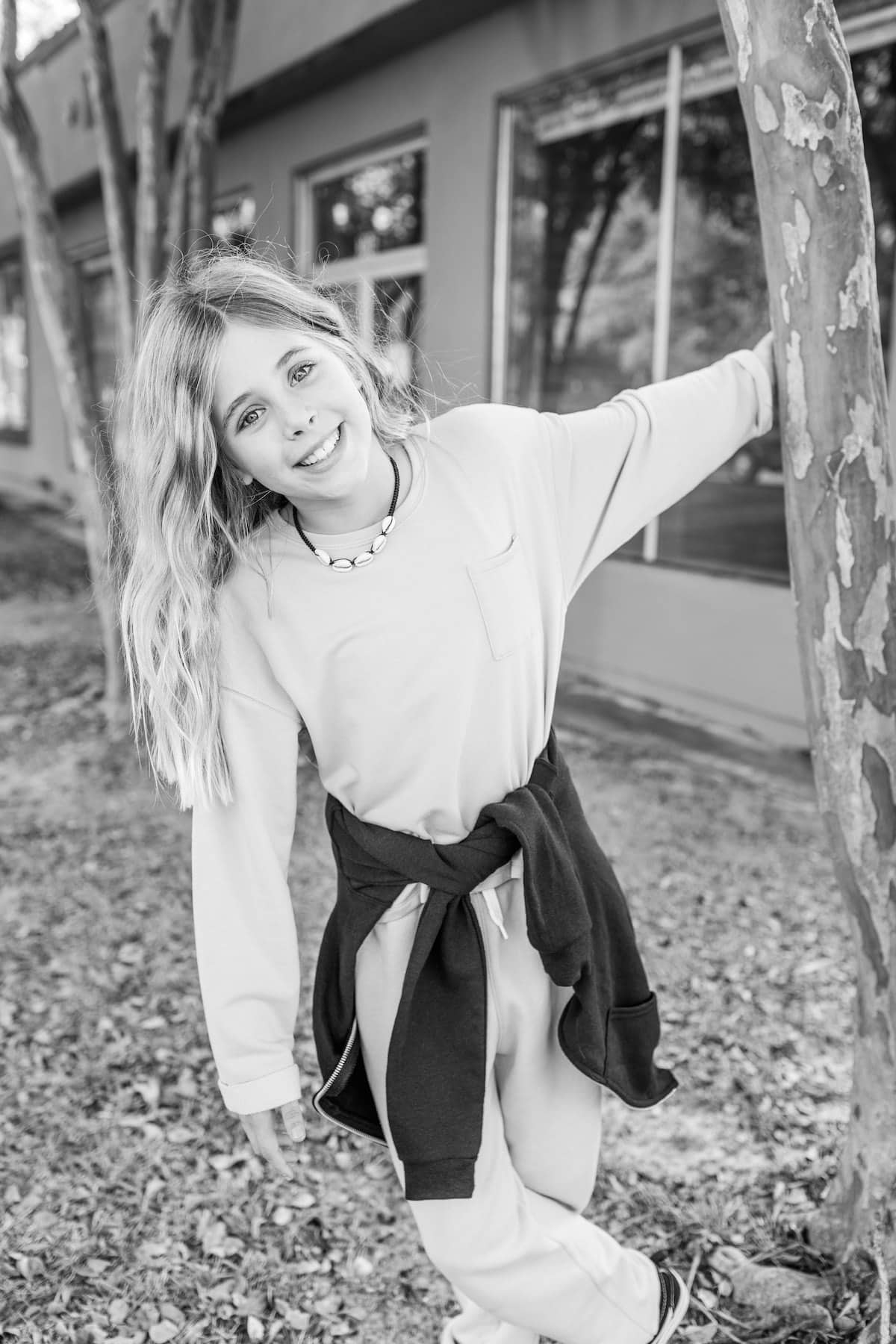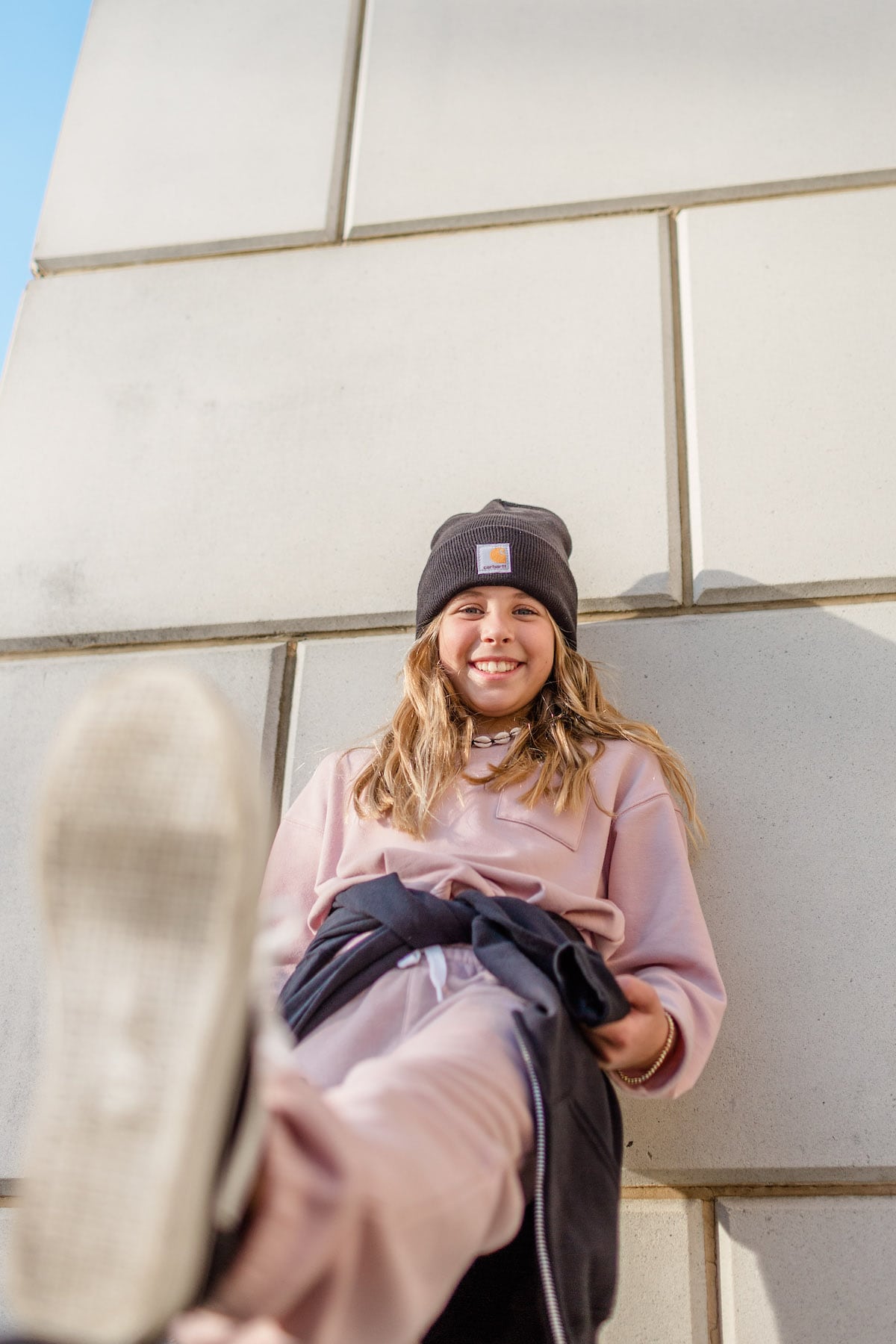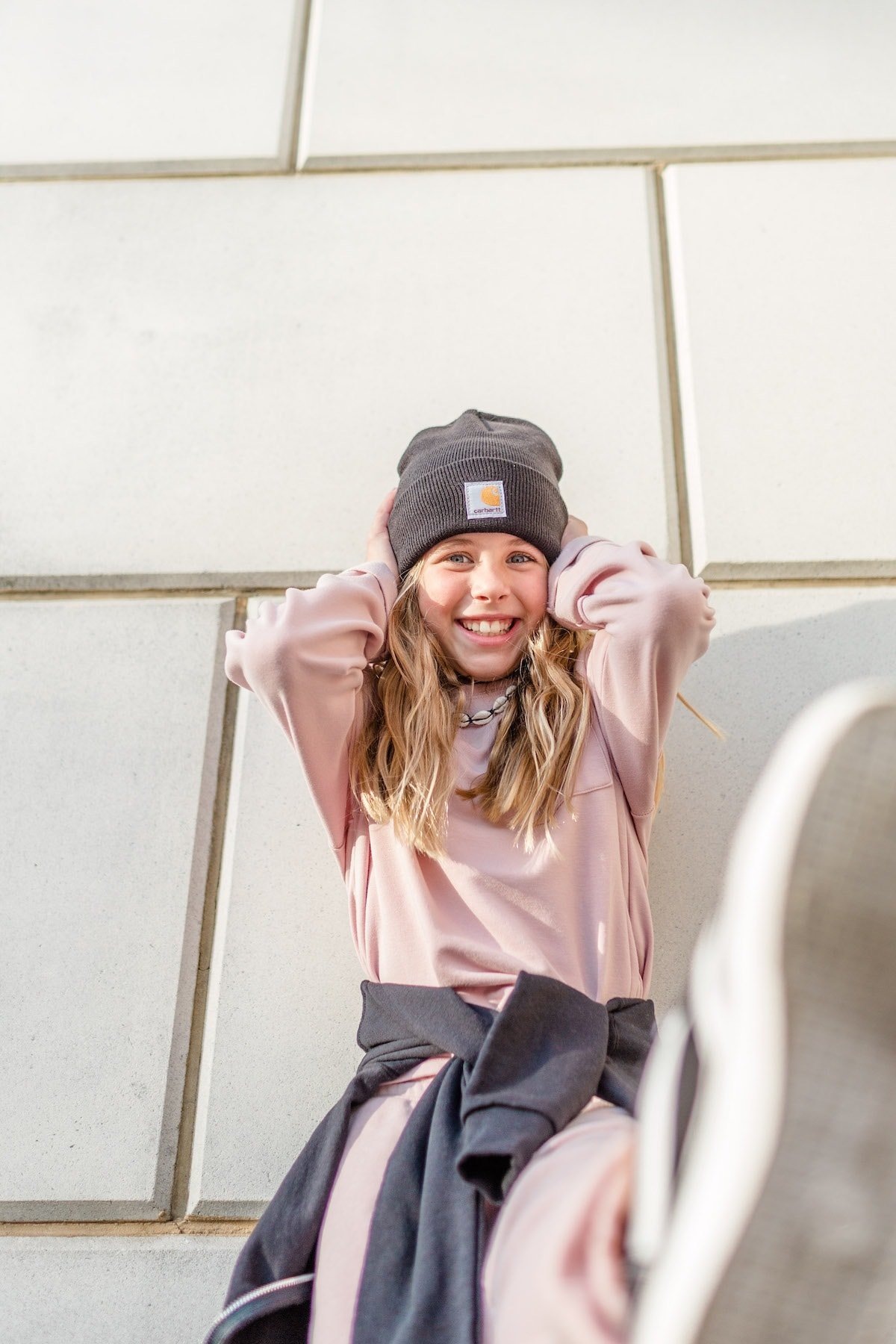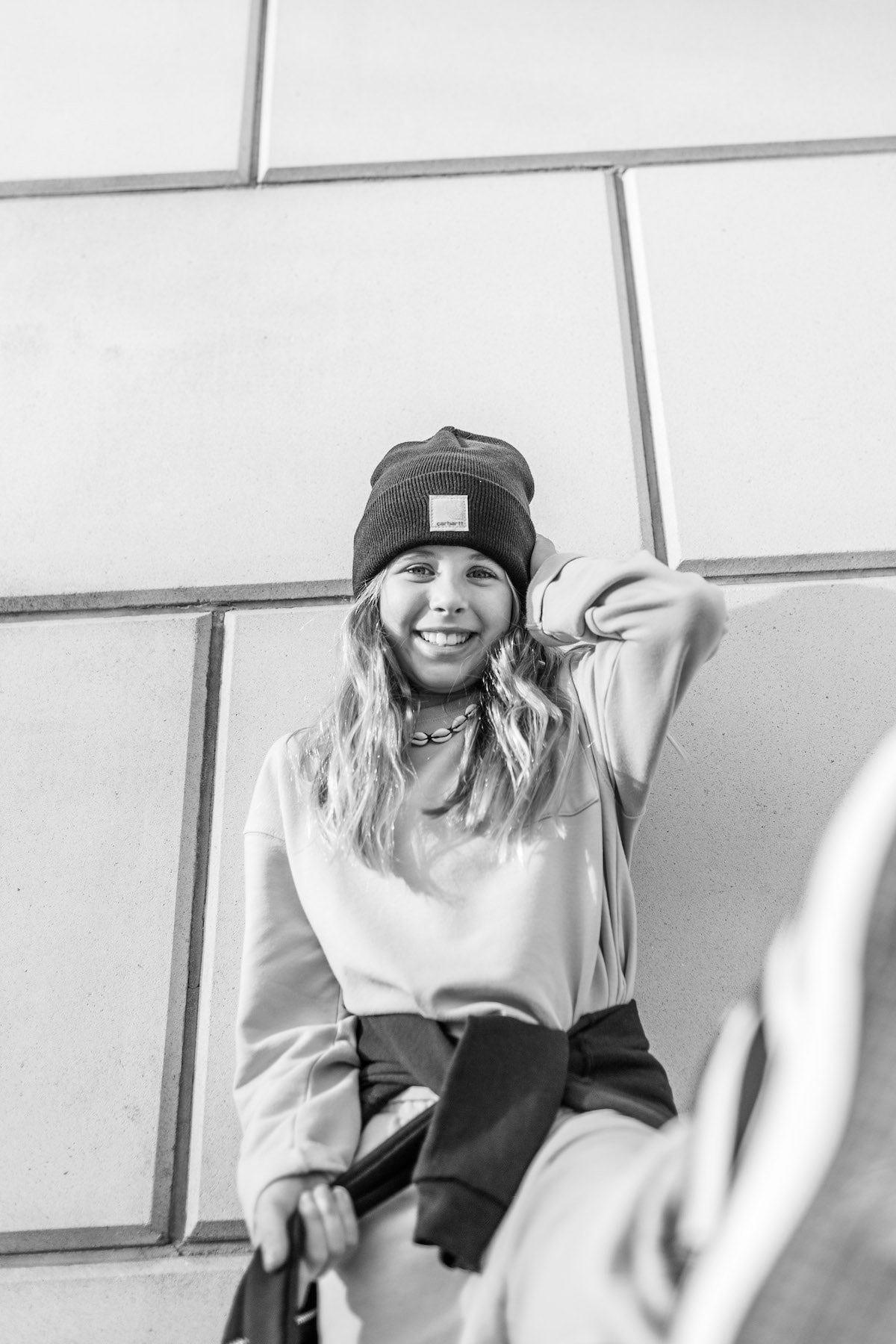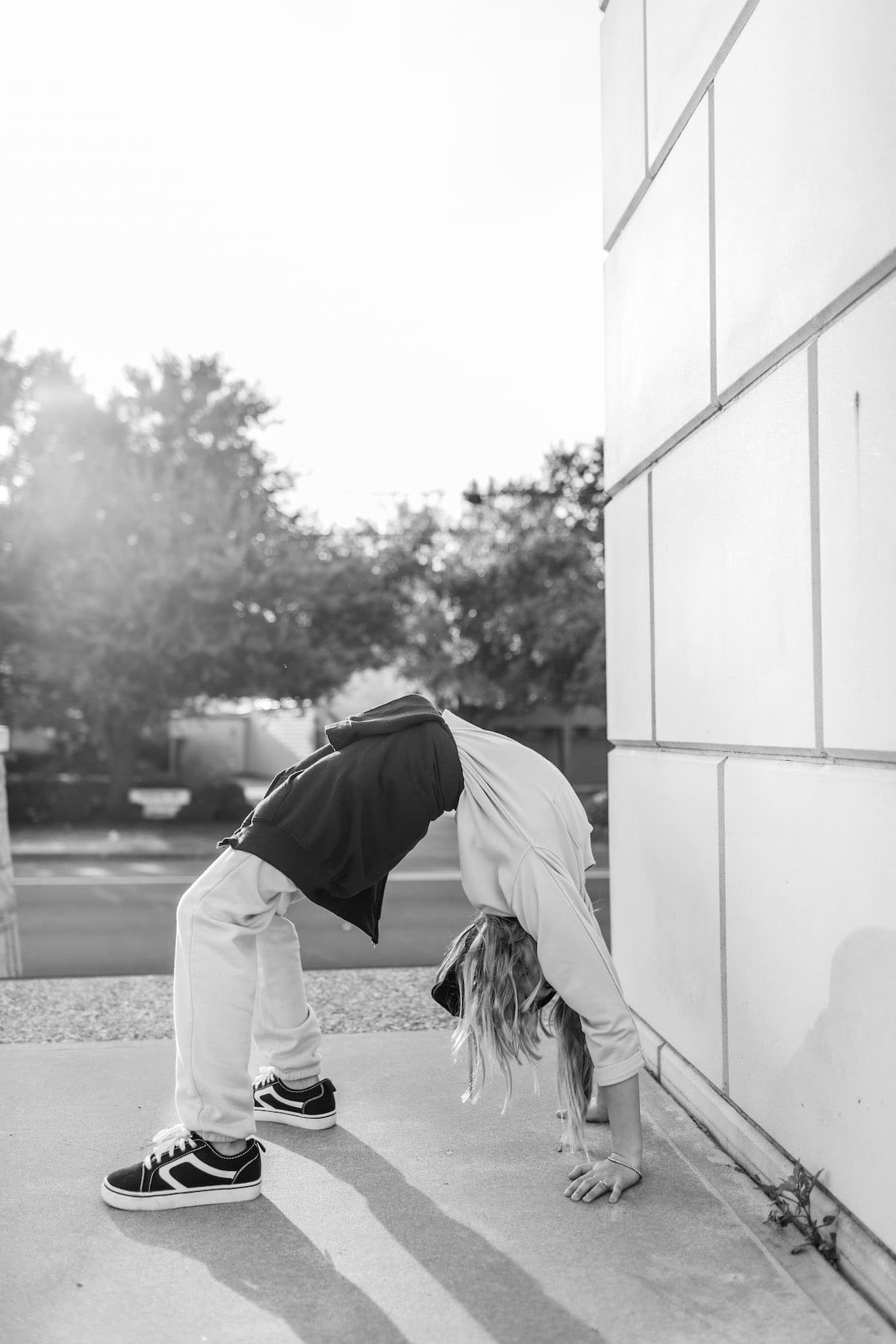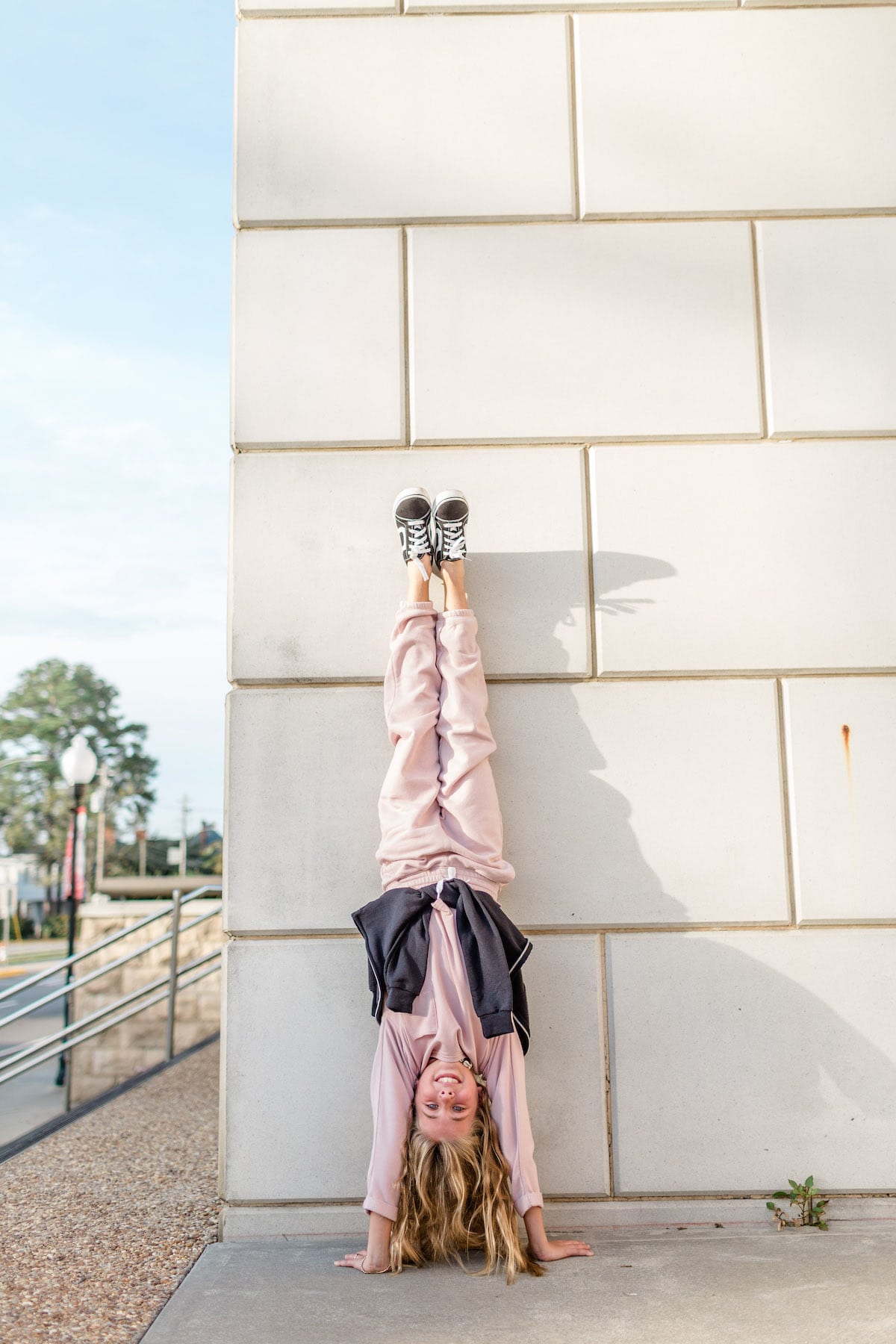 No way is she ONLY NINE! I cannot get over how GROWN she looks in these. I feel like just yesterday Lindsay was taking her newborn photography pictures and now she looks like she's a dang teenager!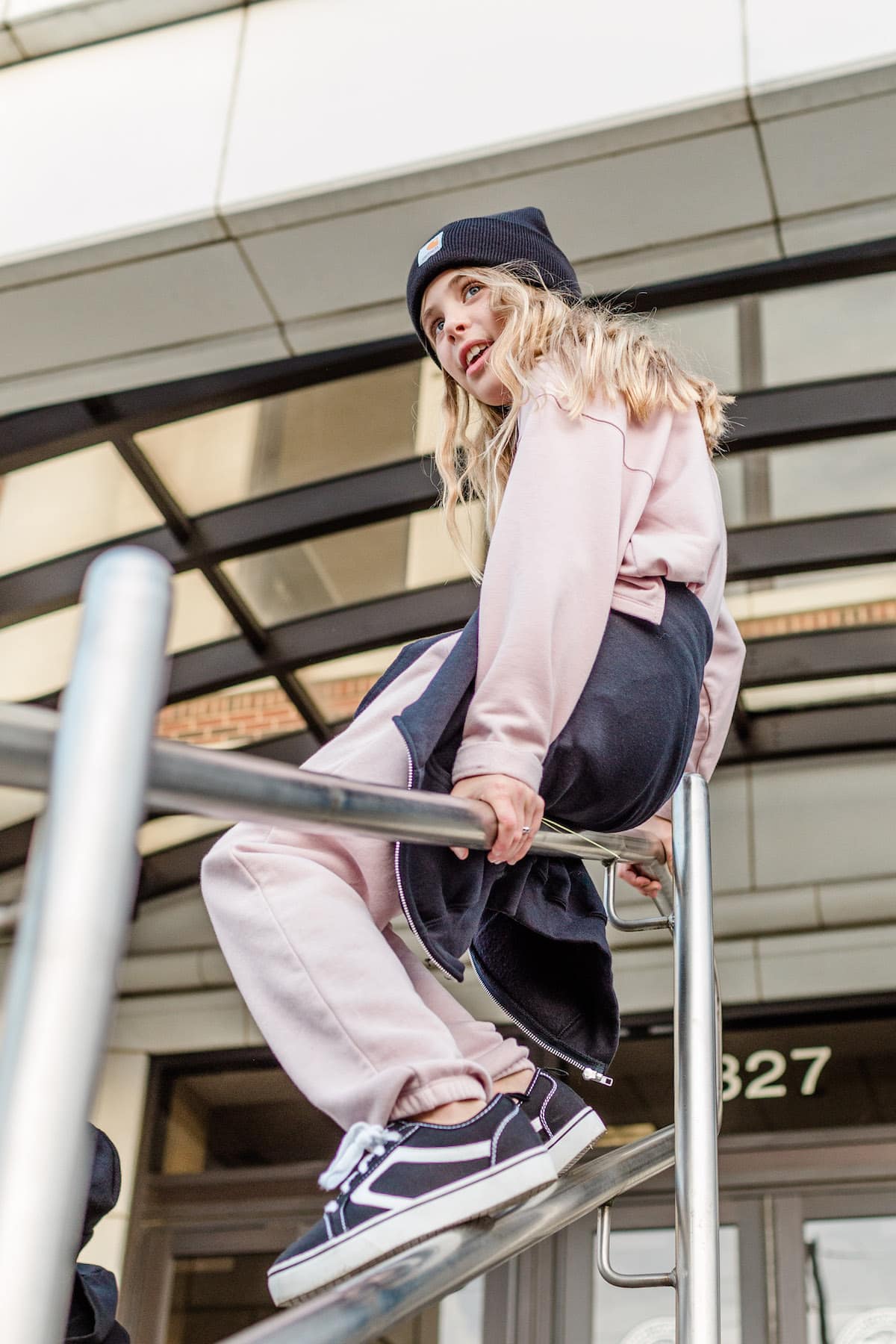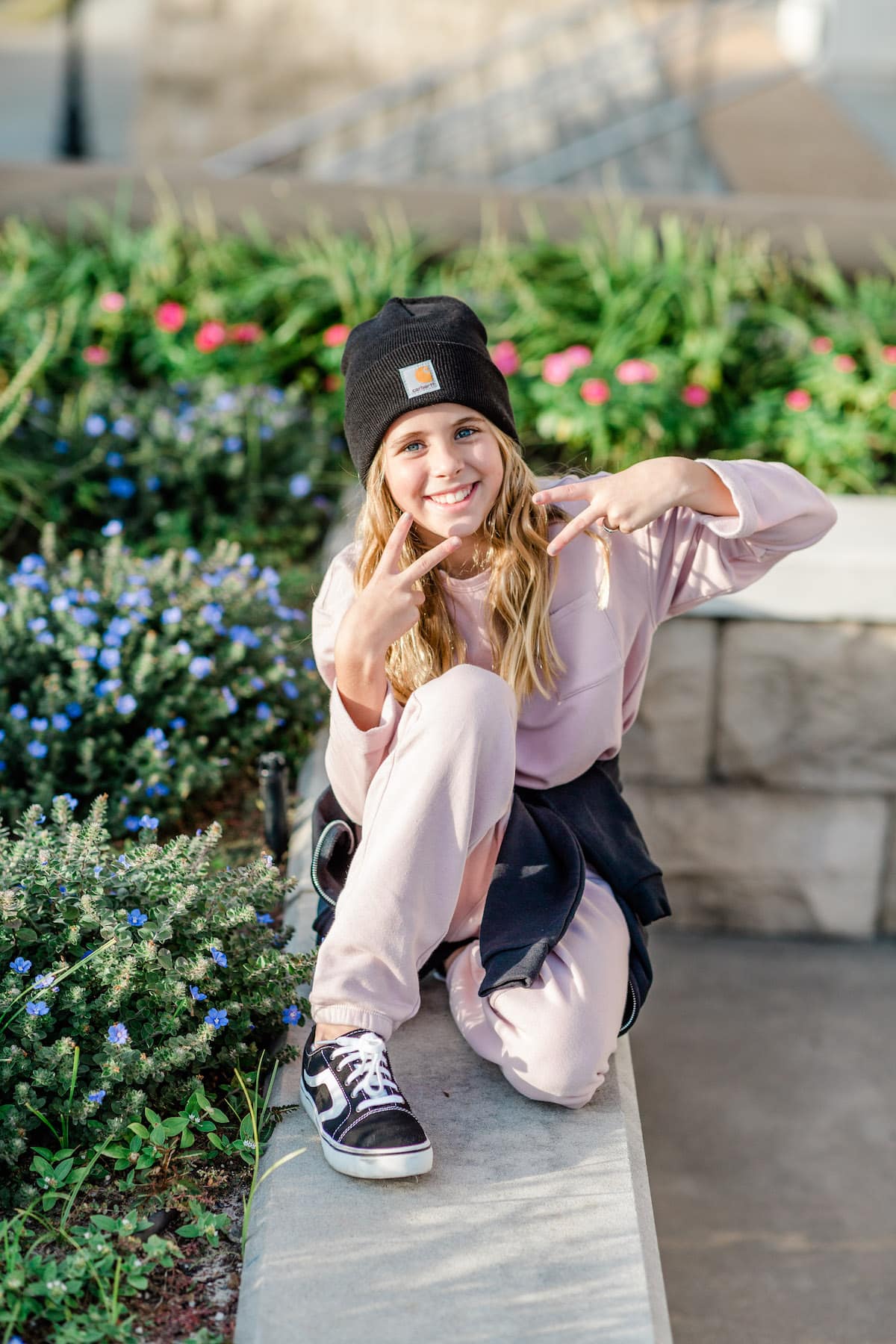 My hands down favorite from the day of my girl!
One of my big goals this session was to get some photos of ME individually with the kids that I really love. Often as "the mom" it's hard to get a great photo of me with my kids. Young children are hard to photograph on their own let alone with Daddy behind the camera 😉 These family sessions are always a good time to capture some of MOM in FRONT of the camera lens for a change and I am SO happy with the way my solo pics with the kids turned out. I love my babies!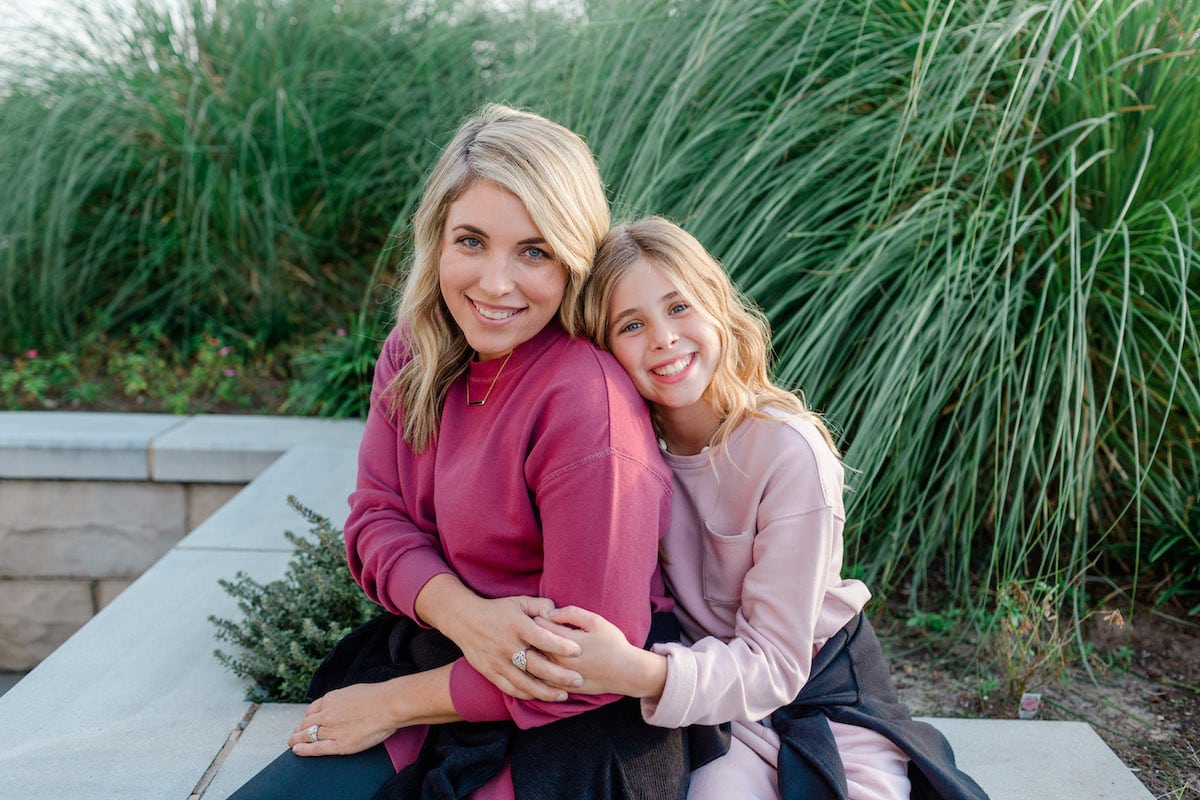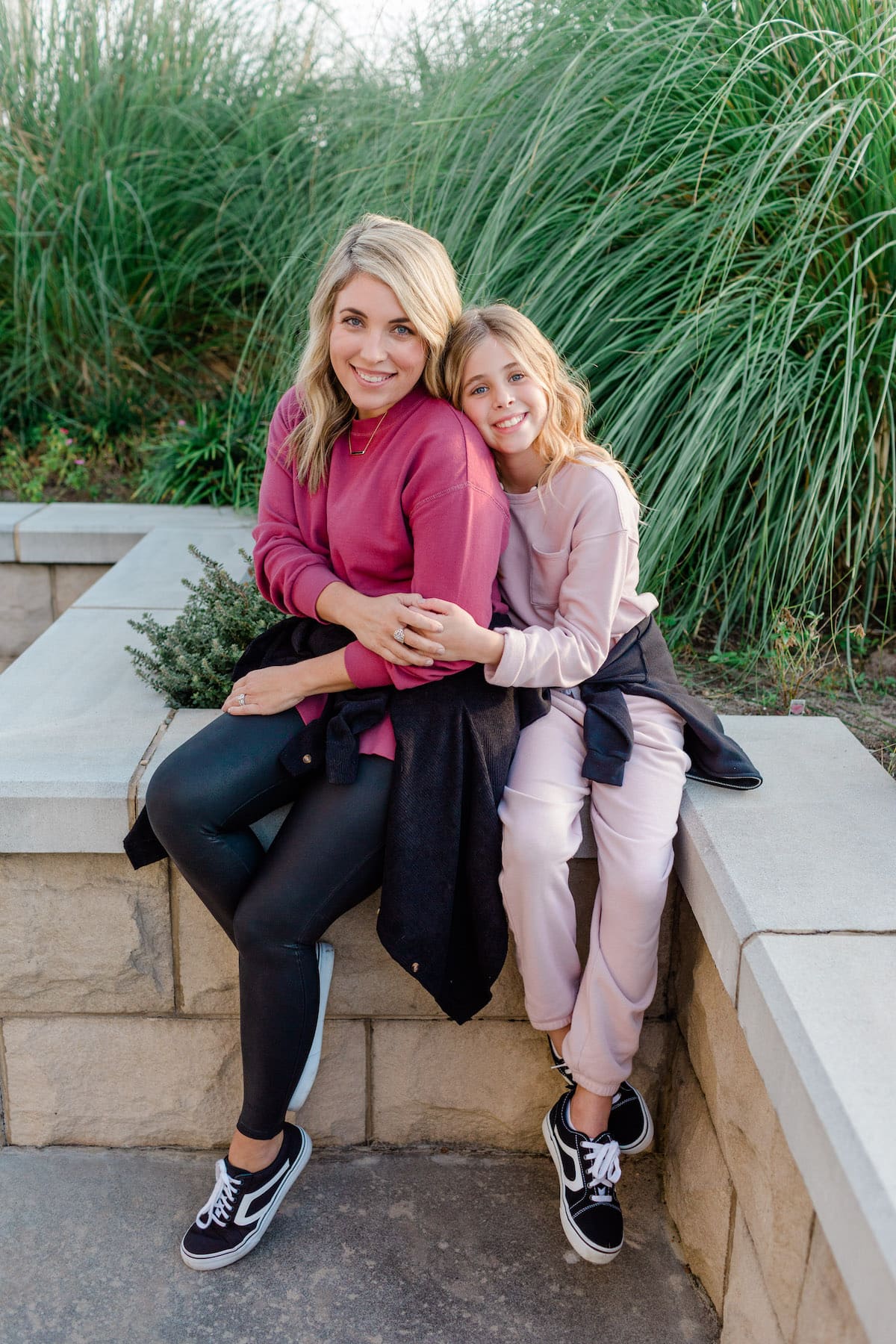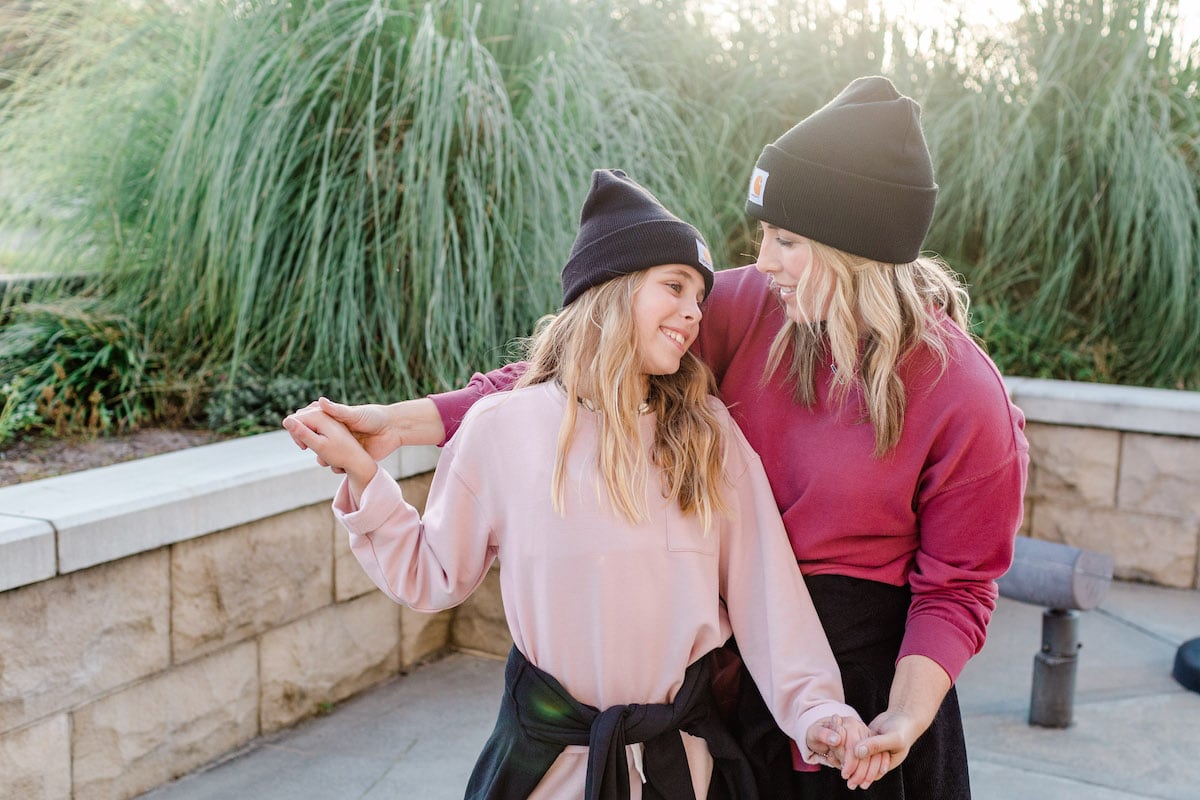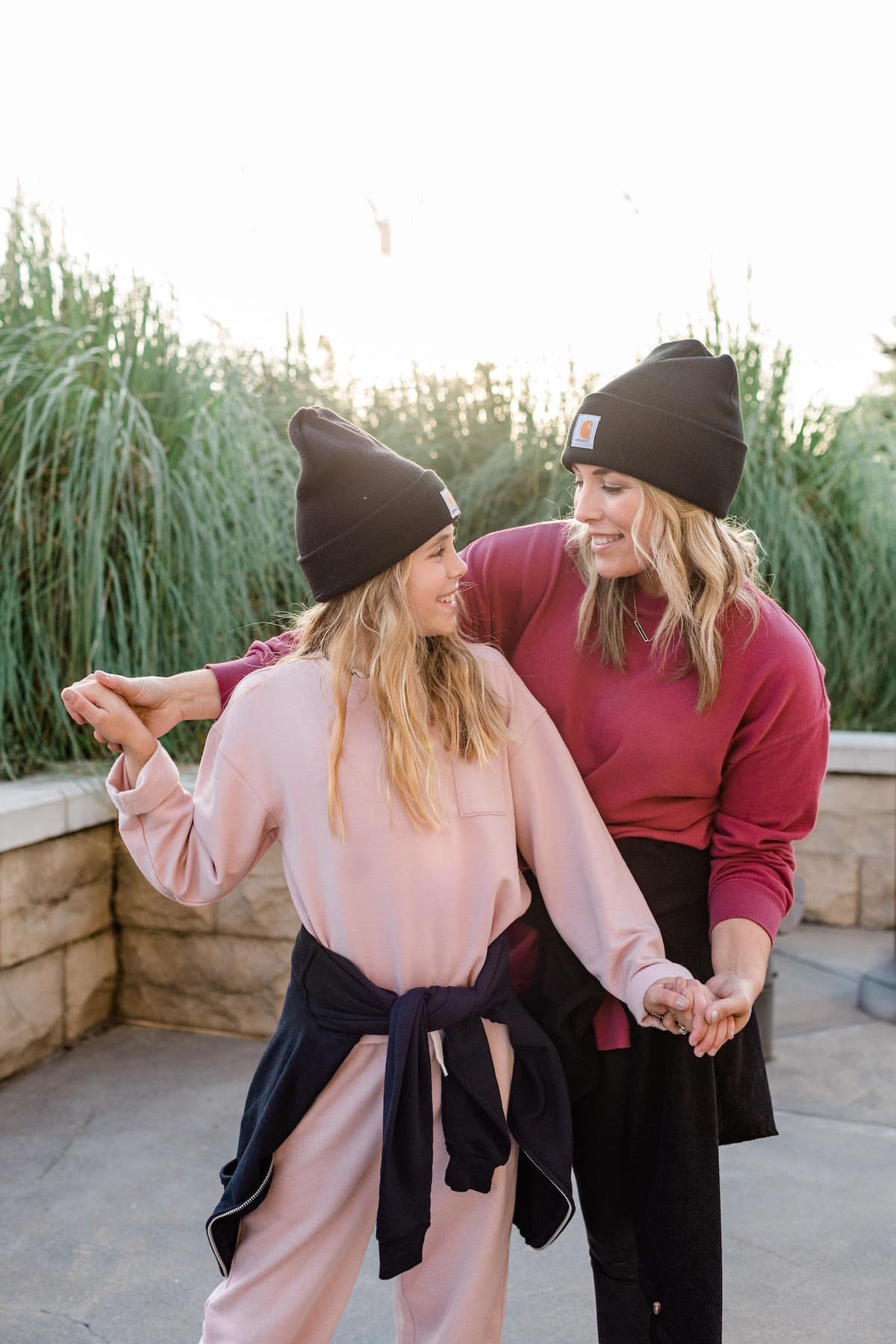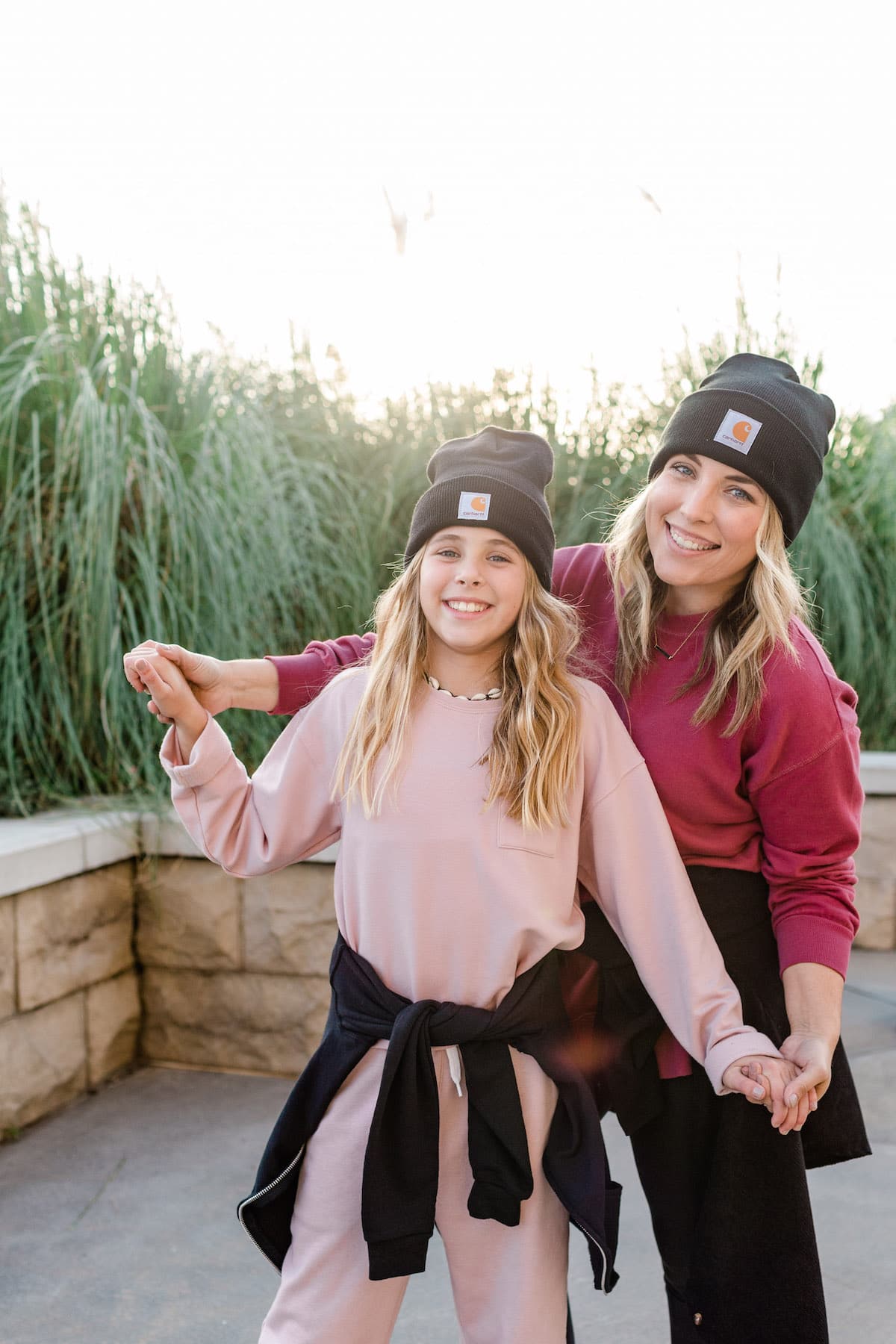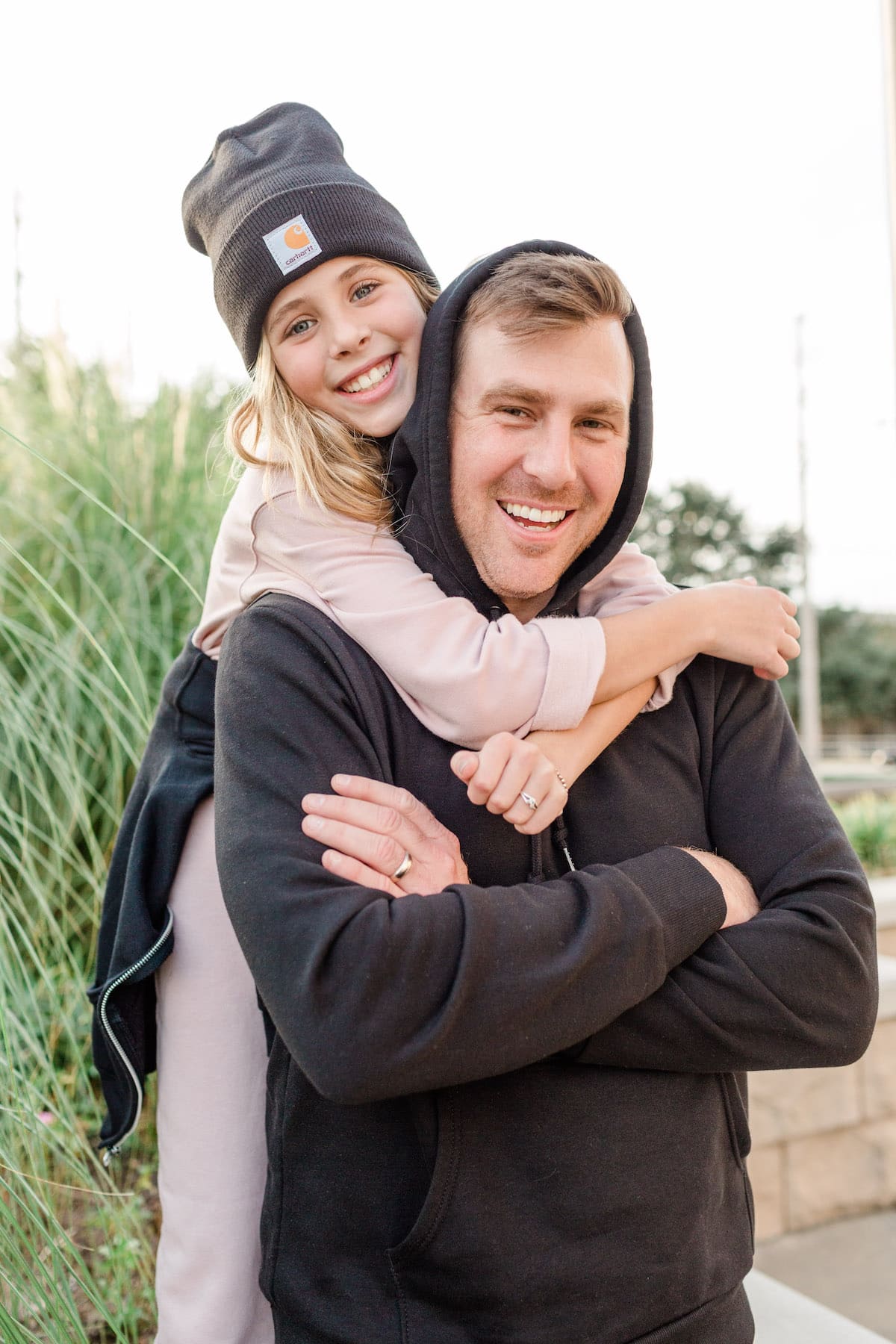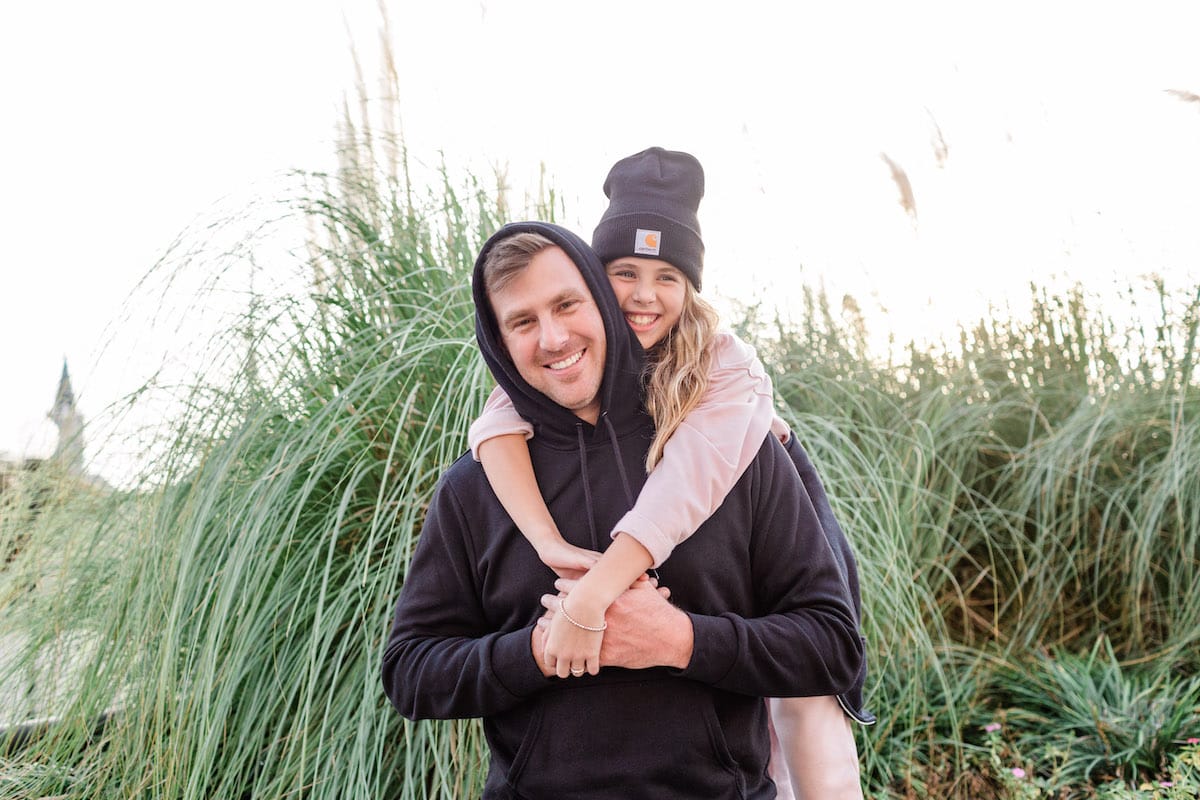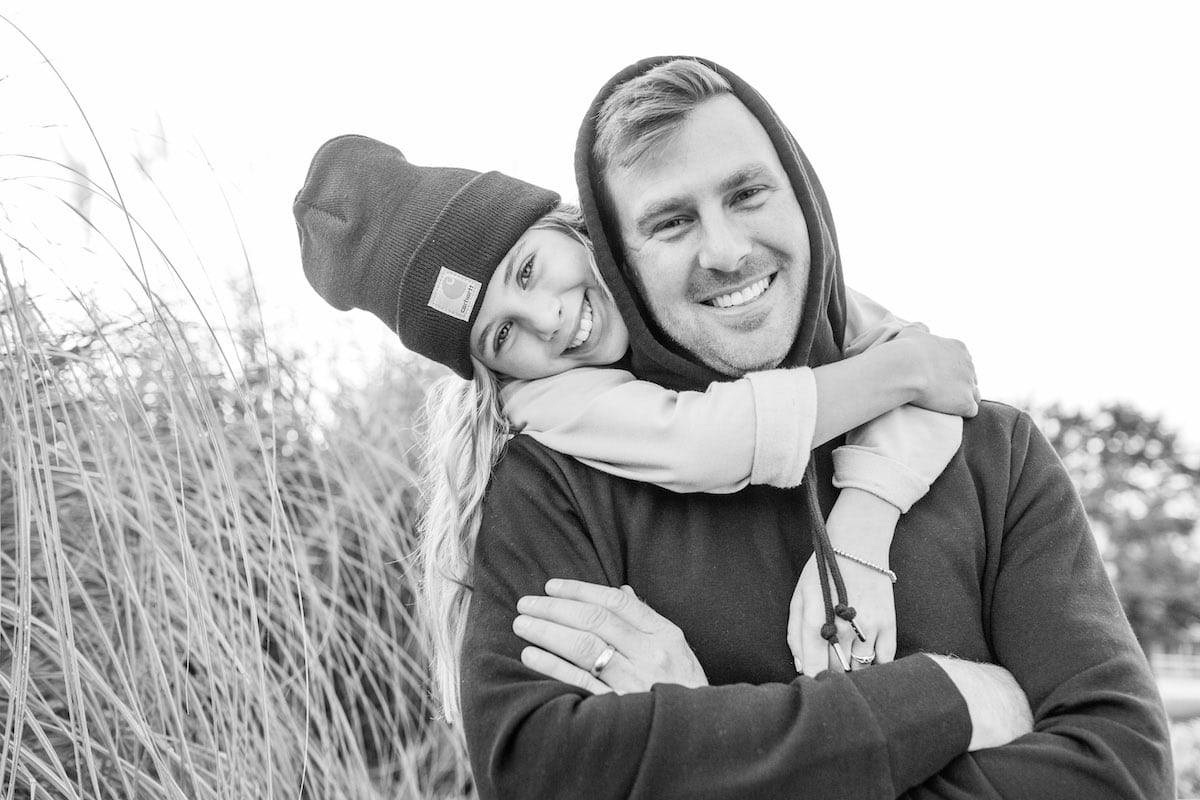 Tess – 7 Year Old Girl Pictures
Oh my sweet Tessie is at that adorable stage all little kids go through – the missing teeth and the "big" adult teeth growing in. I LOVE that she is SO PROUD of her smile and totally rocks it! I also adore her shorter haircut and it's our first family session with her new look (it's crazy how much she has changed just from our family session earlier this year!)
A great tip when taking photos of your kid and ideal for kids of all ages is to have some simple props to mix things up and keep it fun. We have sometimes brought along a few of each child's favorite toys or a stuffed animal best friend but as the kids get older I've stuck to simple ideas to add variety to their looks.
We used jackets to tie around all of our waists and I brought along this cute headband that came in handy as well! (We've actually used these headbands at several photo sessions now – a great item that matches SO many looks!)
Tess really rocked these pictures and more than any other session we've had I feel like these truly captured her unique, fun, spunky personality the BEST!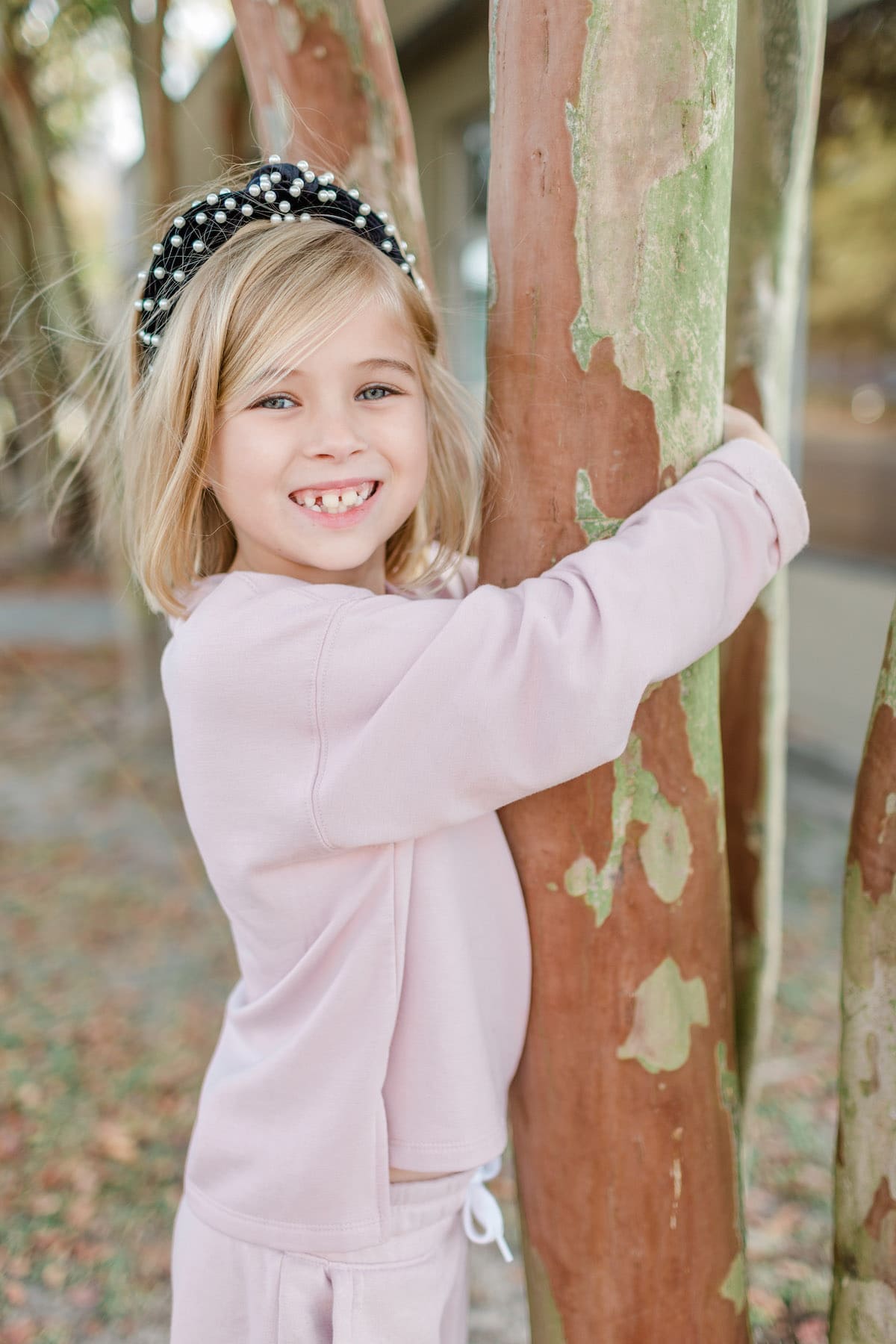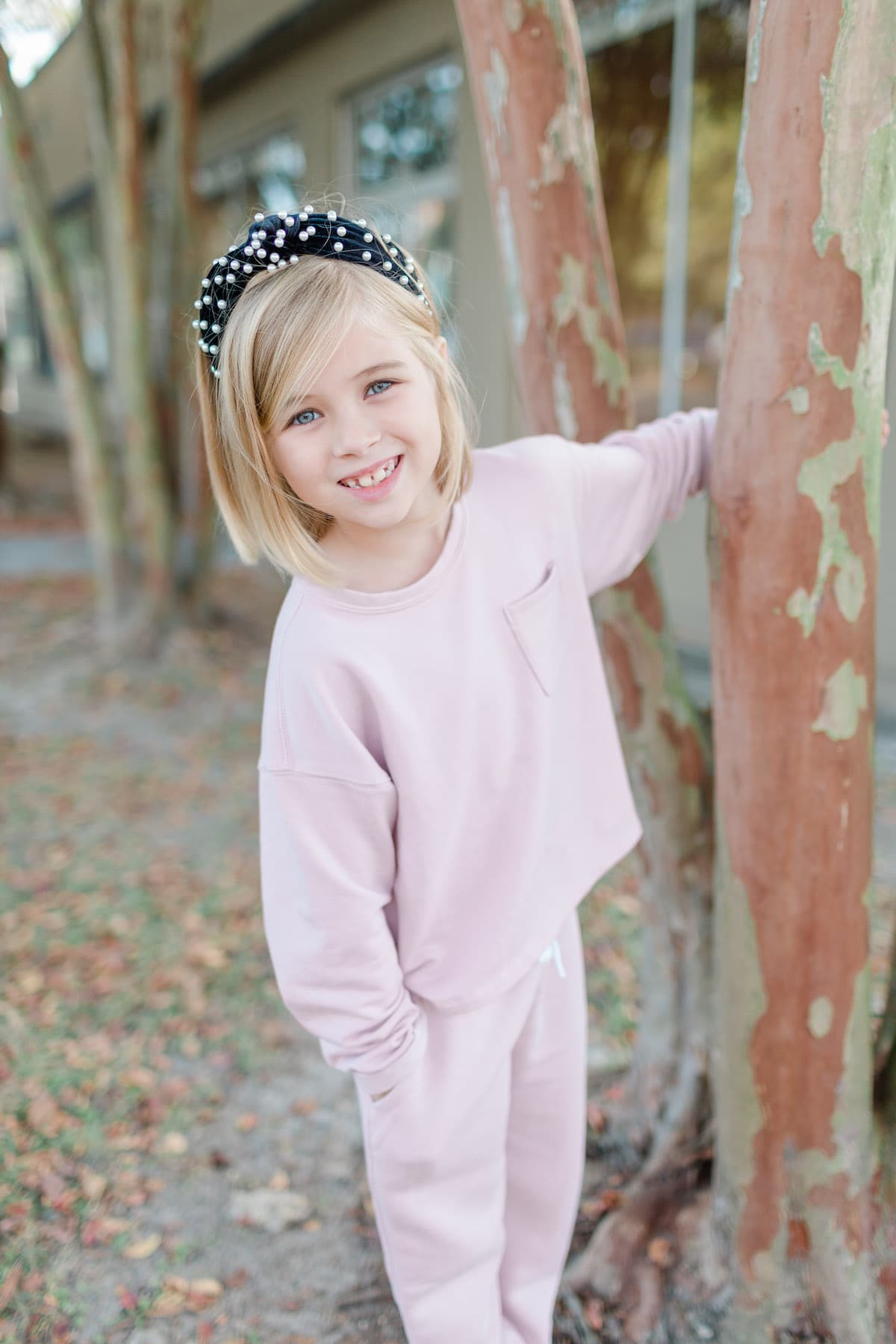 This one cracks me up because she was just laying here hanging out while Britt was getting her pictures taken and she was posing just waiting for someone to notice and snap a picture 😉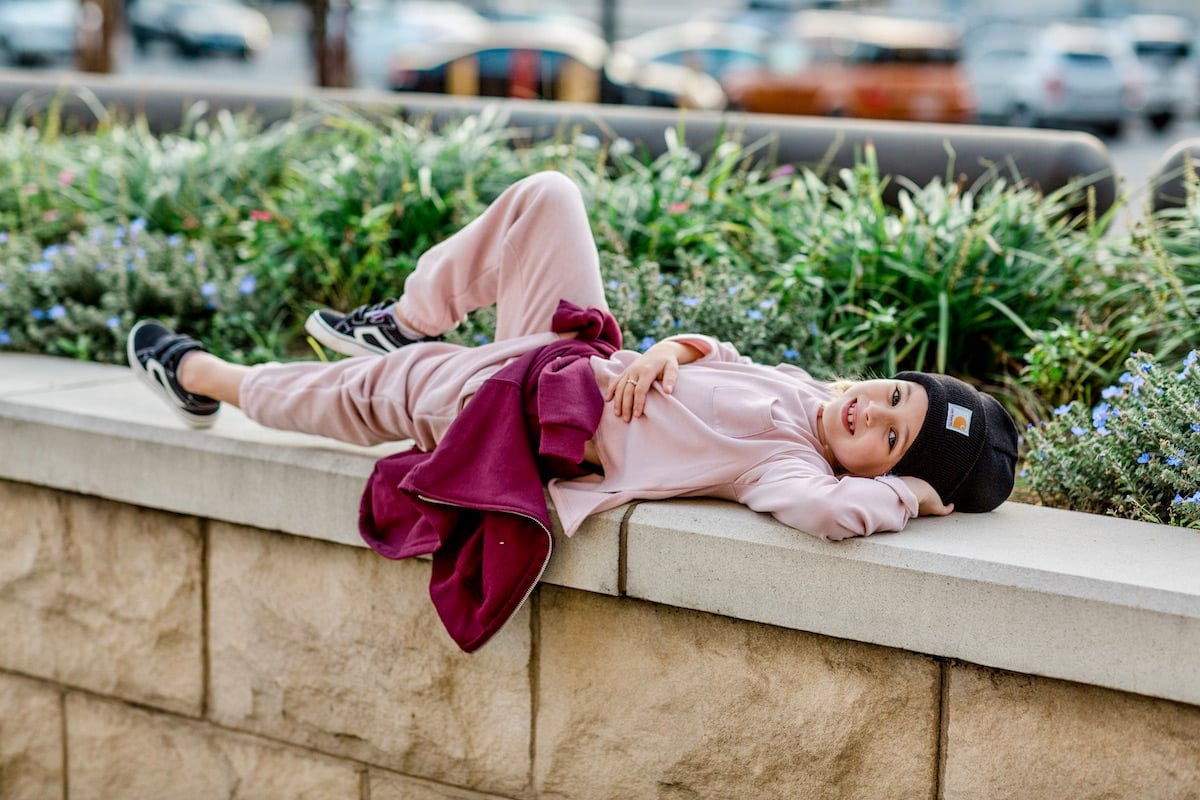 Tess is a vibe on all on her own! I really love all the serious shots of her – such a different style than her usual bright bold smile and it's a nice variety to have! I think they may be my favorites of her from this session 🙂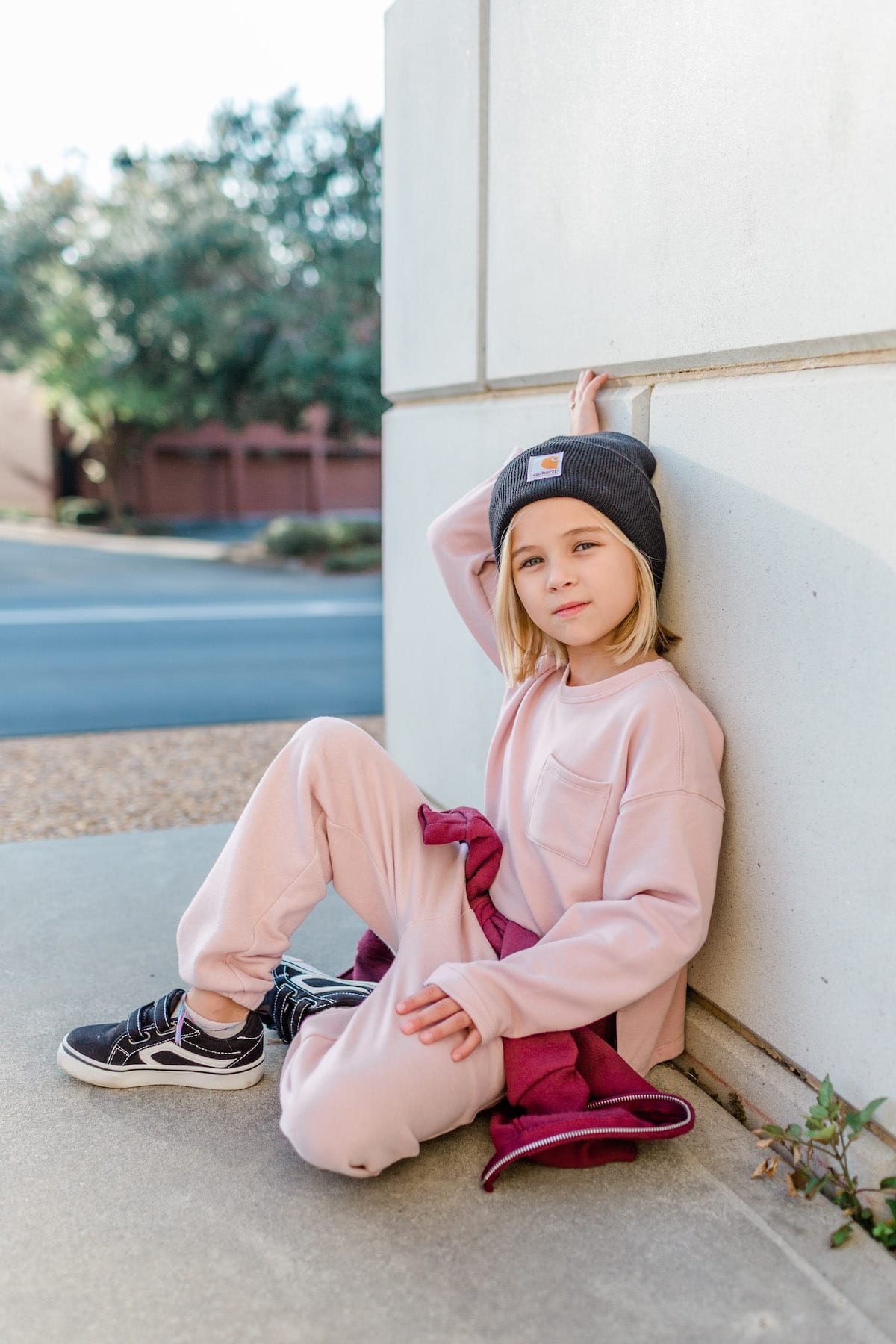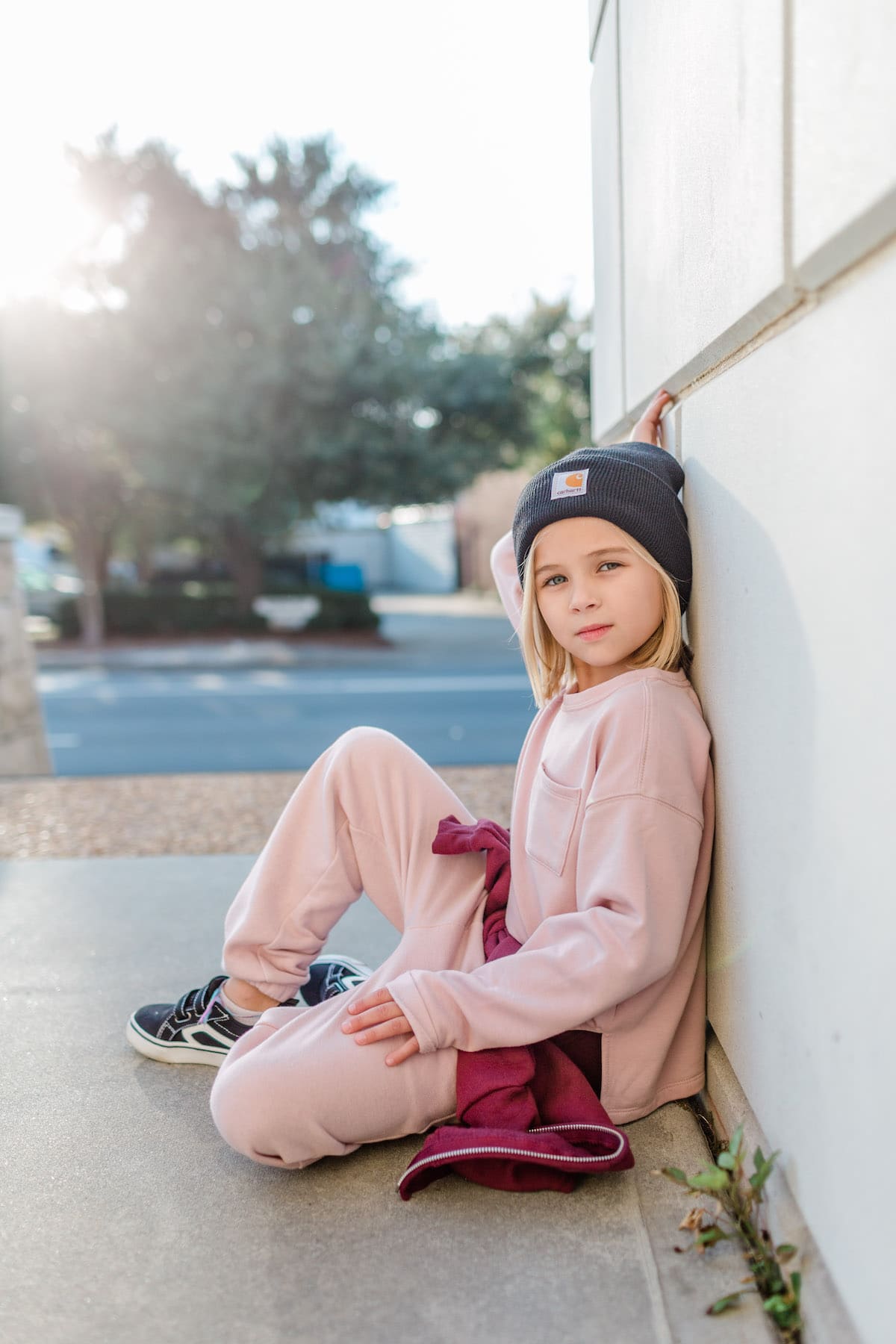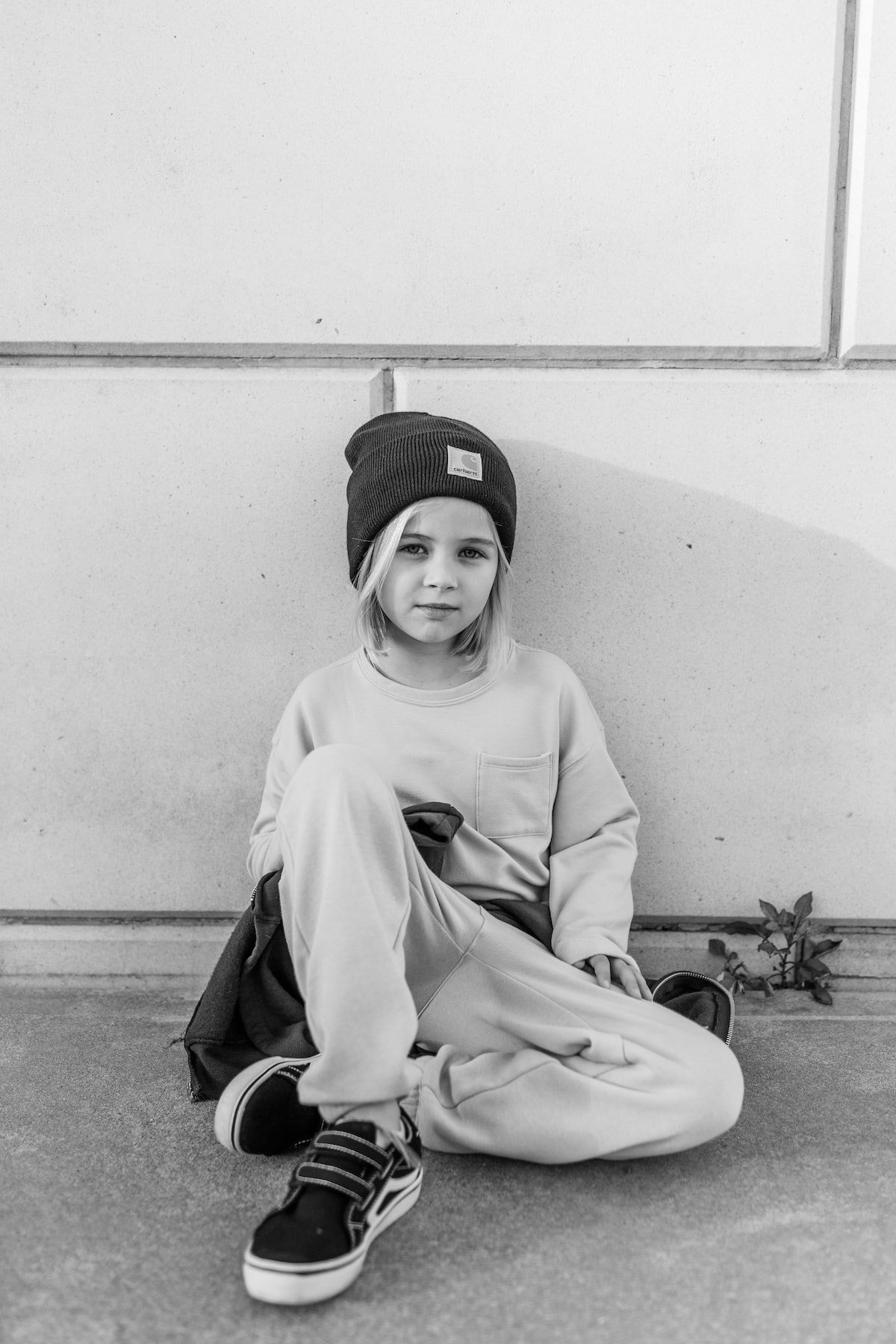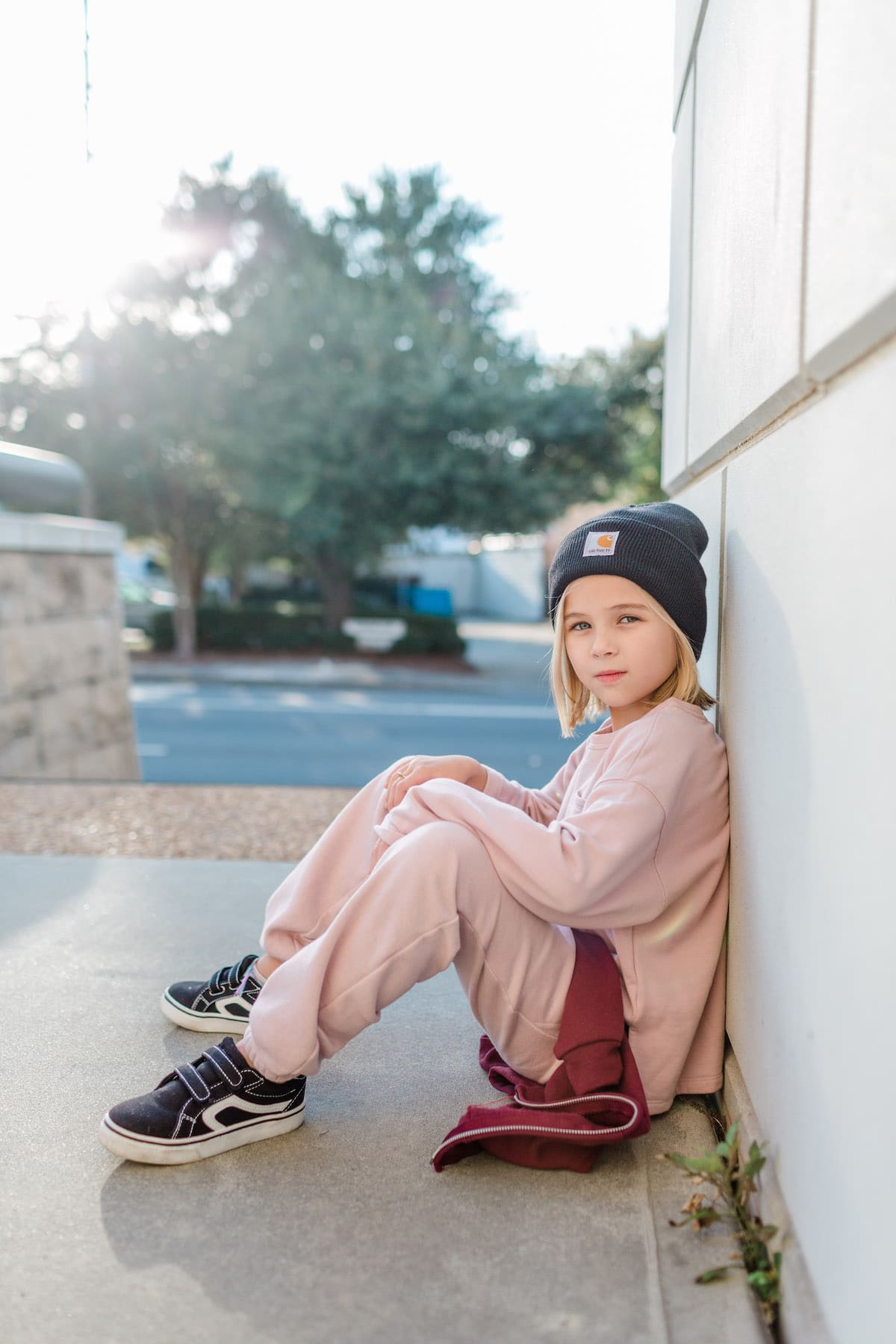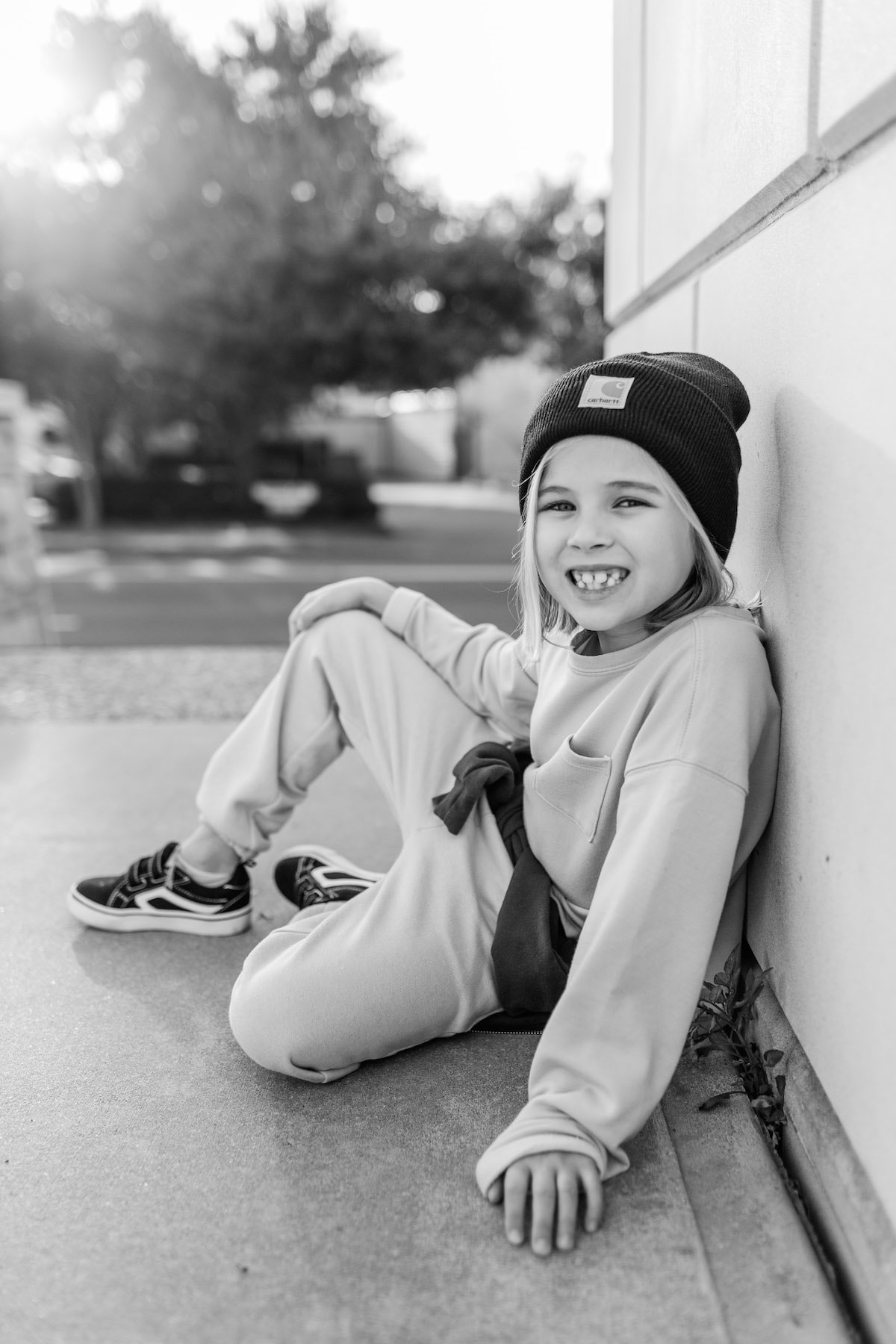 My mini-me!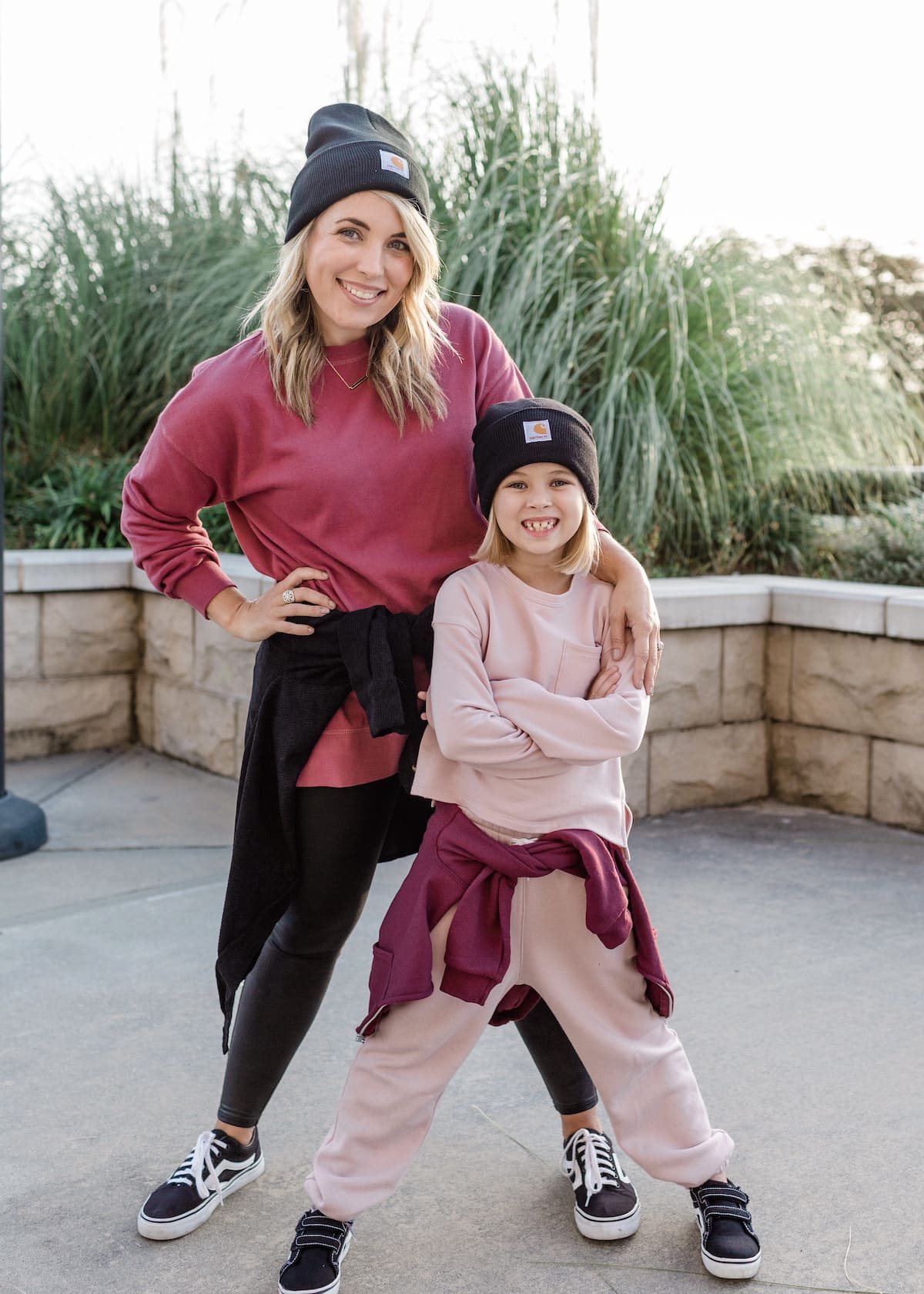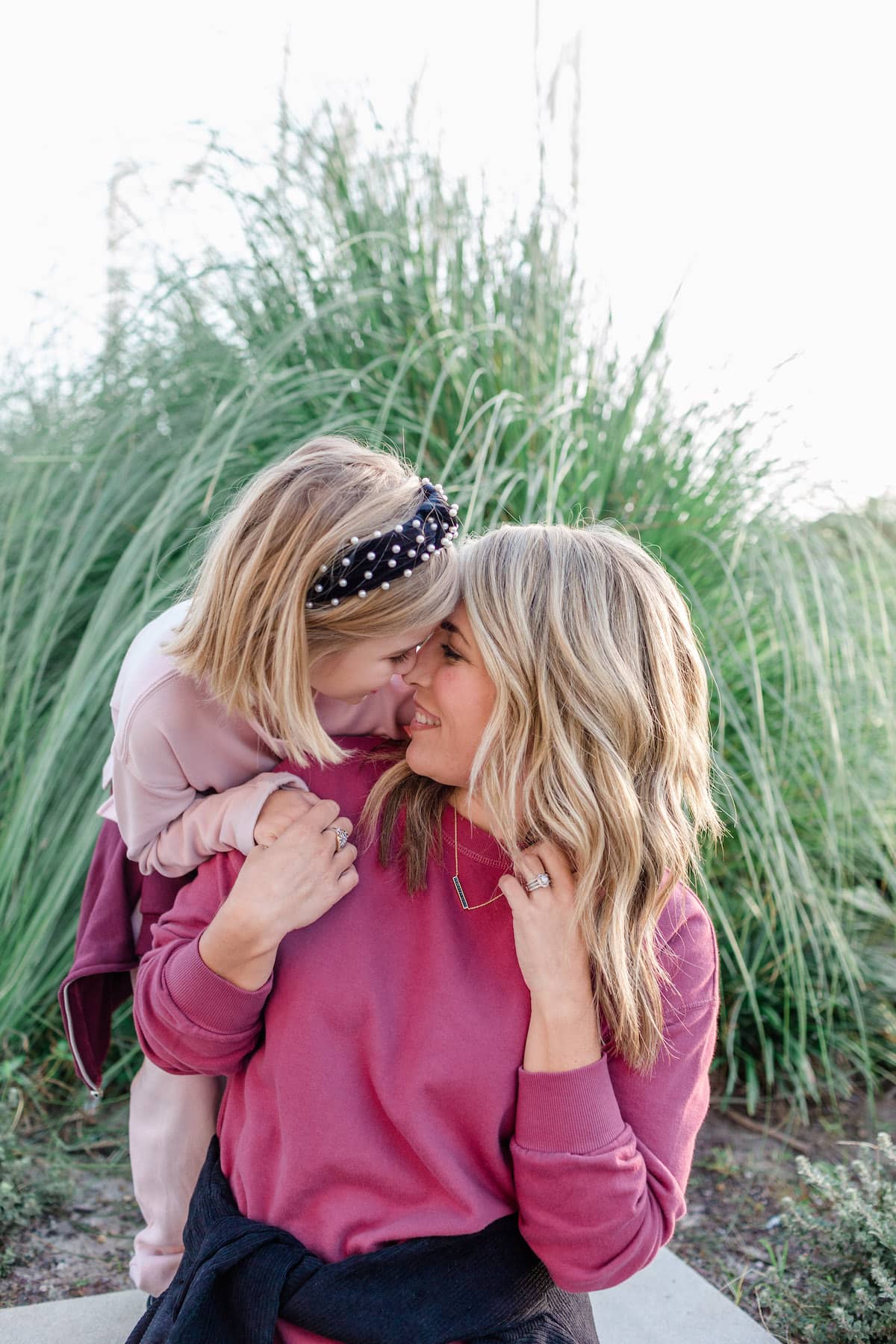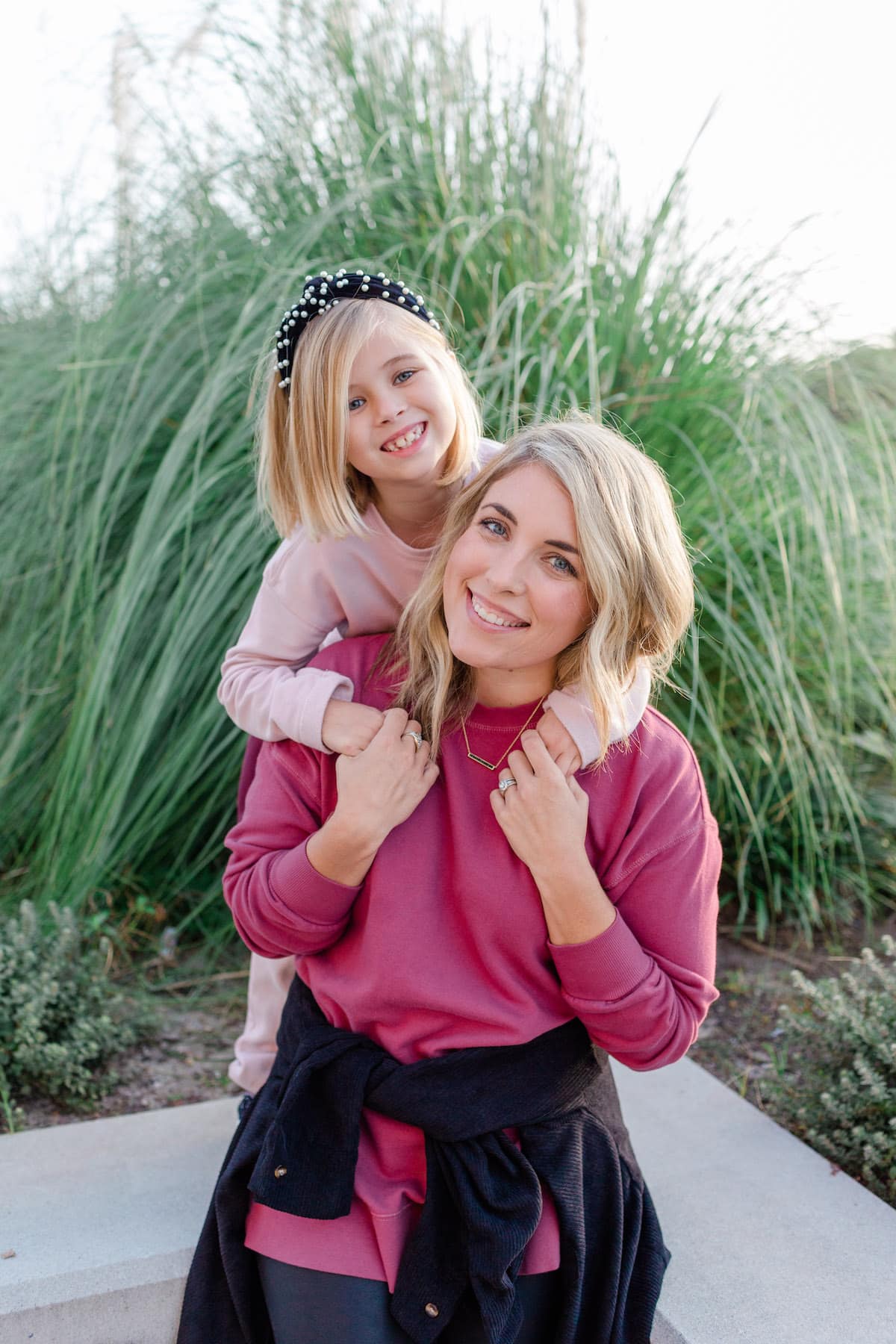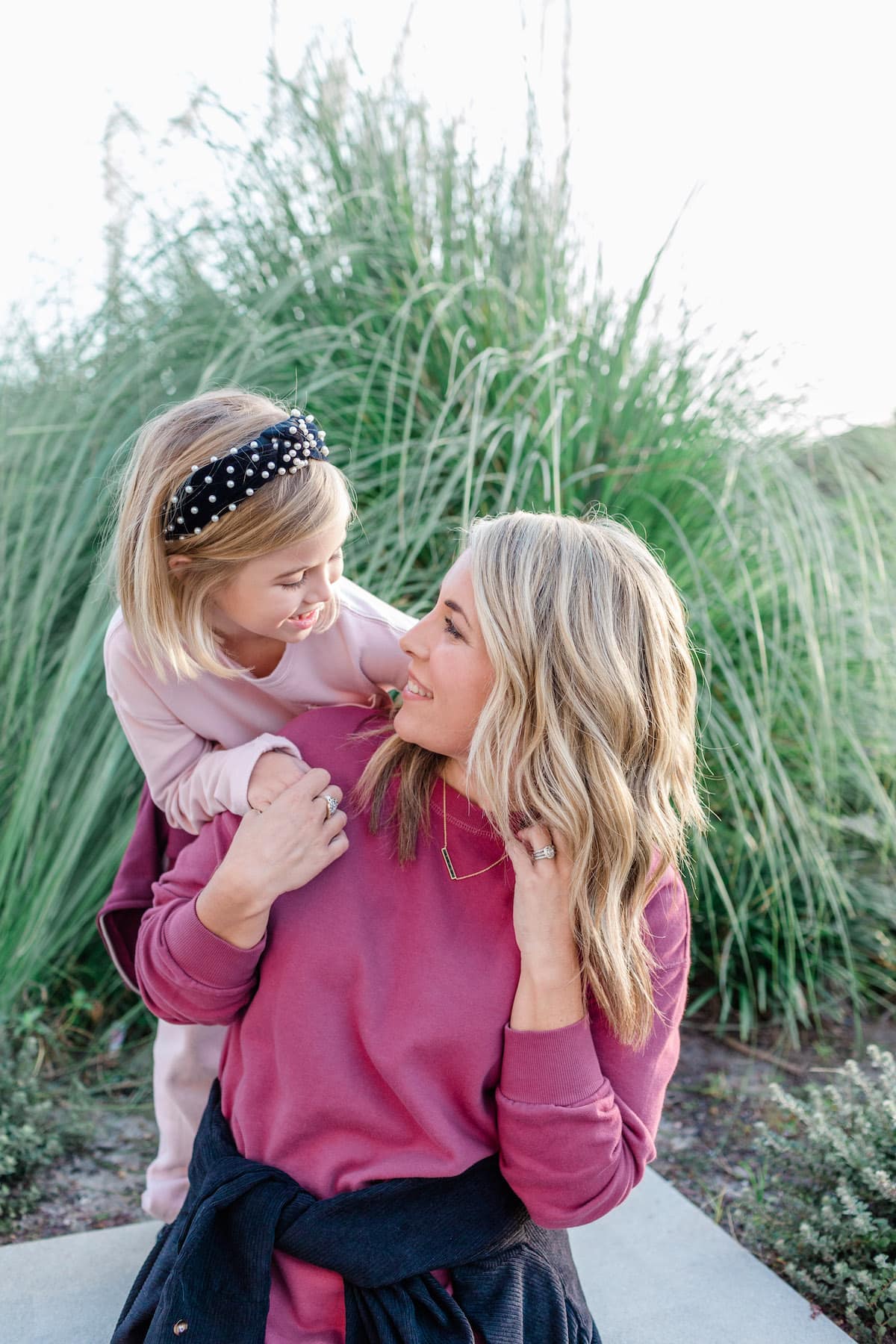 Don't mess with us 😉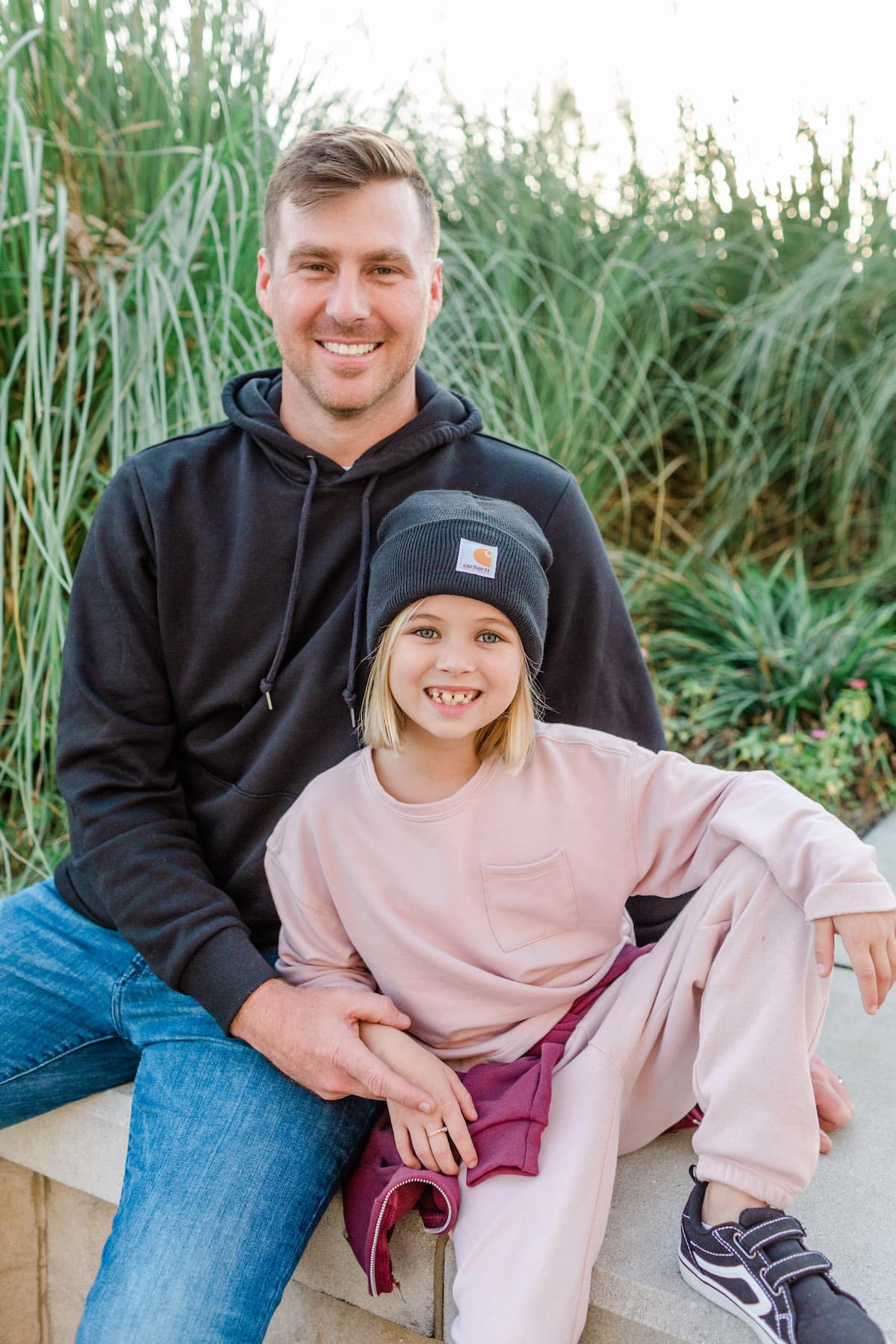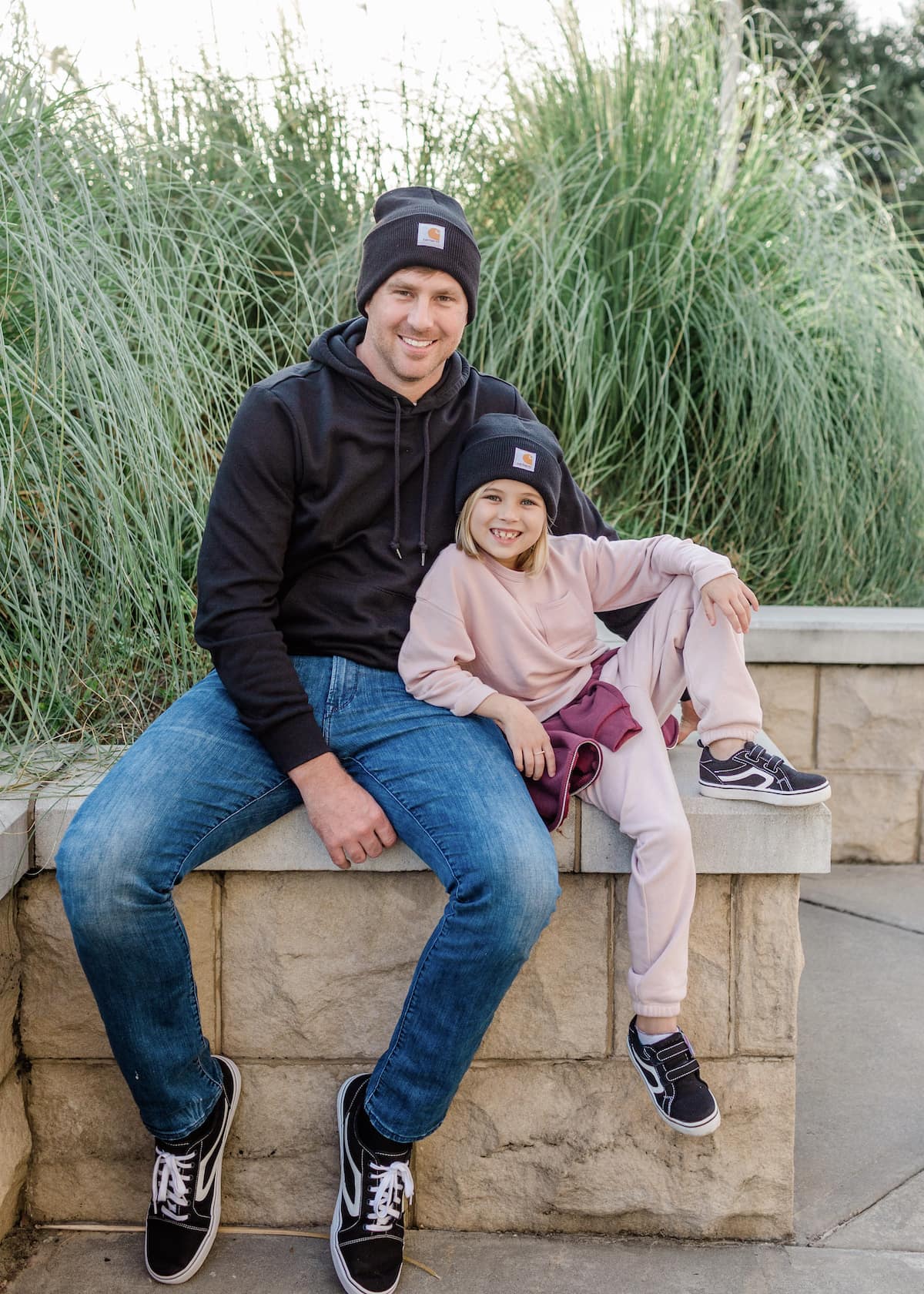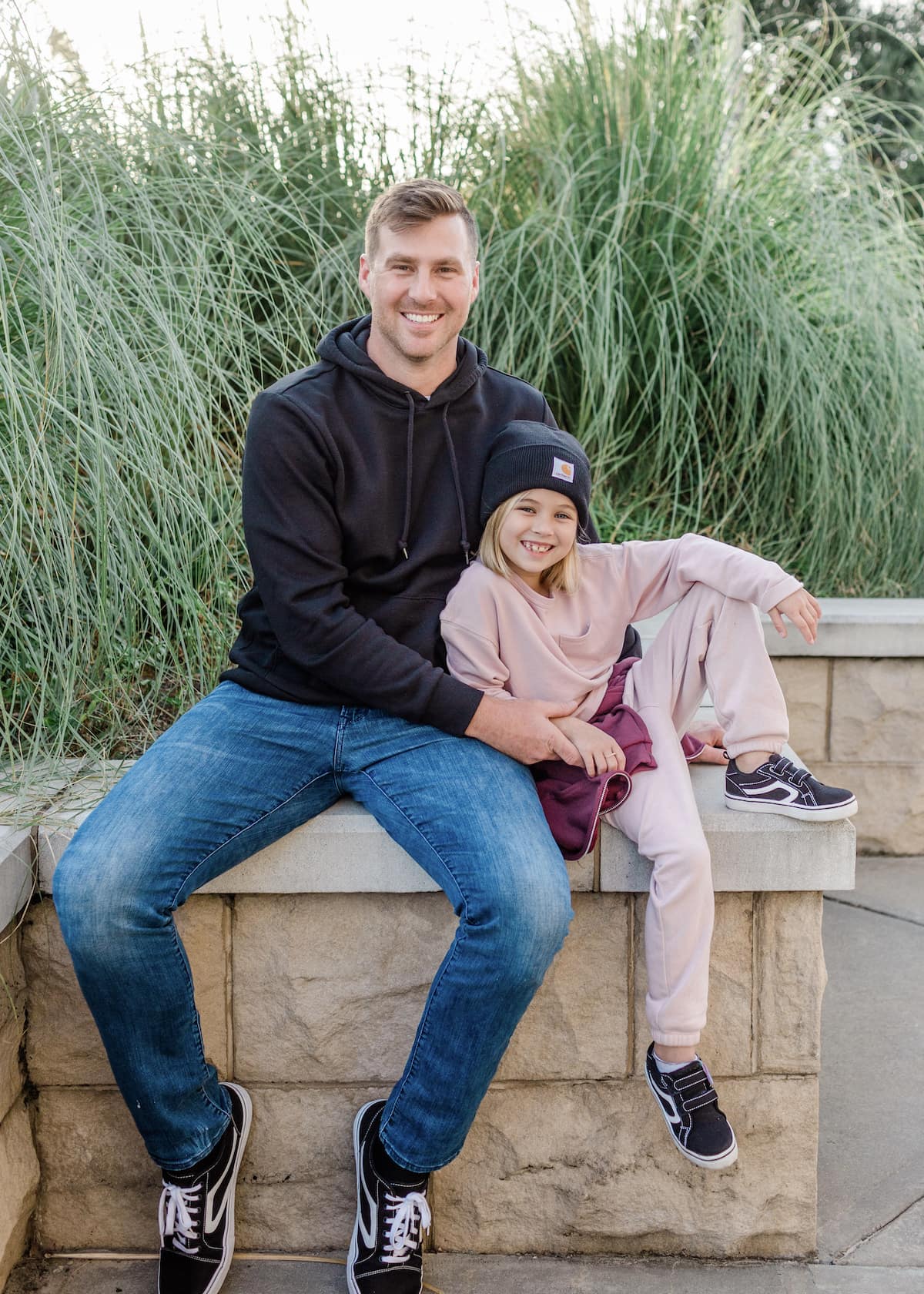 Spear – 3 Year Old Boy (Almost 4!)
Oh my sweet, wild man Spear! With the more urban style of our outfits we wanted to have the session downtown (and actually did most of the images at our local courthouse!). If we were at a local park or large field he could be free to run and play in-between his turns in front of the camera, but we were in a BUSY section of town and traffic was crazy being that the best time of day for photos is also "rush hour" with everyone heading home from work.
We are SO thankful Aunt Katie was able to meet up with us during the session. When I say she was a LIFE SAVER I mean it, literally! One of my best tips for taking family photos with small children is to bring a friend or extra family member. Katie has helped us several times (even at the beach while on vacation she so sweetly met up with us!) and my mil, Mrs Charlotte, often helps us with our photoshoots.
With younger kids in the mix, we'd never be able to get all the different variety of photos we take without help keeping an eye on the ones who aren't in the photos. It's also a good idea to have a helper to help capture those smiles. Katie and Mrs. Charlotte will stand behind the photographer and hold up a soft toy, make silly faces, have a favourite toy, shake key things, or even baby rattles to grab that quick second of attention. Then Lindsay makes the magic happen with her fast shutter speed skills 😉
I went for the black on black look for Spear and he is simply adorable! Our handsome little man and these poses make for some great child photo ideas!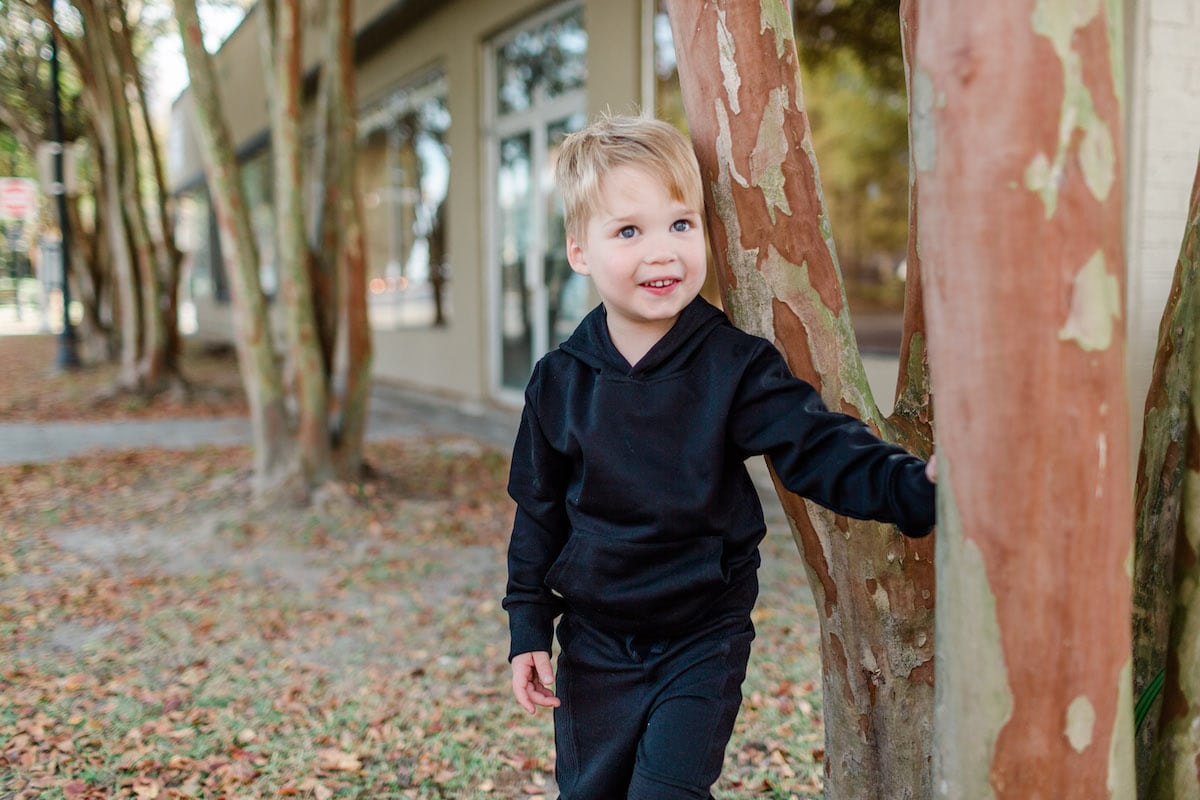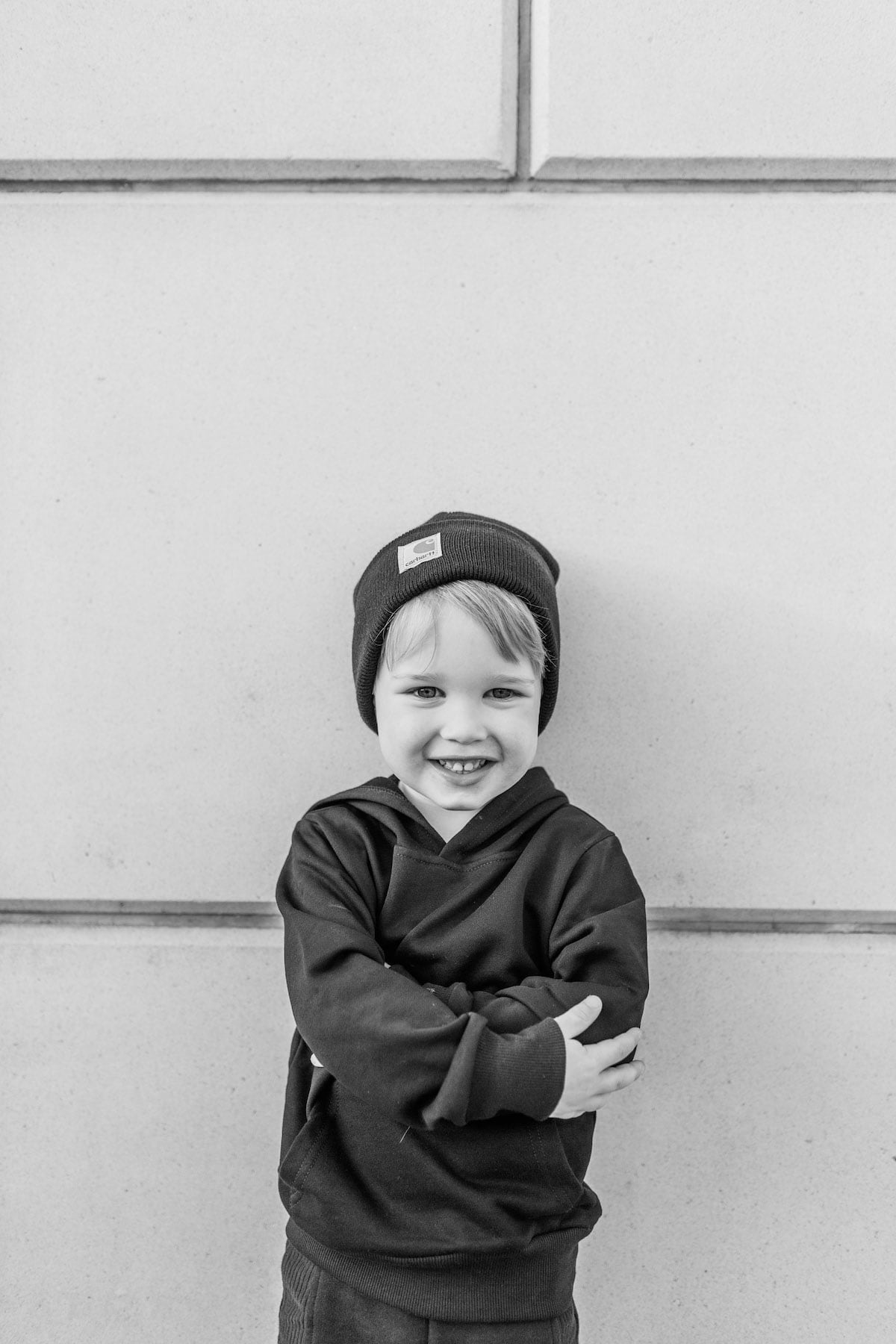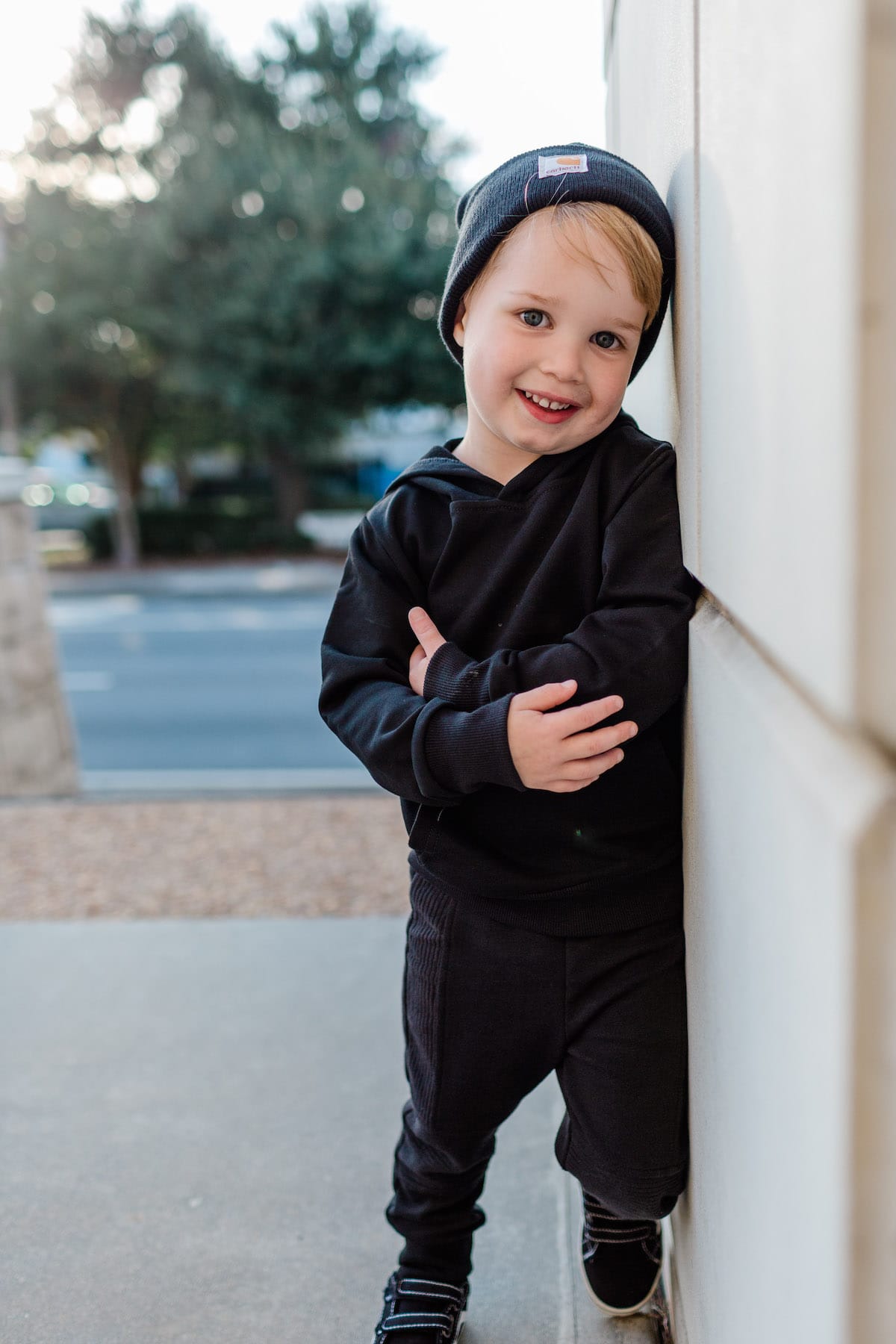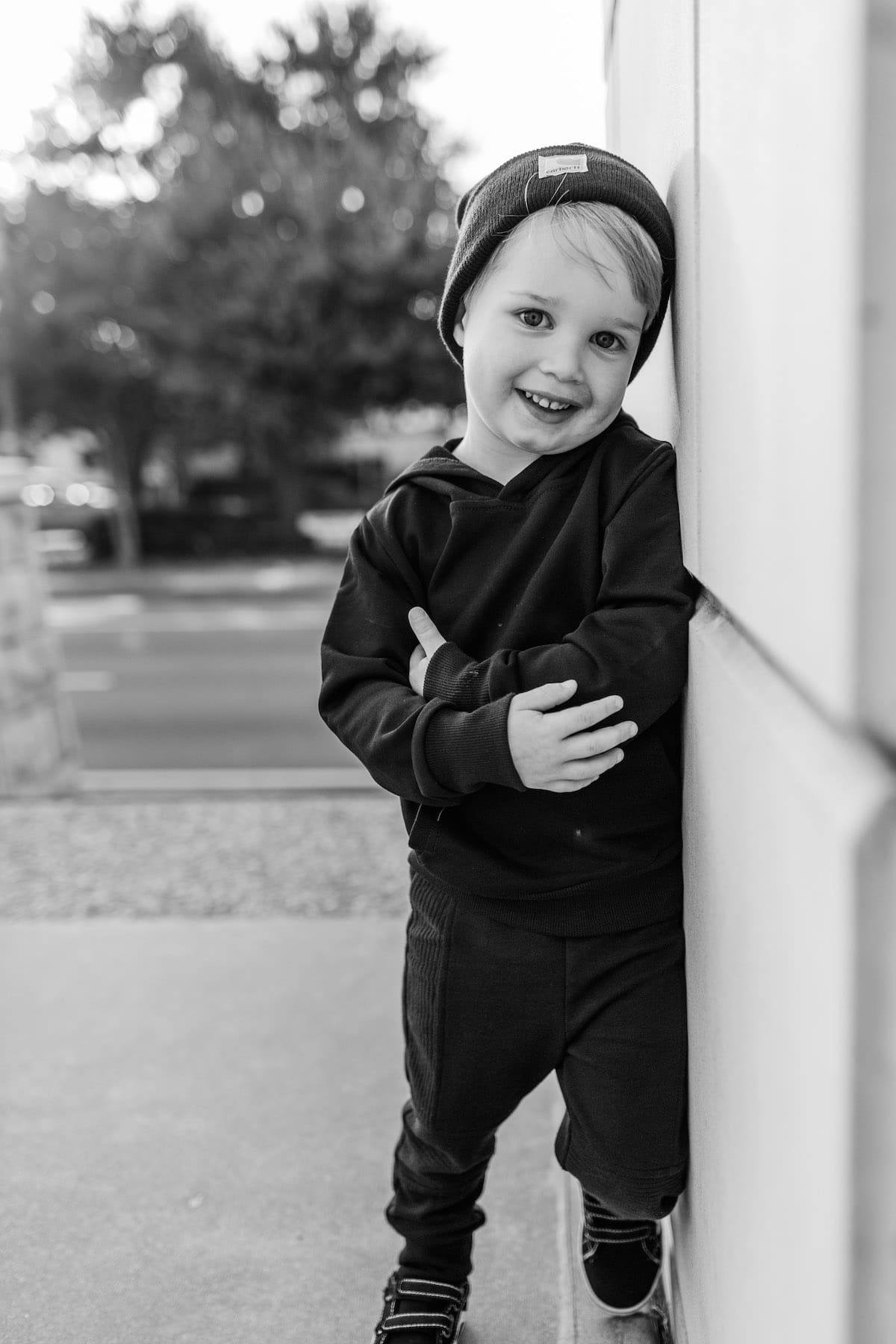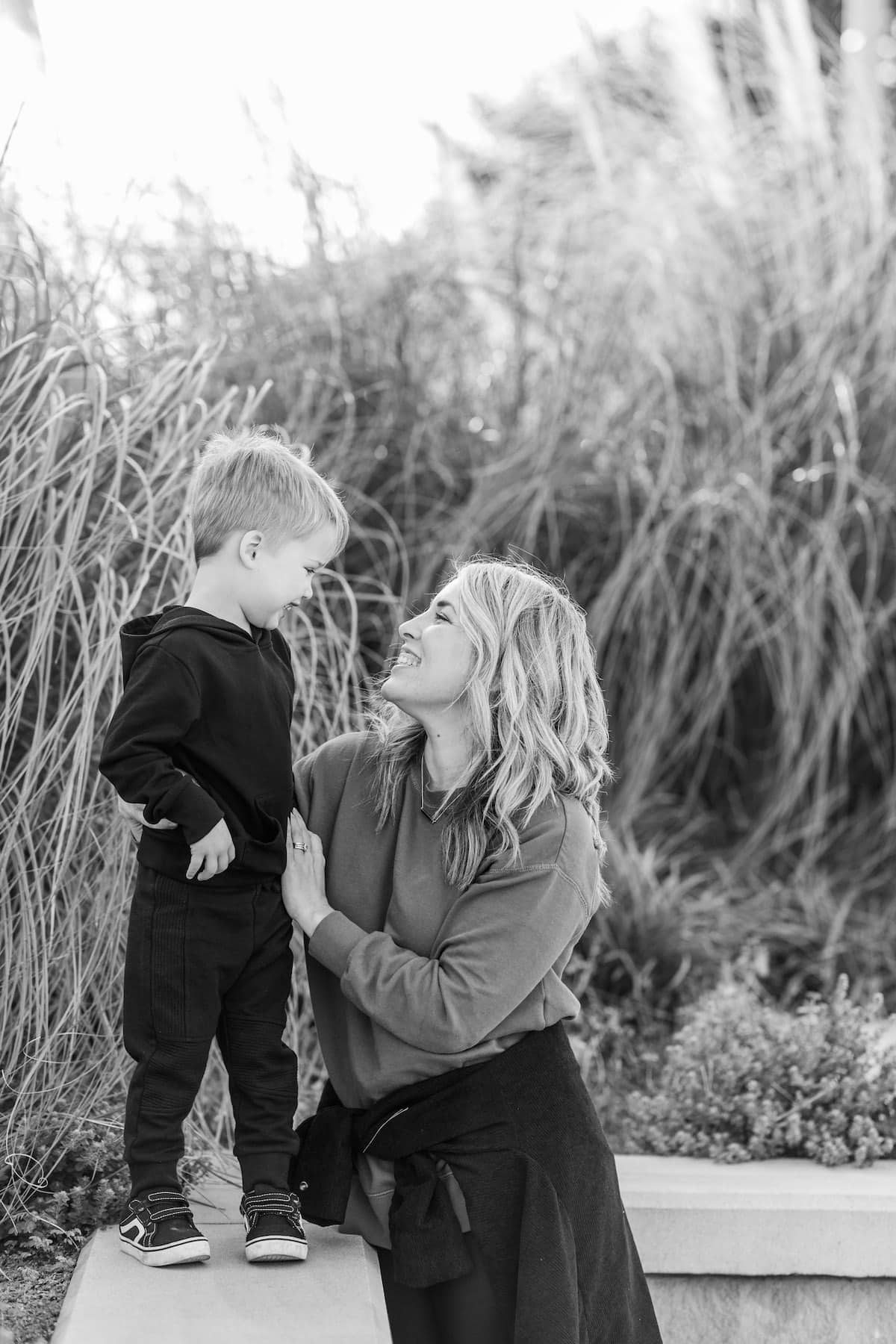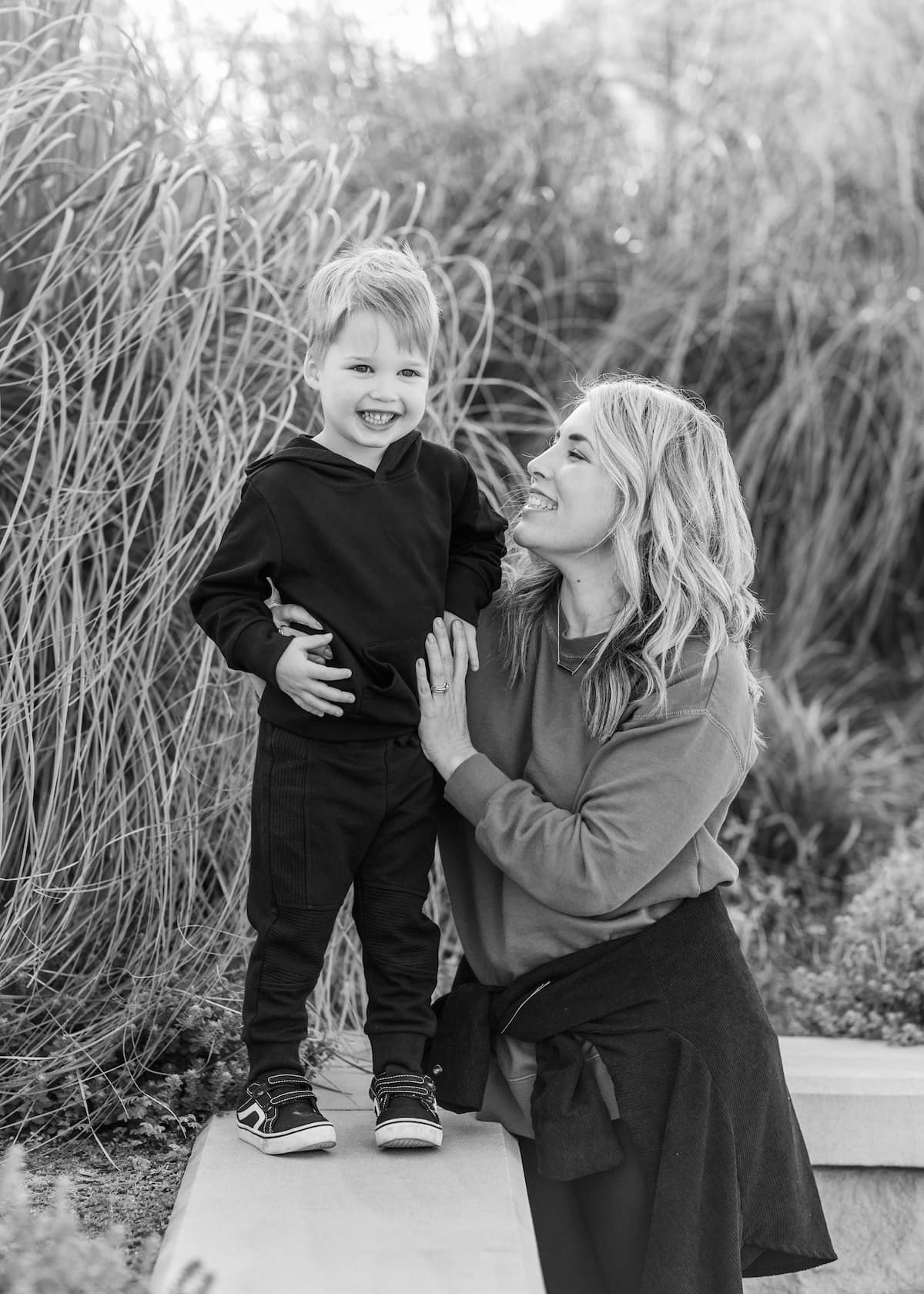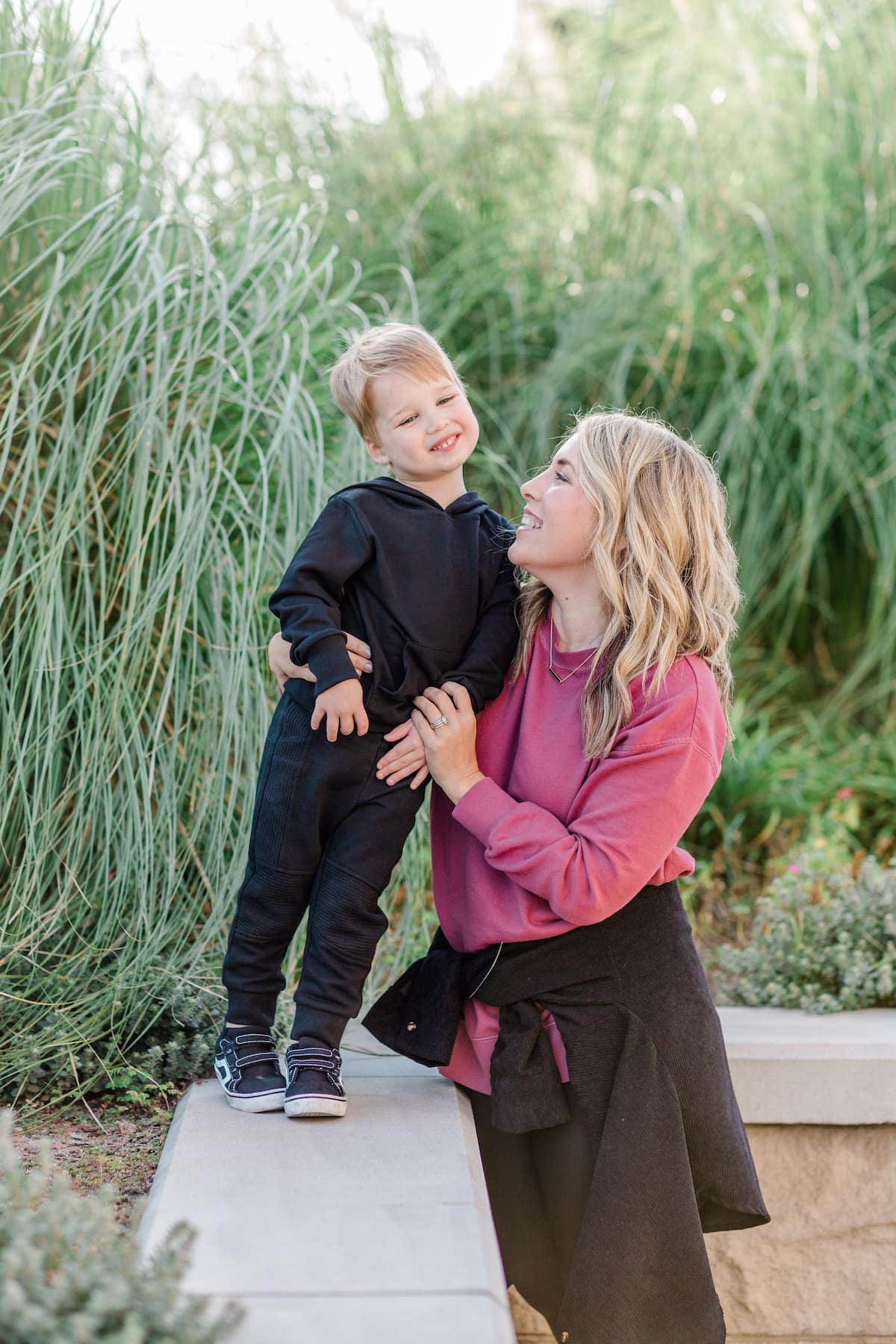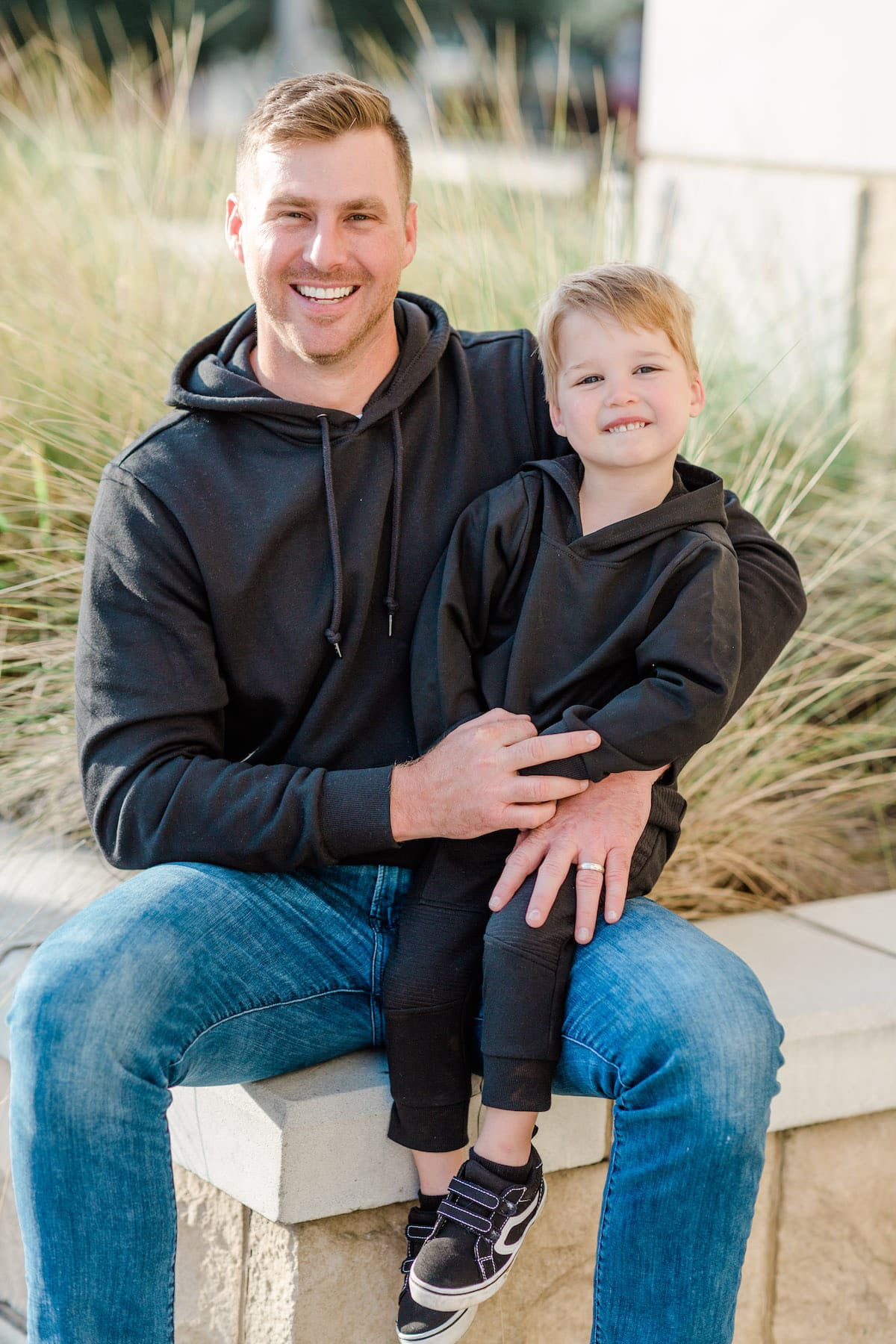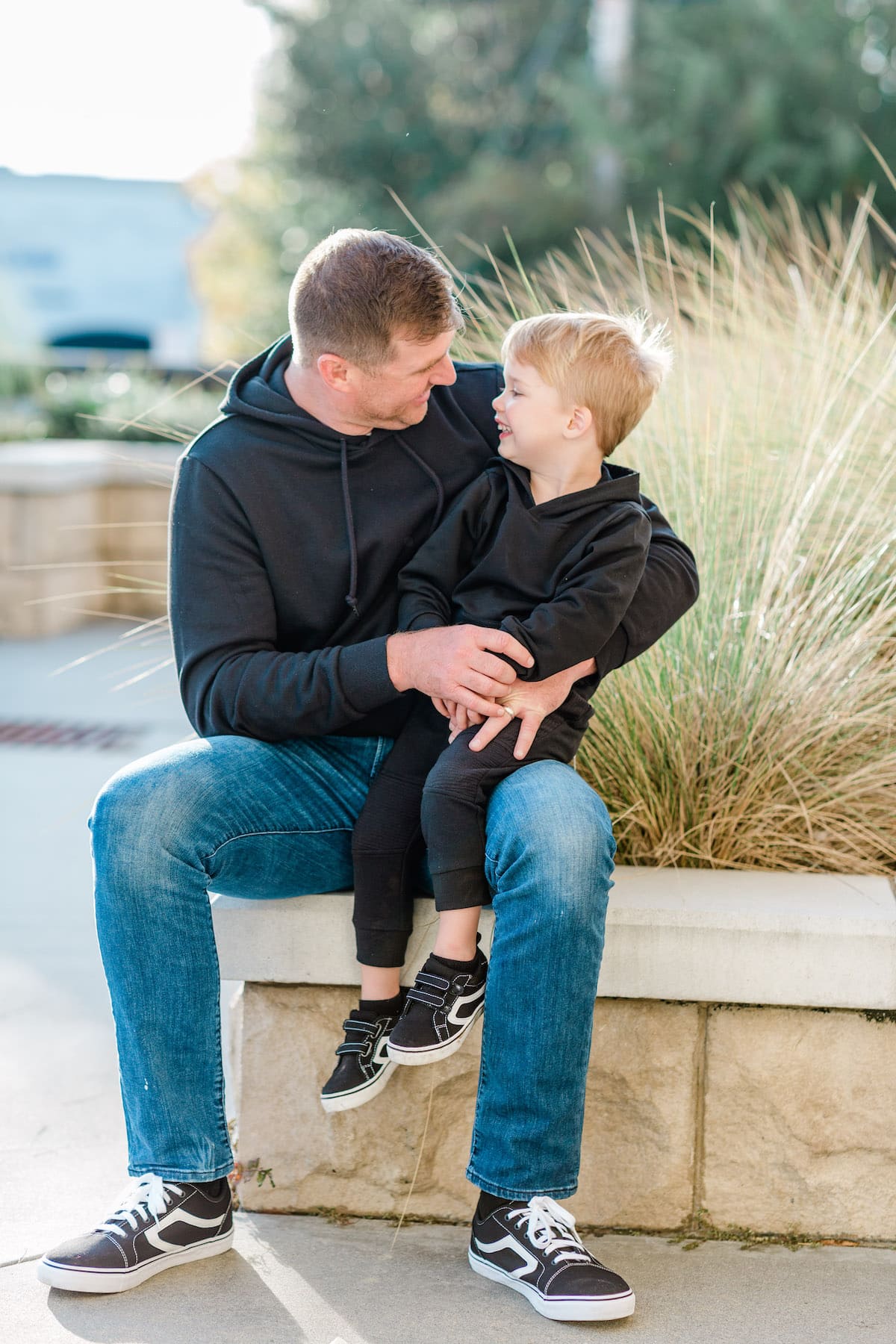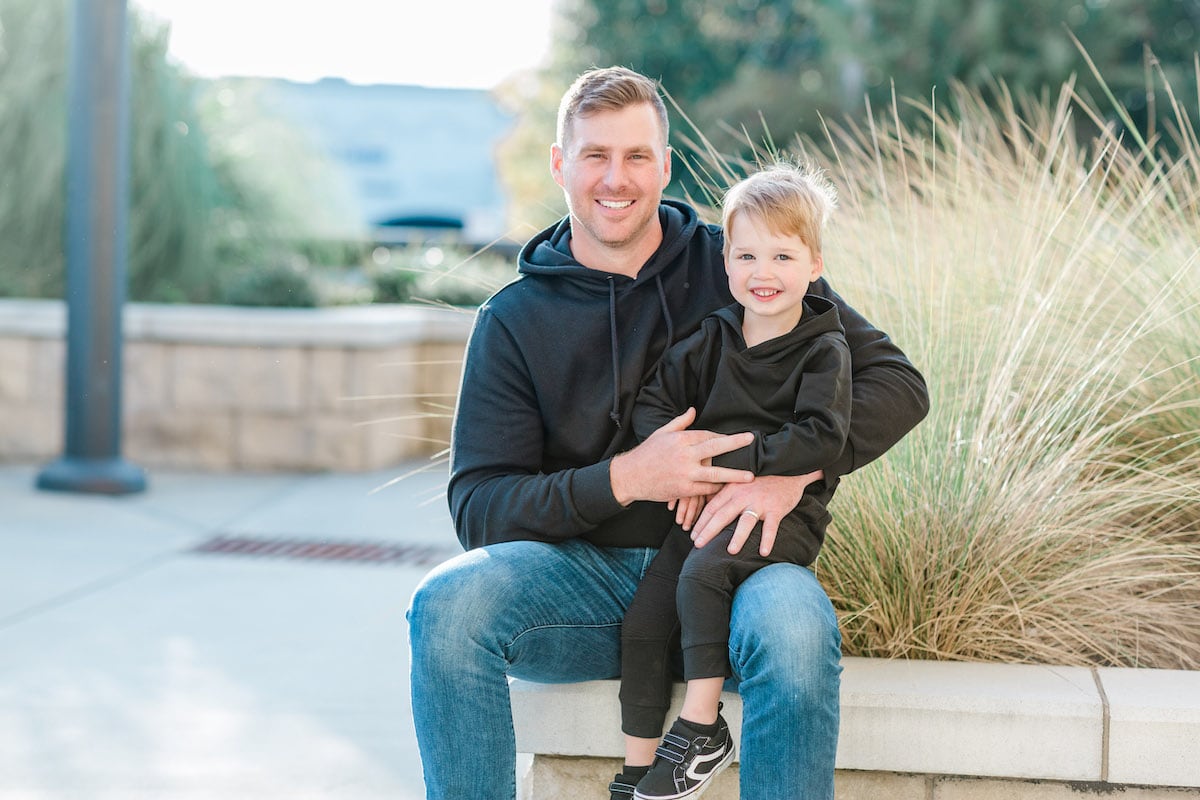 Child Photo Ideas: Siblings Photos
Lindsay is a mama of three so she understands and appreciates how important and valuable each sibling relationship and bond is and I love that she always gets a great mix of family pics, solo pics and sibling photos too.
We basically learned a great way to get pictures of Spear is to take individual photos of the other kids and then he'll want to be in the shot 😉
Of course as a mom I think the MAIN photos we are after when thinking about child photography ideas are those precious photos of all of our babies together. We want a great family photo and a great group shot of our own kids and then we're happy! We got SUCH an awesome variety of ALL the must-have pictures during this session. Above and beyond any of my expectations for sure!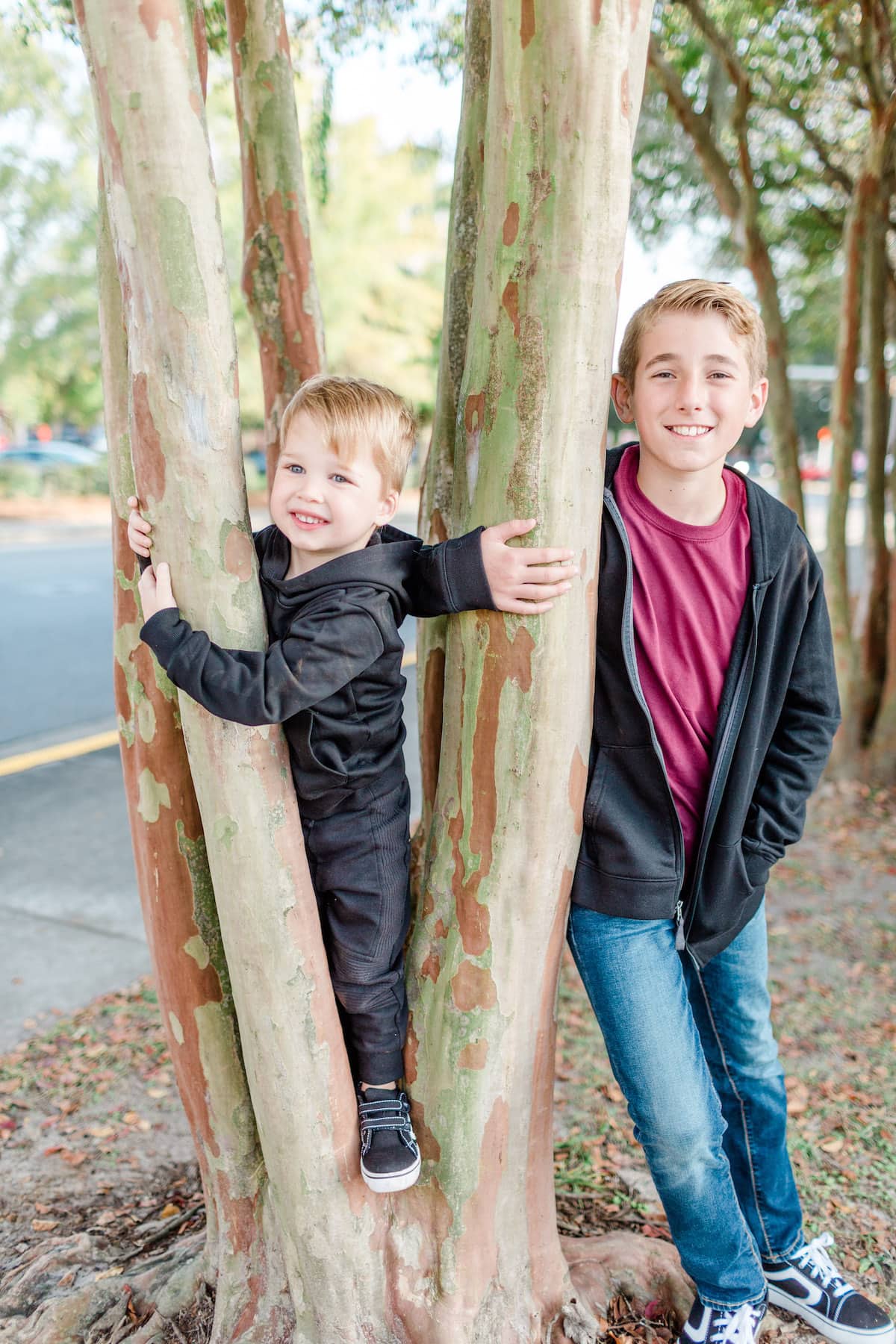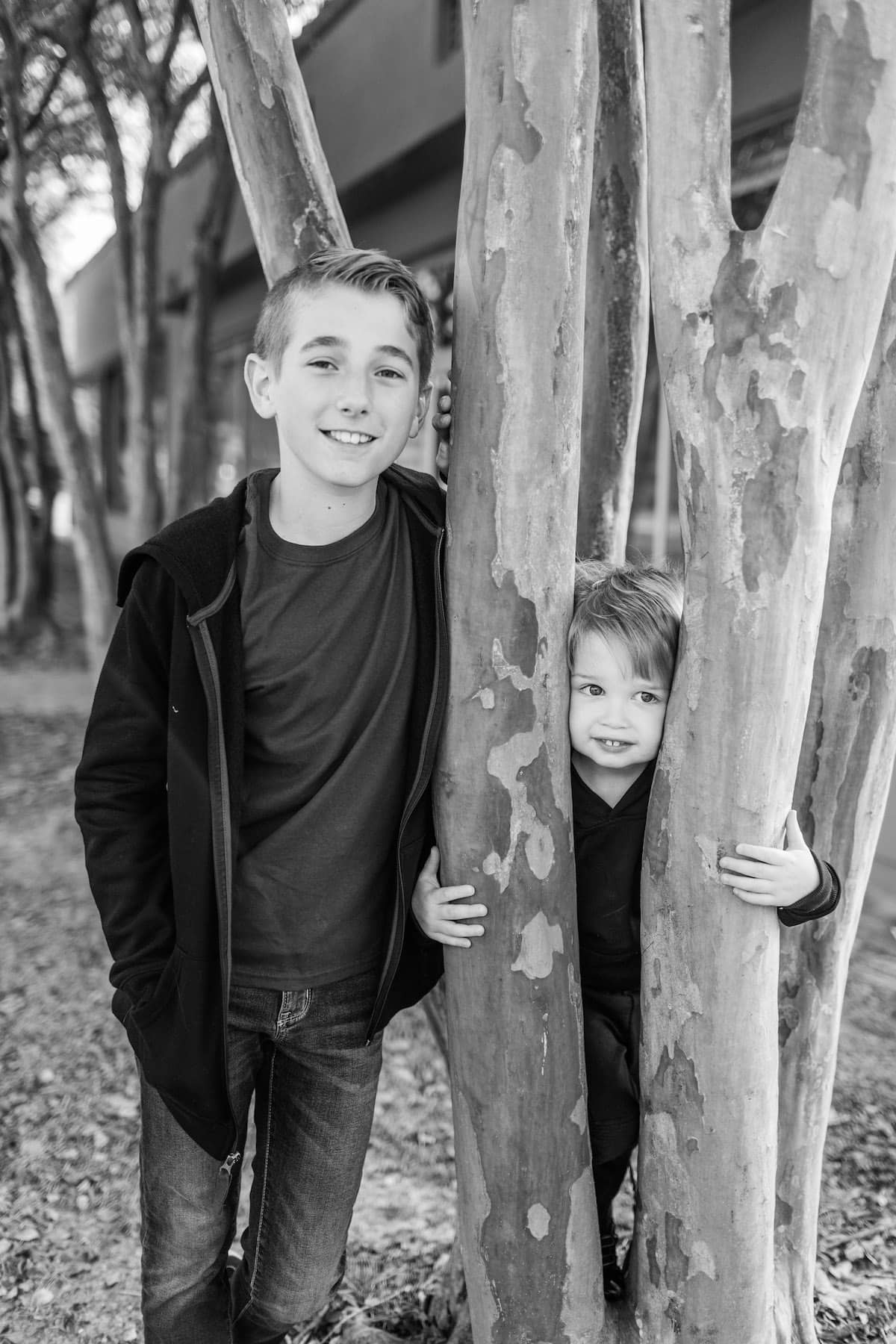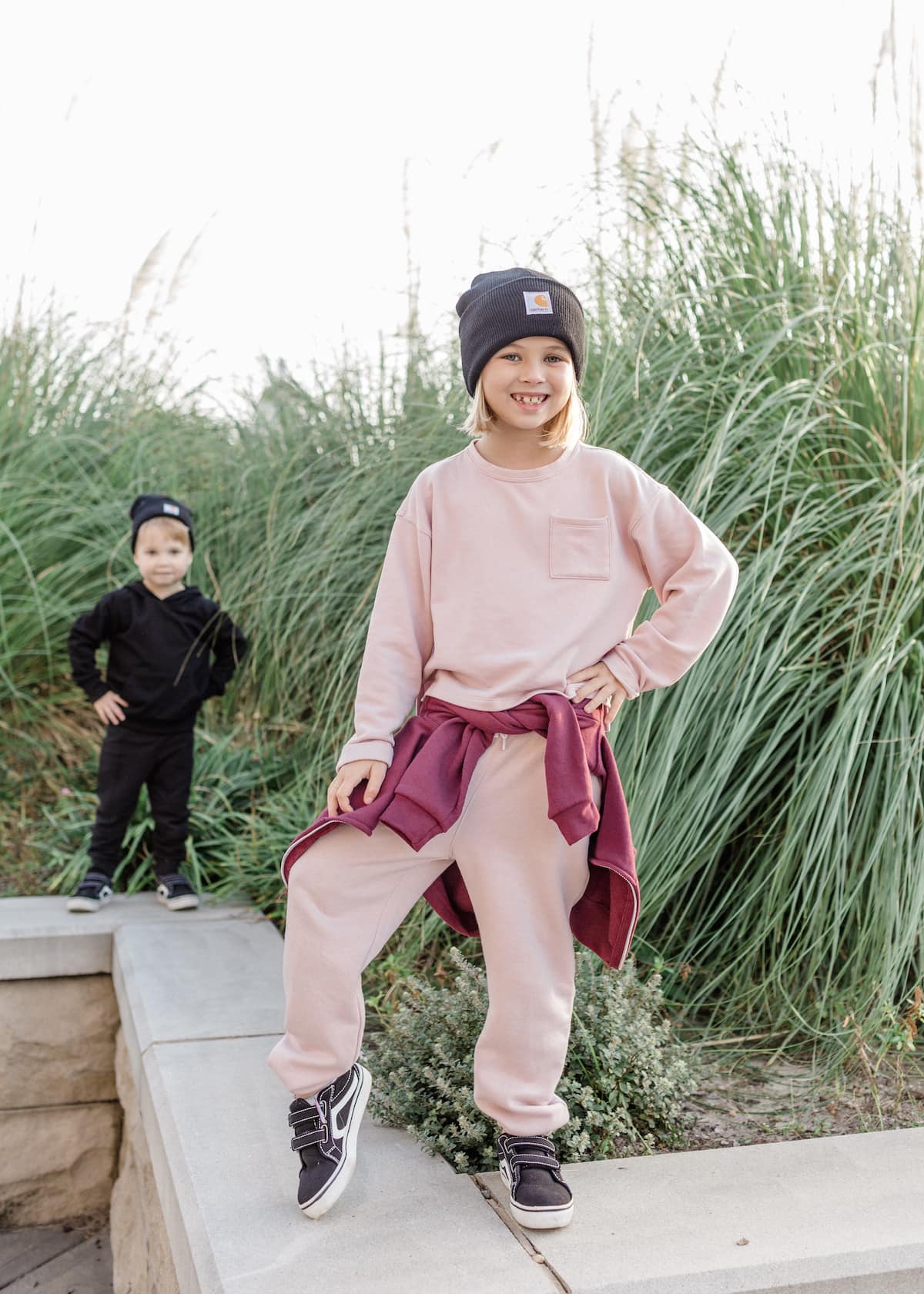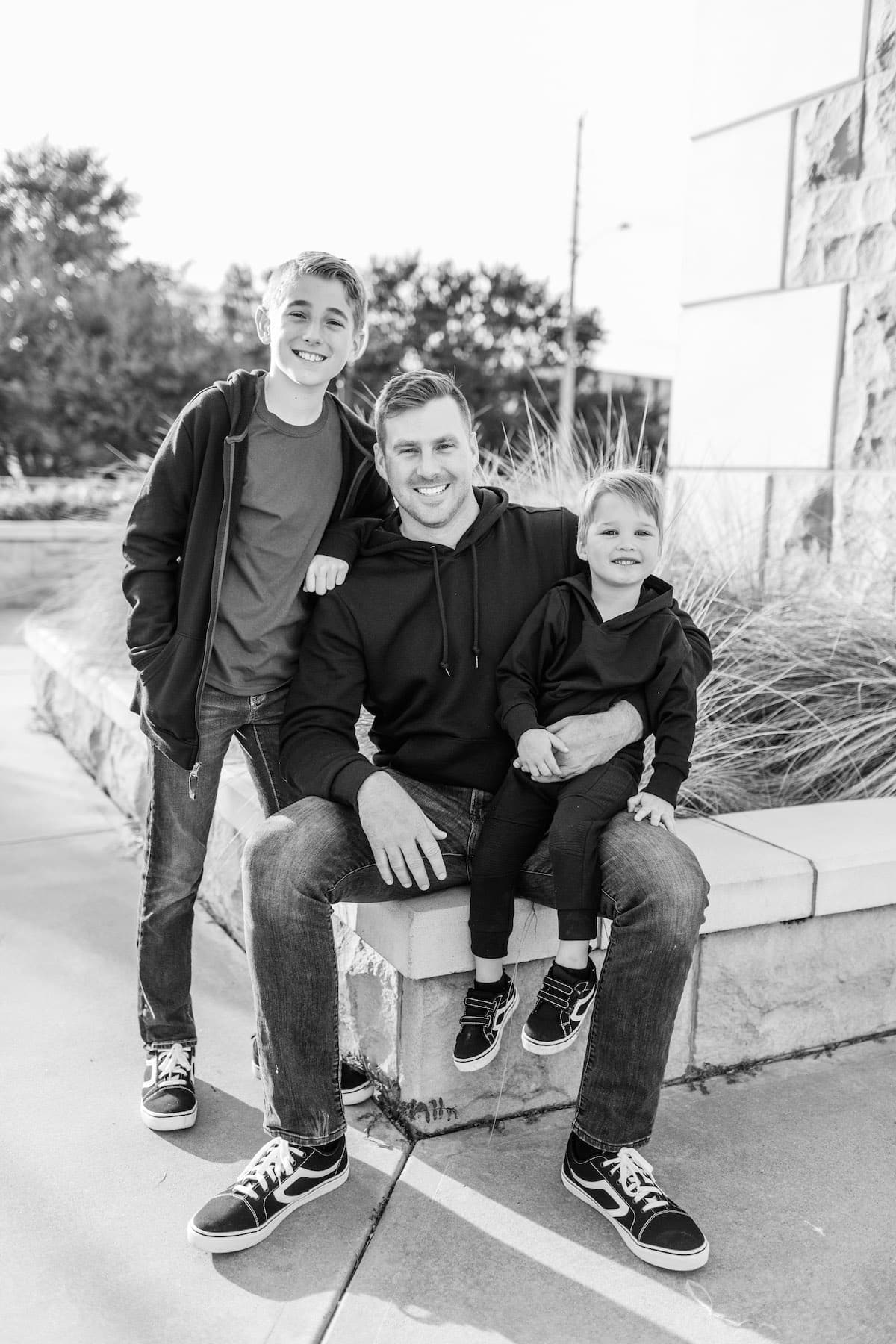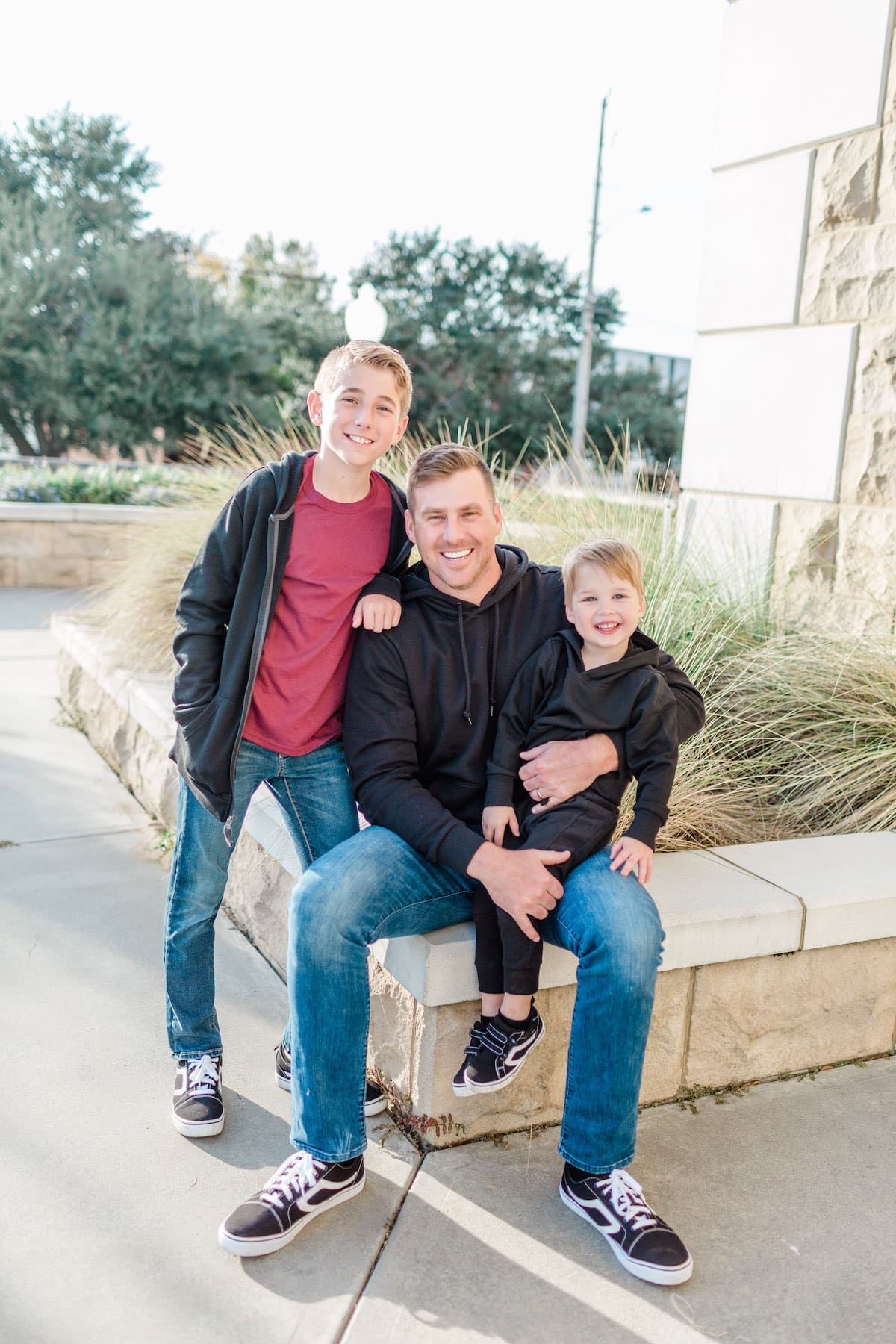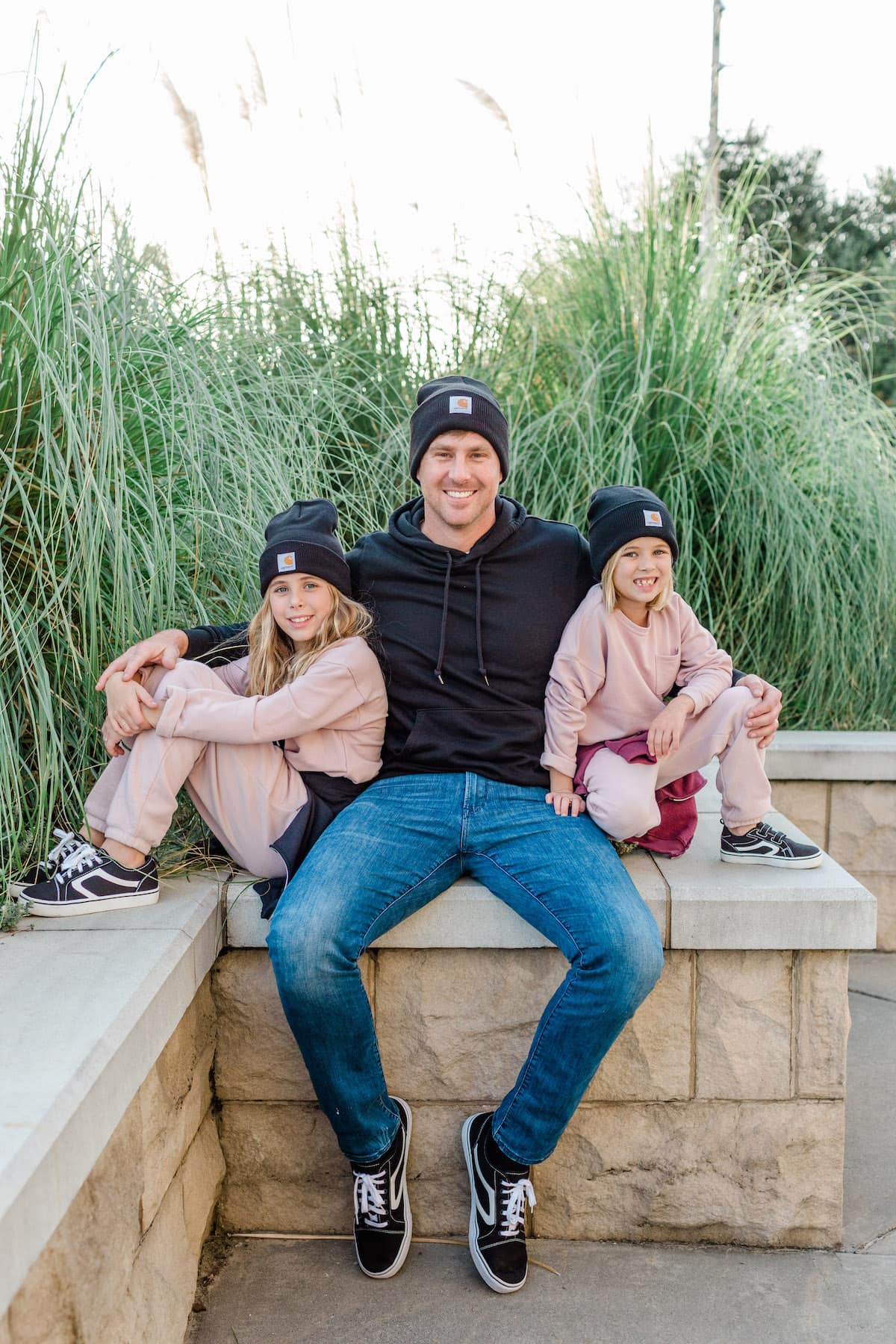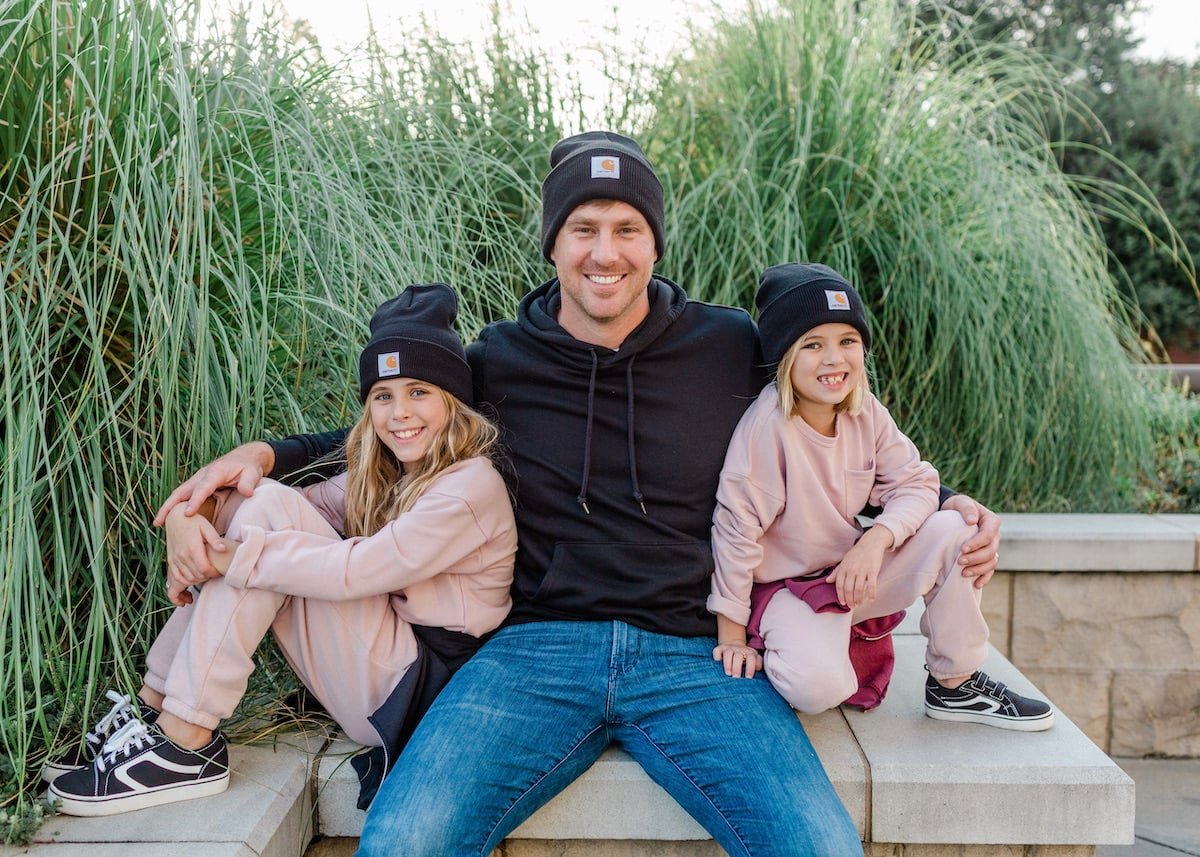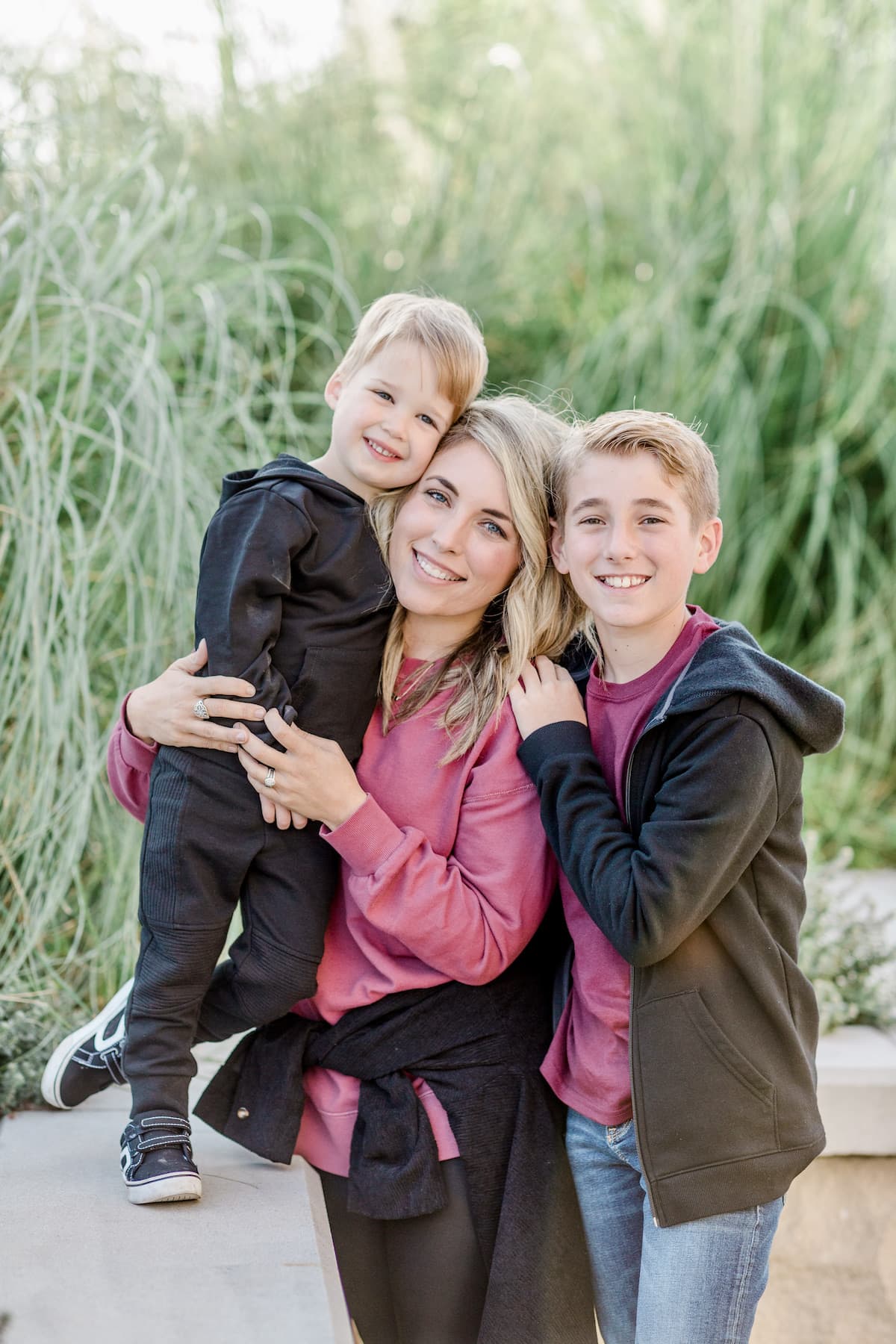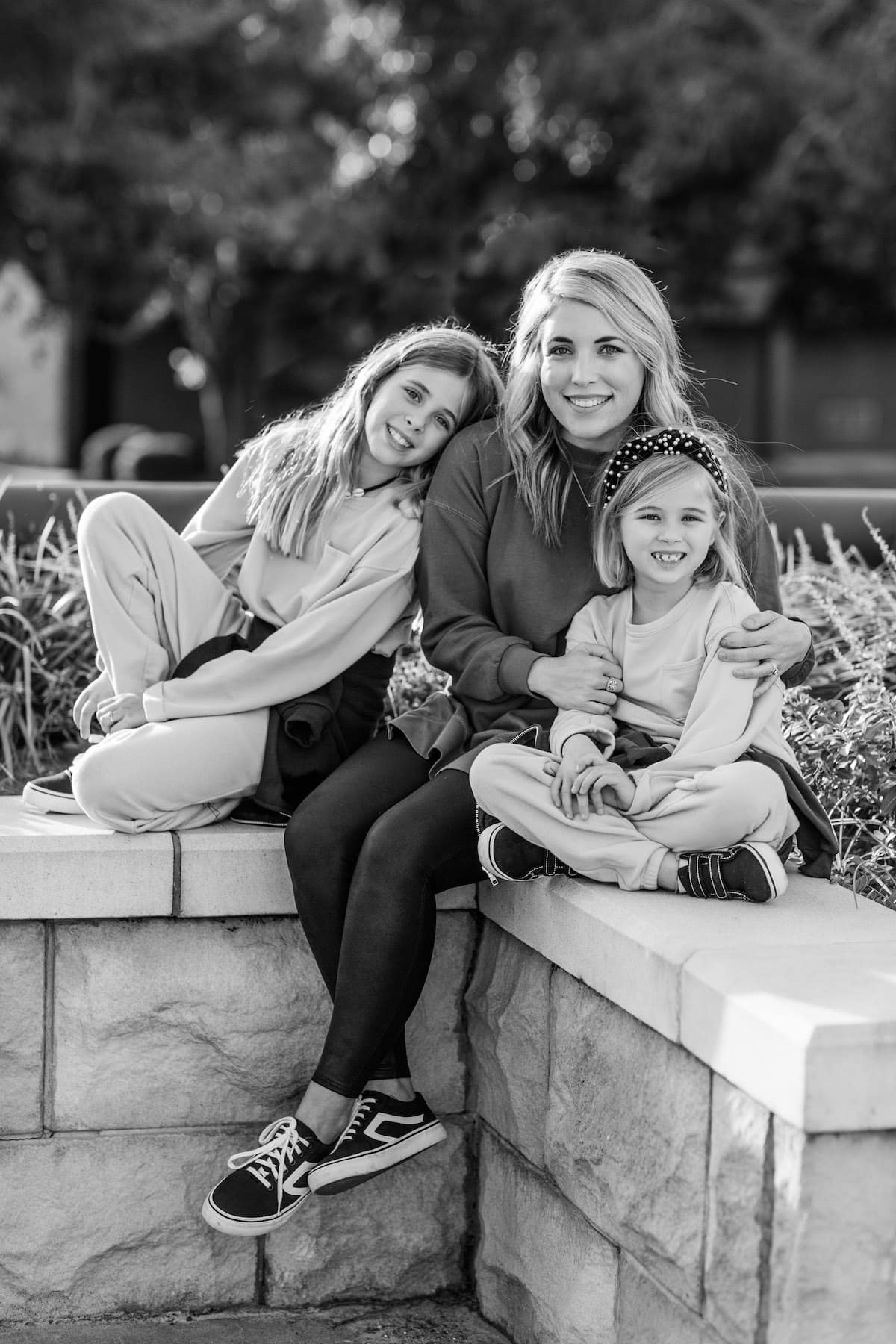 I love the creative photos using the hand railing too. When it comes to kids photography ideas, you gotta mix it up and keep it fun and especially allow the kids to just be KIDS! They were all having fun playing on the hand railing so instead of telling them to get off and move somewhere else for their photos ideas popped into Lindsay's head and she rolled with it 🙂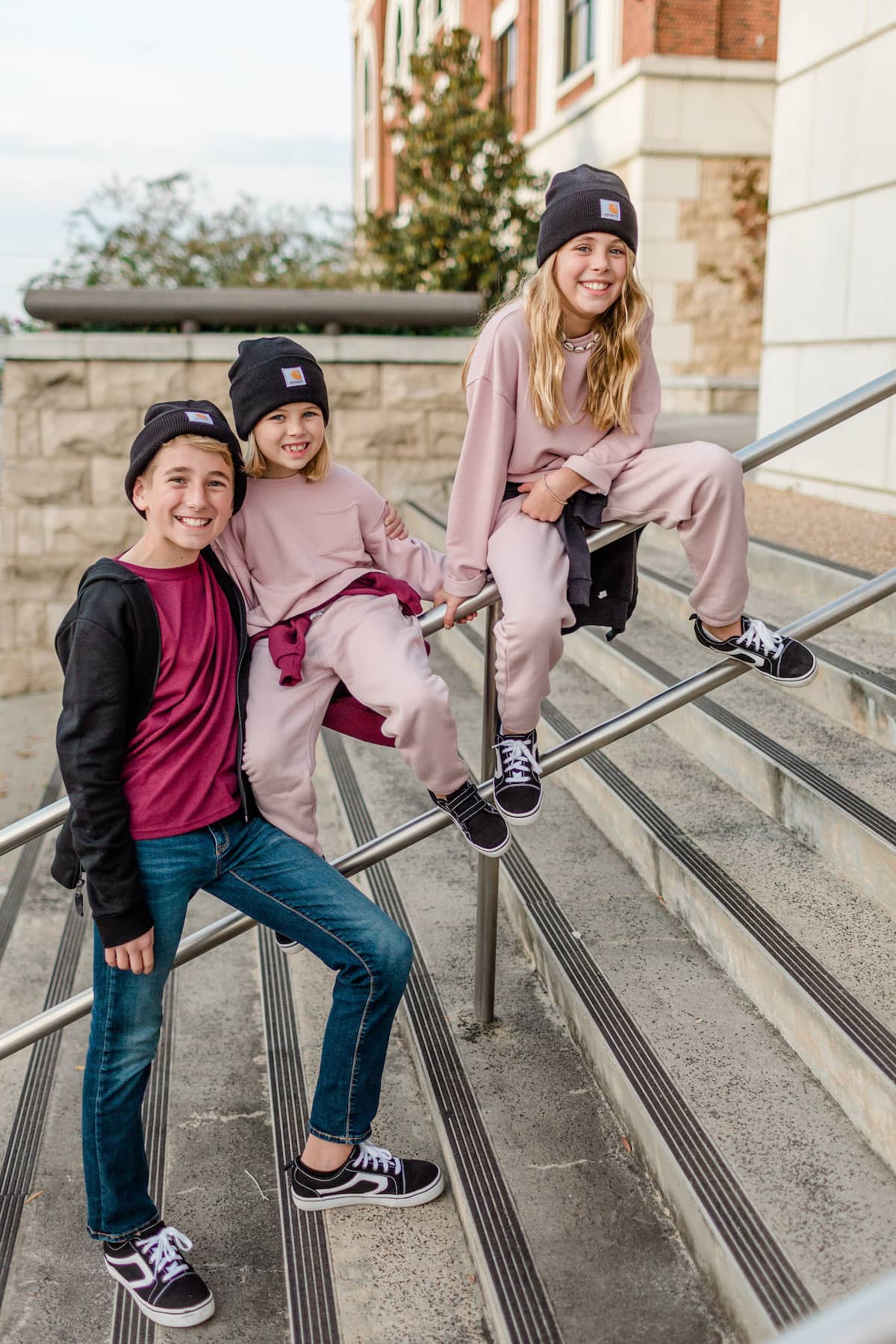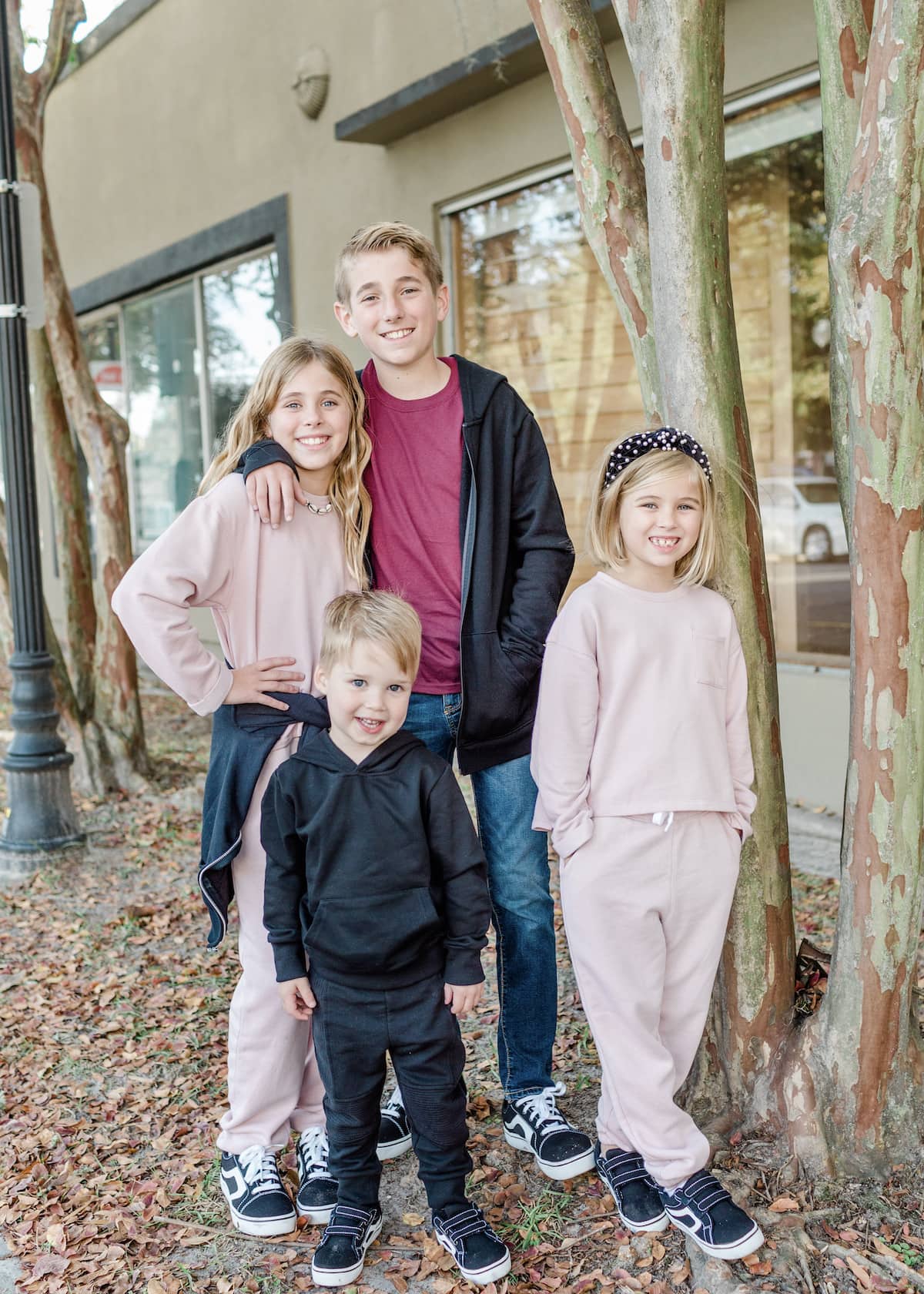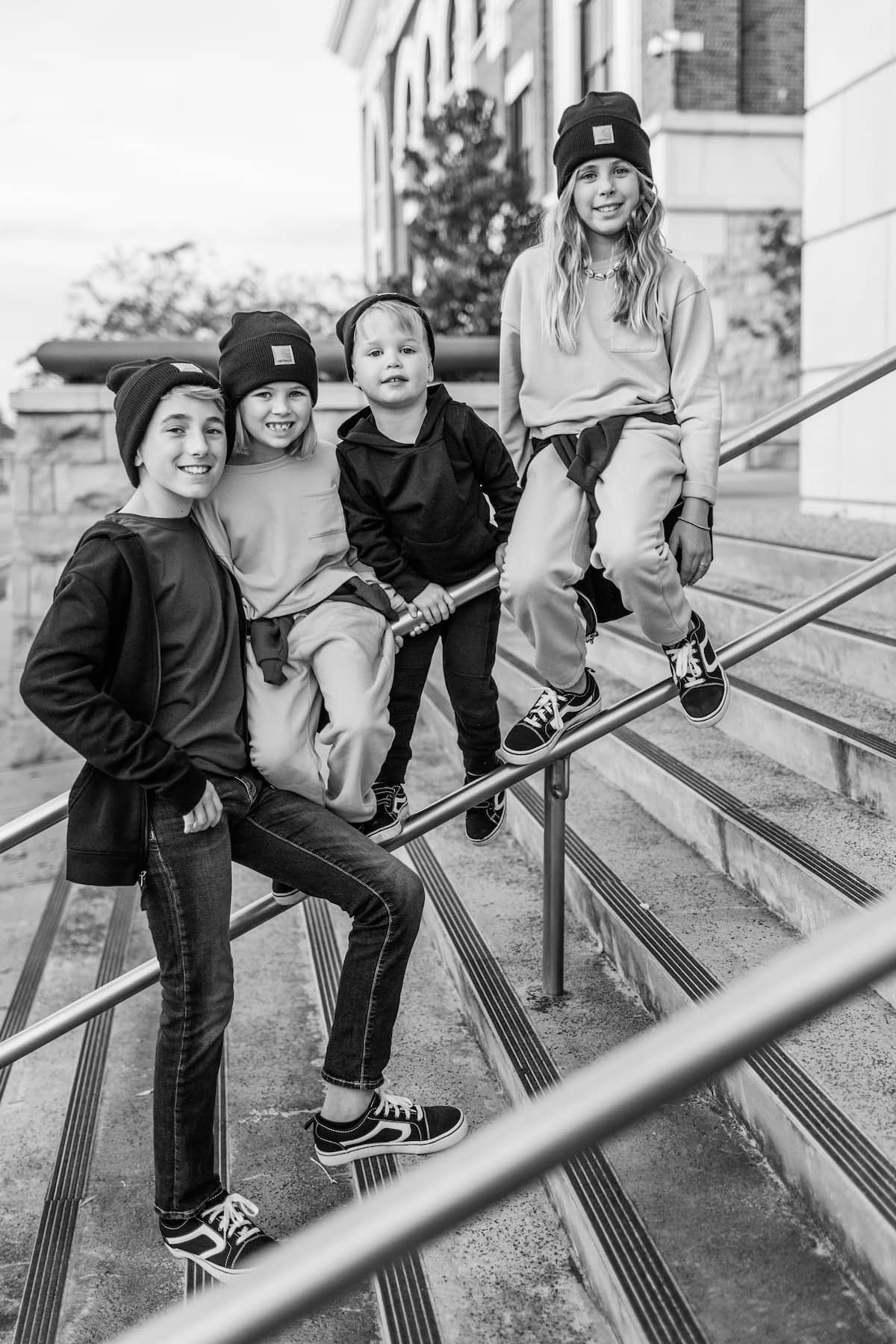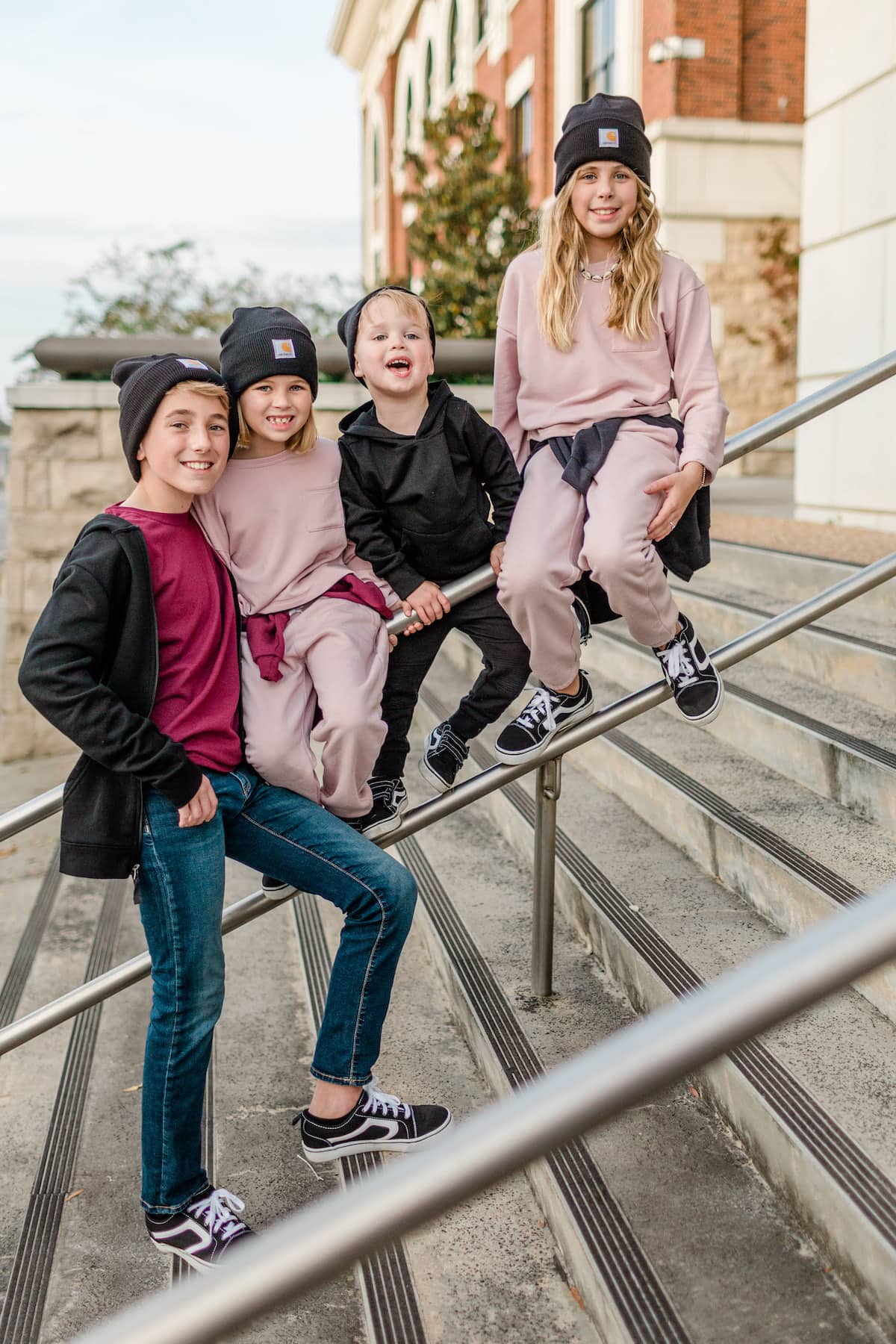 Couple Photos – Parents Pictures
Since Lindsay does specialize in weddings she really takes those rare couple photos seriously and considers the "mom and dad" shots as a top priority during our sessions with her. Which I appreciate SO MUCH!
With my work in the social media field (along with blogging you can also follow me on Instagram here!) she also always pulls me aside for a few new headshots!
When I ordered the beanies for the shoot I didn't even try it on and see if I liked how it looked. I literally just tossed it on my head during the session so I was a bit leery at how the pics of me would turn out but I like 'em! I think being TOTALLY comfortable really helped ME be more confident in front of the camera too. As a busy mom I live in sweats and leggings so it just felt like a natural vibe for me and like I was my natural, everyday self!
I LIVE in these tunic sweatshirts and I know I'm not the only mom who is obsessed with my Spanx leather leggings!
My 37th birthday was just a few days before our session and Zach gifted me this beautiful necklace and matching earrings and they went perfectly with my outfit so I was excited to get to wear them for the pics!
It is hard as a mom in general to get in front of the camera…but in front of the camera WITH my husband? That is near impossible! I've noticed over the years that often the ONLY pictures I will have of the two of us for an entire year together are from our family photo sessions or when we travel and I ask a random stranger to take a picture.
We have a VERY large height difference and Lindsay always does a great job at finding poses where Zach doesn't look like a giant. A great way to achieve that is to have us sit down and I love how our sitting poses came out in this session!
I also love the ones with the kids in the background – these are the days right? Always busy. Finding little moments for each other amongst the chaos of parenting! I love my man and our life together!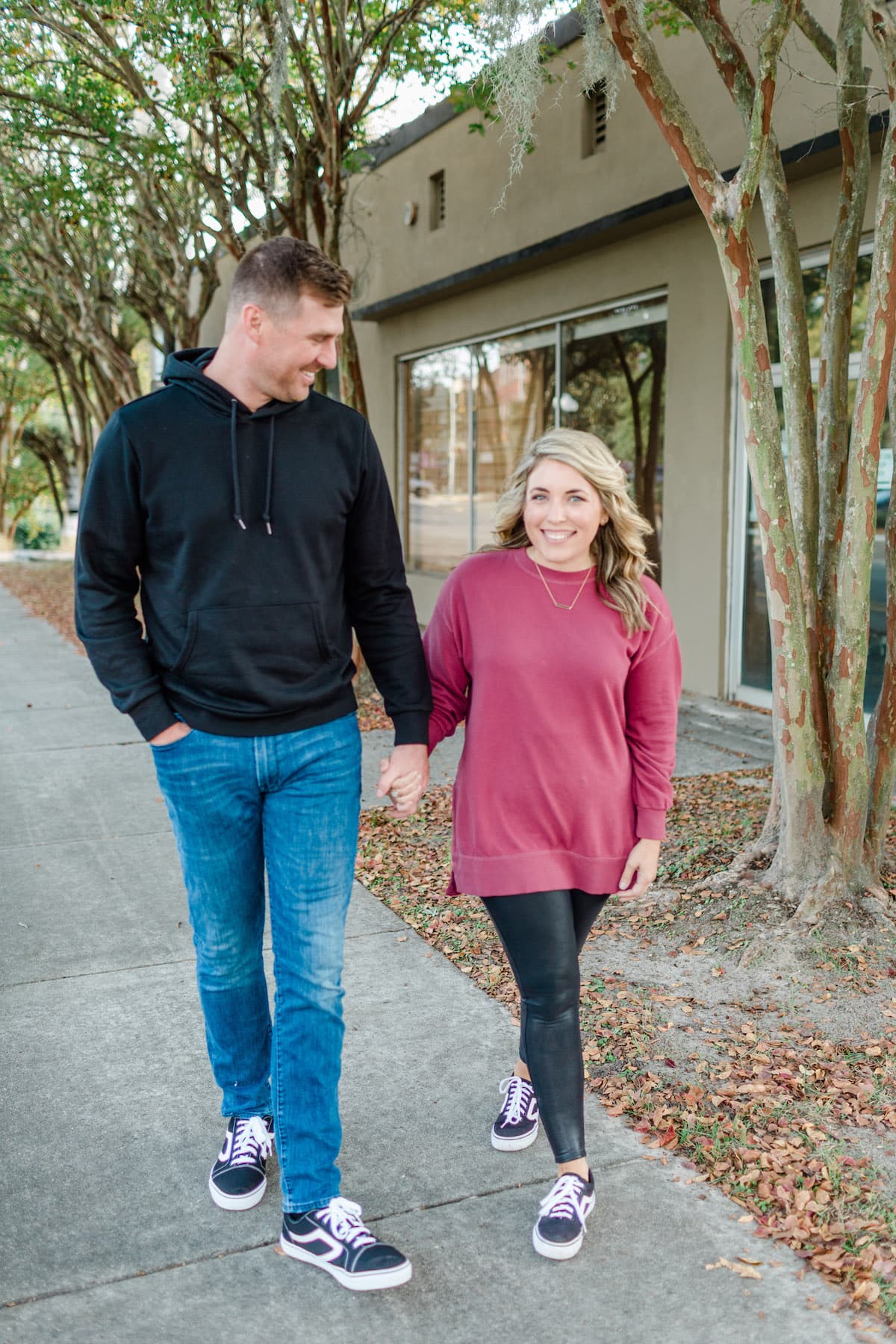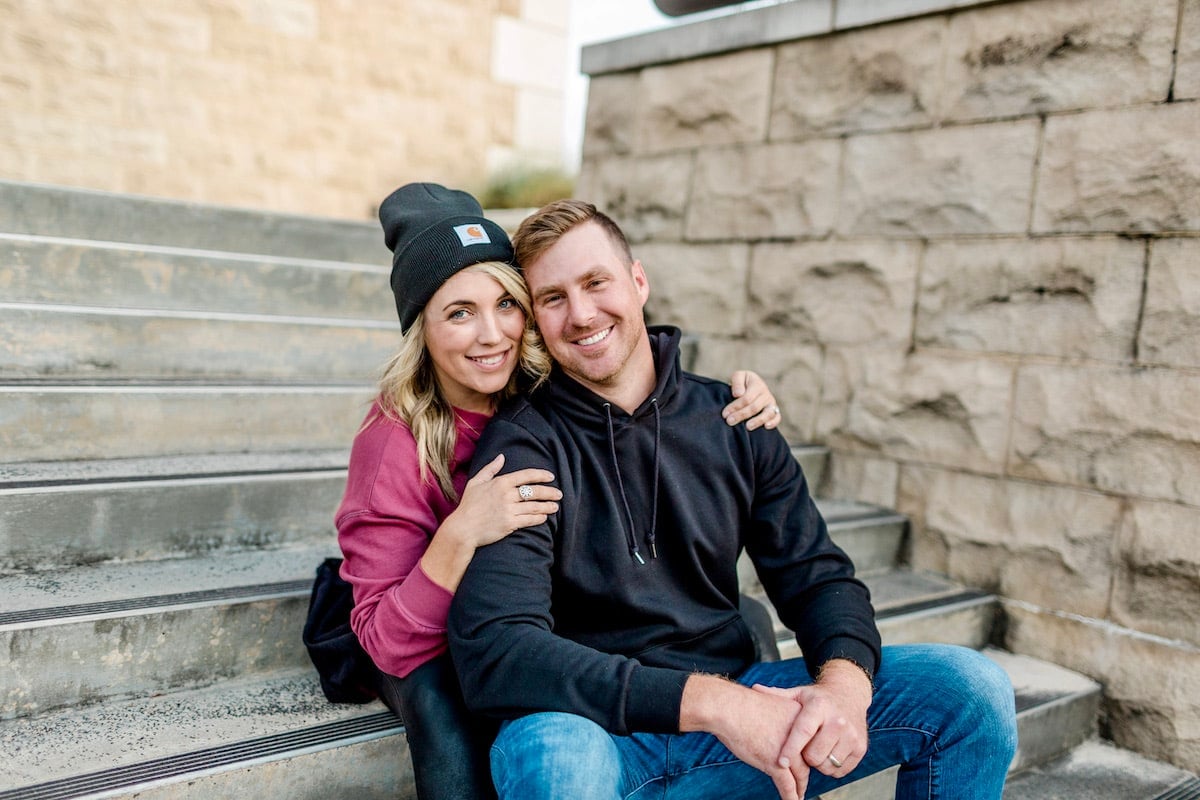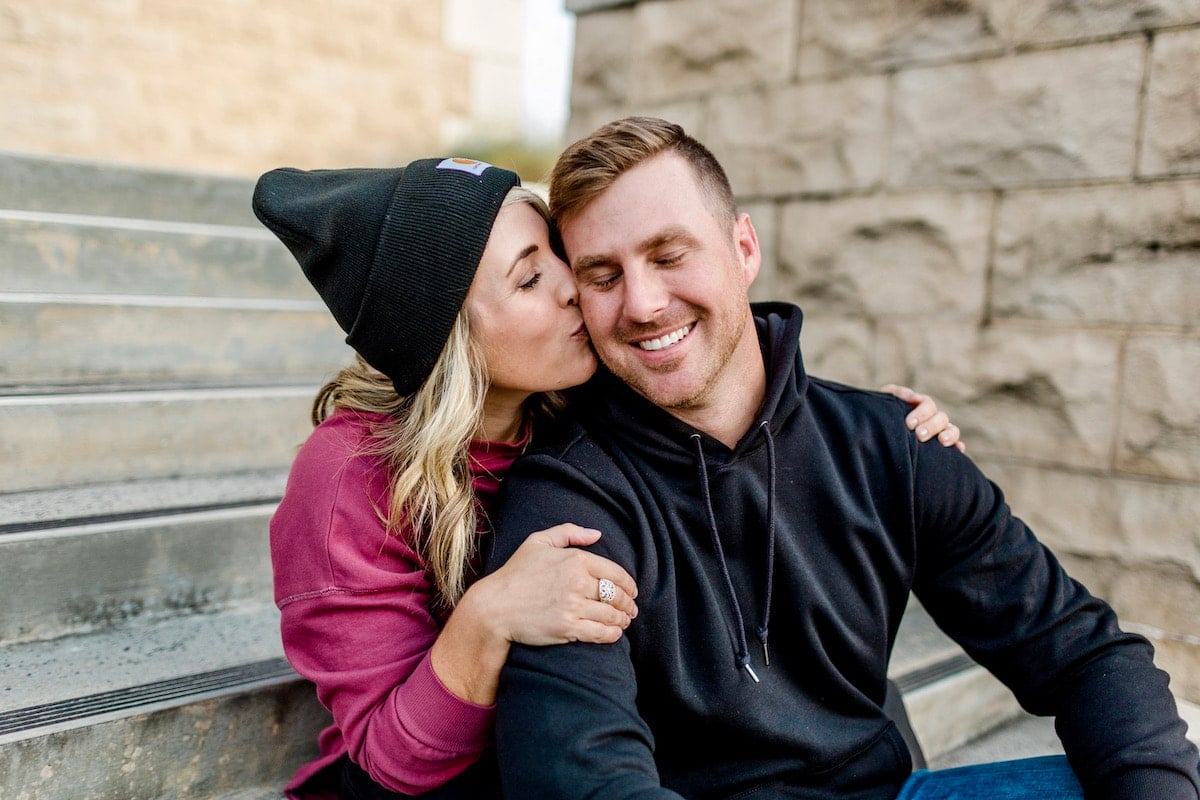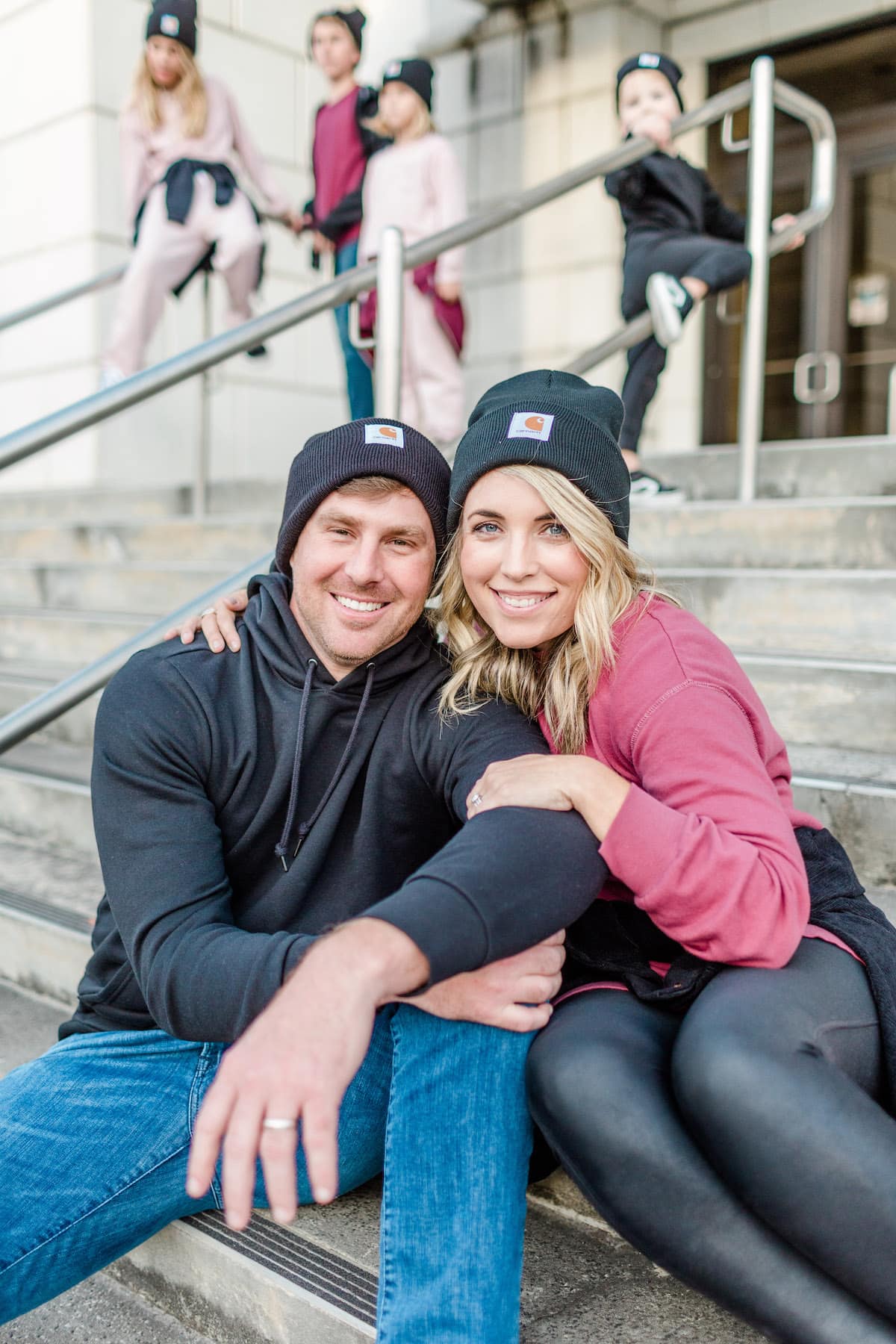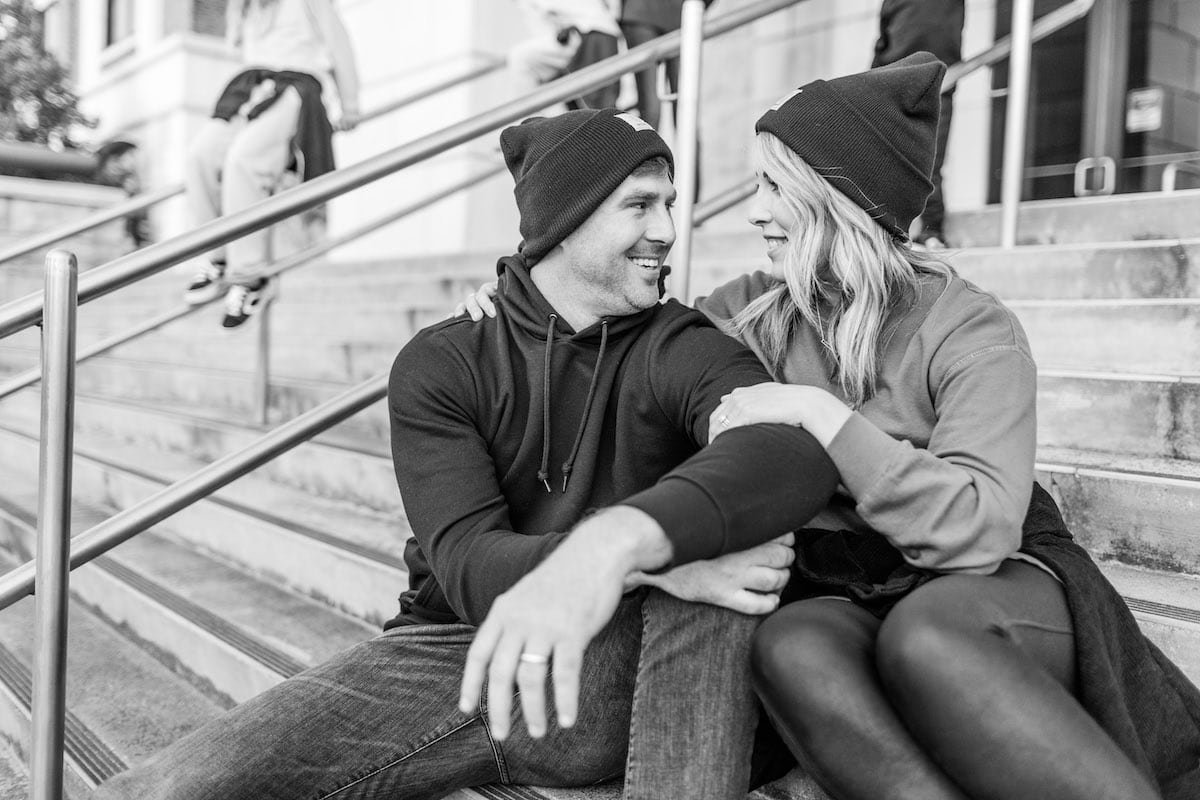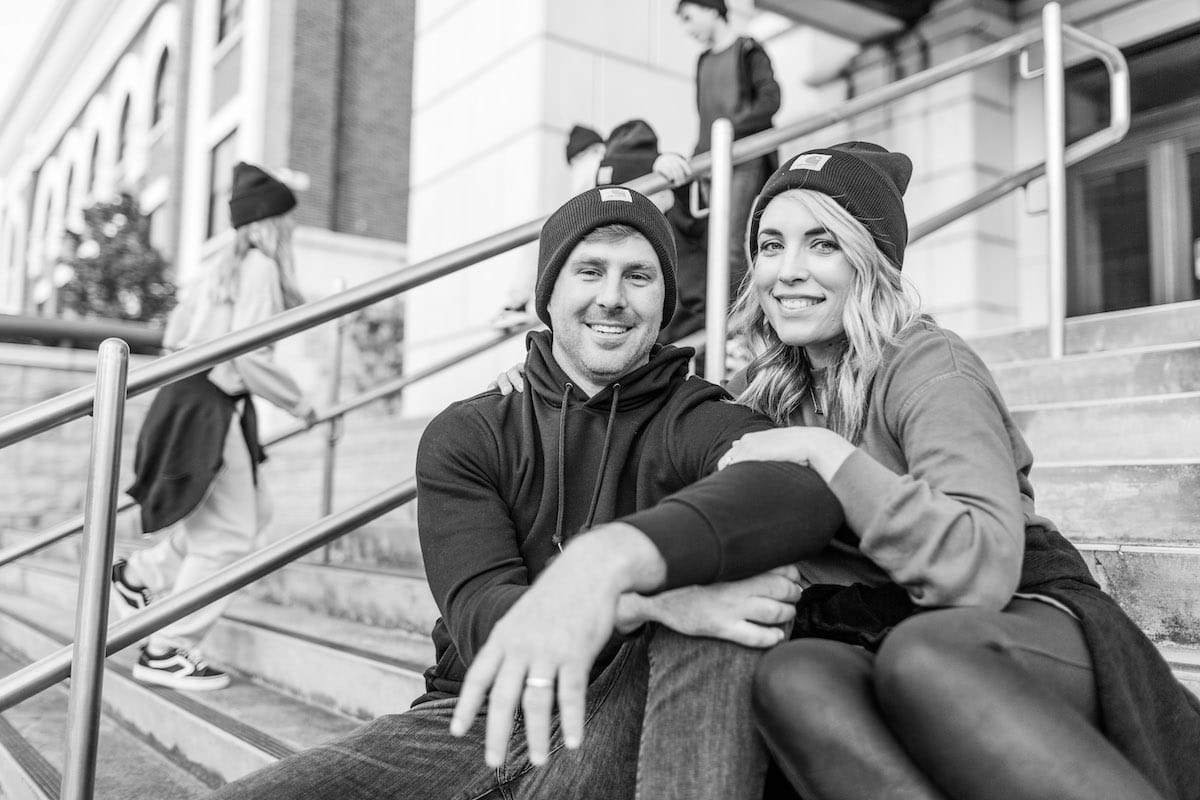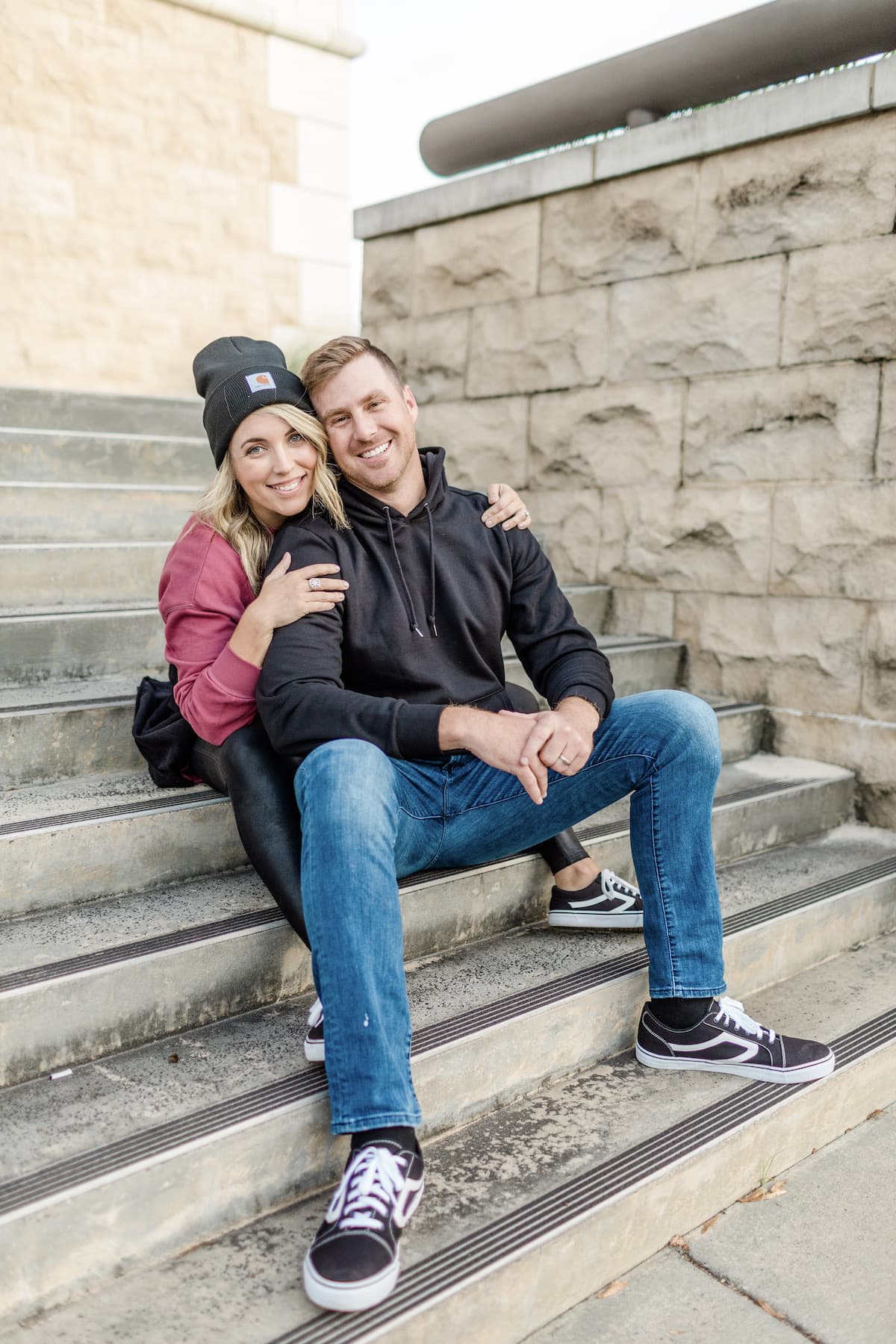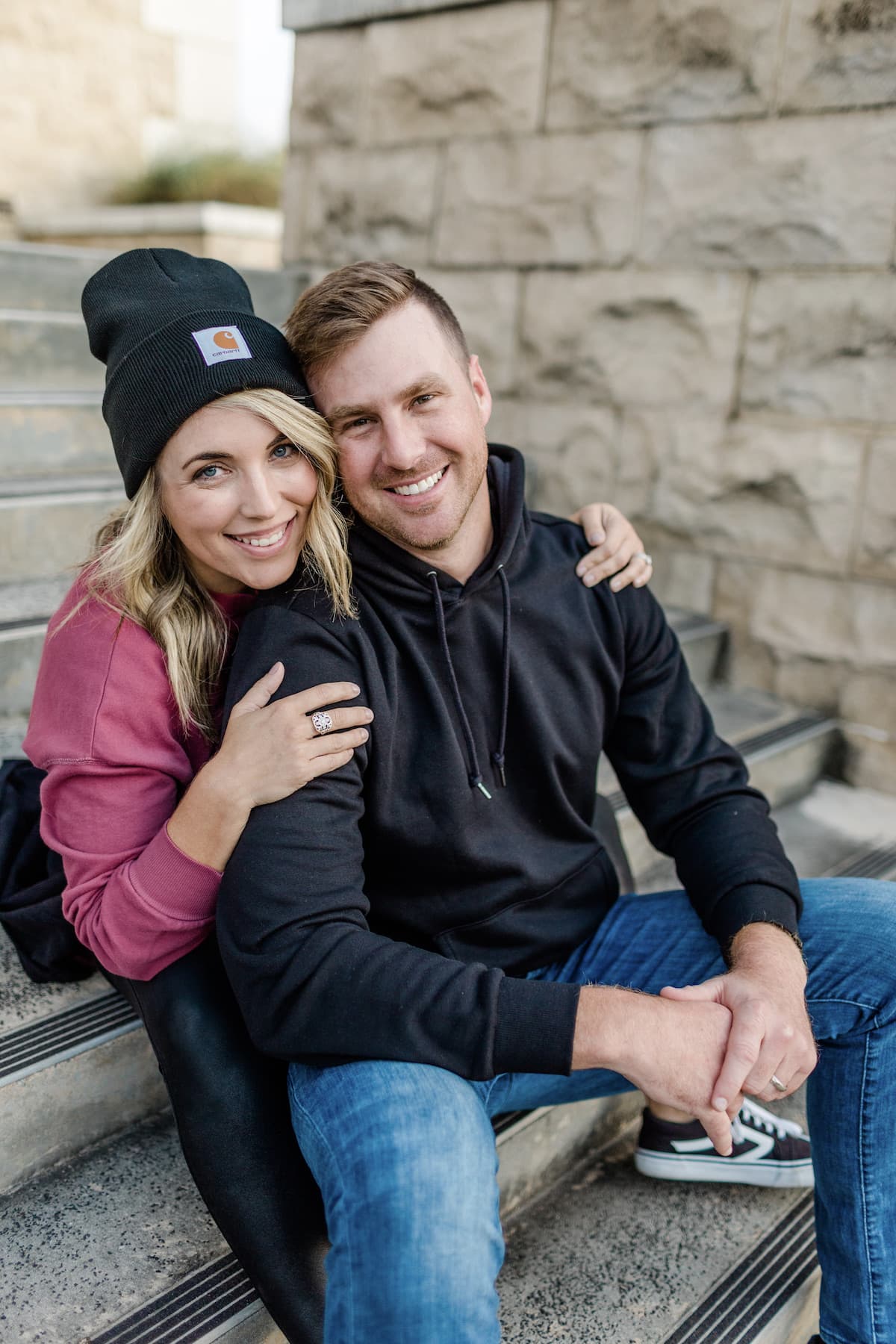 I also love that Lindsay always gives options in black and white as well as color. Sometimes I just can't decide which version I like better! These are my favorite shots of us together and I love both the color version as well as the black and white!
Fall Family Pictures
Last but not least our fall family photos! We really lucked out with the weather as it was one of those overcast days. PLUS the kids had school and Spear had a great nap so it was also the best time of day for happy smiles and happy kids. Everyone was fed with a snack (and bribed with some yummy treats for an after-dinner dessert later) and all the kids did such a great job bringing their best selves to the session!
We all had so much fun with the theming of the shoot and it was nice to not have ANY complaining about being uncomfortable or itchy or annoyed with what they had to wear 🙂
I love this crew and am so blessed to have them as MINE!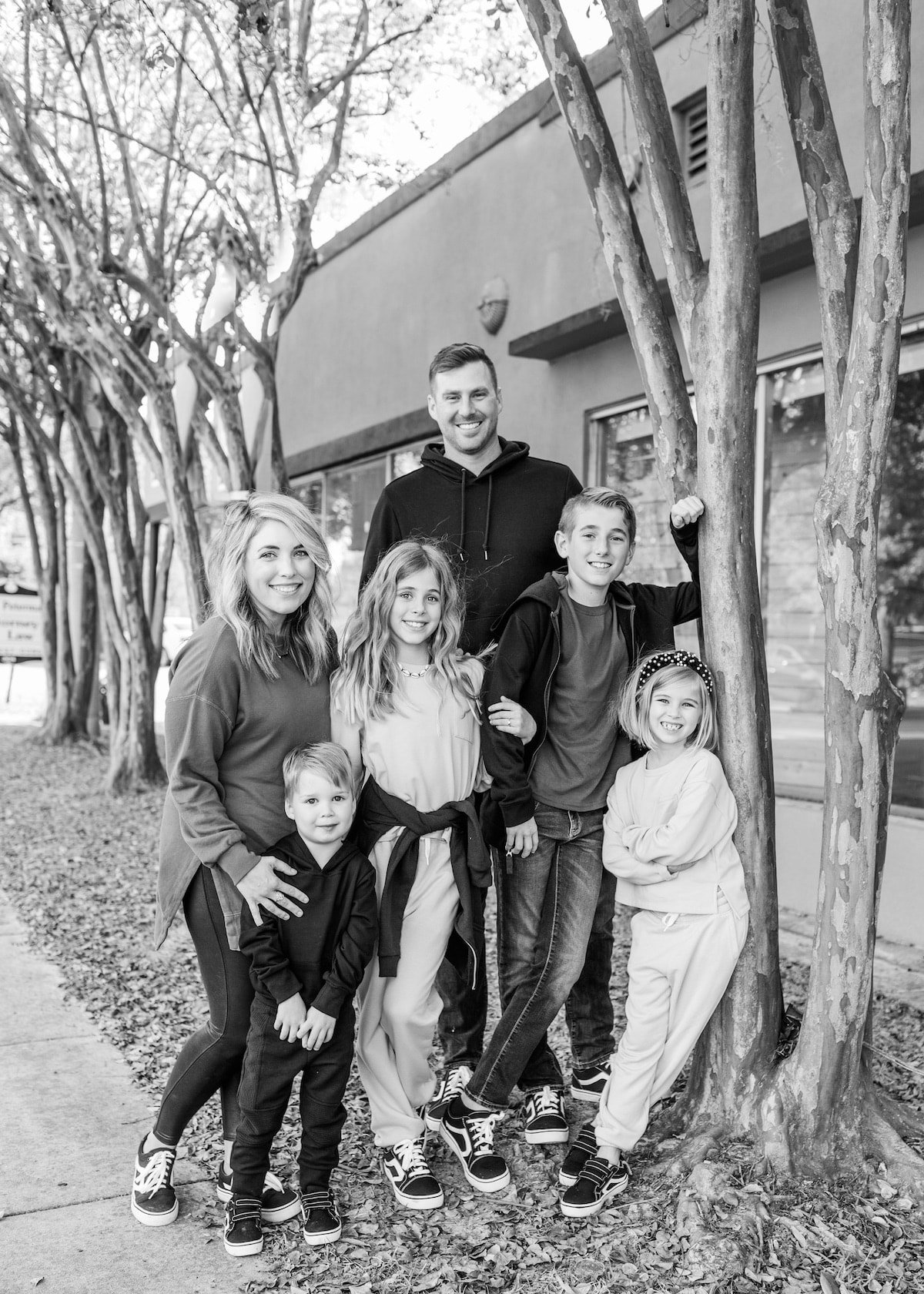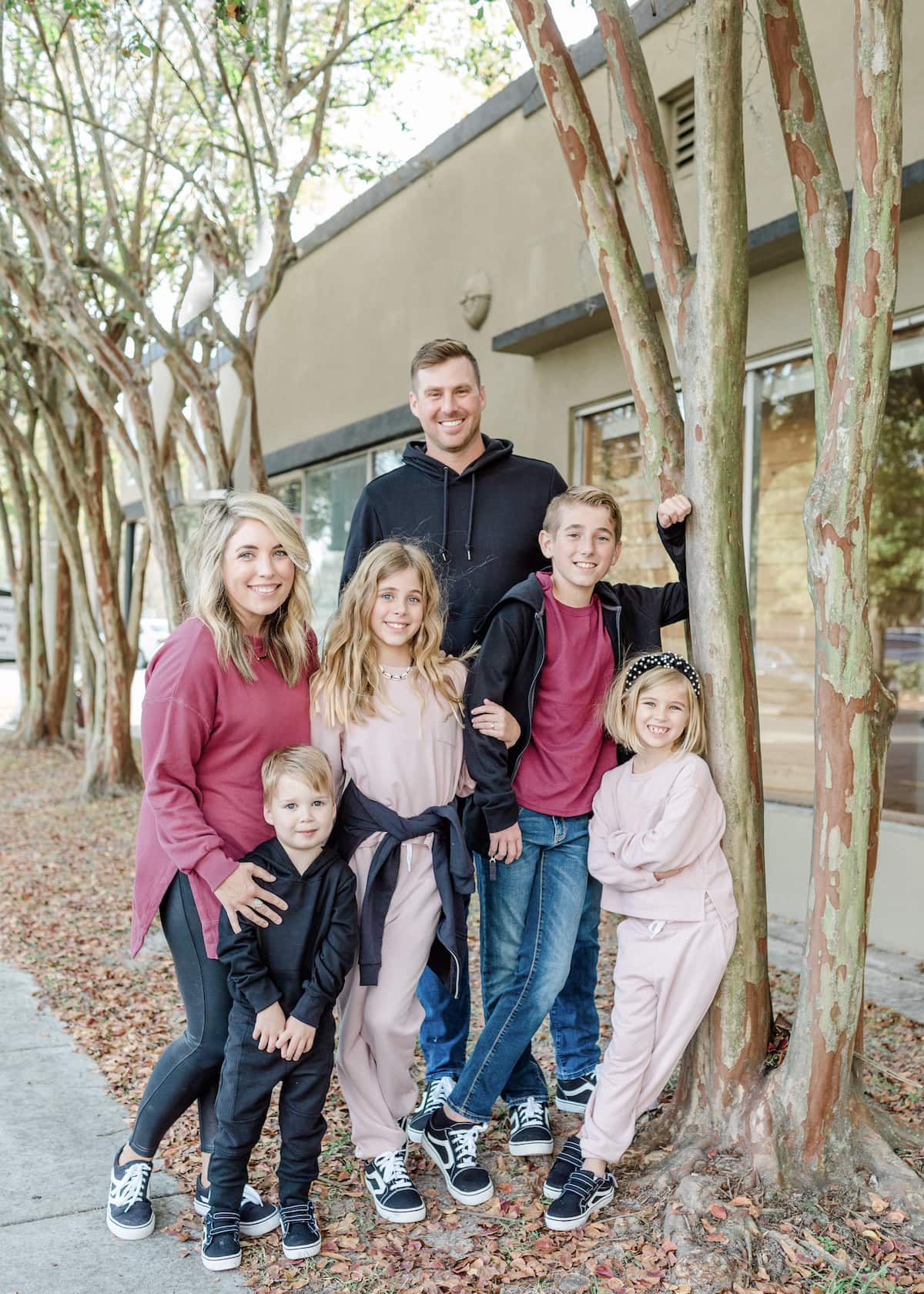 When you have a different style outside of the normal traditional family photos you gotta have some fun with it, right? Lindsay was able to get creative and play with all her fancy manual mode photography skills 😉 We all had a blast and the results are epic!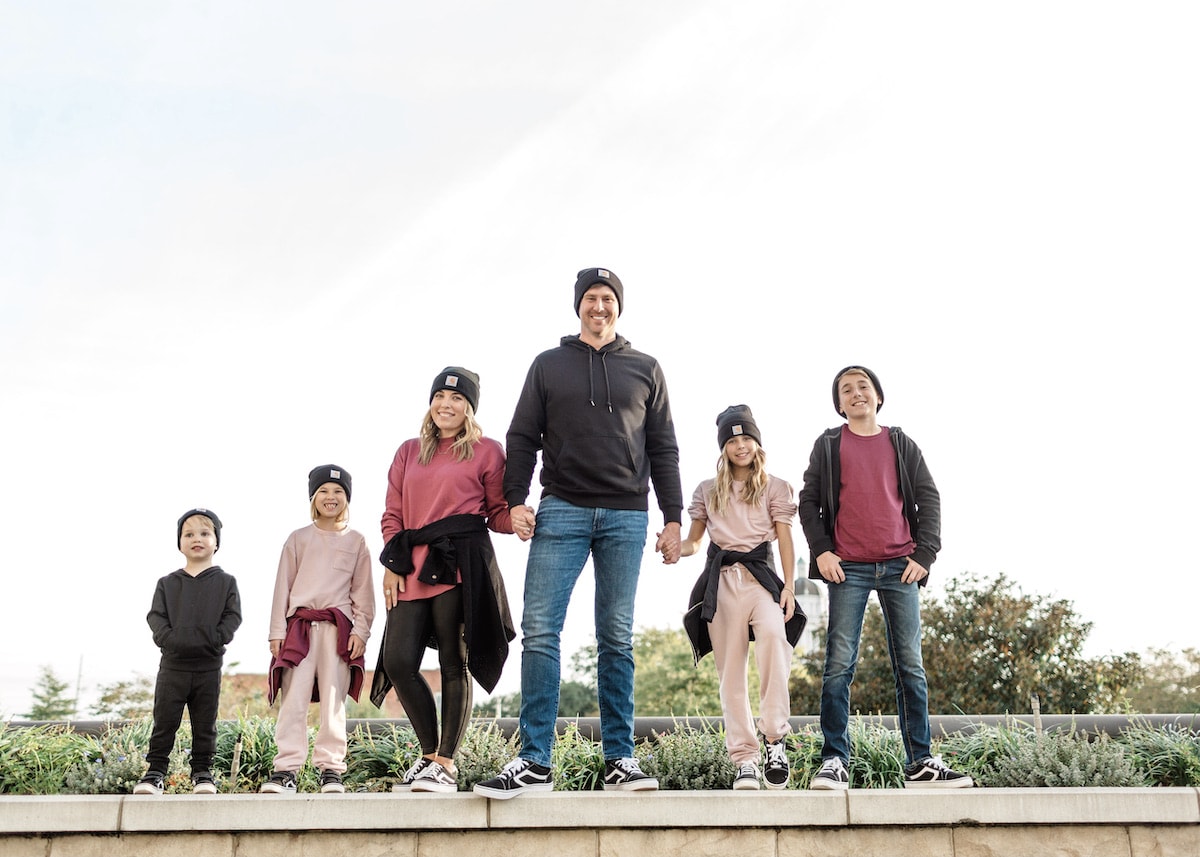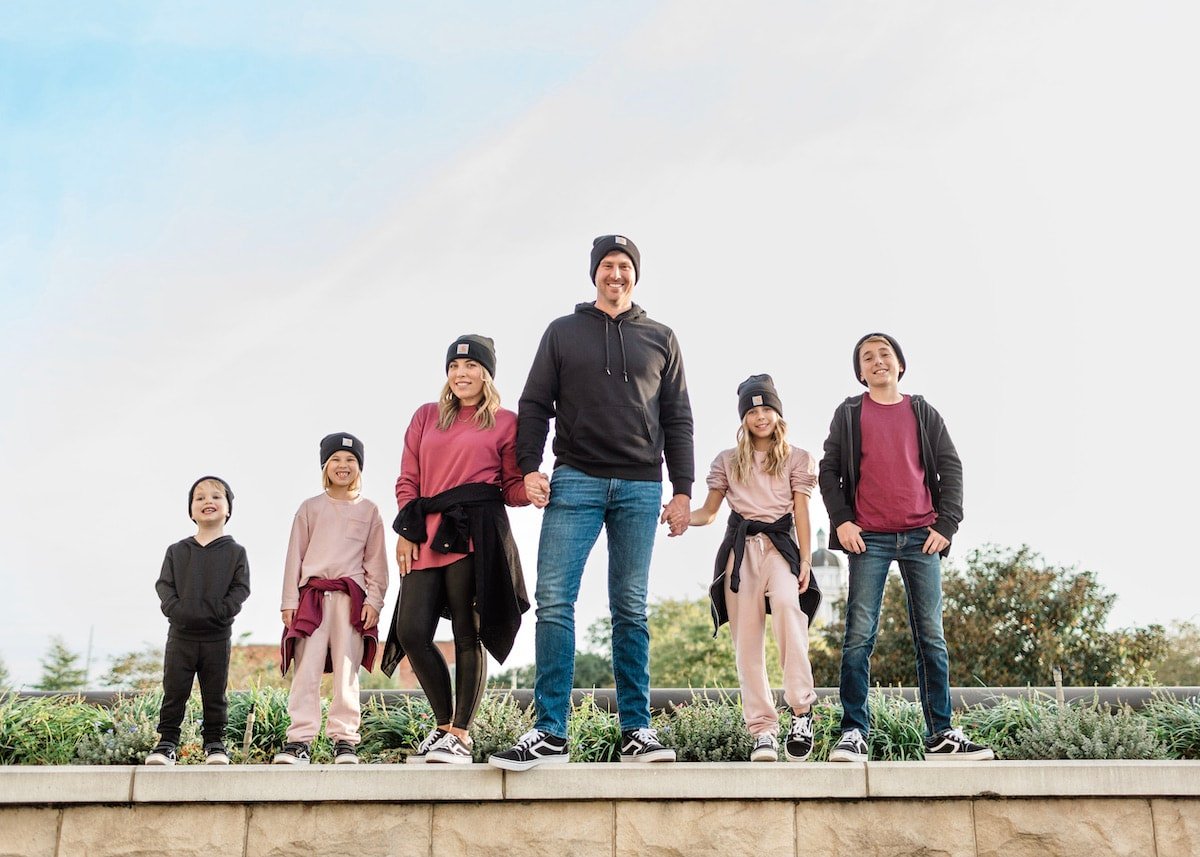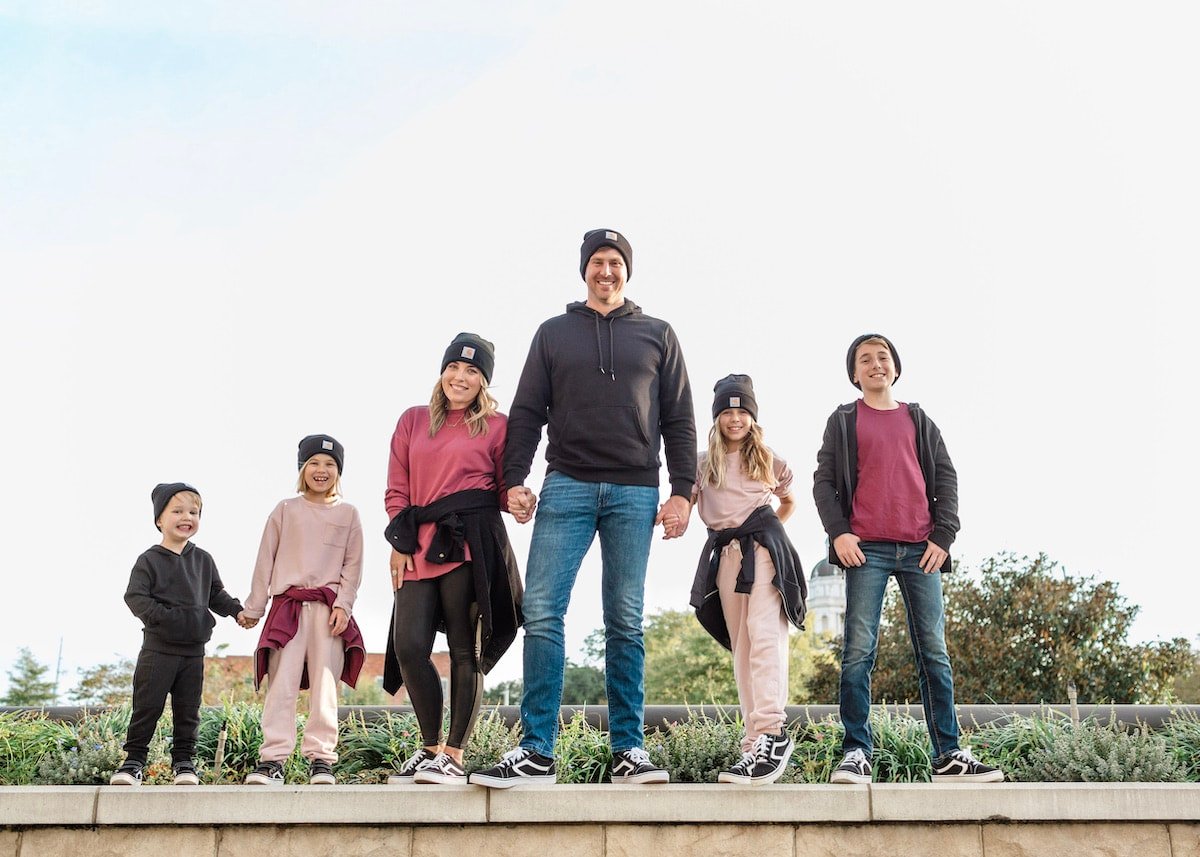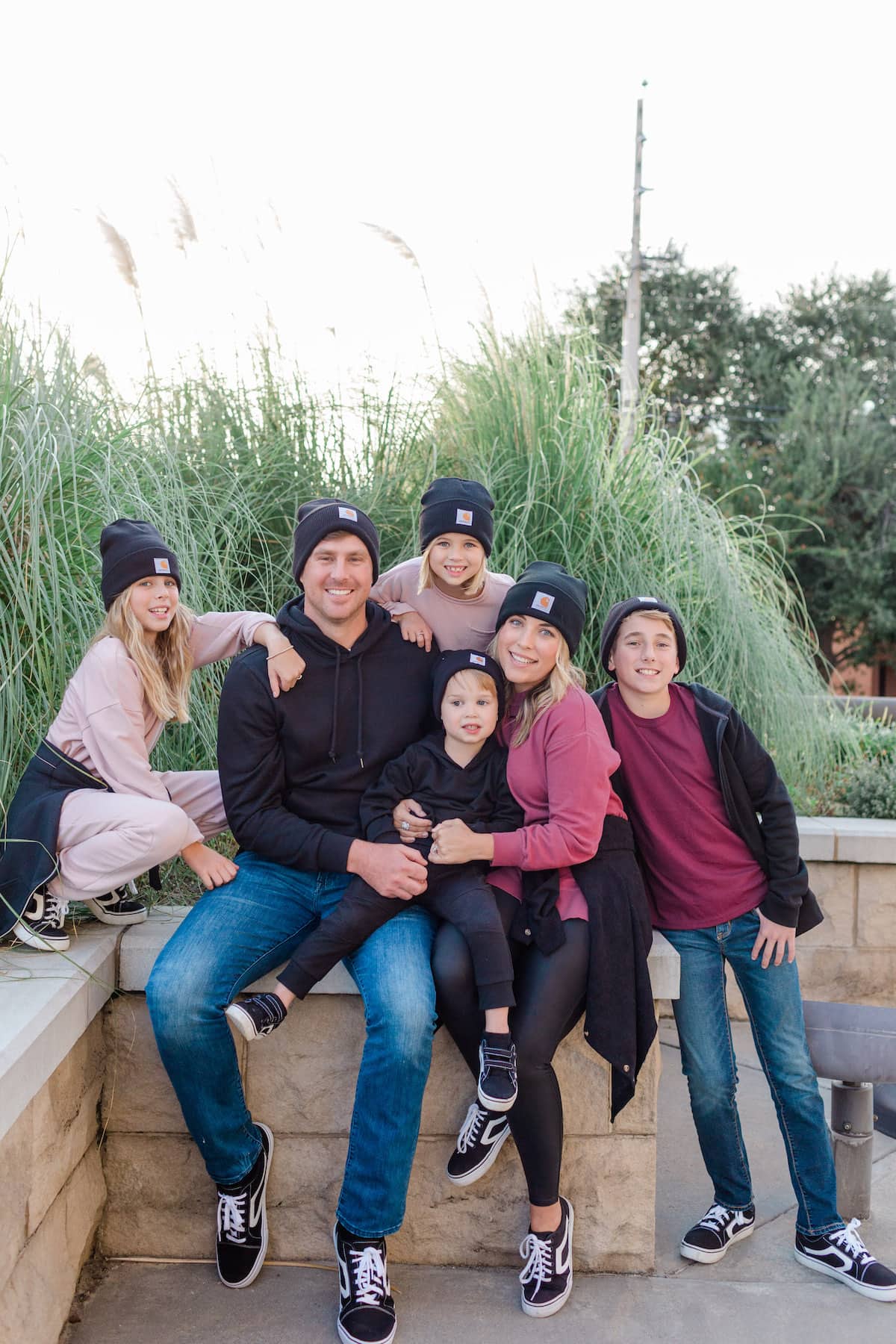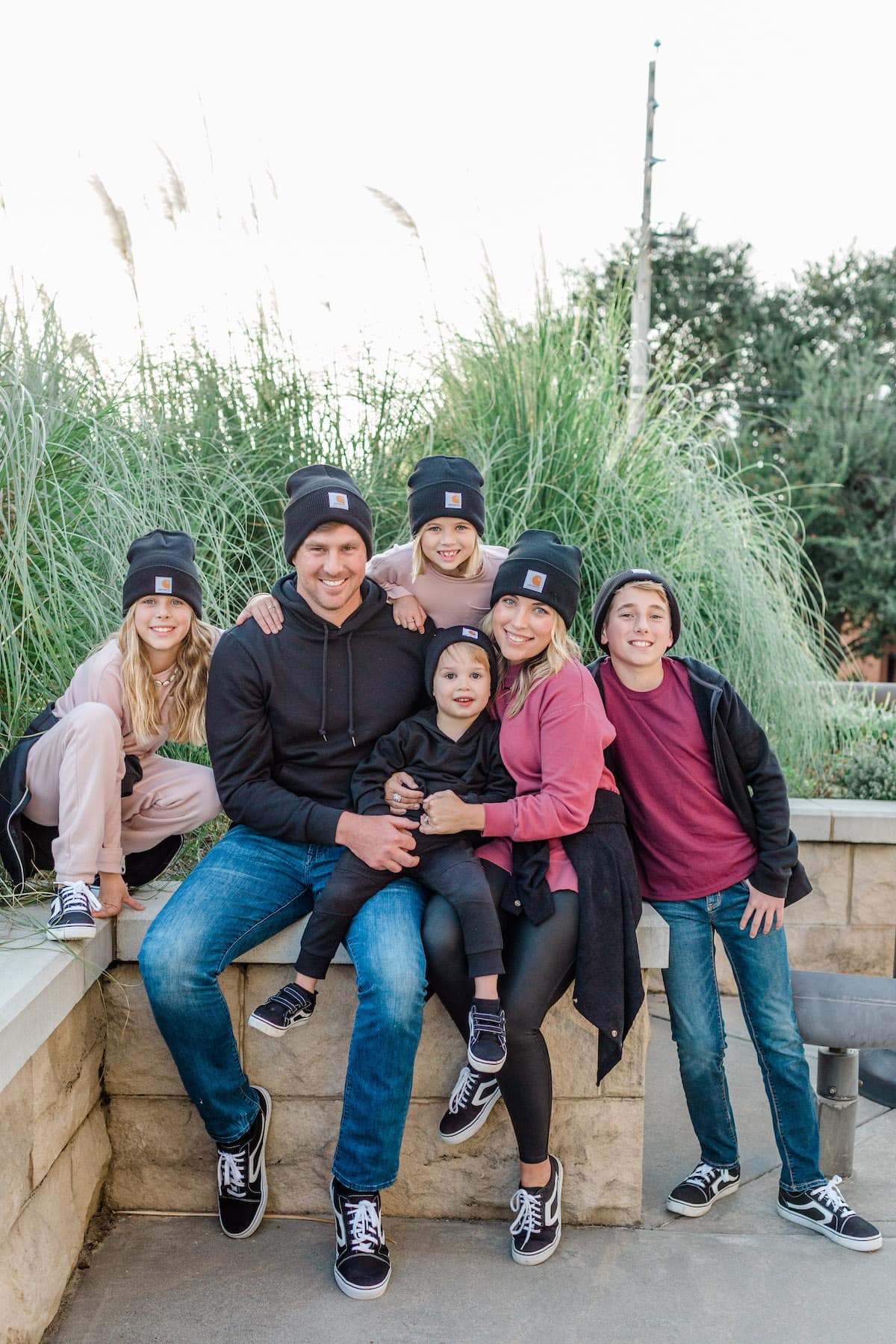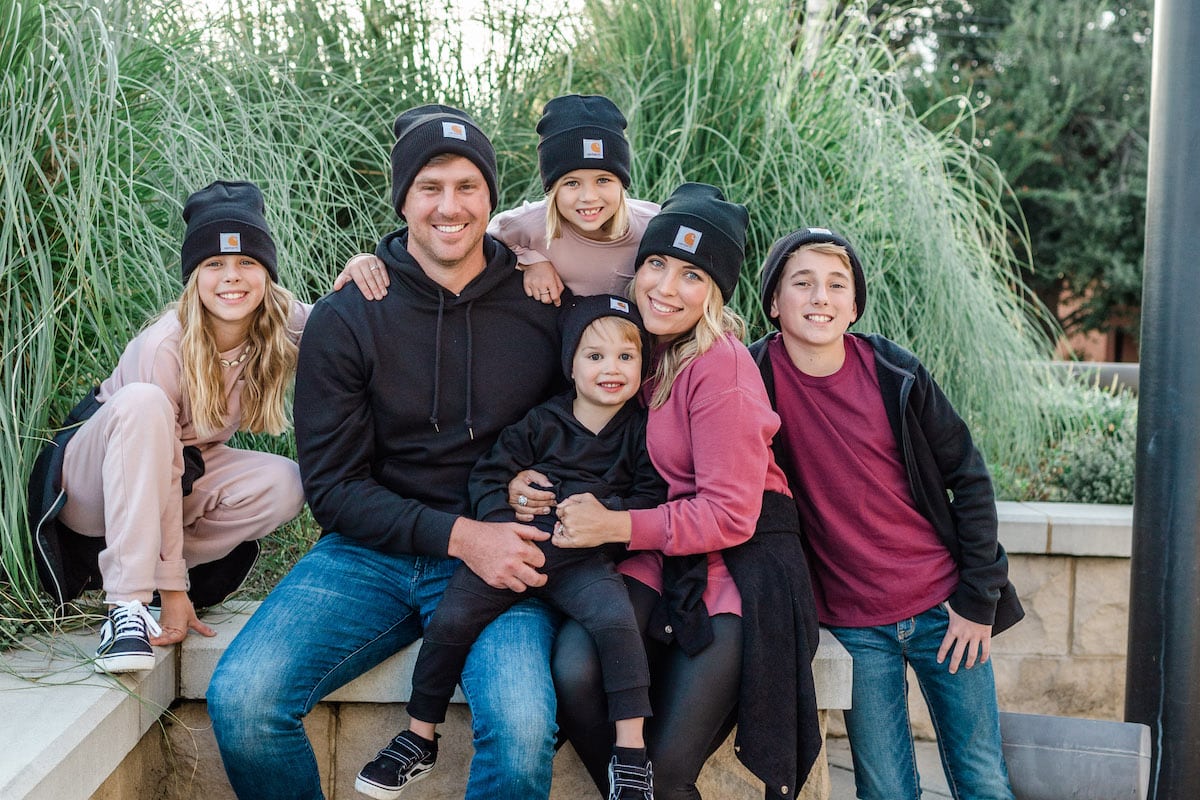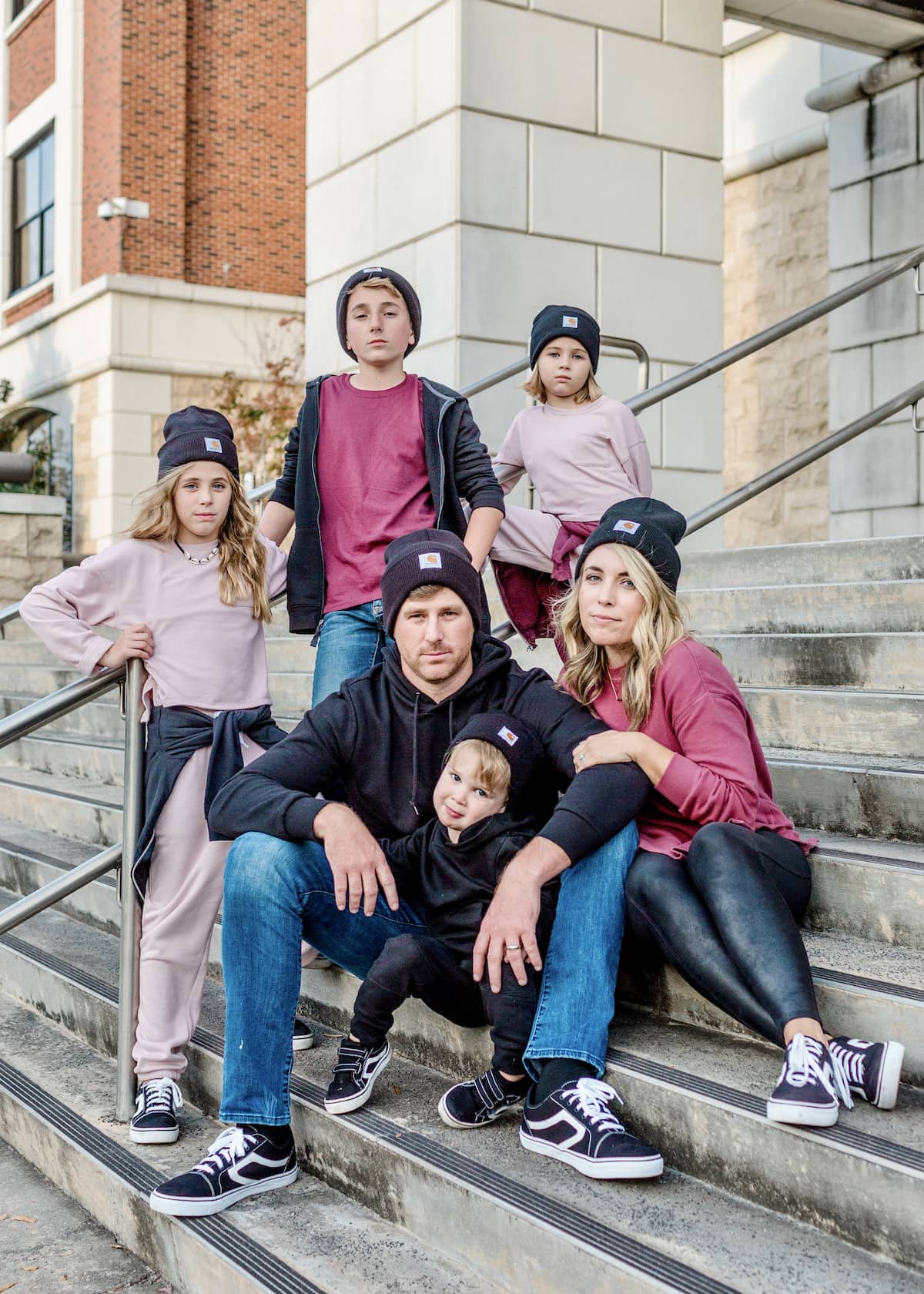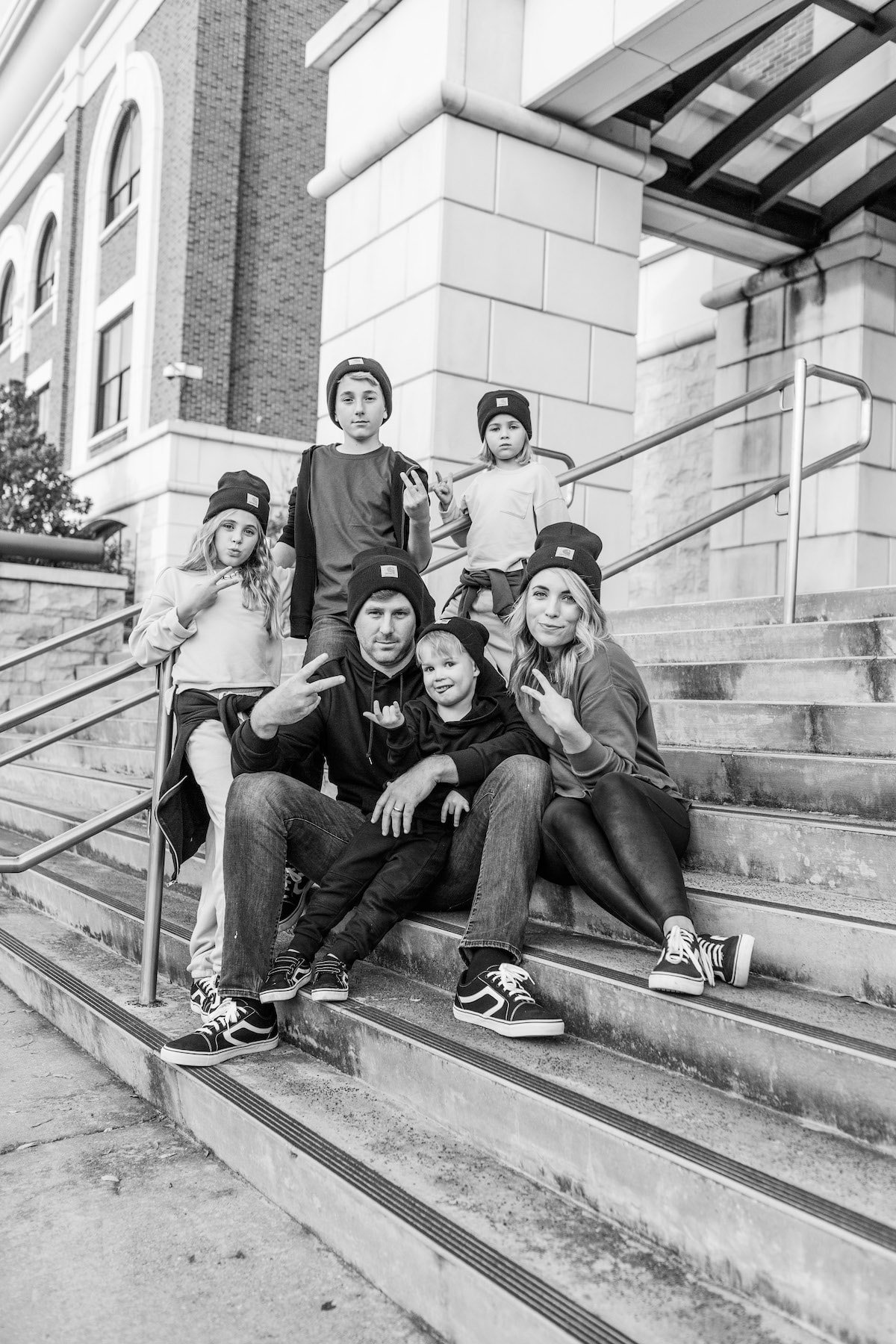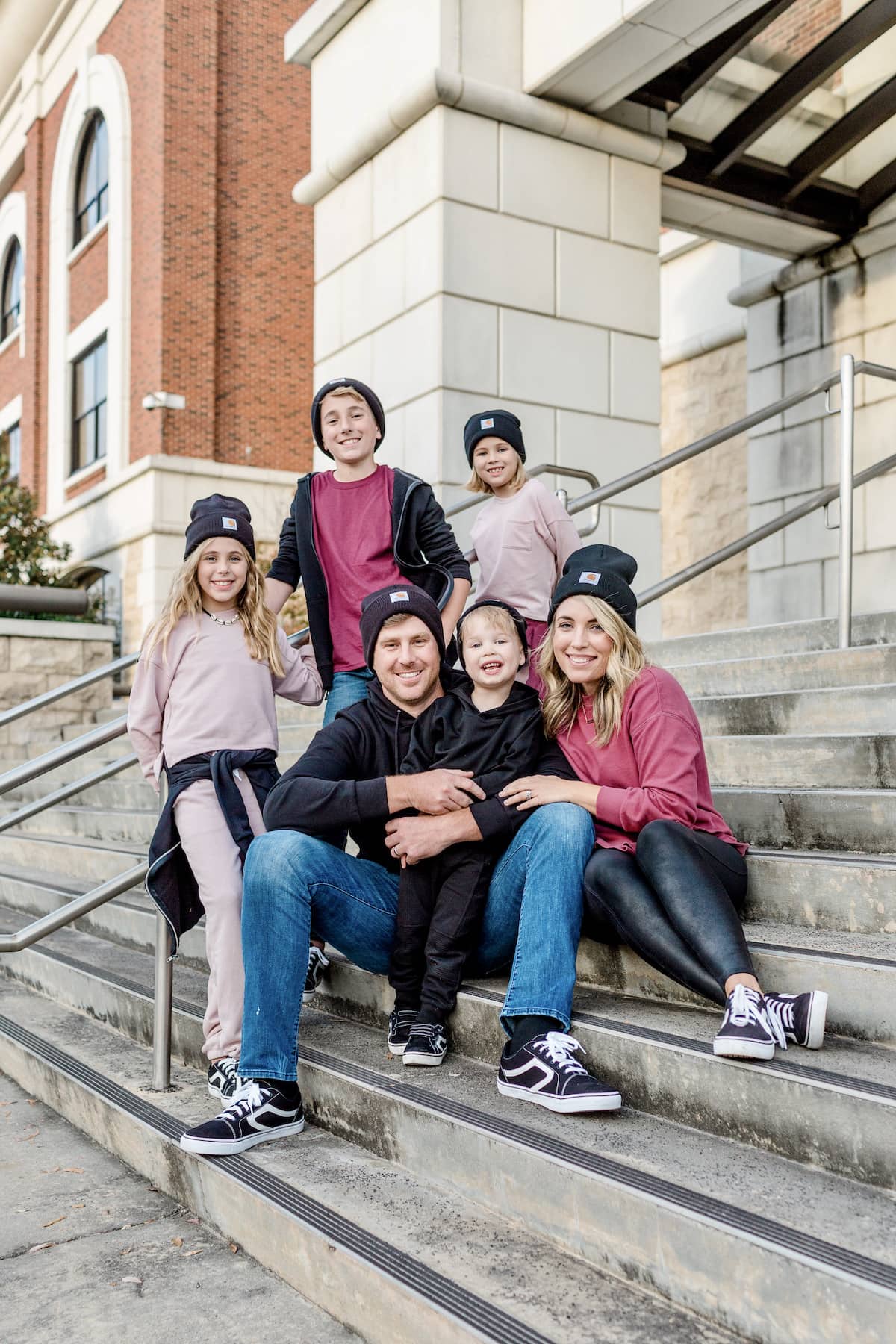 My favorite from this session of our whole crew! I just LOVE the personalities. I love that Tess is holding up the "I love you" instead of a peace sign and is so serious about it (she's our little comedian always playing into a role), I love that Kye is a straight up teenager vibe, Britt is her usual posing cool self, and Spear has the adorable "spidey" web slinging going on. It's SO US and so natural and so fun and was exactly what I was hoping for when I got inspired with this theme for our family photos this year!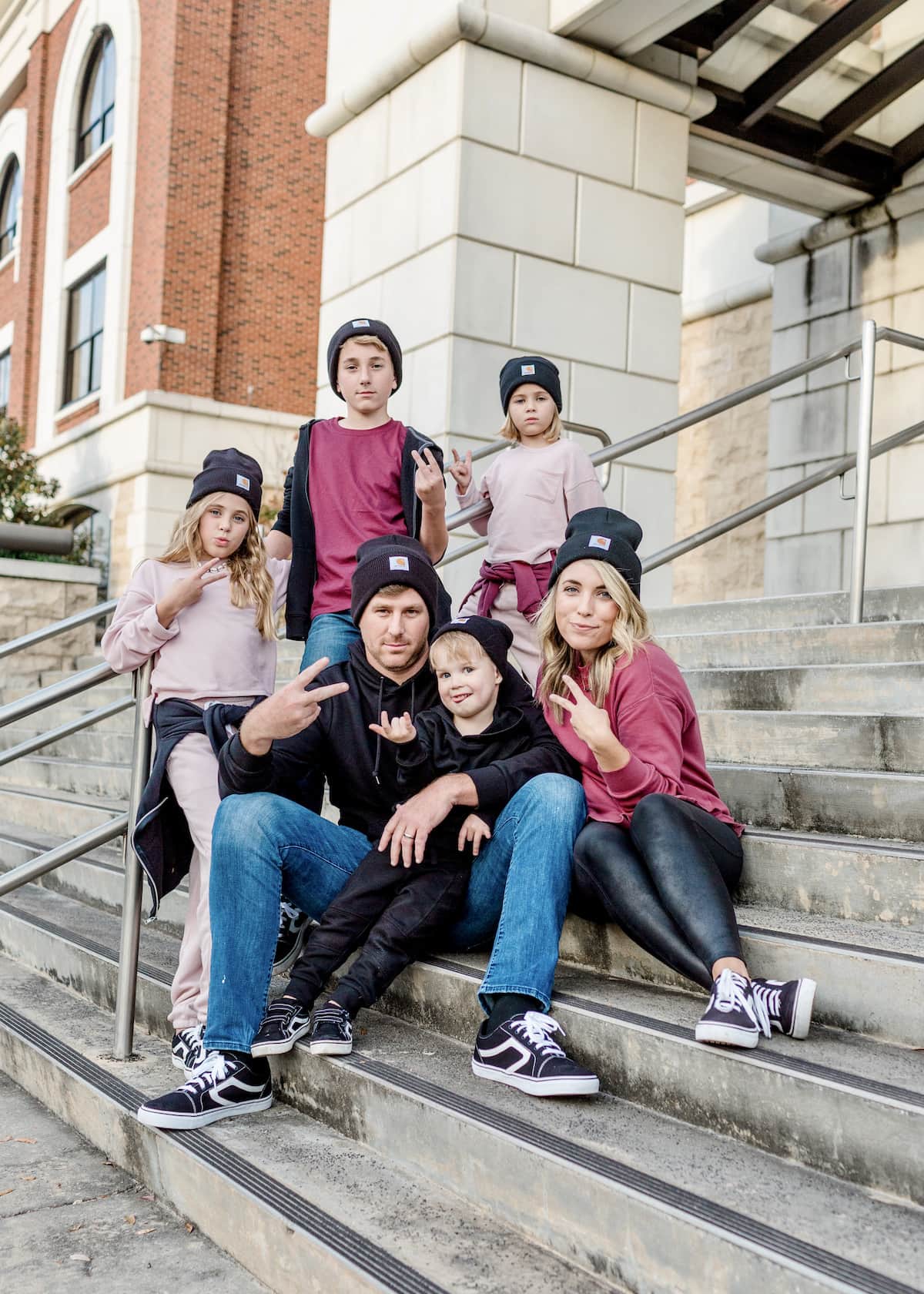 Family Christmas Card 2021
I loved the look so much and the end results of Lindsay's awesome skills from our session that I used the photos for our family Christmas card this year! I actually decided to design and create the cards myself and I am super happy with how they turned out 🙂
Wishing You and Your Family Chill Vibes & Good Times this Holiday Season and Into the New Year!
As always I cannot recommend Lindsay enough! Be sure to visit Captured By Colson and book her for your next family photo session (or wedding! or senior! or teen!).
Looking for more family photo inspiration ideas? Be sure to see this post for Beach Family Photo Ideas as well as this post for Summer Family Photo Ideas!