Tour of Our Home: Tess's Treehouse Bedroom
When we built our home in 2010 we really tried to map out a houseplant with the future in mind. At the time we only had one child and weren't even pregnant yet with the second. But we knew we hoped to have four kids someday and wanted to build our forever home that could accommodate us all!
We included in the house plans to have an unfinished room above the garage. Part of the build would include proper sub-flooring and insulation to allow that space to be completed and finished over time. Zach finished that entire room himself (only hiring someone to come do the mudding of the walls) and it's now our playroom (you can see all the finished details here).
When the contractor build our house they made a mistake when it came to doing the flooring…rather than putting the subflooring and insulation down in the attic space above the garage, they accidentally did it in the attic space across the house in a smaller room above a downstairs bedroom.
Oops! Of course they fixed their error and did do the proper plans for the future playroom and we just lucked out and had this large attic space on our second floor.
You can see our house plans here that show where this space is – it's the attic space beyond the office upstairs.
When building our home we went smaller on our master bedroom and bathroom and have discussed eventually moving the third kid up to that bonus attic space and someday remodeling the downstairs master bedroom to include the bedroom at the end of the hallway (you can also see this on the plans how easily it could be done!).
With Tess turning 6 we decided it'd be a great time to finish that attic space into her bedroom. Regarding why Tess get this room…she just so happens to be the third kid. Our plans all along planned on birth order in regards to who got which room and she just lucked out. Which I don't feel guilt about because there aren't a ton of perks of being the third kid, second girl ya know?
A great thing about our floor plan is that we have a VERY high roofline which means even with both of the attic spaces being finished, we still have the full length of the second story worth of attic space above it. As part of this room completion project Zach also added attic space above the master bedroom (it's accessed through the closet in this room).
This project got completed WAY faster than we thought it'd be due to Zach not being able to work during stay at home orders this year with the Coronavirus Pandemic.
It was a great project for him to work on and a great bonding activity for him with Spear who LOVES helping Daddy every chance he can get.
Zach took a completely empty space and converted into an incredible bedroom. He's so talented!
The last picture shows ANOTHER small attic space off of the room as well – he floored this area and we added a deadbolt lock on the door and that space is now my "Christmas gift closet" to store all the gifts I buy for the kids 😉
The only things Zach did not do on his own were mudding the walls and installing the carpet!
When deciding on a bedroom theme we quickly decided on a treehouse. I had seen some cool "treehouse" style beds on Pinterest and Zach and the kids love watching "Treehouse shows" together so we thought it'd be a really awesome bedroom idea for Tess. Her very own treehouse!
I was THRILLED to be able to partner with Loomwell for this gorgeous wallpaper for her statement wall. It was VERY easy to install and can be easily removed!
The beautiful birch tree design flowed so well with our treehouse vibe. Loomwell is offering a 15% off discount code. Shop this link and use code JOURNEY at checkout for 15% off your order!
Along with finishing the bedroom Zach started on her treehouse BED! Yall. My husband is so dang talented. He created the plans completely on his own…he didn't follow any sort of guideline or pre-made plans. He truly designed every detail and then turned it into real life 🙂
It's also been so neat how involved all the kids have been able to be in the entire process. Tess got to HELP create her new room!
You can really see the beautiful details of the wallpaper in these photos! It's the Edward Wallpaper and again you can shop this link and use code JOURNEY to get 15% off your purchase at Loomwell.
We decided to do the walls in a light blue color, almost what I'd call "cinderella blue" It's by Valspar and is color "Blue Raindrop" (4005-5A). I love the softness of it and feel like it blends so well with the treehouse and wallpaper.
Zach used tin roofing for the roof and found these awesome lights at Sam's on clearance! And yes, they work!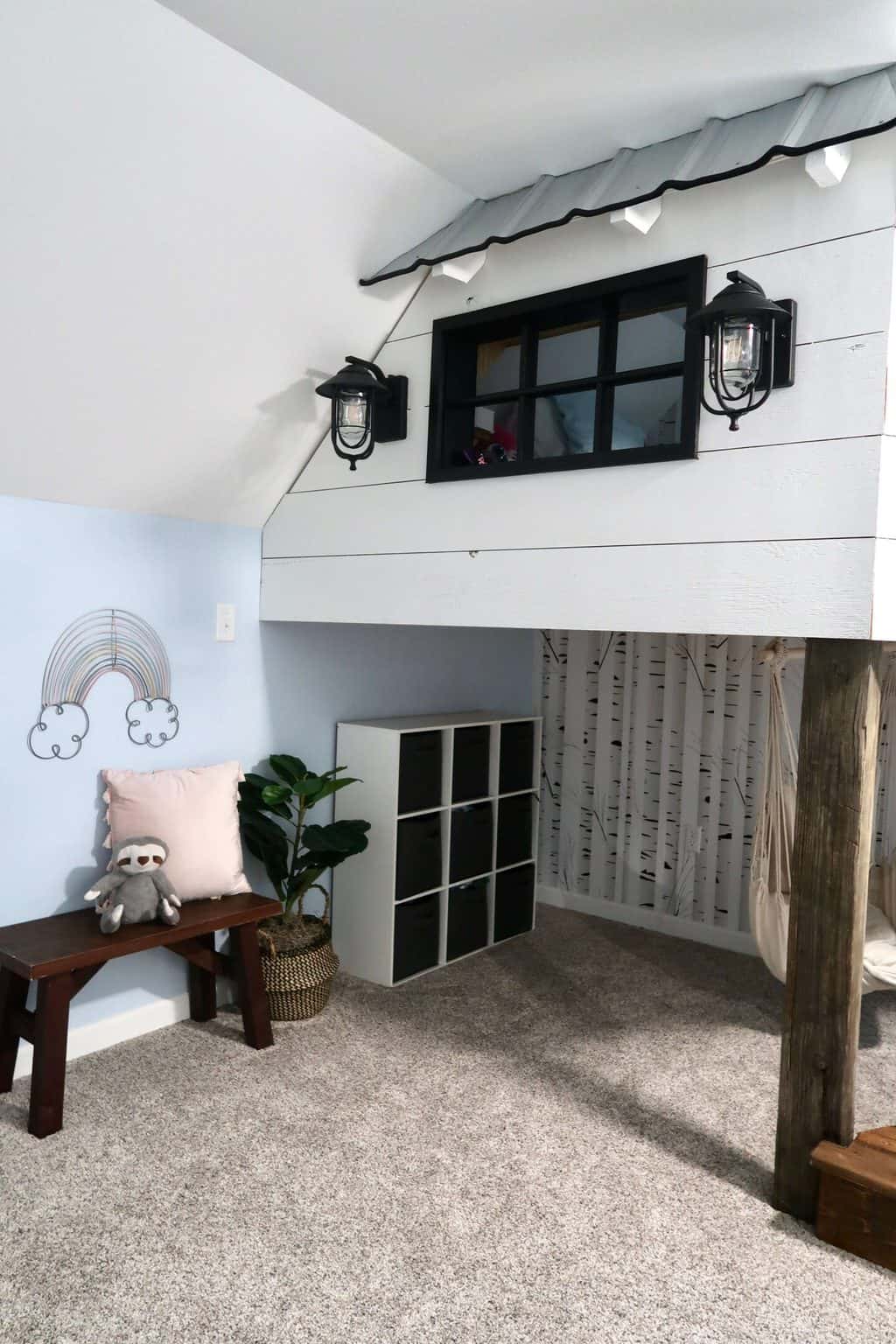 He built every detail on his own, including the stairs that serve double purpose of drawers too. We decided to add the rope as Tess loved Tarzan's Treehouse in Disneyland and we kinda wanted a bit of that feel to it!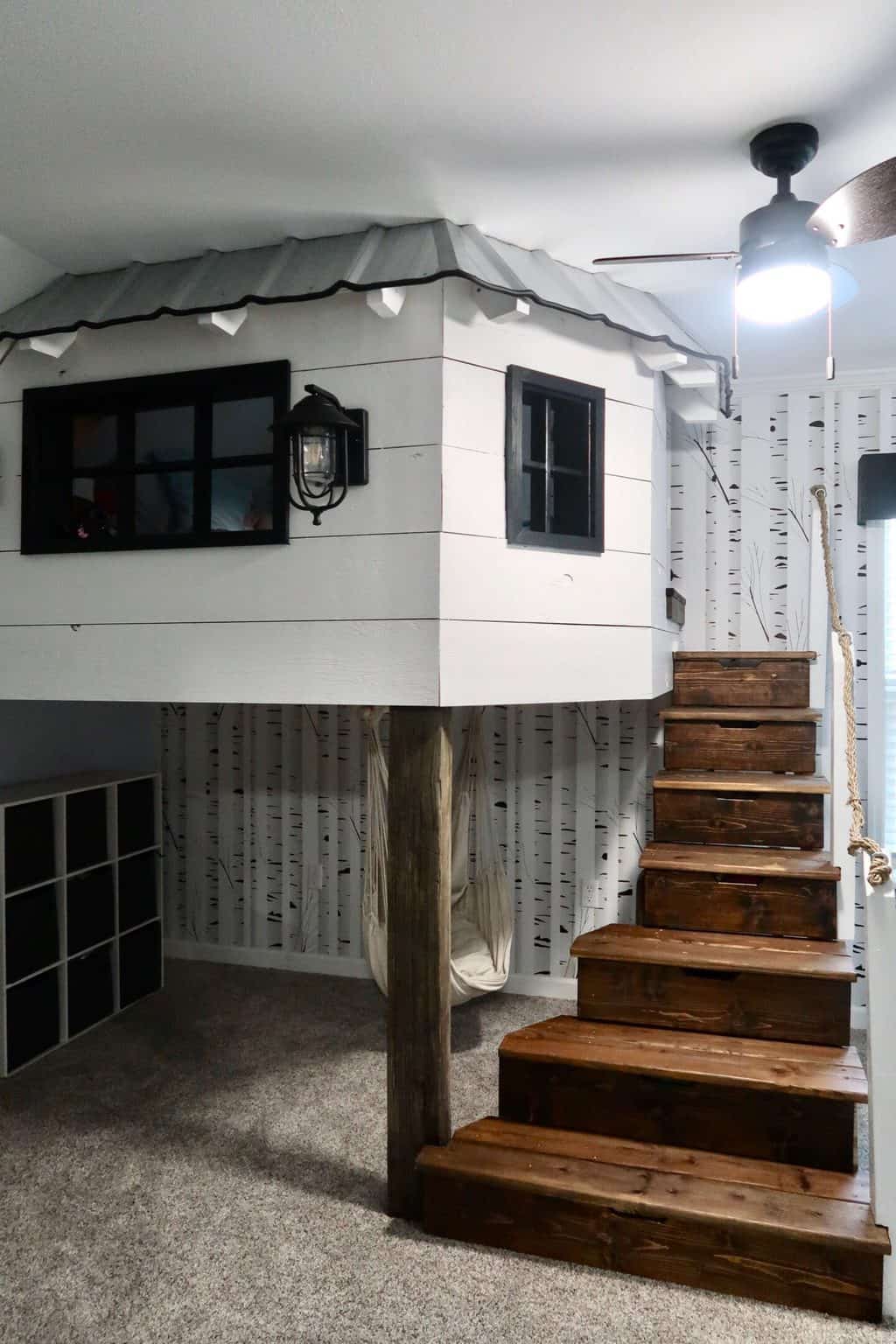 He also built the treehouse to avoid having issues with the ceiling fan that we had installed in the room but we quickly realized that it was just TOO big. We went on a hunt and found the PERFECT smaller ceiling fan. It works GREAT and gives off plenty of light plus I love the look of it and the smaller size helps not take away from the treehouse.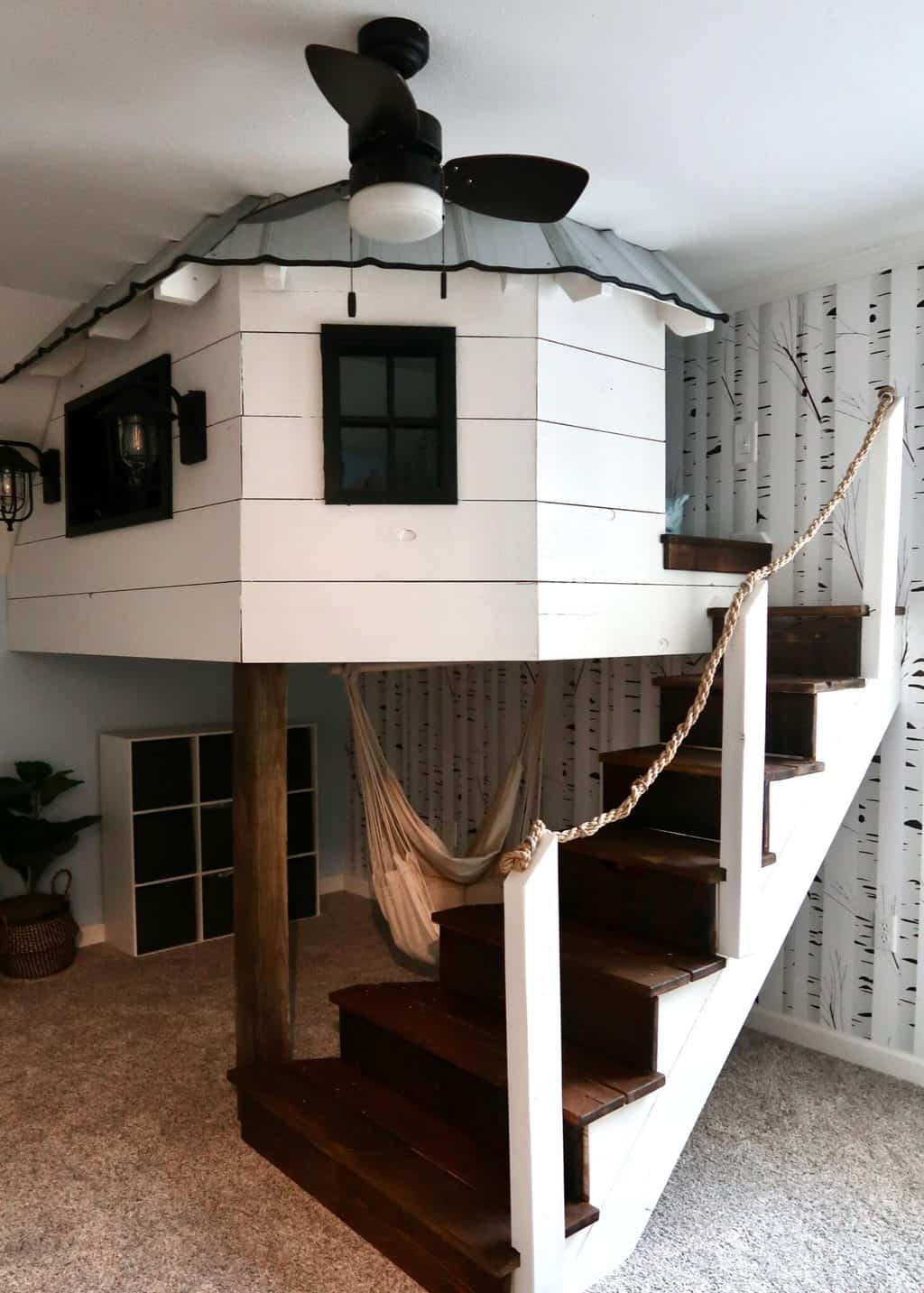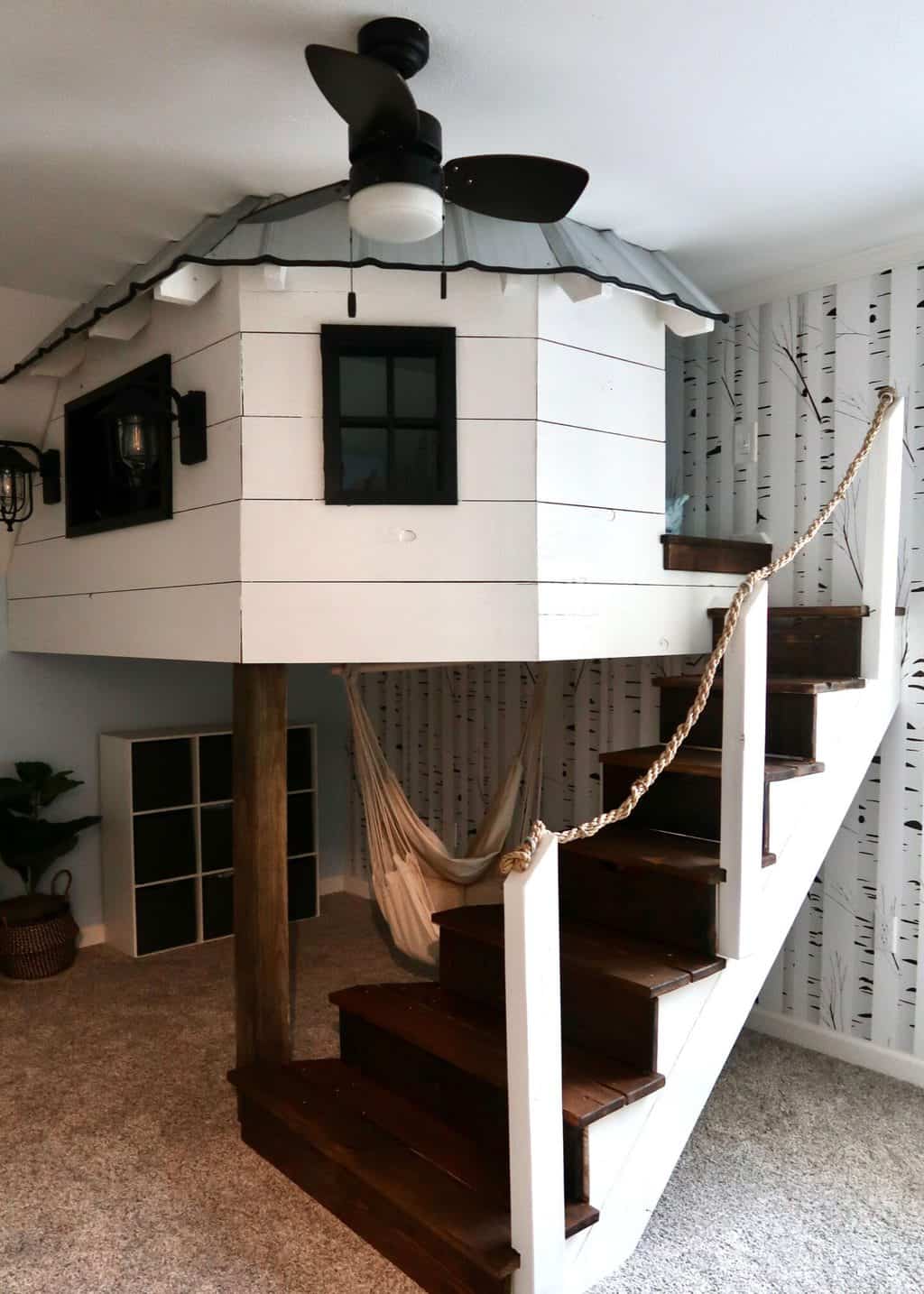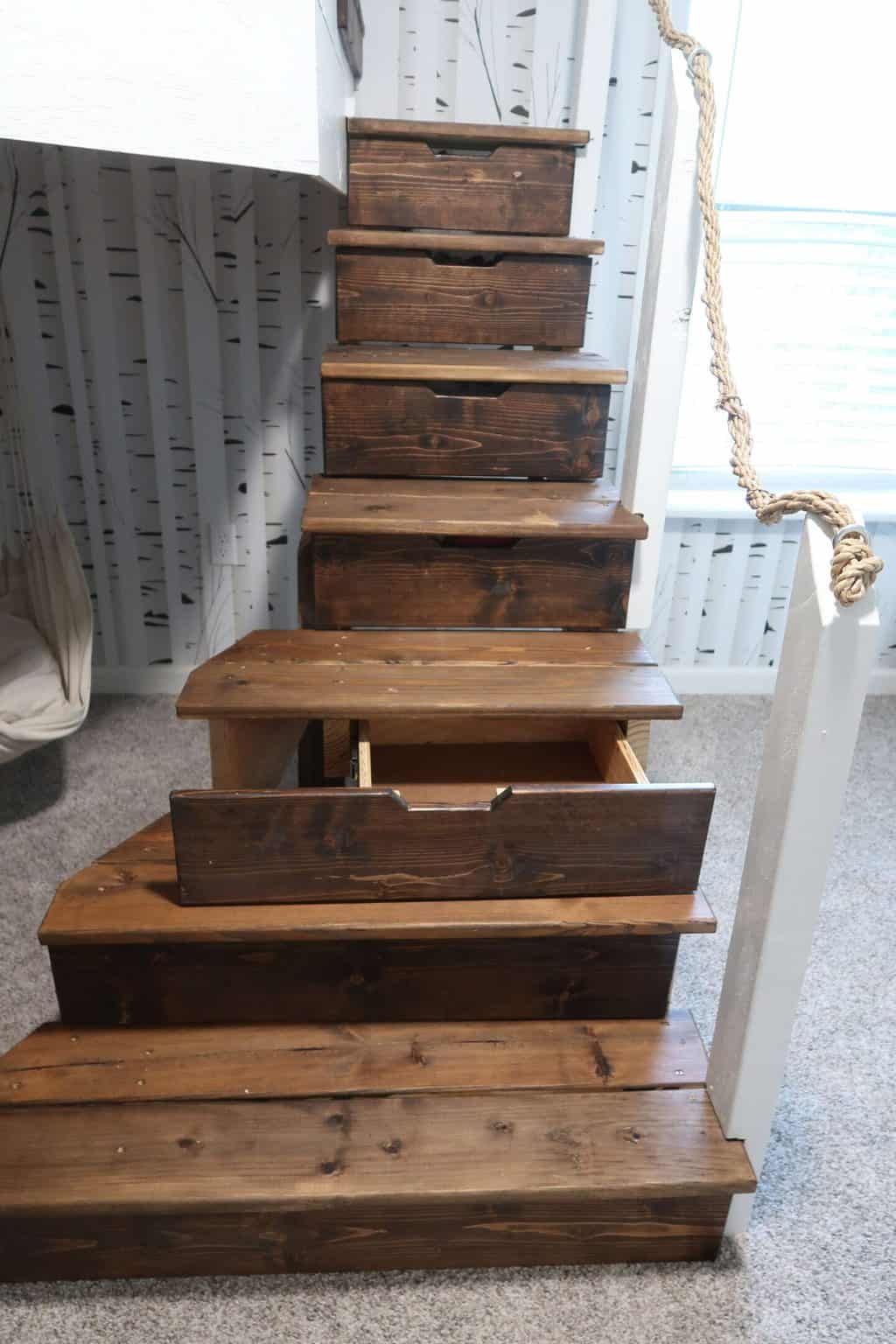 The area under the treehouse gives TONS of space to play! We moved her cub storage with all of her toys into this space as well as a really cool hanging chair as a spot for her to read, etc.
I'm sure over the years this space will evolve and will change as she gets older too!
Hanging Chair /// Bench /// Pillow Insert /// Pillow Cover (pink color) /// Rainbow Hanging (from Hobby Lobby) /// Sloth Stuffed Animal /// Plant /// Plant Basket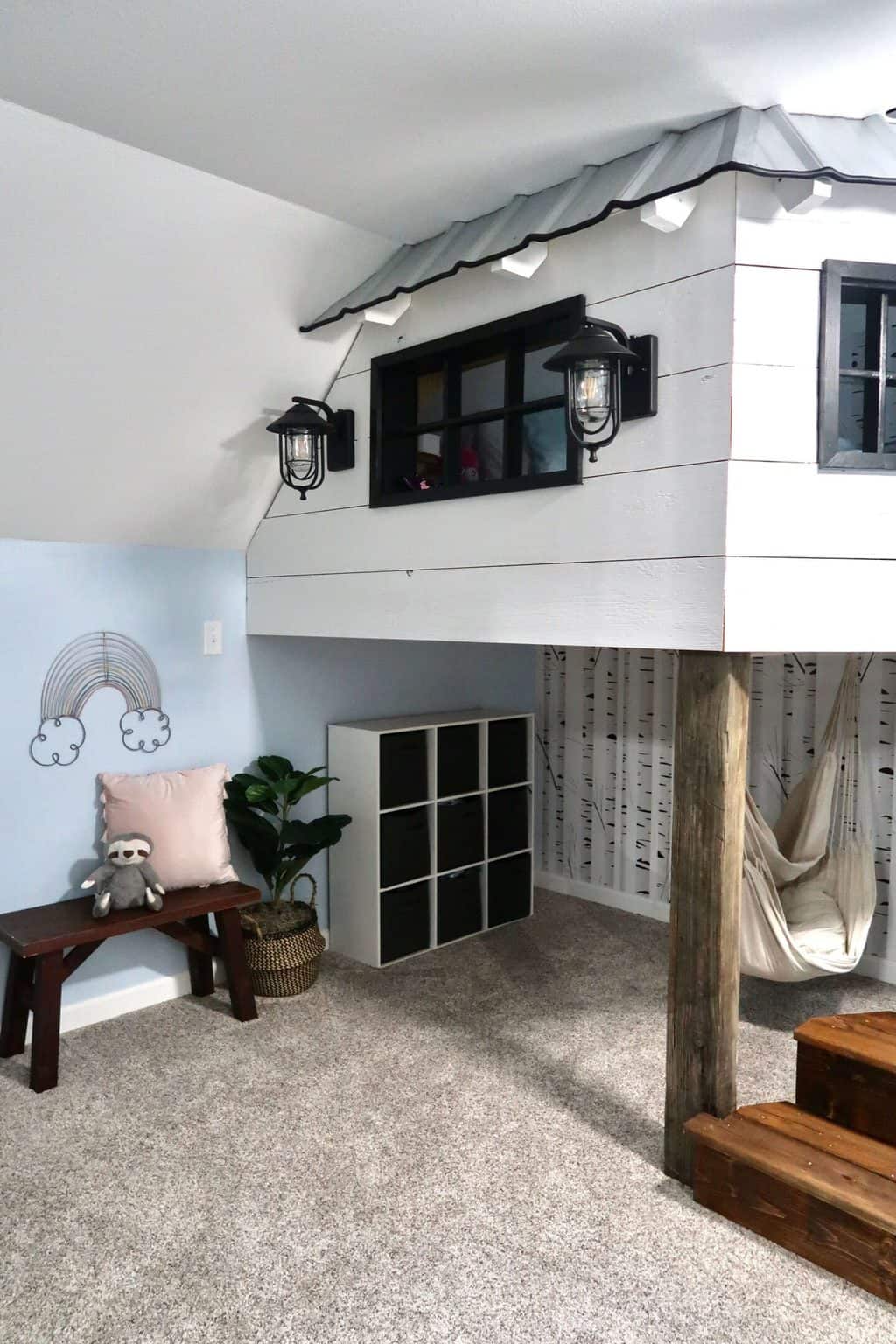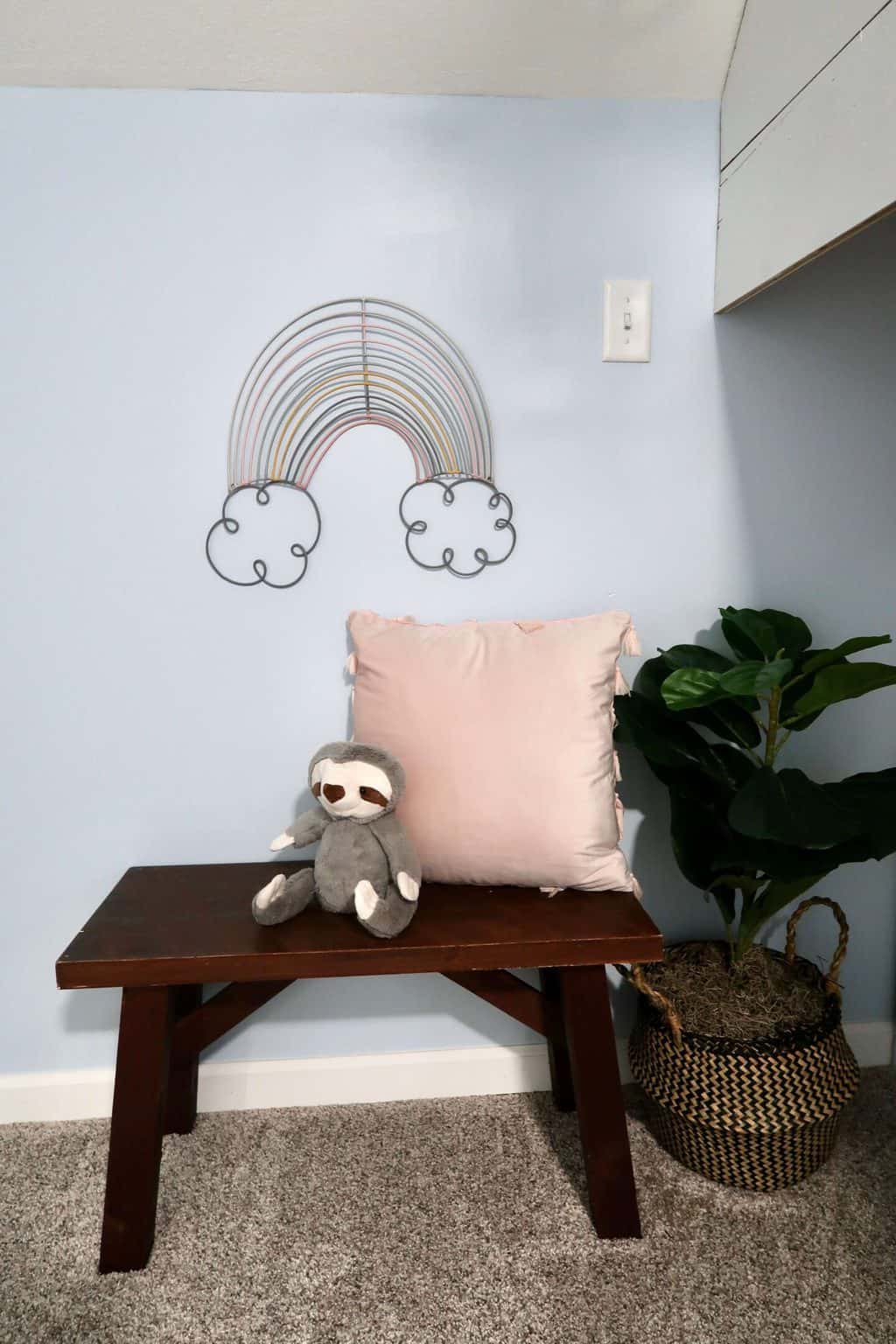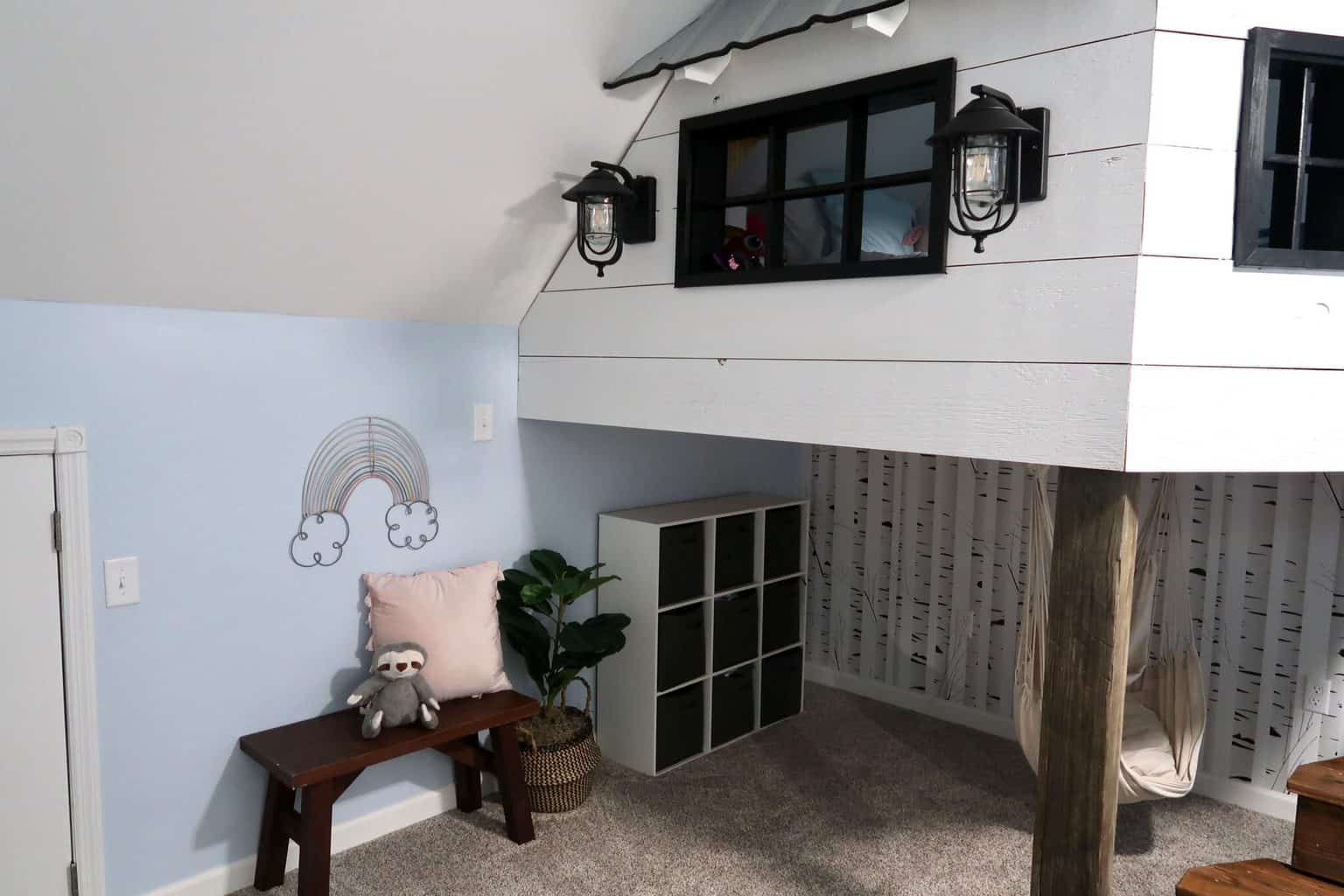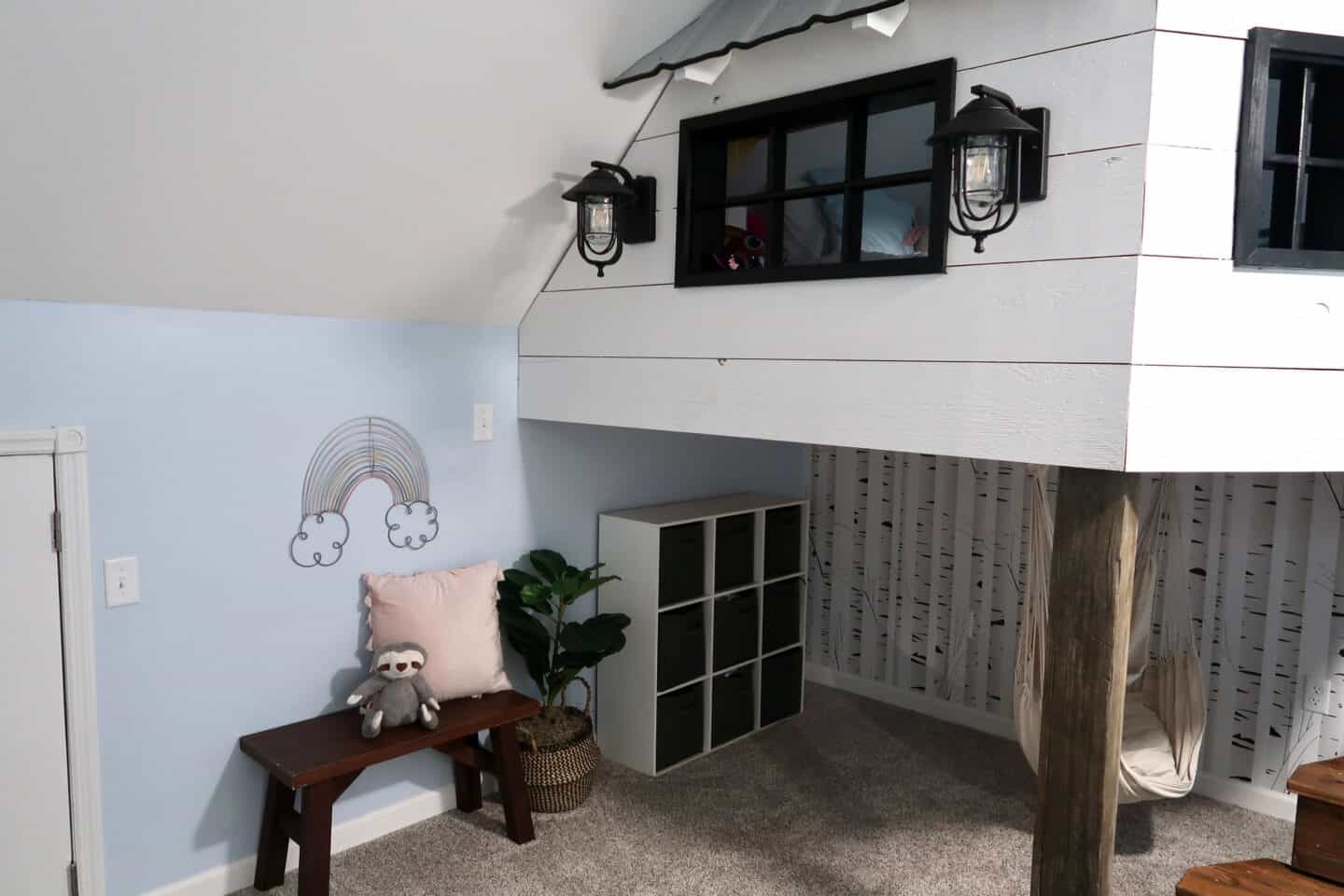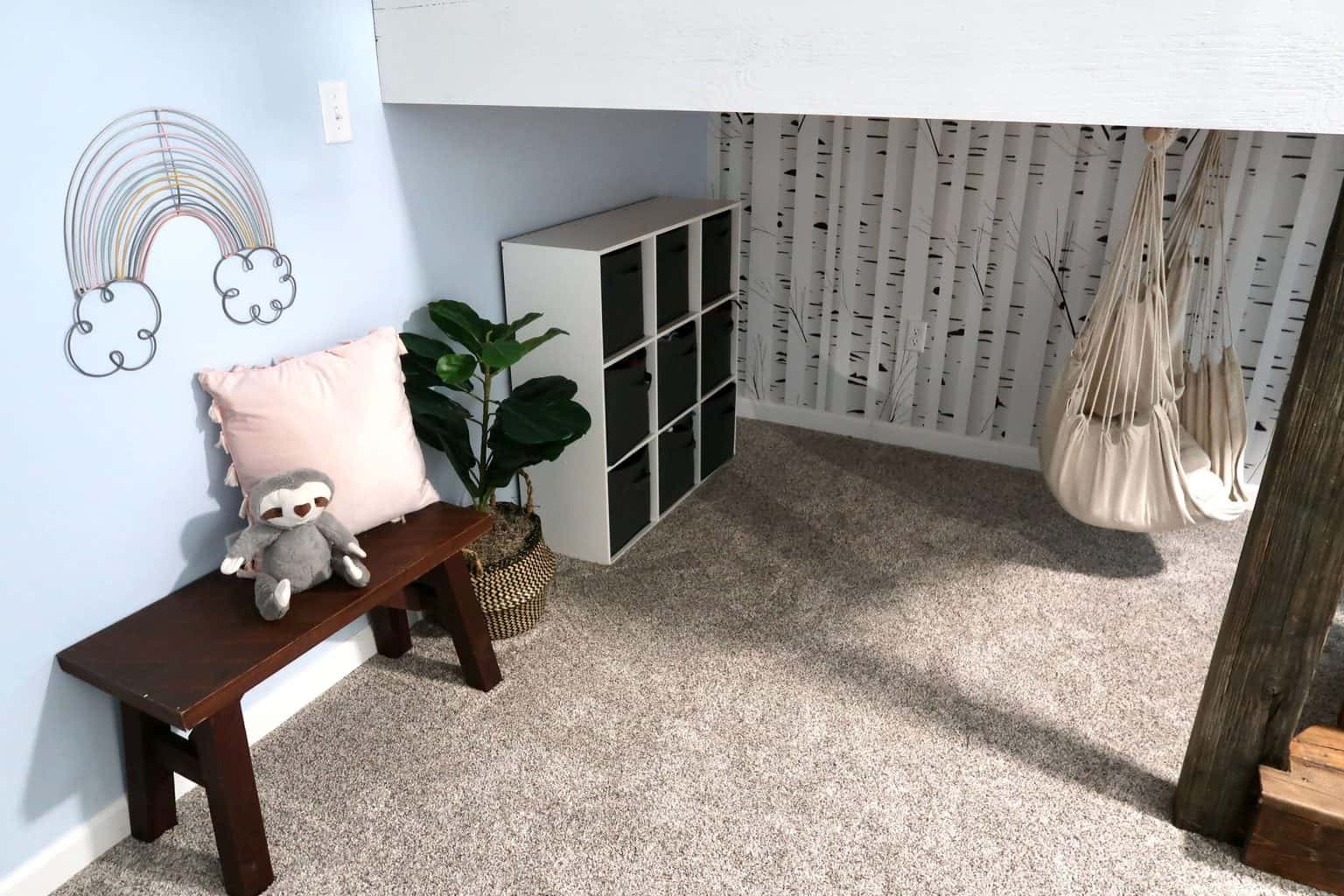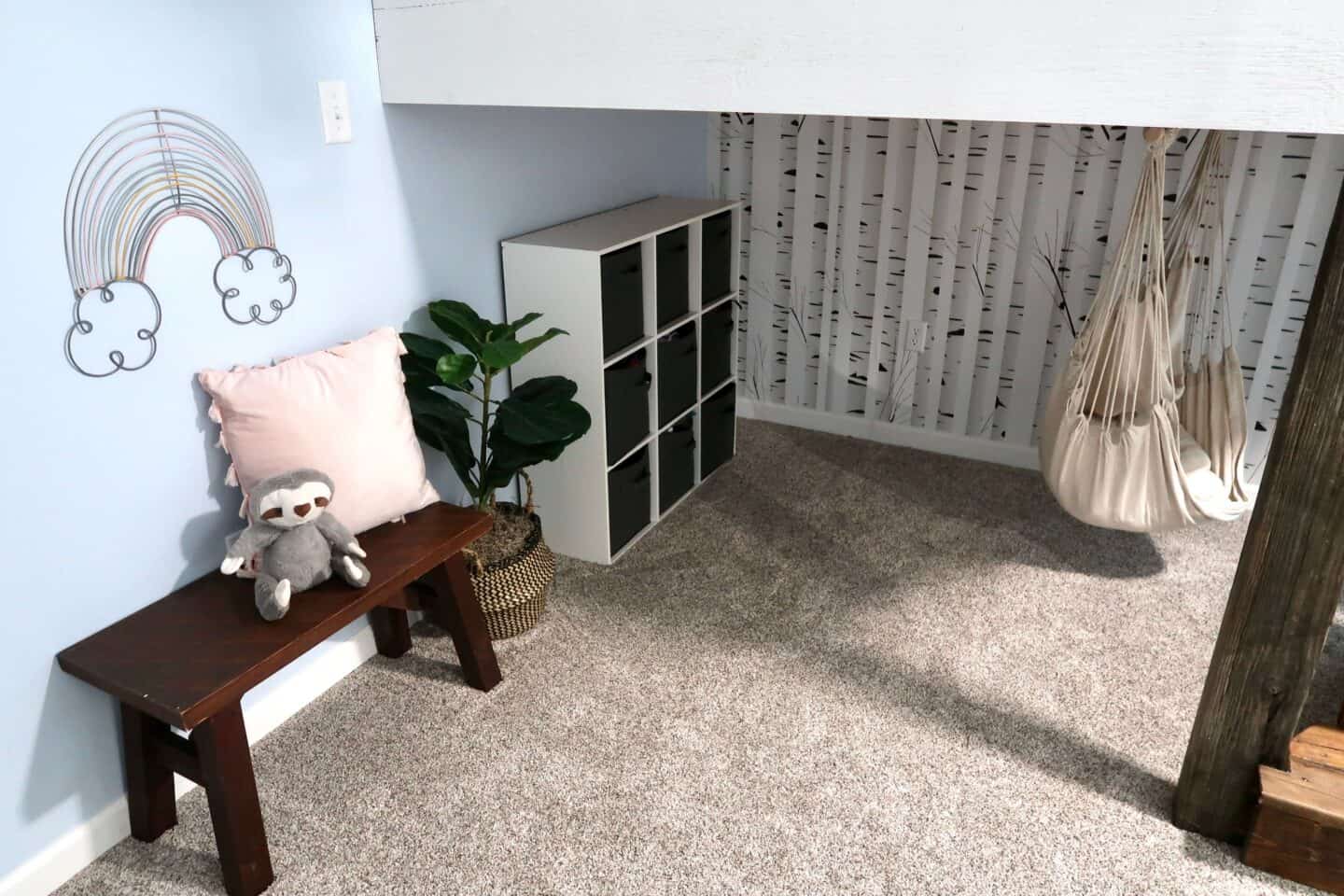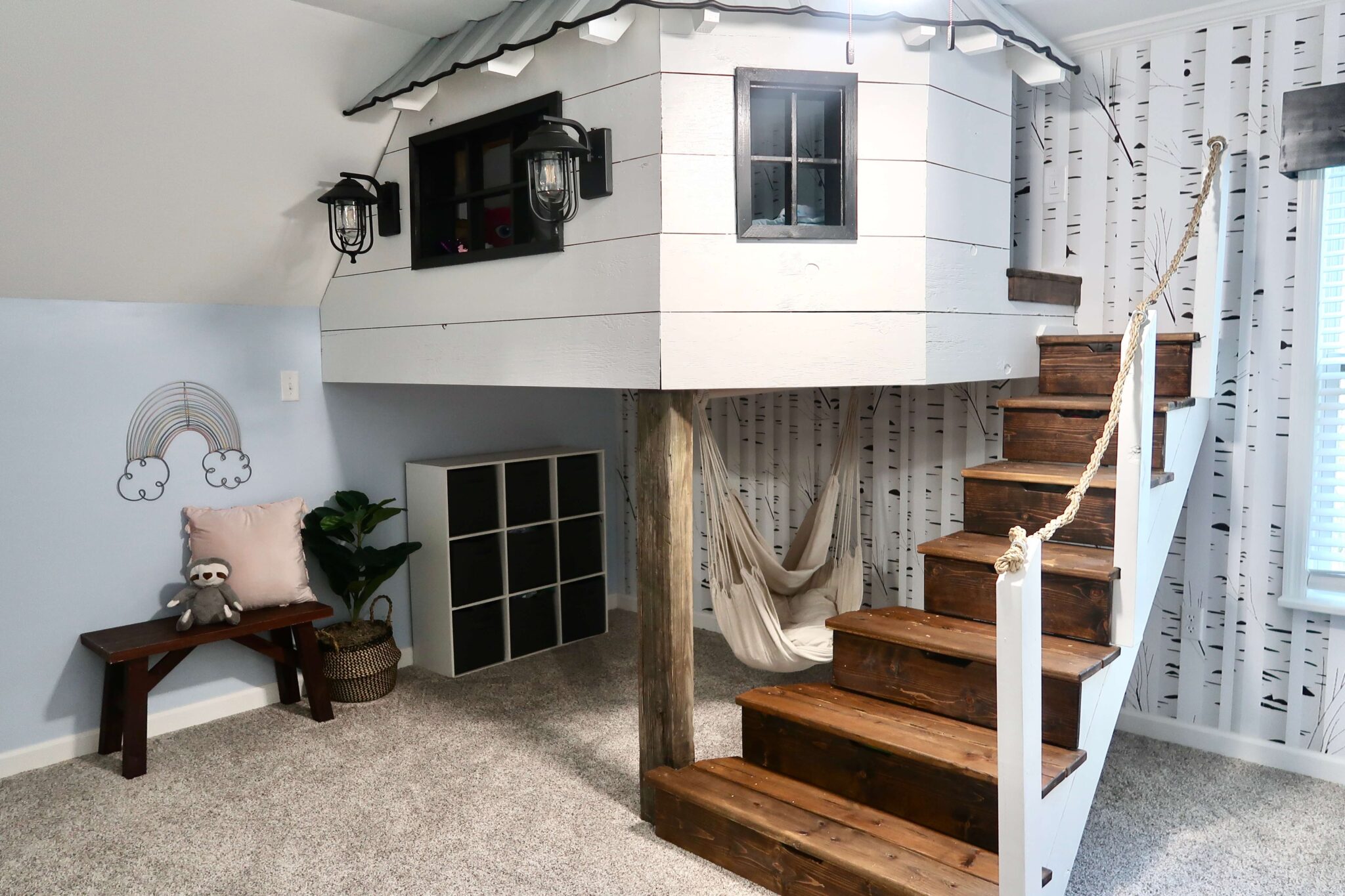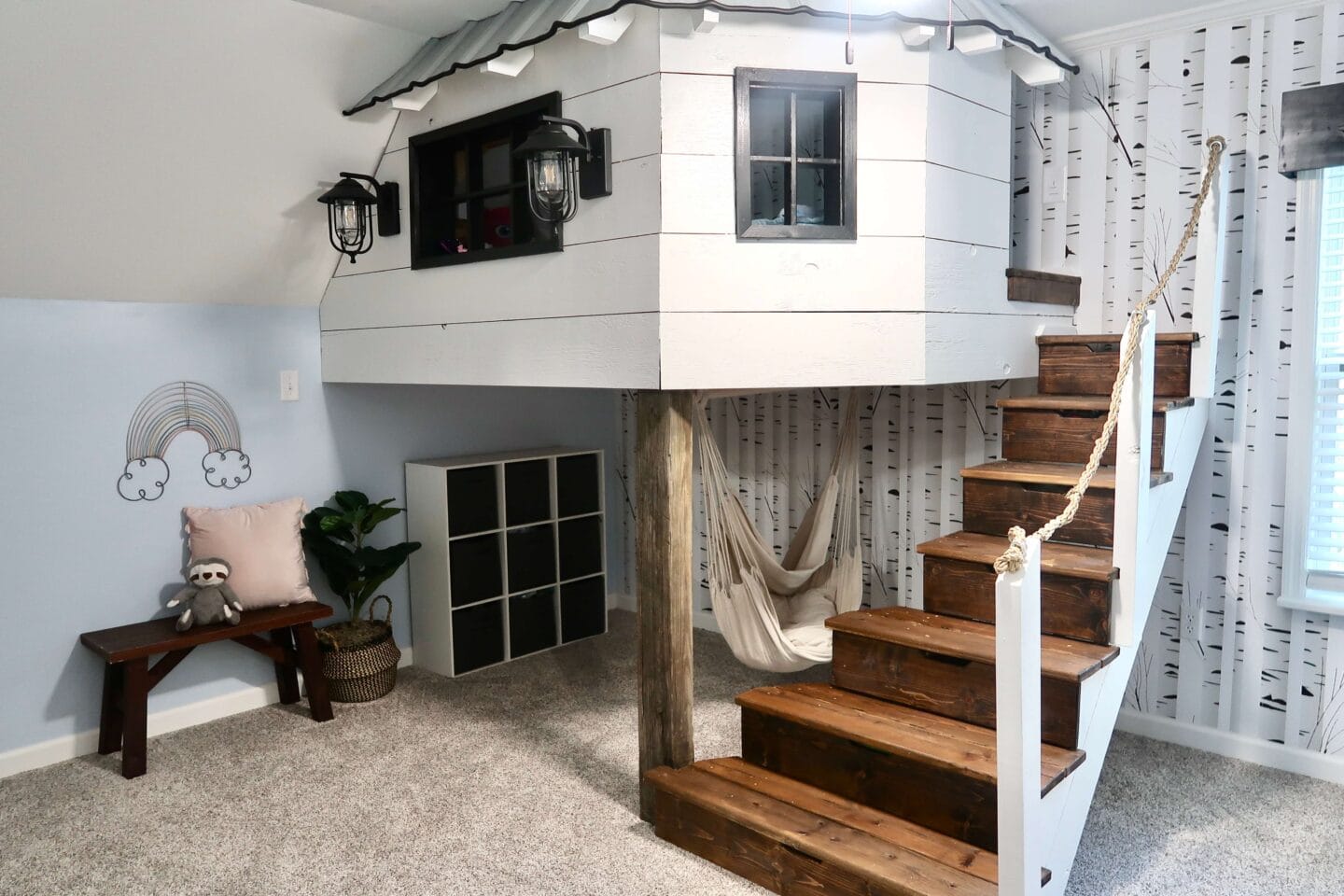 Zach not only installed "exterior" lights for the treehouse but also a light in the ceiling above her bed area so she can read without needing a lamp!
When designing the bed space Zach was very intentional in making the area plenty big. MUCH bigger than just the space needed for a twin mattress. Not only does this work well as a place for Tess to store her billion stuffed animals but it also gave space for plenty of shelving for books, alarm clock, sound machine, etc. AND helps give space for me to get up there to change out her sheets as well as get a tuck-in snuggle too 😉
Regarding her bedding I was THRILLED to partner with Beddy's! I have heard about Beddy's bedding for YEARS from friends who all swear by it but I've never had a set for any of my kids – until now.
And yup, totally lives up to the hype! SUPER easy to change her sheets for washing, but especially easy for her to make her bed. Just zip it and it's good to go and allows her space to look nice and clean without a hassle!
Beddy's is ALSO giving a 15% off discount code! Shop through this link and use code JOURNEY for 15% off your purchase whoop whoop!
Directly across from the treehouse bed is her tall dresser. Both of her dressers are Pottery Barn Kids, This one is the Filmore Drawer Chest.
We tried going cheaper end with some furniture pieces and hardcore regretted it. All of our Pottery Barn Kids furniture has held up AMAZING and we swear by the quality! Worth the price for sure.
I wanted the decor to have a girly touch and pull in a little hint of pink but not overwhelming. I wanted to keep things very soft and have that forest vibe.
Deer Head is Target (sold out), Frame and Vases are Hobby Lobby, Chameleon was mine from childhood.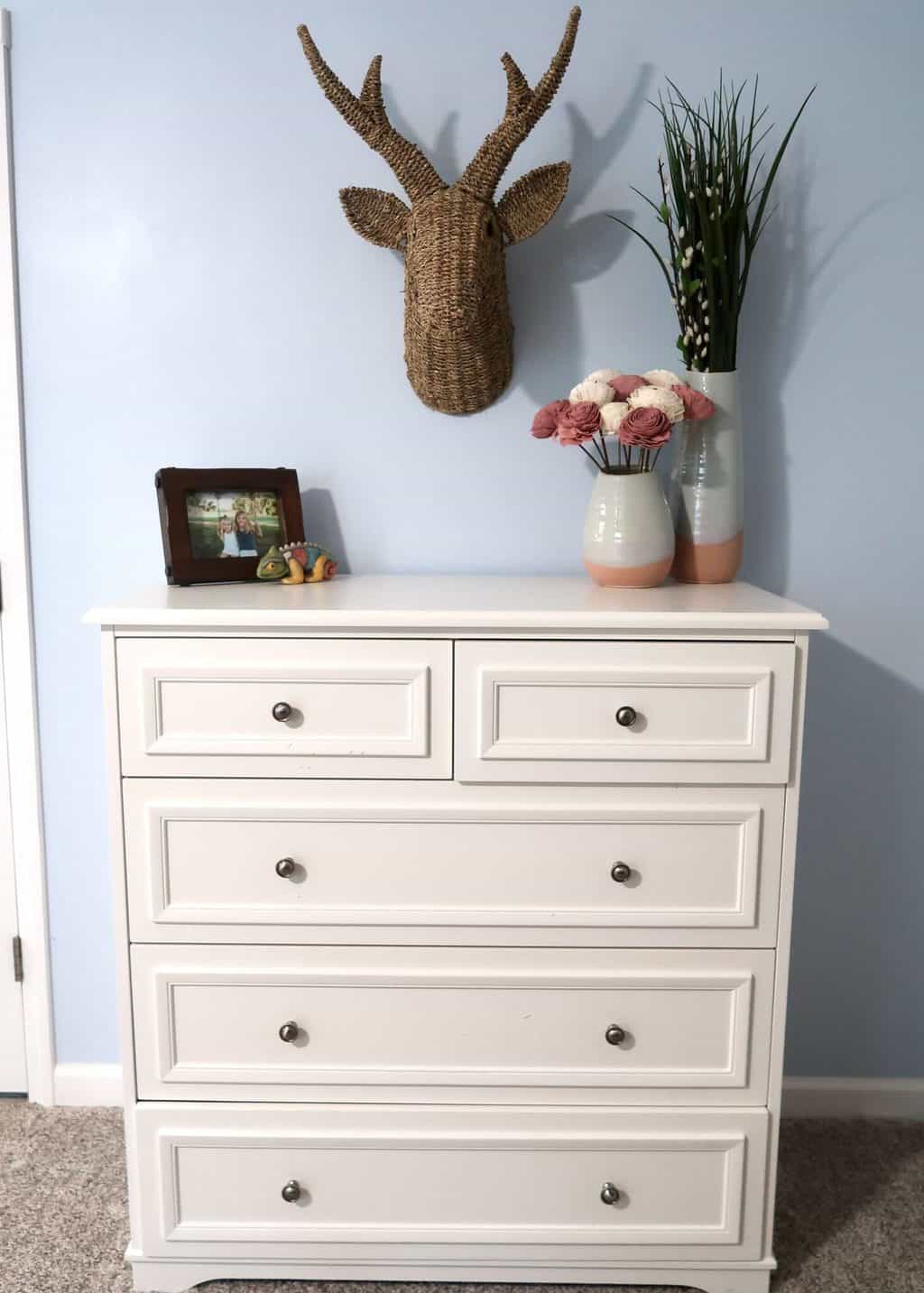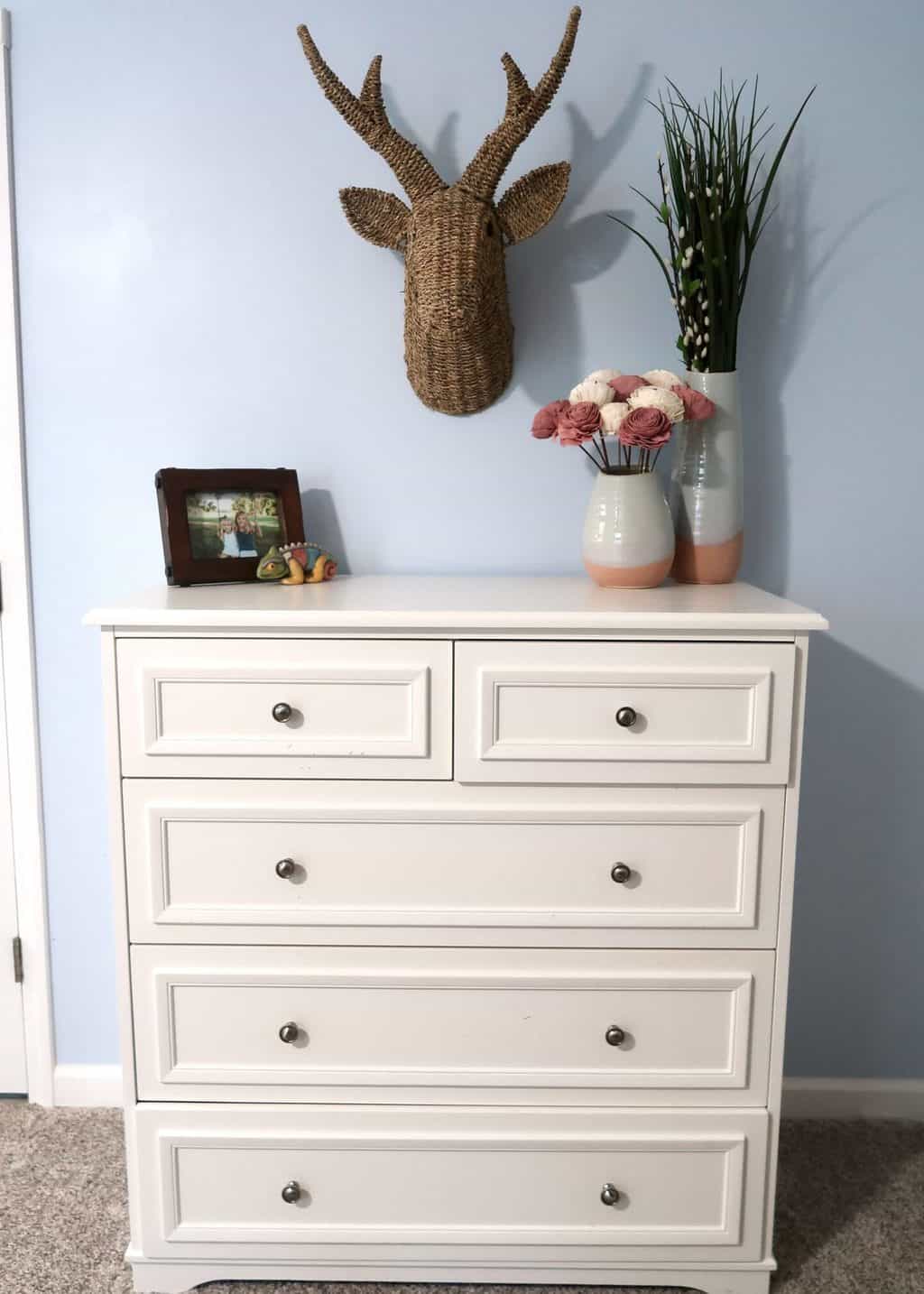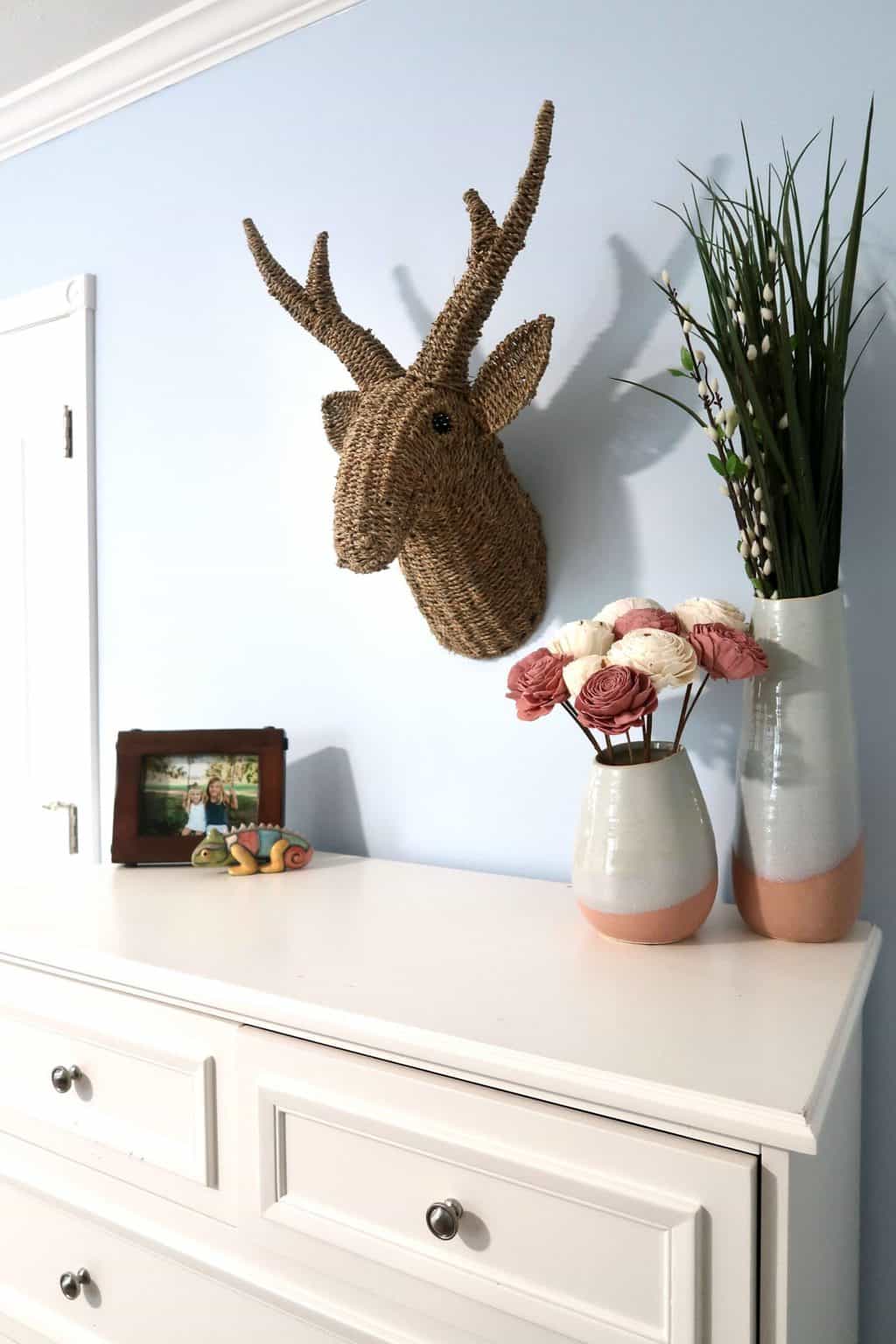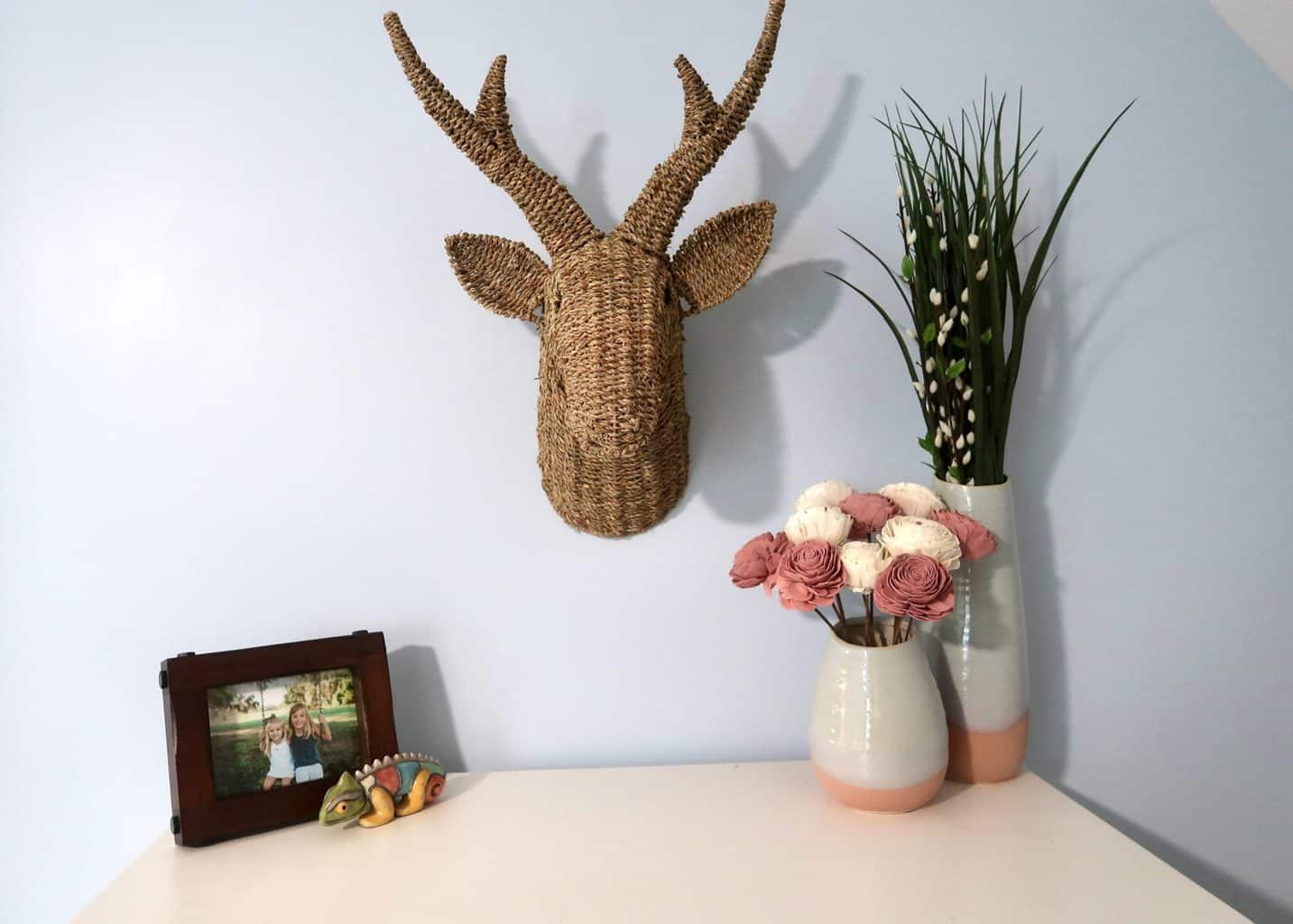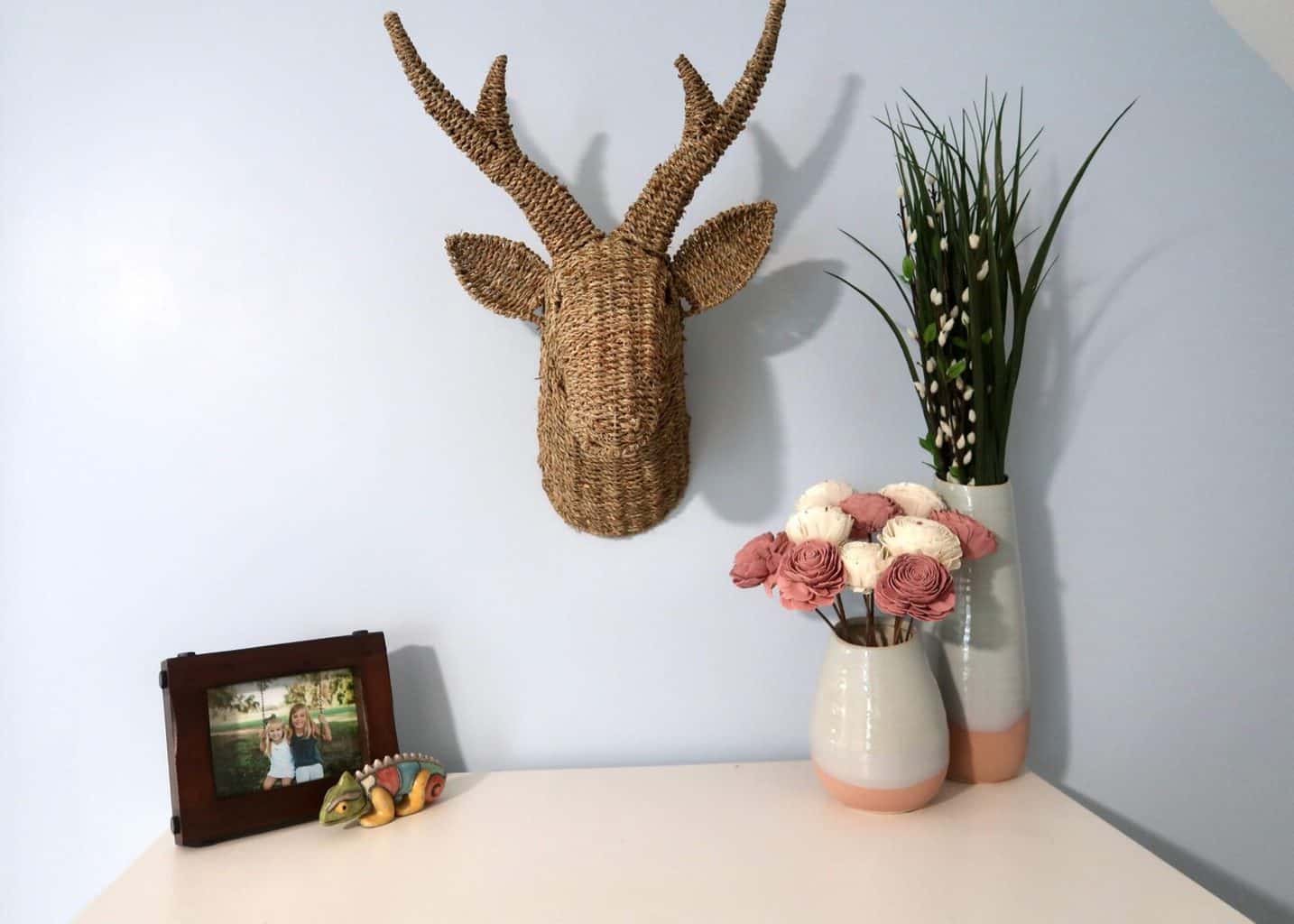 Zach wanted to keep the bedroom as big as possible so he decided to use a bit of the attic area to create a closet. He did it in a way where the closet turns a corner so we ended up not even putting a door on it. I love that it's totally open!
Shelves /// T light from Hobby Lobby /// Jars from Hobby Lobby /// Frame /// Beads /// Mirror was Britt's and was from TJMaxx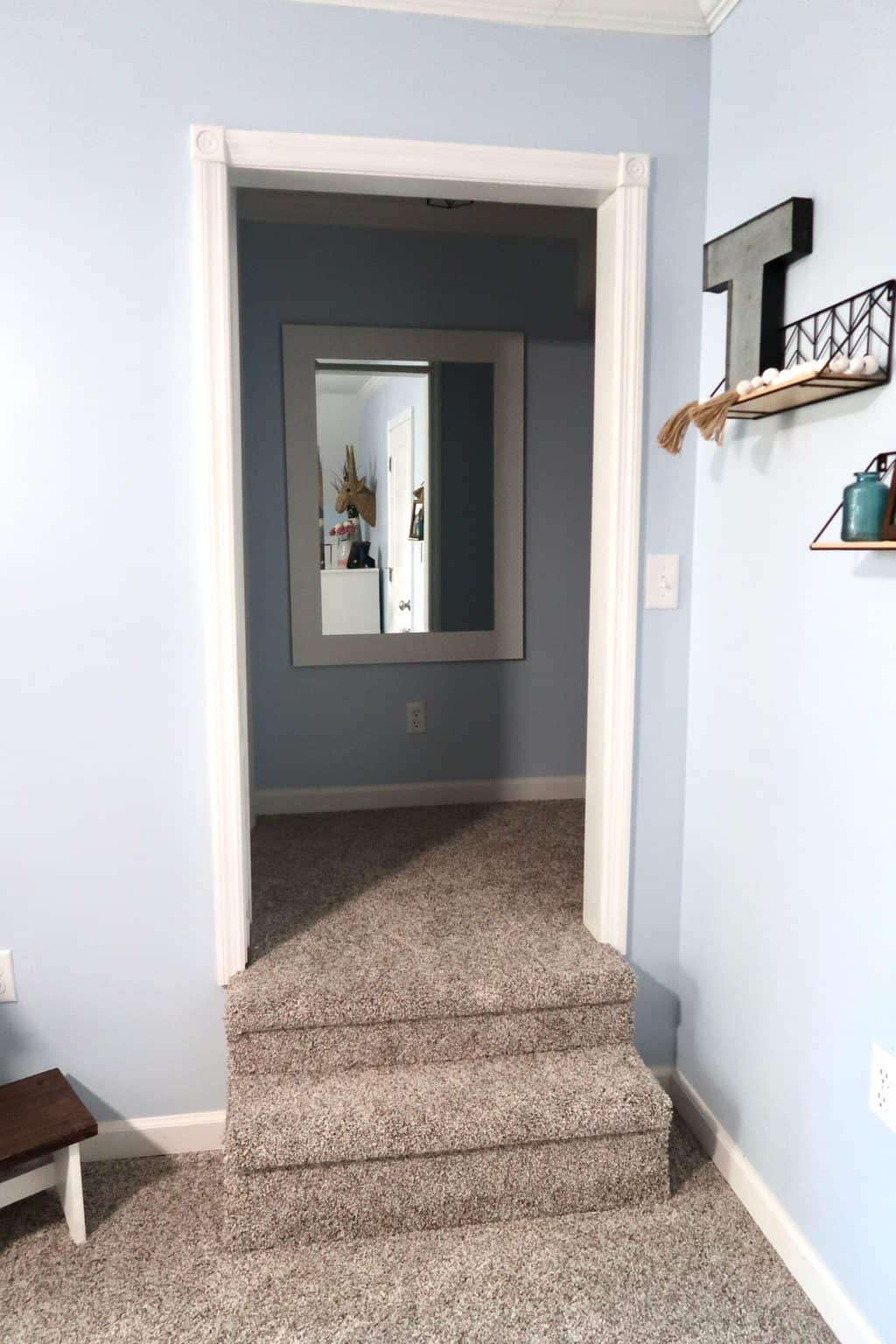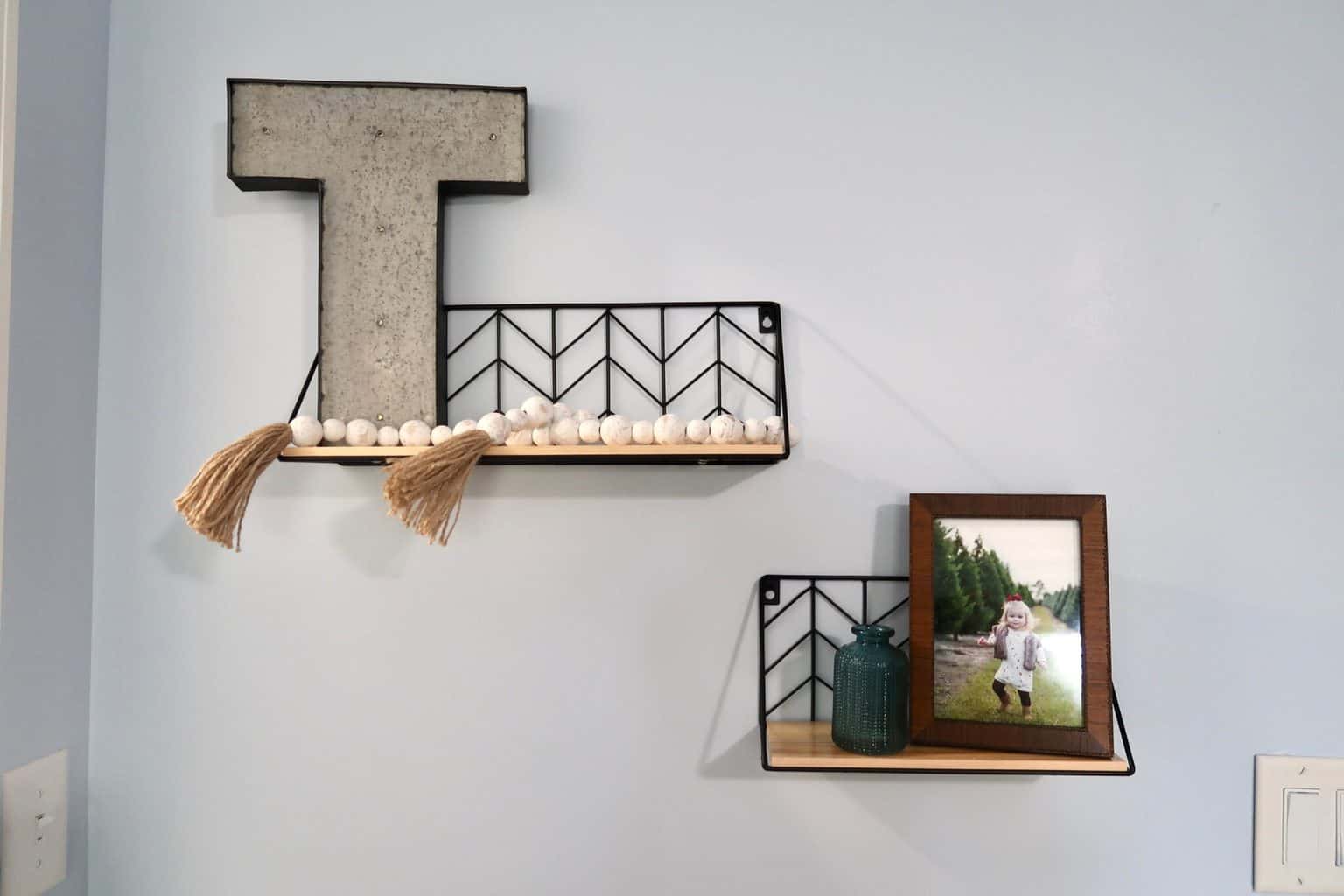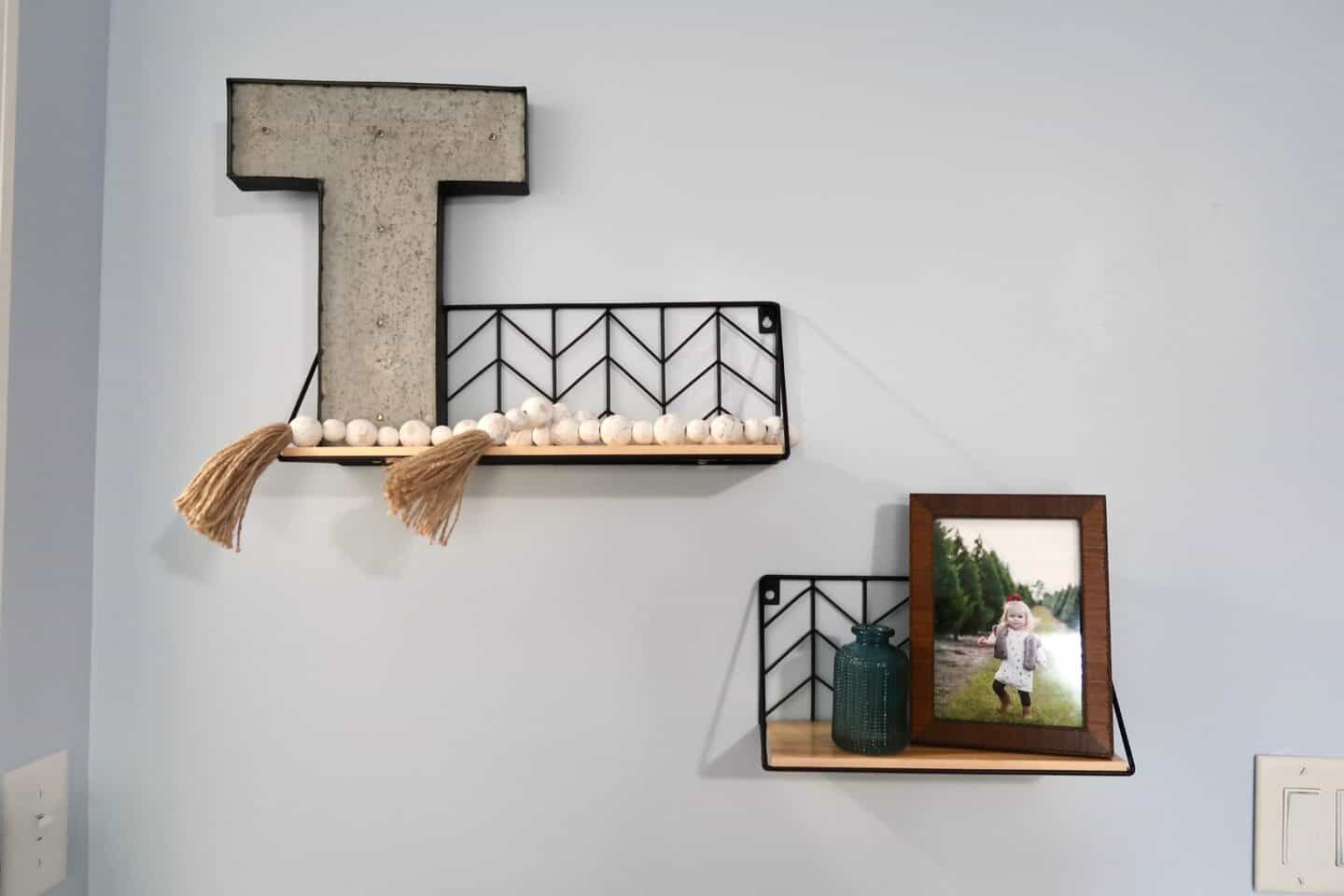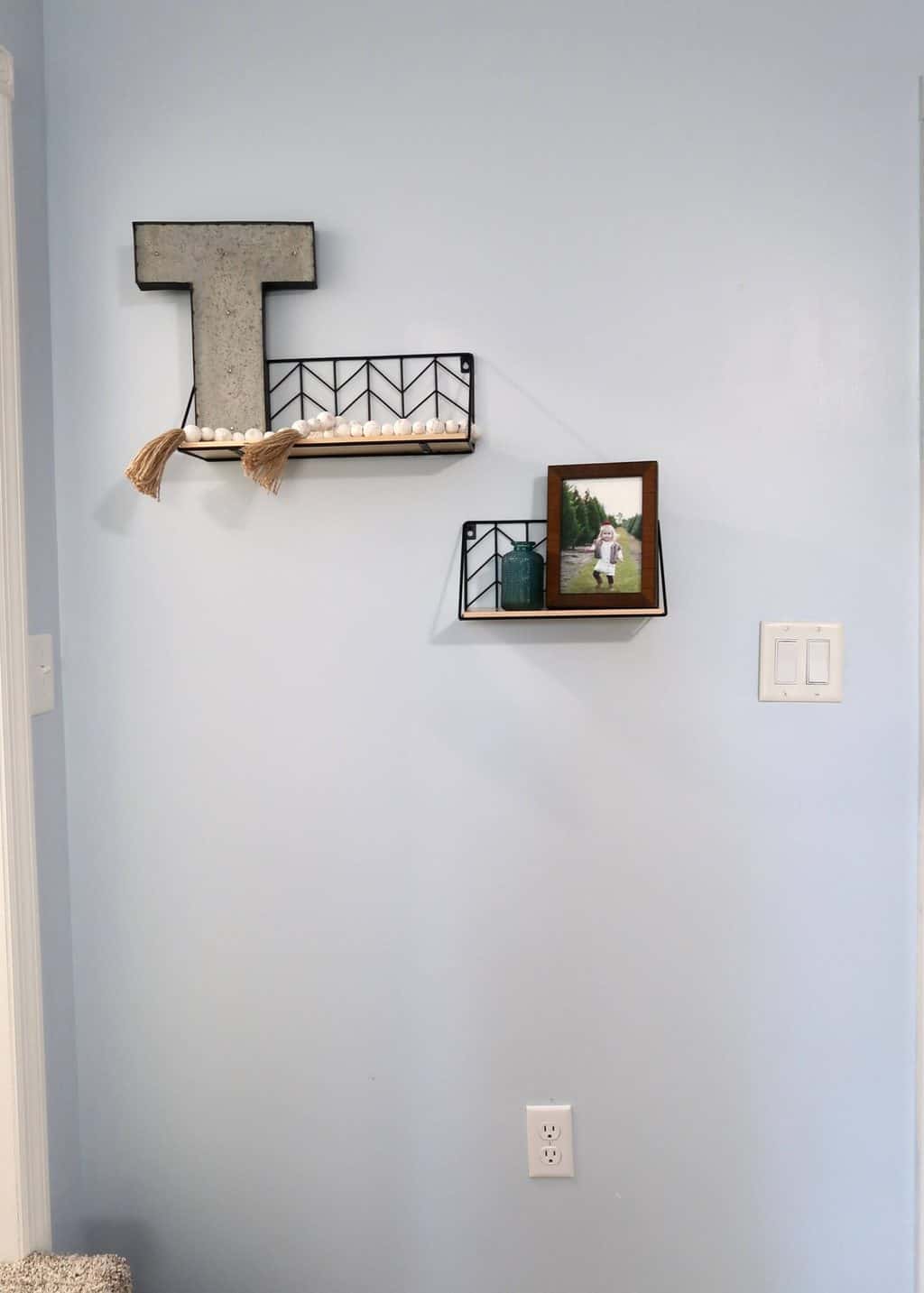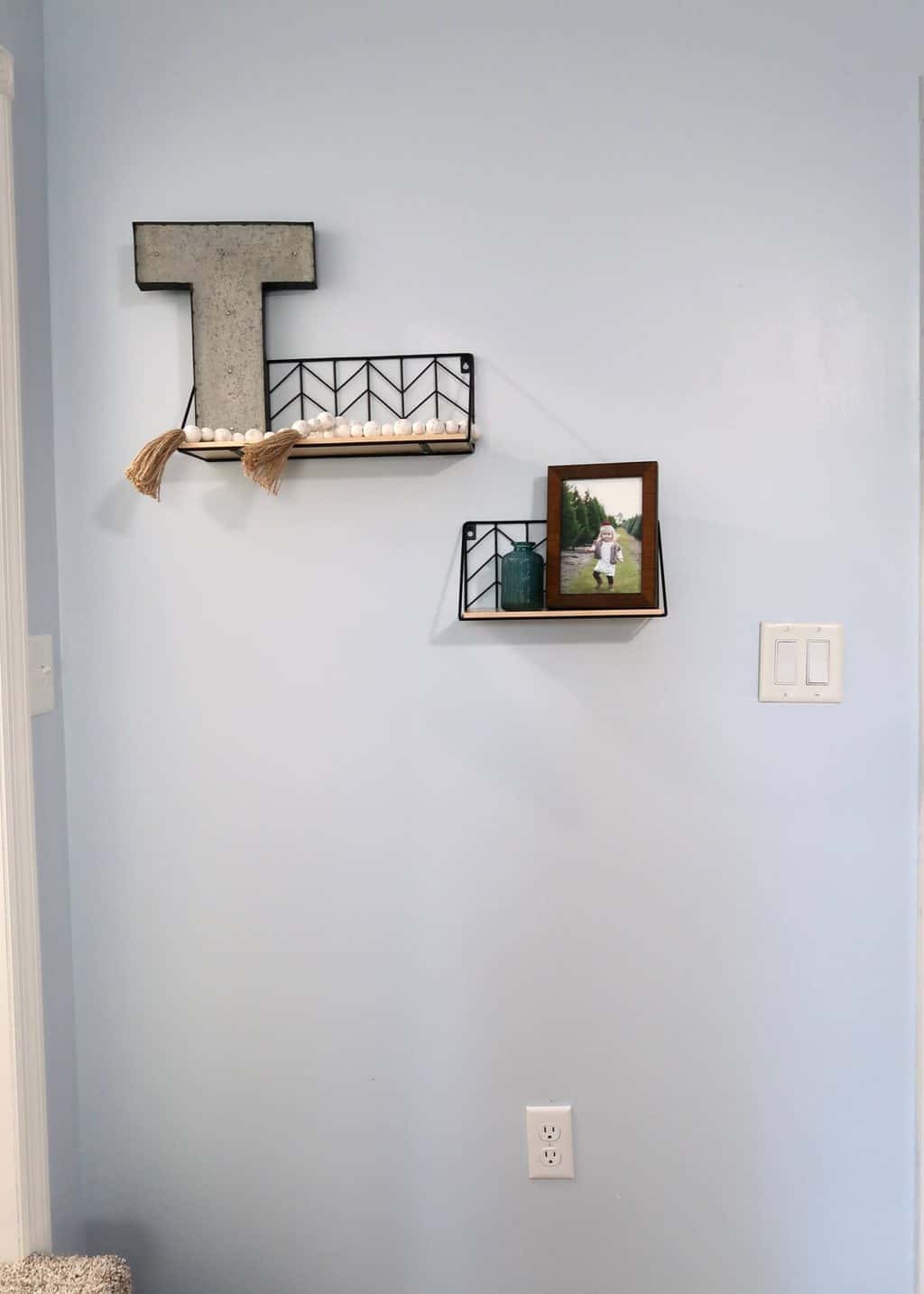 We installed two lights in her closet since it is long and we love them – super great deal for a set of two.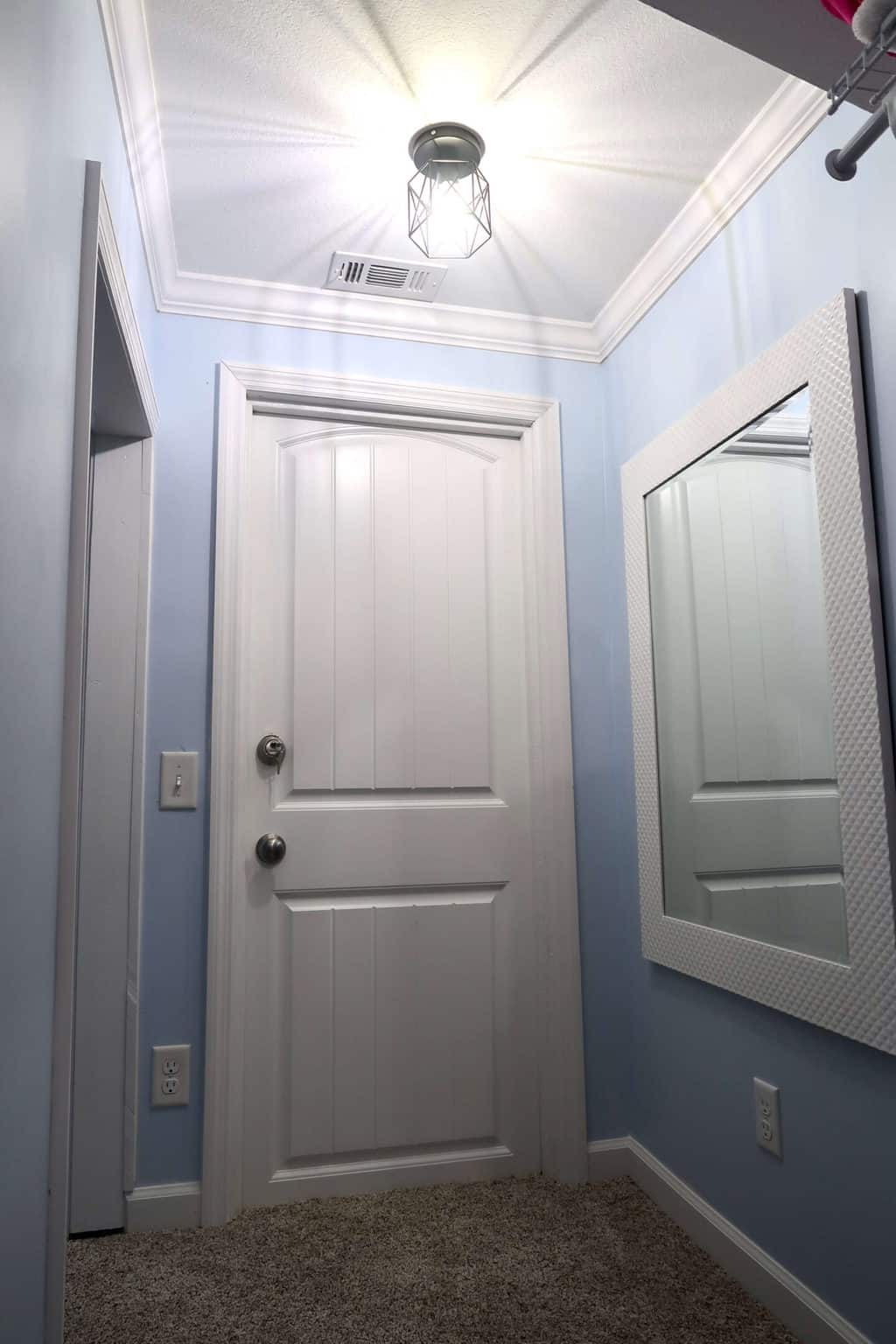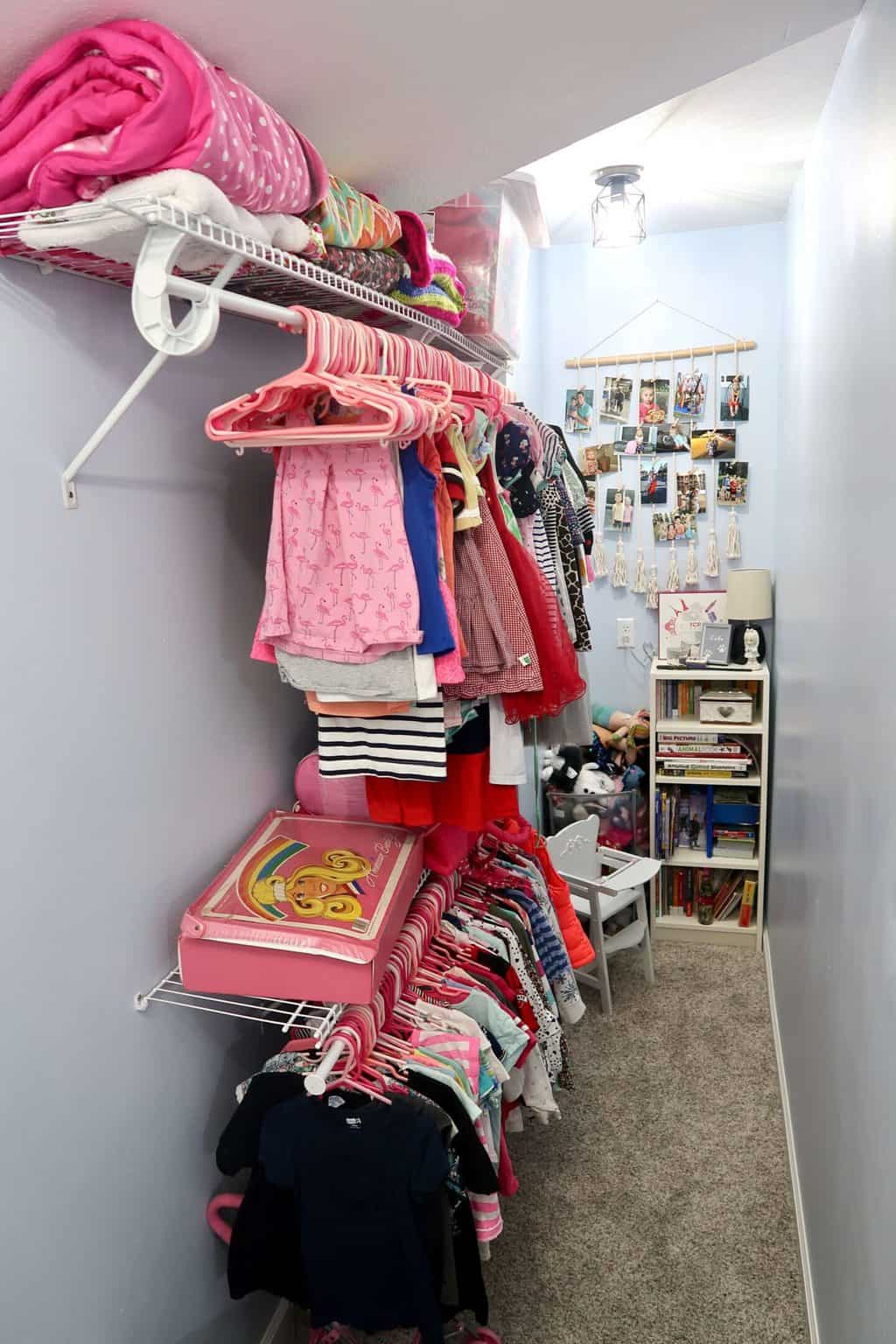 I really like for my kids to have a spot to put pictures and things that they may collect over time and this Macrame photo display was the first thing I purchased for her room and just think it's adorable at the end of her closet.
Macrame Photo Display /// Lamp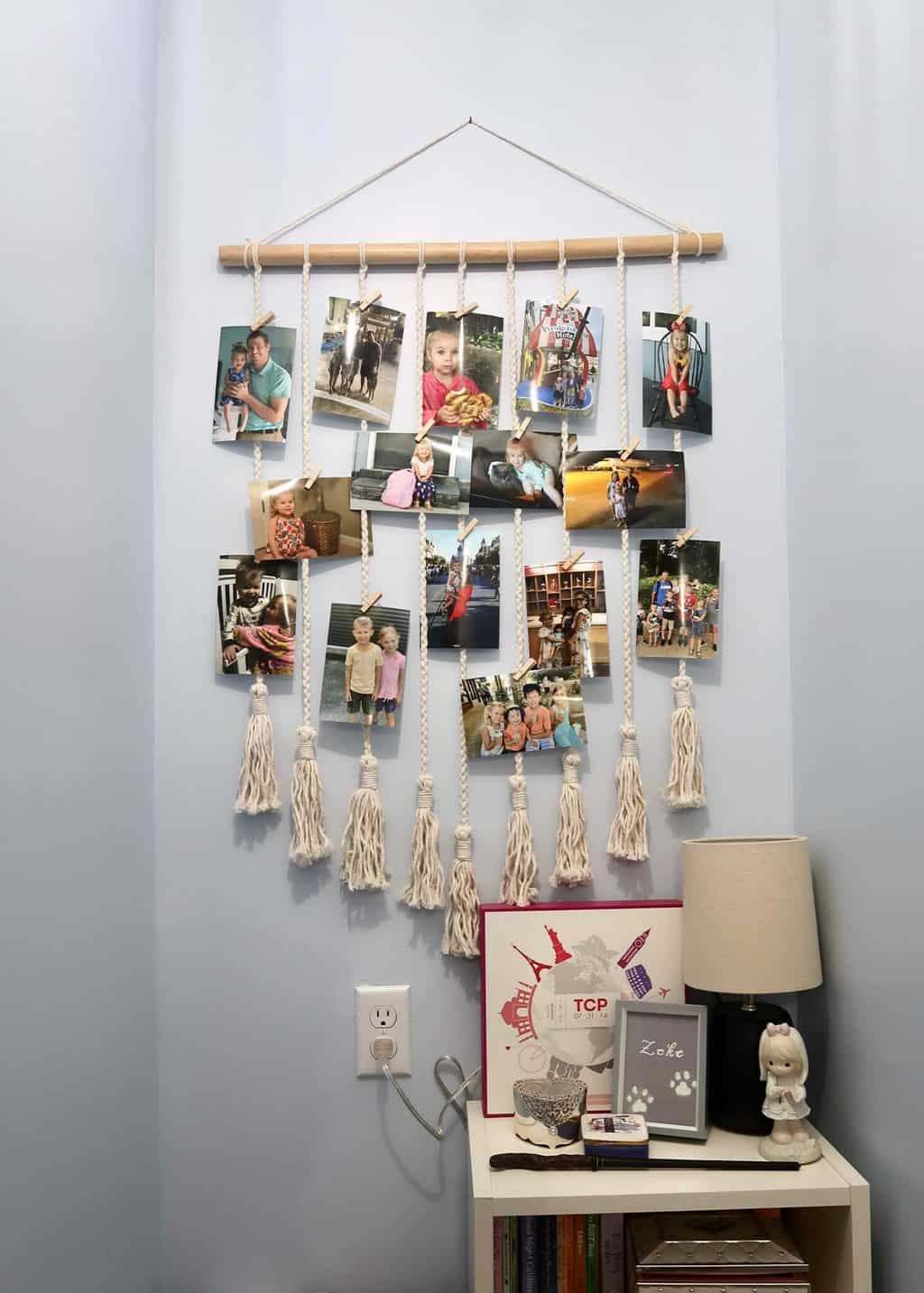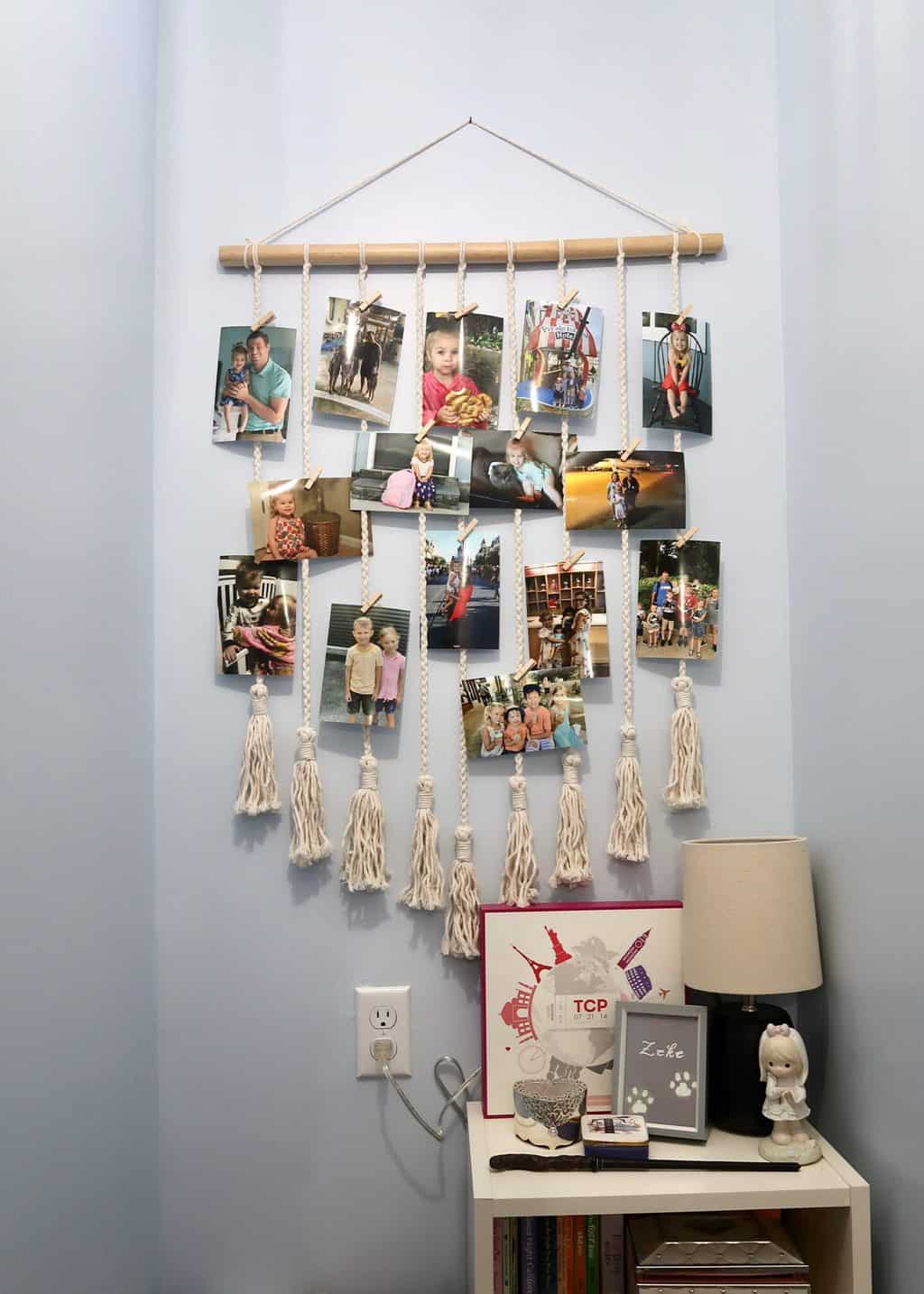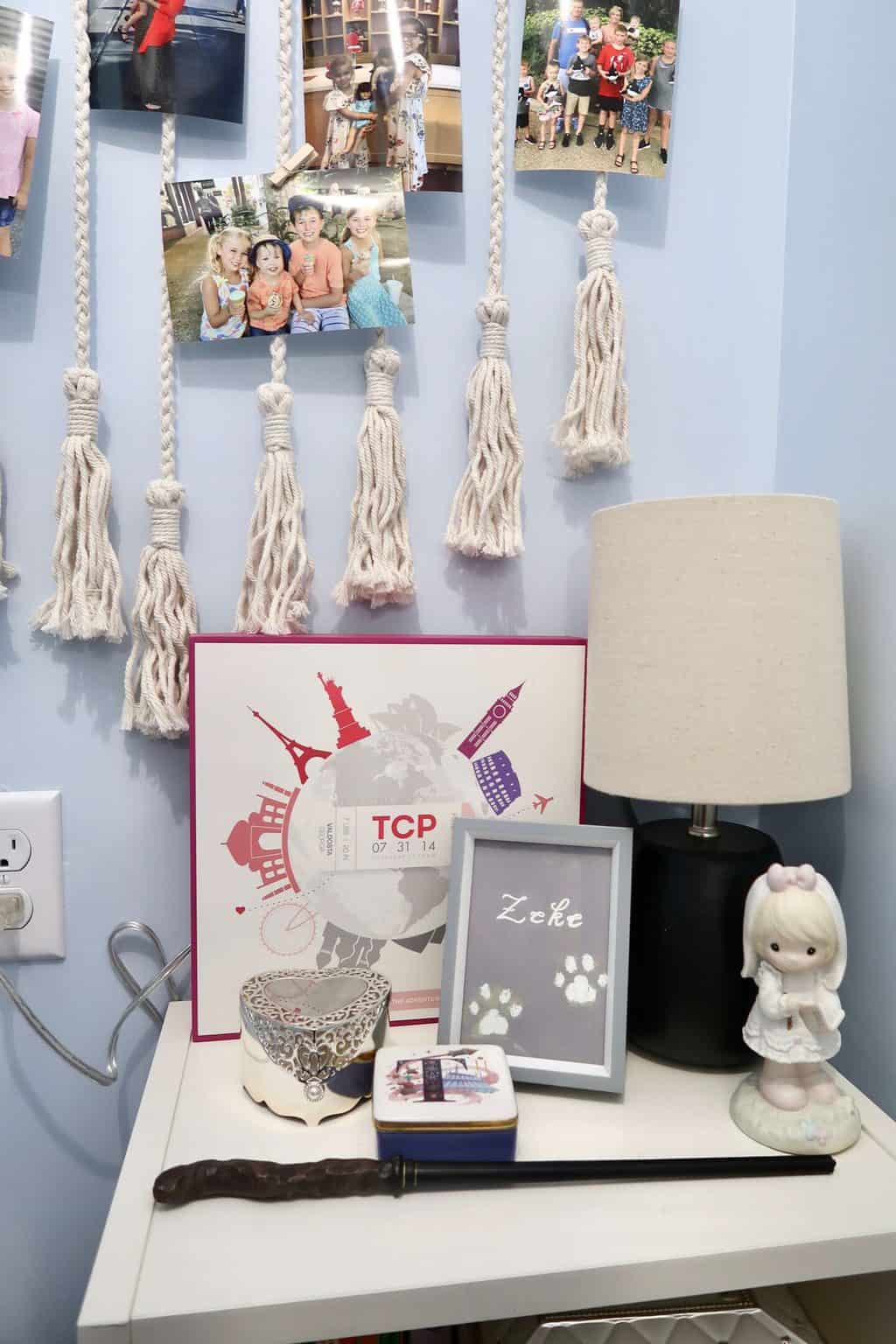 We didn't want to do curtains but wanted something to help the window look more "finished" so Zach build a piece and painted it black to go with the black touches throughout the room.
This tree is actually from my childhood! It was in my childhood home growing up and then when my mom moved she left it behind so we acquired it and used it as decor for awhile and then at our Disney House and then decided to put it in Tess's room! This tree has been through A LOT over the decades!
Dresser /// Lamp /// Piggy Bank /// Cat and Sloth Pictures were Hobby Lobby, but here is similar! /// Dream Catcher /// Frame /// Beads (Hobby Lobby) /// Small Plant (Hobby Lobby) /// Stool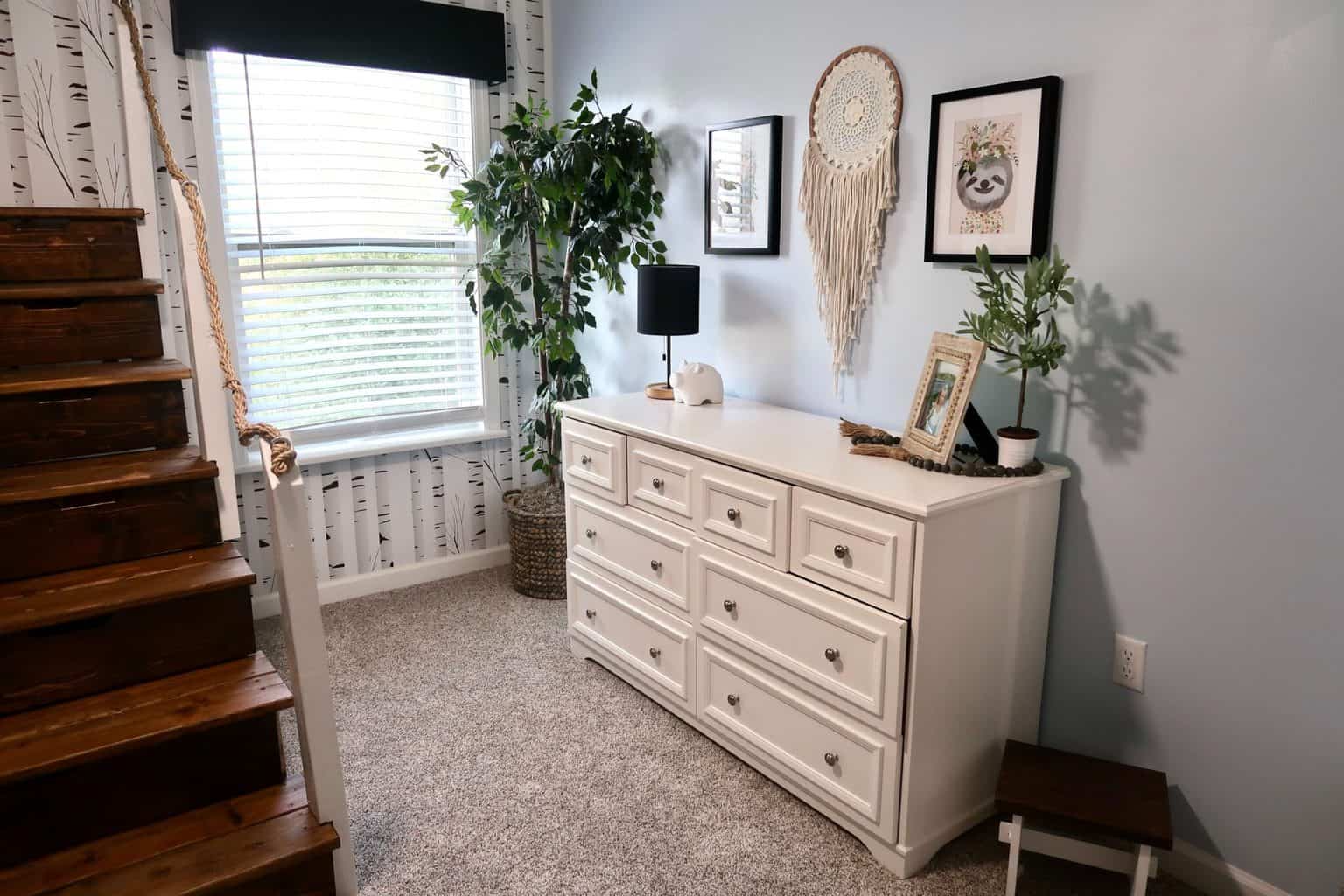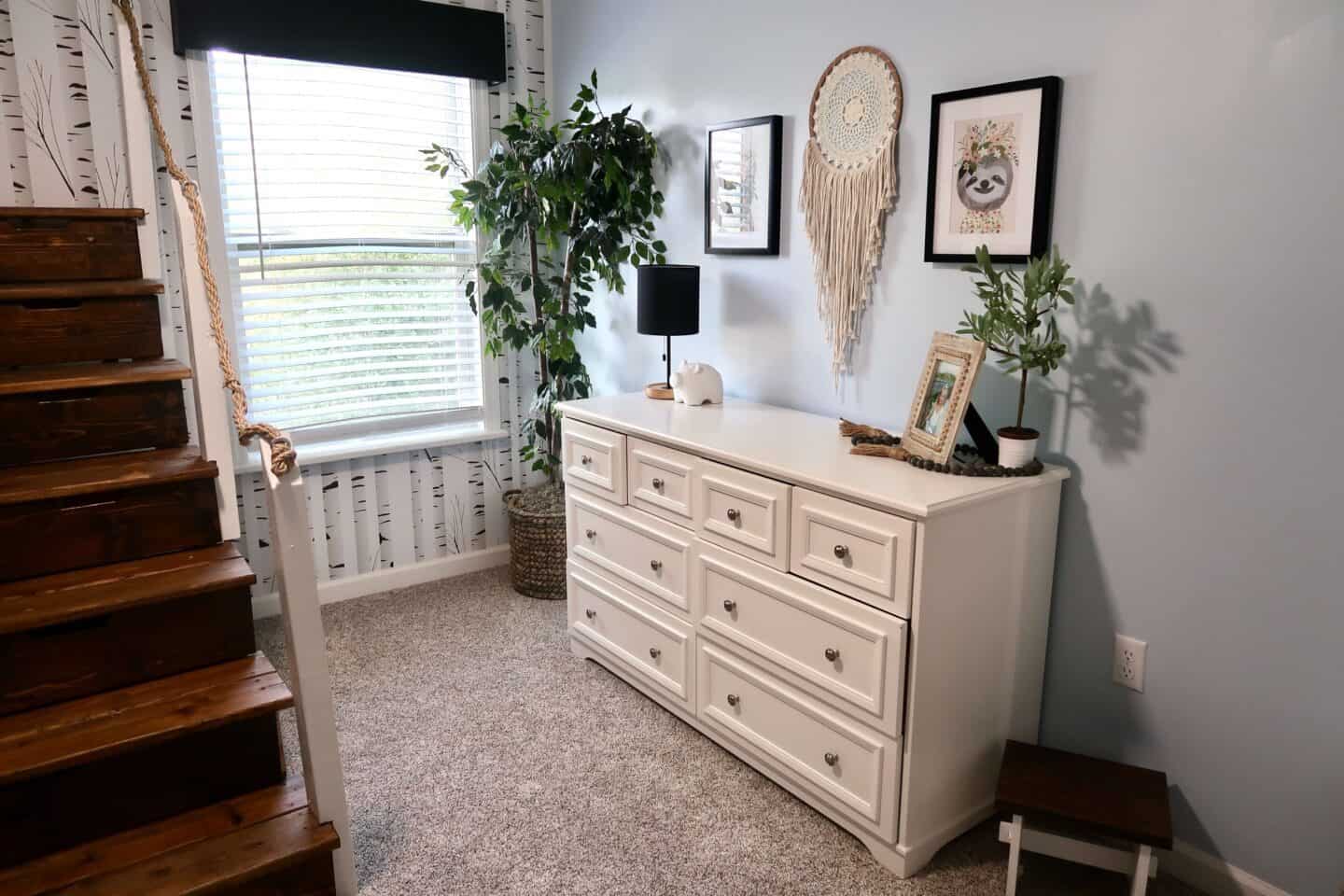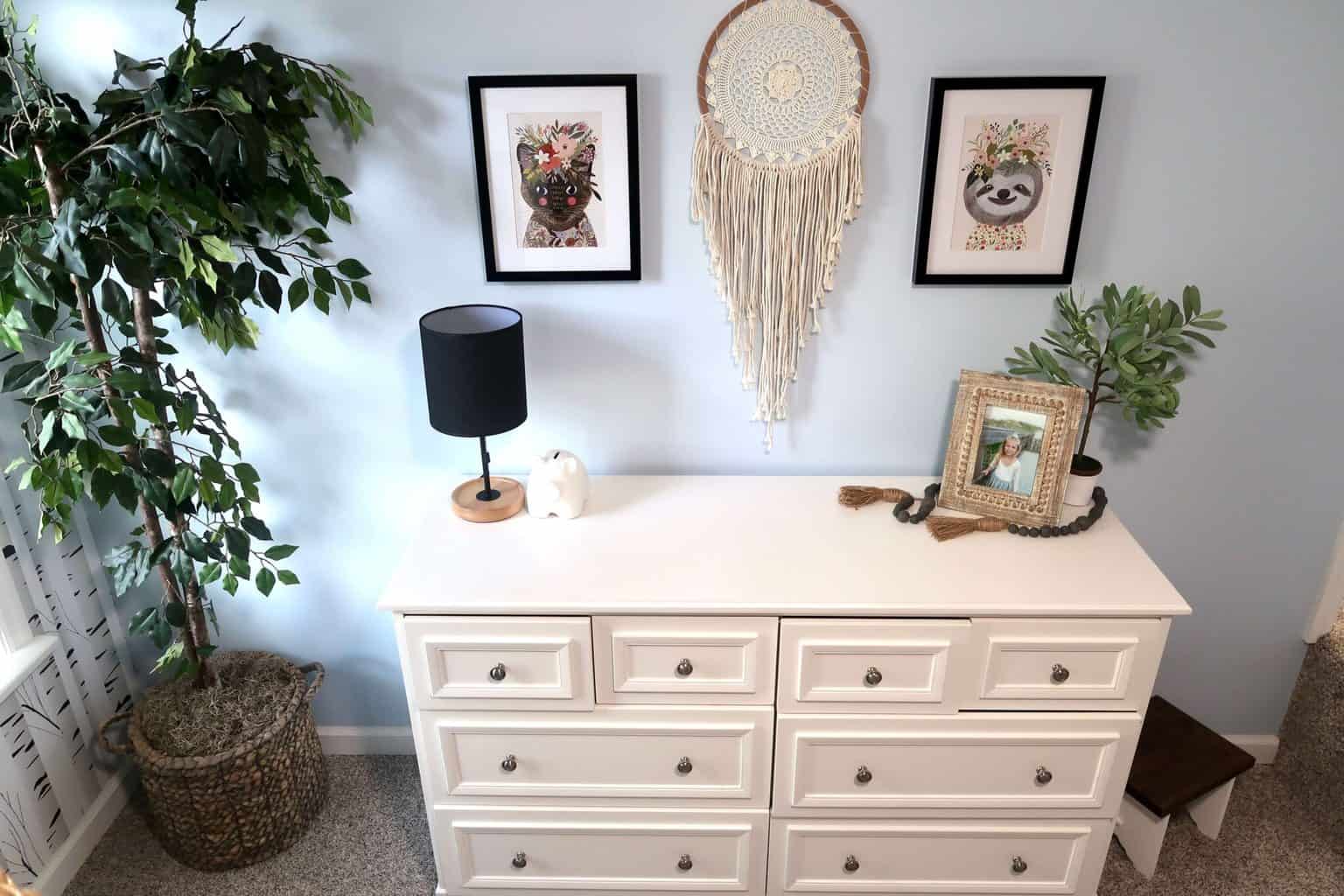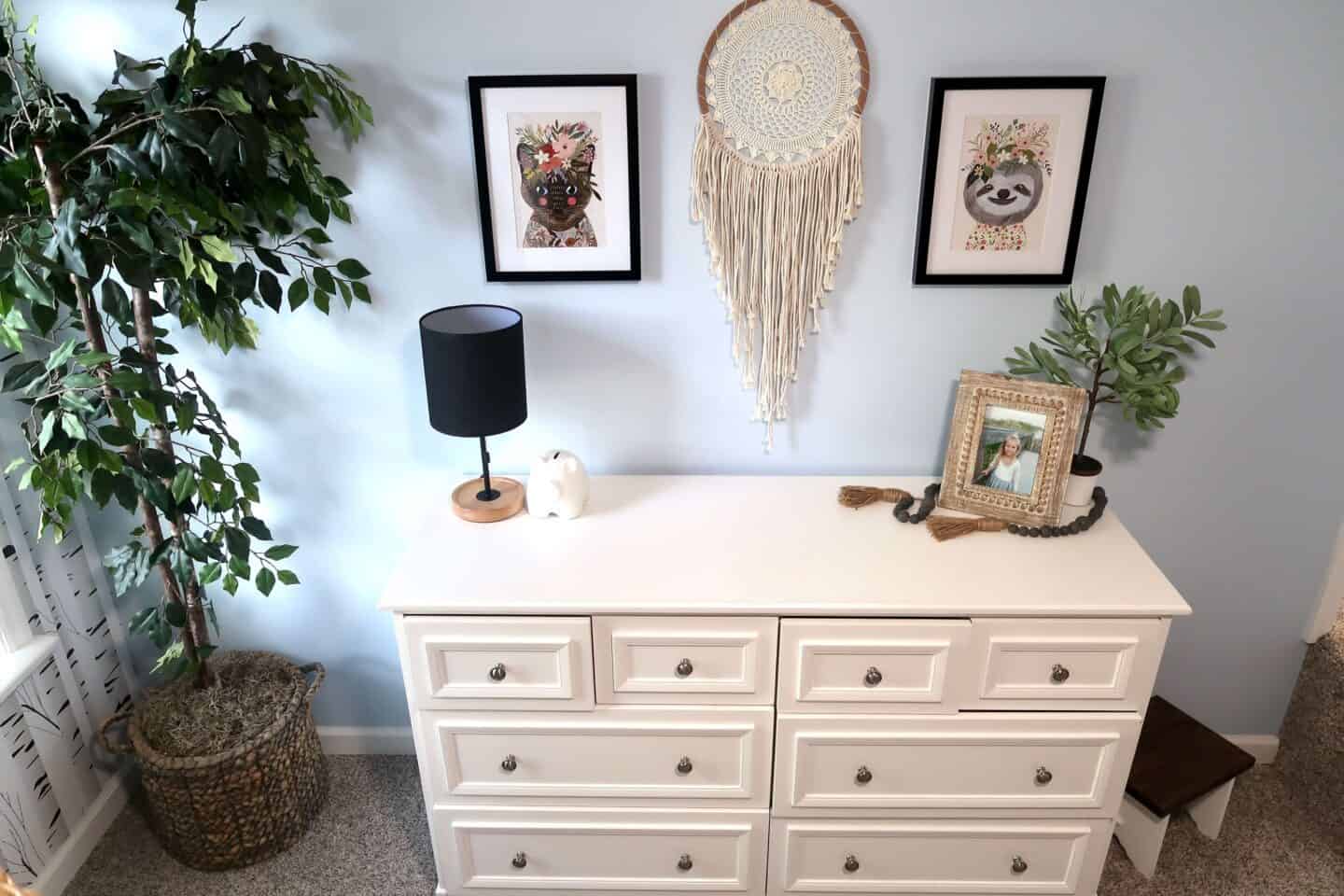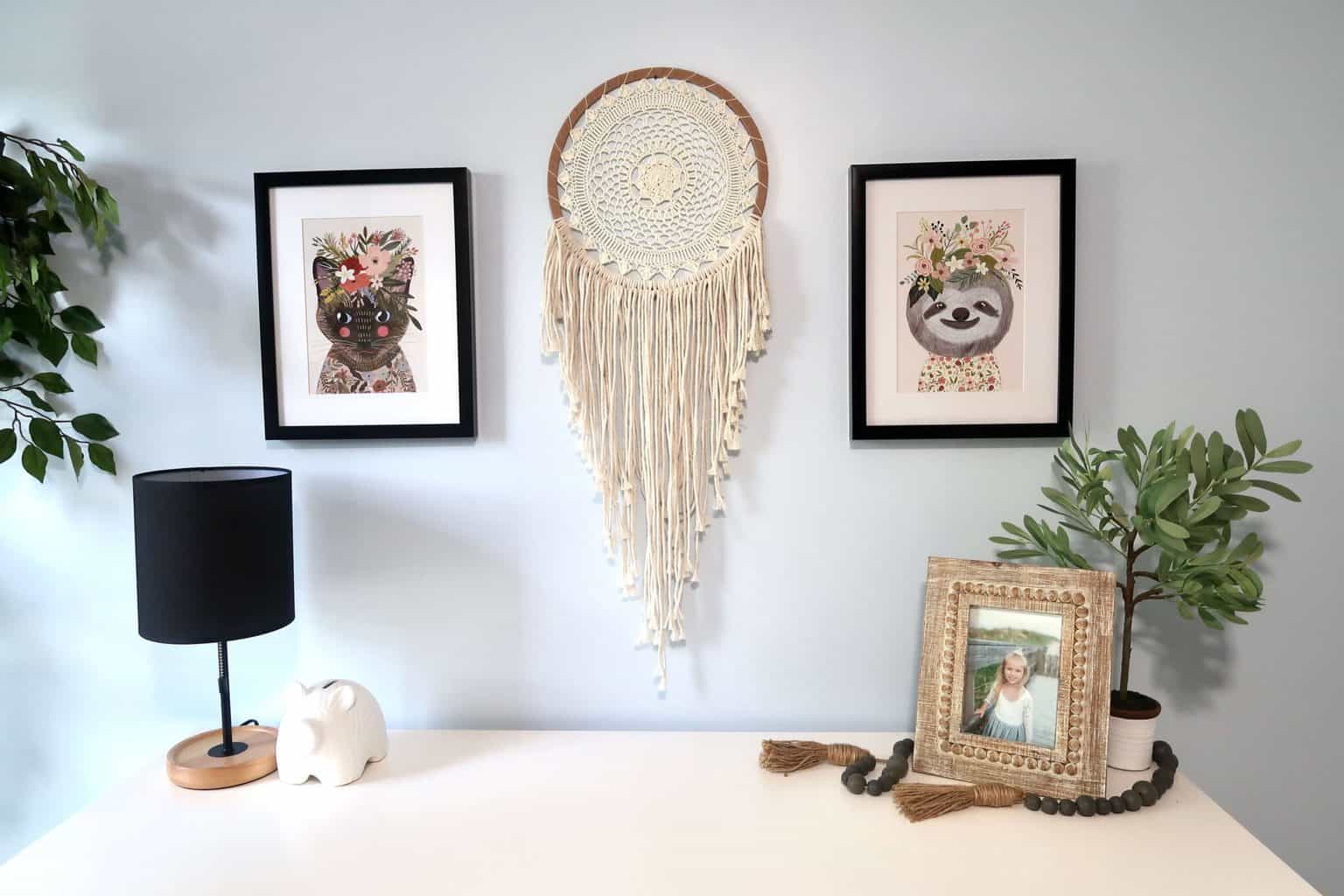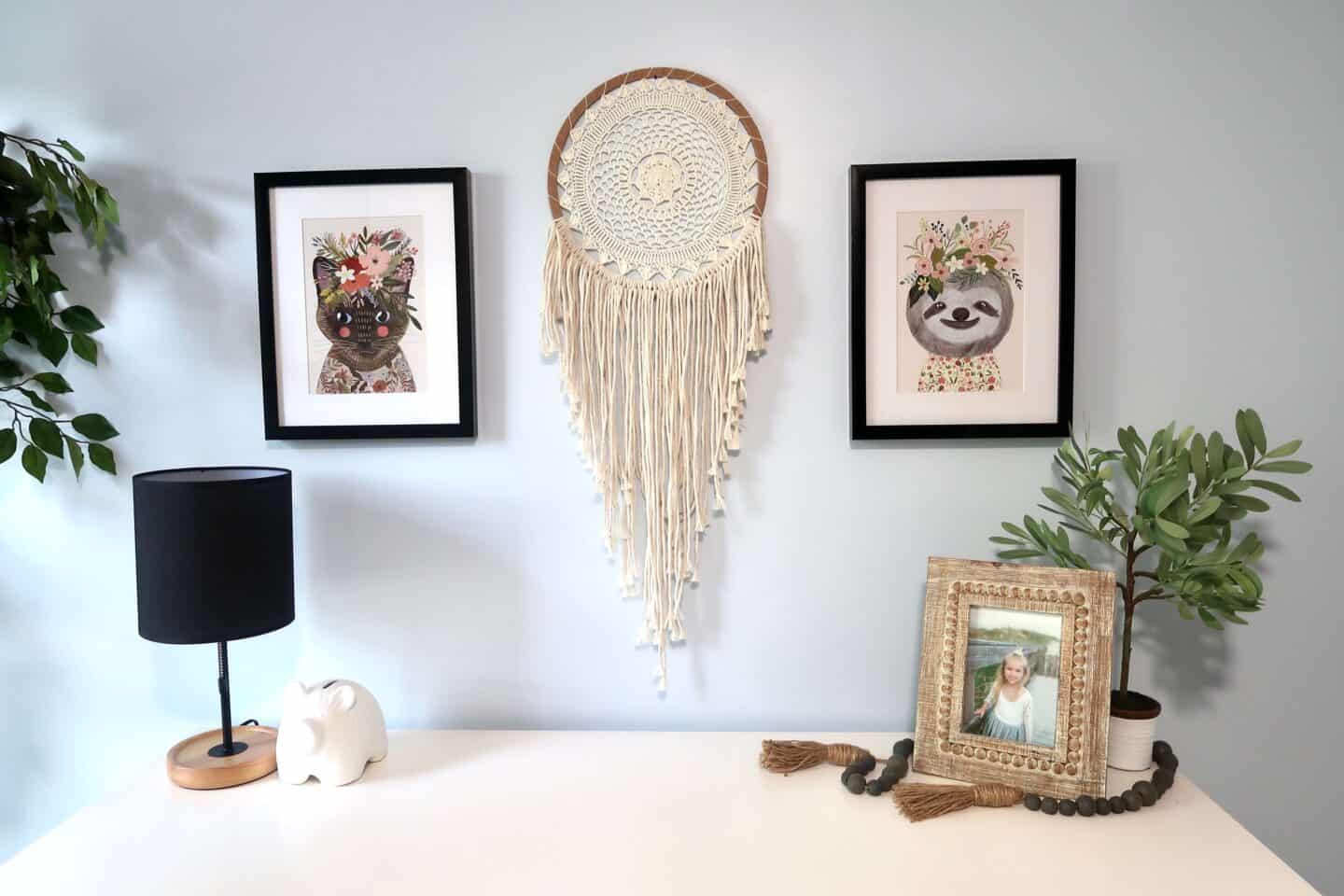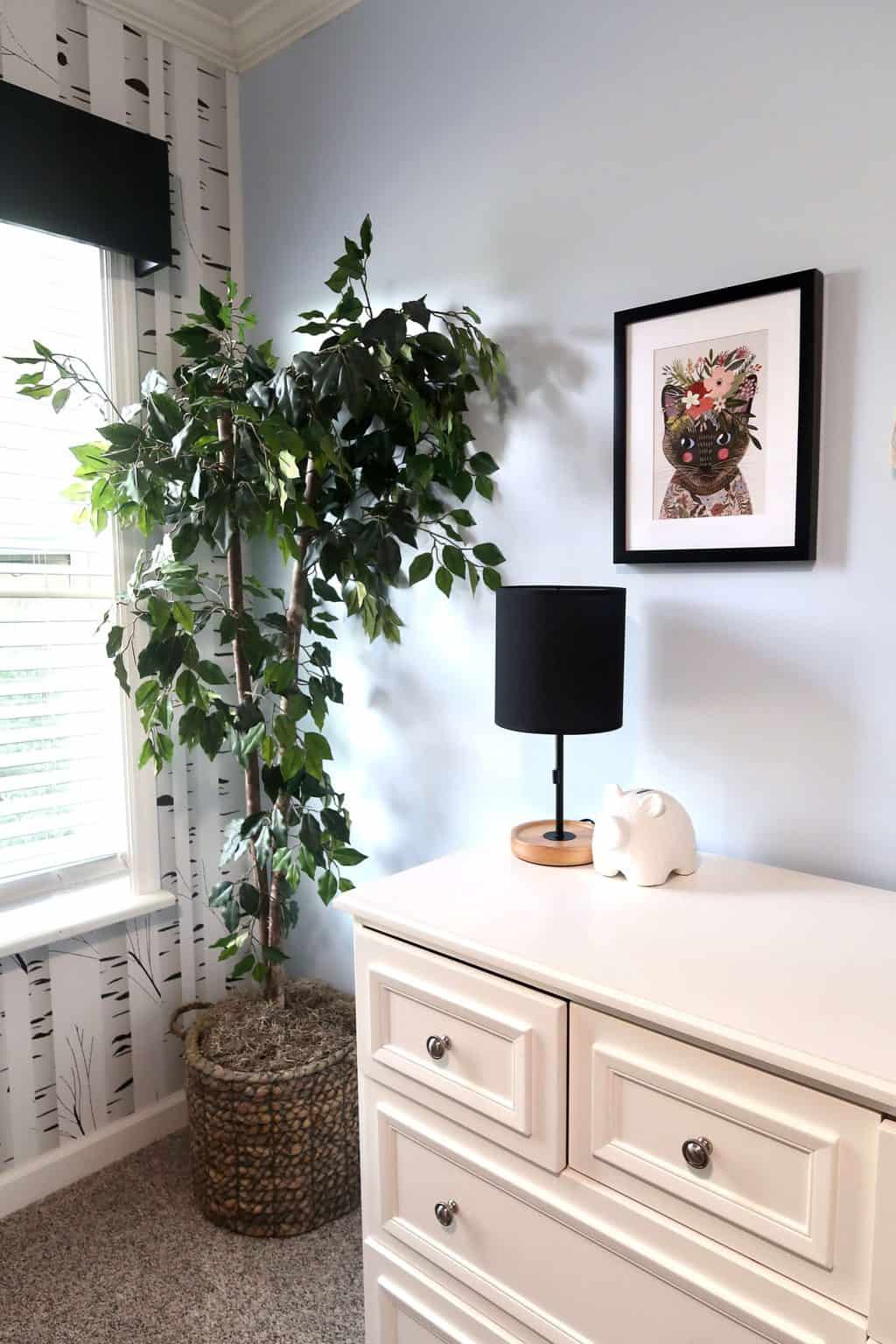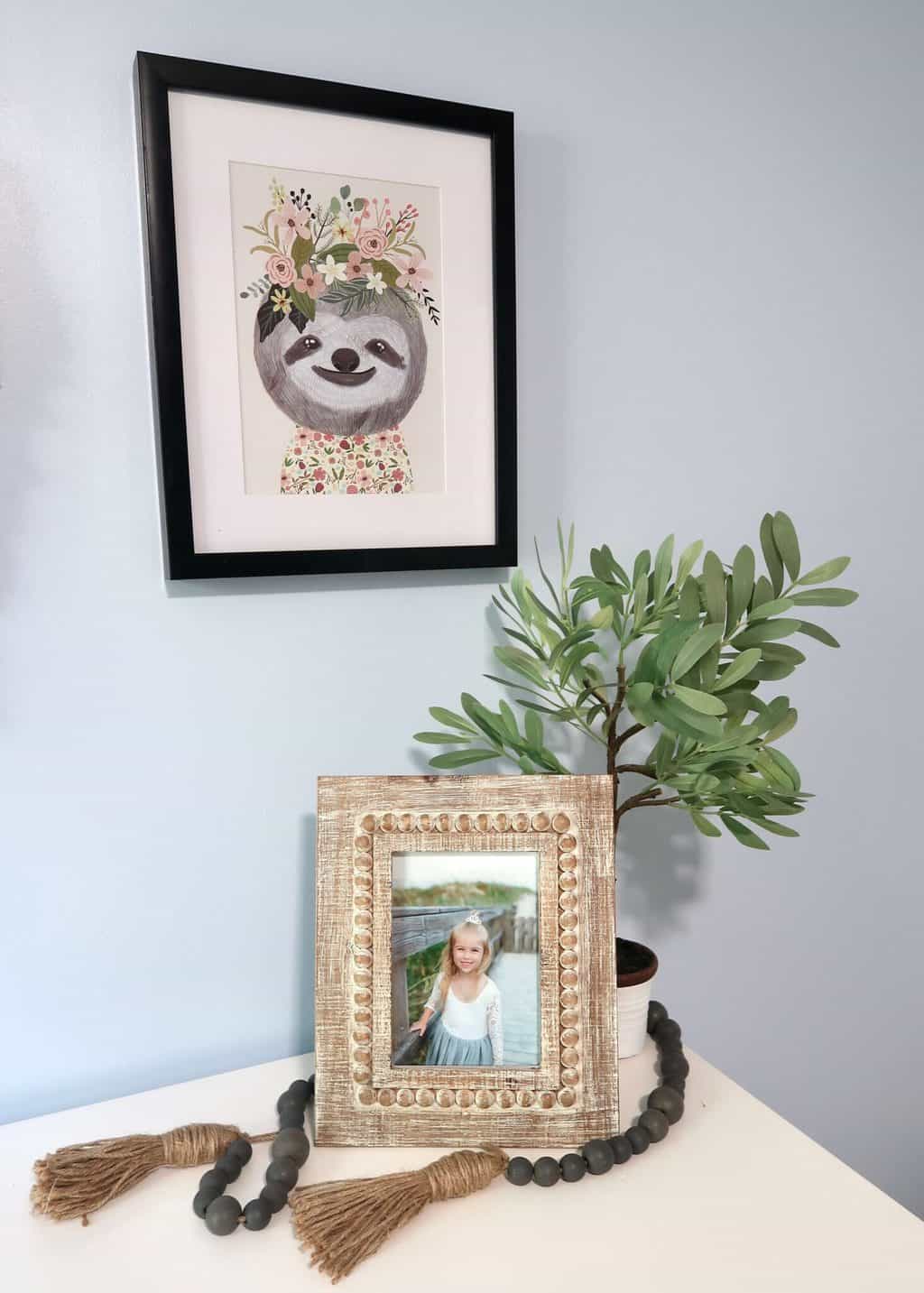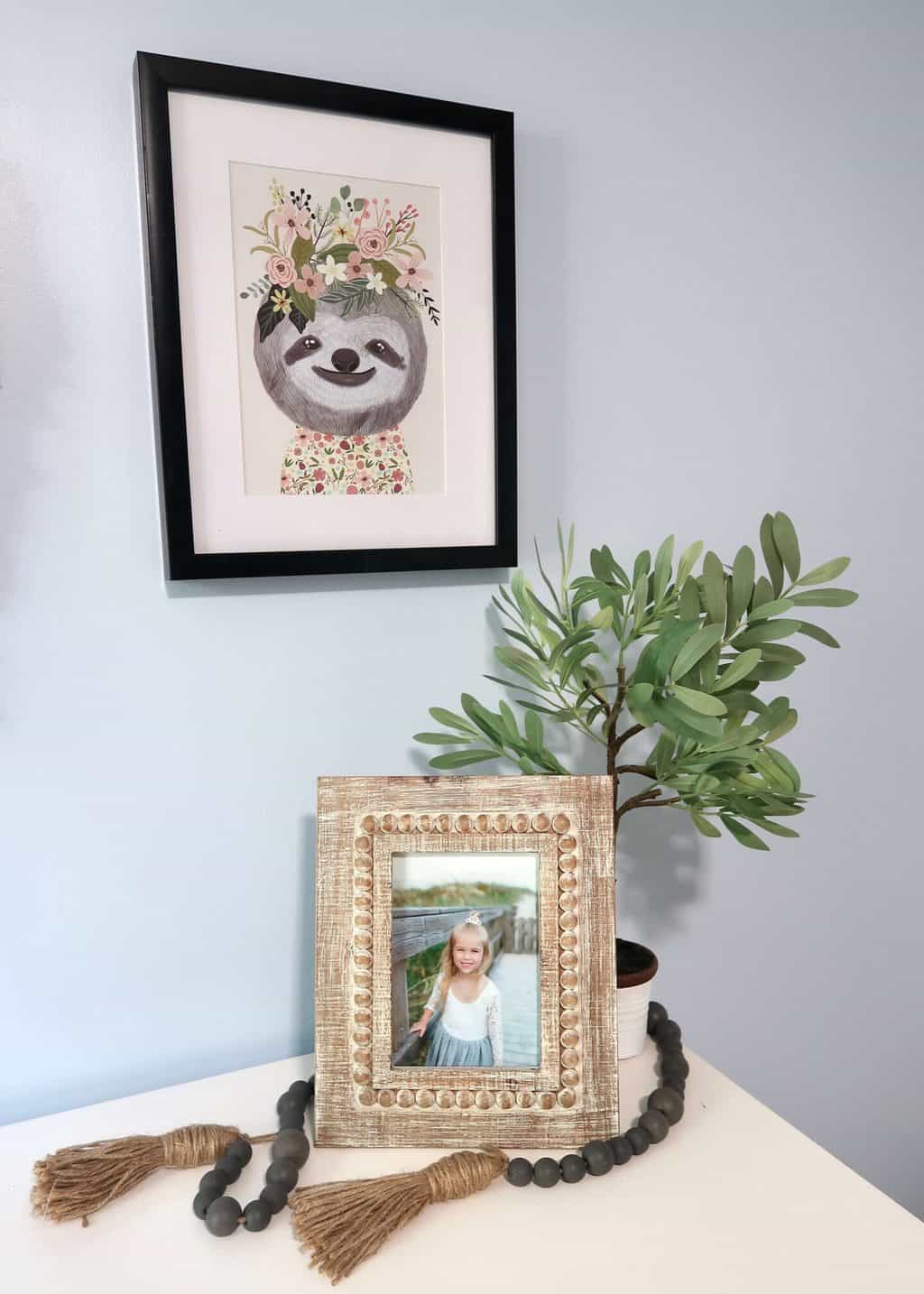 I absolutely ADORE the finished product of Tess's new bedroom. It's such a special space for our special girl 🙂 Super thankful to Zach for utilizing his talents for our babies!
We are in the process of also revamping the other two older kids' rooms too (gotta keep it fair right?) and will be revealing those once they are completed!
You can shop all the items linked in this post here:
Discount Codes from this post include:
Want to see the rest of our house? I'm due to do a BIG house update but here is the round up of all of our bedrooms and living spaces throughout our home over the years! 🙂
A video should auto play in this post of her entire room reveal, if it doesn't work here is the video: