The holidays are coming! Are you financially prepared? Here's how to use the Dave Ramsey Christmas budget plan to save for the holidays!
Disclaimer: post contains affiliate links.
Originally published January 5, 2016
Holiday Spending: A Christmas Budget Will Save You a Headache!
I think it's fair to say that most of Americans start stressing about money at the start of a new year.
Why?
Because they have overspent at the holidays and then seeing red. They spend the new year playing catch up on the money they were down from over-spending.
I used to be that exact same way.
I LOVE Christmas. I especially LOVE Christmas shopping.
I'd buy, buy, buy all Christmas season long.
Then January would hit. And the credit card bills were due.
And it's typically a lower time of year for Aflac sales.
Less income + higher bills = one stressful way to begin a new year!
Zach and I buckled down and got serious about "spending smart" a couple years ago (you can read more about how we set up our family budget here!)
Y'all. It's SUCH a less stressful life!
Yes, budgeting takes work and it takes patience and it takes time but it's SO. WORTH. IT.
We are still working on Step 3 right now which, I'll admit, is much less exciting than paying off the van was 😉
I mean saving 6 months living expenses? Not very glamorous! (We have to do the 6 months rather than the 3 months since Zach is self-employeed).
We should be finishing up that step soon though and I'm pumped to get started on step 4 and beyond bc that's when it gets really fun! (Yes I consider saving for retirement fun haha).
This holiday season I really realized just how much following Dave Ramsey's plan SAVED our holiday season this year, and I thought it might benefit others, too. So here is how to implement the Dave Ramsey Christmas budget for a less-stressful holiday season!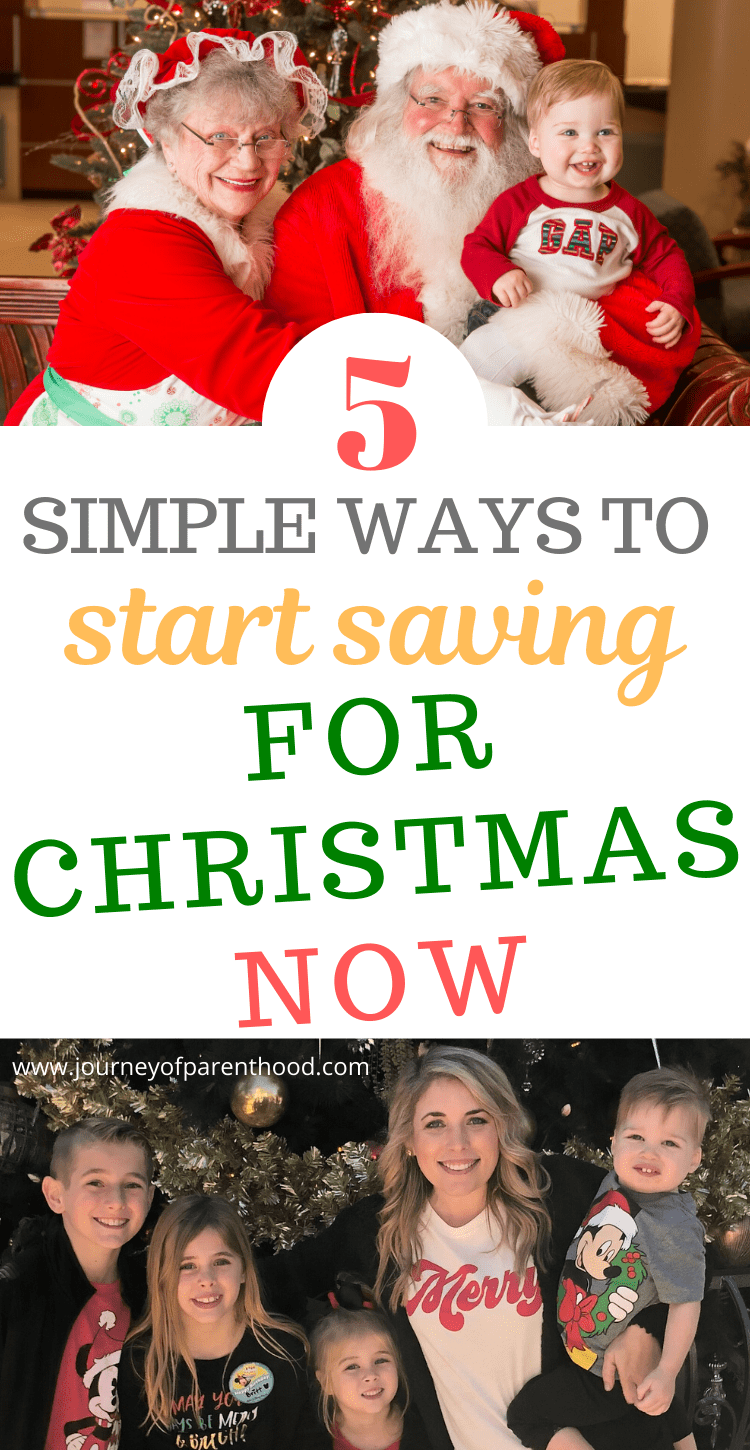 The Dave Ramsey Christmas Budget: How to Save Money for the Holidays
1. Have Money Set Aside for Holiday Spending
I have an excel spreadsheet (nerd alert!) of how much money we need set aside for each holiday for the year (birthdays, parties, anniversary, Christmas, etc).
I then take that total amount and divide it by 12 then set aside that amount of money each month.
I have a savings account set up JUST for our holiday savings.
This way when I need to buy a gift or throw a birthday party, the money is already there and it doesn't affect our regular monthly spending.
Now is the perfect time to set up your holiday savings!
2. Spend Smart When Shopping
I LOVE bargain hunting.
I'm not big on coupons for groceries (I just can't get pumped about a 50 cent discount on some bread haha) but I LOVE finding bargains on toys and clothes and other such gifts.
It's like a deal high 🙂
Having the money set aside allows me to shop earlier in the year and to shop for the deals.
This year was a bigger deals year than ever before and I was able to get toys for the kids at a fraction of the regular cost.
That meant I spent under budget and it was very motivating for me!
I had the goal to spend less than we had budgeted so I could use the left over money on something FUN that I wouldn't normally spend money on.
We had enough left over for me to get each big kid a $50 Disney gift card (given to them as birthday gifts) to spend at our next Disney visit AND enough for the big kids and Zach and I to go to the movie theater and even get popcorn 🙂
I also had enough left to get some extra special gifts that I wouldn't normally be able to buy (which I can't disclose here as I haven't given them all out yet!) and do the War Room giveaway on the blog!
3. Have an Emergency Fund
Stuff happens, even at the holidays.
And for some reason when something happens that costs money, it tends to be that two more things happen that cost money.
We had an expensive November.
We had to completely replace our pool pump ($1500).
We had to have a plumber come out and clean out a clog in our system ($140… y'all, NEVER use flushable wipes, they are LYING to you!).
We had to have the home alarm company come out and check our system ($89).
It seemed like we kept getting hit with random, unexpected costs.
If we didn't follow Dave's plan we wouldn't have had our emergency fund.
Not only would those expenses have hurt us financially, but they would have affected our Christmas.
They would have taken away from what we were able to spend at the holidays but they would also take away from our ability to enjoy the holidays due to the stress those expenses would have caused!
4. Planning for the Holidays Allows You to GIVE
Although we aren't finished with all of Dave's steps yet (step 7 is all about giving!).
By spending smart we are able to give more than we've ever been able to give in the past.
Of course, we always give to God FIRST each month but we love to be able to give to others beyond what we give to the Lord (although we all know that any giving blesses HIM and helps others to see Jesus!).
There is NO greater feeling than knowing you are helping others in their time of need.
This holiday season we especially focused on teaching our kids about giving and helping others and it was truly the best Christmas ever!
5. Planning Allows for Time to Enjoy Each Other
Zach is in commission-only work.
It's tough! If he's not writing business, then he's not making money.
However, November is usually a bigger month for him.
He often makes more money that month than we need for our budget.
That carries over to December and usually also results in a bigger month for December as well.
When he makes more money than we need in our budget…we don't have to stress about him working over the holidays.
He wasn't able to get anything set up for the last week of December which meant no income.
But we had our budget needs already met, our emergency costs already covered thanks to our emergency fund, and Christmas spending already paid thanks to our holiday savings.
So instead of stressing about that lack of income, we were able to ENJOY having him HOME for the ENTIRE week with us!
We got to make memories together and spend that quality time as a family with NO stress because we have a budget and we stick to it!
Dave Ramsey Christmas Budget: Begin to Plan for Next Year NOW
At the start of this new year, I'm personally hardcore "fine-tooth combing" our budget.
Where can we cut costs (goodbye house phone! goodbye jewelry insurance! goodbye cell phone insurance!)?
What larger purchases may we have to make that I should be setting aside money for?
How can I re-work our monthly budget to better fit our needs (hello money set aside to MAKE SURE we have more date nights!)?
There have been a lot of changes around Zach in his career at the end of this year.
We aren't sure if they will affect us financially in a positive or negative way in the year ahead.
But we are sure that by sticking with Dave's plan, we will WIN with money!
If he makes less, we will simply "trim more fat" from the budget and make it work.
It's a HUGE blessing not to have that stress on either of our shoulders.
The lack of worry and concern over our budget overflows into other areas of our lives as well and we are so truly thankful that we read The Total Money Makeover!
I totally recommend it as a MUST READ to everyone!
We also just purchased the Financial Peace Junior Kit and are currently working through it with the kids (I thought to get it b/c Kye is allll about working to earn money but found out it's age-appropriate for Britt as well!).
We are winning with money and want our kids to win with it too!
I don't want to call it a "must-do" yet since we haven't fully implemented it, but you know there will be a blog post when the time comes 🙂
You can read how we teach our kids about spending smart here!
~Just a side note to add that this post isn't sponsored by Dave Ramsey. I just truly love his book and it's changed my life so I always recommend it 🙂 However, if Dave happens to read this I'll gladly take some goodies! haha!~