We visit the Orlando, Florida area on a regular basis. While we love Disney World and all things Disney themed I also really try to seek out other fun family activities near our Disney Rental House location. Tess has been learning about the Titanic in school and I heard about the Titanic Artifact Exhibition Orlando and had to check it out. In this post, I'm sharing about our experience and hope to provide helpful tips for your visit to the Titanic Museum Orlando Fl as well.
Where is The Titanic Artifact Exhibition Orlando?
The Titanic Artifact Exhibition is located in Orlando, Florida in a very easy to access location off of International Drive. The exact address is 7324 International Drive Orlando, Florida 32819.
It is located very close to Icon Park and also an easy, quick drive to the Pirate's Dinner Adventure. If you're visiting Disney World, Universal Orlando, or Sea World the Titanic Museum is also just a short drive (no major road trip required!) from all three most popular vacation theme parks and would make an excellent addition to your travel itinerary!
If you're looking to do a bit of a lower-key Orlando trip, the Titanic Exhibition is also located just a short drive from Fun Spot America which also features many theme park style rides and attractions and is close to many hotels in the area.
If you're family vacation is located more towards the beach or in the Kennedy Space Center area then the RMS Titanic Museum is just a short hour drive and would easily make a quick day trip to add onto your historical-based travel plans.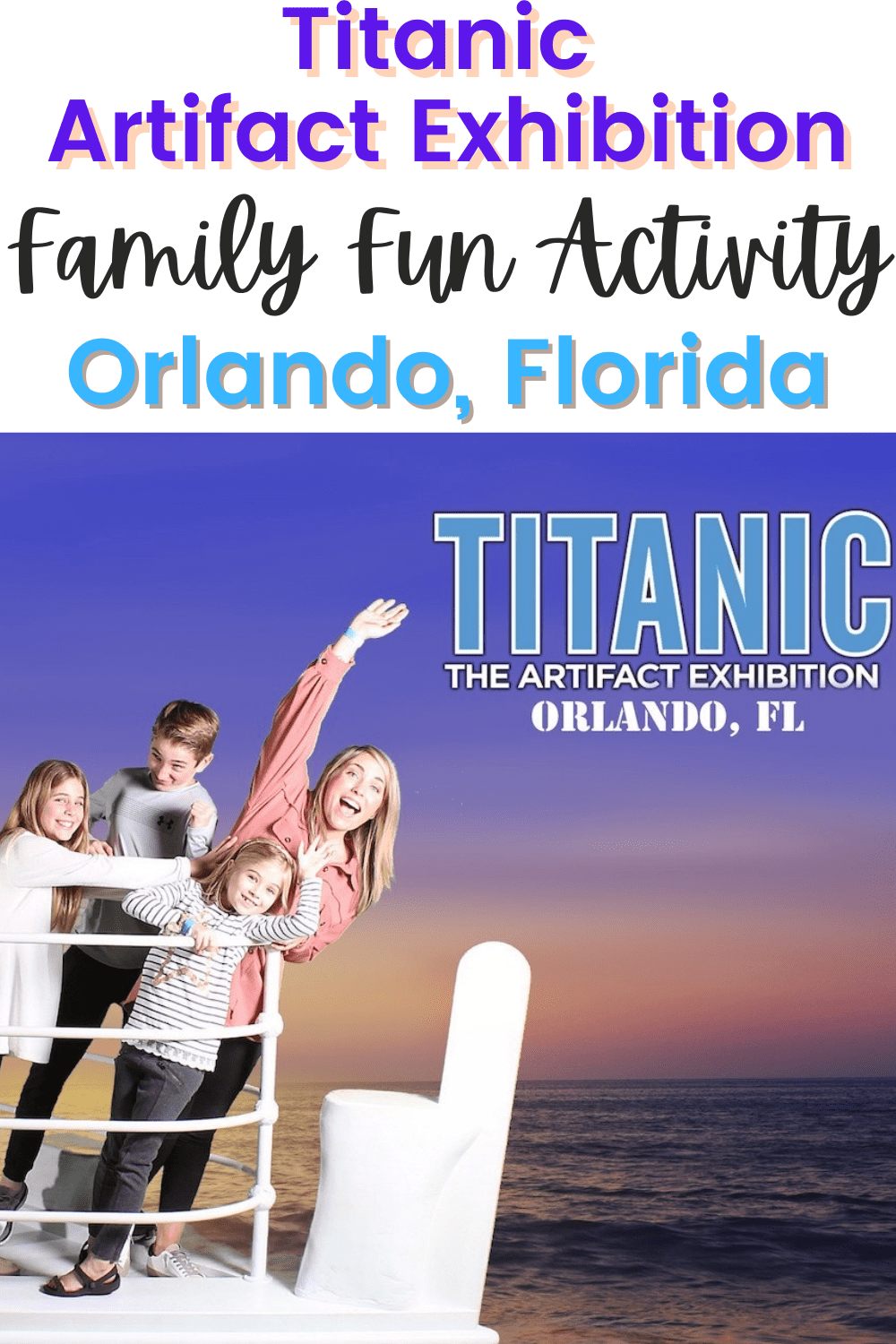 How Much Does the Titanic Museum Orlando FL cost?
There are many options when planning your visit to the Titanic Artifact Exhibition in Orlando. If you're looking to just tour the facility then the prices range from around $15 per child up to $22 per adult. There are additional options for a guided tour, which is about $5 extra per person, as well as other activities such as the Titanic First-Class Dinner Gala.
You can purchased your Titanic Artifact Exhibition ticket in advance on their website here.
When we visited I decided to book the guided tour. Depending on when you plan your visit you may choose from the variety of guided tours offered: The Ship of Dreams Guided Tour, Titanic Adventure for Kids Guided Tour, Heroes of Titanic Guided Tour, or Tales from Titanic Guided Tour.
It was a bit overwhelming at first but we booked the Ship of Dreams Guided Tour for our visit. It was a two hour long guided tour through the museum and followed the timeline from the construction of the Titanic through to the sinking of the great ship as well as interesting facts, over 300 artifacts recovered, and personal stories from those who experienced her fateful sail.
What Ages Would Enjoy the Titanic Museum?
My kids are ages 4, 7, 10, and almost 13. I opted not to bring the four year old along and I'm glad for that decision. While the exhibit is very interactive and entertaining, the artifacts are displayed are actual artifacts from the Titanic wreck site and it would have been stressful for me to have my little wild man racing through the rooms touching everything in sight. It would also be difficult, and unenjoyable, for him to pay attention to the guided tour.
All three of my older kids greatly enjoyed the entire experience and the timing of the tour, which took about two hours total, was perfect. It kept us moving and prevented any boredom. My second grader had just learned about the Titanic in school so she was THE most fascinated with everything! My 10 year old is a HUGE Harry Potter fan and is usually all about spending our Orlando time visiting the Wizarding World of Harry Potter and she even enjoyed the details of the Titanic Museum due to so many of the immersive details. I found the entire thing very interesting and learned lots of new facts about the Titanic that I didn't know prior to our visit. I also think my husband would have enjoyed it and hope to go back again in the future as a full family when my youngest is a bit older!
What to Expect During Your Titanic Artifact Exhibition Orlando Visit:
When you schedule one of the guided tours you will have a reservation time. We planned to arrive 15 minutes early for our tour but hit some traffic and were closer to 5 minutes early. Be sure to leave that buffer of time as the International Drive area is notorious for traffic!
Upon arrival, we were greeted by incredibly friendly staff who got us all checked in and squared away for our guided tour. We were each issued a Titanic Boarding Pass with information on our pass about our passengers. Right away I was impressed with the boarding passes and how they personalized the experience and got us invested in the tour before it even began!
The kids and I all LOVED learning about our passengers and the boarding passes were so well done that they also make for a great keepsake.
The tour started with a video to help lay the groundwork of knowledge about the Titanic and then we were greeted by our tour guide who walked us from room to room throughout the museum, stopping to point out interesting facts and artifacts along the way.
Each room of the museum was very well done and thought out. I was impressed with all of the details and recreation elements. In many of the rooms, we were made to feel like we were ON the ship! The experience was a nice break from theme park attractions and a slower pace with wonderful air conditioning, which is always a gift while on a trip to the Orlando area, no matter what time of year you're visiting.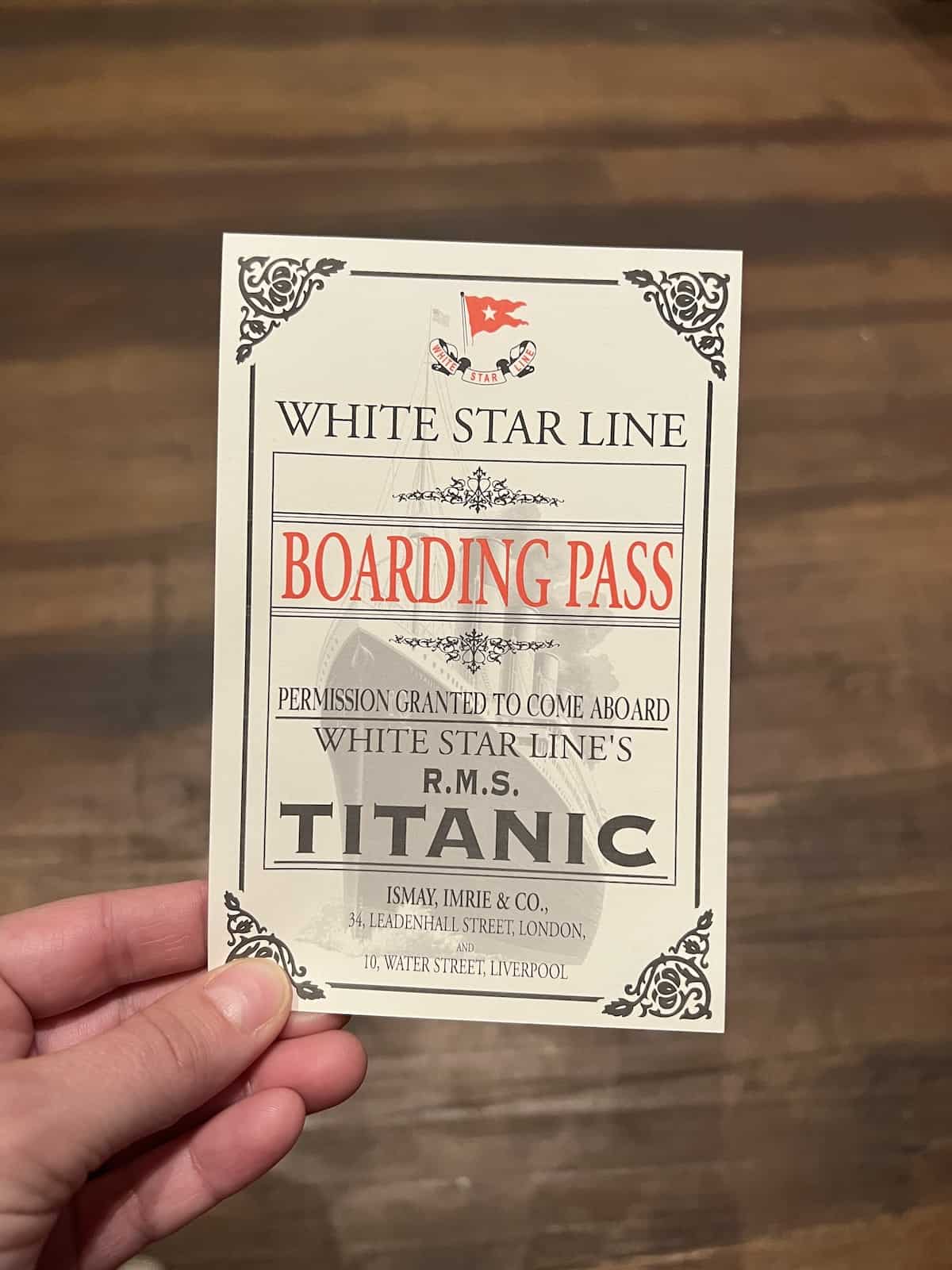 None of my kids have seen the movie The Titanic but I appreciated our tour guide taking the time to point out elements of the movie that were based on facts as well as making sure to set the record straight about elements of the movie that weren't factual what-so-ever.
In each room our guide also had us reference our boarding passes and would explain what elements of the ship we would have had access too based on our class. Britt and Kye were assigned as first class passengers, I was a second class passenger, and Tess was a third class passenger. I noticed when the tour guide passed out the boarding passes that she was intentional of giving each family a "good mix" which allowed us all to learn about all the different perspectives from the different passengers aboard the ship. We were able to get a good impression of what the first class parlor suite looked like as well as what those who were in a lower class parlor experienced and what life was like when the Titanic sank in April 1912.
It was also interested to learn about the artifacts themselves and the delicate process involved in retrieving artifacts from the wreck site. The pot below was in perfect condition when it was found in the water but as they retrieved it the pressure while pulling it up to the surface completely destroyed it. The guide did a great job of blending both Titanic knowledge as well as an appreciation for the artifact retrieval process.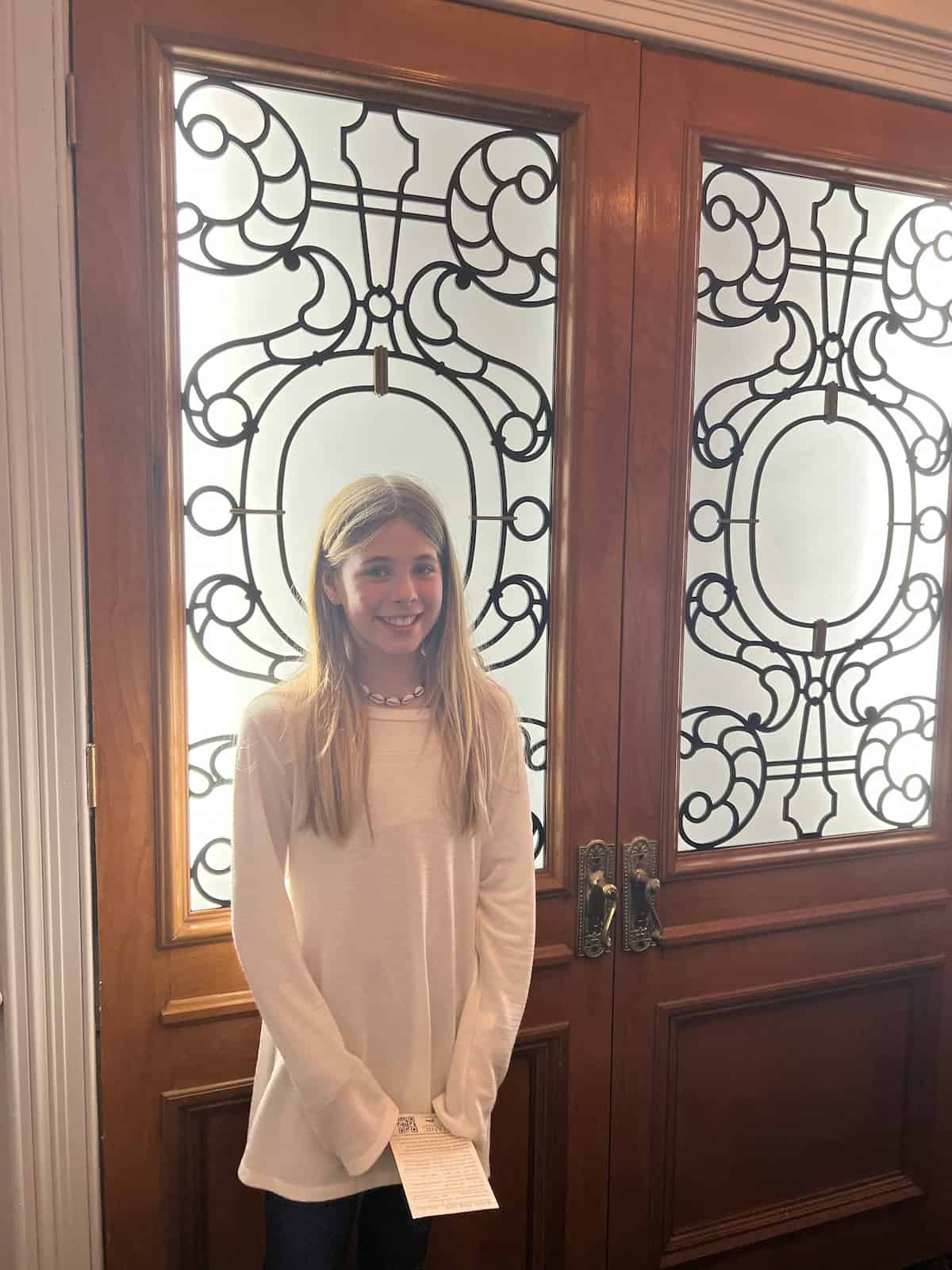 As another example, the champaigne bottle below was recovered in prestine condition, even still containing the champaigne inside! It's so interesting to me that people make this their life work. It has to take SO much patience which I for sure do not possess and is why we're the ones buying tickets to see their hard work on display 😉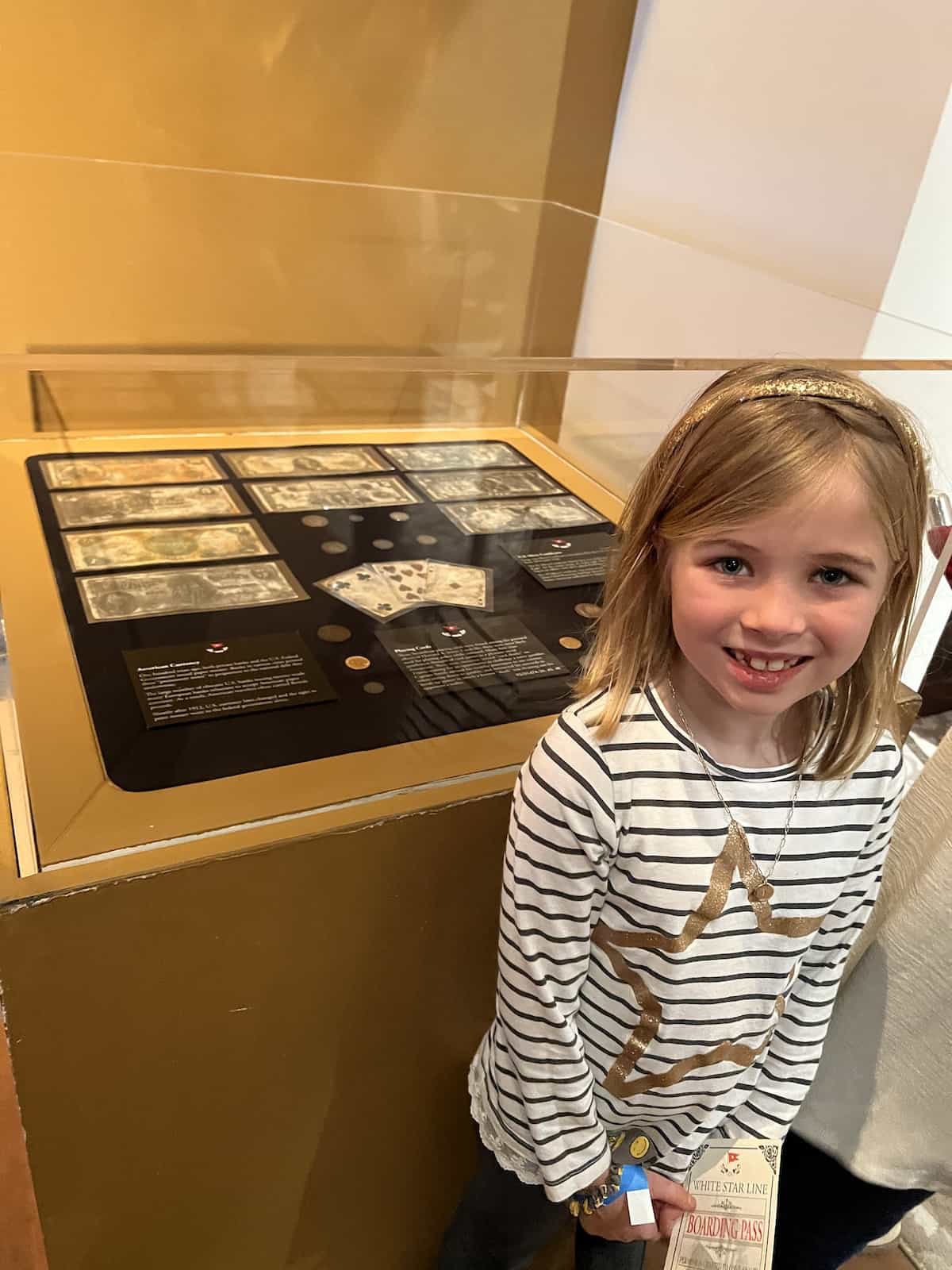 I love a good "fun fact" and a big takeaway for me was that the Titanic only actually needed 3 funnels for the boilers rooms but had a fourth installed to appear more "grand." They actually used the 4th funnel over the smoke room to allow for the cigar smoke to be funnelled out of the ship. So clever!
I had Tess get a picture in front of the "famous" stagecar even though she's not familiar with the movie scene 😉
The photo of the bed is one of only THREE actual photos taken aboard the ship. So interesting! Another interesting fact is that the Titanic was also a Royal Mail steamer and that people aboard were in charge of protecting the mail. They used mail sacks to put babies in toddlers in to help keep them safe while transporting them to lifeboats when the ship was sinking.
There was also 6,000 tons of coal on board the ship. The men in the boiler room kept putting coal on up until the ship sank which actually meant it still had electricity up until the very end and these men also helped prevent the ship from exploding by keeping water out of the boilers. There was a lot of tragedy that day, but also so many heroes that go unrecognized.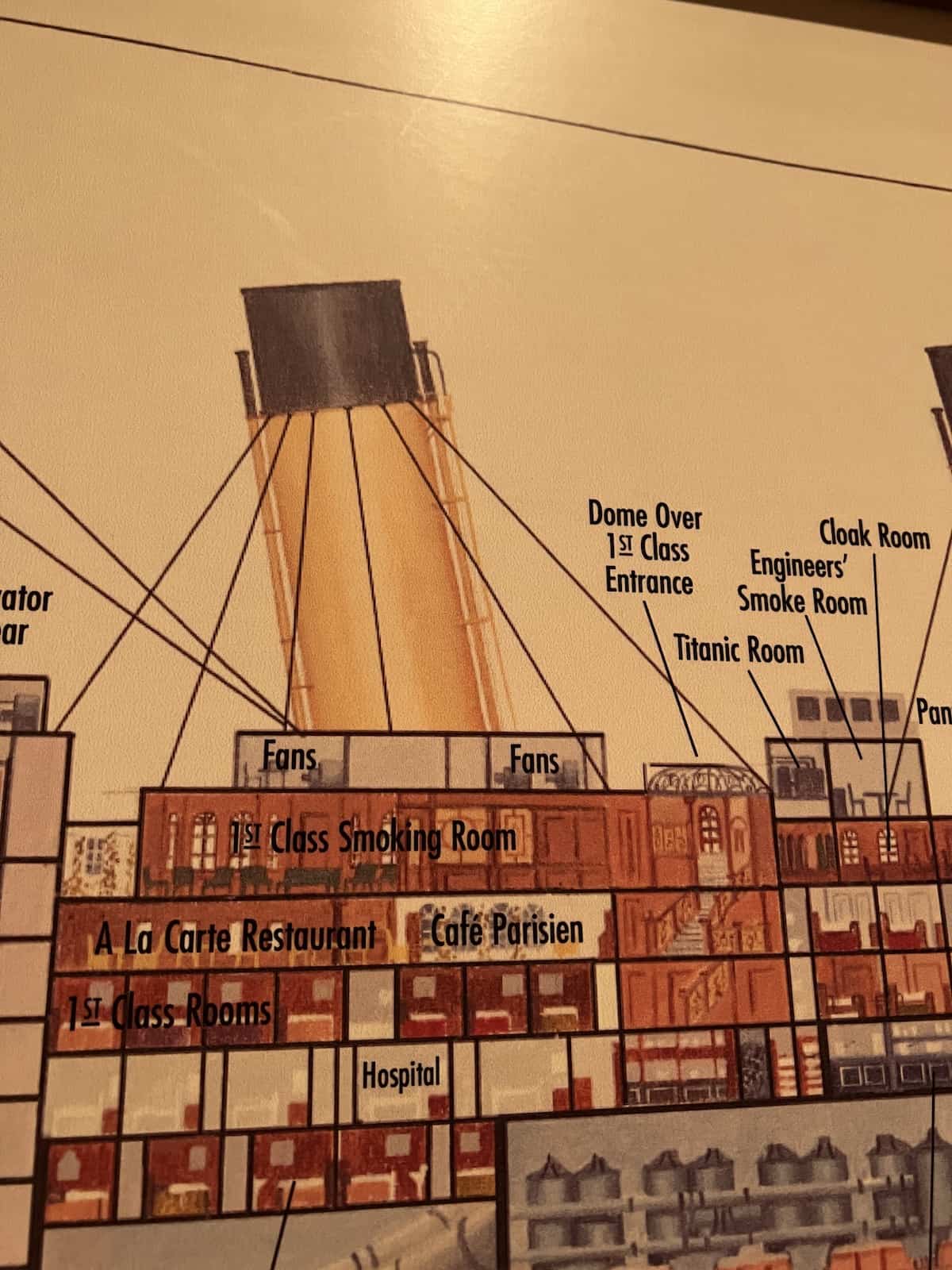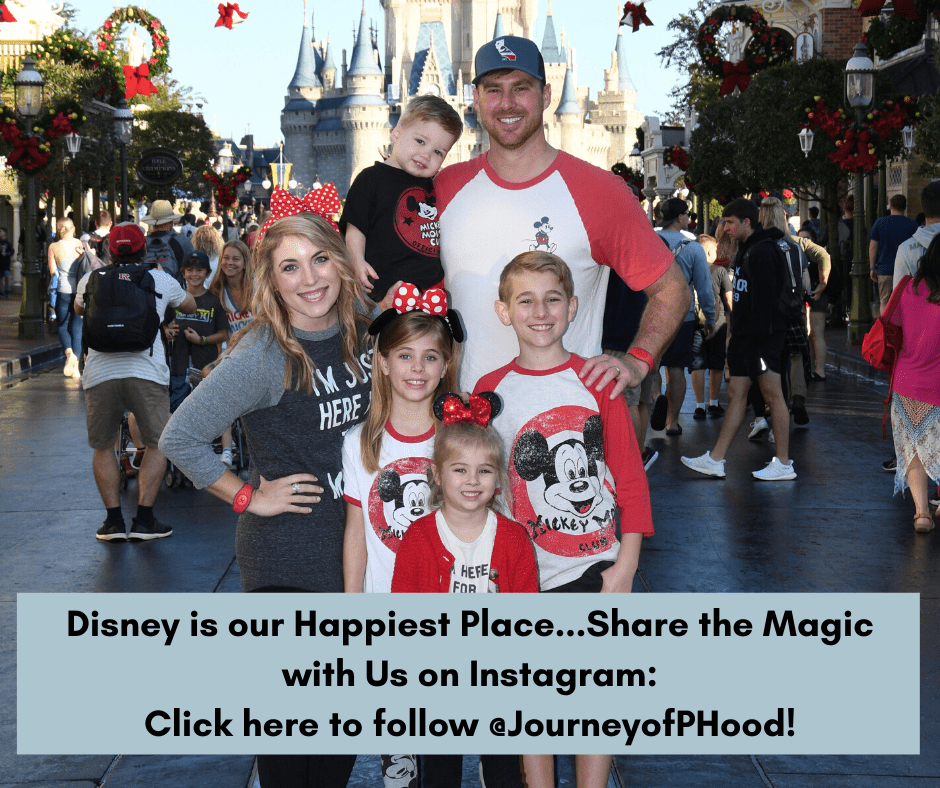 Hands-On Experiences at The Titanic Museum Orlando Fl
I am not a big museum kinda person. I get a bit bored and tend to zone out when I'm presented with too many historic facts at one time. I'm a hit the highlights and keep it movin' kinda person!
Which is why I really, really appreciate when museums go the extra mile by making their exhibits interactive and hands-on. It keeps ME interested as an adult and really makes the kids more engaged too.
Several of the rooms through our tour of the Titanic had intereactive elements.
One area was what it felt like to be on the exterior of the ship. We were able to feel the cold temperatures and see the dark, endless sky and feel some of what the passengers felt when they realized the ship was sinking.
We were also able to see the actual visability of the night that the ship sank. It was totally dark and the water was so calm that it couldn't be seen crashing against the icebergs. The captain ONLY saw the iceberg because the stars weren't shining in that spot. Only 37 seconds passed from when he saw it until the ship hit it. If he'd stayed straight and hit it head on there is actually a good chance it wouldn't have sunk.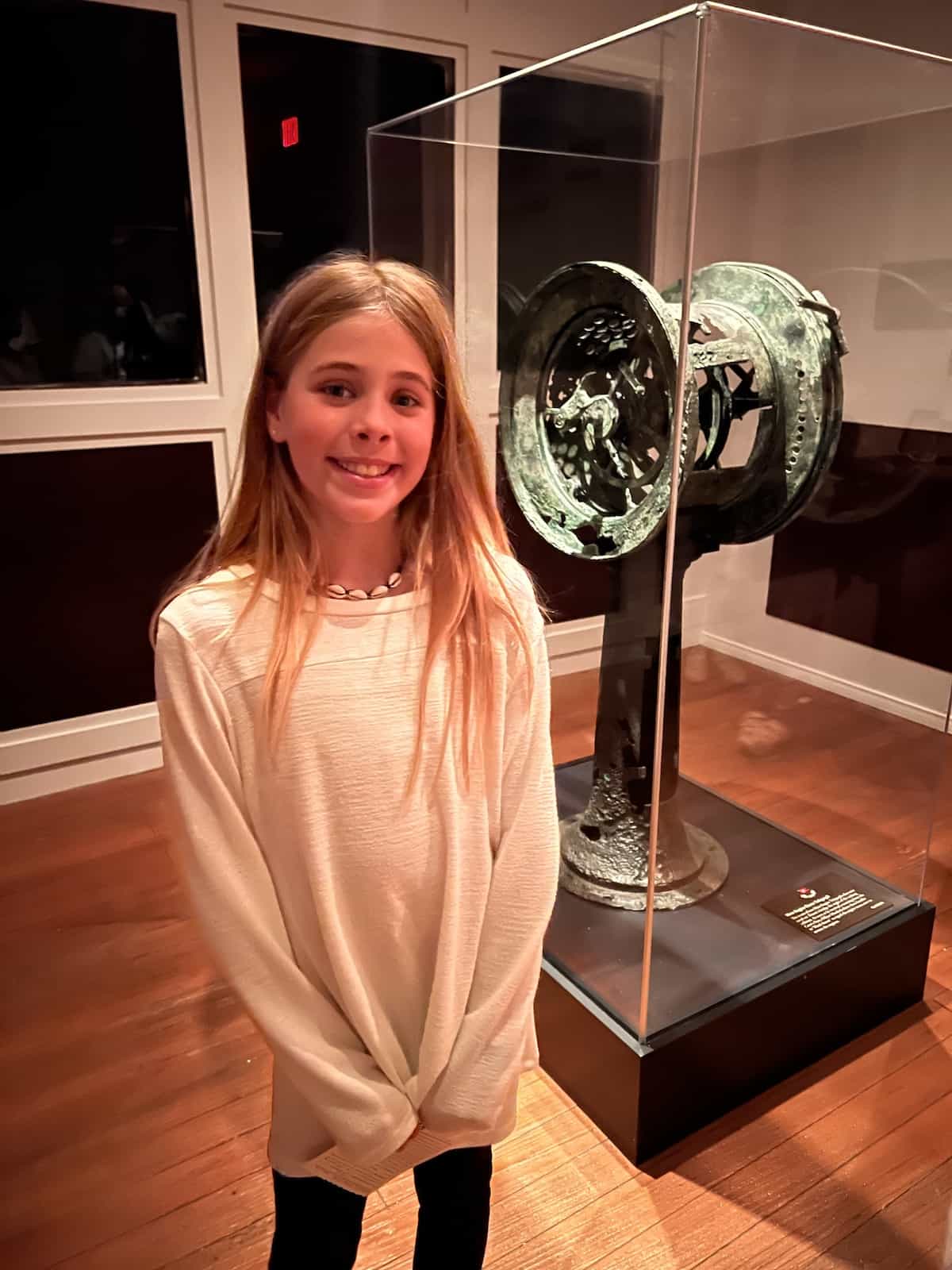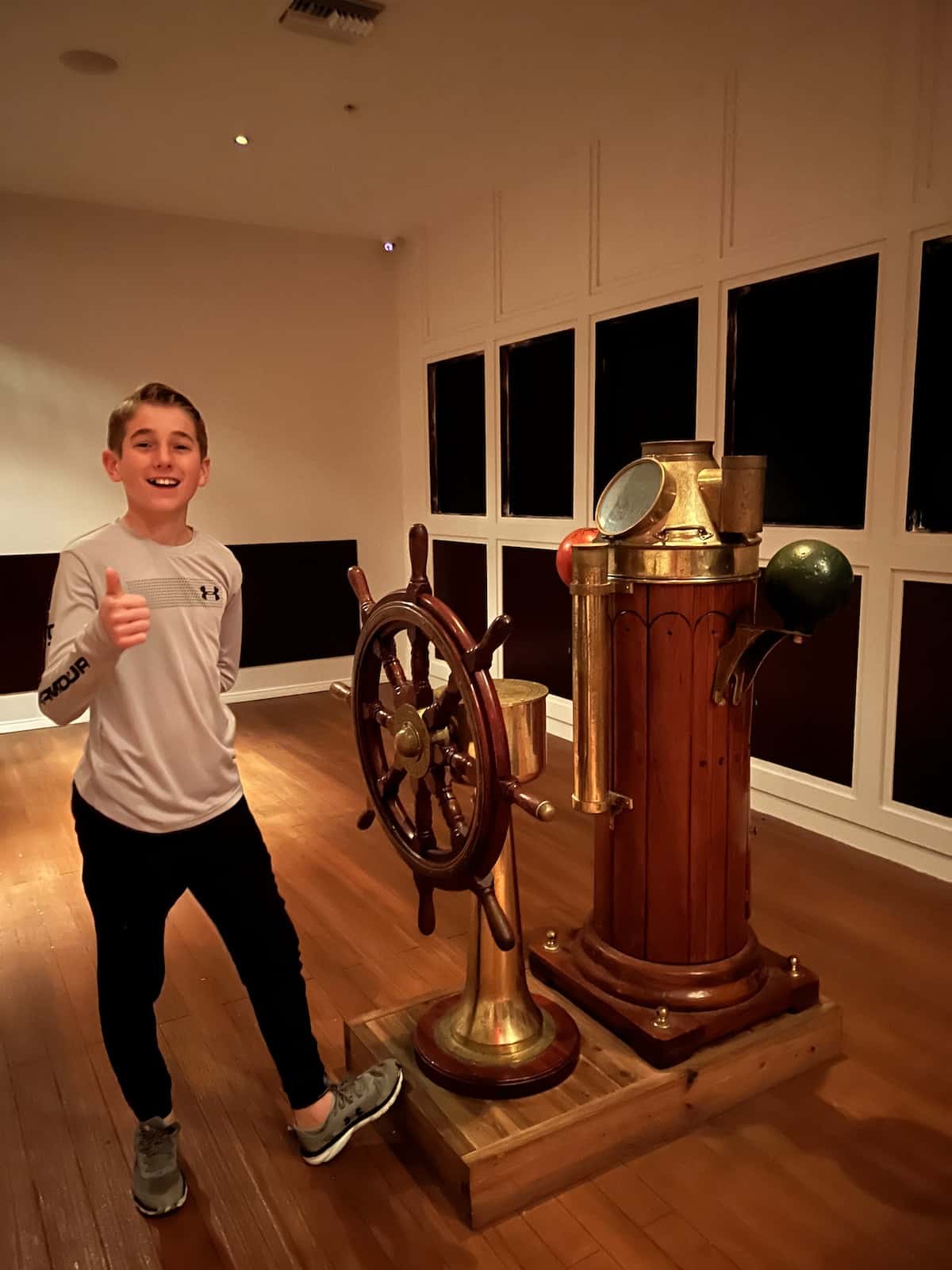 Another room allowed us to touch ice that was the same temperature of the water that night. It was COLD!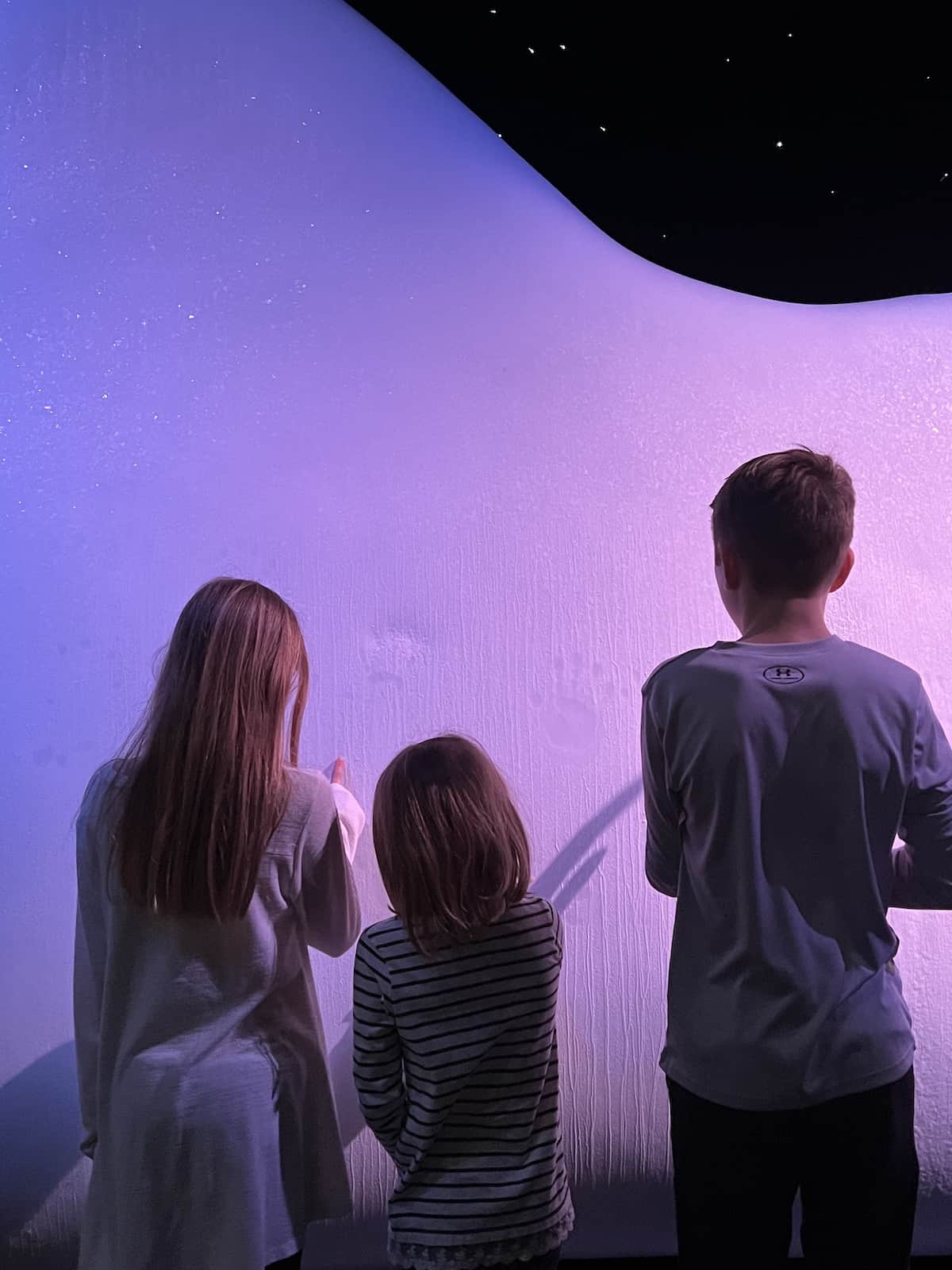 There was also an area to practice morse code as well as a spot with a hole in the glass covering an artifact so we were all able to touch an actual piece of the Titanic!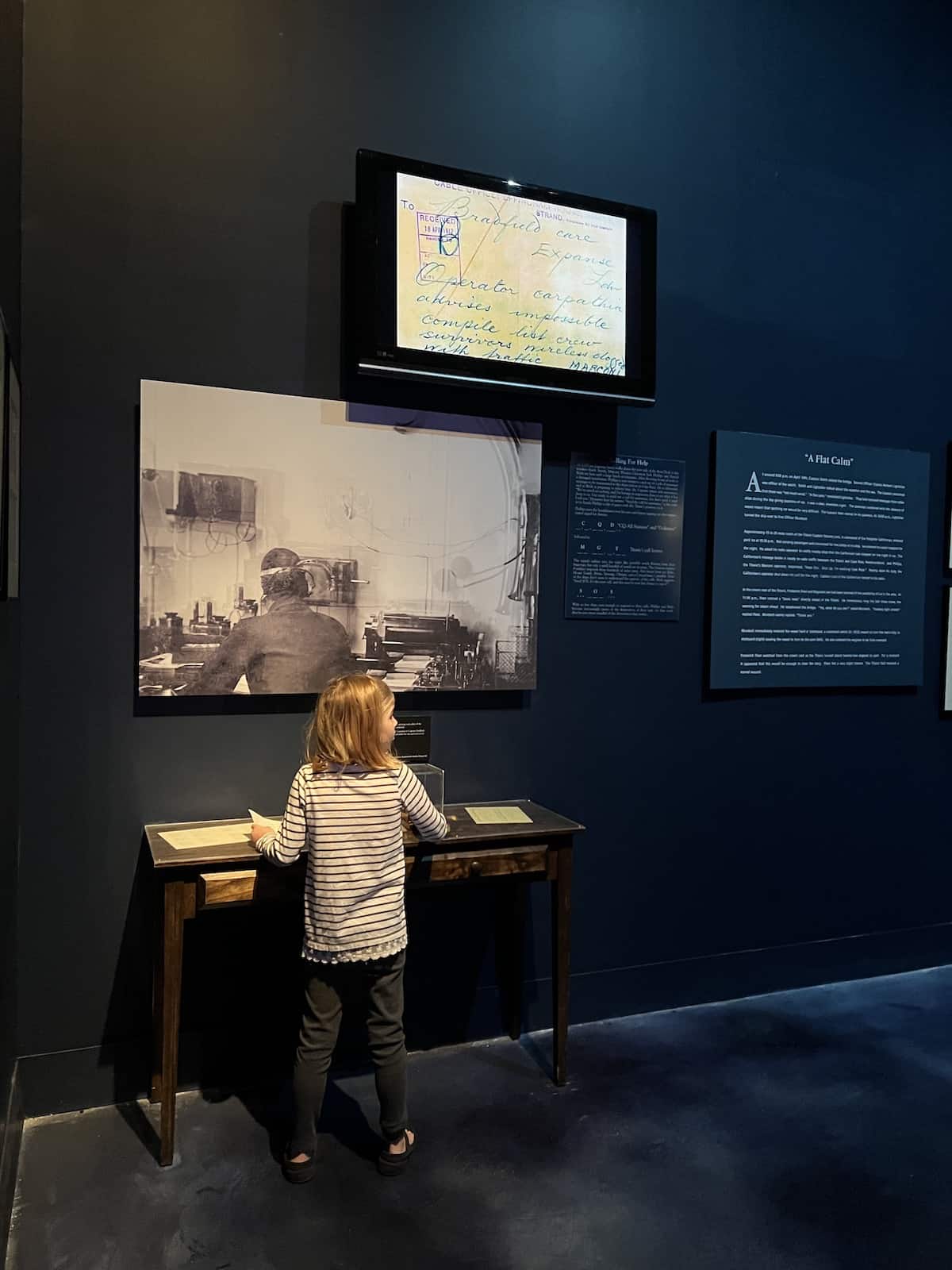 In the final room we were able to learn more about each of our passengers and see whether or not we were survivors. They also showed every name of each passenger aboard the ship.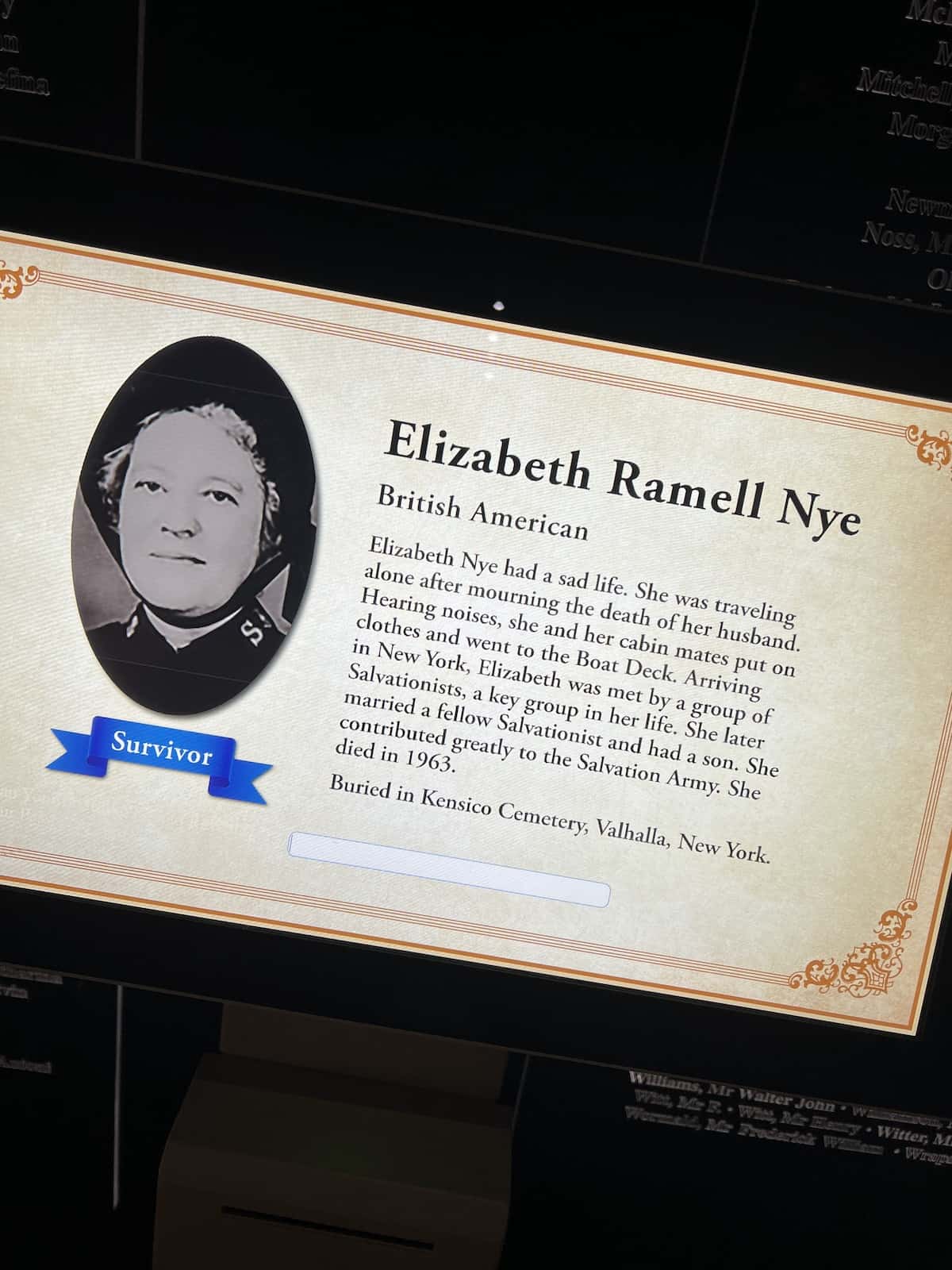 Add On Experiences at Titanic Museum Orlando Fl
Photo Package at the Titanic Artifact Exhibition in Orlando:
I am a sucker for a photo package opportunity 😉 There were a couple different photo spots in the museum, one at the entrance with a green screen behind you, one where you stood aboard the "ship" and another where you were able to walk up the grand staircase for photos.
I was impressed with the photo experience itself and with the end results of the pictures too! We had fun with them and they turned out cute and since Tess is in such a big Titanic phase I couldn't pass up the chance to purchase them!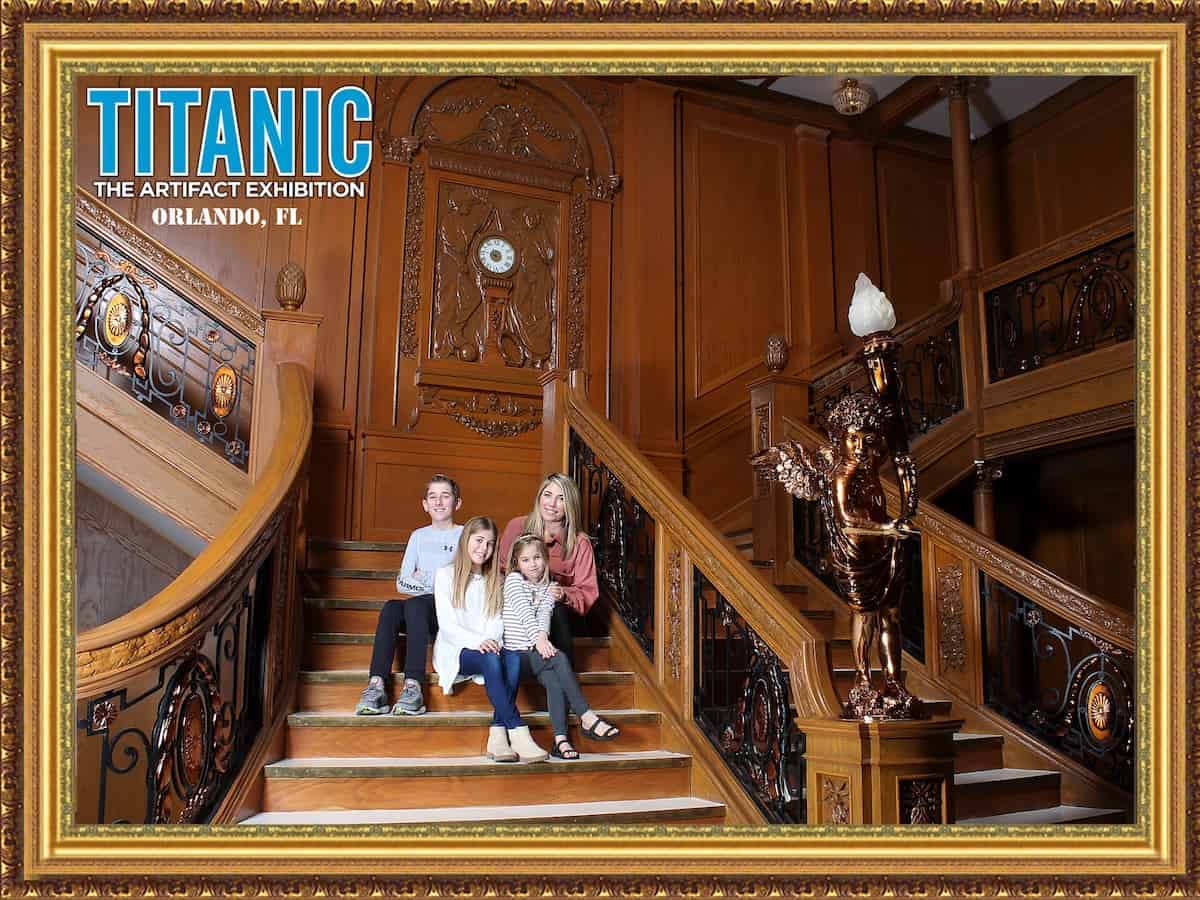 Titanic Museum Gift Shop:
I was impressed with the entire museum as a whole, even when it came time to check out the gift shop. SO many awesome Titanic items with pricing that wasn't crazy expensive and with a nice variety that allowed something for everyone. I liked that many of the items weren't obvious "Titanic" merch. It was a nice blend of subtle details with the more typical gift shop items as well.
We got a Christmas oranament and each of the kids got a pin for their pin boards. Tess also used her allowance money to purchase a Titanic pocket watch!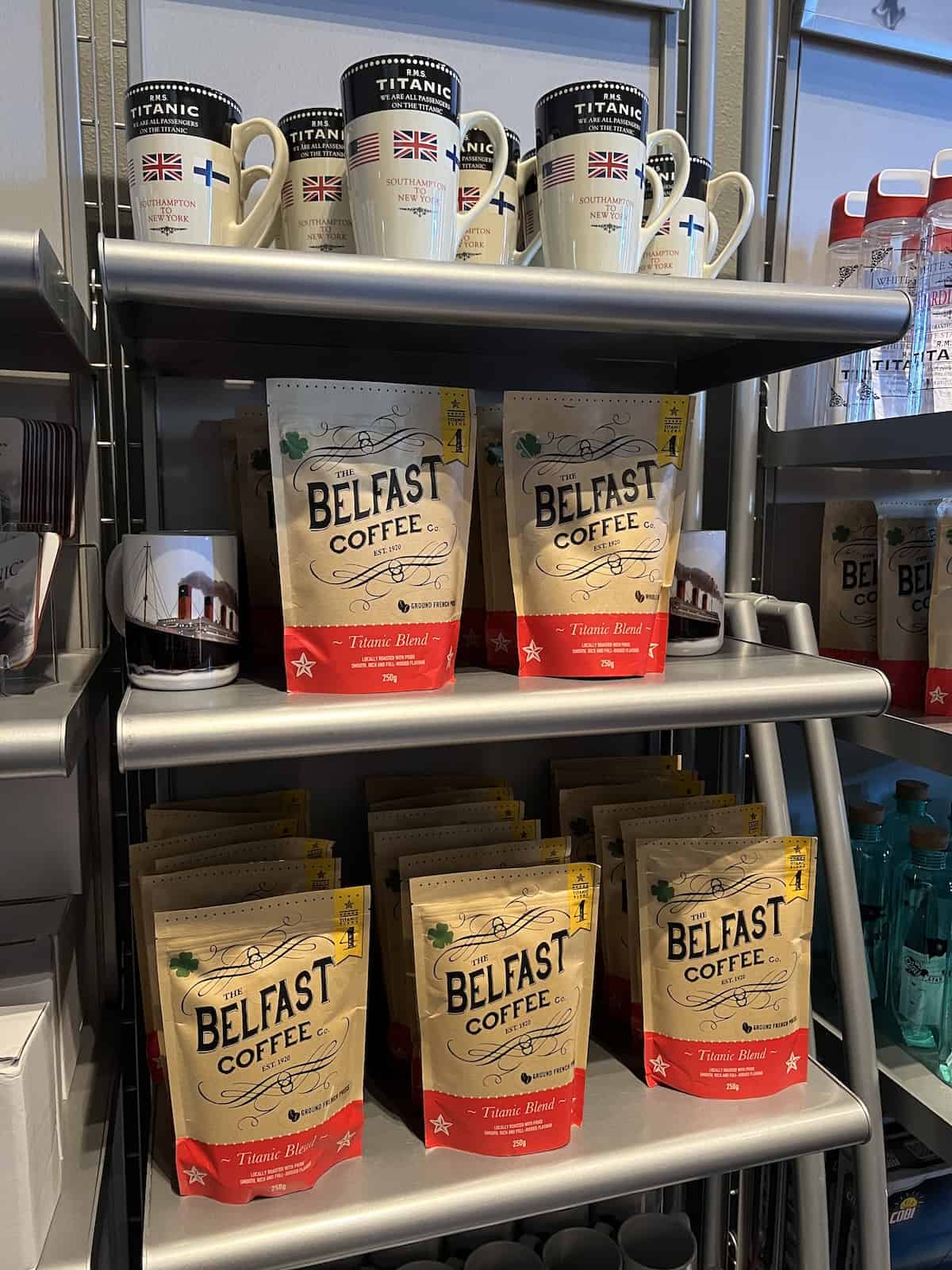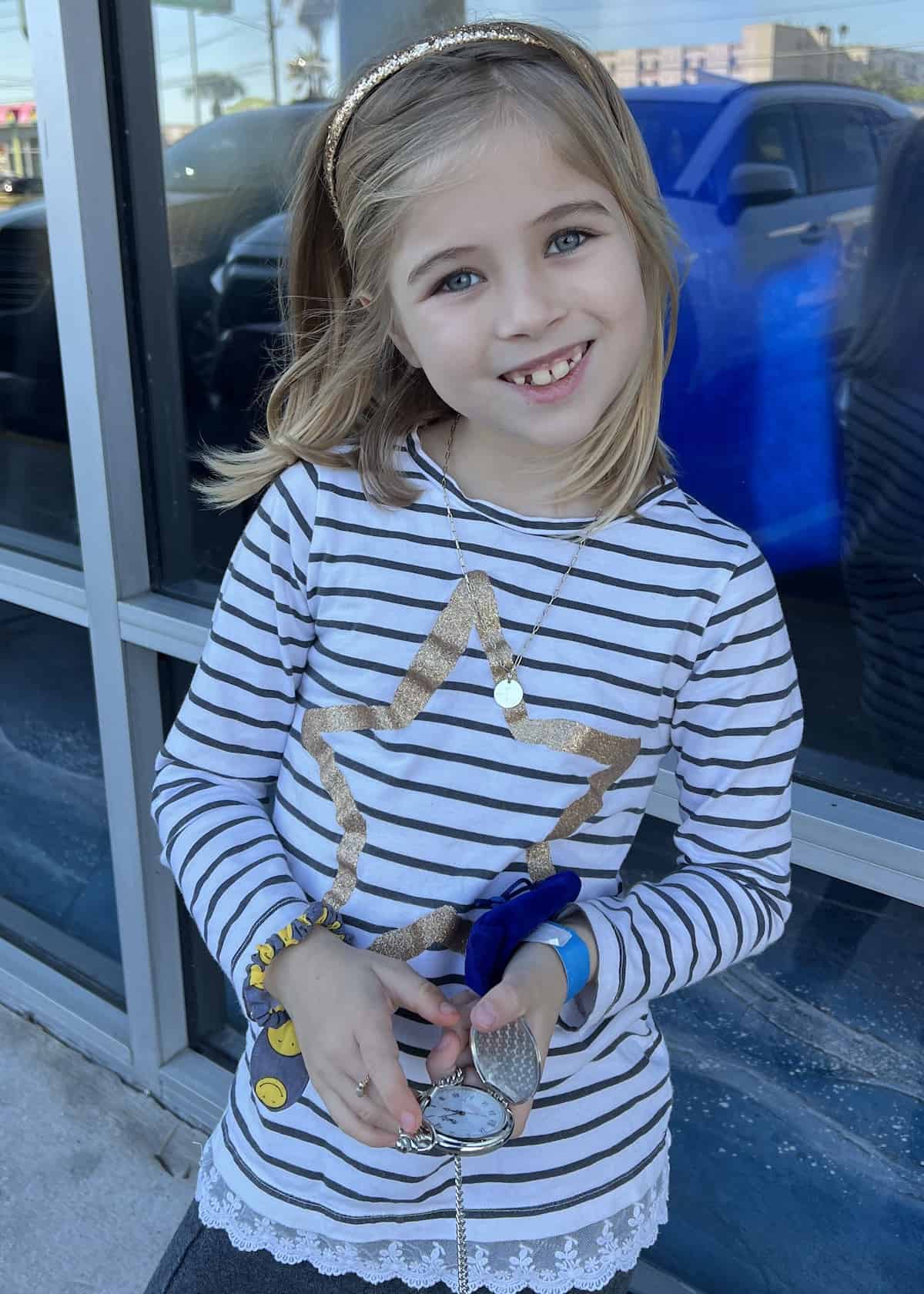 Additional Add-Ons at the Titanic Museum:
Titanic The Artifact Exhibition is also wildely known for the Titanic First-Class Dinner Gala where you're able to dress up fancy and enjoy a cocktail party, first-class dinner, and reinactment of the night of April 14, 1912. It is roughly 3 hours long and is only for parties of ages 7 or older. Obvioulsy since our youngest is 4, this is not something we did during our visit. However, I think it'd be SO fun! Such a great adult night out or great for a girl's trip or just a bigger kid event. I can see this being on an itinerary for us in the future.
Final Thoughts on the Titanic Artifact Museum in Orlando:
I was very impressed with the entire experience from start to finish. I found the staff to be very kind and welcoming as well as knowledgable and the pace of the tour to be fast enough to void boredom but with plenty of time for questions and to not feel as if we were rushed from room to room either.
I think any school-age child would enjoy this tour! It's not something I'd see myself doing more than once (unless we go back for the dinner experience) but is an activity worth adding to a family vacation if time allows. Many families visit the Orlando area with plans to hit the theme parks and I think the Titanic museum makes for a great down day activity in the AC and a nice break from the fast-paced theme park time!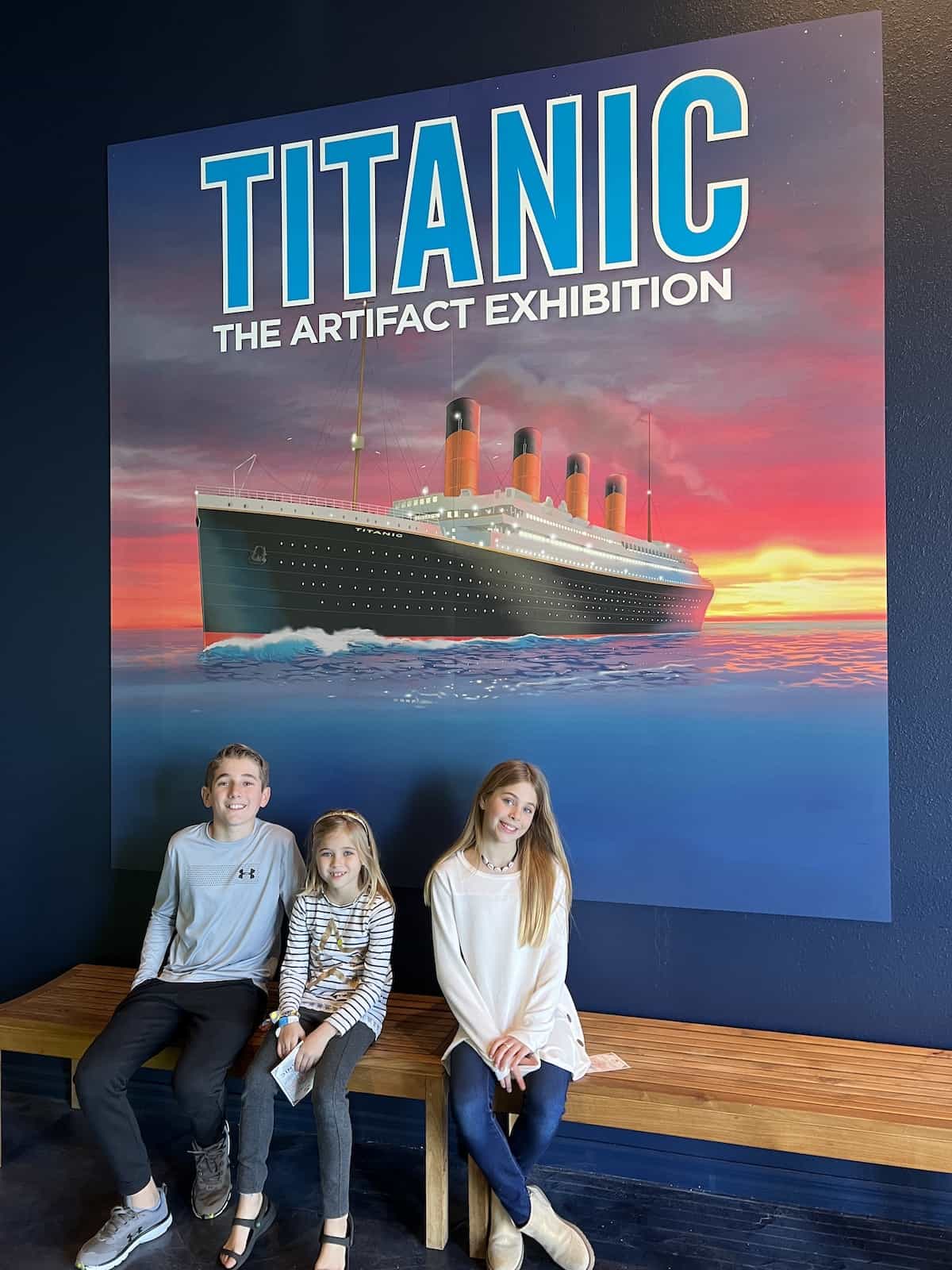 Posts You'll Find Helpful When Visiting Orlando: