Curious about the Pirate's Dinner Adventure in Orlando? If you've got questions, I've got answers! 🙂
We are a "Disney Family." When we visit the Orlando, Florida area we are heading to Walt Disney World and enjoying all the many entertainment aspects that Disney has to offer.
Now that we own a rental home close to Disney we're trying to explore more that the Orlando area has to offer outside of the Disney bubble. One of those places was the Pirate's Dinner Adventure! Is it worth it? You're about to find out!
What is Pirate's Dinner Adventure?
Pirate's Dinner Adventure Orlando is a themed dinner experience in Orlando, Florida.
It is a set dining price that includes both the pirate themed show as well as the dinner.
It is located in Orlando, Florida about an easy 20 minute drive from Disney World.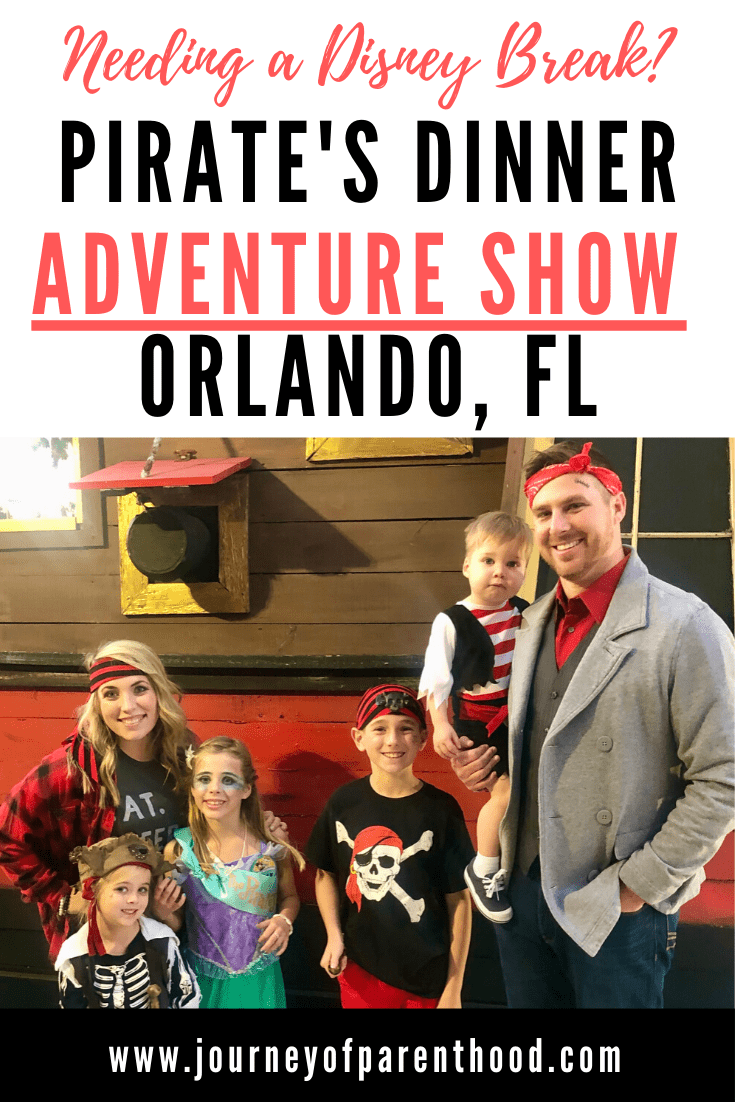 What is the Pricing for Pirate's Dinner Adventure Orlando?
You can purchase tickets directly through the Pirate's Dinner Adventure website here.
The site often runs sales and discounts so I highly recommend signing up for their emails and keeping an eye on your inbox.
I also recommend waiting to purchase your tickets until closer to your desired dates.
Their schedule is constantly updated with additional showtimes and the prices tend to go lower the closer to the show days.
Through their emails I was able to get a discount of paying $29 per person.
Infants are free, be sure to bring your own food for infants as their seat is free but they are not given any food.
There are also all sorts of fees and junk when you check-out and have cash ready because you also have to pay to park.
And gratuity is not included so also be prepared to pay that before you leave!
I do also believe they offer discounts for groups and this could be a fun outing for a birthday celebration or a larger family night out too!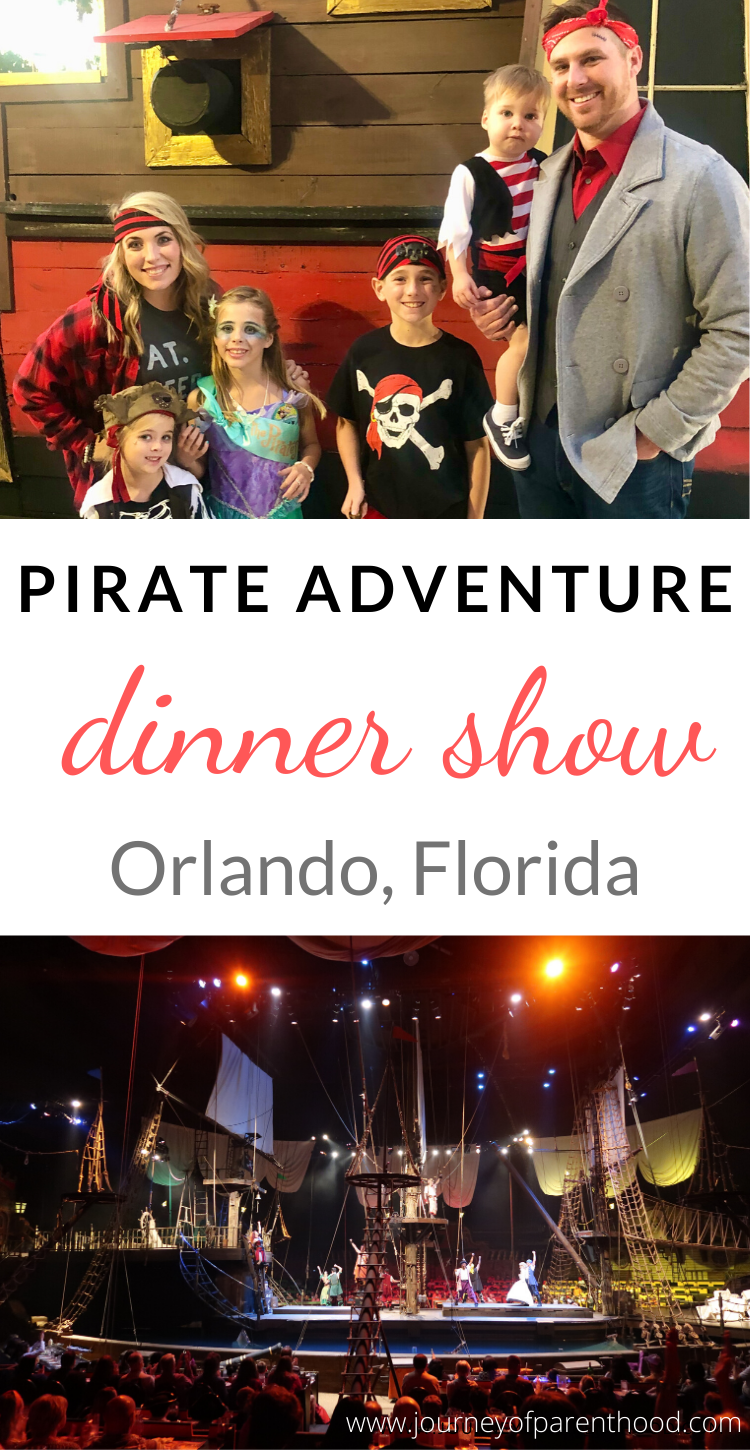 Should I Upgrade My Dining Package?
I explored all the options for upgrades when booking our dining and I do not recommend any of the upgrades for the pirates dinner adventure.
We were seated in the very last row of the dining theater area and still had EXCELLENT seats.
Our daughter was still chosen to be part of the show, even in the last row.
None of the merchandise at the pirates dinner included with the higher packages was anything that caught the eye of any of my children nor did they feel like they were missing out on anything by not having those items during the show.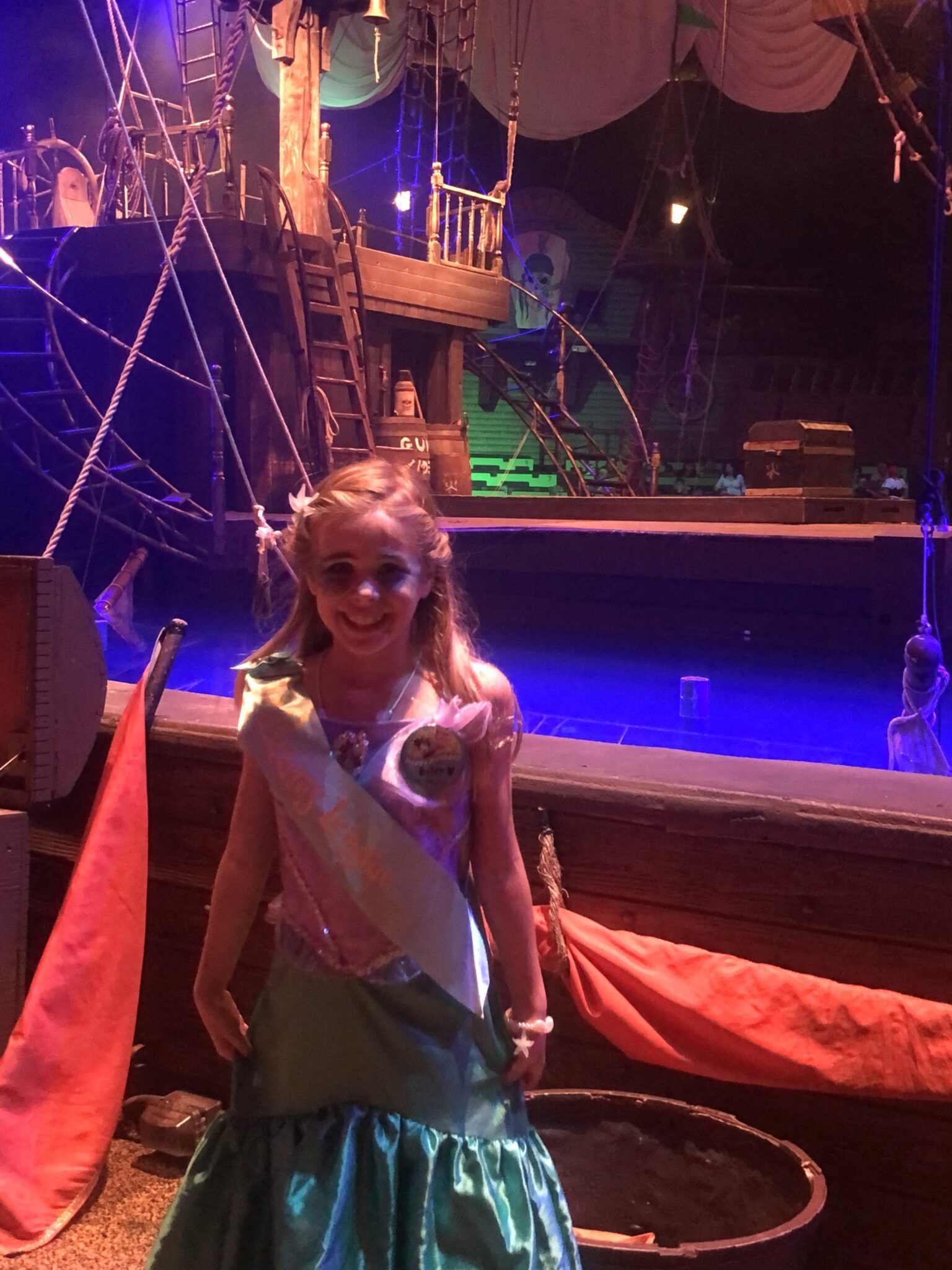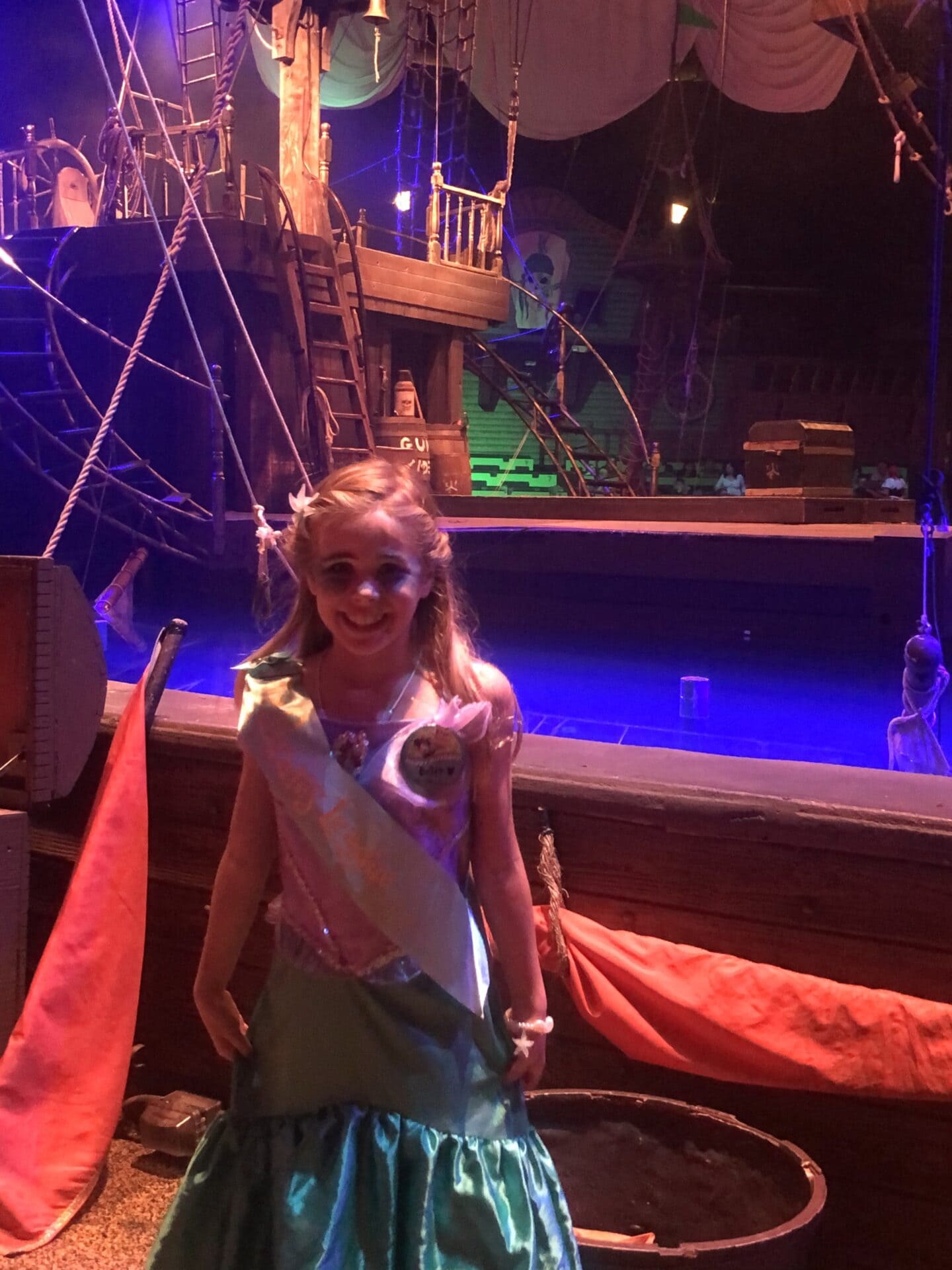 How is the Food at Pirate's Dinner Adventure Orlando?
It's okay. Not stellar or amazing but you know going in that you are paying for the experience and show more than you are a nice meal.
I'd say a step-up from the food you probably eat at a theme park.
Chicken nuggets, Mac and cheese, drinks, and brownies were served to the kids.
Salad was passed around to share (which was good and Spear loved it!)
The adult meals have an option for pork or chicken. Our pork came with mashed potatoes and some vegetables. It was fine, not horrible but nothing to remember either.
Sodas are included with the dinner show meal, alcohol drinks are available for purchase. We don't personally drink so we didn't even look over those menus or pricing.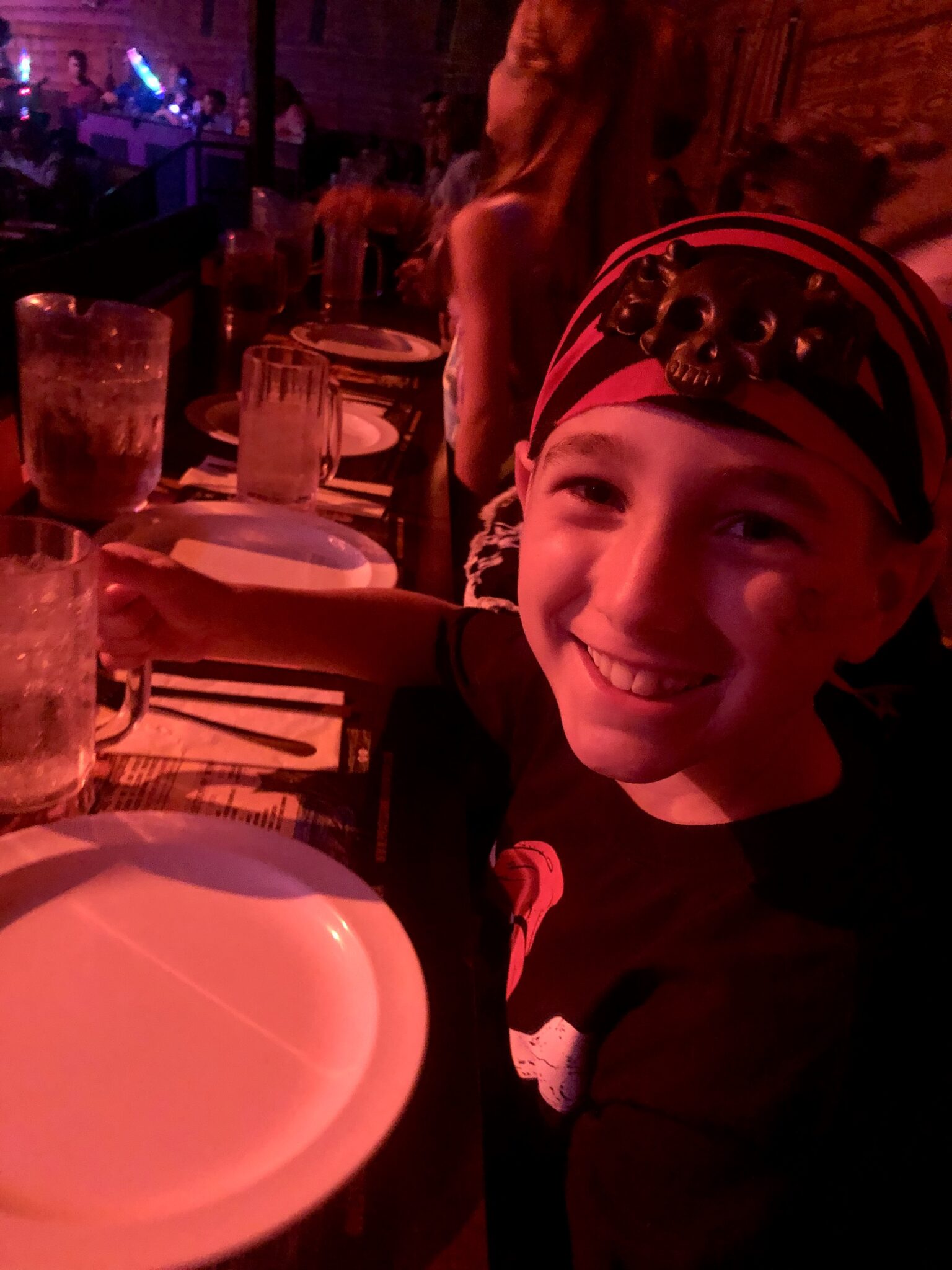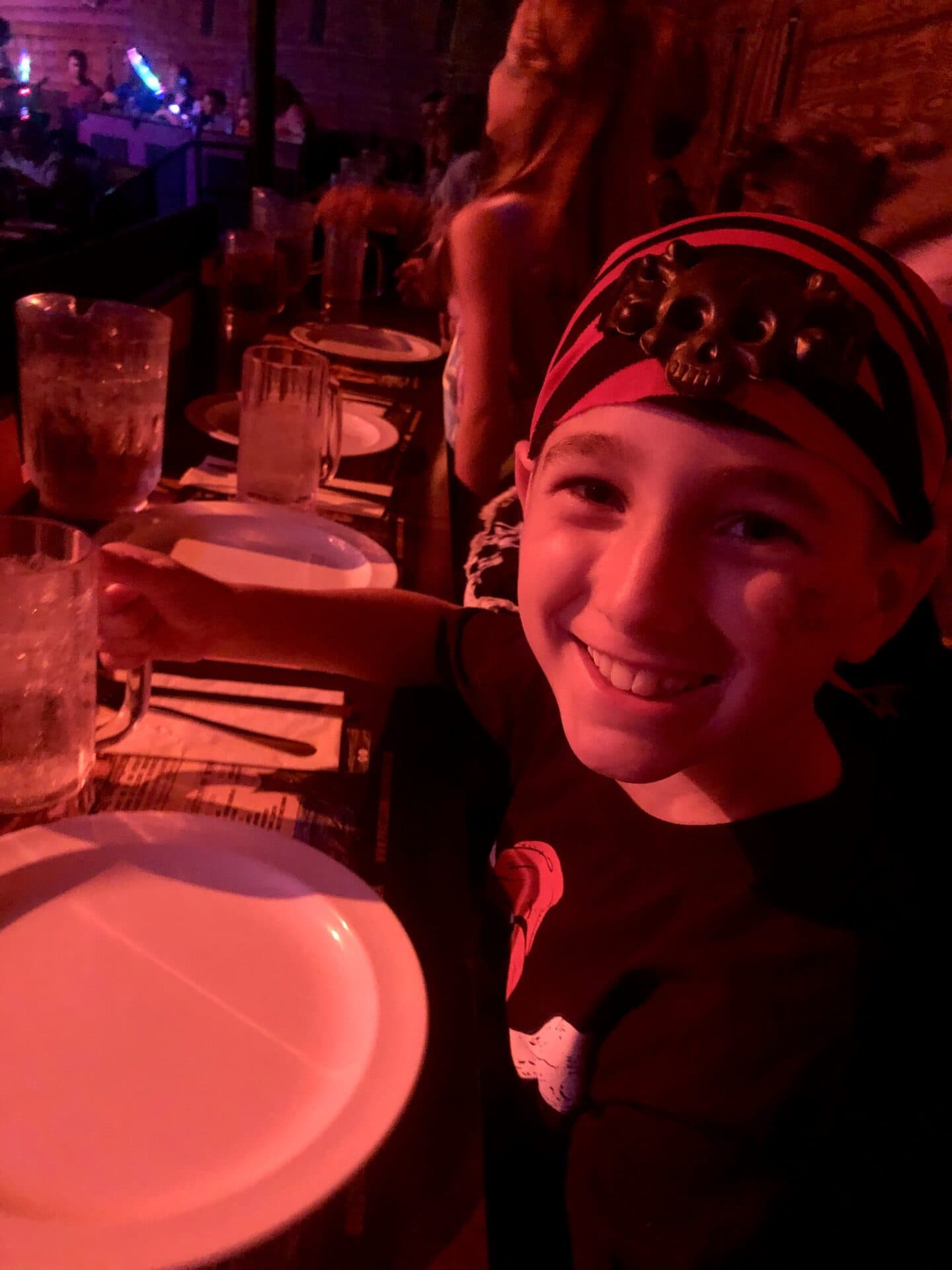 How is the Pirate's Dinner Adventure Show?
It is fun!
The first thing my 10 year old son said when we left was "well, that wasn't Disney."
And no, it's not a Disney-level production.
However, it's good family fun. Silly pirates, gymnastics moves, competition, great singing, and all of our kids were VERY into it and excited about it!
The show lasts a full 90 minutes and the meal is served throughout the show.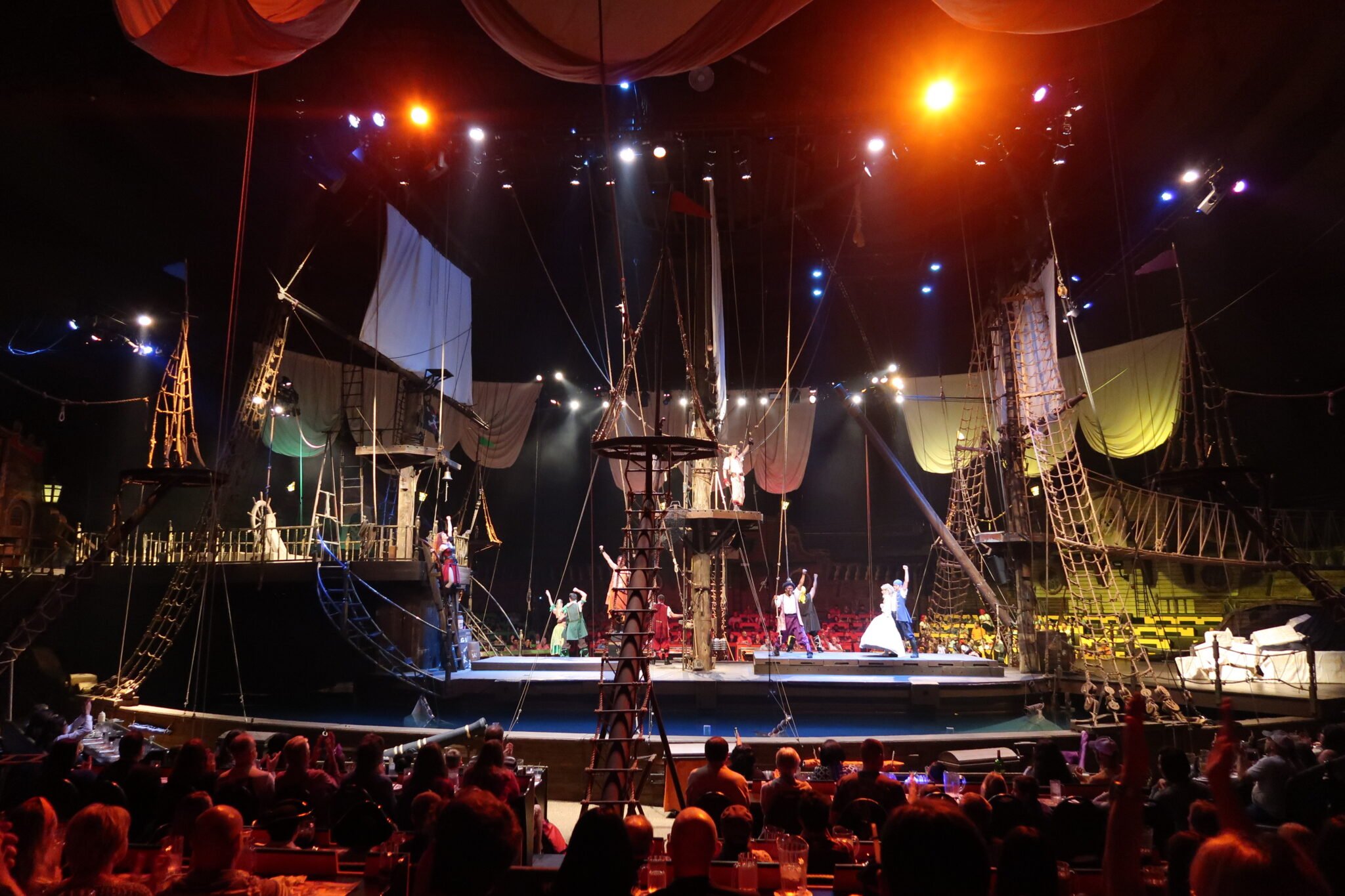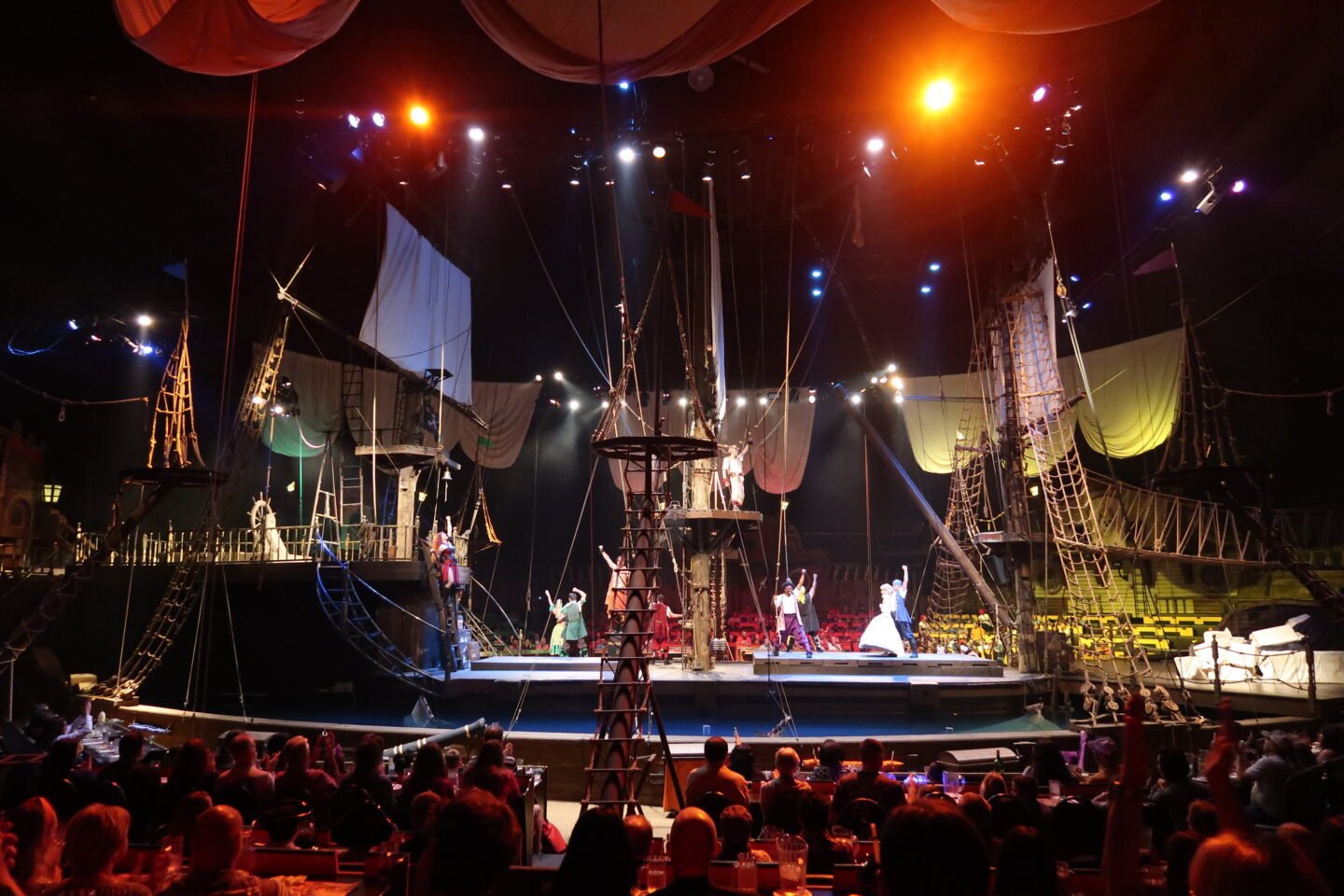 What Ages are Best for the Pirate Dinner Adventure?
Our kids are 2, 5, 8 and 10 and even the 10 year old still thought it was super awesome.
The humor was def geared towards kids, lots of silly slapstick type stuff that the 10 year old loved.
The show was able to hold the two year old's attention and having it broken up with all the eating helped too.
I think even teenagers would enjoy the environment and it's a great family outing.
Other Tips and Recommendations:
Dress up!
We got into the pirate dress up and it made it so much more fun!
I also recommend NOT arriving the full hour before the show starts as is recommended.
The pre-show entertainment is more of a push for you to purchase drinks and merchandise and your seat is reserved with your ticket so you don't have to rush to get there!
However, the show kinda rushes you out at the end but if you don't rush out you are able to meet and mingle with the cast of the show!
The kids loved getting to meet our team pirate and Tess lucked out at her need for a potty run that she got to meet the Captain too!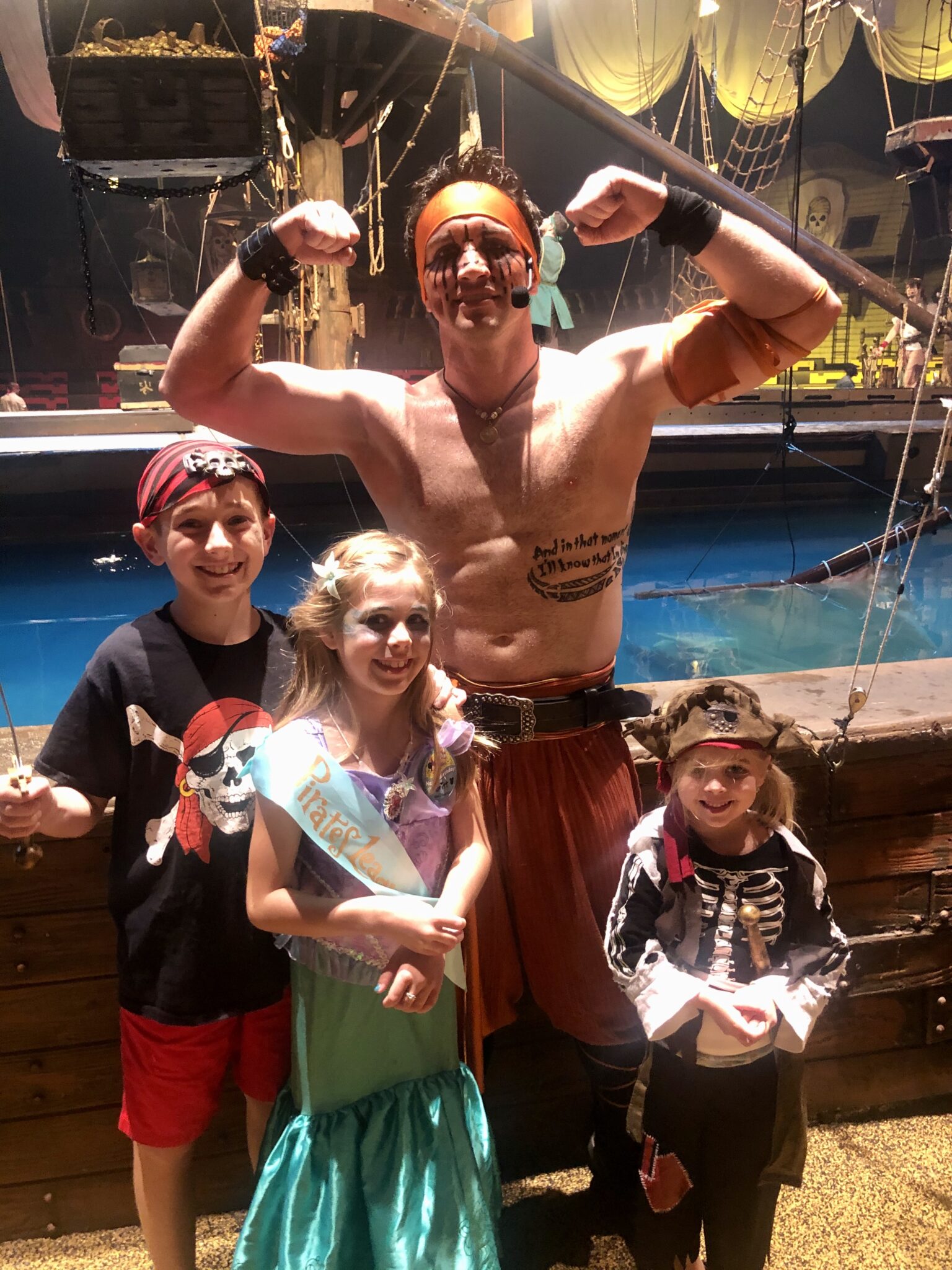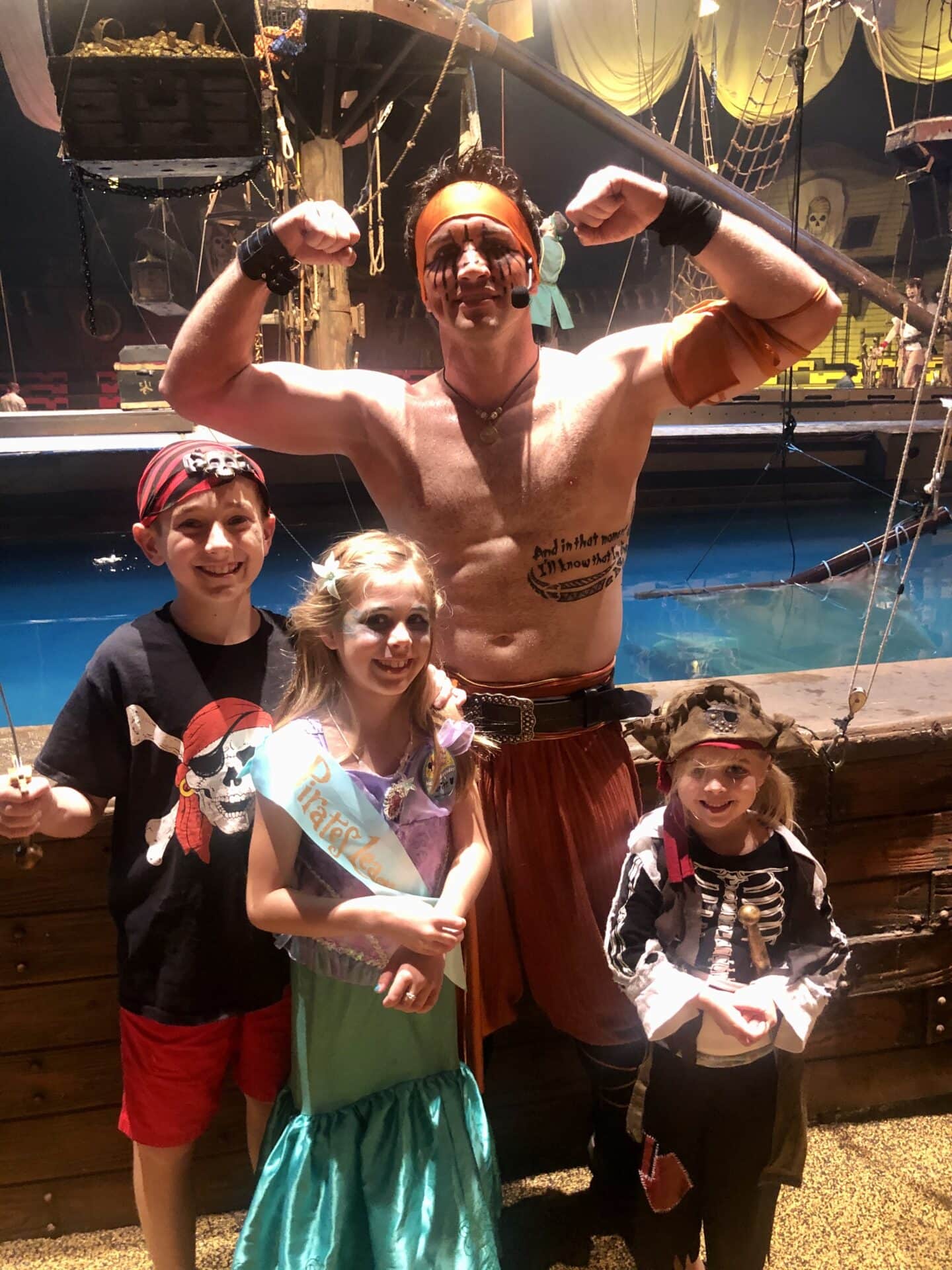 Our Experience at Pirate's Dinner Adventure Orlando:
I planned our dinner for the same day that Britt had her mermaid makeover.
I know that mermaids aren't pirates but I feel like they go together for some reason haha
She was actually confused as to my connection there!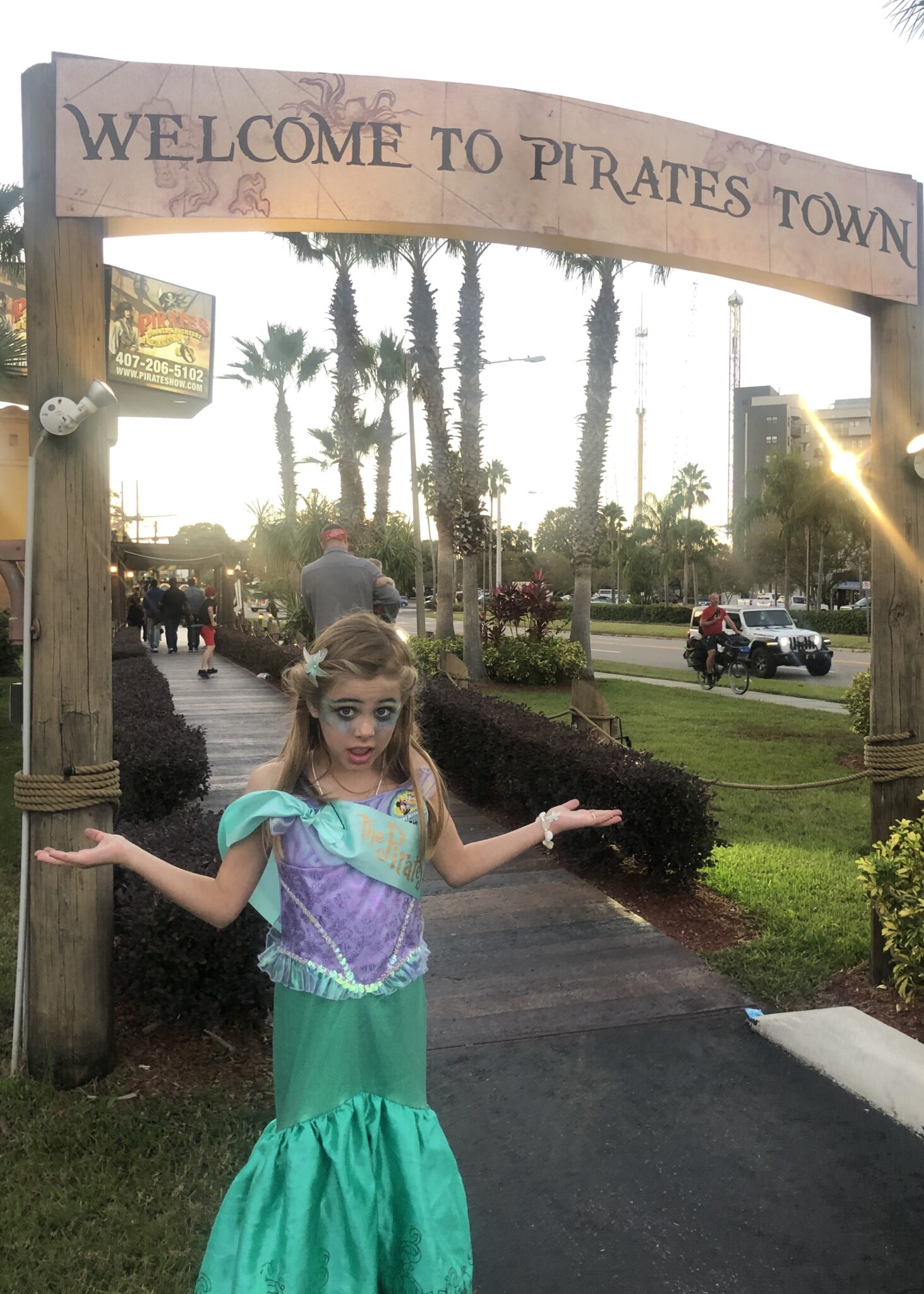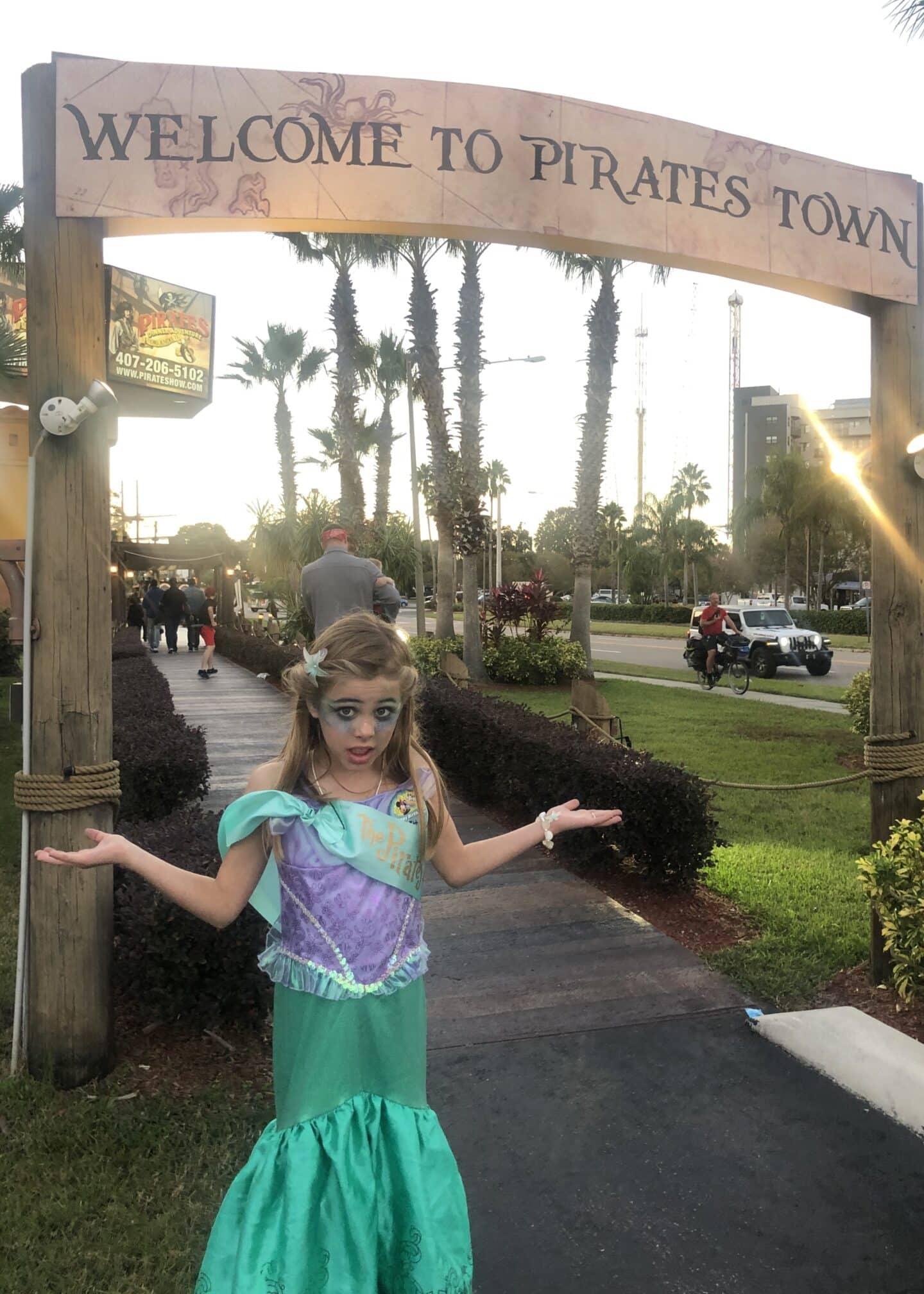 We got to the show about 30 min early which was right about when they did start seating the tables which was nice to have time to get acclimated and to use the bathroom and such too.
Britt was chosen to be part of the show during our time of getting seated and was super pumped about it!
Each area of seating is assigned a color and pirate to cheer for and we were orange.
Zach did end up taking Spear to the car a bit before our show ended as he was just done but overall he did really well.
We all said we enjoyed it and thought It was a really fun outing. Not something we'd do regularly but we'd also do it again and recommend it as a non-Disney option to others.
I hate we forgot to get pics before we headed out the door because I LOVED how into it Zach got!
It made it SO fun that he was all about it.
He was rocking eye liner and put it on the kids and we were just all thinking up ways to look more "piratey" 😉 We got pretty hardcore!
Britt felt very special being the only mermaid and Tess loved getting to dress up as a pirate and it helped minimize her jealousy with Britt's attention.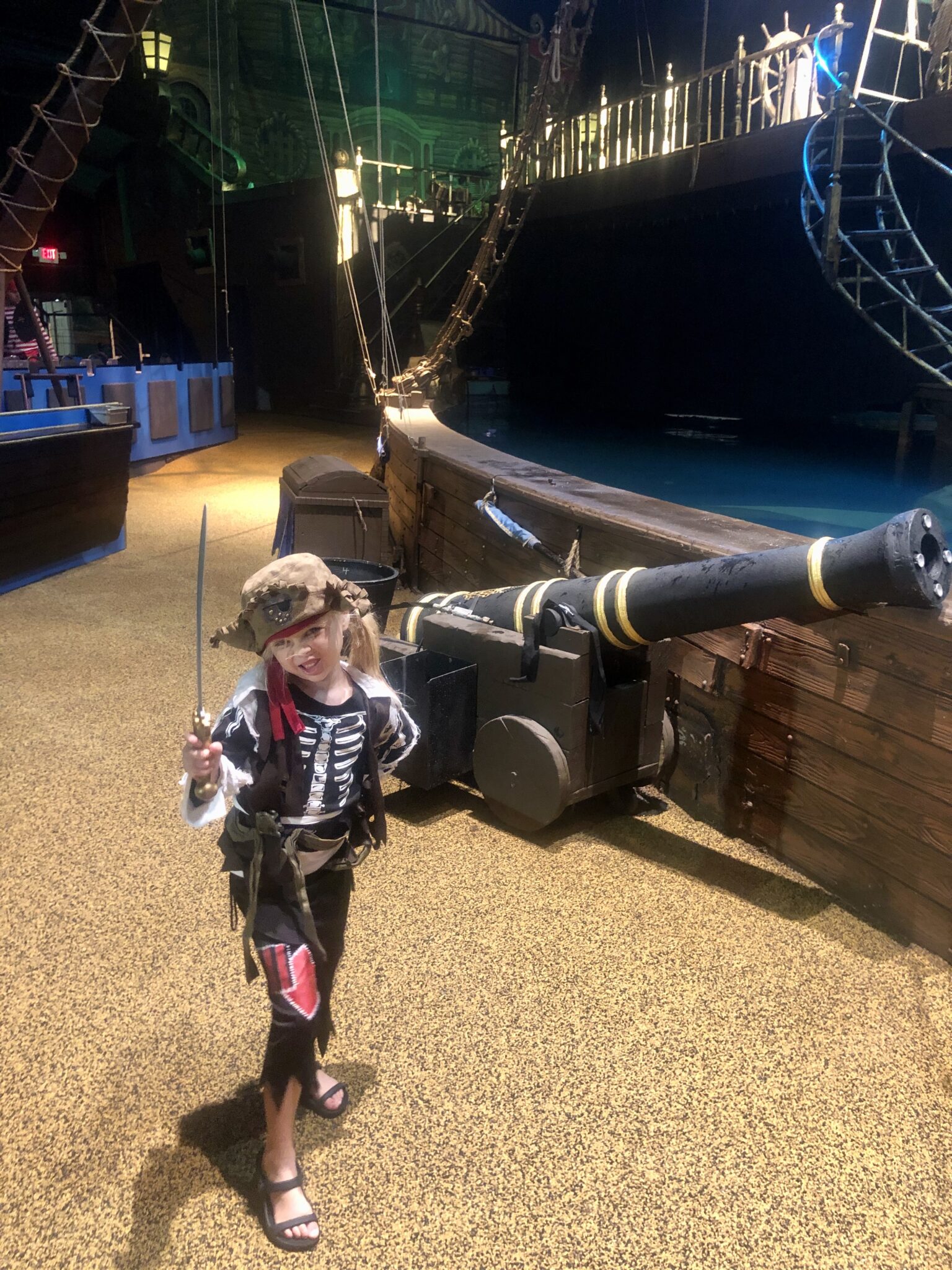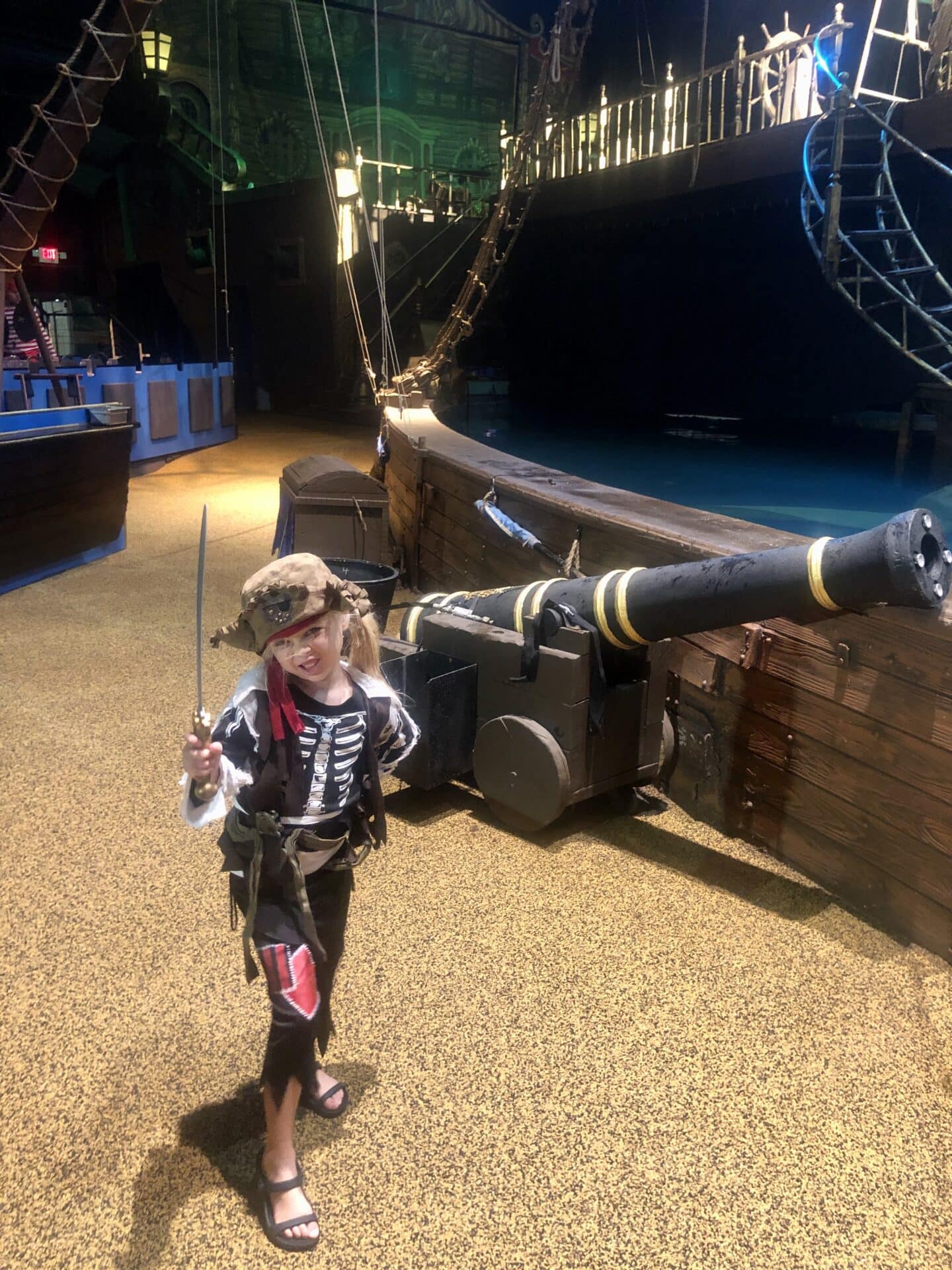 I even had a pirate costume for Spear!