We love visiting Disney World on a regular basis but also love exploring other fun family things to do in the Orlando, Florida area that aren't theme parks. Orlando is an excellent family travel destination and we continue to find more and more reasons why we love to visit (and are glad we own a vacation rental home in the area!). We had the opportunity to check out and participate in the Showcase of Citrus Monster Truck ride and it was the perfect surprise for Spear's 4th birthday!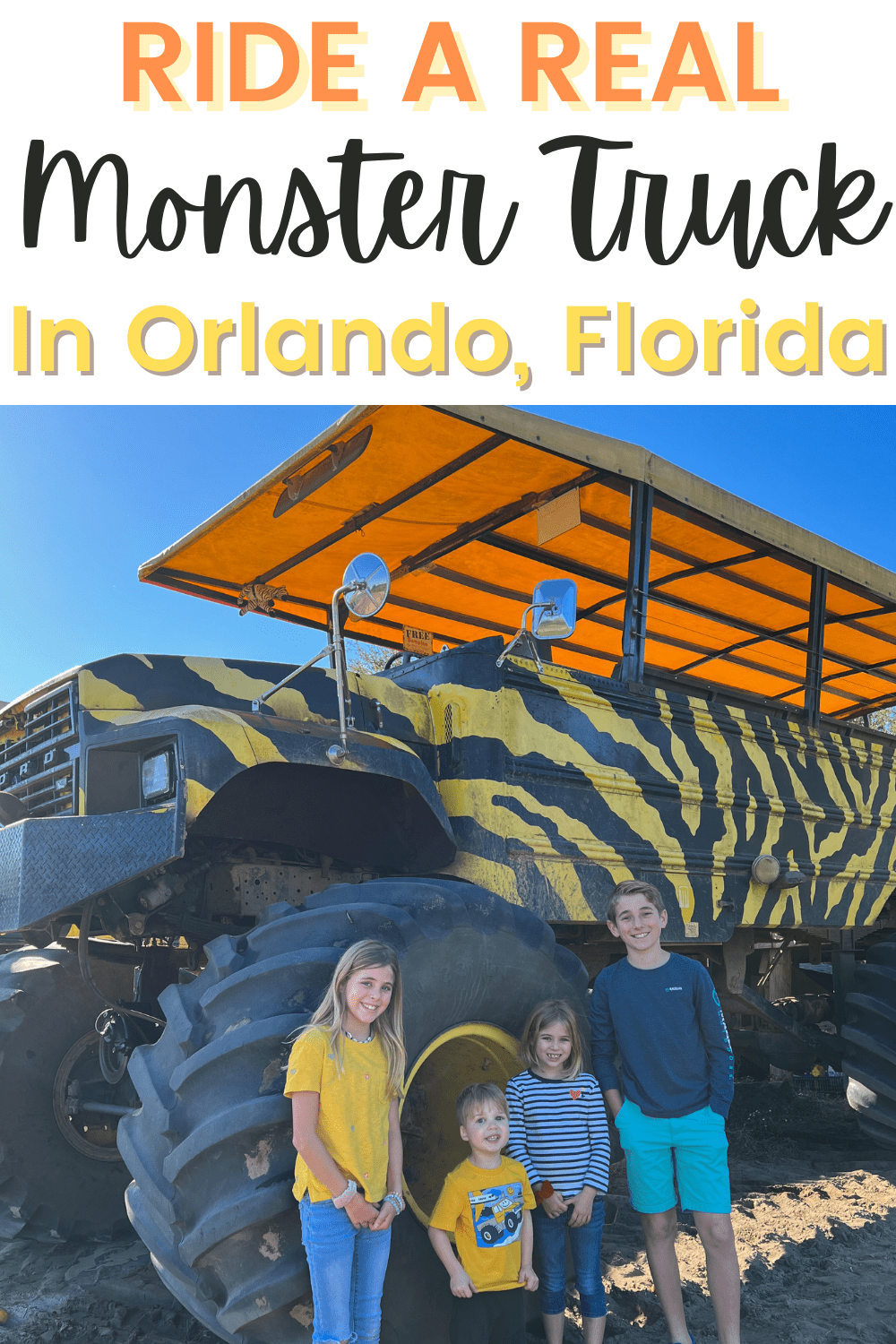 What is Showcase of Citrus and Where is it Located?
The Showcase of Citrus is located just 25 minutes from Walt Disney World Resort in Clermont, Florida. We were surprised to realize it's just a few minutes away from our rental house! It's so crazy to me how we've visited the area so many times on trips and still continue to discover new places.
The Showcase of Citrus is Florida's Fresh Air Attraction is over 2,500 acres of family owned and operated land with a variety of experiences available. They are pet-friendly and open every day of the year with seasonal fruit and u-pick options available depending on the season and harvest availability.
In looking for a new experience for our family I was very drawn to Showcase of Citrus due to it's family vibe. It's clearly a family owned operation and one that the family takes great pride in and is very hands on in the day to day execution of every element of the location.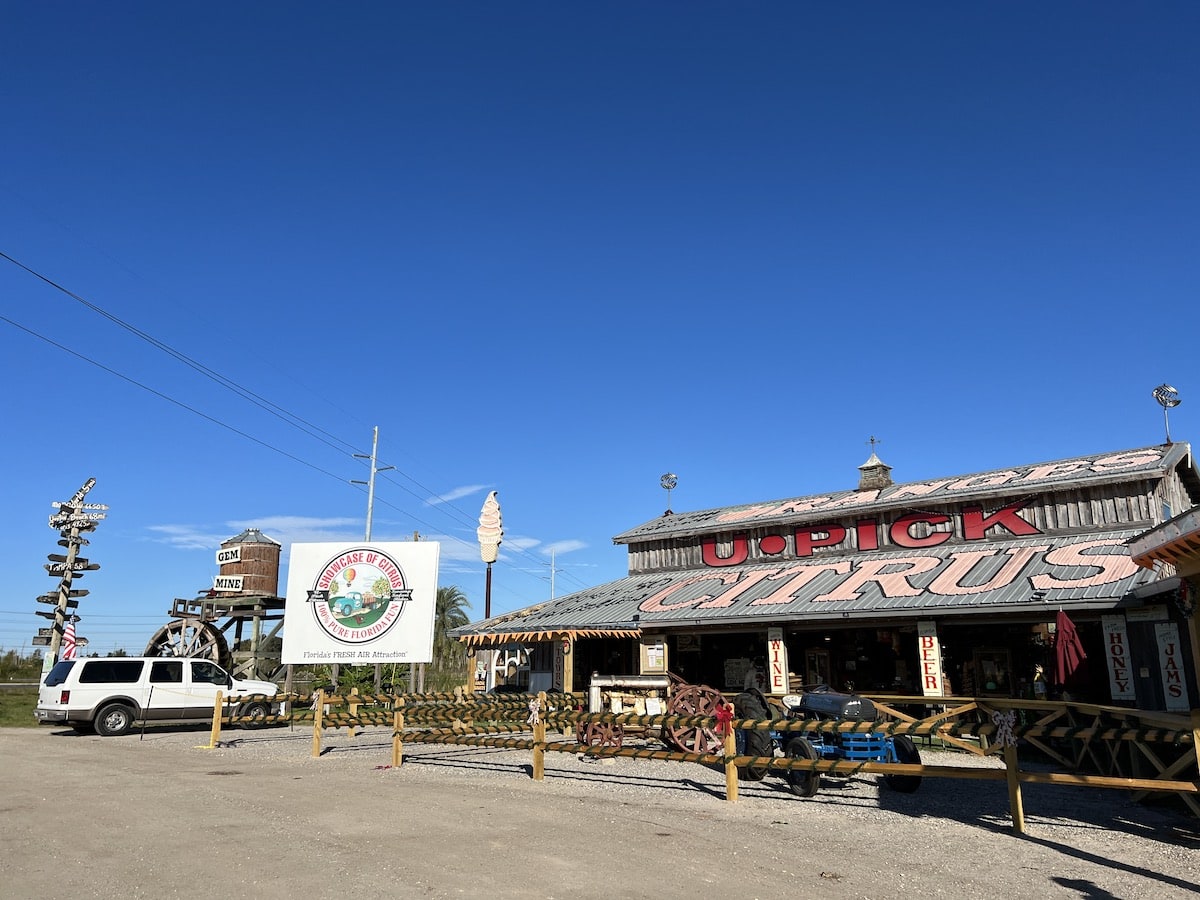 I do recommend visiting Showcase of Citrus first thing in the morning (they open at 9 am most mornings year-round) as we were visiting in November and it was still very warm by the time we left. Go early to avoid the harsh Florida sun and enjoy the cooler temps as well as lower crowds.
The property has a beautiful waterfront location and is easy to locate off of US Highway 27 in Clermont. Outside food is not only allowed but encouraged and it's a great spot for a family picnic with lots of areas for kids to safely play and explore and enjoy the fresh air.
There is no admission required to enjoy Showcase of Citrus property or take a tour of the grounds or browse the adorable general store. Showcase of Citrus offers multiple options for tours and you will want to plan for half a day if you plan to enjoy every attraction the location has to offer.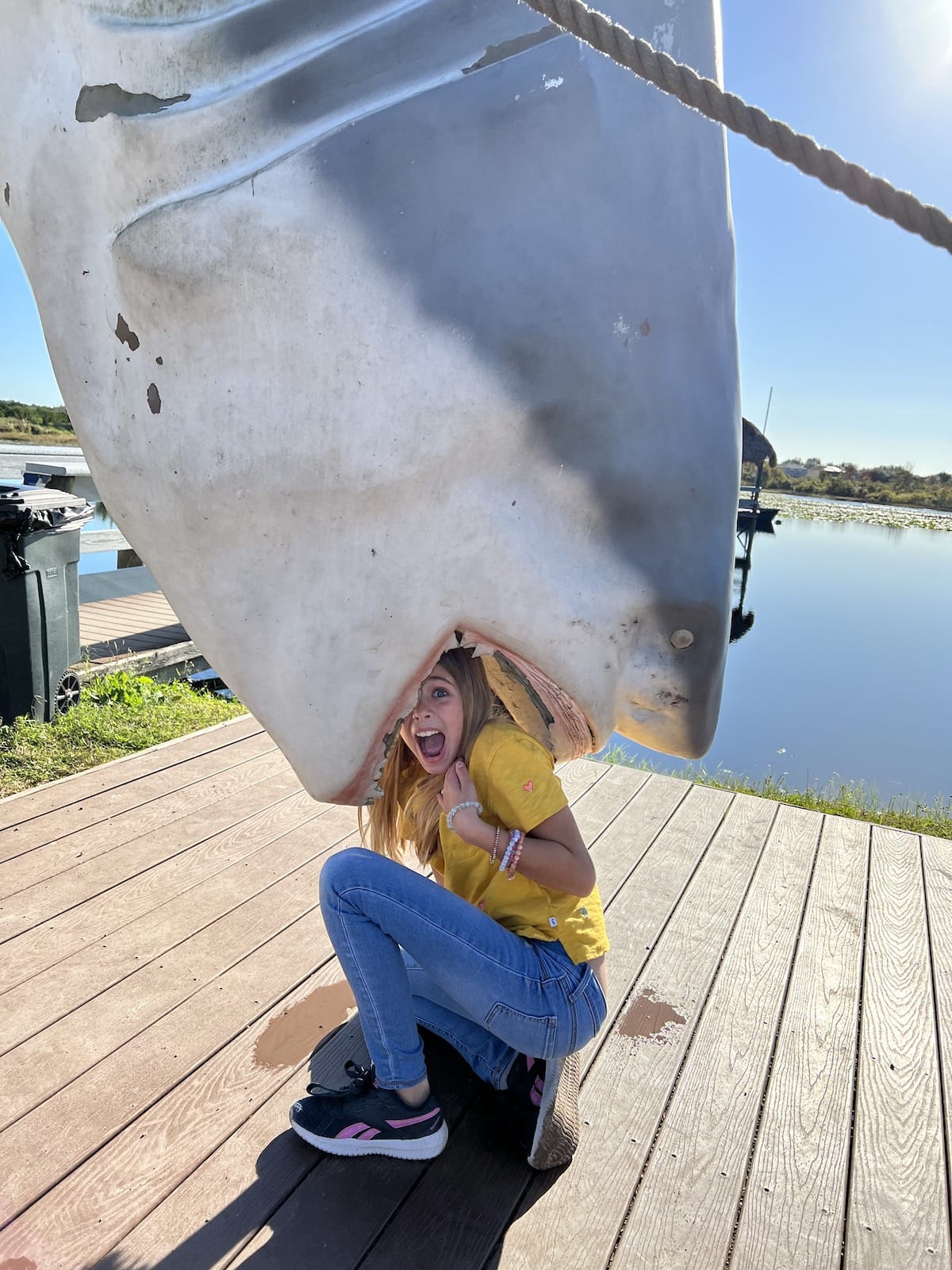 Things to Do at Showcase of Citrus
When I learned about Showcase Citrus I was on the hunt for something extra special and fun for Spear as part of his fourth birthday celebration trip. He is OBSESSED with all things vehicles and construction and demolition and when I learned that Showcase of Citrus is home to not just a truck tour but a monster truck tour I was SO pumped.
We have done a wild animal monster truck safari type experience in the past but that was more a jeep style vehicle and Spear was also too young to remember it so I was very eager for our whole family to get to have this experience and thankful to Showcase of Citrus for hosting us on our family fun day together.
I did not know what to expect for our day and was very surprised to learn that Showcase of Citrus has SO much to do beyond the monster truck tour!
Play Area
The first tour of the morning was at 10 am so we arrived right at opening to have some time to make sure we were checked in and to also explore the area a bit. Showcase of Citrus has a MASSIVE play area. Truly it was like HEAVEN for a tractor-loving kid like Spear! He would have been content to spend the entire day in the sandpit with all of the construction vehicles and tractors. Especially the operational excavator. Even big brother and Daddy enjoyed that!
There is also plenty of other playground equipment and outdoor activities to keep kids happily playing. Slides, swings, and other playground fun and plenty of seating for parents in the shade as well.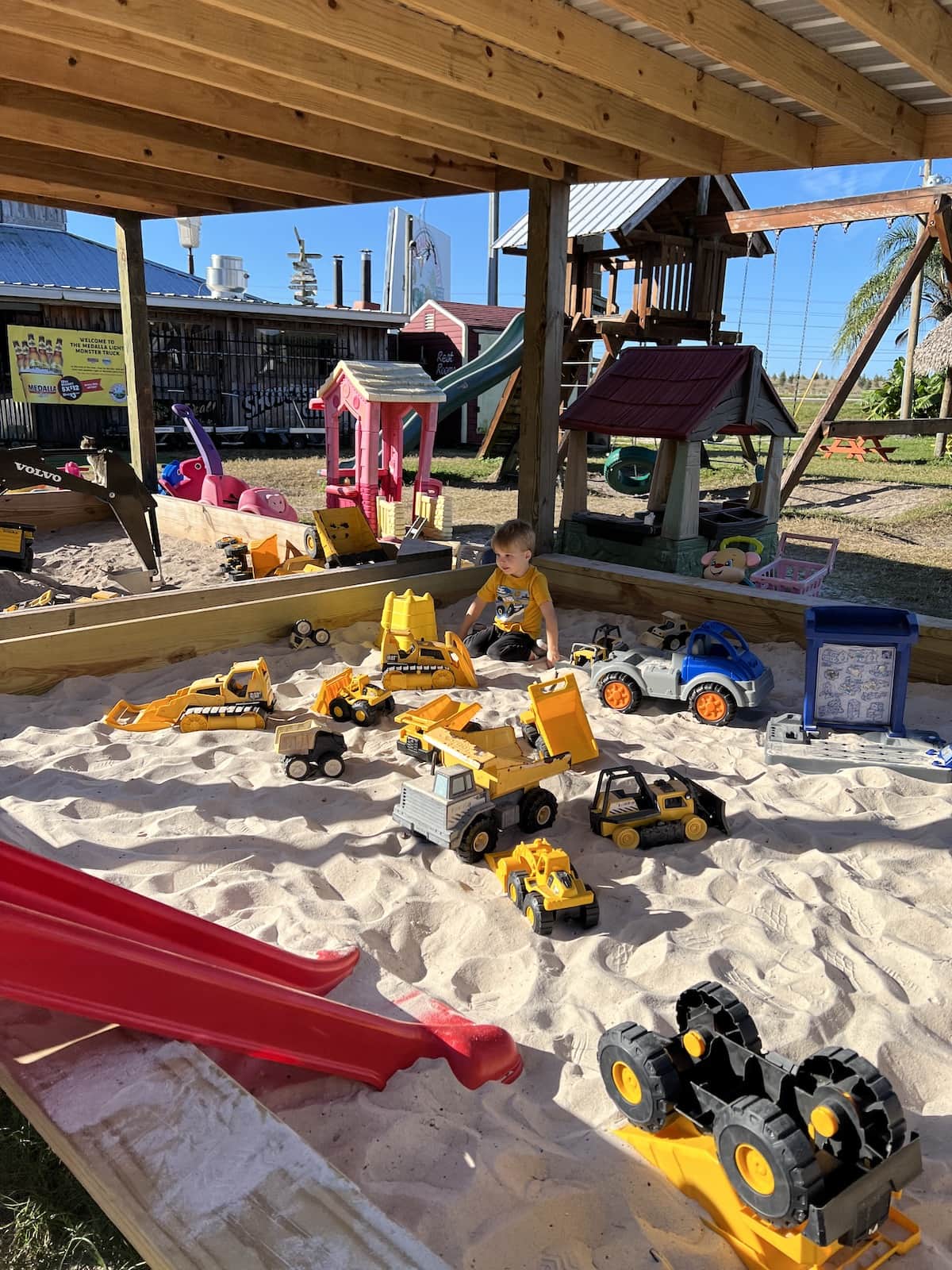 Photo Opportunites
If your kids are anything like mine they will also love just walking around Showcase of Citrus and seeing the eclectic mix of decor items – perfect for LOTS of picture taking.
I let the girls have my phone and they had a blast exploring together through the general store and around the property taking all the pictures of each other.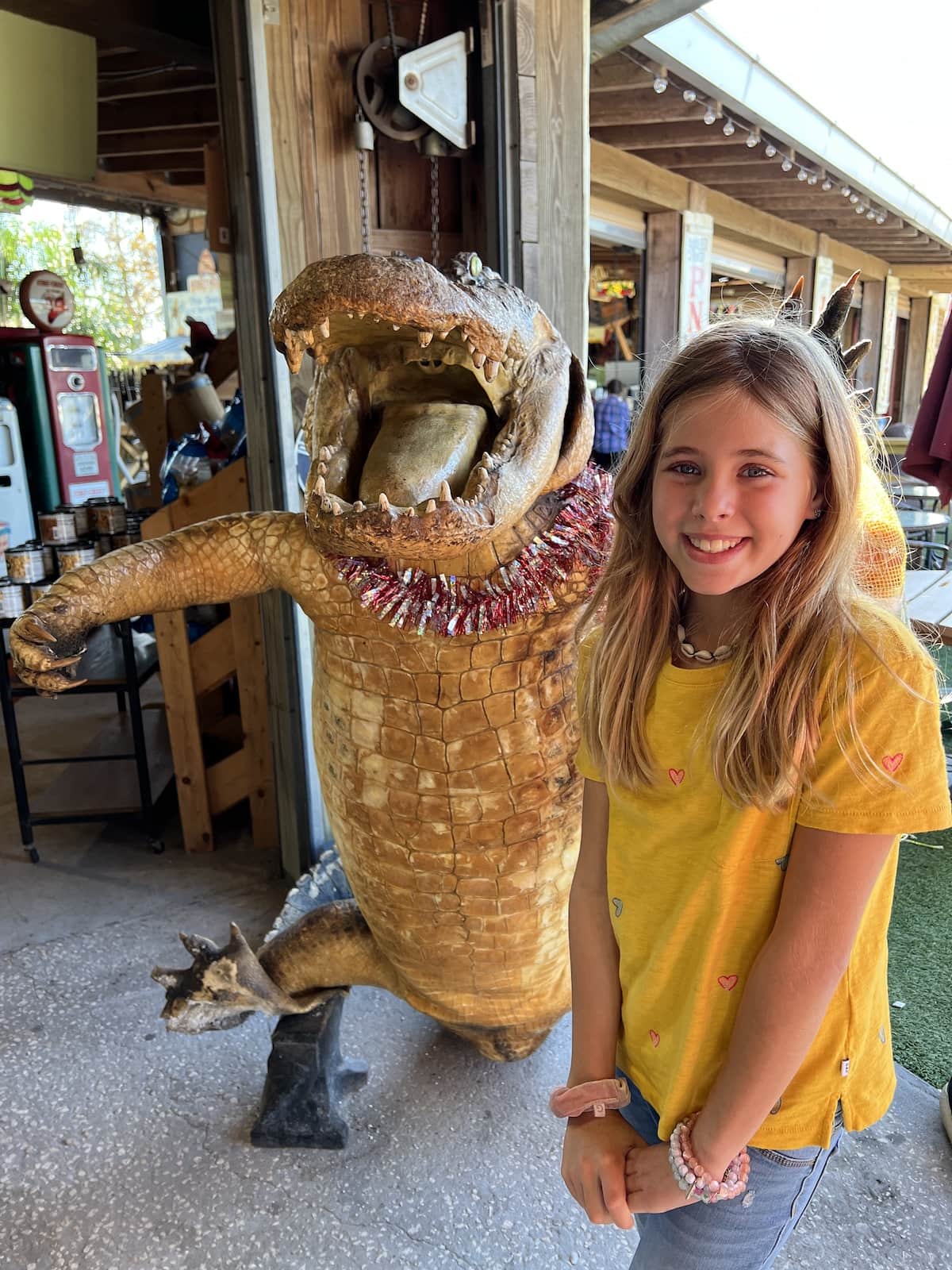 It all has a very welcoming and comfortable feeling and is fun to look at all the unique collections of items on display. Again, everything was very family-friendly. Even though we have a bit of a wild child in Spear at times, I wasn't nervous about him breaking something. Everything was touchable and we felt instantly at home!
It is a pet-friendly location and there were even cats hanging around who were friendly too!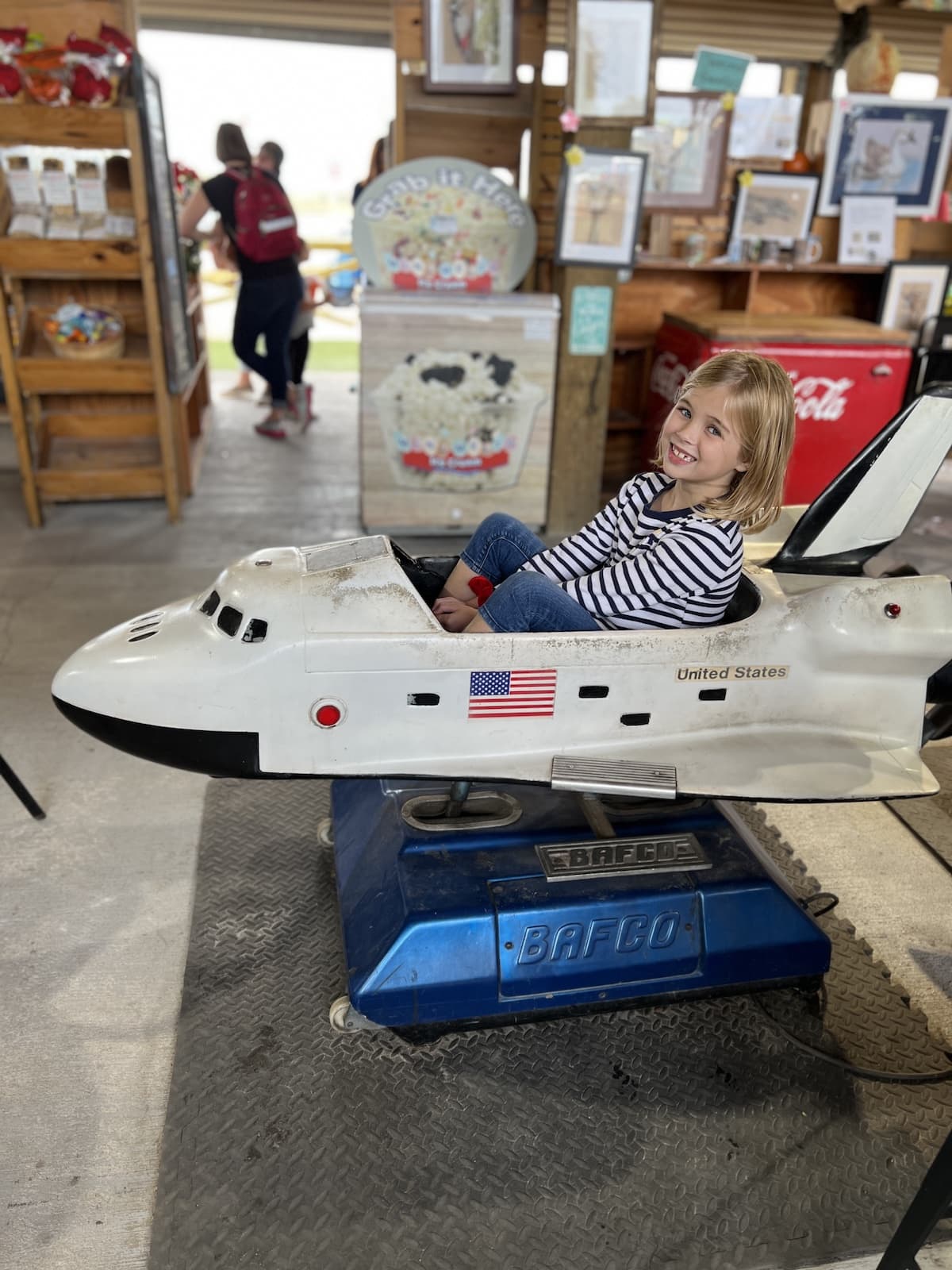 U-Pick Citrus Farm
Showcase of Citrus is a farm with many seasonal fruit options available to pick depending on the season. They have a huge grove that does require a wristband to enter as well as a large sign with map to let you know what is in season and available for picking as well as where the crops are located. They offer oranges, grapefruit, tangerines and more! You pick citrus options perfect to take home from your Florida vacation.
We did not participate in the u-pick option while we visited but it is something I can see us going back to do in the future.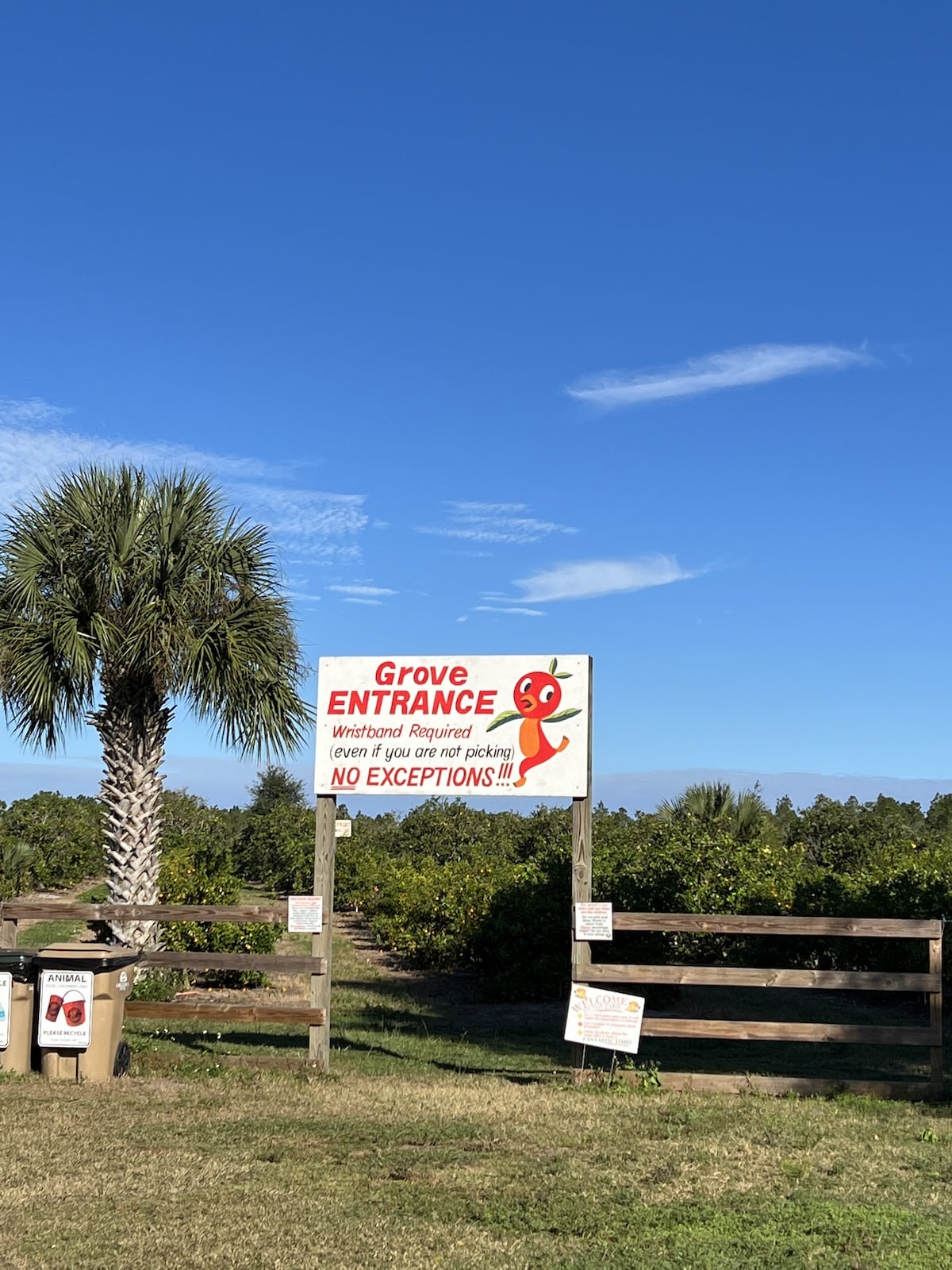 Feed the Animals
Not only is Showcase of Citrus a crop farm it is also an animal farm with many farm animals on property and food available in the store to feed them. They have mini horses, donkeys, pigs, goats, kangaroos, emus, chickens and more.
I have had a rough prior experience at a petting farm (you can read about my MRSA nightmare here) so I am no longer alllll about touching animals the way I used to be! We knew the Monster Truck tour would include animal sightings so we just let the kids play on the playground and in the sand pit area and opted not to check out the animals on this visit.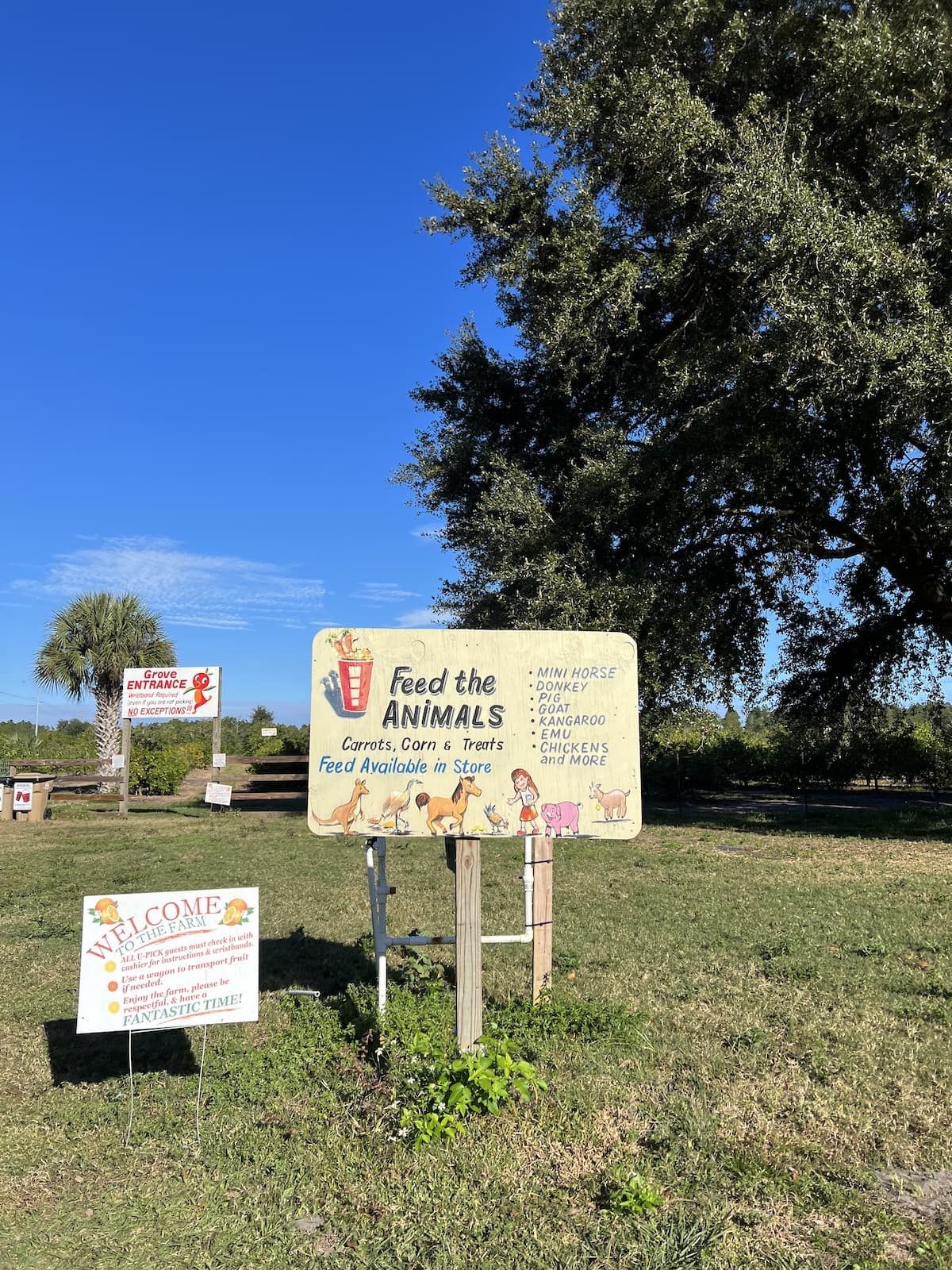 Gem Mining
When we saw the Gem Mine we knew it was a must-do for our crew! What kid doesn't love mining for gems? I remember as a kid loving adding to my never-ending rock collection and my kids are exactly the same way.
You can purchase the mining materials from the general store and they offer different sized bags for different prices. They also include a card to recognize the different types of gems you find and include a cup to keep your treasures in!
While Spear was happy to stick to the tractor sandbox, the big kids loved the chance to mine for gems together! We did the $12 bag and it was plenty big. Gem mining is available anytime during opening hours and we didn't have any sort of wait or anything for the experience.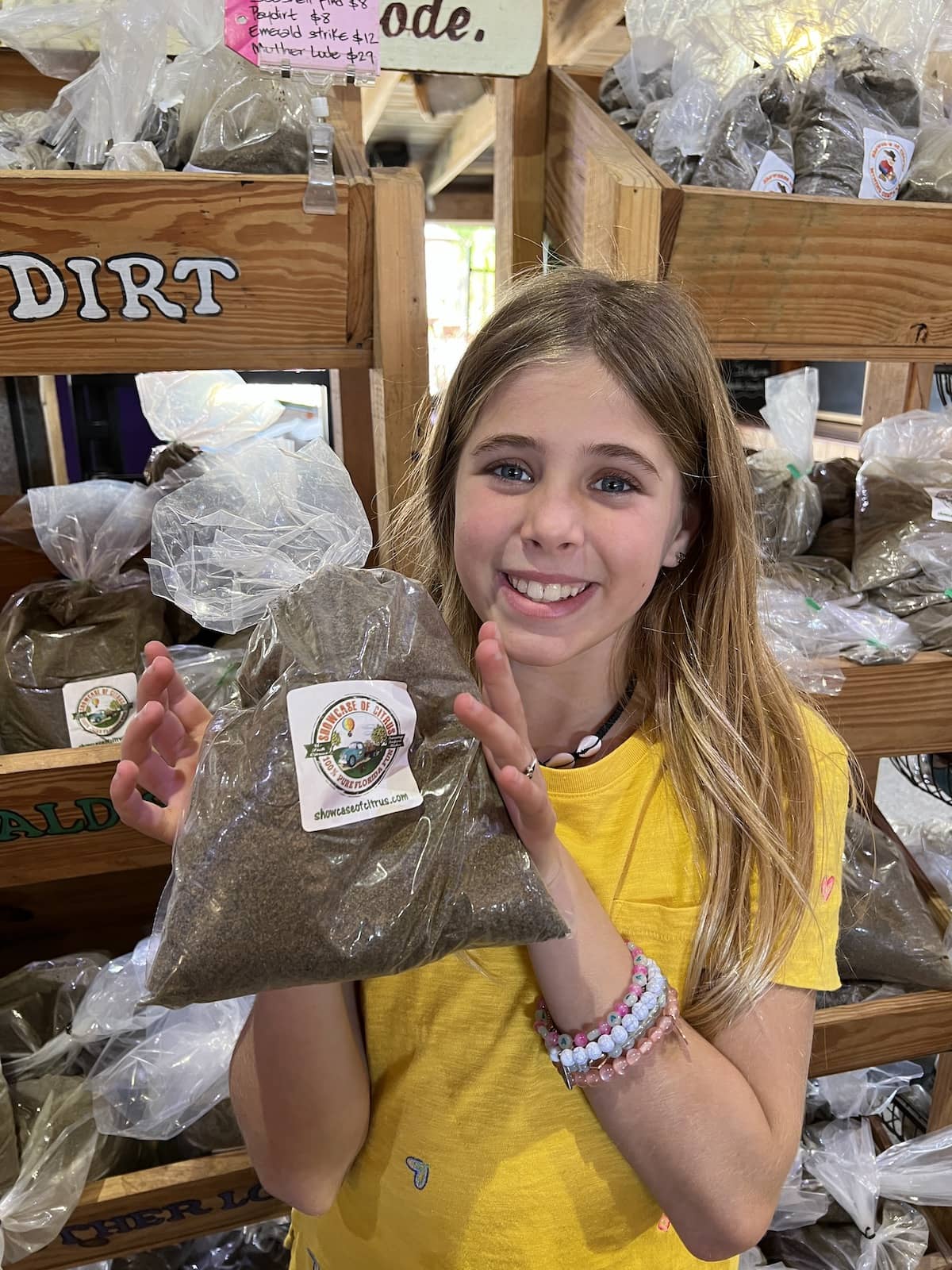 Visit Showcase of Citrus Old Time Country Store
The Showcase of Citrus gift shop is very much set up as an old time country store with the fun vintage items as well as an abundance of local offerings. From honey to jellies to old-time sodas to cute toys and gifts and souvenirs. There is lots to see and purchase throughout the shop.
We bought a Christmas ornament as part of our family tradition whenever we visit a new place or make a fun family memory that we want to remember!
Items from the Showcase of Citrus Old Time Country Store can also be purchased on their website.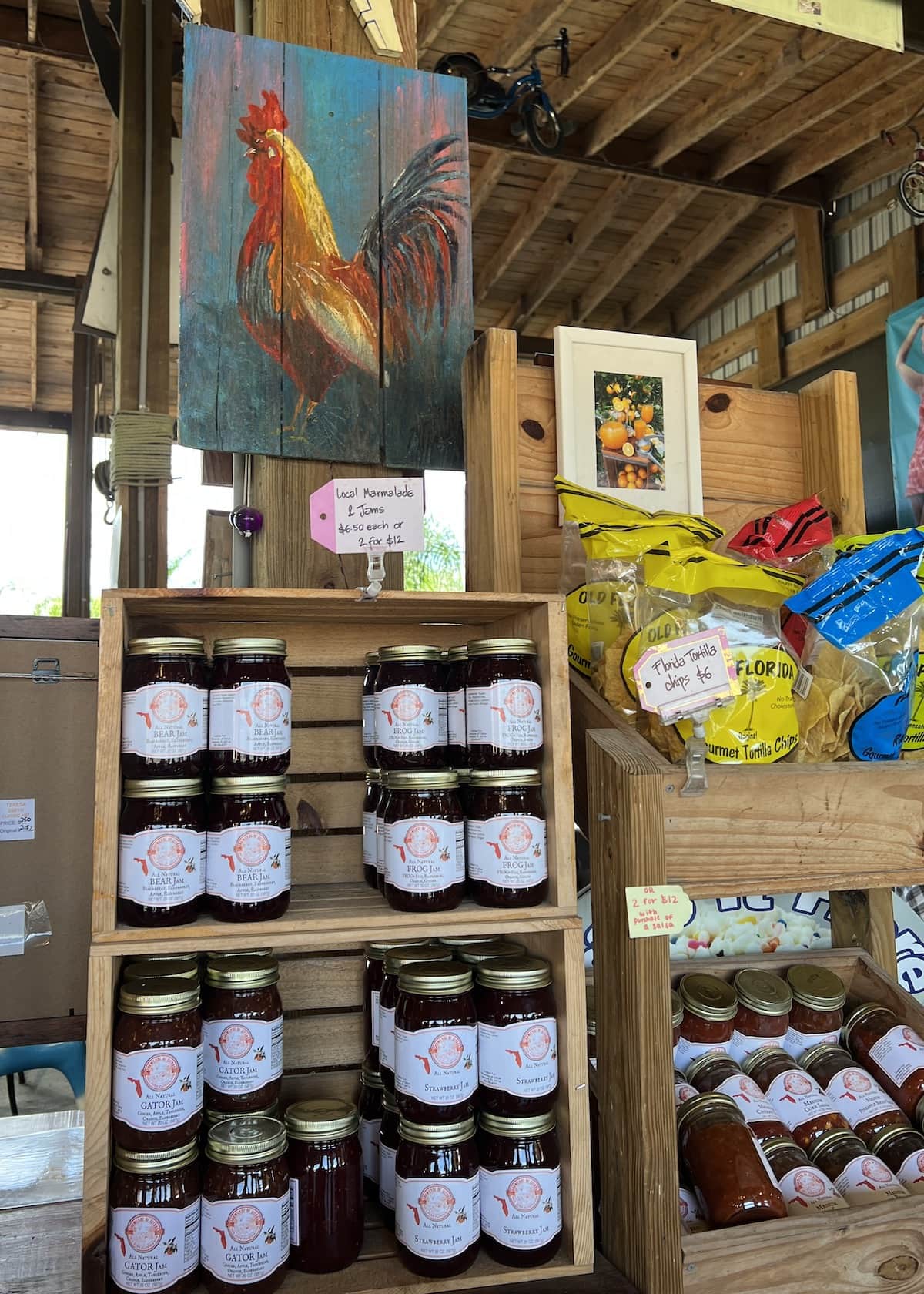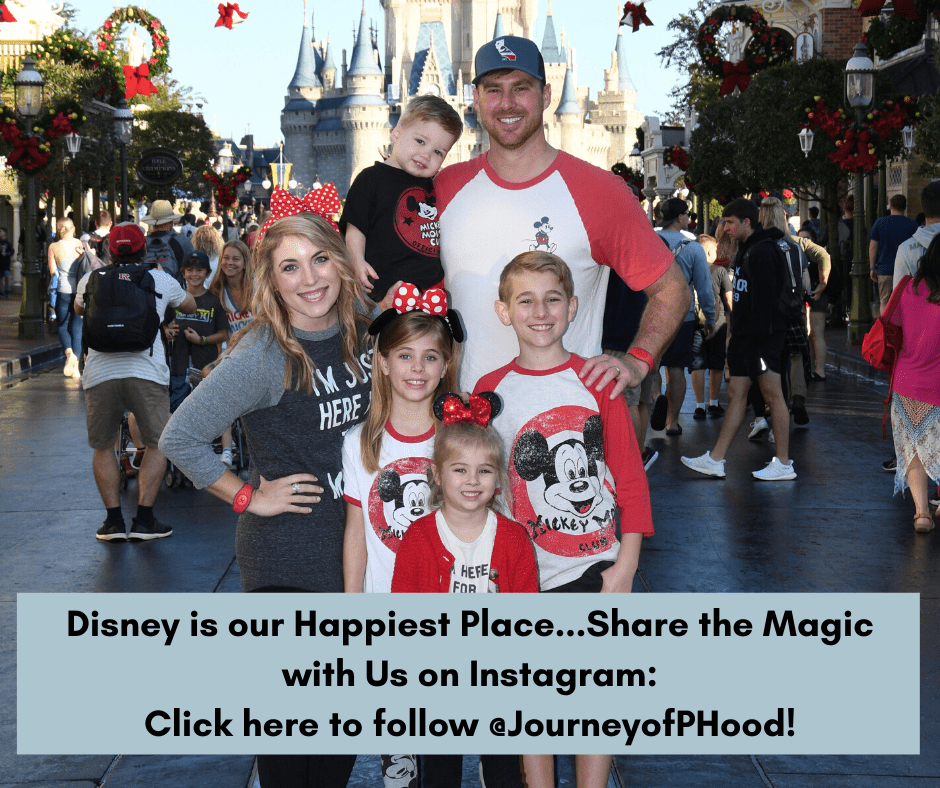 Showcase of Citrus Monster Truck Experience
While we discovered many things to enjoy about Showcase of Citrus, our main purpose was for the monster truck tours they offer each day! They are home to the world's largest 4×4 and offer multiple times for monster truck rides.
Cost to Ride Monster Truck at Showcase of Citrus Monster
We booked the earliest, first available, booking for our tour of the day. The daily tour schedule is available on the Showcase of Citrus website. Reservations are recommended and it is also recommended to arrive at least 30 minutes before your departure time.
The monster truck tour is about an hour in length and all ages are welcome. Children under age four are free, ages 4-12 are $15 each and adults ages 13 and up are $25 each. Tickets can be purchased online, over the phone or in person. It operates rain or shine!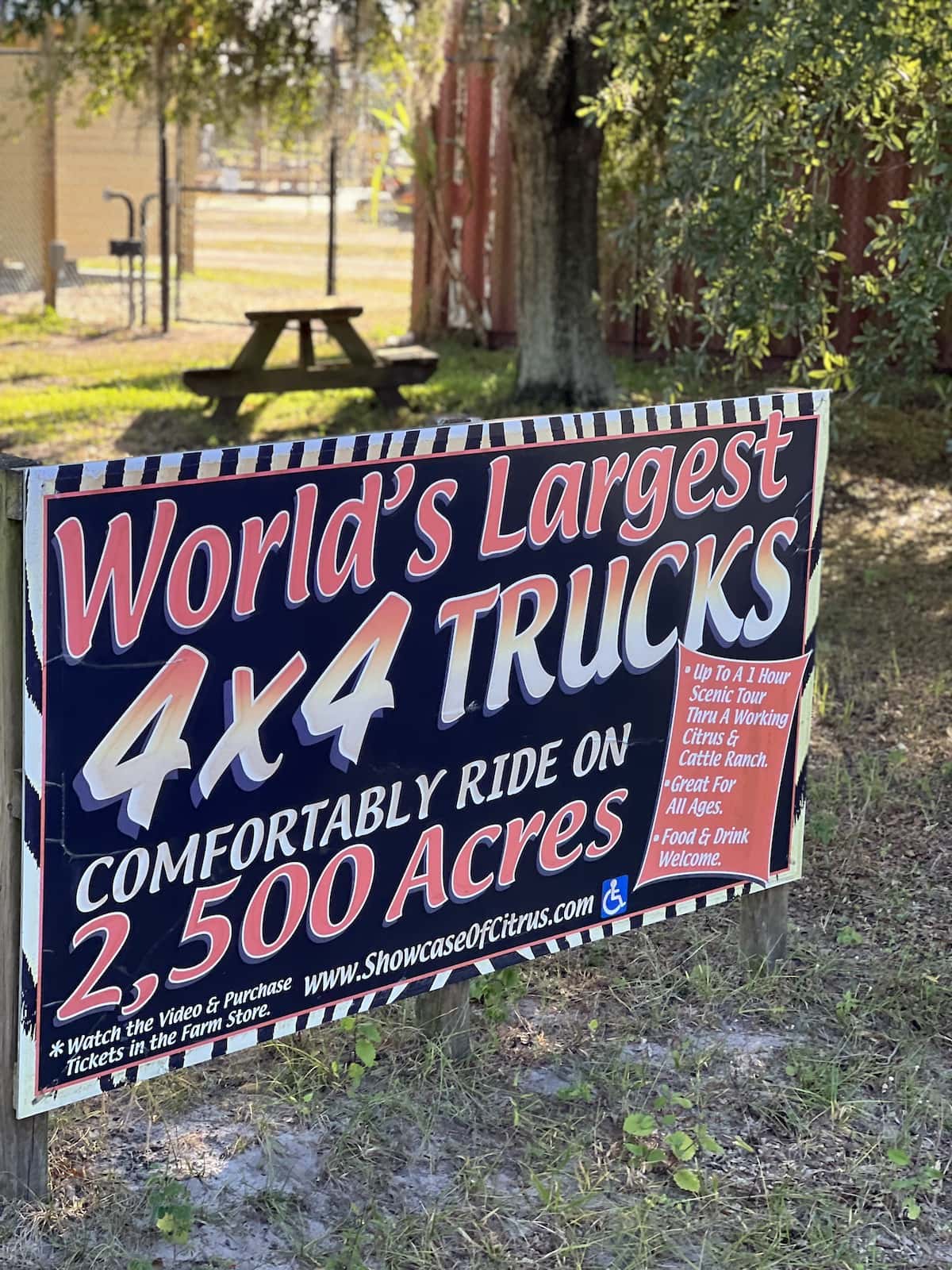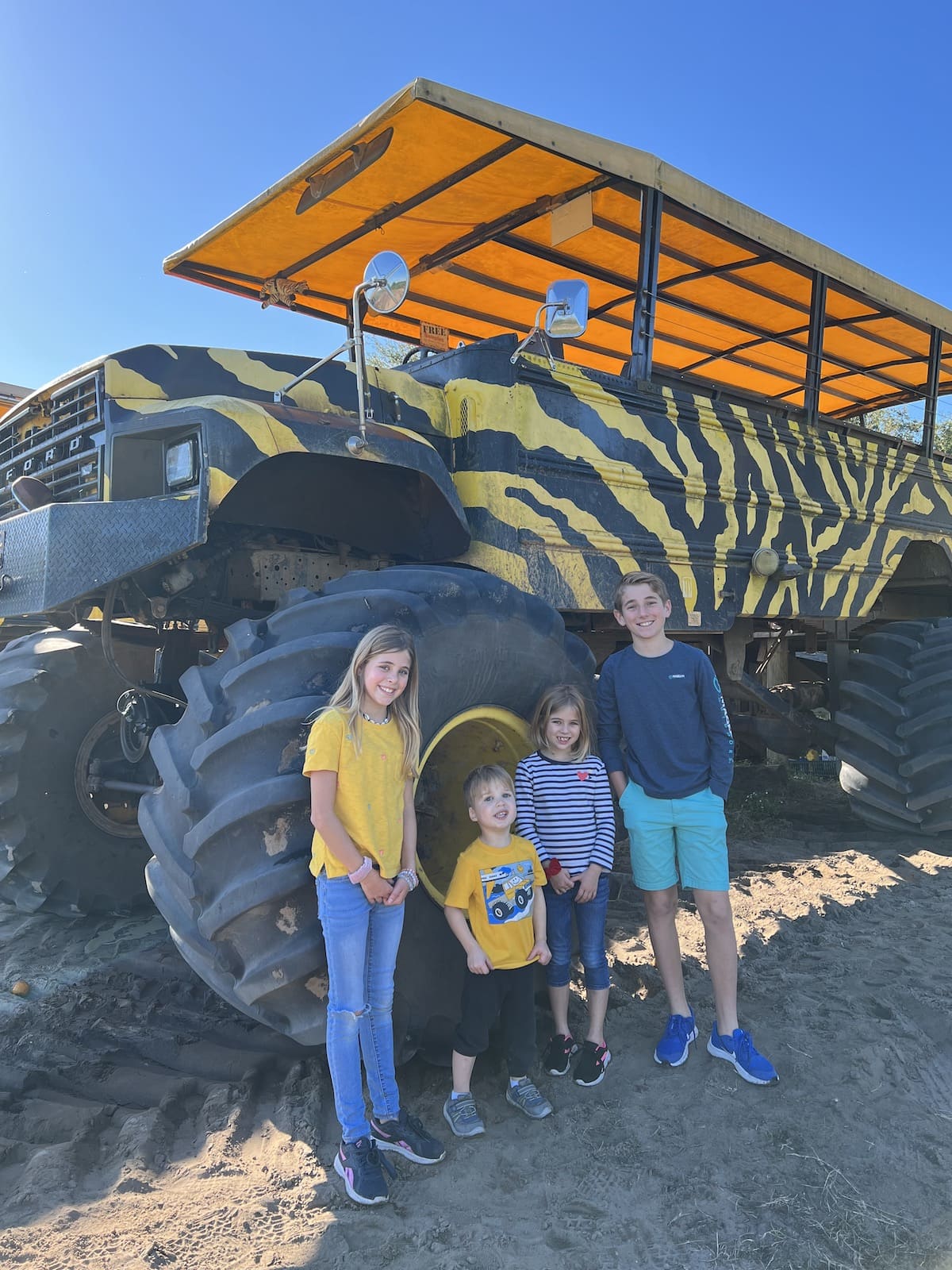 What to Expect on the Showcase of Citrus Monster Truck
They are HUGE! They are highly modified tricks and the large wheels actually make for a very smooth and relaxing ride. The windows are open and there is great airflow throughout but it is also very high sides as well as thin bars across the openings and I felt very safe, even with my four year old.
Our tour also had other families aboard and younger children than ours as well and everyone was very comfortable and relaxed. The truck's seats are 12 feet high and the trucks themselves are 14 feet wide, 16 feet tall, and 40 feet long.
While the truck does have a covered top to provide shade, the Florida sun still shines on through. We had beautiful weather but were very glad to have brought along sunglasses and I cannot stress that enough! Be sure to bring sunglasses both for yourself and your kids too.
Each ride is not just a ride. It is truly a tour with a tour guide and everything! Our guide provided awesome commentary as we traveled through the 2,500 acre working citrus and cattle ranch property.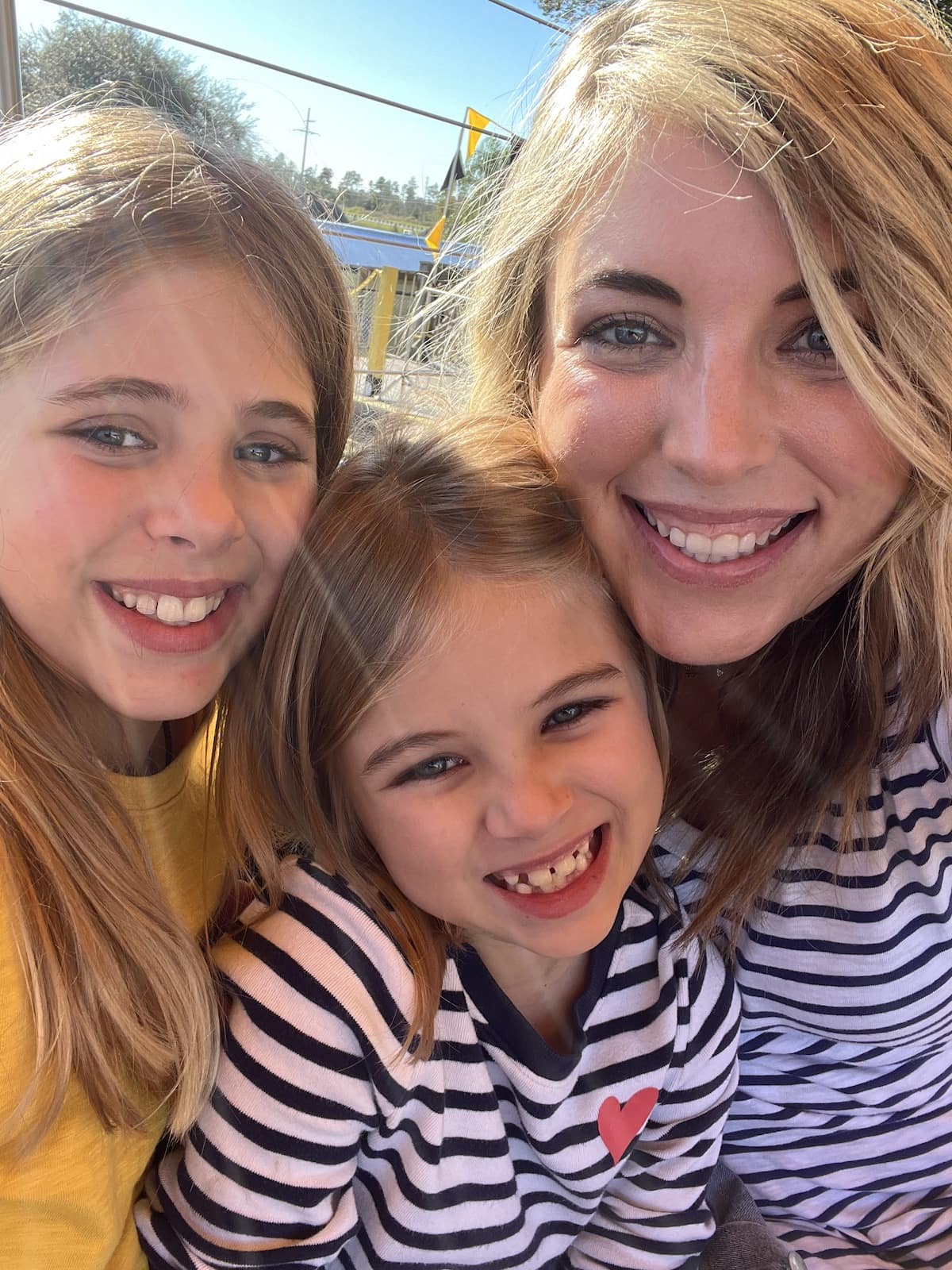 Animal Encounters on Monster Truck
It was so fun to see all of the animals along the tour! Part of the tour package includes a chance to even feed the animals, including zebras.
It was very exciting to get to feed the animals and throw the pellets for the animals to enjoy. The animals are free-roaming along the property so you may see: zebra, Watusi, water buffalo, alligators, snakes, exotic and native birds, and more! We were able to toss oranges to them as well as food pellets.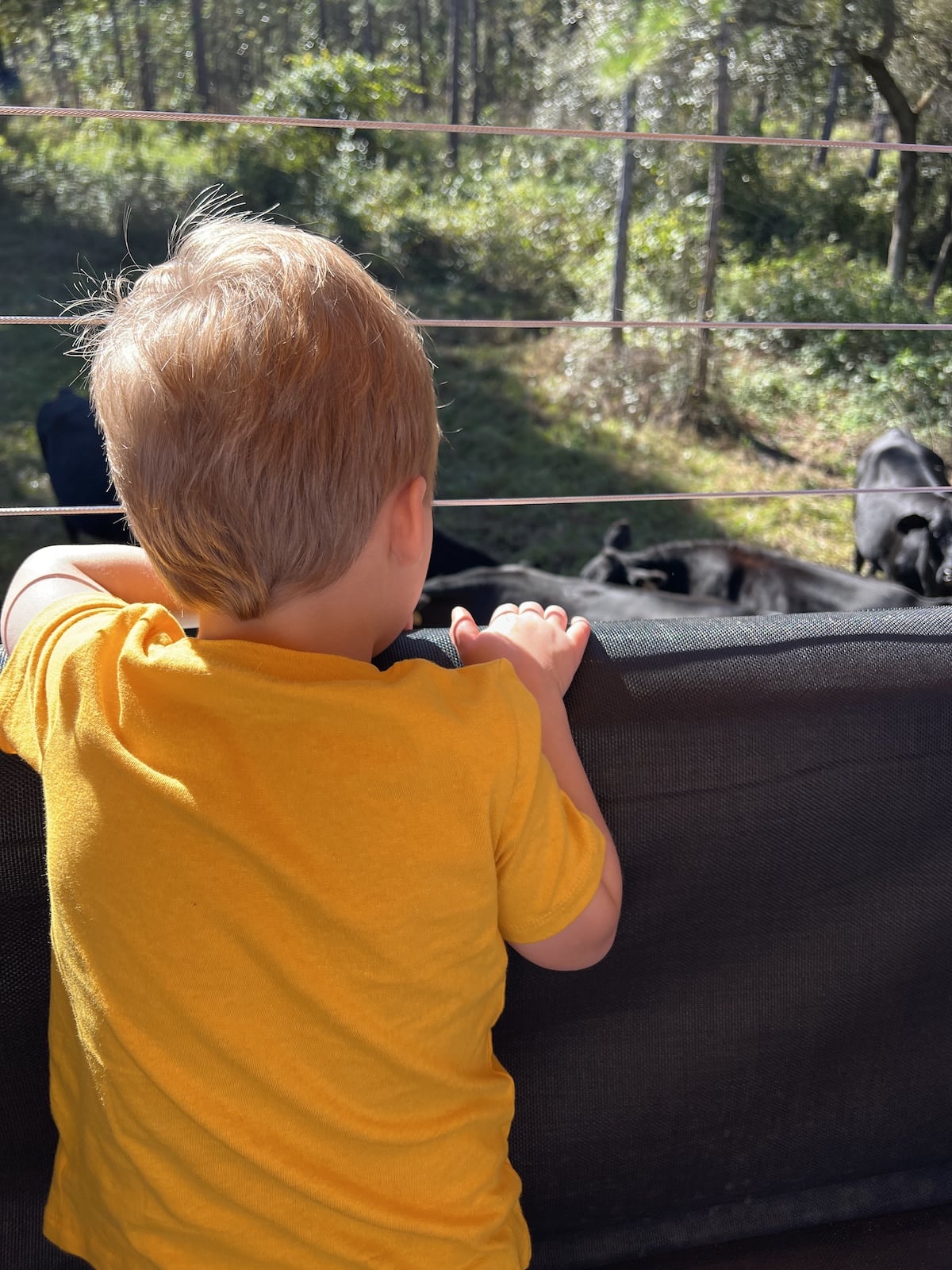 Ride Through the Swamp on Monster Truck
The animal feeding was fun and exciting but the best part of the monster truck tour at Showcase of Citrus was the ride through the swamplands! We not only spotted alligators but it was just SO cool to be in a vehicle and literally driving in the water.
Again, we felt very safe the entire time and the ride was very smooth. I tend to get car sick so I took Dramamine prior to our tour but I truly didn't need it as I wouldn't have gotten sick!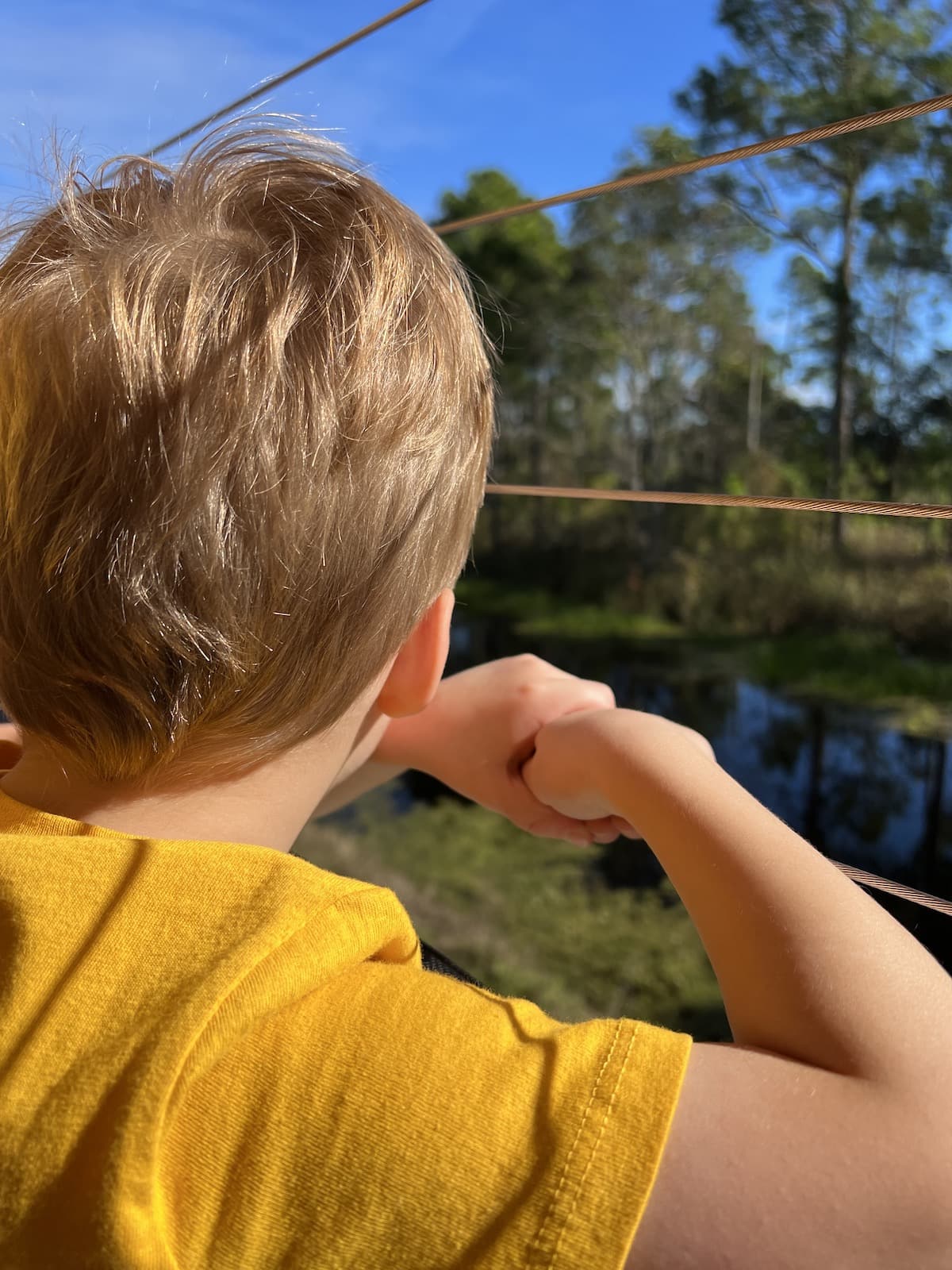 Review for Showcase of Citrus Monster Truck
We were VERY impressed with the monster truck tour. Not only was the vehicle super cool, but it was also very clean and very comfortable. I booked the tour for SPEAR. I assumed he would think it was awesome to get to ride in a Monster Truck and that would be that.
When I learned it was an hour long tour I was a bit nervous we'd all get bored. But it truly FLEW by. I was surprised, in the best way, at how FULL the hour was and how each moment was interesting and engaging. Not just for Spear, but for our whole family. Even the older kids had a blast!
I think the Monster Truck tour is a wonderful adventure for any family, especially for those with little ones who love vehicles and / or wildlife. I am thankful we had the opportunity for the monster truck experience and booking a ride on the monster truck is a great activity to plan for a family vacation to the Orlando area!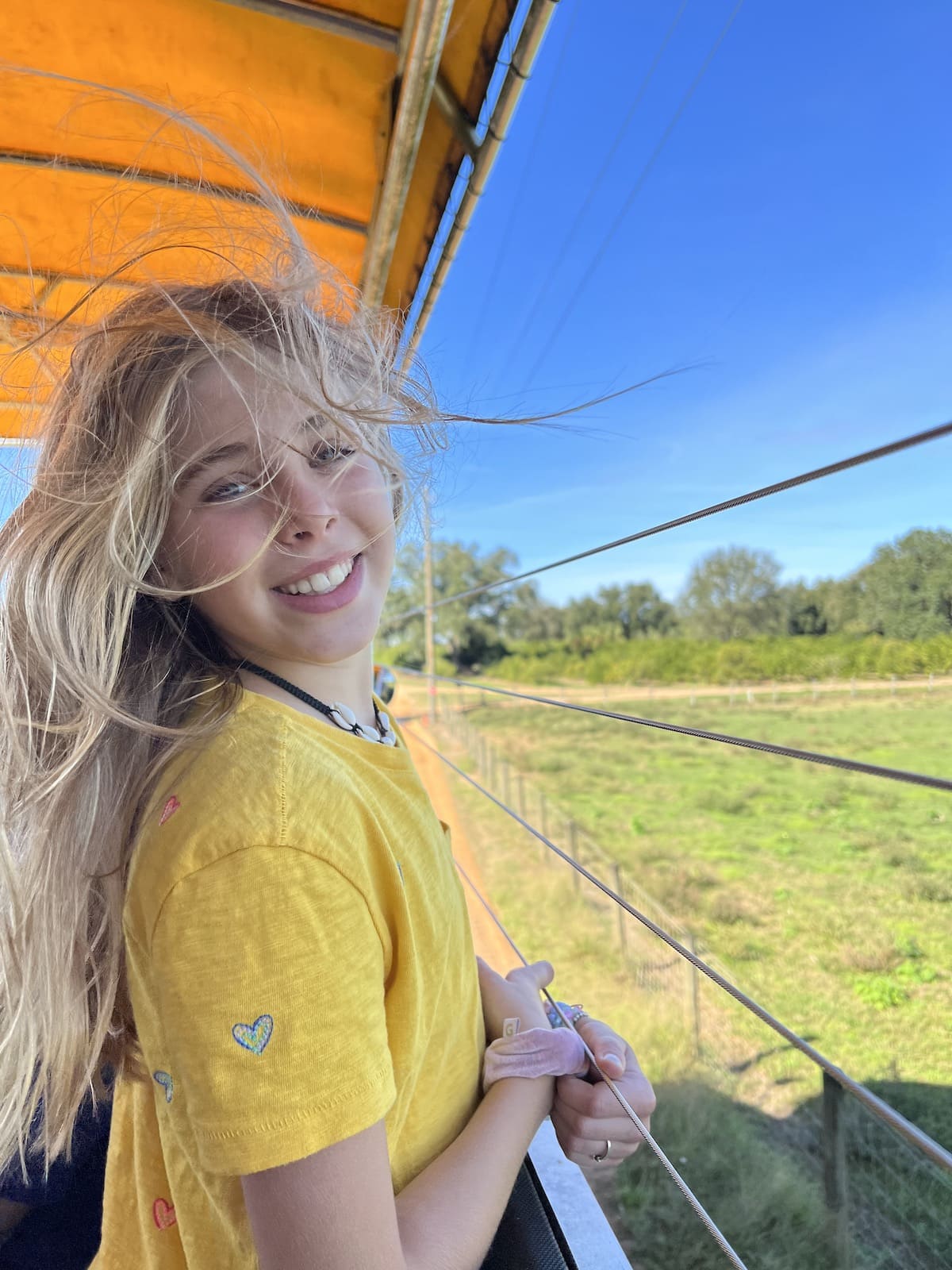 Additional Showcase of Citrus Tips
Following our monster truck tour we ended our time at Showcase of Citrus with treats! We saw food trucks located outside of the country store but decided to just get a frozen treat for each of us.
There are lots of food options in the Showcase of Citrus General Store including baked goods and citrus drinks. However, Showcase of Citrus is known for their famous orange creamsicle so that's what we got! You can get them layered with ice cream (the orange creamsicle) or with just ice cream on top (orange slushie) so we did a few of each option. They are made from the oranges grown on the property and are a must-have while visiting.
Even the smaller sizes are plenty big so I would recommend sharing as most of us were super full by the time we got done and no one drank their whole treat.
When planning time to visit Showcase of Citrus I would recommend bringing sunscreen as a lot of the activities are outdoors. I'd also bring a sack lunch and plan to take advantage of the beautiful location as the perfect picnic spot!
I would recommend booking the monster truck tour in advance and securing the first ride of the day. We arrived when they opened at 9 am and were finished up with our truck tour, playing on the playground, drinking our creamsicles and exploring the property and general store by lunchtime!
Disney World and Universal and other theme parks are expensive for families. They also are very draining and take up a lot of time as well as planning and can be stressful. I love finding experiences like Showcase of Citrus to enjoy on non-park days. There was something for everyone and it was a fun memory-making kinda morning for our whole family.