This is our experience visiting Gatorland, which included ziplining in Orlando, Florida! If you're looking for a fun, family vacation in the Sunshine State, this is a serious contender!
As annual pass holders at Walt Disney World we LOVE doing all things Disney and spend tons of time at the parks.
Since we own a Disney Rental House in Orlando, we are trying to branch out a bit and see what other fun family things the area has to offer aside from Disney 😉
Out of all the Birthday Surprises we had for Britt's birthday I was THE most excited for our Gatorland day!
Britt's favorite animal is alligators and I knew she'd love getting to explore this fun area and I knew she'd flip about getting to zip line for the first time ever too.
If you're thinking of visiting Gatorland, Orlando Florida as a break from Disney World or Universal here is some info for you:
What is Gatorland?
Gatorland is the alligator capitol of the world.
It is located in Orlando, Florida and has been in operation since 1949!
Along with the many animals that can be seen at the park, Gatorland also features tons of different activities for families!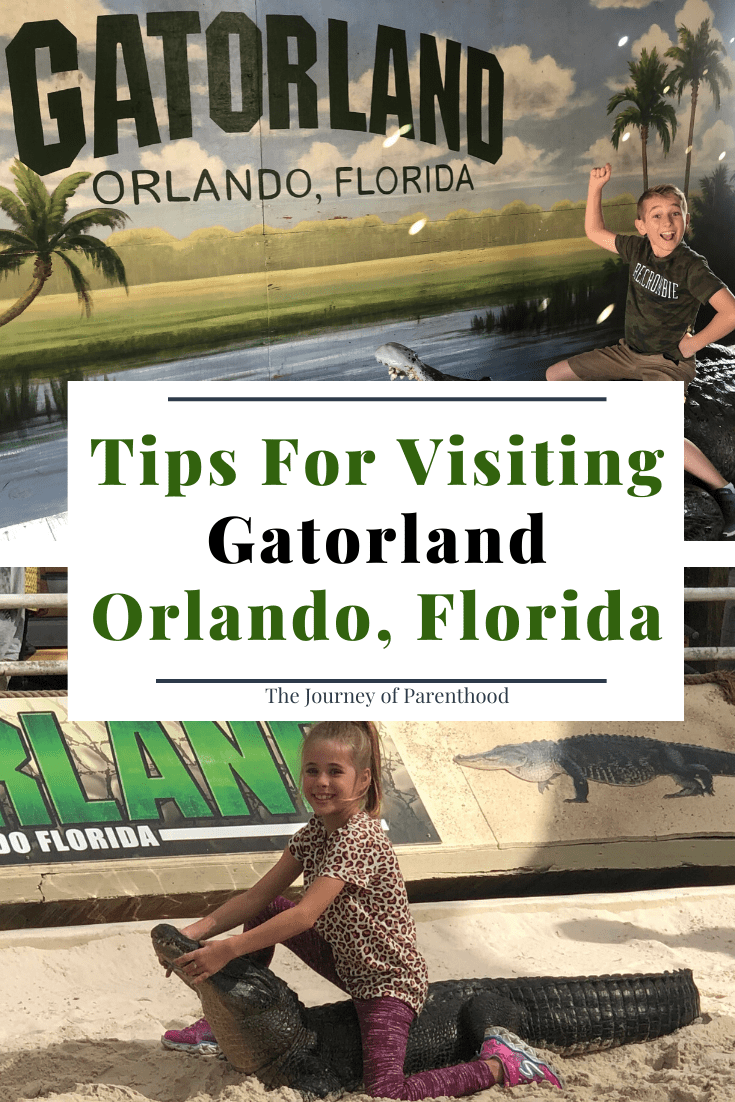 How Much Does Visiting Gatorland Cost?
Gatorland is a popular tourist attraction which means there are many discount options available.
Tickets can be purchased on their website here.
However, I recommend looking at other avenues as well.
I was able to purchase a bundle package on Groupon for the ziplining experience that included park admission and both were cheaper than the regular admission price.
Gatorland often offers deals and discounts so keep an eye on it and wait to purchase until close to your travel dates.
However, keep in mind ziplining requires a scheduled time that has to be made in advance.
What To Expect When Visiting Gatorland:
The hours vary but when we visited they didn't open until 10 am.
We set aside the full day for the park and ended up being done around 2ish.
So expect to spend 5-6 hours!
The rules state no outside food or drink is allowed, but no one checked anything we brought with us at all.
I did bring in food for Spear, our toddler, but if we visit again I'd probably try to bring in food and snacks for the whole family.
I was frustrated by the cost of all the things within the walls of the park.
You pay admission…and then you're being asked to spend more money everywhere you look.
I know it's a tourist location but I was put off by the pushing of spending.
The shows all ended with a chance to meet the animals…for a fee.
It is not a huge zoo and is not overly intimidating by any means.
I would be totally comfortable going alone with my children.
Everyone who we met that worked there was very kind and the entire vibe was very relaxed and fun!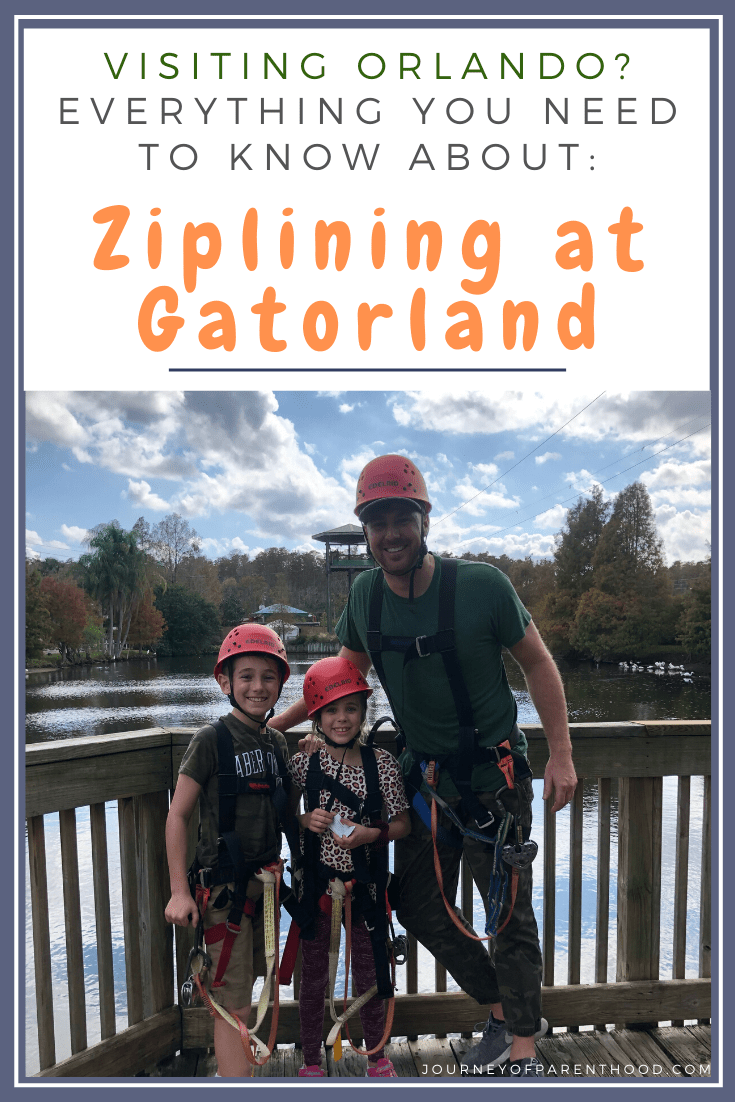 Ziplining at Gatorland in Orlando, Florida
The zip line at Gatorland is called Screamin' Gator Zip Line and has been voted as one of the best zip lines in America and is over seven stories tall.
As mentioned earlier, I'd recommend looking on Groupon or googling for discount codes before purchasing tickets.
Guests are able to zipline over alligators and their breeding marsh! A gator zipline? I mean how cool is that?!?!
There is no age requirement for ziplining at Gatorland.
Children must be 37″ to zipline and adults must weigh under 275 lbs.
Be sure to wear closed toe shoes and to have on pants or athletic attire.
Prior to your scheduled appointment you will need to check in at the Zipline booth area to fill out paperwork and sign wavers.
Our Day at Gatorland
The main goal in visiting Gatorland was for Zach, Kye and Britt to be able to zipline.
Tess is tall enough but I knew she wouldn't want to… and I also knew there was no way myself or Mrs Charlotte would be doing it either 😉
We arrived at the park right at opening and didn't have our zip line reservation until noon so we had plenty of time to check things out and catch a couple of shows too!
A video should automatically play on this post showing our day at the zoo as well as the excitement when we told the kids our plans and some of their ziplining fun too!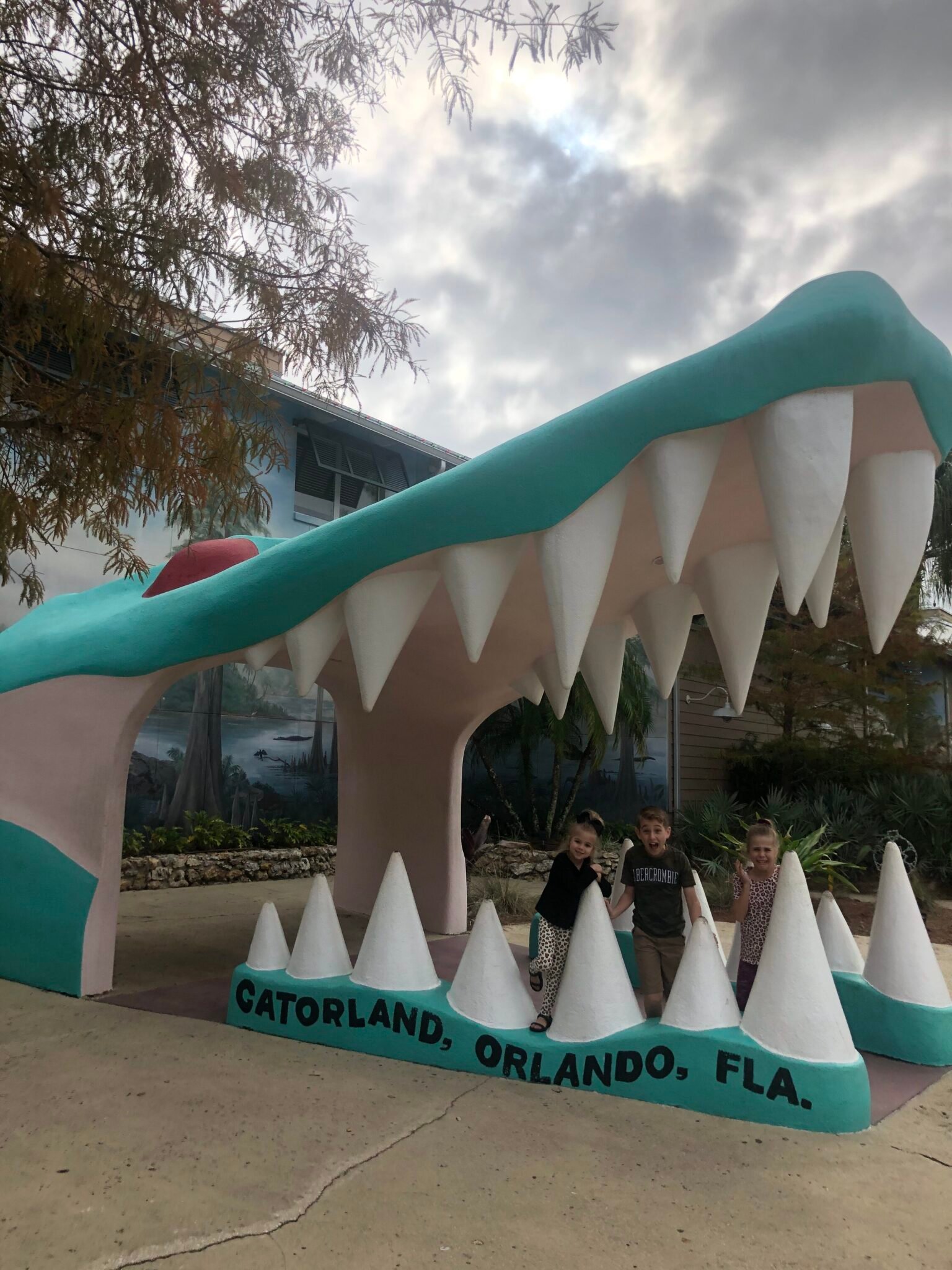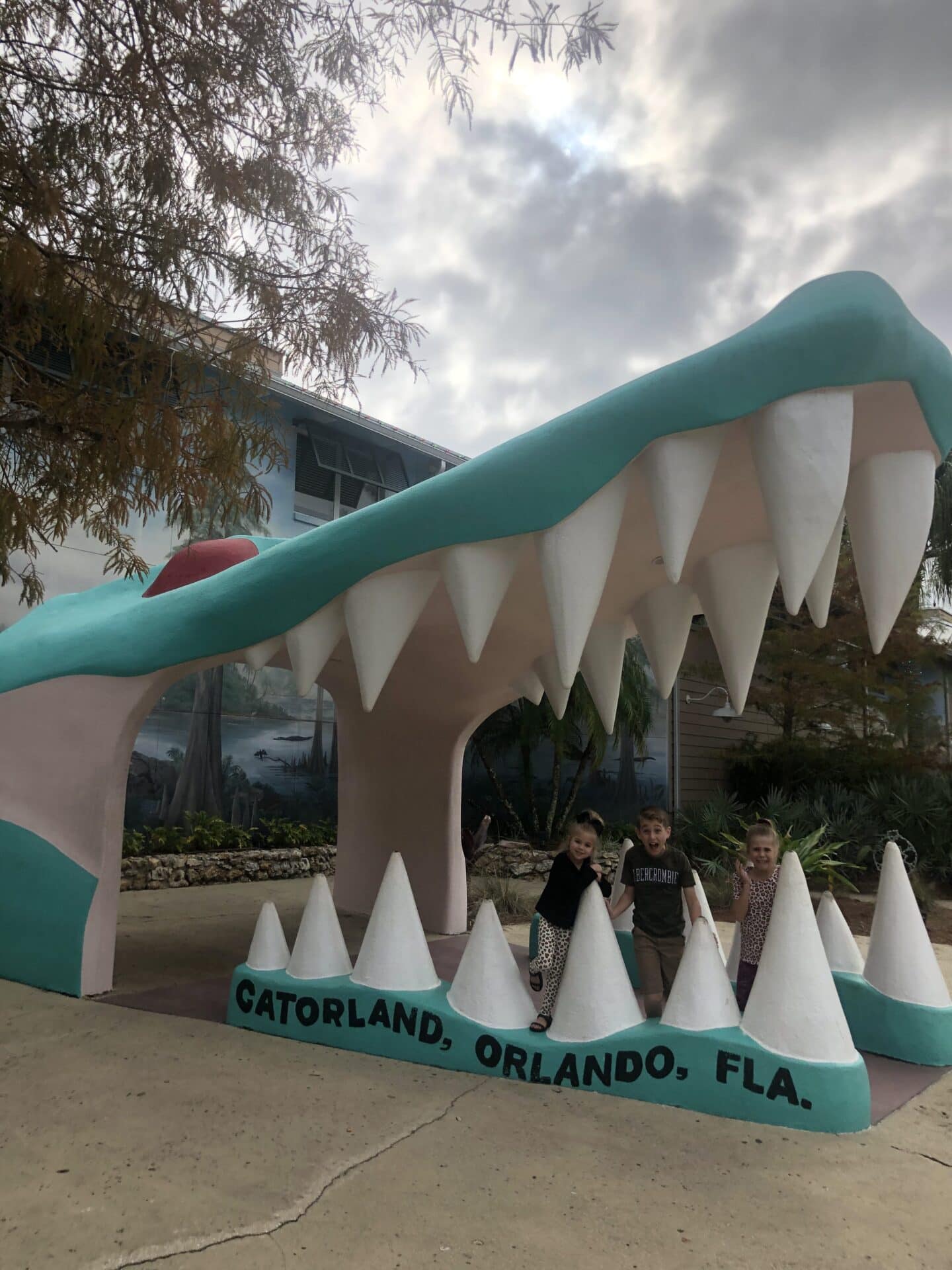 We checked out all the giant alligators as well as the aligator breeding area and the birds and went ahead and got the paperwork squared away for the zip lining.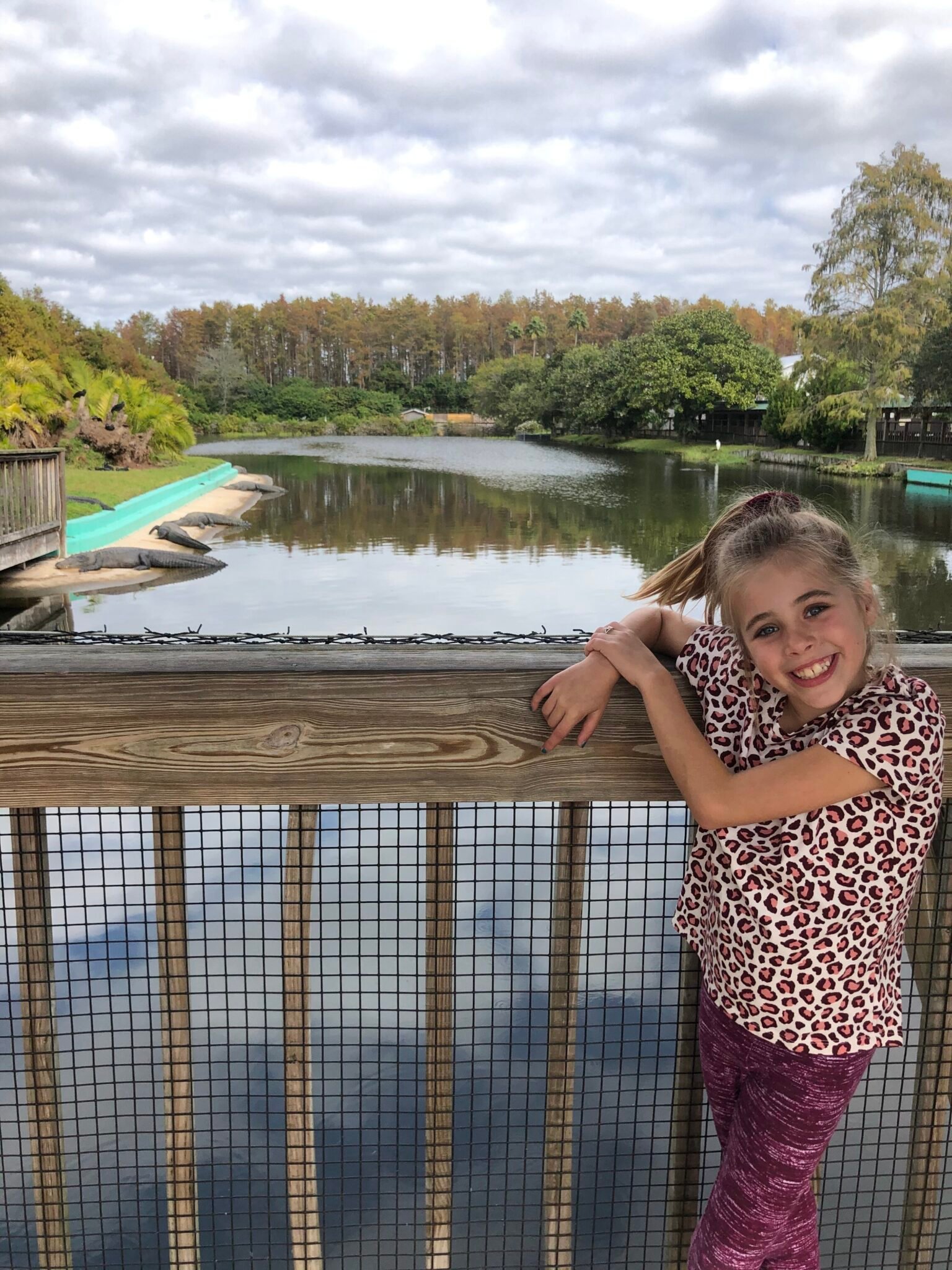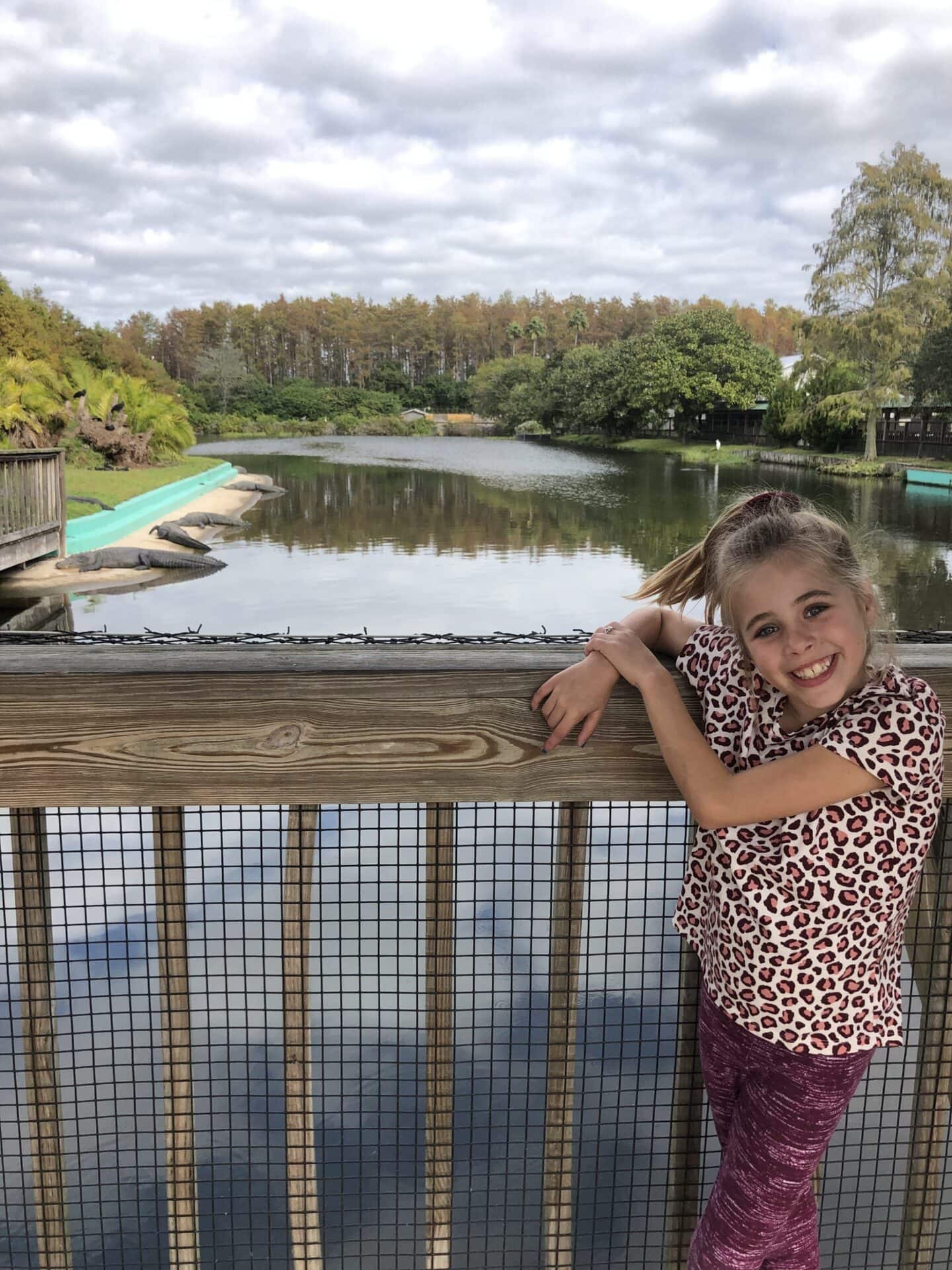 The environment was very relaxed with lots of spaces to explore. It never got crowded our entire time there and I can't really picture it ever getting super crowded anyway?
It is a very similar set up to The Alligator Farm in St Augustine Florida.
When comparing the two, Zach preferred visiting Gatorland and I preferred Alligator Farm.
I loved watching the alligators eat and loved the bridge hearing the alligators growling too.
That being said, we didn't spend a TON of time exploring every single part of Gatorland since our main focus was on the zipline!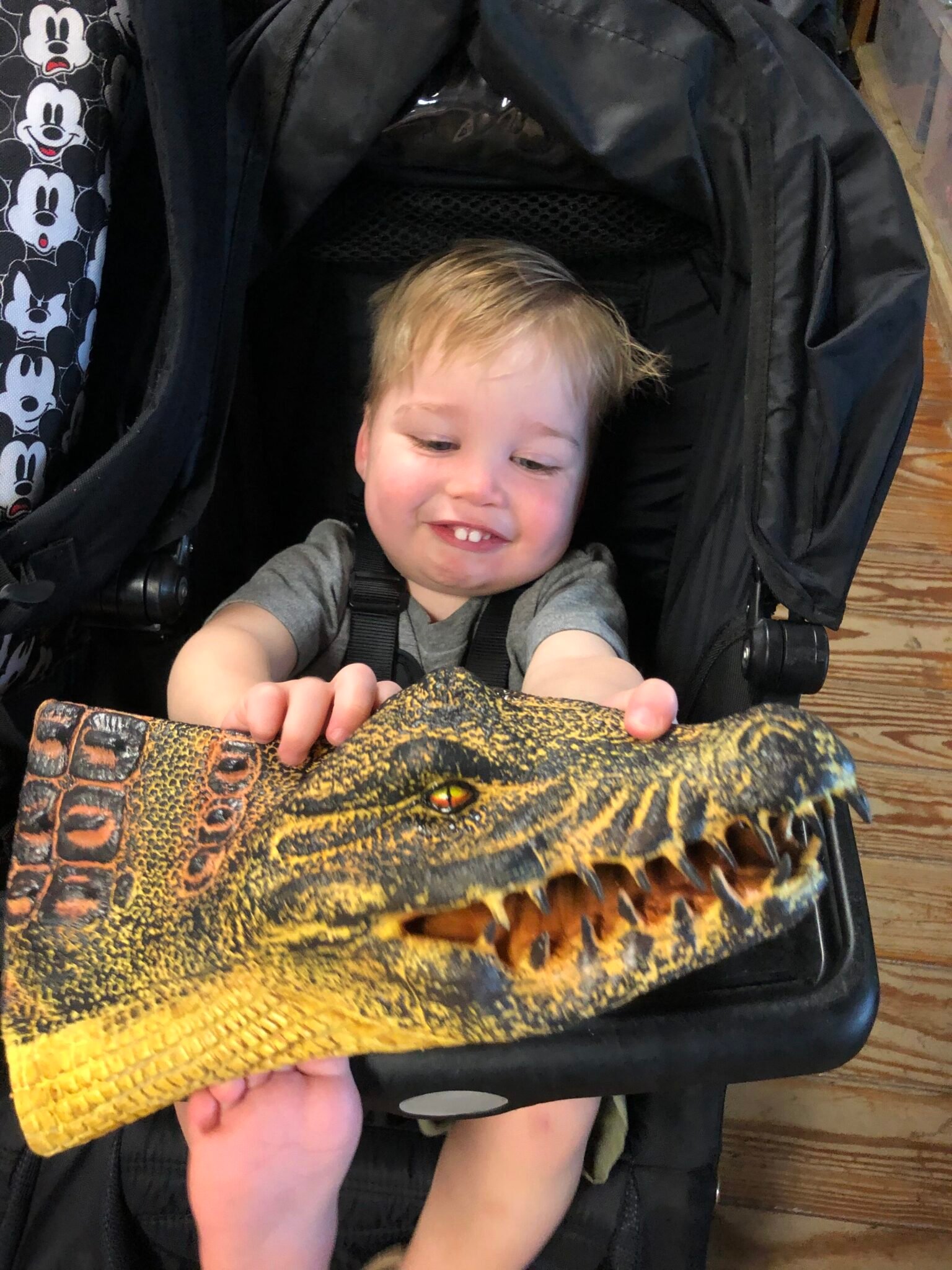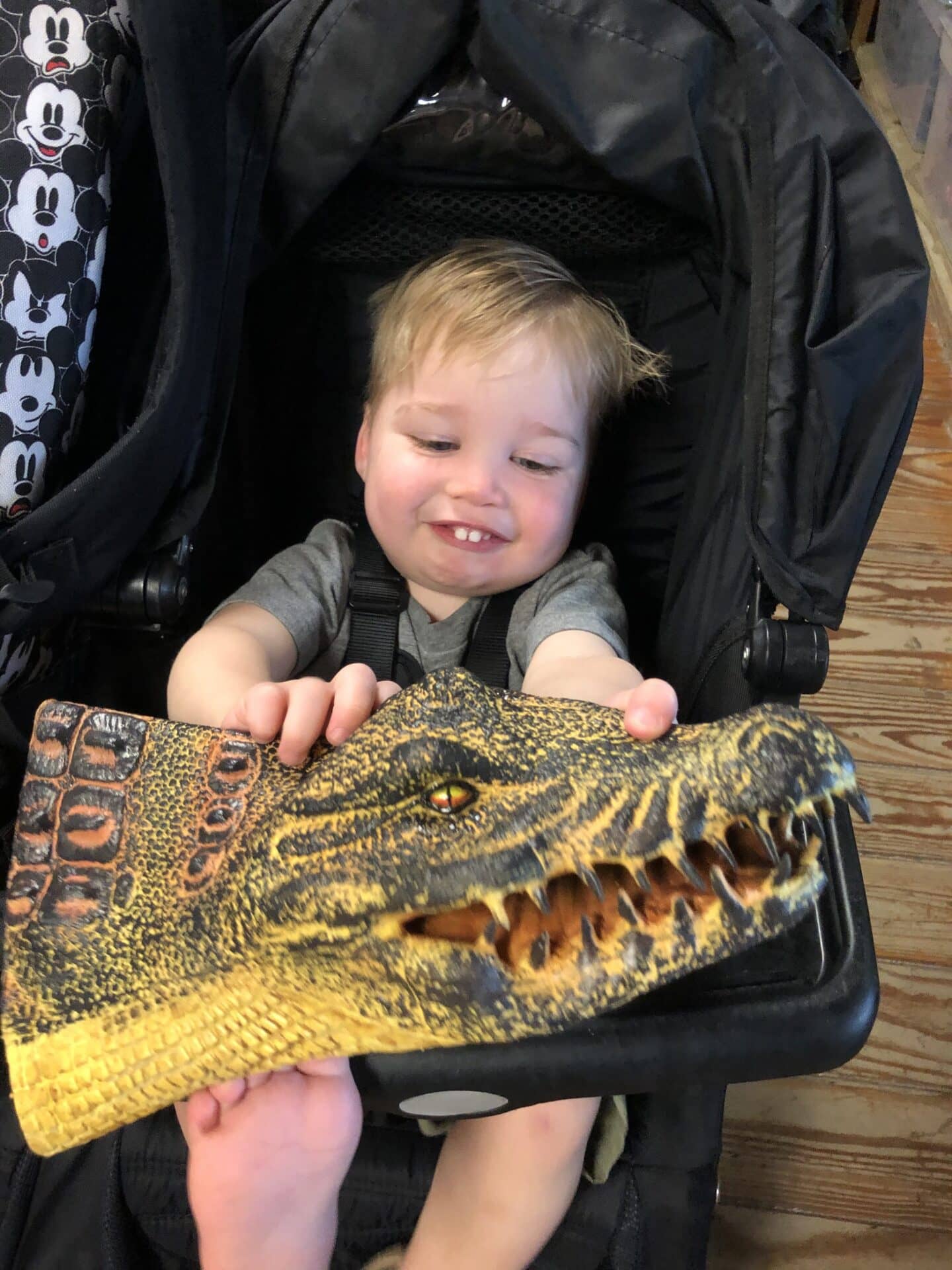 We watched an animal show that displayed many different animals and talked about local wildlife in Florida.
It was pretty hilarious when they chose this BIG DUDE with huge muscles as part of a group to hold a massive snake and he FREAKED OUT.
I was dying laughing – so hard that I was crying. It was epic.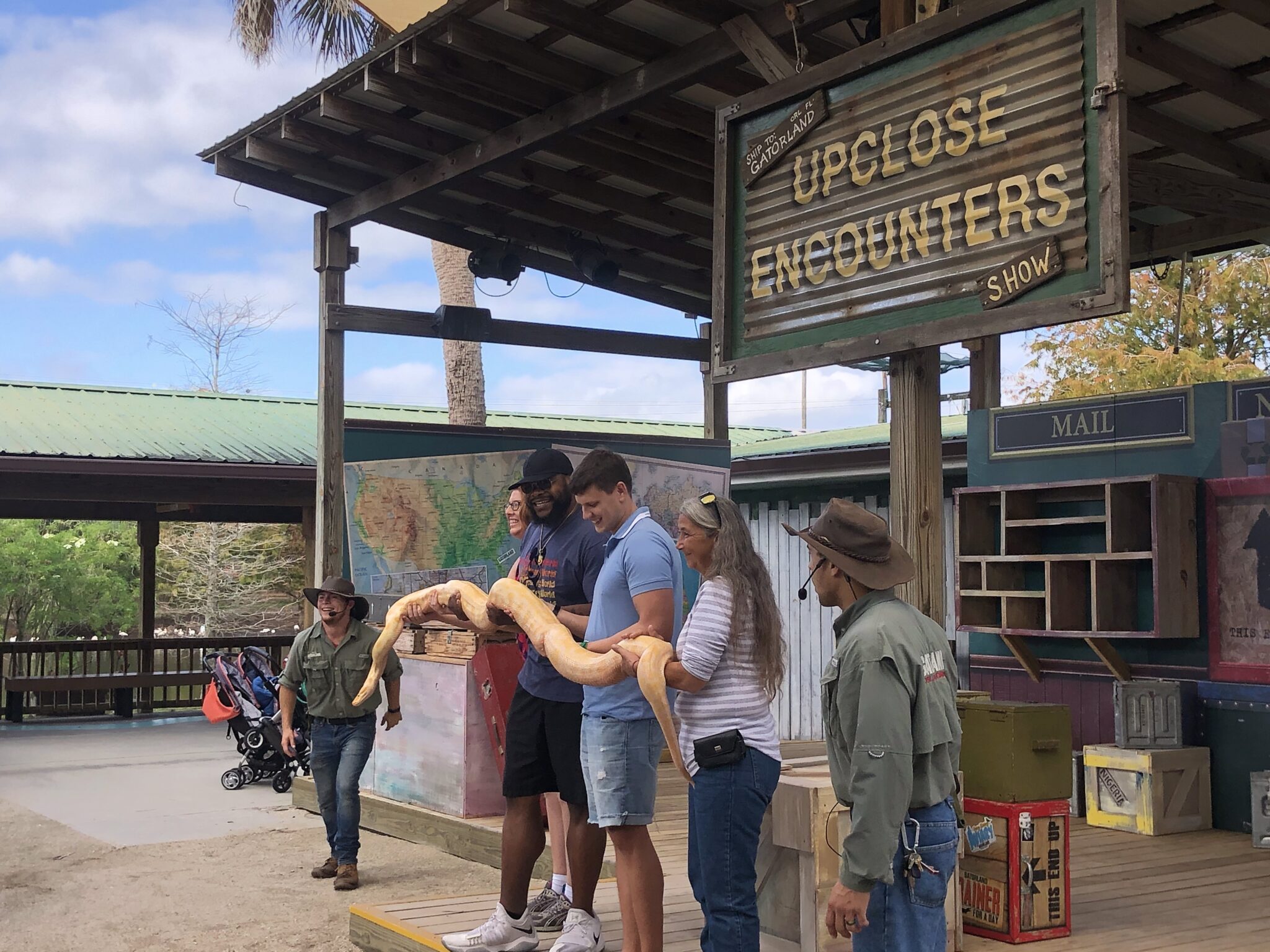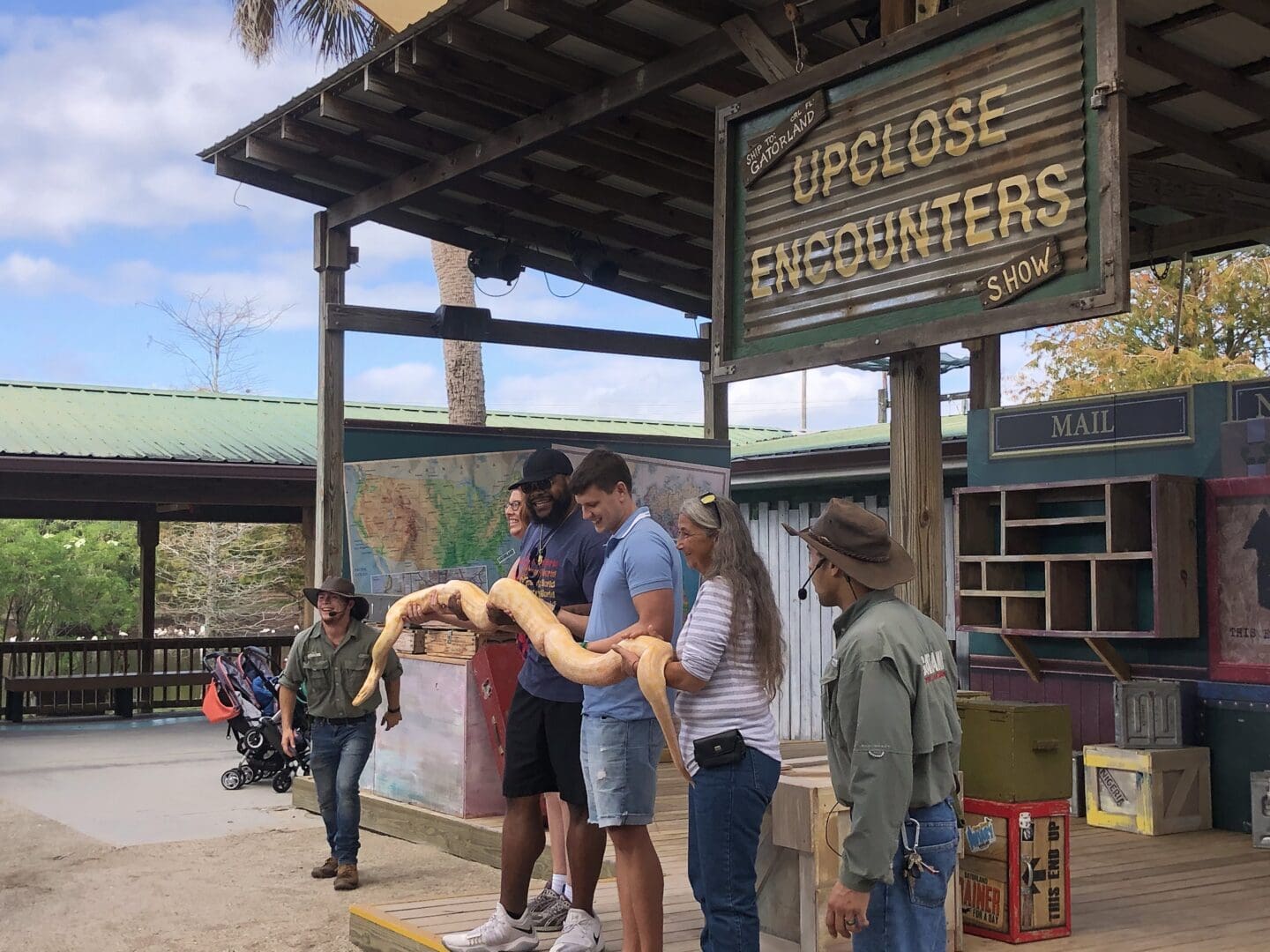 When I explored the info on the Gatorland website I really wanted Britt to have a chance to hold an alligator.
I purchased a ticket for her to have that experience when we arrived at the park and it came with a package of things including hot dogs to feed the alligators and a train ride pass to ride the train.
We went ahead and did the alligator feeding and it was really funny to see these HUGE creatures struggle to eat a piece of hot dog!
(You can see more in the video on this post!)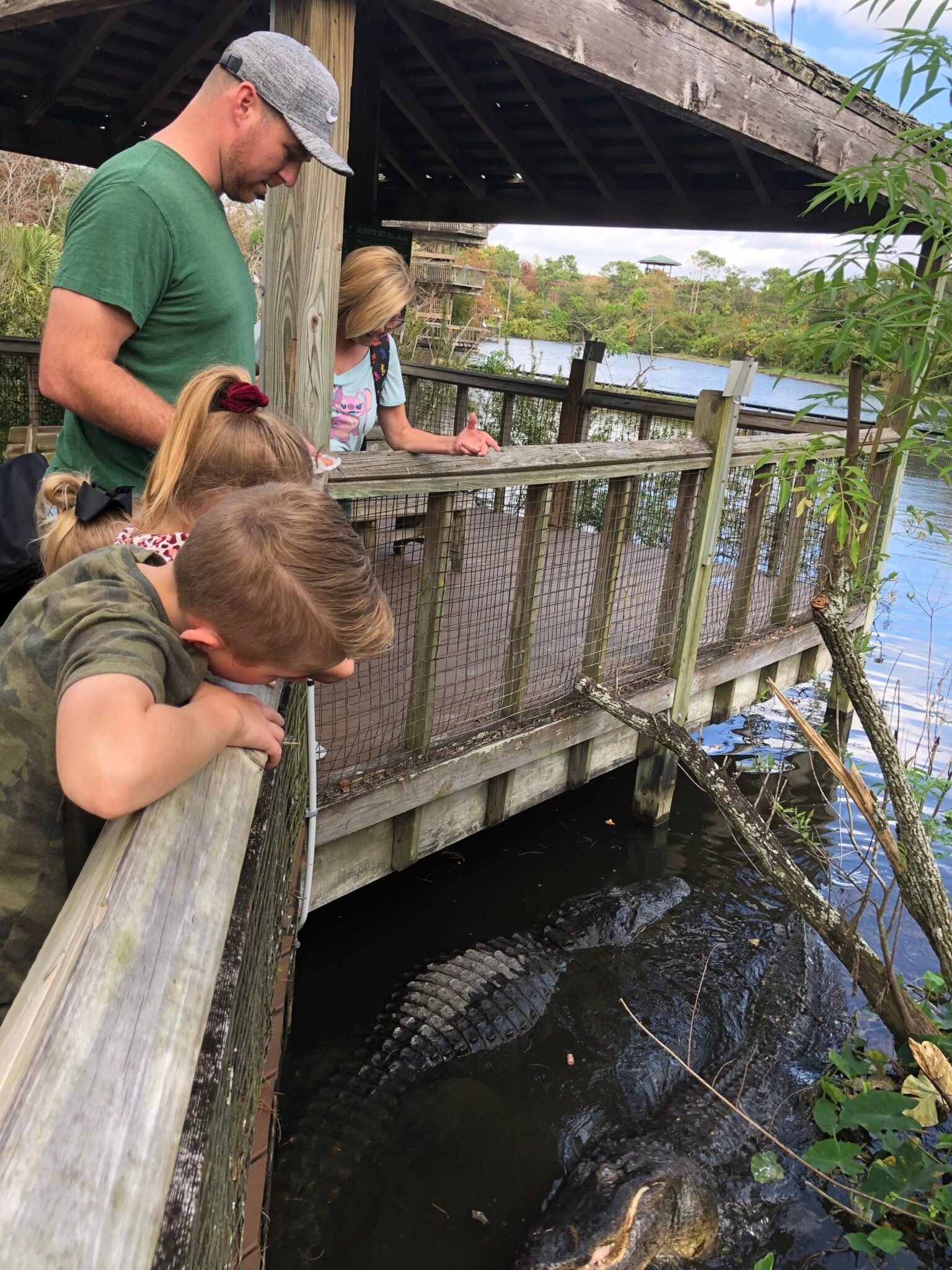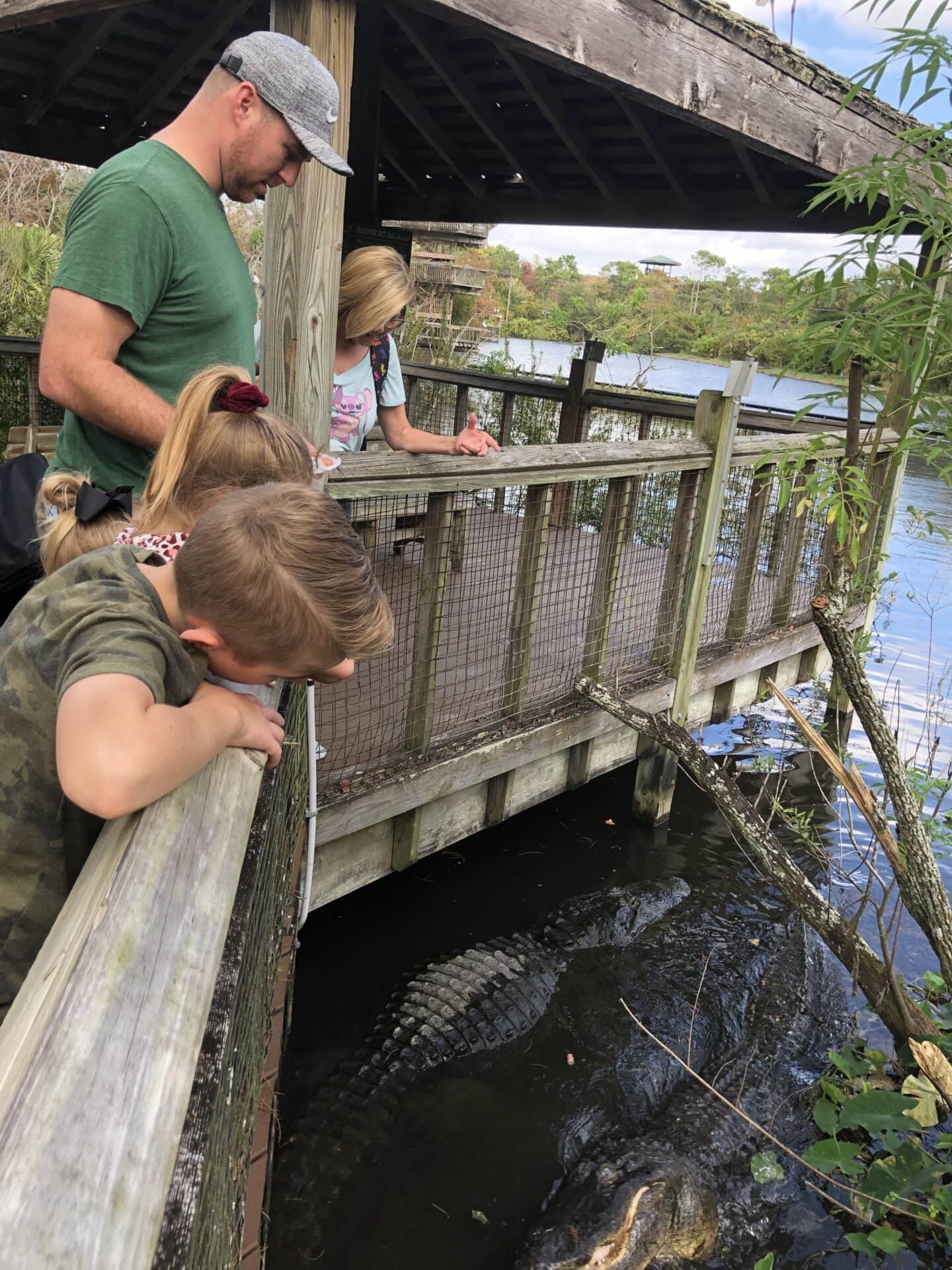 We had time to watch another show before the ziplining reservation and this one was hands on with alligators which was neat!
The shows did NOT hold Spear's attention (good to note if you have a toddler) and some of the humor of the hosts was a little more geared towards adults too.
But it was still fun and short and then they welcomed guests to come be hands on with the alligator…for a fee.
I'd already bought the ticket for Britt but did NOT know that the ticket didn't include a picture.
So. Annoyed. By. That.
Again, I'm used to the Alligator Farm where they let us hold a baby alligator and a snake and take as many pics as I wanted for $5.
But this was a much larger alligator and Britt was THRILLED (and brave…she was the first one to go!)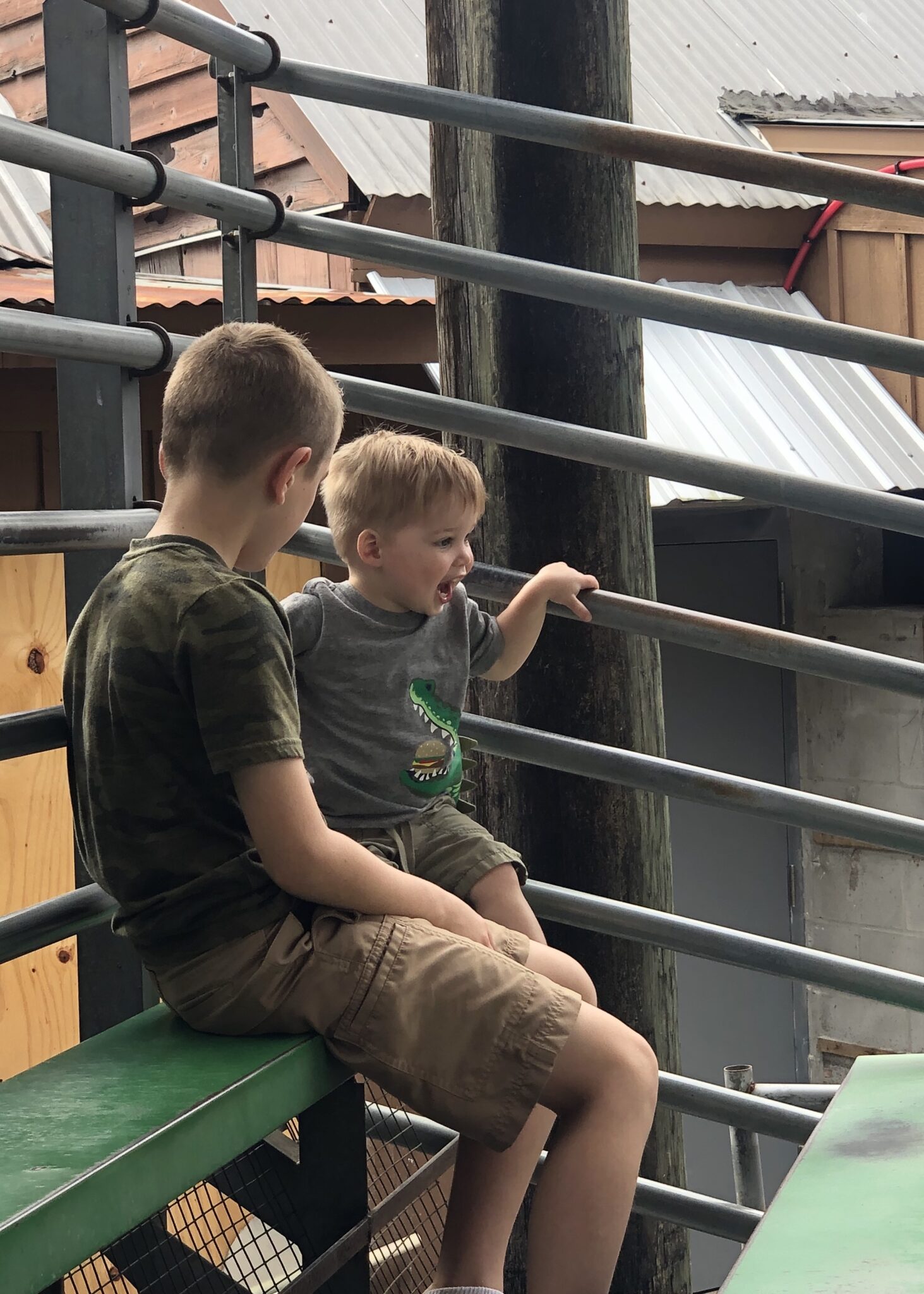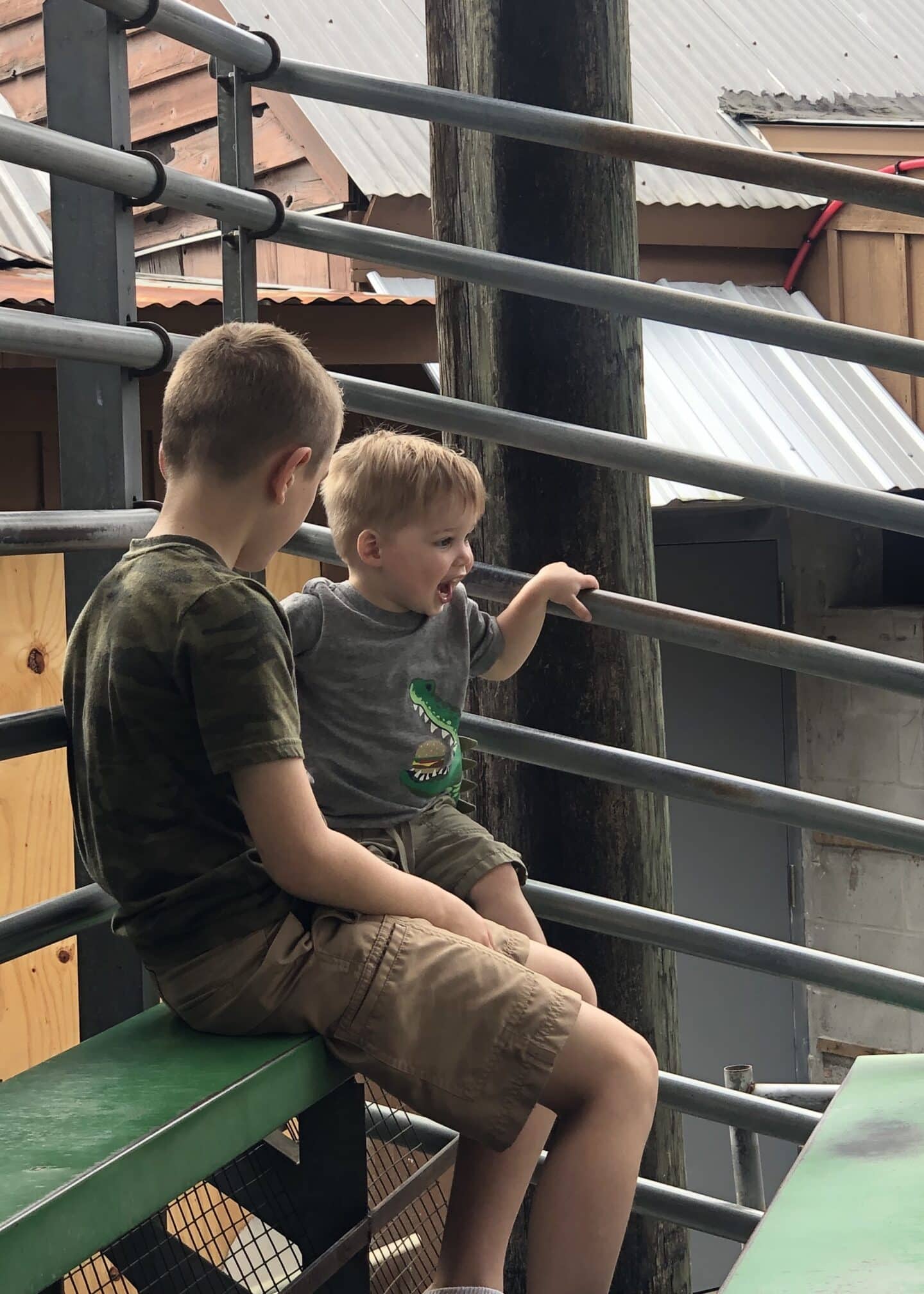 Zach and the big two headed to get going on their two hour ziplining adventure and Mrs Charlotte and I took Tess and Spear to the petting zoo area.
Our Gatorland visit fell on Spear's actual birthday so I was thrilled that he was enjoying his day and it was so cute seeing how in LOVE with the animals he was!
He is SO gentle with animals and kept petting them and reaching for them and was just super pumped about the whole experience.
And of course Tessie is already my little animal lover 🙂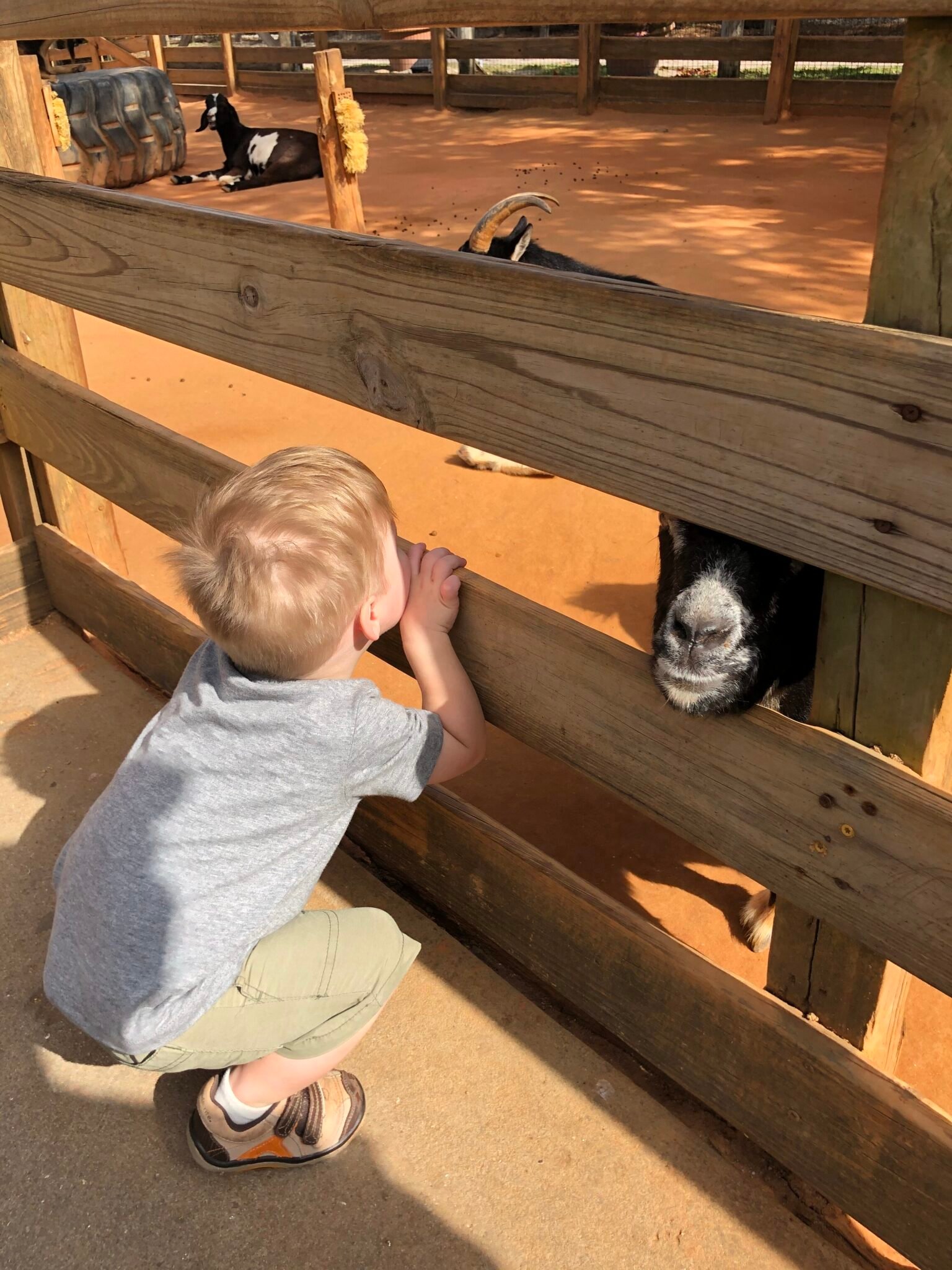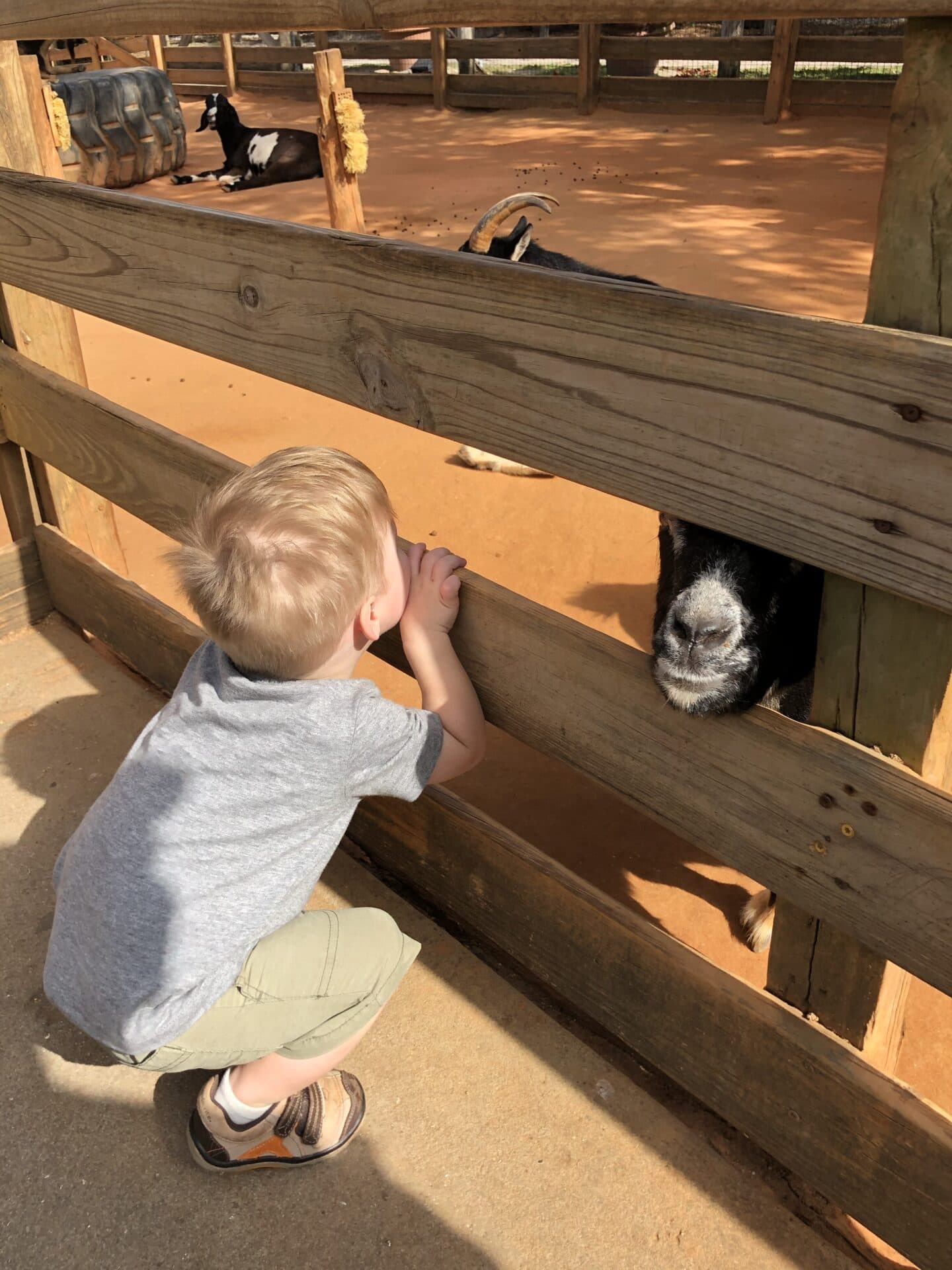 Mrs. Charlotte went to check and see if they had a map for the zipline path so we could try to watch them and they just happened to be coming out of the booth heading to get started!
We followed along and got to watch each of them zipline for the first time EVER! (Yup, Zach's never done it before either!).
I was SO impressed with Kye who volunteered to go first out of the whole group of people.
Kid knows no fear.
I was interested to see how Britt would do. I knew she'd love it but thought she'd be nervous at the start…but she did great too!
You can see all of their videos in the video that plays on this post!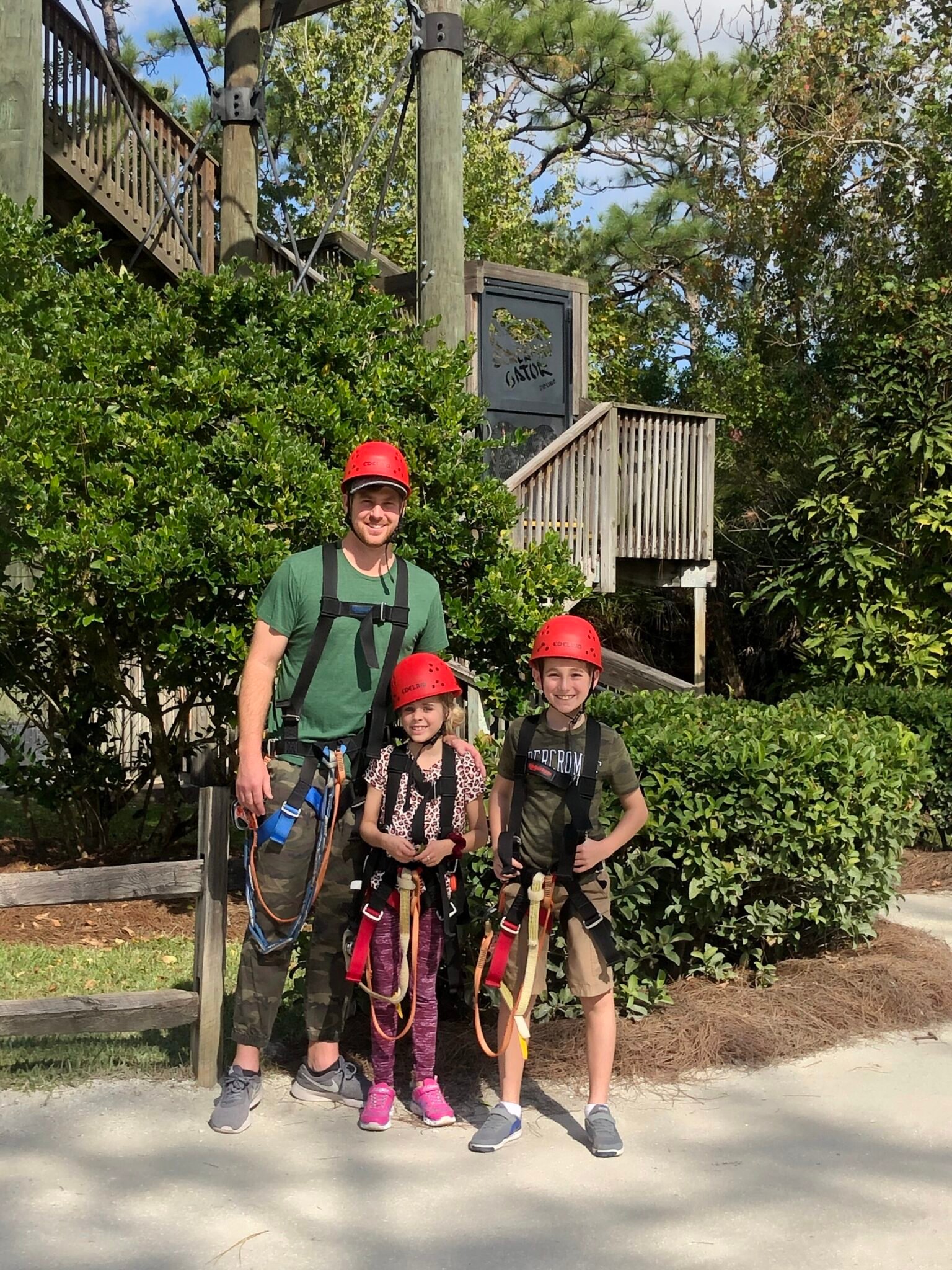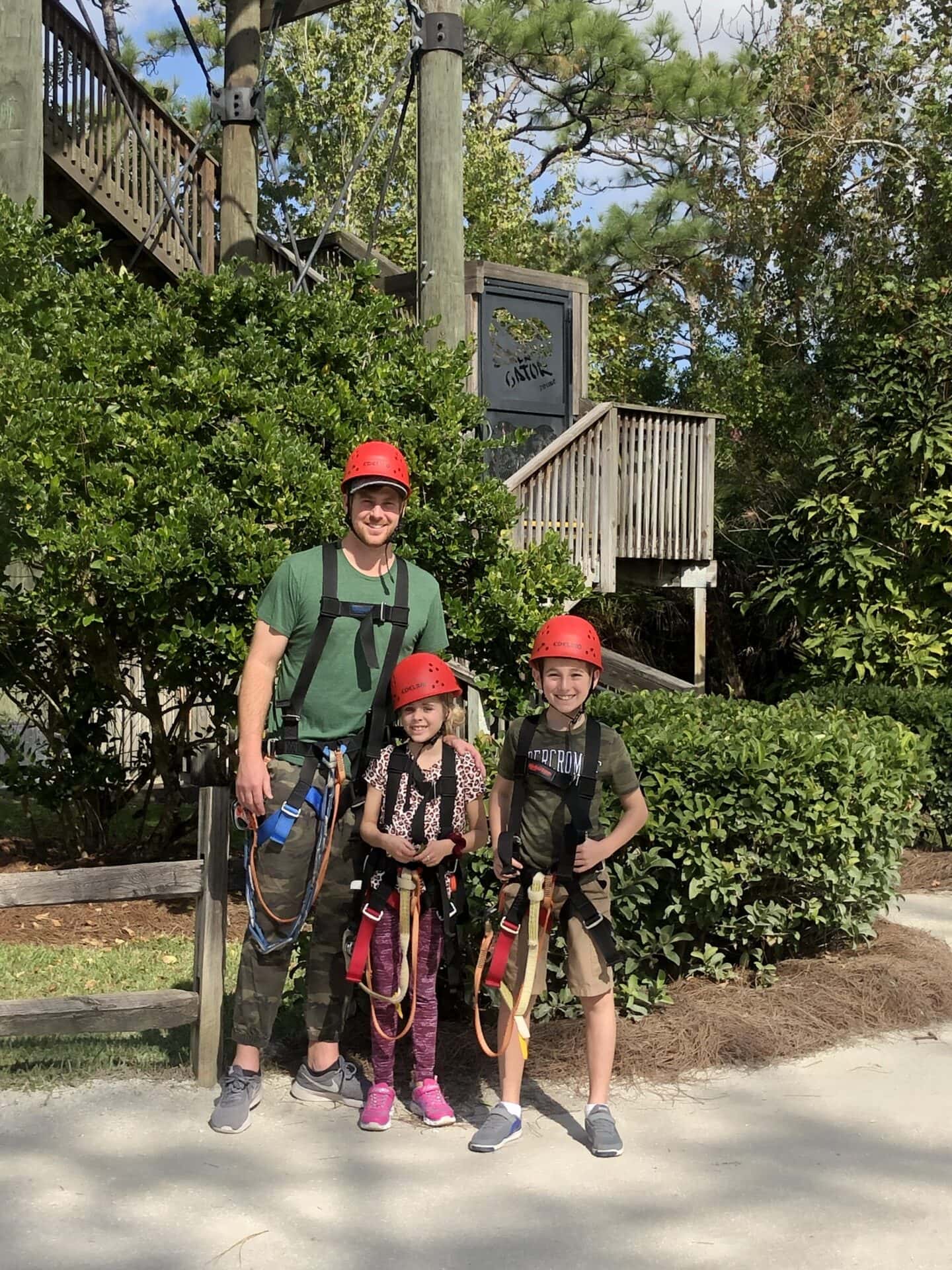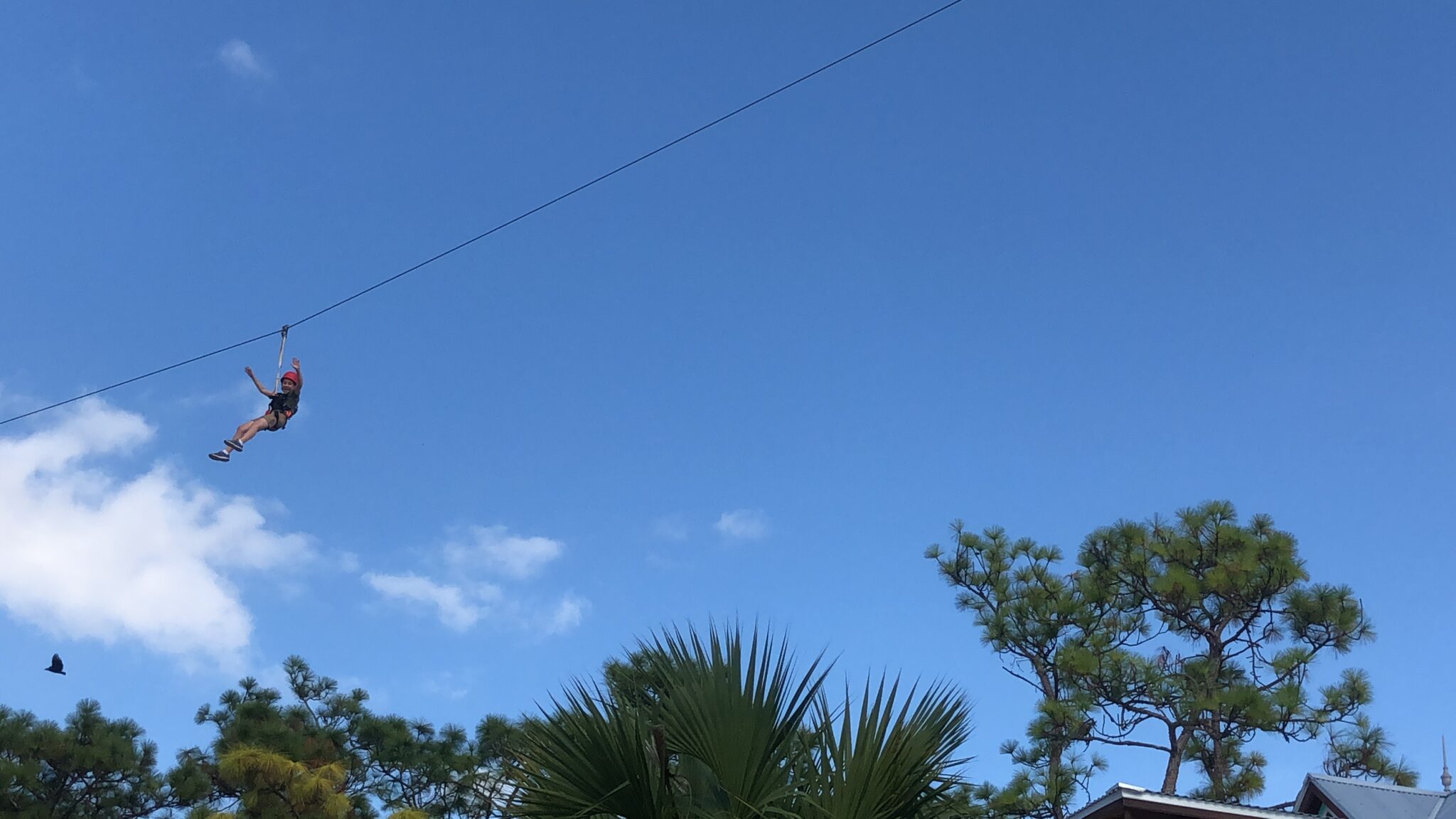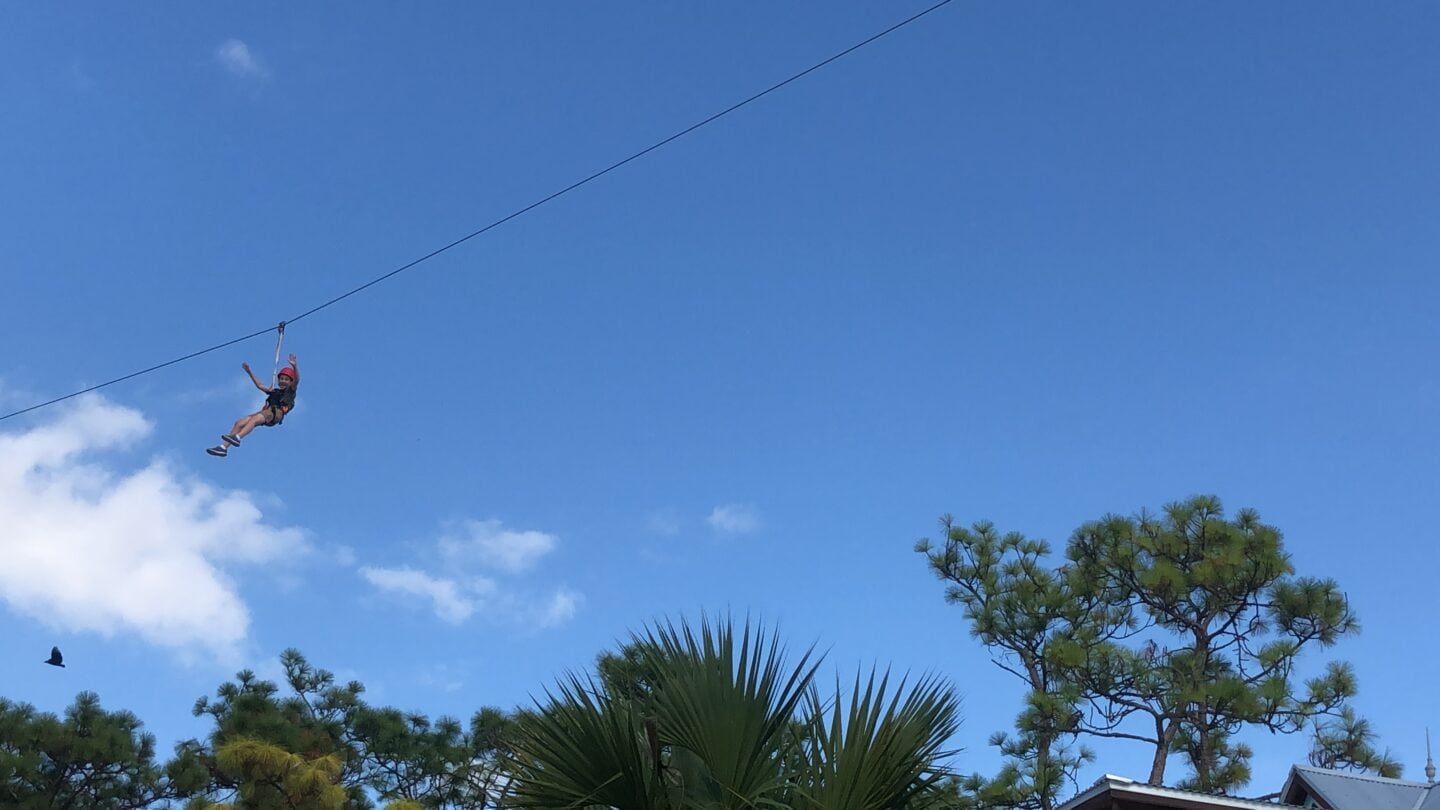 They were with a large group of people so each person had to go and we knew there was no way we were sticking around to watch each person AND then follow them from spot to spot.
So we headed over for a Choo Choo ride!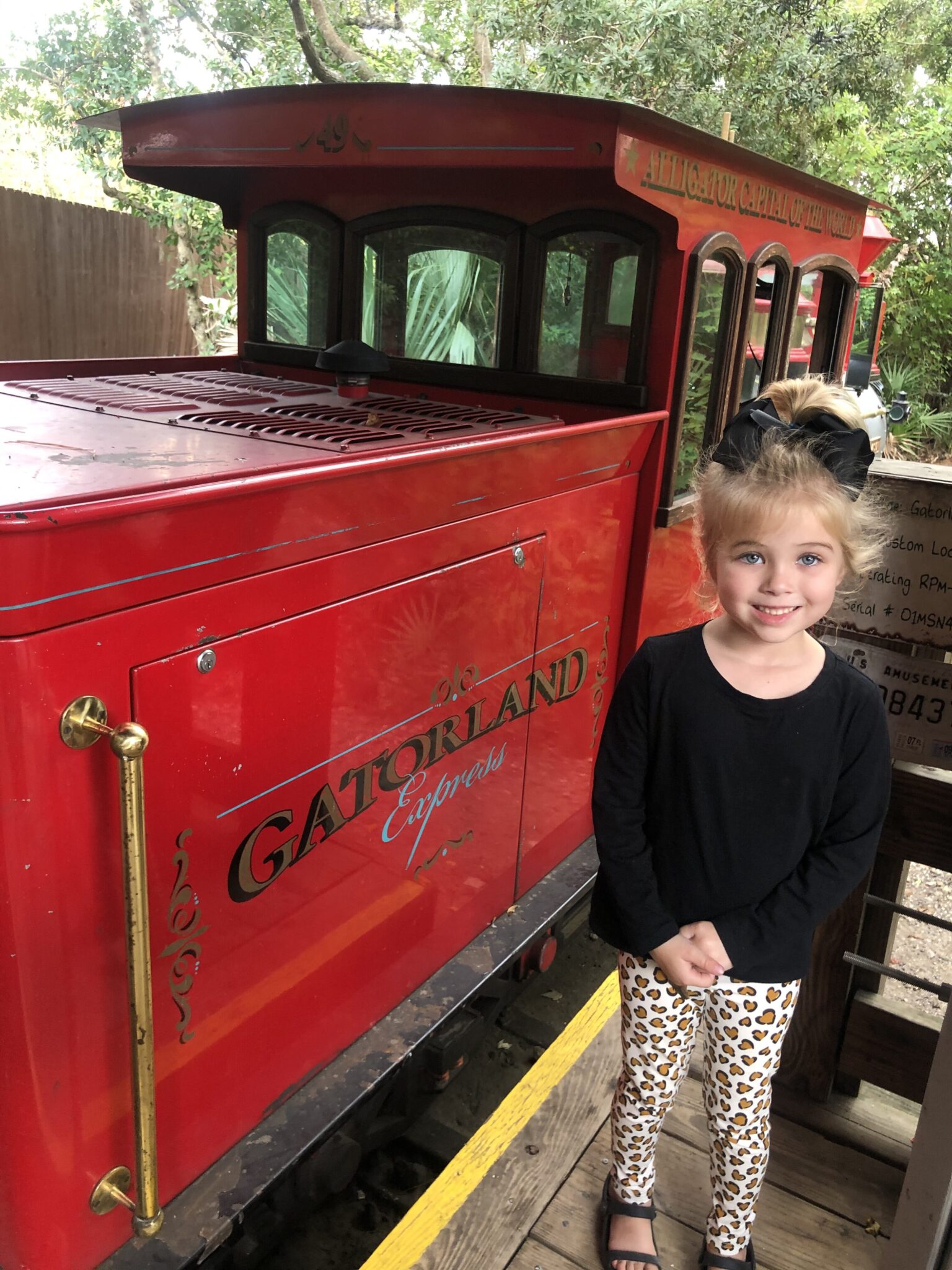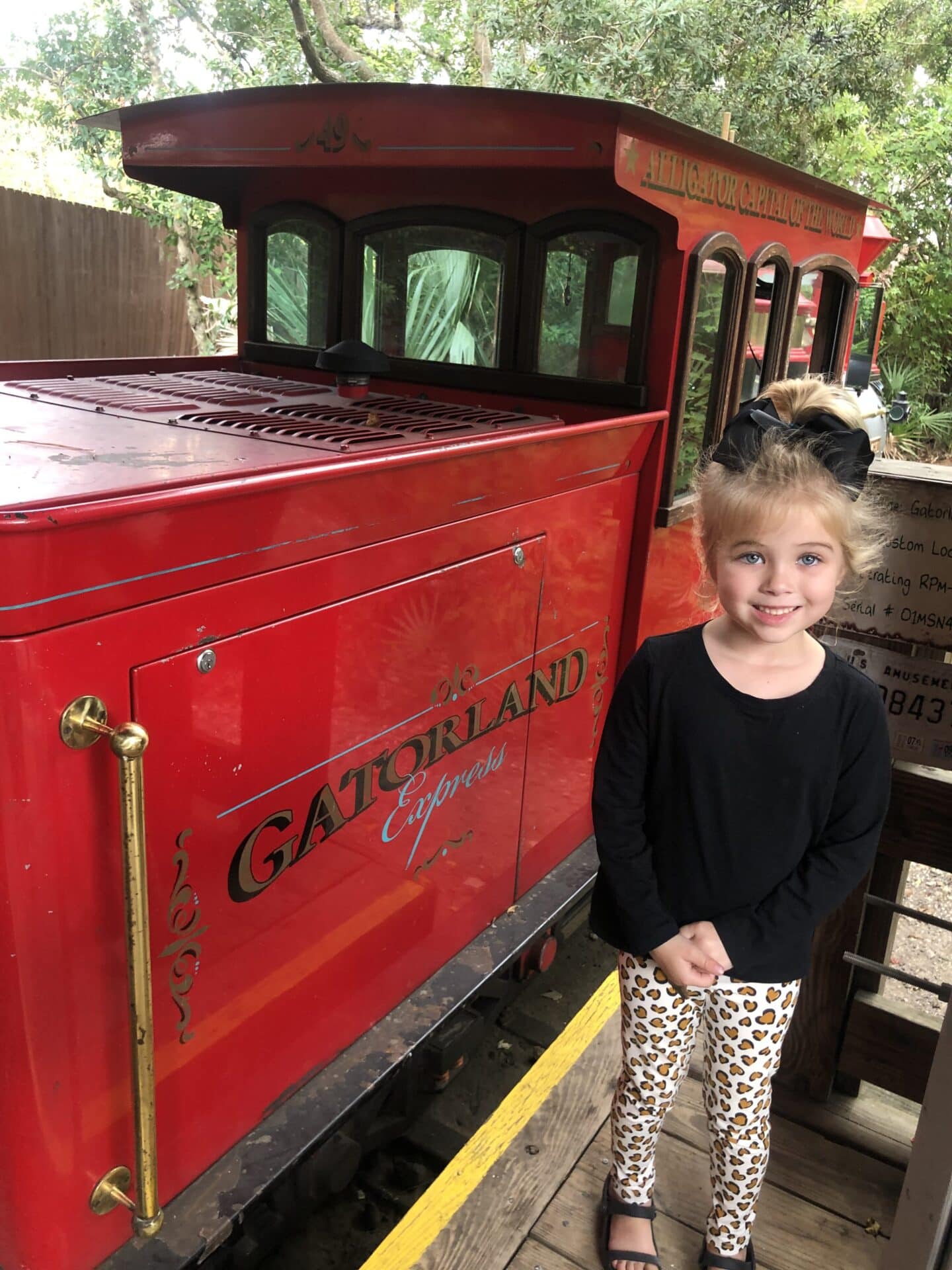 G-Mama wanted to get the kids each a little something to remember the day and I wanted to get a Christmas ornament for our trip so we went to the gift shop and did a little shopping.
G-Mama quickly learned that you can't ask Tess to make a decision (like her mama haha) we were in there for ages, and had tears, before Tess finally chose something!
We walked around a bit and thought we'd check back in at the zipline booth to see what time they thought they'd be done (trying to decide about feeding Spear lunch).
Sure enough they said they were going to be the next group finished so we just gave Spear a snack, let Tessie eat her sucker from G-Mama and waited to watch 'em do their final leg!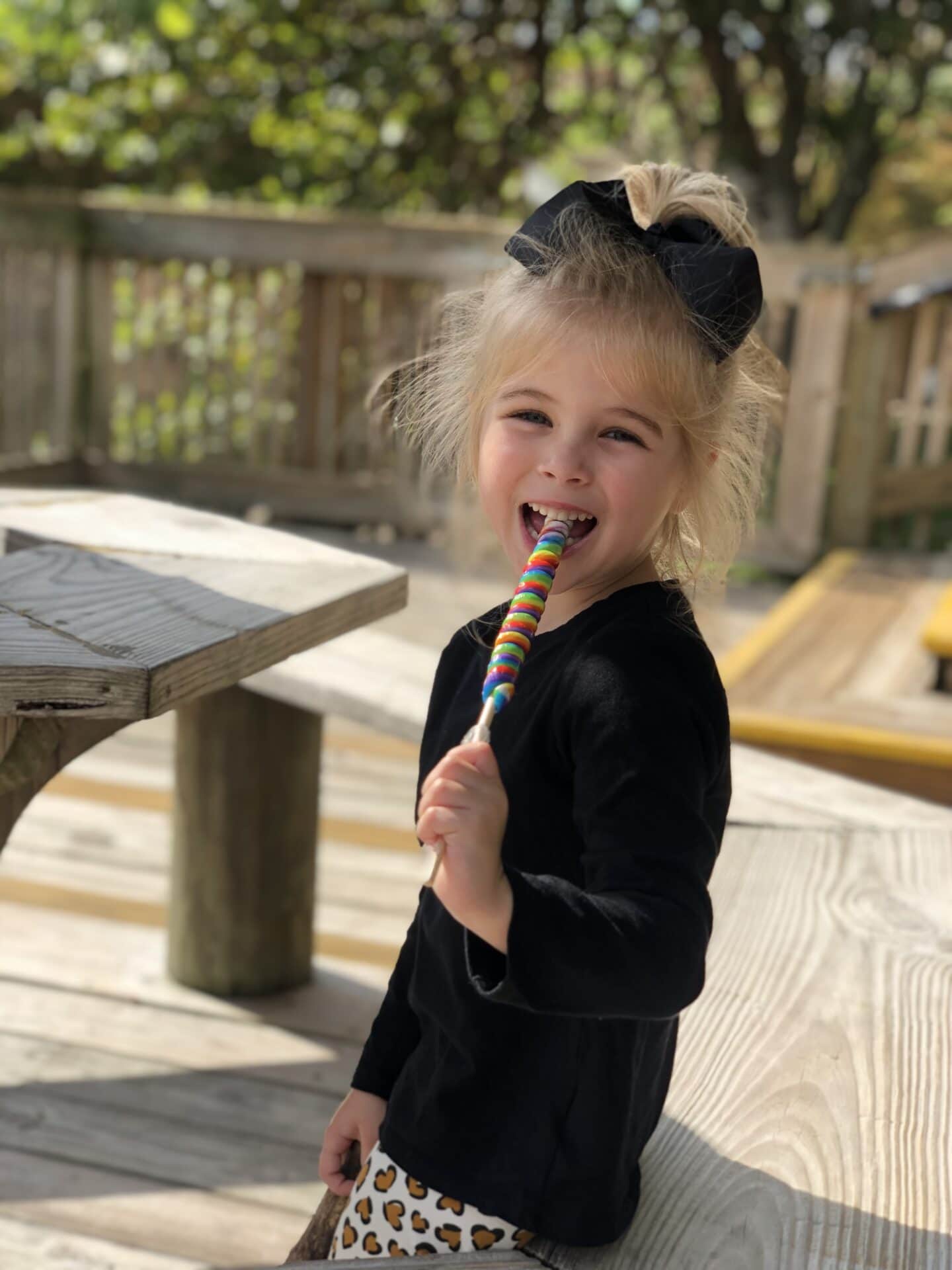 The last run of the zipline was a race and Kye was SO MAD that the people in charge gave Britt a big head start!
Once he got over the "loss" they went on and on about what fun they had!
It was a true adventure and all three of them had a BLAST doing it together. Zach is so excited that the kids are old enough to start enjoying this type of thing with him and I felt like a cool mom for cheering them on 😉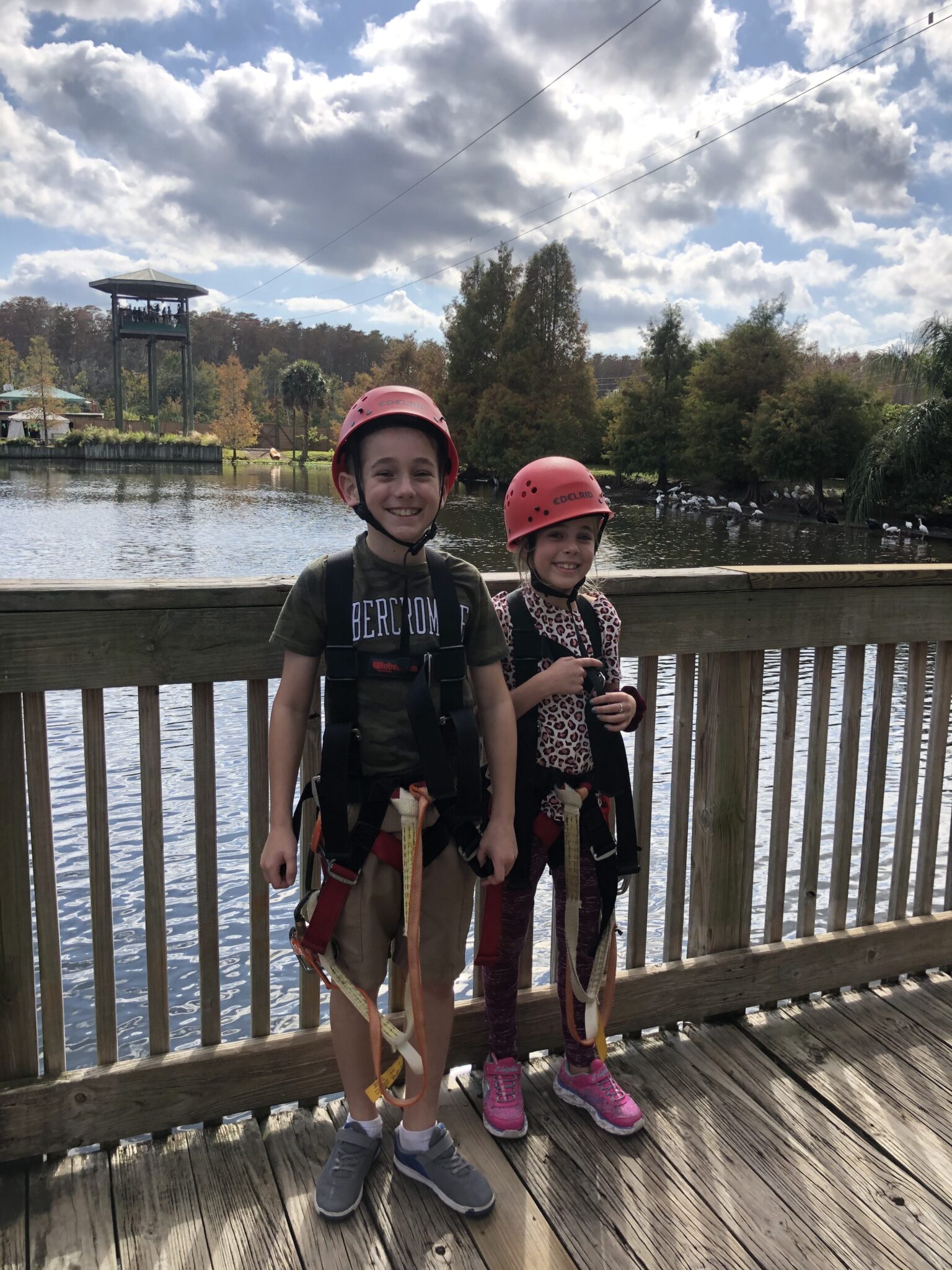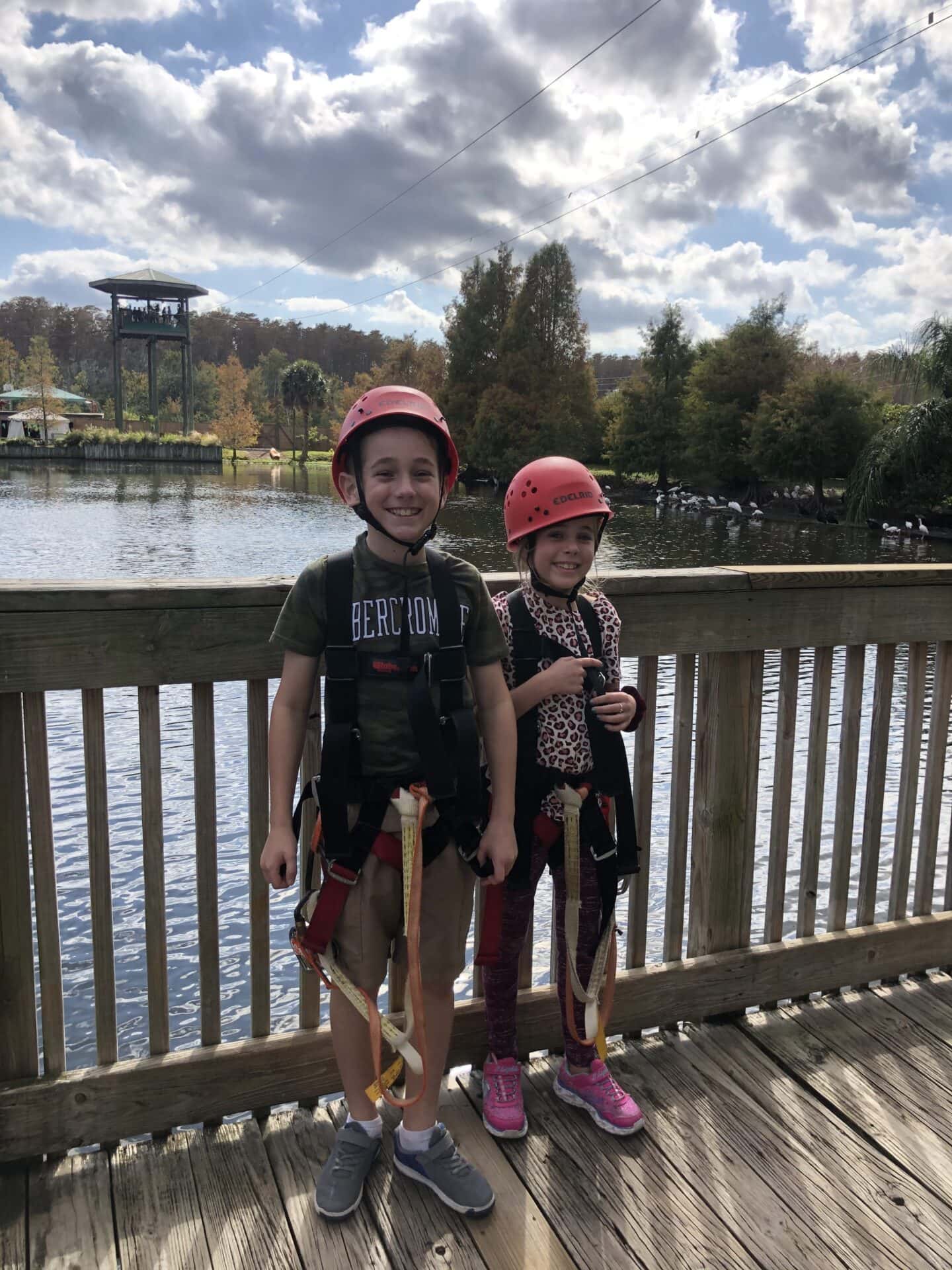 We decided to let Spear eat his lunch and then just head back to the house to save money and all eat lunch there (we were still plenty full from the big breakfast that morning at O'hana!).
Spear ate his lunch with Zach and the rest of us explored the park a little more!
We also did cave in and get Kye and Britt each one of the pictures for sale from their zipline day.
I wanted them to have a memory of it to keep and their pics turned out so cool!
I love that Kye's is him gliding over the alligators and that Britt's is her first moments EVER ziplining!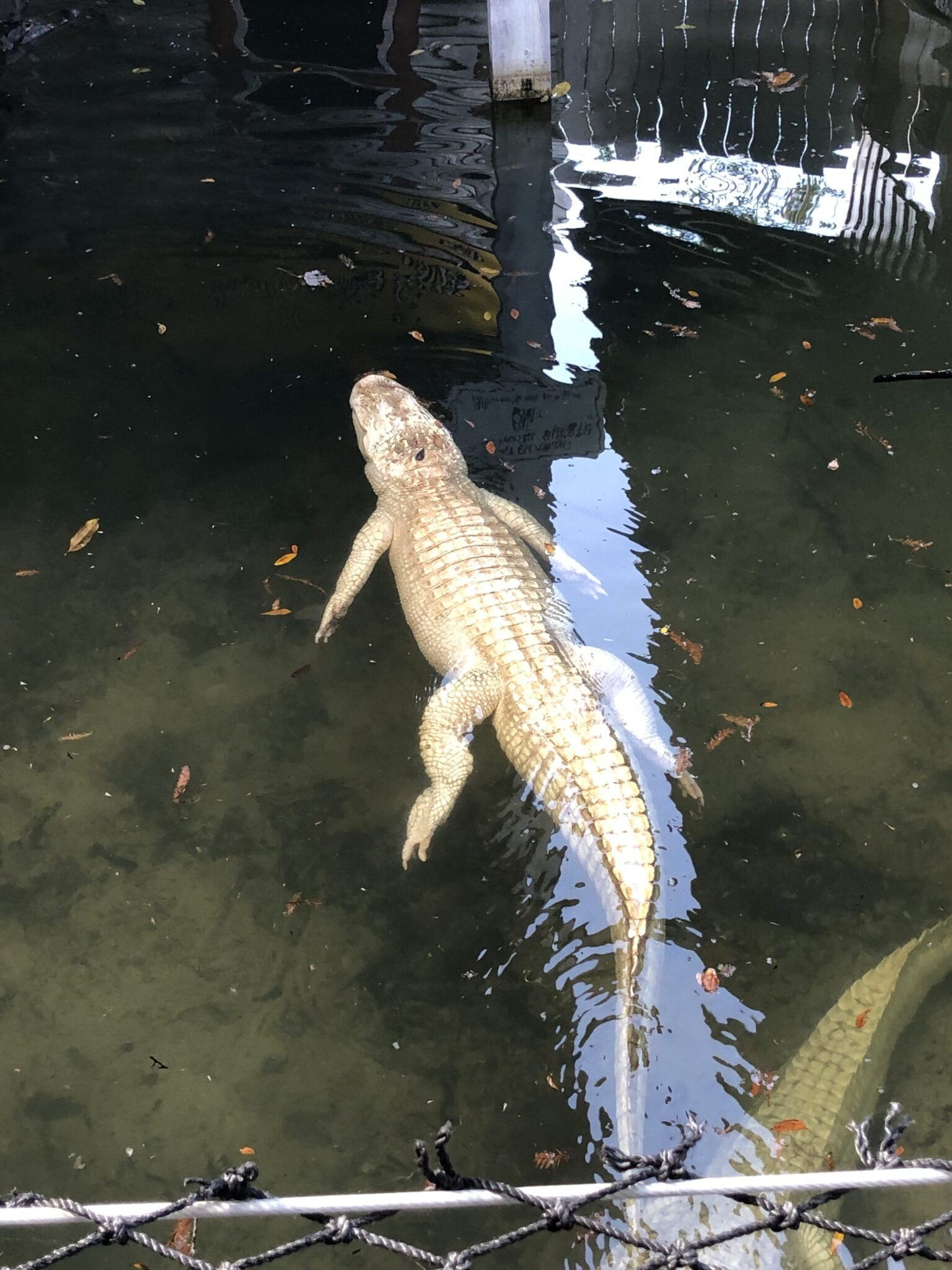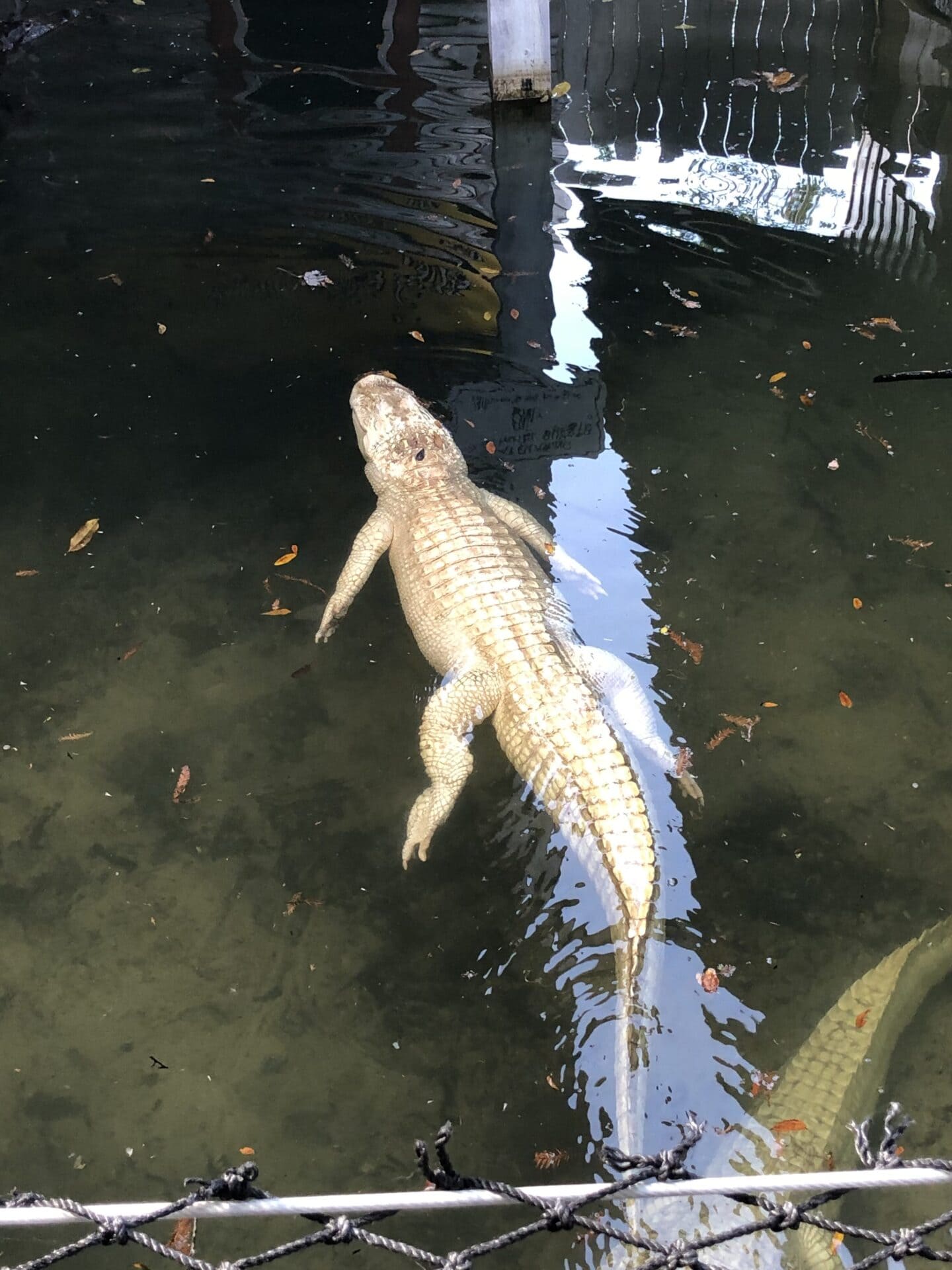 Britt LOVED the last day of our trip and it was a highlight she'll never forget!
Visiting Gatorland and Ziplining in Orlando Florida: Final Thoughts
We enjoyed visiting Gatorland…I don't think it's somewhere we will rush back to visit anytime soon but it is a great option for an off-park day, especially for non-passholders.
While it was pricey, it was still much cheaper than a regular priced ticket for Disney World so it's a great family tourist spot for visitors and it gives you a real taste of Florida too (I also loved how everything was VERY southern with the way signs were written, it was a fun touch!).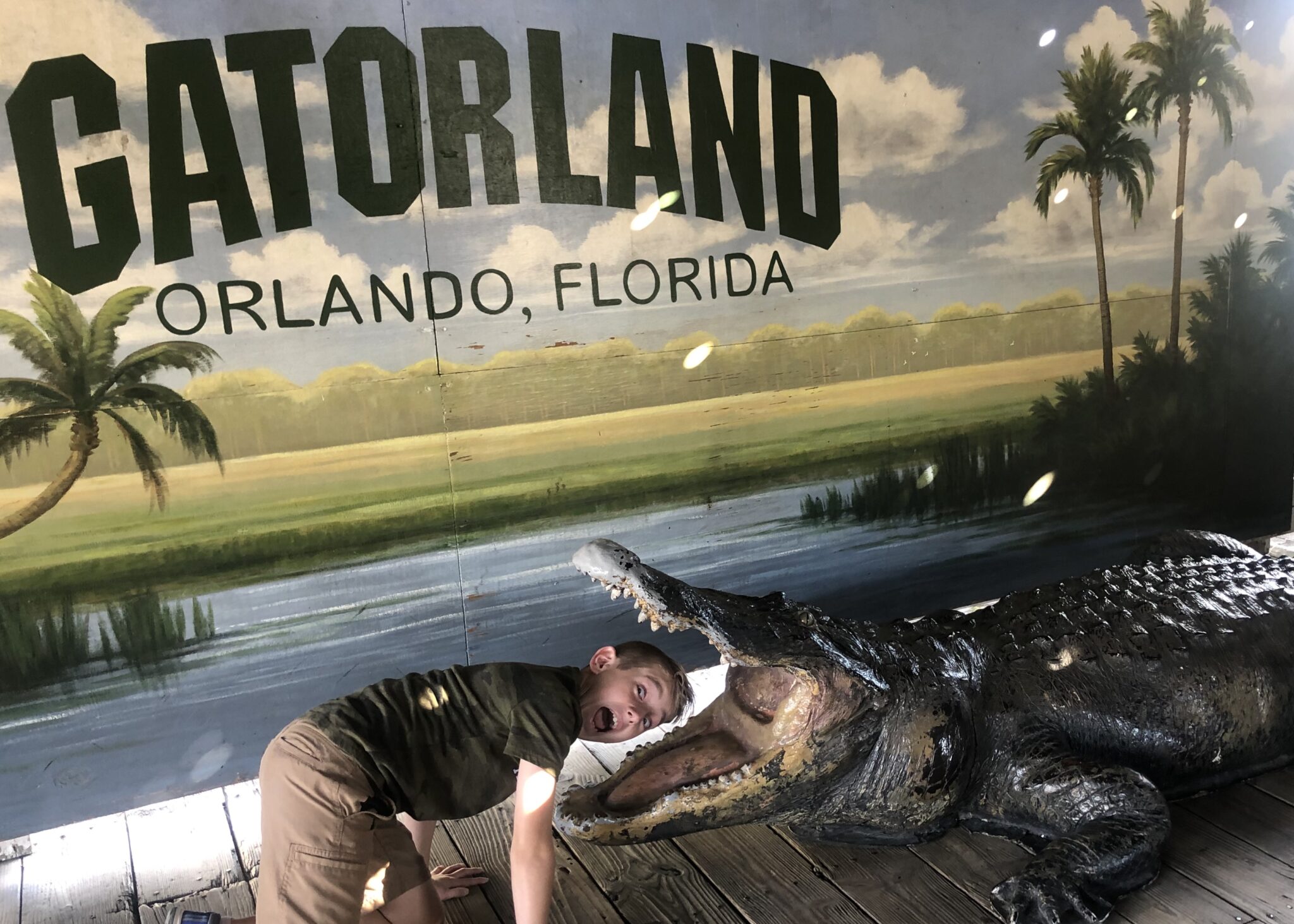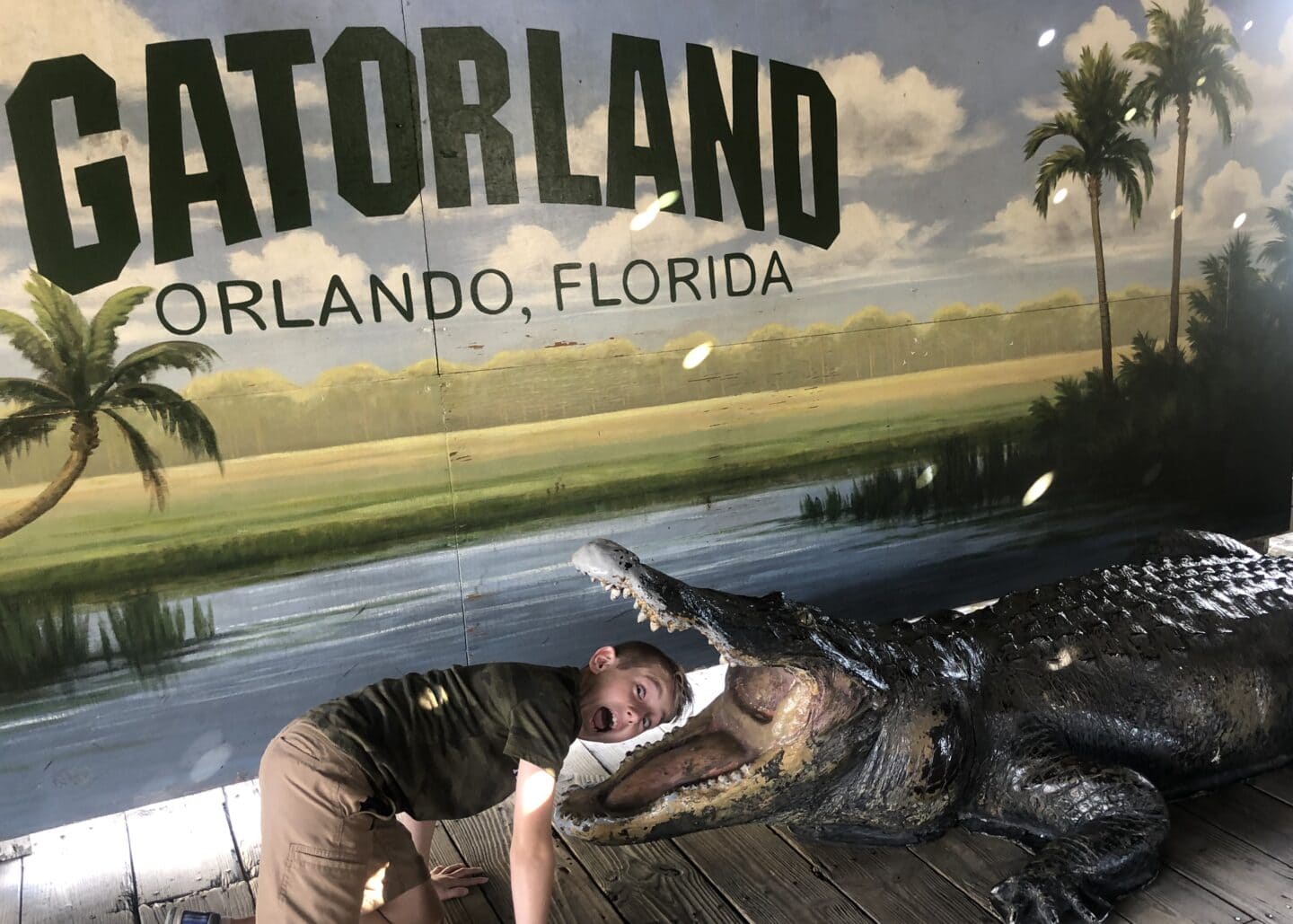 We got back to the house and had our lunch and naps and finished up our yearly Disney puzzle!
We ended the trip celebrating our special birthday boy and headed up first thing the next morning.
It was SUCH a fun week. Britt felt so special for her birthday, Spear got to celebrate his too, and we all just had such a CHILL time.
I loved how HAPPY we all were – it makes the memories so much more special when you look back and everyone was in a great mood, no sickness or anything, and just pure FUN together!