Favorite Family Books for Kids
We LOVE to read at our house!
Did you know it's important for you child to spend at least 20 min a day reading?
We read a story for each child before naps as well as a story for each child before bedtime.
Now that Britt is getting a little older we will probably be able to just read one story together for them but for now, I like that she can "read" touch and feel and more "age-appropriate" stories!
When thinking about our favorite family books I realized that most of my favorites to read with the kids are ones I grew up reading!
My mom held onto most of our childhood possessions and when I got pregnant with Kye I went through ALL of my childhood books and picked out my favorites.
So not only are my kids reading the same stories I read as a child, but they are actually reading the exact same BOOKS.
It's so neat to see how well they held up through the years, to see how cheap they were back in the day, and to see the little "this book belongs to" sticker on the inside cover with my name on it.
Great memories 🙂
Favorite Books Passed Down from Prior Generations:
This was actually my brother's favorite book growing up and I'm glad I grabbed it when I went through all of our childhood possessions!
I've been reading it to Kye since he was very young and he LOVES it.
We especially love to all sing "Happy Birthday" to Little Gorilla at the end of the book 🙂
This was MY favorite book growing up.
The copy we have is so worn that some of the pages are actually completely unattached!
I need to just break down and buy a new copy.
It's funny how quickly childhood memories come back because I even remember my favorite parts and pictures!
It's a good lesson about being happy with who we are and I try to incorporate God into it when we read it by talking about how God made us special.
This is my favorite book to read to my kids.
I can remember exactly the way my mom read it to me growing up so I do all the same thing she did.
We "sniff sniff sniff" together to find the strawberry.
I make my voice loud whenever I say "The BIG HUNGRY BEAR!" and I make my voice tiny for the parts that say "The Little Mouse."
It's a fun book to read with adorable pictures.
This was not one of my favorites growing up.
It's not a very good "girl" book and can be rather scary.
However, now that Kye is older it's one of his favs.
And it's another fun one to read!
We always act out the roaring of the terrible roars, gnashing of the terrible teeth, rolling of the terrible eyes, and showing of the terrible claws.
The only downside to this book are the few pages where there are NO WORDS.
We have to just make up words for those pages b/c Kye doesn't understand that there can be pages in a book without a story to tell!
I don't actually remember reading this as a child either, but I have truly enjoyed reading it with my kids.
Our favorite part is the bowl full of mush.
What the heck is mush?
Kye also always talks about the page where the little rabbit is getting into bed because the way the illustration is done it actually looks like he's climbing out of the bed so Kye feels the need to say that the bunny is making bad choices b/c he's not supposed to get out of his bed. 
New Family Favorite Books:
When Kye was a baby his favorite animal was monkeys so I saw this on sale at Toys R Us and grabbed it for him for Christmas.
I didn't realize when I bought it that it didn't have ANY words! Oops!
We still enjoy it together though and it was a favorite of Kye's for a LONG time.
He especially always loves the part where the wives' eyes POP open in the darkness and all the voices of the animals saying "goodnight."
It's a story that he can also tell to us without having to be able to read which is precious 🙂
I LOVE reading this book!
The rhyming is so sing-song and it makes it fun 🙂
It's a very high-energy book and can keep a little one's attention so well. Plus, hello! It's educational 🙂
We always sing the alphabet song at the end of the book where it shows all the letters and I point to each letter as we sing the song. 
Zach and I bought this as Kye's prize when we went to NYC when Kye was about 7 months old.
It was his very first FAVORITE book and the one that we read over and over and over again to him.
It is based in NYC and shows all the major tourist attractions which is so neat.
It also has a lot of little hidden things in the pictures and that makes it fun to read again and again, always seeing something new.
Kye would always crack up at the page where Marvin is hiding on the side of a building 🙂
I got this book for Britt's first Valentine's Day as I wanted her to have some girly stories mixed in with all Kye's more boyish ones.
This is Payton's (my nieces) favorite book so I thought it'd be a winner for our family as well.
It def has been!
Britt is too young to really enjoy it still, but Kye's favorite color is pink so he loves reading it!
We keep it in Britt's room since it is her book but will often read it together while playing in her room.
I personally do NOT like how it talks negatively about eating vegetables so I change the wording around a bit when I read it 🙂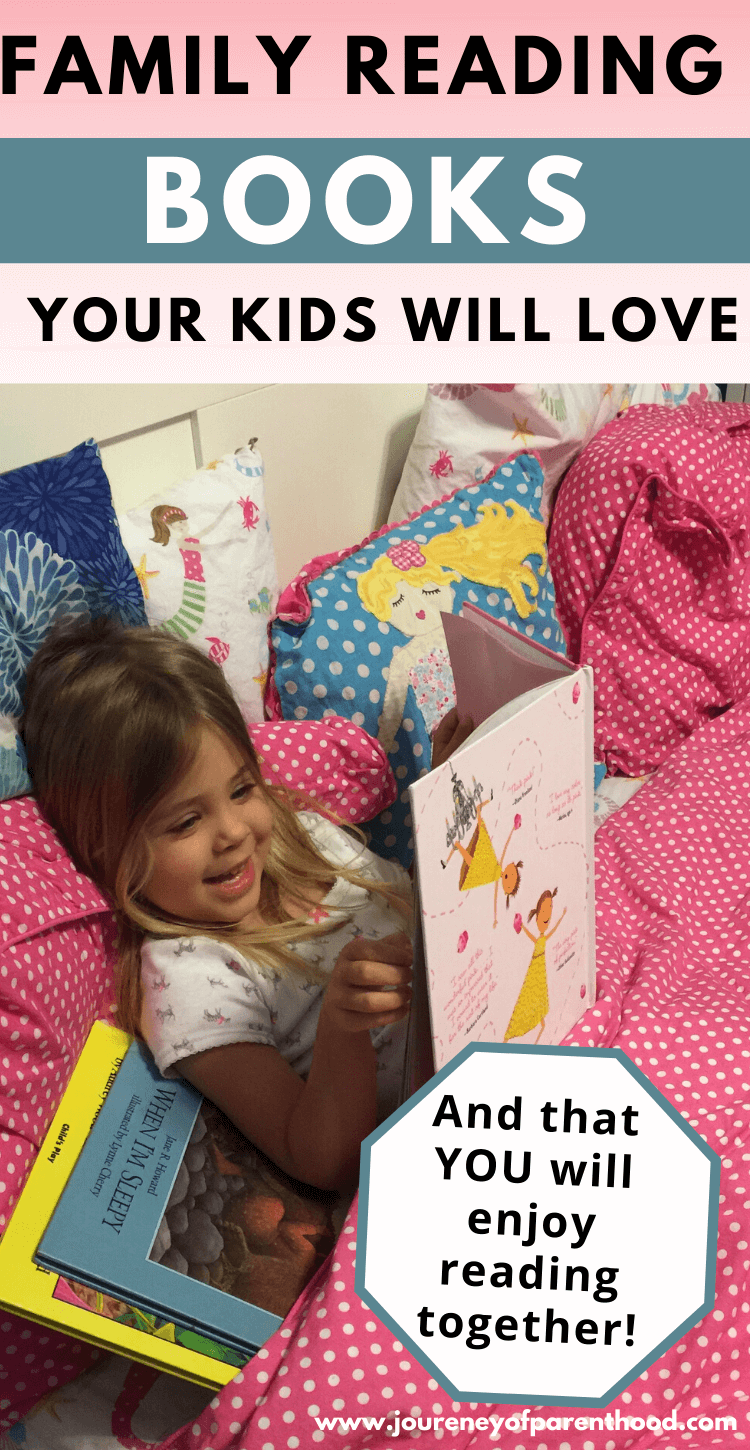 Books to Enjoy as a Family with an Infant or Toddler
This was a baby shower gift while I was pregnant with Britt and it's her favorite book.
It's one of those finger puppet stories where you put your finger in the animal and move it around on each page.
She always laughs and laughs at the little owl and enjoys trying to grab it 😉
When Kye was a baby I NEVER really read Eric Carle stuff to him.
I just am not a huge fan of the illustrations.
I know I'm probably not in the majority in saying that, but it's true!
However, Britt REALLY enjoys his books.
They keep her attention so well and, again, this one is great for teaching animal names and sounds.
She loves the white dog especially as the dog looks kinda like our white dog, Sadie 🙂
Another Eric Carle one that is new to Kye since I never read it to him as a baby!
He LOVES it now though.
We all give the butterfly kisses at the end of the book and the kids will bicker over who gets to turn all the little pages as he eats through the food each day.
The little holes in the food are great to keep Britt's attention as she pokes her little fingers in each one 🙂
Books Moms Will Love Reading Together:
This is such a wonderful book and one that makes me cry as I read it.
I KNOW I'm not the only one who feels that way 🙂
I have read it to Kye since he was little.
Mrs. Charlotte read it to all of her kids and actually does sing the "love you forever" lines which I've never heard anyone do before.
I do NOT like how the child makes so many bad choices and we often talk about the things the child is doing that he shouldn't be, but I love the message behind it.
Kye has actually held me in his arms when I've gone to tuck him in and has "rocked" me and sang it to me, so sweet.
I wish they made a version with a little girl in the book so it could be more relatable to Brittlynn too!
I have yet to find a good sentimental girl story??? Any suggestions?
This was a baby shower gift while I was pregnant with Kye.
It is by Karen Kingsbury who is a popular Christian author.
The book is based of her own relationship with her children and if it doesn't make you BAWL then nothing will!
I can barely make it though so I don't read it often.
I love it so much that I've actually thought about typing the whole thing into a blog post to share with others.
We rush rush rush through life that we often miss our children's "lasts" and often the lasts are more meaningful than the firsts!
Again, it's a boy main character!
I really do need a little girl and mommy story 🙂
If you don't go out and get ANY of the other books I've mentioned, at least get this one.
It makes a WONDERFUL Mother's Day present as well!
Favorite
Children's Bible:
I am NOT as good at doing Bible time as I'd like to be.
We typically will read from the Bible together during breakfast or lunch when it's just the three of us.
We've tried doing Bible time as a family in the evenings but every evening is just SO crazy that it doesn't always work out.
Kye and I have read through a couple of different children's bibles and are currently reading this one.
While it's not as detailed as some others, I LOVE the illustrations and how it hits the highlights in a way that engages the kids.
Even Britt stays interested!
It asks a LOT of questions that lead us to have some wonderful discussions together.
I wouldn't recommend it as the ONLY Bible resource for my children, but it's a great addition to our growing Bible collection!
You can shop ALL of our Family Favorite Books (all the titles listed in this post as well as over 40 others!) HERE!
Those are our family favorite books! I'd LOVE to hear some of yours!
Books make such WONDERFUL presents and I love to buy them for my kids at holiday times, your suggestions could be under our Christmas tree or in their Easter Basket this year 😉