Pirates and Pals Fireworks Dessert Voyage at Disney World – Tess's 5th Birthday 2019.
For Kye's fifth birthday we did the Pirates and Pals Fireworks Voyage and LOVED it.
It's crazy that it's been FIVE YEARS since that experience and we were excited to do it again for Tess's 5th birthday this year.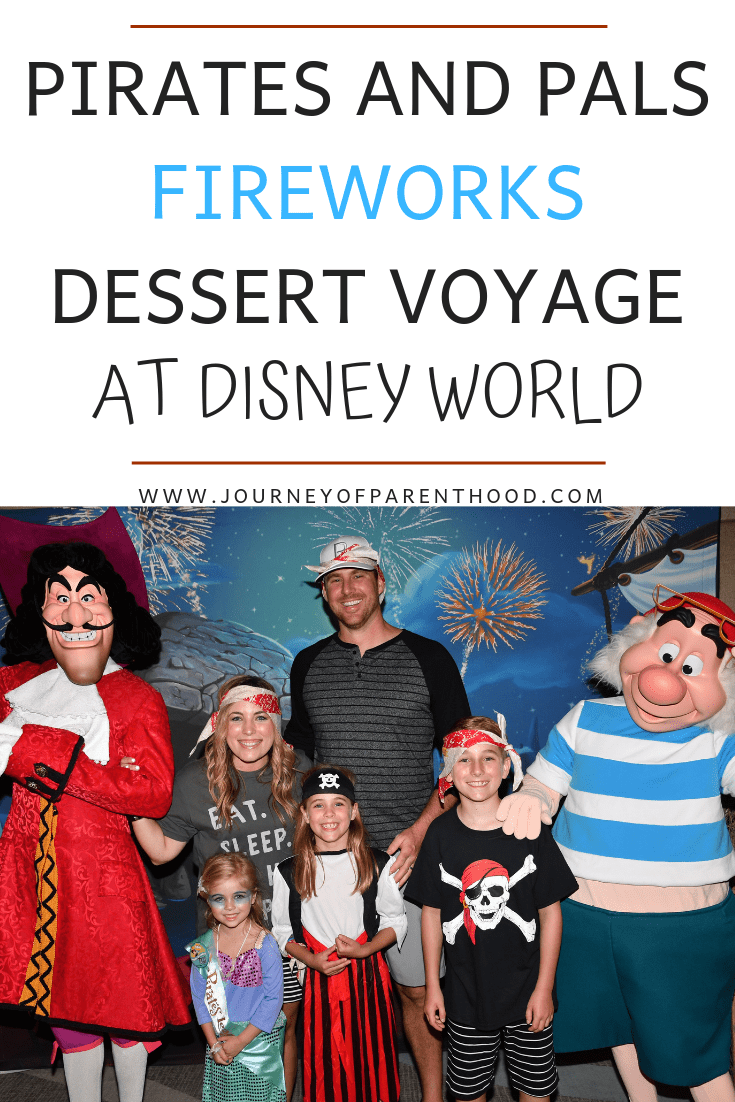 What is the Pirates and Pals Fireworks Voyage
The Pirates and Pals Fireworks Voyage takes place at Walt Disney World Resort.
Park admission is NOT required for this experience.
The fireworks dessert voyage is located at the Contemporary Resort and takes place one hour before the Happily Ever After fireworks.
It is a pirate themed event with unlimited snacks and treats as well as a meet and greet with Captain Hook, Smee, and maybe even Peter Pan 😉
The event includes a boat ride on the Seven Seas Lagoon with views of the Happily Ever After show including the music playing on the boat!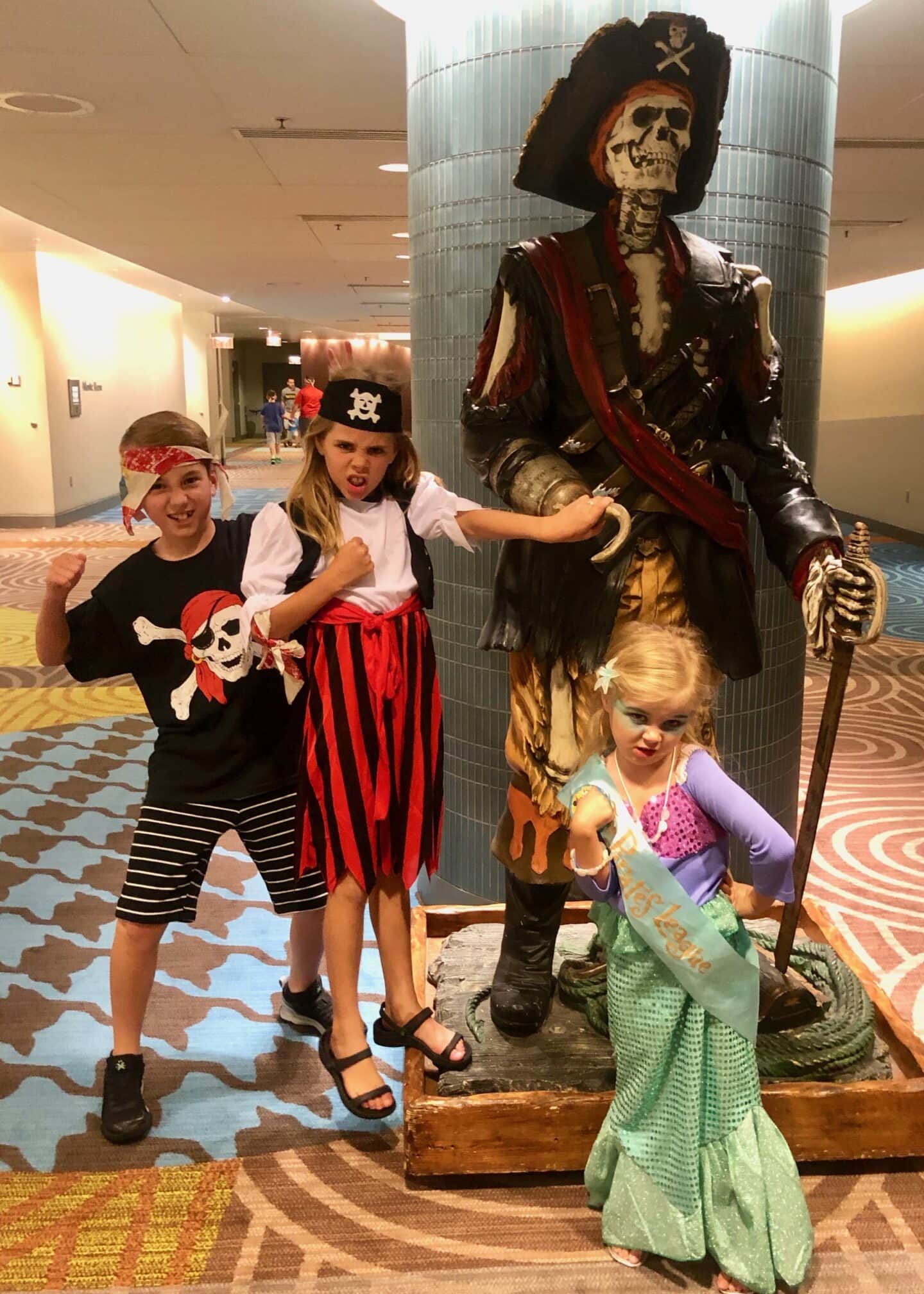 Must Know Details about the Pirates and Pals Fireworks Voyage
You can book this experience 180 days in advance here!
This event may change due to weather, and can also be pushed later if the fireworks at Magic Kingdom are delayed.
You may be able to view the electrical water parade during your boat experience but that is also not guaranteed!
Children of all ages are welcome to participate in the event.
The cost is $68 per adult and $40 for children ages 3-9.
It is not required to dress up, but it makes it more fun if you do and you are more likely to have interactions with the pirates and characters if you're in costume! (Even just an eye patch counts and adds to the fun!)
It is smart to eat "real food" prior to the event as it is solely snacks and basically a dessert party followed by fireworks show.
Snacks may be taken on the boat so be sure to eat all the ice cream you can during the pre-boat portion and bring the other treats with you 😉
It's wise to go ahead and meet Captain Hook and Smee right away so you can spend the rest of the time enjoying the snacks without waiting in a long line.
Some of the treats to expect during the event:
Our Experience at the Pirates and Pals Fireworks Voyage:
You can read about our first experience with this event here!
After Tess's awesome mermaid makeover we headed back to the house and let her stay up from naps so her makeup wouldn't get messed up.
It worked out really well that Mrs. Charlotte could keep Spear that night so we could have another big surprise for Tess!
I love that this was an experience we've done before but one that also felt so new because Kye was only five and Britt was an infant and didn't go! So really it was a super fun surprise for US ALL.
And we all voted that we HAVE to do it again for Spear on his birthday at some point 😉
I did get us all some pirate gear – since Britt wants to do the Pirate's League Mermaid Makeover for her birthday I plan to do some sort of pirate event for her too and figured we'll all be able to rewear everything!
Shop Our Pirate Looks Here:
We left around 7:15 and needed to be at the Contemporary by 8, which was plenty of time!
Once we arrived we got checked in and had some time prior to the doors opening for the event.
Disney always does a good job in theming and in FUN and they had plenty of activities to keep the kids busy in the waiting area and we all used the bathroom and got our bandanas on!
Once inside we headed straight for the meet and greet with Captain Hook and Smee and were the first ones to meet them!
Captain Hook was MUCH nicer to me this time than he was at Disneyland last year 😉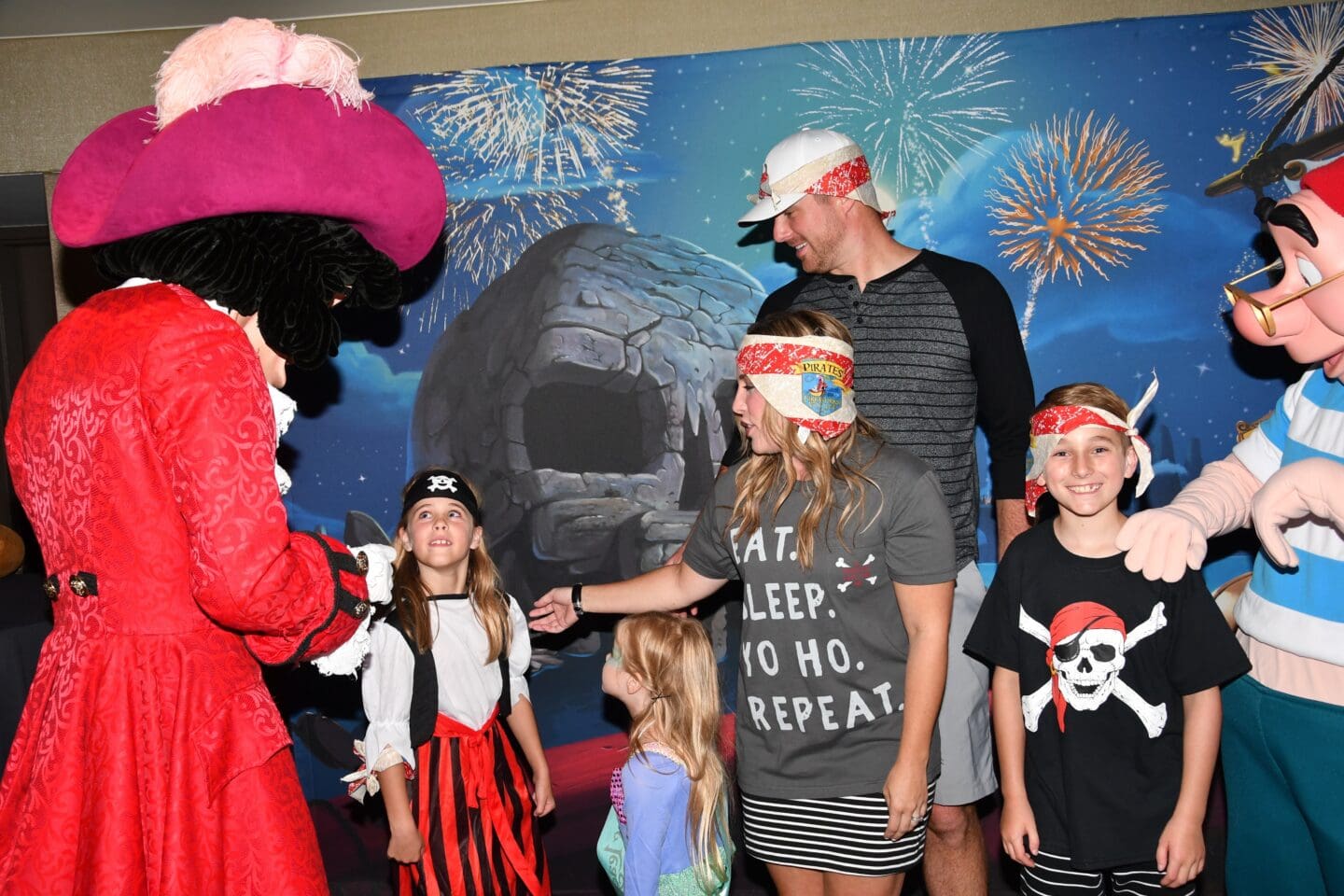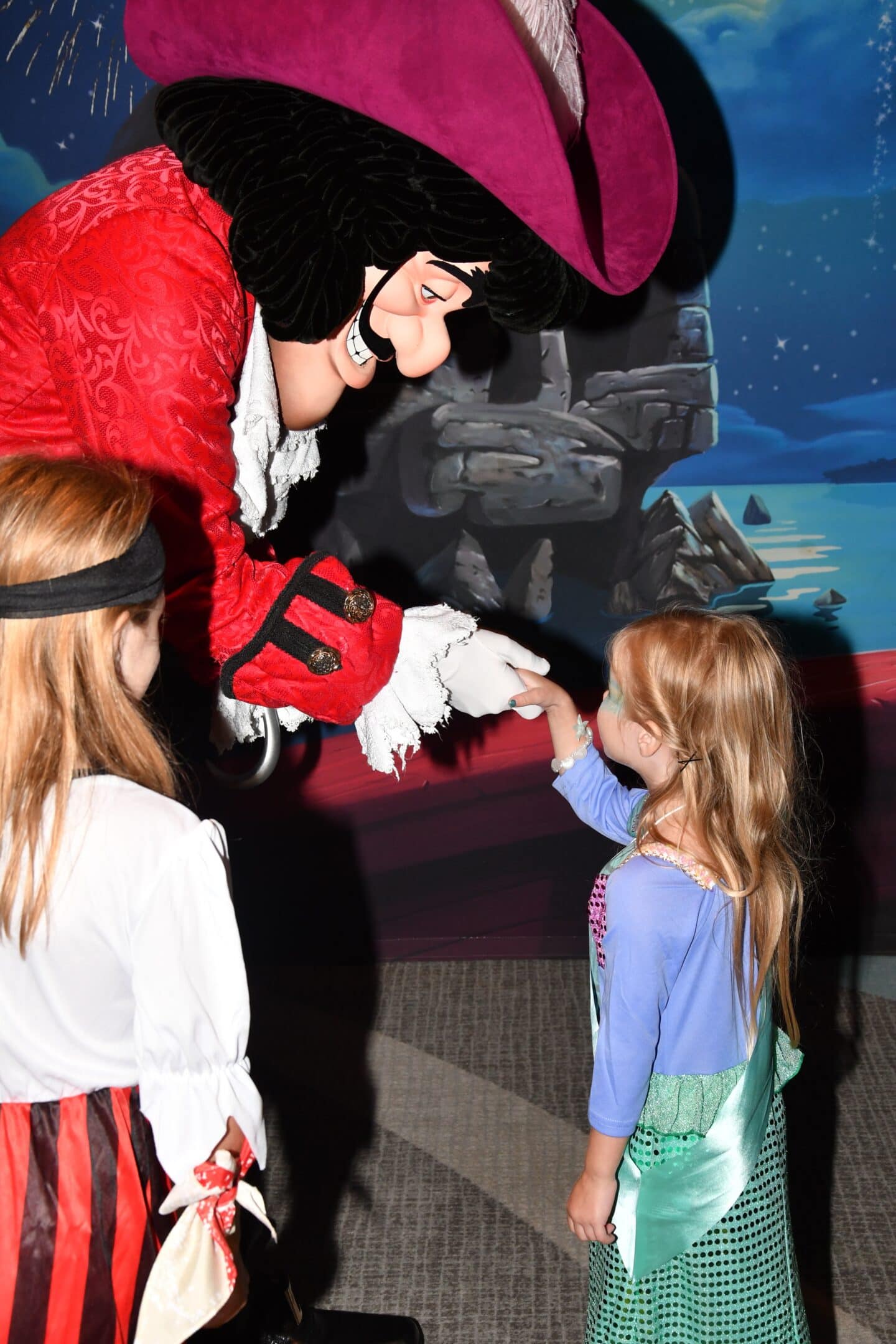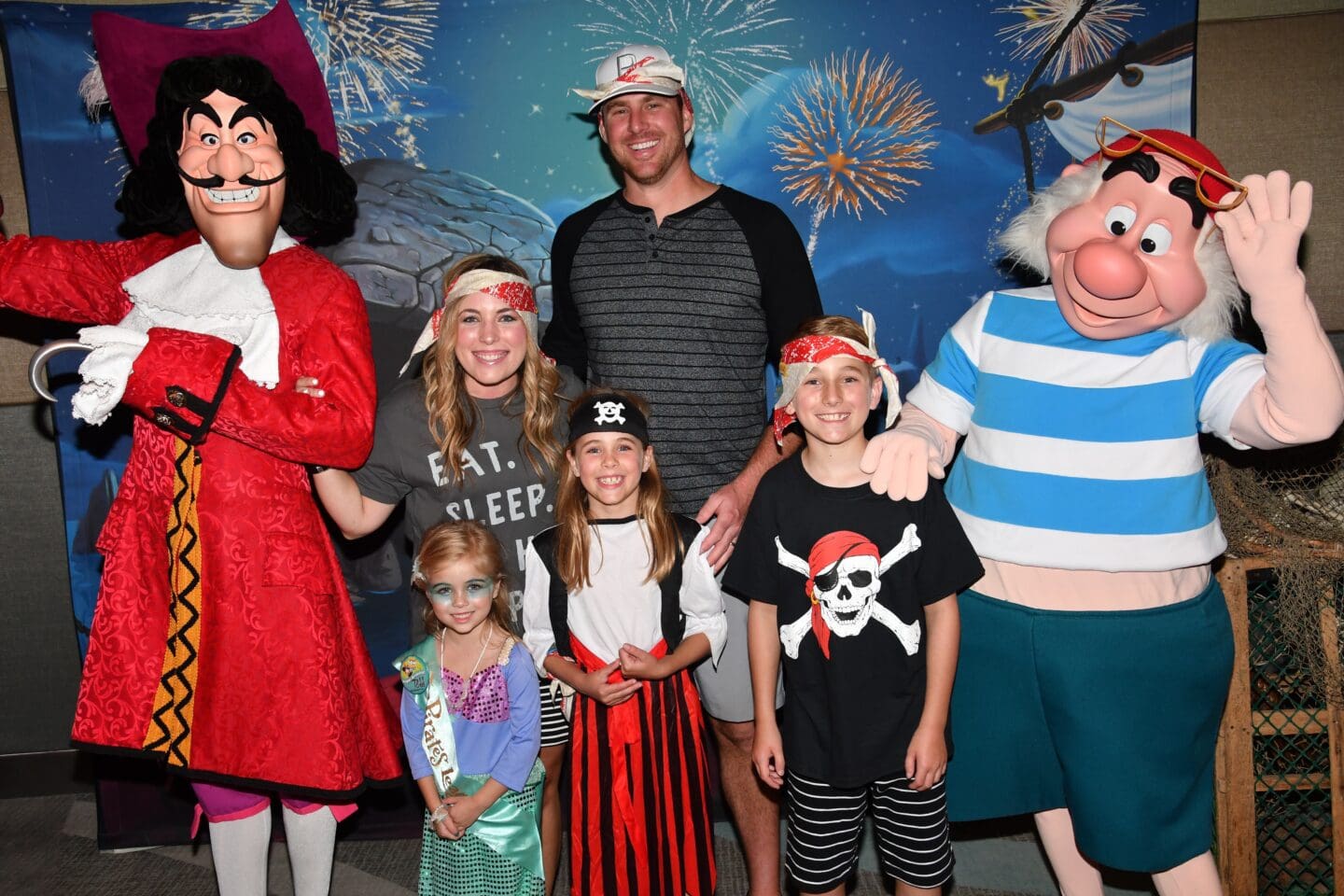 After we finished meeting and greeting we hit up the SNACKS.
I LOVE a Mickey Ice cream Sandwich and the orange creamsicles were amazing too! SO YUMMY.
Zach and Kye loaded UP on the the snacks – Kye cracked me up filling his pockets!
I love that Kye and I did our bandanas the same way without even planning it 😉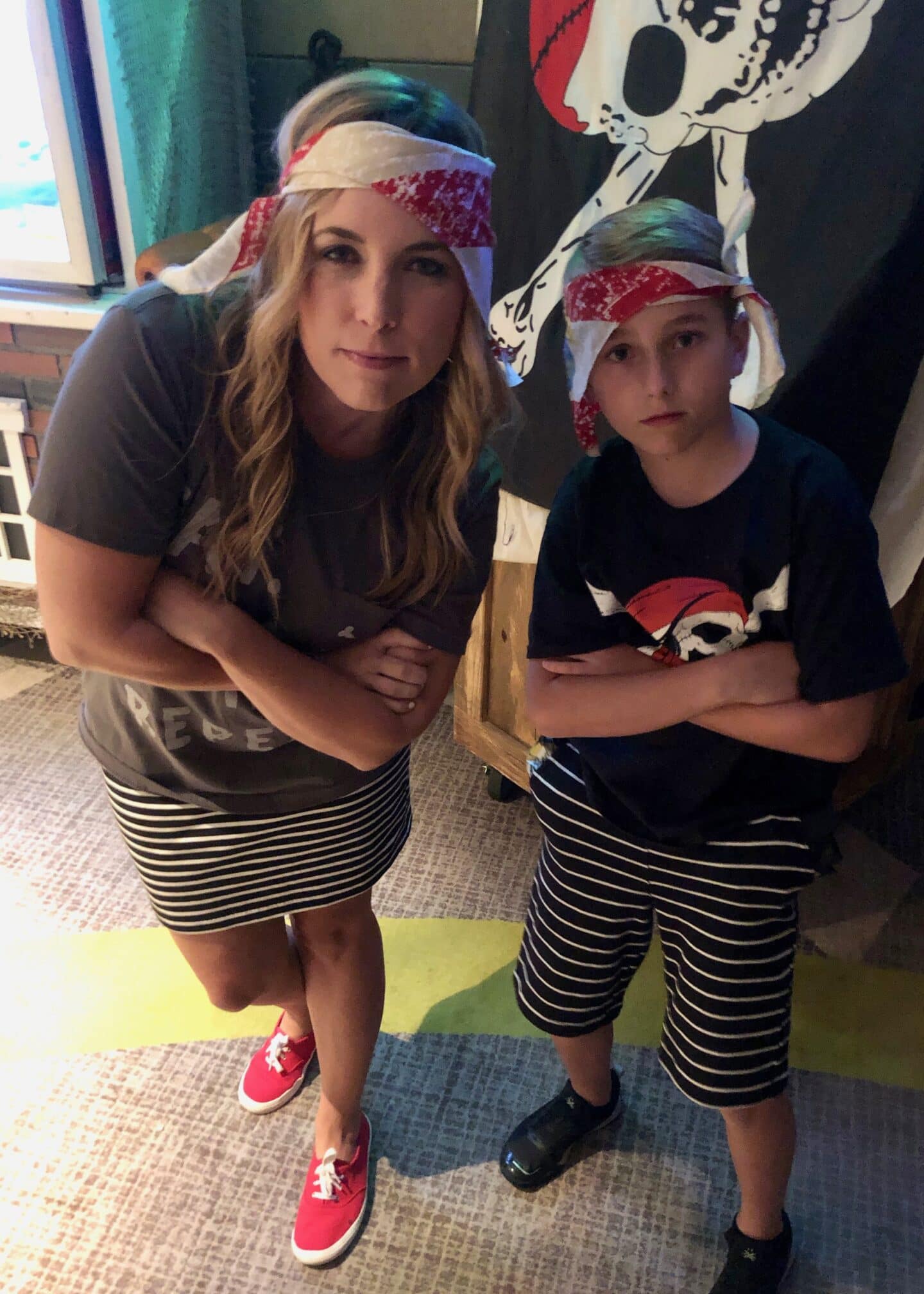 There are no bathrooms on the boat and you're out on the boat for about an hour so we all made sure to use the bathroom before loading time began.
Captain Smee and Captain Hook chose who would ride on each of their boats and chose a leader to lead the way.
I felt really bad for Tess during the event. She just LOOKS so little and young and kept getting kinda cast aside with more the focus on Britt by the cast members when it was Tess's birthday!
Thankfully she didn't mind and we all know Britt was ALL ABOUT IT.
She lead the way carrying Captain Hook's flag!
The boat had plenty of space and was very comfortable for everyone.
Our pirate made the ride fun and entertaining with jokes and songs and it was a very fun atmosphere for everyone!
I loved too that he was very respectful when it came time to watch the fireworks. Everyone on the boat was quiet and we all just enjoyed them!
The girls sat with Zach during the fireworks and Kye came and sat with me and, on his own, cuddled and loved on me.
Y'all. Sitting there hearing "happily ever after" and holding my first born big kid? I totally cried.
Just such a great reminder that I'm living my happily ever after!
After the fireworks we headed back and on the way the pirate passed out prizes to each of the kids.
Again, Tess got kinda looked over and he gave her a bathtub duck toy and gave Kye and Britt these huge, cool light up skulls.
Kye was SO SWEET and instantly gave Tess his skull 🙂 Couldn't let the birthday girl feel left out!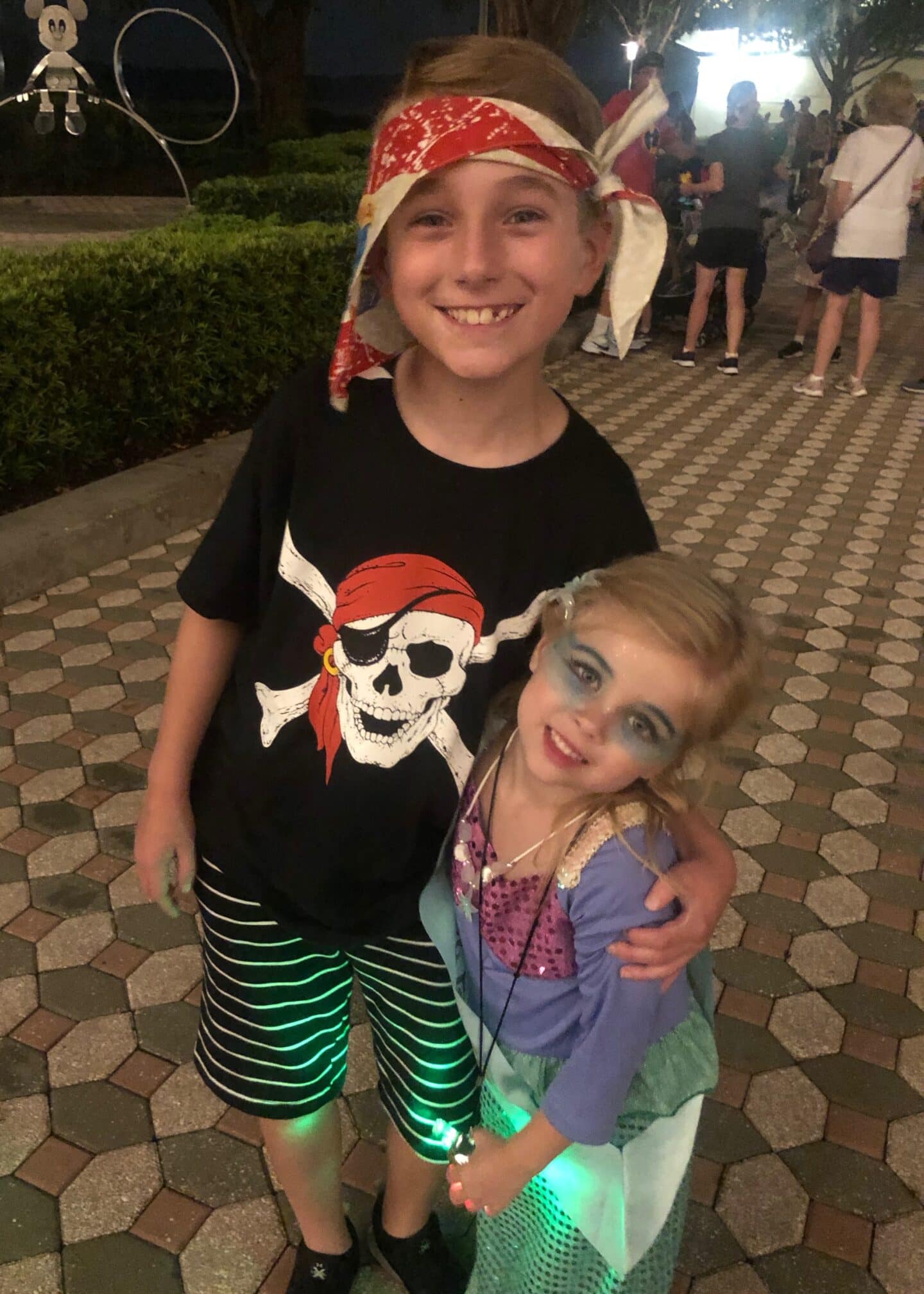 As we got off the boat Peter Pan was waiting for us on the dock!
Since we were in the first row of the boat we also got to be the first ones to meet him!
Confession: I'm not a huge Peter Pan fan. And this particular one was just kinda weird to me? But still a fun way to end the night!
We had an absolute BLAST and it was one of my favorite moments of our trip, if not my favorite!
It was just SO CHILL and relaxing and flowed so well so easily!
The Walt Disney Company always does things right and this pirate pals fireworks dessert event was no different!
Can't wait to do it again with Spear! It's not something we'd do every visit, but makes a GREAT special occasion!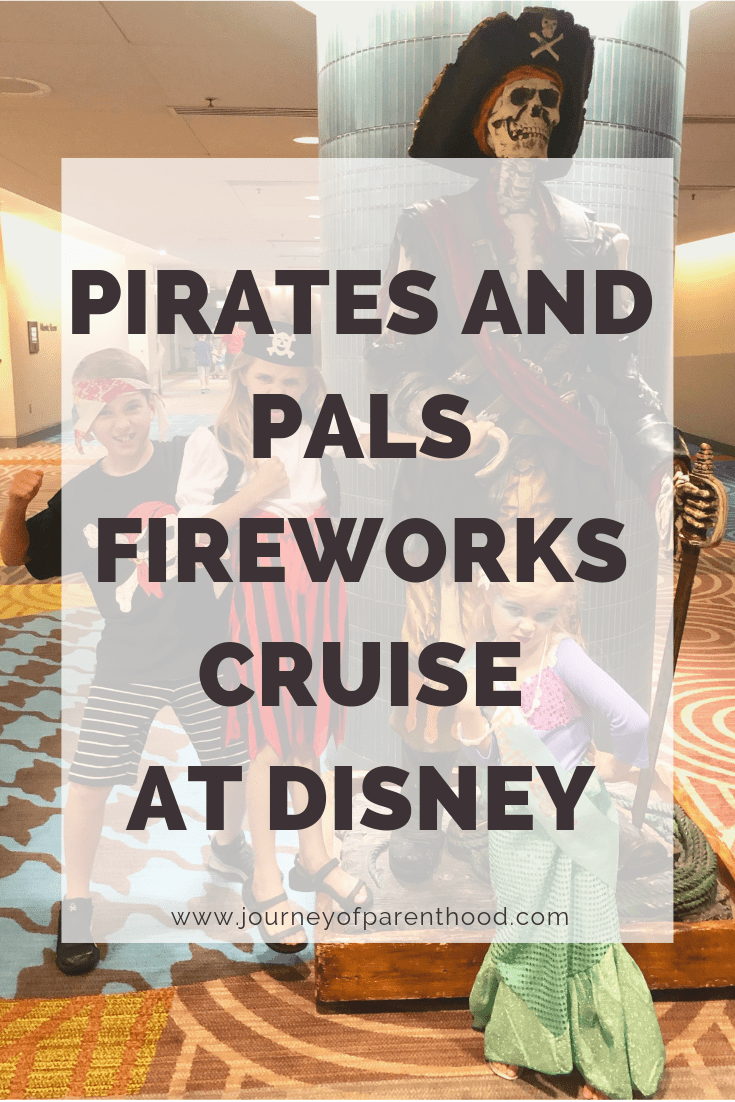 Need Help Planning Your Disney Trip?
My Top Disney Blog Posts:
More Info to Help You Plan:
My favorite planning tool for Walt Disney World parks is Touring Plans. Being a member of their site allows you access to crowd calendars and daily itineraries to avoid waiting in lines! Learn more here!