When you have a one year old learning how to walk, it's important to make it fun for them and give them plenty of opportunities to practice taking their first steps! That's where the best ride on toys for 1 year old and the best walking toys for 1 year olds come in… fun, practical toys with lights, sounds, and most importantly, wheels!
Back when my four babies were learning how to walk, I invested in a few walking and riding toys that have really stood the test of time! But since then, I've also come across others that have a good reputation among parents for being good-quality and fun for one-year-old babies to use.
The thing to remember is, when it comes to walking, every baby is a little bit different. Some babies walk before they're one, others when they turn one, and for others, not until later on. That's okay! None of my kids actually took their first steps prior to a year and a half old. But regardless of what stage they're at, if you want to encourage your toddler to practice those walking skills, then walking toys for 1 year olds are a sure way to go!
Not only do walking and riding toys develop the balance and coordination needed for walking by giving baby something to hold onto and push, but many of them also encourage fine motor skills and hand-eye coordination through a variety of activities, modes of play, and sensory activities designed to keep your baby's developing brain engaged!
Riding toys work in a similar way, helping them strengthen their leg muscles and mobility until they're confident enough to stand up by themselves. Many riding toys on this list also transition into walking toys, making them ideal for one-year-olds who are still in that in between phase!
So when it really comes down to it, the best ride on toys for 1 year old and walking toys for 1 year olds really depends on what you think is going to be most beneficial for their development as a learning walker!
But one thing is for certain when it comes to new walkers: making it as appealing for them as possible will help encourage your new toddler to develop those gross motor skills and get to take their first steps!
Here are my top recommendations for baby walker and rider toys that are ideal for 12 month olds and beyond!
Disclaimer: this post contains affiliate links.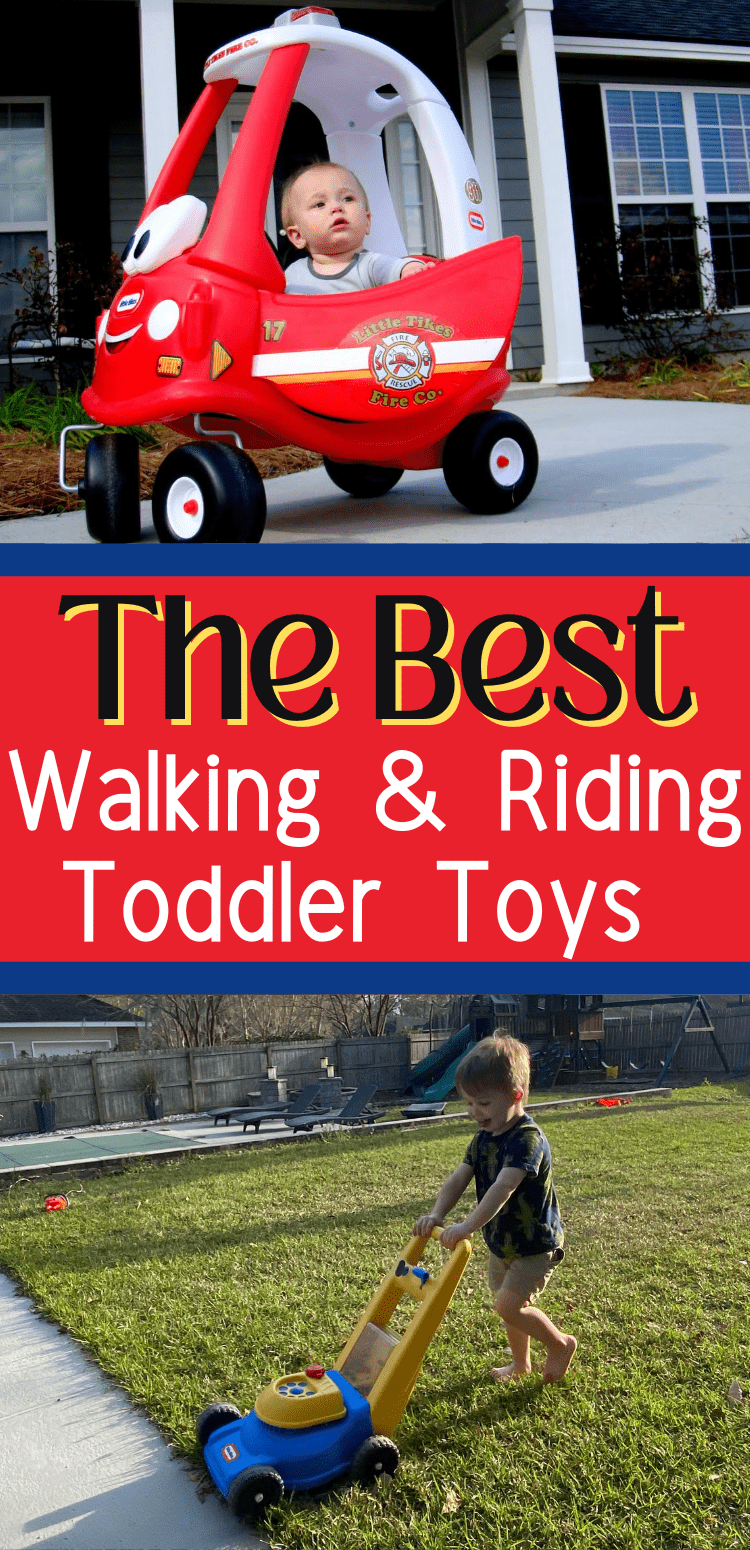 The Best Walking Toys for 1 Year Olds
These walking toys are designed for standing, pushing, and playing! With lots of fun features and accessories to keep your baby engaged, she will have as much fun practicing those first steps as you will have fun watching her get better and better!
Fisher-Price Corn Popper Baby Walker
I'm not sure walking toys for 1 year olds get any more classic than this popper toy! I feel like everyone had one of these growing up in some form or another, and it's no wonder why: it's a fun, simple sensory toy that pops the "corn" as baby pushes it across the floor, encouraging them to keep moving!
At an affordable price with little assembly required, this would make the perfect gift for a first birthday or Christmas! 
I personally think that this toy is more appropriate for a child who is already a pretty solid little walking buddy. The popper will not work unless the handle is being held upright and it's being pushed. It can take both solid walking skills, muscle strength as well as cognitive skills to be able to fully enjoy this toy.
Check the price for this walking toy here!
Little Tikes Lil' Shopper
Let your little one practice their first steps and their shopping skills with a miniature shopping cart walking toy! This is an easy way to get them to develop their fine motor skills as they pick up items to place in their grocery cart or engage in imaginative play as they "shop" at home! (Also a great way to encourage "clean up" time… never a bad skill to start developing early!)
We have a play kitchen and grocery store in our playroom and our shopping carts are one of the most-used items by all of our kids. Even with the youngest of our crew currently being four years old! You just can't go wrong with a shopping cart as a gift. It's much more sturdy with four wheels and won't fall over as easily and can help support your child as they use it as a push walker. Little Tikes is one of my FAVORITE brands and this is my personal favorite shopping cart 🙂
Check out the Little Tikes shopping cart here!
Bright Starts Giggling Gourmet 4-in-1 Shop 'n Cook Walker Shopping Cart
Personally, I'm more a fan of the free-play style of toys. I like the more traditional shopping cart for a push toy because it allows for more freedom to be creative and to have more imaginative-based play as well as to be more realistic and have more longevity as the child gets older to allow for enjoyment longer than just the toddler years!
However, the Bright Starts Giggling Gourmet 4-in-1 Shop 'n Cook Walker Shopping Cart is a popular push toy option for a 1 year old. It features a removable activity panel and can also double as a stand learning walker as your little one can hold on and cruise around as well as begin to push the shopping cart once they develop the skills to do so.
While I'm not personally a big fan of toys that require lots of batteries and leave less space for imaginative play, I do like to use the activity center portion of this shopping cart as an independent playtime activity. Little ones will sit and be engaged with the many extra features and it helps entertain them so Mommy can get things done around the house.
Check out the Bright Starts Giggling Gourmet 4-in-1 Shop 'n Cook Walker Shopping Cart here!
Lydaz Bubble Lawn Mower
No list of baby walking toys would be complete without a kiddy lawn mower! This one is extra fun because it generates bubbles as you push, and you know how much toddlers love bubbles! Obviously, this walking toy is more ideal for outdoors, perfect for playing on the driveway or in the backyard!
After all, if they see Daddy out there mowing the lawn, they might just be encouraged to mimic him with their own mini version! One of my favorite memories is our oldest son "mowing" the grass alongside Daddy. This is similar to the popper walker in that the handle is longer and needs stability when being pushed and is better geared toward a more skilled walker.
For another fun toddler activity ideal for the summertime, check out this awesome recommendation for the best toddler kiddie pool!
Check out the Bubble Lawn Mower here!
Melissa & Doug Deluxe Chomp and Clack Alligator Push Toy
Most parents are familiar with Melissa & Doug and their reputation for making imaginative, timeless children's toys. Their walking toys for 1 year olds are no exception! As the baby walks, the wooden alligators go chomp chomp chomp! With bright colors and simple mechanics, it encourages sensory development without too much stimulus. No batteries needed! Baby products that are made of quality products that, with care, can last for generations are among my favorites and this wooden walker toy is one that your 12 month old can enjoy and it can then be passed down to future siblings as well.
Check price for the alligator walker here!
LeapFrog Little Office Learning Center
An activity table is another great way to encourage those gross motor skills that help toddlers learn to walk. But with lots of activities to engage with as well, this toy also helps develop hand-eye coordination and pretend play as they interact with the musical toys on the table!
This is one of my personal favorite baby toys! The activity center is well-loved by all four of my kids and provided endless hours of entertainment. The learning center can be detached from the table legs to allow for a sitting baby to enjoy pushing the buttons and encourage those fine motor skills while not yet able to be mobile enough for a true walker toy. I am hoping to hang onto our activity table for grandkids someday because I just love it that much! It really grows with baby from sitting, to standing supported, to cruising, and they continued to enjoy it once they began walking as well.
Check the price on the LeapFrog activity table here!
VTech Sit-to-Stand Learning Walker
With lights, sounds, and colors, this farm-themed walking toy offers lots of different ways to engage baby's developing brain and encourage those fine motor skills during floor play while helping them build their confidence in walking as they push the walker toy across the room! 
This walker is a lot sturdier than the popper or the lawn mower and is a bit heavier as well. So if your toddler isn't quite as confident in their walking skills this makes for an excellent first push toy and one that they can still sit on the floor and enjoy the different activities when their little legs get tired from all that walking practice.
Radio Flyer Classic Walker Wagon
Introduce your one-year-old to this classic toy with a toddler-friendly version designed to help them take their first steps! With room for toy storage, it's a great way to engage your baby's imagination and encourage independent play as they get closer and closer to walking!
I'm a huge fan of Radio Flyer as a brand and ALL of my kids have always loved toting a wagon around the house filling it with all of their beloved treasures. If you've got multiple kids don't be surprised if this turns into a ride where the older ones are pushing the little ones around!
Check the price for the Radio Flyer here!
Kolcraft Tiny Steps 2-in-1 Infant and Baby Activity Walker
Many of the walking and riding toys featured in this post are geared toward early walkers all the way through three or four years old. However, this item is one that can be used prior to the walking stage. It doubles both as a baby walker toy AND an infant walker. It transitions from a seated activity walker into a walk-behind walker as your baby grows and develops. The over 8,000 reviews on Amazon speak for themselves and if you're in the market for baby walkers why not make the investment to a product that can be used once baby begins walking as well? I love practical purchases when it comes to baby toys!
Check the price of the Kolcraft Tiny Steps 2-in-1 Infant and Baby Activity Walker here!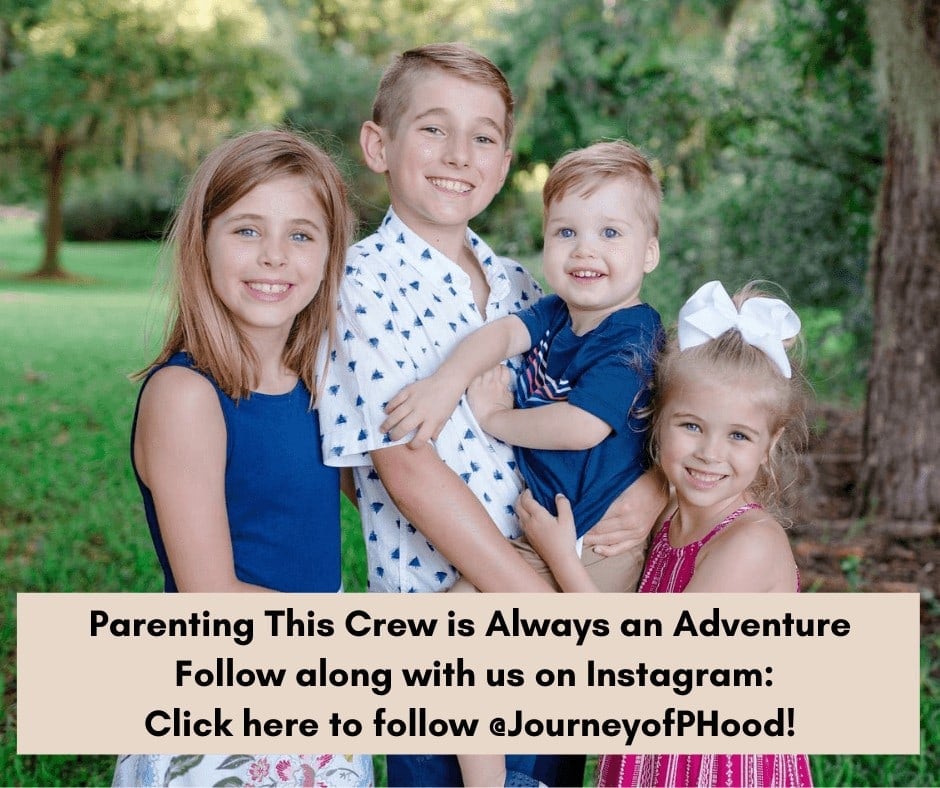 The Best Ride on Toys for 1 Year Old
The best ride on toys for 1 year old offer an easy transition from sitting to standing as your little one develops those essential balance and coordination skills! Some of these toys even transition into walking toys for 1 year olds, so it's basically like a two in one deal!
Fisher-Price Laugh & Learn Smart Stages Scooter
This cute little scooter is a musical ride-on toy that features 50+ songs and phrases that play as your baby rolls along. Plus, don't worry, the interactive dashboard allows you to turn OFF the sounds as well. I like the simple design of this scooter but I do wish the seat opened to allow for storage! Little ones love to put toys in and out over and over and if the seat opened I would be quicker to snatch this up for a one year old gift! I do love the realistic design as well as the turn-key clicker that I'm sure every toddler will enjoy playing with for years to come.
Check the price for the Fisher Price Laugh and Learn Smart Stages Scooter Here!
Baby Balance Bike
Balance bikes are a great way to help your little one prepare for the day that they are old enough for a trike or pedal bike. Baby balance significantly improves as they enter the toddler years and having their own bike as a first birthday gift or Christmas present will make them feel like a big kid. If you have older children, the young kids will also feel "part of" by getting to have a bike of their very own. This toddler ride includes easy-grip handlebars, a carbon steel frame, and durable tires to last a long time!
View the Baby Balance Bike Here!
Wiggle Car Ride On Toy
This simple outdoor ride-on toy for toddlers is a great way to work up to walking or just to further develop those important motor skills! I like this one because it's no-frills and comes in different colors! We always kept this as an indoor toy and it didn't mess up our flooring whatsoever. We've had our wiggle car for over a decade now and it's still in great shape and has been well loved by all of our kids. When little ones aren't yet able to scoot on their feet they can simply wiggly the steering wheel and the car will move on it's own. No gears, no batteries, no pedals!
Kiddieland My First Minnie Ride-On
An adorable option for little girls, this Minnie Mouse-themed ride-on toy is a great way to get them moving around the living room or kitchen in a fun, interactive way! I love that the seat opens to allow for storage items and I like the handle bar on the back to support a toddler who may be practicing their walking skills.
Radio Flyer Scoot 2 Scooter
Radio Flyer is known for making top quality products and this adorable scooter is a ride on your toddler can enjoy now and then it can convert to a scooter at the recommended age when they get a little older. It is a perfect size and just the right height for a young toddler to be able to ride and scoot all around the house or yard! One year old boys and girls will enjoy putting their toys and treasures in the storage space below the seat while in the ride-on mode as well.
When your toddler gets a little older and is ready to transition to a scooter, I have an absolute FAVORITE scooter I recommend (you can read about it here!)
VTech Prance and Rock Unicorn
Another great option for little girls, this unicorn-themed toy transitions from a rocking toy to a riding toy as she gains confidence in her walking and coordination skills! A super cute option for your little ride racer and has that old-school rocking horse vibe while instead being a fun unicorn design.
Check out the the VTech Unicorn toy here!
VTech Sit to Stand Ultimate Alphabet Train
The VTech Sit-to-Stand is a great interactive toy with tons of sensory features, including light-up buttons, piano keys, a walkie talkie, blocks, and more! What I really like about this one is that it transitions from a riding toy to a walking toy as baby grows! With some much to keep her mind and her little hands engaged, I wouldn't be surprised if it becomes one of her favorite toys!
I am not personally the biggest van of V-Tech products as they are known for having almost TOO many additional features. So many sounds and bright lights and just a LOT going on that they tend to be almost overwhelming and too stimulating which causes my kids to lose interest quicker than less busy toys. This item has been one of THE top recommended ride on toys for 1 year olds for as long as I've been a parent (and my oldest is a teen!) so I did want to include it here even though I've not personally owned it!
Fischer Price Walk Bounce & Ride Pony
This adorable pony-shaped riding toy is great buy with a variety of interactive features including a bouncy seat for extra movin' and groovin' fun! I like that this is a more simple design and reminds me of a rocking horse. I love that the seat opens for storage and that it is a more gender neutral gift item that can be passed down to opposite-sex siblings without any issues!
Check the price for the Bounce & Ride Pony!
John Deere Ride on Toy
My youngest loved tractors from an early age, making this John Deere ride-on toy an instant favorite! If your toddler is as fascinated by tractors and trucks and mine was, then this will make the perfect gift! John Deere is very similar to Radio Flyer in that it's a brand that is known for its high-quality products. We buy up a LOT of John Deere green in our home for our tractor-loving boy and my mother-in-law has this ride-on toy at her house. ALL the grandkids love it and play with it both indoors and outdoors.
Pewi Walking Ride-On Toy
This is a unique design for a riding toy that offers several ways for toddlers to interact and strengthen their coordination and balance skills! As an added bonus, the wheels are non-marking, making it a good choice for hardwood floors! 
This is a newer ride on toy that wasn't around when my kids were little but I'm blown away by the awesome reviews and it's totally something that myself (or Santa!) would have had under the tree for my kids as toddlers.
Little Tikes Cozy Coupe Car
In my opinion, the classic Little Tikes Cozy Coupe Car is a right of passage for every toddler! Not only is it a great riding toy but it is easy for younger kids to push from behind as a walking toy. Each of my four children had one and I still have all four of them because it's been too hard on my mama heart to let them go. I love the pictures of my little kids sitting so proudly holding onto the steering wheel. It's not just great for young children, but older kids enjoy playing with them as well and enjoy pushing the younger ones too (I can't tell you how many times my little brother and I pushed each other on a fun ride down our long sloped driveaway as kids in them!). They are high quality and built to last and are great for outdoor use but can be used indoors as well.
I love that they have cup holders as little ones enjoy having a place to put things and mine also always loved the sound effects of the working horn and how the gas cap can open and close and the key can turn in the ignition. The best things are often the most simple and toddlers don't need fancy, they don't need power wheels or remote control options or riding toys that require a rechargeable battery. Little riders will be overjoyed to receive their Cozy Coupe car and you'll love watching the memories to come!
Check the price for the Cozy Coupe here!
Final Thoughts
Hitting the one-year-old mark is an exciting time! Many big developmental milestones are on the horizon (if not already arrived!) as they transition from the baby stage to the pre-toddler and toddler stages. (And yes, one year olds are considered toddlers! Crazy, right?)
The right walking or riding toy will not only help your one-year-old gain the confidence and coordination they need to start walking, but it will also encourage them to play independently and develop their little imaginations as they interact with the toys on multiple levels!
Before you know it, baby will be walking… and then the real fun begins! 🙂
Here are some posts to help you transition to the toddler stage with confidence:
For more 1-year-old gift ideas perfect for a first birthday or Christmas, check out my ultimate year one gift guide!
I also have a great recommendation for the best baby dolls for a one year old (plus some awesome toy storage ideas!)