I have been SO excited for Robyn's mustache baby shower!!! I really, really love hosting showers for people. I wish I could afford to do them for everyone. Having a baby is such a special blessing and I think it's important to honor the mommy-to-be, especially with second, third and other babies.
EVERYONE gets pumped about someone's first born…but it seems like the more kids you have the less people make a fuss over the baby. I'm hardcore about every baby being equally exciting and important. You can ask Robyn, I am MEGA crunk about her baby!!!
Several months ago I saw on Facebook where TomKatStudio had a 24 hour flash sale. All of their printables were half price! I racked my brain thinking of all the upcoming parties I would need printables for and Robyn's shower popped into my head! I instantly fell in LOVE with the Little Man Mustache baby shower themed stuff!!!
I didn't tell Robyn about the mustache theme because I wanted to make it a little more exciting for her. I love unique baby shower themes and a mustache bash is a great idea for a boy baby shower! Isn't this mustache invitation adorable?
If you're looking for a great party theme for a baby boy, these little man mustache baby shower ideas could be just what you're looking for 😉
Disclaimer: post contains affiliate links.
Originally published June 14th, 2012
Mustache Baby Shower Ideas: Decor
For the diaper cake I really wanted to use legit bow ties so someday Baby C can wear them and wanted to tie the cake in with the mustache-themed baby shower invitation too. 🙂 I lucked out finding colors to match the theme huh? I found all the ribbon at Hobby Lobby. I think it turned out cute!!!
I loved the idea of using cheap paper plates and a stamp to make them fit the cute baby shower theme. I'm TOTALLY using this idea again! I found a little mustache stamp and stamped every paper plate.
Warning: It took each plate a LONG time to dry so I had them laying all over my kitchen for an entire day, but it's worth it for the custom look! I also used the stamp on the invitation envelopes and in other places for the baby shower party.
Baby shower decorations don't have to be complicated – just stick with a good color scheme that touches on your theme and you're good to go!
Close up of the plate
It wouldn't be a party thrown by me without some type of cute banner 🙂
Picture frame was used in Casey's Wedding!
Zach just added some fresh white spray paint to it and we threw away the chalkboard part she had used for signage.
I had Robyn send me pictures of her and Matt as babies (I told her toddler age was okay too…let's be honest, everyone is pretty much cuter as a toddler than as a baby!). When I ordered some mustache stickers for the party cups (as you'll see in a minute) it came with WAY more than I needed so I thought I could use them for a game.
I used the printed-off baby pictures and the mustache stickers to play "pin the stache on the baby" Don't lie…you wish you would have thought of it!
I also love the idea of the mustache party for a 1st birthday party theme and it could be so cute to "pin the stache" on pictures of the birthday boy from the year! The baby shower mustache theme and party decor could also be super cute for a gender reveal and you could even double it as a shower party too! This game would be fun to play at any of those events.
Matt
Robyn
Party Favors & More!
Usually I'm pretty hardcore about doing stuff myself…but sometimes it's just easier to pay someone else to make things. I found these chocolate mustaches for $1 apiece and by the time I bought all the supplies and spent the time making them myself, I would have probably ended up spending more than that, ya know? However, if you wanted to buy a chocolate mold and lollipop sticks and do it yourself, all power to you!
You can find chocolate mustache lollipops like these on Etsy!
I bought the ribbon from Hobby Lobby and used the printables from the Mr. Man set. I also bought a couple of mason jars to put them in and stuff the bottom with leftover craft paper from the diaper cake. I think they turned out cute! I never did eat one, but I'm sure they were yummy 🙂
Again if the theme were used for a first birthday I think a mustache birthday party for a baby boy would be adorable and these would make super cute party favors! You could also use them as cupcake toppers to incorporate the theme too.
Robyn got me a blessing ring for Brittlynn at the shower she threw for me so I wanted to do something similar for her. I typed up these pages (and used my stamp again!) for each guest to fill out. In case you can't read them it says "I pray you see, I pray you know, I pray you enjoy, I pray you love, I pray you become…you are such a blessing to this world!"
I just made up stuff for them to pray about so you could totally change it up to fit whatever you were wanting people to focus on.
I bought a scrapbook for her to put all of the prayer pages in. I made sure to print 20 pages since the book held 20 so she and Matt could each fill out one as well as anyone else who wasn't at the shower!
I think it ended up being a cute idea!!! It was simple, personal and made a great gift!
When I was still in the planning phase, Robyn's sister wrote me and offered to help out. Seriously, Laura is one of THE nicest people ever. I'm not exaggerating. Zach went and stayed with her (and her husband…duh!) while working up near where they live and he went on and on about how sweet she was. She spoiled him by making him lunch every day. Thanks Laura, he tried to get me to continue that trend 😉
Anyway, I'm not a huge fan of co-hosting events. I'm an odd mix… I'm a control freak/hardcore planner but then I'm also a pushover. I worry about hurting someone's feelings and would end up giving in on more than I'd want to and not like the end result as much. Laura was a great co-host though! I knew she would be so I was totally all about taking her up on her offer to help 🙂
She was so sweet and supportive and really told me she'd just do whatever I needed. I knew she's crafty so I asked her to make the mustache props for the photos. They turned out ADORABLE!!!
Mustache Man Baby Shower Food!
Laura also made this YUMMY bow tie pasta salad (I'm still wanting the recipe Laura!)
And she did the fruit for me too! I'm telling you, she's a saint!
The shower was at 10 and my original idea had been to have ALL sweet treats. But then I remembered that Robyn isn't a huge sweets person (and how are we friends?!?! haha) so I wanted to incorporate other foods to mix it up. I decided to do a breakfast casserole but really wanted to find a way to make it more "shower friendly."
I found this recipe and it's an INSTANT Parker Family Favorite for sure 🙂 These breakfast casserole muffins were the hit of the food table and literally we had one left when it was over! You can find the recipe here!
I couldn't resist some sweets…and Robyn does like donuts!
I really wanted to make some cookies for the party and have them match the theme. I bought a bow tie cookie cutter and got out my mom's Christmas cookie recipe and was pretty eager to try it out! I have attempted cookie cutter cookies in the past. And have NEVER been successful. My ghosts at Halloween were white blobs, my Santas were more like clouds, the hearts for Kye's V-day school party were more like pies missing a piece.
I don't know why I'm so horrible at using a cookie cutter?!?! I've tried several different recipes too! This time my efforts were, again, unsuccessful. The dough never even hardened enough to attempt it and I gave up pretty quickly. I just made drop cookies instead and stuck some sprinkles on them!
Chocolate covered pretzel "Cigars"
I LOVE these eclairs (in the freezer section of the grocery store) I could eat a million of them!
I really like to have everything match when I host an event (obviously!) so I hunted around to find an orange colored punch. The one I found turned out to be one of my favorite punches yet! I guess I'm just a big punch fan because I typically like all the ones I've ever made. This one was SUPER yummy though! You can find the recipe here!
Since the bow tie cookies were a dud…I decided to try my luck with brownies instead of mustache cupcakes. Why not? I found my BIGGEST pan and made a double batch of brownies. Then I stuck it in the freezer (it actually suggested doing that on the box!) and strategically cut out the bow ties. And it worked!!!
I had a TON of leftover brownie pieces that didn't get used but Jordan happened to stop by that day (like he does on the regular…we should just adopt him haha) so I gave them all to him. I decorated them with white frosting and piped them with gel and used sprinkles to tie it all together! I think they turned out SUPER cute 🙂
The cups with the mustache stickers… you could also do mustache straws if you wanted, those are super cute and popular! These cups were pretty short so they didn't need straws 🙂
The Party Activities
As guests arrived I told everyone to eat and fill out their Prayer Pages! (I got out all my old yearbooks for people to bare down on…Kye and I had fun looking through them all)
Time for pin the stache on the baby!
Laura had the right idea…haha…
Rhonda's turn!
I know, I'm horribly mean when I host a party. I make everyone make fools of themselves and I take pictures then I don't even participate in it 😉 Here's Robyn's mom
Matt's mom
Mrs. Maureen
Matt's grandma (such a trooper!)
Casey…trying to cheat…
To me, the key to a successful event is to keep things rolling. It's a great way to prevent it from going too long. For example, this shower started at 10 and everyone was gone around 11:30. I kept that junk going. It makes it MUCH more fun if you keep all the guests jumping from one event to the next and if there aren't a lot of lulls.
It depends on the crowd…but I've been to a shower or party or two where they get filled with lots of awkward silences because everyone is bored to death and doesn't know each other well enough to have a conversation. As soon as we finished up the mustache game I handed out pages to play a matching one. Everyone had a great time with the baby shower games and no one was bored!
Since Matt and Robyn are keeping the baby's name a surprise I thought it'd be fun to do a Baby Name game…but one where we had to match all of our names to their meanings.
It's neat that so few of us know what our names actually mean! Mine means "rival" which is funny to me since I'm like 0% competitive! The funniest one was the meaning "she who entangles men." Guess who's name meant that?!?! Yup, CASEY! haha!
A shower favorite of mine is Gift Bingo. I made up boards a long time ago for it (which took some time because each Bingo board has to be different). I print them off on paper to match the theme then pass them out prior to opening presents. As the guests arrive with their presents I put a sticker on each one so they each have their own number.
As the guest of honor opens each present I call out the number of that gift and the first person to get Bingo wins! It REALLY helps keep people paying attention to the gift opening (it's already awkward enough to be sitting there opening a bunch of presents but it's even worse when you're opening them all and no one is even watching!) and adds some excitement to the whole thing.
Presents! She got some awesome stuff!
Matt's mom made all of this stuff…she's so talented!
You KNOW if Britt had been a boy then this would totally be in our bathroom 🙂 Hooded towels make an awesome baby gift!
I loved the shark stuff
For my gifts (other than the diaper cake) I found this neat book at Hallmark where Robyn and Lorelai could record things together about the baby. It's all about Lorelai's perspective of Robyn's pregnancy and I thought it'd be a neat keepsake and a good way to get Lorelai excited about being a big sister!
I also splurged (luckily the shower was only a couple weeks after Robyn's birthday so I told her it was a combo present) and got her a charm necklace! I got her a big "love" charm and then each kid's first initial and birthstone (I bought Baby C's for June even though he's due July 4th because I know he'll be a June baby!). I hope she liked it, I LOVE mine for my kids 🙂
After the presents it was time for everyone to get their best mustaches on! I was super pumped about taking these pictures and they turned out SO adorable. I really can't thank Laura enough for making such fun props. I'm already thinking up ways I can use the frame and props for future baby shower ideas!!!
Courtney and Casey (I adore this!)
Robyn…this should be your profile pic!
Laura and Mrs Becky
Meghan
Mrs. Bonnie and Rhonda
Ashley and Preston 😉
Try #2!
Ms Marilyn
Robyn and Me – Gotta rock that baby shower mustache look 🙂
Sisters!
Rhonda showing off the party favors! I like keeping it simple with baby shower favors and you know that food is never a bad idea!
Preston be his little cute self
We had to get some non-stache pics too!
Robyn and Meghan
With her mom and sister
I REALLY hope we are able to give Brittlynn a sister one day, I'm so jealous of the bond these two share!
She's ready for a boy 😉
With Matt's mom
Ashley's turn!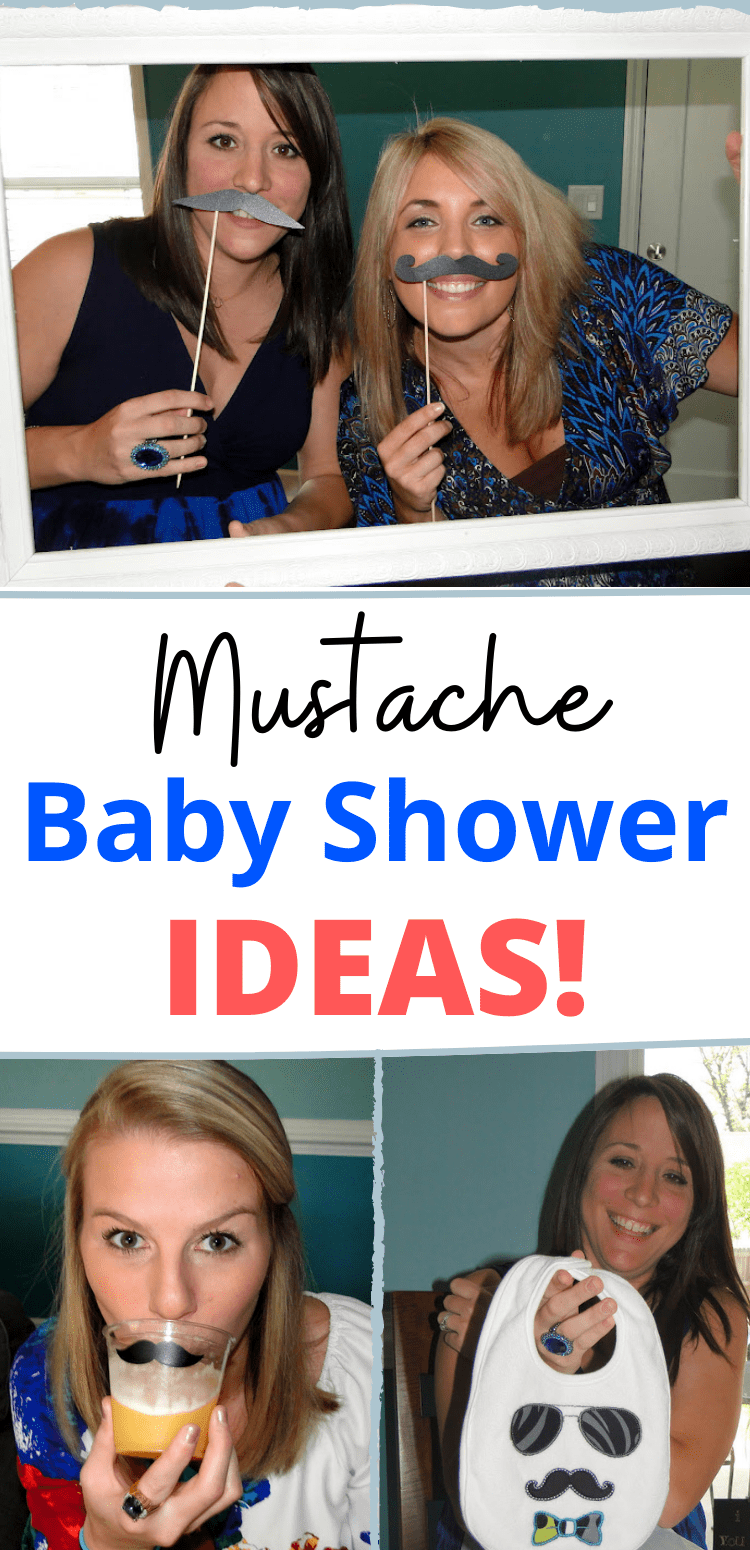 Mustache Baby Shower: Final Thoughts!
I'm very thankful that Robyn found my blog and contacted me three years ago! Such a wonderful friendship has blossomed from that first message and I'm thankful for the friendship we have together. We are truly always there for each other and it's SUCH a blessing to have someone I know I can contact anytime even if it's just to vent over something mega dumb. We're def text bffs hardcore 😉
I am SO excited to meet Baby C (although I still haven't made an attempt to guess his name…I'm horrible at stuff like that even though I know I torture you all with my secretiveness with my kids names!). I really, really hope I'm able to be there when he is born. I've never gotten to be on the waiting room end of things and I'm eager to have that experience!!!! Like I am LIVING by my phone waiting for a text to say it's GO TIME!!!!
Robyn and Matt both agreed that two children is the perfect number for them so this will be her last pregnancy. Even though she's totally content about it, the idea of being done makes ME sad and it's not even ME that's done haha. So I wanted to really make this shower special for her. I hope I accomplished that goal…personally I think I did. Honestly, this mustache baby shower is probably one of the cutest events I've hosted yet!!!
Other posts you might like: