Building a gender-neutral nursery for your new baby has become quite the trend lately, and for good reason: there are so many lovely ideas for gender-neutral spaces! From neutrals to pastels to animals and more, you can make it so sweet and stylish.
We are huge fans of being Team Green! Personally, I've done gender neutral nurseries for two out of my four babies and we've loved each one!
A gender-neutral nursery is a great idea if you're waiting until birth to find out the gender of your baby. (I have a whole list of reasons why I recommend keeping baby's gender a secret!) It's also good if you plan on having more babies and want to be able to reuse baby items! Or if you just don't want to commit fully to all pink or all blue!
Besides, while the nursery is your baby's room, it is a place where you are going to be spending a lot of time, too! And you are going to care more about what it looks like than baby does, I guarantee it. So why not make it a pleasant retreat?
I've put together the absolute best ideas for a gender neutral nursery to get you started!
If you're a "Team Green" Mama then you may also want to look at this post for some adorable gender neutral baby shower theme inspiration as well as this post for alllll the best baby essentials and gender neutral baby gifts to add to your registry!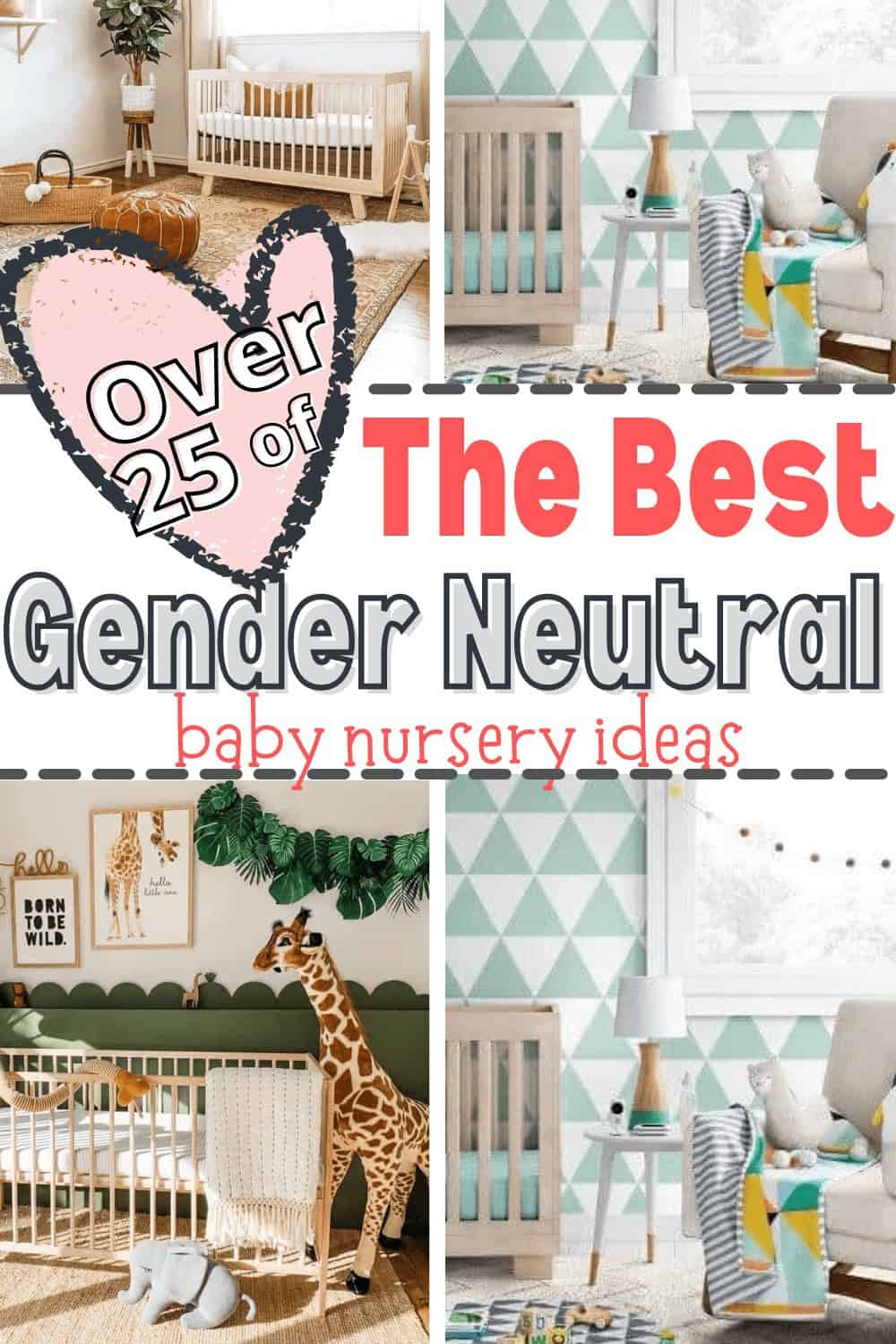 Disclaimer: this post contains affiliate links.
Gorgeous Gender Neutral Nurseries
I've divided these gender neutral nursery ideas into sections based on general theme. But of course feel free to mix and match or take your inspiration in an entirely new direction!
Every baby's nursery is going to be unique and special. By keeping it gender-neutral, you free up so many design possibilities!
And having a Team Green nursery doesn't mean you have to have it actually be green either. There are lots of color options and pallets to choose from when planning a gender neutral baby room.
Animal-Themed Gender-Neutral Nursery Ideas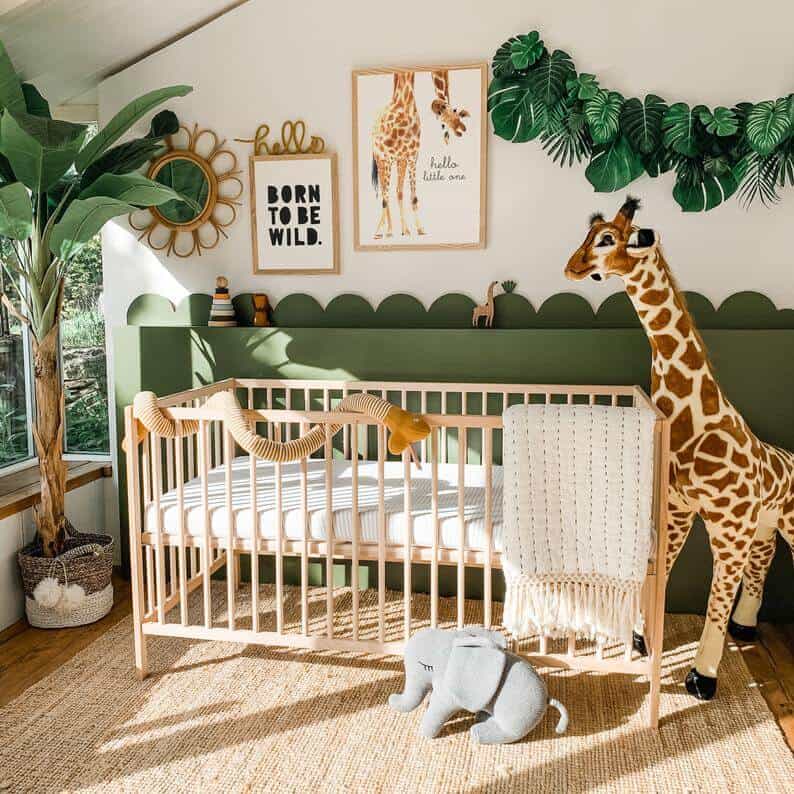 The bold, emerald green color plus some adorable jungle stuffed animals equals the perfect animal themed gender neutral nursery!
You can find that super cute giraffe wall art on etsy. Complete the look with an oversized stuffed giraffe and a jungle leaf garland!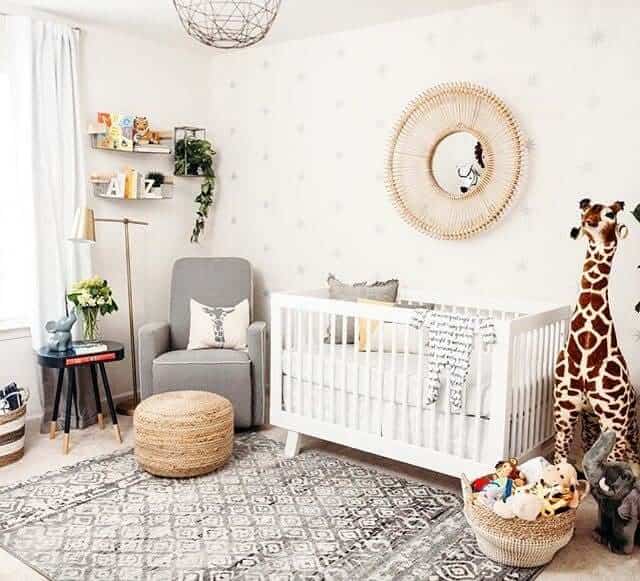 For a subtle but adorable animal theme, this serene little nursery balances a neutral pallet with fun, bold animal print accents!
That oversized stuffed giraffe is such a great addition to any baby's room!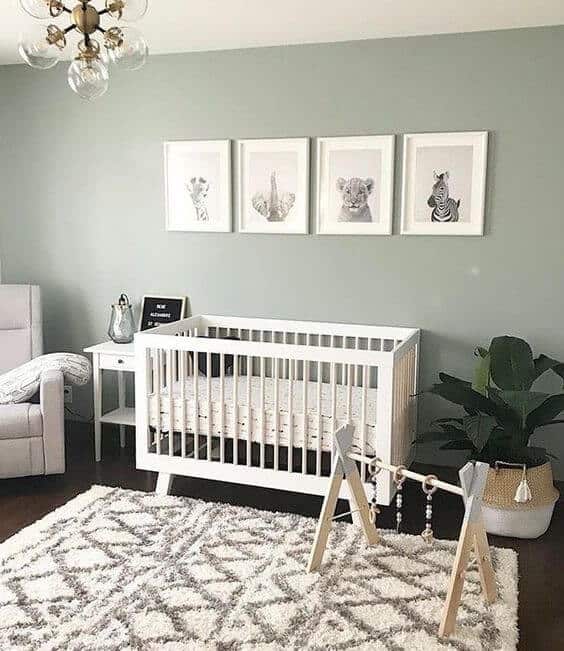 For another clean, subtle animal theme, this minimalist-style nursery is so sweet and calming! Some jungle animal wall art adds such a fun touch, and that unique baby gym is as functional as it is stylish!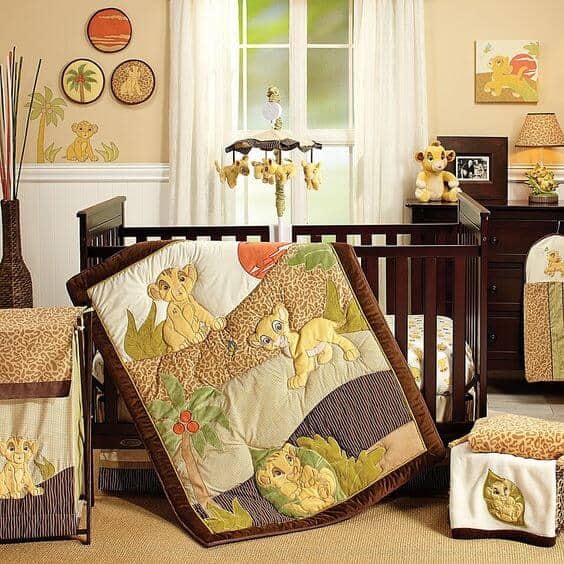 If you know me, you know I love Disney! So how cute would a gender neutral nursery be featuring baby Simba and Nala from the Lion King? The best part is, you can find that amazing quilt and the rest of the collection on the Bed Bath and Beyond website!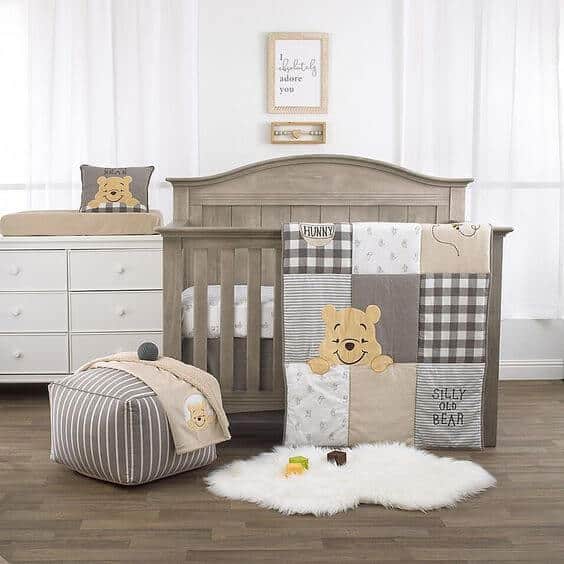 Nothing says childhood like Winnie the Pooh! Another great idea for Disney fans that features soft, neutral nursery decor and that oh-so-lovable silly old bear! You can find the whole Winnie the Pooh set on Buy Buy Baby!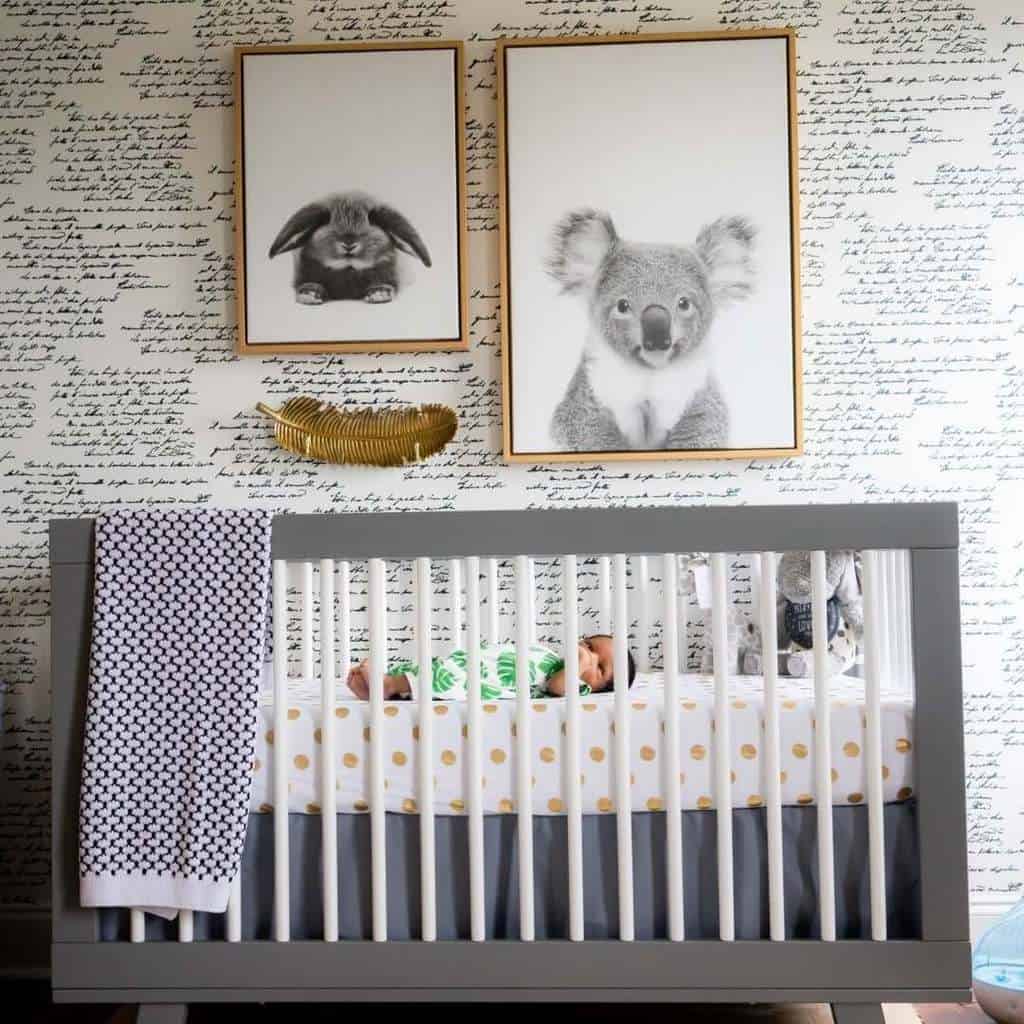 For a chic and eclectic animal theme, this grey-and-white animal theme with gold accents is clean, modern, and so very sweet!
Get the look with the koala art print and a convertible crib!
Gender Neutral Nursery Ideas With Bold Colors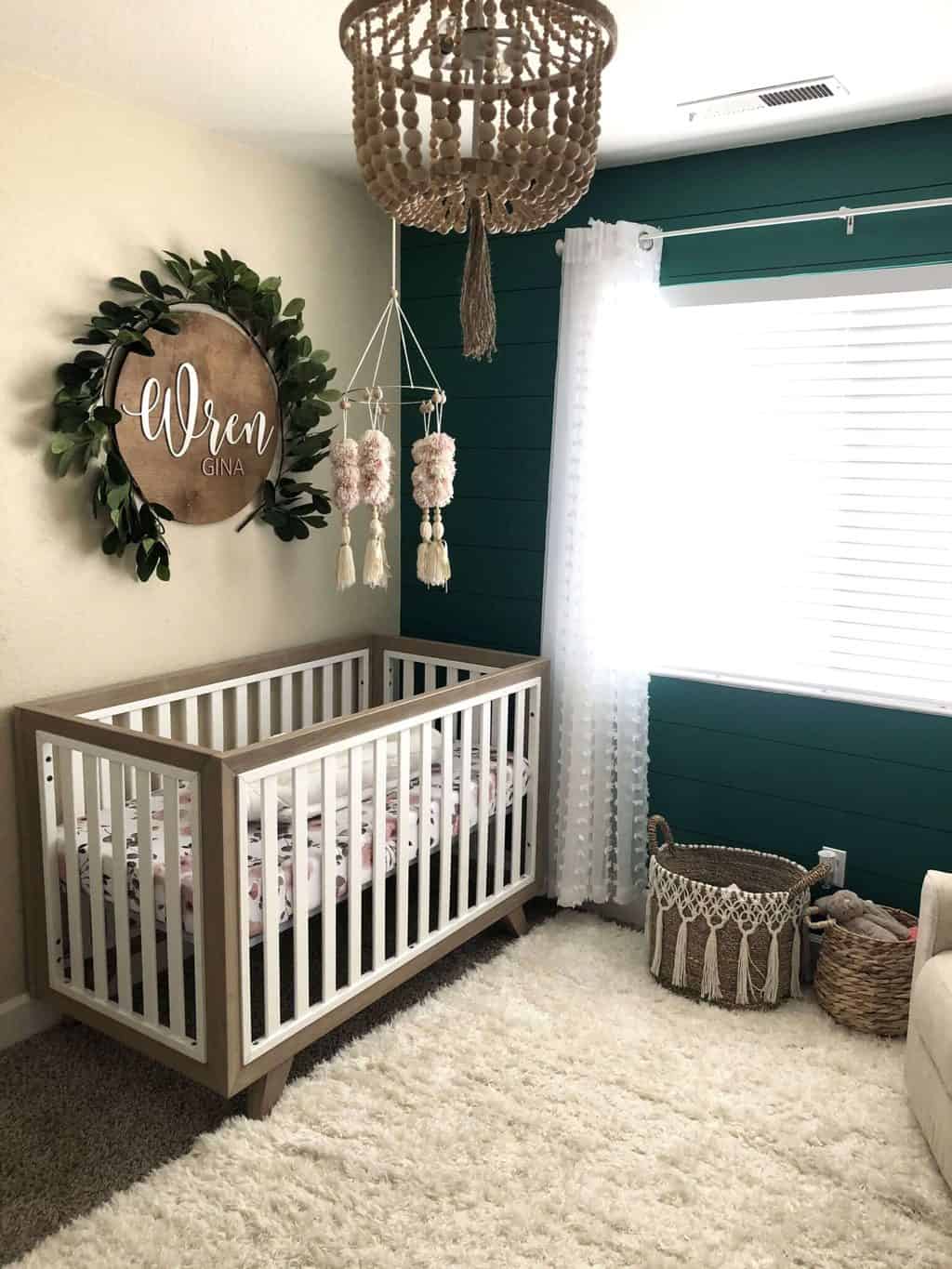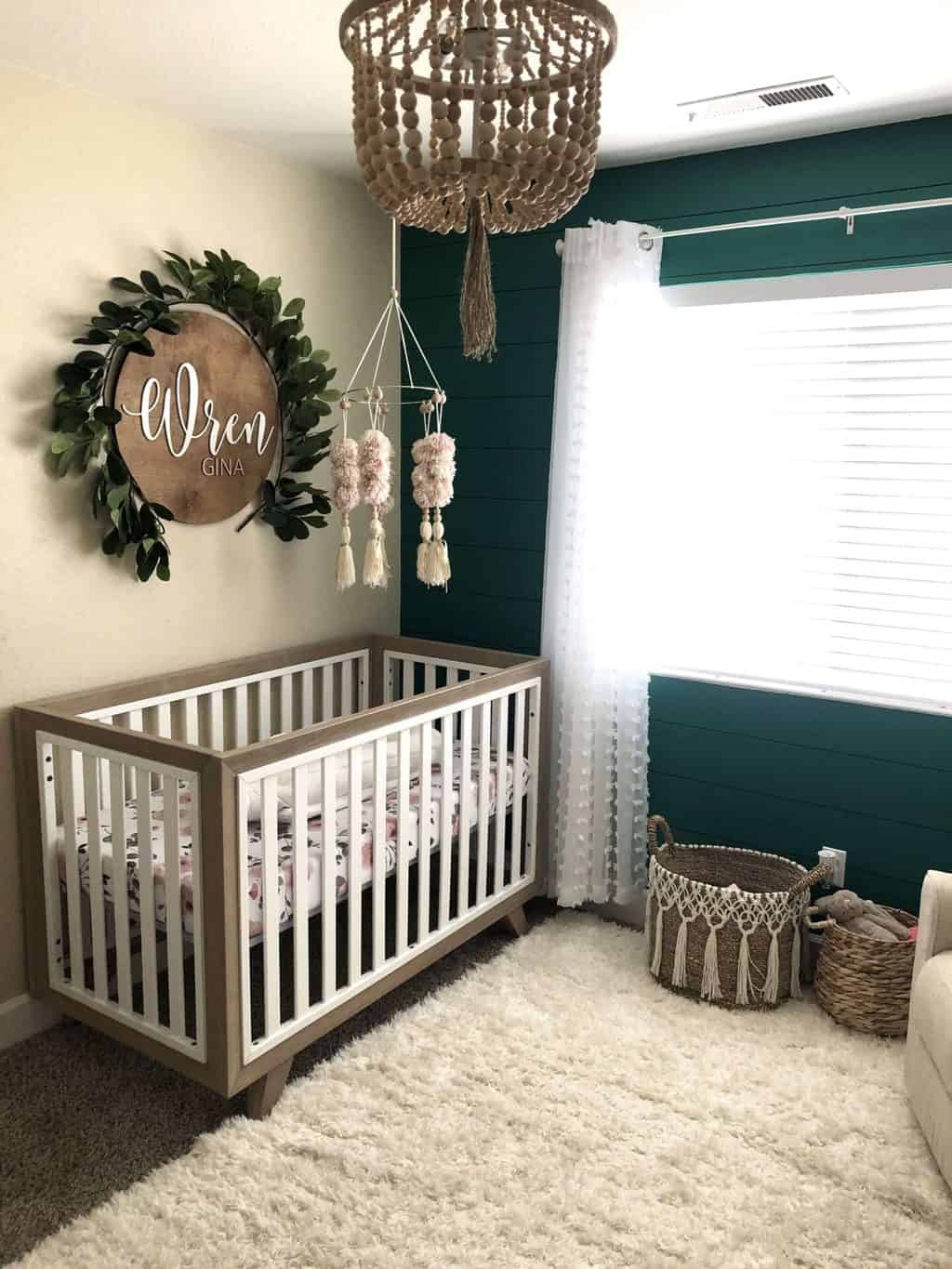 For a bold and beautiful gender-neutral nursery theme, try a colorful accent wall! This emerald green nursery is as calming as it is eye-catching, and the different textures really give it a chic, natural look! I especially love the idea of a customized wooden sign above the crib!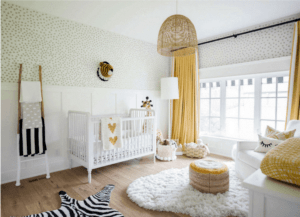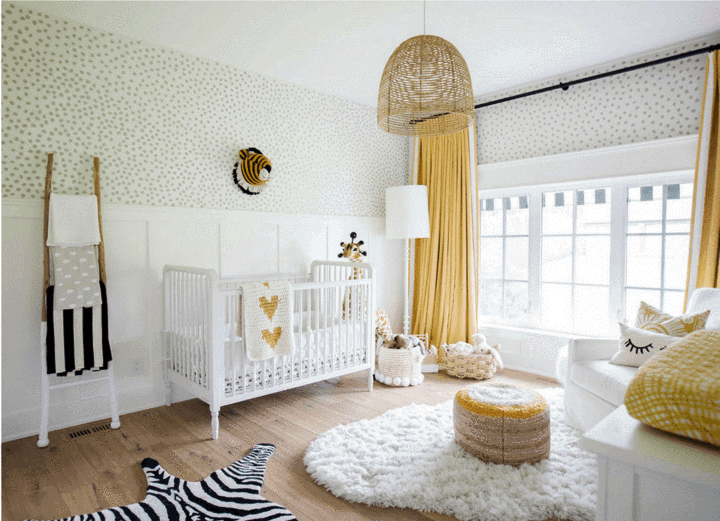 Warm up the nursery with lovely pops of mustard yellow, like those sunny yellow curtains! Combined with monochrome and light neutral colors, it's as stylish as it is cozy!
Here's another beautiful green-walled nursery that's so pretty it looks like an oasis! The gold crib and dark woods give it a woodsy, forest retreat feel. You could easily swap out the pink accents for an even more neutral color palette!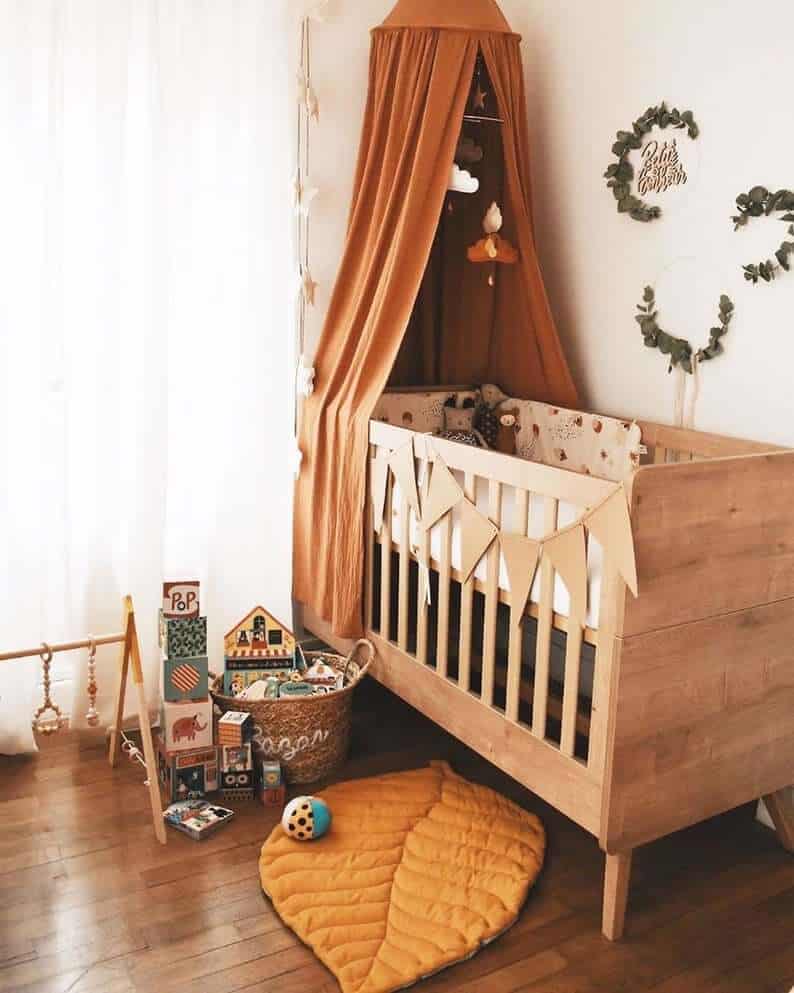 Yellow ochre and burnt orange give this cute little nursery a warm, summery feeling. Those clever wall hangings add a natural touch, and eye-catching yellow leaf rug is a perfect pop of color!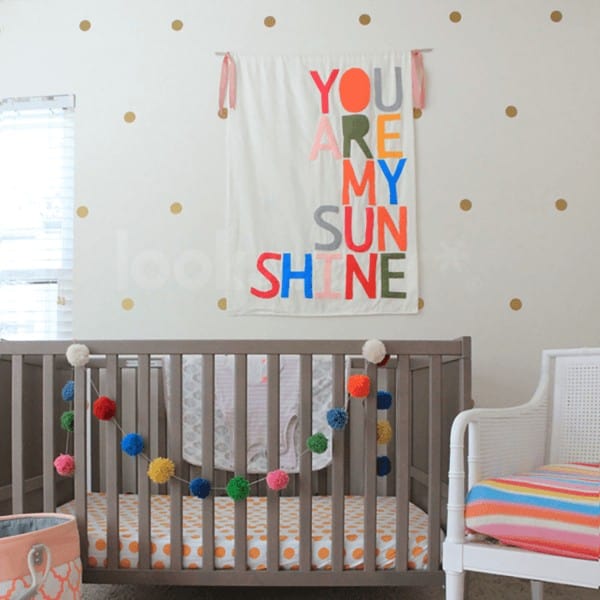 Who said gender neutral has to be, well, neutral? Of course you can use all the colors and make it fun and bright! This adorable multicolored nursery strikes a good balance between colorful and calming with the polka dots and white wall.
A pom-pom garland is such a cute idea for a nursery decoration (though of course I'd suggest not hanging it over the crib)!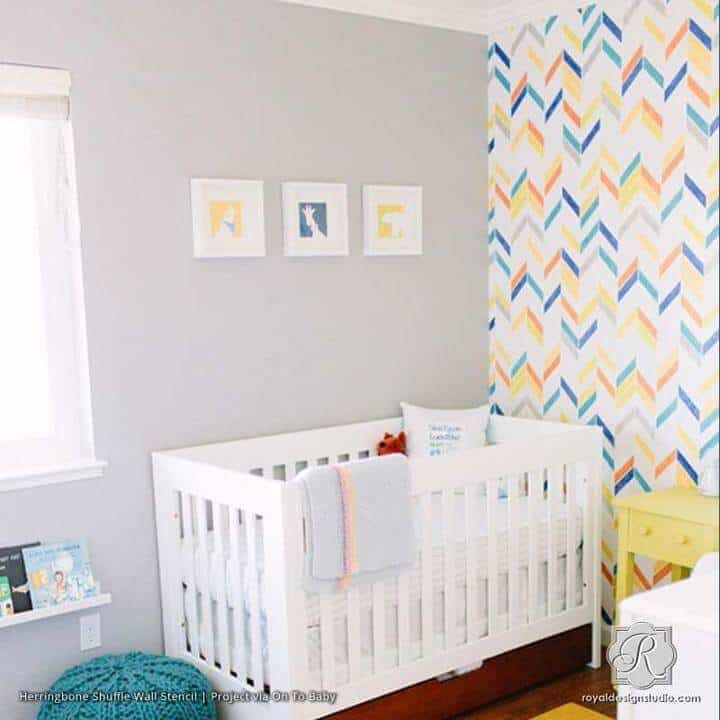 By pairing complimentary colors together, you can create a charming, gender neutral look that's still colorful and bright. The blues, oranges, and pale yellows on the accent wall really tie the room together!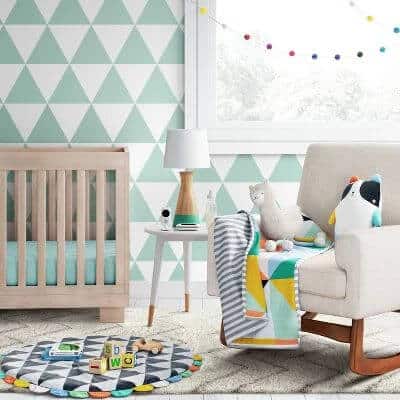 Pairing bright colors with bold shapes is another way to add some pizzazz to a gender neutral nursery! The colorful crib bedding set adds a pop of yellow and green that compliments the natural wood crib perfectly!
Clean and Simple Gender Neutral Nursery Ideas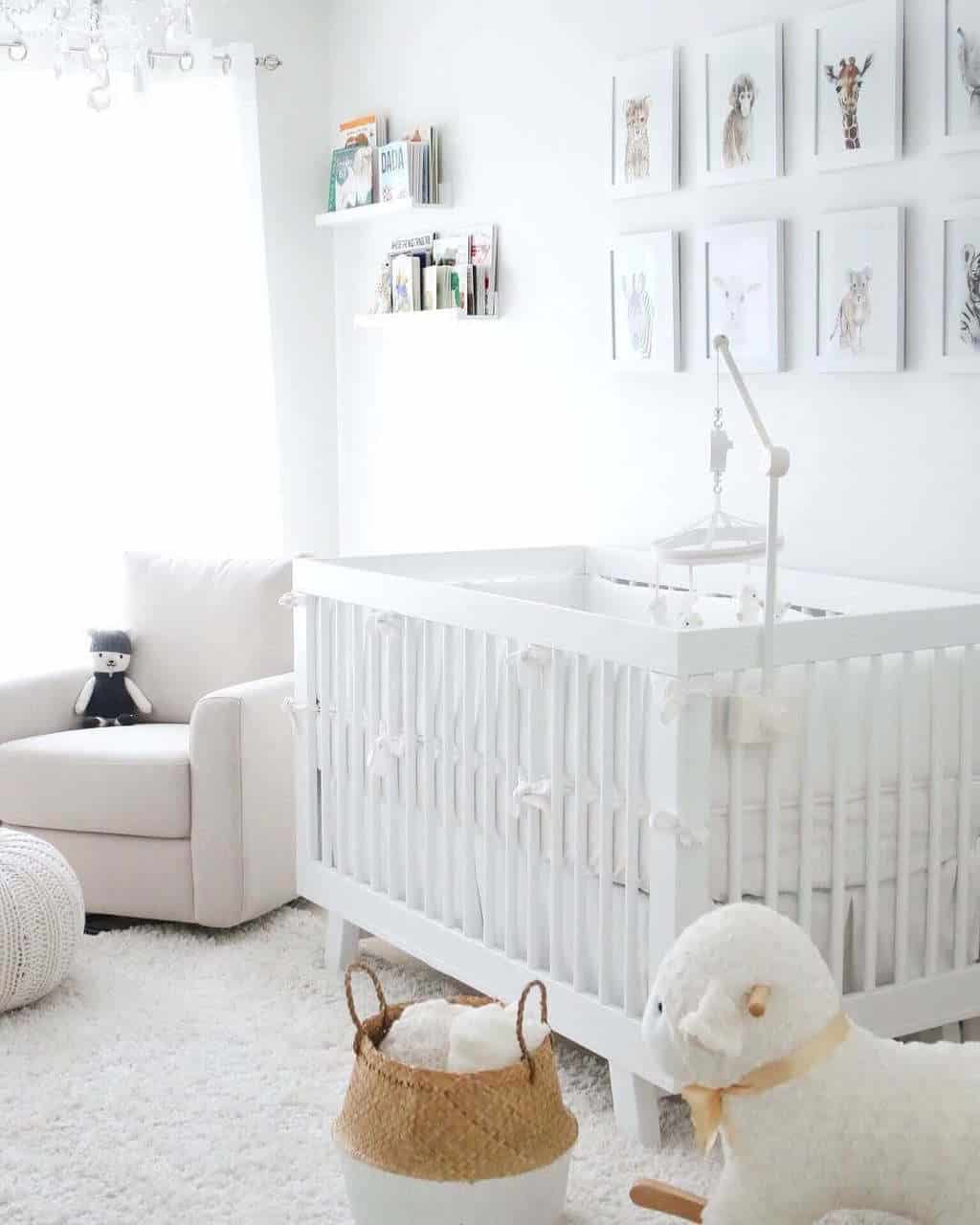 You can't go wrong with a simple, white nursery! White walls and furniture will make everything brighter and cleaner (plus, stains can be bleached out!) Add some neutrals, like those baby animal art prints, and you're ready for baby's arrival!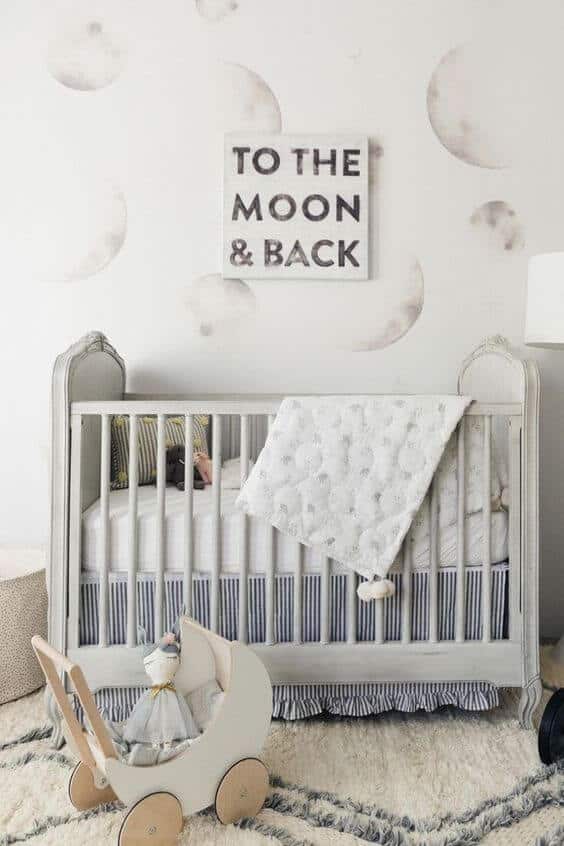 Keep it sweet and simple with light grays, white, and moon-themed accents! The "To the Moon and Back" sign is so cute! Add a couple patterned fabrics, like the pin-striped bed skirt, for some contrast!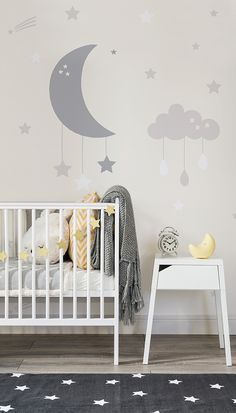 Here's another simple gender-neutral nursery design that utilizes the star and moon theme, plus a few pale yellow accents! It still comes off very subtle and clean.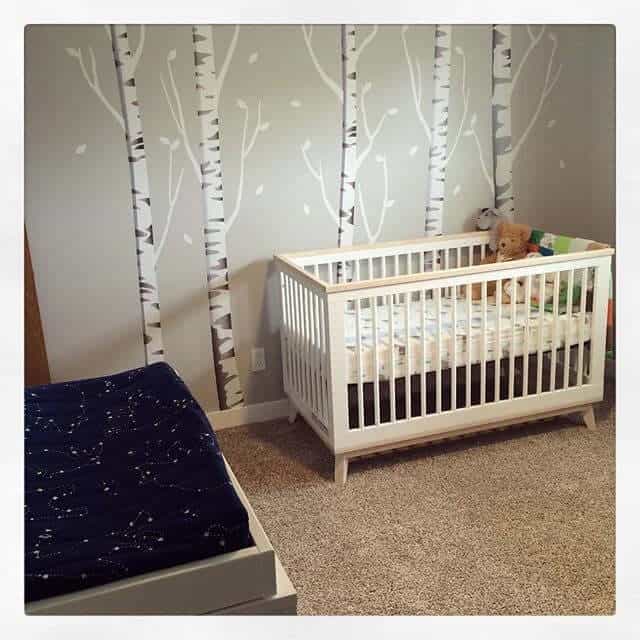 The birch tree wall art make this simple nursery look like a peaceful forest! Add a simple white crib and some cute stuffed animals and you're all set for a woodland-themed nursery.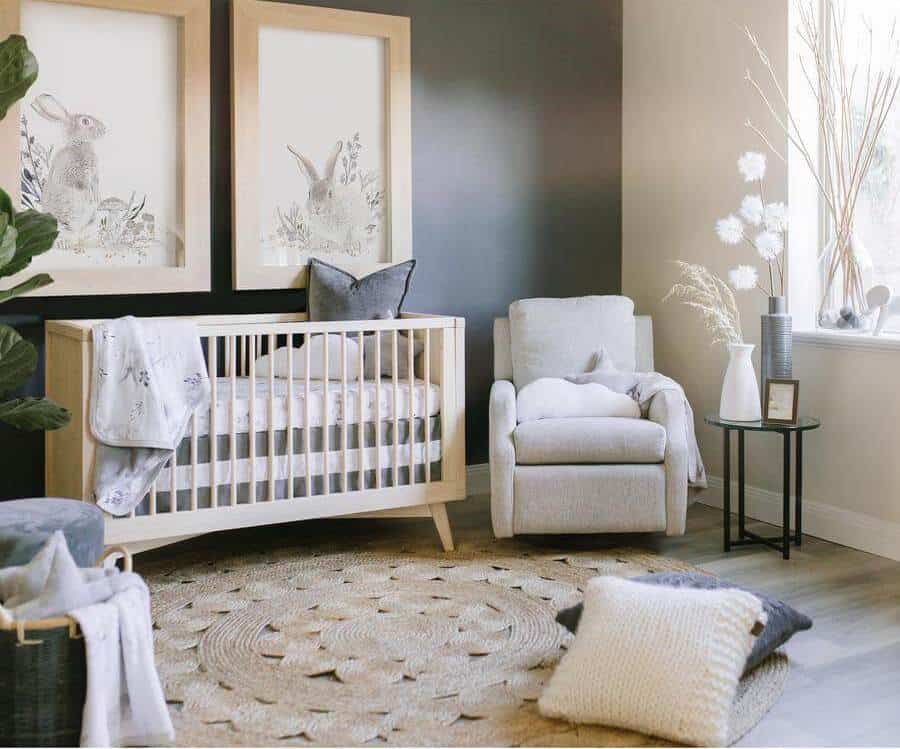 Clean lines with natural materials (and some adorable bunny art prints) make for a calm, relaxing gender neutral nursery that you'll never want to leave.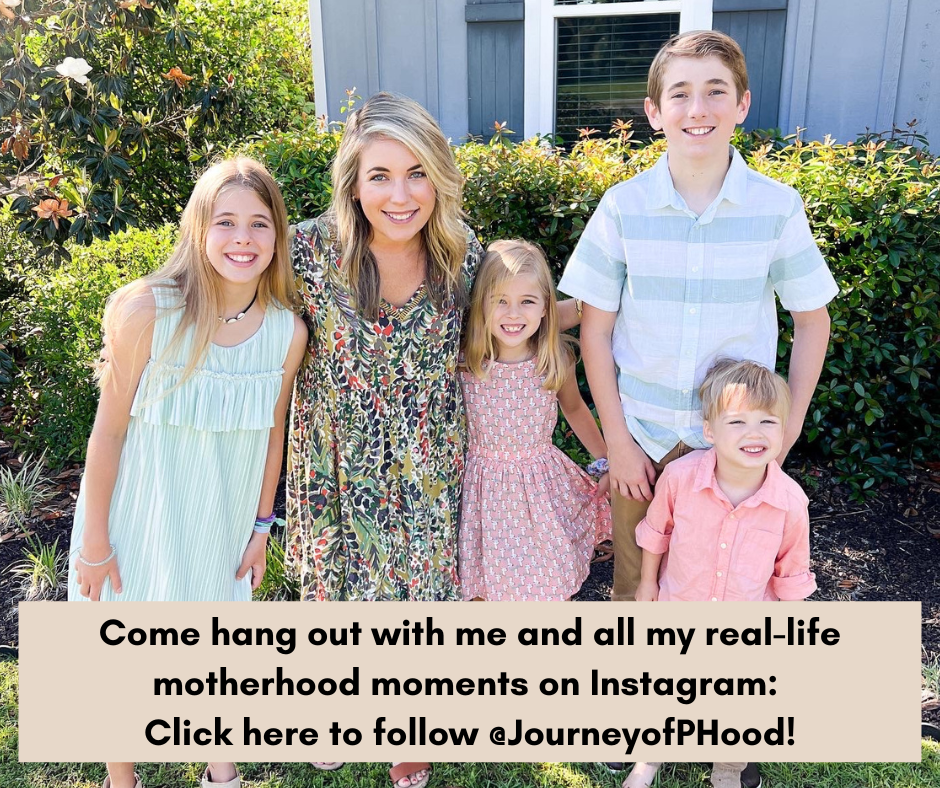 Boho Chic Gender Neutral Nursery Ideas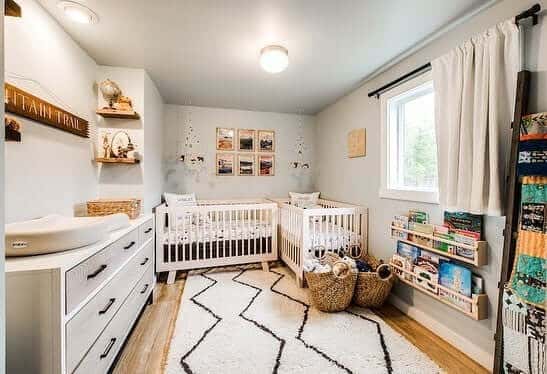 Bold lines and boho accents give life to the neutral color pallet without making it too busy! Plus, as you may have noticed… there are two cribs in this picture! That's because gender neutral nurseries are also great for twins, of course!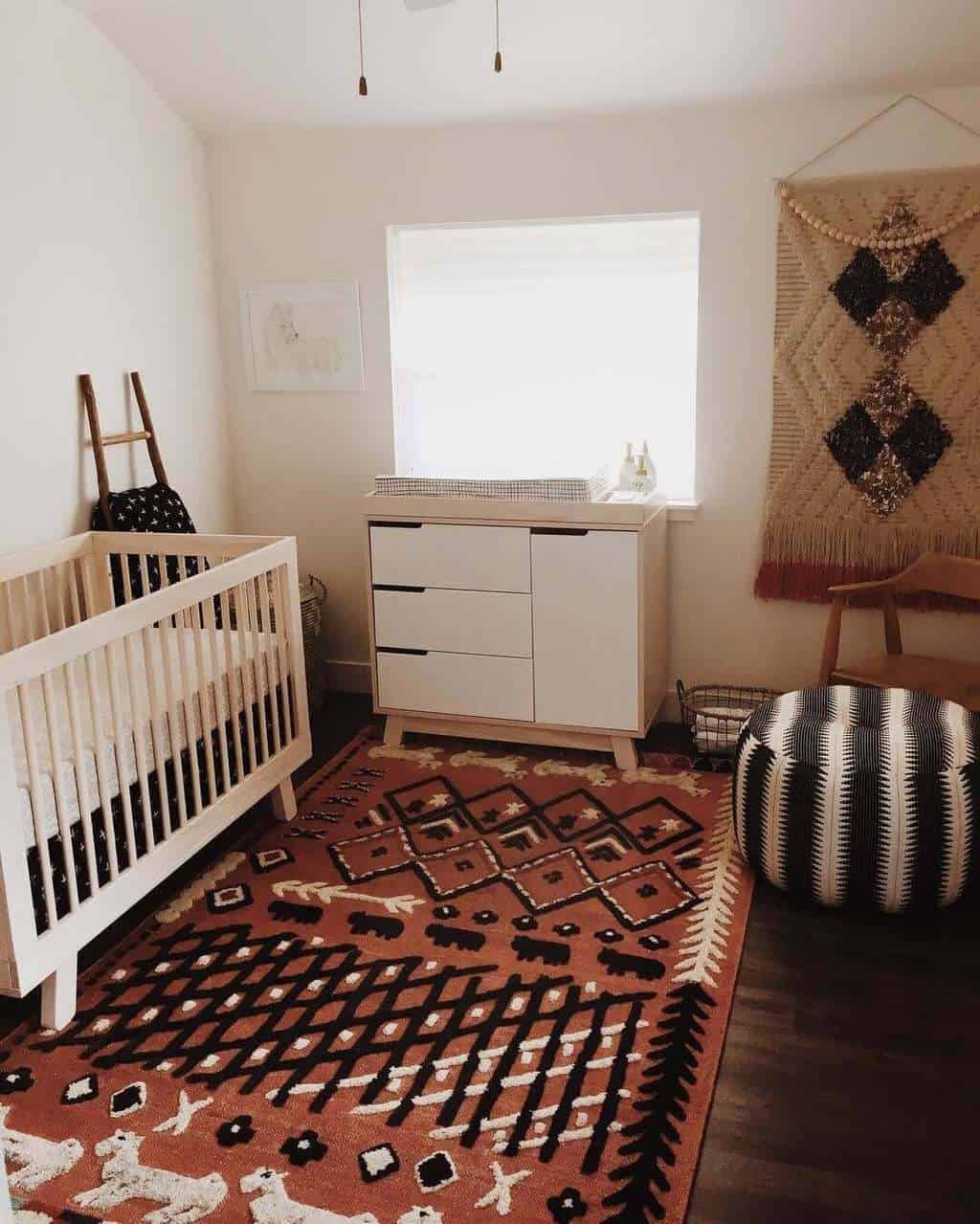 Simplicity meets style with these southwestern, boho accents that combine fun textures with warm tones. And that sleek, modern storage dresser would look good in any room!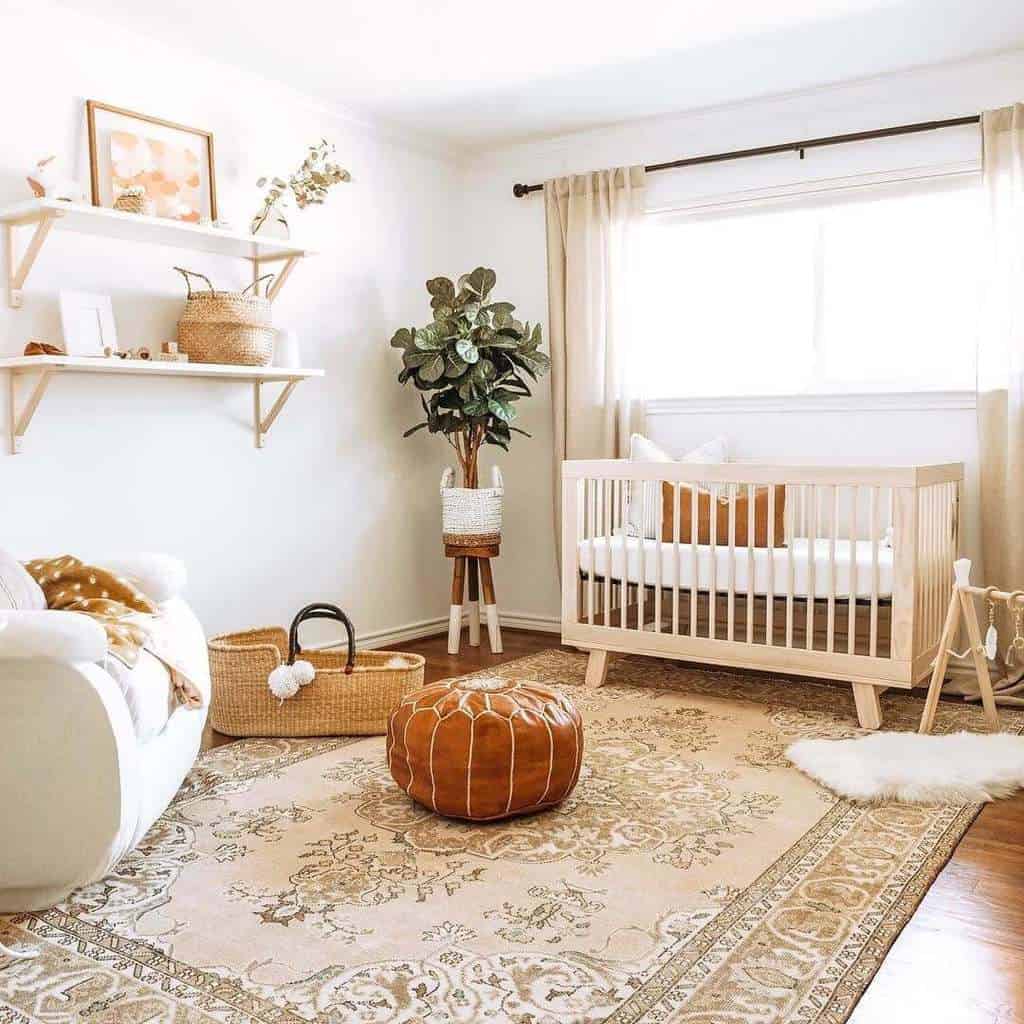 The play on textures here is so stylish without being overwhelming, and the burnt umber accents (like that eye-catching Moroccan ottoman) make the room look warm and welcoming! Plus, there's that unique baby gym peaking in from the side again.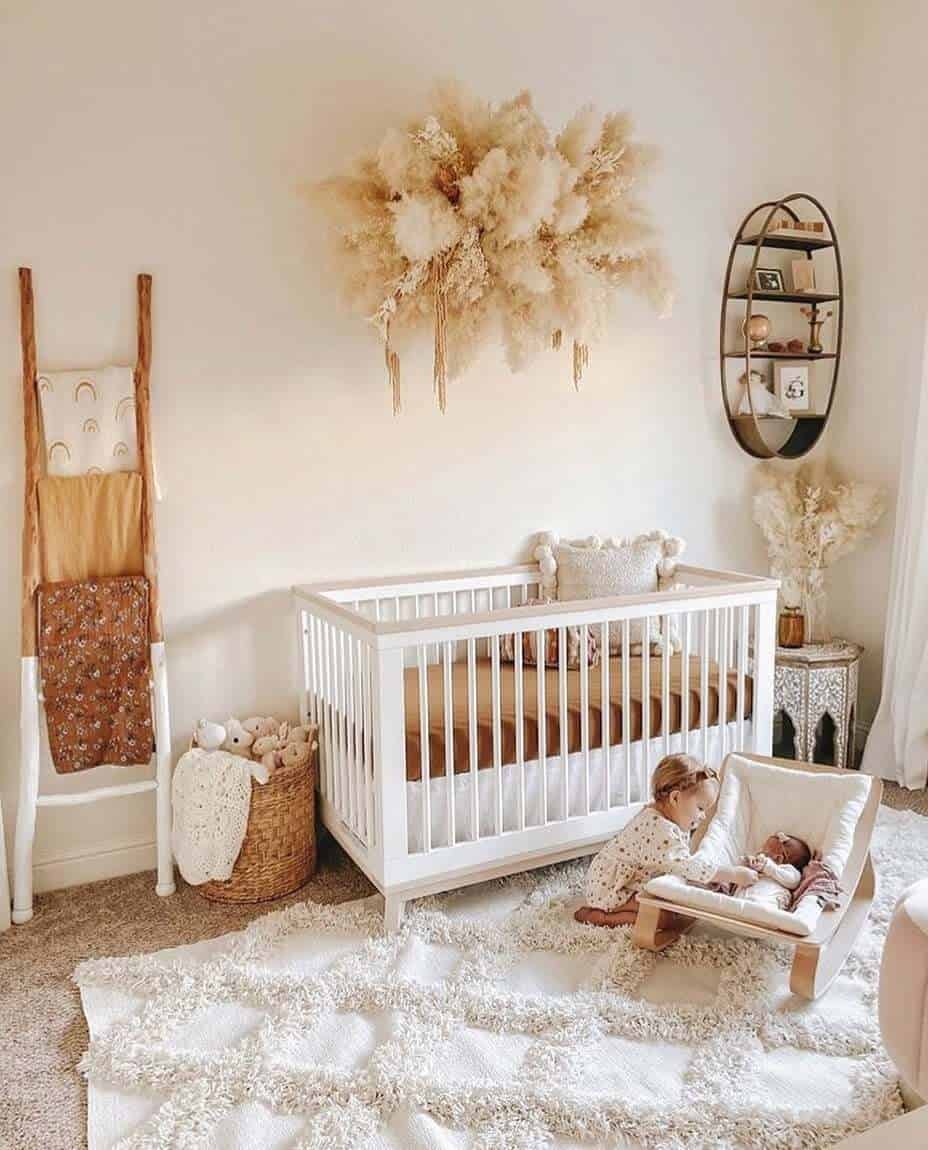 This plush, chic nursery also utilizes warm neutrals to give the room a cozy, summery look! The different textures are so interesting, from the criss-cross rug to that cloud-like wall decor!
Great if you want a subtle feminine touch that still tends towards neutral. I love that wallpaper is back in and there are SO many fun options to choose from and it can work in any space.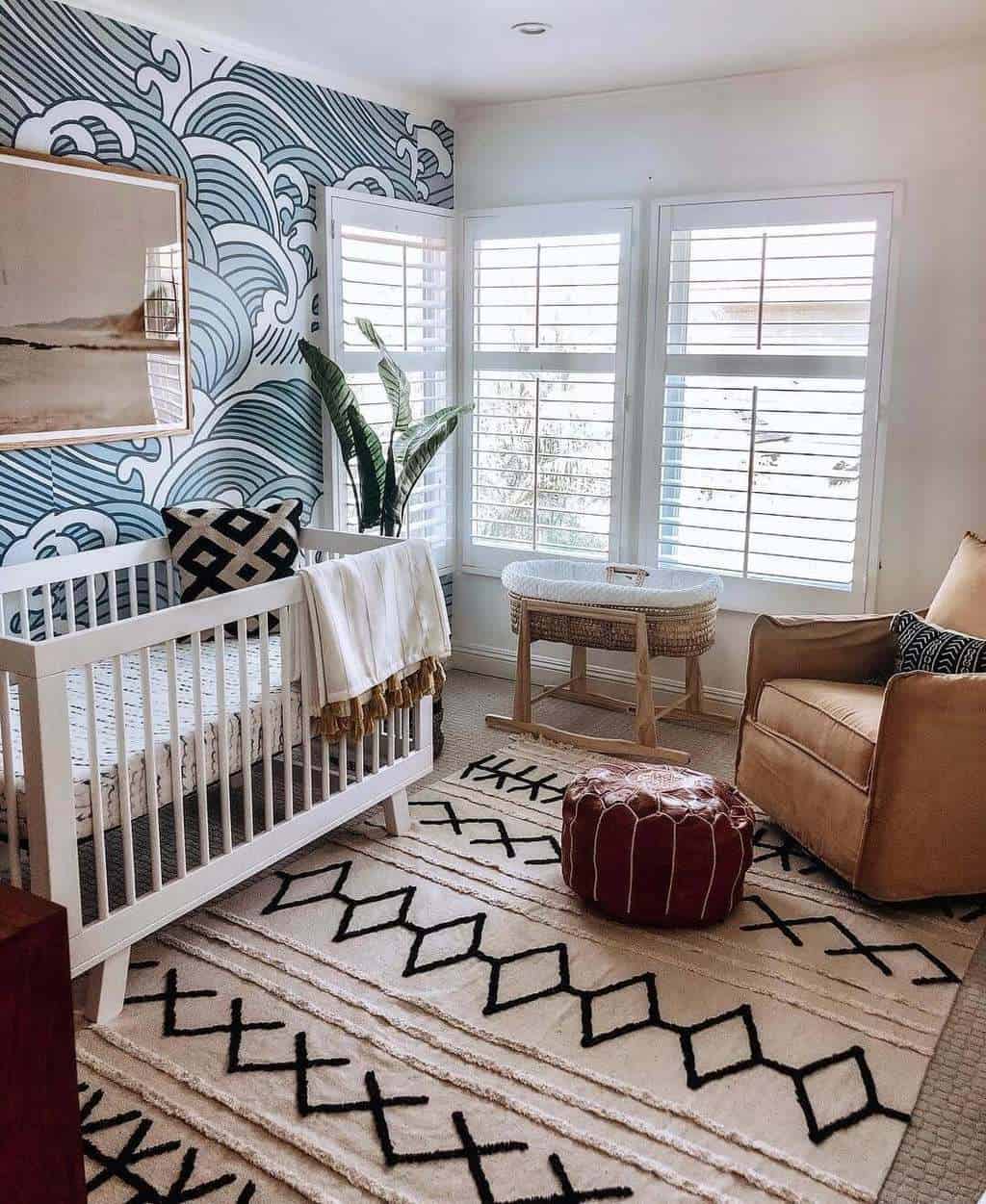 This fun, beach-y boho theme nearly guarantees that baby will grow up with a love for the ocean! The waves on the accent wall are interesting without being too busy and the different patterns in the room (including another one of those fun Moroccan ottomans!) make it feel like a cozy little beach bungalow for your little one.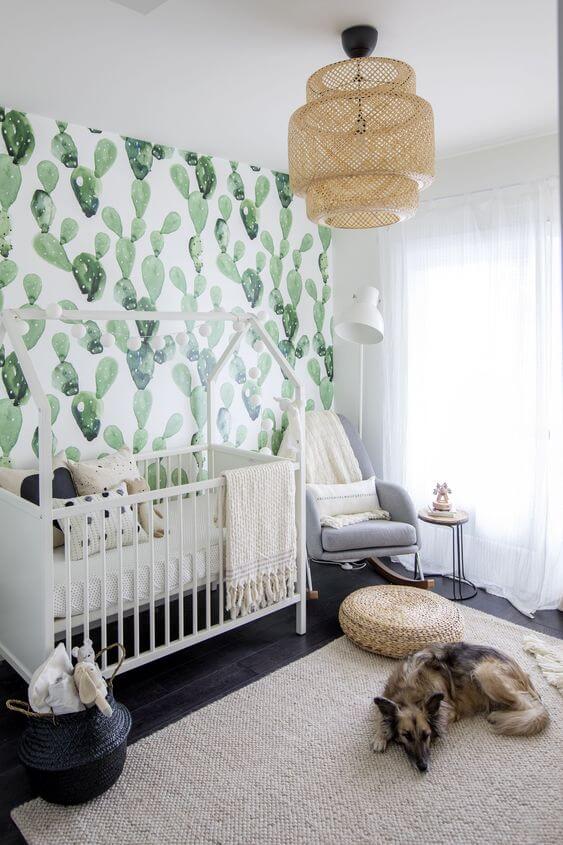 For another adorably chic take on a gender neutral accent wall, why not cacti? The green adds a subtle pop of color that really ties the room together. Furry friend not included, but why wouldn't they want to hang out in this room?
Our Team Green Baby Nurseries
We did not find out the sex of any of our three biological babies while I was pregnant (we did know that our fourth baby was a boy as he entered our family via adoption). For our first and third babies we did gender neutral nurseries, for our second baby I actually waited to decorate the nursery until after the baby was born. I do NOT recommend this strategy!
Waiting until the baby was born allowed me to have her nursery be gender specific but it caused me a whole lot of stress and a whole lot of money too – hence why we did another gender neutral nursery theme for our third baby 😉
Our first baby was born in 2009 and ended up being a boy (Kye). I look back at his nursery now and see it as being so outdated! We have done wall decals on multiple rooms in our home as they are a great way to add a fun touch without being too committed either (although we've yet to find a wall decal that doesn't take off the paint with it!).
I also do still really love the nursery furniture we chose for our first baby's room – we loved it so much that we're still using it for our fourth baby over a decade later! I plan to hold onto our crib until grand babies 🙂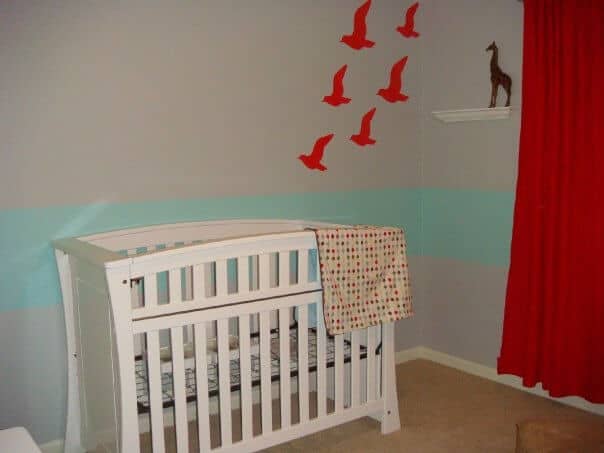 As I mentioned for our second baby (Britt) we waited until she was born to decorate her nursery. Even though it caused a good bit of stress, I did really love the end result! We went with a mermaid theme and it turned out really fun and girly.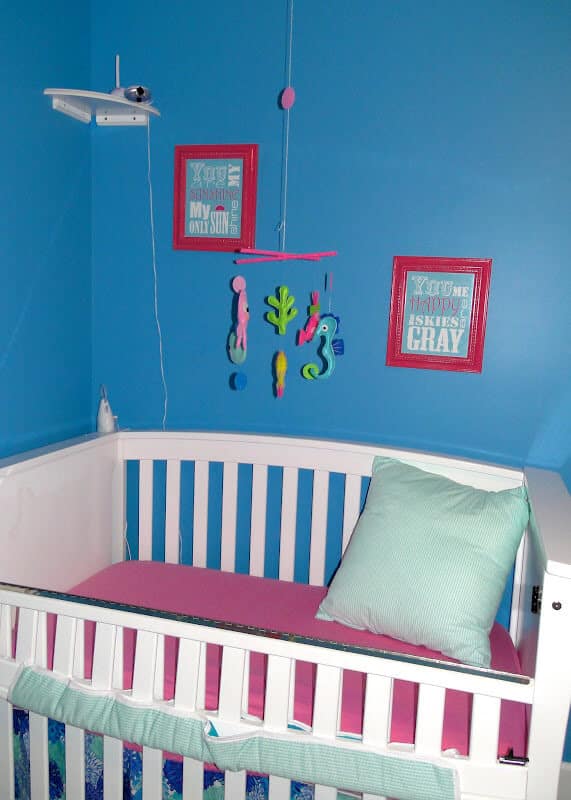 Out of all of our nurseries our third and fourth are my personal favorites! For our third baby we went all out in decorating the gender neutral themed nursery and had the genius idea of having the ultrasound tech print out the gender of the baby. Nope, we didn't peak but we DID mail it off to the Etsy seller who then made gender specific bedding that went along with our gender neutral nursery theme.
It added some personalized touches and was super fun to open the bedding when we brought our baby girl home from the hospital 🙂
We did a travel themed nursery and it was bright and fun and super unique!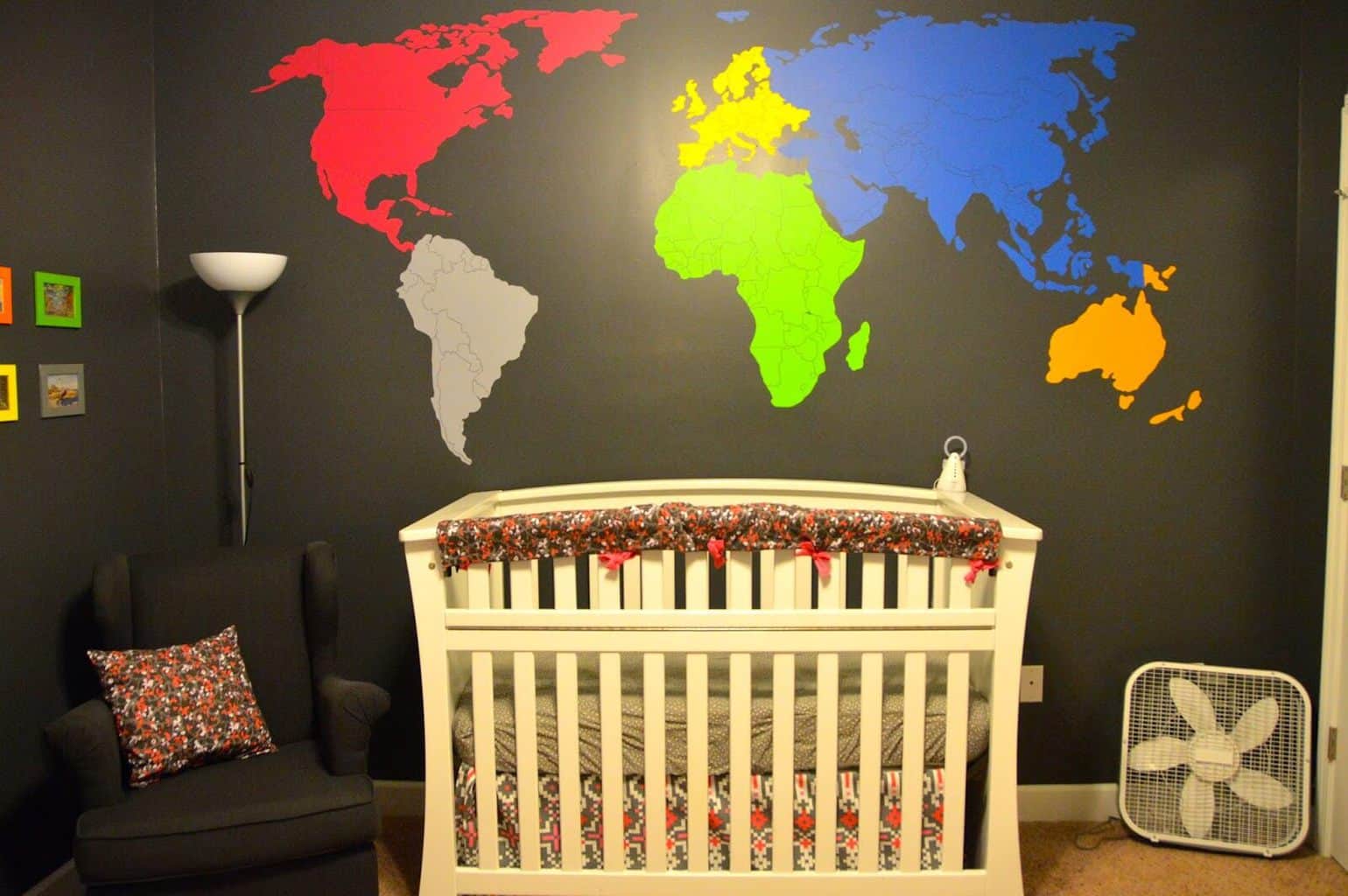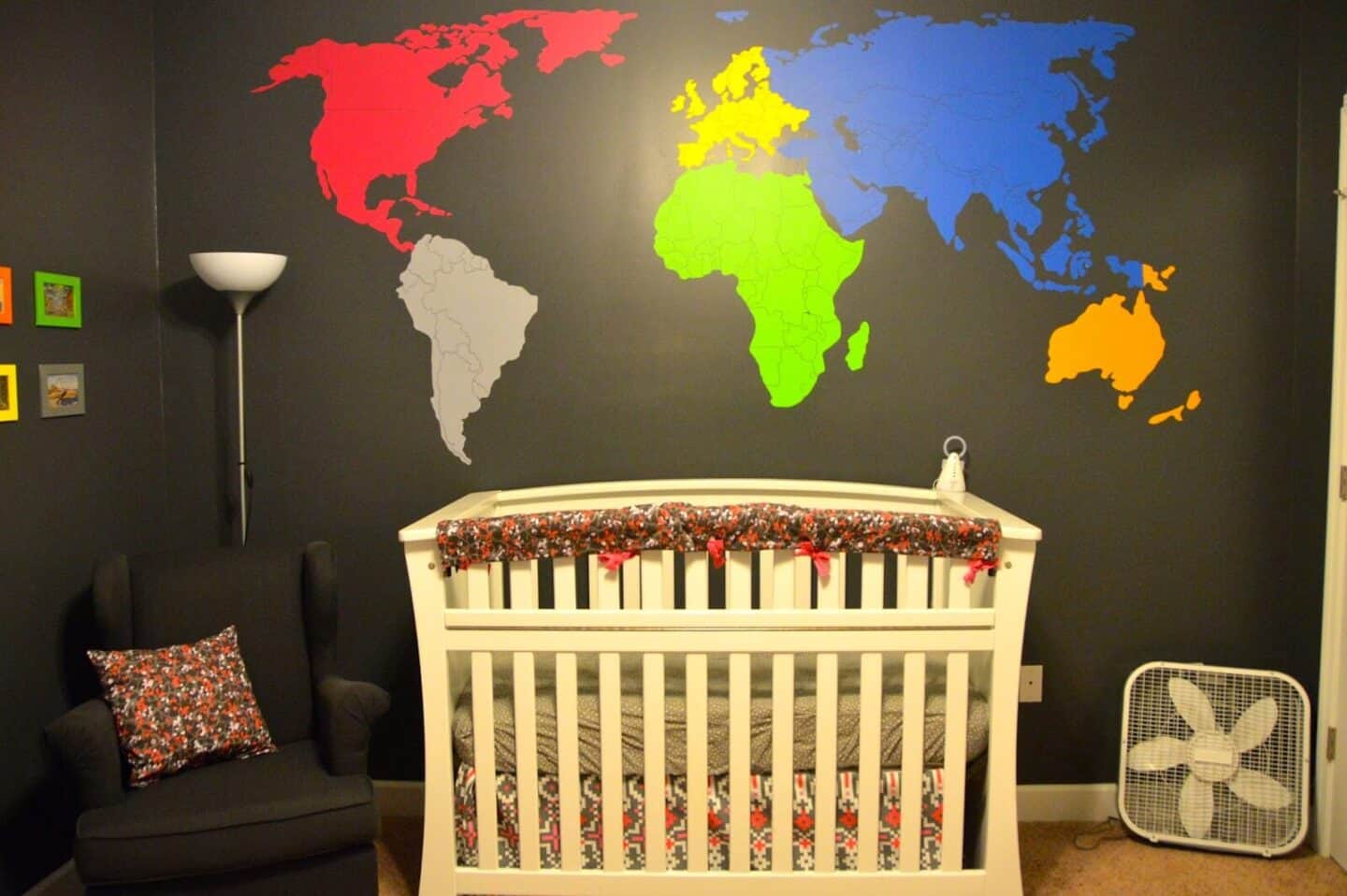 Our last nursery was fun to decorate because it was the first time we knew the gender of the baby before birth. We wanted to do something more boyish and also incorporate our family love for Disney. So Mickey it was!
While I am farrrr from an interior designer I do love creating ideas for a fun nursery and then hand it over to my husband to get into project nursery mode 😉
While I love Disney I personally think too much Disney stuff can be a bit on the tacky side and it was a fun challenge to have a modern nursery with Mickey touches. I adore how it all came together!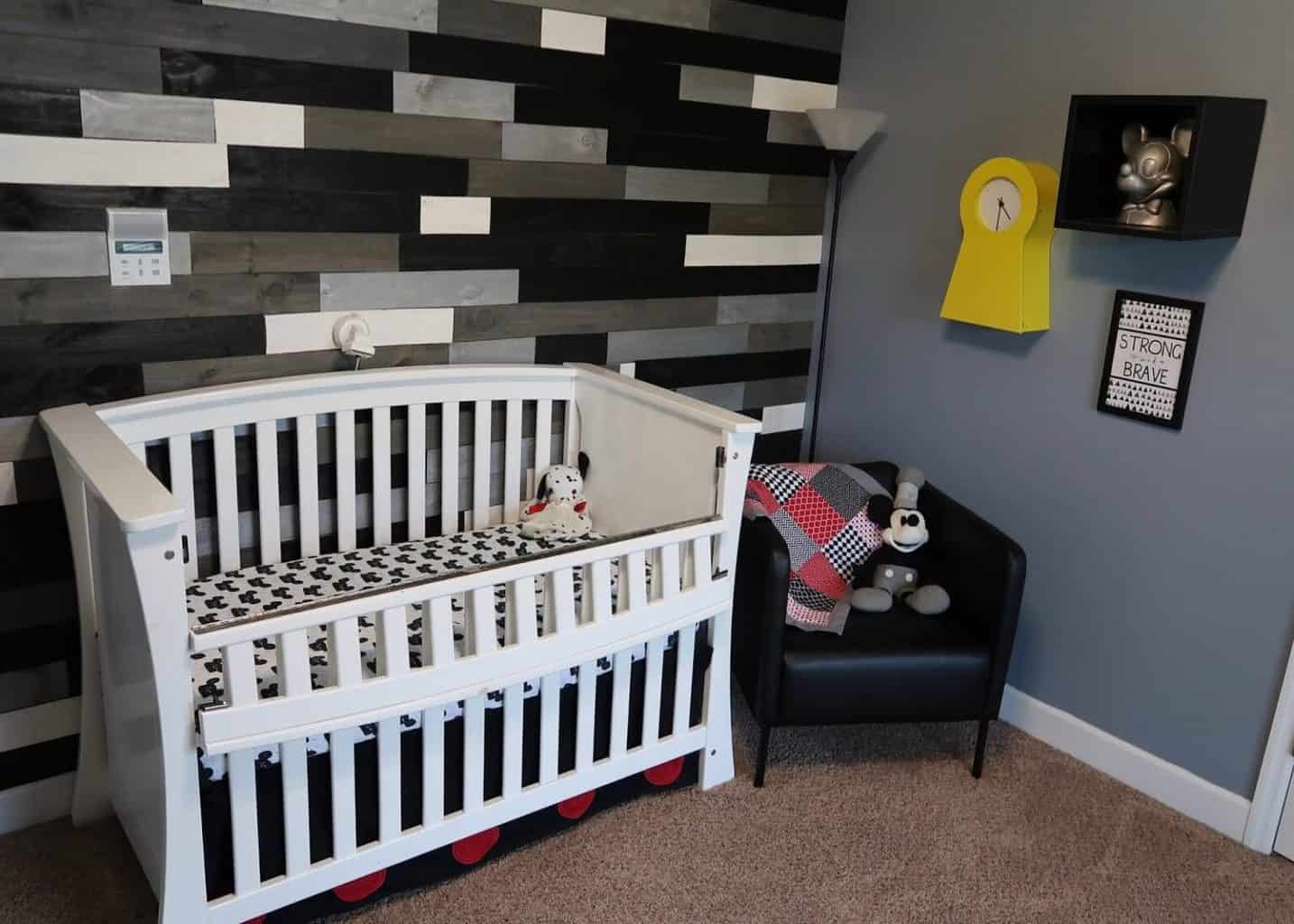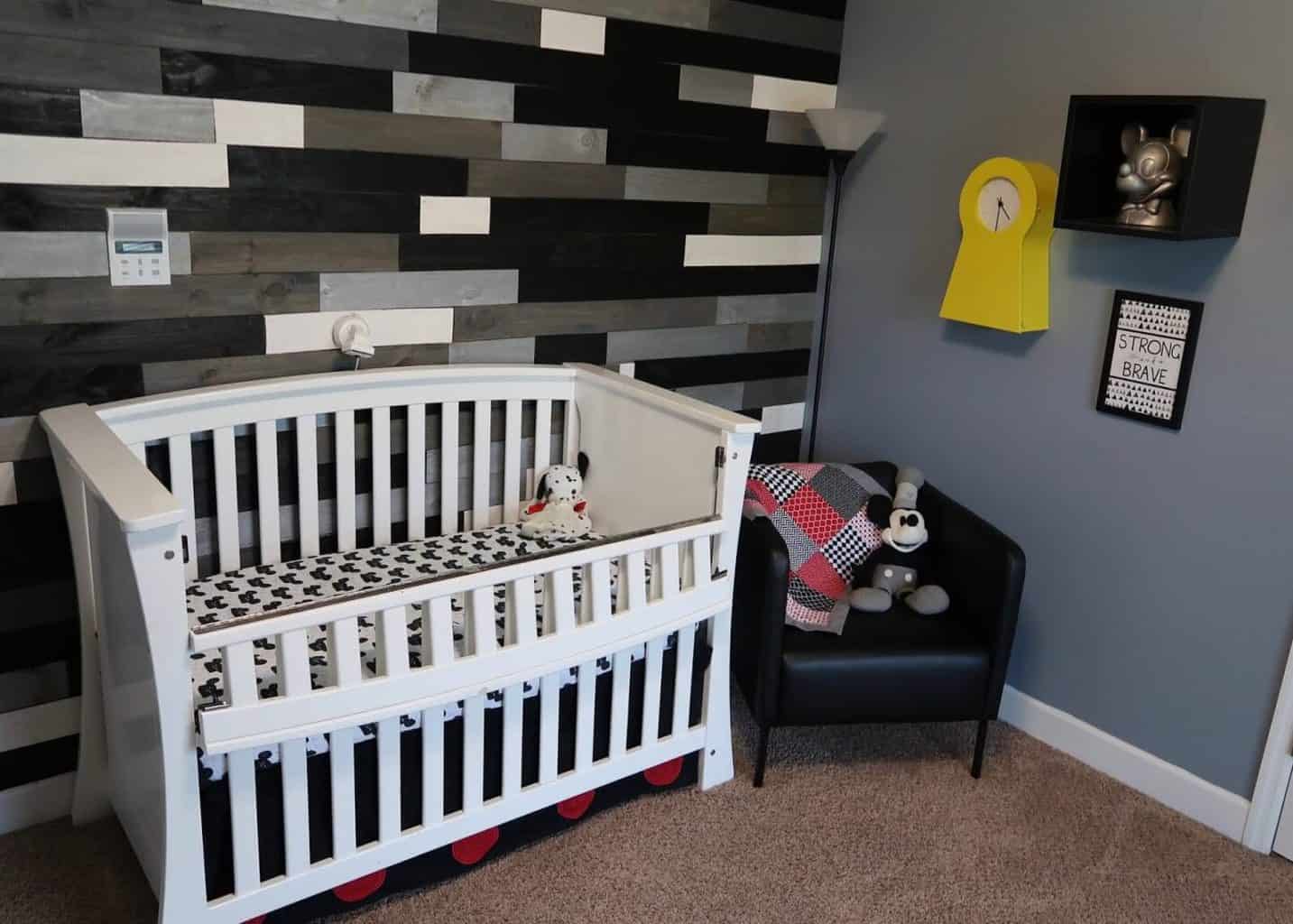 Conclusion
Creating the perfect gender neutral nursery is a unique and individual experience, but I hope these ideas will help you get started creating your vision!
Remember to enjoy the process as you prepare for your little bundle of joy. It can seem overwhelming sometimes, but just take it day by day!
Your nursery should reflect you and your baby and be the kind of place you want to spend time in. It doesn't have to be fancy, it just has to be your own!