When the holiday season rolls around, we parents can really get into buying gifts for everyone on our list. But the holidays include adults and parents, too! We may not have as long of a wish list, and it may be easier to shop for kids, but when it comes to Christmas gift ideas for parents, there are tons of great options out there for thoughtful gifts for any special occasion!
The best Christmas gifts for adults are often practical gifts that we can use day-to-day or that can make our hectic lives a little easier. Although.. that doesn't mean we don't want a little bit of fun, too!
I know it's tempting to just buy a gift card for the adults in your life (and those are definitely appreciated, don't get me wrong!) but no matter what age you are, there is still nothing like opening up a thoughtful gift on Christmas morning.
It's all part of keeping the wonder and joy of the holidays alive! We may get most of that just by watching our kids get excited about their presents, but trust me, the parents and adults in your life will get just as excited. And after all, there's nothing wrong with embracing the kid in all of us from time to time.
Through the years, I've kept a list of my favorite gift ideas for adults. You know I prefer to recommend products I've had personal experience with, so this gift guide will consist primarily of Christmas gifts for parents and grandparents that I've given or received, and that turned out to be a great idea. I've included lots of unique presents in a variety of price points – sure to even provide Christmas gift ideas for inlaws who have everything 😉
Speaking of tough to buy for inlaws…As the wife, the gift-purchasing duties tend to fall on my shoulders but I also want to encourage fellow wives to communicate clearly with our husbands. We already have to buy plenty of gifts, it's totally okay for him to take the reigns on purchasing a holiday gift for his own parents! I personally ask my husband for any ideas he may have for his own mom and his own dad and sometimes he does have a perfect gift idea in mind. As a parent myself I know the best Christmas present is the one my children pick out for me on their own and I'm sure in-laws (especially mothers-in-law) appreciate when their son truly puts thought into their gift…but at the very least maybe get him to include a nice handwritten note 😉
Disclaimer: this post contains affiliate links.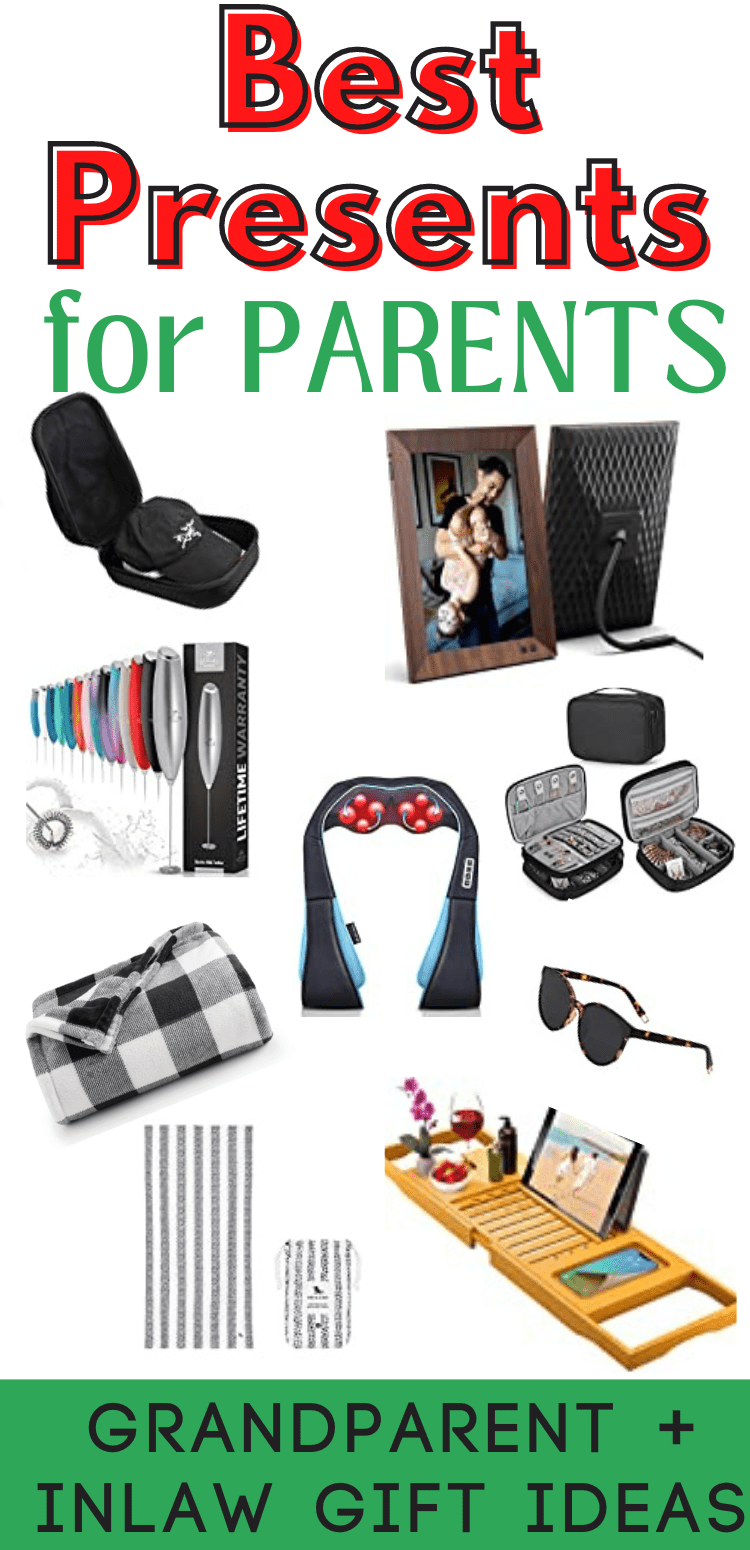 Christmas Gift Ideas for Moms
Because Mom deserves a little something special, too! But of course, these gift ideas would also be great for any of the women on your list, including the best mother-in-law gift ideas too!
I love this gift for moms, especially busy moms on the go! The Lay-n-Go Cosmo Cosmetic Bag makes a fantastic makeup organizer for travel or the day-to-day routine! I use this every single time I travel and I love that it holds a TON of makeup (all of mine fits perfectly!) and that it lays completely flat. It makes travel easy and helps keep things well organized too.
Another ideal gift for women that I highly recommend, this 14-piece Makeup Brush Set is so affordable but so good! Great for ladies who enjoy getting dressed up or the new mom who hasn't been able to shop for herself. Makeup brushes tend to be one of those items we rarely replace and it'd pair so nicely with the makeup storage case too!
If you enjoy going to sports games or concerts on the regular, then this stadium-approved clear tote bag is the perfect gift! Many stadiums require clear bags and purses for security purposes, so this makes it super easy to get through the gates! This gift could also easily be taken to the next level by filling the tote with some items that would be a great addition – lip balm and hand cream for sitting outside during chilly sports events, a favorite sports team hat or scarf, etc.
You can't go wrong with gifting a pack of spiral hair coils to the ladies in your life! These are designed not to pull or break hair and they come in lots of different colors, so be sure to pick up a pack for yourself too! 😉 A great stocking stuffer idea as well (because we all know Santa tends to forget to fill Mom's stocking right?)
Ever traveled with a bag of jewelry only to have it get all tangled up? It's annoying! I found this travel jewelry organizer case a while back and LOVE it! It keeps everything in place and makes a very thoughtful gift for ladies who love to wear jewelry. This is another item I use every time I travel and I LOVE it. It'd also make a fantastic Mother's Day gift by including a pretty piece of jewelry inside! Kendra Scott is my FAVORITE for jewelry gifts. Beautiful, timeless pieces at affordable prices.
This Vera Bradley flat iron holder case is a thoughtful gift for mom that's as stylish as it is practical! Great for storage and travel, and of course, it's heat-resistant! This is another one that I always have in my suitcase. My mother-in-law actually commented on it when we were traveling together. It's not only for flat irons, I also use mine for my curling wands and curling irons too!
Really this could be for anyone, but I think moms will especially appreciate this ice roller for facial skin care, which is great for under-eye bags and pores! Another great item to include in a gift basket. You could put together a self-care package for her with the ice roller, a nice bath bomb, a current best novel you've read, and some bath salts too – perfect for relaxing after a long day!
This gold initial necklace makes a great sentimental gift for a mom or older teen. These are so stylish and will complement every outfit! Often moms can be a little leery of newer trends but this necklace is a great layering, statement piece that will be age-appropriately on trend for any age! I've bought these as gifts for friends, nieces, and parents alike.
Y'all know I SWEAR by these round sunglasses, they literally look good on everyone! I have several pairs and I have gifted them to friends and family several times in the past. They're a huge hit! My mother-in-law LOVES hers!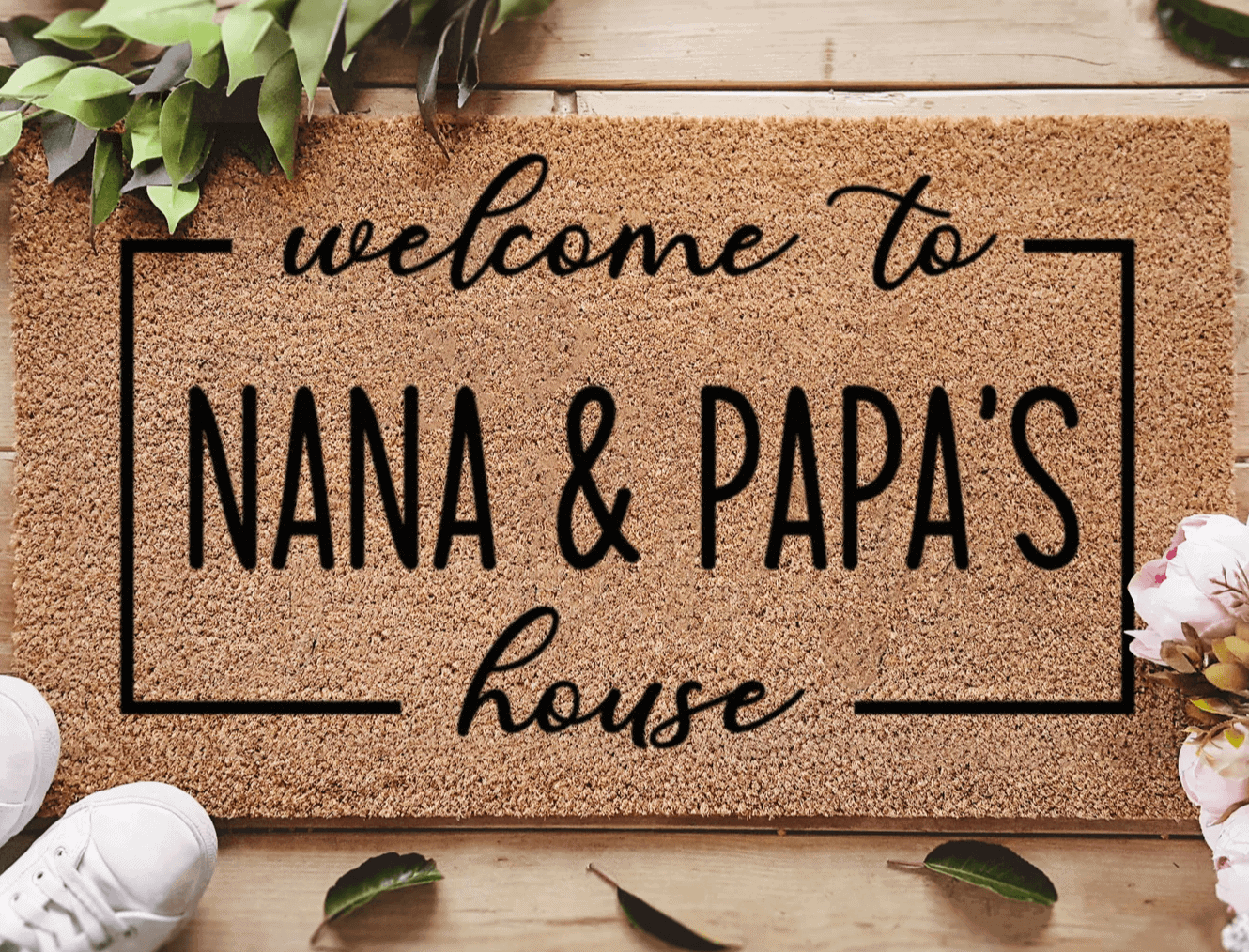 Here's something that would make a great gift for parents or grandparents: this personalized welcome door mat, which is tasteful and practical and something they will see and smile everytime they step on it 🙂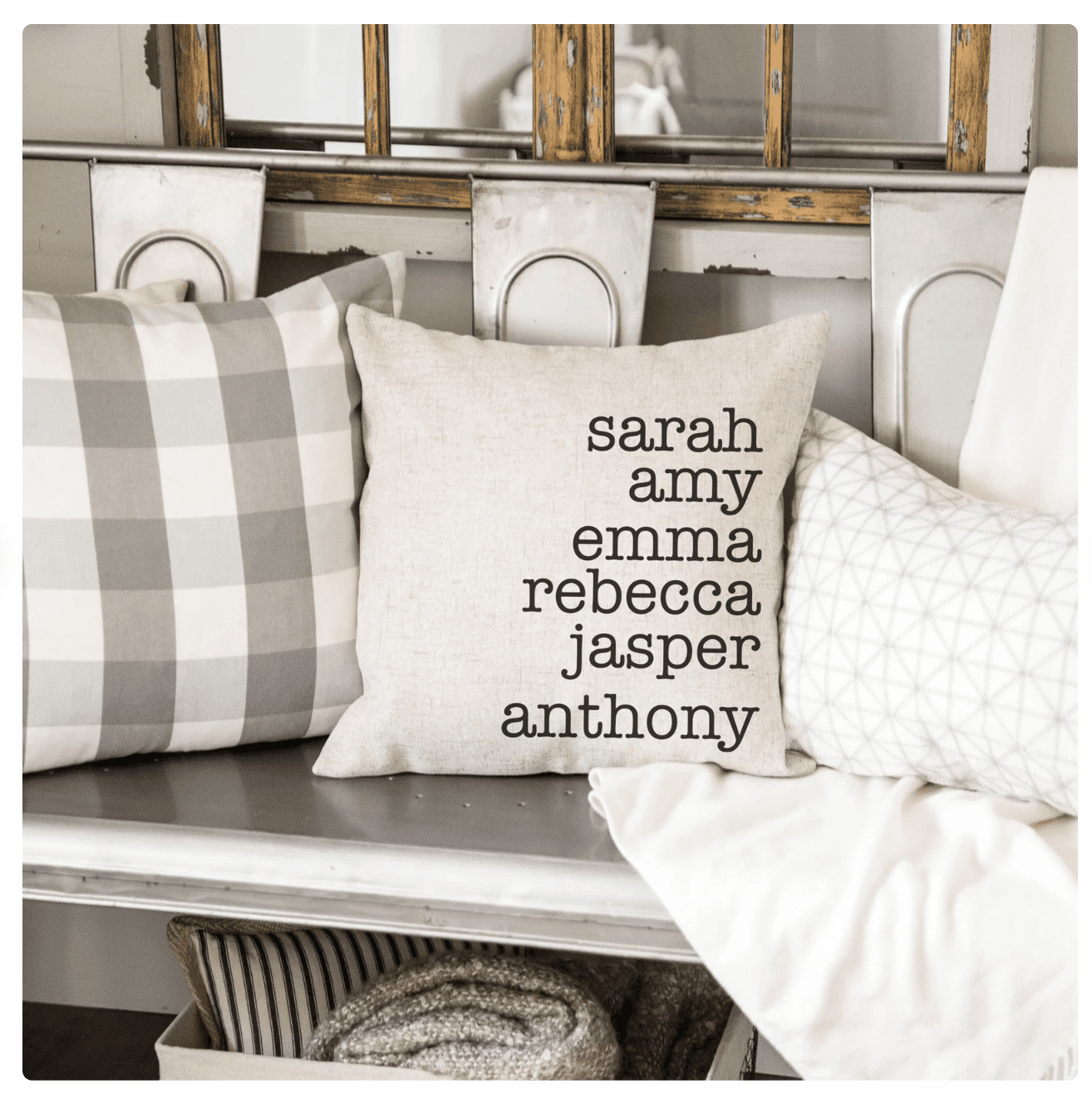 Love this idea for an entertainment or living room! Gift this personalized throw pillow that's customized with all the family members' names! We have this in our living room and I'm constantly receiving compliments on it so it's a gift I also love to give to others too.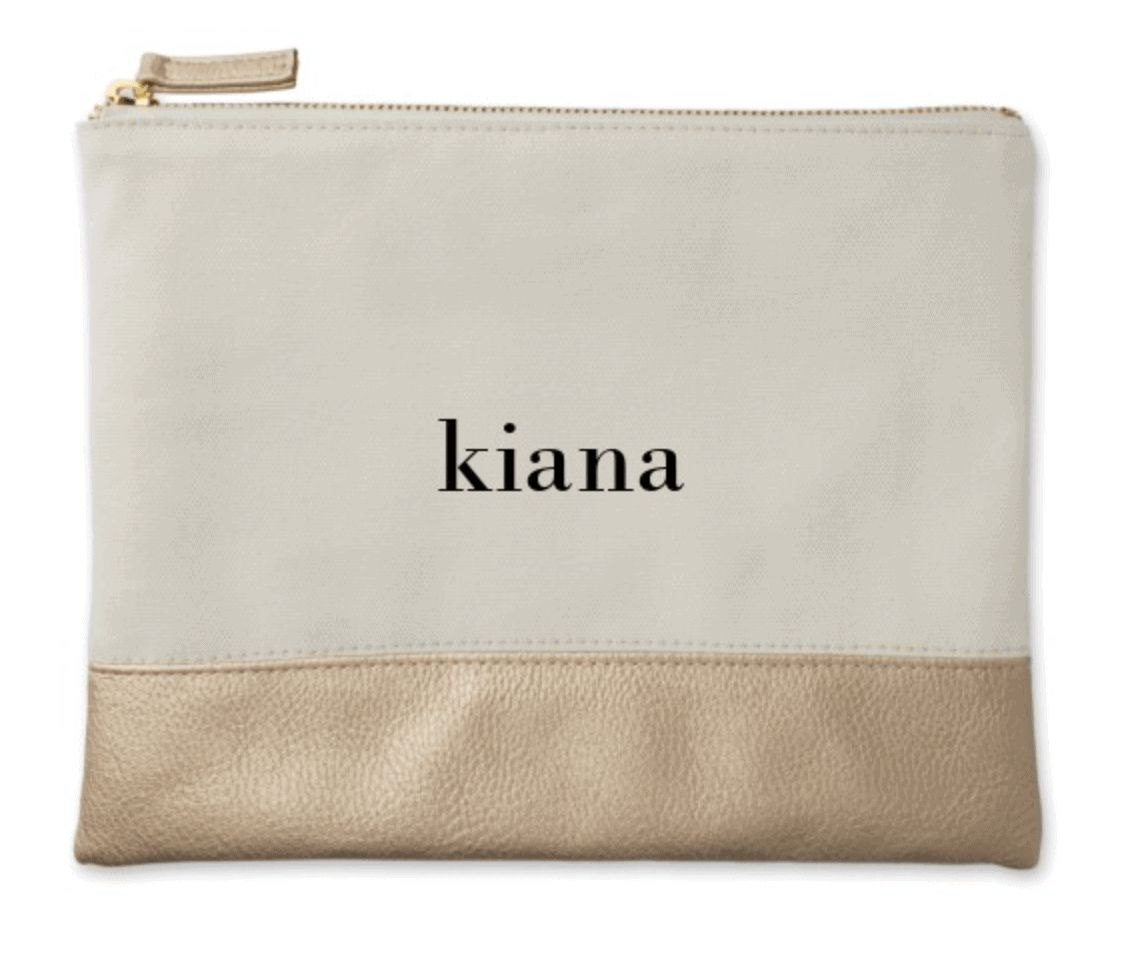 A stylish and simple gift for women, this custom canvas zip pouch is great for makeup, pens, and pencils, or any other odds and ends! I've purchased this for my stepmother and it was a simple, yet practical gift and was easy to ship which is why it's also a great Christmas gift for those who live long distance or you're not seeing over the holiday season.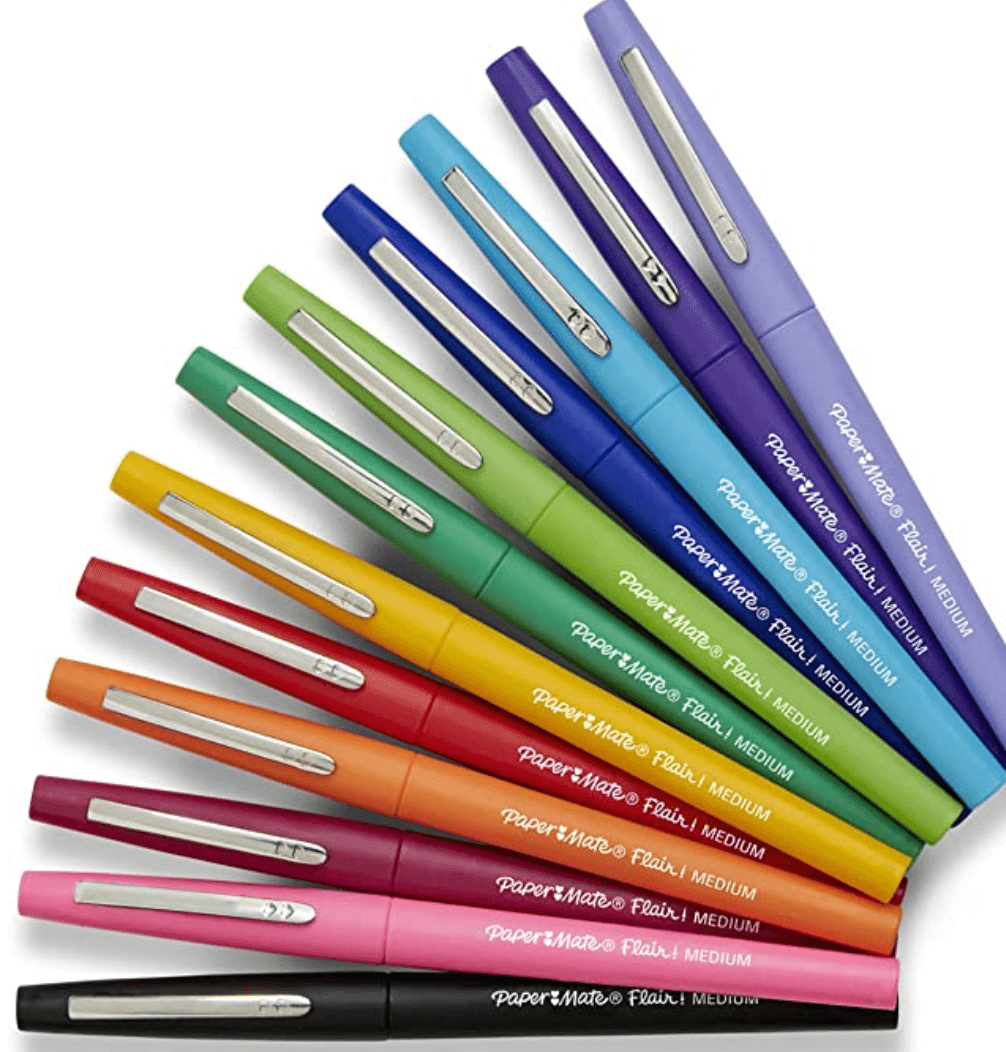 I LOVE these Paper Mate Flair Felt Tip Pens for everyday use, whether it's writing things down in my planner, making a grocery list, or writing a birthday letter! They're just so high-quality and colorful!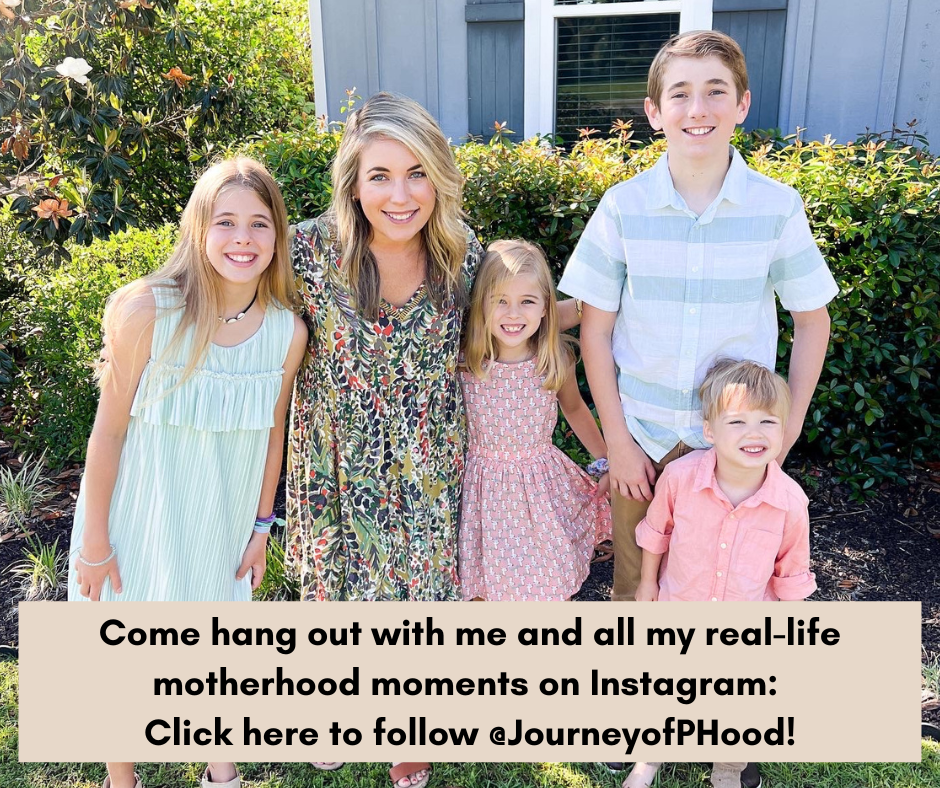 Christmas Gifts for Dads
Dads can be notoriously difficult to shop for, but these ideas will help make it easy to find the perfect Christmas gift or Father's Day present and be one that he actually loves and enjoys instead of another boring gift card to Home Depot 😉
This Hermitshell baseball hat case is great for travel, especially for a guy who loves hats! I bought this for my husband and he LOVES it – so much so that we bought another one to gift to my father-in-law too.
Perfect for the fitness-savvy parent, this Under Armour water bottle jug is sporty and durable! It comes in 32 oz and 64 oz and you can choose from all sorts of colors. If we works outside he will appreciate having this water jug on hand. My husband uses his when doing yard work and even on the golf course. My kids have also taken it over from time to time to use when they have sleepovers in our treehouse.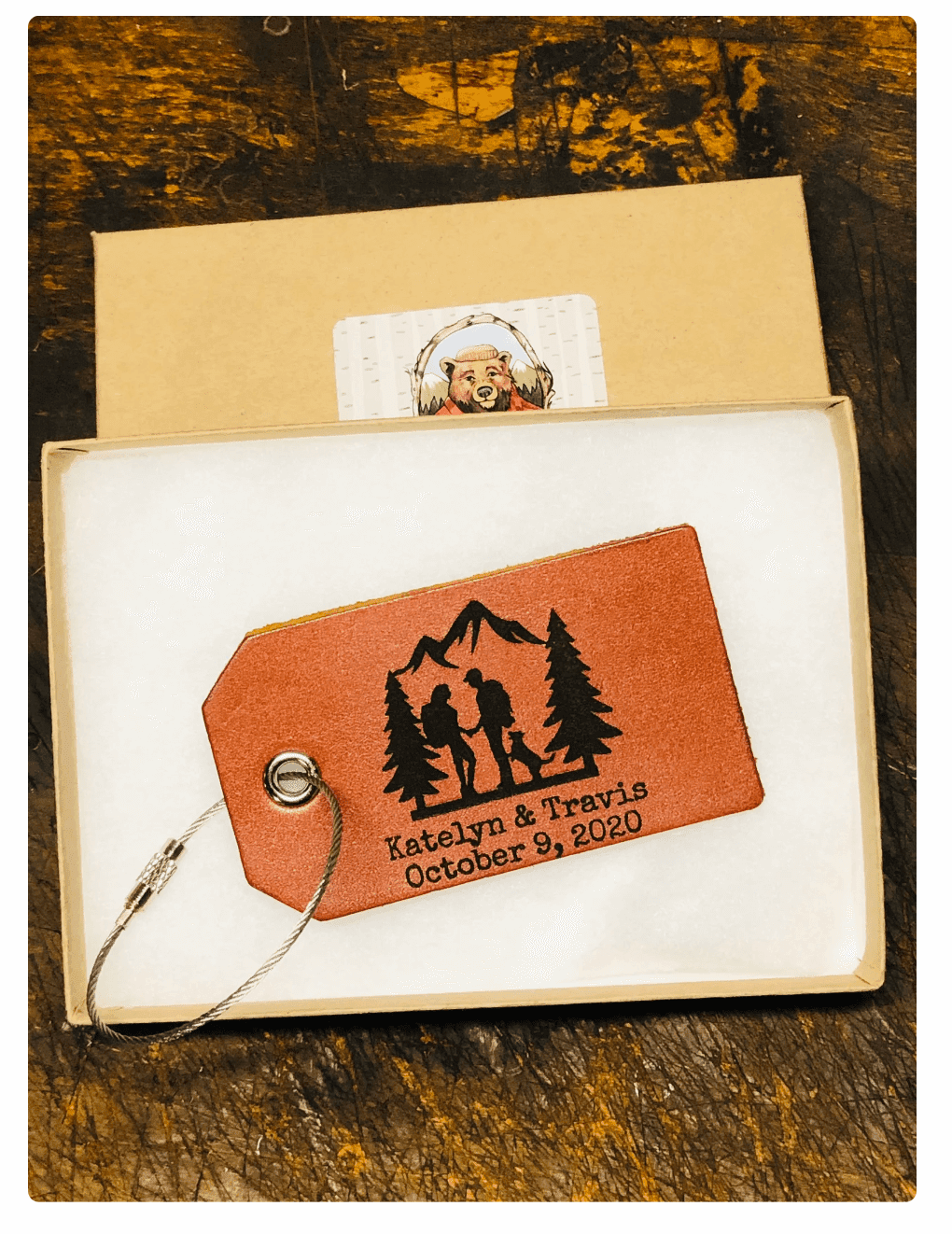 For the couple that travels often, these custom travel tags for luggage are a thoughtful and beautifully crafted gift! This would also make a great birthday gift or anniversary gift… there are tons of unique customization options for every occasion. Also a great way to gift a surprise vacation or trip too.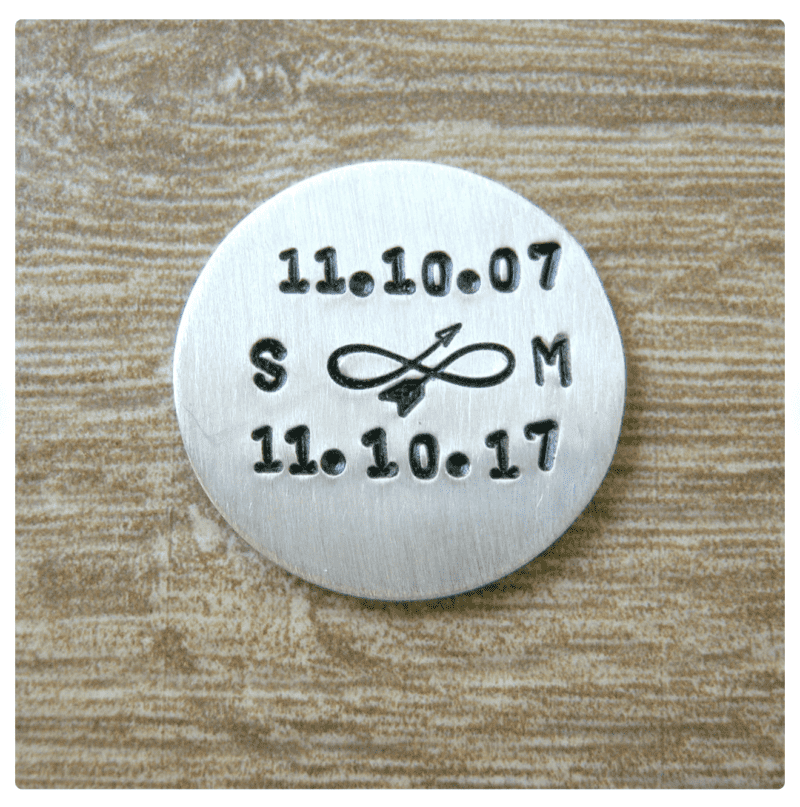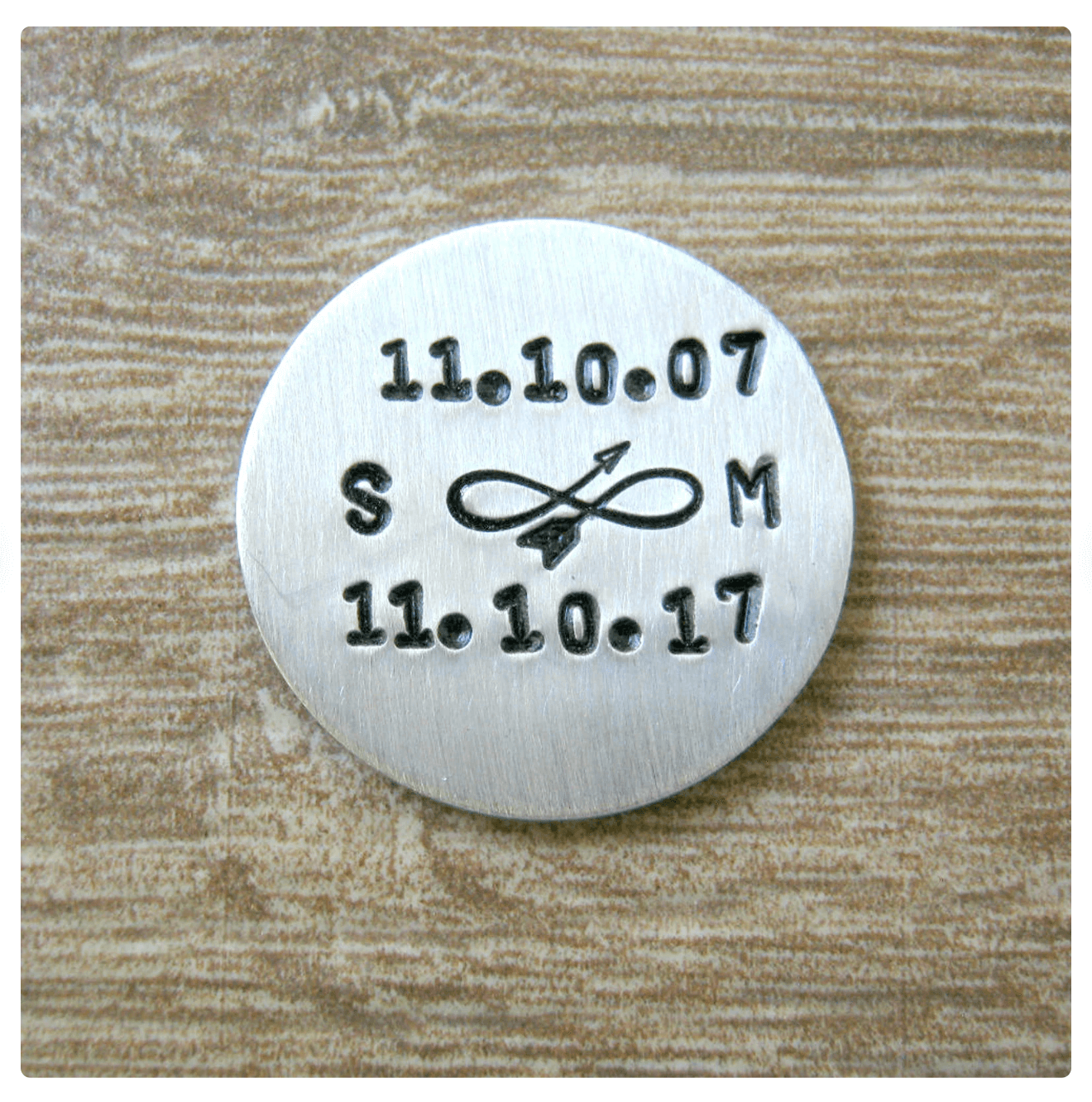 If you have a golfer in your life, then this stainless steel designed custom personalized golf ball marker would make such a special and heartfelt gift! You can also combine this with a gift card for a round of golf – I love creating opportunities for quality time together and my husband and father-in-law love golfing together.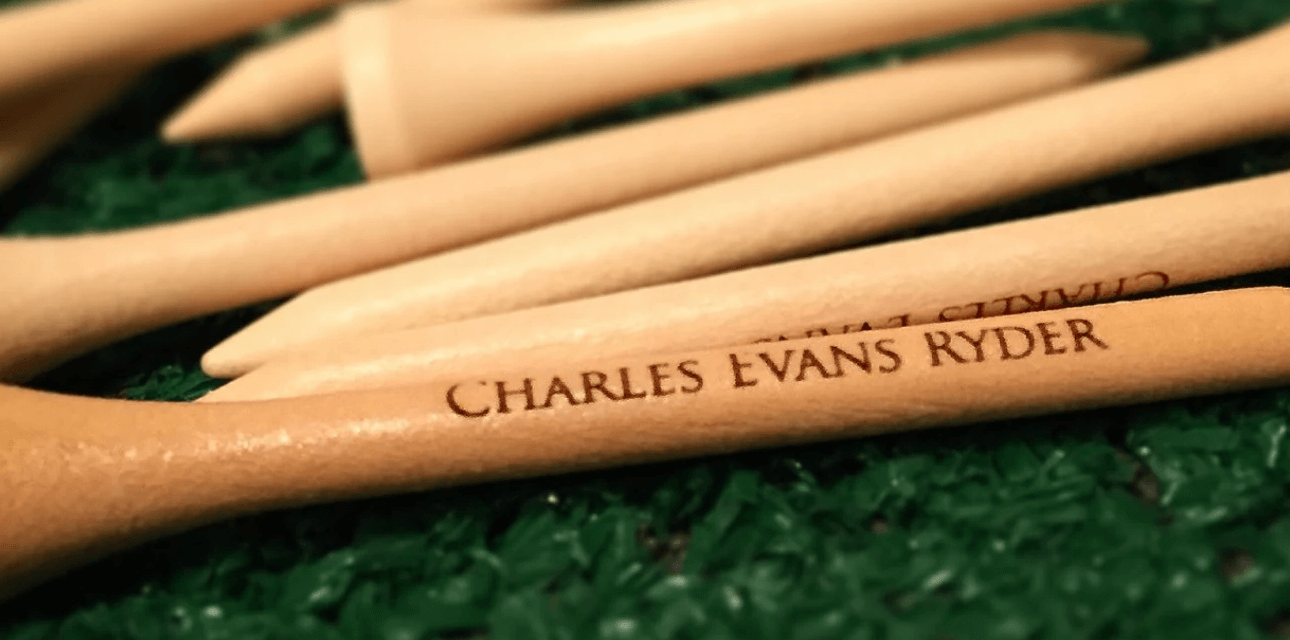 Another golf-themed option are these custom-engraved golf tees which are super classy and will be used and enjoyed for a long time.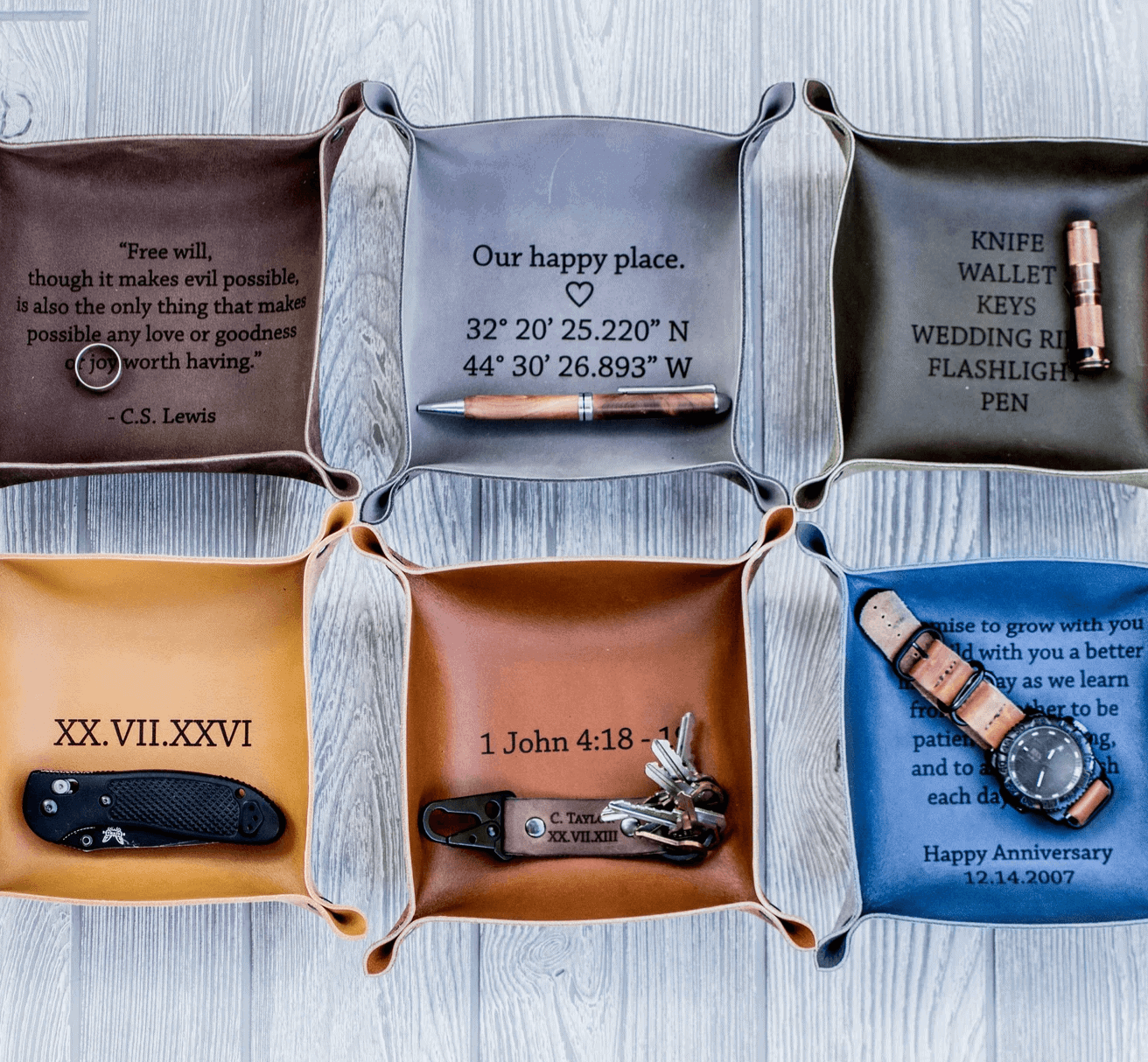 This beautifully crafted custom leather tray is a simple, practical, handmade gift that you can get engraved with names, dates, quotes or whatever personalized message you think Dad would love!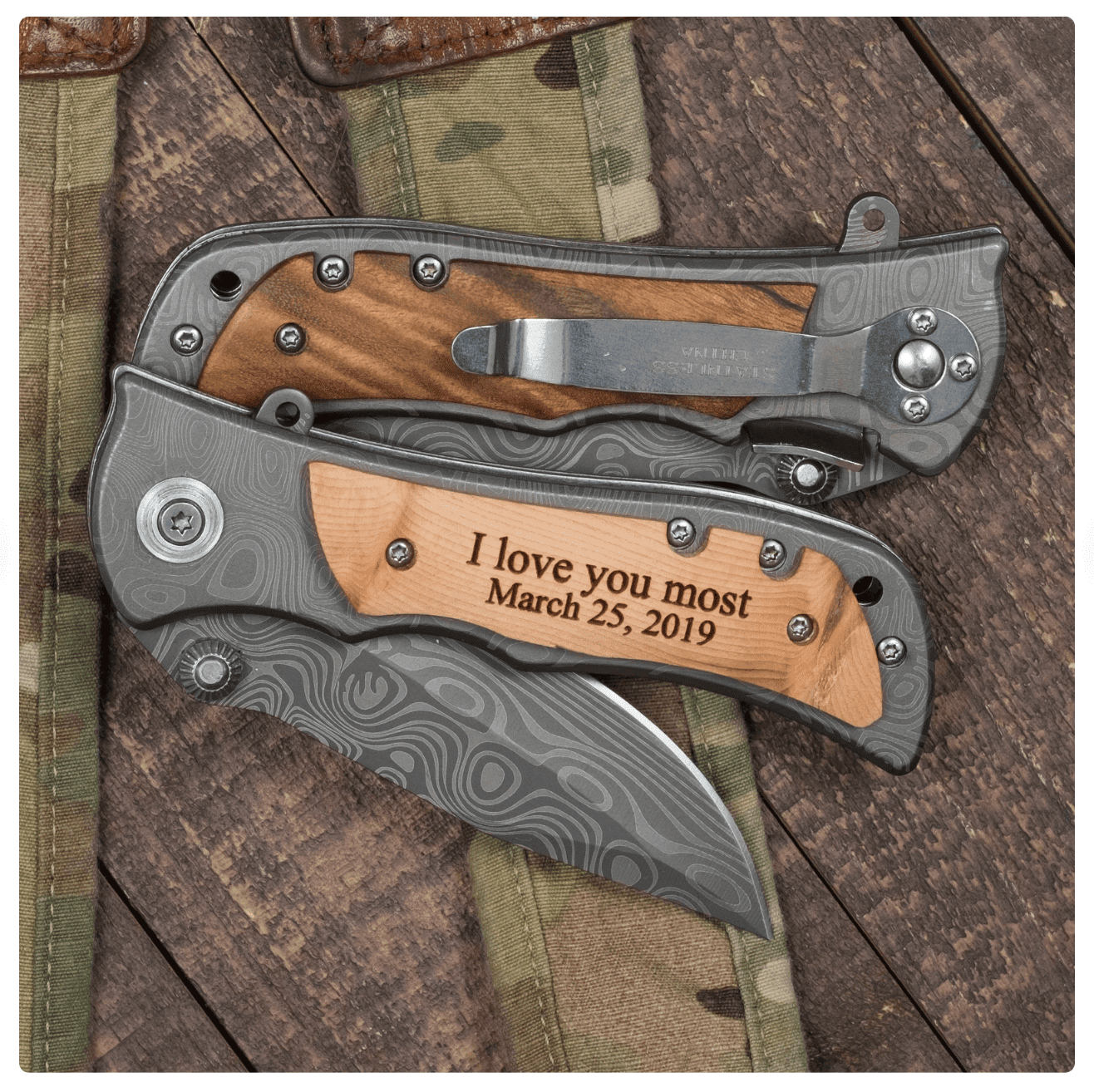 A great way to have a heartfelt gift under the Christmas tree to a husband, father, grandfather or uncle, this custom personalized pocket knife is high-quality and just plain gorgeous!
The Best Christmas Gift Ideas for Parents: For Any Adult
Now for the gifts you can give to just about any parent or adult: practical and fun tech, gadgets, home decor, keepsakes, and more!
A  Bluetooth speaker makes a great gift idea for any adult, because who doesn't need a good one of these at their disposal? The JBL FLIP 5 Waterproof Speaker is a popular choice that has great reviews, and since it's waterproof, it's the perfect way to bring your music with you to the pool, the beach, camping, and more! My husband loves his and takes it with him when he does yard work, when we go to the beach, and we even use it when laying out in the backyard by the pool.
Another great idea for a bluetooth speaker gift is the TREBLAB HD77 Ultra Premium Bluetooth Speaker, which is another popular choice with a few extra features at a bit higher price point.
If you're looking for a useful gift the whole family can enjoy, the Puzzle Stow & Go Mat is a great choice! Especially for parents with older kids who enjoy complicated jigsaw puzzles, this rolling mat makes sure you don't lose any progress and can be taken on the go for family vacations! Include a fun puzzle and a coupon to enjoy quality time together putting it together to add to the thoughtfulness of this present.
I love gifting this Aluminum Cell Phone Stand to adults because it's so practical and multipurpose! Whether you're reading a recipe, FaceTiming a friend, or working off your iPad, this stand is durable and sturdy! I have this in my office and use it daily – it's the kind of tech gift that parents may not think to purchase but will love it when they own it.
This Scalp Massager Shampoo Brush makes a great stocking stuffer idea for adults and it really works! Not only that, but it feels amazing and really exfoliates the scalp!
One of the best gifts you can give adults, especially new parents? The gift of a good night's sleep! The Casper Sleep Original Pillow is so comfortable and makes a great go-to gift for just about anyone!
Satin pillow cases are another great option for adults! Sleeping on satin helps protect your hair and skin while you sleep, preventing split ends and creased skin. Plus, they're just plain comfortable and have a cooling effect. I bought this set for my dad and stepmom for Christmas. It's another easy-to-ship gift idea too!
I can't recommend these Dock & Bay beach towels enough! They're quick-dry and come with a small, compact drawstring bag for easy storage, so they're perfect for travel! If you know of a family who's planning a beach trip, this will make the perfect present. I have gifted these to just about everyone at this point and they are the only beach towels we own as a family. My dad even commented a YEAR after I gave him his that it's one of his favorite and most-used presents he's received 🙂
A milk frother is the perfect stocking stuffer for coffee-lovers or home cooks! Not only is it good for making at-home lattes, it's also a mini hand mixer you can utilize for quick sauces and dressings. My husband loves ours and uses it every morning for his coffee.
Talk about meaningful gifts… no, seriously, a bidet is a game changer!!! We got one last year and it is amazing. If anyone you know has even talked about getting one, imagine their surprise and delight when they open up this gift on Christmas Day! We gifted one to my father in law and not only did it make everyone laugh, but he truly loves it and now the rest of the family has been buying them up too.
Tech gifts are always a good go-to for parents since we're usually juggling all kinds of devices for work and home! Having a portable battery charger can be a real lifesaver, especially when you're traveling. A great gift for a Disney lover too as I use mine every single time we visit the theme parks.
Love giving this Ziploc bag organizer as a gift, it's unique and great for moms on the go! I purchased this for my mother-in-law when she moved into her new home and she absolutely loves it.
This slushie maker cup is a fun gift that's not just for kids… adults can enjoy this viral sensation too! My husband loveeeees slushies so this has been a fun present from the kids to him so he can enjoy slushies anytime!
Christmas time can be hectic, which means taking the time to relax is as important as ever! This Bamboo bathtub tray caddy is super luxurious and a great way to treat a family member to a spa-like experience right at home, especially if they already love baths. Add a personal touch by including a book you know they'd enjoy reading while they relax!
A neck massager is one of those gifts that you can give just about anyone, because who doesn't love a good massage? This one is like a portable massage chair and really works! My dad works from home and sits at his desk all day and he has enjoyed this gift to help relieve some of his back soreness.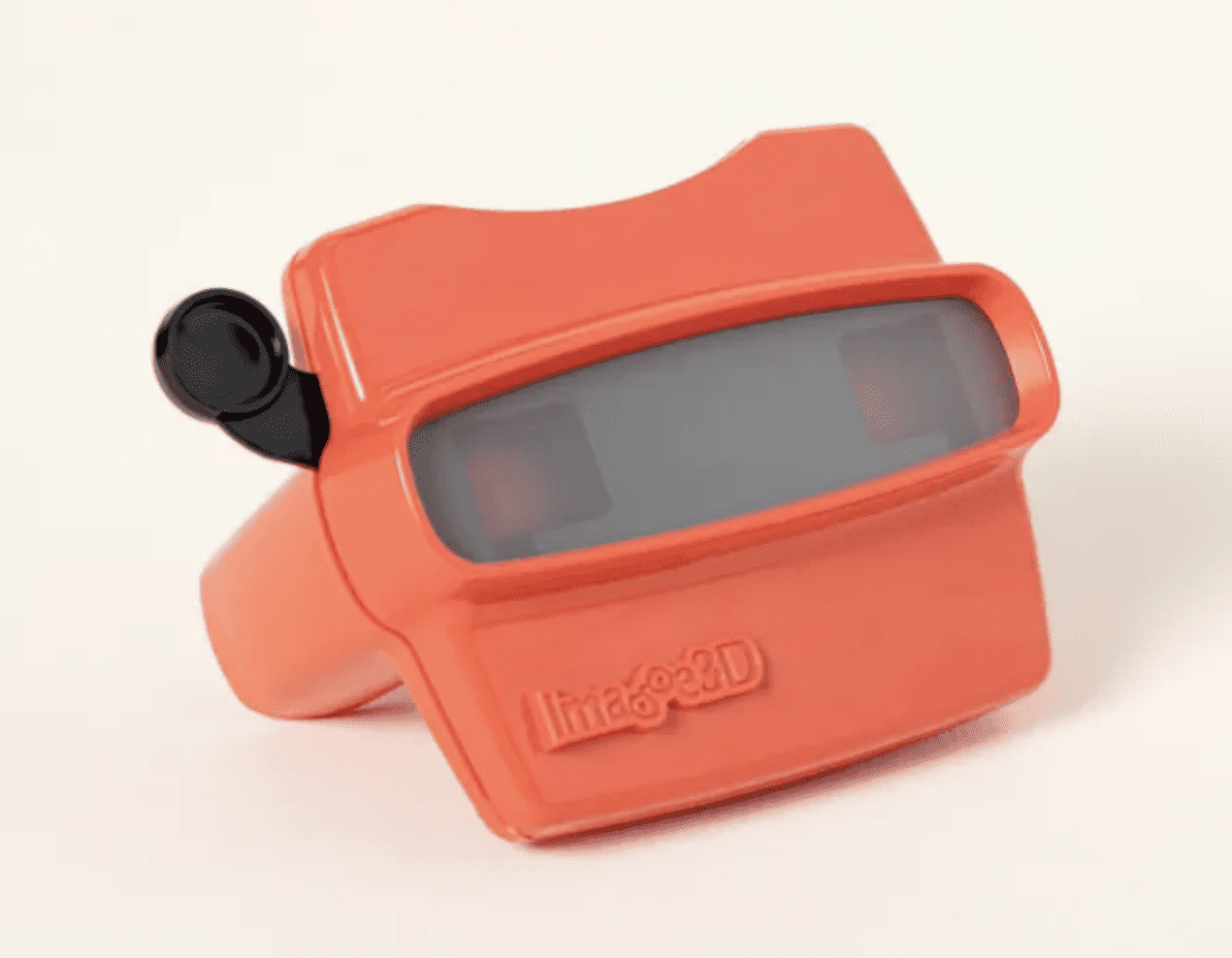 I love fun, nostalgic kinda presents – especially with a personal touch! How cool is this create your own viewfinder from Uncommon Goods? A gift they will for sure never expect and one that everyone will be excited to take a turn experiencing!
If you're looking for a sentimental gift or a parent or grandparent, then the Nixplay smart digital picture frame is where it's at! It's basically a digital photo album in a frame! We gave one to the grandparents and they loved it! Hands down this digital photo frame is THE best gift on this entire list. It has been something my in-laws have enjoyed every single day. It is also VERY user-friendly.
I recommend having it shipped to your house and opening it prior to gifting it. Go ahead and pre-load the frame with tons of family photos for them – it'll make it an extra special gift to be able to plug it in on Christmas morning and enjoy the memories right away! It is also easy to connect to wifi and then you can continually add photos to it for them, even from afar. I shared the info with all of my sisters-in-law and we all send photos to the frame! It doesn't require any sort of charging station and would also make an excellent gift for older parents who may not understand technology as easily as younger parents.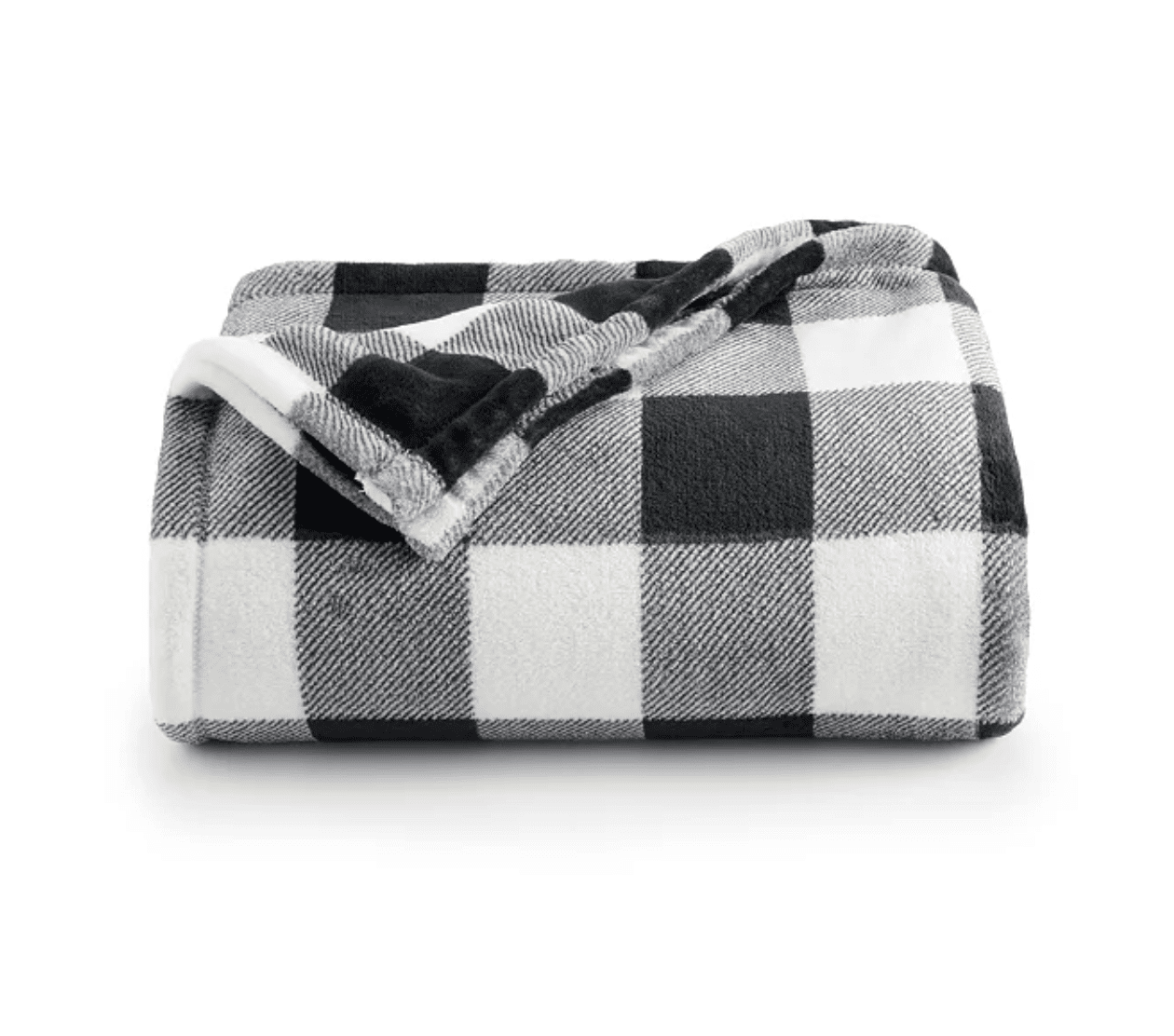 Blankets and throws make amazing holiday gifts, and I highly recommend this Oversized Supersoft Plush Throw from Kohl's if you're looking for a variety of patterns and styles to choose from at a reasonable price! Our family calls this blanket the "life changing blanket" and I'm literally snuggled up in one right now as I write this post.
Our ENTIRE family owns one. All of my kids, all of the cousins, all of the grandparents, all of the aunts and uncles and even the great aunts and uncles. It's AMAZINGLY soft. I dare say the softest, most cozy blanket ever made. Check the pricing over the holiday season because they often go on mega sale…I also love to gift these as teacher presents too! They come in TONS of colors and patterns – sure to have something everyone on your list will love!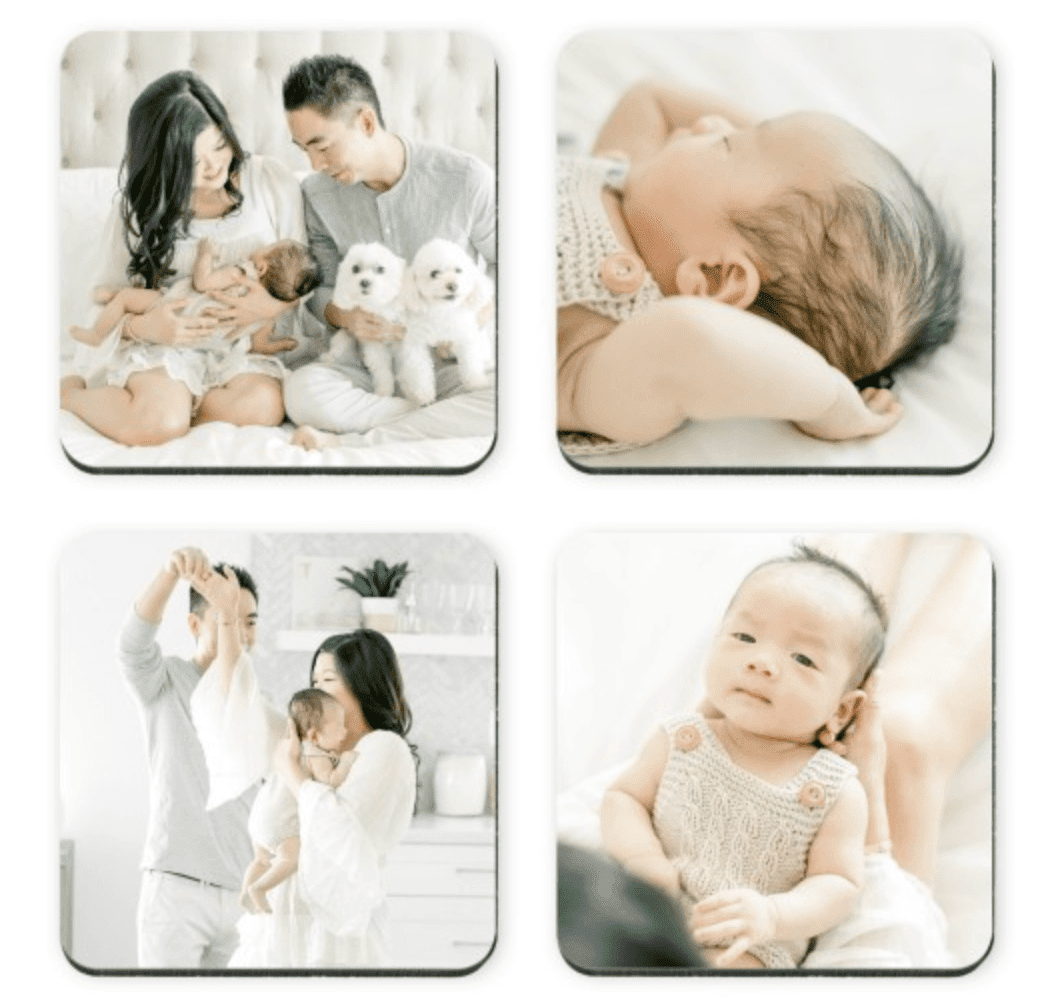 Another thoughtful gift that has the personal touch, these personalized photo coasters are the perfect addition to any family member's living room! I like photo gifts that can be useful and practical and also put away. I know the grandparents love our kids…but I also know they don't need a million pictures of them on everything they own. Coasters are excellent because they are useful and easy to store and will be appreciated every time they are used!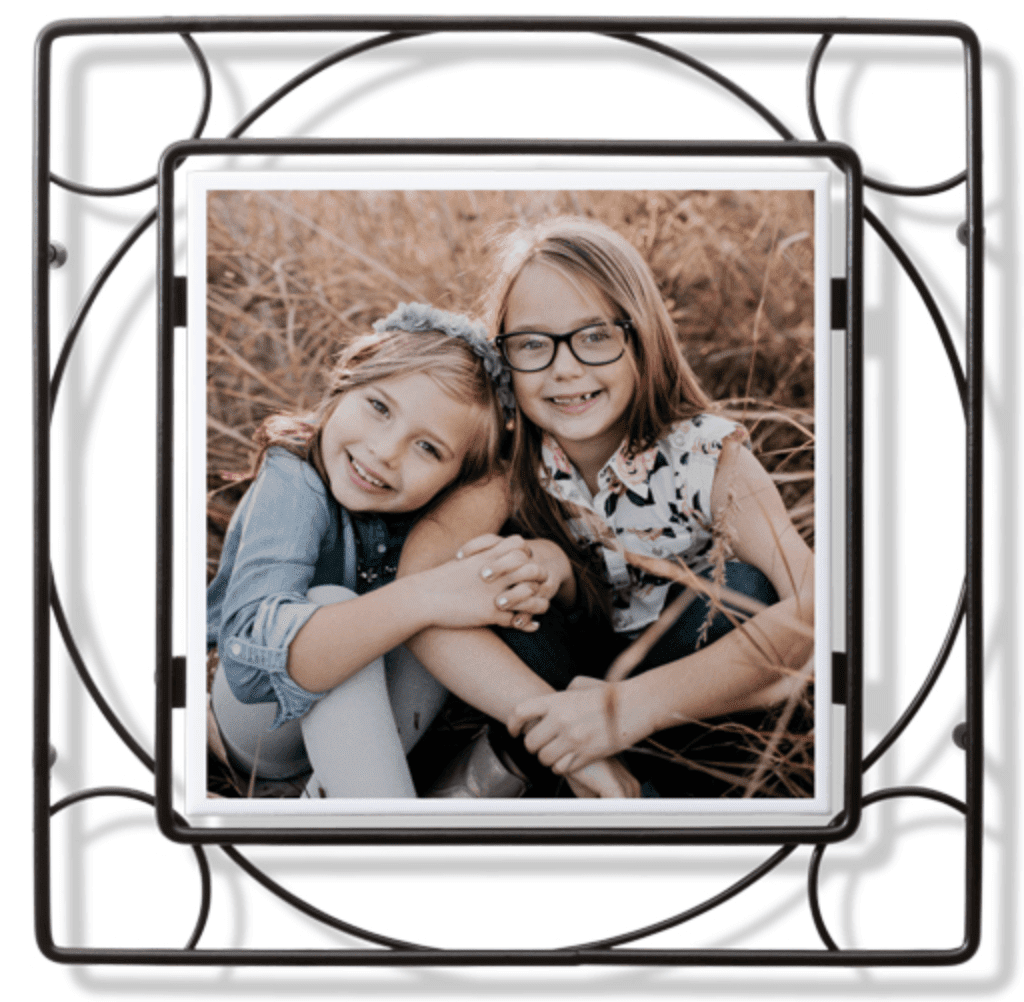 For more unique gifts that utilize the family photo album, these personalized photo trivets are a fun surprise! Another item that is practical and useful without needing to be on display. I was surprised and delighted at the amazing quality of this trivet. We gifted it to my husband's grandmother and she loves it and uses it when we go over to her house to eat a meal with her.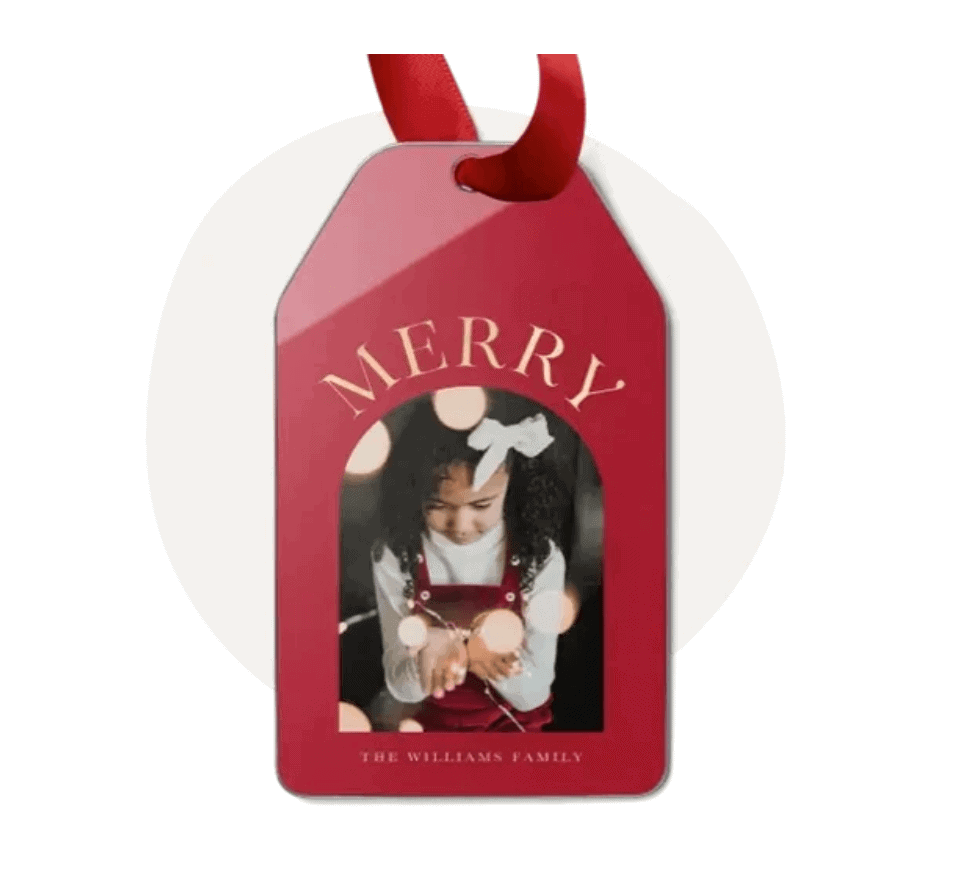 With Christmas gift ideas for parents, you can't get any more timely than personalized metal ornaments! There are tons of different styles to choose from and any of them would make great gifts for adult family members. I love to make these for family – I actually make one every year for my son's birth mother and include it with the annual letter and photos of him for her to have. When my husband's grandfather passed away I made ornaments with his picture on them for some of the family (including one for myself) and it brought such joy to see his smiling face on our Christmas tree. A custom Christmas ornament is also an excellent way to surprise parents or grandparents with exciting news – like a pregnancy announcement!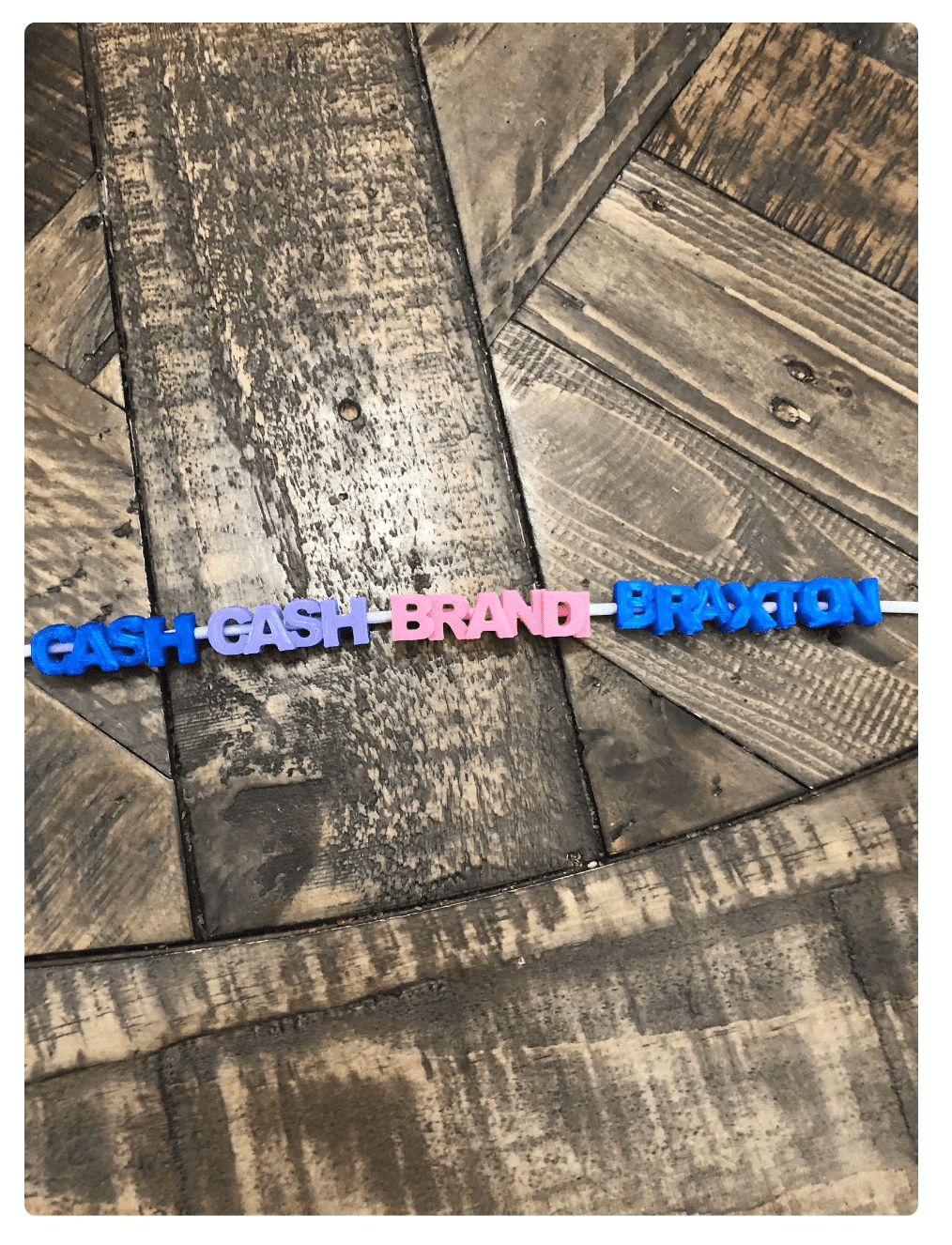 Another creative gift is these personalized USB tags customized with family names, which clip onto charging cords for easy identification! I gifted these for my entire crew – husband and kids to help avoid any more "borrowed" chargers!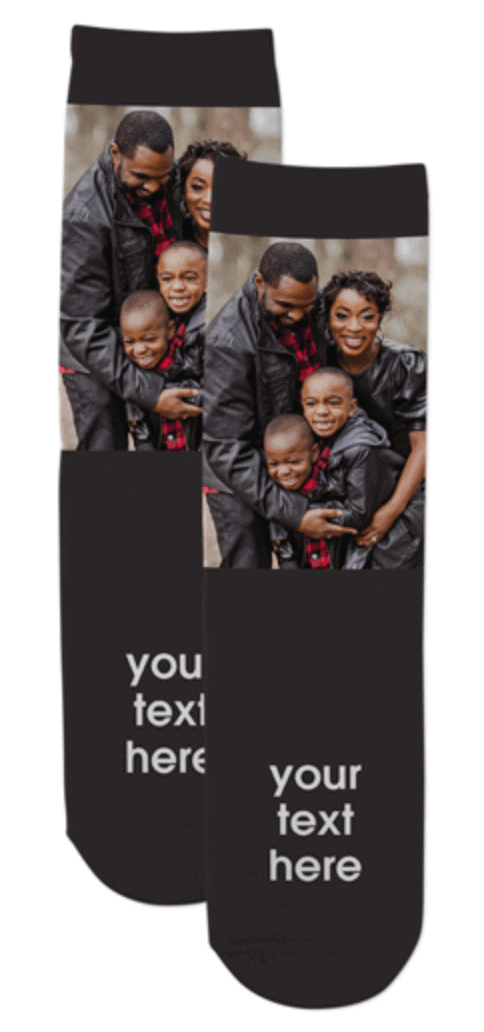 Parents and relatives love receiving these fun photo socks that you can customize with photos of kids, pets, or even themselves! They're sure to get a smile… or a good laugh! I made a pair for my husband with a photo of our pet cat on them…they are, of course, his favorite socks of all time 😉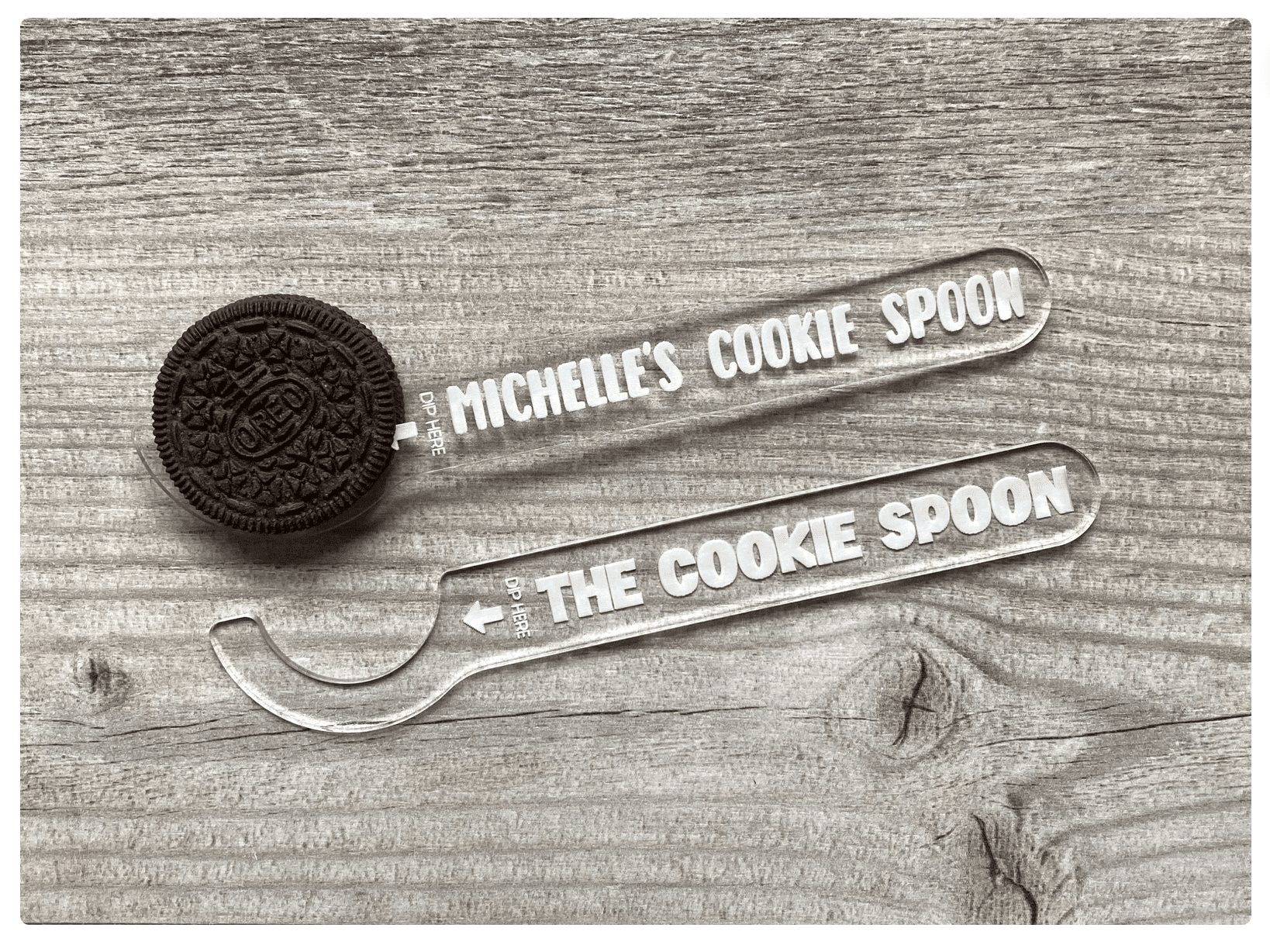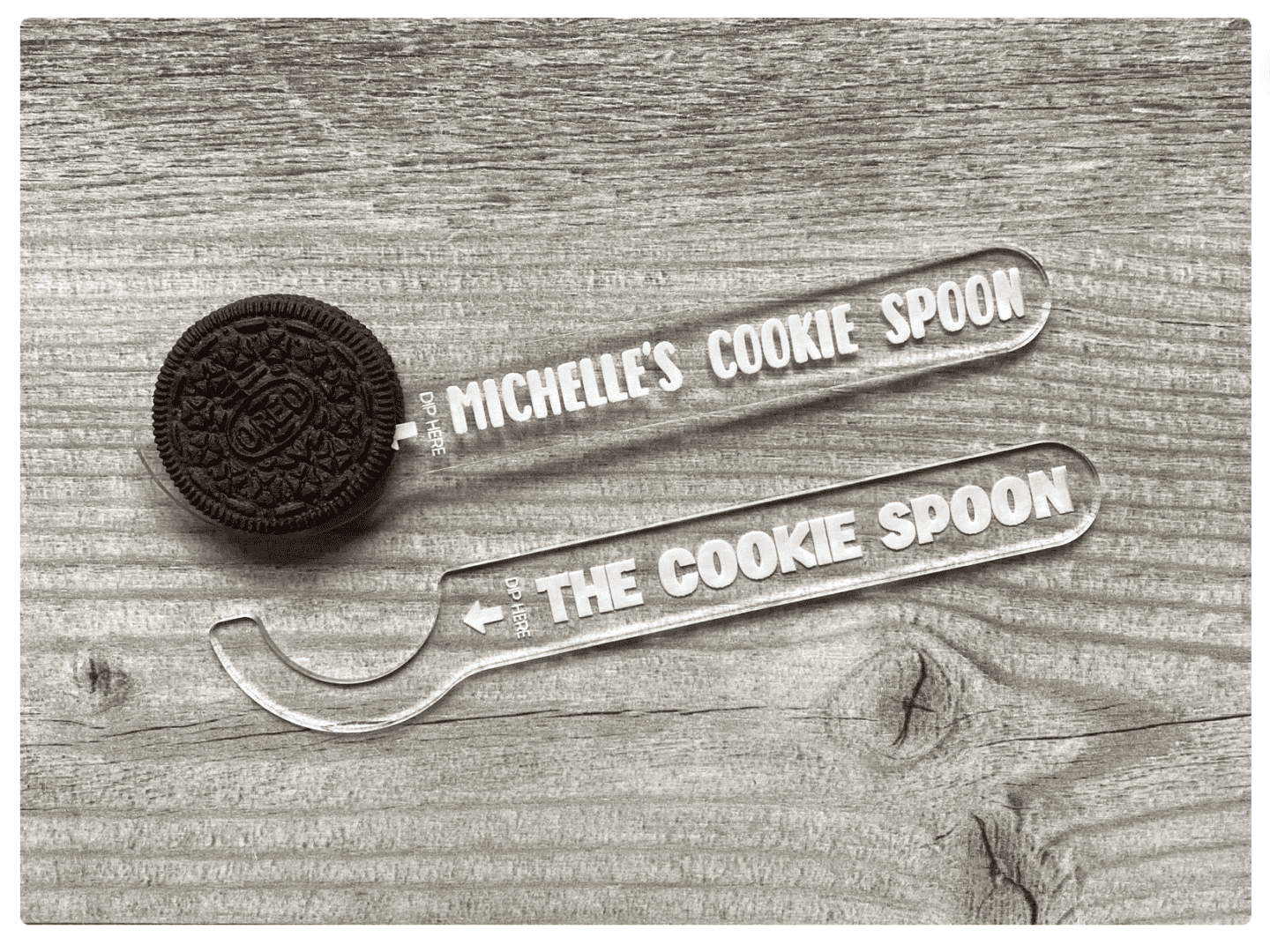 What a great idea for a fun, quirky gift! This is a cookie dipping spoon for Oreos – designed to help you dip the cookie in milk without dropping it! You can get it personalized, too and it'd be adorable for grandkids to enjoy dipping some cookies with their grandparents.
This is another practical gift but one that many parents and grandparents may not think to purchase for themselves! An electric toothbrush. The Philips Sonicare is the one we personally own because I have several good friends in the dental field and it's THE electric toothbrush they all recommended. Be sure to grab some replacement heads for them too 🙂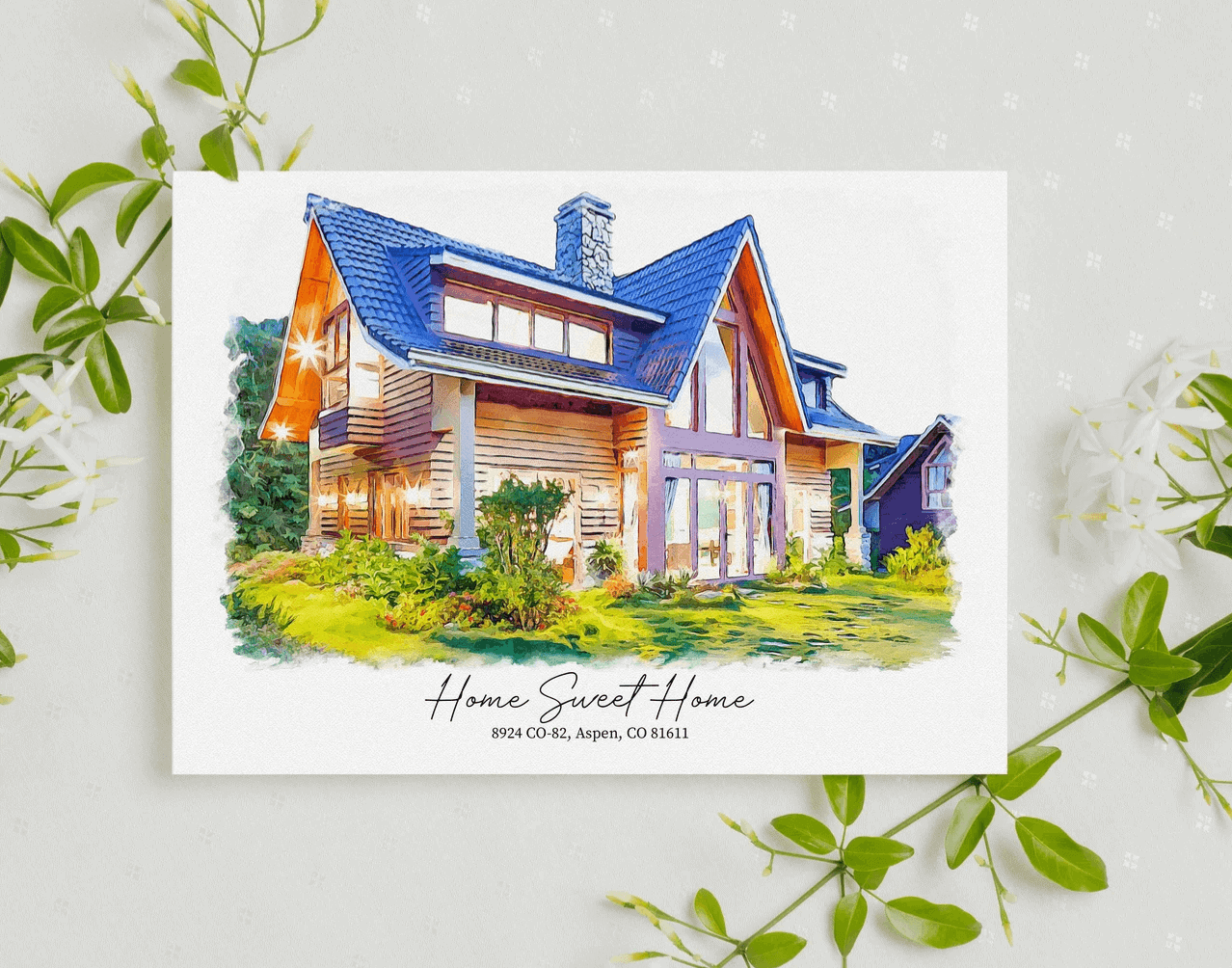 This would make the perfect housewarming gift for a family that's just closed on or moved into a new home! A custom house portrait rendered in watercolor, ready to be framed! My in-laws built a new house so I had this made for them using a photo of their old home to display in their new home. It was a very meaningful and special gift that they will enjoy for years to come.
Christmas Gift Ideas for Parents: Final Thoughts
There are so many good gift ideas for adults on the market, but I hope this gift guide gives you some ideas for unique, practical gifts that parents can really enjoy! The holidays can be a stressful time for adults, but everyone deserves a little something special!
Are there any Christmas gift ideas for parents that you've gifted or received in the past that you would highly recommend? Share them in the comments! I hope you've found some good options among the tons of gifts I've shared and that it helps make your holiday shopping a little easier so you can have a Merry Christmas too 🙂
Other Gift Guides and Posts You Might Like: