The holiday season is wonderful. Lots of family time. Lots of memories made. Lots of traditions and special moments. But it's also a busy time. A very busy time. So if you've ever wondered how to manage the holidays as a mom, you're not alone there!
It's easy to find yourself facing holiday stress rather than actually enjoying the magical season. But as a mom, you should be able to enjoy the holidays just as much as anyone else.
Here are my top tips on how to manage the holidays as a mom and maximize your joy as well as everyone else's 😉
How to Manage the Holidays as a Mom
1. Prioritize Your YES
There are SO many fun things during the holidays.
Family events. School events. Community Events.
The list goes on and on and it's tempting to say YES to it all.
I struggled with this and realized one year that I was saying "yes" to lots of fun things, but that those "yeses" caused our family to not be able to enjoy our traditions together.
Our traditions got pushed aside or rushed through in order to accommodate the other commitments we'd made.
After that year I'm mindful of what matters most: our little family, our extended family, our church family, school, then community.
Keeping our priorities in mind helps us know what to say "yes" to and what activities we need to turn down.
2. Be Mindful of Everyone's Schedule
Much like summer, the holiday time is a time where it's easy to lose sight of the schedule.
Kids who don't get their needed sleep (well, adults too!) will not be fun to deal with.
Those memories you're excited about making together? They can be very disappointing if a child is overtired and pushed beyond their max.
Rather than joyful laughter, you're battling tears and misbehavior.
Keep in mind as you make your holiday plans that sleep matters. Routine matters. Parenting through the holiday season is still important!
Make sure you know what your children need in order to be their best selves!
I personally make sure we don't have two late nights in a row and don't skip naps two days in a row either.
If we know we have a bigger event then I also make sure the day prior to that event is a normal day where the kids get their full naps and normal bedtimes!
News flash… everyone needs their beauty sleep – including you, mama 🙂
The holiday depression and seasonal stress and other health concerns can arise when you don't get the sleep you need so take care of YOURSELF too and make sure to be mindful of your own personal schedule while you manage everyone else's!
Related—-> Mom Needs a Break: Taking Care of Mommy's Needs in the Daily Routine
3. Plan Ahead for Holiday Activities
Knowing what events you have and what things you want to do over the holidays allows you to know how to best plan for them.
Eating at a relatives house where kids won't like the food? You know to feed 'em early or bring some items along.
Attending a church service event where the kids need to be quiet? You know to bring along some quiet games.
Staying up late? You know to make sure the kids have good sleep the day prior.
While it may seem like a pain to think through all these sorts of details in advance, moms know that it makes the day of the event run so, so much smoother.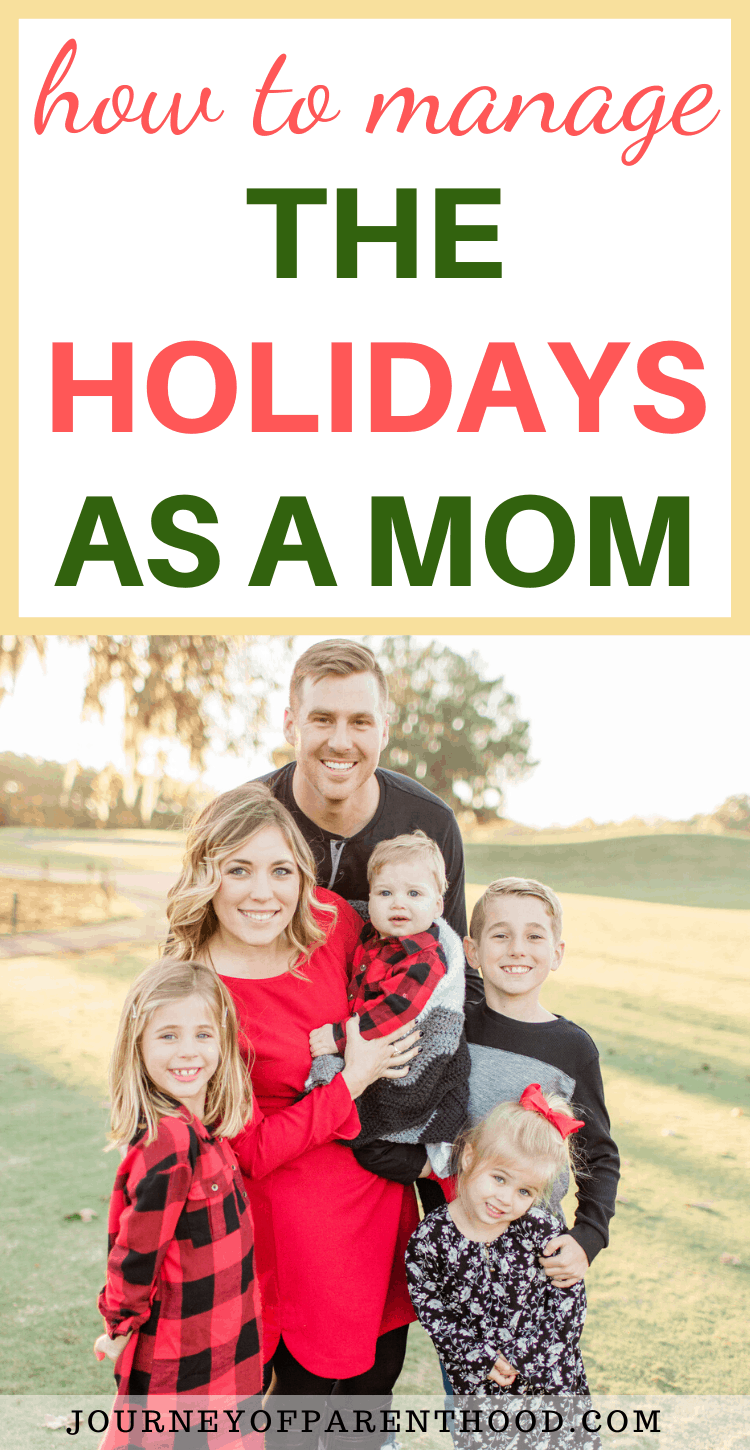 4. Budget for Christmas Spending
It's easy to get wrapped up in the excitement of the season and spend more than we should.
I like to budget for holiday spending year-round. (You can see how I do that here!)
By setting aside money each month for the Christmas season, I have all the funds I need when the time comes.
I don't feel stressed about making ends meet in January because I've over spent in December!
When making your plans, consider your budget. Attending events can get costly.
Even potluck style dinners and such still require the cost to provide the meal you bring with you!
In your planning consider those related costs and help that guide you in your decisions to commit and also to cut costs when possible (maybe you have two events and can double a cookie recipe to bring those to both!)
5. Decorate Early for the Holidays
I know lots of people get hardcore about waiting until after Thanksgiving to decorate for Christmas.
But y'all. We started decorating early and it's AMAZING. It's so much less stress when it's DONE!
Plus that way you're much better able to truly ENJOY the decorations.
We are always on the go so much during the holiday season that I'm thankful we have the decorations up early and are able to enjoy them longer.
It allows me to be a more present parent with my kids when the "to do" list is at a minimum!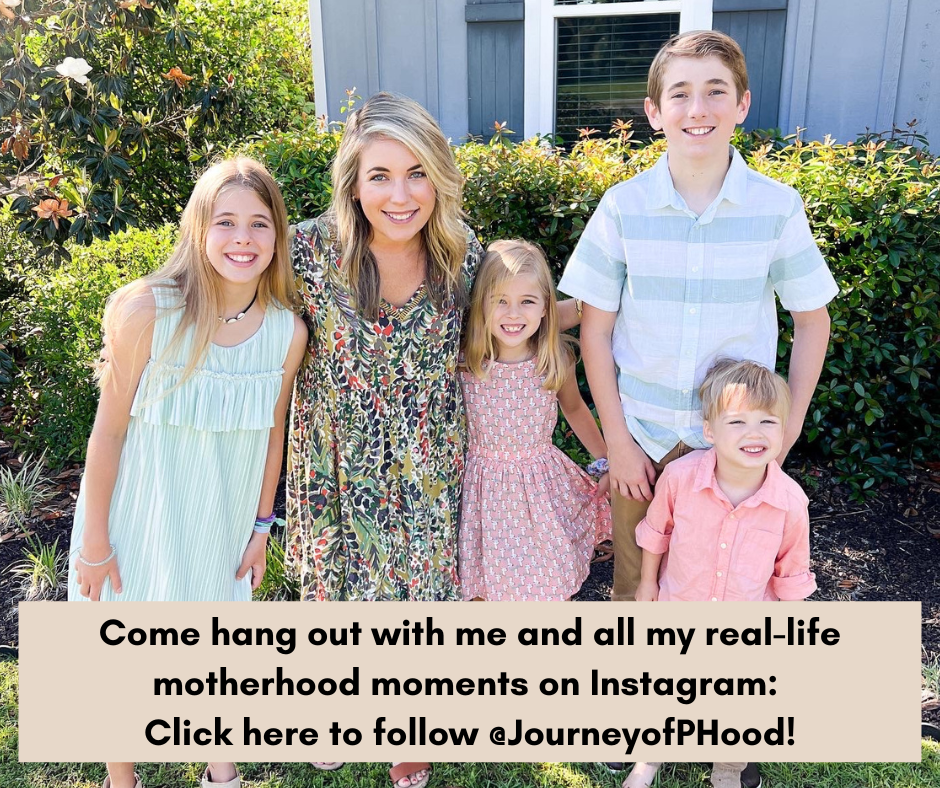 6. Shop Early for All of Your Gifts
Shopping early goes along with being prepared.
By knocking out the gift buying earlier in the year, it's yet another way to free you up to ENJOY the holidays rather than stressing during them.
I'm a year-round shopper.
I find lots of deals, hunt for clearance and discounts, and have a stockpile of presents stored away.
A lot of the best deals are not during the holiday season so buying throughout the year really helps cut down on costs and takes away that stress of hunting for the perfect gift before Christmas Day.
Related—-> The Best Stocking Stuffers for Kids!
7. Wrap Presents Early – With Help!
Notice a theme? A big part of knowing how to manage the holidays as a mom is knowing what to do ahead of time!
Knocking out things that you can prior to the holiday season frees you up to allow you to relax and truly embrace the fun!
If you shop early and decorate early then it just makes sense to go ahead and wrap early too.
My second child was due in Dec so I made it my mission that year to be READY for Christmas before she was born.
I had all of our gifts wrapped and under the tree by Thanksgiving and it was great!
Putting the gifts out early only builds anticipation and excitement for the children and spreading out the gift wrapping makes it easier to get it done and not hurt your back doing it 😉
Gift wrapping is also a GREAT way to include older children in the magic of Christmas.
Let older siblings stay up a bit late and wrap gifts for their younger siblings for you! It helps them feel "part of" and makes the task easier for you…plus it's a great way to spend quality time together while also knocking off an item on the "to do" list!
8. Let Things Go and Prioritize
You don't have to do it all. You can't do it all.
Sometimes we're able to be our best selves by simply letting things go.
Do you usually host a holiday event at your home and don't feel like it this year? Just don't do it!
Stressing over getting that perfect Christmas card photo? Use one from earlier in the year where everyone is happy!
Feeling bogged down by all the gifts to wrap? Stick several in a box and wrap 'em together!
Make sacrifices, simplify your life and you're more able to give your best self to the things that matter most.
Put your priorities first. Let go of what isn't more important to your core family unit.
It is okay to say no!
It's also okay to skip a tradition. Too much going on? Just send Santa's letters instead of meeting him!
We tend to put a lot of pressure on ourselves to do all the things and make all the memories… but keeping things simple is just as joyful (if not more so!)
Related—-> The Best Place to Meet Santa Claus
9. Lists, Lists, Lists – Check 'Em Off!
Would any "how to manage" post be complete without mentioning keeping a list?
Write it down. Put it on your phone. Tape it to the fridge.
When you plan, and plan well, it feels GOOD to mark off that "to do" list and if you plan early and accomplish what you can ahead of time…the list will be done well before Christmas!
And that, my friends, is how to manage the holidays as a mom! Enjoy that cocoa, make those memories, have a JOYFUL holiday season that you will love!
How To Manage The Holidays as a Mom
How to Create a Holiday Season Filled with Joy and Love for Your Family but Also FOR YOURSELF!
Prioritize Your YES
Be Mindful of Everyone's Schedule
Plan Ahead for Holiday Activities
Budget for Christmas Spending
Decorate Early for the Holidays
Shop Early for All Of Your Gifts
Wrap Presents Early – With Help
Let Things Go and Prioritize
Keep Lists Going for ALL THE THINGS
By having a solid game plan going into the holiday season you set yourself up for success and are better able to soak up all the magic of Christmastime with your family without feeling the typical holiday stress!
Today is our Babywise Friendly Blog Network Pinterest Day, be sure to visit all of the fellow bloggers who are posting on the topic of Christmas and their holiday suvival tips and tricks: