I host and attend multiple favorite things parties each year so I'm always on the hunt for favorite things gift ideas to add to my list! As with all my gift guides, I only recommend products I've had personal experience with or that I've gotten great feedback on!
Obviously, since this is a favorite things list, these are, well, a few of my favorite things! (Not like the song from the Sound of Music… though that would be a cute idea, too!)
If you've never done a favorite things gift exchange before, the name is pretty self-explanatory! I don't know where it started, but it probably has something to do with the popularity of Oprah Winfrey's "Oprah's Favorite Things" list she releases every year… as well as other celebrity "gift lists."
Whatever the origins, I think it's a great idea! It's like the opposite of white elephant gifts. Instead of bringing items you want to get rid of, you bring items you can't live without!
And this isn't just an annual tradition Christmas holiday party thing, either: my friends and I have done these parties at other times of the year as well! It's a fun idea for a girl's day or even a birthday party.
I have friends who typically host one during the holiday season and another in the springtime as it allows for a variety of fun favorite things party ideas. We've had a favorite things party in October, November, December, and in the springtime too including May, June, and July! Really any time of the year is a great time of the year to get together with a group of friends and exchange everyone's personal favorites!
I'm always posting new favorite things on my Instagram stories as I find them, so if you want to keep up with the latest and greatest, be sure to follow me!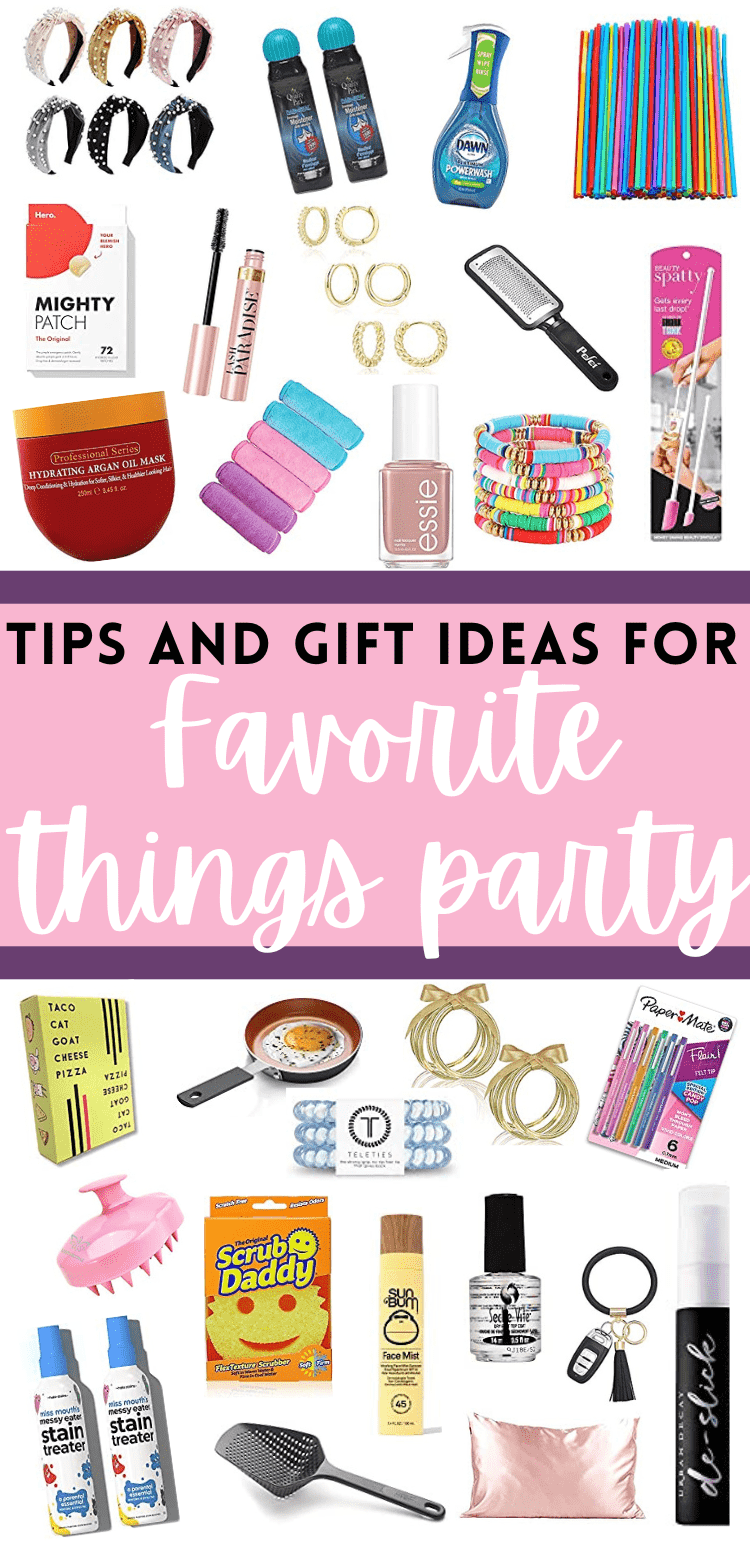 Favorite Things Party Ideas and Tips
There are different ways to do a Favorite Things Party, but here's what's worked for us in the past:
Each person brings 5 of the SAME item to give out – yes 5 identical gifts
We aim for the price limit per item to be under $10 each since each guest has to purchase 5
Each person leaves with 5 new things to love!
Of course, you can adjust the number of gifts for the party guests and the dollar amount per item as well (although we've found $10 to typically be a great price point!)
A great thing about a favorite thing gift exchange party is that it doesn't require ANY wrapping! Simply bring your five items in a concealed bag (brown paper packages are always a good idea so no one will be able to peek!), box, gift bag or another container. There is also no worries about filling out gift tags since you won't know who will receive your items until during the event!
As guests arrive have each of them write down their own name five times on slips of paper. Then place all of the names into a gift bag.
Each person takes turns presenting their own favorite things. I like to joke that we "sell" our item to the crowd but truly you share what your item is, how much it costs, where you can purchase it from (we like to all share a link to the items in a group chat or FB thread too so everyone can easily shop after the party for any items they didn't receive but wanted!), and WHY you LOVE it!
After presenting you then reach into the bag and draw 5 names. Those 5 people receive your items! Easy! Everyone goes around the room and presents their party gift and draws 5 numbers. The only time there is an issue is when someone's name doesn't get drawn early on and they end up with their name left in the "pot" more than once for the last item. It's easy to just do a quick swap if this happens though!
Having a favorite things party is a simple way to get to know each other and a great type of party when you have a bunch of people because there is no gift limit. Each person brings 5 things so if you have at least 5 people at your event then everyone is guaranteed to leave with 5 new gifts!
As a frequent attendant of favorite things parties I have been on the hunt for favorite things party gift ideas and have found that most of the favorite things gift ideas I've seen have pretty expensive items on their lists. Like who is spending $25-$50 per item, right? The good news is that for this gift guide, I've tried to keep everything $15 or less so that it's a bit more budget-friendly!
The goal of a favorite things party is to have FUN and de-stress with friends, not to break the bank or your budget 😉
If you have a favorite things party coming up or want to organize one, hopefully, these great gift ideas give you a place to start!
Disclaimer: this post contains affiliate links.
Favorite Things Gift Ideas: $15 and Under
Favorite Things Gift Ideas for Women
A favorite things party is the perfect excuse to get a group of ladies together to celebrate any occasion! Here are lots of ideas for a girlie gift at a favorite things party, and of course all of these ideas make for excellent gifts for ANY sort of gift exchange too!
This jewelry dish is minimalistic and stylish, making it the perfect gift for a best friend or family member who loves to wear jewelry! I don't know about you but I'm constantly taking my rings off to do dishes, get ready for bed, or even work at my desk and a cute little dish like this is both practical, useful and a great addition to any home decor!
Diamond cleaner makes a thoughtful stocking stuffer for any lady who loves to keep her jewelry shiny and new! I love this cleaner and it really saves an unnecessary trip to the jeweler's to get diamonds and precious stones polished.
ACURE dry shampoo is seriously one of the BEST dry shampoos I've ever found! This brand is also very clean and certified organic. Price-wise, it's a steal! I've personally had a nightmare with damage to my hair from using a very popular aerosol dry shampoo and finding a powder option is awesome.
I love gifting this e.l.f. Makeup remover to women and teen girls – it really is excellent for the price and I definitely prefer it over makeup wipes. Not only does it get the day off your face, it hydrates and replenishes, too! Using a makeup remover balm has been a game-changer for me and my nightly routine. I cleanse once with this and then cleanse again with my cleanser.
Amber Soap Dispensers are a stylish and simple gift for anyone who loves trendy home decor and wants their bathroom or kitchen to look like something out of a Good Housekeeping magazine! Who doesn't love a practical gift?
Makeup brushes can get crazy expensive but this makeup brush set is the best price I've found for the quality and I love gifting this to preteens and teens who are getting into makeup! I use these brushes myself every day and they are awesome. They have lasted me ages and are easy to clean too.
Makeup sponges are another great go-to and I absolutely love this set of minis for stockings and gift sets! These are great for applying concealer, especially under the eyes.
This 3-pack of full-size makeup sponges is another favorite. They're super affordable (especially this time of year!) and excellent for everyday use! Makeup sponges are one of those things that we tend to forget to replace so it makes for a perfect favorite things gift idea.
I highly recommend these makeup remover face towels for anyone who regularly wears makeup – having designated makeup towels to save all the nice washcloths from stains and the microfiber teddy-bear fabric isn't rough on the skin! Last year friends and I hosted a "regift party" after Christmas and the original large-sized makeup remover towel was THE most regifted gift. However, these smaller-sized multipacks are awesome because you can just use them once and toss in the wash and have enough to last until your next laundry day!
I buy these spiral hair coils for just about everyone because they're just that good! They also come in tons of colors and patterns so you can pick the perfect one for each lady on your list. Who hasn't struggled to find hair ties that don't cause a crease and don't hurt? These are AWESOME.
These seamless hair ties are another hair product I always find myself coming back to for favorite things gift ideas. The soft and seamless design is great for thick hair and the neutral color pack is perfect for hairstyling! These are an Amazon "dupe" of the Gimmie Beauty Hair Ties – I've owned both and you literally cannot tell a difference between the Amazon version and the real thing.
I adore these fashion headbands for women and I love giving them as holiday gifts! They're so pretty and add just the right amount of embellishment to any outfit. Plus, they're actually really comfortable, which is a must with headwear! A great thing about these is that they come in a set so you can easily break it up and have 1 for each of our 5 favorite items! My daughters and I have worn these headbands for countless family photos and they always look pretty and polished.
I swear by the L'Oreal Paris Lash Paradise mascara and it's a great addition to any girl's stocking! Mascara is always a HIT at favorite things parties because it's one of those beauty items we're all always on the hunt for. If you have one you love it'd be a great gift to share!
The Maybelline New York sky high mascara is another favorite of mine that I always end up coming back to when I'm shopping for someone who loves makeup and makes for another favorite things party idea gift option.
Face masks of all kinds are all the rage right now but the 24K Gold Face Mask is one of my personal favorite gift ideas. It comes with deep cleaning tools and you can really feel it working! Face masks are a beauty item I personally never buy for myself so it's always fun to receive these kinda things as a gift.
This delicate golden hoop earring set makes a stylish and elegant gift for a daughter, sister, or best friend! This set is so cute and is sure to be a hit with anyone at the favorite things party. Gold hoops are so on trend right now, especially the huggie style and they go with everything!
I love giving this key ring bracelet to moms because it's such a practical gift and the sort of thing you didn't know you needed until you have it! Having my key ring bracelet has been such a game changer as it makes it SO easy to find when tossed in my purse and is easy to toss onto my wrist when out and about. Makes for an excellent gift and at this price a great option for a favorite things event too.
Heishi bracelets are stylish and versatile, perfect for teens or adults and ideal for beach vacations or summer events! This would be a great one at a springtime favorite things party. Several friends and I all own these bracelets – they are perfect for stacking and adding a fun pop of color to any outfit.
I always end up buying these glitter jelly bangles for girls around the holidays! They're a fun gift for anyone who loves to accessorize. Since this set comes with two bracelet bundles it's also a great option to split so you get two favorite things gifts for the price of one. I was gifted my set at a favorite things party and loved these bracelets so much that I bought my own full set.
I am all about these Venus mini razors for traveling and on-the-go!
I love giving people gifts they didn't know they needed, and this makeup spatula set is one of them! This crafty little device scoops out the makeup at the bottom of the bottle so there's no more waste! I received this at a favorite things party and it's GENIUS. How often have you tossed makeup and wished you could scrape all the wasted product out of the bottle before tossing it? This is a gift that will truly be used, and appreciated and save your friends some money!
This travel jewelry box is the perfect gift to add to your holiday shopping list when you're not sure what to get a female friend or relative! We just had a favorite things party at my house and one of my friends gifted us similar jewelry boxes. So cute and thoughtful!
I love that this Timeless skin care serum for all skin types so you can gift it to just about anyone! Vitamin C is SO important for our skin but so many people don't know they should be using it. I think it's super fun at a favorite things party to learn makeup and skincare tips and this is a product that has truly impacted my personal skin so I love the idea of gifting it to others too!
One of the best gifts for girls? Fuzzy socks, of course! You can't go wrong with something warm and cozy and I love all the colors and patterns you get to choose from! Everyone loves fuzzy socks and the animals make it a funny gift to give and receive too. Plus this is another item that comes in a set so it can easily be divided!
It's a 10 Haircare Miracle Leave-In Product is one of my favorite hair products and I always snag some when I can because it makes such a great stocking stuffer. A friend gifted this at a party one year and shared the details of her hair routine – it's become a staple in our home to help my daughters as they always have tangles! It works perfectly at getting the tangles out and helps prevent them from happening in the future too.
I'm always on the hunt for a good deal on some Urban Decay setting spray because y'all, this stuff is the bomb! I use it all the time while doing outdoor activities. Even after a day at Disney World, my makeup always holds up. I get compliments ALL the time about my makeup and how it lasts even in the heat at the theme parks and this is my secret weapon!
Seche Vite Fast Drying Top Coat is a nail care essential that you can gift to just about any girl who loves painting her nails, since a good top coat is always a must. I was gifted this at a party one year and it's become my go-to. I never paint my nails without adding this top coat. It's LEGIT!
I adore this clear zipper pouch with varsity lettering! It makes a great gift for teens and is multipurpose for travel or everyday use. I think favorite things parties are extra fun when you leave with an item that you love but that you'd never buy for yourself and this pouch is just that kinda gift. SO cute and FUN and useful but not something I'd probably personally be able to justify spending money on. It'd be great for a teen favorite things party too!
Felt tip pens are always a good choice and I love this set of pastel colors for girls! The best part is, they don't bleed through paper. These are THE best pens. Seriously. Make awsome teacher gifts too!
Another nail care essential I always come back to is this nail buffer, which has different sides so you can shape and smooth your nails with ease! This was another one I received at a party and the gift giver explained to us all the proper way to prep your nails before painting them. I was sitting there frantically taking notes in my phone and was glad to receive the buffer now that I know all the best tips for helping my nail polish last!
Y'all know I've RAVED about these round sunglasses for women because they literally look good on anybody! I've bought several pairs in the past and I always come back to them when I know someone who needs a new pair of sunglasses. I've been able to catch these available on a deal and when I do I stock up not just for random presents but I also gifted them at a recent favorite things party too.
See more summer essentials for moms here!
Another style from the same brand, these square sunglasses are also fantastic! I just found these recently and really love them and think they'll be fun for a future favorite things gift!
With all the cute shoe trends popping up, having a good set of no show socks are a must! I actually had a different set of no-show socks on this list originally but then I hosted a favorite things party and a friend brought these socks and oh my goodness. THEY ARE AMAZING. I wear em all day without any tightness but they still stay UP. I love these because they have a no-slip material on the heel – always the most annoying part of wearing socks! LOVE these!!! She said she bought them and divided them up – we all got 6 pairs each!
Essie nail polish is one of my favorite nail polish brands. They have such gorgeous colors and they last forever! When I have a lady on my list who loves painting her nails, this is my go-to brand. I've been back in the habit of keeping my own nails painted and I LOVE this color. It's such a great neutral and works for every season.
This Anti-Frizz and Flyaway tamer is great for styling hair and really keeps those flyaways and baby hairs in check throughout the day! Love gifting this to moms with little girls as it's also safe for kids. I keep one of these in my bathroom as well as carry one in my purse. I always do a quick mirror check in the car and will run it quickly over my flyaways. It's awesome! And it comes in a set of two so you can easily split it up to help save money on your favorite things gifts.
These precision shavers are great for at-home grooming and eyebrow shaping! Easy to use and great for travel! So many women are scared to shave their faces but once you do it you'll LOVE it and be so glad you did. These are awesome for dermaplaning!
I cannot recommend these satin pillowcases for women enough! They're known for preventing hair breakage and facial blemishes while you sleep and trust me, it really works! Plus, they just feel so luxurious and can help you stay cool while you sleep.
Love, love, love this Argan Oil Hair Mask! I've gifted it before and the reviews are always positive! I was also gifted this at a favorite things party and now I keep it in my shower at all times. My oldest daughter uses it when she washes her hair and it's been amazing for preventing tangles!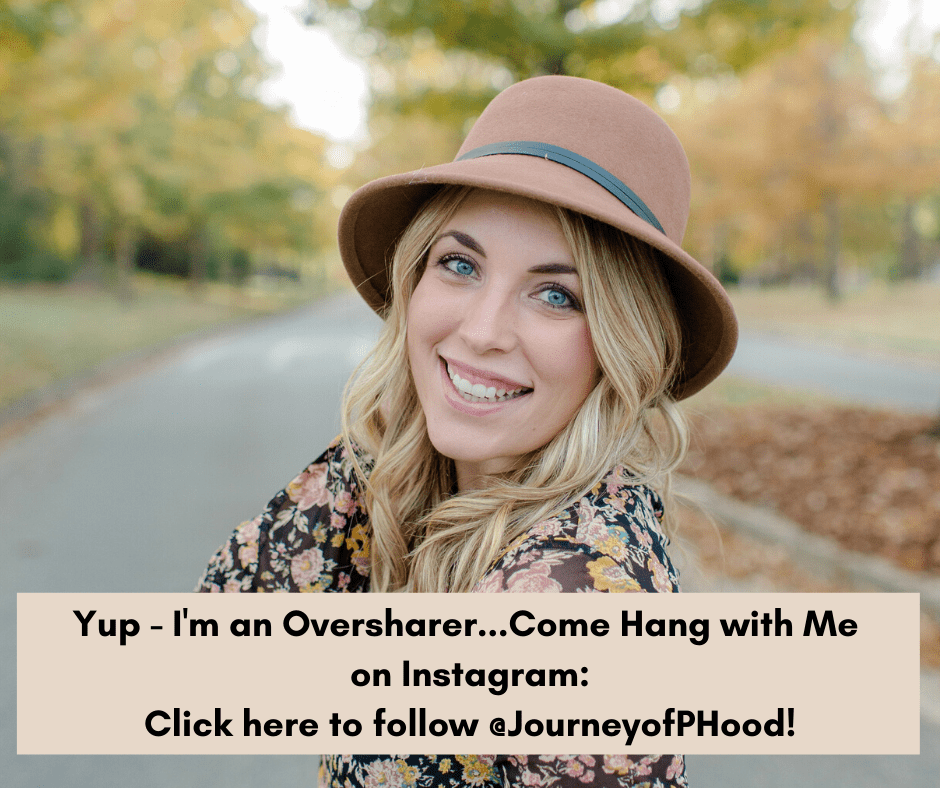 Favorite Gifts for Men
Let's be real, I'm pretty sure most favorite things parties are for the ladies. But if you're attending a co-ed version or a couple's party or just need a quick, affordable gift idea for a dude in your life – these should help!
I am always recommending this aluminum cell phone stand for parents! It makes it easy to look up recipes, take calls, or dock your phone for charging. Super sturdy and works with tablets, too! I have this one on my desk and use it daily! It's awesome!
This electric lighter makes a great gift for dads who love practical tech gifts! It also solves the problem of never being able to find a lighter that works. 😉 I actually received this at a ladies favorite things event and it was the hit of the night! SO cool! I will say though, we took ours to the beach for the 4th of July and it does NOT work on sparklers haha
A mini egg pan makes a great gift for Dad or for the kid who loves to cook for themselves! So cute and the perfect size for small servings! Also good for camping and travel. This was another item I received at a favorite things party and I thought it was genius. My husband and I both use it on a regular basis.
This scoop colander is seriously ingenious! Instead of always having to drain a pot of boiling water into a colander, just scoop the pasta or other food out and save yourself the burns. I love a good hack and this is a gift that will be used again and again and everytime it's used you'll say "wow this is genius" haha
This 4 Piece Pizza Pan Set is the bomb! Great for families who love to cook together… kids have so much fun decorating their own personal pan pizza and the high-quality steel means they'll last a long time too. This would also be an easy gift to split up and just give each person one if you were wanting to save a bit of money on your fav things gifts.
You know that parents will always accept practical household gifts, and Scrub Daddy sponges are one of my favorite things to throw into an adult's stocking! This was yet another favorite thing item I received at a party one year. I'd heard of Scrub Daddy (who hasn't seen Shark Tank, right?) but hadn't ever bought one before. Now that I've tried it? I have it on my Amazon subscribe and save so I'll never be without one!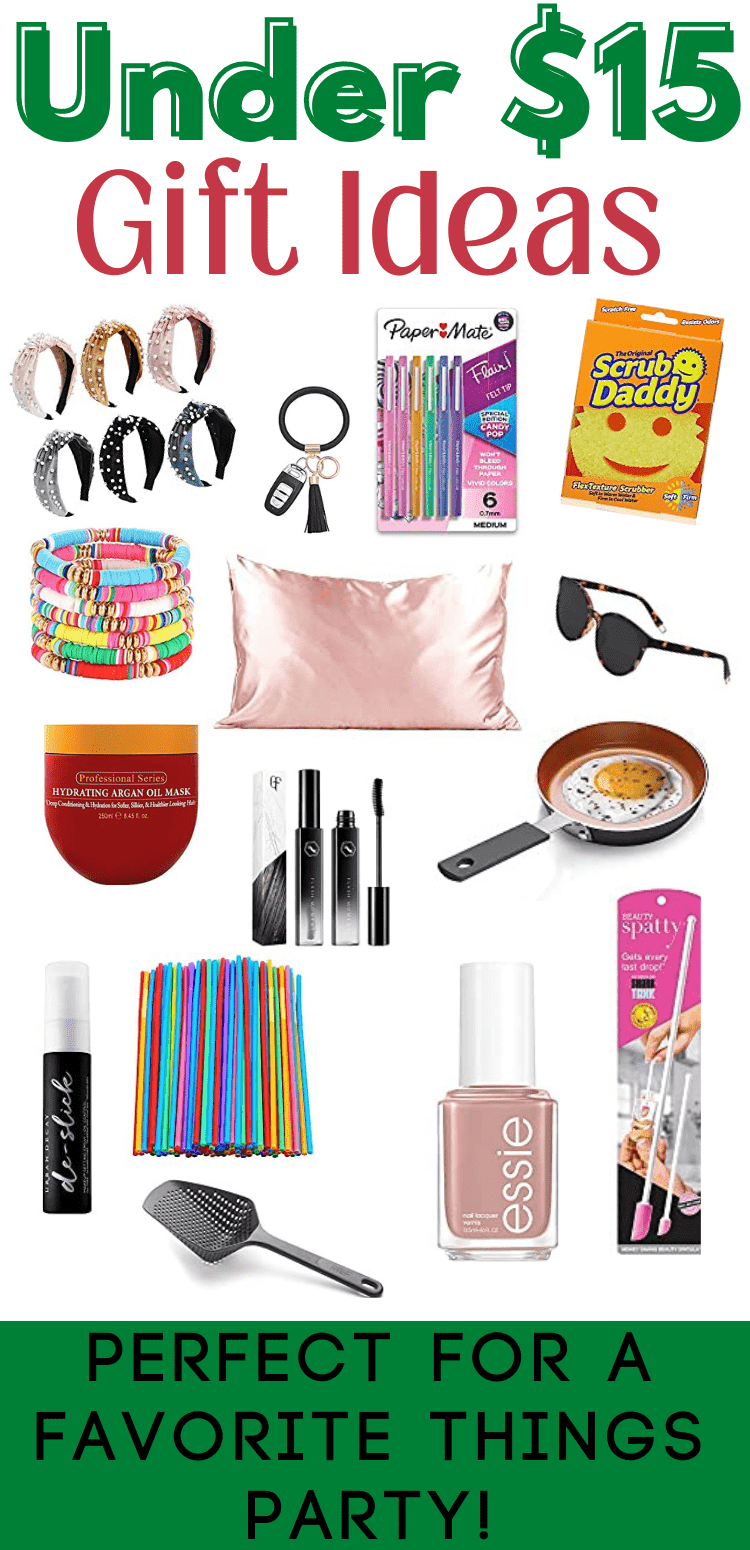 Favorite Things Gift Ideas for Anyone
Sun Bum sunscreen is a favorite brand of mine and a great addition to a stocking or gift set, especially for those who love the beach or who are planning a winter getaway to a warmer climate! This is AMAZING. I keep it in my Disney bookbag and it is perfect for theme park days. It isn't just a great face sunscreen but it's got a cooling mist quality to it too. So you're reapplying your skin protection while also cooling off. Win win. Plus my kids LOVE it and can spray their own faces with ease too.
Beekeeper's Throat Spray is a favorite item for cold & flu season, great for immune support and sore throat relief! You gotta take care of your health, especially around the holiday season and it makes for a fantastic favorite thing!
Dr. Teal's Epsom Salt is a great go-to soothing gift for a spa day kit or for a friend who loves baths! This stuff is so great for muscle soreness and the lavender scent is so relaxing. Epsom salt baths have SO many benefits and what mama (or daddy for that matter) doesn't need some relaxation time?
Taco Cat Goat Cheese Pizza is a fun, fast-paced card game perfect for the whole family. This is one of our personal favorite family games and one of my favorite gifts or stocking stuffers to give kids! It makes for a great group game for any age and would be a fun favorite thing gift item that recipients can enjoy with their families. I'm all for making memories and games are a great way to do just that!
See more ideas for fantastic family board games and more creative stocking stuffers for kids!
Cutting down on plastic bottles has never been easier with this sleek white bottle set! One of the best values I've found and is great for a family with multiple kids and would be an excellent item to split up for a favorite things party. You can also personalize them with ease by adding some fun stickers! This would also be super cute for a teenager gift or favorite things party.
Give the gift of a tension-relieving massage with this Hand-Held Massager, which I've bought as a gift on several occasions and is always a hit!
Poo-Pourri makes an all-around great gift for family members and friends. It always gets a chuckle out of everyone but seriously, this stuff works and can be a real lifesaver, especially with a lot of people in one house! I personally cannot smell but I love the idea of this as a gift as since I can't smell this is def something I'd be putting to use to make sure no bad smells are left behind without my knowledge 😉
Take your shower to the next level with these Shower Aroma Therapy tablets that release relaxing scents into the steam! These make great stocking stuffers for anyone who loves aromatherapy! Even though I can't smell I've actually used these when I'm congested and they work AMAZINGLY!
A water bottle with drink times is both a fun gift and a practical one that encourages you to stay hydrated throughout the day! Great for athletic kids or anyone looking to build healthy habits and makes for an excellent favorite things party gift during the holiday season for everyone prepping to get healthy in the new year!
These under eye masks make great gifts for tired moms who feel like they always have bags under their eyes!
A pack of colorful straws may seem like an interesting choice for a gift but trust me, kids and parents love these things! My best friend, Katie, is obsessed with these straws and gifted me some for my birthday! They are awesome because they can stretch further than usual straws which allow them to fit in any cups, including those huge travel ones.
For unique gifts, a Dirty and Clean dishwasher magnet is a fun idea for adults and parents that they end up really appreciating! A practical gift that will get used daily by a family with kids for sure!

Need more gift ideas for parents and adults? I've got a gift guide for that too!
This Downy wrinkle eraser is seriously a lifesaver! Parents definitely appreciate getting any gift that saves them time and this one cuts down on time spent ironing clothes. My husband, Zach, and I don't even iron at all thanks to this wrinkle eraser. We even take it with us when we travel. It works SO well!
Another household essential for parents, especially ones with small children? Stain remover! I love this brand of nontoxic stain remover designed specifically with parents in mind! This is one that comes in a two-pack so it's great for splitting up. I've also been gifted this myself and it's another item I've loved so much that I keep it on my subscribe and save so I never go without!
Melatonin vitamins are a great gift idea for anyone who needs a little help unwinding and falling asleep! Many people struggle with bedtime routines and getting settled in for the night. It may be a weird thing to gift but, again, a favorite things party is ALL about things you LOVE and when you're really struggling in a tough sleep cycle melatonin is gonna be your bestie!
For anyone who likes to keep some color when the weather gets cold, I always pick up some Jergens Natural Glow, my personal favorite brand! It's great because it can be used as a regular lotion (I like to mix it with my daily lotion) and slowly builds color over time. Unlike self tanner you don't have to worry about stains, streaks or needing to rinse!
No-bleed gel highlighters also make a great gift, whether it's for Bible study, school, or just for fun! If you're putting together a church group event or party this makes for an excellent gift as these are my FAVORITE Bible highlighters!
I've added envelope adhesive to adults' stockings before and believe it or not, it's been a hit! You can't go wrong with office supplies, right? I discovered these when I accidentally forgot to buy sticker closure envelopes for my Christmas cards. No way was I gonna lick 100+ Christmas cards. I went to Amazon and bam found me a life changing item! The reviews are amazing and sure enough it works SO PERFECTLY. This also comes in a pack of two to easily divide up among multiple gifts!
Moisturizing gel heel sleeves make a great gift for anyone who is on their feet all day or loves to pamper themselves with at-home foot therapy! In the winter time, my feet struggle with dryness and even will have cracks in the heals. I found these as a great way to prevent heel issues. Easy to put on during downtime and sure to be an item your fellow party guests have probably never even heard of!
Another at-home spa item that I love is this foot file for smoothing away calluses and dry skin! Always a good thing to have on hand… or on foot, I suppose! I use this once in awhile in the shower to help get rid of the dead skin on my heels and bottoms of my feet. It's great to use prior to the gel heel sleeves too.
This hair scalp massager has been a hit at so many favorite things parties! Super relaxing and great for exfoliating the scalp. It feels sooo good and helps to really wash the scalp and ensure that the shampoo is doing its job!
It sounds like a weird thing to buy as a gift, but Dawn Platinum Powerwash is seriously the best for cleaning tough grease and any mom you give it to will be appreciative, especially around the holidays! I often see it on sale for under $10 and I even bought it for my MIL as part of her Christmas gift. It's one of those household items that once you use it once you'll never want to go without. It's SO helpful! Spray stuff down, let it sit, rinse and you're done! Putting together a charcuterie board? Using a cutting board? A cookie sheet with stubborn crumbs burned on? This will get 'em all clean with EASE!
A great addition to any stocking or favorite things party, the Mighty Patch acne pimple patch is a super effective breakout solution! I had heard of these but hadn't yet tried them myself until a friend gifted them at a favorite things get-together. Now I always have a pack in my bathroom and make sure my teenage son has them on hand as well.
This ice roller for face and eyes is fantastic for under-eye puffiness and wrinkles! It's really soothing and always a hit as a favorite things gift idea. I am OBSESSED with mine. I keep it in the freezer so I can easily grab it whenever I need to. I get headaches and it really helps ease those pains and if I am ever crying or emotional it helps prevent me from getting a crying headache too!
Final Thoughts
You don't have to subscribe to Oprah Daily OR break the bank to find great gifts for your next favorite things party! Feel free to use any of these great finds as inspiration or add your own personal touch. I've shared the most accessible favorite things gift ideas I could find, but of course, there are tons of small businesses and local makers out there that also offer great favorite things gifts as well!
Over the years of attending favorite things parties, we've had people bring items they've made, the food they enjoy, cleaning products they use daily, and all sorts of creative ideas. Let's be real, I always stick to Amazon 😉 BUT the sky is the limit as to favorite things gifts, and favorite things party ideas! Anything you LOVE and enjoy – you're friends are sure to love and enjoy too 🙂
Other Posts You Might Like: