Today I'm going to talk about how we afford Disney and go over the best ways to go to Disney World on a budget.
I know no explanation is needed.
I know our money is our money and how we spend it is our priority.
However.
I feel that when you're fundraising for adoption AND going to Disney World that it can seem unaligned.
I know we recently started a financial type class in our Bible Study at church and that many people in our class commented on the number of trips our little family takes.
They said they didn't realize how we spend so little on travel and how we DO maximize savings etc.
I know I mention it often in blog posts but I thought it made sense to explain it ALL in one post that I can then link to in the future!
I know I talk a lot about saving money and spending wisely and I never want anyone to get the wrong impression about our family and our spending habits.
Here is how we personally afford our Disney vacations.
Disney is actually cheaper for us right now than going to the beach!
We are also blessed that Zach works for Aflac so the trips we go on through them are FREE for us as well!
Some of these are tips that can help YOU make Disney vacations happen on a tight budget… and some are things that only apply to us because such savings options may no longer be available. However, there are other methods that can help you get the best deals on a Disney World trip, which I'll be outlining in as much detail as possible!
1. Bulk Tickets:
Several years ago I started stashing away money just in case we decided to send Kye to private school.
I thought if I had the first year's tuition saved up then we would better be able to make a clear decision on what was BEST for him without being concerned about coming up with the tuition expenses.
We prayed a lot about that decision and ultimately decided to go with public school (you can read about our decision making here!).
It just so happened that soon after we decided on public school for Kye that I heard Disney was doing away with their "no expiration" ticket options.
So guess what I did? I worked out ALL of our family trips through 2020.
I factored in roughly two small trips a year with one larger trip every few years.
I figured up roughly how many tickets we'd need for the parks and I purchased a big order of Disney Tickets.
I purchased them through Undercover Tourist which typically has cheaper prices than directly from Disney and they are equally legit.
I was able to get all of our needed park tickets through 2020 with park hopper and no expiration for around $50-$60 per ticket by the end of all of it.
Tess isn't even three yet (so she's still free to get in the parks right now) and she has a solid 10 days worth of tickets ready for her once she turns three.
It was def a value to take roughly the cost of one year of private school tuition for ONE kid and be able to buy Disney tickets for a family of 5 for 5 years haha!
Even though such tickets are no longer available, you can still get discounts on tickets on occasion.
From both Disney's site directly (they recently had a promo for 4 park days for $79 a day!) and from other such sites like Undercover Tourist (do price compare though as you can't use Disney Gift Cards on non-Disney sites).
Disney days get cheaper the more days you visit the parks so it would make sense to take one longer trip with more park days within that trip than to take multiple shorter trips if you are trying to budget wisely and make that dollar stretch!
It's also wise to take a child on their first visit prior to age 3.
When they are younger than three they enter the parks for free and also eat for free at any restaurant where you pay per person.
On that same note, it's also wise to travel with kids before age 10 when they become an adult ticket price!
—–> Read more about the best age for a first Disney trip here!
2. Timeshare:
Back in 2010 Zach and I purchased a timeshare in Tennessee.
We had been traveling with timeshare companies on incentive trips since early in our dating relationship and we felt, at the time, that the purchase would be worthwhile for our family and the amount we enjoyed vacationing.
It was the first thing we paid off when we started Dave Ramsey.
And for MANY years it really and truly was a solid investment for us.
Not only did we get to use our points for vacations but we also could book extremely cheap trips on good deals through RCI's site.
They offer last-minute getaway trips at very low prices and Orlando is the timeshare capital of the world so we've always been able to stay very, very cheap near Disney.
Recently our timeshare company was bought out and the value of our timeshare (for OUR use) has diminished.
We're no longer offered those deep discount deals so the past couple of years we've been just using our points to stay on properties that are owned by our direct company.
This means we don't pay any fees to exchange and we are technically staying "for free" at that resort.
We do owe fees every year for the timeshare but it's something we've always had to pay and have money set aside monthly to cover the expenses so we don't consider the cost of staying at the resort an out of pocket cost since the amount to pay for the fees is already factored into our budget each month.
We are actually looking into getting rid of the timeshare.
I am NOT recommending to purchase a timeshare.
Now that we aren't able to access the deep discount deals it's def not of value to us to justify the extra cost of the fees each year to own.
However, if you do not own a timeshare (or even if you do!) you CAN very easily get timeshare promotional trips.
When you talk with an agent on the phone ASK FOR MORE.
Whatever they are offering up you can always get more added on, trade out elements of the package you don't like, and negotiate a lower price point.
We've gotten 5 nights stays in Orlando with $100 Visa Card and 2 additional 2 night weekend trips for $199 on a regular basis.
3. Off Property:
We only typically stay at the timeshare location once a year.
We don't have a lot of points (we bought a small package with the company when we purchased) so for our second trip of the year we stay at other off-property locations.
You can find rental property for VERY cheap.
For our November trip, we stayed closer to the parks than we've ever stayed (We typically stay in the Davenport area but this time stayed at Indian Creek/Windsor Hills) and were still able to stay for 8 nights for right at $1,000.
Yes $1,000 is a lot of money.
BUT for a 4 bedroom home with your own pool and within 10 minutes to Disney World?
And for 8 nights? Def a bargain! And not something you're going to find at any of the Deluxe resorts or even the value resort hotels… at least not when you compare the price to the value!
Visiting at times when it's lower crowd season helps cut down on our costs for accommodations because rental prices are lower when there are fewer people renting!
Find out why Spring Break is our favorite time of year to visit Disney World here!
This was also the largest and longest Disney trip we've ever taken.
I had been saving for a long time for this trip (even before our decision to adopt) and we had the money set aside for this purpose 🙂
I am pretty much anti-ever staying at hotel rooms on property.
Financially it just doesn't make sense and we value sleep too much to all cram into one tiny hotel room at a so-called Walt Disney World Resort.
Especially when you can find such huge houses for so cheap!
However, if you don't live near Disney and it's truly a "once in a lifetime" trip then I would probably splurge and stay at a Disney hotel or resort.
I get the appeal of it, it's just not something we do for our family and our travel needs!
UPDATE: We believe so strongly in staying off property that we actually made an investment and purchased a 6 bedroom, 4.5 bathroom Disney rental home less than 3 miles from the parks! You can read about the home and the LARGE discount we offer to blog readers here!
4. Rakuten
Rakuten is where it's at.
I consider all of my Rakuten earnings my "Disney Money."
It's FREE to use Rakuten and you earn cash back for any purchases made through their site.
It adds up FAST and if you get their emails or have their app then you will also see special times that certain places give more cash back.
This comes in so handy at the holidays.
I do most of my shopping online and I typically earn around $200 from Rakuten every 3 months.
Guys. That's around $800 a year in Disney money. FOR FREE. That's so much money!
If you've never signed up with Rakuten you can do so here!
5. Budgeting:
Not only do I have Ebates earnings, but I also budget wisely.
When our kids pick going to Disney over having a birthday party then the money we have set aside for the cost of their party instead goes to spend at Disney.
I love the challenge of getting good deals and enjoy getting awesome gifts at a great price.
I spend under budget on holiday gift-giving (birthdays and Christmas) and rather than just blow that extra money on something, I put it into Disney spending as well!
We also have a travel account set up that gets money put aside into it every month.
Again this is part of our monthly set budget.
Travel is important to us and something we prioritize as a family.
We don't eat out often. We get good deals on clothes and other items.
Because we'd rather put aside more money for travel!
6. Disney Gift Cards from Target:
I take the money I earn from Rakuten and use it to purchase Disney Gift Cards from Target.
I purchase them online from Target's website which typically gives me 1-2% cash back through Ebates 😉
Then I use my Target Redcard to pay for the gift card purchases which knocks 5% off my total.
Recently I helped Zach's family do this to save money on their Disney tickets for our upcoming trip.
Courtney bought two days at the parks for a family of four (2 kids, 2 adults) and the 5% savings saved her $40!!! It adds UP!!!
You can use Disney Gift Cards for just about everything at Disney.
Stores. Restaurants. Tickets. Hotels.
Anything on Disney property takes the gift cards (even several stores at Disney Springs!).
By planning ahead and purchasing gift cards prior to traveling…it really helps save money while ON the actual trip as well.
If you know you have a Disney trip in the future, why not go ahead and buy gift cards along and along so when you are ready to go you already have all the money you need?
Zach and I joke that the gift cards make it feel like we're not spending any money at all since it's all pre-paid!
Update: I ran into issues with purchasing gift cards from Target and decided to go ahead and become a member at Sam's Club as they also offer a large discount on Disney Gift Cards!
You can learn more about Sams membership here.
7. Use Discounts:
Disney offers discounts for Annual Passholders. Annual passes are a good idea if you plan on visiting Disney World often.
This year we were visiting the parks enough times to justify one of us becoming a pass holder (do the math it may surprise you how it can make financial sense for at least one person in your party to get one!).
Duh, that person was me 😉
This means my no expiration tickets get saved for the future which will cut down on our spending costs once we run out of those tickets.
Having the annual pass gets me FREE parking (a $20 a day savings since we don't stay on property).
It also gets a 20% discount on merchandise. And a 10% discount on several dining locations!
The Disney Visa credit card also offers up some discounts.
I have a Disney Visa ONLY to use for these perks. (one of which is special meet and greets at both Hollywood Studios and Epcot!)
—–> Learn More About a Chase Disney Visa Here!
The rewards you earn for using it are terrible. If you're looking for the best rewards card then I recommend the Chase Sapphire Preferred.
We use this for ALL of our purchases (and pay it off every month and keep track of our spending on an app).
This allows us to earn points that we could redeem for Disney spending if we wanted (but we save them to use for flight travel).
—–> Learn More about Chase Sapphire Card Here!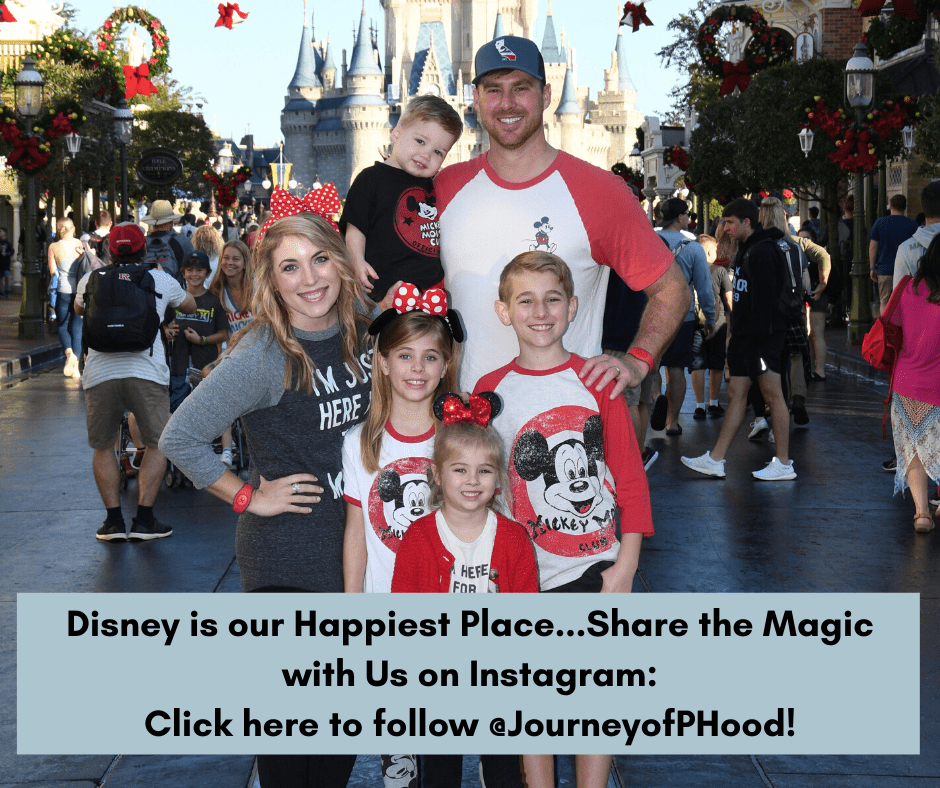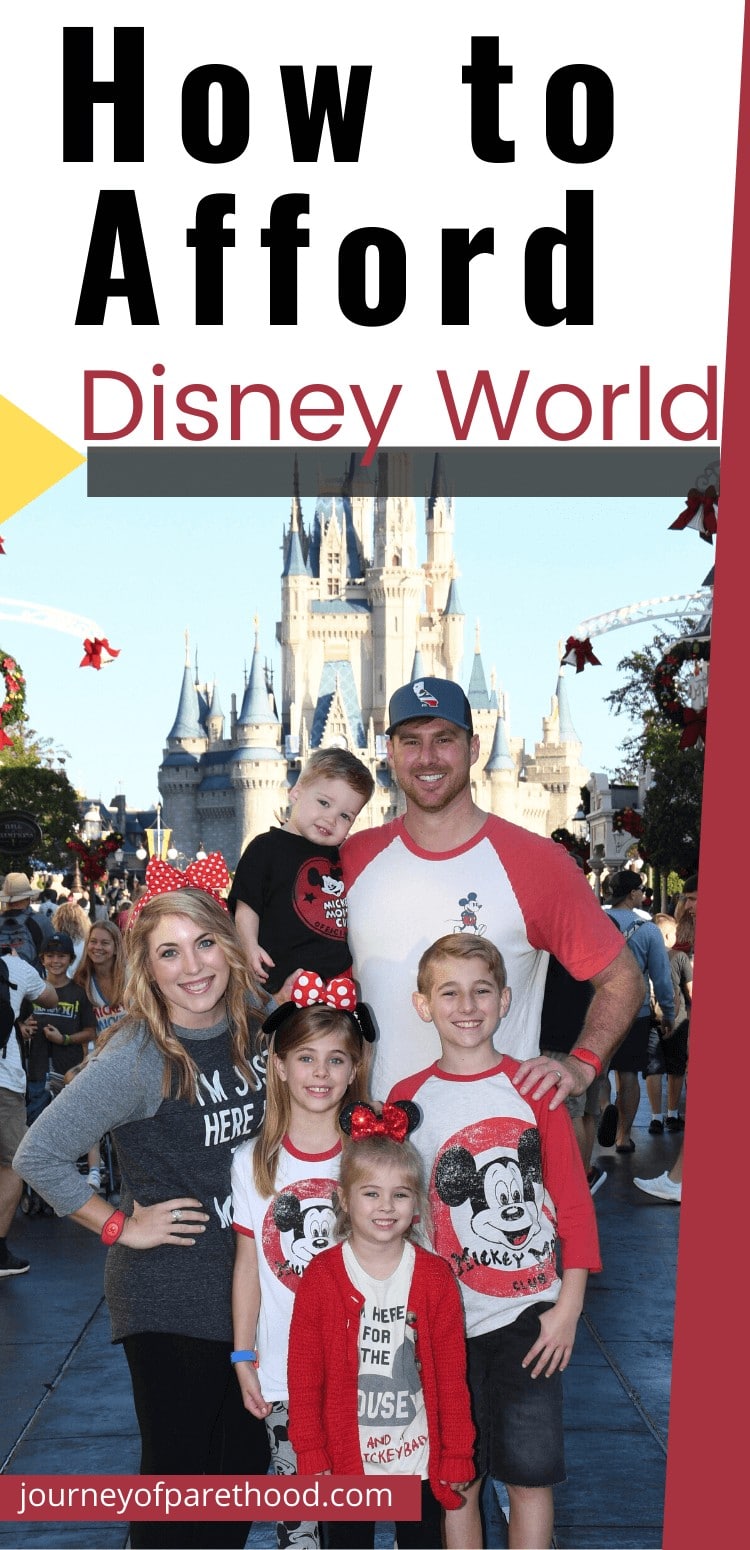 8. Eat Cheap:
We most often bring food with us on our trips.
We also go to the grocery store on arrival day and stock up on food.
We bring food in the theme parks with us to cut down on spending costs.
Even if we have a reservation on Disney Property we will bring in food for the kids and just Zach and I will order food or we've even all eaten our own food and just ordered desserts to be able to have the dining experience without the cost.
This works great at table service restaurants where you want the atmosphere but not the expense.
We booked a 2:30 PM T-Rex reservation one time. The food isn't actually all that good so we ate lunch prior and then just ordered a HUGE dessert to share!
Most of the restaurants allow for this and we've never had any problems (some places DO charge a per-person price so be sure to read through when make reservations).
—–> See How We Save Money on Food at Disney World Here!
Just as I don't recommend staying on property…I also am against the Disney Meal Plan.
There are lots of calculators out there to figure up if it makes sense to do the meal plan or not…but most of the time it's not financially the best move.
Since we never stay on property, the meal plan isn't even an option for us.
But even if it was something we could do…we still wouldn't!
All I've ever heard about it is how it's SO MUCH FOOD. We still do a lot of dining experiences at Disney!
We just don't use a Meal Plan for them 🙂
—–> See if the Disney Dining Plan May Be Right For You Here!
9. Be Mindful of Purchases:
Disney knows how to get you.
They have SUCH cute merchandise waiting for you at the end of each and every ride or experience and inside every gift shop.
I do very little on property shopping.
Now that I do have such a great discount I'm purchasing more at the parks but typically I find little prizes for the kids in the dollar spot at Target or on clearance after major holidays online (Holler is a great site for cheap Disney things as well).
I keep an eye out for Disney things and stock up throughout the year to surprise the kids while on our trips.
I also purchase all of our Disney gear on discounts throughout the year.
I love themed shirts and outfits and am very mindful of how those costs can add up.
Zach and I have discussed it and I would rather buy the cute Disney stuff than other clothes for our kids so rather than have spending money set aside for school clothes…our kids will be wearing Disney clothes at school 😉
I also am known to wrap up Disney outfits as gifts ha!
My favorite places for Disney clothing are Kohl's, Target, and AliExpress (it's from China though so you have to plan WELL in advance).
10. Maximize Time:
We live close enough to Disney to make short visits but even in those short visits we try to maximize our time the best we can.
Rather than spreading things out and spending more nights (which means spending more money on our stay) we try to do a LOT in a short amount of time.
We will schedule events for arrival and departure day.
We will get to the parks when they open, break for naps, and stay till close.
We try to fit as much FUN into the days as we can which also maximizes our savings AND makes the money we are spending last longer.
Disney doesn't charge ticket prices based on how long you stay for the day.
So why not stay as long as possible and make that ticket price last?
The best way to maximize time is to HAVE A PLAN.
This may not be a money-saving tip but y'all Disney is NOT a vacation where you should just go with the flow. A plan is a must-have for Disney.
Having a plan can insure you spend less time in line and more time having FUN, especially at busier parks like Magic Kingdom.
My favorite planning site, by far, is Touring Plans.
You can view crowd calendars to help plan the best time to visit the parks and create your own custom itinerary too!
They will even help recommend the best use for fast passes and what times to book 'em 🙂
—–> Learn My Fastpass Secrets Here!
I'm a Disney Nerd and making my itineraries is seriously my favorite part in the planning process.
I LOVE Disney talk (like it's my fav) so feel free to contact me anytime with Disney related questions (journeyofphood@gmail.com)…and no, I'm not a travel agent.
—-> You can also learn more about Touring Plans here!
Speaking of, I have never personally used a Disney Travel Agent for my planning.
Planning, for me, is one of my favorite elements of a Disney Trip.
However, I have several good friends who are all Disney Travel Agents and it's a fabulous way to go if you'd prefer…and it's FREE.
If reservations and fast passes cause you to stress then it may be a valuable asset to you to have someone plan for you!
There is also no rush for Disney meals.
You are paying for the experience…take your time and enjoy it!
We have stayed so long at a character meal that we ended up seeing all the characters twice!
It was a perk of taking our time and enjoying it!
All you can eat buffets are all you can eat…so relax and eat and visit and just soak it all in.
Heck, if you time it right you could get two meals out of it haha!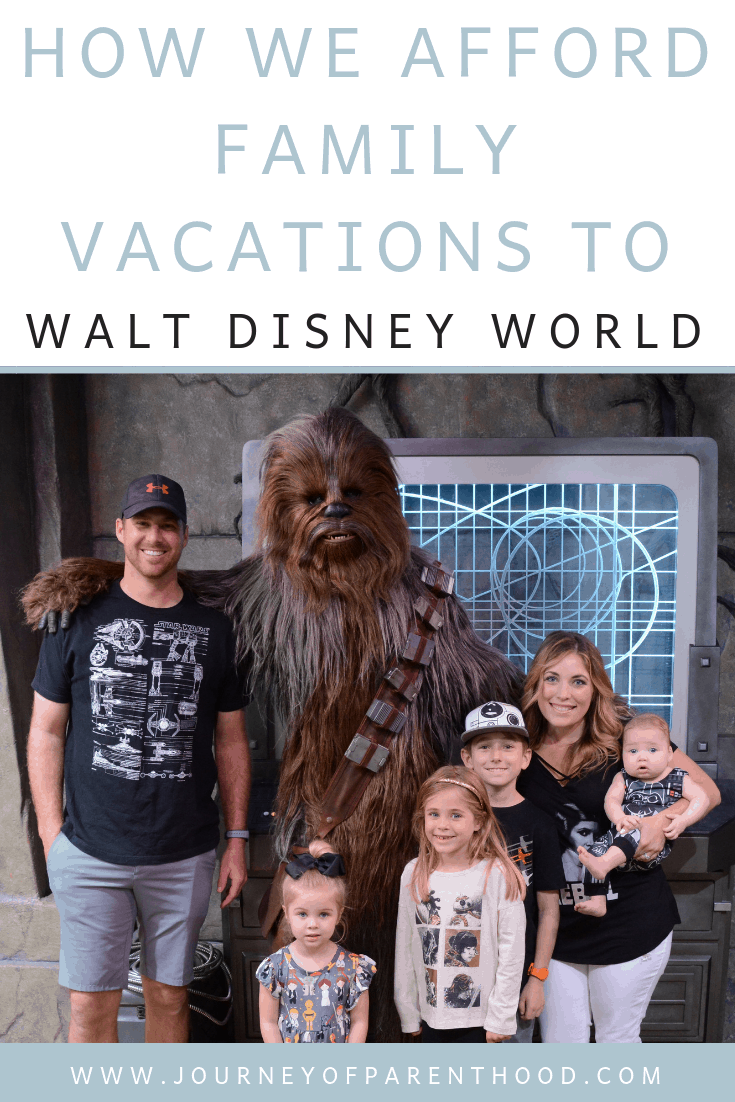 11. Take Advantage of Freebies:
Disney is expensive.
BUT there are also a TON of free things you can enjoy, which is great way to save money and maximize your visit!
We don't stay on property…but we love to visit.
Art of Animation is one of our favorite resorts to visit.
We will spend an entire morning walking around looking at everything.
And they even have free drawing classes there too!
You do NOT have to be a guest at the resorts to visit. You can even park for free! Just let the parking attendant know you want to walk around a bit!
While you can't swim in the pools, you can enjoy many other things the resorts have to offer…even while not a guest.
All the resorts have great playgrounds.
Some have movie nights where they show a Disney film.
Others have bonfires and you can bring your own s'mores stuff.
Some even have animals you can see just by walking around!
And ALL Disney Resorts are LOADED with Hidden Mickeys.
Even just roaming around looking for them is a fun, free thing to do.
You can also visit Disney Springs for free.
They've recently revamped the whole area but the Marketplace is still very Disney oriented.
Just walking through the area gives you plenty of picture-taking opportunities and lots of glimpses at Disney characters.
We have often left free time in our trips to experiences the Disney Freebies.
When we take short visits and only spend one day at the parks we will usually spend time at a resort or two and at Disney Springs!
Here are a few of our freebie experiences: Art of Animation, Chip and Dale Sing-A-Long, Animal Kingdom Lodge, Disney Springs
While I don't recommend staying on property…the on site hotels and resorts themselves do have a lot to offer.
IF you live close and love Disney like we do, then you can easily make an entire trip out of a Disney Resort Stay.
I have taken both of my big kids on "Mommy Solo Trips."
We drove down to Disney on a Saturday morning and checked into our Disney Resort.
We enjoyed the entire day at the resort…just used the fun amenities the resort had to offer.
Then we stayed the night there and used the next day to finish up exploring the resort and then hit up Disney Springs before driving back home.
A one night stay on property gave us PLENTY to do and a wonderful weekend of memories!
Here are our solo trip experiences: Stay at Caribbean Beach and Stay at Port Orleans Riverside
How We Afford Disney World: Final Thoughts
We are a very budget minded family.
Every dollar has a purpose and a place.
We are careful with our spending and mindful of where exactly it all goes.
Travel is a top priority for our family and it's something we aren't willing to change or sacrifice.
We'd rather eat Ramen than stop traveling!
I hope this post not only gives some good tips for other families who live close enough to Disney to drive and keep the trip cheaper…but that it also helps those who may be judging us on our spending choices to understand just how we're able to travel to Disney so cheaply 🙂
At least for now! I mean when 2020 comes around I'm already nervous about how drastically our ability to travel to Disney will diminish!
Maybe we'll just move down there so we can be Florida pass holders 😉