Tess's 5th Birthday at Disney: Hollywood Studios Morning
With our decision to do a Disney birthday each year for each kid we decided each birthday child would get to choose the park they visit solo with each parent and choose one character themed meal they wanted to do.
That's all that's "set in stone" as far as a Disney birthday celebration.
This makes it possible to know we can make it all for sure happen b/c that's all they know about going in!
Everything else is bonus and surprises which I also love 😉
For Tess's Disney bday she wanted to eat at the same character meal she ate at last year (notice a trend? She basically repeated last year's trip!) – Hollywood and Vine at Hollywood Studios.
Mrs. Charlotte had to head back to Valdosta for the day for Cam's birthday party (I know she's an AMAZING grandma…yall I tried to talk her into not coming back to Disney but she truly and genuinely WANTS to be at EVERYTHING possible. SO sweet!) so it was just our core 6 for our DHS morning.
We got to DHS nice and early so we'd be able to go straight to Slinky Dog.
We aren't HUGE fans of Toy Story Land itself…but the kids and Zach all love Slinky Dog and it didn't disappoint!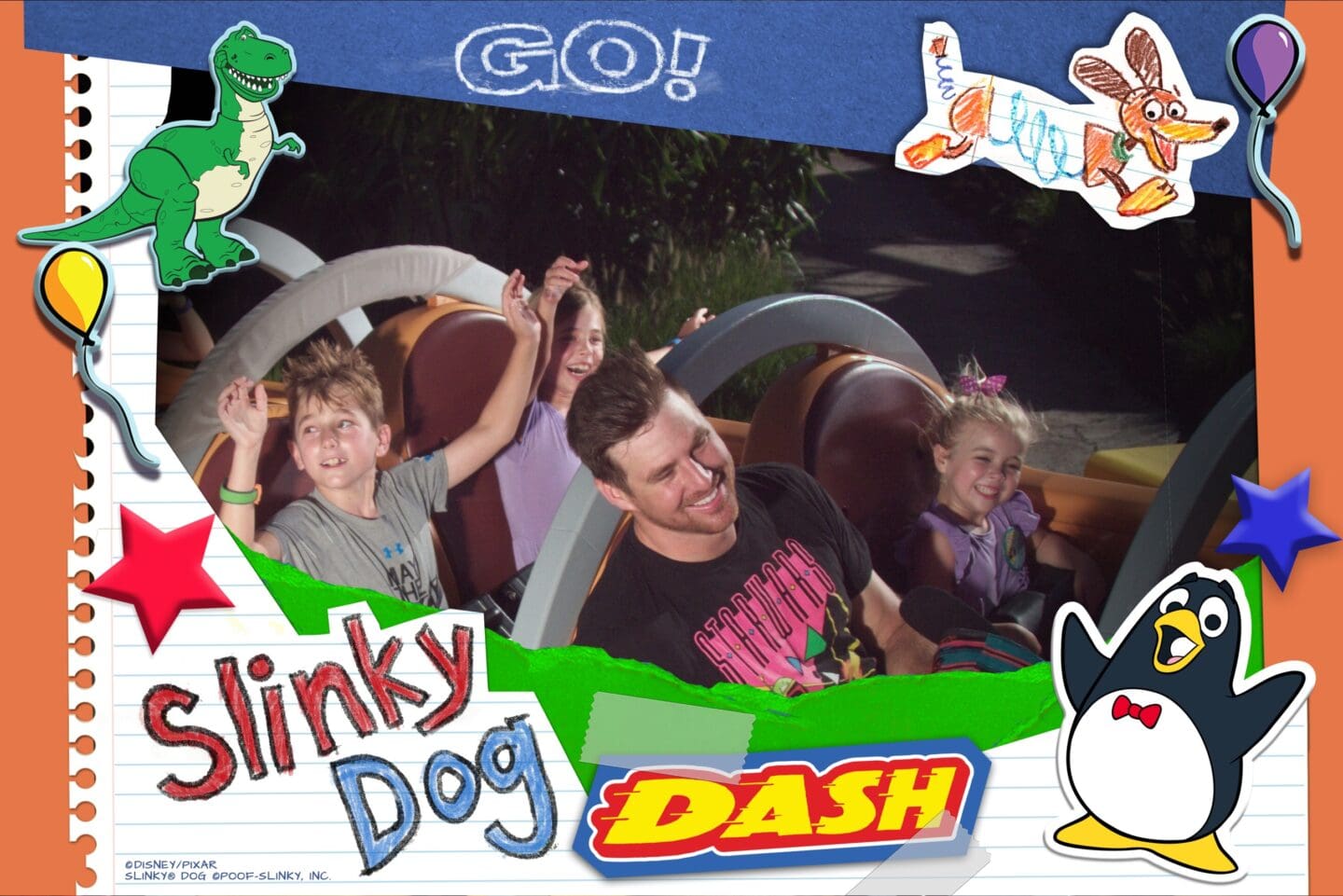 Tessie LOVES FORKY!
Zach took the older three through the rush of the crowds to get to Slinky and I just took my time with Spear. No point in rushing 😉
When we got to Toy Story Land I was kinda stuck. He's not tall enough for Alien Saucers or Slinky and we had a fastpass for Toy Story Mania already, so I did my go-to…character meeting 😉
We got to meet Woody who is now with Bo Peep instead of Jesse!
A lot of people have talked about how creepy Bo Peep is…and I see the creepy but I also love that this is totally one of those characters that will be such a cool pic to pull out when Spear is an adult to show his kids that time he met the creepy Bo Peep 😉
Once we got finished with that meet and greet I hopped in line to meet Buzz.
I mean Spear and I have only met him a bazillion times at this point but the line was in THE SHADE so SIGN ME UP.
Zach and the kids were done with Slinky when I was just a few people to go to meet Buzz so we all got to meet him as a family!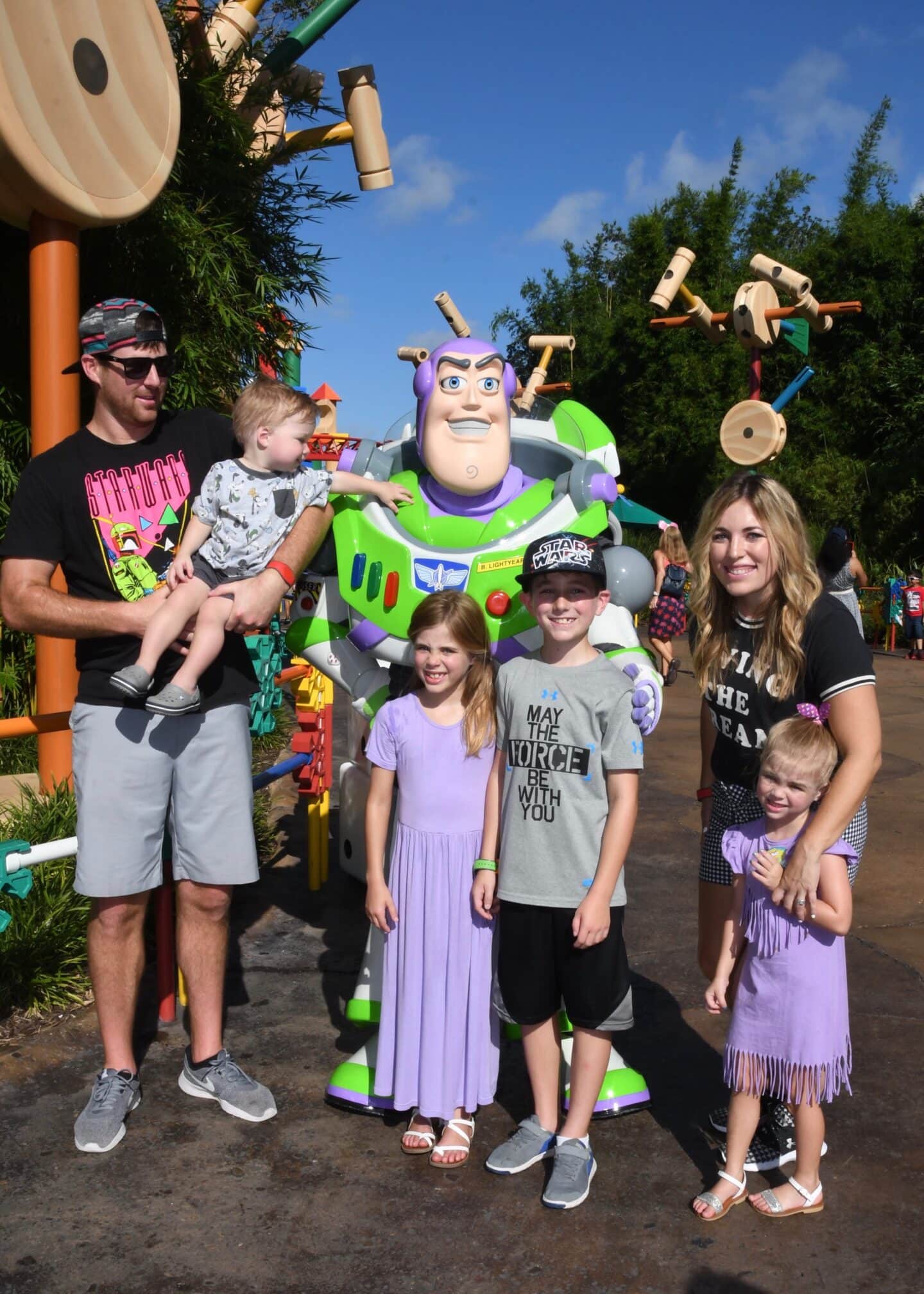 After meeting Buzz we had our fastpass for Toy Story Mania which is one of our very favorite family rides!
Zach rode with Spear, I rode with Tess and Kye and Britt love getting to ride together!
We also had fun looking at all the Toy Story 4 merchandise – I totally would have bought Tessie a Forky for her bday but they had to recall them. Dang!
I like to do a pre-park opening breakfast but when we have an early run to a ride it's usually better to do a later breakfast so we have time to knock out some rides while lines are short!
We had a 10:30 breakfast for Hollywood and Vine and yall we LOVE this meal!
It's super super chill and this time didn't disappoint!
The characters have been switched up and now doing the meet and greet are: Roadster Goofy, Doc McStuffins, Vamperina, and Fancy Nancy.
Our kids really only know about Goofy and Doc but were still just as excited to meet the others! Characters are just FUN!
We met each character multiple times and they all took their time with us.
Often a character meal can feel a little rushed but both times we've eaten here we've been very, very relaxed!
Fancy Nancy was up first! Spear was ALL about the characters and Tess held onto her FOREVER. Nancy just kept on holding back 😉
The girls say that Vamperina is "inapporpriated" (inappropriate). I have no clue why they say that or think it and I'm sure if it's on Disney Jr it's probably fine but I love that they are mindful about entertainment choices and trust them – if they think they shouldn't be watching something, we don't watch it!
She was really sweet though and has a special handshake where she does like a vampire flying motion.
Doc is always a fav! Tess is REALLY into animals and asked for several Doc themed items for her birthday.
And of course the main reason we were there was for GOOFY!!!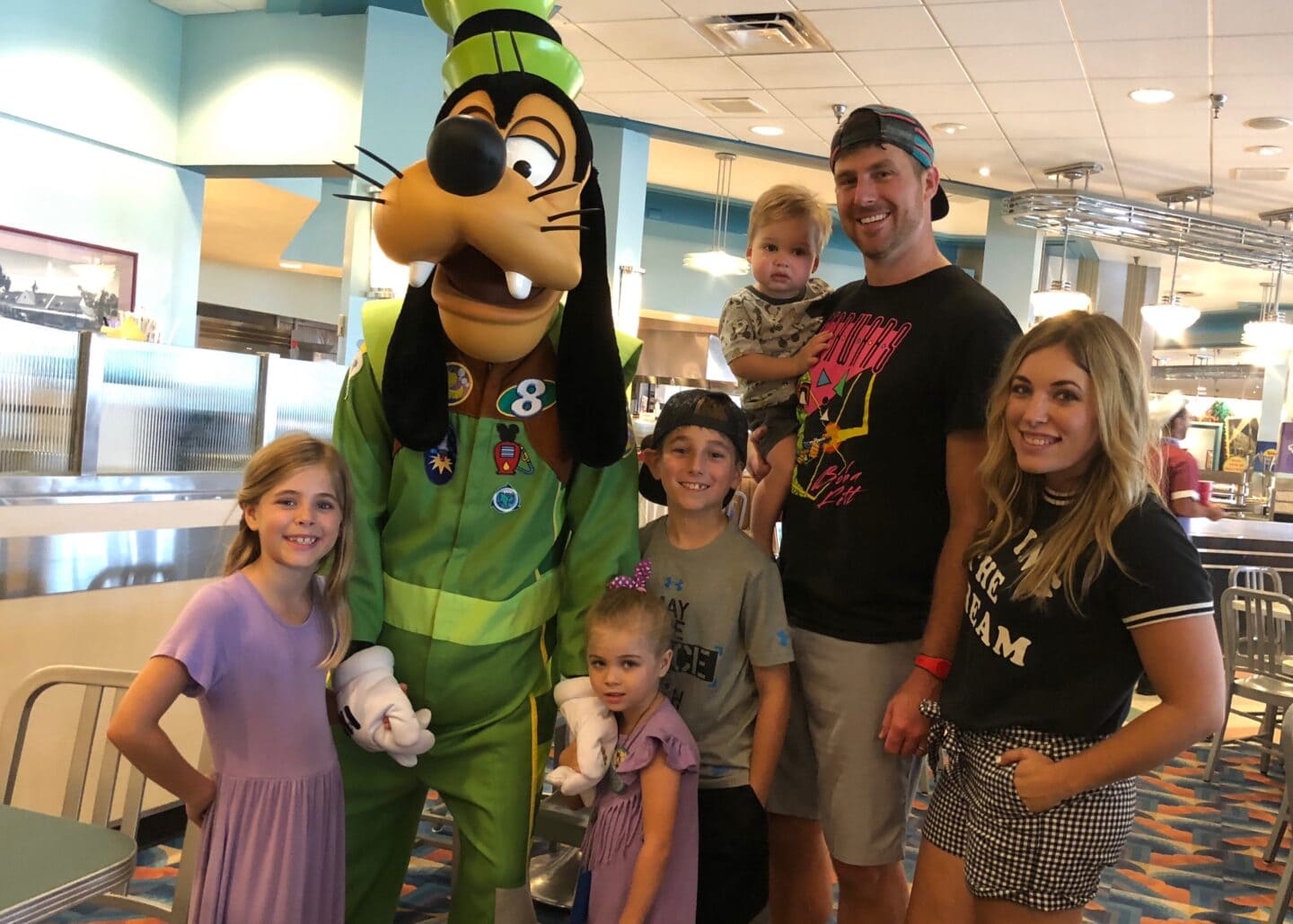 Fun total TMI and off topic story but I have had lots of female issues over the years and am now trying going off the pill and may also end up getting an ablation at some point.
But basically my body is all out of whack and I randomly started my period AT Hollywood Studios.
Funnnnnn.
I went to the bathroom and they had machines that required quarters…like who carries quarters?
I asked a cast member about getting change and she hooked a sister UP 😉
So mama got some CHOCOLATE. And yes, a Mickey waffle is at the bottom of this amazingness!
We had a GREAT breakfast! It was so chill that the kids could go back and forth to get food and that was super fun for them 🙂
Tessie loved her big birthday breakfast!
We had a bit of an incident at the end of breakfast when I realized I'd grabbed the wrong wallet that morning when walking out the door.
I grabbed my regular wallet instead of the "Disney wallet" which meant I didn't have our annual passes, or Tables in Wonderland, orrrrr the gift card.
Oops.
I tried everything I could to access the gift card online but couldn't figure out how (any tips to store a gift card so this doesn't happen again?).
So while I got all of that sorted out with the cast members, Zach went ahead and took Kye, Britt and Tess to ride Star Tours.
Spear and I hung out and he would not give up the Mickey waffle. I love these pics of my sweet boy 🙂
Once they got done with Star Tours they brought Tess back over to hang with us while Zach ran with the big two to ride Rock N Roller Coaster.
They walked up just in time for another photo opportunity!
I LOVE this spot. We've never had a photo here and I love that we were able to get a couple really cute family ones!
Our last DHS visit was a bummer with Rock N Rollercoaster so I was super glad it worked out for them to get to ride this time as it's a fav!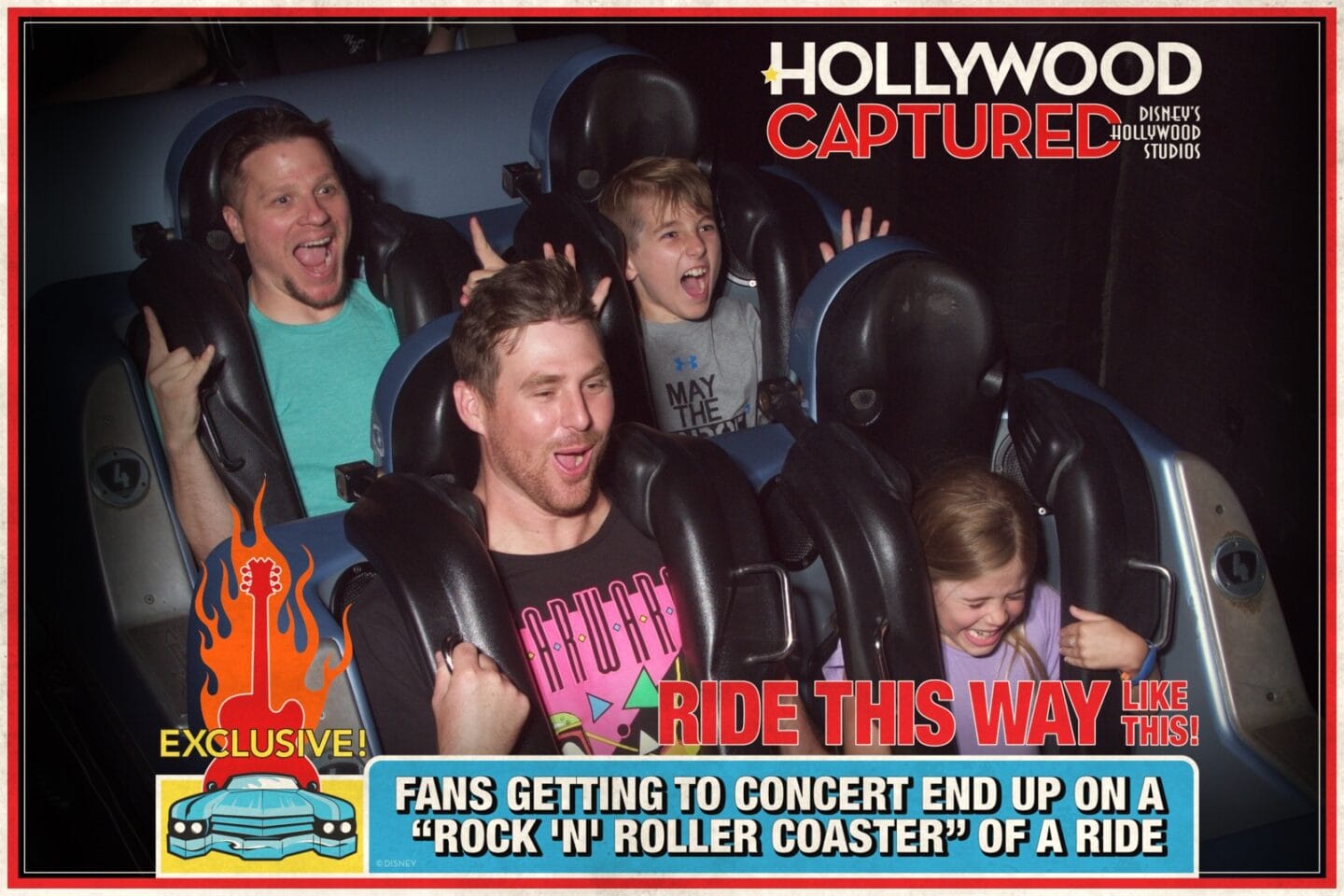 Zach, Kye and Britt headed off and Tess, Spear and I hung out a bit checking out the ducks and feeding Spear's waffle to them 😉
We did a little browsing as we worked our way to meet back up with everyone else and then headed back to the house for nap time!
Yall. I also feel the need to share the photo of the temperature. You can't SEE heat in photos. But IT WAS HOT.