Preparing for a summer baby means making sure you have everything you need when you go out, whether it's to the pool, the park, or even just the backyard! When you have the right baby summer essentials at your disposal, you'll feel like a total super mom!
I really love summer! It's such a special time for the kids and for me, and we've made so many priceless memories! But of course, when you throw a baby in the mix, some extra preparation is definitely necessary. Having the right summer essentials for a 1 year old or younger is crucial for health, safety, and peace of mind!
(Oh, and don't forget about yourself, Mama! You deserve a few summer essentials for moms, too!)
After four kids, I've learned a thing or two about what to buy for babies in the summer months. From baby summer clothes to baby sun essentials, I've got everything you need to be cool as a cucumber knowing that you've got the baby summer essentials (and even some toddler summer essentials) covered!
Disclaimer: post contains affiliate links.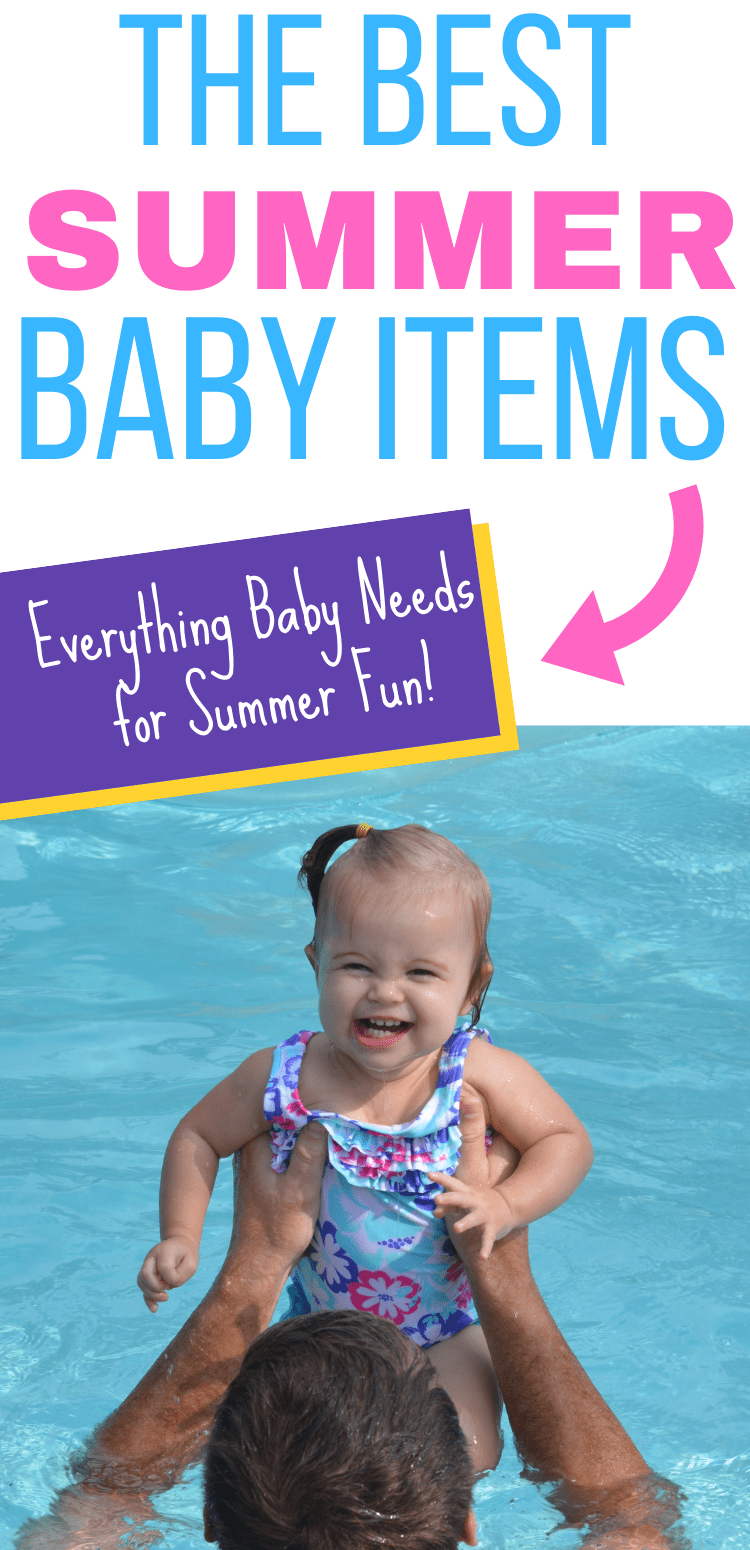 Best Baby Summer Essentials
Here are my top picks for summer baby items you won't be able to live without when the days get hot!
Outdoor Items for Babies
Coppertone Pure & Simple Baby SPF 50 Sunscreen
This baby sunscreen is hands-down the best I've found and the best part is, it's mineral-based instead and made of simple ingredients, so it's less likely to irritate baby's sensitive skin! I've used this with my babies over the summer and it works great!
Even my older kids still prefer to use this sunscreen on their faces as it's gentle and doesn't cause any burning when applying. It's great for sun protection and makes an excellent first sunscreen to keep in your diaper bag!
Deet-Free Bug Spray for Babies
Deet is a harsh chemical, especially for babies, so replacing it with an all-natural bug repellant is a great option for parents who want to protect their little ones from annoying mosquito bites (which, as we all know, are especially common in the summer). Babyganics is a great brand and this bug spray is made of natural oils!
No child likes being bit by itchy bugs and this is a great option if you are outside a lot during warmer, bug-filled weeks of the hot summer months.
Mosquito Net for Stroller
If you live in a humid climate as we do, then you know that mosquitos are a real problem in the summer… and babies getting mosquito bites is not fun. They can cause real irritation and fussiness!
This mosquito net is a total lifesaver in the summer, especially if you're traveling or going to a real outdoorsy area like a campsite or a park trail. It fits over most strollers and cribs so it's super versatile and reusable!
On-The-Go Baby Dome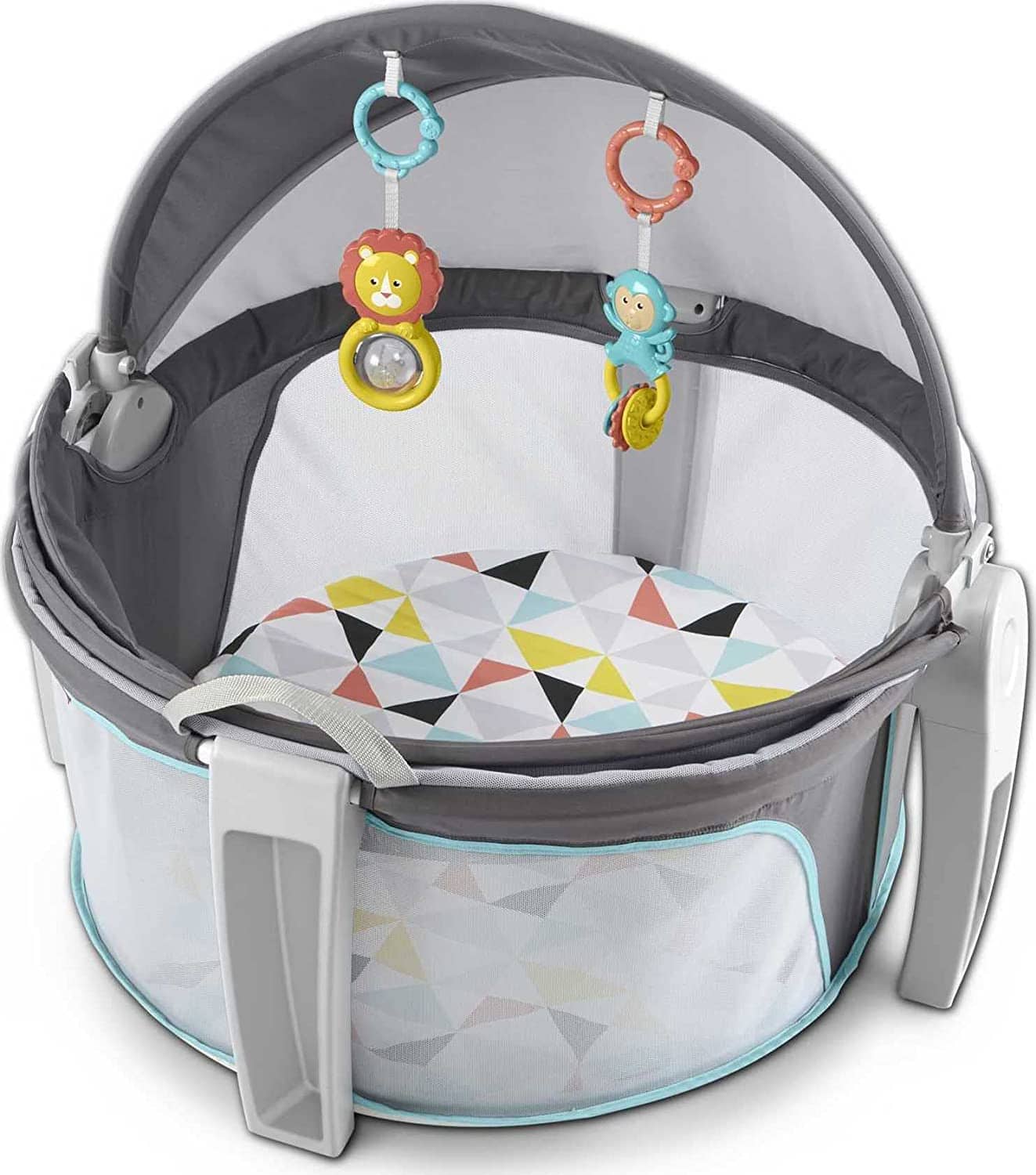 Having a safe place for baby to rest and play when you're on the go is a must, and this baby dome is a great investment! It can be used indoors or outdoors and folds up flat for easy transport and storage! This is really handy for beach days, picnics, outdoor gatherings, or even poolside!
This also makes a great spot for a newborn baby to sleep if you are traveling a lot with a summer newborn.
Stroller Clip-On Fan
Babies get overheated really easily in hot weather, which means it's super important to keep them cool! One easy way to keep baby's temperature regulated is to invest in a small, portable clip-on fan like this one, made with strollers in mind!
I like that it has bendable arms so it can be used in a variety of situations, and the charge lasts 6 to 15 hours so you can use it all day!
Cooling Towels
Another sure-fire way to keep baby cool in warmer weather is with some microfiber cooling towels. These are also good to have on hand for the whole family, especially if you're walking around outside at the zoo or at a theme park like Disney World all day. Just place on the the back of their neck or across their forehead for easy relief!
These come in a pack of 4 with handy carrying cases for easy on-the-go!
Here's another good option for cooling towels from FroggToggs that I've used in the past!
Baby Sun Hat
One thing you're going to want to add to your baby summer essentials list is a good sun hat to protect baby's face and eyes from that bright, hot sun!
I love how well this hat from i play shields baby's head and it comes in so many cute colors! Plus, it has UV protection and is made of quick-dry material, making it perfect baby wear for a day at the beach!
Swim Diapers
Swim diapers are essential to have on hand for babies and toddlers who are not yet potty-trained or who may not be fully trustworthy yet to be able to handle swimming without an accident. All of my babies took part in water safety swim lessons and we invested in reusable swim diapers for the lessons. We would actually double up and use both a disposable swim diaper as well as the reusable swim diaper to really make sure no accidents took place!
These are my favorite disposable swim diapers – they fit great and really hold the mess in well!
Portable High Chair With Canopy
Whether you're traveling or camping, a portable high chair is definitely one to put on the top of your baby summer essentials list for several reasons. Having to pack and lug around a regular high-chair is not only inconvenient but most of the time, not even possible.
Fortunately, this high chair folds up neat and has a carrying case for easy transport! Plus it has a sun canopy to protect babies and toddlers from the sun!
Breathable Baby Carrier
We live in South Georgia where it's pretty warm year-round. So when we purchased a baby carrier for our babies keeping cool was a feature we highly valued. Not only to help the baby stay cool but also to help US stay cool when wearing the baby carrier too!
I love this baby carrier as it has cooling features and lots of mesh to allow for breathability!
Waterproof Wet Bag
One of the biggest hassles when you're a mom with a baby is diaper changes on-the-go. You have to be prepared at any moment with everything you need. And then you still have to dispose of the dirty diapers afterward!
I love this waterproof bag because it's so versatile–you can use it to keep clothing or diapers dry, hold wet clothes, or keep dirty diapers contained until you're able to properly dispose of them. It's also super stylish and discreet, which is a huge plus!
The Best Baby and Toddler Pool
I devoted an entire post to this baby and toddler pool because I'm such an adamant believer in how great it is, so trust me when I say that this is a baby summer essential you don't want to miss out on! It's sturdy, portable, compact, and will last through several kids!
And hey, if you get the biggest size of the pool you can even use it for those miserably hot summer months during pregnancy too. Fill it with some water and cool off 😉
Baby Pool Float
This is another item I've devoted an entire post to because when you're spending a lot of time at the pool, you want baby to be able to enjoy it, too! A baby pool float is a great way to introduce them to the water and build a lifelong love of swimming!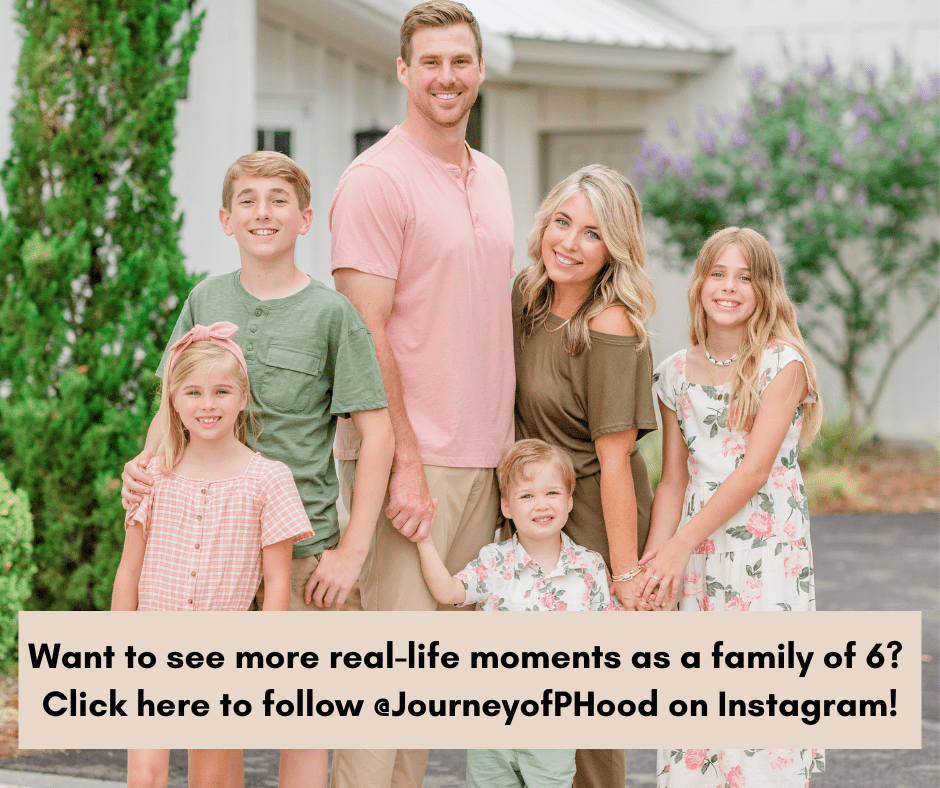 Indoor Summer Items for Babies
Swaddles and Sleep Bags
Another aspect of summer with babies is those warmer nights heating up the temperature of the room. Of course, air conditioning helps some, but there's still a difference in the baby's room and it helps if you can keep them cool at night!
If you have an infant, drring baby in a sleep swaddle for newborn sleep and older baby sleep too is a good idea regardless of the weather. I love the SwaddleMe specifically because it's lightweight and keeps the baby at a comfortable temperature all night long!
For infants, it's not just a comfort, but also a safety thing–it keeps the baby's hands and body secure so they don't roll, reducing the risk of sudden infant death syndrome. Risk of SIDs is nothing to get anxious about, but this is why swaddles are so important for young babies!
This Miracle Blanket sleep sack is another ideal option to promote a good night's sleep during the summer months! Either way, when you have a newborn, this is one of those baby summer essentials you're going to need!
As baby gets older, you want to transition them out of the swaddle and can eventually switch to a wearable blanket or sleep sack which also help keep baby on the cooler side while still keeping them secure during night time!
This HALO sleep sack is also a great option for warmer weather and is made of 100% cotton for breathable, comfortable wearing! The little sleeping bag can keep your baby sleeping soundly all night long.
I not only love HALO sleep sacks because they work beautifully for my babies but also because many offer the ability to be both a swaddle and then transition into sleep sacks as the baby gets older and takes that first step of independence and no longer needs the swaddling. Many even are organic cotten and have a short sleeve option as well.
TOG rating, or thermal overall grade, is how clothing companies measure how warm a material is. This micro-fleece HALO sleepsack has a rating of 1.0, which is good for moderate temperatures (72-70). 100% cotton and muslin are 0.5, which is the lightest and therefore the best for warmer nights!
But if you live in a moderately warm climate (or have really good air conditioning) this might be the best option for you!
Muslin Blankets
If you need an additional layer, loose blankets like these muslin ones make great swaddles or wrappings on warm nights, or as an extra layer in cooler weather! A lightweight blanket like these are also great for nursing on the go in the summertime!
A muslin swaddle can be a little trickier to figure out but can still add the comfort that swaddling provides. I love these blankets for on the go, to give a bit of privacy when breastfeeding, to help give privacy and protect from bugs in the stroller, to lay down on the floor for some playtime, etc. They are a fantastic baby shower gift as well!
Portable Sound Machine
I love having a portable sound machine handy for travel, because many sound machines on the market are pretty bulky and can be difficult to transport. Keeping baby's sleep environment as consistent as possible, even in a familiar location, can really help prevent sleep disruptions. So if white noise is something you rely on to help baby sleep, this portable device will be a huge lifesaver!
Cool Mist Humidifier
A humidifier is a great item to have on hand all year round, but especially in the summer and especially if you live in a dry climate! This one is super quiet and easy to clean, and the cool mist means that it will keep the temperature of the room comfortable!
Hooded Towel
I love having lots of cute hooded towels on hand throughout the year but especially during the summer months! My kids love getting out of a nice bath or shower and having their themed hooded towel to put on afterward. Most summer nights they can be seen racing around the house wearing nothing but a hooded towel and it's the most precious thing!
This is a cute one with lots of different design options!
Baby Room Thermometer
If you're concerned about different temperatures in the summertime, it might be a good call to invest in a little nursery room thermometer to monitor the warmer nights! It changes color based on how warm it is is so you can maintain an ideal room temperature, plus just look how cute it is!
No one wants a sleeping baby to wake early and having proper body temperature and safe sleep havirs are crucial! It doesn't just matter how you dress baby for sleep, but keeping the room at a comfortable temperature is equally important.
Best Baby Summer Essentials: Final Thoughts
With each new season comes new things to look forward to and, of course, new things you have to prepare for as parents, especially with a baby! But whether you're heading to the beach, traveling cross-country, or just getting outside to enjoy the sunshine, I hope these baby summer essentials give you the advantage you need for an awesome summer!
And if you have any other baby summer must-haves you'd recommend, feel free to share in the comments!
Here are some other summer posts you might enjoy: