Anniversary Trip to Williamsburg, Virginia Part 1
Zach and I love to get away together each year for our anniversary.
It's a great opportunity to have quality time together and a chance to really reconnect kid-free each year.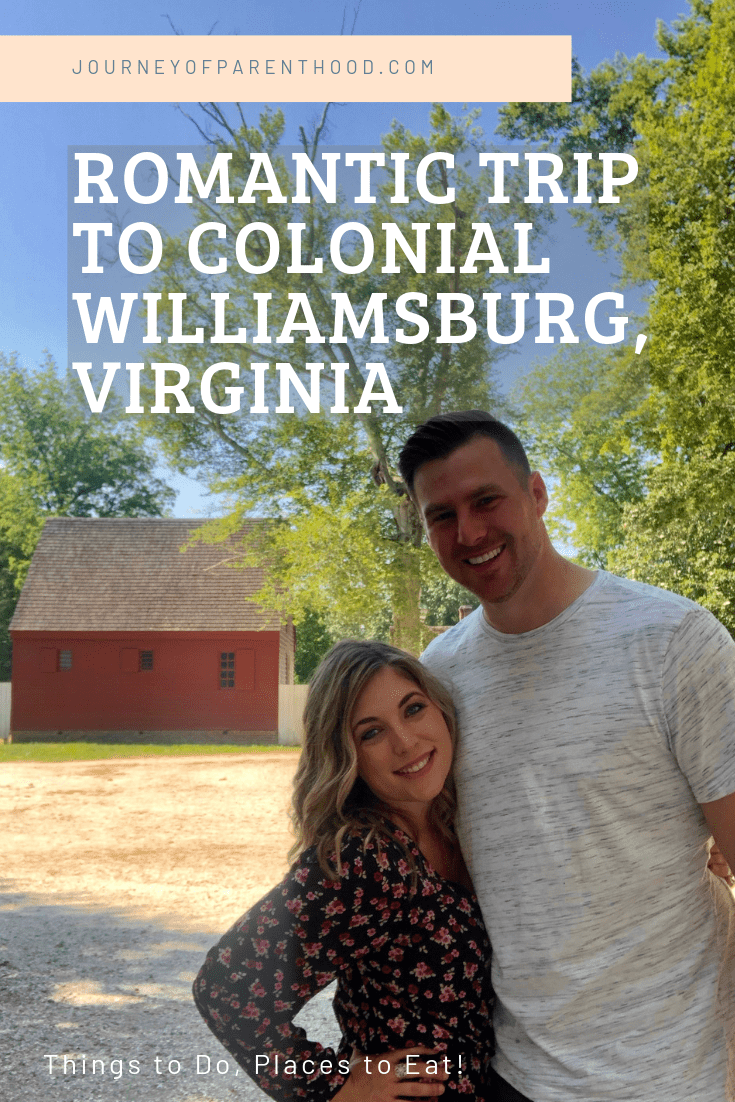 I'm SO glad we decided to get married over Memorial Day weekend as it really does work out so nicely to be able to travel and makes it less work for Mrs. Charlotte to keep the kids as it's always summer 🙂
Zach and I struggled a LOT when deciding what to do for our anniversary trip.
Zach and I live pretty different daily lives. He is ALWAYS on the go. ALWAYS talking to lots of people. ALWAYS visiting different locations.
I'm ALWAYS at home. Talking to no one over the age of 10. Doing the same routine every day.
So when it comes to traveling I am DYING to GO AND DO. See and explore!
And Zach is all about RELAXING. Unplugging. Recharging. Disconnecting from the world.
We kinda have opposite travel wants! He really wanted to go to an all-inclusive resort and just CHILL and I really wanted to visit somewhere we'd never been before and explore.
It took us like literally months to finally figure out a compromise that made us BOTH happy.
Zach and I both have great memories of our visits to Savannah (you can read about our romantic getaway here) and New Orleans (you can read about that trip here).
And realized we both really love exploring historic towns. We thought it'd be a super fun mission to use our yearly anniversary trip to visit historical locations in America!
Genius right? It combines his love of history and my love of experiences together 🙂 My favorite dates on The Bachelor are when they explore a town together so I was all about visiting a new-to-us town and having our own romantic Bachelor-style moments 😉
We hunted down a few top recommended lists for the best historical cities in America and read through them and came up with a bit of a plan to where we should go first.
We decided on Williamsburg, Virginia as we'd gotten miles gifted to us from Delta after flight issues last year and it was enough miles to cover our flights.
The kids were SO excited to kick off summer with some quality G-Mama time and we ALWAYS appreciate her willingness to keep our babies so we're able to focus on each other.
We went for four nights and a great thing about visiting somewhere not-too-far-away is that we were really able to get the max time out of our visit since we didn't spend a lot of time traveling or dealing with time zone changes 🙂
This post will cover the first part of our trip!
We love flying out of Valdosta and always try to book the early flight to ensure if there are issues that we can still make it to our destination that day ha!
Valdosta only flies into Atlanta so we had a bit of a layover there before we flew to Williamsburg! It was another short flight which was nice!
Each time we travel now Zach and I always talk about how much Uber and Lyft have CHANGED THE GAME. I use Lyft the most and you can get $5 off your first ride with code: JOURNEYOFPHOOD
We landed, scheduled our Lyft, grabbed our bags, walked out and the car was there within 5 minutes. Flawless!
When planning our trip we decided to stay at a bed and breakfast located literally IN Colonial Williamsburg (the only one located in the actual historical area).
Zach really loves a bed and breakfast situation…I'll admit it, I've become a bit more of a travel snob and prefer a hotel room. I just like all the space and thoughtful storage options and good lightning and feeling like I can just truly relax rather than like I'm staying as a guest in someone's home!
The Fife and Drum Inn was adorable and the owners were SO sweet and even took time to sit down with us and walk through everything to do in the area and help in our planning of our trip. You check out the bed and breakfast here!
While I talk a big noise about liking to go and do when I travel, I've also become quite the fan of an EPIC NAP while vacationing.
Especially when I had to get up in the 4 am hour to head to the airport! I knew I wouldn't be very fun without some SLEEP so we did a 45 min power nap and then decided to walk a bit around the area, check things out, pick up our prescheduled tickets and get some dinner before our plans that evening.
First stop. Coffee.
Second stop. Picking up our tickets! I'm going to do a post on all the travel details and tips but one of them is to schedule things in advance when possible so you can pre-buy your tickets and have your plans organized for your stay.
We fell in love with the area just about instantly. It was GORGEOUS and SO CHILL. Like SO. CHILL. I will probably say that a good 50 times during my posts because it was THE theme of our travels. CHILL.
We also realized right away that a chill town meant an early bedtime town. Everything kinda shut down at 5ish so we knew we needed to eat early if we were going to get into a restaurant because when everything closes at 5, everyone eats at 5 😉
We decided to eat dinner at one of the taverns (Chownings) which was a fun experience (and good food!)
After dinner we had a bit of time so we walked around the colonial area a bit more.
It was clear that this place takes his history SERIOUSLY. It's not a cheesy, touristy type of history experience – it's the real deal.
The colonial area is adorable and has so many little homes and buildings to check out as well as little pathways and gardens and it's sort of like a free range to just walk around and see things without any sort of guided tour or tickets even needed for most things!
We. LOVED. It! Zach kept saying it felt like he was living back in the 1700s. It really did!
We had tickets to an Escape Room Experience so we headed over there to be on time and were a bit early so we Facetimed with the kids and they were having such a great time which always makes traveling easier – to know they are enjoying life mommy and daddy free 😉
The Escape Room was inside the jail and is where the famous Blackbeard's crew was held before trial and hangings.
We participated in the Escape Room with several other people and everyone gelled pretty well together. Zach and I hadn't ever done an Escape Room before and I wasn't sure how it'd go but it was fun!
He tends to be a take charge kinda guy but he did well-letting others contribute and I kinda fell back a bit and let others lead. We did end up escaping!
After the Escape Room we walked back through the town and just took in the peaceful beauty of everything before we met up for our Historic Ghost Tour.
A neat thing about Colonial Williamsburg is that the entire area is considered historic so they have certain rules they have to abide by. One being that all information shared has to be historically accurate.
So all the ghost stories are ones that actually happened! Which made it extra fun and interesting.
We saw a family on the tour that had a ghost finder tool thing that kept lighting up as we walked around. The dad said they live in New York and the device had NEVER lit up until they arrived in Williamsburg!
Kinda neat and made me want to get one for the kids when the time comes for us to take them on a ghost tour.
One negative about walking around Colonial Williamsburg (anytime but especially at night!) is that there is horse poop EVERYWHERE.
I don't understand why they don't have the horses wear those diaper type things…I'm assuming b/c it's not historically accurate? But the poop is pretty dang annoying to always be stepping over!
Prior to the ghost tour, we got some pics of the Governor's Palace. It was SO GORGEOUS out. The clouds and sky and the emptiness of the area. It was just really one of those beautiful moments you just don't want to forget!
The ghost tour didn't start until after dark, of course, so it was a rather late night and I was thankful for the nap!
We didn't make a lot of plans leading up to the trip quite simply because we couldn't find a whole lot TO DO.
Once we met with the owner of the bed and breakfast we had a better idea of everything we wanted to do while in the area and mapped out a bit of a plan for each of our days.
We planned to spend our whole first full day (Sunday May 26th) exploring Colonial Williamsburg!
How amazing is the location of the bed and breakfast? So. ADORABLE.
We were in SUCH a great walking distance of the colonial area! We walked down this gorgeous little path and saw some horses and an adorable bridge.
We went ahead and toured the Governor's Palace which was really neat and I like how the tour was a quick 30 min experience. Enough to hit the highlights but not too long to get boring 😉
I'm a cliff notes sort of history fan haha give me the basics and let me move on!
It was cool to see how the colonies originally looked on a map. I never thought about just how HUGE each colony was!
All the weapons were impressive to Zach of course 😉 But I was most intrigued by the UNICORN on the crest and on the gate!

The unicorn is the national symbol from Scotland, so duh, they are now my fav 😉 And the unicorn is wrapped in chains to show how the colonists felt like they were tied down by the British government.
Colonial Williamsburg provides a free shuttle around the area which was SO NICE. We rode it down to the other end of the area and walked around a bit and checked things out.
I'm so thankful to the sweet friend on IG who suggested for us to prop up my phone and use the self timer to get pics together!
We wanted to re-visit the jail and see the individual cells. Again, NO ONE was there so we had the place to ourselves!
We went into the gun shop. Where they actually STILL make guns, in the same exact way they made them back in the 1700s and they even still sell them. C-Razy!
I did learn a fun fact that the reason the dollar is often referred to as a "buck" is that a deerskin would sell for one dollar 😉
We also toured the capitol building where many of our country's founding fathers gathered.
SO cool to think about GEORGE WASHINGTON being in the same room we were in!
They did another tour at that location and, again, it was super well done. Factual but not boring!
Another neat fact is the way the building was built. One section was for the settler's leaders and the other the representatives from the crown…whenever they'd disagree they'd meet in that middle area to hash it out!
We checked out the apothecary on our way to get a snack. I'm all about being authentic so we got ginger cake and rootbeer from the colonial times (the root beer was TOO strong but the cake was delicious!).
We explored the area a bit more. Popped in a shop to get ideas for gifts for the kids. Saw a cute little market and checked it out. Just walked hand and hand down the street, avoiding horse poop and enjoying each other 😉
We then headed to the Merchant's Square area which was right near our bed and breakfast and we ate at The Cheese Shop for lunch. DELICIOUS.
After lunch, we walked around a bit in Merchant's Square and did a bit of shopping. We got our ornament as our souvenir and just enjoyed browsing and looking at the crazy over priced stuff 😉
We saw these little glass animal figurines in one of the shops and it made me SO PUMPED.
Did anyone else collect these as a kid? I still have ALL of mine in the attic but I can't decide what to actually DO with them? I even have these exact same ones. So cool that they're still selling them!
I had been so excited to check out this Mermaid Book Shop as I was assuming it was ALL mermaid stuff. Instead it was all books. Really cool concept, but really a bummer that they didn't have some super cool mermaid merch!
They also had a fun shop with lots of silly cards and such that were fun to read through – Zach tried so hard to get me to buy something with a unicorn haha They even had cute unicorn earrings. But like I don't need unicorn earrings 😉
We got a little treat and then headed back to the room…for another NAP. This time I forgot to set an alarm so it ended up being a pretty intense nap. Oops.
We were mindful to make dinner reservations. Even though we NEVER saw lines of people ANYWHERE it was still highly recommended to have reservations.
And sure enough, when we got to the restaurant we were told there was a TWO HOUR wait even though not a single person was sitting waiting. I guess everyone just hides until they get a seat? haha!
Our dinner was at Amber Ox which was highly recommended.
We had an adorable waitress who was super sweet and when we told her we don't drink she told us about their "mocktails" and we ordered one…well actually TWO without really meaning to…and they were $6 EACH.
And. Disgusting.
I guess because we never have cocktails is why we didn't enjoy the mocktail? We just aren't used to that type of drink!
But y'all. It was BAD. SO BITTER.
We felt bad b/c a) $12! and b) the sweet girl was trying to be kind in her recommendation.
So we added sugar. Hoping it'd be better. But nope.
It literally ruined my entire meal for me. Which sucked because I LOVE shrimp and grits but I didn't like mine at ALL after the mocktail.
Zach did love his chicken and waffles and we both really did love the Mac and Cheese – Zach said it was the best mac and cheese of his LIFE 🙂
We did end up telling the waitress that we didn't enjoy the mocktail…but sadly still charged us for 'em 🙁
Even though the meal wasn't our favorite, we had SUCH a great first full day!
We both felt like our "travel needs" were being met. It was EXTREMELY chill which helped Zach relax and it was still a lot of fun, new experiences which scratched my itch for going and doing. The PERFECT blend!
Want to Shop my Looks from the trip? Be Sure to Shop Here: