Planning a trip to the Peach State and wondering which Atlanta attractions are ideal for families? This Atlanta, GA travel guide will show you all the best things in the city that the whole family can enjoy!
We live roughly three hours from Atlanta, Georgia and I grew up living just 45 minutes outside of the city for most of my life.
Atlanta is "in our backyard" yet isn't a place I often think to visit.
When I think Atlanta I think about the airport and about the bad traffic.
However, Atlanta history is so rich and important to the United States. The home of Martin Luther King Jr and one of the important locations with the civil rights movement.
I love learning more about Georgia's capital city and the vibrant culture.
I also have learned that Atlanta has SO MUCH to offer for families!
I recently had the opportunity to take a mother-son road trip to Atlanta with my oldest son and some friends and we had so much fun and are already making plans to go back!
I thought it'd be helpful to put together my tips and the advice I can offer regarding Atlanta attractions for families and fun things for kids to do in Atlanta so you can have a great time in this historic city!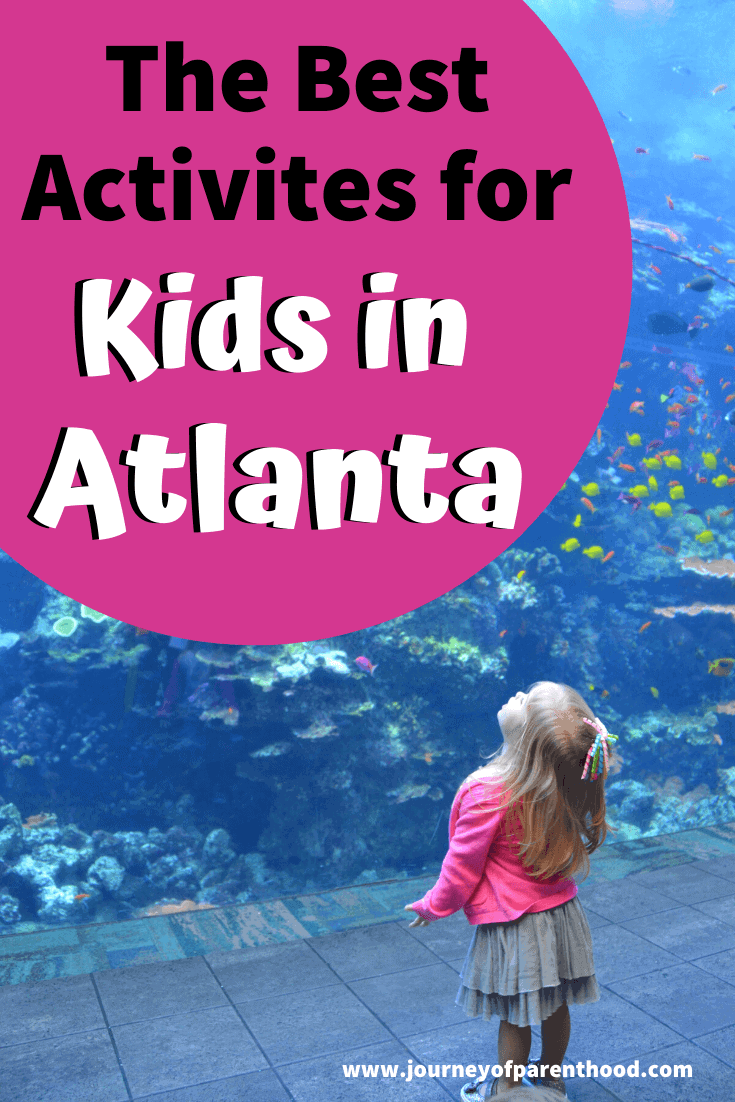 Where to Stay in Atlanta, Georgia for Families
Location is everything when staying in Atlanta.
Whenever we visit the Atlanta area I worry the most about where we should stay.
Not only do you want to book a hotel that is close to everything in order to avoid traffic but you also want to be SAFE.
And, unfortunately, to achieve both safety and location you're going to have to spend some money.
On my most recent trip, I decided to book our stay at the Omni Hotel at CNN Center.
It was the closest hotel to allow us to walk to Mercedes Benz Stadium (and it's actually attached to State Farm Arena) so I felt like it was the safest option for our plans that weekend and the view of the city skyline was amazing!
While visiting the area I did notice other great hotels that were also in close proximity and where I would consider staying on future trips to activities around Centennial Park.
For future visits, I plan to look into Embassy Suites Centennial Park as well as the Hilton Garden Inn as both are located at Centennial Park which is a great place to be if you plan on visiting the attractions in downtown Atlanta!
When visiting Zoo Atlanta I have stayed at the Country Inn and Suites and also felt very safe and enjoyed the free breakfast perks 😉
I highly recommend when planning a trip to Atlanta to search for hotels specifically located near the attraction you are visiting.
If you search Atlanta, Georgia on its own you may end up an hour away from all the fun activities you'd like to visit once traffic gets involved!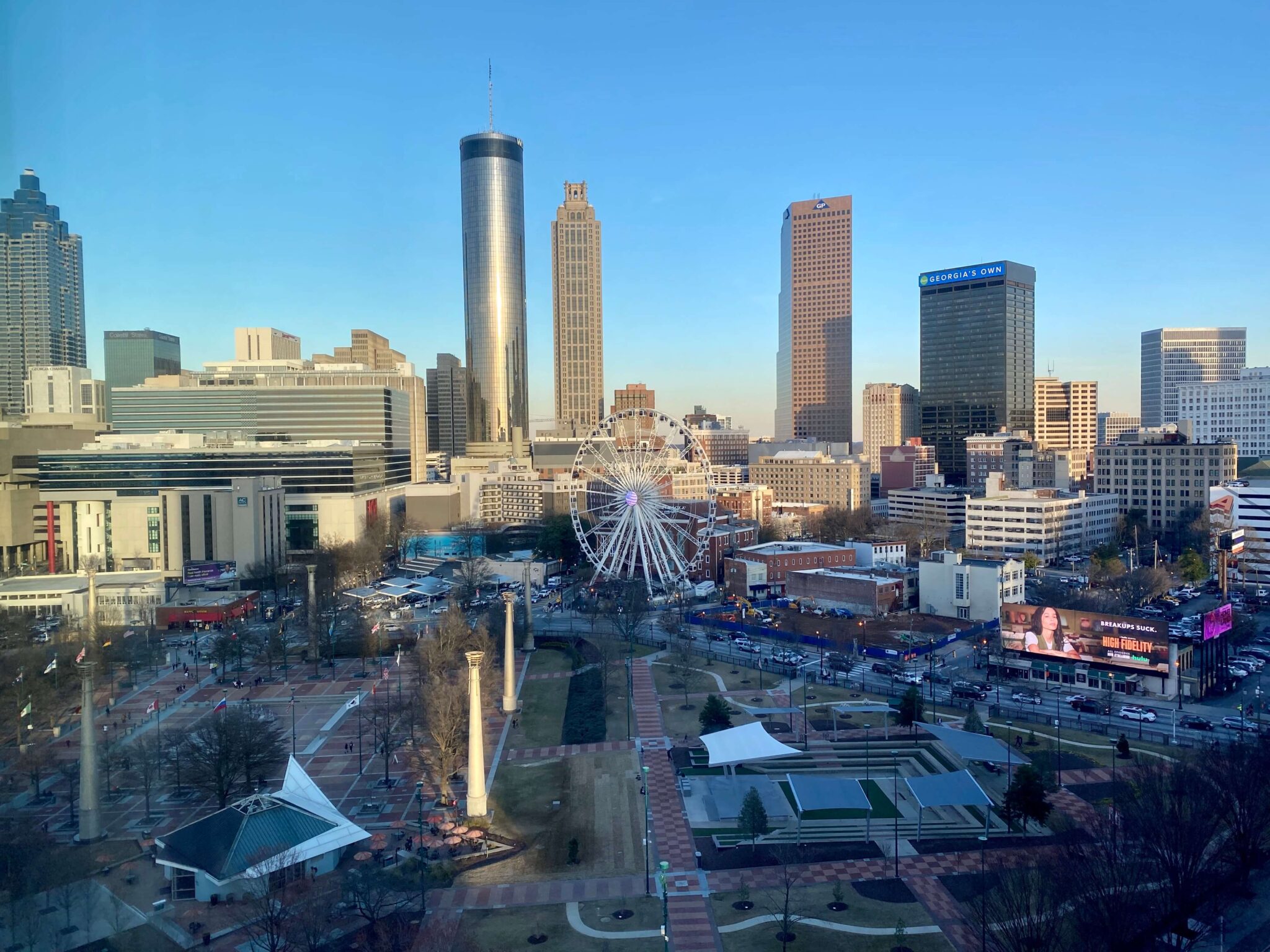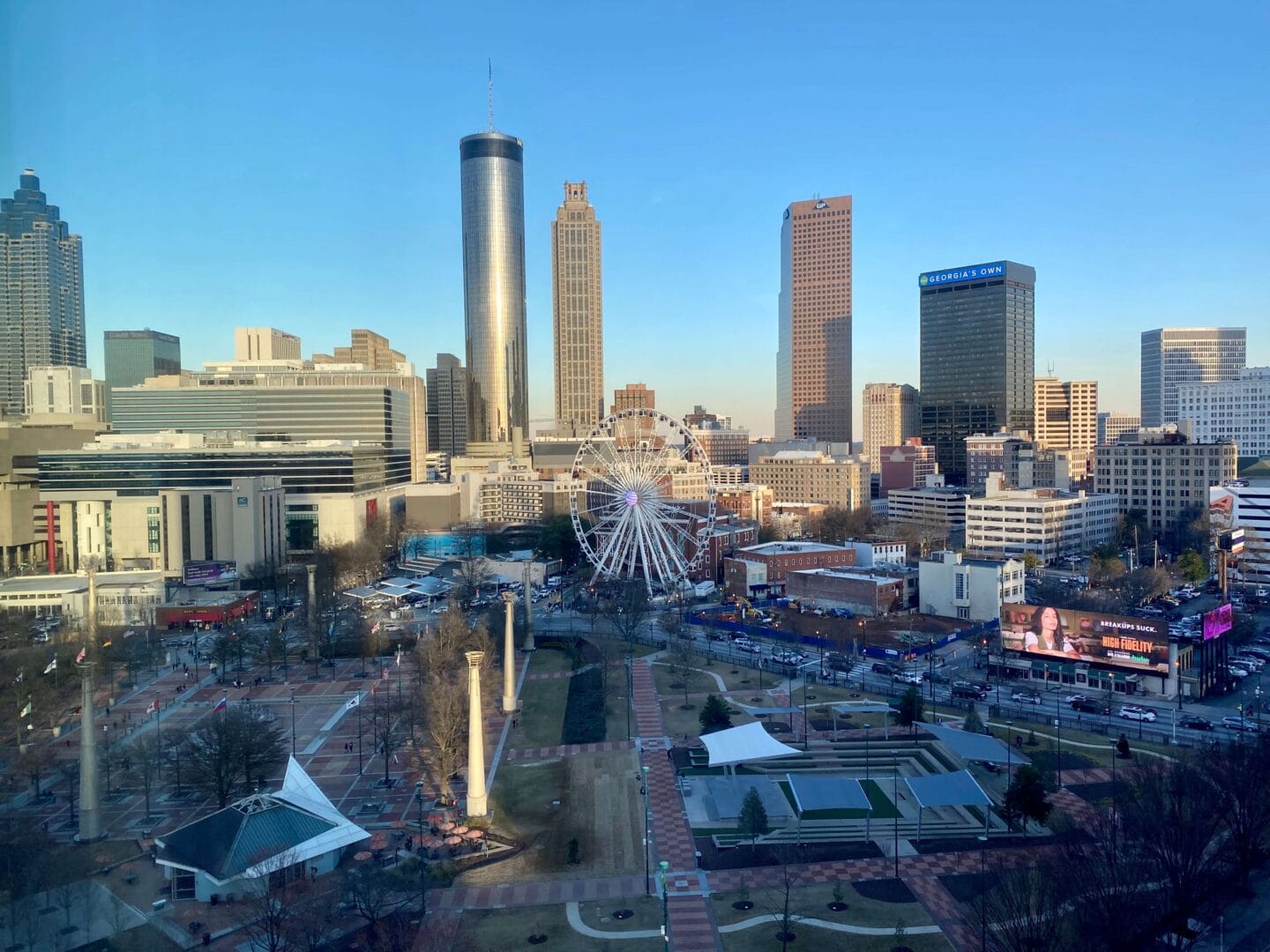 Best Time to Visit Atlanta, GA
The beautiful thing about the South is our weather is pretty decent year-round.
It's called "Hotlanta" for a reason…it gets HOT HERE.
I have visited the area in all seasons and have always enjoyed our time.
Yes, even the zoo in the middle of summer.
Surprisingly most of the attractions in the Atlanta area are indoors and those that aren't have been well established for decades which means LOTS of shade!
I have never felt that crowds were a huge concern at any of the times I've visited the Atlanta area with my family, and those visits have been most frequently at higher peak travel times.
Atlanta isn't Disney World.
The most crowded you will feel is most likely in your car stuck in traffic.
It's always wise advice to arrive at tourist attractions when they open, or as close to opening time as possible, as it's the best way to have fewer people!
Atlanta Attractions for Families: How Much Time do you Need for a Visit?
I have never stayed in Atlanta for more than one or two nights.
We live 3 hours away and it's an easy drive and visit frequently enough where a longer stay isn't justified.
All of the attractions take less than a day to visit. Most you only need 4ish hours to fully enjoy.
If you were to try to do ALL THE THINGS then it'd be wise to probably stay 2-3 nights but we've fit several items in over just a weekend!
Places to Eat in Atlanta with Kids
If you are visiting the Centennial Park area then I cannot suggest eating at CNN Center enough.
It's a super close walk with TONS of legit good food options.
It's like a NICE food court where you actually like all the restaurant choices!
I was happy to discover that the prices were also affordable and not raised any higher like they often are in tourist spots (like the GA Aquarium and the airport).
Again, safety is a big thing for me when traveling to a large city with my family.
The CNN Center has security as well as patrolling police officers.
We ate three meals there over the course of two days and felt very safe and comfortable the entire time.
You can see the food options at CNN Center here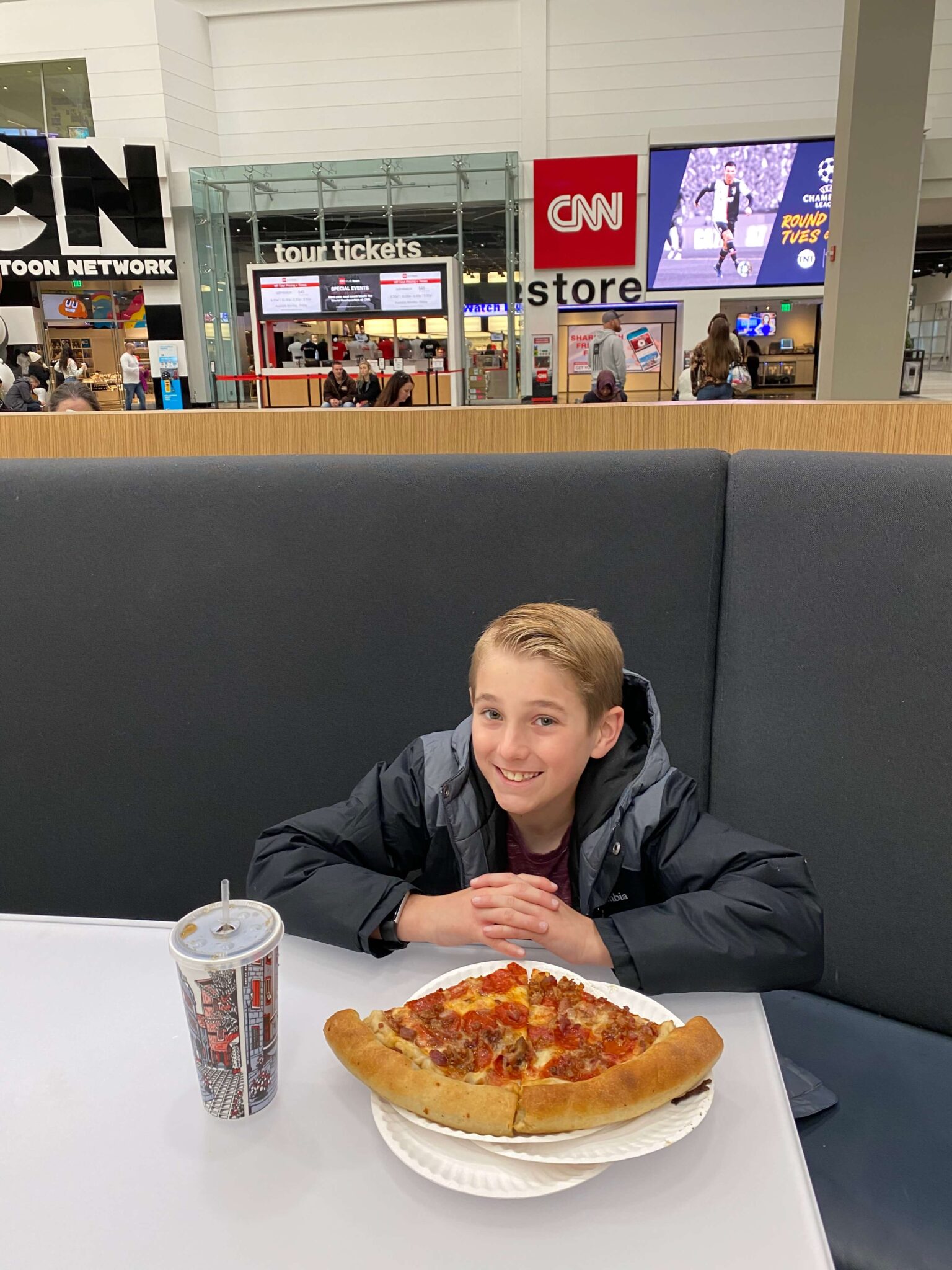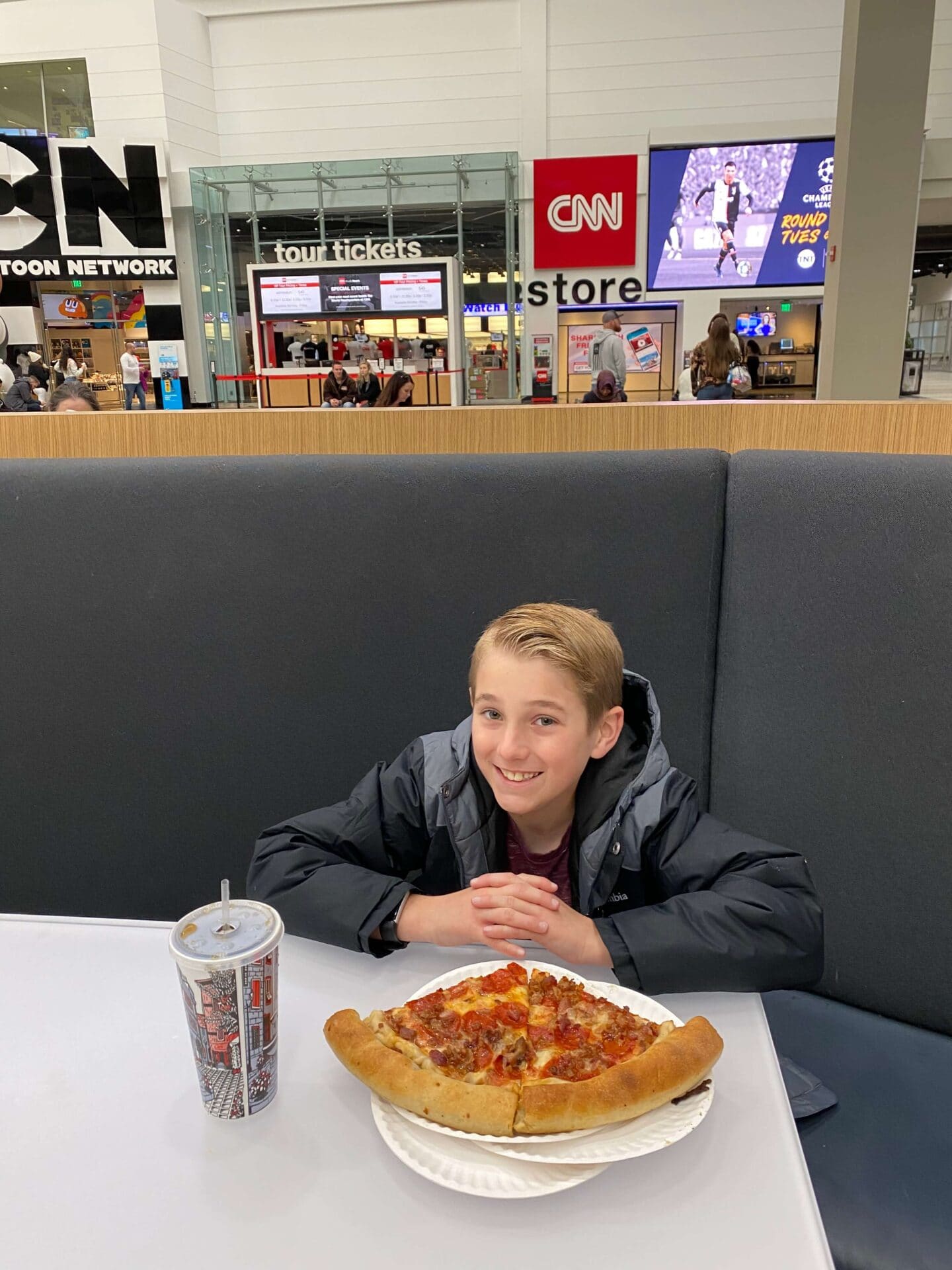 We also noticed a Waffle House within walking distance of Centennial Park as well as a Ted's Montana Grill but wanted to just stick with the CNN Center Options.
Whenever we have visited Zoo Atlanta (which is not located within walking distance of Centennial Park) I've packed food and also eaten the food at the Zoo.
The area surrounding Zoo Atlanta is not one I am super familiar with and just haven't ever felt safe to wander outside of the zoo area when considering dining options and traveling solo with my children.
When visiting The American Girl Doll Store it is actually located a bit north of Atlanta and is inside a very nice mall that has TONS of great restaurant options!
Stone Mountain area is also North of Atlanta and is actually near where I grew up.
I have also opted to pack and bring food and eat within the Stone Mountain property when visiting as not only does it save money but there also aren't a lot of obvious stopping places to eat where I'd feel comfortable.
As far as iconic Atlanta restaurants nothing comes close to The Varsity.
It's THE must-visit restaurant with kids in Atlanta.
It's also really easy to get to and located directly off the highway. If driving from the Centennial Park area it's only a 10-15 minute drive!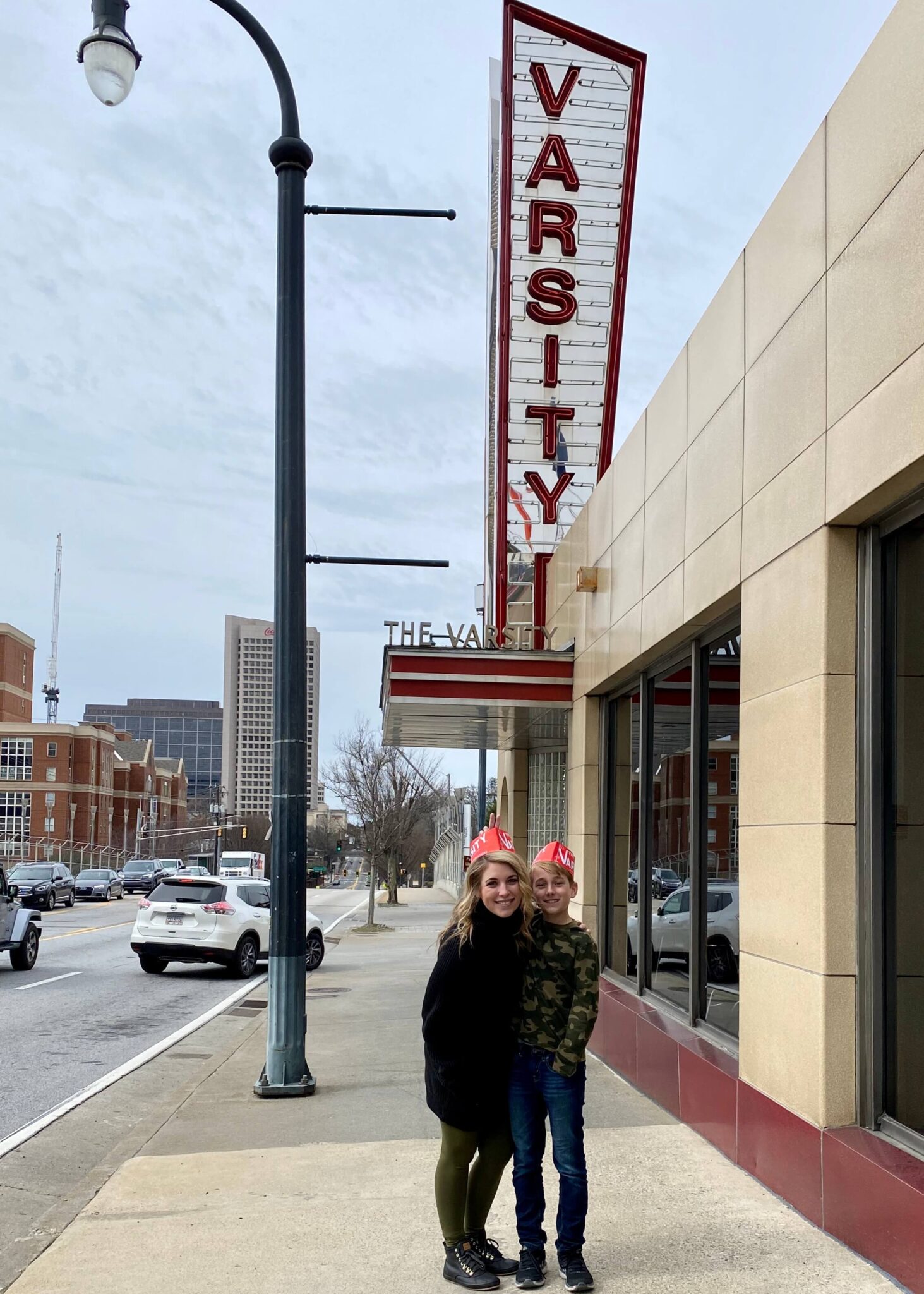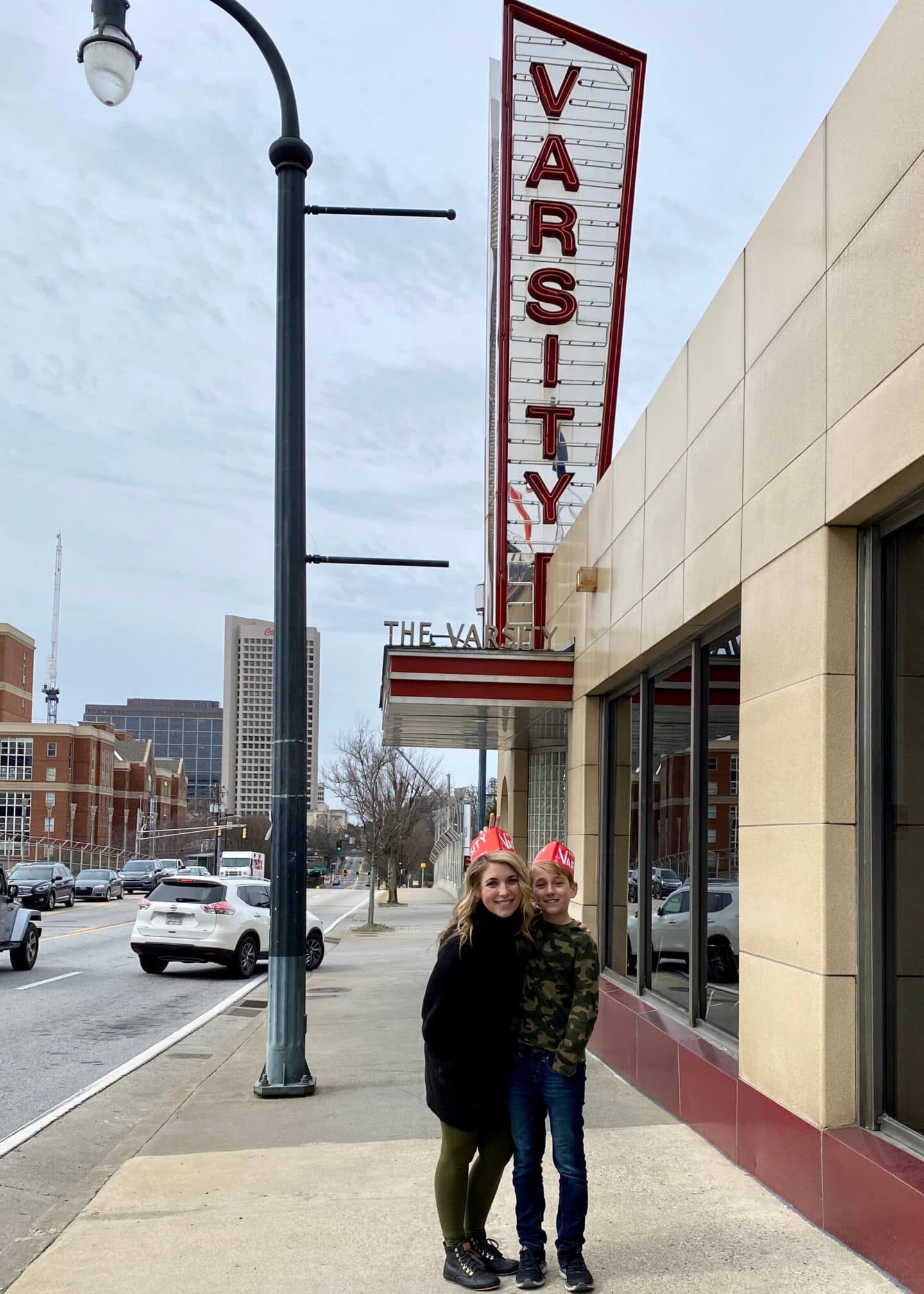 Atlanta Attractions for Families: Atlanta, GA Travel Guide:
Even growing up in the Atlanta area I never realized just how many AWESOME kid-friendly activities are located within walking distance from each other in the downtown area!
The cost to park at the hotels around Centennial Olympic Park is crazy expensive (like I paid $45 for ONE NIGHT to park) but the lack of free parking is justified by being able to walk everywhere you want to go!
Here are my top recommended Atlanta attractions for families!
Centennial Olympic Park
I was fortunate to be able to attend the Summer Olympic Games when they were in Atlanta in 1996.
After the events, however, I never really visited Centennial Park and I was so impressed with this beautiful green space!
It's very clean, very open, very pretty and a great way to let the kids run, enjoy a picnic, or just take in the city skyline.
You do not need to set aside a set amount of time during your trip to explore Centennial Park.
It is centrally located by so many other attractions that you can find a few minutes here and there while walking through to enjoy it!
If traveling during the warmer months it's wise to bring a suit for the kids as the splash pad here is SUPER fun (even in the cold of winter my son couldn't resist it!).
I have NOT walked through the park at night but during the day I felt very safe and comfortable allowing the kids to run and play.
Learn More about Centennial Olympic Park Here!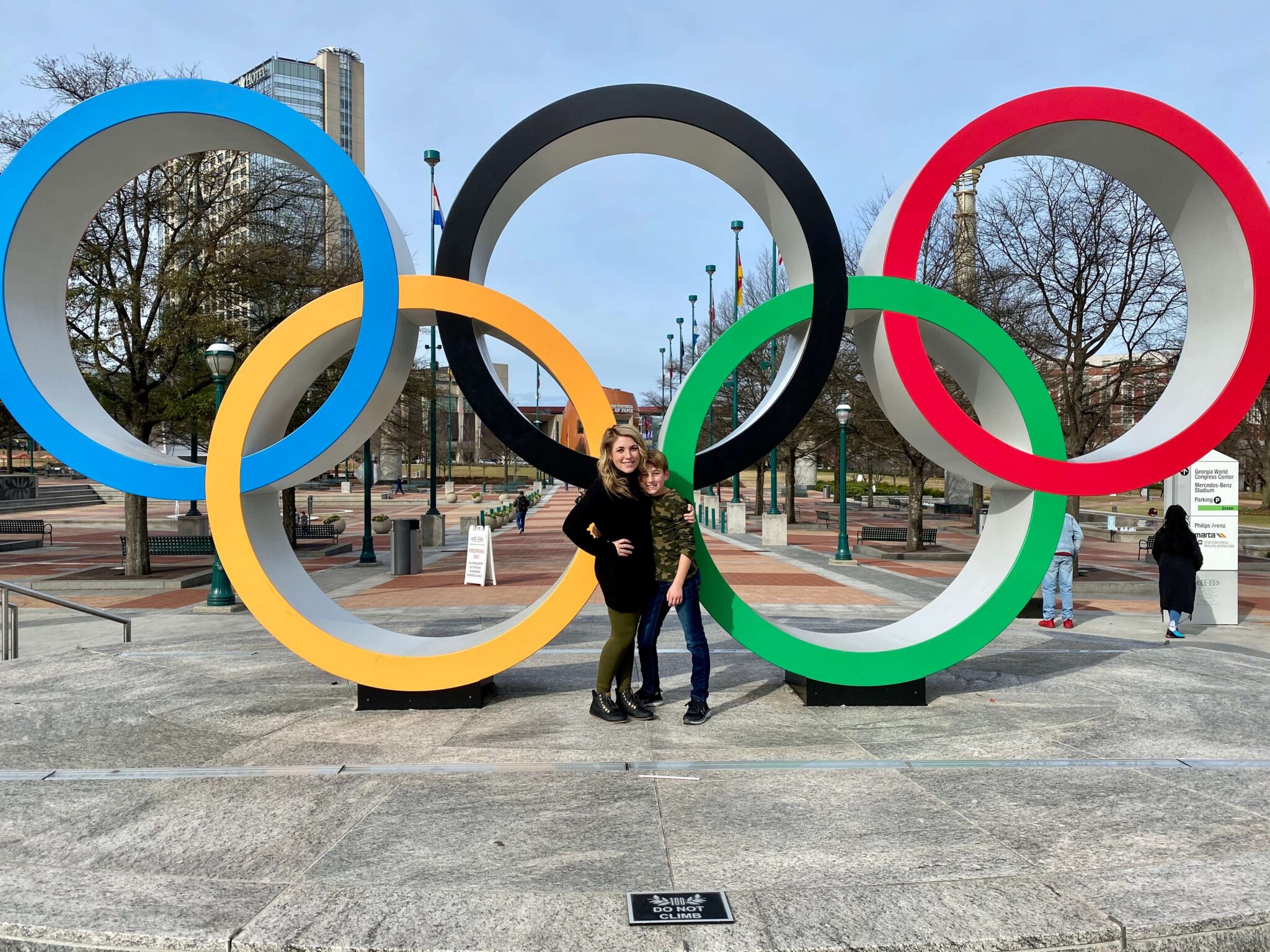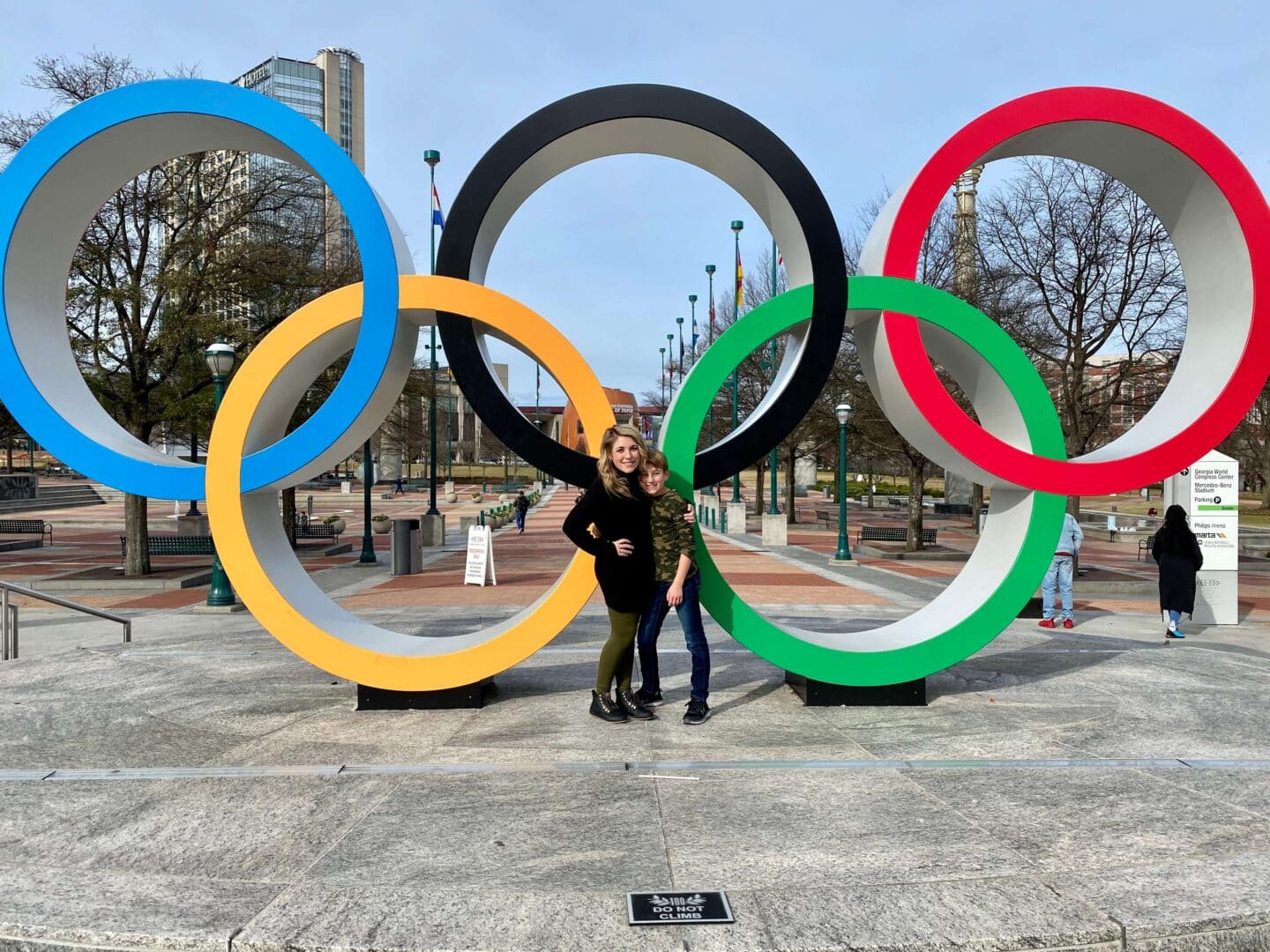 Georgia Aquarium
Of the Atlanta attractions for families I've personally visited, I am the least impressed with the Georgia Aquarium.
It's not well designed or laid out for the number of guests who visit each day.
It feels crowded and very closed-in.
We have visited several times and the last time we went it was better as they have added shows that make it more fun and provide more options to enjoy rather than just walking from exhibit to exhibit.
The kids enjoy it while there but never ask to go back so it isn't the top of my list as far as "must do."
If you do decide to explore the aquarium I cannot stress enough the importance of getting there EARLY. It gets crowded quickly!
You can learn more about the Georgia Aquarium here.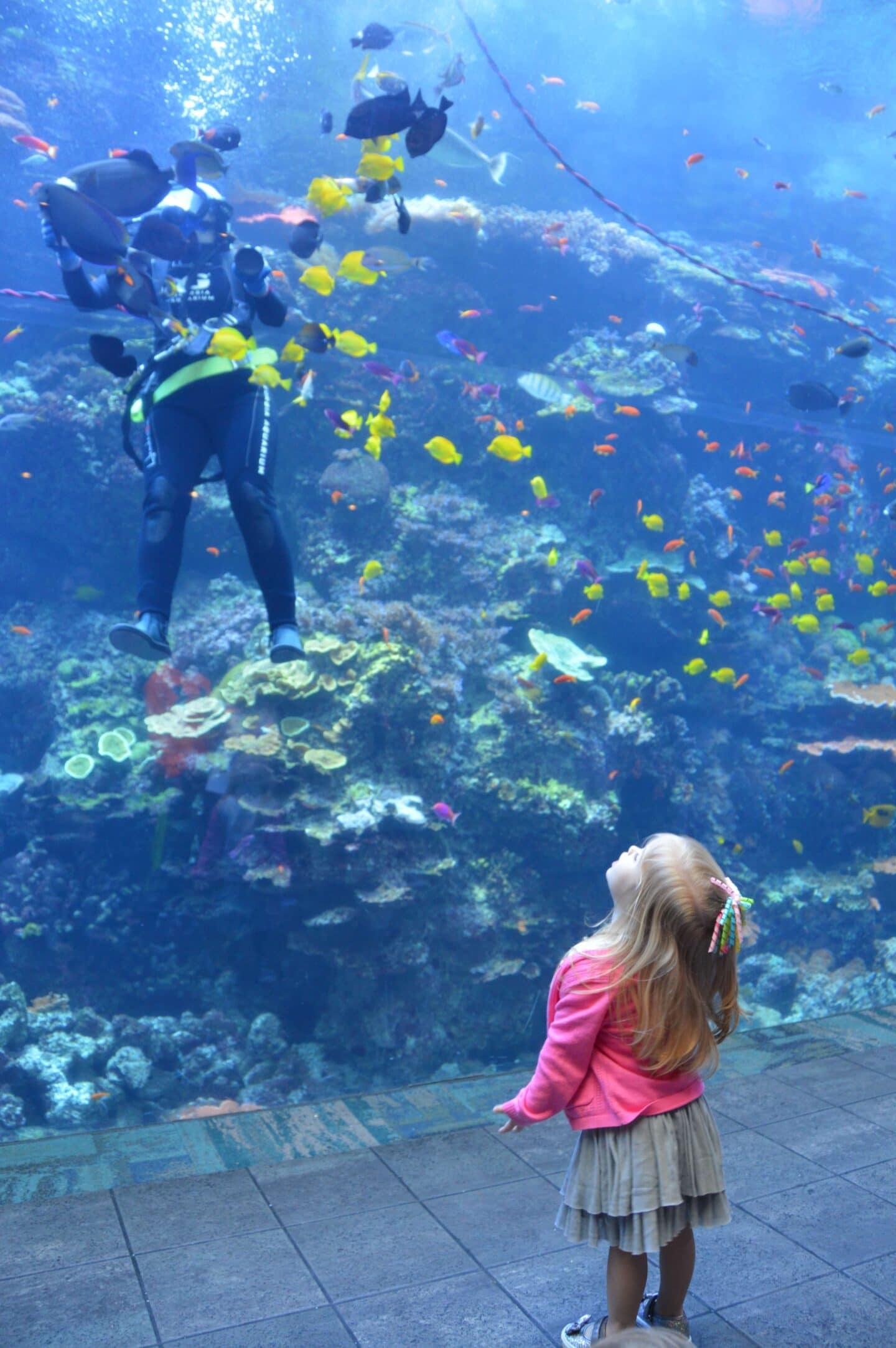 World of Coca-Cola
I visited the Coke Factory back in high school (yes like 20 years ago…) and the thing I remember the most? Sampling all the Cokes from around the world!
Ask anyone who has ever visited the World of Coca-Cola what they remember, and they will say the same thing: the tasting room.
There is just something so fun about taste testing soda from all the different countries.
But the World of Coca-Cola is also so much more than just a larger version of Club Cool at Epcot!
Unlike the aquarium, it is well planned and thought out and has a great balance of history about Coca-Cola as well as keeping it fun, quick-paced, and upbeat to keep kids interested.
I was also impressed at the cost of tickets, under $20 isn't bad at all. And the gift shop was also very reasonably priced as well.
We did every single thing in the World of Coke and it took us right at 4 hours total and we arrived mid-day when it is much busier than at opening time!
I do recommend this attraction for older kids. My toddler would have been difficult to manage (although doable in a stroller) and I think my five year old would have probably also gotten bored.
However the eight and ten-year-olds? They are at a great age to love some fun facts, find the history elements interesting, and LOVE the taste testing!
You can learn more about World of Coco-Cola here.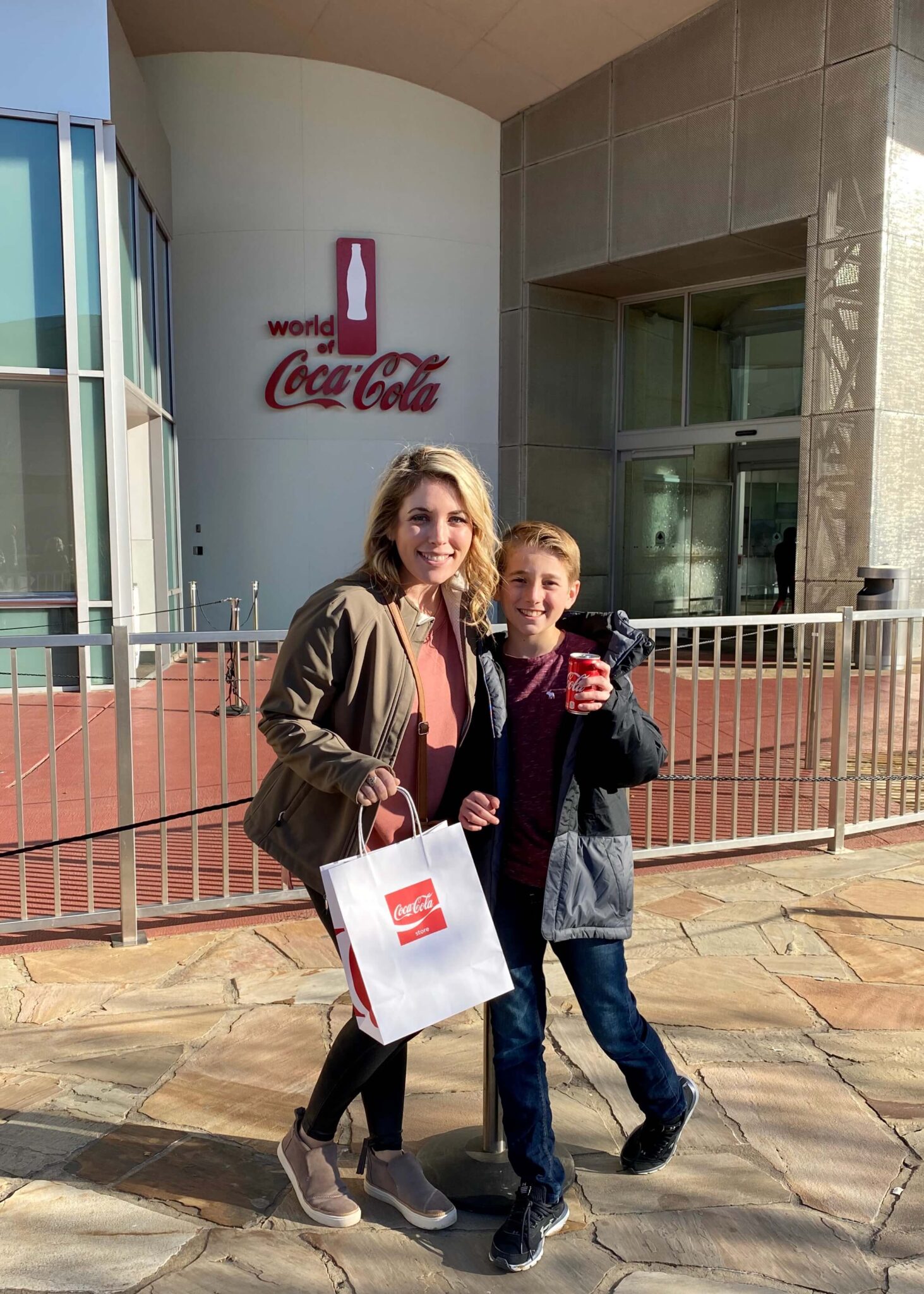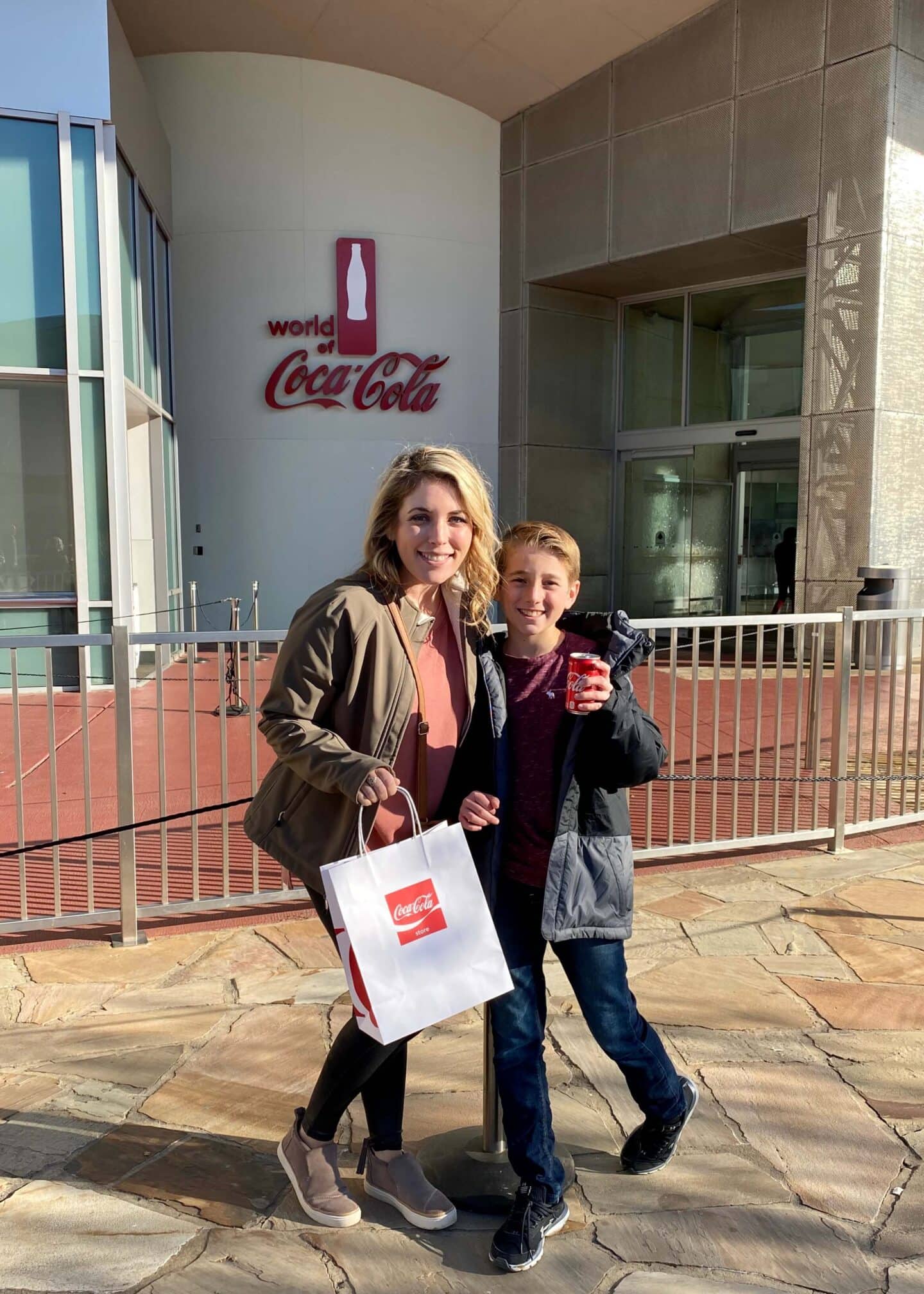 CNN Center
As I previously mentioned this is THE SPOT to eat when visiting this area of Atlanta!
I have not visited the CNN Center for a tour since high school and while visiting with my son and friends his age we wished we'd gotten tickets to tour it as the boys were all super intrigued while we were eating at the food court and they all loved shopping in the gift shops (also very reasonably priced).
It is now on my list to do in the future as they offer several tours that I know my kids would love.
You can learn more about CNN Center here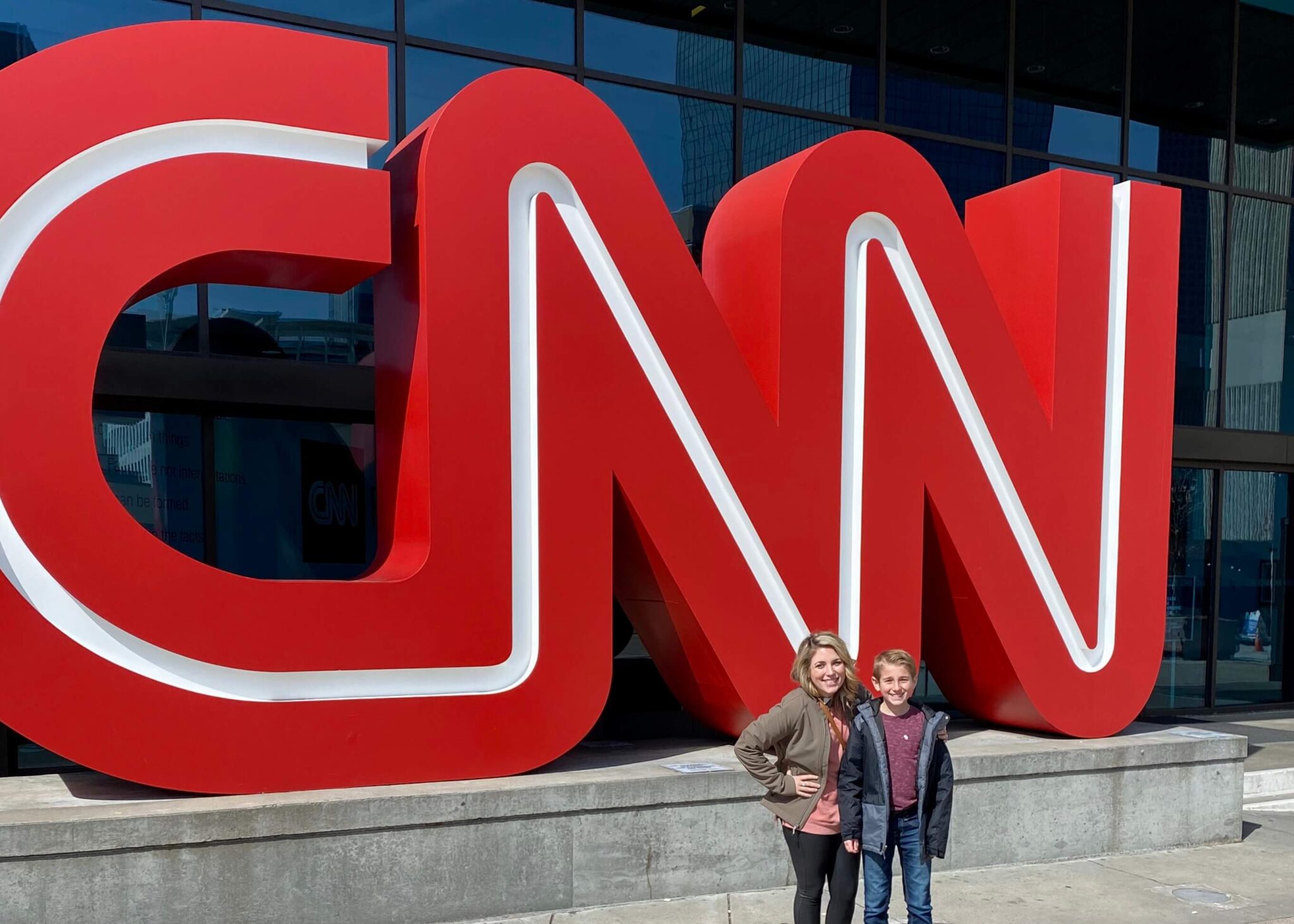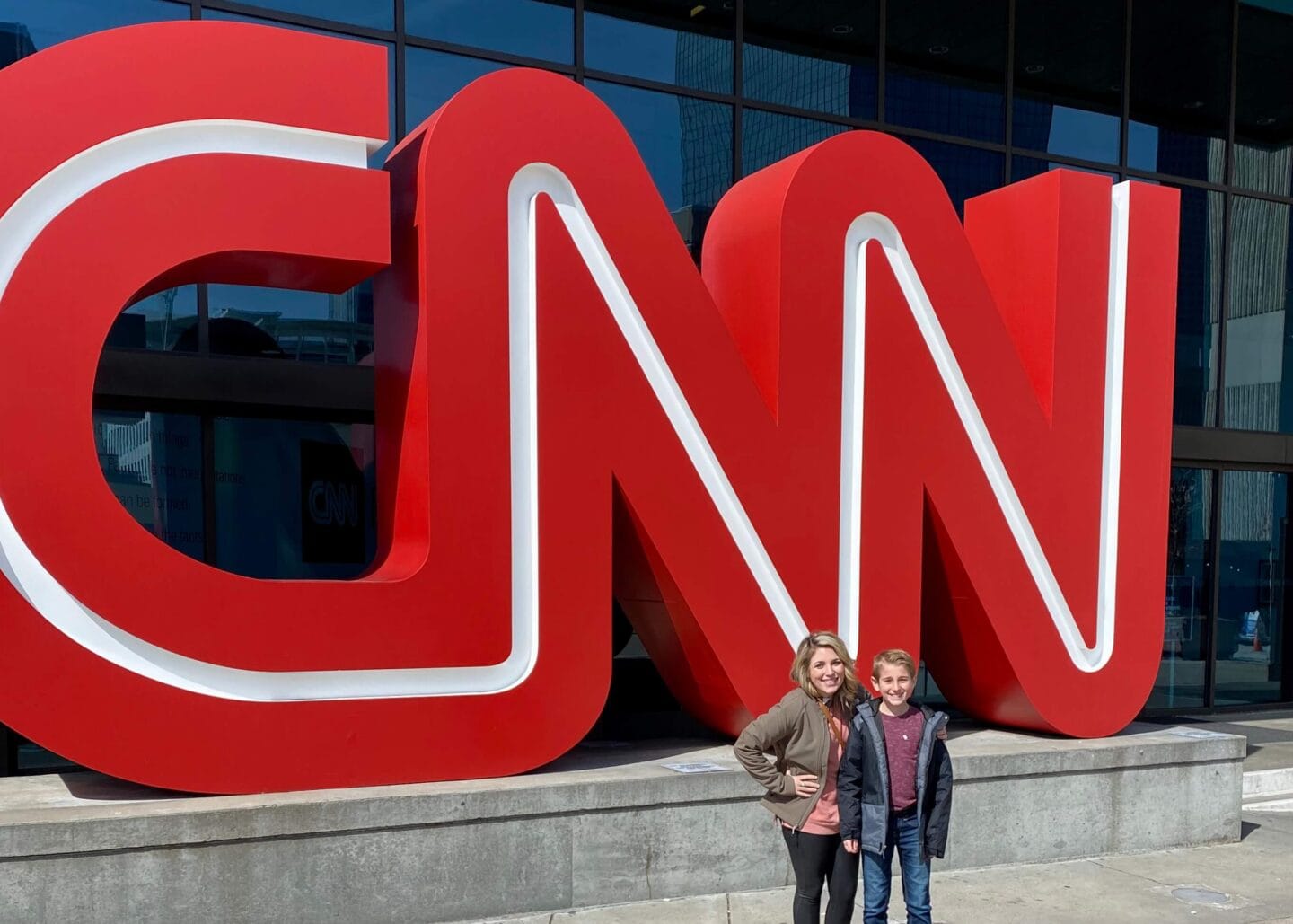 Chic-Fil-A College Football Hall of Fame
Along with the CNN Center I also REALLY want to visit the Chic-Fil-A College Football Hall of Fame.
I've heard nothing but awesome things about it!
My husband played football in college so I didn't want to visit it without him but it's a must-do on our family list for sure!
You can learn more about it here.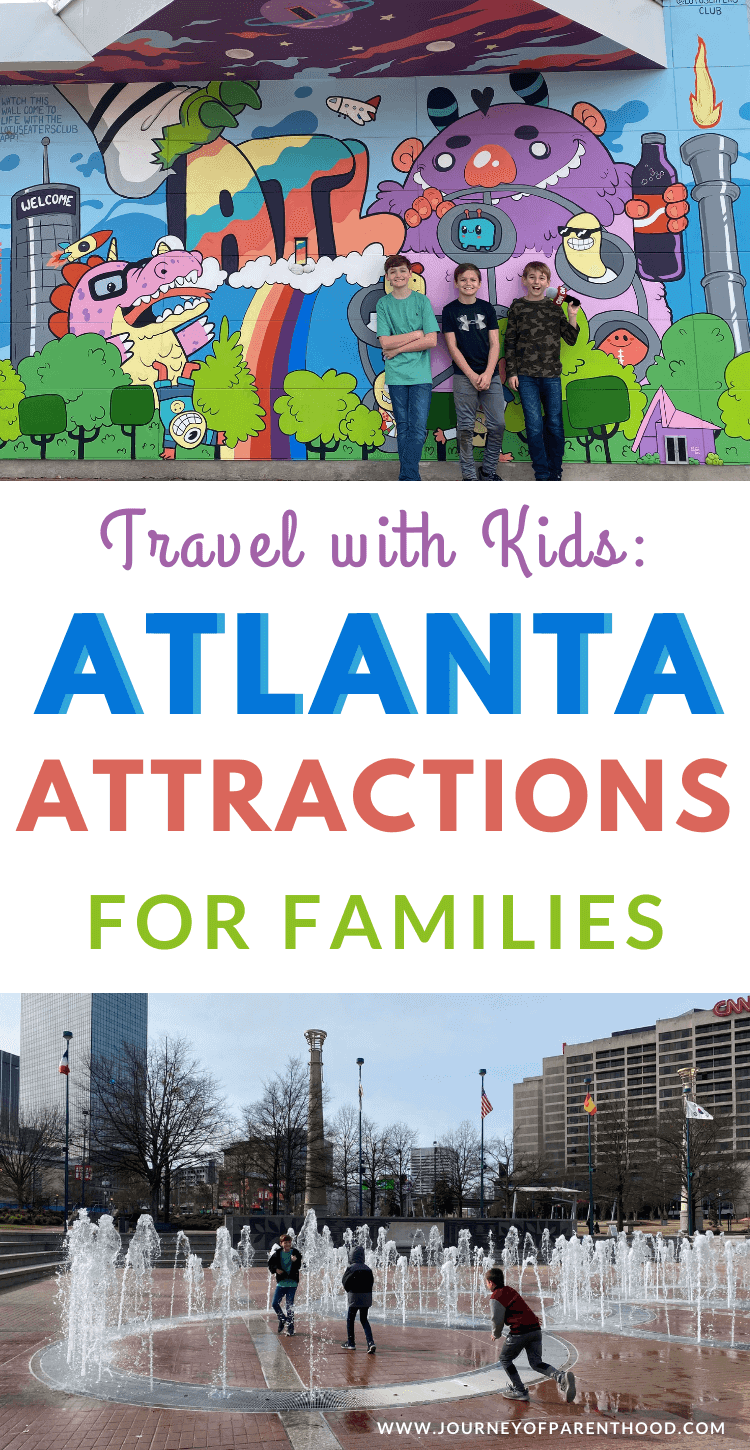 Events at Mercedes Benz Stadium
I have attended both a Taylor Swift concert as well as Monster Jam at Mercedes Benz Stadium.
It is HUGE and very nice!
Be warned if you purchase nosebleed seats…they are truly nosebleed. Like you will be out of breath and possibly worry for your life every time you look down from your seats.
The stadium is very secure and I attended Monster Jam without my husband and even when the event ended at 10:00ish I felt extremely safe walking with my son and friends back to The Omni.
There is a LARGE police presence including some of the most hardcore guns I've ever seen in person. They were all also extremely nice as we thanked them for being there!
It's important to note that Mercedes Benz Stadium is a clear bag stadium – I bought this bag and it was perfect!
It is also important to note that the food I've eaten within the stadium is highly overpriced but good. And they do not have (or at least not to my knowledge) any "brand name" food options.
It's a good tip to eat at CNN Center prior to heading to the stadium!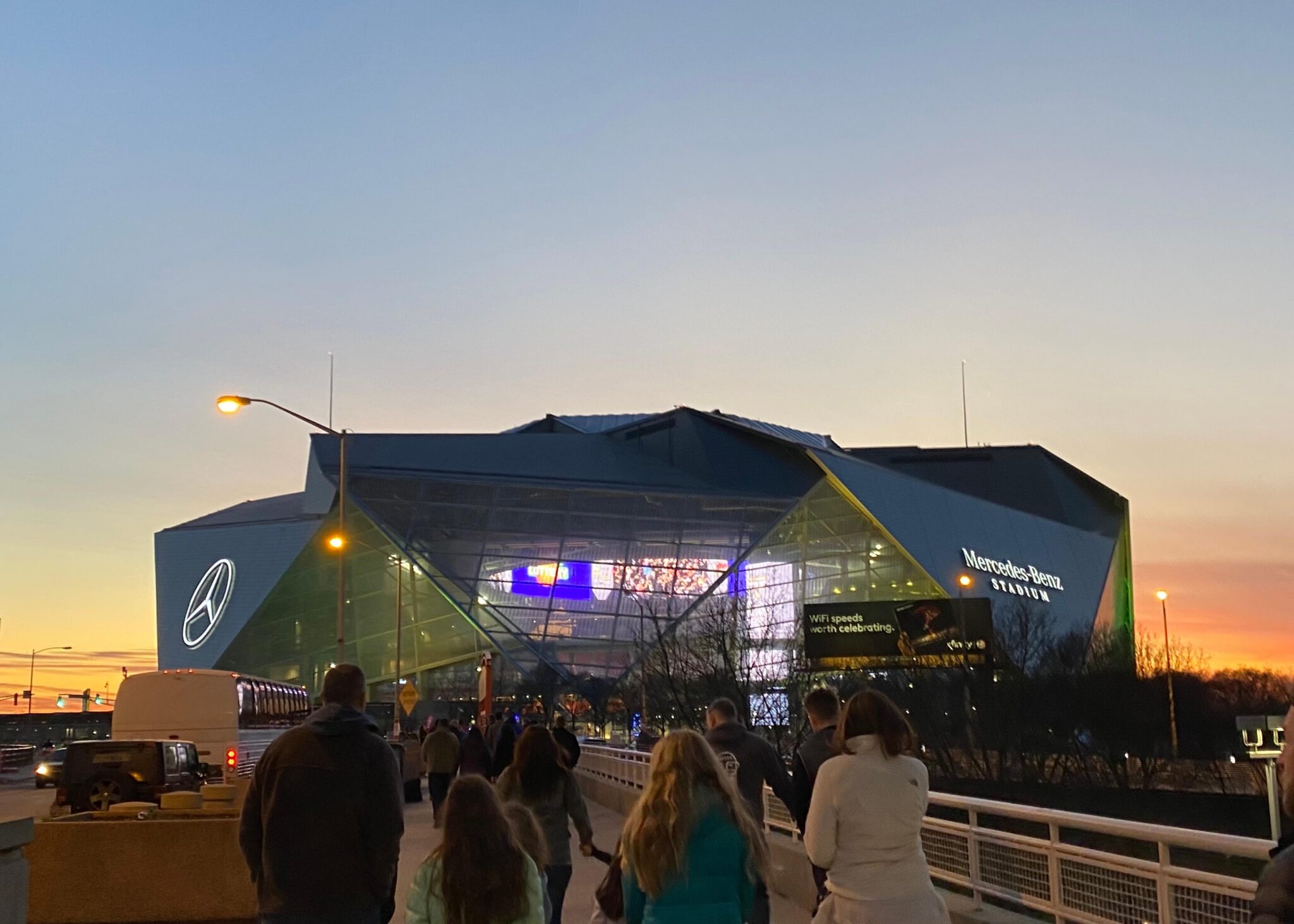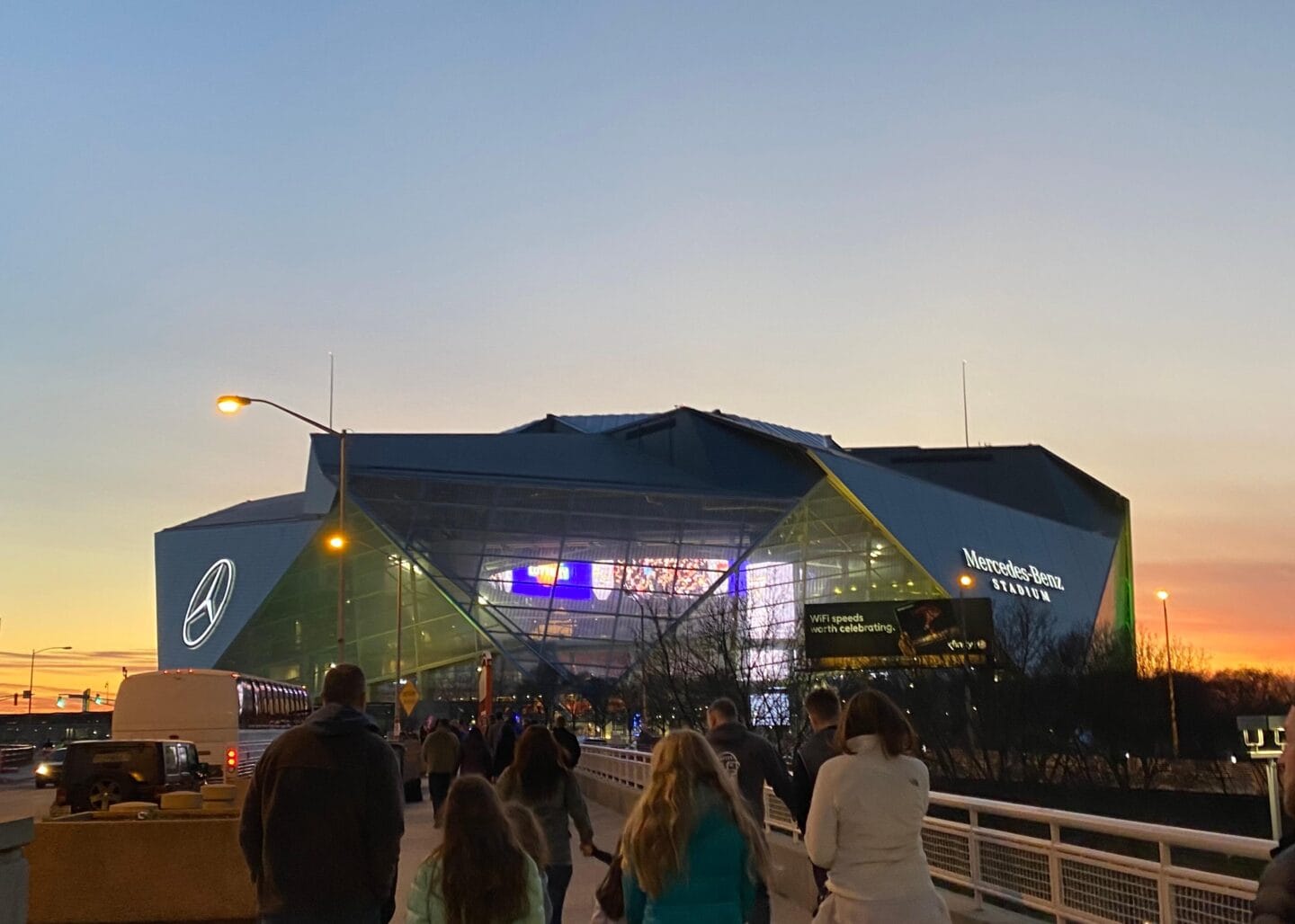 Events at State Farm Arena
State Farm Arena is connected to both CNN Center as well at The Omni hotel making it a very safe, easy access, option!
I attended Disney on Ice at this arena and, at that time at least, they were not a clear bag stadium and we were permitted to bring in our diaper bags etc.
Of the two stadiums, I do think Mercedes Benz is nicer but all of the staff at State Farm were excellent as well as very kind and friendly and, again, I felt very safe during our entire time there.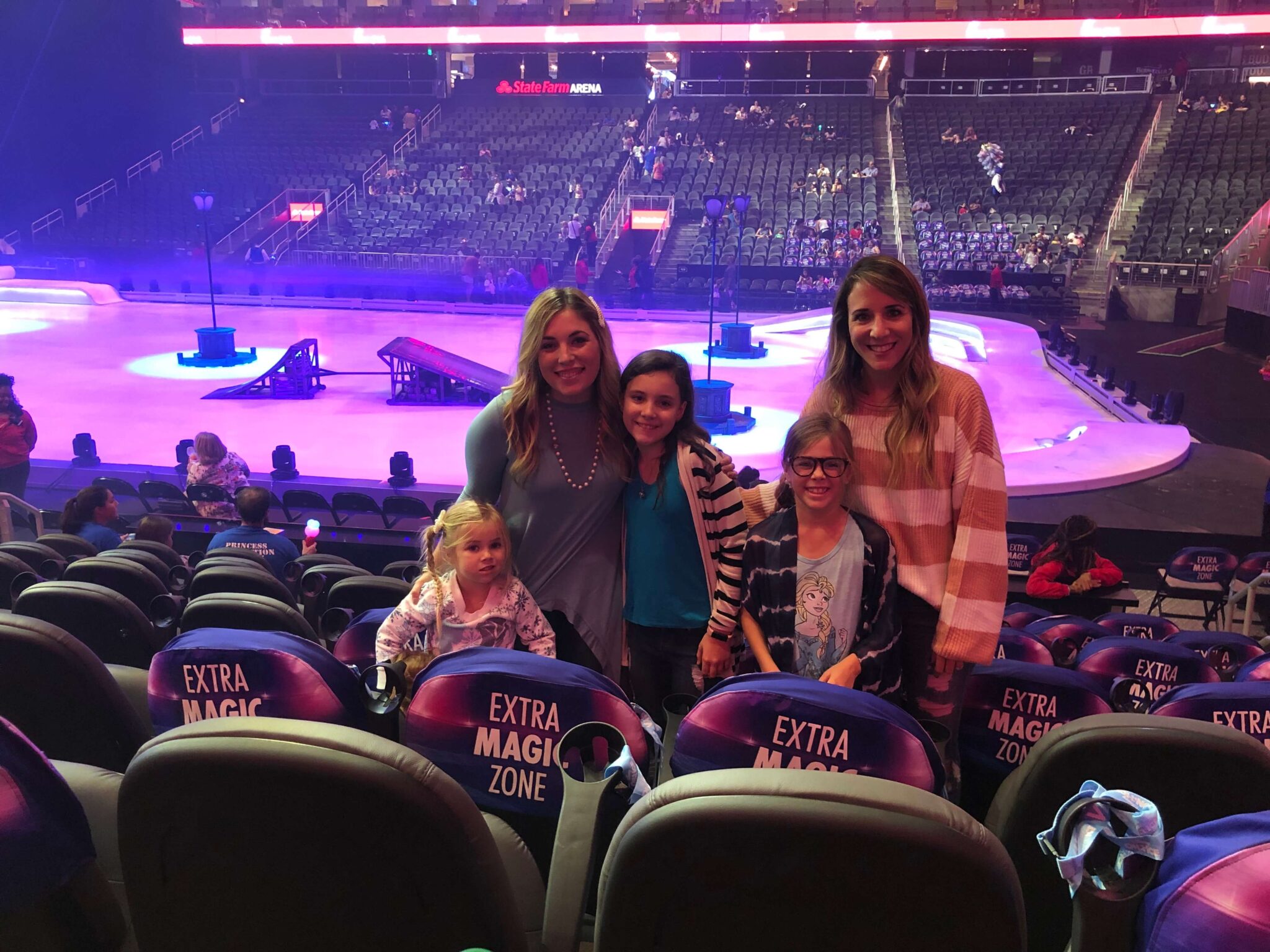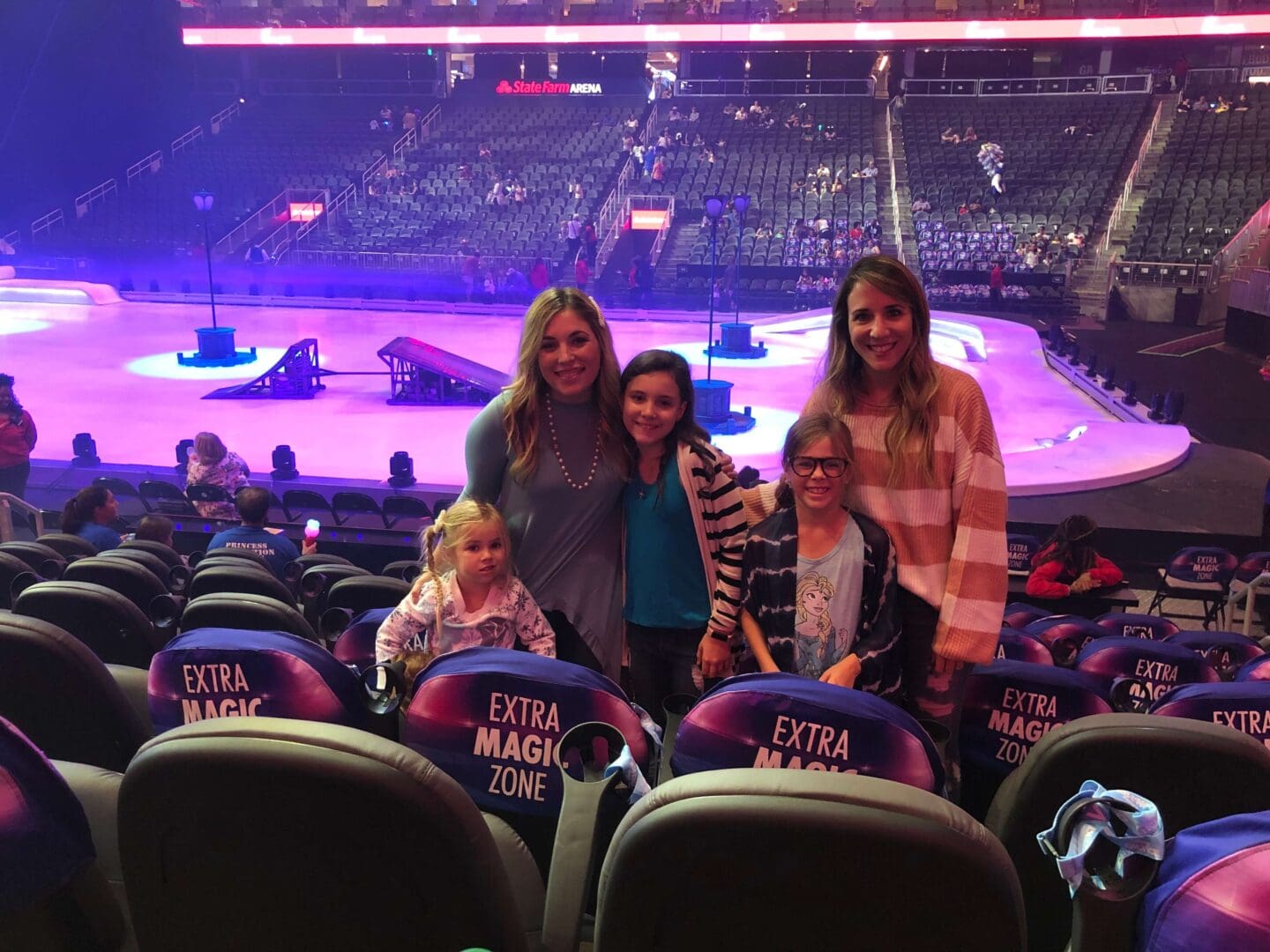 Atlanta Attractions for Families: Fun Things for Kids to do in Atlanta Area
I LOVED our recent trip staying at The Omni and walking to all of our attractions but I have also visited the surrounding Atlanta area and enjoyed those visits as well.
Popular attractions outside of that central Atlanta hub require a bit more driving (and the traffic stresses) but are well worth it for the fun adventures and memory-making!
Zoo Atlanta
Zoo Atlanta is one of my absolute favorite things to do in Atlanta with my kids.
I'm partial because it was my childhood zoo growing up (Willie B FOR LIFEEE) but it's really a fabulous zoo.
I've visited the San Diego Zoo and prefer Zoo Atlanta over it!
It's VERY well laid out. Super easy to navigate. A comfortable walk even while very pregnant 😉
The shade provided by the trees makes it a nice visit, even in the hot summer months.
The food is decent and not overly priced.
The animals are great and there is plenty to keep the kids entertained (including a splash park area perfect to cool off during the summer months).
I really, really love the zoo and highly recommend it as one of the best Atlanta attractions for families. Be sure to take time to learn more about Willie B in the gorilla exhibit and get the must-have picture with his statue too 😉
You can learn more about Zoo Atlanta here.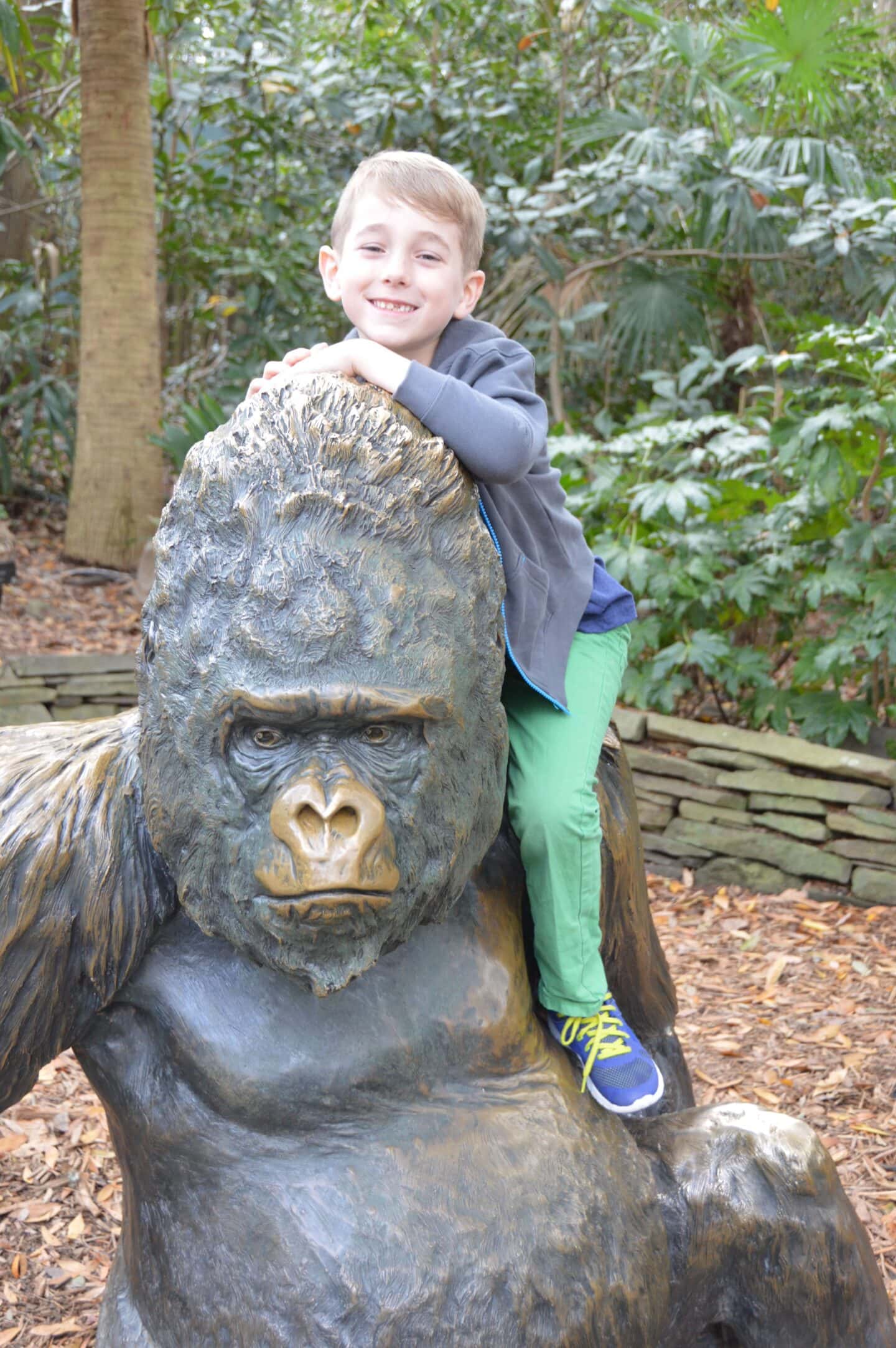 American Girl Doll Store
I recently took my daughters to the American Girl Doll Store for the first time and was beyond impressed.
We visited the store, had their dolls visit the salon and we ate at the bistro as well.
From start to finish every experience was wonderful.
I love that the American Girl brand promotes positivity for young girls and a wholesome value as well as imaginative play!
As I mentioned earlier, we are Disney people.
We are used to the high level of customer service and attention to detail that Disney offers and the American Girl Doll Boutique experience was on par with Disney in every way.
Everyone was very friendly and helpful and the details were adorable! I also thought the prices for the doll hair salon experience as well as the bistro dining were very affordable.
The Atlanta location is not actually IN Atlanta and is a bit north of the actual city within North Point Mall
I do highly recommend a visit and we plan to go back!
You can learn more about the American Girl Doll Boutique and Bistro here.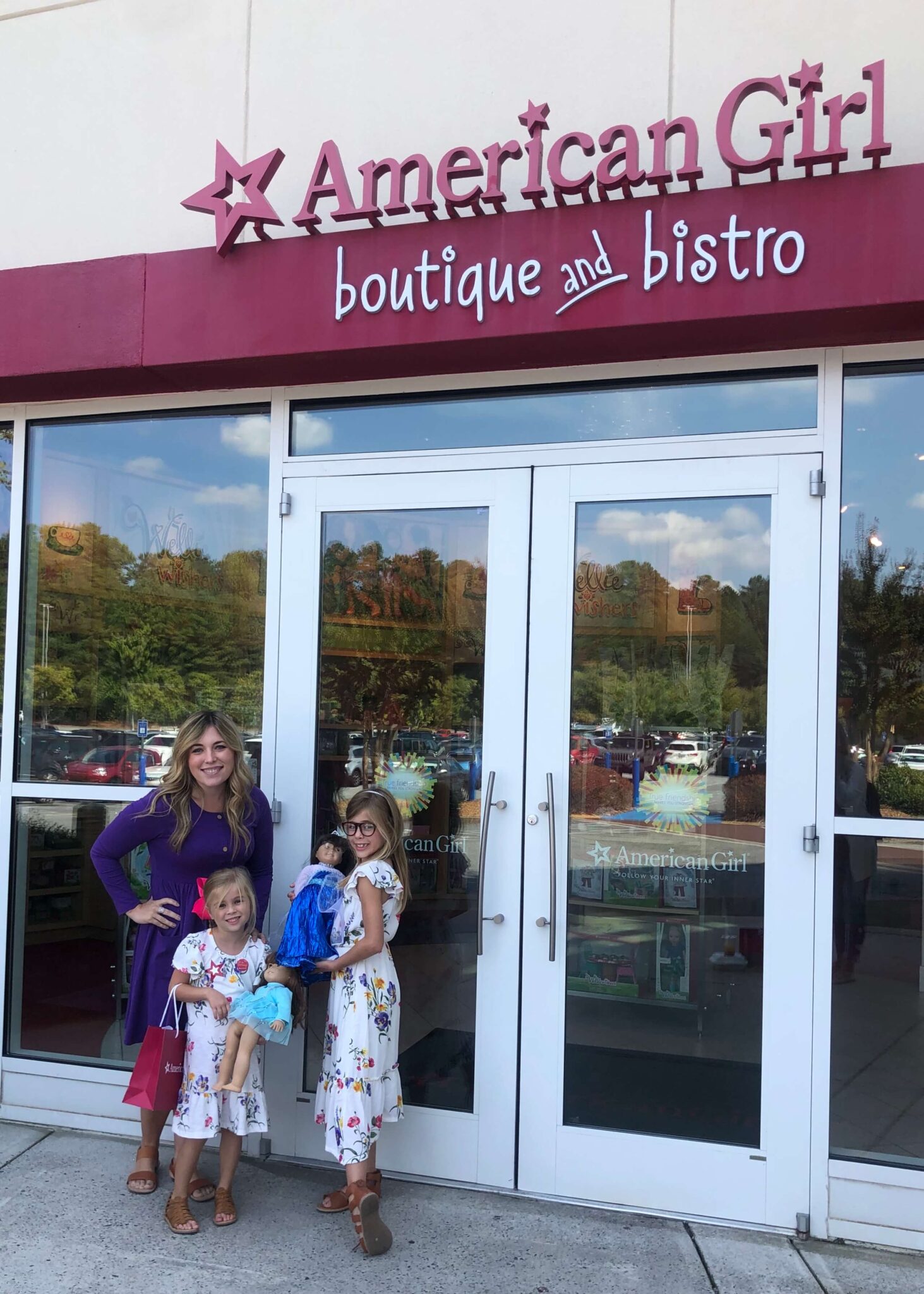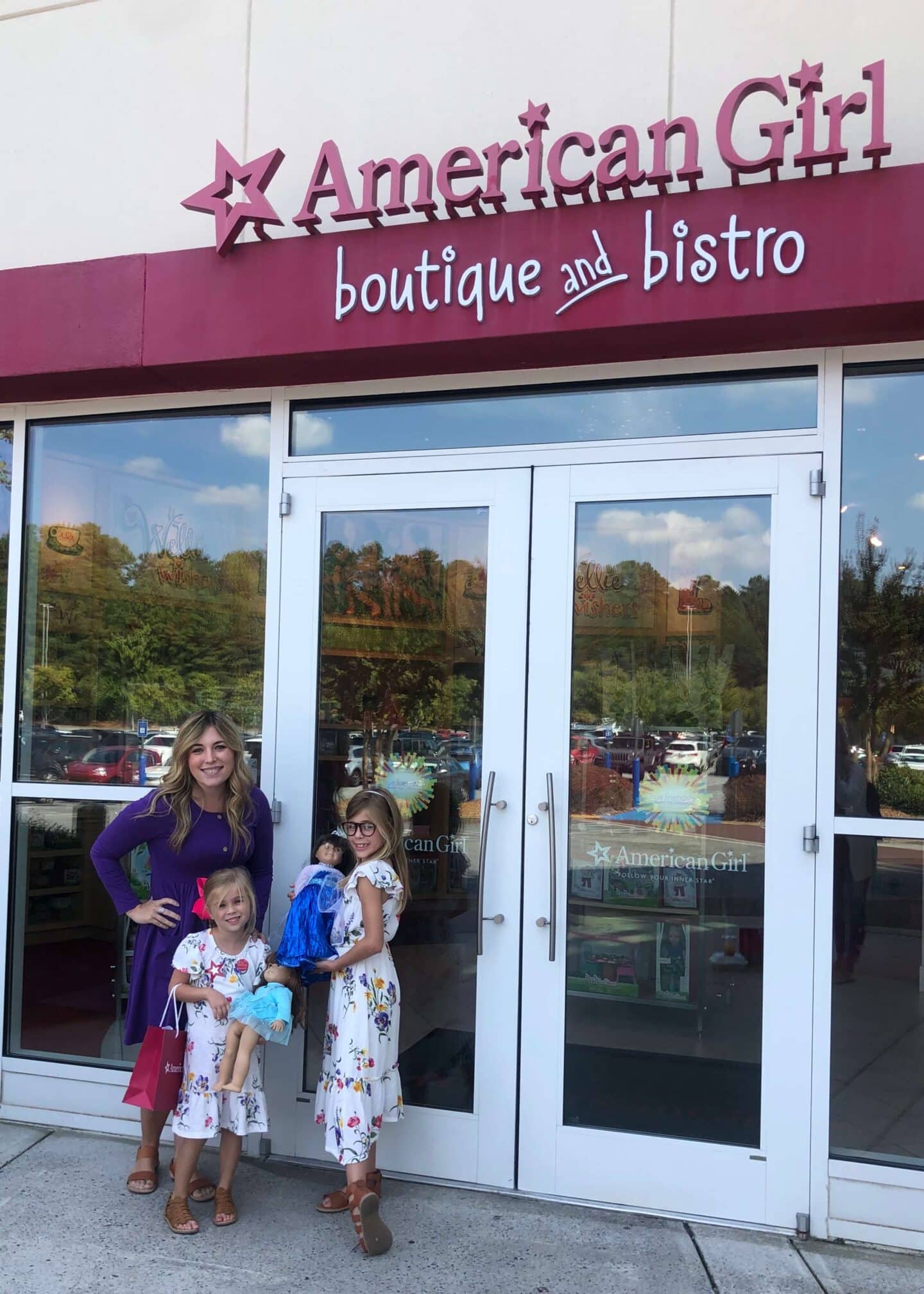 Braves Game
Growing up we loved going to Braves Games at Fulton Stadium and then Turner Field.
I have not yet visited the new Braves Stadium at Truist Park.
This is an item on my family bucket list as Braves Games are such a fun, interactive experience!
You can learn more about attending a Braves Game at Truist Park here.
Stone Mountain Park
I grew up not too far from Stone Mountain area and loved going to see the laser show in the summers.
We've taken our kids to visit once.
It's a tough place for out of town guests to visit as the surrounding area is not very family-friendly in accommodations options.
There are hotel options located at Stone Mountain Park itself but they are pricey and not well accomodating for larger families like ours.
I have never attended Snow Mountain but have MANY friends who do and who love it!
When we visited we really enjoyed our entire day at Stone Mountain and it is something we hope to do again in the future with our kids!
It is also located a bit north of Atlanta but if planning a trip to the city it's worth a day trip to visit and explore!
You can learn more about Stone Mountain here.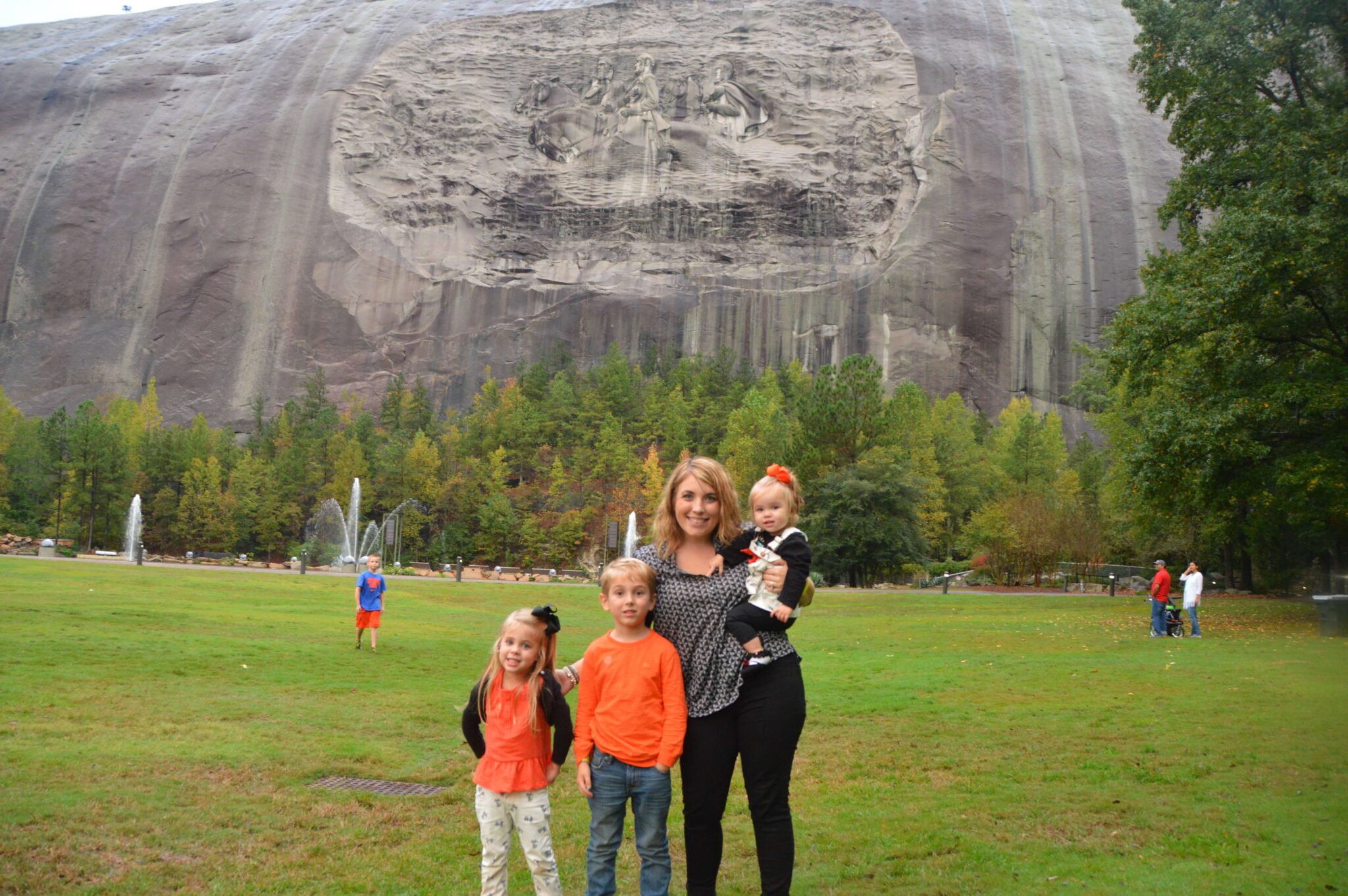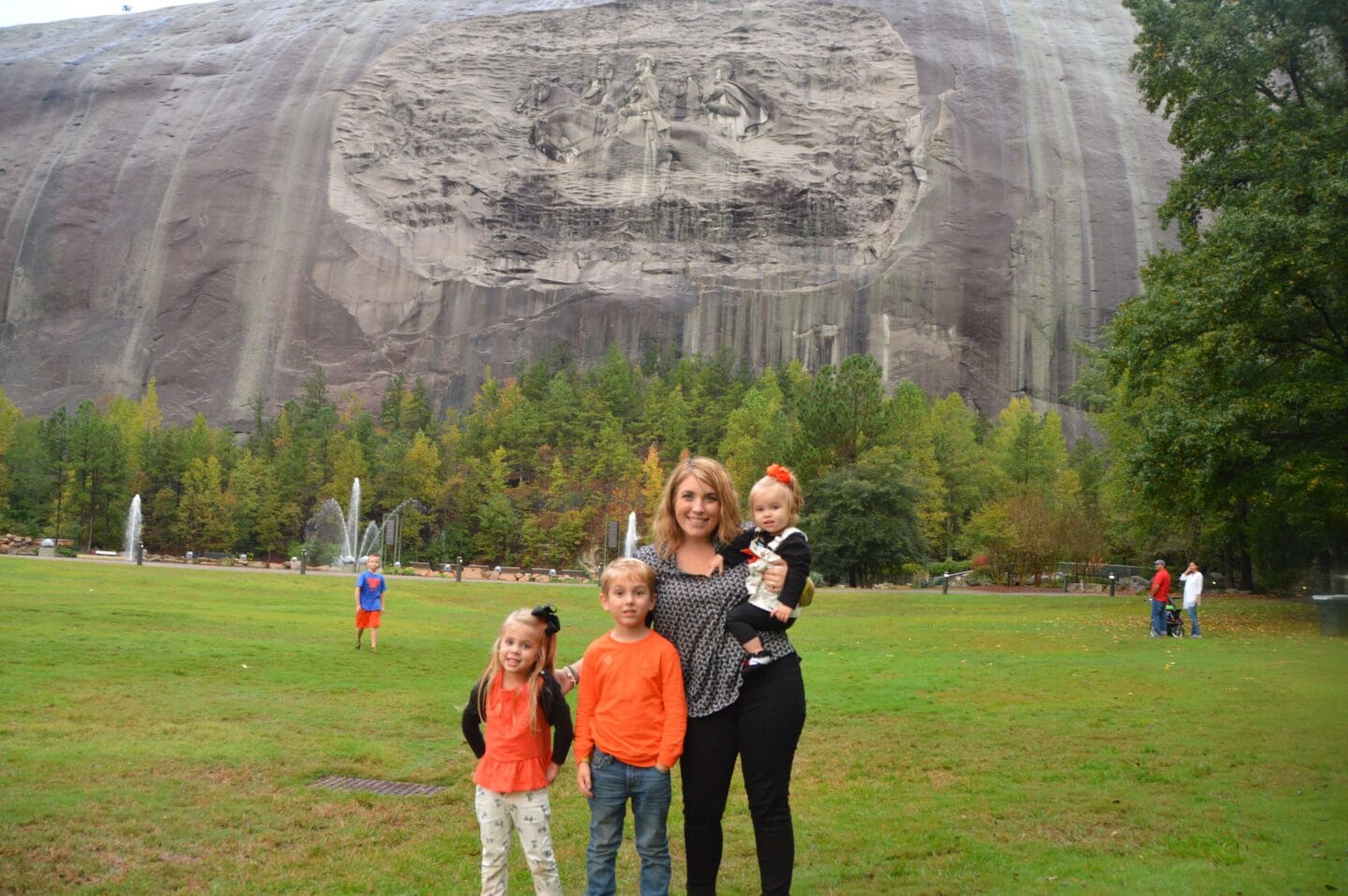 Great Wolf Lodge
If you're comfortable with the hour drive, Great Wolf Lodge in LaGrange, GA is a great indoor water park for families. We've been twice and I have a whole travel guide on what to expect!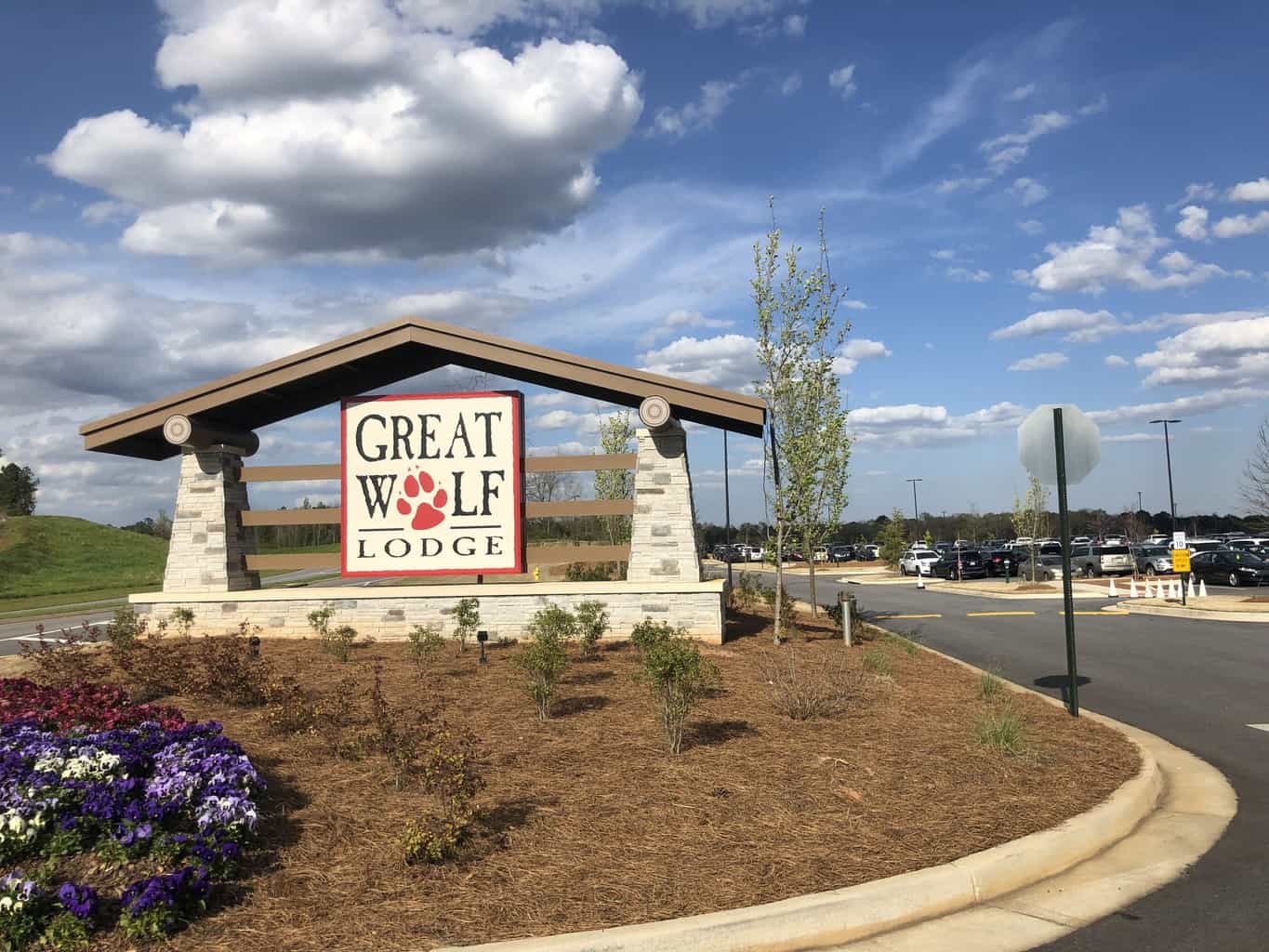 Atlanta Attractions for Families: Final Thoughts – Future Plans
I have not even come close to touching on all the options for things to do with families in Atlanta and the surrounding area!
As my kids get older I'm appreciating more and more all that the city has to offer and hope to plan many more visits to the area with our kids in the future.
I'd love to plan a visit to Legoland Discovery Center, National Center for Civil and Human Rights, Atlanta Botanical Garden, Fernbank Museum of Natural History, High Museum of Art, Piedmont Park, Atlanta History Center and all the other fun family activities Atlanta has to offer.
I hope this post helps to encourage you to plan a visit and gives some simple ideas for things to do when coming to the Peach State 🙂