Our First Visit to ICON Park Orlando – November 2020
While our family loves Disney we also have been trying to expand our horizons beyond the Disney bubble while visiting our rental home in Orlando. We were super excited for the opportunity to surprise the kids with a day at ICON Park Orlando!
We actually visited ICON Park on our departure day. We didn't tell the kids ANYTHING about it and just acted like we were driving home and then pulled in and they were SO excited when they saw The Wheel.
We've seen The Wheel from a distance many times but haven't ever visited and were all excited for a Parker Family First and are so appreciative to ICON Park for hosting us. It was only a 15 min drive from our vacation rental home so I love that we have another fun place we can visit when we go down to the house!
You can learn more about ICON Park Orlando and everything they have to offer as well as their package options and any current discounts here!
ICON Park is not only home to The Wheel, it also has over 40 venues (restaurants, attractions, shops and more) that are all located within a short walk of the free parking garage.
We kicked off our morning with our reservation for The Santa Workshop Experience (which you can read more about here…seriously I still can't get over how ADORABLE the pics all are!). It was an AWESOME experience and we were all super impressed.
It got us all in the holiday spirit but Spear was the most eager to ride the "Choo Choo."
Thankfully we had the ICON Park Play Pass which includes all 8 attractions offered at Icon Park Orlando for one set price along with other discounts. Including discounts on dining at 14 restaurants (including the food court where we got lunch) and discounts at several shops (including The Wheel gift shop) AND complimentary digital download photos from The Wheel (see ours at the bottom of this post).
The Park Play Pass is def the way to go if you want to enjoy ALL the main attractions that ICON Park Orlando has to offer.
The Pearl Express train was the first ticket item we took advantage of. The kids were ALL smiles but Spear was especially excited 🙂
It wasn't just a little train ride either – the train circled around the property giving views of everything and was fun to watch as it went by too!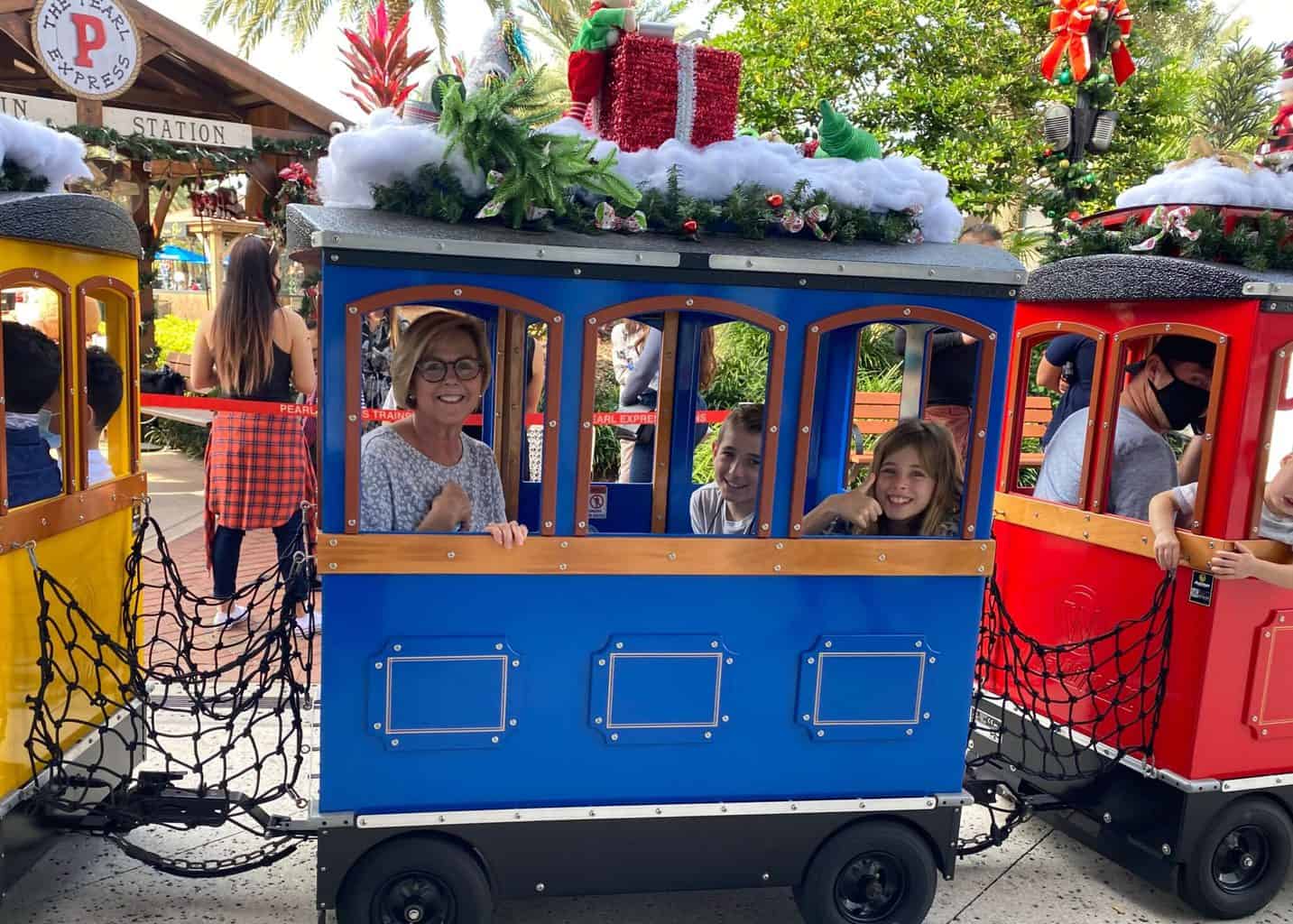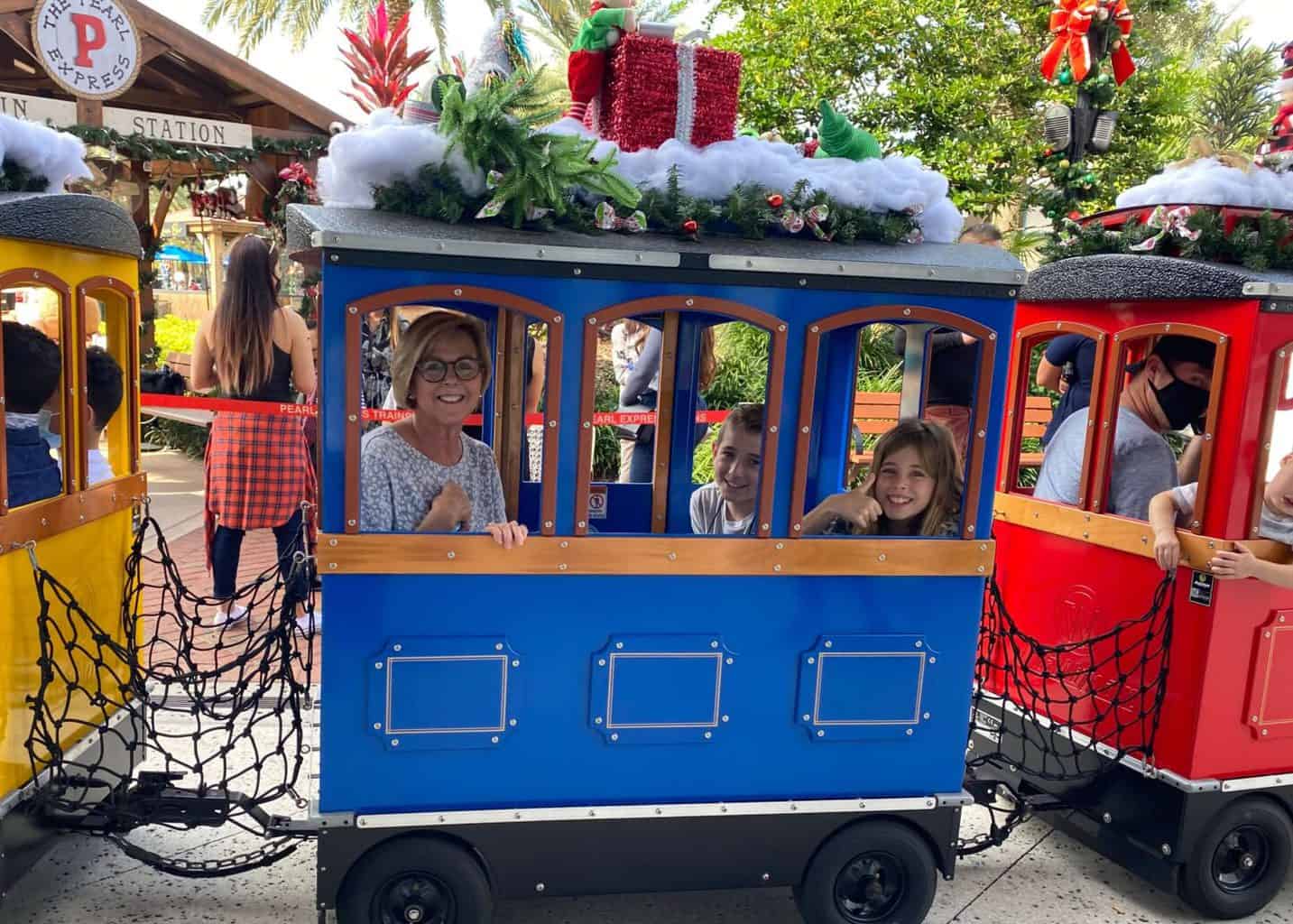 ICON Park is a gorgeous spot with a large green space perfect for kids to run and play and burn off some energy…and perfect for that picture with The Wheel in the background too.
It is rare to visit a family experience in the Orlando area and NOT have massive crowds everywhere. At ICON Park we felt relaxed and could take our time and enjoy the day without feeling rushed and without the pressure to hurry, hurry, hurry. It was a wonderful change of pace from our normal theme park style of family time.
We visited over the week of Thanksgiving so ICON Park Orlando was decorated with lots of holiday theming which added to the fun!
Current health and safety guidelines included mask wearing while on attractions and indoors and in close areas. We were also fine to take them off for quick photos – which you know I really appreciate!!!
Part of our Park Passes also included admission to Madame Tussauds – another first for our crew!
I've always seen photos of Madame Tussauds and never thought it'd be nearly as FUN as it was! It was much more interactive than I'd ever anticipated and we all had so much fun seeing different people throughout history and pop culture and getting photos with our favorites.
I was especially impressed with the staff on hand throughout the walkthrough who offered fun facts and to take group photos if we wanted. All of the staff all day at ICON Park were SO great and had outgoing, friendly attitudes.
Madame Tussauds wasn't just a fun experience but it was also educational with lots of signage explaining who different people were or are and their contributions to society. It'd make a great homeschool outing for sure!
Kye has the goal to be president one day so seeing all of the presidential wax figures was really neat for him. Tessie has a total thing for George Washington and during the recent election season she said she wanted him to win 😉
Practicing for Kye's Oval Office days ahead 😉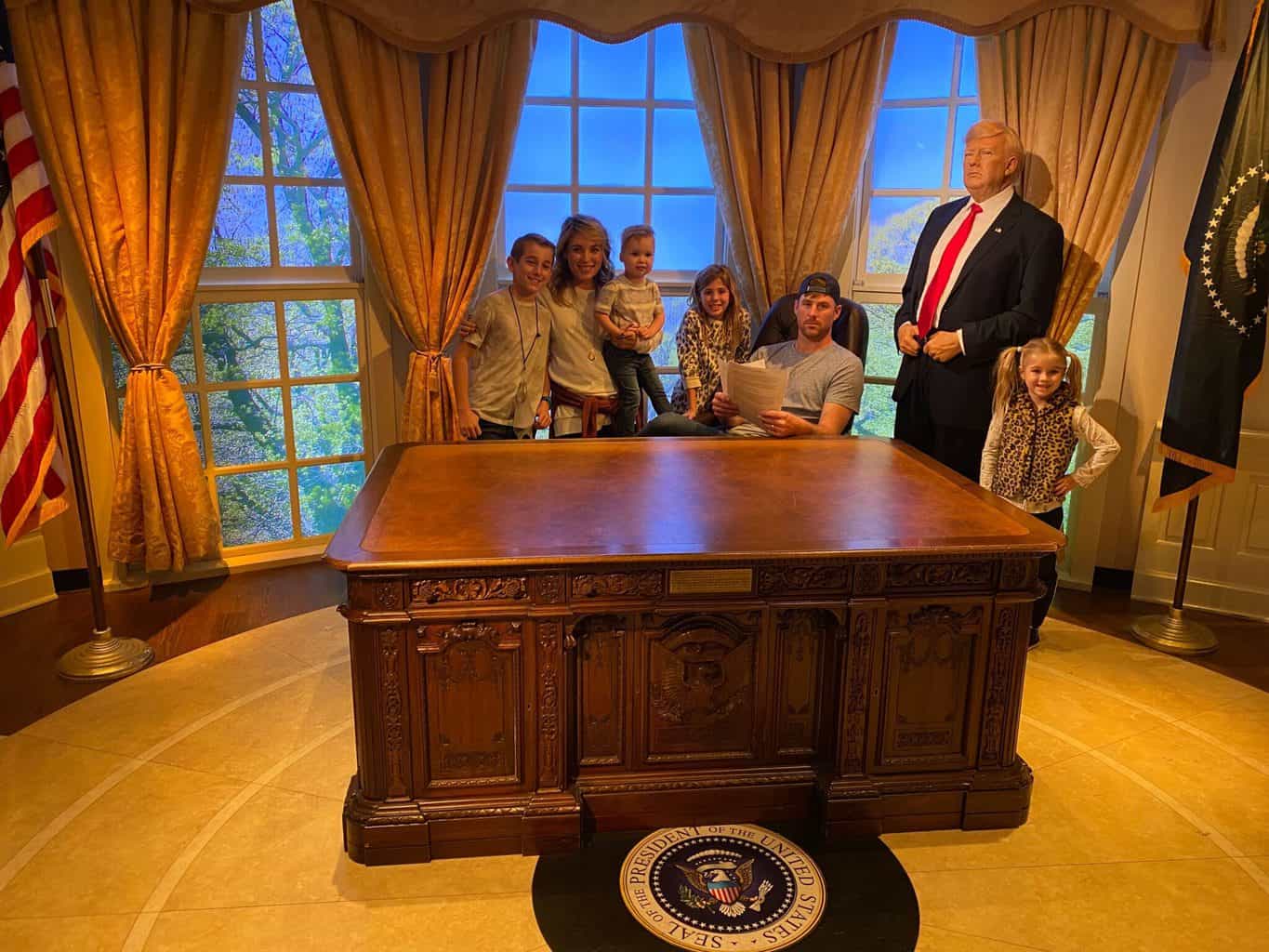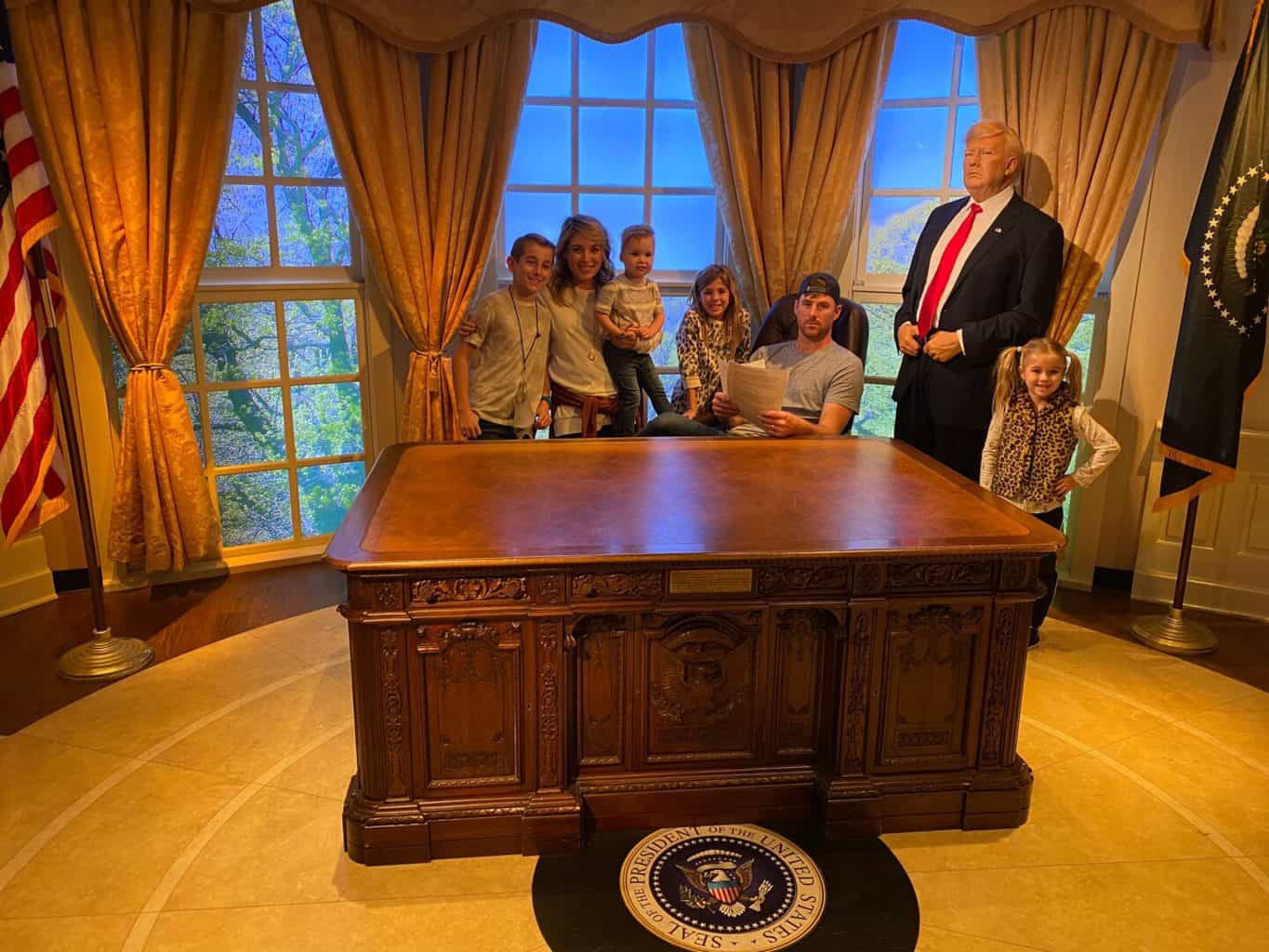 If I could eat a meal with anyone alive or dead I don't think it'd be shocking that Walt would for SURE be on that list!!!
It was really neat that Madame Tussaud herself was featured in among the displays. The kids got really into posing with people even though they didn't know who the majority of them were 😉 Like I said…good chance for some educating when we could between chasing Spear ha!
I loved getting to see Muhammad Ali! Fun Fact: He came to speak (with his wife) at my middle school. It was such a cool experience I'll never forget.
Shocker…we spent the most time in the athletic rooms. A staff member came by and told me some fun facts about the Serena Williams wax figure…that Serena really wanted to be more glam rather than only athletic-looking so they did in her full makeup and with fancy jewelry!
Zach is def not as tall as Payton Manning and he tried to dunk like Shaq…but at least he has that Tiger Woods fist pump downnnn 😉
The rooms where the kids knew the LEAST people were the celebrity areas. It was funny because the girls just had fun getting photos with the different pretty ladies and liked their outfits and at one point Britt got a picture with Emma Watson and didn't even realize she played Hermione 😉
Elvis was another favorite for me as I grew up listening to Elvis ALL the time with my dad who is a big Elvis fan. I actually sing "love me tender" to Tessie every night as her bedtime song and it's the song my dad and I danced to on my wedding day.
I'm so glad Casey and I went to visit Graceland a few years ago – such a fun trip!
Zach's favorite is Ryan Reynolds!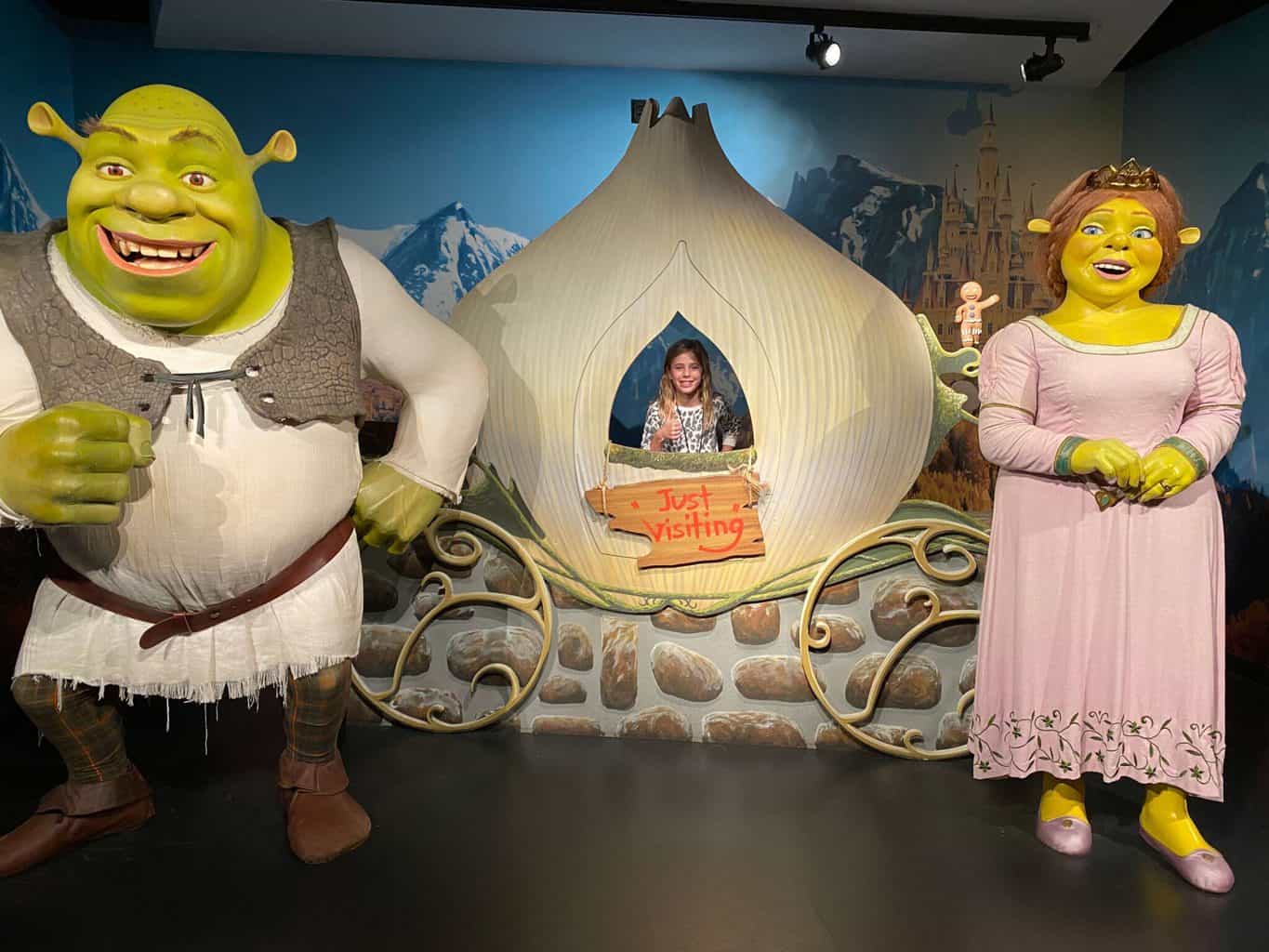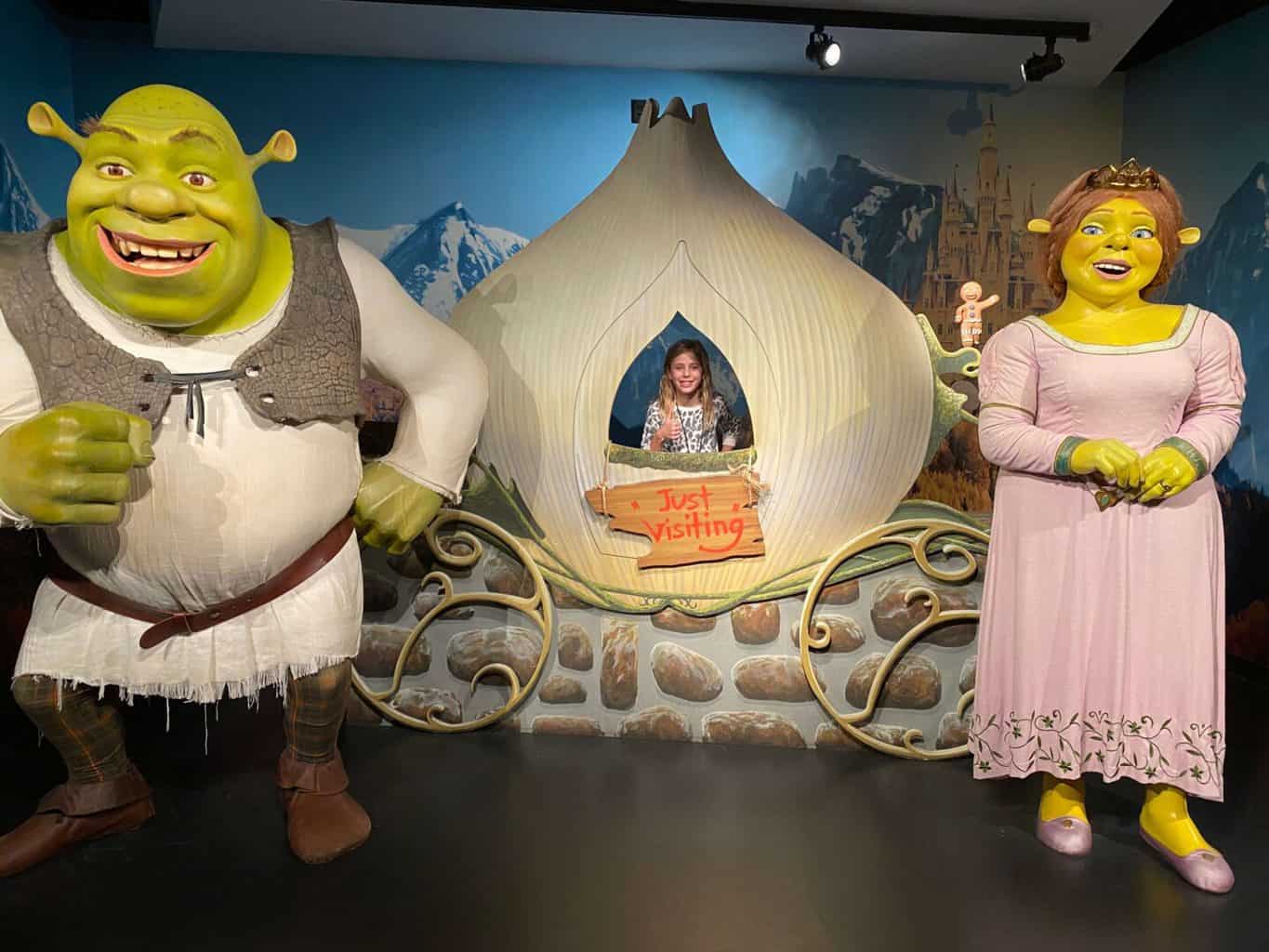 Once we finished up we headed into the food court area for lunch. The Wheelhouse is located within the main building at ICON Park. Our Play Pass gave us an additional discount on the food and, again, the staff was BEYOND sweet. They asked if Zach wanted his pizza cooked in any special way and they made it fresh for him.
We brought some of our own food for the kids and ourselves too but also got the pizza and pretzel to share and both were fantastic and extremely reasonably priced. Zach said it was THE BEST amusement park style food he's ever had. And yall know we visit lots of theme park places 😉
Part of our Play Pass also included admission on the 7D Dark Ride. I was really excited about this for Kye and something that I loved most about ICON Park Orlando was that it does have something for EVERYONE. Attractions that were perfect for each of my kids at their ages!
We debated if Tess should do the Dark Ride with us or not and the staff member did warn us that it is pretty scary…and she was right. Tess probably should NOT have done it. She was very brave and did very well but the zombies jumping out even spooked me a bit (not that it's super hard to make me jump haha).
Kye was ALL about it and his only complaint was that the experience didn't last longer. I tend to get motion sickness and I was totally fine with this experience…it being on the shorter side was an advantage for me as just as I started to feel a bit "off" it ended 😉
There are three storyline option for the Dark Ride Adventure and it's something that Kye would have ridden multiple times if we'd had more time to devote to it for sure.
The Wheel opened a bit later than the other attractions so as we finished up with lunch and the 7D Dark Ride we went ahead and hopped in line for The Wheel. The line was not long at all and was mostly just people waiting for the attraction to open.
I do not do well with heights AND get easily motion sick but I was TOTALLY comfortable with riding in The Wheel. It is 400 feet tall and made from 3,000,000 pounds of steel. It is the tallest wheel on the east coast of the United States and is the highest moving sky bar on the east coast too. The entire ride is 25 minutes long, has a viewing distance of 57 miles and moves at a speed of less than 1 mile per hour (you can see the speed in real-time by watching the video in this post!). It is VERY smooth moving and you have the cabin completely to yourself and can move around freely.
It also has an awesome screen where you can get info on the sites you're seeing! It was really fun for us to find other local attractions…and yup we found Disney World 😉
I have heard it's also an awesome experience at night and would make a fabulous date night! Our entire family enjoyed it and Spear was adorable pointing out all the construction vehicles he could find. We had gorgeous skies on the day of our visit and you can really see how nicely done The Wheel is with the glass not even looking like it's there!
Since we do visit the area so often it's awesome that now we will always look at The Wheel and remember this special family time together! I love experiences that include my entire family and G-Mama was so happy to be included in on the fun too. She and I are very much alike in that our joy comes so much from others and we both feed off the joy the kids are feeling. It was SUCH a fun day together! Even Spear was all smiles!
The main draw to ICON Park for me was The Wheel. I didn't even realize they had an aquarium and when I saw that admission to Sea Life was included as part of the Park Play Pass I assumed it'd be a short little walk through area with a couple tanks of fish. Um I was SO WRONG.
Sea Life is a true, legit aquarium. We walked right in after we departed from The Wheel (it's also located in the main area of ICON Park…truly we didn't even need to bring our stroller as I don't think Spear ever sat in it!).
Again, we were blown away by the experience and how interactive it was for the kids. More staff on hand to answer questions and share fun facts and the kids LOVED the Dive Log Books!
They were free and throughout Sea Life there were Dive Stations set up to learn some facts and stamp the log book. The "stamp" was a press machine which was fun because it's not the norm!
Throughout the aquarium were TONS of spots for the kids to crawl and go "inside the tanks" to see the fish and water animals up close. The girls were SO into the aquarium experience but I was happily surprised to see how into it the boys were too. Spear was ADORABLE and I never wanted to leave because he was having SO MUCH FUN.
There were lots of signs featuring fun facts about the aquatic animals and lots of space for Spear to explore while still being under our watchful eye.
It was not crowded but when others did come into our same shared area there were places marked for where to stand to allow for proper social distancing.
Of course my personal FAVORITE spot was the touch tank! I LOVE any sort of hands on experience, especially for the kids and they loved getting to interact with the sea urchins and starfish.
Kye LOVES a good challenge and I love when tourist spots consider ways to keep older kids engaged and having fun. The Dive Log was SO perfect for Kye to really stay into it all and he never said any part of our day was boring or that it wasn't "his style." The preteen age can be tough to entertain and ICON Park was PERFECT as he had just as much fun as the younger kids!
Of course Kye was THE most excited for the arcade experience. Another perk of the Park Play Pass was that it included an allotted amount of credits on the arcade Play Card. I LOVE packages that included a set amount of credits for arcades because once the credits are gone, the kids know they are DONE playing.
Kye is all about making his last as long as possible while the girls shared theirs and played pretty much everything together. The three adults took turns chasing Spear as we all know his attention span isn't quite long enough to stay fully engaged on video or arcade games quite yet 😉
I laughed at the toilet paper game – so perfect for 2020.
Mario Kart is one of our favorite family video games to play…Kye beat me but then Britt beat him so I felt like I got my revenge! As the kids earned tickets on games they were automatically put on the card as credits so we didn't have to keep up with tickets and the kids could easily cash them in at the end.
The final item on our "to do" list for ICON Park Orlando was admission to the Orlando StarFlyer. It was just a short walk from the parking garage.
Y'all know I'm a total wuss with stuff like this so there was NO WAY I was getting on some swings that go crazy high in the air. NOPE. The StarFlyer claims to be the tallest swing ride attraction standing at 450 feet.
Guess who was the one who said they HAD TO DO IT?
Tess! She was SUPER pumped about it! Britt was very unsure but said she didn't want to be left out if everyone else was going to do it and Kye was very Kye about it…meaning he said "sure" when asked. Kye isn't one to get crazy pumped about much of anything but he's typically down for whatever (very much like his mama…except I was ONLY down to WATCH this time).
Mrs. Charlotte (G-Mama) was too nervous about it to even get close to the swings so she took advantage of the beautiful green space surrounding StarFlyer and Spear enjoyed running and playing while I got closer to see it all in action. And yup, that meant Daddy had to be the one to ride with Tess. Good thing he's a good sport 😉
Tess amazes me at her bravery. She had NO FEAR and was ALL EXCITEMENT.
I could SEE the smiles from 450 feet away – and BRITT LOVED IT. She begged to ride again! They all said it was a super awesome experience and the perfect ending to our EPIC day and incredible trip!
We spent about 5 hours at ICON Park and did all of the following: Santa Workshop Experience, Pearl Express Train, 7D Dark Ride, Madame Tussauds, Sea Life Aquarium, lunch, The Wheel, the arcade, and StarFlyer!
We never felt rushed and highly recommend ICON Park Orlando to any families visiting the area. If you're considering booking a stay at our rental property it's a VERY close and convenient drive and a great way to have some family fun without spending a fortune on the surrounding theme parks 😉
We stopped by and grabbed some snacks at McDonald's and Kye had to buy his traditional slushee!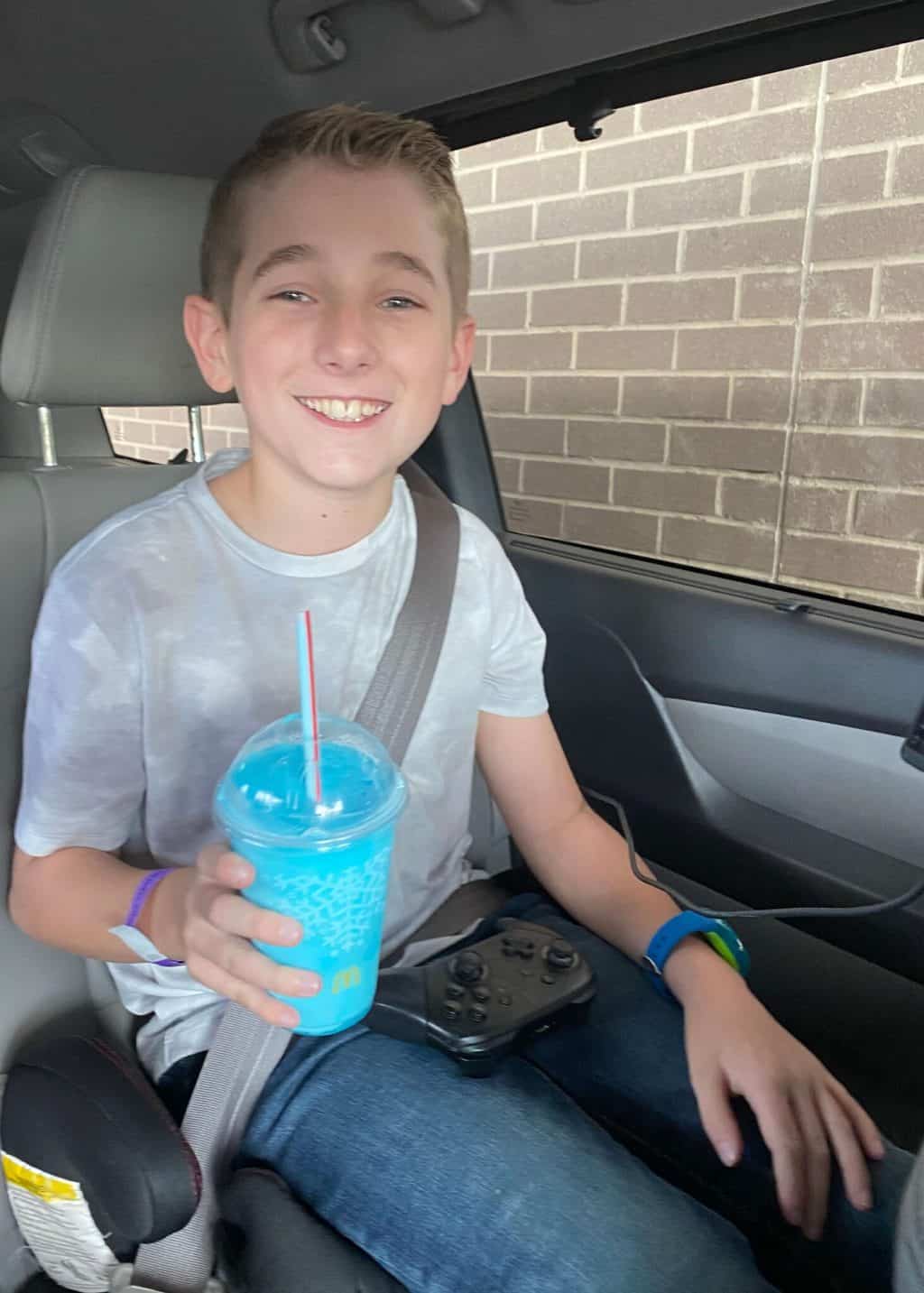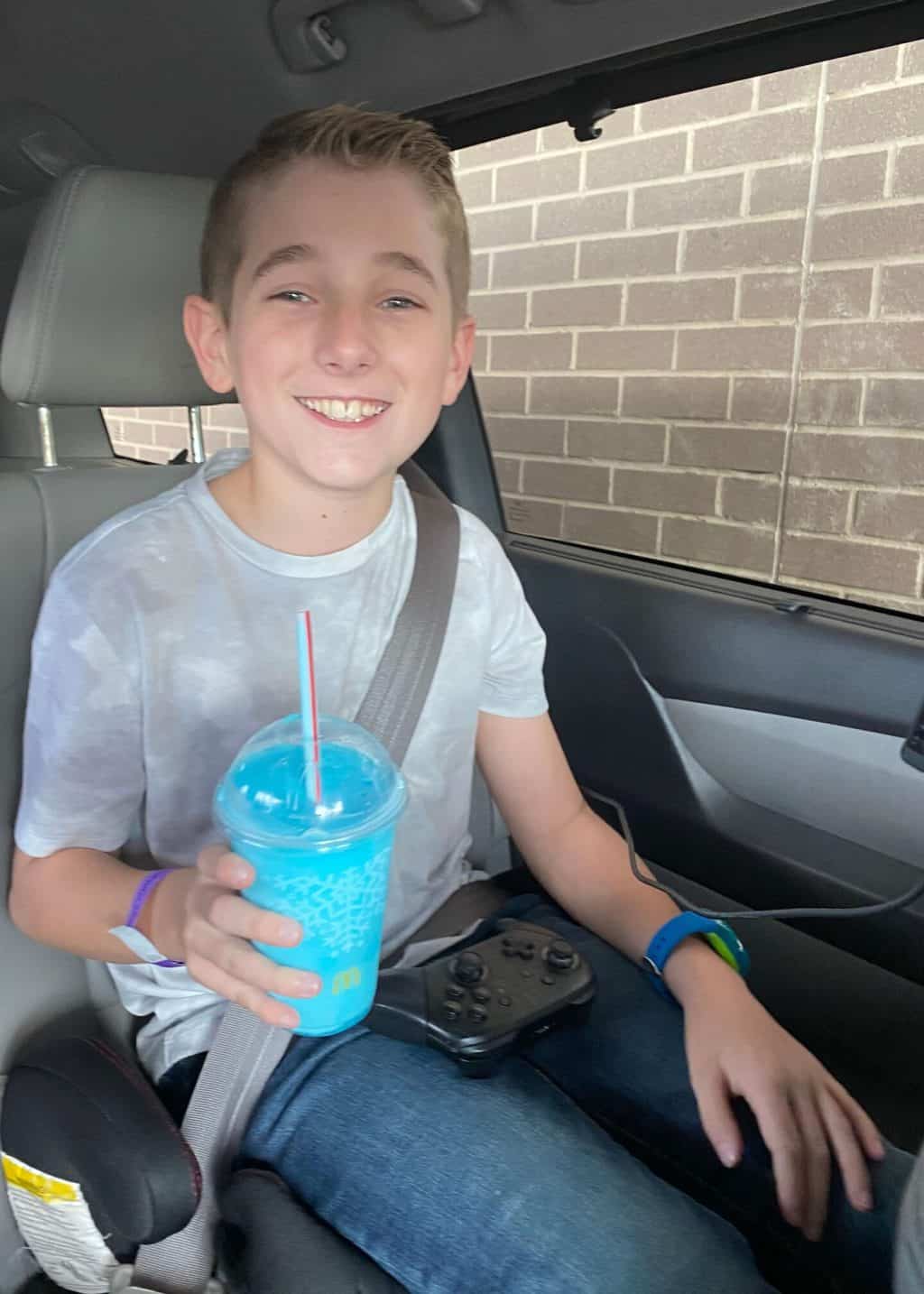 I loved that we were able to get these FREE photos with our Park Play Pass! So many fun backdrops and I love that we'll always remember Spear's "put everything in my mouth" stage!
Huge, huge thank you again to Icon Park Orlando. If you're looking to visit ICON Park you can learn more and purchase advance tickets (cheaper online!) HERE!