We live in South Georgia, so we've had lots of opportunities to explore our beautiful home state! One destination most people are familiar with is Savannah, Georgia. When it comes to best places to visit in the United States, I think this city is often overlooked, which is why I've put together this Savannah Georgia travel guide with all the things to do in Savannah GA!
There are also so many fun things to do in Savannah GA with kids, from museums to parks to fun activities and shopping experiences. But if you're just wanting to take a weekend getaway with the spouse (we've done that before!) or girlfriends this is also a perfect place to go!
Also on the subject of a couple destination trip… be sure to check out our travel guide for Charleston, South Carolina!
I've got the inside scoop on where to stay in Savannah GA, the best restaurants, best brunch in Savannah, best coffee in Savannah and even the best spa in Savannah GA! All of the best things to do in Savannah Georgia, so if you're wanting to plan a vacation there, you'll know exactly what to expect. I'll mostly be focusing on family-friendly activities for children of all ages, but keep in mind that there's something for everyone in the iconic American city!
Let's dive right into this Savannah, Georgia travel guide! I did my best to link to each website I share to hopefully help make your planning even easier: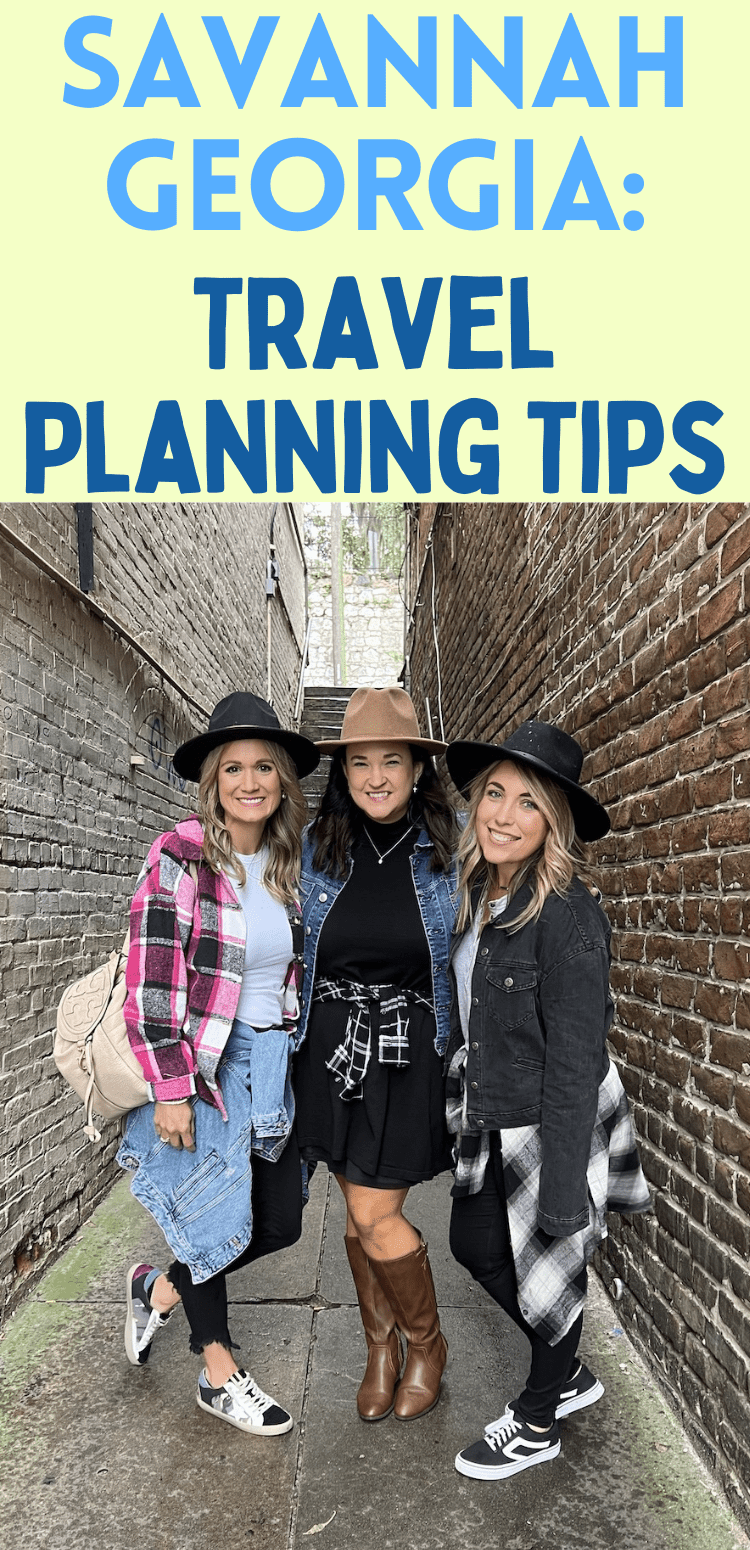 Disclaimer: this post contains affiliate links.
Best Time of Year to Visit Savannah
Savannah, Georgia is located in the south and is known for its hot, humid summers and milder winters. In my experience, the best time of year to visit is the spring and early summer, when everything is in full bloom and just warm enough to swim but not so hot you're miserable.
My husband and I have visited Savannah in the winter and enjoy the beauty during the holiday season with all the decorations! We've also taken our children on a trip to Savannah over Labor Day weekend. While it was HOT, it was still a great time. We are from South Georgia so we are already used to the heat.
Fall is also an ideal time to visit for cooler temperatures and fun events. Plus, they have some pretty great ghost tours! Friends and I also took a girls' trip to Savannah in November and anticipated gorgeous fall vibes but it happened to have a cold front during our trip and it was rainy and freezing. You just never can predict the weather in the South so be sure to pack layers!
When it comes to planning a trip to Savannah it's wise to do a bit of research ahead of time. Savannah is often a destination for events which create lots of crowds and higher prices for hotel stays. We visited over the weekend of a race and it was INSANE! Lots of special offers may be available if you're able to travel during a less popular time of the year.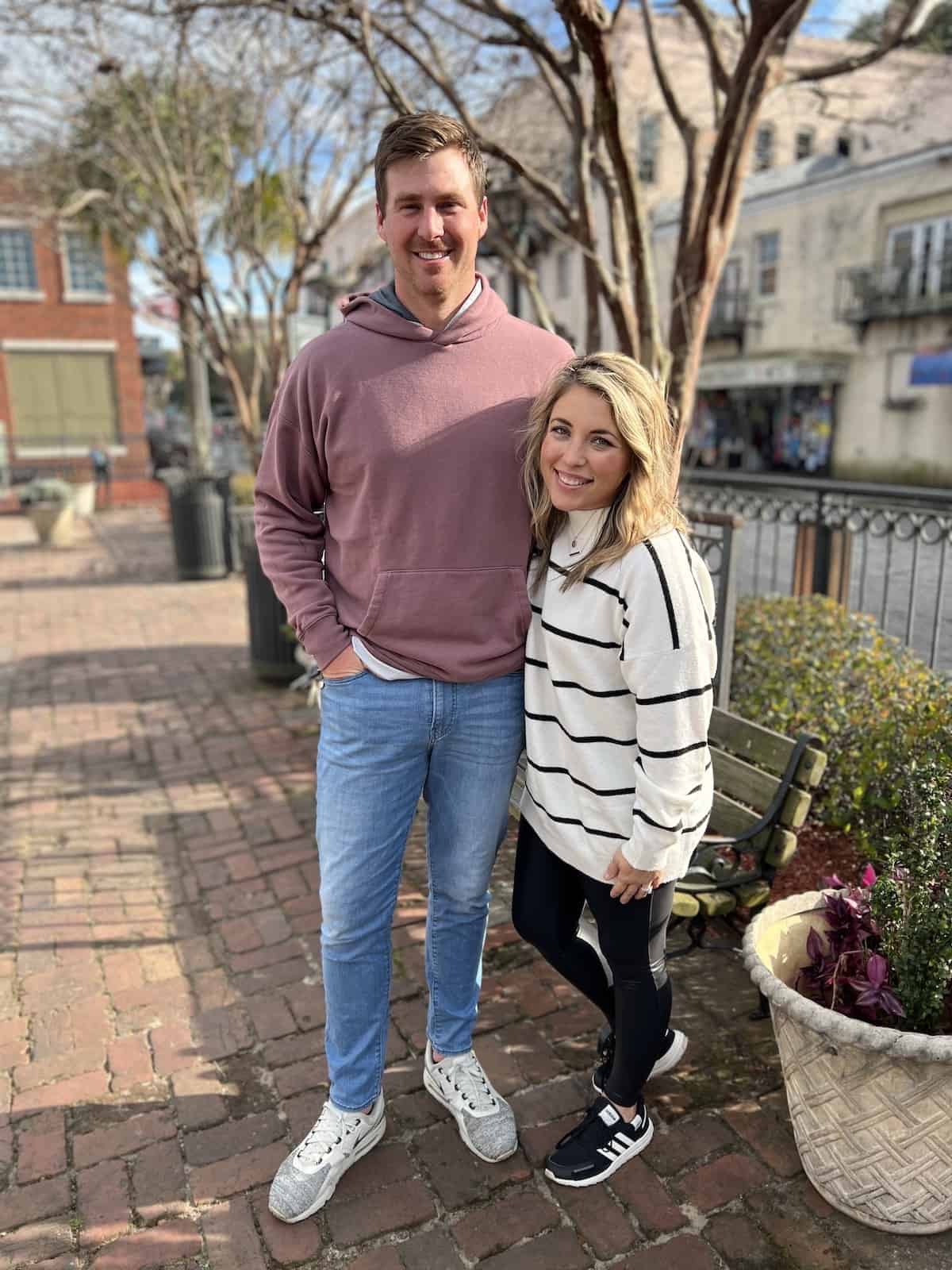 Where to Stay in Savannah, GA
Here are some of the best places to stay when you visit Savannah, whether you're looking for easy access to the beach or close proximity to the downtown area and the heart of historic Savannah! Including my personal favorite place to stay and my number one recommendation when asked where to stay in Savannah, GA:
Tybee Island
Tybee Island is a coastal area located 25 minutes from Historic Savannah that's well-known for its superb beach and seaside accommodations! There are tons of great beach houses, oceanfront condos, and vacation rentals for you to choose from, but the most important thing to recommend it is the location: it's a great place to get away and have both the city and the beach available to you!
If you are wanting the heart of savannah oldest city kinda experience though I would not recommend staying in Tybee Island. Yes, it's quiet and quaint and away from the more touristy areas, but it's also not convenient to Savannah's historic district!
Forsyth Park Inn
Located next to the sprawling Forsyth Park in Savannah, this idyllic bed and breakfast offers plenty of southern charm and hospitality. It's a gorgeous house in a central location with the best views and a popular choice for people giving recommendations to the historic district of Savannah. It's a great option for those wanting to wake up each morning with a free hot breakfast with a side of southern hospitality!
The Marshall House Hotel
If you're looking for the best hotel in Savannah, you'll often find Marshall House at the top of the list. It won Travelers' Choice and Best of Savannah in 2022! It is located in the middle of the historic downtown and is within walking distance to shopping, dining, art galleries, beautiful architecture, and major attractions.
Olde Harbour Inn
Another great place to stay if you love historic inns is the Olde Harbour Inn, which is a historic warehouse turned boutique hotel located right on the Savannah River! It's also a Travelers' Choice award winner and boasts pet-friendly accommodations for those who travel with their furry friends and is a good choice if you're bringing along a pet on your trip. Historic district hotels are among the top hotels in the Savannah area so it's wise to book as early as you can when you know your travel dates. Prices vary greatly depending on travel dates and based on when tourists are more likely to visit the historic city center area!
East Bay Inn
Our FAVORITE spot to stay in Savannah? The East Bay Inn is located on, naturally, East Bay Street (a super convenient location)! My husband loves historic hotels and I love a more modern hotel and this is a blend of BOTH. You get the old-school historic building vibe while also having amenities like good bathroom lighting for that perfect make-up application 😉
The spacious rooms are gorgeously decorated with exposed brick and the location can't be beaten – it's a short walk to River Street and nearby to all the popular restaurants and historic squares. It is in the best area – right in the heart of the Savannah historic district! We loved the ability to explore the southern city, walk along the banks of the Savannah River and easily drop back by the hotel to drop off packages, take a mid-day break, or enjoy the free hot popcorn that is delivered to the modern guest rooms each day 🙂 We love this hotel so much that we've stayed twice at this location and is our go-to recommendation for where to stay in Savannah GA.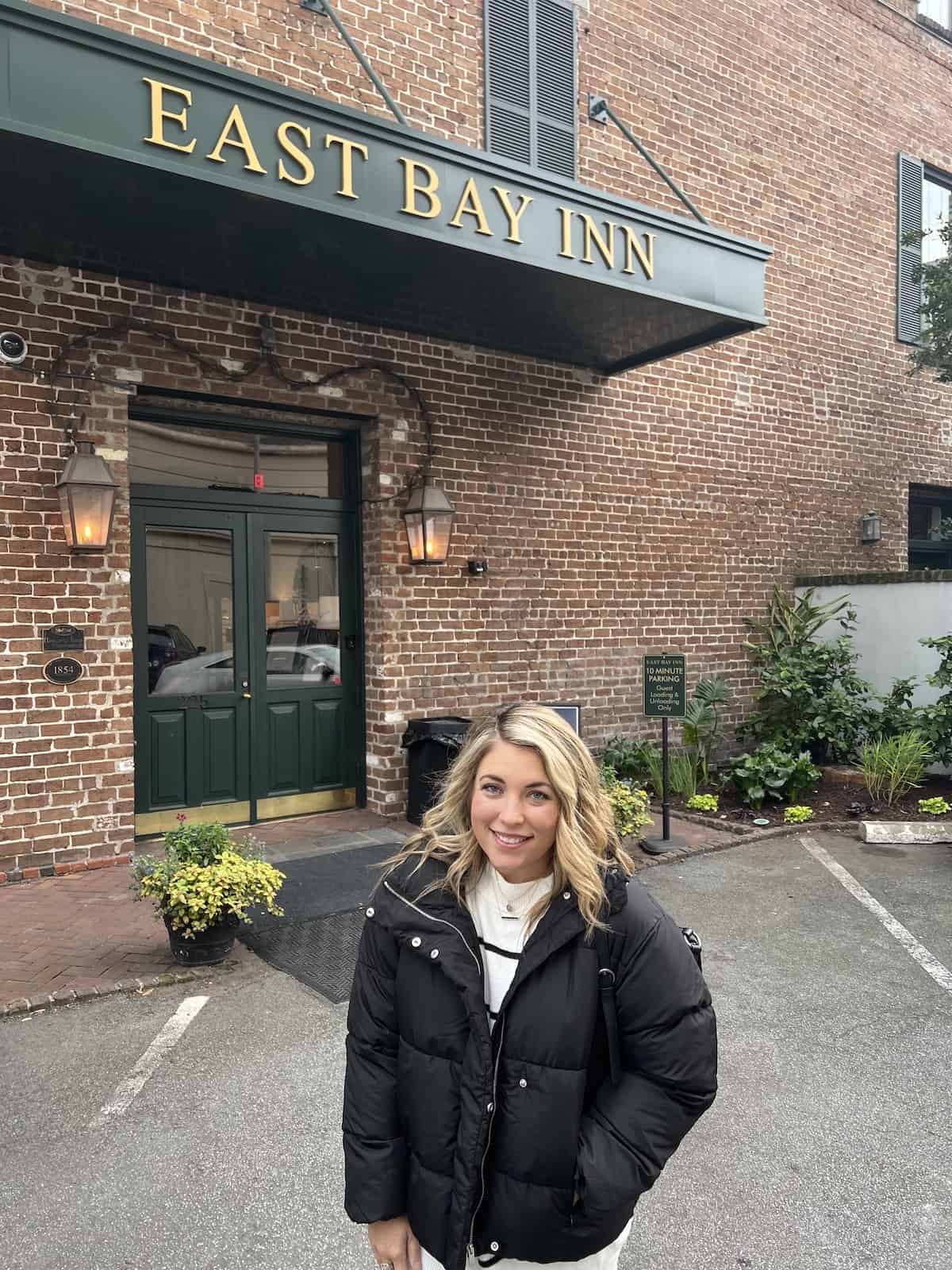 Best Places to Eat in Savannah, Georgia
These are our favorite places we've found to grab a bite to eat in Savannah plus some recommendations we haven't visited yet but have heard great things about!
Our Favorite Restaurants in Savannah
Olde Pink House
If you're only able to eat ONE meal in Savannah – it should be at the Olde Pink House. Not only is the pink house iconic itself but the food is simply fantastic! It is very difficult to get reservations…however we have learned a trick 😉 The Olde Pink House Restaurant has a Tavern around the side and if you arrive 45 min to an hour prior to opening time they take walk-ins! The food is the same as the main restaurant! Get the asparagus – you won't regret it 😉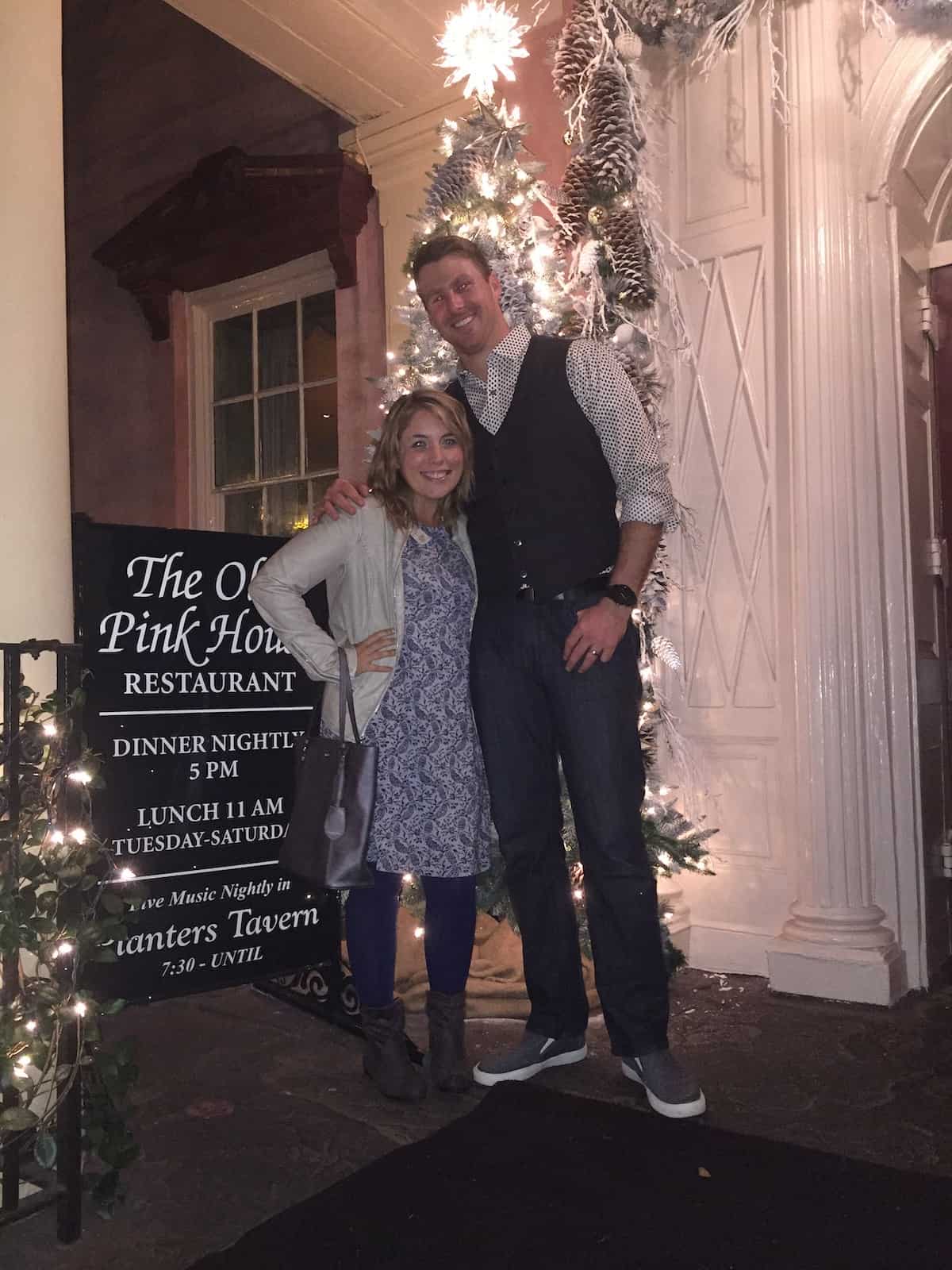 The Ordinary Pub
A very cool, chill vibe. Zach and I visited after getting massages so we were super relaxed and just there to go with the flow! We loved our hamburgers and will totally hit up The Ordinary Pub on a future Savannah visit! We don't personally drink alcohol but if cocktails are your thing, the Ordinary Pub is also well known for having the best bloody mary in Savannah. Speaking of things they are known for, they also serve a well-loved pork belly donut which sounds interesting to say the least.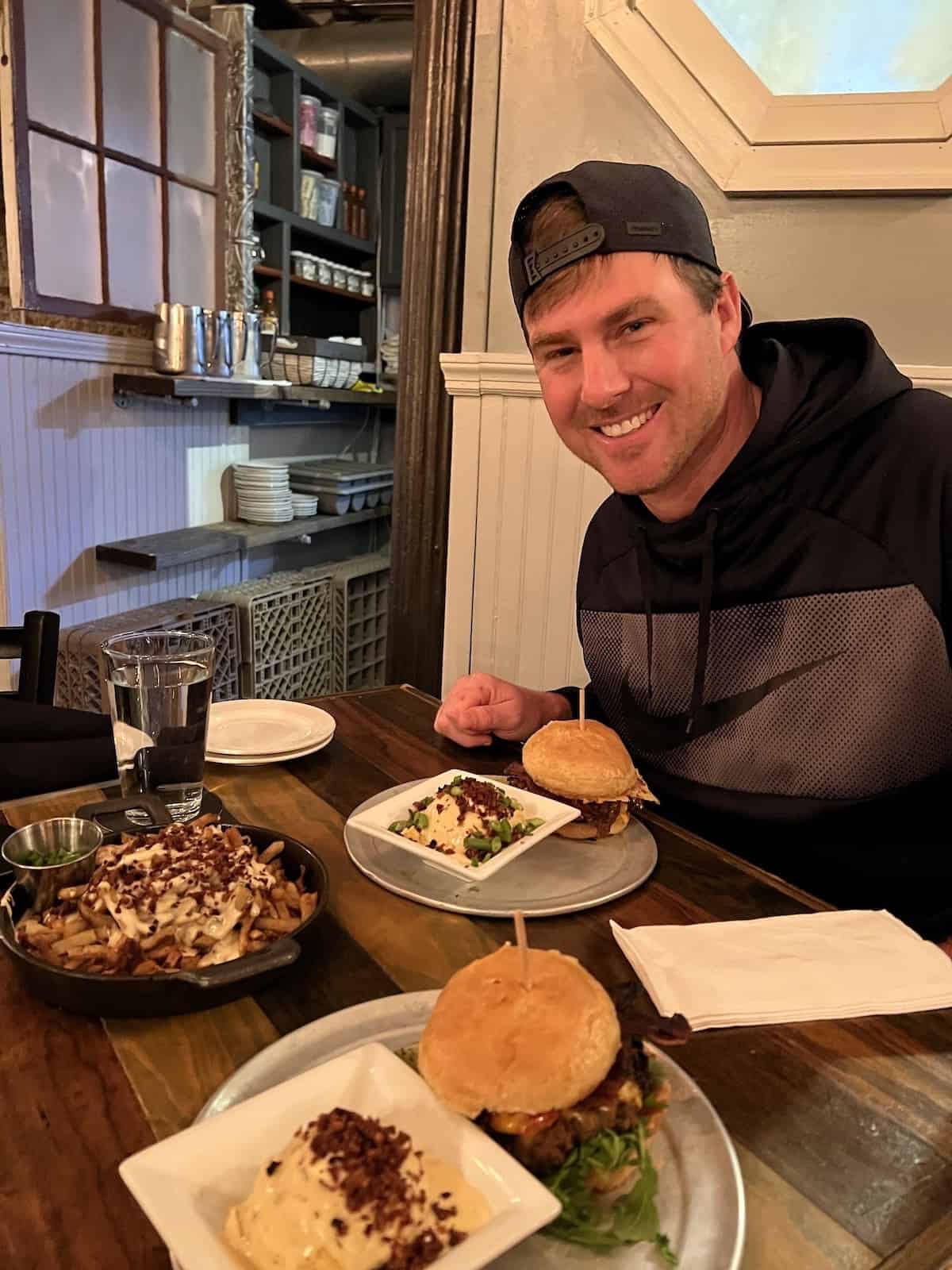 The Pirate's House
If you're looking for things to do in Savannah GA with kids then the Pirate's House better be on your list for restaurants! It is MADE for kids (and adults alike). So many fun pirate details, gorgeous exposed brick walls, good food, a very affordable gift shop and even a "real" pirate or two – it'll be an adventure none of your crew soon forgets and a highlight of your family vacation. You'll hear some ghost stories and get to tour around the family friendly restaurant as well and even see the oldest house in Georgia!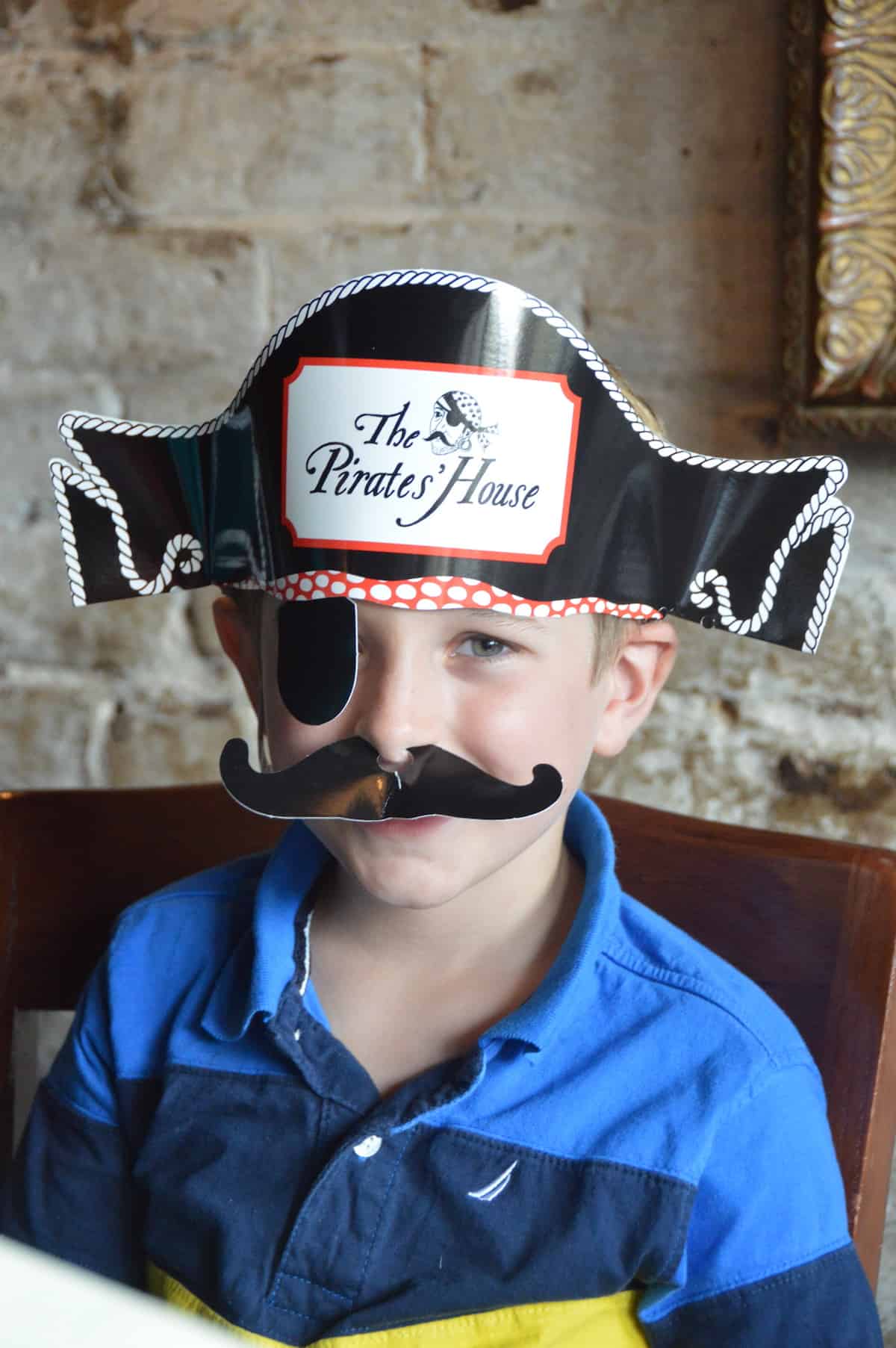 Best Brunch in Savannah
My favorite meal of the day is breakfast! There is nothing better than taking in a beautiful city and finding the perfect brunch spot with the best breakfast menu items (beyond just boring eggs!) – often available all day. Even when traveling with my kids (or on a couple trip with my husband or on a girls' trip with friends) I LOVE brunch dishes! Sleeping in and getting to order good food off a breakfast menu at like lunch time or even mid-afternoon is my fav. I love me some late night talks and long sleeps followed by tasty breakfast food! Here are the best brunch in Savannah options, including my favorite brunch spots and ones I can't wait to visit:
The Collins Quarter Cafe
There are two locations in Savannah: one located downtown on Bull Street and the other in Forsyth Park. It's an Australian cafe and restaurant offering coffee and modern Melbourne cuisine… a really unique experience that goes beyond traditional southern food and a great place to grab brunch! My husband and I ate brunch here on our most recent Savannah visit (at the Collins Quarter Cafe Forsyth Park location) and loved our meal, the floor to ceiling windows, the delicious breakfast, and the breathtaking views of Savannah (we dined inside but they also have outdoor seating!). Zach got the fried chicken and waffles and I loved my breakfast sandwich. Many people love to order the salmon avocado toast and rave about it too. They also have an extensive full coffee menu and are known for their spiced lavender mocha, Madagascar vanilla latte, as well as their many cold brew options.
Little Duck Diner
At this "vintage chic" restaurant in downtown Savannah in the heart of the historic district, breakfast is served all day alongside its lunch menu, which means it's sort of a brunch menu, right? The duck motif is super cute and the vibe is very light and fun, making it one of the best places to eat with the family! They are even known to have the best grilled cheese in town (a gourmet grilled cheese at that) – a kid fav! Who doesn't love cute ducks right? The old-fashioned bar area at Little Duck Diner looks adorable as well!
B. Matthews Eatery
This classy, eclectic restaurant serves up delicious American cuisine and has a great low-key atmosphere perfect for a breakfast or brunch date! B. Matthews is totally MY kinda vibe so I'm eager to visit! They are also well-known for a fun spin on a famous southern food item – fried green tomato egg benedict!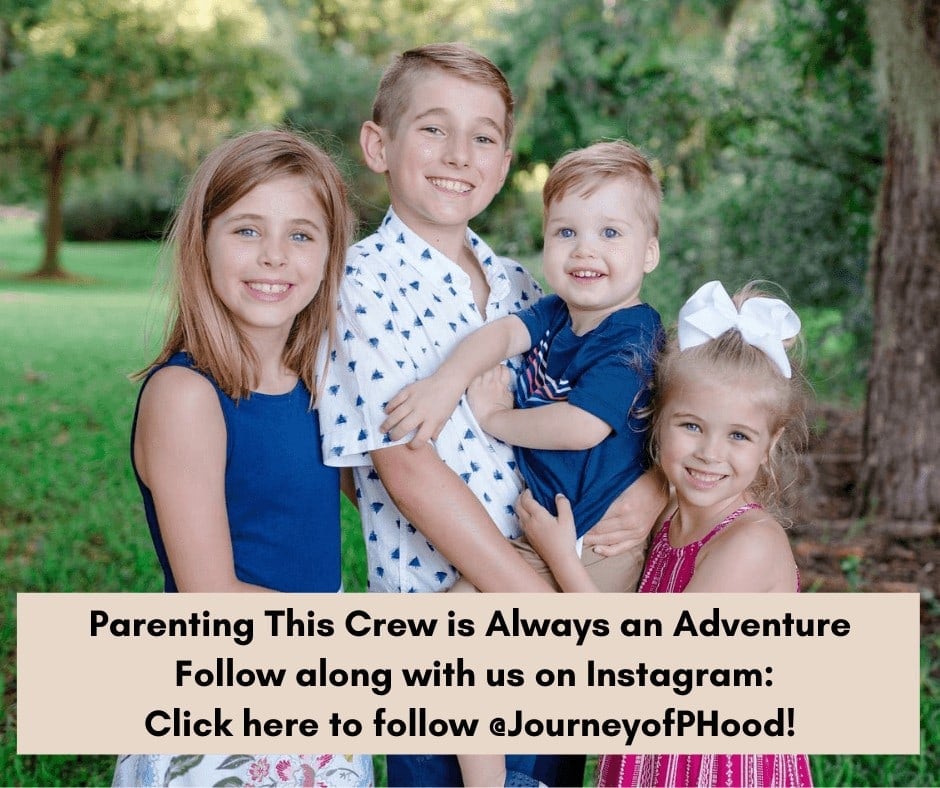 Goose Feathers Cafe
A warm, welcoming atmosphere and European fare combine in this popular cafe and bakery specializing in baked goods and hearty breakfasts! I've yet to try Goose Feathers Cafe for myself but it's on my list for a future visit.
Clary's Cafe
When I planned our family trip to Savannah with our kids I had SO many people recommend Clary's Cafe. A great thing about kids is that they are awake nice and early so we were able to arrive right when they opened and had no wait.
Supposedly the story that the book Midnight in the Garden of Good and Evil was based on was told to the author in Clary's and that's why it's world-famous?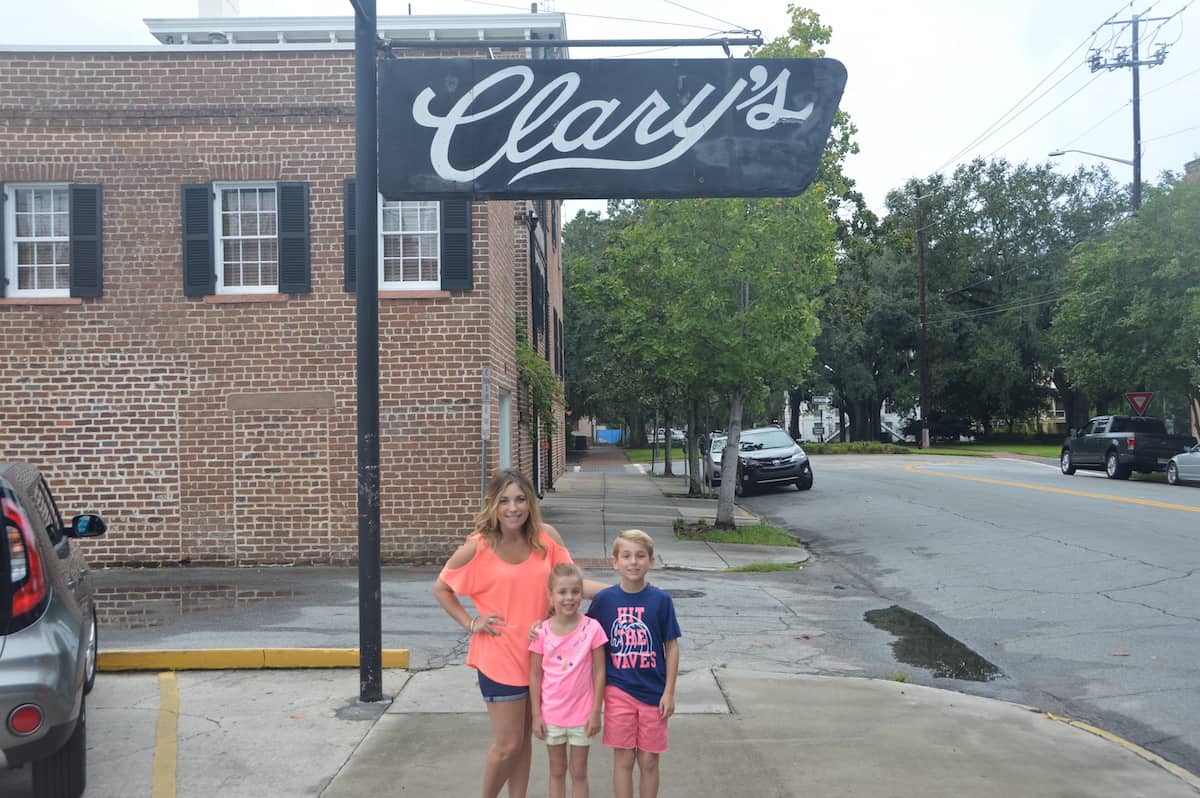 Another Broken Egg
Another Broken Egg is a chain and it is my FAVORITE brunch spot anywhere, ever, of all time. The Floridian Omlet is DELICIOUS. It has crab and cream cheese mixed in. YUM. They also have an all day bakery with tasty items. Anytime we visit a town with a location we are sure to add it to our list of must-do stops!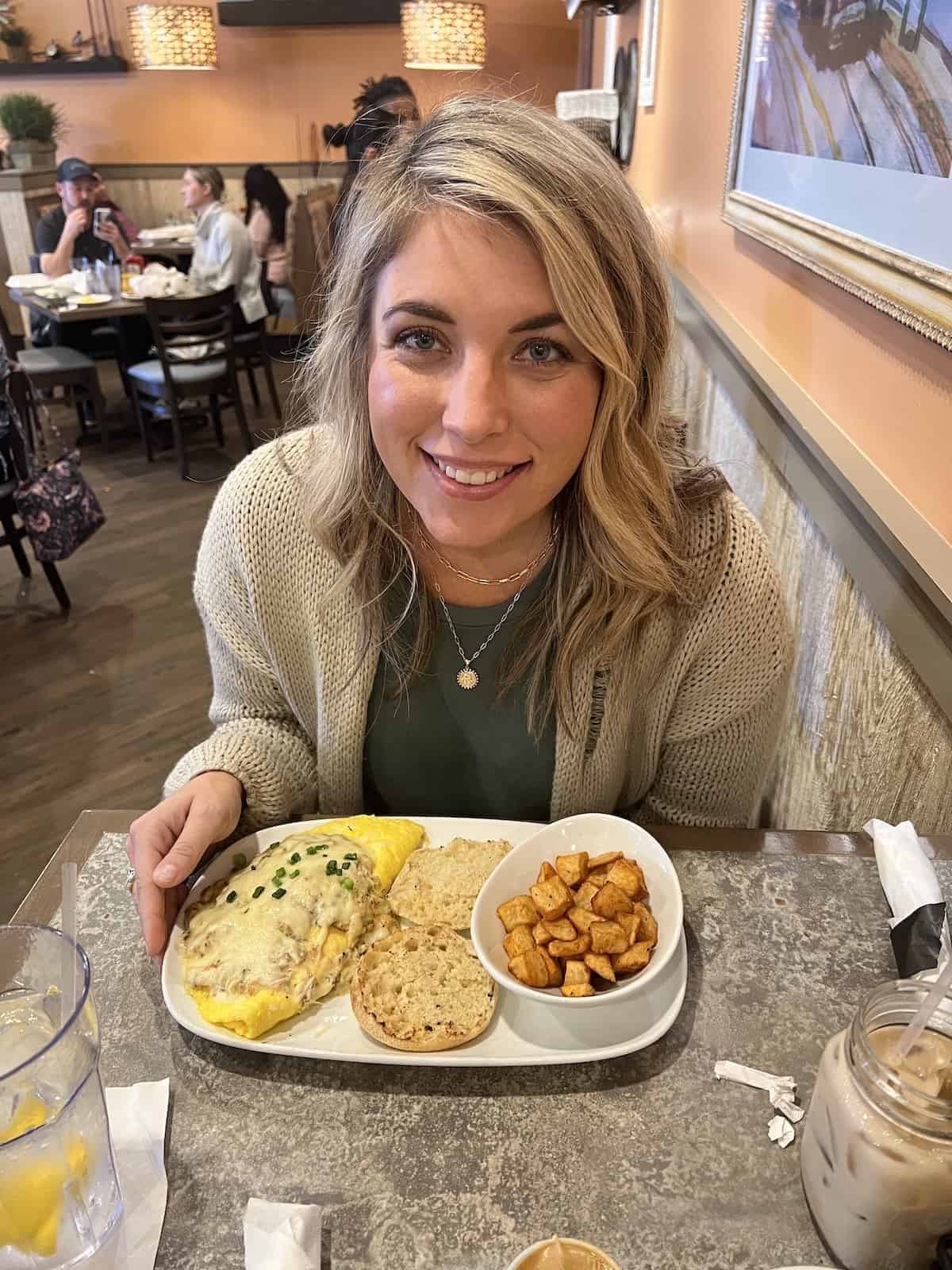 Maple Street Biscuit Company
This is a Savannah staple and is THE original location for Maple Street which has now branched out and has locations in several states (I've even eaten at one near Disney World in Orlando!). There is such a fun atmosphere and I love how when you order your food the staff asks you a question and uses your answer to call you out when it's ready. When we were there they asked what our favorite song was and then called out the song when our food was ready to pick up! The downside is that this restaurant is a wait-in-line to order and then hunt for a seat kinda situation. It gets PACKED so arrive early!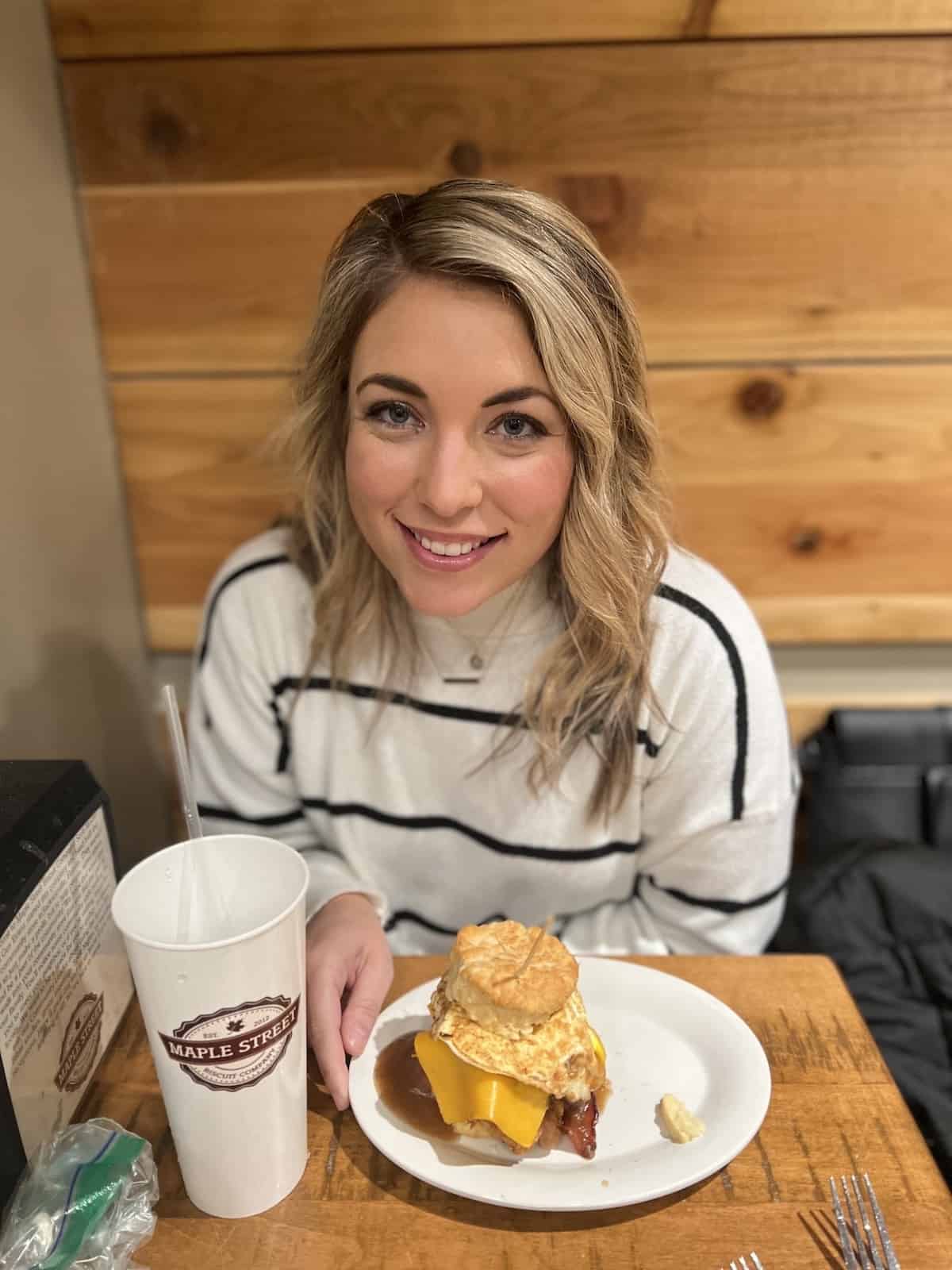 Two Cracked Eggs Cafe
Breakfast and lunch served all day? Sounds like it belongs on the best brunch in Savannah list to me! Famous for the peach french toast they also serve more traditional breakfast items like eggs benedict and even crab cake benedict. The biscuits look delicious as well! I have Two Cracked Eggs on my list for our next visit! (That shrimp and grits looks like it won't disappoint!)
Debi's Restaurant
Debi's Restaurant used to be part of East Bay Inn and was where the free breakfast was served. Now that East Bay Inn is no longer a bed and breakfast guests do receive a discount when dining at Debi's. They've also redecorated and the vibe is light and airy and very relaxing and welcoming.
The Funky Brunch Cafe
Looking for things to do in Savannah with kids? The Funky Brunch is a must-do! It's located in downtown Savannah (East Broughton Street) and each table has a griddle in the center where you can make your own pancakes! My kids LOVED getting to choose their pancake mix-ins. It was both a great meal and a fun experience! They also have a great patio area with lots of fun things to do to burn off some of those calories!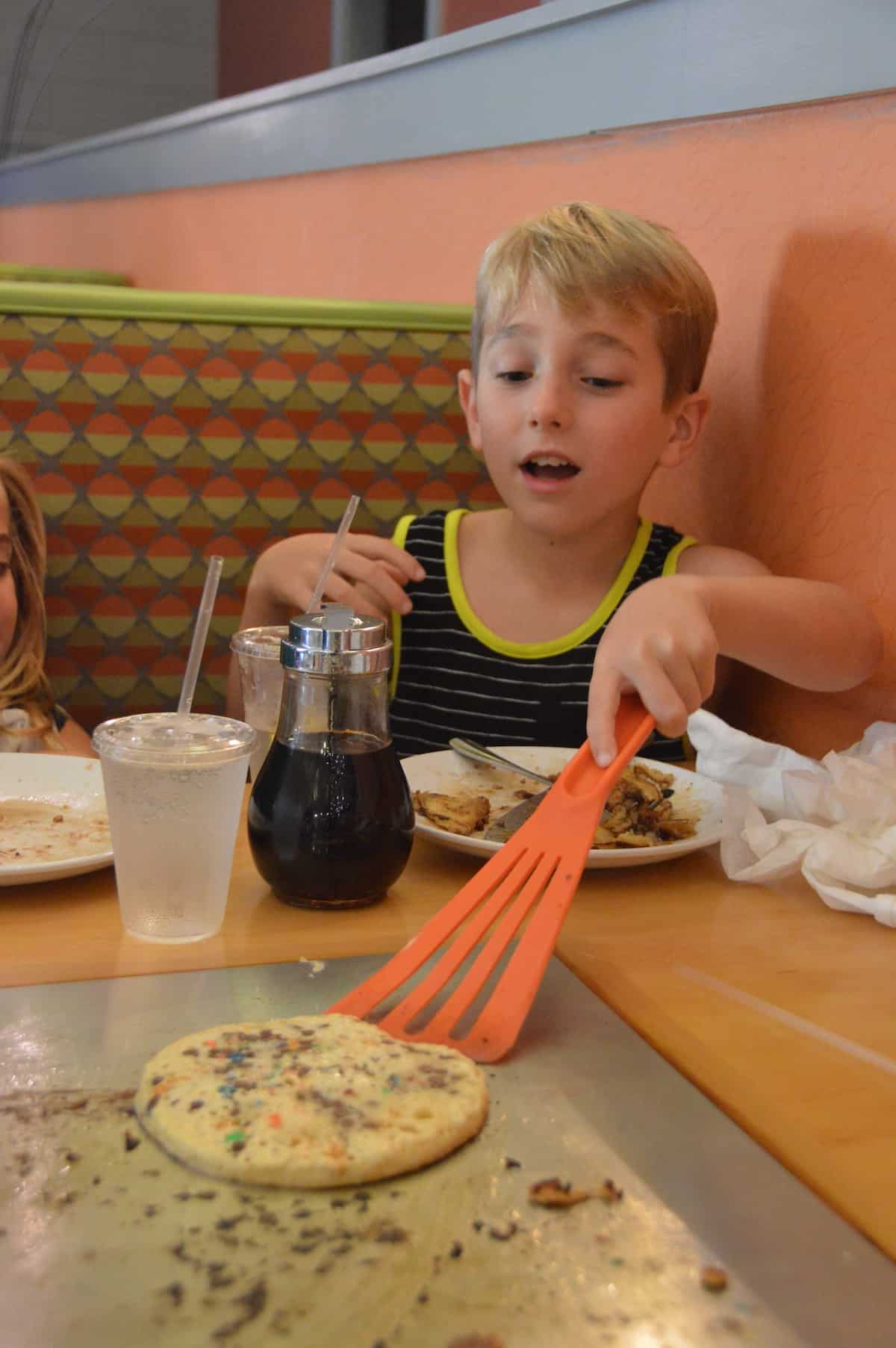 Best Coffee in Savannah
I don't know about you, but I love visiting local coffee shops when I visit new cities! There's always something unique and interesting to discover, and there is nothing better than relaxing in cozy coffee shops as a mid-day break during a busy day of sightseeing or even enjoying a quiet atmosphere with the smell of coffee roasting during a light breakfast before you start your day. Here are a few of the best coffee shops around Savannah to help zap those caffeine cravings (and keep you going if you're on a visit to Savannah with kids):
The Coffee Fox
This craft coffee shop has something for everyone, whether you're a coffee connoisseur looking for something new or a casual consumer who just wants a good cup of joe. This 100% fair trade coffee bar is among the most popular of the Savannah coffee shops and even serve gluten free coffee drinks. They also have several other sister cafe locations located around Savannah: The Foxy Loxy Café, the Henny Penny Cafe, and Fox & Fig Cafe!
Not only is The Coffee Fox my pick for the best coffee in Savannah and my favorite Savannah coffee shop but it's actually the best coffee I've ever had – the horchata latte is THE perfect cup of coffee. My husband and I loved it so much that we made sure The Coffee Fox was a stop on both of our days in Savannah. I ordered both the iced coffee as well as the latte version and have to say the iced coffee was the best! I'm eager to go back for another cup and next time plan to try out Foxy Loxy Cafe or one of the other sister stores. The Coffee Fox is also now roasting their own coffee which has replaced the coffee they priorly roasted Perc Coffee!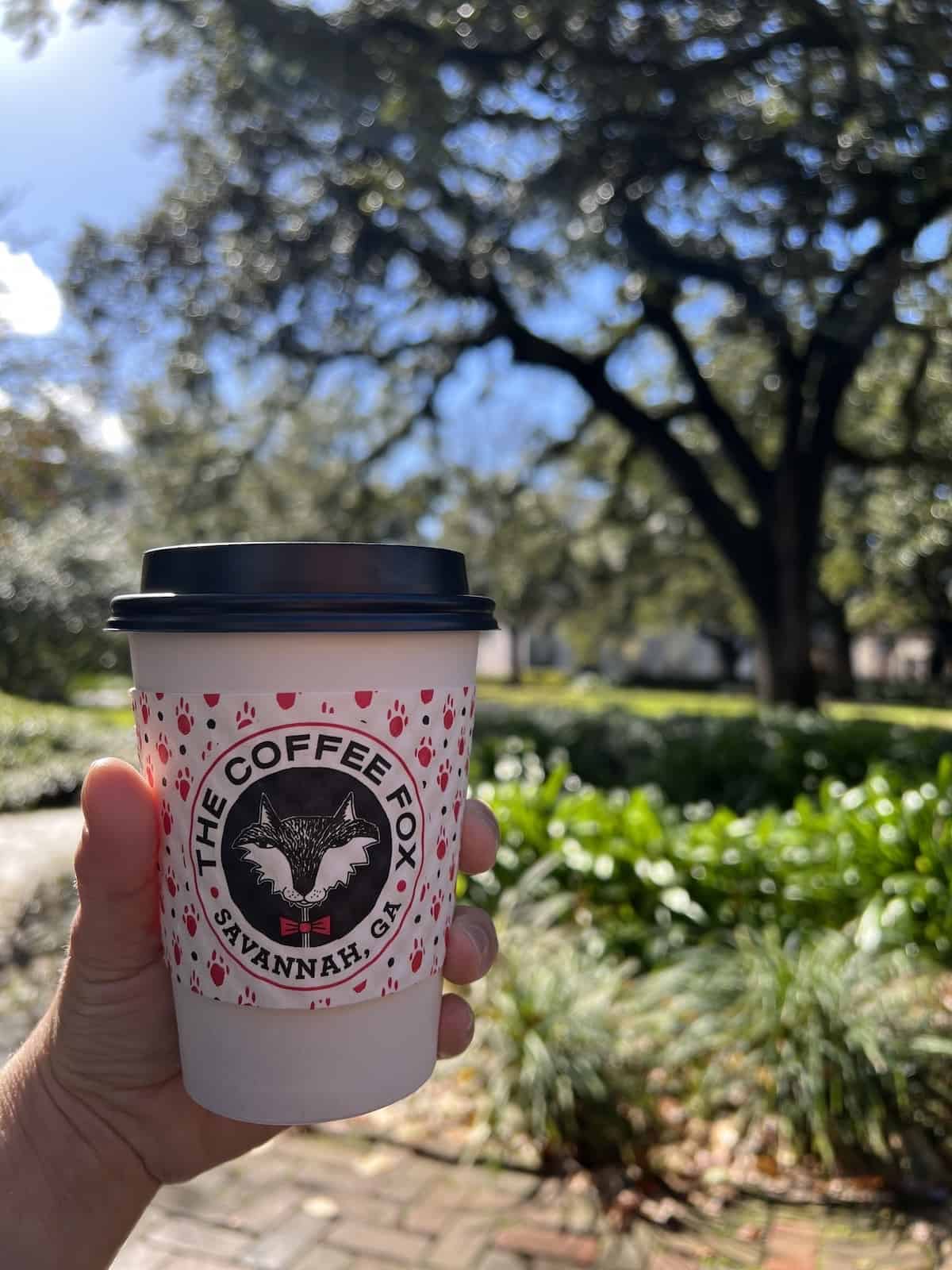 The Sentient Bean
Another fun coffee spot near Forsyth Park, Sentient Bean also offers breakfast and Sunday brunch! Equal parts coffee shop and restaurant you can knock out both amazing food and a bit of coffee culture first thing in the morning.
Savannah Coffee Roasters
This historic coffee house has been in operation since 1909! They roast their own beans and sell them wholesale with other coffee-related gifts, or you can grab a cup brewed fresh with your favorite pastry and enjoy the 100 years of history at an affordable price at Savannah Coffee Roasters.
Gallery Espresso
A cozy, laid-back vibe and a selection of coffee and tea-related merchandise make this Savannah coffee shop a great place to recharge your batteries with friendly staff, great coffee menu and cute tea rooms vibes. Gallery Espresso is also known as Savannah's oldest coffee shop.
Paris Market
The Paris Market is a must-stop while on our walk around Savannah. When you walk in the front door you're blown away by the breathtakingly cozy atmosphere and the great lengths the staff took to create warm colors and welcoming decor details. It's a beautiful shop to browse, be inspired and purchase gorgeous pieces to take home. The Paris Market also has an equally beautiful coffee shop in the Paris Market Cafe where they have both a full espresso menu as well as a full dining menu. If you're on a girls getaway this is a must try!
Things to Do in Savannah, Georgia: Travel Guide
Savannah is a rich city with tons of historic buildings, landmarks, and attractions. Whether you're visiting as a family or taking a couple's getaway, there's a little something for everyone!
Tour Savannah
Taking a tour of Savannah is one of the best ways to enjoy its rich history, and there's no better way than with trolley tours! Old Town Trolley Tour is the most well-known and has a great reputation, plus they have different tour options and you can hop on and off the trolley whenever you'd like!
We took our children on the old town trolley and were not disappointed. Our two older children enjoyed the ride and learning about the history of the area – our youngest at the time fell asleep and had a nice nap which provided the rest of us with a relaxing experience. I do not think kids are too young to enjoy and appreciate learning about the area with a guided tour! Tip: Bring notebooks and pencils for the kids so they can take notes during the tour!
Old Savannah Tours is another popular option and is the longest-running trolley tour in Savannah.
If you'd prefer a tour by water instead of by land, then Savannah Riverboat Cruises might be the option for you! Of course, this is going to be a bit pricier than a trolley tour but if you love cruises and you want to be wined and dined while you enjoy the sights from the river, then the Savannah Riverboat Cruises are absolutely worth it!
Most of the tours will show you the same must-see spots around town and also show some landmarks from Forrest Gump too.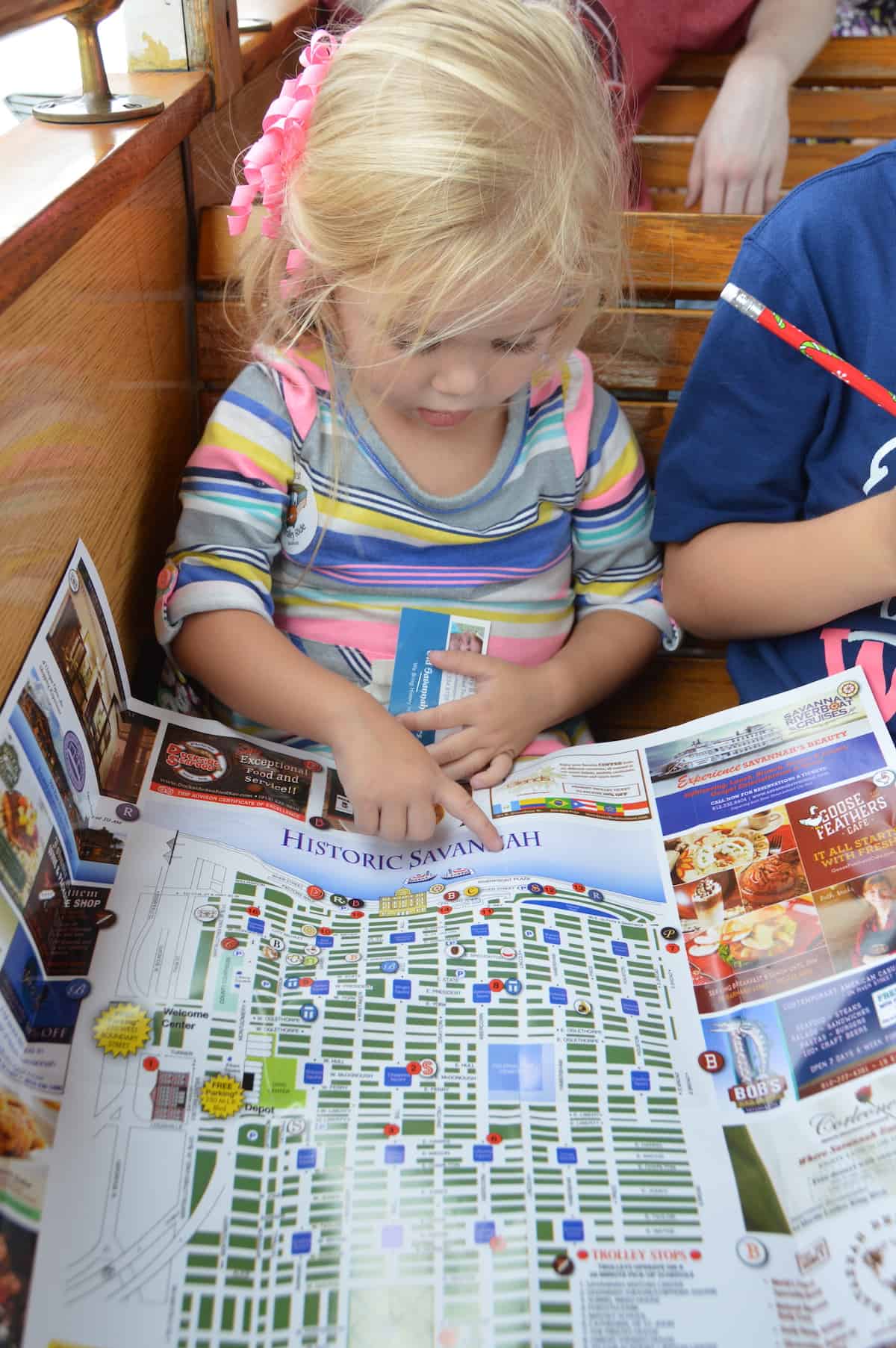 Savannah Ghost Tour
When you're visiting a historic city, chances are there will be a ghost tour offering of some kind. Old buildings and historic homes equal haunted houses and ghost stories! Savannah also offers several different ghost tours. Personally we did a late-night riding ghost tour and were pretty disappointed with it as our tour had a LOT of loud, drunk people. I'd always say a walking ghost tour is preferred if possible as it really captures the spooky vibe!
If you're planning a trip to Savannah with kids you may or may not want to book a ghost tour. Our kids have pretty early bedtimes so we didn't do a ghost tour with them when we visited. Now that they are older, however, we would probably do one in the future. We did a ghost tour in Key West with them and they loved it!
Walk Down River Street in Savannah
If you love shopping and sightseeing all rolled into one, the Savannah waterfront is the way to go! River Street is a popular spot for tourists and locals alike and boasts a variety of shops, restaurants, historic buildings, and more! Be sure you make it down far enough to check out the waving girl statue – you should learn about her history while on any Savannah tour.
If you have kids in tow you may not want to plan for a long time walking around River Street. It can get busy and crowded and can be worrisome with kids and the traffic. Some of the shops, however, are very kid-friendly (I mention a few below) and it's an iconic spot so it's worth a brief visit!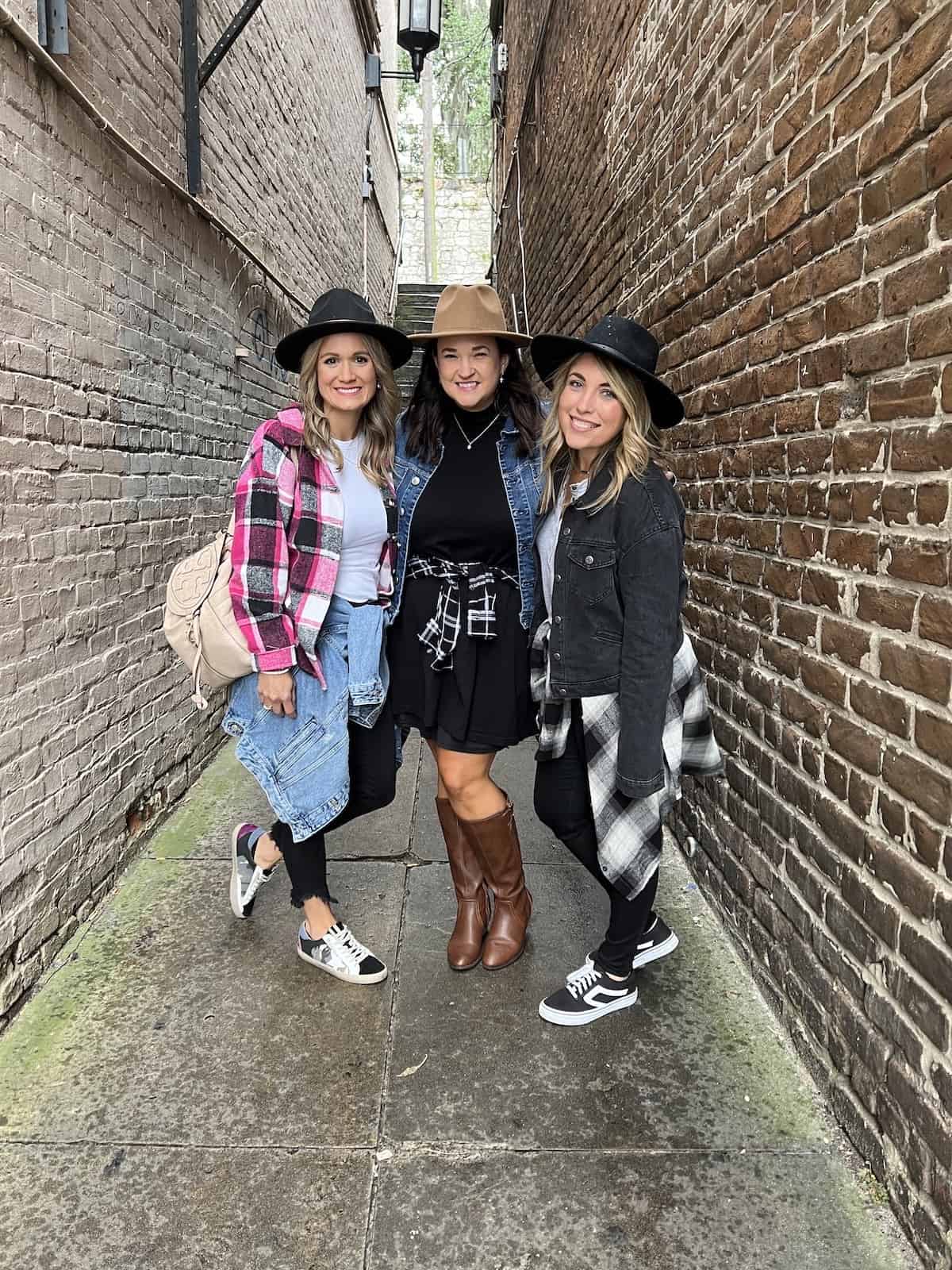 City Market
Another great destination for those who love to shop, City Market spans a full block in downtown Savannah and has all sorts of local vendors, souvenirs, high quality items, a great food selection, and historic views!
Juliette Gordon Low Birthplace
For those who don't know, Juliette Gordon Low founded the Girl Scouts of America program and you can tour the house where she grew up in Savannah! There's also a gift shop where you can grab some souvenirs… a must-see if you or your daughters were/are Girl Scouts and an iconic historic landmark in Savannah.
Wormsloe Historic Site
Explore the nature trails lined with oaks and Spanish moss and visit the oldest standing structure in Savannah! This is another excellent choice with kids as well!
Savannah History Museum
If you or your family are history buffs, then of course you have to visit the Savannah History Museum, which contains almost 300 years of history! Located in Tricentennial Park, there's so much to see and learn about!
Owens-Thomas House
For an insightful experience that explores the less rosy side of Savannah's history, the Owens-Thomas House is an important destination that offers an intricate snapshot of 1800s Georgia. You will appreciate the gorgeous architecture design of the Owens Thomas House.
Savannah Food Tour
If you are NOT from the surrounding areas (or not from the South in general) then I totally recommend booking a food tour! On a trip with my friends, we booked a food tour but because we are FROM the south (literally just 3 hours away) we weren't super impressed with it. Southern food is OUR food so it makes sense that we'd be less enthusiastic since it's the food we eat every day. We were grouped with people from New York City, however, and they were raving about the food so I do think if you're not a southerner then a food tour would be a great thing to do when visiting Savannah! We booked our tour through Savannah Taste Experience and they did a great job!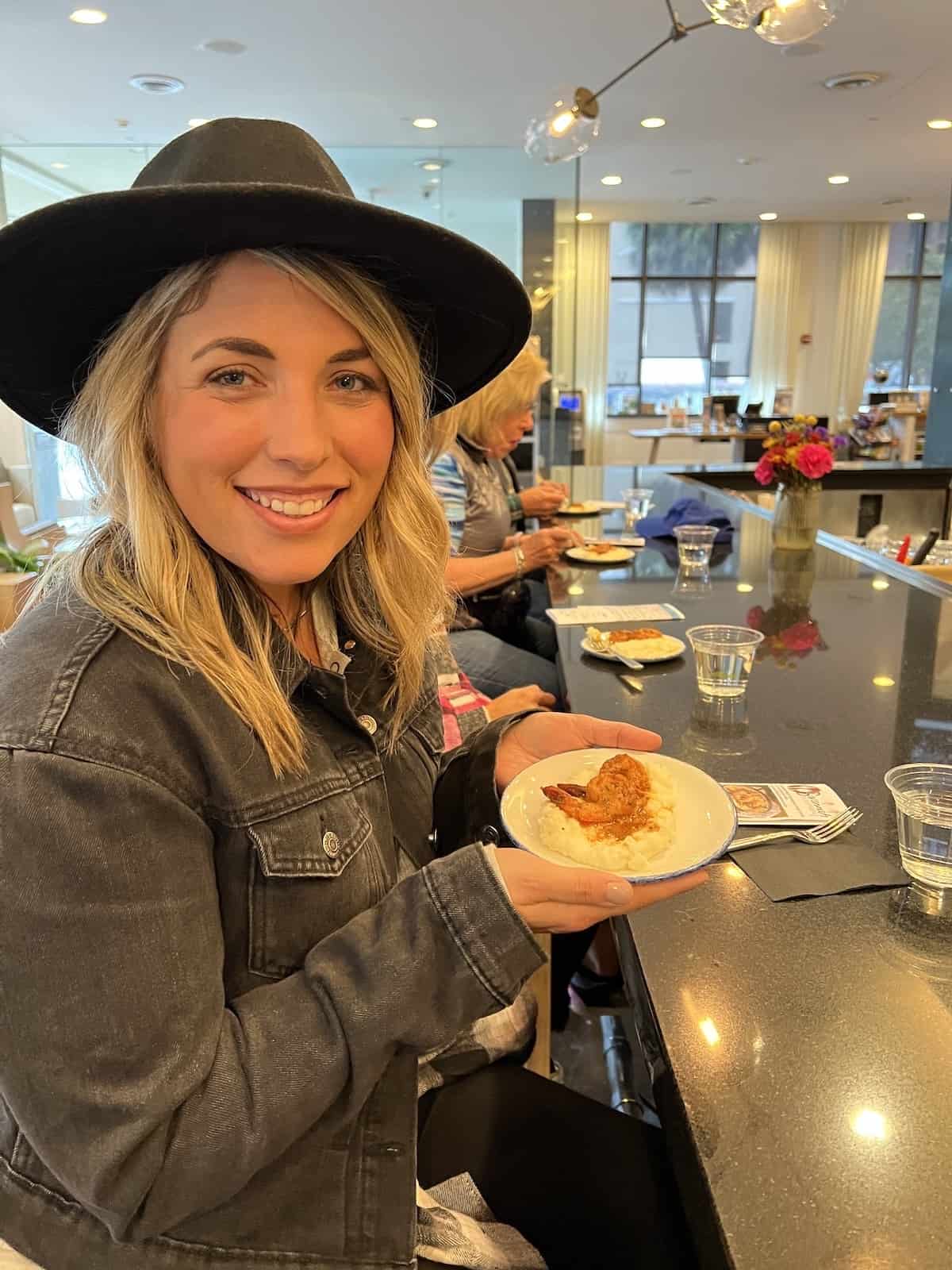 American Prohibition Museum
The Roarin' 20s was an interesting time in American history for sure, and if it's something that interests you, then you should definitely make a point to visit America's only Prohibition Museum! We toured the museum as part of our food tour and it was interesting to learn about this time period in American history. Even as someone who personally doesn't drink alcohol I found it insightful!
Outlet Shopping
My husband and I have a tradition where each Christmas we gift each other money and then go shopping together. We LOVE the outlets in Pooler, Georgia (just outside of Savannah). Friends and I also went on a trip to the Savannah area and found great deals and fun finds at the outlets in Hilton Head as well! Plenty of shopping to be had either direction you go!
Best Spa in Savannah GA
Whenever my husband and I get away without our children we LOVE to get massages! We love to enjoy spa services and try out a variety of treatments when traveling together. We have visited Savannah a few times together and have tried out a couple of different day spas and have had both exceptional service as well as a less-than-ideal spa experience.
I don't want to speak poorly of any of the Savannah spas as I know our poor experience could have just been an off day or a less than knowledgeable staff issue. But the massage therapists were the worst we've both had. Neither of us wanted to admit to the other one that we just didn't enjoy it!
I will, however, happily share what I consider the best spa in Savannah GA!
Sweet Water Spa is the best Savannah day spa we've experienced. From the kind front desk to the talented staff we had a wonderful full-service spa experience from start to finish and partook in a variety of services. We both purchased one of their spa packages with a relaxing Swedish couples massage and then Zach had a facial (after hearing him gush about it I was a little bit jealous that I didn't get one too!) while I had a scalp massage. As a premier day spa they do have lots of additional services offered in their multiple treatment rooms including hot stone massage, laser hair removal, nail services, body scrubs, body wraps, a relaxation room and more! We will for sure be back to the best day spa the next time we visit Savannah!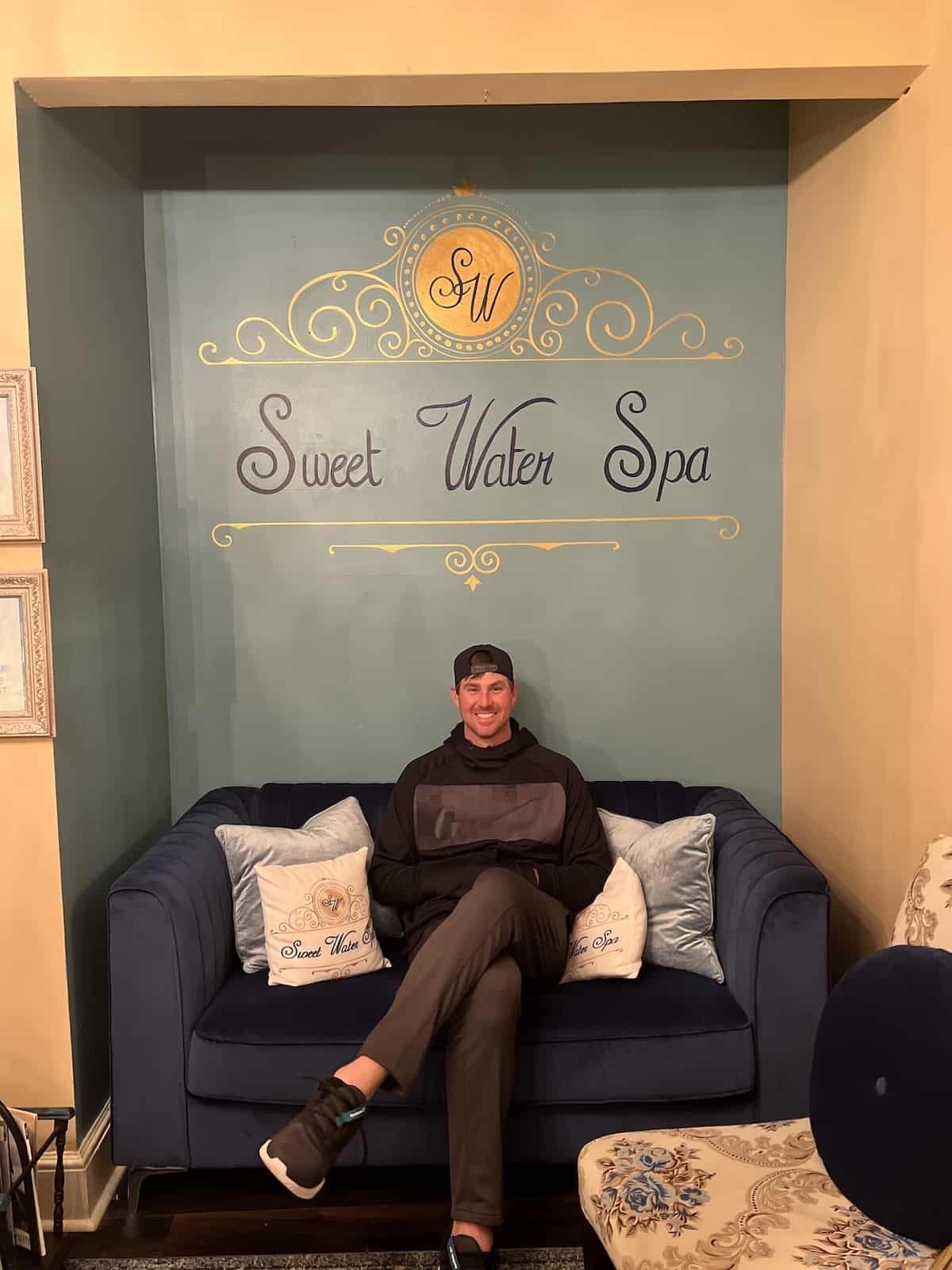 Things to Do in Savannah GA with Kids
While Savannah (like Charleston) is a great couple's destination, you will also find plenty of fun for kids as well! Many of the items I've already shared are also family friendly things to do in Savannah GA with kids but here are some additional kid-friendly and fun family-friendly attractions Savannah has to offer:
Tybee Island
I already mentioned Tybee Island but for good reason: what kid doesn't love the beach? It's a great activity for the whole family! Tybee is a bit of a drive from Savannah but worthwhile if you don't live near a beach wherever you're visiting from. You can also book a Tybee Island Dolphin excursion as a chance to see dolphins up close in their natural environment at Tybee Island Beach!
Old Fort Jackson
This 19th-century national historical landmark is not only a fun place to tour, it also offers interactive activities for kids and families! My biggest tip? BRING BUG SPRAY! The bugs are no joke! However, it's a worthwhile visit with lots of green space for the kids to run and play freely as well as beautiful views and tons of interactive historic spots! They offer tours throughout the day, hands-on activities and crafts for the kids, and even musket demonstrations and a cannon firing while learning about life during the Cival War.
A great tip when planning your trip to Savannah is that you can purchase a museum pass that gives you access to multiple museum locations for one discounted bundle price! See any of the museum websites I've linked throughout this post for details.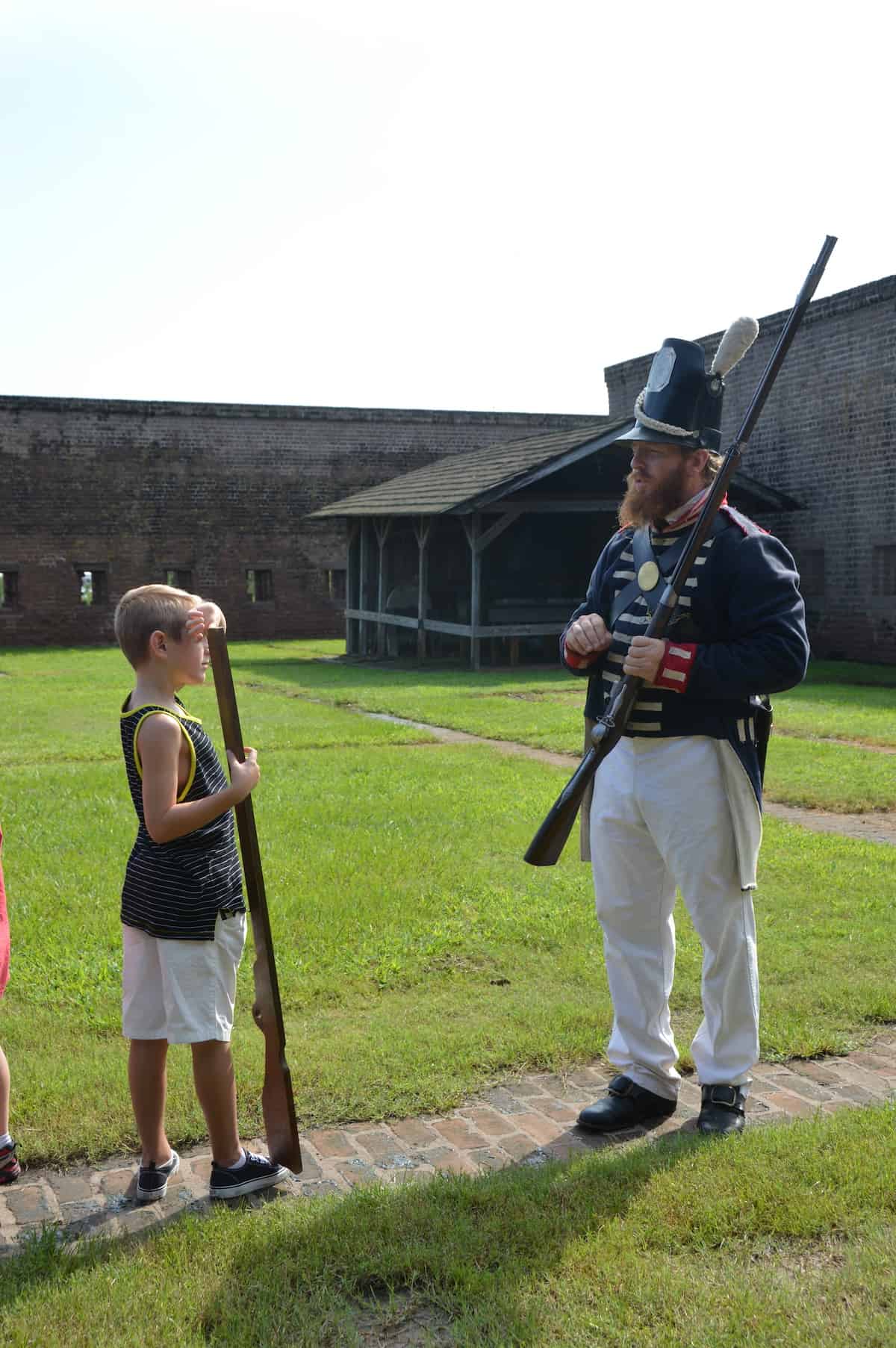 Savannah Children's Museum
A place to play and to learn, this is a great way for young kids to blow off some steam and have both some indoor and outdoor fun! There is a seating area for adults to take a break and let the kids go wild exploring the Savannah kids museum and all it has to offer.
This was a highlight of our Savannah family trip. The kids had a BLAST and it was very well done!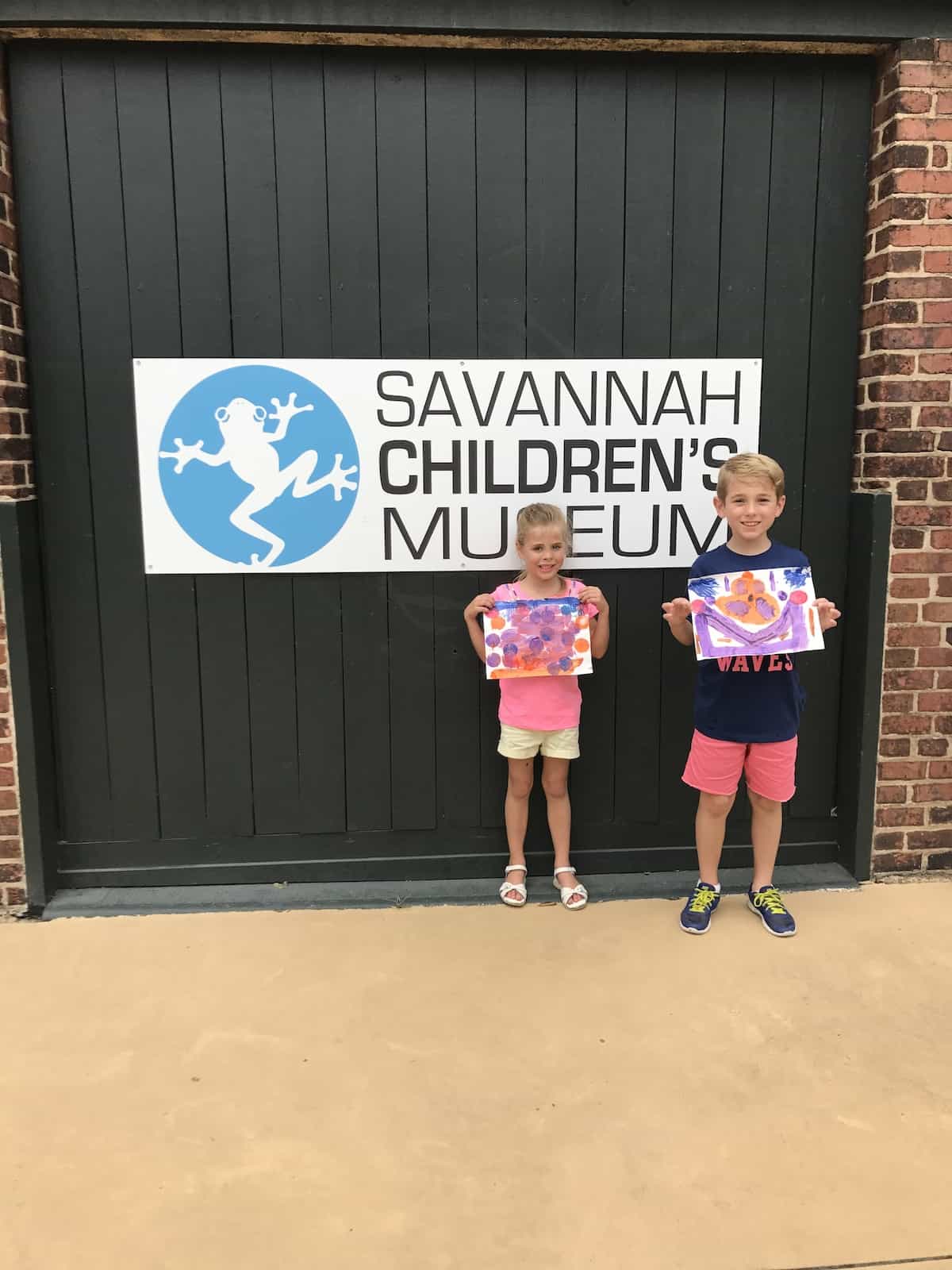 Georgia State Railroad Museum
If you have a kid who loves trains, then the Railroad Museum is a must-visit. Explore real, historic train cars and learn about the railway system. There are even train rides on select days!
This is located very close to the Savannah Children's Museum which makes it easy to plan to do them back to back. My kids also really enjoyed touring the railroads and train cars and I loved taking lots of cute pictures too.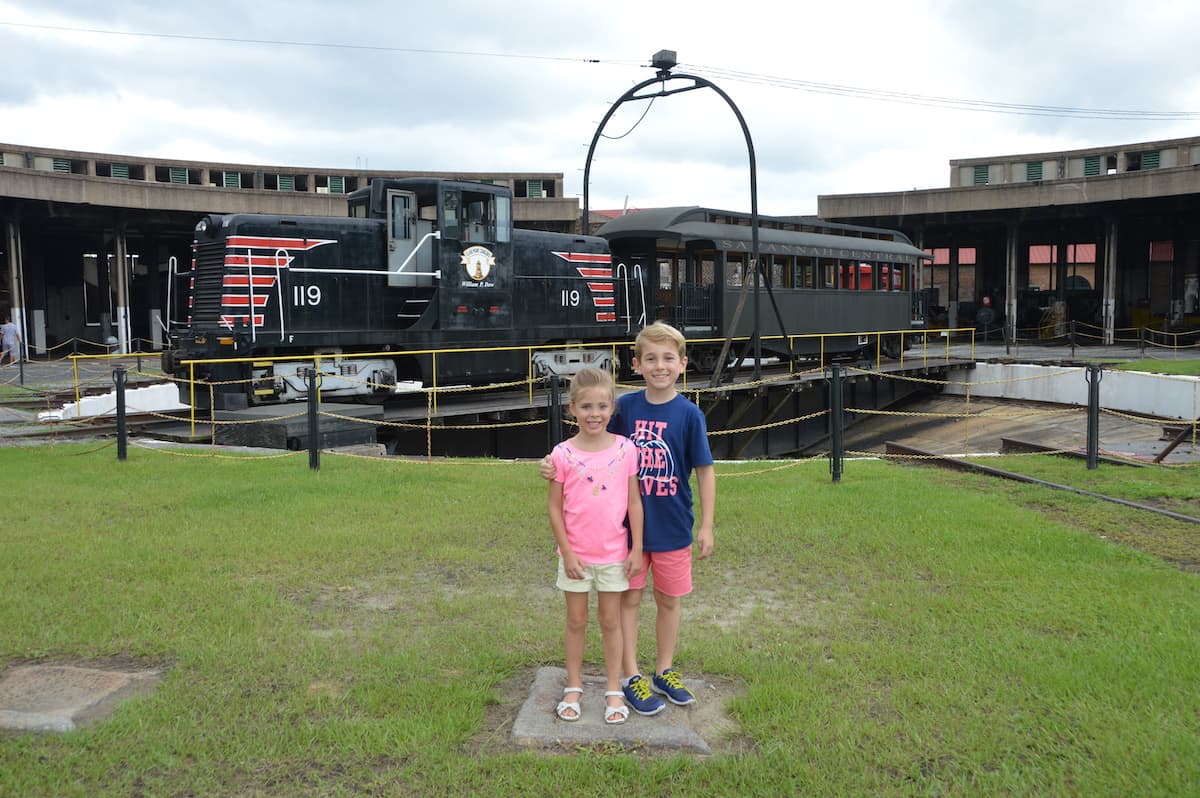 Walk Through the Old Cemeteries
Even little ones will enjoy walking through some of the famous Savannah squares and soaking in the history around them. The Cemeteries offer up some insight to the people who used to live in the area and a great chance to tell spooky stories!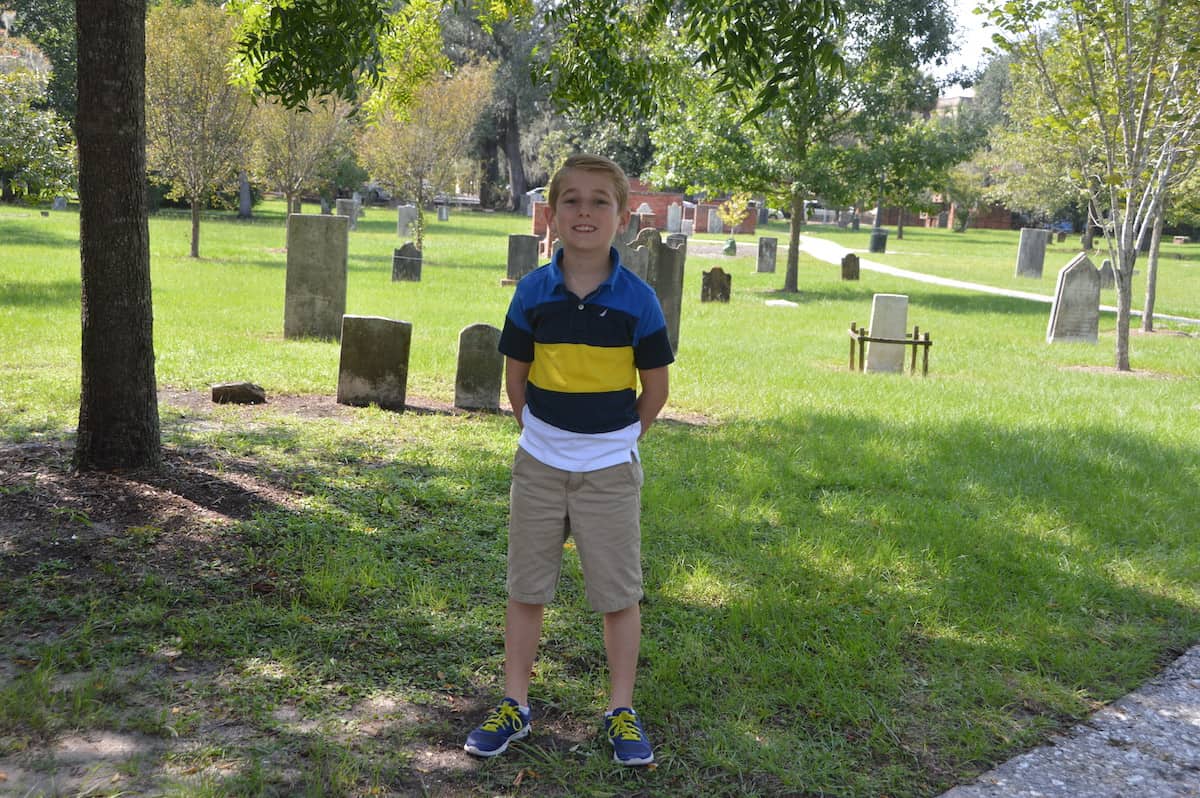 Oatland Island Wildlife Center
This animal refuge in Savannah is a great way to enjoy nature and see some amazing wildlife! The Savannah national wildlife refuge has lots of activities and opportunities to take part in events and does not require any advanced reservations to visit so it's a great last minute activity.
Pin Point Heritage Museum
This museum is located inside the old A.S. Varn & Son Oyster and Crab Factory and is a great opportunity to experience what the life for the Gullah and Geechee cultures was like. This makes a great rainy day activity as well since it's indoors! You can learn more about the Pin Point Heritage Museum here.
Skidaway Island State Park
Located about 20 minutes outside of Savannah this state park offers camping options which is a very affordable way to travel with kids. It features tons of trails and opportunities to explore nature as well as natural wildlife. You can learn more about book a site here.
UGA Marine Education Center
Exploring this marine life education center and aquarium is a great spot for kids and adults alike, and with so much to learn, it's as educational as it is fun! They host a wide variety of events as well. The UGA Marine Education Center is located on Skidaway Island so it's a bit of a drive from the heart of Savannah.
Savannah Bee Company
When my friends and I did the food tour around Savannah our final stop was at Savannah Bee Company and it was just SO adorable! A great place to take kids as they had a history of bees and how to make honey as well as lots of free samples of the honey. A perfect spot for some education as well as a sweet treat and a chance to purchase honey as well. It makes a fantastic gift!
Leopold's Ice Cream
What vacation is complete without ice cream? Leopold's is a Savannah tradition located in the historic downtown. It's been operating since 1919 and feels like you're stepping back in time!
Savannah's Candy Kitchen
You can't go wrong with a trip to the candy store! Savannah's Candy Kitchen has tons of classic treats and southern staples, there's something here to satisfy every sweet tooth! The best thing is you're not only at the right place for a little treat but you can take it to go – spread out the sugar rush for your kids into small batches instead of all at once. It's also so fun just to walk around and see all the old fashioned candy and even watch them make taffy and other treats.
Visit Byrd's Cookie Company
Anytime you can get a free sample sign me up 😉 Byrd's Famous Cookies are not only adorable but delicious and make wonderful gifts too (I did them as teacher presents one year and they were a hit!). Kids and adults alike will enjoy sampling all the different flavors and types of cookies – good luck picking a favorite and be prepared because you WILL want to take some home with you! Byrd's Famous Cookies is a Savannah staple with multiple locations throughout the area.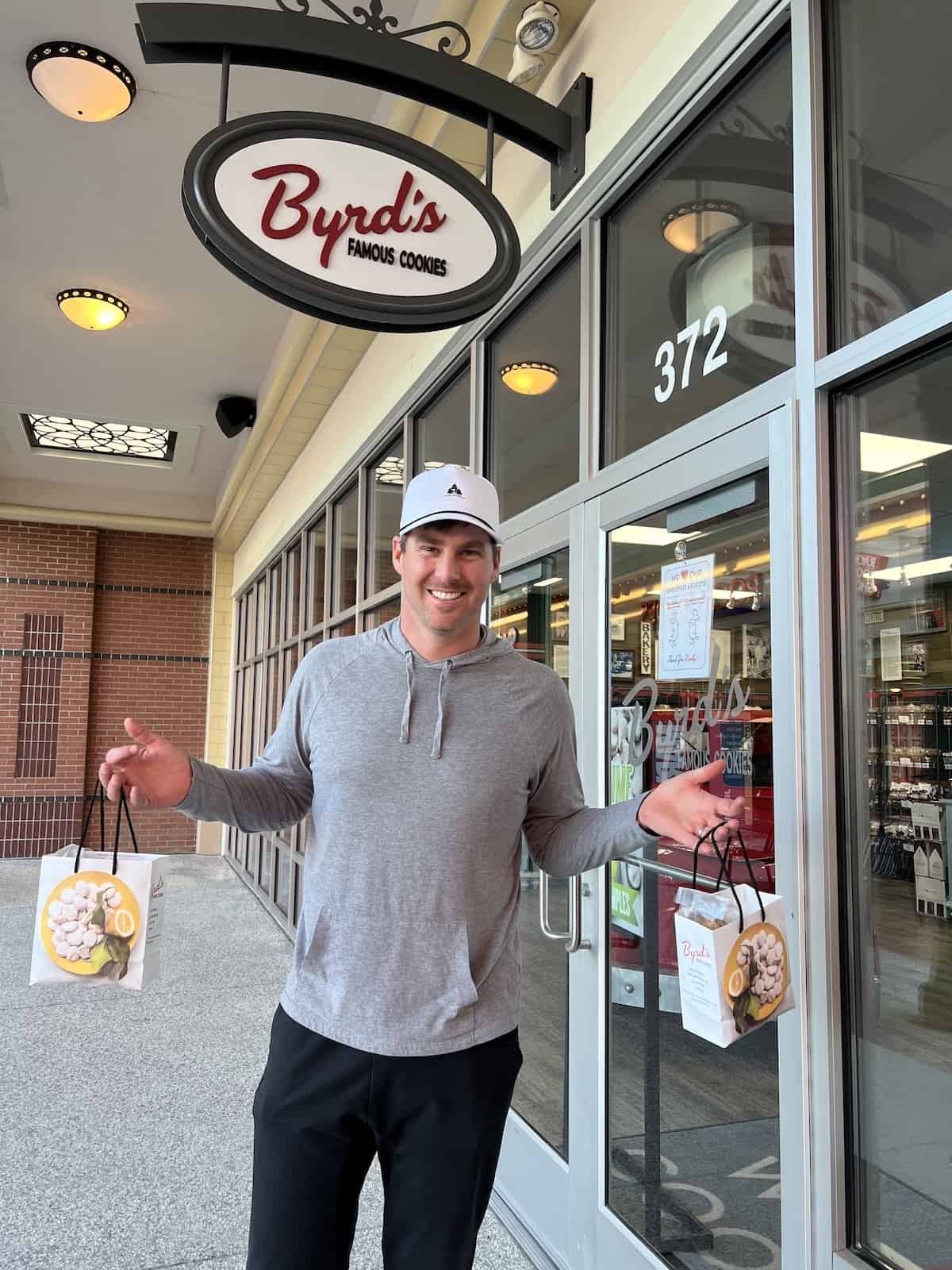 Savannah Georgia Travel Guide: Final Thoughts
As you can see, there is tons to discover in Savannah and so many great things to do! Of course, it's impossible to do it all, but hopefully this Savannah Georgia travel guide gives you the insight you need to plan a fantastic family vacation or romantic getaway!
We love exploring historic American cities and if that's something you enjoy, too, then you should definitely put Savannah on your list! 
Additional things to do in Savannah that you may want to check out: First African Baptist Church, Fort Pulaski National Monument, Mercer Williams House, historic Savannah theatre, and the Bonadventure Cemetery.
Our Savannah Travels
We love to visit Savannah and have had the opportunity to visit on a few husband and wife getaways, with friends and as an entire family! My recommendations above are all featured in my personal posts and if you're planning a visit reading up on our personal in-depth experiences may be helpful:
For more travel guides around the United States, check out these posts: