Katie, Tiffany, and I had SO much fun on our beach trip in May to St Augustine that we decided to do another trip in the fall but this time to Savannah! Which quickly turned into a Savannah and Hilton Head trip when we were planning last minute and realized a race was going on in Savannah that same weekend and hotels were INSANE expensive. Oops!
Tiffany got me the cutes birthday gift – movie goodies with popcorn seasoning and a fun popcorn bucket along with a LILY BLANKET haha. Little did we know going into the weekend just how well used that blanket would be because it ended up being SO COLD and SO WET so I snuggled up a ton with my "Lily."
We left on Friday morning and headed straight to Savannah. I cracked up when I was going through pictures for this post because I took a picture of the parking spot in the parking garage but it literally did us NO GOOD when it came to trying to find the car that night. It ended up taking us TWO iPhones and walking through 4 parking garage entrances to finally find the car that night.
Neither Katie or I realized it was Tiffany's first time to Savannah and we felt bad that the weather wasn't better for exploring but we were able to walk down River Street before the rain really started coming down!
Of course when we were all group texting about what to pack when Tiffany mentioned packing a hat Katie and I jumped on board and basically highjacked Tiffany's outfit so we could all match. Who doesn't love a good theme for a trip right? Abe Lincoln hats for lifffffe. Pretty sure everyone called us "the girls with the hats" all day. And, hey, they ended up coming in handy to help avoid the rain!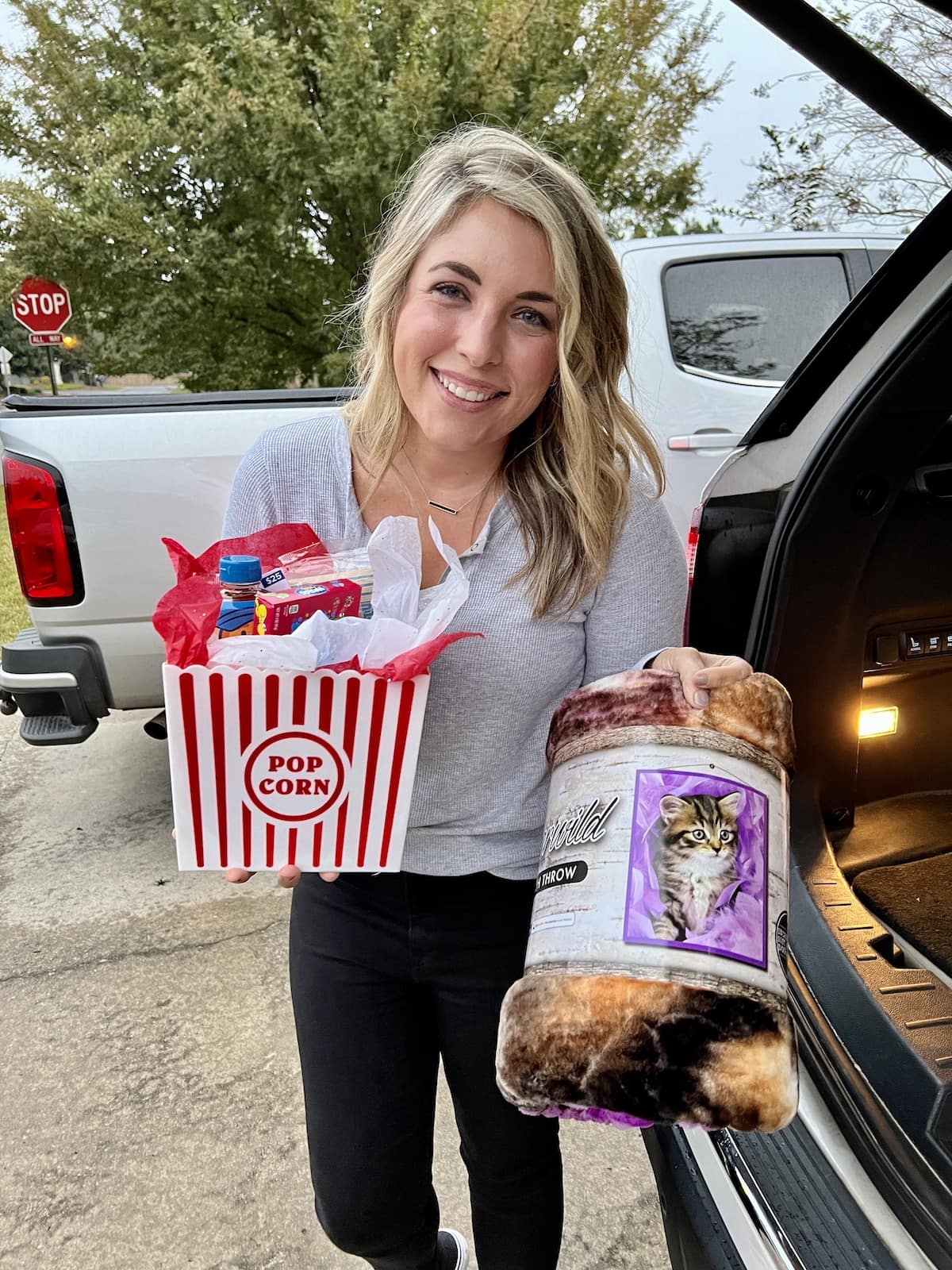 When we got out of the car to walk around we all debated heavier jackets. Do we go for warmth? Or go for looking cute? DUH cute won out! You never look back and remember how cold you were but you do look at pictures and wish you looked cuter right? 😉
It worked out great that we opted for looking cute because River Street was basically deserted in 45 degree weather so we were able to have lots of fun picture taking opportunities!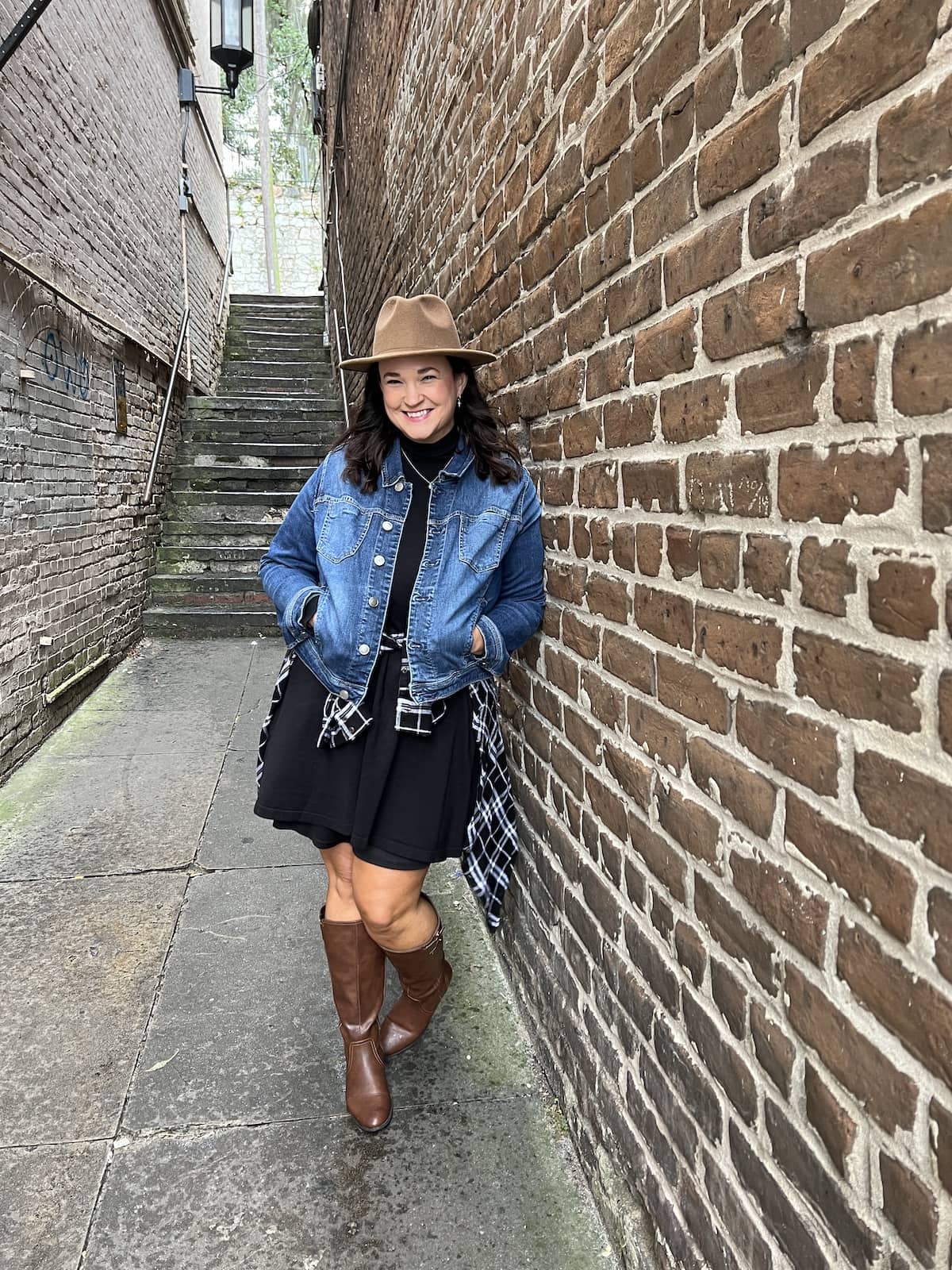 You can never take too many right? 🙂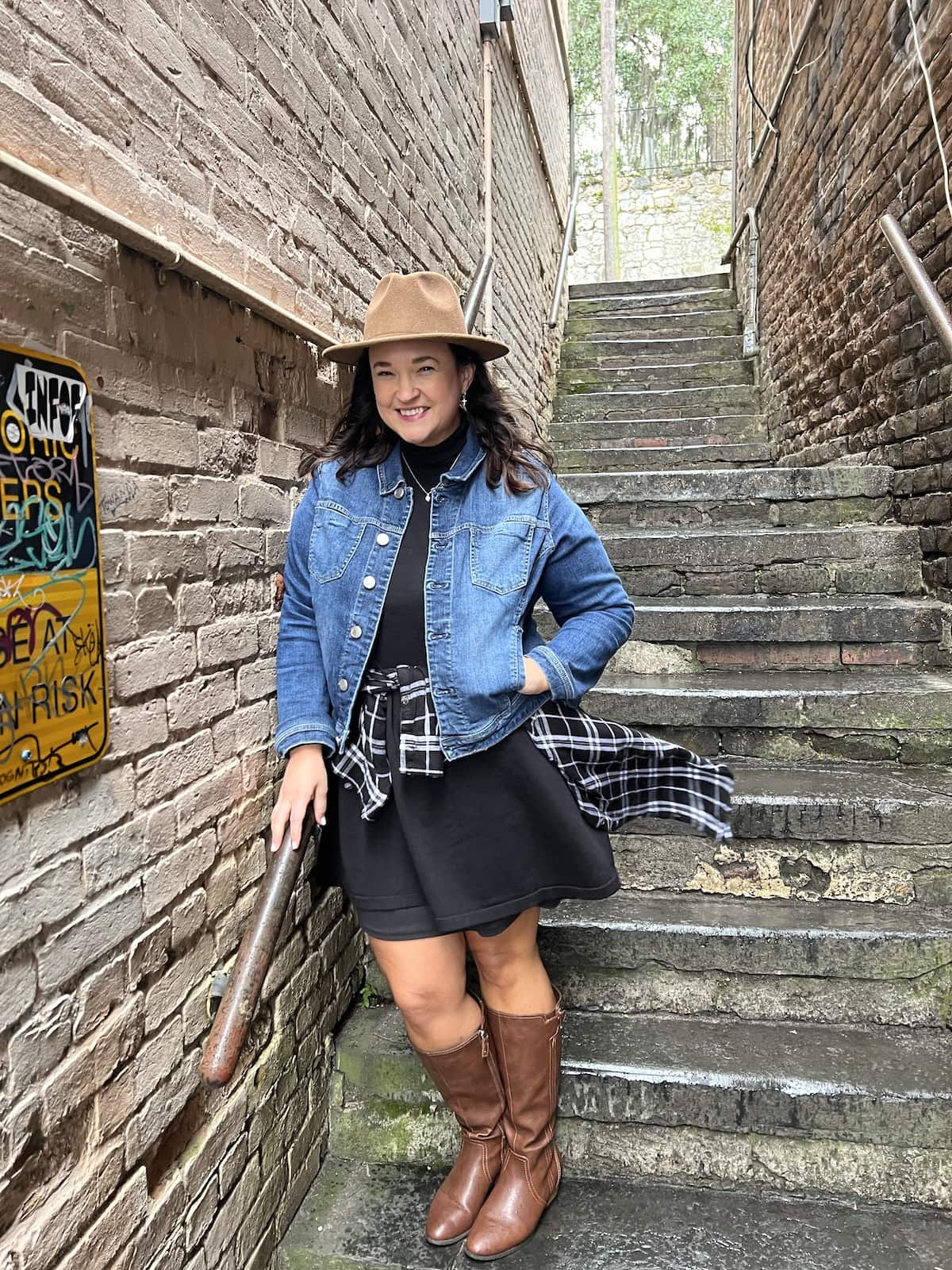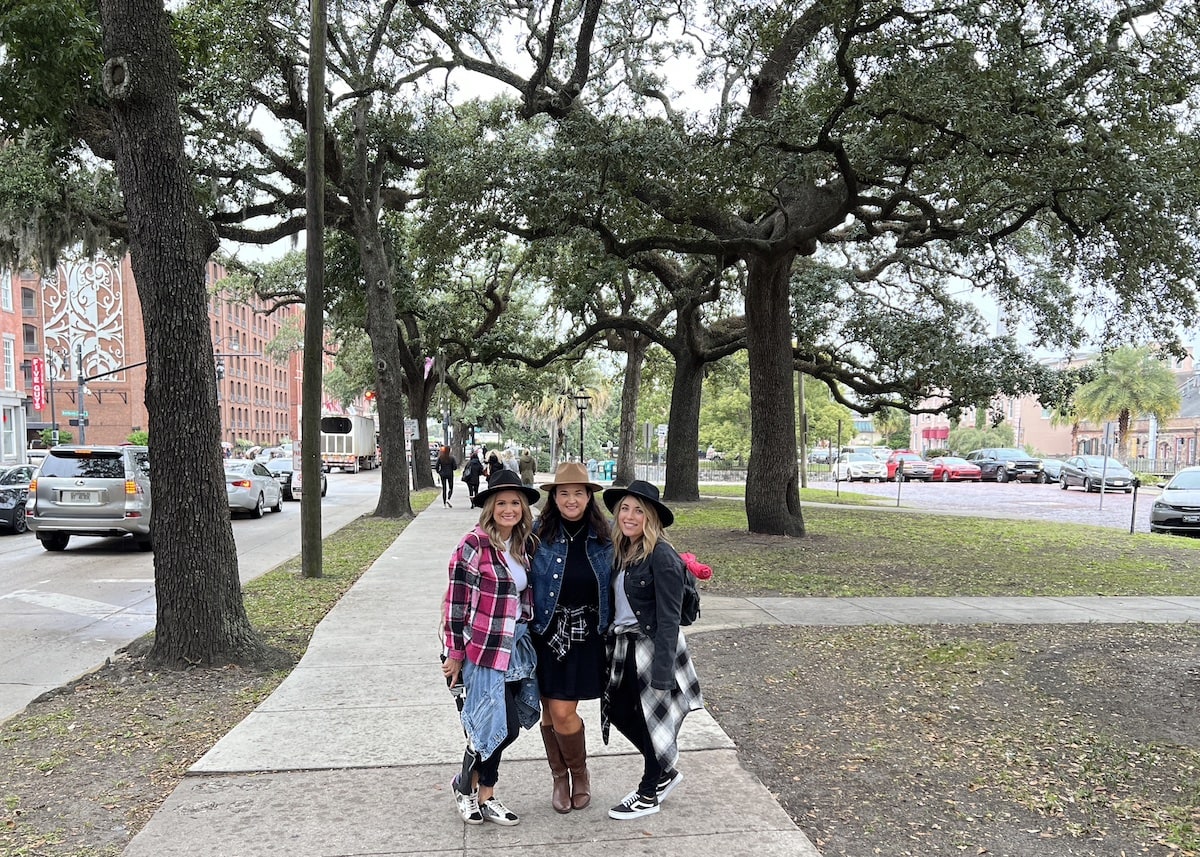 Our big plans for the day was a Savannah Food Tour. Katie and I did one with Robyn on our girl's trip to NYC and LOVED it. Our Savannah Food Tour was booked with First Squares Food Tour of Savannah.
I can't truly give REAL feedback on the ACTUAL tour because we were in such an odd circumstance. It was VERY cold and VERY icky outside. The kind of day where you truly just want to snuggle up in the bed. That put our tour at a disadvantage because any walking was kept to a minimum and we basically raced from place to place. Usually they walk down River Street or take longer paths to get to a destination in order to tell us about the culture and history etc but all of that was cut down.
We also had a large friend group in our group. It was neat because they are all friends and have been since childhood and they travel together EVERY year! They are all lawyers in New York and while they were quite fun to chat with, they also did take away from our tour guides ability to really get a word in.
And lastly, we live in the South. I bet if those New Yorkers took the food tour we took in New York they probably wouldn't be all that impressed with the actual food because they live there. Same was true for us! We eat a lot of the foods that were offered on a pretty regular basis so nothing was like MIND BLOWINGLY awesome to us!
We did have a super fun time and our tour guide was great and all the people in our group were wonderful. Along with the friend group we also met a precious couple who shared their love story with us and met a new friend who was down for the big race and came solo!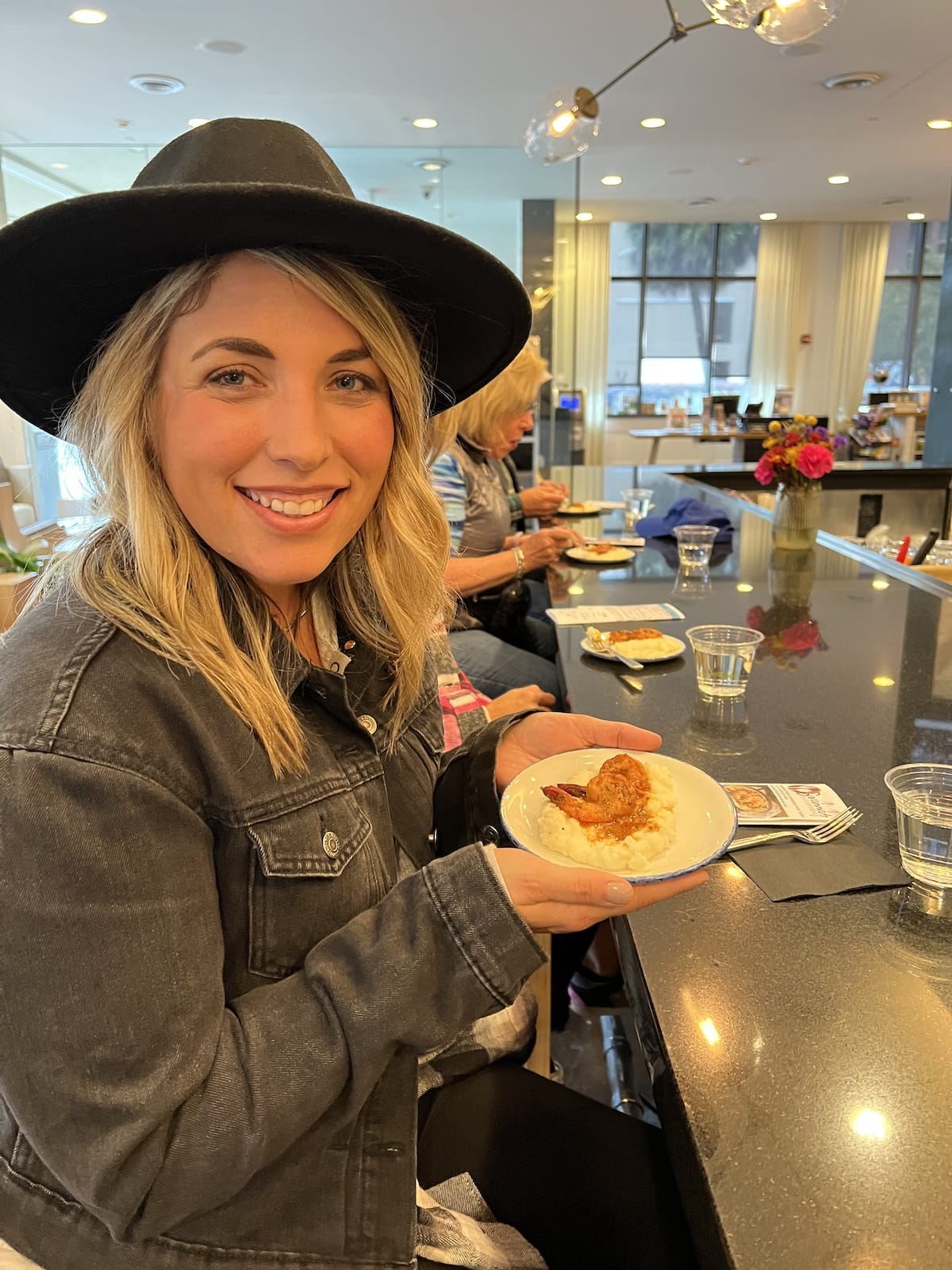 All of the food offerings WERE things we enjoyed and they were also all very hearty and PERFECT for the weather. Lots of warm offerings that helped fill us up and give us some added warmth in our bones that we needed.
Part of the tour was a stop at the Prohibition Kitchen and I know NOTHING about Prohibition but it was interesting that apparently during Prohibition was the beginning of Nascar?!?
We ended the tour at Savannah Bee Company and THAT was my favorite stop! You can go in anytime to get samples and it was all delicious!
Tiffany and I were SHOCKED that morning that we couldn't find coffee annnnnywhere on River Street but we finally got a HUGE warm cup of it after the tour finished!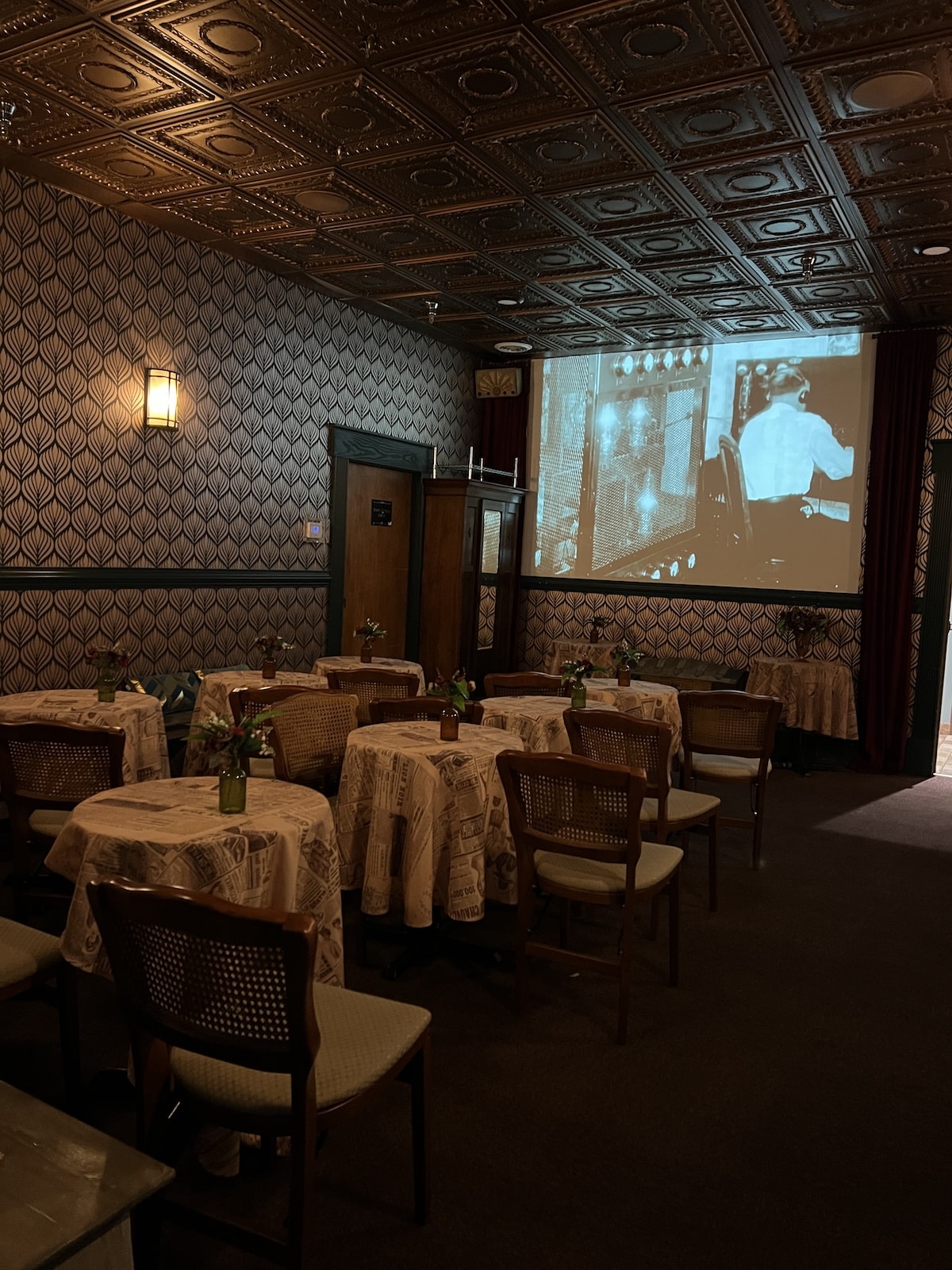 We didn't let the rain stop us from exploring more of Savannah. We walked in and out of just about every shop and had fun looking and browsing and doing some buying too.
The Paris Market is BEAUTIFUL and loved all the decor – 9 year old Emily was digging the frog themed Christmas tree 😉
I also spotted a CAMEL that is an exact match of the set I have stored in my attic. Fun fact haha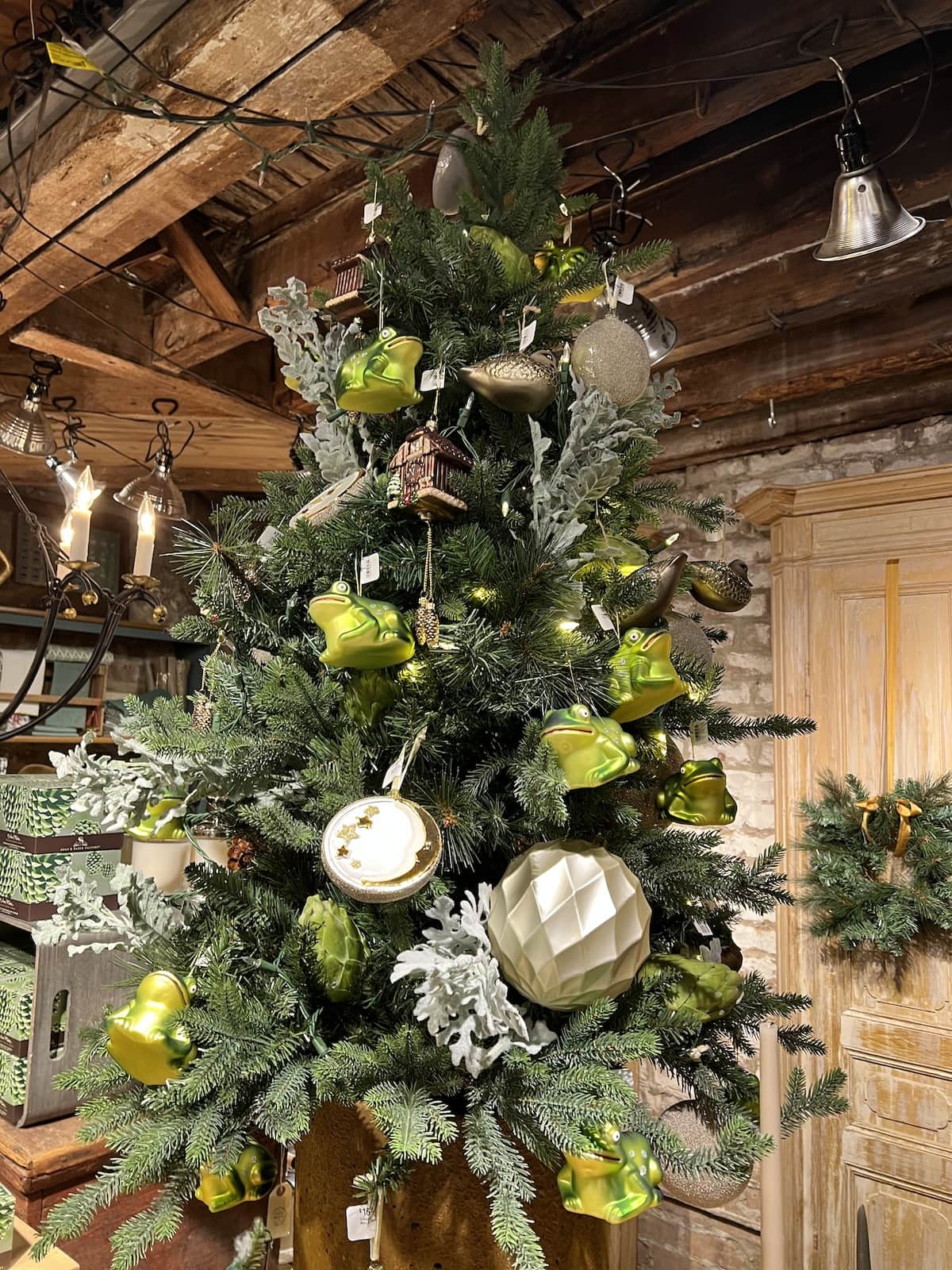 We shopped it up and were all excited to finally find the car in the parking garage. We had a good bit of a drive to Hilton Head for the night and didn't get dinner until 9 PM. We were all pretty hungry as all we'd had was the food tour food which is really just tastes from places. After all our walking and car hunting we had worked up a good appetite for a bedtime dinner snack!
The only pics Tiffany took the whole trip are the ones of me with ALL MY JACKETS bringing in stuff from the car. I could barely see haha. It was SO cold and we were all ready to get a good night of sleep!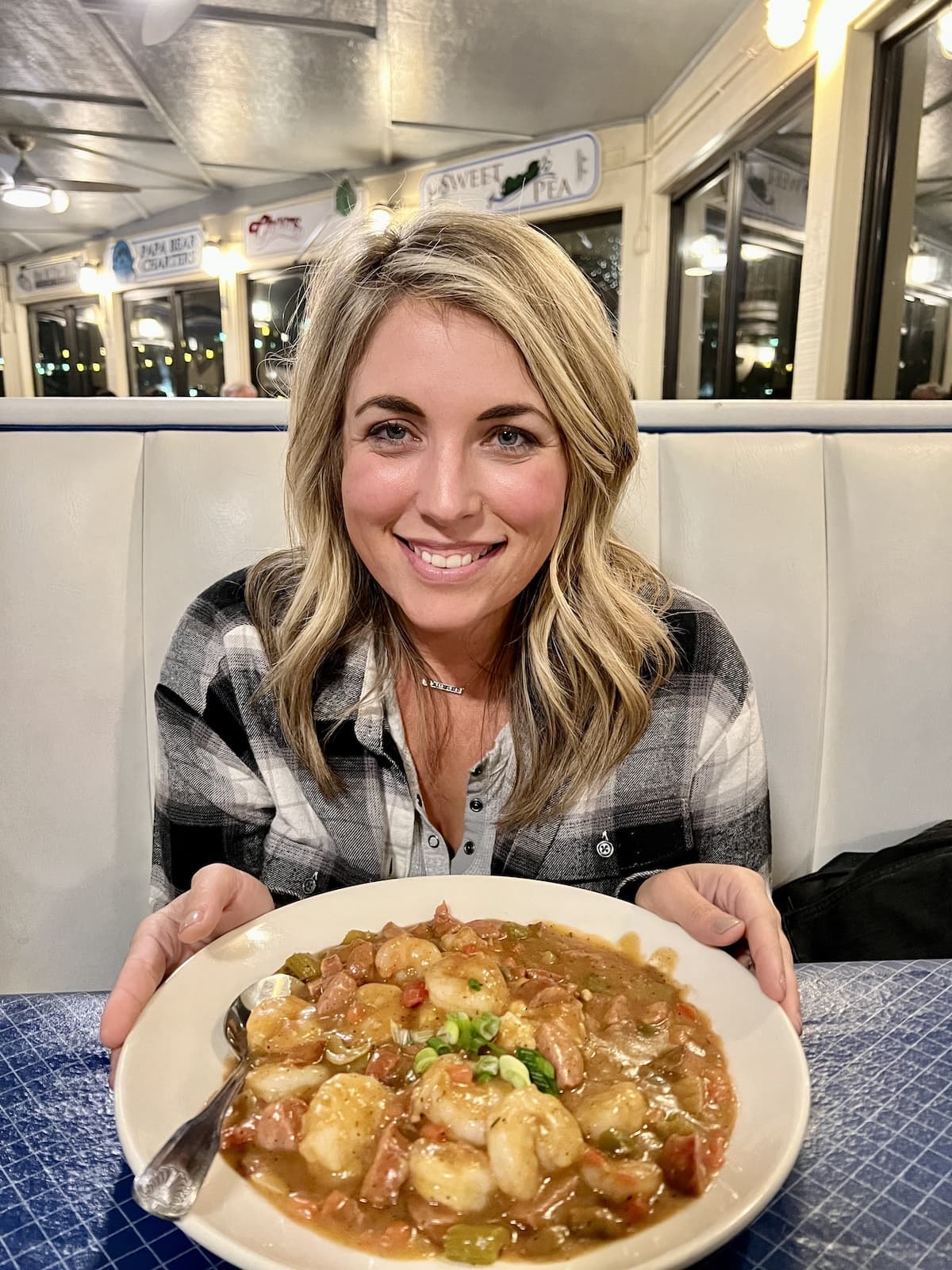 Something I've learned over the years of girl trips is that we've reached the age where having your OWN room is a HUGE perk on a trip away. It's nice to have your own space, your own bed, and really your own bathroom if possible too.
We found a good price on a condo in Hilton Head and it was really perfect for us! Katie and I each had our own bathroom and since Tiffany drove we forced her to have the master with her own bathroom too. We LOVED the condo and I'd totally go back there with the kids!
Katie and I have been traveling together for so long that we're truly like an old married couple. We know each other well and our routines and are completely content together. You would think that would make it tricky to add in anyone to our regular routine together but Tiffany truly fits in so perfectly! We're a great travel trio!
I LOVE my sleep on vacation and I didn't feel any sense of "fomo" by sleeping in while they were up earlier talking. I woke up hearing laughter downstairs and I loved it! They both have very similar senses of humor and were cracking up together and I was well rested with my noon wake up time 😉
We are all very similar type of travelers – very easy going and very down for whatever. Super happy to chill. Super along for the ride, whatever that ride may be. You'd also think that having three easier going personalities would make it tough to actually DO anything but we're all comfortable to speak up when we have something we DO want and all respect each other and genuinely want everyone to get to fully enjoy whatever the experience may be.
Plus we all love brunch so I mean if that isn't the perfect travel match I dunno what is 😉
We went to a place that served brunch until 2 PM which was perfect for us since it was well after breakfast time by the time we got rolling for the day!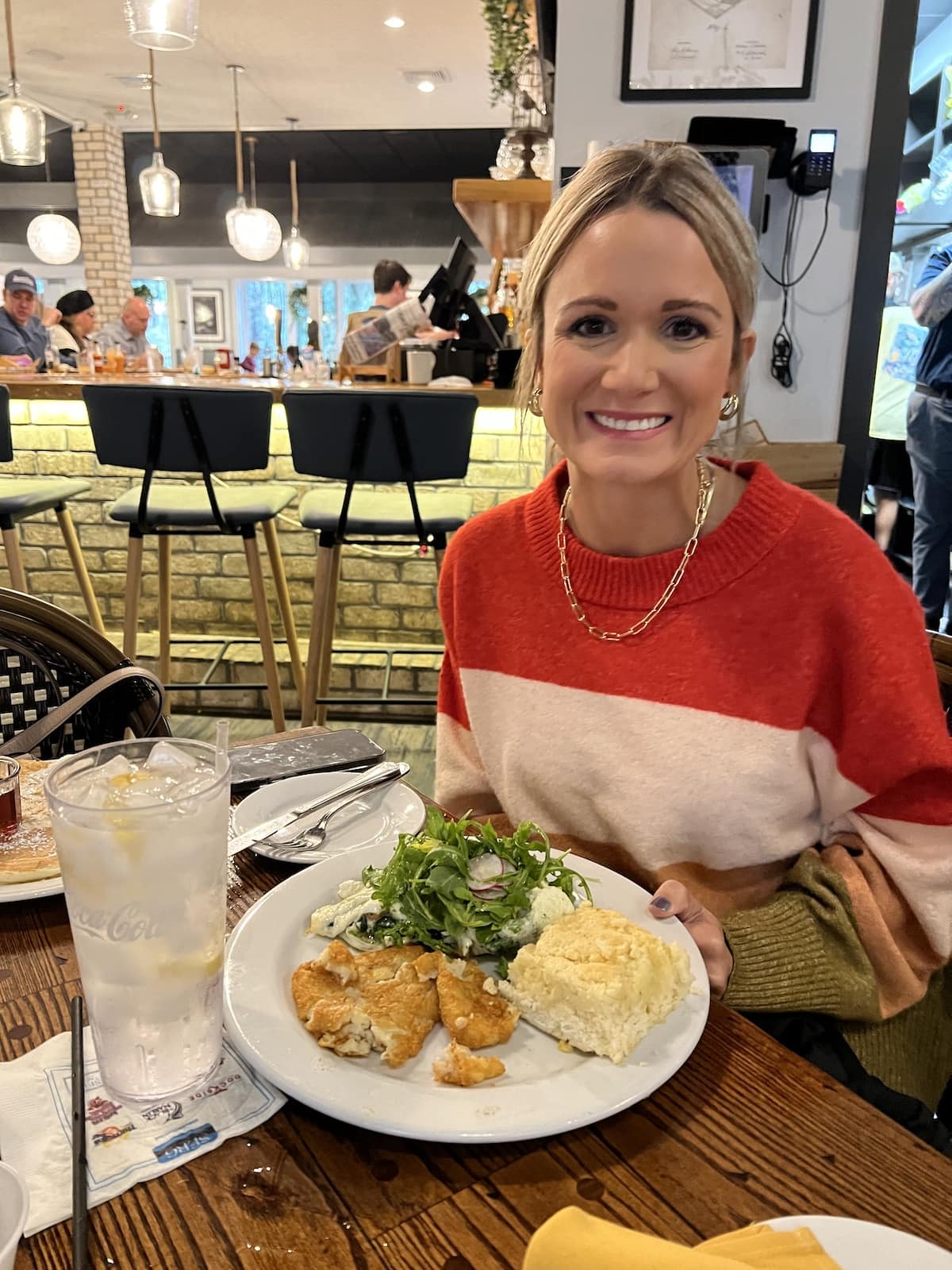 While we brunched it up my crew was having a lot of fun back home. Kye had been invited to a paintball birthday party for the day and it worked out nicely that he was able to go. Meanwhile Zach took the younger three to the VSU football game and they had SO much fun!
I don't get fomo when it comes to missing out on conversations bc I'm sleeping but I DO get it when it comes to my kids having fun experiences without me. I try to remind myself that it's SO good for them to have these fun memories with JUST Daddy! They are so blessed to have a dad like Zach who DOES so much with them and creates these memories!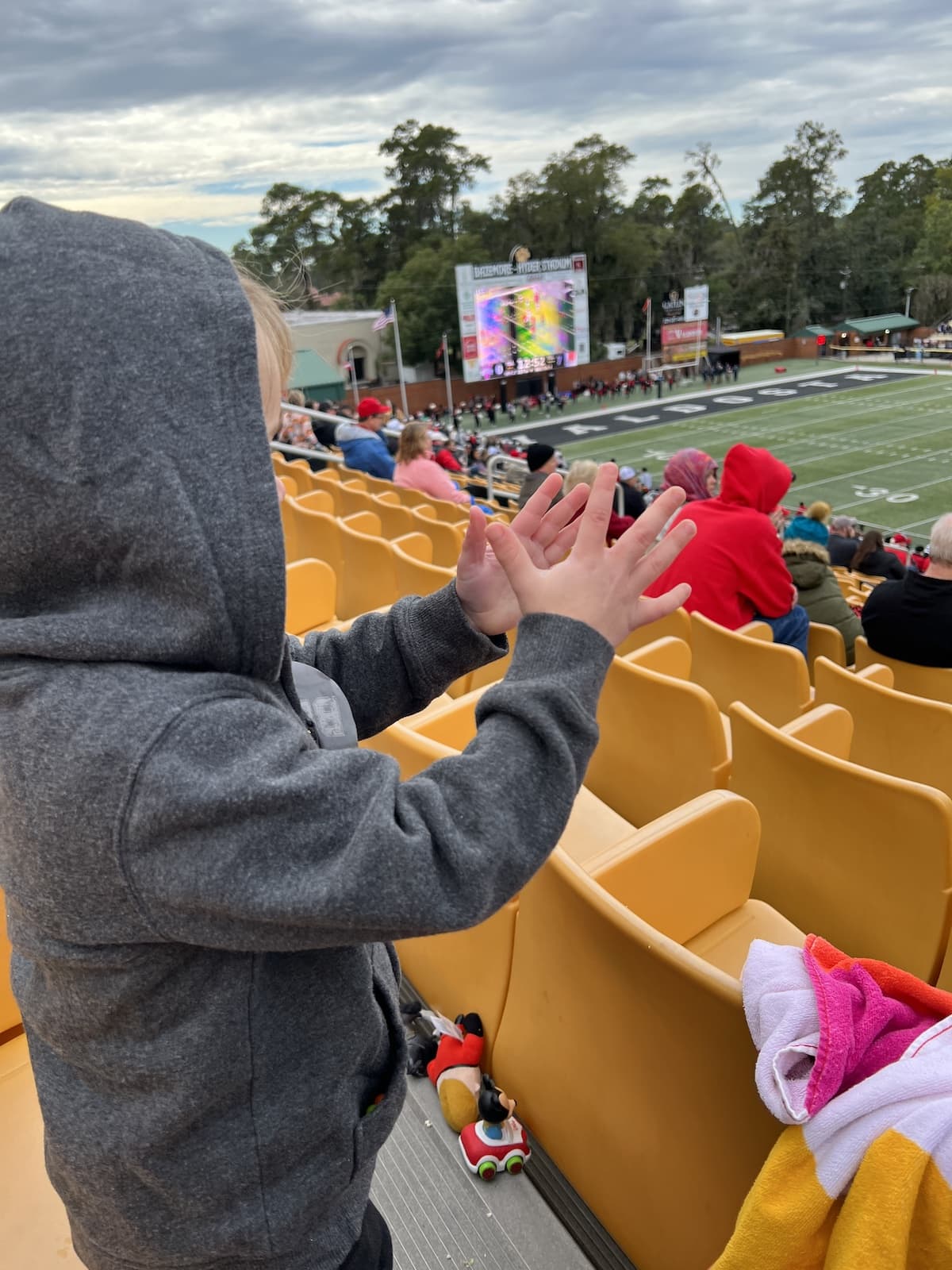 When it's NON STOP POURING down rain all day what else can you do other than shop some more?
We walked around the outlets in Hilton Head and found more fun deals. I invested in a nice rain jacket as I'v been needing a new one for Disney and I found a great gift for Zach – a kitchen boa! Zach always puts our kitchen towel over his shoulder so I knew he'd love this!
I also love when stores have a prayer wall and I will never pass up an opportunity to put in a prayer request. Prayer is powerful!
We found the cutest shop that had lots of awesome prayer journals and devos and we stocked up for the kids! It was a gorgeous store that we could have stayed in all day (here's a link if you want to check out all their merch)
It was cold and wet and still a super fun afternoon!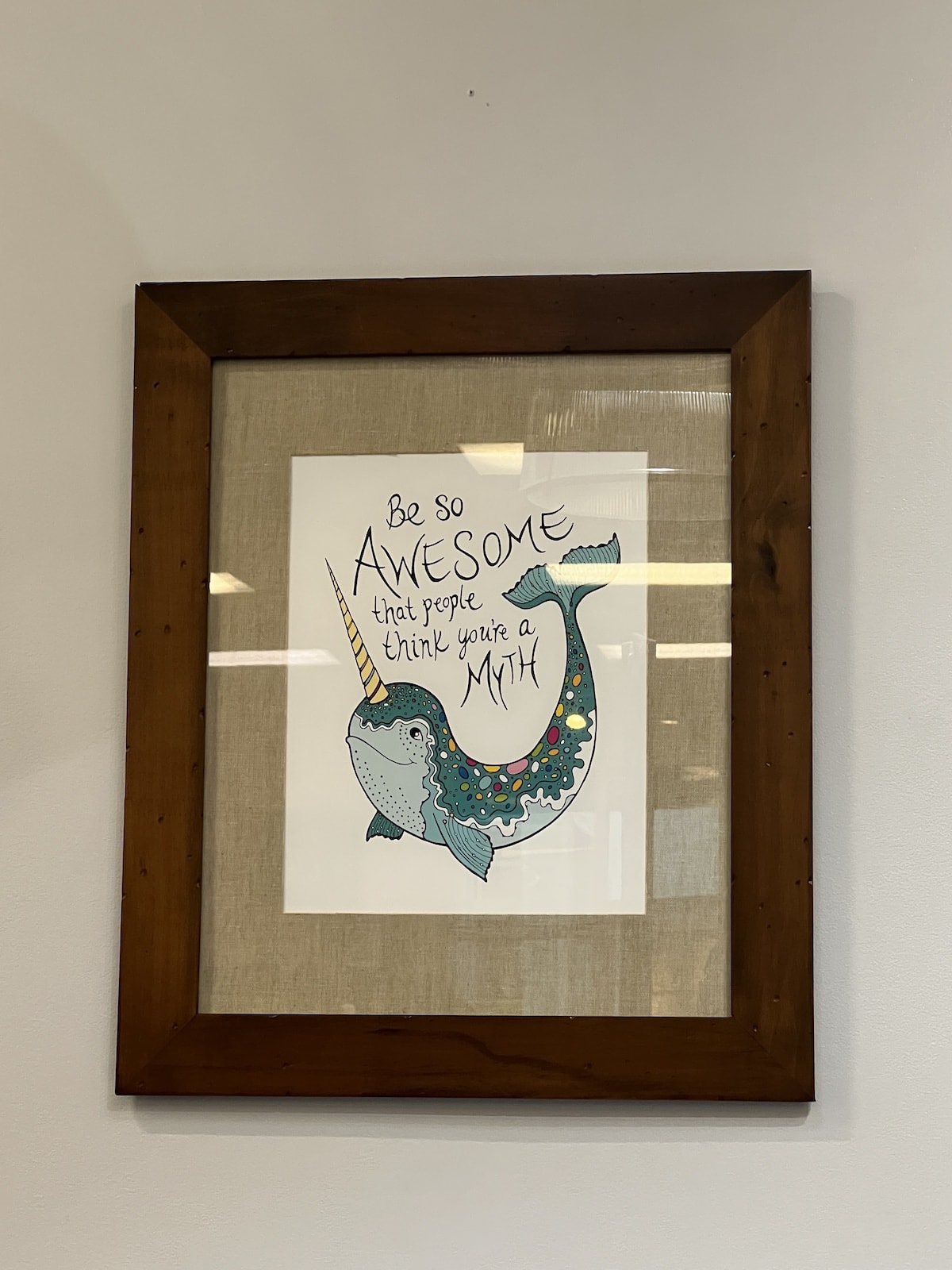 I was pretty insistent in making a stop at Byrd's Cookies and they NEVER disappoint. They had a great deal going and we all loved them so much that we got ourselves some, some goodies for the kids, some for gifts and I stocked up for ALL the teacher presents for Christmas! The key lime is amazing and it's white so I stuck a red bow on 'em and called 'em done!
Our most important purchase of the day was sweatshirts. We all got matching hats in Savannah (a tradition Katie and I started a few years ago for when we travel together) and decided sweatshirts from Hilton Head were a MUST HAVE.
We ended the night with another late dinner and an up all night talking kinda Saturday evening. There is just something special about late night talks on a trip away. I think we all let down our guards a little more and really open up with some great deal conversation.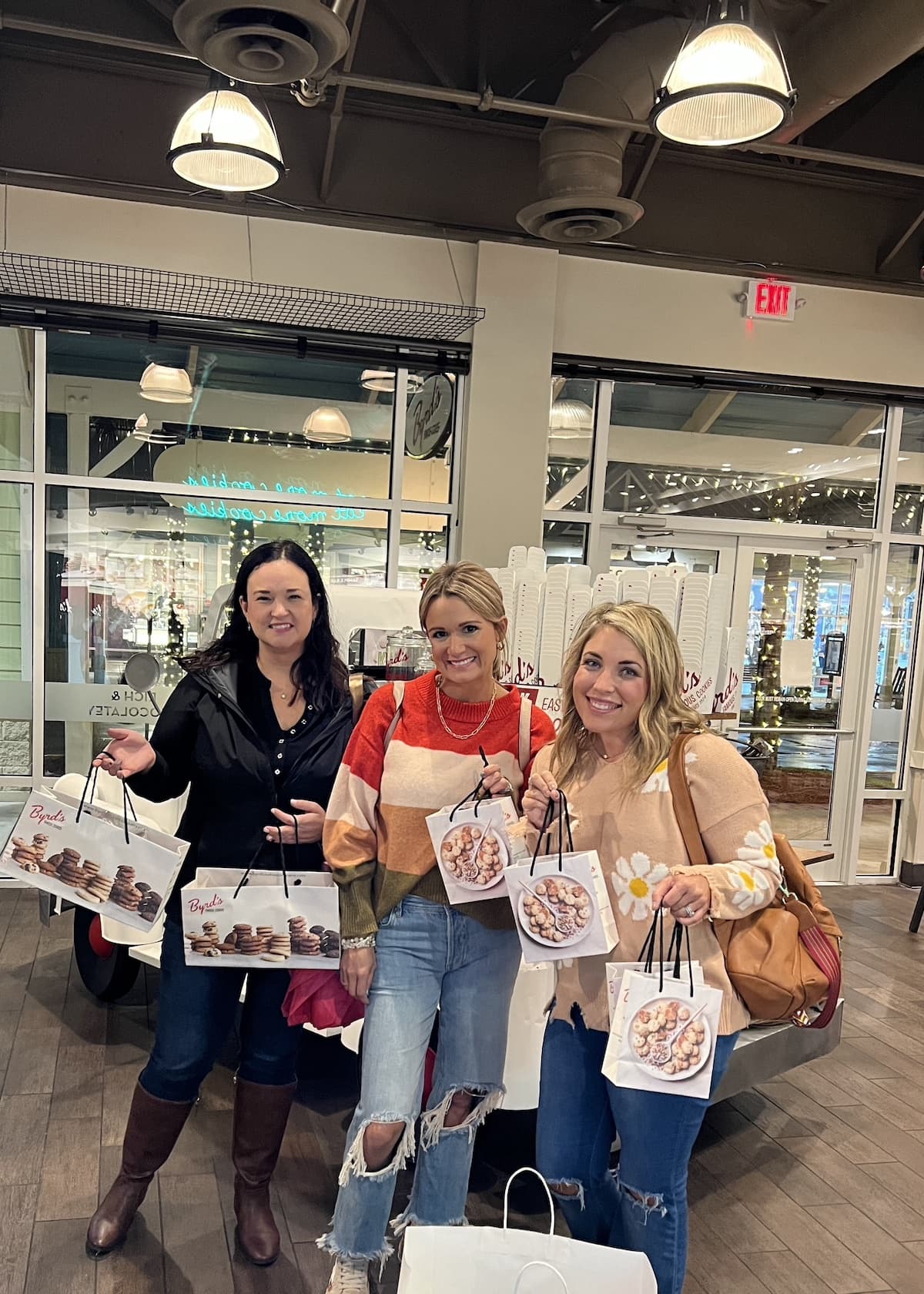 Big shocker but Sunday was another rain filled morning. We kept joking about how Hilton Head sure is beautiful because we literally saw NONE of it.
We finished up the trip with, you guessed it, more shopping. Truly what else can you do in that kind of weather in a location where everything is outdoors? We had fun looking around and taking in all the tourist sites like the statues around the outlets. I sent Zach a pic of this "island girl" sweatshirt bc the kids and Zach constantly sing the "Island boy" song.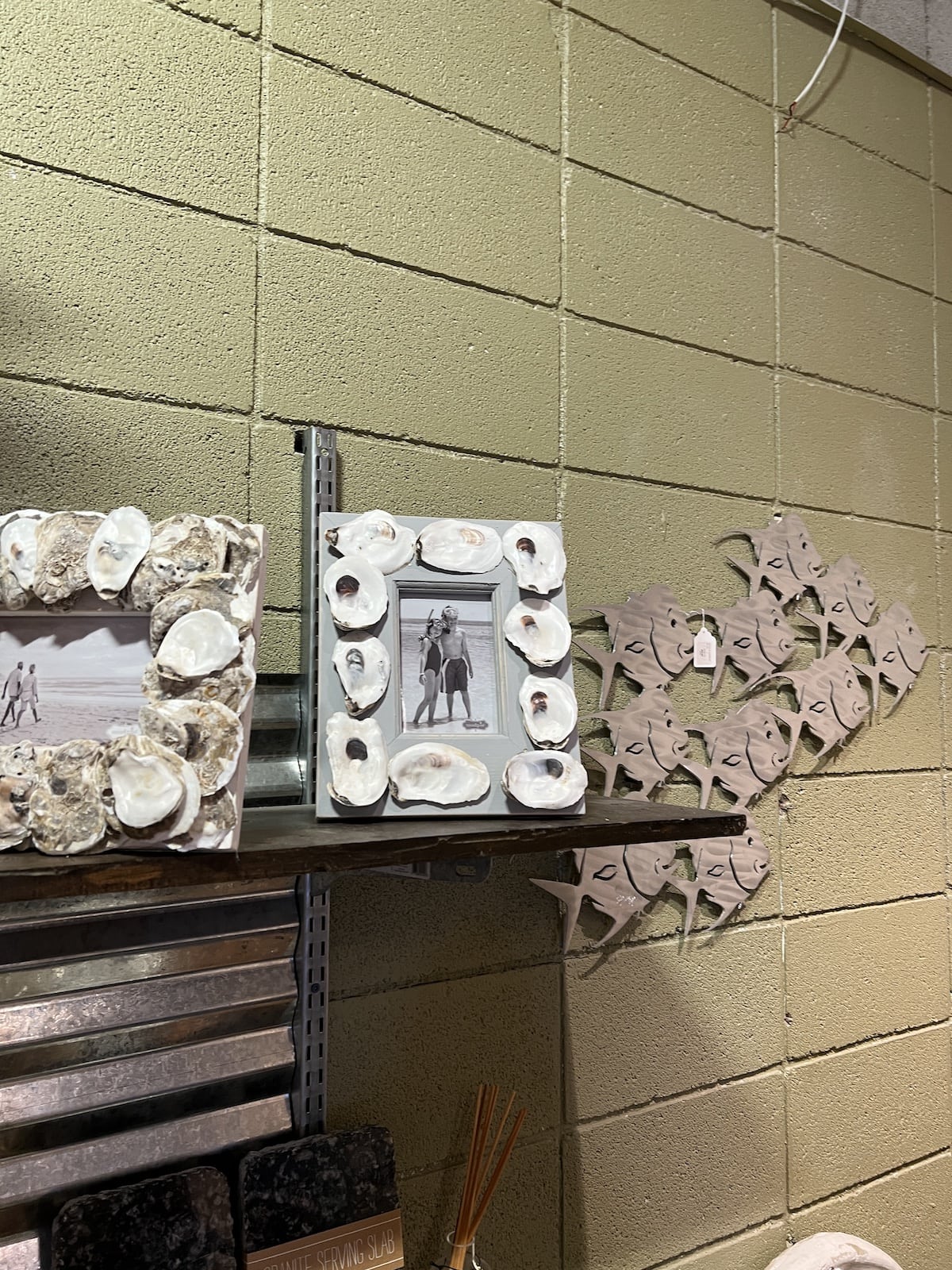 We saw VERY few people all weekend. It was like this weird world where it was US and employees at places and that was it haha.
We really wanted a cute picture altogether of our sweatshirts and hats so we naturally made it into a fun game to ask everyone we saw to take a picture for us. We were DYING laughing at how EVERY person we asked did a straight-up TERRIBLE job. Naturally, the game then became "what random stranger will actually take a halfway decent photo for us?"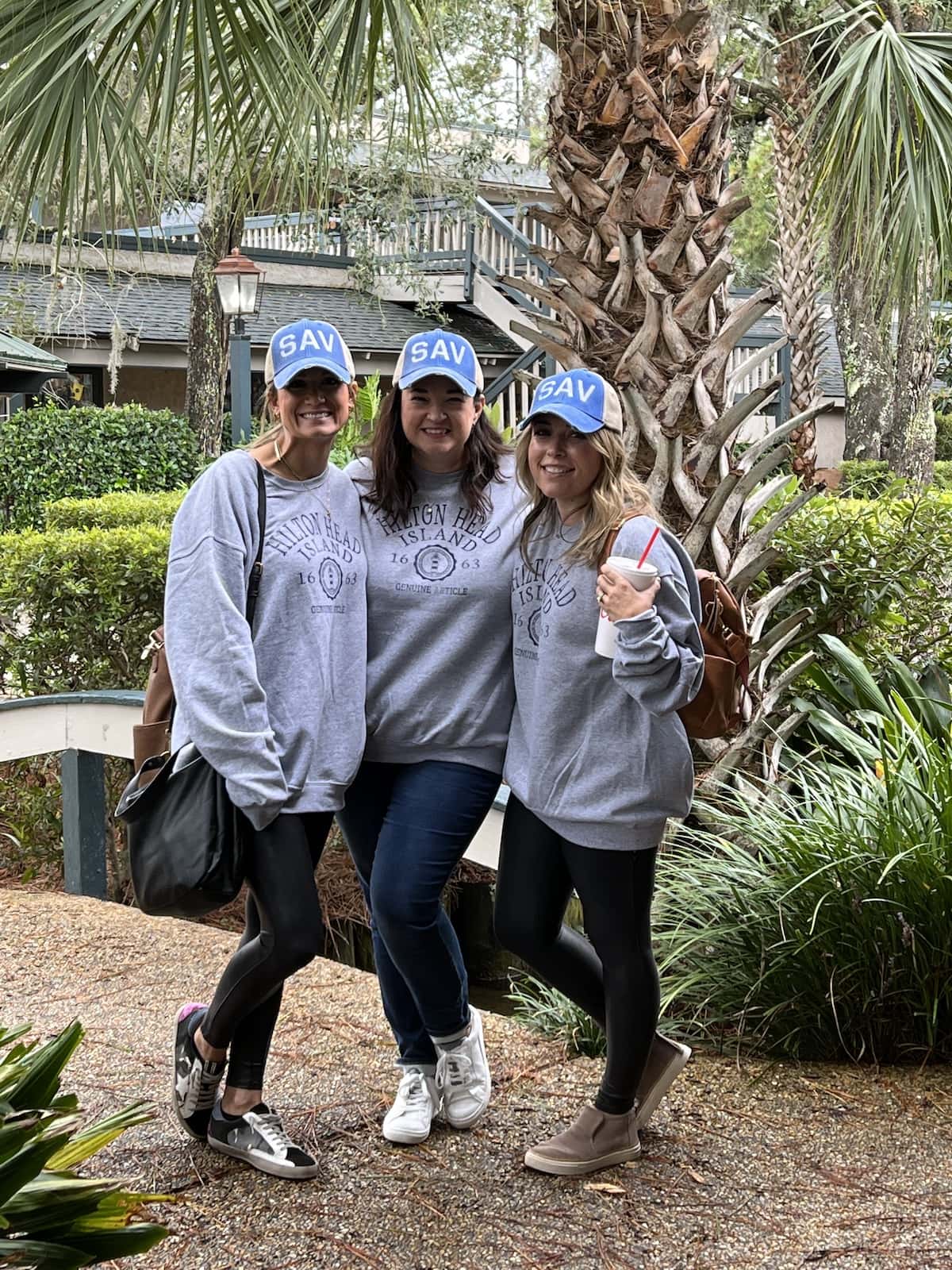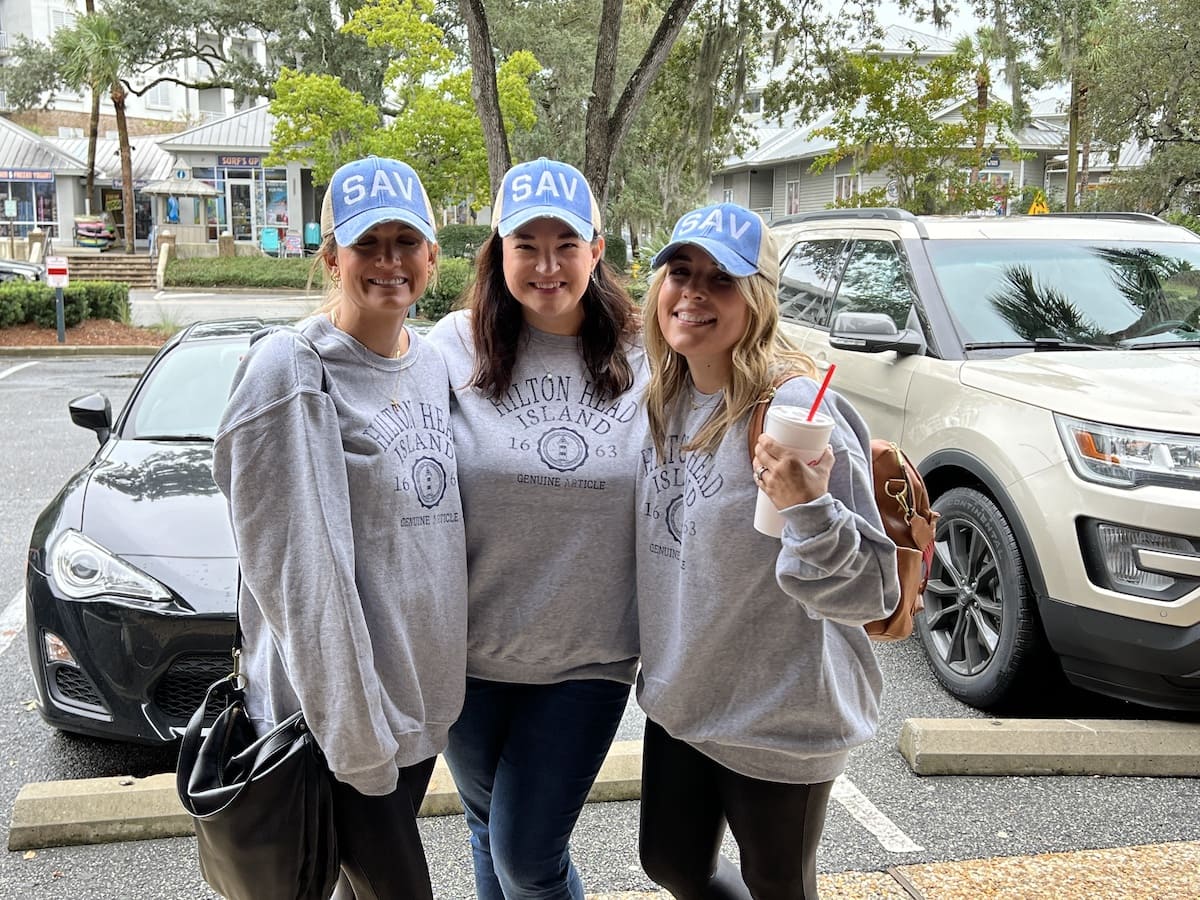 We headed home and made a stop in Pooler at Another Cracked Egg. Seriously if you EVER get to eat there ORDER the Floridian Omelet. Ammmmmazingly delicious!
We all cracked up that the minute we walked out of the Five Below from our final shopping of the trip that the SUN was out. Because of course it was. First time in THREE DAYS seeing the SUN.
Trips where everything goes smoothly make it easy to have fun and have great memories but this trip was proof that these friendships make ANYTHING and ANY situation FUN. Those are the best kinds of bonds where even pouring down rain and freezing cold trip is still a blast just because you're together!
Another perk of the trip not being what we'd planned on…it means we have a valid excuse to do it again 😉