Every year before Christmas Zach and I take a little getaway together. We started the tradition actually in college because we would go on a ski trip that doubled as college credit in December. Once we got married we liked the idea of always setting aside time for "just us" in the craziness of the holiday season.
So a tradition was born and it's really been so great for our marriage over the years! We know we'll get away together in some form or fashion (even if just a day trip) twice a year: our anniversary in May and at Christmastime. We both look forward to those times together!
This year we switched it up and didn't go in December. We knew we had the big ski trip and that it would be a LOT to focus on. Kye had archery tournaments the weekend we'd normally get away during December and we'd hated to miss them. Zach also had a work trip in the works for San Antonio, Tx for January. So we thought we'd delay our Christmas trip and just get away together on that work trip in January!
The work trip ended up getting canceled and neither of us wanted to go on a flying trip after just getting back from Colorado so we decided to keep it simple and just drive to Savannah for a couple of nights. We needed the time together. It was just perfect timing with us being close to the end of the wait for Zach's full dose of medicine as well as reaching a point in the land situation where it felt like it was really happening!
Super thankful to Mrs. Charlotte for always being open to keeping the kids for us to allow us to get away together like this. It is something so many married couples aren't able to do and she gets ALL the credit for it! I don't know what our marriage would look like without these opportunities and we're forever grateful to her 🙂
We had an extremely chill weekend which was what we both were craving. I took the reigns on the trip and didn't even bother Zach with ANY of the decision making. I didn't overthink, I just booked a room at a place we'd stayed at on a trip to Savannah in the past that I knew he'd LOVED! He was thankful for the surprise and we had such a wonderful time away together.
A great start to the new year and I honestly kinda preferred this rather than going during Christmas time.
Part of our tradition is using our Christmas money to go shopping and the deals were def better post-Christmas than pre-Christmas! We hit up the outlets outside of Savannah after getting brunch at my fav spot – Another Broken Egg. Order The Floridian Omelet. You will NOT regret it!
We had a great time walking through the outlets together, and even bought matching hoodies that we wore out of the store 😉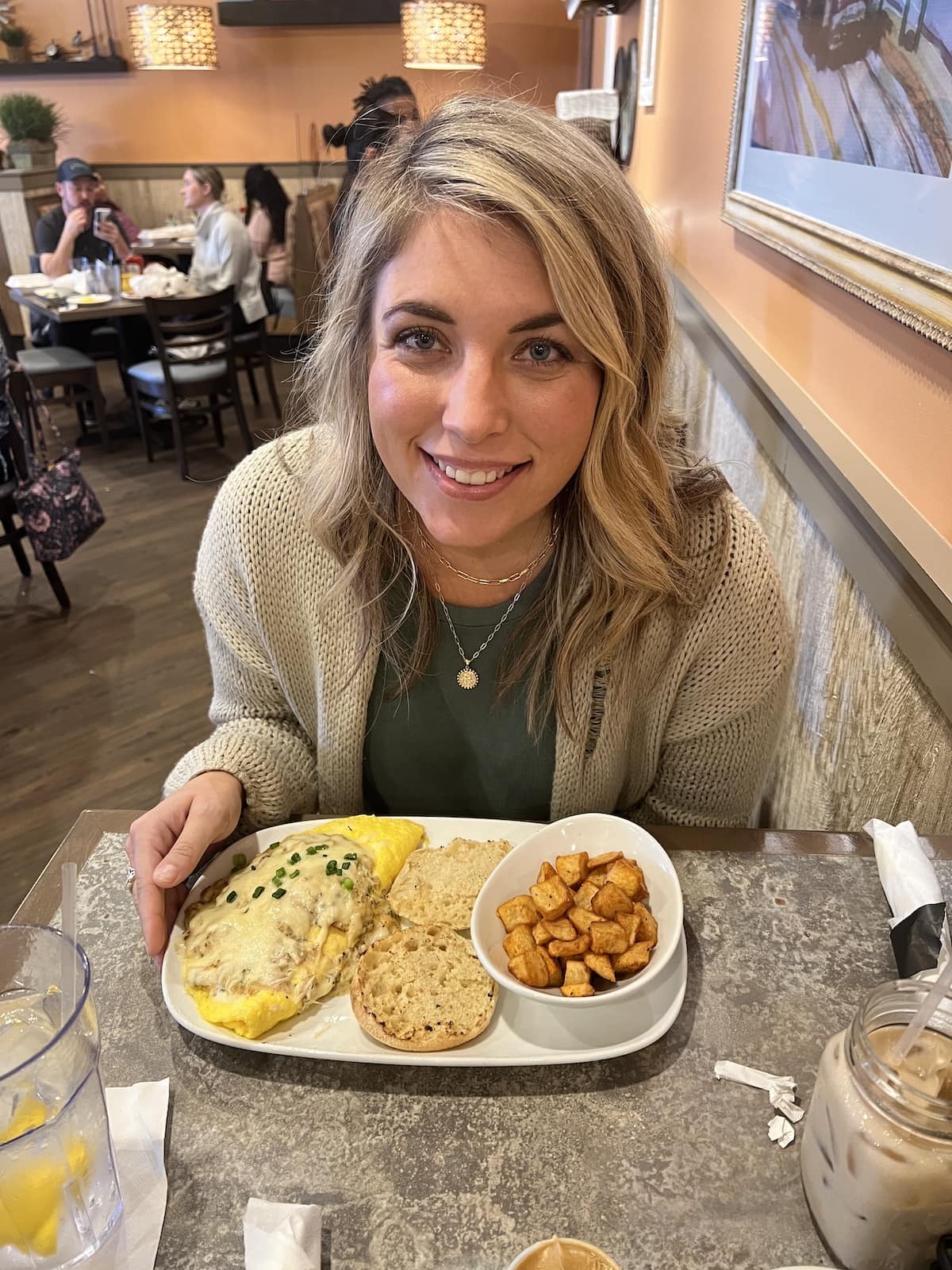 We stayed at The East Bay Inn and it's a FANTASTIC location as well as beautifully decorated. Zach loves historical sites and I love modern hotel rooms and this place blends both perfectly! Plus they had fun local popcorn every day in the room for a great touch too 🙂 It was THE perfect spot for our weekend away!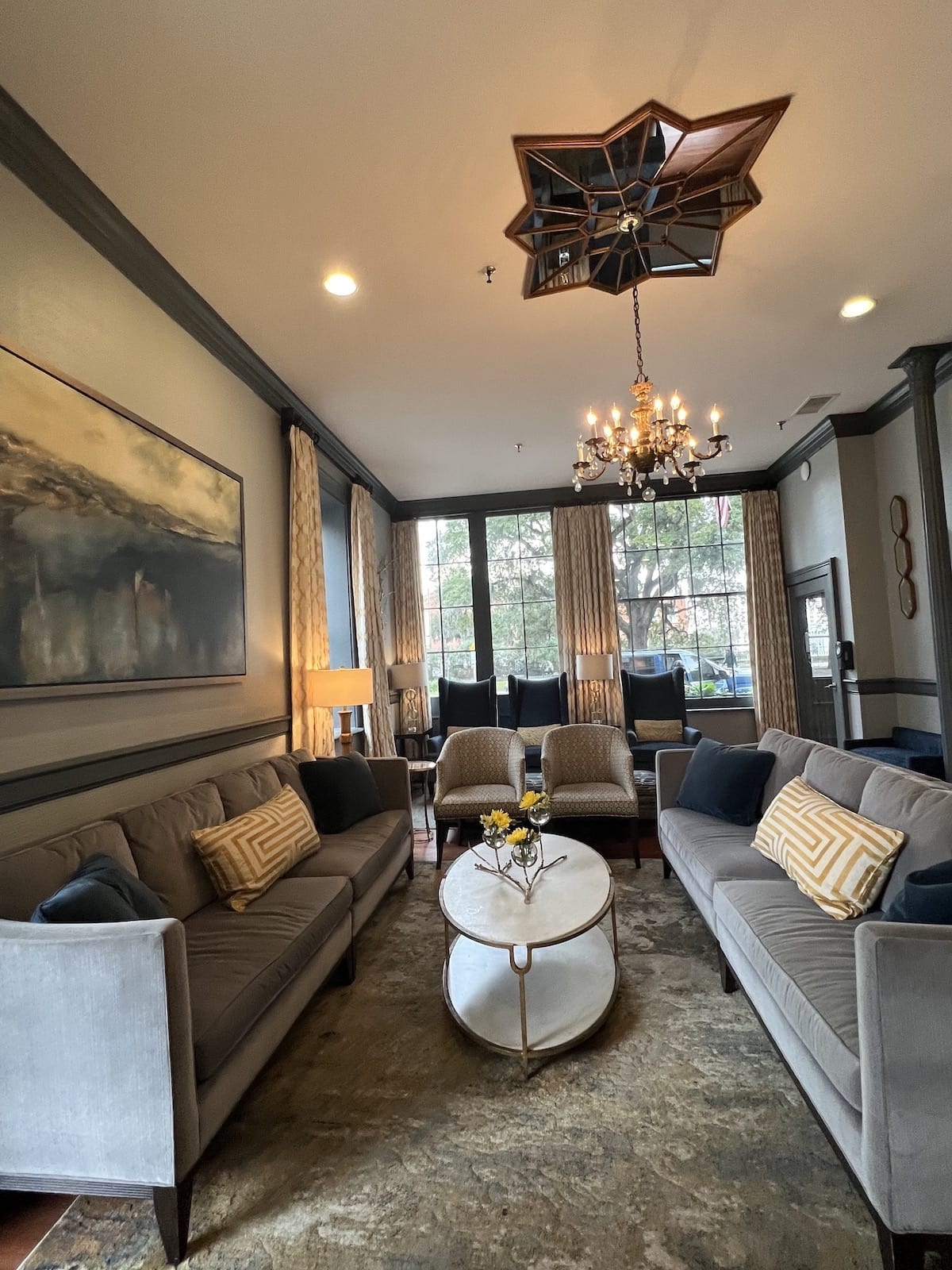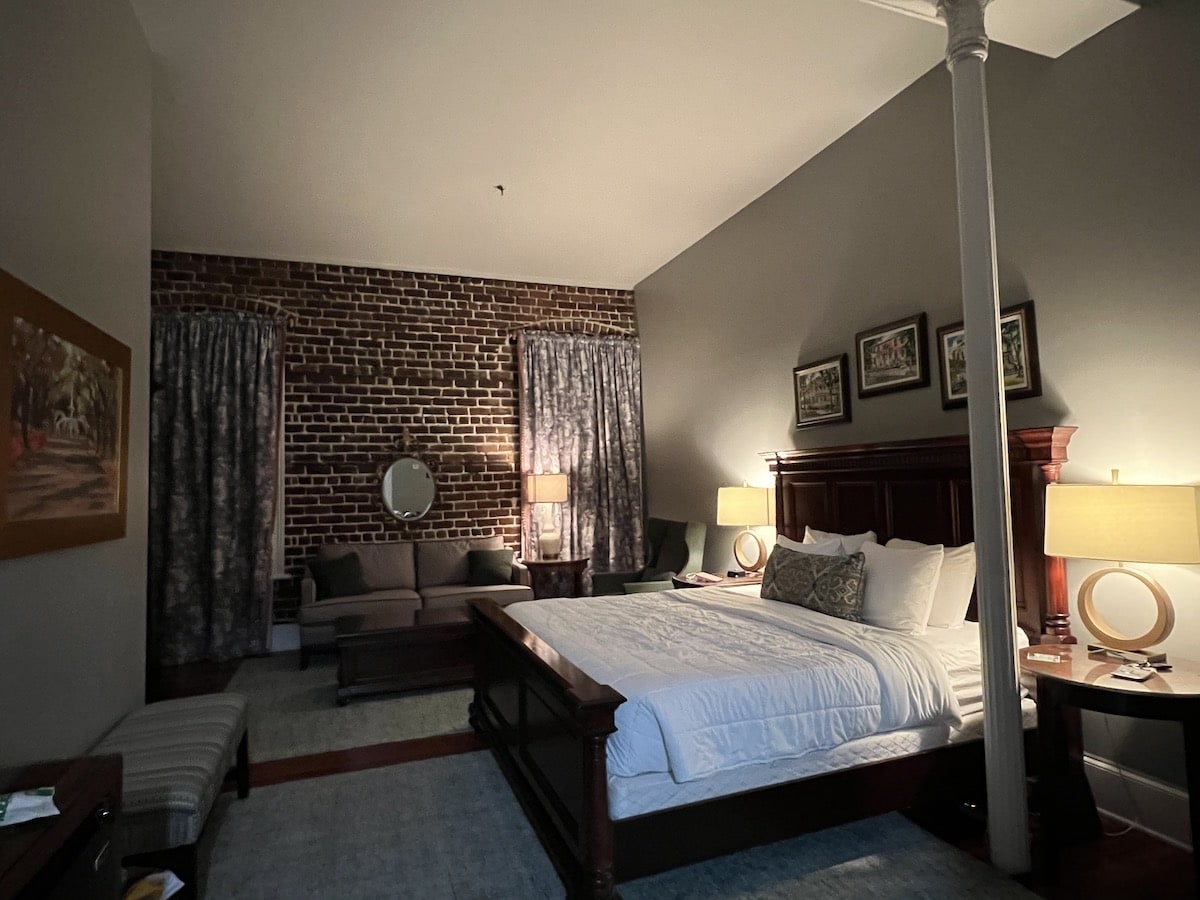 East Bay Inn is located in THE perfect spot for easy walking all over Savannah and is just across from River Street too!
My natural body clock is to fall asleep at 11:30ish and sleep until 9ish. My best self needs a whole lotta sleep! It was wonderful to just allow my body to wake up naturally and then we got rolling for the day!
We had our walk-around-the-town day and kicked it off with walking over to Maple Street Biscuit Company. Simply delicious! And so fun because they ask you your favorite song and announce it when your meal is ready rather than your name. Just a cute touch!
I got the farmer with a fried egg, Zach got the five and dime with a fried egg and we shared the three layer cake also with fried egg. We got the gravy on the side and were glad we did as it had a good bit of a kick too it!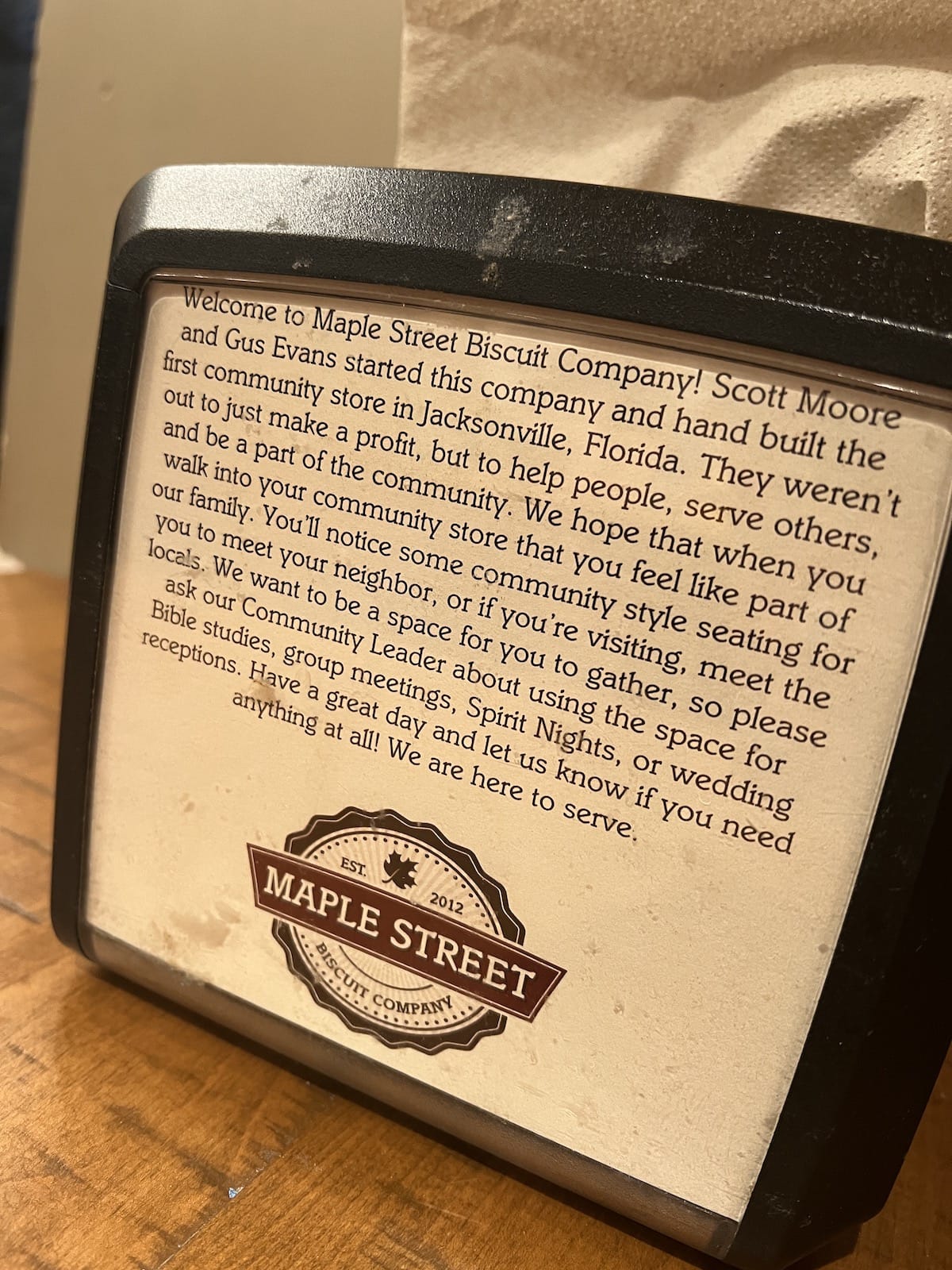 We spent the day exploring Savannah! Savannah has a lot of cute spots on River Street but even more shops and such further inland. It was very similar to my girl's trip with Katie and Tiffany in November…but a lot less miserable because we weren't in the rain 😉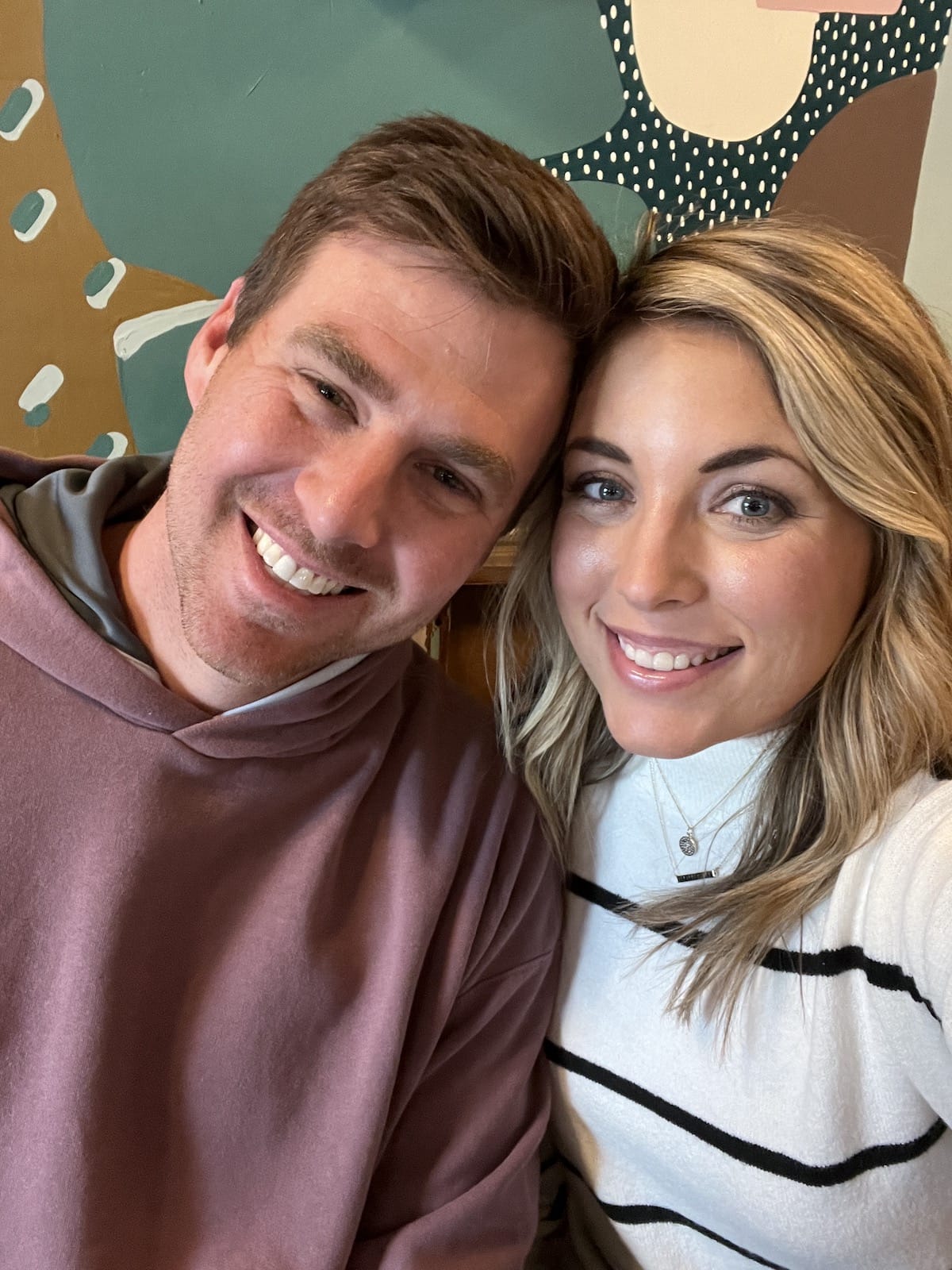 The best new fav spot we found on the trip was The Coffee Fox. Best. Coffee. EVER. I ordered the Horchata Latte with oat milk and caramel and it was ammmmazing (I got it iced).
We came back to the room (just a short walk from River Street) at 3ish and it was the first time we've had a hotel clean our room since 2019. There is just nothing like coming in to a made bed and fresh towels! It really brings home that pampered hotel experience.
We usually have a show we love to chill and watch while traveling and this trip was Ted Lasso. Aside from the awful language (which is, awful!) the show makes you wanna be a better person. Love it so much!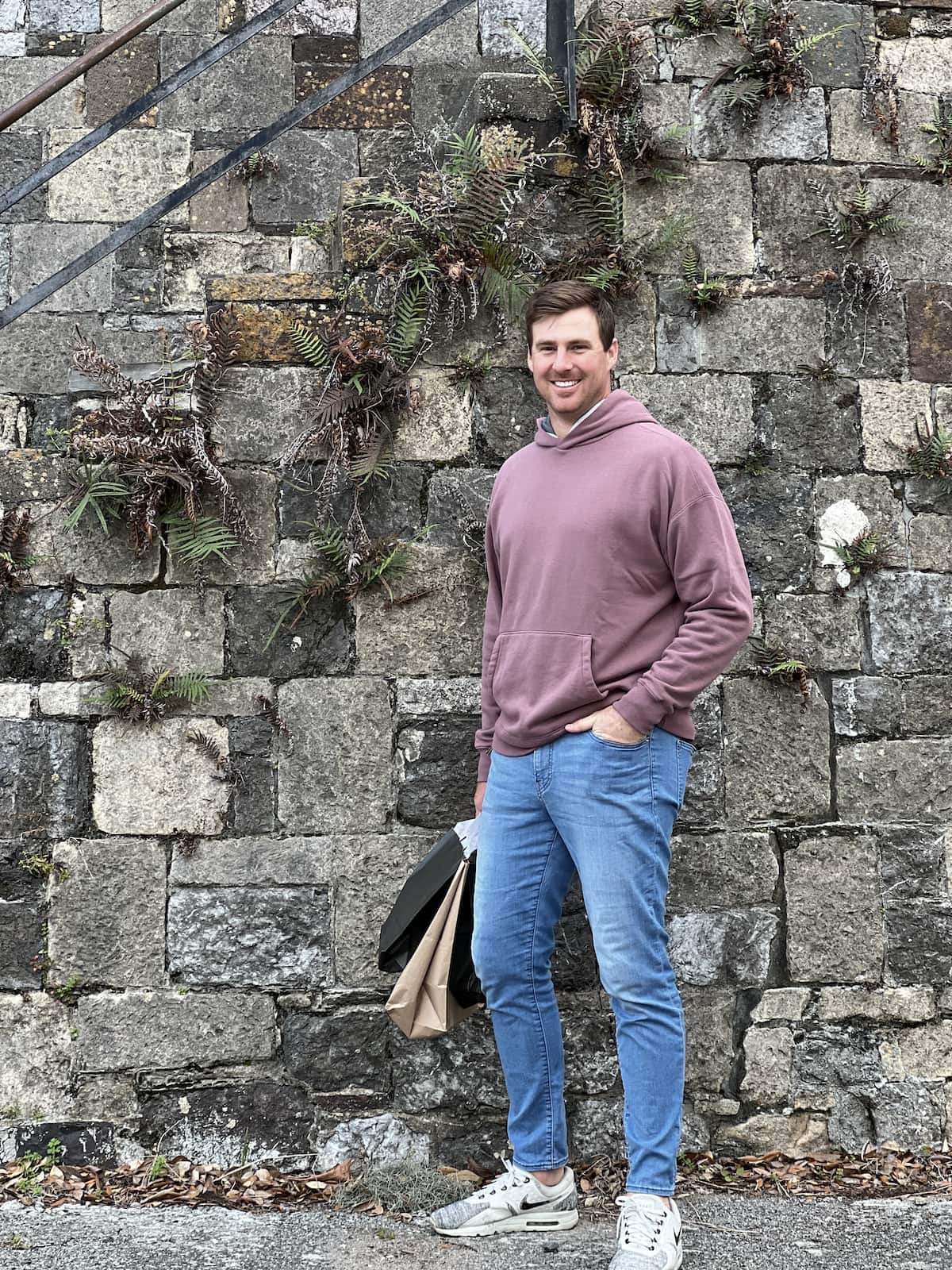 Truly an old people kinda trip…we skipped lunch and instead decided to do a super early dinner. We left the room at 4:15! It's practically impossible to get reservations at The Olde Pink House but if we learned anything from our trip to Charleston it's that most places have a super early walk-in opening time!
We arrived 45 min prior to the restaurant's opening time and waited outside for seats inside the Tavern which serves the same menu as the restaurant above. We actually kicked ourselves for not arriving earlier and next time we'd get there an hour prior to opening. The hotel was just around the corner from the restaurant which made it easy too!
The doors opened a little prior to opening (4:50) and all the tables in the Tavern were filled a few parties ahead of us. If we do it again we'll for sure arrive by 4! But we didn't mind sitting at the bar and were actually the last people allowed in for the first seating.
I got the crab cake and asparagus and it was the best asparagus of my life! SO yummy! We were done with dinner by 5:45 – it was so funny to walk out of the dark Tavern and it still be light outside!
We finished the evening with another stroll down River Street and picked up a little treat for dessert to have back in the room while watching more Ted Lasso 😉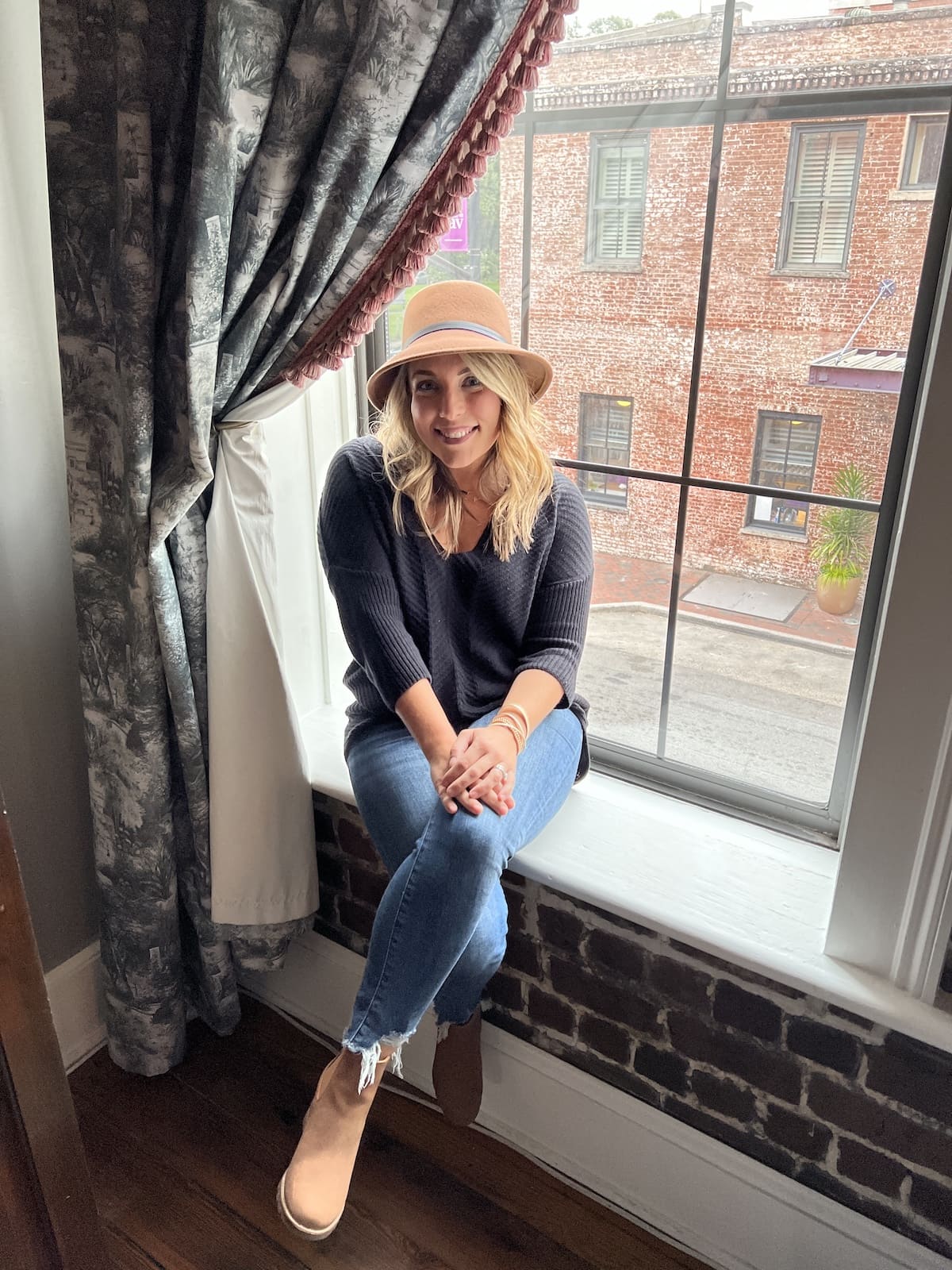 East Bay Inn was a bed and breakfast when we stayed there last but now the downstairs is a restaurant (Debi's Restaurant) where guests of the hotel can receive a discount. The food was fantastic! I got breakfast in a cup and loved every bite 😉
Our big goal for the day was to get more coffee! It was THAT good! We hit up The Coffee Fox again and this time Zach copied my order! (Horchata Latte with oat milk and caramel) We found a great spot in a nearby park to sit and drink our coffee and had some really good talks about deeper topics. It was so nice and relaxing and just great quality time together.
Zach had bought some really nice shirts at H&M the day prior so we went back to grab some more. We then headed over for massages at Sweet Water Spa.
We had the WORST massages on our last trip to Savannah and this one started off having me nervous. Whenever we book massages we both prefer females massaging us. This time I had a man which made me feel a bit awkward and uncomfortable but he was VERY professional and we were in the same room together the whole time which also helped. It's weird to me that neither of us feel awkward about a woman massaging Zach but we both do about a dude massaging either of us!
It was legit an AWESOME massage! Totally made me rethink my whole no-dudes policy haha. We both also got facials that were amazing and left my skin so glowy!
After we had a very chill mode dinner at Ordinary Pub and the burgers and fries were SO good!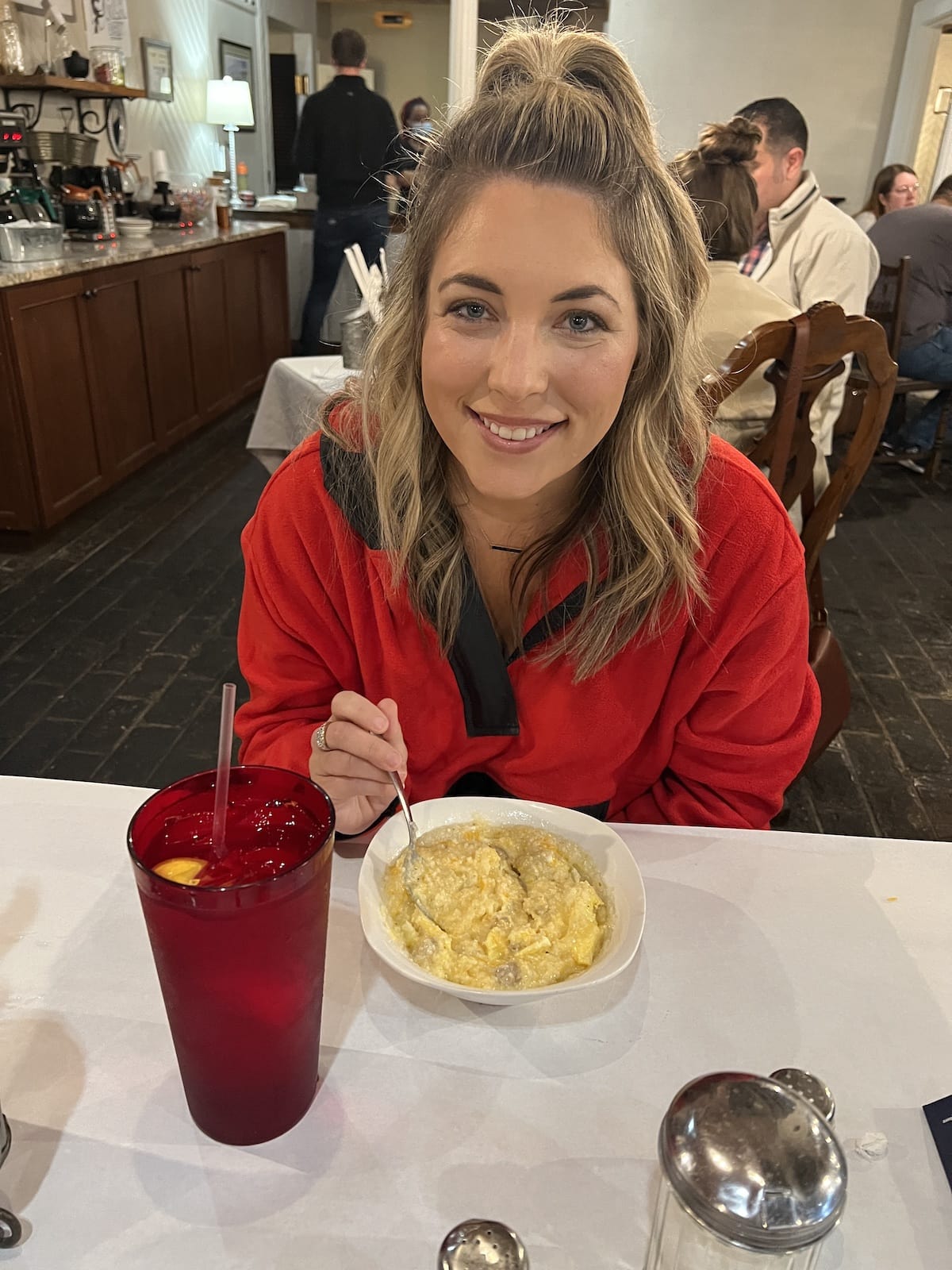 We had a bit of time before heading home the next morning. Zach really wanted to eat at The Collins Quarter and it did not disappoint! The vibe is ADORABLE – awesome brunch spot for sure. He finally got some chicken and waffles!
It's located near the Forsyth Park Fountain so we walked around that area for a bit but it was FREEZING so we didn't last long. We really wanted to look at all the old houses to draw some inspiration for our new home but 51 degrees and straight wind in your face meant we decided to call it and head back home to our babies!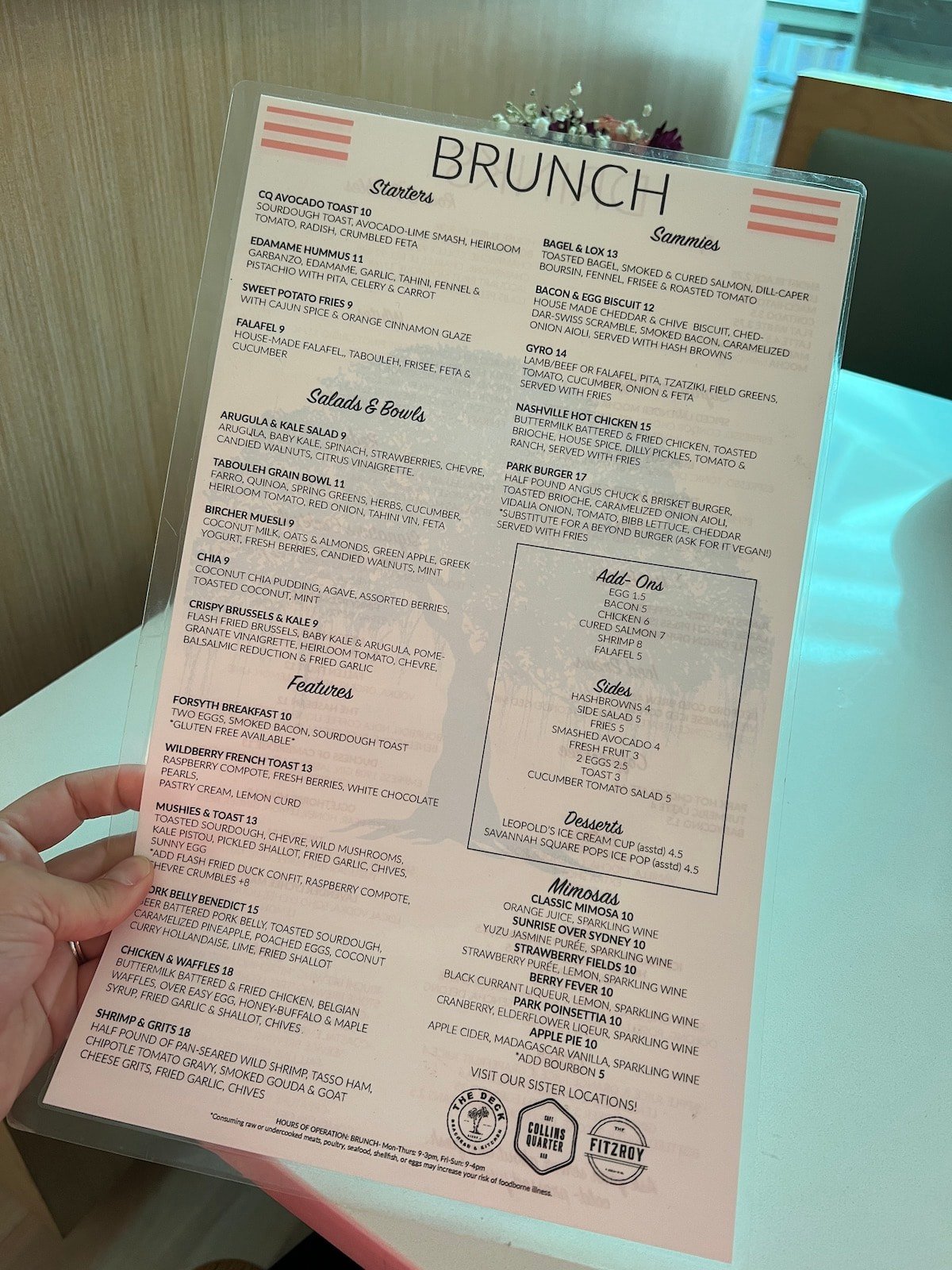 We had an absolutely wonderful trip and I kinda think it'd be fun to shift the tradition to January permanently! It was so nice to reset after all the craziness of the holiday season (and our ski trip haha) and just reconnect as we started the new year together 🙂