What says childhood fun more than backyard trampolines? They are one of the best things to have for outdoor play, and when you invest in a good one, they'll last you for years! Finding the best outdoor trampoline is a no-brainer, though there are some things to keep in mind while shopping.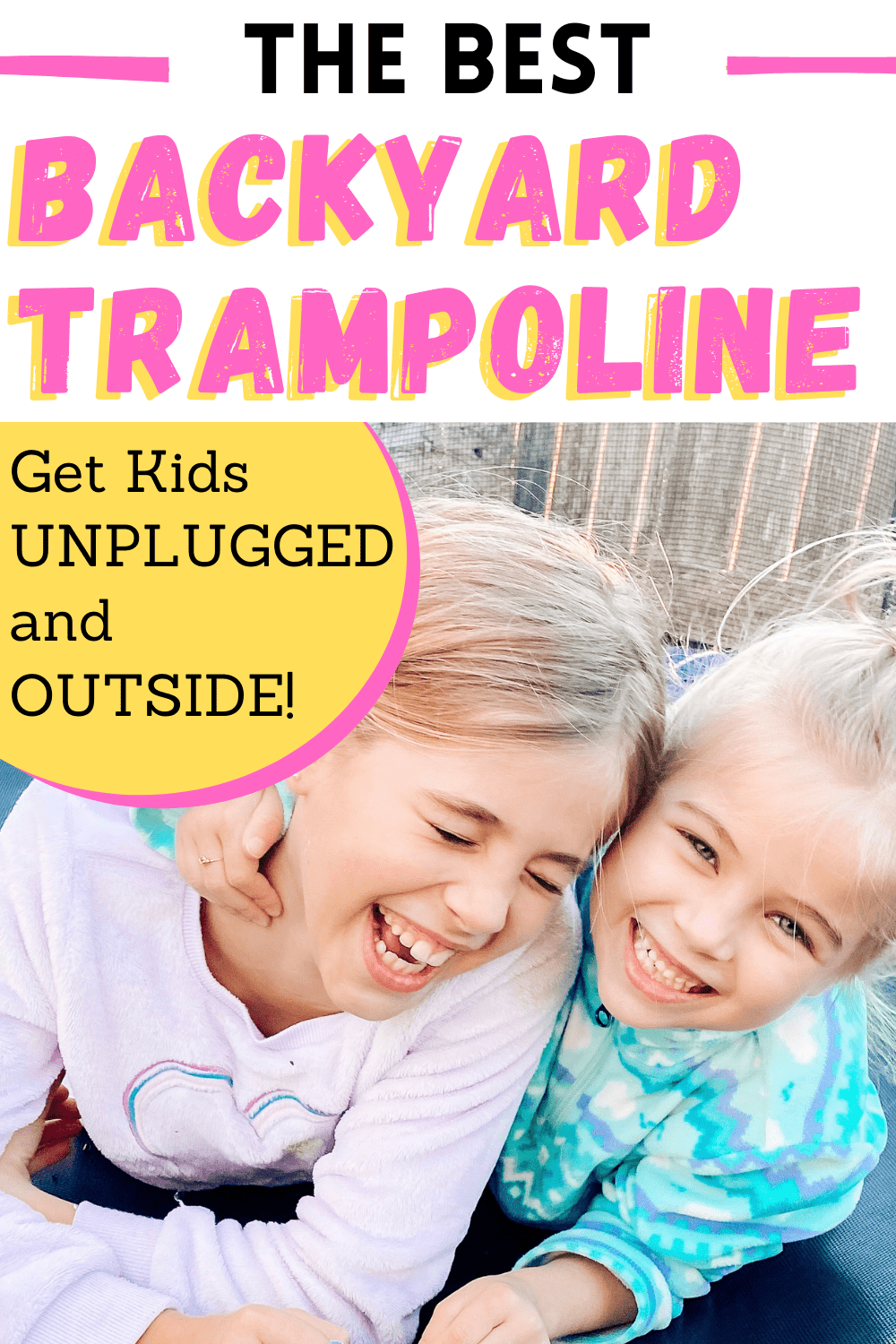 How to Shop for a Backyard Trampoline
There are many things to consider when investing in a trampoline for your family. Where do you plan to set up the trampoline? What safety features are important to you? Do you want any sort of minimum year limited warranty? How much are you willing to invest in the purchase?
Here are a few of the things to be sure to think about and features to look for when purchasing a trampoline.
Weight Limit: User weight limit, especially looking at the maximum weight capacity, is a big one to be keeping in mind! While you probably won't have the entire family on the trampoline at once, it's definitely a good idea to make sure it can support the weight of whoever's going to be bouncing on it. Most trampolines will have a weight limit of 250-400 lbs.
I recommend aiming for a higher weight limit for maximum safety! We have four kids and I knew when I was shopping for our family trampoline that I wanted to make sure the weight capacity would allow all four of our kids to jump together. My husband is around 220lbs so I also looked for an over 300 pound weight limit at a minimum for the single user weight so he could also bounce with at least a couple of the kids too!
Price Range: Prices vary depending on the size and type of trampoline, but I would recommend not going for the cheapest option – it probably won't be the best quality! Investing a little bit more for a better trampoline will ensure that it lasts a long time and prevents injuries. For the average price point, you're looking at around $400-$1,000 depending on size and features.
I tend to be a "deals" kinda shopper but wanted to really make sure the trampoline comes with a solid jumping surface and a resistant galvanized steel heavy duty steel frame to ensure a long lifespan with this purchase. I went middle of the road regarding cost and ended up spending right around $500 for our trampoline, which you will read more about below!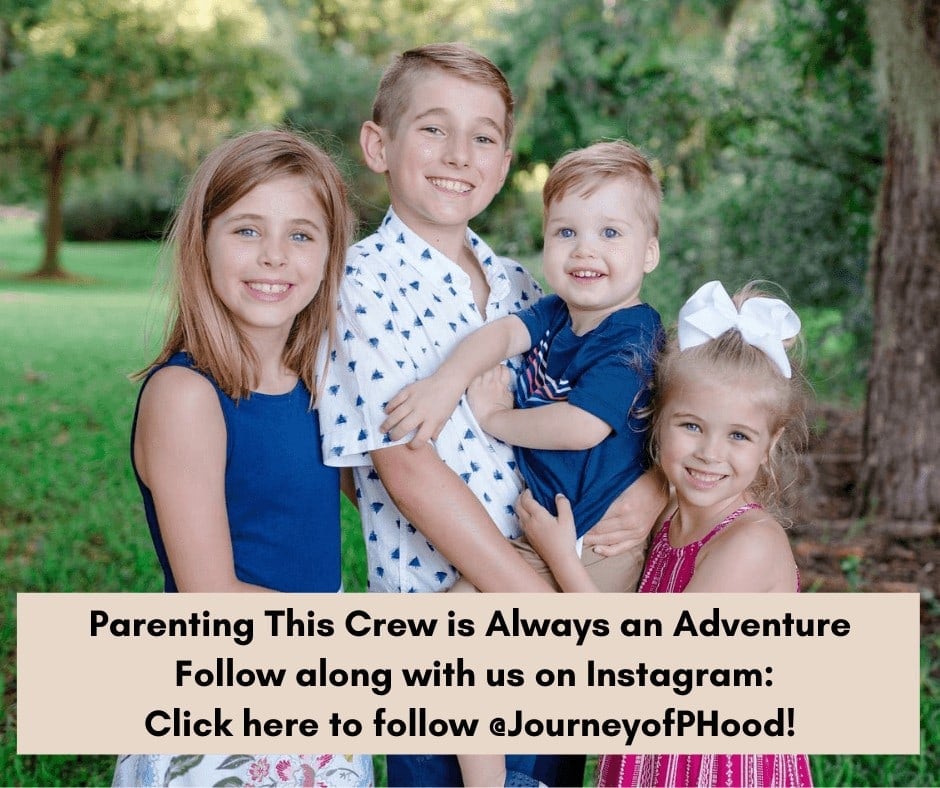 Enclosure Net: Another thing to decide is if you want to invest in a trampoline with an enclosure net, as they tend to add to the price tag. My opinion: totally worth it! It's WAY safer than an open trampoline, especially for small children! Save yourself the peace of mind and get that trampoline safety enclosure.
Growing up we had a backyard trampoline and the enclosure netting wasn't a "thing" back then and I was unsure about how I felt about them. Let's be real, trampolines aren't very attractive as they are – let alone adding a net too. But I am SO glad we invested in a trampoline with the net. It's been a great additional level of peace of mind and safety.
Spring Covers: It's also a good idea, whether the trampoline has a net or not, to make sure there's at least a spring cover (also called a spring pad) that goes over the edge of the metal frame, covering the springs or bungee cords. Not only does this prevent arms and legs from getting pinched, it also helps prevent the steel springs from rusting!
Okay, with all that in mind, let me share with you my top picks for the best outdoor trampoline money can buy… starting with my absolute favorite backyard trampoline.
Disclaimer: post contains affiliate links.
The Best Outdoor Trampoline (That I've Found!)
Skywalker Jump-N-Dunk Trampoline
Skywalker Trampolines are regarded as one of the best trampoline brands, and for good reason: they're known for making high quality trampolines that last!
This is seriously the best rectangle trampoline I've ever had (and best outdoor trampoline, period!) It's also the safest trampoline I could find, making it a great option for families! The safety net enclosure is great. We don't have the basketball hoop attachment version but I wish we did. I debated that feature when purchasing and we actually ended up pulling over an old standalone basketball goal next to the trampoline so our kids can play and I wish I'd just bought the one that included it!
The main reason I made the decision to purchase the Skywalker rectangle trampoline is due to its specific design, which is something you see less often than a standard circle trampoline or even a large square trampoline. One of the main reasons to get a rectangle is because there's so much extra space for jumping!
It's a 9 by 15 ft trampoline, which is also great for kids who are in gymnastics and want to practice cartwheels and flips safely. 
This trampoline was a gift for my oldest daughter for Christmas. She is a gymnast so I wanted to be sure to find a trampoline large enough for her to do flips and practice her skills with and the rectangular shape has been PERFECT. She is now almost 10 years old and still jumps almost daily and still has plenty of space to do her roundoff backhand springs.
My husband was pretty anti-trampoline until I found this one. Another great thing about the rectangular shape is that it is much easier to have set up in the corner of our yard, out of the clear line of sight and in a space that doesn't take away from our backyard vibe. We have it set up beside the corner of our fence and it fits perfectly!
Other reasons why it's the best option:
Weather-resistant galvanized steel frame and springs (really, any good trampoline should have this!)
No-gap safety enclosure net (so no fingers and toes get caught between the jumping area and frame!)
Good-quality spring pad (again, something any good trampoline should have!)
Built-in basketball hoop!
Other Top Outdoor Trampoline Options to Consider
Skywalker Square Trampoline
In case you don't need (or don't have the space for) rectangular models, Skywalker makes different sizes of outdoor trampolines, too! A square trampoline is more surface area than a circle and can fit into the corner of a yard with ease!
Skywalker Mini Trampoline
If you're looking for a smaller trampoline perfect for young children, Skywalker has a great mini trampoline option, too! I like that this one also has a safety net – not as far to fall, but still good to have that extra peace of mind!
Zupapa Trampoline
Another large trampoline that has gotten positive reviews is the Zupapa round trampoline! This one also comes in different sizes and has a safety enclosure. There's a very good warranty on most of the parts and, in some cases, free replacement parts! If you like round trampolines, this would be a good choice!
JumpKing Rectangular Trampoline
This rectangular trampoline is an investment, but it's worth taking a look if you're looking for larger trampolines that are good for gymnastics! In terms of fitness trampolines and best rectangular trampolines, you really can't go wrong with a well-built rectangle with a good net enclosure!
ORCC Round Trampoline
This is a good choice for a circular trampoline that has different sizes available, as well as the option of net or no net! The price point is pretty affordable, too, especially for the quality!
Happy Trampoline
If you want a real heavy duty trampoline that'll sustain lots of gymnastics practice, the Happy Trampoline might just be worth the investment. The thing I do like about it is that it has a lifetime warranty on the springs and frame. Worth it? You decide!
Springfree Trampoline
Yes, they do sell springfree trampolines! It's a little pricey but worth it if you're just not a fan of springs. Instead of a jumping mat attached to a metal frame by springs, flexible rods attach from beneath. It's really innovative, actually!
The Best Outdoor Trampoline: Final Thoughts
While the SkyWalker Jump-N-Dunk is my personal favorite for the reasons I mentioned above, hopefully, this list helps you find the right trampoline for your family and budget! I can't emphasize enough how good an investment a trampoline is. They're a great way to exercise, they get your kids outside and unplugged, and if you buy a good quality one, it'll last you years and years!
Are there any trampolines not on this list that you think deserve the title "best backyard trampoline?" Share them in the comments!
Other posts you might like: