Summer is a time of relaxation and FUN. I love making memories with my children and enjoy filling our days with different experiences and adventures.
But I'm also a self-proclaimed penny pitcher. I enjoy finding deals and saving money and spending wisely is a top priority for our family.
I am always on the hunt for fun experiences that don't cost a lot of money (especially when you factor in that we have THREE kids which can really add up on the spending).
Here are some of my favorite summer activities that don't break the bank:
Community Helper Visits:
Our yearly tradition is to visit our local fire station. I call the station a couple weeks in advance and we typically have a pretty decent size crew of friends who join us. They go over fire safety and give us a tour of the station. But the best part is the firetrucks!
They let the kids climb in the trucks and even get to spray the water hose. It's a summer FAVORITE for our family. My 8 year old son has been going since he was a toddler and it's still the thing he is most looking forward to this summer!
I have called around and tried to do something similar at a police station but haven't had as much luck here locally…but it wouldn't hurt to try. Hospitals may also provide tours (I know ours has a miniature ambulance they use for kids to teach them about what they do).
Library Visits:
Our local library has many events during the week such as story times and craft times and even movie times. A visit to the library is a great chance to keep up the skills kids learn during the school year with their reading and to help foster a love for books.
Many libraries do reading competitions and the kids can earn prizes throughout the summer for their reading achievements.
I did a little challenge with my son last summer for him to read 100 books during the break and in exchange we'd all get to go get donuts on morning. It was a great incentive and something I plan to do again this summer as well!
Transportation Visits:
Have a local airport? Train station? Ship dock? It's a GREAT fun activity that kids really enjoy. We have gone out to our small local airport and enjoy watching the planes land and take off. We'll bring a lunch and make a picnic out of it.
Always make sure to check the scheduled times in advance! Many locations have a spot for people to sit and watch…our airport has a great picnic area that is perfect for this purpose.
Summer Movies:
I know many communities have movie theaters that have summer movie specials. Our local theater plays movies every Tues and Thurs morning for $1 entry.
This is a GREAT event for larger families as movies are so expensive. I wish ours did Disney movies but it's still a fun way to beat the heat and get to have a neat experience.
If you don't have a local movie theater that offers a special…have a movie day at home. I love to plan fun Movie Theme Days for my kids.
I'll make food that fits the theme and we'll do crafts (most of the time you can find free printable color sheets for popular kids movies) and then watch the movie together. We do this at least a couple times a summer and it's such a fun thing!
Kids Nights: 
Even when it's not summer I still am always on the watch for a cheap kids night. Most fast food chains and family style restaurants (especially national brands) host family nights that offer up cheap or even free kids meals. It's a great way to feed a larger family on a cheap budget and often they have fun crafts too!
Kids Events: 
Even non-restaurants often have kid friendly events for FREE. Home Depot has free building crafts for kids each month, Toys R Us often has free events where kids can play and even take home toys, and I know both Michaels and Hobby Lobby have crafting classes geared for kids too. I've found by "liking" a lot of my local locations on Facebook that I'm able to stay on top of when they host such events!
Be sure to look at your local community as well! Ours has many fun events throughout the summer such as movie nights under the stars, free concerts during lunch hours, and even Mom's Night Out for when you need a break 😉
Farm Visits: 
Depending on the season (and where you live) you may be able to take your kids to a local farm! We have several in our area that have you-pick style strawberry and blueberry patches during the summer months.
This is such a great way for kids to have a greater appreciation for the food they eat and to have a better understanding of where it comes from and what work is involved in it. Plus the prices are so cheap that it's an excellent way to stock up (I freeze a lot of it to use for smoothies!).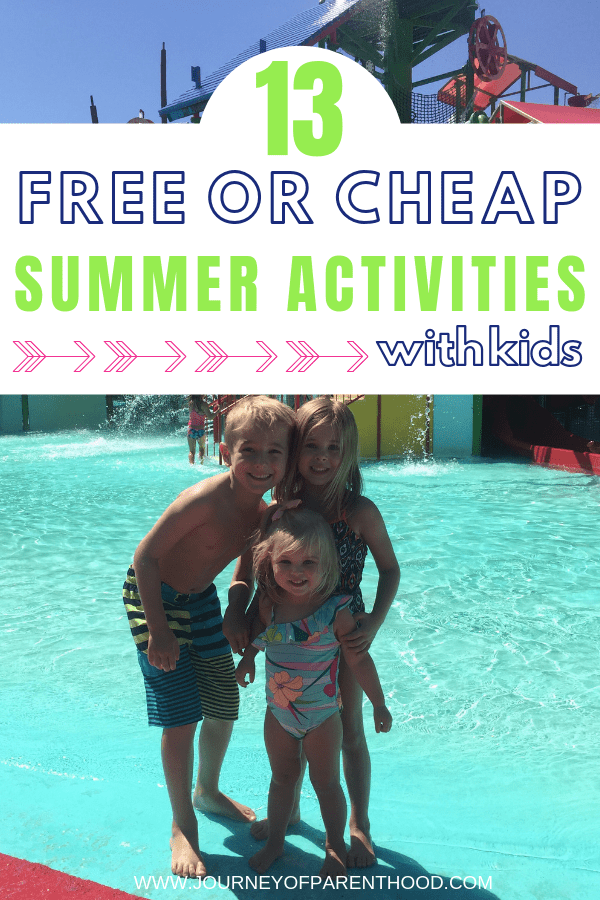 Parks: 
All towns have some sort of outdoor playground/park area. Go exploring! Map out all the parks you can find within a certain mile radius of your home and then take a day each week to explore a different one!
Often times there are tennis courts, basketball courts, or other sports offered at local community parks (we even have a skate park nearby) where if you bring your own equipment you can take advantage of the courts for free! Pack a picnic lunch and you're good to go with keeping the kids happily entertained for several hours (and a good chance to soak in the sunshine too). We even have one local park with a free splash park!
Camps and VBS: 
Often during the summer local community churches and other groups will host a variety of day and evening camps and events. We live in the Bible Belt so just about every corner has a church and just about every church hosts a VBS.
Our VBS is one of the highlights of the summer! Typically ours offers free dinners for all kids who attend and it's open to the public. It's not only an excellent way for your kids to have fun and meet friends but also a wonderful opportunity to find a church home if you're not already a member at a congregation!
Visit a Nursing Home: 
One of the best things you can do with your children is give back to others and a very rewarding way to do that is to visit a nursing home. Children bring SO much joy to older generations. If your children enjoy reading, take a book along. If they enjoy singing, let them prepare a song to sing.
You could even bake cookies or have the kids color pictures to hand out. But even if you just simply go and visit it will be SO special to the residents there and be a wonderful lesson for the kids about spreading joy to others.
Sibling Sleepovers: 
Just simply switching up where your kids sleep for a night is SO exciting from their perspective! My older two children have bunk beds in their bedrooms so we will let them have sleep overs together and they think it's the coolest thing ever.
Maybe make a fort in the living room and have an indoor camping adventure or even let them all sleep in your bed for a night (I've done this once when my husband was traveling…never. again.). Little changes to a daily routine can make for some special memories they won't ever forget!
Season Passes: 
Even though season passes to local amusement parks cost money, they can really be a cost saver if you take full advantage of having the pass. We have a local theme park and we always get yearly passes. Typically such passes are cheaper in off-seasons (I always buy ours in October for the next year) so be on the look out for specials throughout the year.
I try to make sure we visit the theme park many times throughout the year to really justify the cost of the passes. And by visiting the theme park you are cutting back on money you'd spend doing other things too!
Nearby Towns: 
Do a little research and look into events that may be happening at a town near you! Free community festivals, their kids nights, other free or inexpensive ways to have some fun! Even just drive over and tour the downtown area of another town. It's a great way to learn about your local community and you never know what fun you may find!
Wondering how to fit in all these summer fun items without over-filling your summer? You can see how I find that balance in this post 🙂