Celebrating Spear's 2nd Birthday
Spear's birthday is on December 1st and fell on a Sunday this year.
Since we decided to wait to go down to Disney until after Spear's birthday party…we decided to wait to come home until after his official birthday.
So he got to a have a bit of a Disney birthday too 😉
It was important to me to make sure to make his birthday special and stick to the same traditions we'd have at home.
The only thing I didn't carry over? A birthday balloon. It just didn't make sense to bring a balloon down after his party with us!
I brought his birthday banner from the party, his birthday song cd, his gifts, and we baked him a cake.
Our tradition is to wake up the birthday child as a family (you can read about our traditions here) so we kicked off the day in song!
Our elves also brought Spear a little gift for his special day (they also bring a little something to Britt on her birthday…perk of a Dec bday!).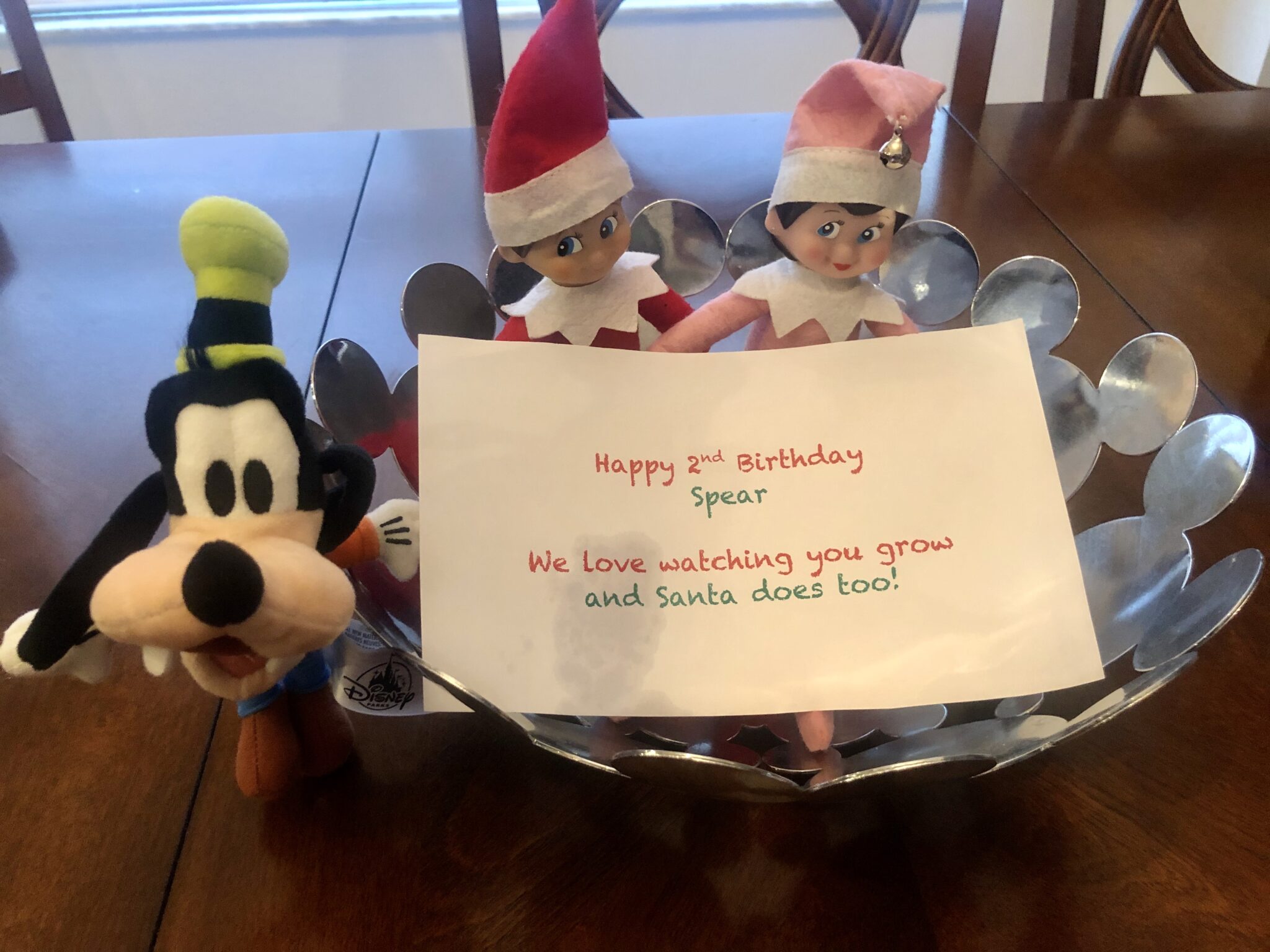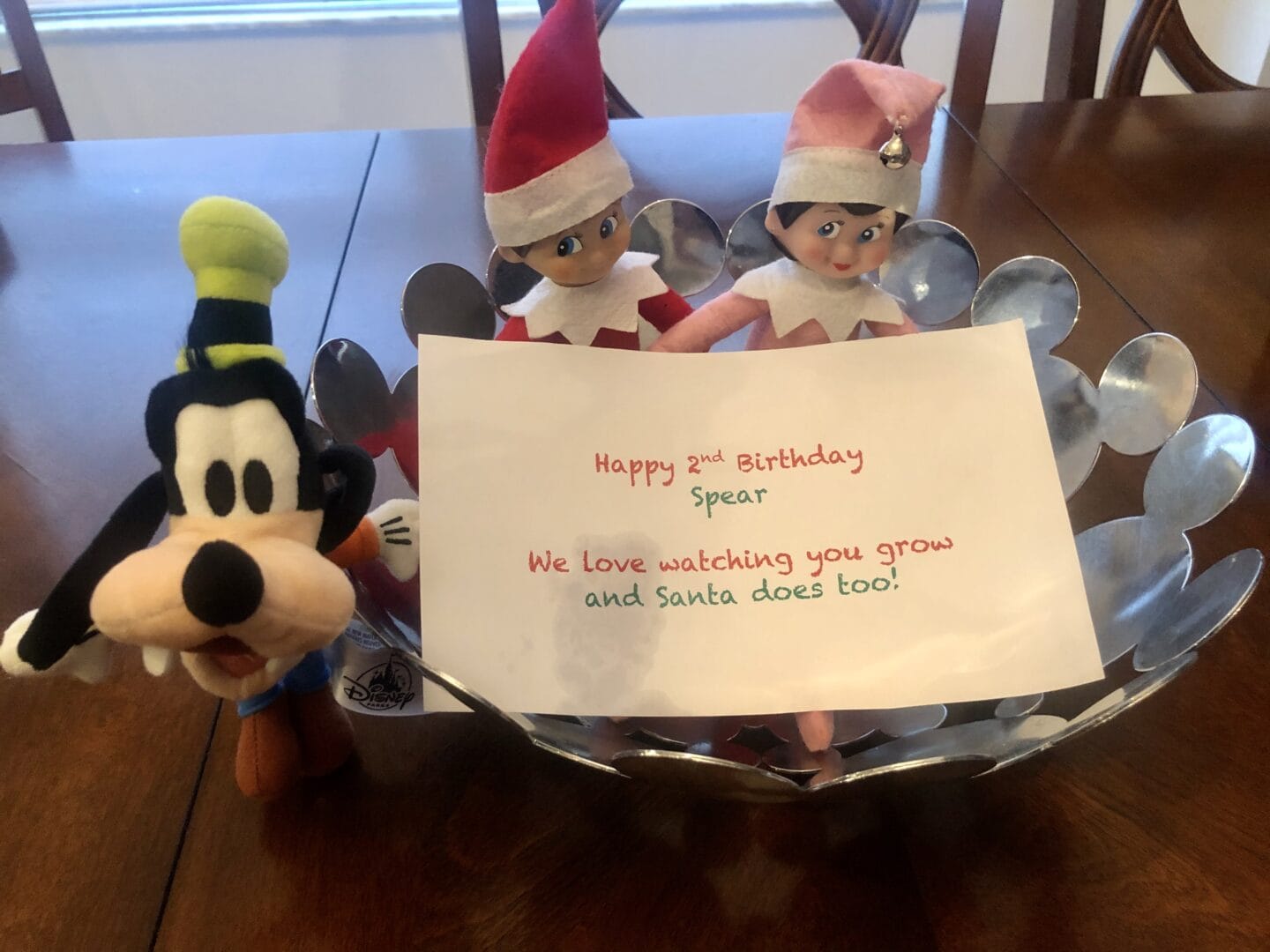 Usually on birthdays we go out to dinner so for Spear's day we did a Disney breakfast…at O'hana of course!
Couldn't pass up a chance to see Spear's FAV character on his birthday!
His outfit from his birthday party last year came in handy too 😉
O'hana is located at the Polynesian Resort and is one of our family favorites for breakfast.
I will say, personally, after our visit on Spear's birthday it's not a favorite for me anymore.
I think we've done so many of the Disney meals now that we have so many places we LOVE that some of our former favorites have been bumped down a few notches. O'hana isn't a top pick for me anymore!
We met Pluto before entering the restaurant.
After our epic Santa fail we agreed to let Spear approach characters on his own!
Sure enough, it went WAY better letting him lead!
We got seated at a GREAT table and the food started coming!
It's not a buffet and instead food is served family style and is unlimited.
The waffles never disappoint and the home fries are also our fav. The kids LOVE the "Stitch Juice" too!
Lilo came by first and Spear also did great meeting her!
Such a huge win in the character department for him 🙂 He must have known he was the birthday boy!
Our main man MICKEY!!!
Last, but not least, Stitch! And as usual Spear did NOT want to let him leave (and neither did Britt).
The girls loved getting to be in the parade with Mickey for a walk through the restaurant and Spear just loved grubbing 😉
After the fun breakfast we got changed into clothes to head over to Gatorland for the last birthday surprise of our trip.
Post is coming tomorrow on those details!
We got through with the Gatorland fun pretty early on so we had plenty of time for the birthday celebrating back at the Disney Rental House.
We had dinner (feast mode on all our leftovers from the week) and cake and leftover ice cream from our ice cream for dinner night!
Spear loved all the attention on him!
We brought down our gifts for Spear with us along with the gifts that Grandpa and Grammie sent.
It was SO cute how into the gifts he was! It surprised me and made me excited for Christmas.
The older kids each gave him a gift from something of theirs and he was precious with those items as well.
Following his birthday he has enjoyed his gifts more than I ever remember any of the other kids LOVING things at this age.
I think he may "get it" that these are HIS rather than hand-me-downs or toys he shares ownership of 😉
He even wanted to hold his Tonka truck from Grandpa and Grammie on the drive home the next morning!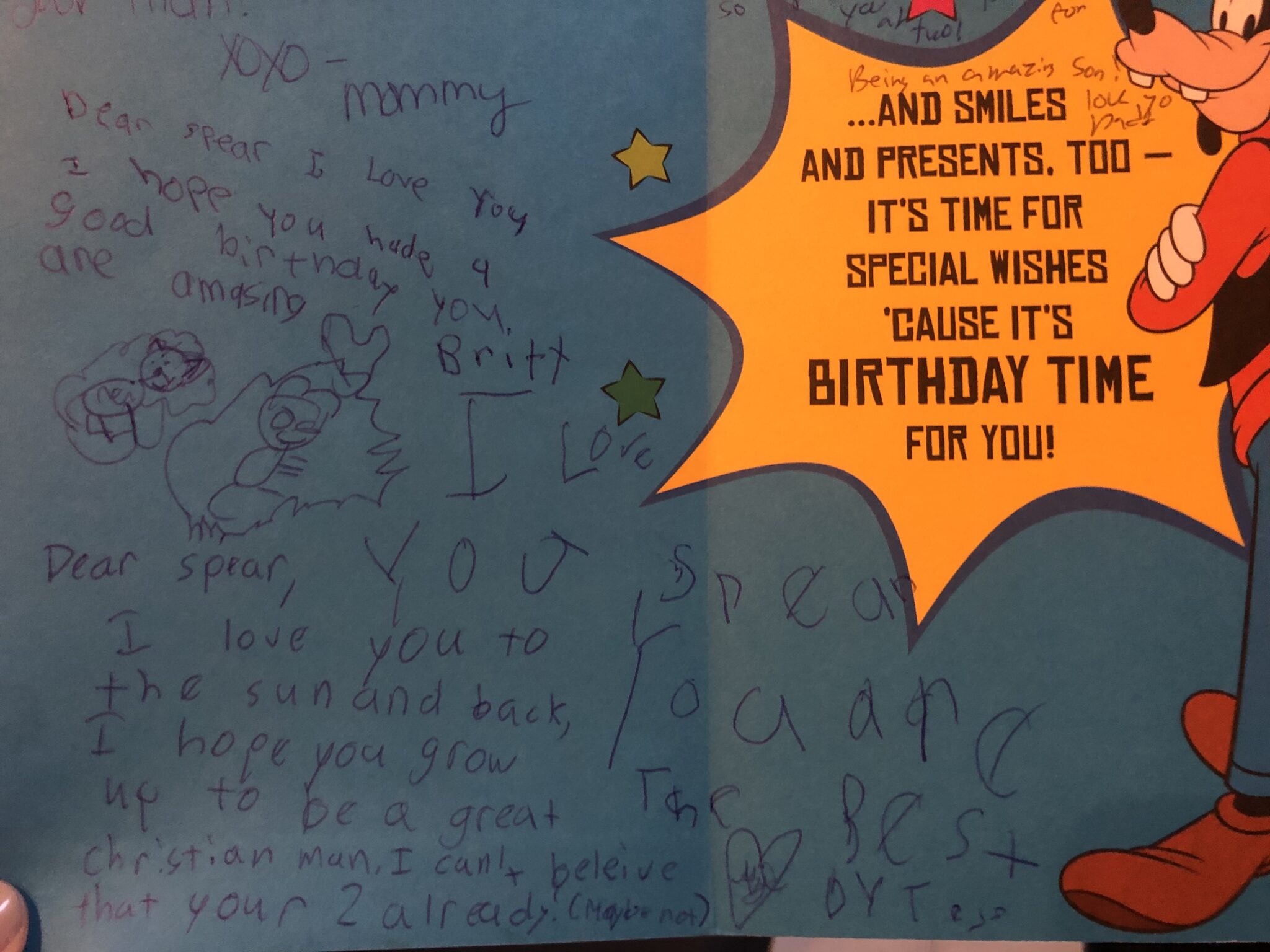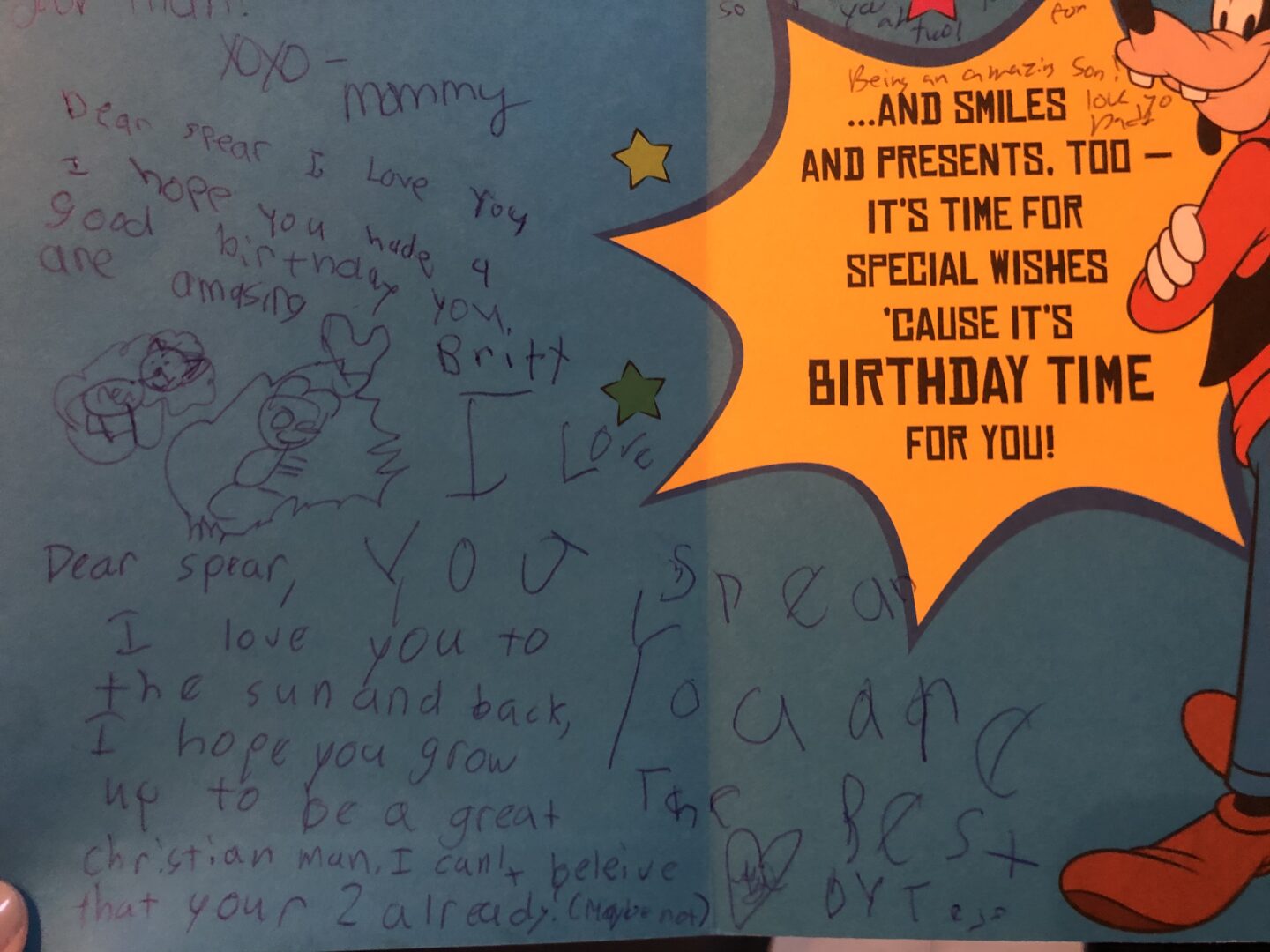 "I hope you grow up to be a great Christmas man" I DIE. So sweet!
None of us can believe our little Spear is TWO!!!
It was a fun family day and extra special that G-Mama got to be with him all day on his birthday to celebrate too!
I decided to separate our Gatorland part of the day because so much of it was part of Britt's Disney Bday stuff although we did schedule it for Spear's actual birthday as we knew it'd be something he'd enjoy too and he did…post to come 🙂
Video should auto play in this post showing all the birthday singing to our birthday boy!