Here is how we put together an Onward theme family movie night for our kids with themed outfits, activities, Onward inspired food, and more!
In case you didn't already know, our family LOVES Disney! I think it's important as a parent to know what YOU enjoy doing with your kids.
Zach and I have our own things. He loves tackling, playing athletic type games, and watching building shows. I love snuggling, baking and putting together fun movie themes for the kids.
Tess asked specifically if I could put together more movie theme activities for them soon and I felt like our time during social distancing and sheltering in place would be perfect for some fun movie watching!
It is VERY easy to make a movie just a little more special and memorable!
Here are 5 easy Disney movie theme ideas and our Aladdin movie theme day!
When I found out that the movie Onward is now on Disney+ I decided NOT to tell the kids.
I avoided even turning on Disney+ for a few days to give me a chance to figure out some theme ideas.
We kicked off our Spring Break week this week and I thought that an Onward movie night would be the perfect way to get things started in a fun way!
Usually when I plan a movie theme event, I've actually SEEN the movie.
But with Onward I hadn't seen it yet myself so I had to go off of the movie shots I'd seen and asked friends who'd watched it for ideas.
Big thanks to everyone who sent suggestions my way for an Onward movie night!
For more Disney-themed parties, check out my roundup of great kids' birthday party ideas, where you'll find plenty of Disney and Pixar inspired themes!
Dress The Part for the Movie
A VERY simple way to make a movie night extra fun is to dress the part!
Especially right now while we're in pjs or play clothes, getting dressed in theme made it more exciting and the kids kept asking WHY they had to get dressed which built anticipation for what was to come!
The characters in Onward are very 90s grunge vibes – lots of denim and flannel so it's easy to pull things together from your wardrobe and easy for everyone to look the part.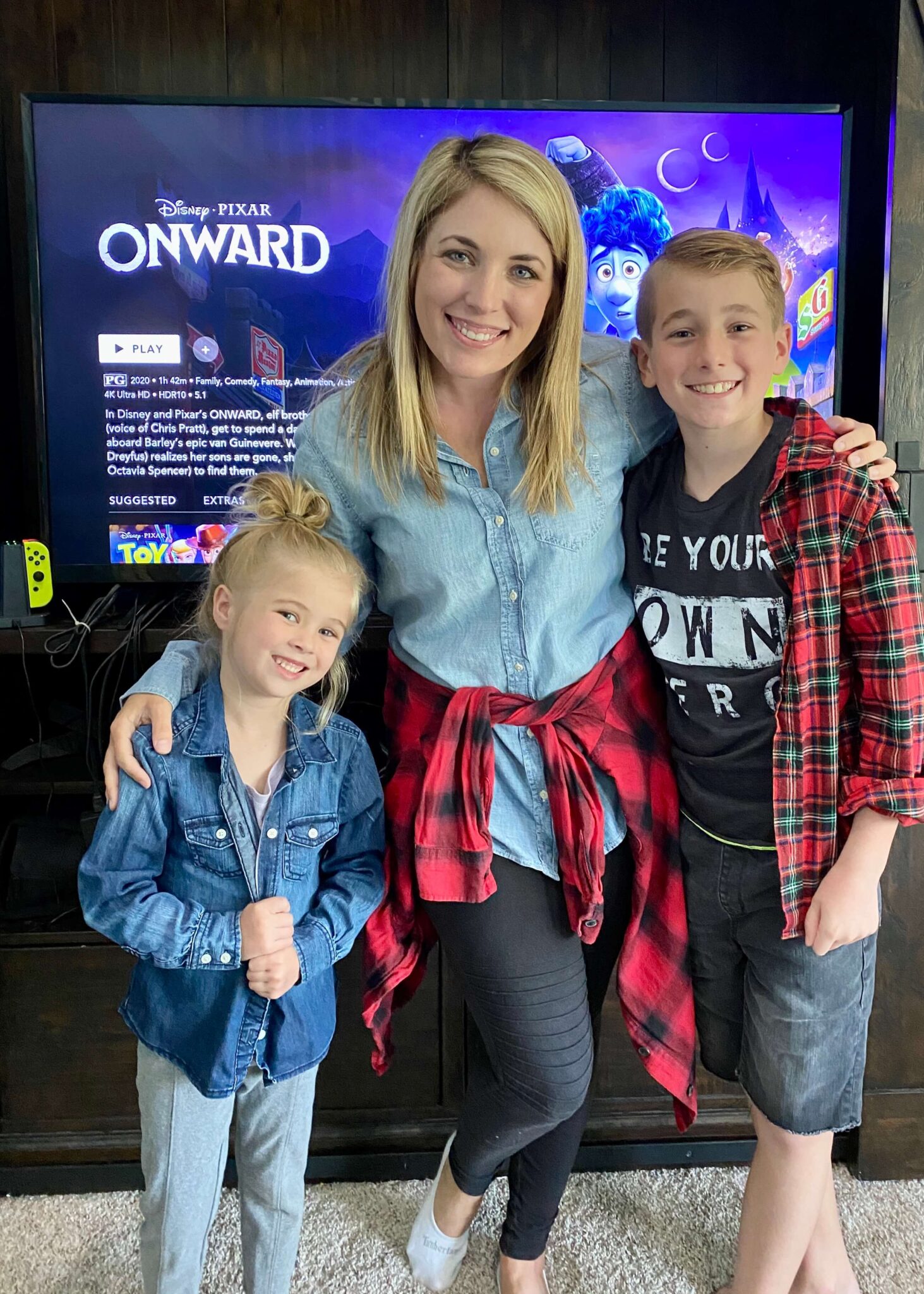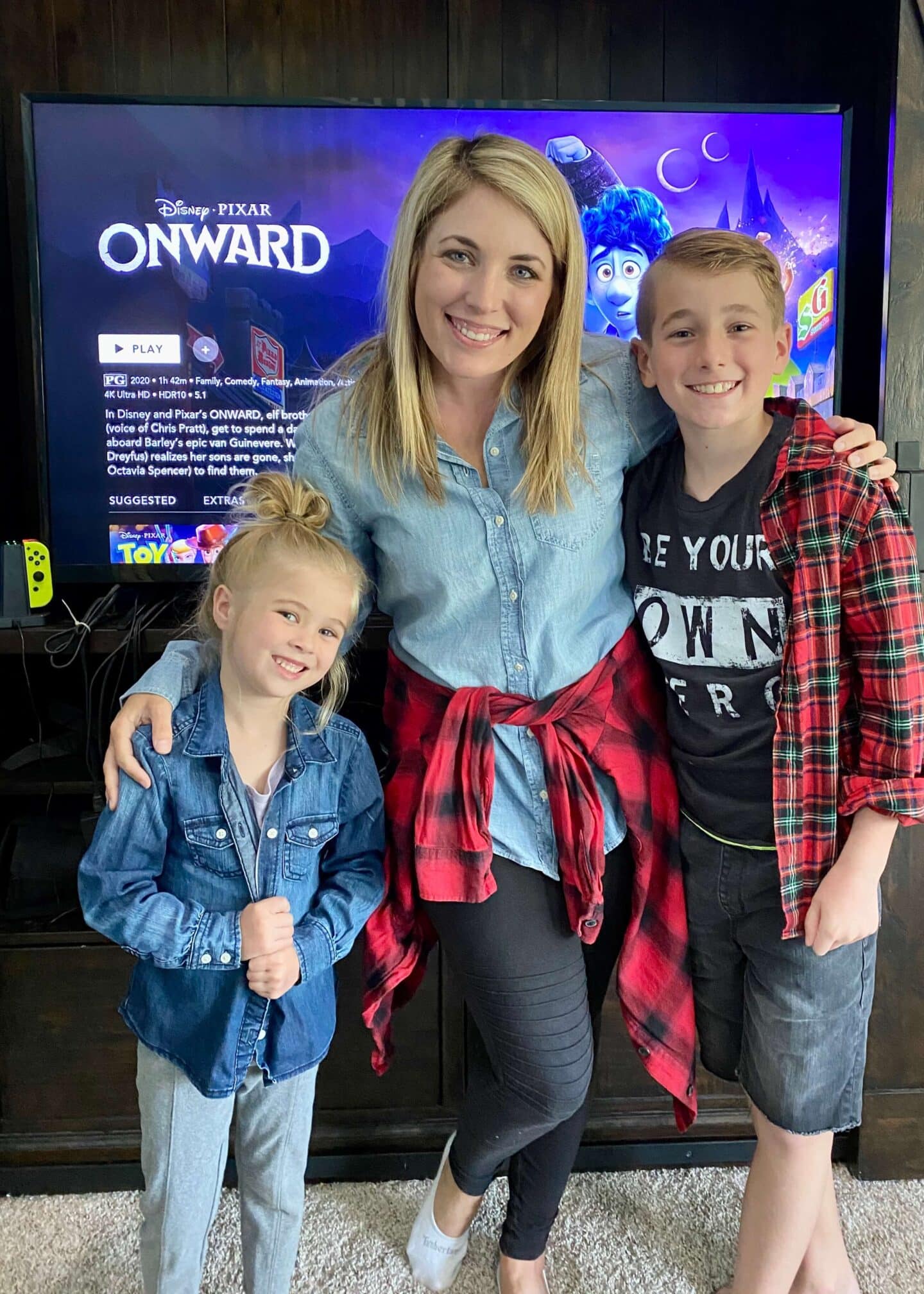 Build "The Dad" From Onward
A main character in the movie is a really fun family member to add to your own crew!
When I first suggested to the kids that we built a dad I was met with a bit of eye rolling from the pre-teen but I kept going for it and it didn't take long for everyone to get on board and have SO MUCH FUN with it!
We gathered up some of Daddy's clothes… a backwards hoodie makes a great body and easy face. We stuffed him using pillows for the body and large blankets for the legs, head and arms. He turned out pretty epic and even the toddler kept pointing at him and saying "Daddy!"
Our version of The Dad enjoyed watching the movie with us 😉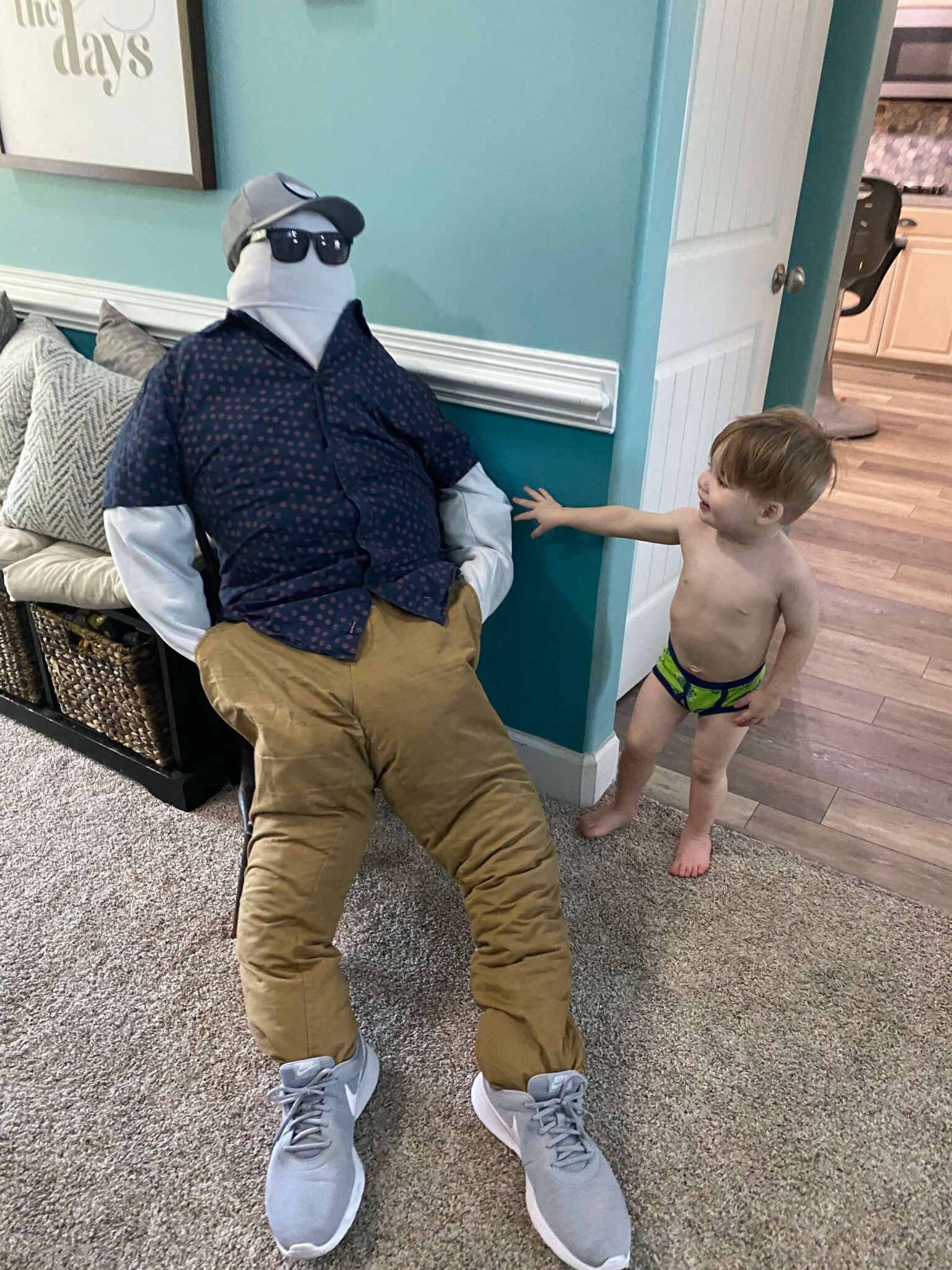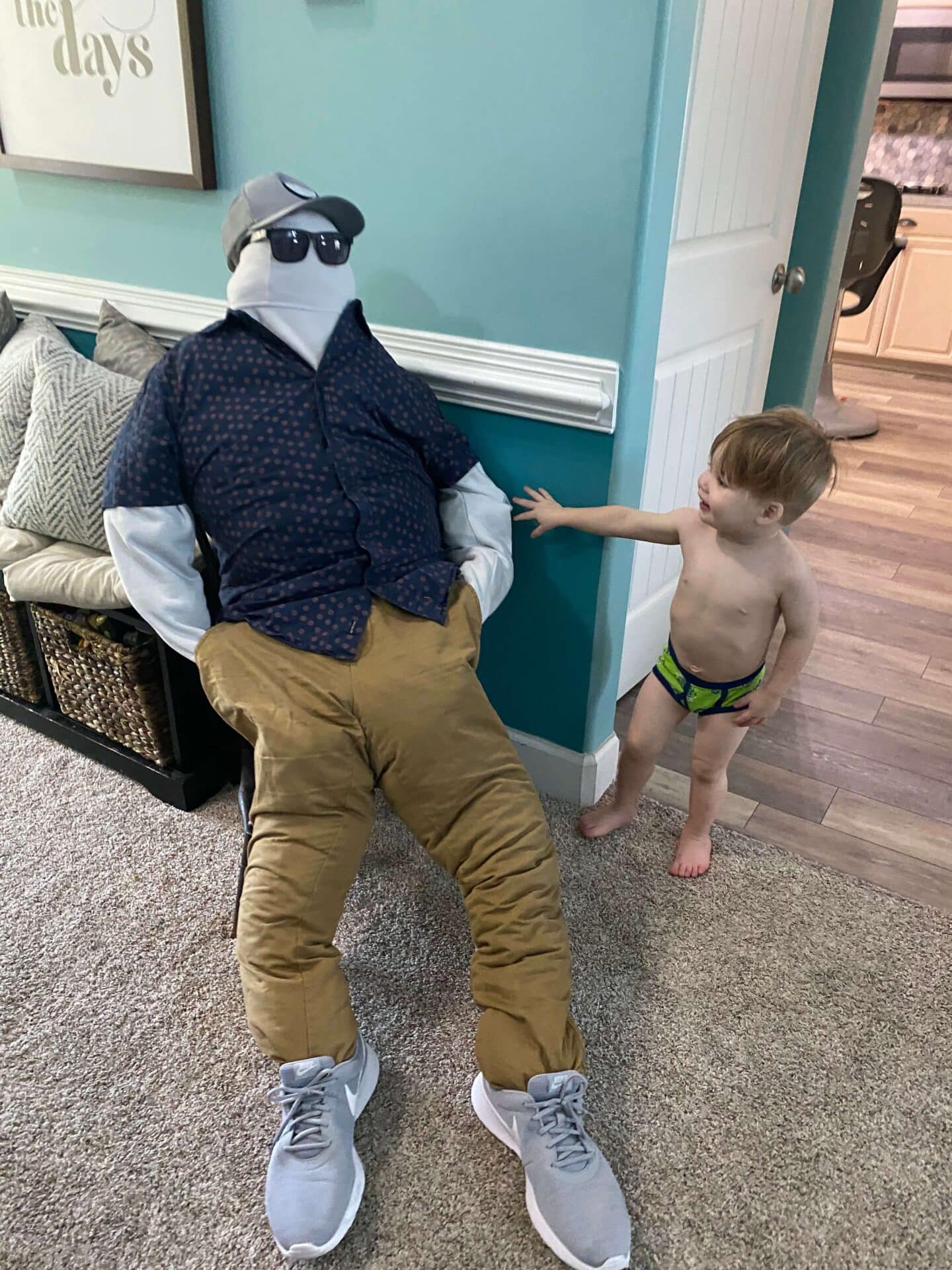 We love DAD!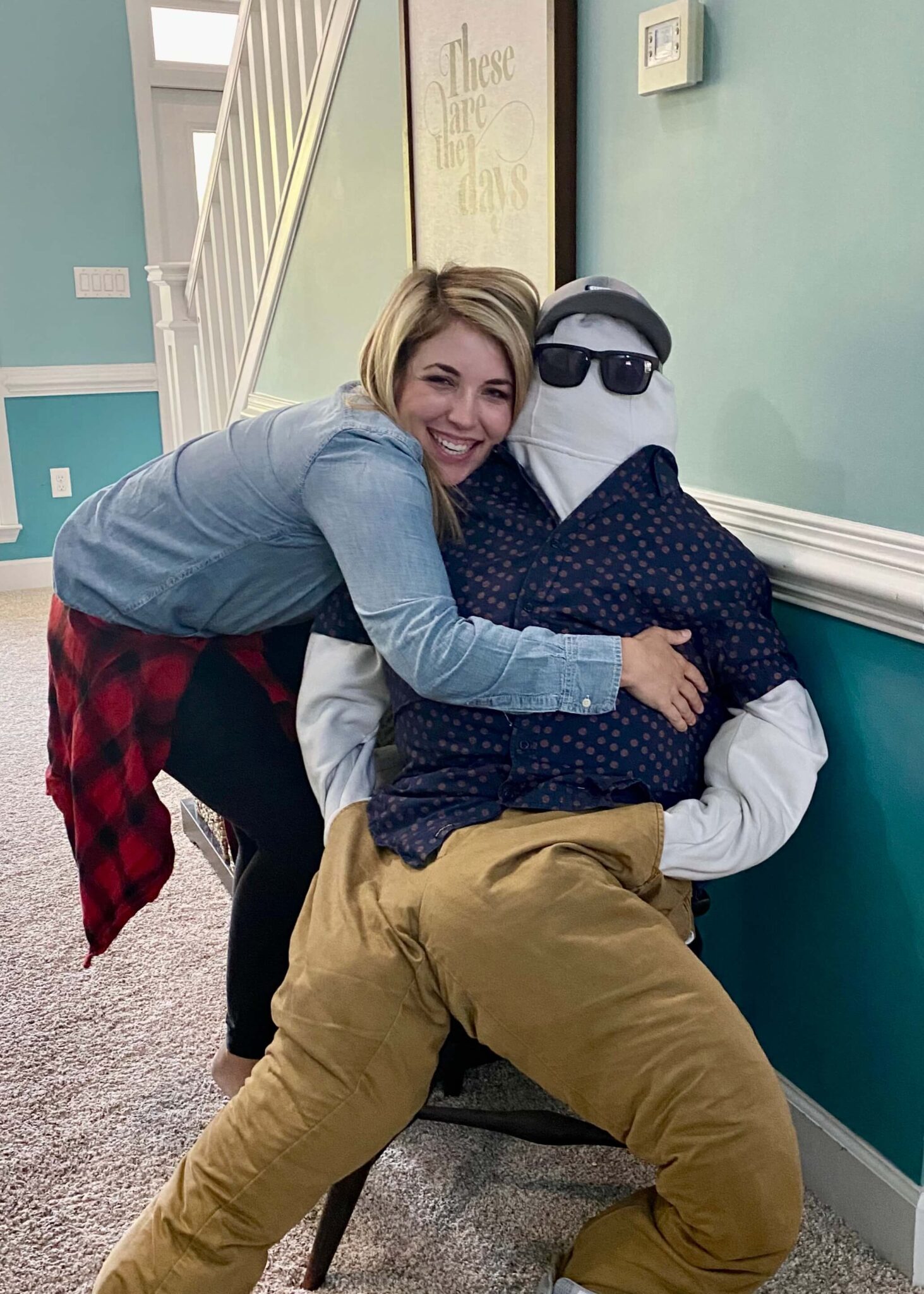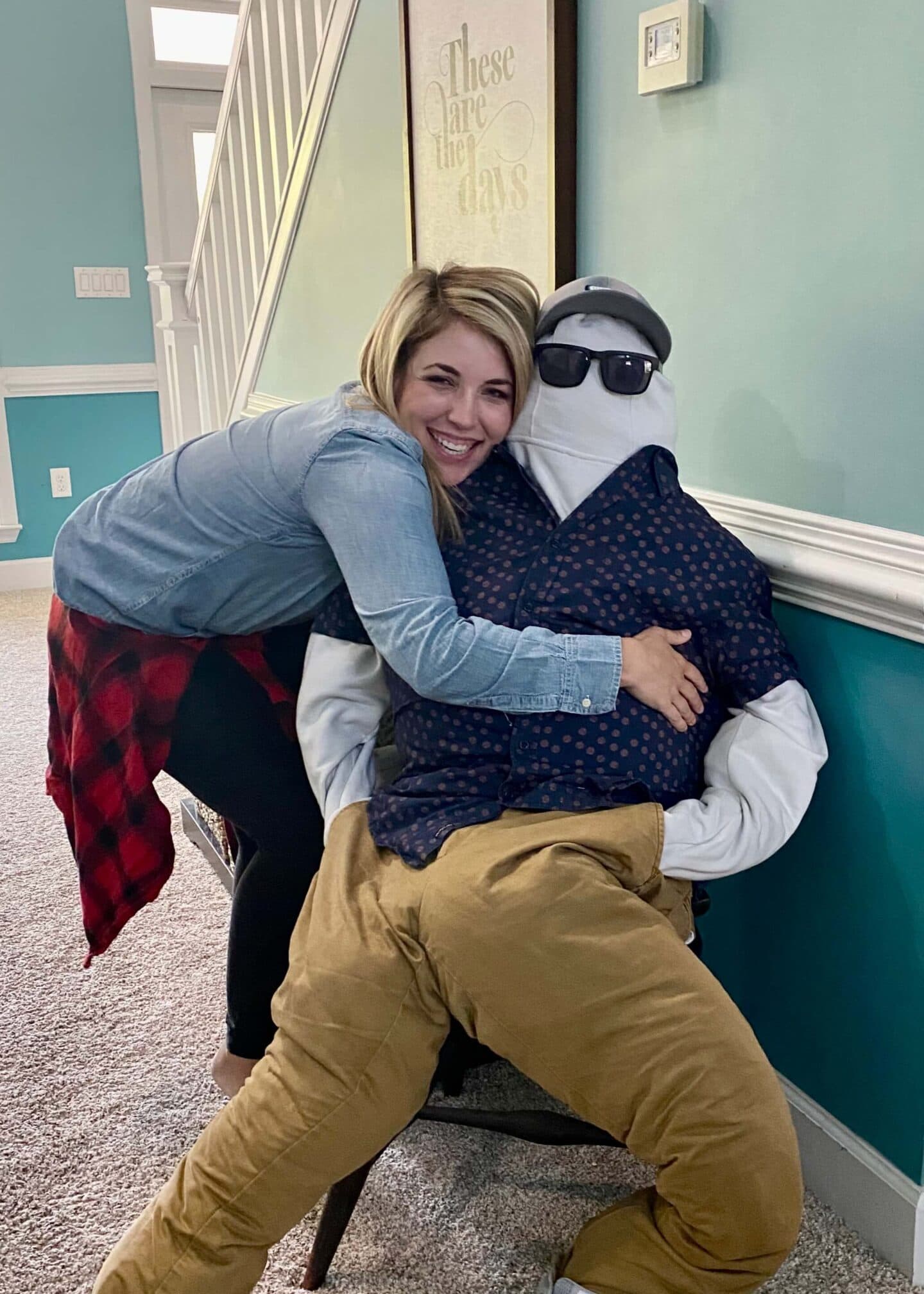 Create Your Own Sword
There are TONS of free printables online!
Sometimes I opt for a coloring sheet from a scene in the movie but I knew my kids wouldn't be familiar with the characters yet since Onward is SO new so I thought it'd be more fun to be a little creative.
So for our Onward movie activity, I printed off swords and cut them out in advance to make the craft quicker and easier.
I have kids in such a variety of ages that it can be tough to find activities that they ALL enjoy but coloring the sword was a blast for the two year old all the way up to the eleven year old 🙂
We got out crayons and stickers and they had fun decorating them in such creative ways!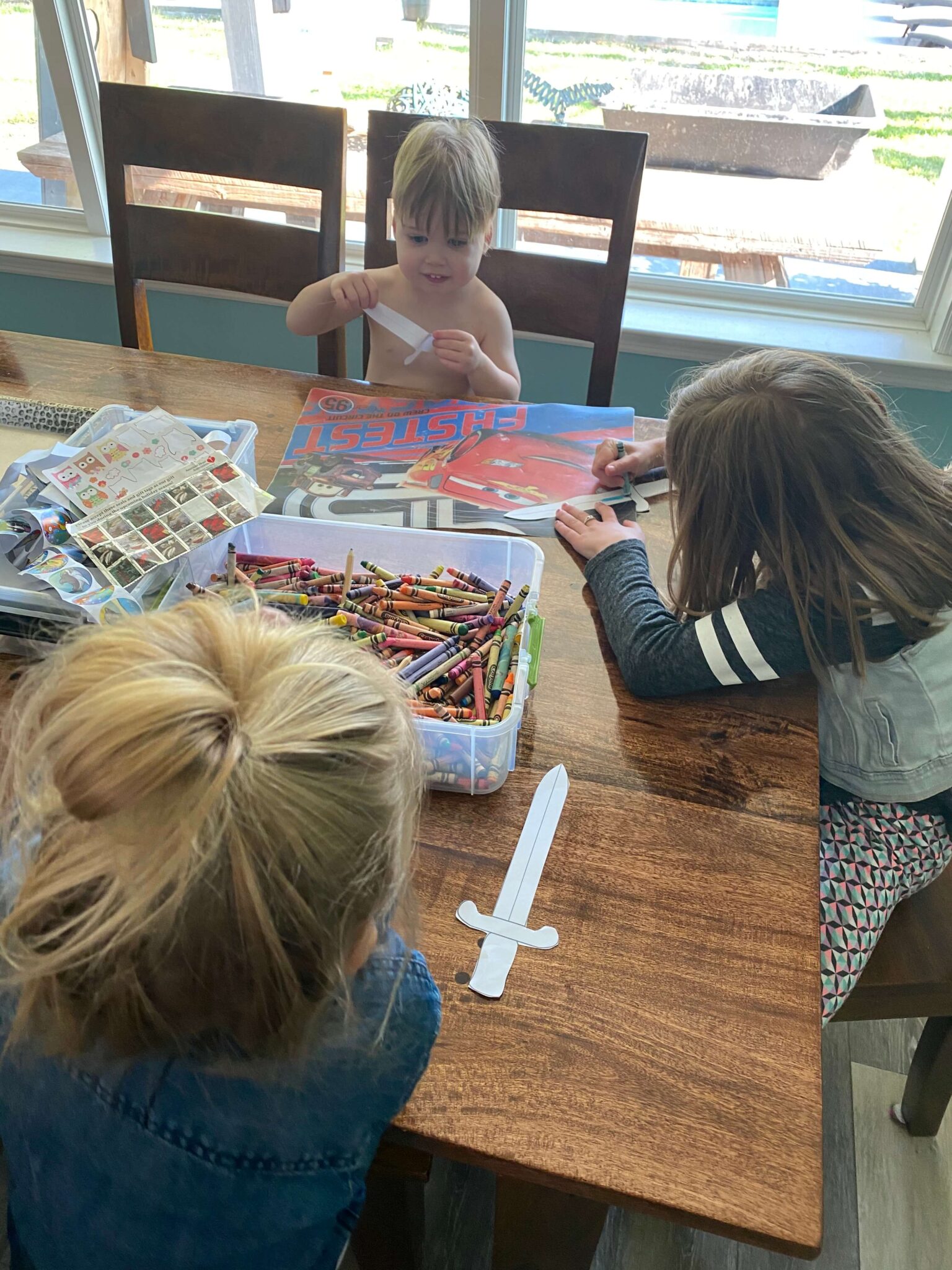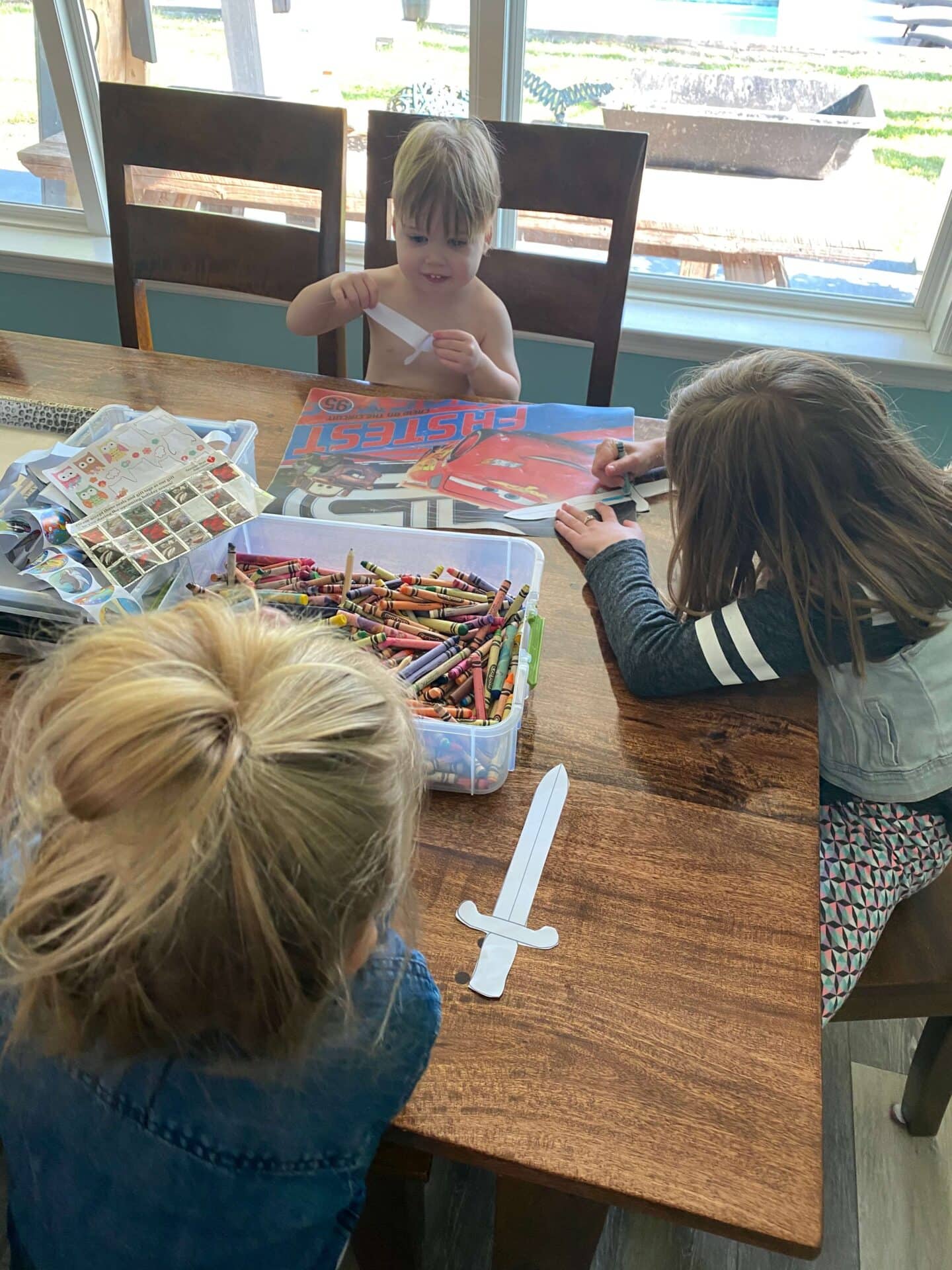 Showing off their finished products!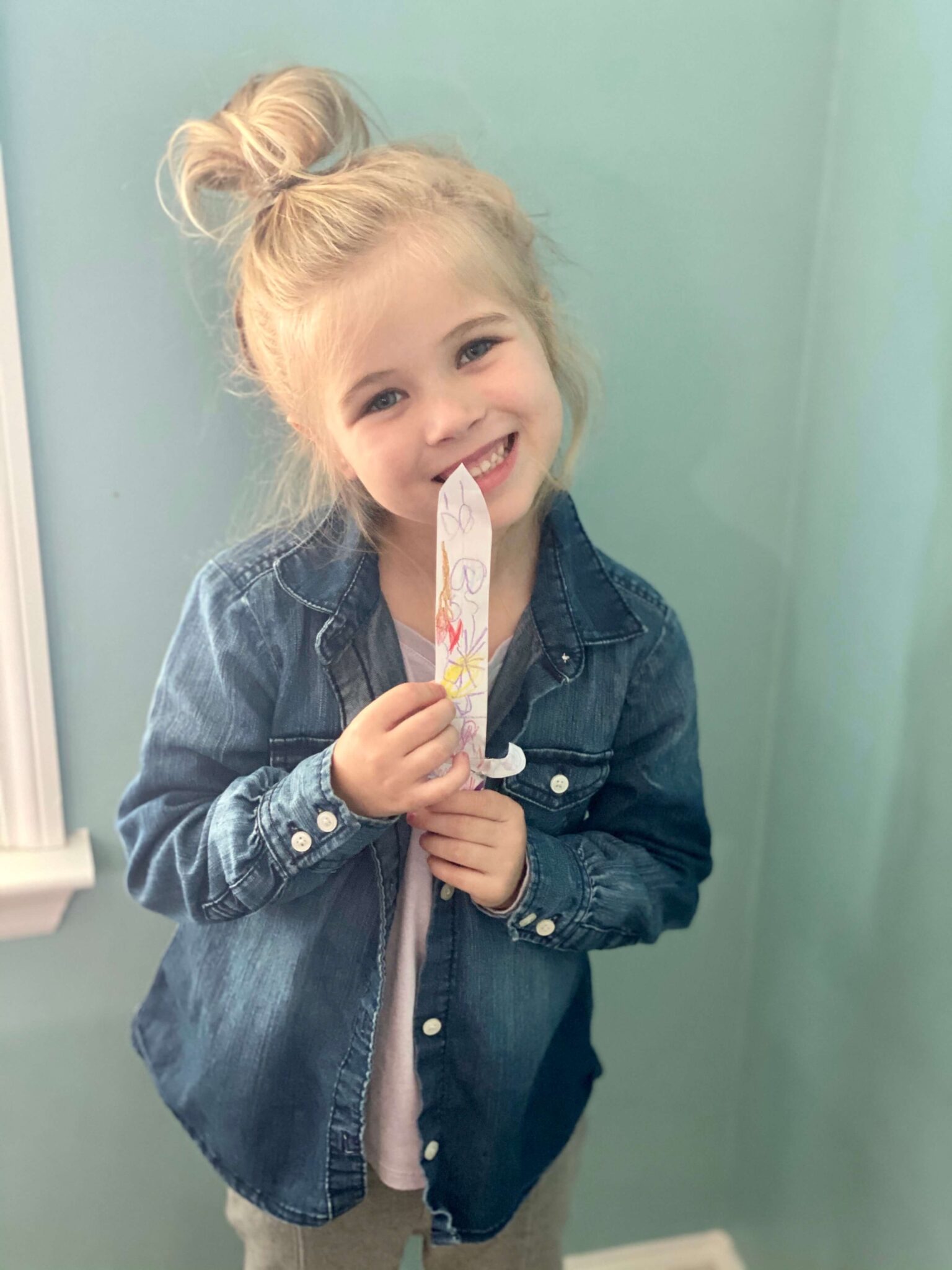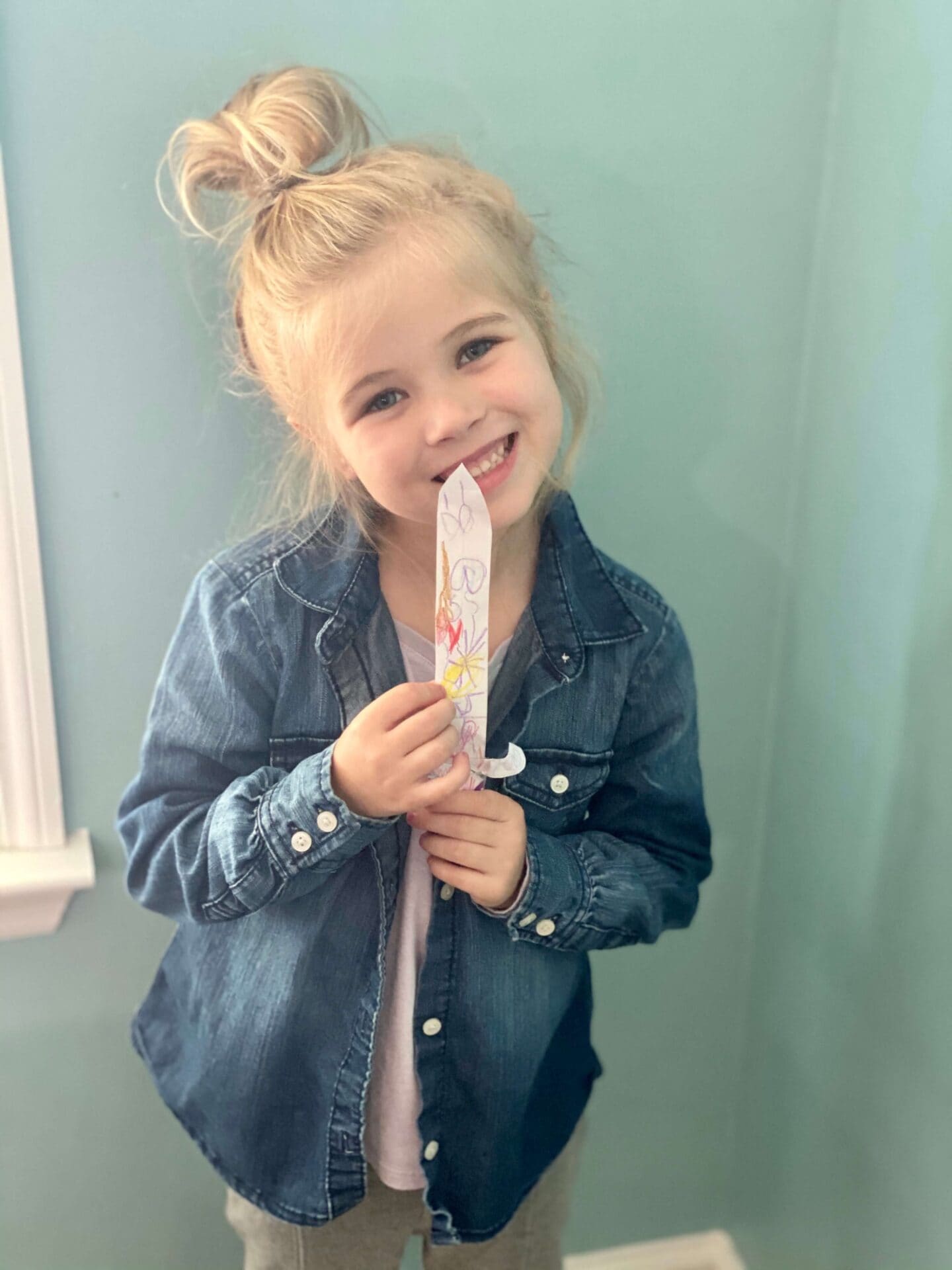 Onward Food: Disney Movie Snack Ideas
As a mom I naturally try to eat healthy as a family for majority of the time.
Having a movie theme night though? It always means FUN FOOD!
Toss the healthy out the window and make it a meal to remember and be excited about right? 😉
Since we're currently under shelter in place I've been trying to grab fun snack items that we don't typically eat during "regular life" anyway so it was easy to pull together some random foods to make a theme out of them, from magic potion punch to Onward cheese puff boats!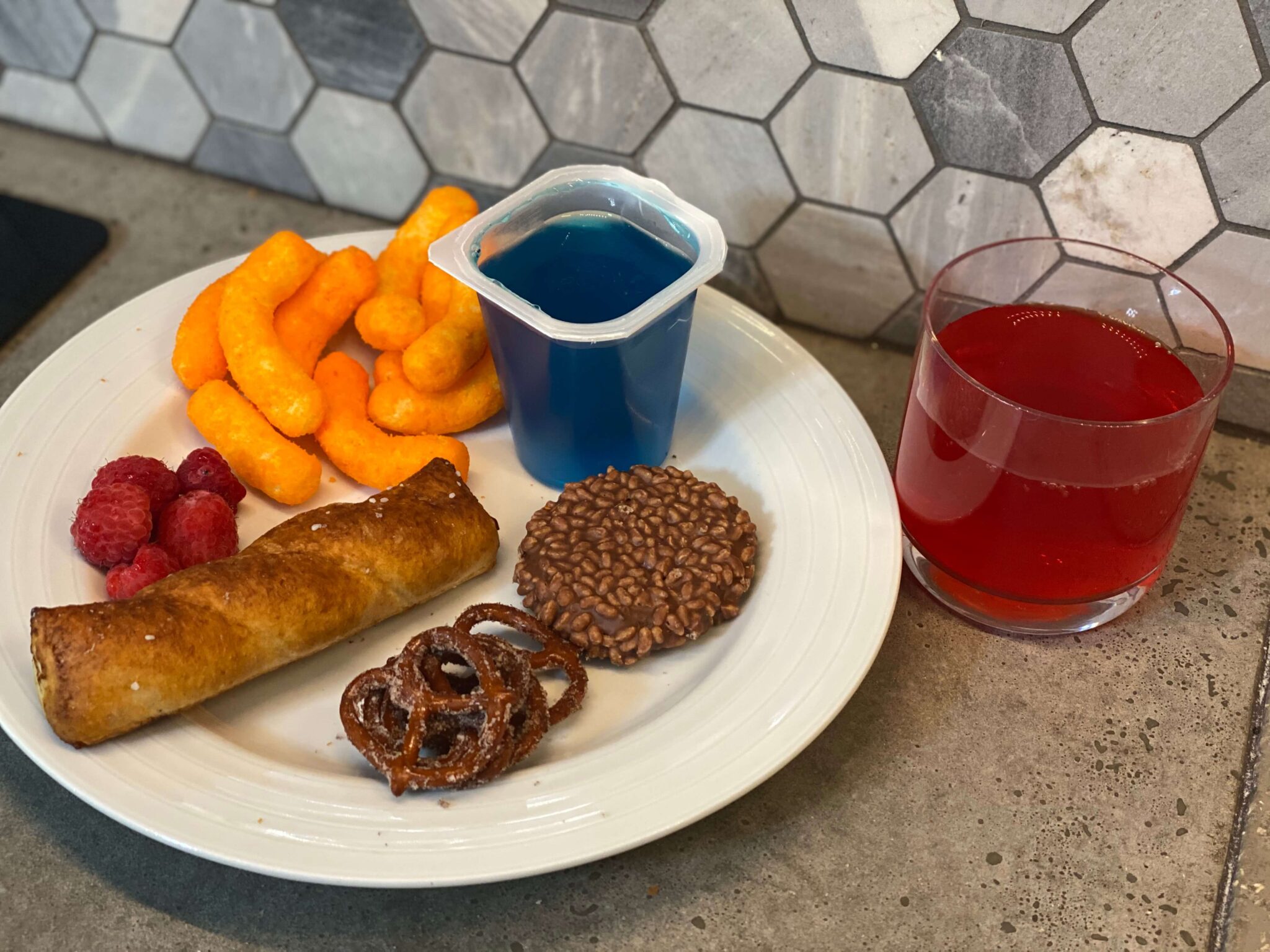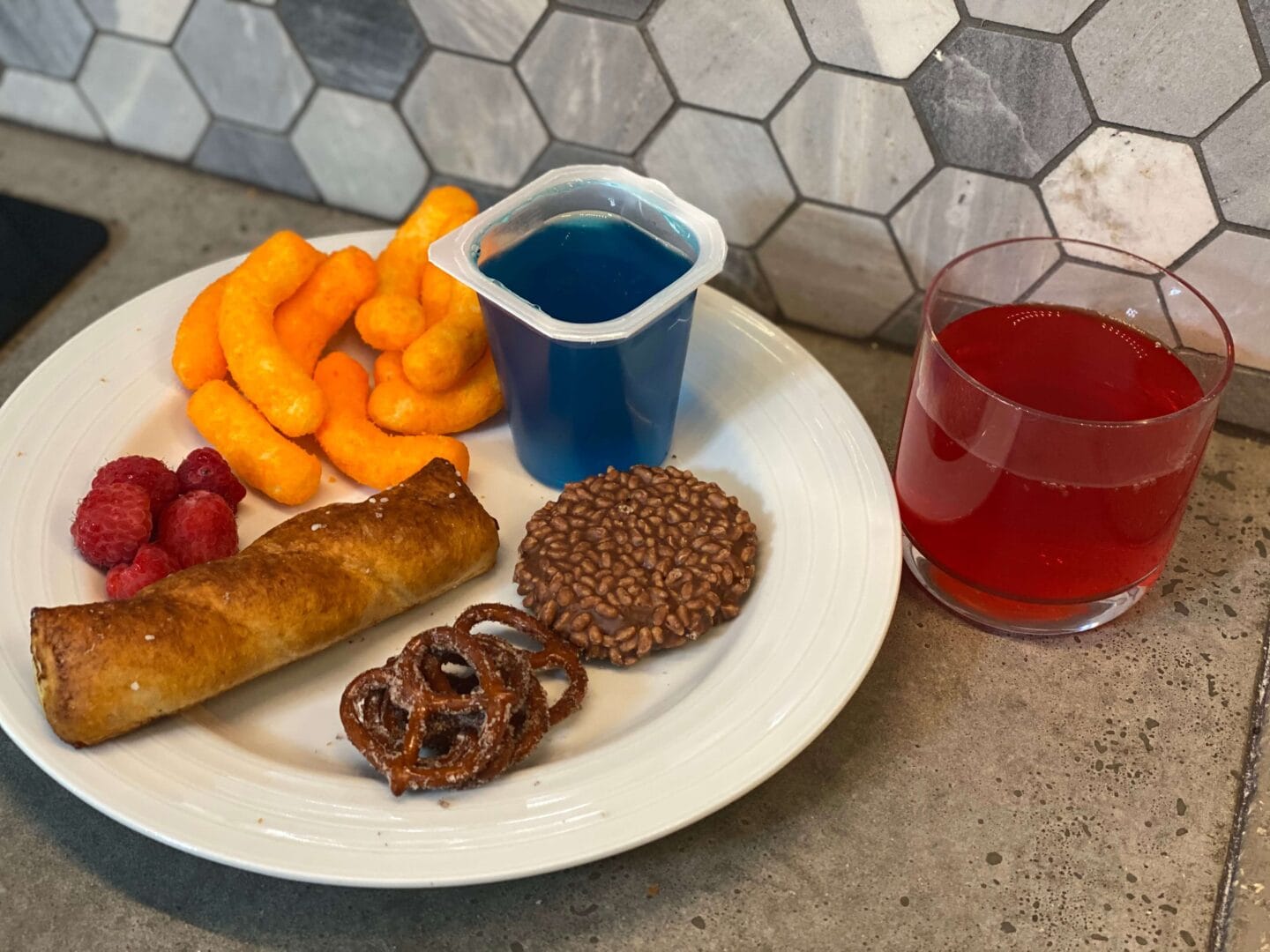 Here's what we ate:
Onward Staffs – Cheese Filled Pretzels (super good btw)
Phenix Gems – Raspberries
Blue Elf Epic Quest Jello – Blue Jello
Potion Punch – Fruit Punch
Cave River Boats – Cheese Puffs
Disappearing Bites – Cinnamon and Sugar Coated Pretzels
Galactic Guinevere Crunches – Star Crunch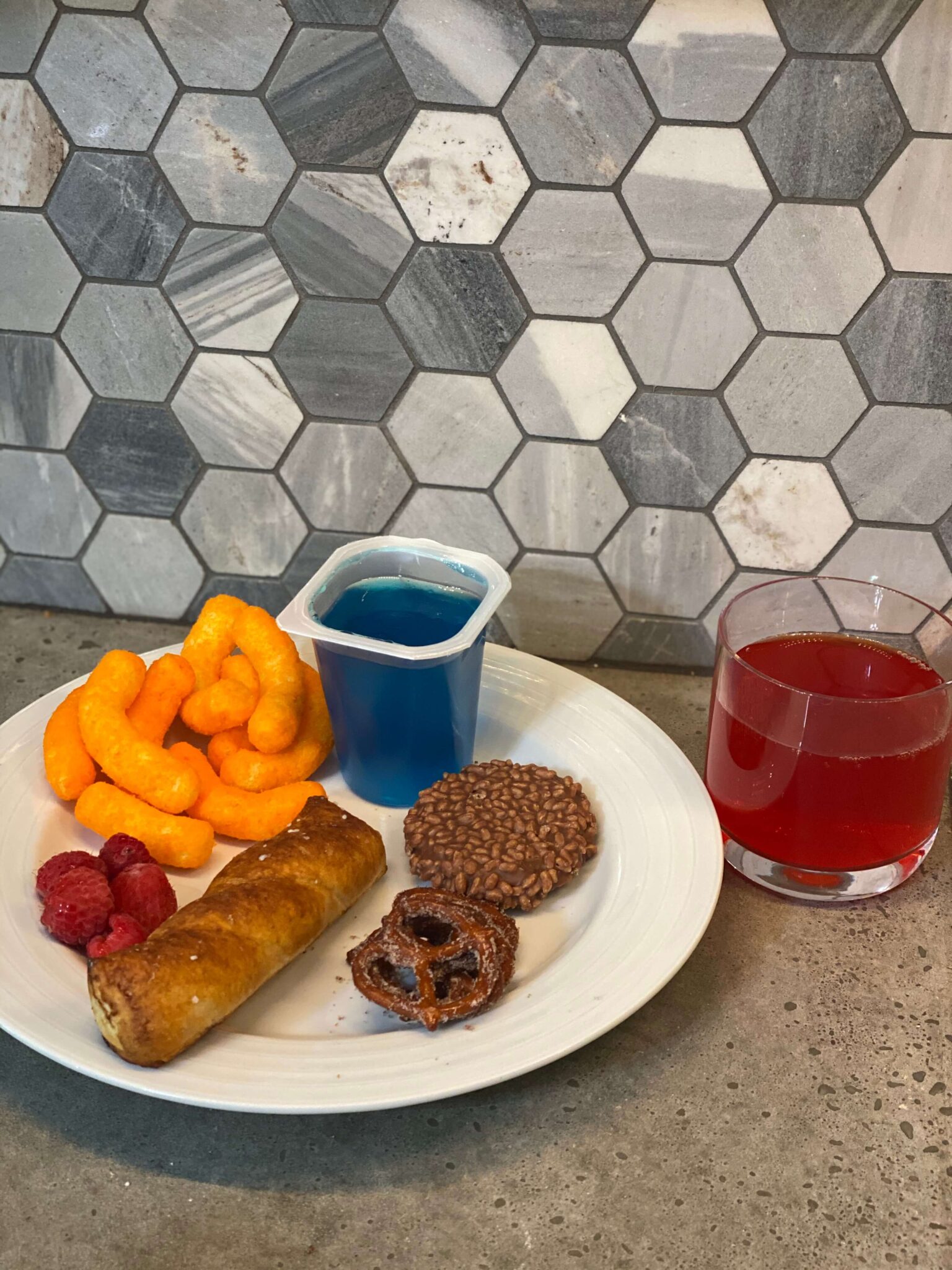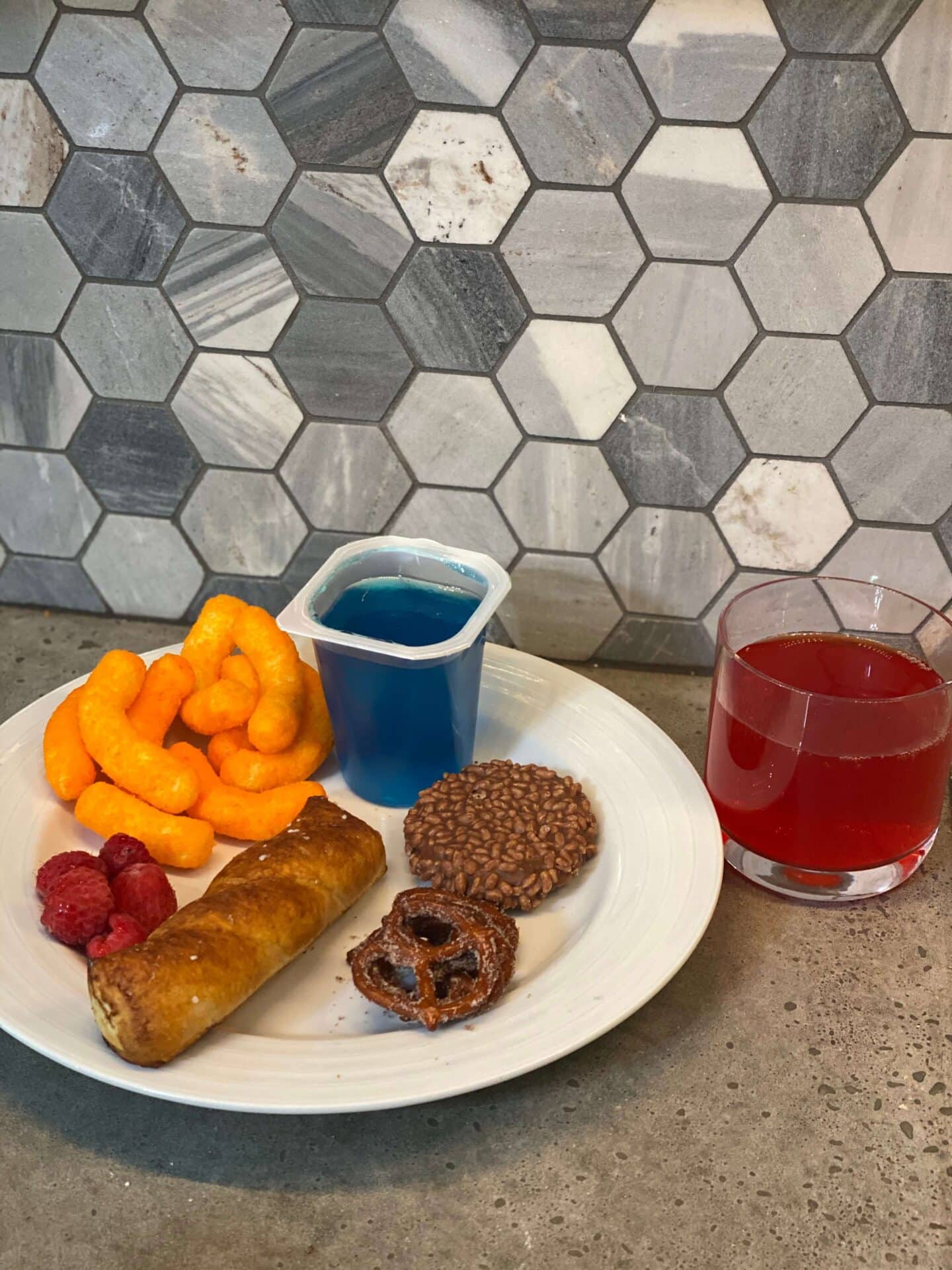 Healthy right? At least it's colorful and fun! And again, fun food makes it more memorable!
Plus getting to eat in the living room in front of the tv? SUPER cool mom status right here!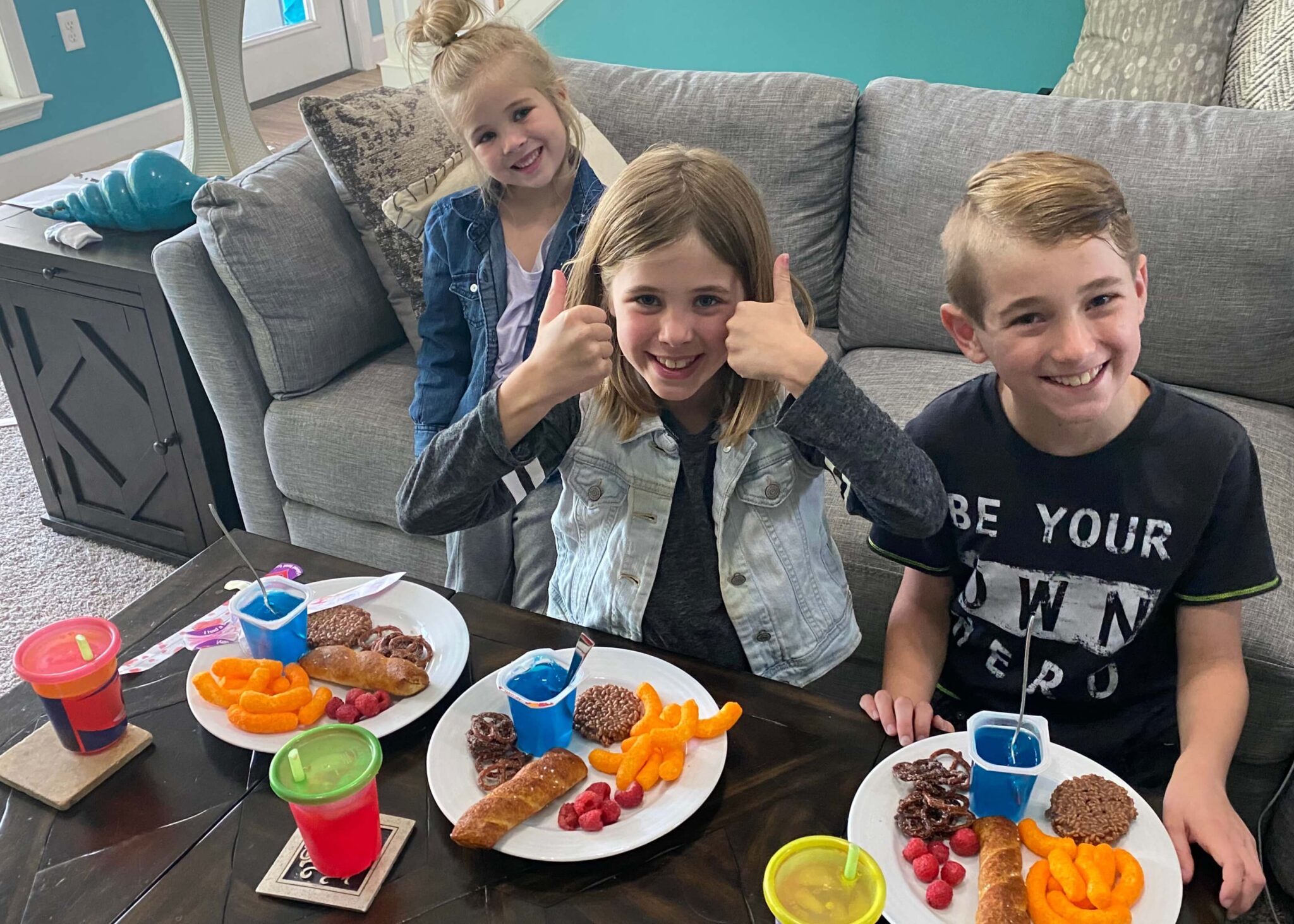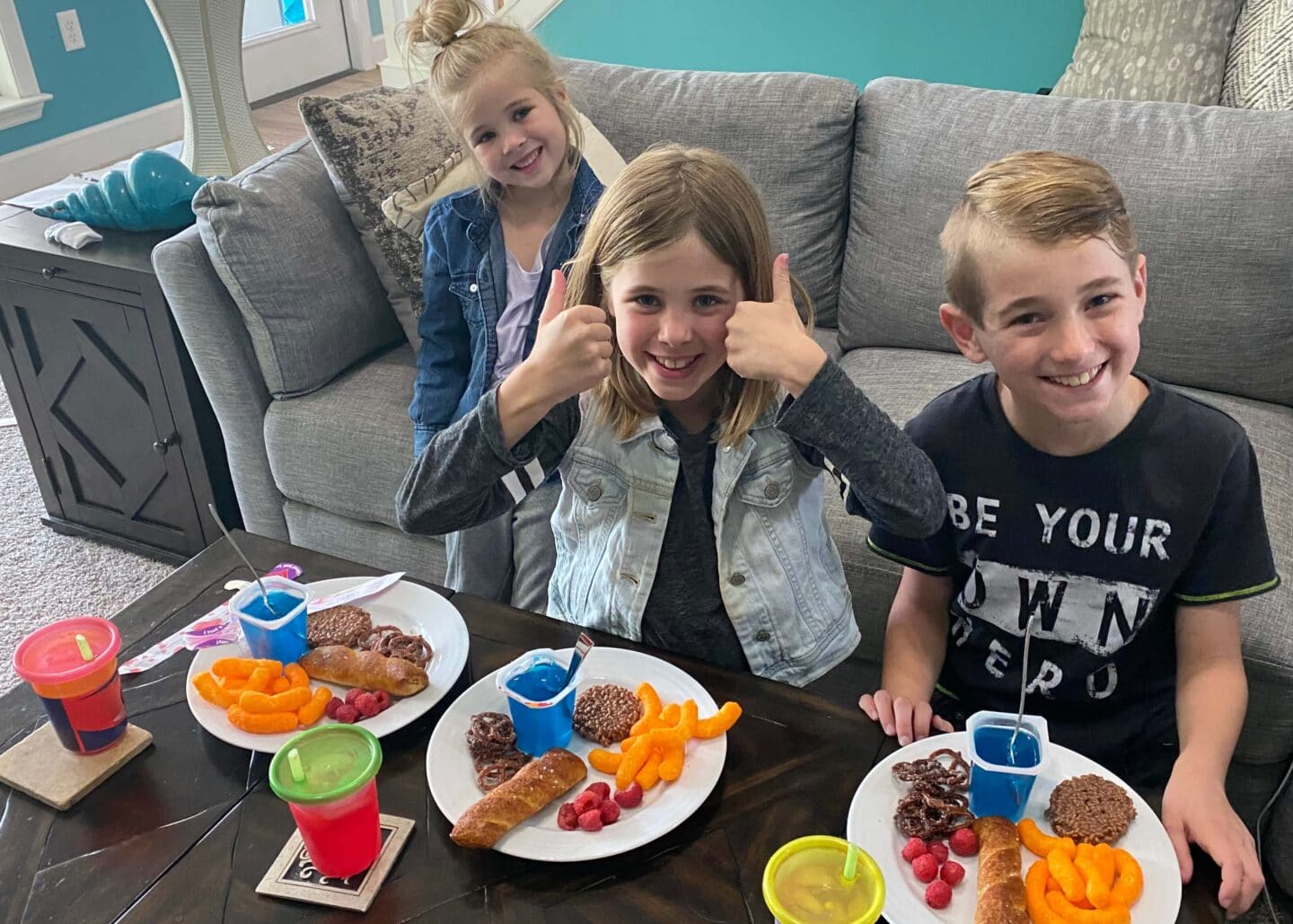 Disney movie night snacks are the best, and while in this case it was more about themed food (which is always so much fun!), if you're familiar with the movie beforehand you can also make the food from Disney movies as a fun snack or dinner! (As long as it isn't too complicated… I'm looking at you, Ratatouille!)
We did this
Onward Movie Review
When I first heard about Onward I wasn't super intrigued by it and had no plans to see it in theaters.
Some Disney and Pixar movies just instantly pull me in and others just don't and this one wasn't something that had me very excited.
However, we all really enjoyed it!
There was NOT a lot of laugh out loud scenes, even for the kids, but the story itself was a great adventure and it was wonderful to have a "dude" Disney movie!
SO often it seems like Disney and Pixar movies have more of a girlie vibe to them and it can be tough as a mom with sons to keep them interested.
Kye, at 11, is especially tricky to please when it comes to Disney movies nowadays and it was so great to have a movie that really was aimed at his type of audience.
Kye loves civilization type games and adventure type books that have a realm of fantasy and magic mixed in and this movie had it all!
It was never boring but also easy to follow.
It was also not the least bit scary. The one battle sort of scene was actually one of the funniest scenes too and the audience never feels any sort of true fear or danger for the characters.
It does pull at the emotions a bit and the theme of Onward really focuses on the sibling bond… in some ways it's a brother version of Frozen.
Elsa and Anna have a beautiful story of their sister bond and Onward is the brotherly version.
I also loved how the mom played a very large role in the film too – nice to see as a mom and Tess, my 5 year old, said she knows Mommy would do all the things their mom did too 😉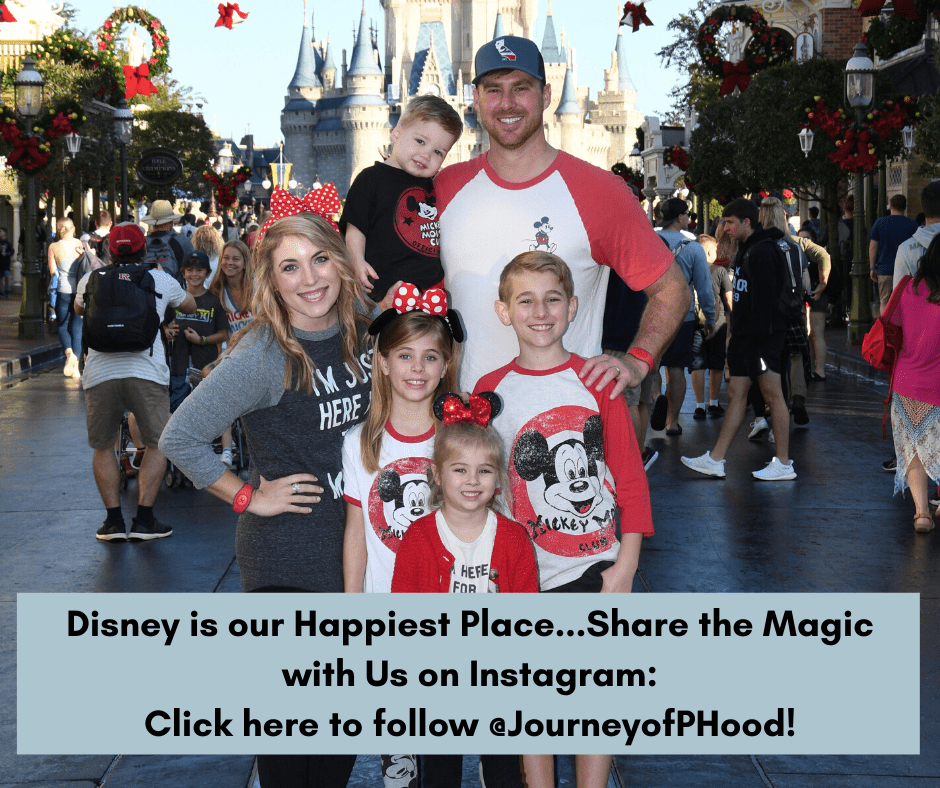 Onward Controversy
I know many will probably ask about the controversy surrounding Onward and the scene where a female character mentions her same-sex partner.
Anytime my kids watch a movie for the first time I make sure to do a bit of research prior to watching to know what to expect and what may need to be discussed prior to watching, during watching, or after watching.
I strongly believe in the importance of watching all movies as a family the first time my kids see a film.
This gives us a chance to talk about anything that may come up that may need further explanation or may or may not align with our personal beliefs and values.
Every movie we've ever watched has subjects and moments that we discuss.
It may be lifestyles or relationships that our kids aren't familiar with.
It may be language our kids aren't used to hearing or that we don't allow in our home.
It may be choices to partake in activities that don't align with our family values.
It may be situations where characters disobey their parents, follow peer pressure, tell lies, or make other poor decisions that may or may not have consequences that are realistic were the events to take place in real life.
We seek all opportunities to talk to our kids about the Lord and often those moments come up in watching movies.
Movie watching is a chance to broaden our perspectives and widen our circle beyond just our little life bubble.
A big benefit of watching movies together at home is that we're able to pause right in the moment and discuss anything that may come up.
And by watching it as a family my husband and I are able to see the moments where pausing is a good idea.
Personally, I'm always looking for reasons to press pause 😉
I especially love moments in movies where I can tie things into the Lord or God's Word somehow (surprisingly, this happens frequently with Star Wars movies actually!)
Even if the movie makers didn't intent to have an underlying Christian theme, we can often find one ourselves that can link back to God's Word in someway and I love those types of moments!
An example of a "press pause" moment happened during one scene in Onward that involved a magic spell that didn't work if lies were being told (much like an opposite Pinocchio situation).
This scene was one that really stuck with my five year old and she asked to pause the movie and talk about how lying is a poor choice and we aren't supposed to lie.
We talked about how badly the character felt in that moment about lying and how we all make mistakes and poor choices sometimes and how we feel in those moments.
The reality is that movies typically aren't made for just one type of audience.
Disney isn't a Christian company.
It's like Kye, my 11-year-old, said: "Disney makes movies for the world so there are going to be worldly things in their movies."
We love Christian content like VeggieTales but know when we watch any sort of mainstream type media that we will have things to discuss and those discussions are always great opportunities for growth in our own values and faith and as well as understanding others and their views and having compassion for them too.
We want to raise our kids to stand firm in their convictions but to also always love others and be including of everyone regardless of their beliefs!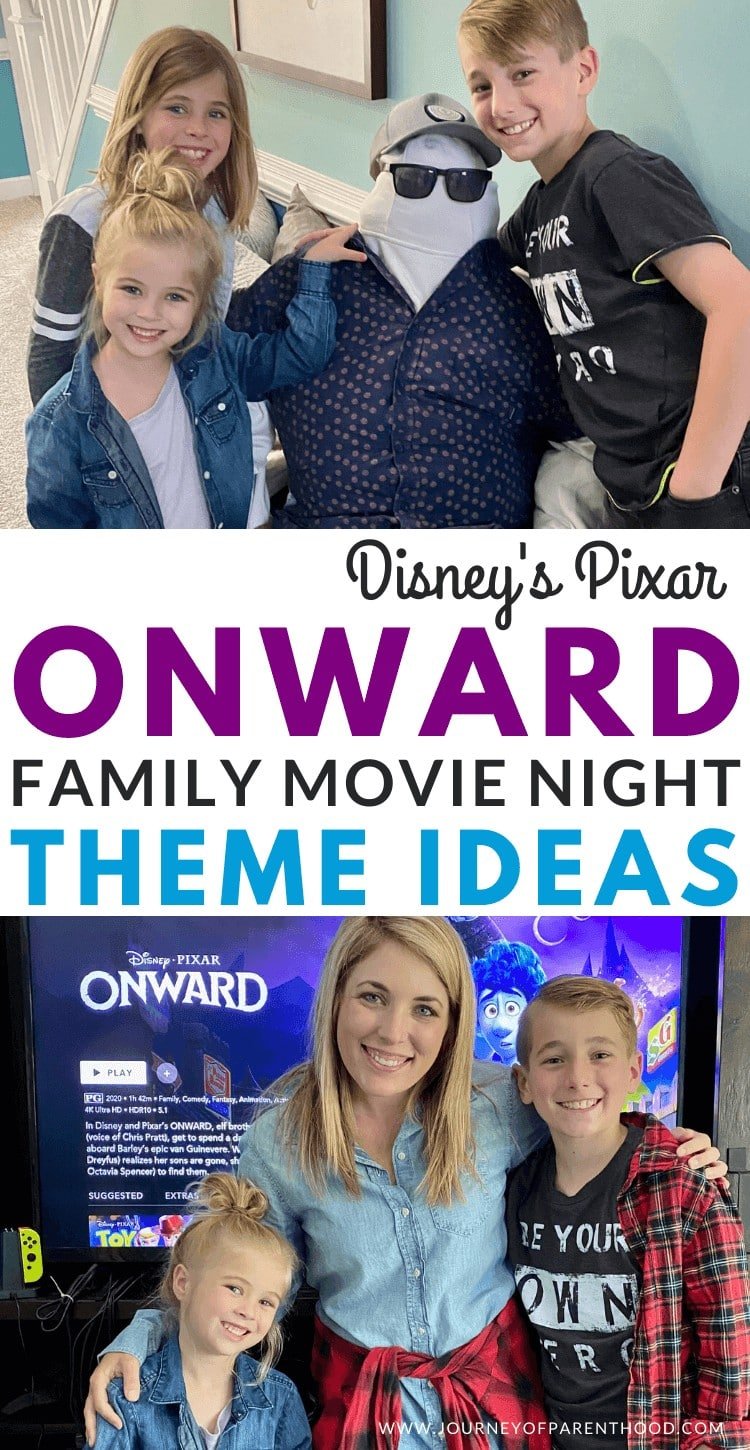 Onward Movie Night Final Thoughts
Onward is a great family movie!
While it's not a top favorite of the Disney and Pixar films, it's one we ALL enjoyed and one that the kids said they'd love to watch again soon.
Even though it was more "dude minded" the girls equally enjoyed it and even Spear, the two year old, was into it for the 30ish minutes he watched it with us!
Making it a movie theme night made it extra fun with dressing in theme, making a fun craft, having a hilarious activity, and eating all the epic foods.
We hope we inspired you to enjoy a Disney Family Movie Night soon too 🙂