Yall know I LOVE some Disney movies and having a movie theme day with my kids is something I enjoy putting together and something our whole family enjoys participating in.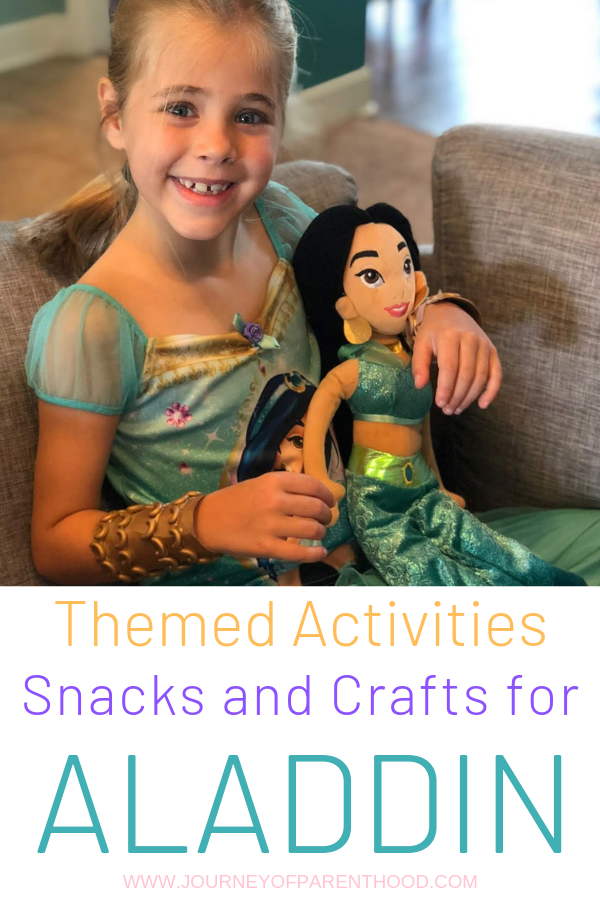 To kick off summer this year I did an Aladdin themed morning for the girls!
This day was VERY easy with very little prep-work needed in advance. I only had to do two things ahead of time. First I used toilet paper rolls and hot glued macaroni pieces on them in a variety of patterns. Zach then spray painted them gold and we let them dry over night.
These cuffs turned out SO CUTE and Britt especially LOVED them but they were heavy and kept falling off of her so next time I'd use a lot less macaroni 😉
Dressing for the theme is half the fun!
Luckily we already had Jasmine PJS for Britt and a Jasmine dress that Tess wore. I did both girls' hair in a "Jasmine style" and they were in Heaven!
The only other thing I did to prep for this day was to cut a couple foam visors in order for the girls to use them as their necklaces.
I did take the foam piece off of the expandable piece and fold it in half to make the cut even (I tried skipping this step and totally tossed my first effort in the trash ha!!!).
I found a few Aladdin printables off the internet and we were ready to get our craft on! The girls LOVED coloring the pictures and decorating their necklaces and goblets.
I had my hot glue gun plugged in to assist in attaching the gems they choose to their cups and necklaces but I also had several felt stickers they used to decorate on their own. I'm all about keeping it "hands off" for myself whenever possible as the doing it IS the fun in it right?!?!
Finished products! I got the cups from the dollar store and did order the visors from this link on Amazon because I didn't feel like making a Hobby Lobby run haha!
This girl had THE best time!
I did our movie theme activities in the morning right when Spear had gone down for nap and it allowed the girls time to watch the movie during his nap and then be able to eat their themed lunch after the movie.
Prior to watching it they went ahead and made their desserts: magic carpets! I used graham crackers and white frosting (and added purple food coloring to it!) then let them "decorate" with sixlets and skittles!
Carpets ready to fly!
Proud of her picture 🙂
Ready for the movie!
Britt said that aside from our girls' trip to Disney that this was her BEST day EVER 🙂
We even had Abu 😉
Watching the movie!
Couldn't leave the real Jasmine out!
I love coming up with fun themes for their food and we had our Aladdin themed lunch after watching the movie!
Blue Hawaiian Punch – Genie Juice
Curly Fries – Jafar's Twisted Fries
Ketchup – Sultan's Sauce
Apple Slices – Abu's Stolen Apples
Crackers – Lago's Cracker Mix
Pizza cut into squares – Aladdin's Magic Carpet Pizza
and our Magical Carpet Ride Dessert!
SO. Pumped!
Both girls had THE best time. They've used their special Aladdin cups at just about every meal since we made them and it's been the highlight of their summer.
Britt loved it so much that she asked for me to print off additional color pages for her to color 🙂
Movie themed days are probably my FAVORITE thing to do with my kids at home! I just love coming up with the cute ideas and making them happen and then seeing the huge smiles on the kids faces while they put it all into action!
I put together a short video highlighting our day that you can view here 🙂
If you're looking for more fun movie themed ideas be sure to visit this post for 5 Disney movie themed activity days!
And this Pinterest board for even more inspiration!