Favorite Finds for May 2019.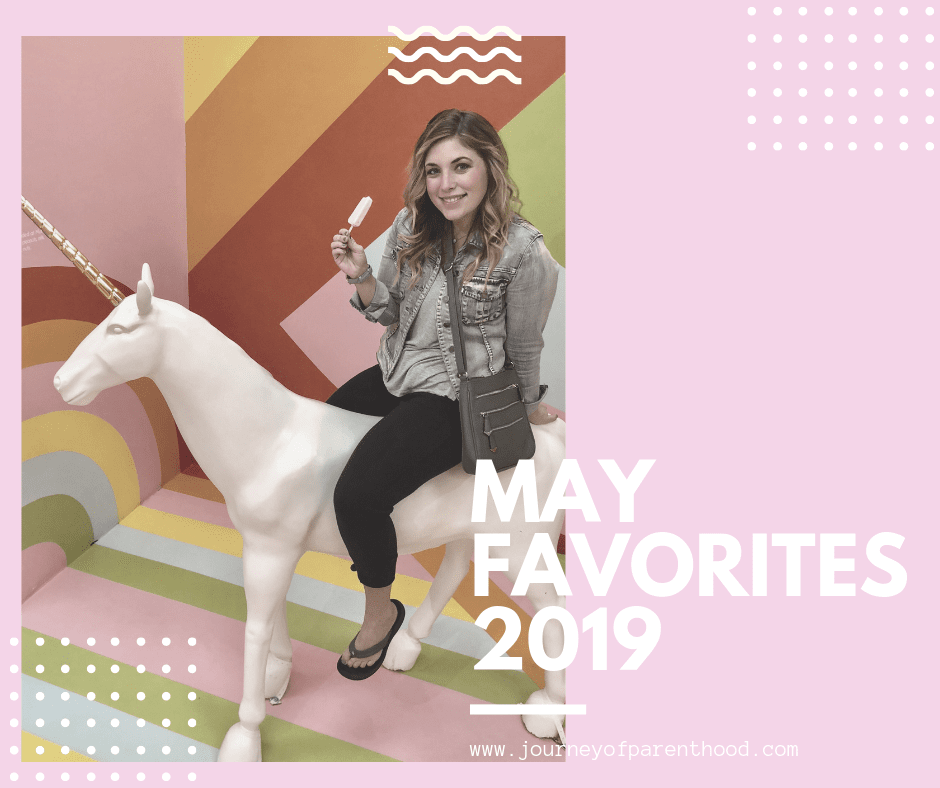 What I Did This Month:
This was such a fun-filled month for me! I had THE best Mother's Day EVER (You can read about it here) with my sweet babies 🙂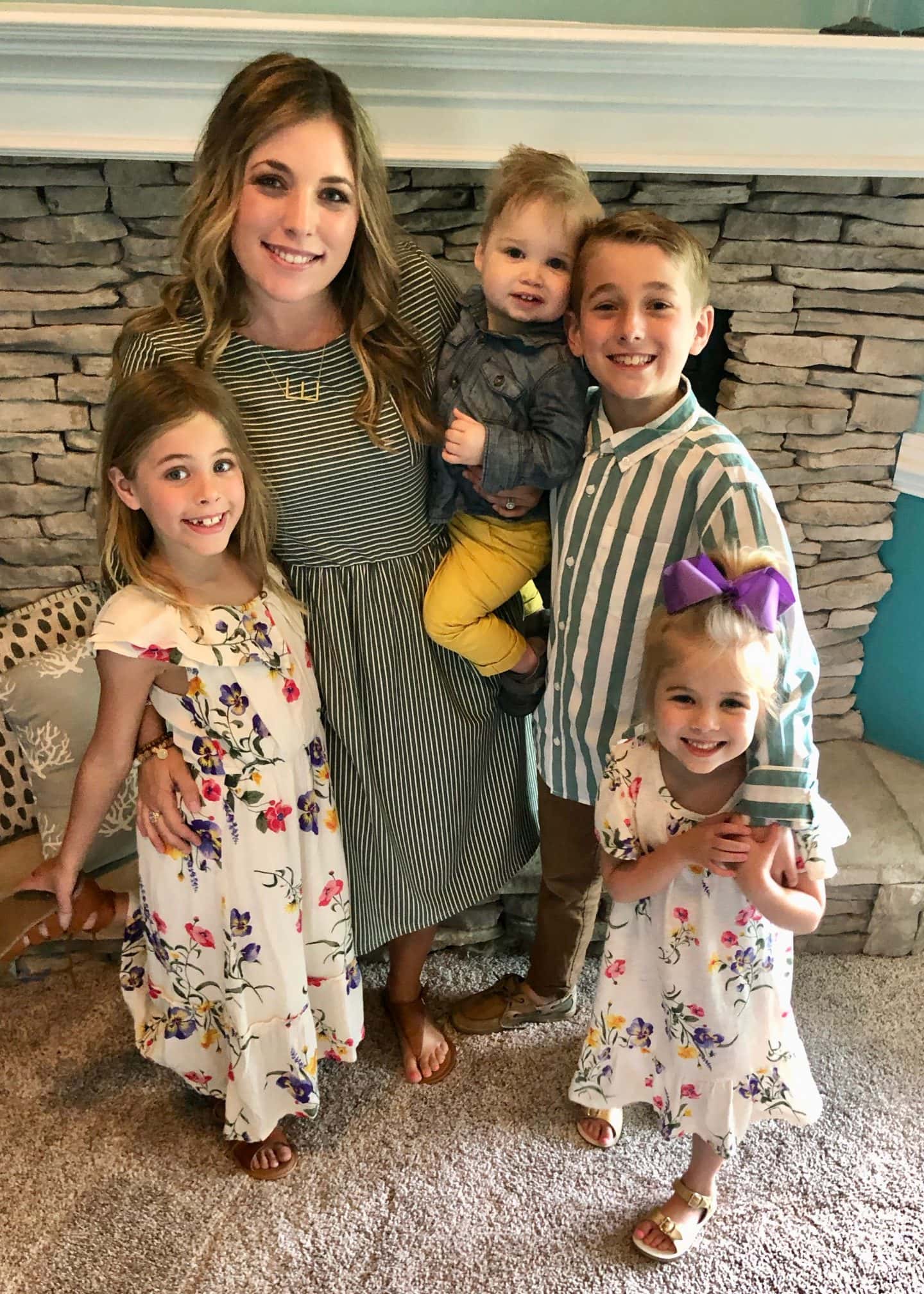 And Tess and I had our solo weekend at Disney! (you can read about it here and here!)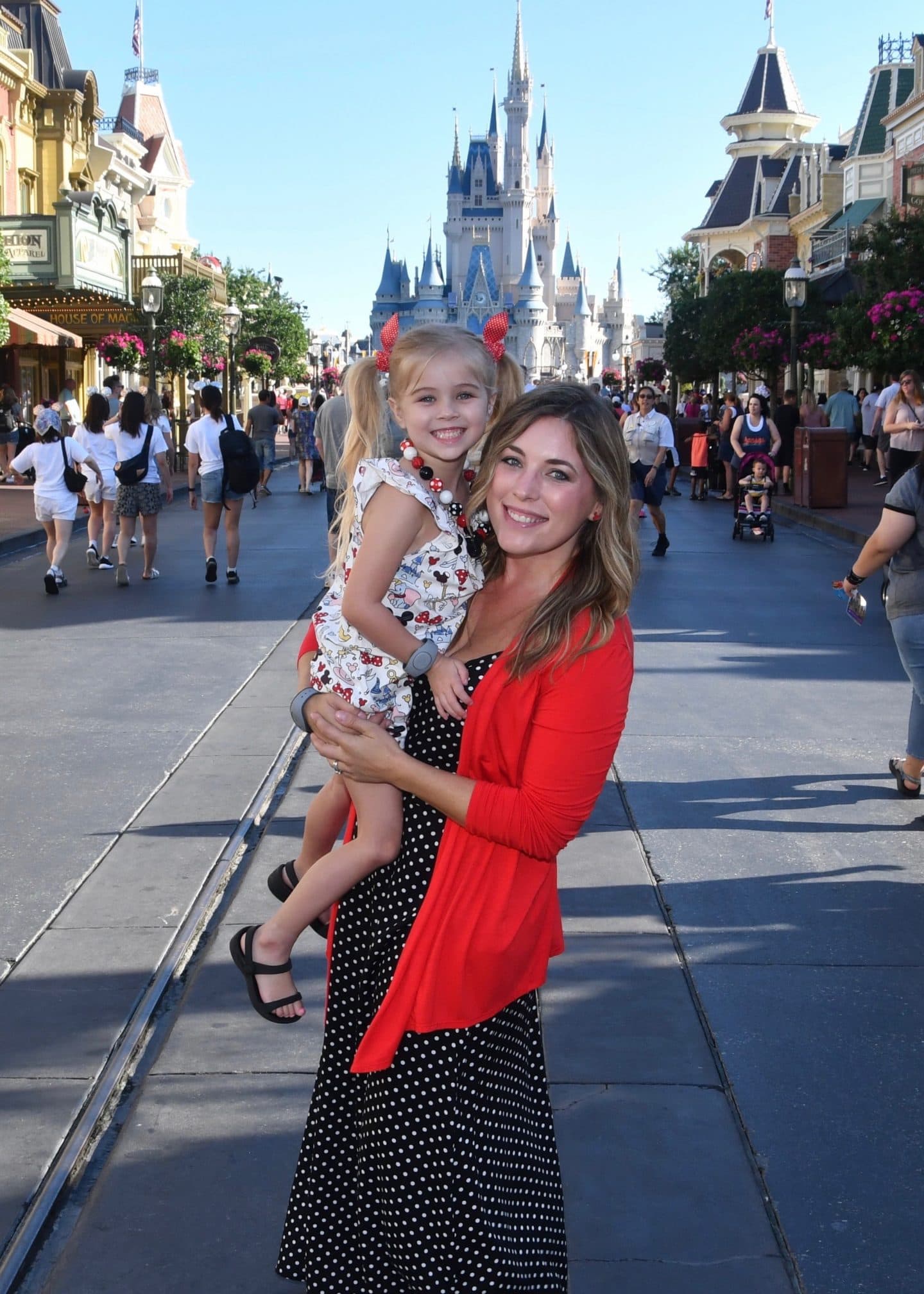 We also had book club and had a great turn out this month for our overview of The Mother-in-Law.
Y'all. I LOVED this book. It was SO GOOD.
It was not only a great story that kept you wanting to read more, but the author did a fabulous job with character development and really exploring perspectives and how we view the world from our perspective but also need to consider the ways other people see things.
We talked the most about this book than we have any other! I HIGHLY recommend it and you can purchase it here!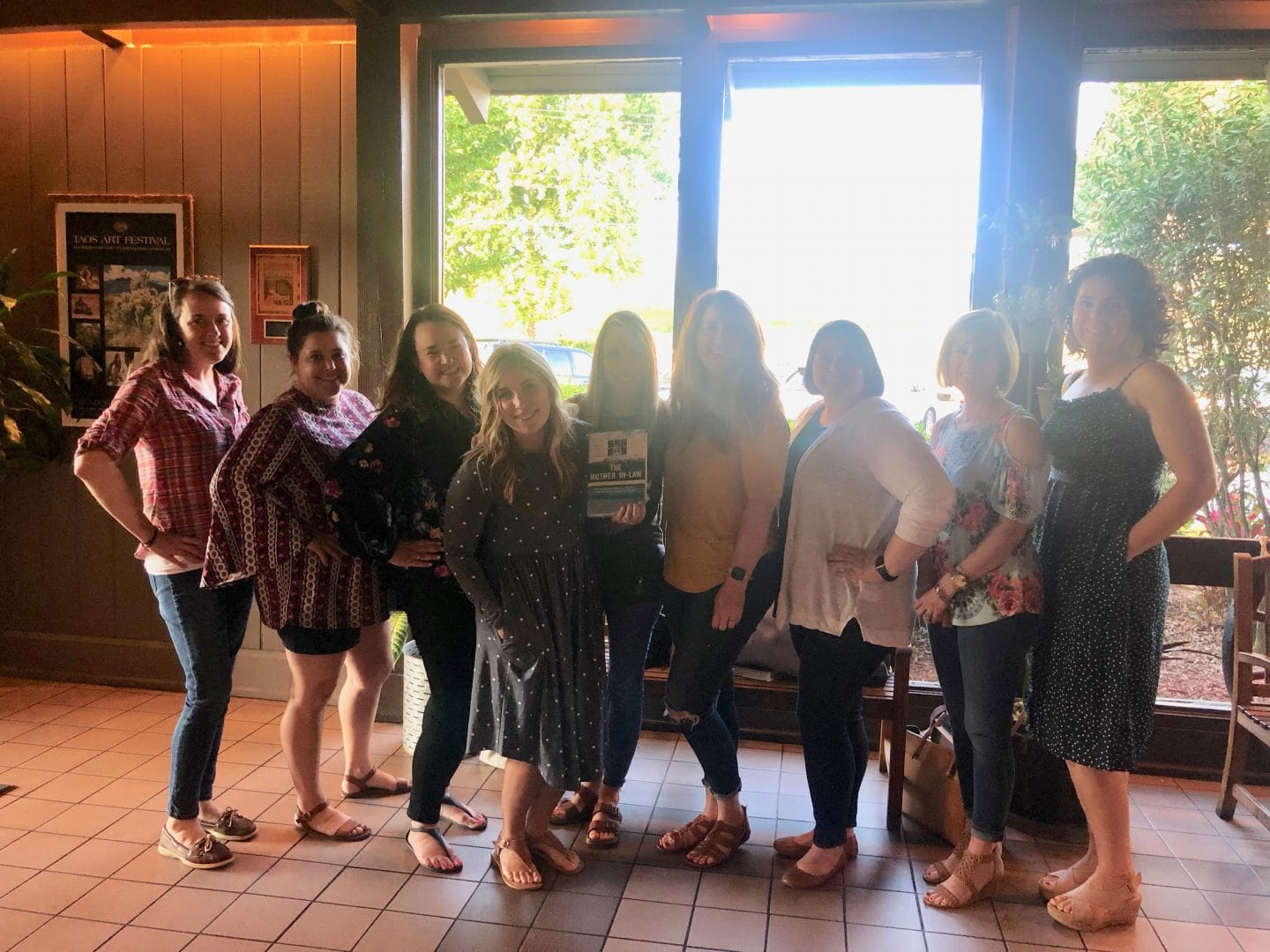 What I Wore This Month:
I link to ALL my favorite "Mom Style" finds on my Amazon List Here…and have a highlight on my Instagram Profile here!
This shirt is one of my absolute FAVORITES! I wear it on a regular basis and highly recommend it.
I am obsessing over these earrings and they are a perfect pop of color for summer.
Old Navy makes my FAV denim shorts! You can grab them here 😉
These shoes are a new item for me and I'm really loving them and think they will be my go-to shoe this summer!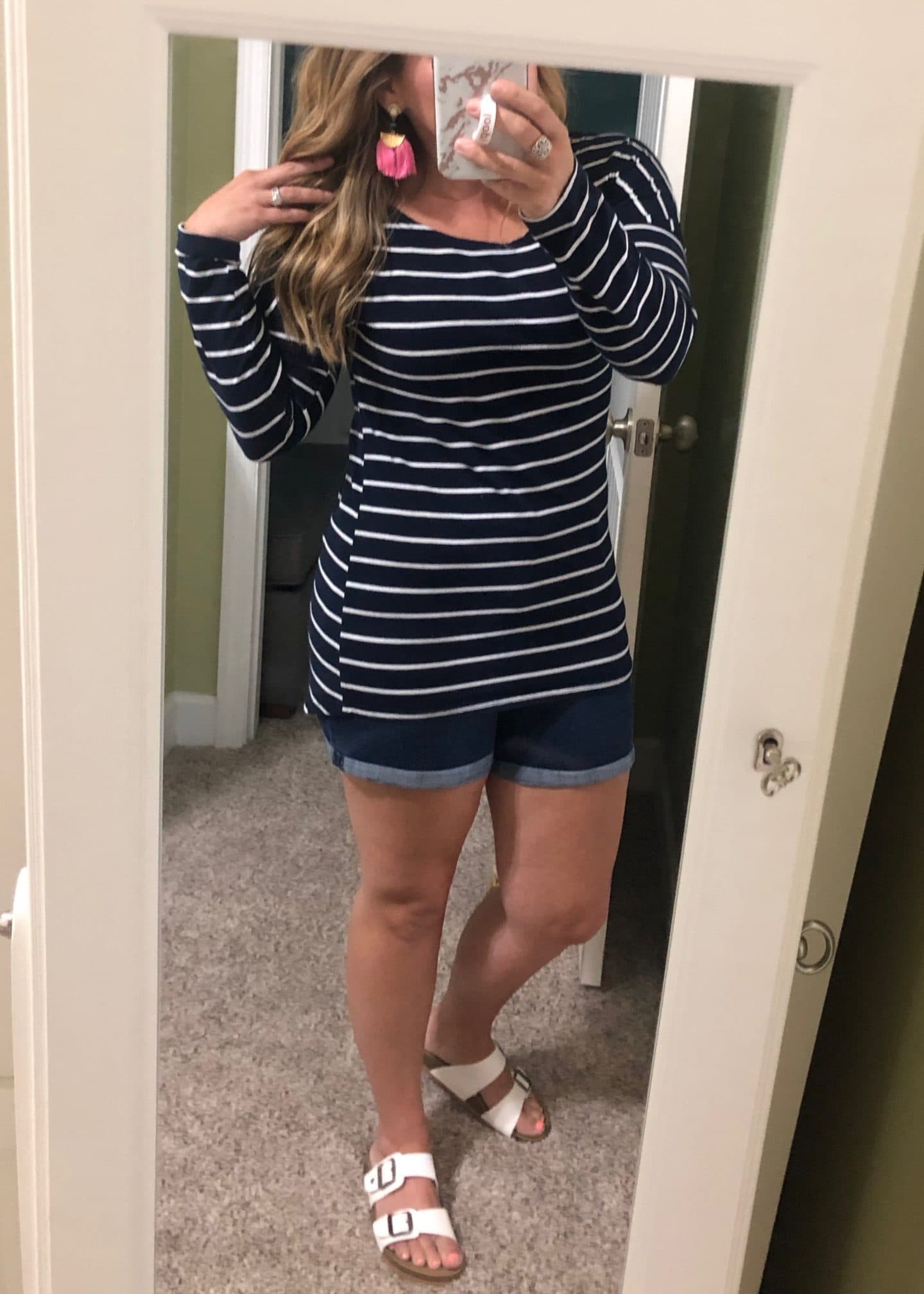 Y'all see me wear this denim jacket on the regular. It's lightweight and has a nice stretch to it.
These t-shirt dresses are a staple in my closet and I swear I have them in like every color!
I need to invest in new navy tennis shoes as I wear these so much they are literally starting to fall apart!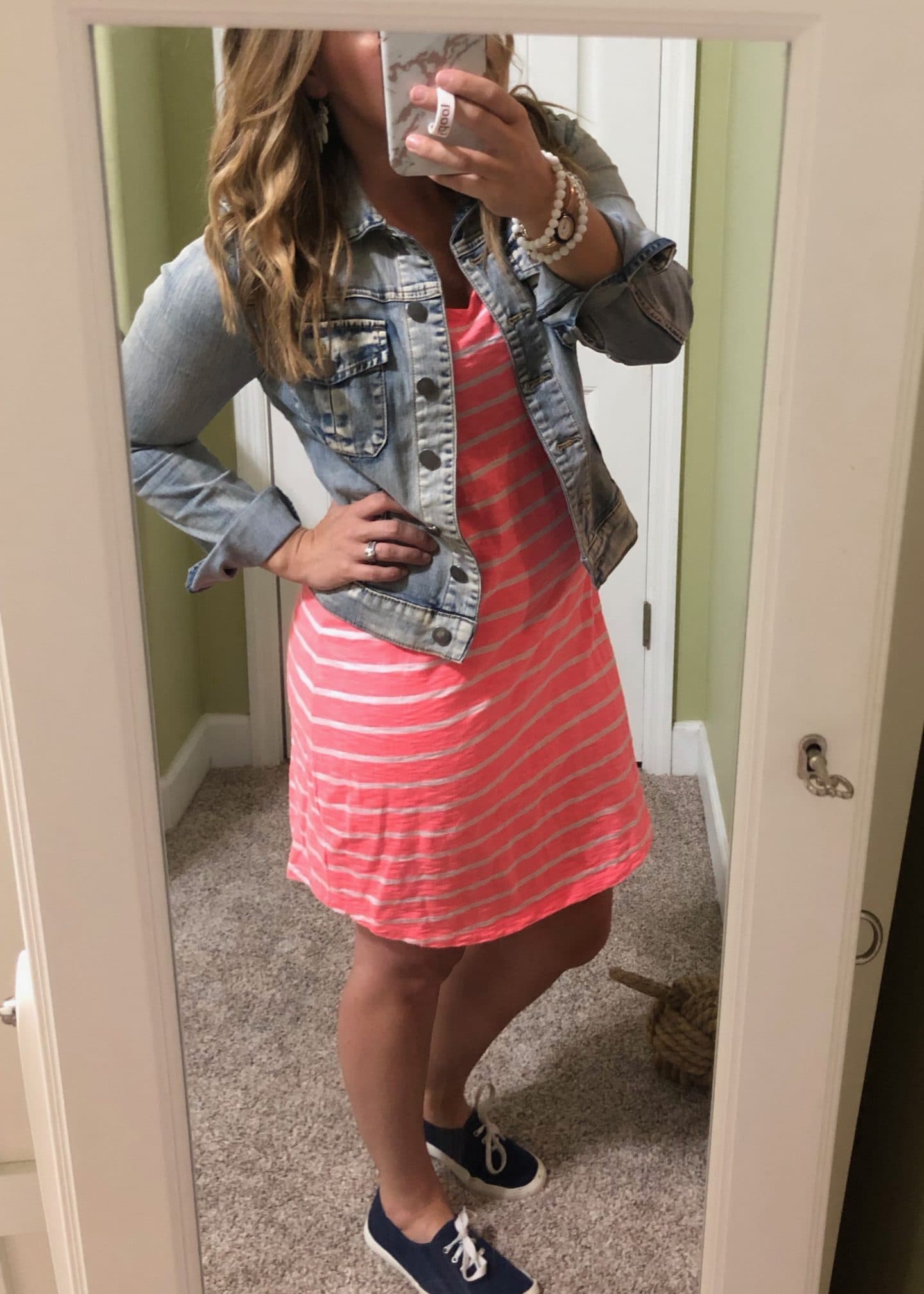 Same jacket…different dress! These are an Amazon option of the t-shirt dress that are GREAT too!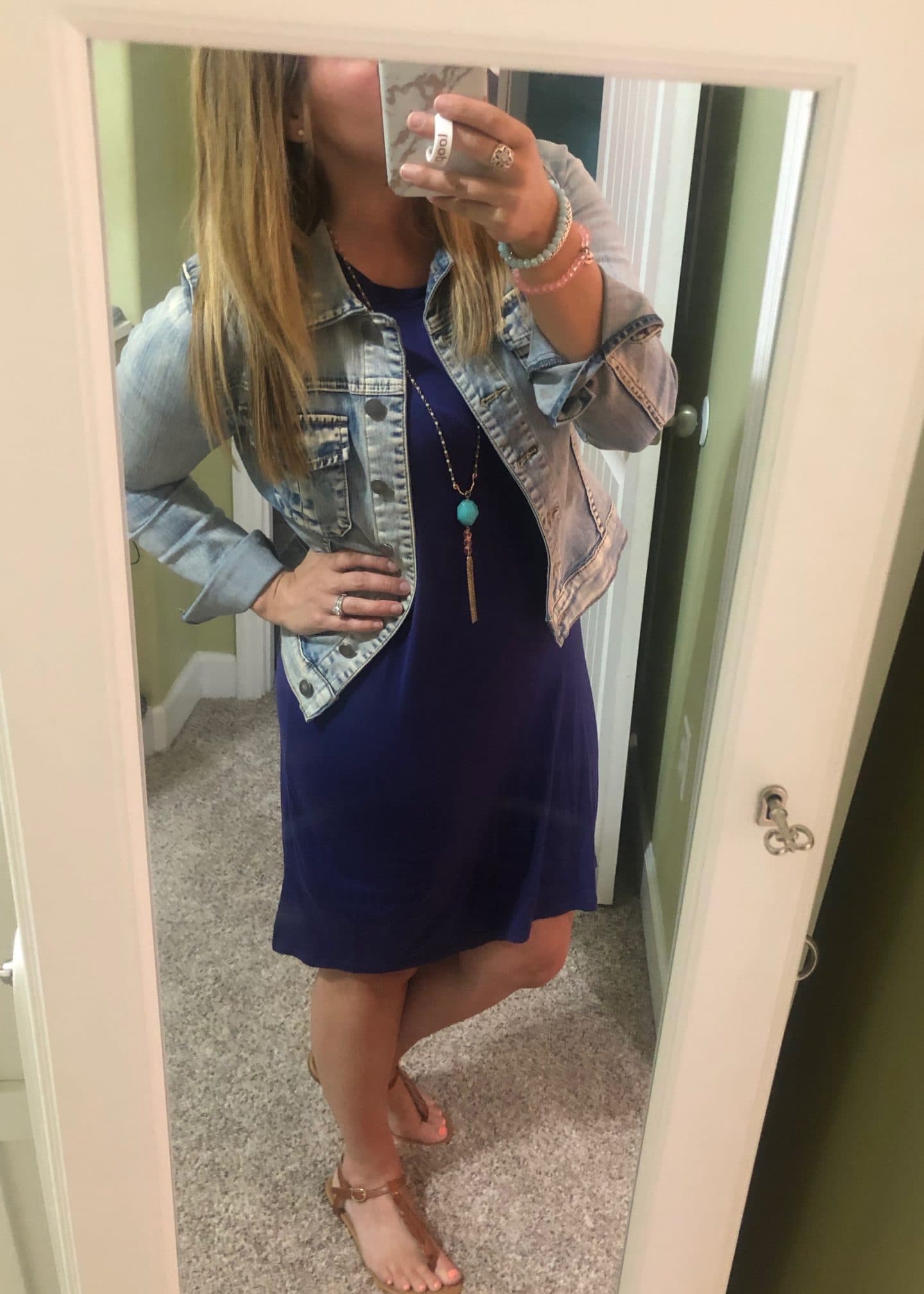 I've shared this AWESOME cardigan many times now! It's LINED and SUCH great quality.
These are my go-to dark denim jeans.
I also wear these shirts on the regular for my basic layering.
And this necklace adds a fun detail!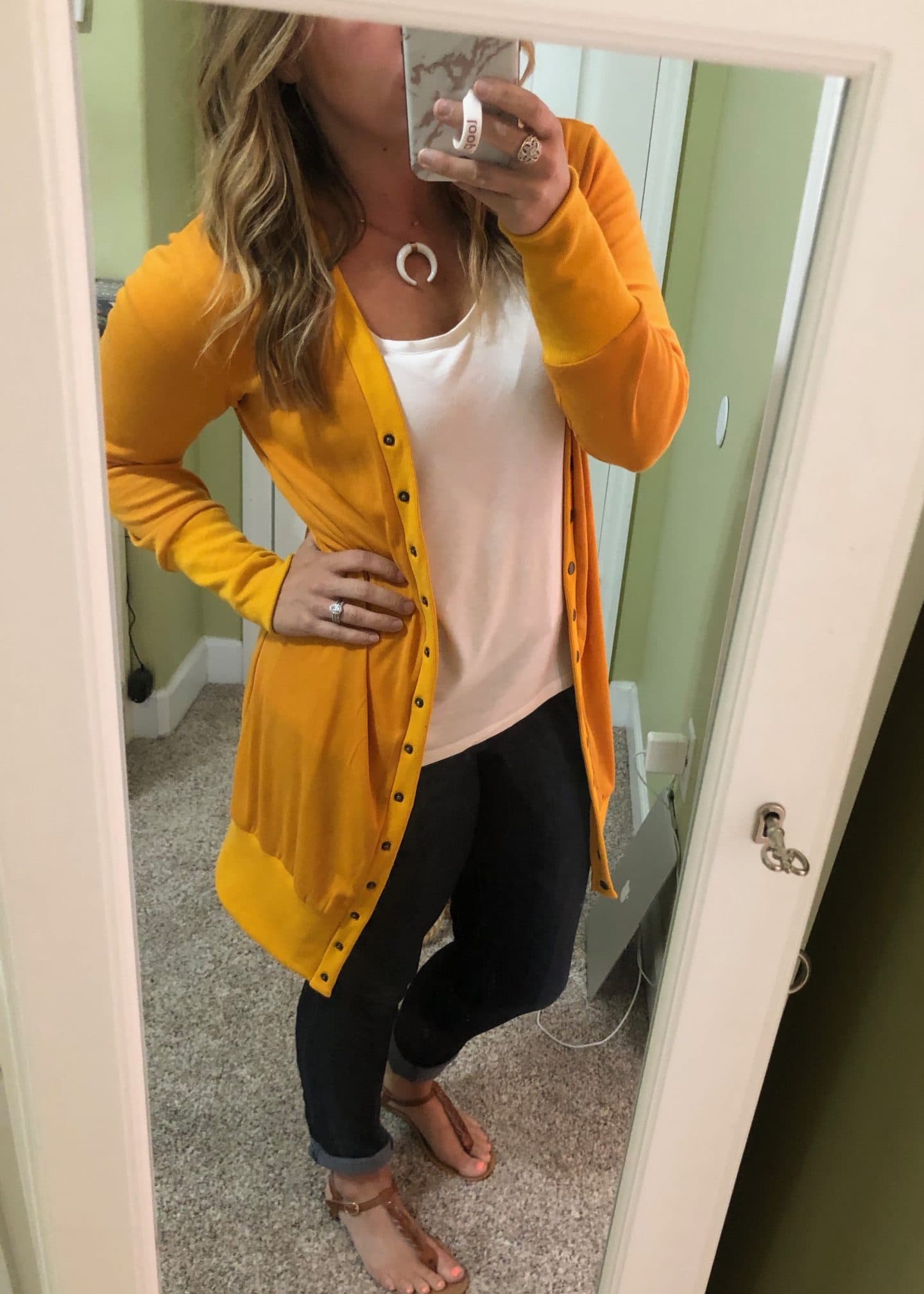 I am IN LOVE with this dress!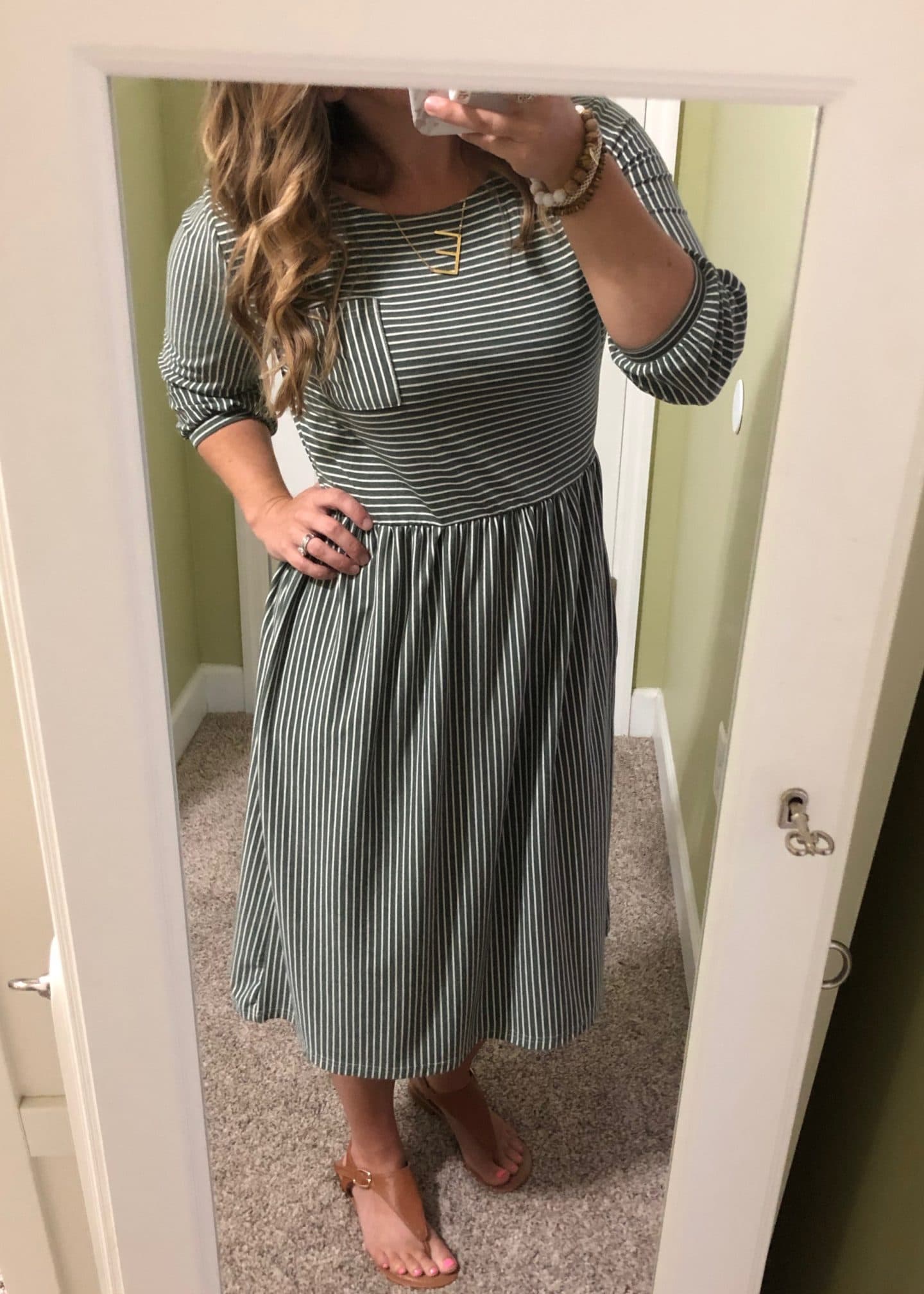 I'm obsessed with these tops from Express. I think I own like 7 of them. SO comfortable!
Every mom needs a good pair of distressed jeans.
I love my Michaels Khors watch.
And I shared before but I am SO PUMPED that these shoes can now be find on WALMART!!!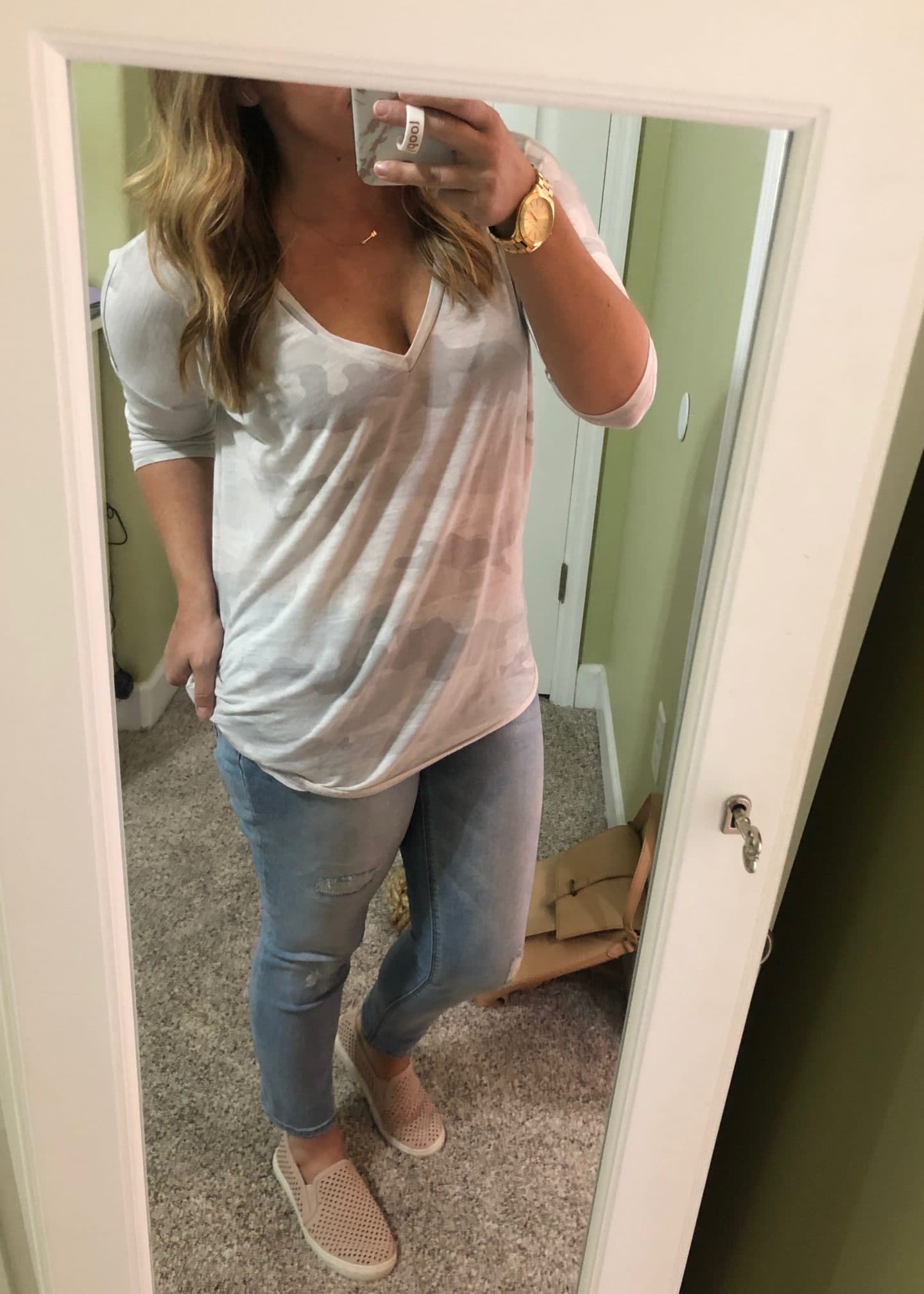 I ordered this purple dress for Easter and didn't wear it then but loved it too much to return it!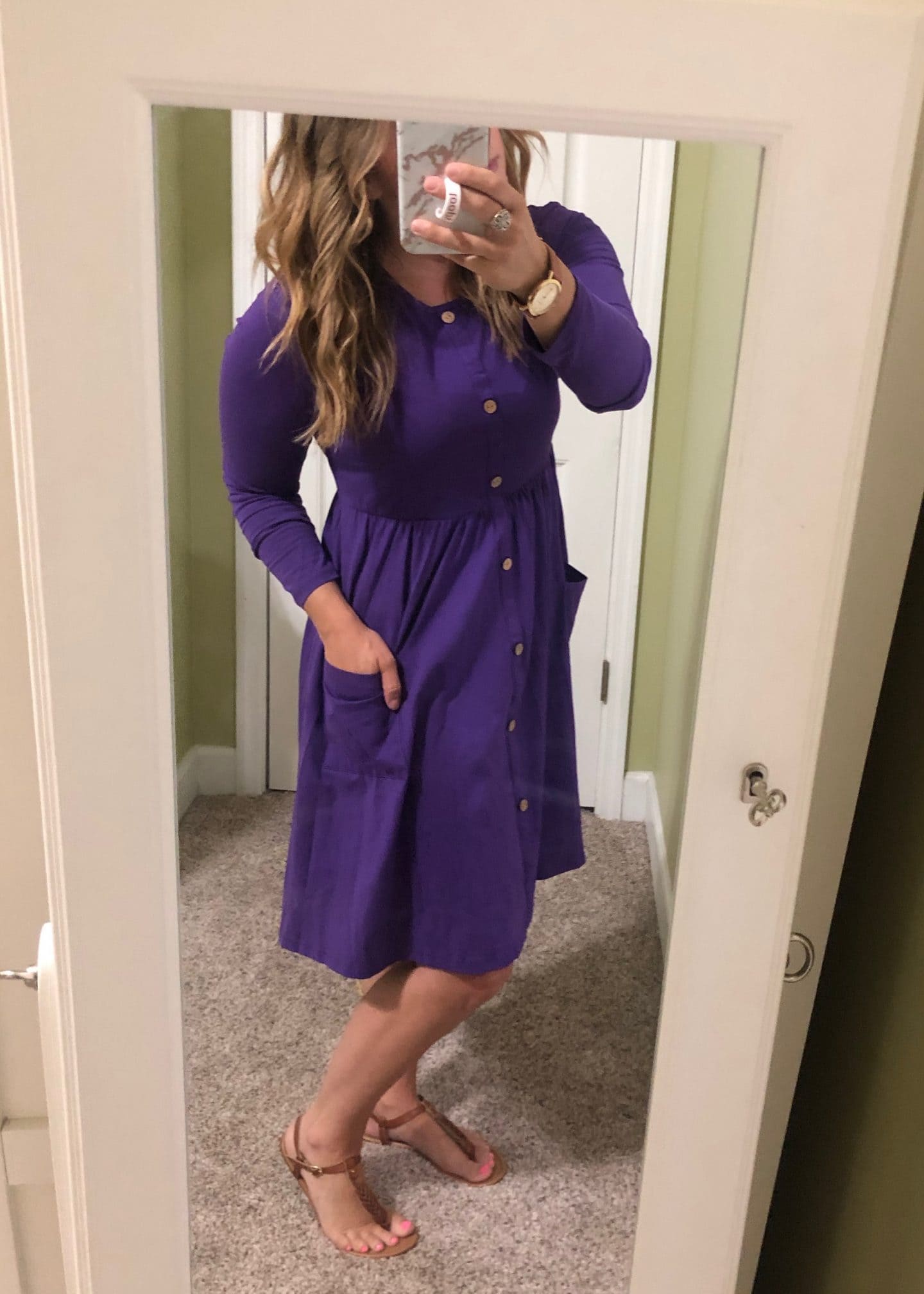 Rockin' the pink tassel earrings again!
This striped dress is SO CUTE and comfortable! The sleeve detail is so cute too!
I wear my watches regularly but am so bad about never putting in new batteries when they die so the time is like never, ever right 🙂 This is a link to my black one!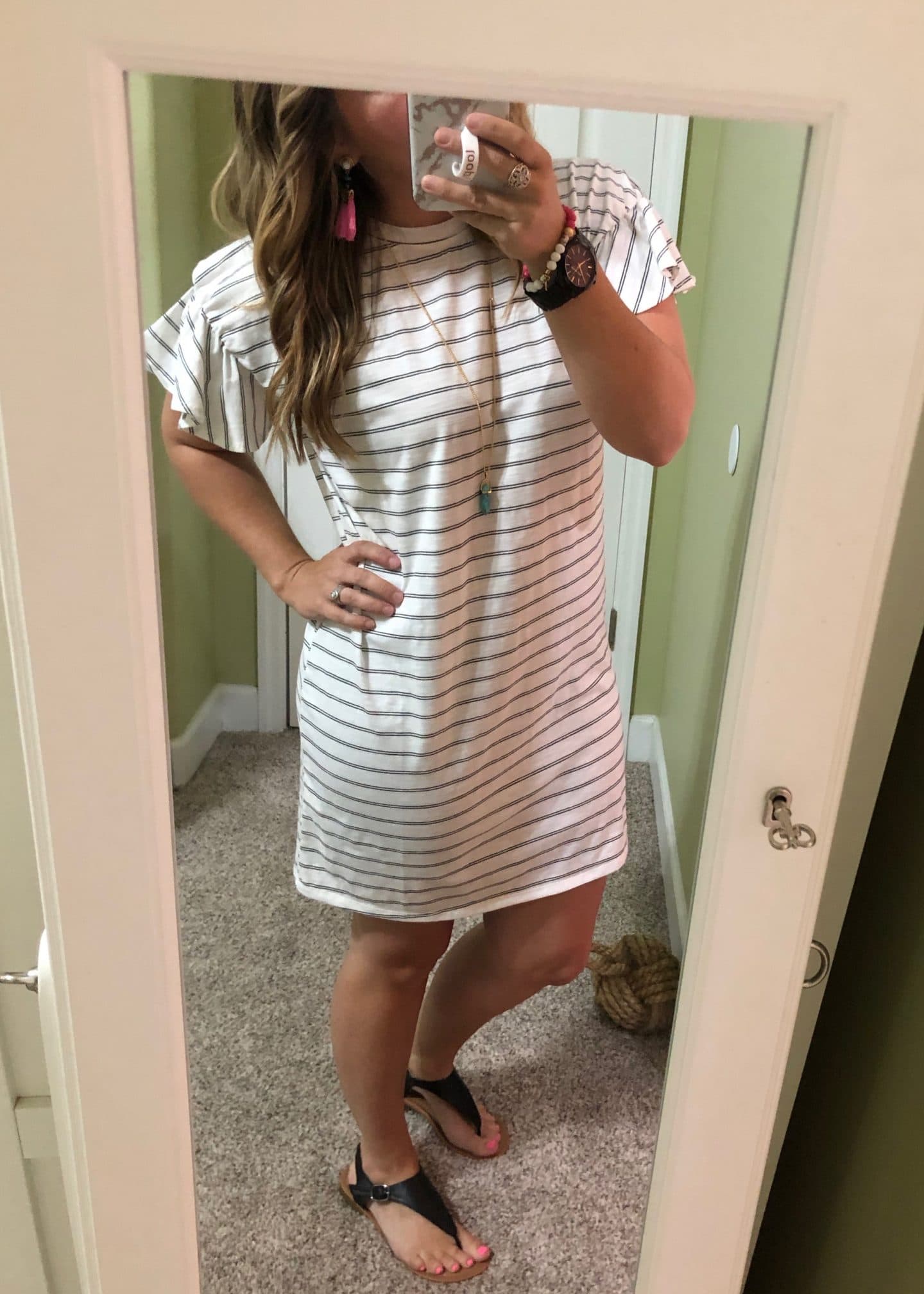 The criss-cross design on this tunic is super flattering
I love my Crocs Sexi Flips for summer!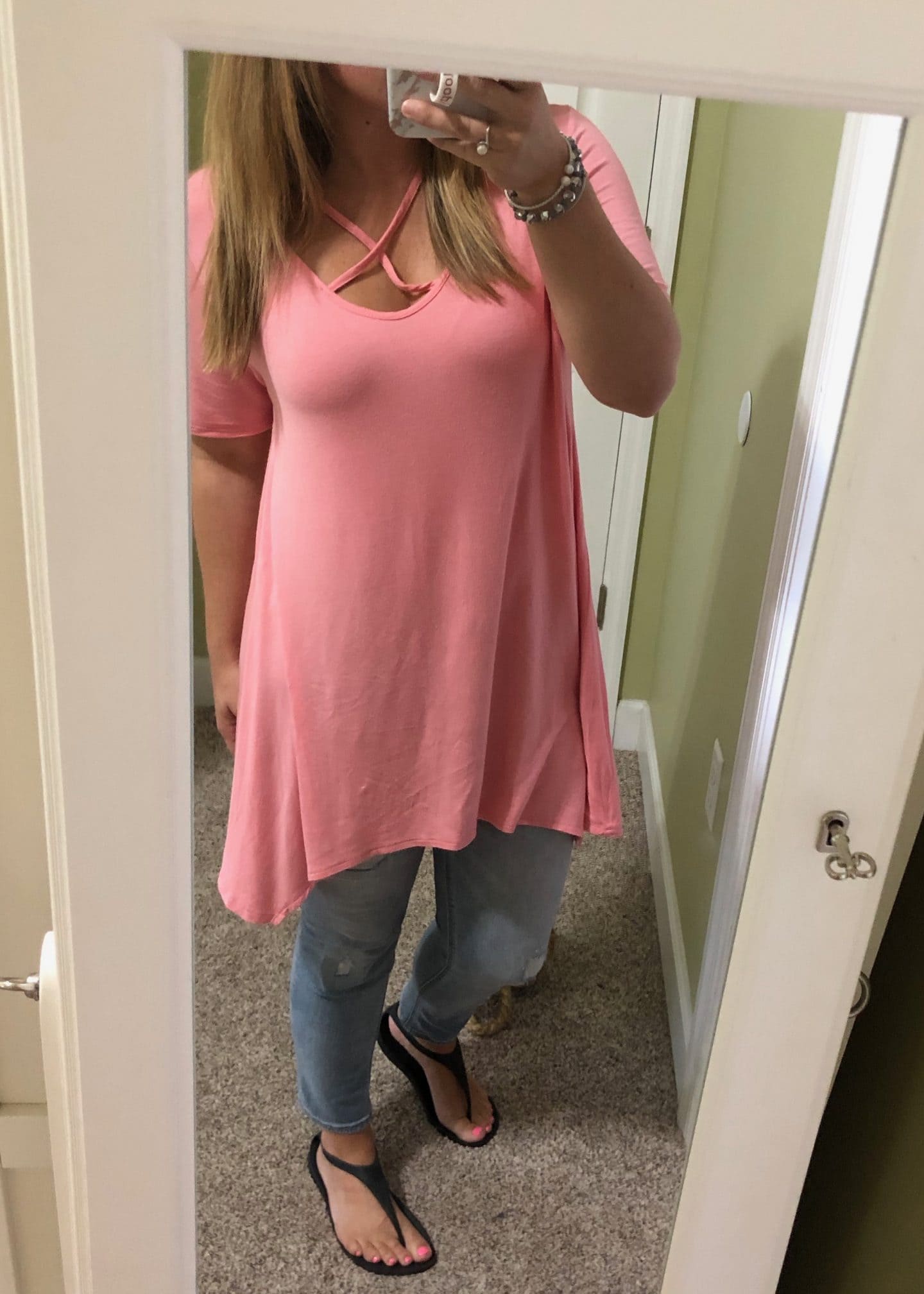 Yes…the tassel earrings AGAIN 😉
This is one of my favorite cardigans!
And this dress is super comfortable but still has a sexy edge to it.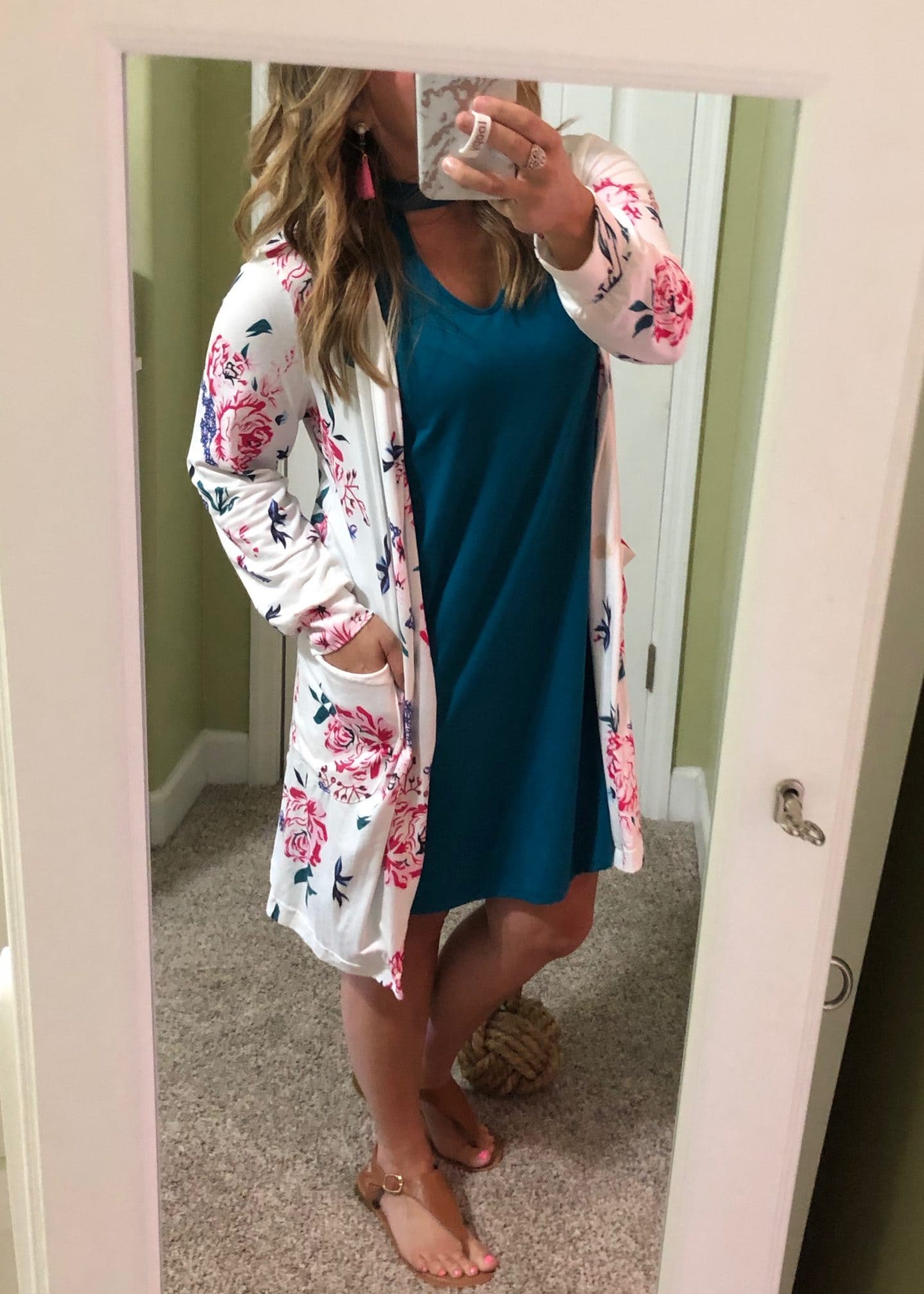 I ADORE this dress! So comfortable, great length and pockets!
And these are among my most worn cardigans – very light weight (I wore this outfit to Disney in MAY and wasn't hot!)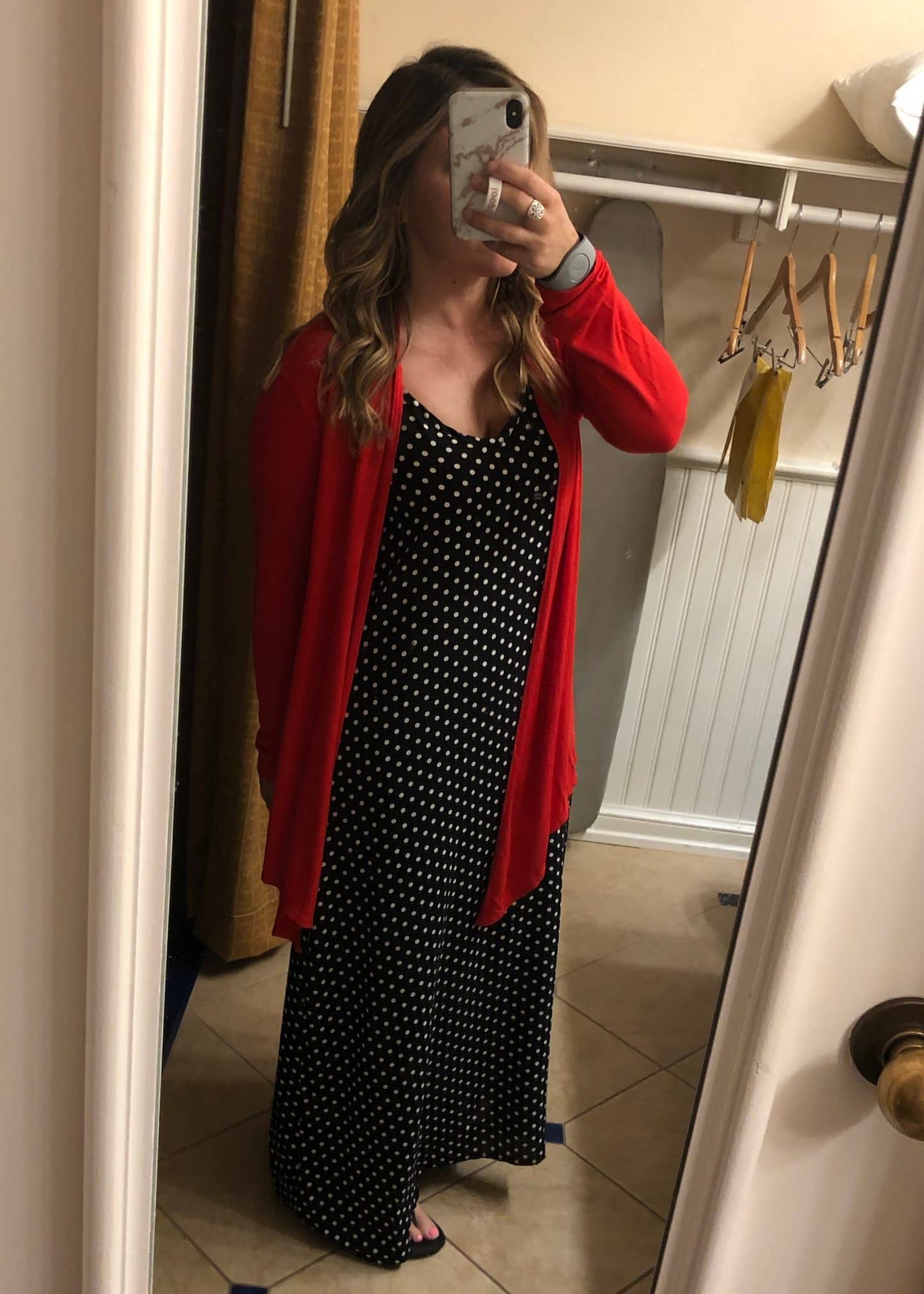 Another super cute and comfortable polka dot dress!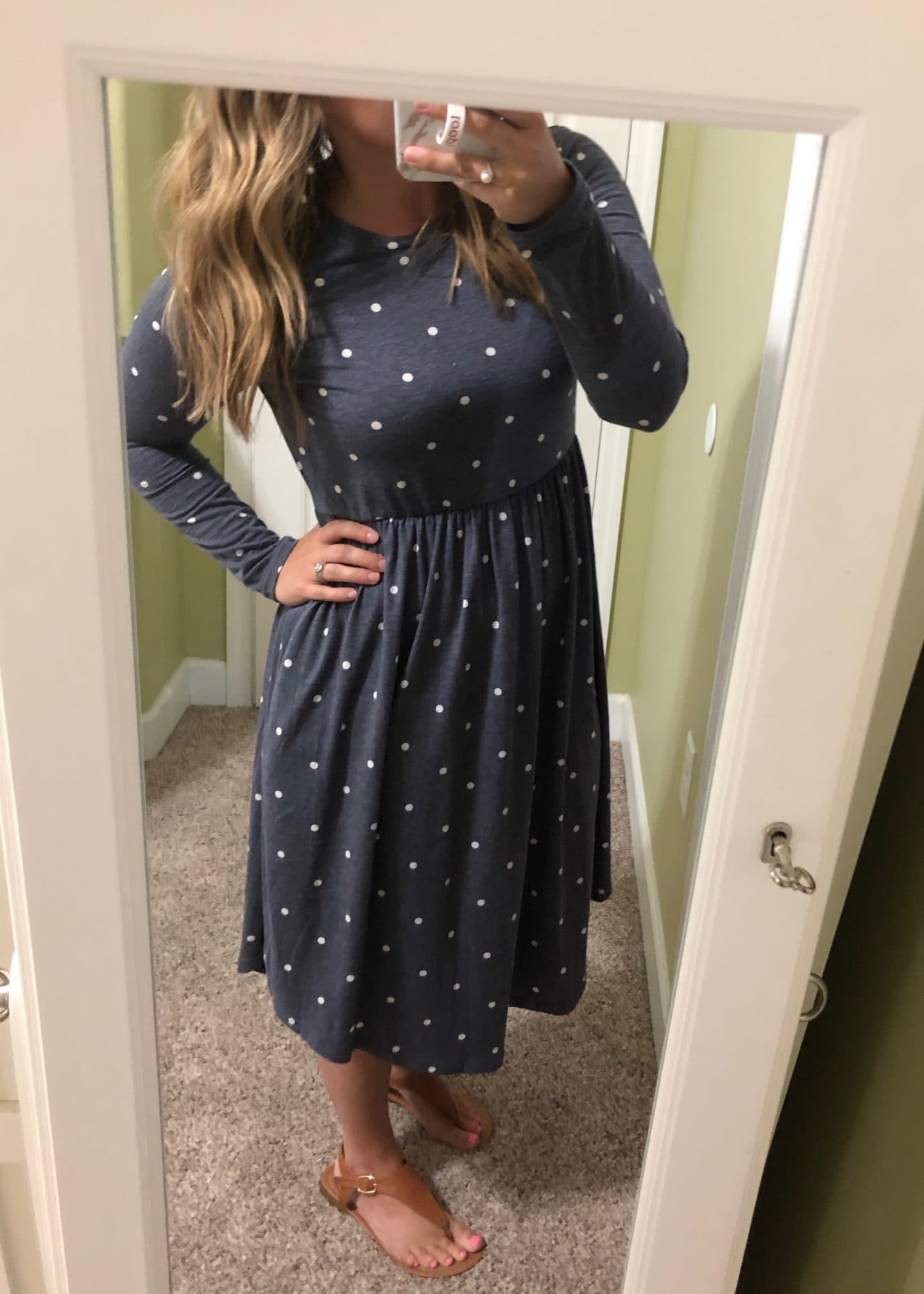 I love comfortable clothes for travel:
Along with my favorite layering tees
And these NEW lounge pants! SO COMFORTABLE y'all and cute enough where I don't feel like a slob when I wear them 😉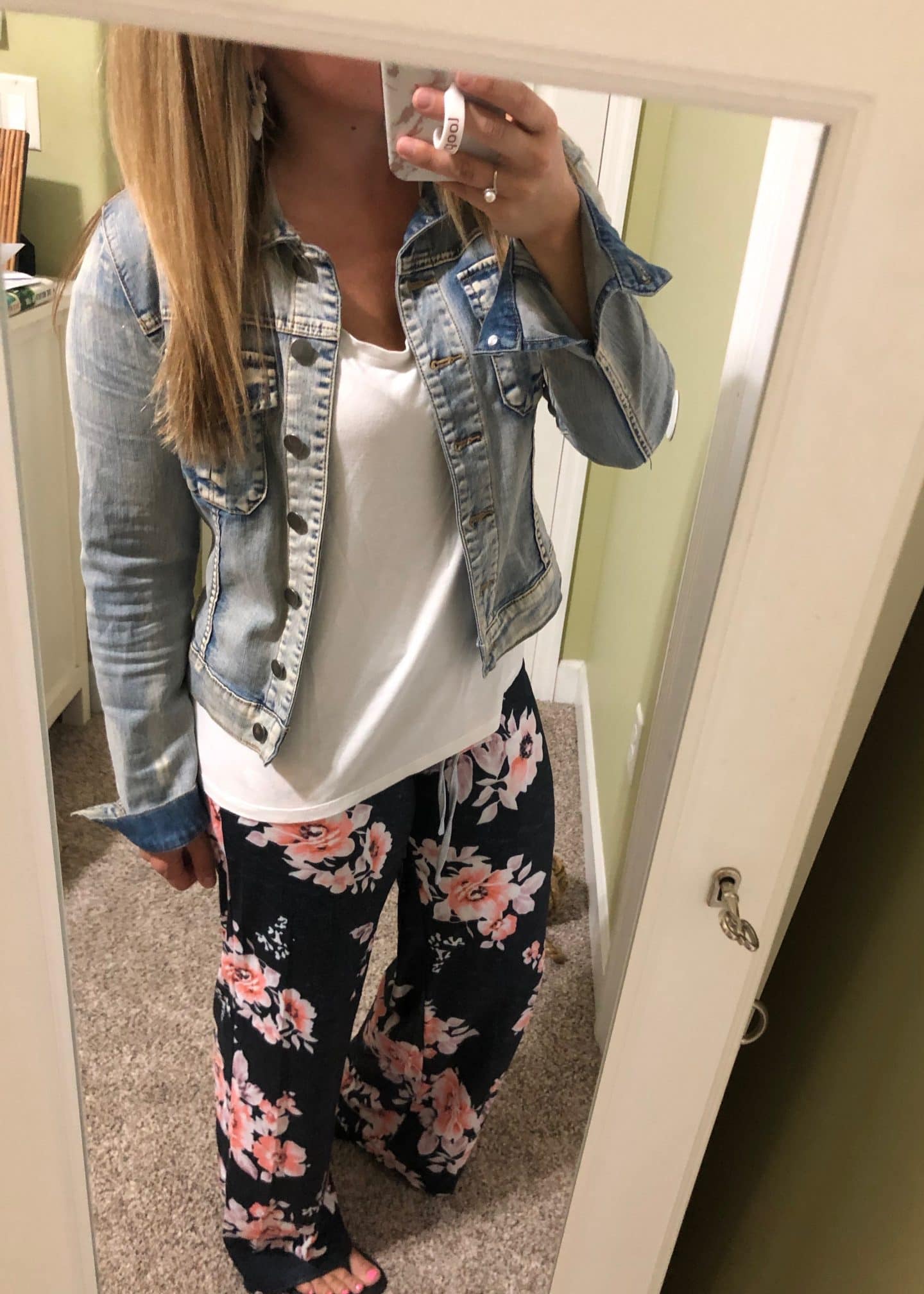 I wore the follow outfits on our trip to Williamsburg this month! You can read about our travels here and here 🙂
I love love love this top and also bought it in black!
Rockstar Jeggings from Old Navy are my fav!
These shoes may not look super cute with the outfit but y'all they are the ONLY shoes I wear on days that require a lot of walking (like Disney!). SO COMFORTABLE and worth the price tag, I promise!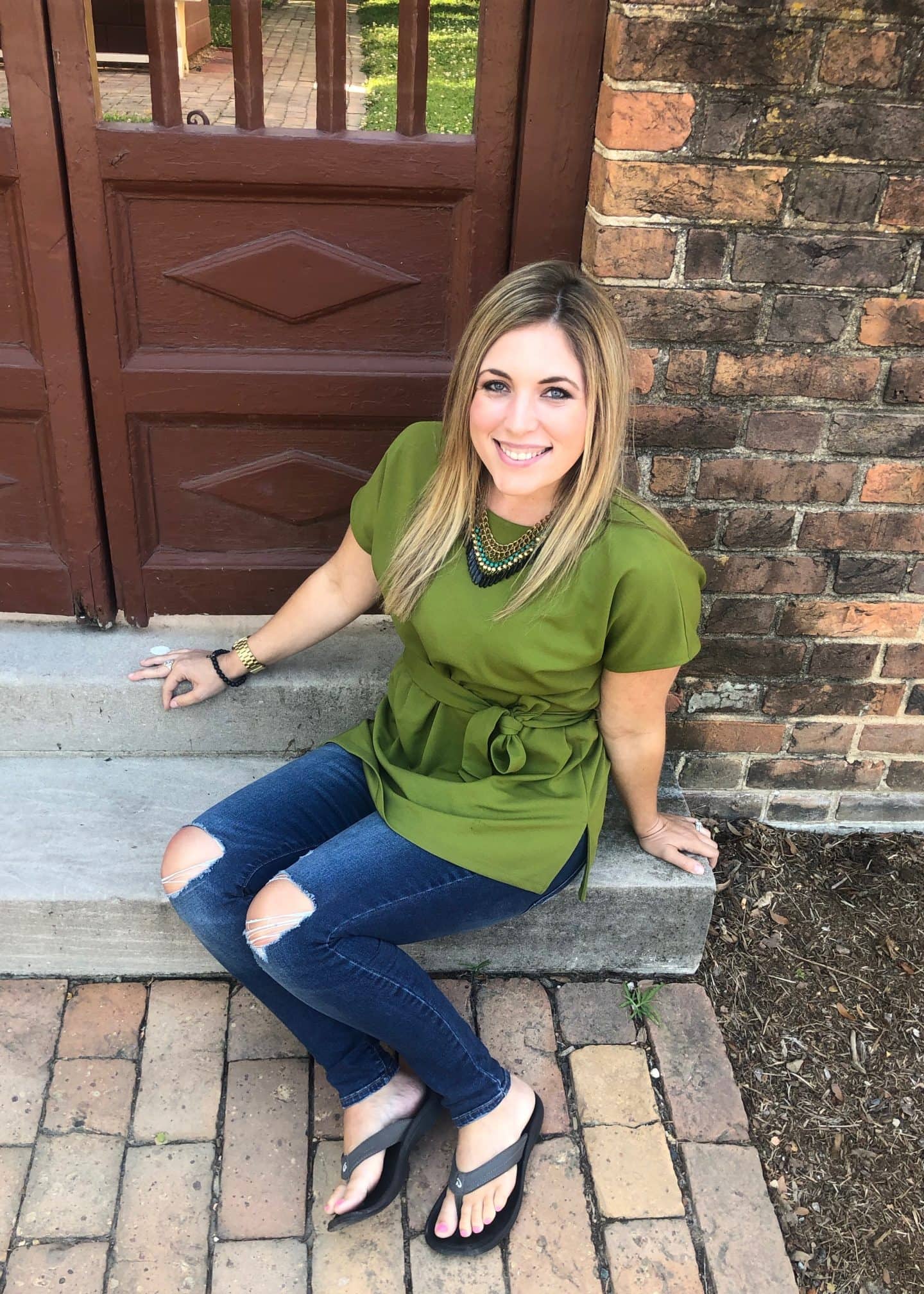 I don't own many rompers b/c I'm pretty picky about them but I love this one (here's a similar style).
And duh guys I'm OBSESSED with these sunglasses!!!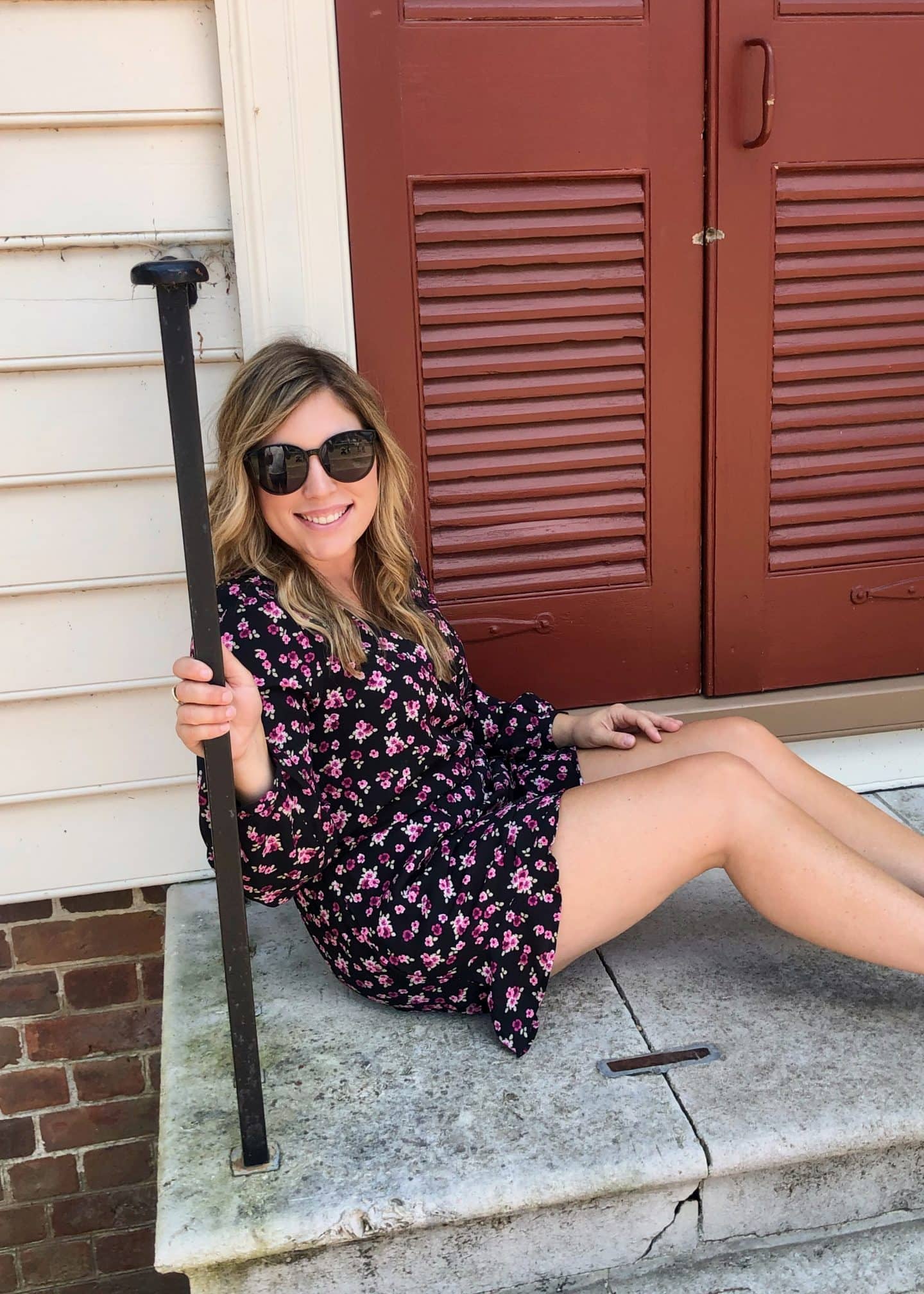 I love a comfortable dress that is also cute enough for a date night and this one def is both!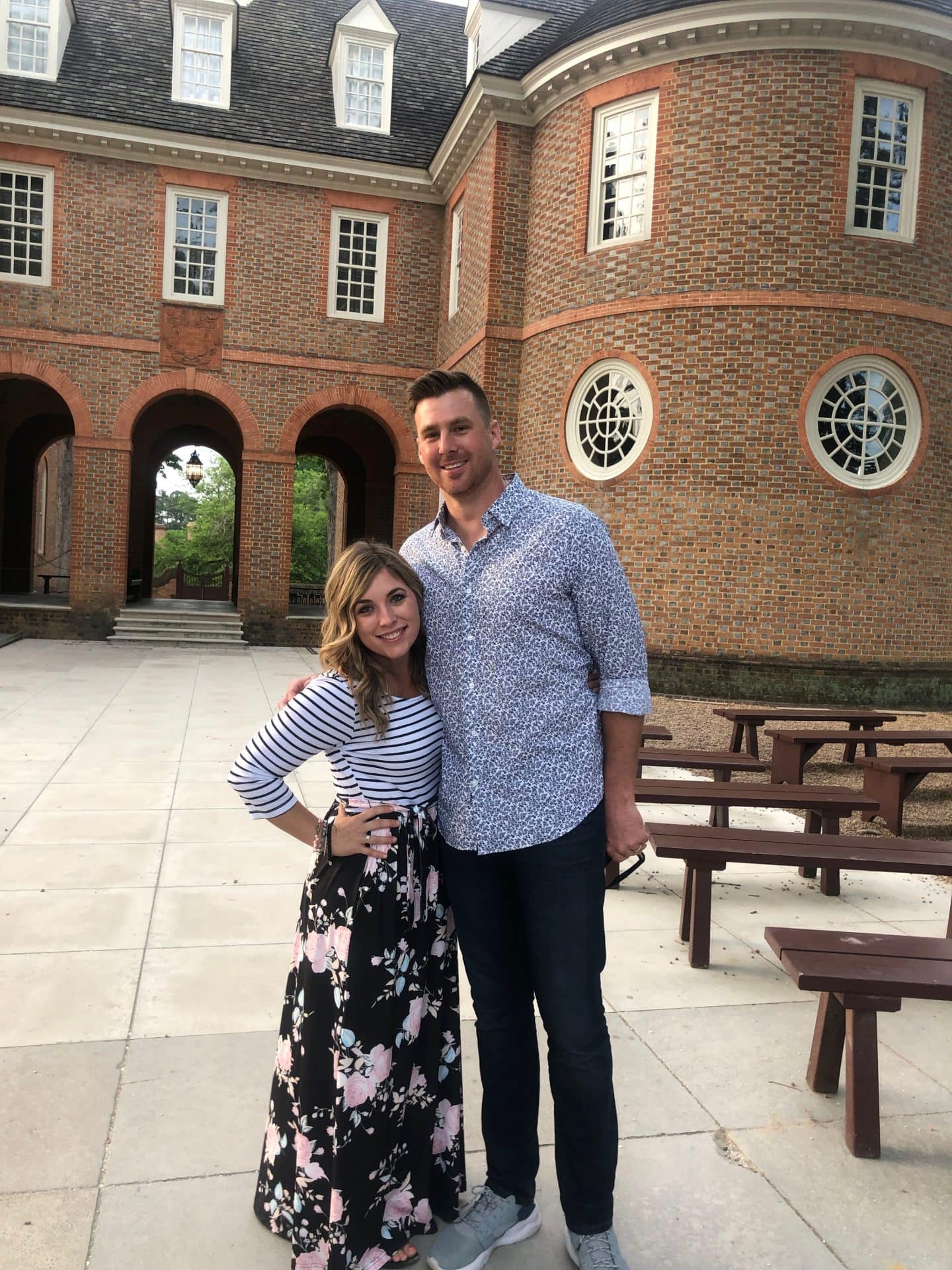 Shop All Of My Looks Here:
What I Ordered This Month:
As always I love loading up my Amazon cart each month and enjoy sharing my favorite purchases with y'all!
Elderberry Syrup has become a regular in my rotation of ordering and I always, always keep some on hand. I am a believer guys!!!
If I start feeling cruddy I drink 2 Tbl of it and I swear it makes a difference!
If you're like me then you'd be wise to buy a pack of these glass screen protectors for your phone too!
I laughed out loud when I put a BRAND NEW one on my phone before our trip to Virginia, and then in Jamestown, I dropped my phone and cracked it. I was thankful I had the multi-pack so I could just easily replace it when I got home!
I am pretty hardcore about my favorite personal beauty products and I've LOVED this product for my hair for a long time.
I shower at night and run this through my hair wet and then put my hair in a bun to sleep so it's still pretty damp in the morning before I style. This makes my hair SO SOFT!
It's a HUGE bottle and lasts me a solid 6 months, or longer.
You Can Shop All of My Morning Routine Items Here:
I work at my desk every day on the blog and my phone is typically running close to dead by naptime so I'm always needing to charge it.
I listen to podcasts and talk to friends of mine on Marco Polo (which is video chat) and it's a pain to have my phone laying down to charge when I'm trying to see a video or take a video in response.
I am SO PUMPED about this find! It's a GAME CHANGER to be able to prop my phone and allow it to charge! Plus it's under $10! Whoop whoop!
I am hardcore about skin protection, especially in the warmer months. I have a struggle with finding hats because, well, I have a big head haha
I own SEVERAL of these hats. They fit me SO WELL and are adjustable for those of you with smaller heads too 😉 And SO affordable!
Disney has stopped using plastic straws at the parks so I finally invested in reusable ones! I REALLY am liking these because the little pods fit perfectly in the side pocket of a bookbag (actually I can fit two in there!)
I also like that the straw is wide enough for iced coffee and slushies! I was a bit worried about that!
I am obsessed with kimonos. I LIVE IN THEM. I ordered a few new ones this month to have over the summer and they all came from this link!
I have really been focused on our summer schedule and was super pumped to find these Extreme Dot to Dot sets for the kids. They have LOVED them. Especially Kye and Britt who are a little tougher with that sort of thing (Tessie still just loves cheap coloring books!)
Speaking of summer I've also come up with a super quick and easy way to apply sunscreen on the kids and it's ALL thanks to these rash guards!!!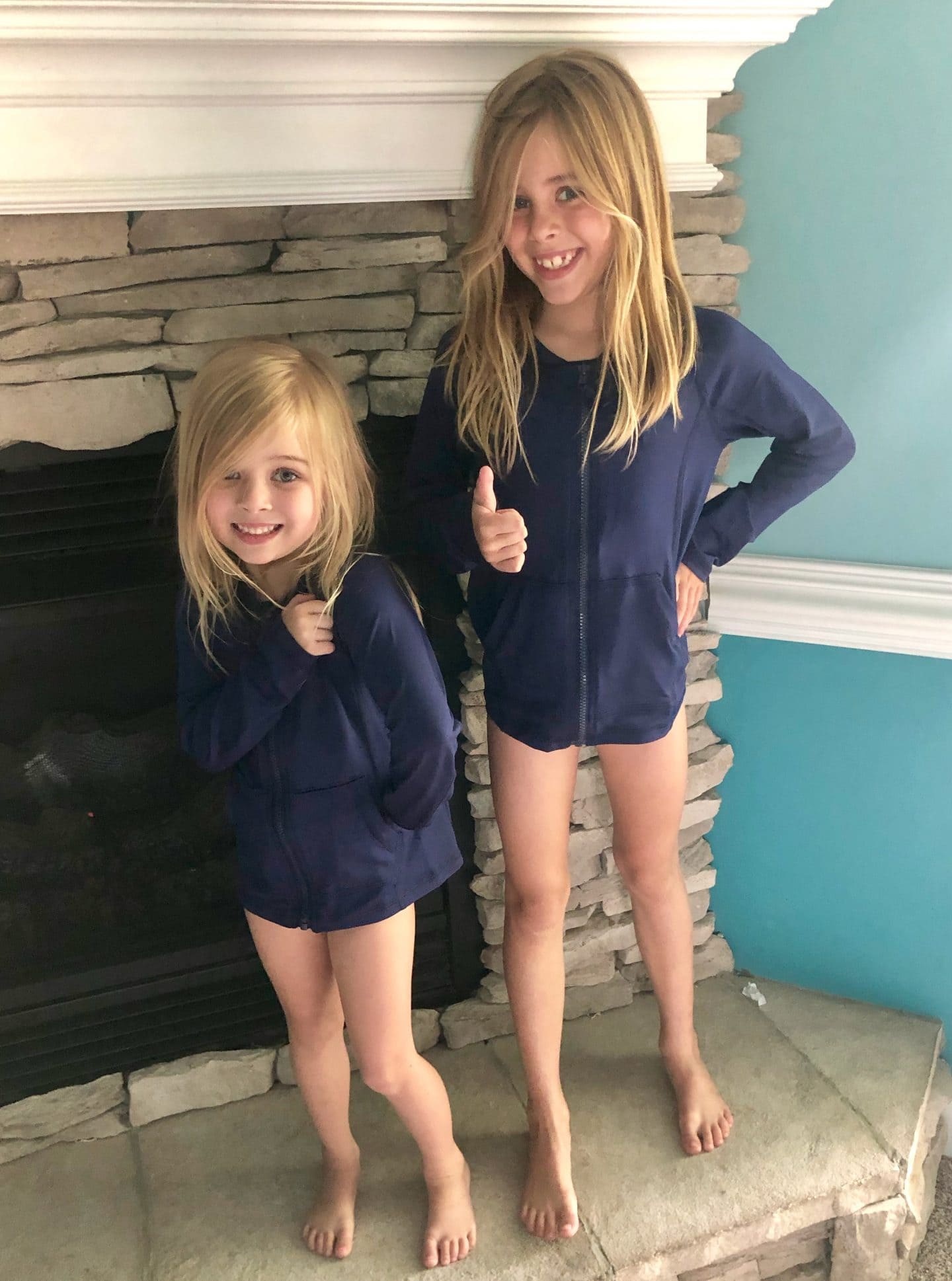 You Can Shop All My Orders Here:
There you have it! If you order anything from my post I'd LOVE to hear how you like your purchases!!!
Want to shop from previous monthly favorites?