My March Favorites: 2019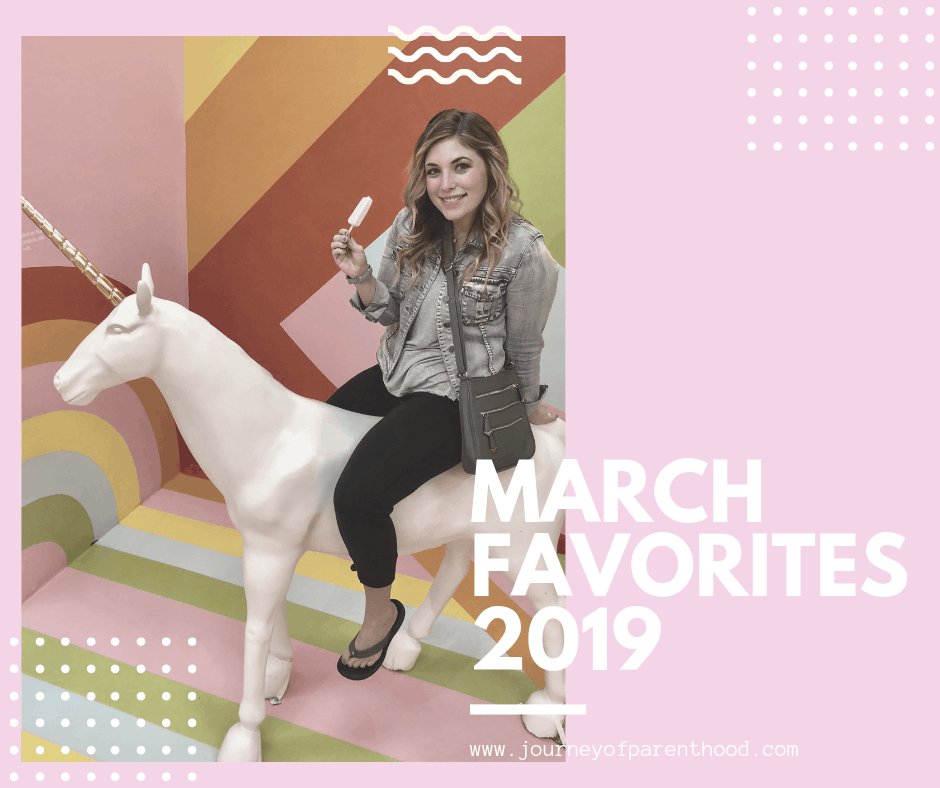 What I Did This Month:
This month we had our book club meet up at Cheddars and it will be our last time meeting there. Such bad service!
Our book for the month was Where The Crawdads Sing.
We all really enjoyed it! It's one that everyone also gave to their moms to read (I had Mrs Charlotte borrow it) and all the moms liked it too. Def one that spans the generations.
It will also stick with you. It's that kind of story that you can't let go of quickly.
For me personally it was hard emotionally as it deals a lot with loneliness and being left from family and struggling with not knowing or understanding love. I really related to a lot of that part of it.
This night y'all was the most embarrassing night ever for me haha!
My stomach randomly just got super, super upset during dinner. I ended up leaving as quickly as I could and was worried if I'd even make it home.
I called my sitter to meet me outside and I tossed the check to her and bolted. I sat on the toilet ALL NIGHT with the most VIOLENT stomach virus I've ever had. Whew. It was ROUGH.
We also had our Book Club Baby born this month! Gabe became a mama and welcome sweet, precious baby Ari into the world (and oh my goodness he's PERFECT!).
I mentioned this a good bit in my day in the life post but Zach and I are doing the new Slim and Trim Challenge from Advocare!
We are LOVING it. It's super simple and easy to follow and I'm loving the results. I'm not finished yet but so far I'm seeing great changes in my body!
It's the perfect reset before summer…you can learn more here 🙂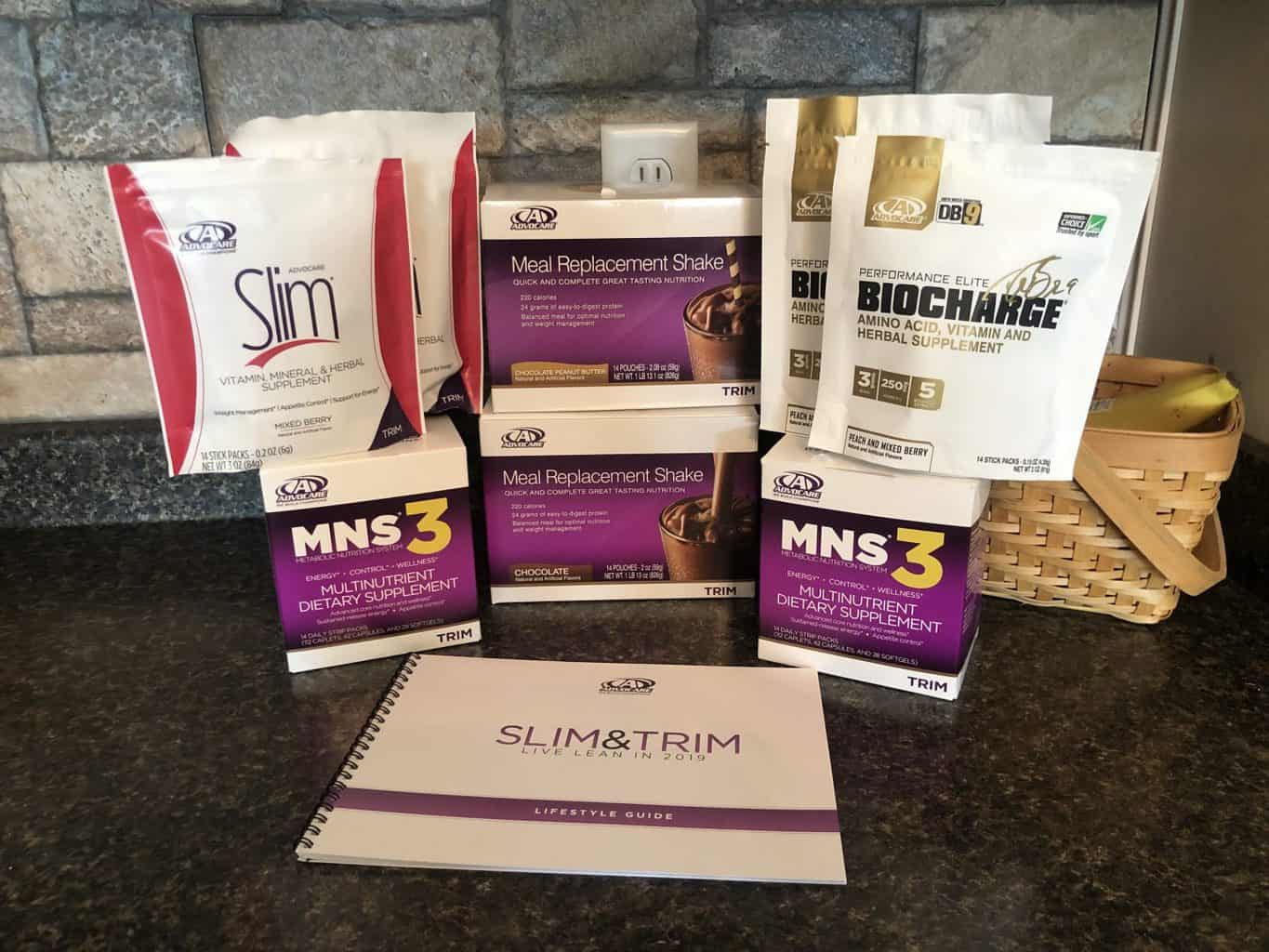 It was hair day this month! I have recently gotten a new hair stylist and I'm LOVING her!
If you're local be sure to check out Spruced Hair Studio!
My hair is looking SO HEALTHY and I'm LOVING it!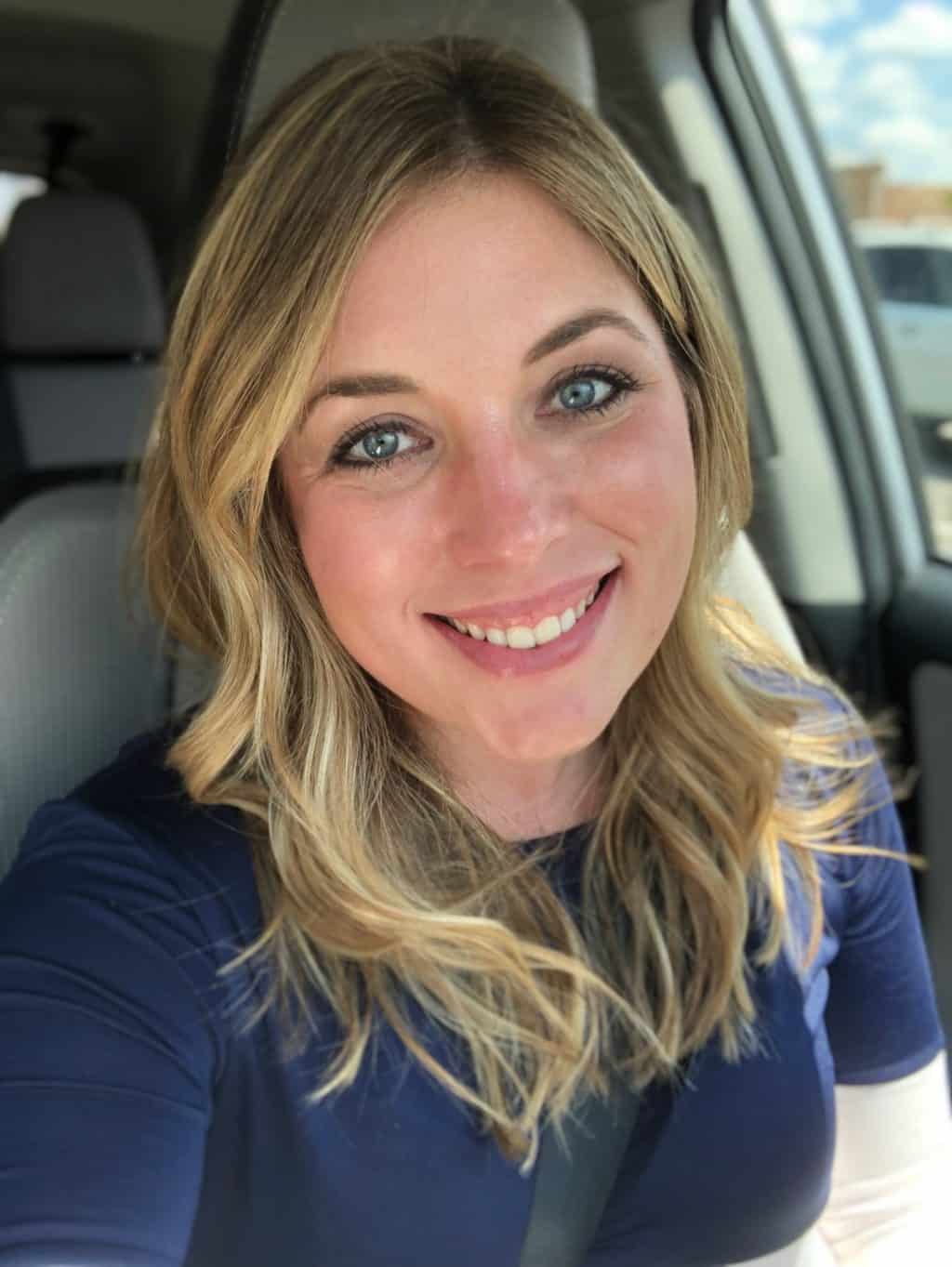 What I Wore This Month:
I'm always asked about my clothes and plan to do a Mom-Style post at some point but like to share my outfits each month to make them easy to find for y'all!
This is a great lightweight cardigan and comes in TONS of colors. So perfect for the change in seasons too as it can be thrown on in a chilly restaurant or for when the evening turns cooler.
Rockstar pants are where it's AT y'all! Love 'em!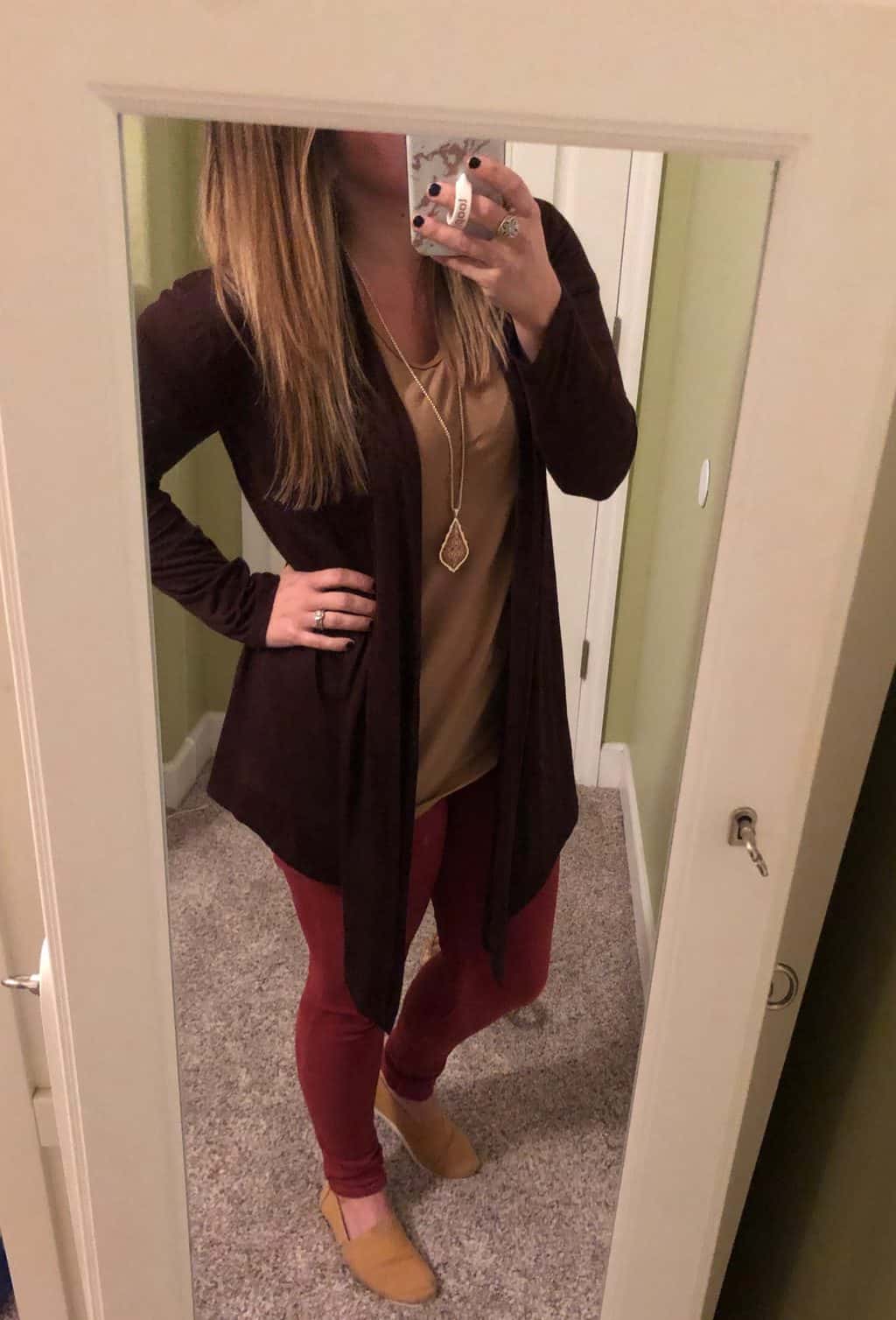 My dress is from a local boutique but the shoes are totally my favs and are from Amazon here!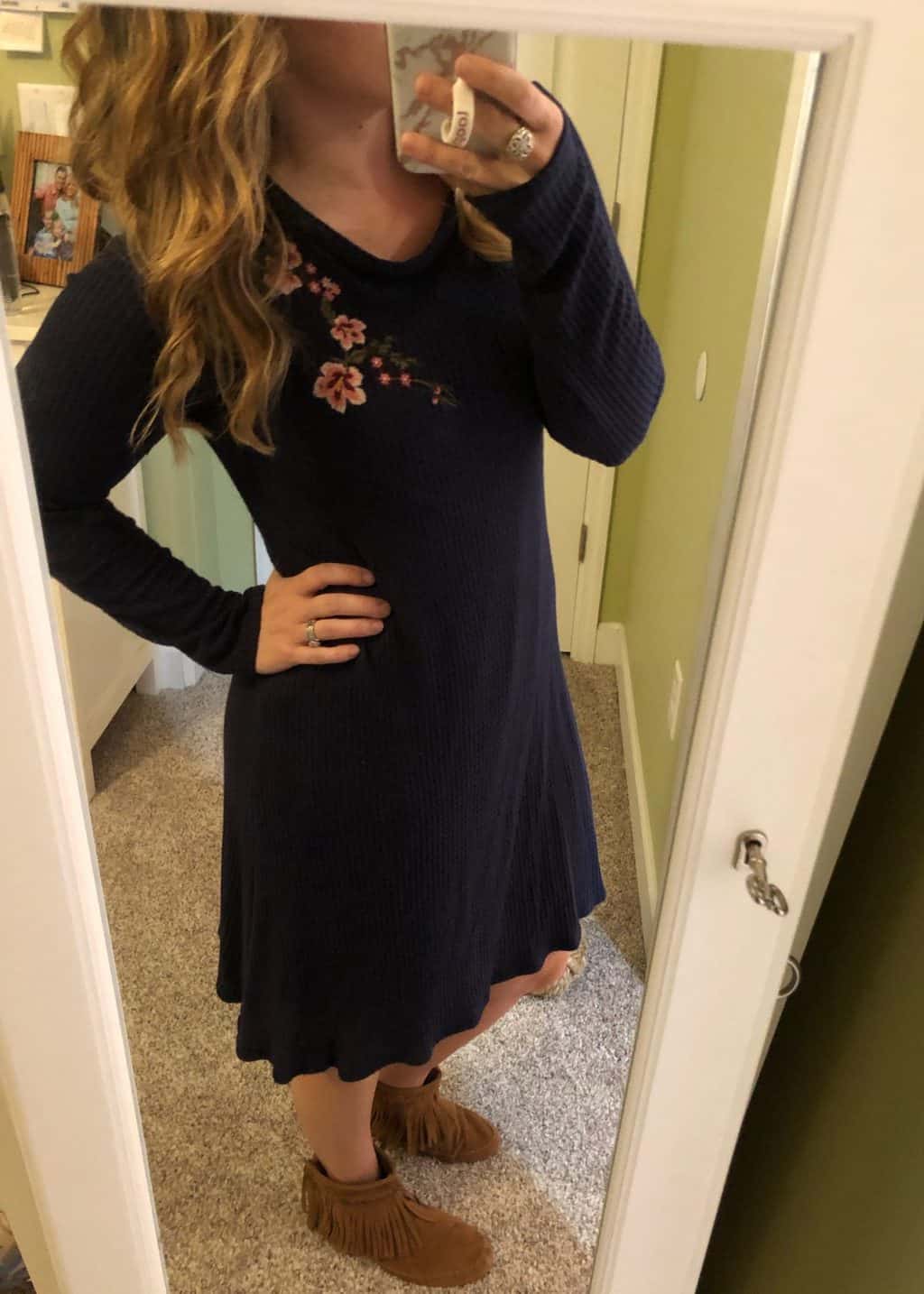 I've been debating buying a spirit jersey FOREVER and thanks to my dad and step-mom and their Christmas gift card to me I was finally able to get one 🙂 I love it!
I struggled to find pants to go with the spirit jersey that would be comfortable for the parks and y'all these are a MUST OWN.
Best thing about them? The POCKETS! SUPER comfortable and I'm ordering more in additional colors!
These shoes have been AMAZING for the parks too! I wear them all day with no pain at all (which is a big deal for me!)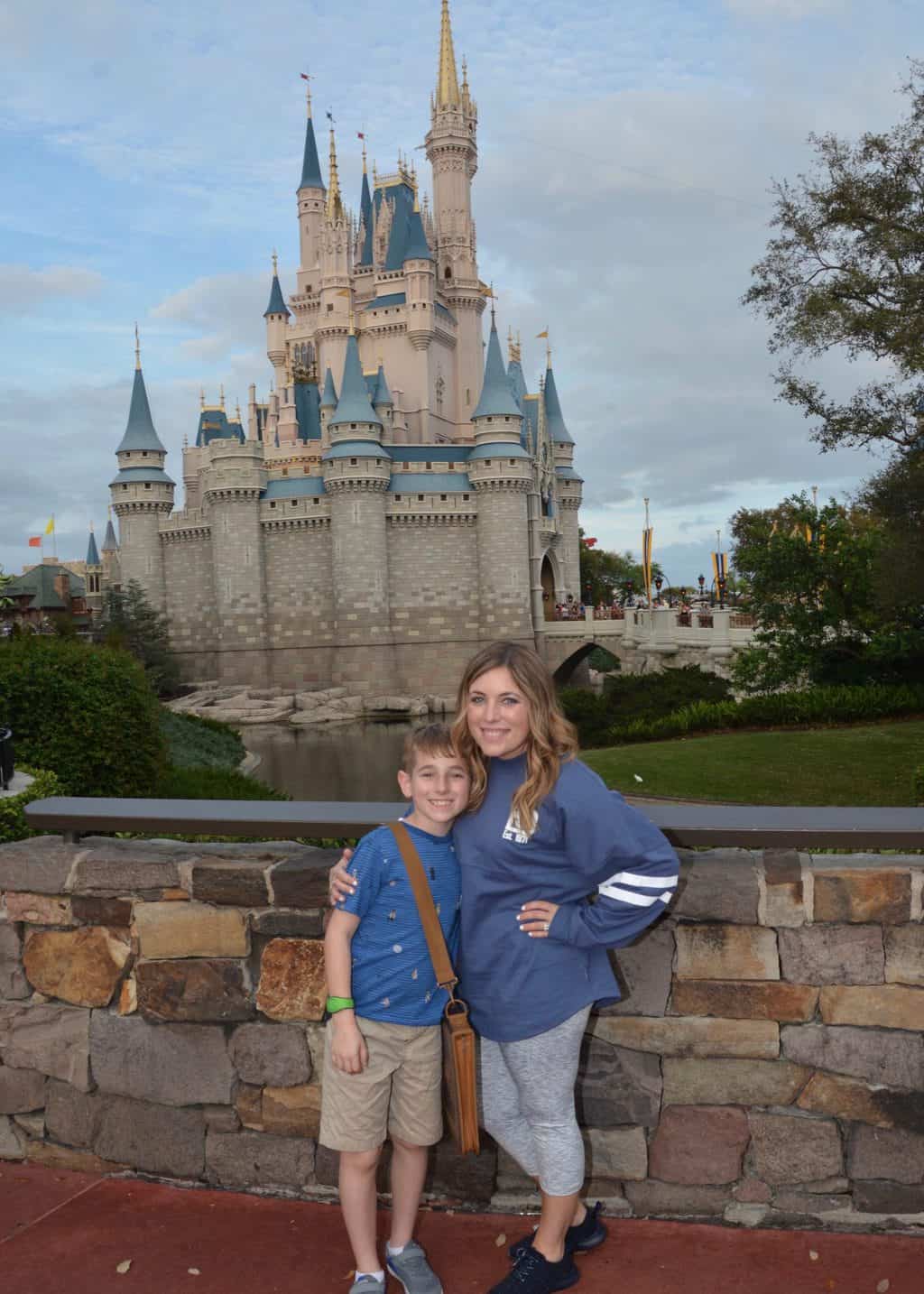 My dress is from Gap but here is a very similar one from Amazon!
I adore this book bag / diaper bag!
I have both the navy and the grey. It's held up AWESOME and is something I can totally use even when I'm done with needing an actual baby bag 🙂
Mine are from Sears ages ago but I found some similar on Amazon here!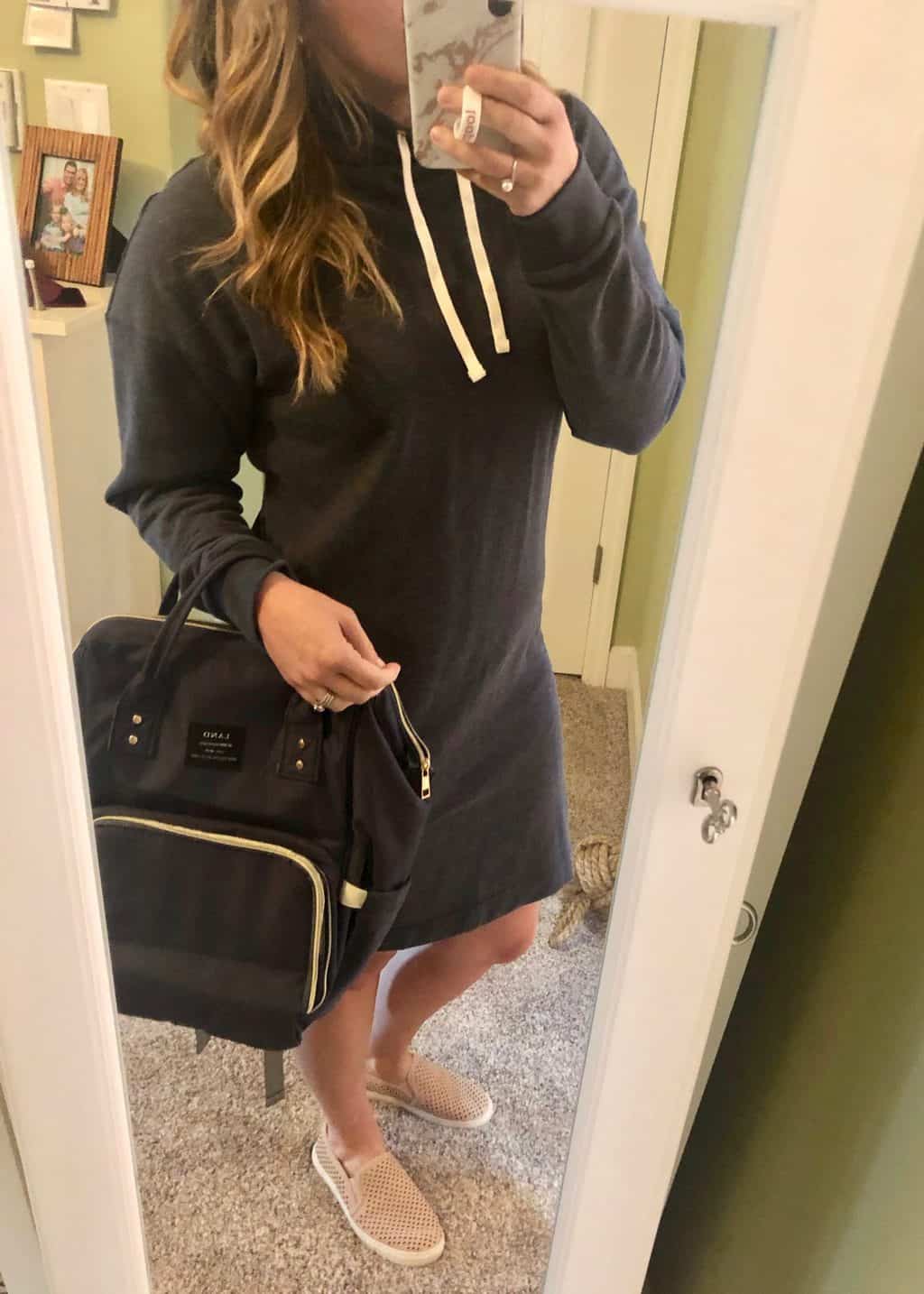 This is one of my favorite clothing items! It's SO well made. Nice and lined and comes in so many cute colors!
I own these in like every color, they are THE BEST basic t-shirts and I use them for layering all the time!
I adore Rockstar EVERYTHING…especially the leggings!
Another awesome pair of comfortable shoes…perfect for spring too!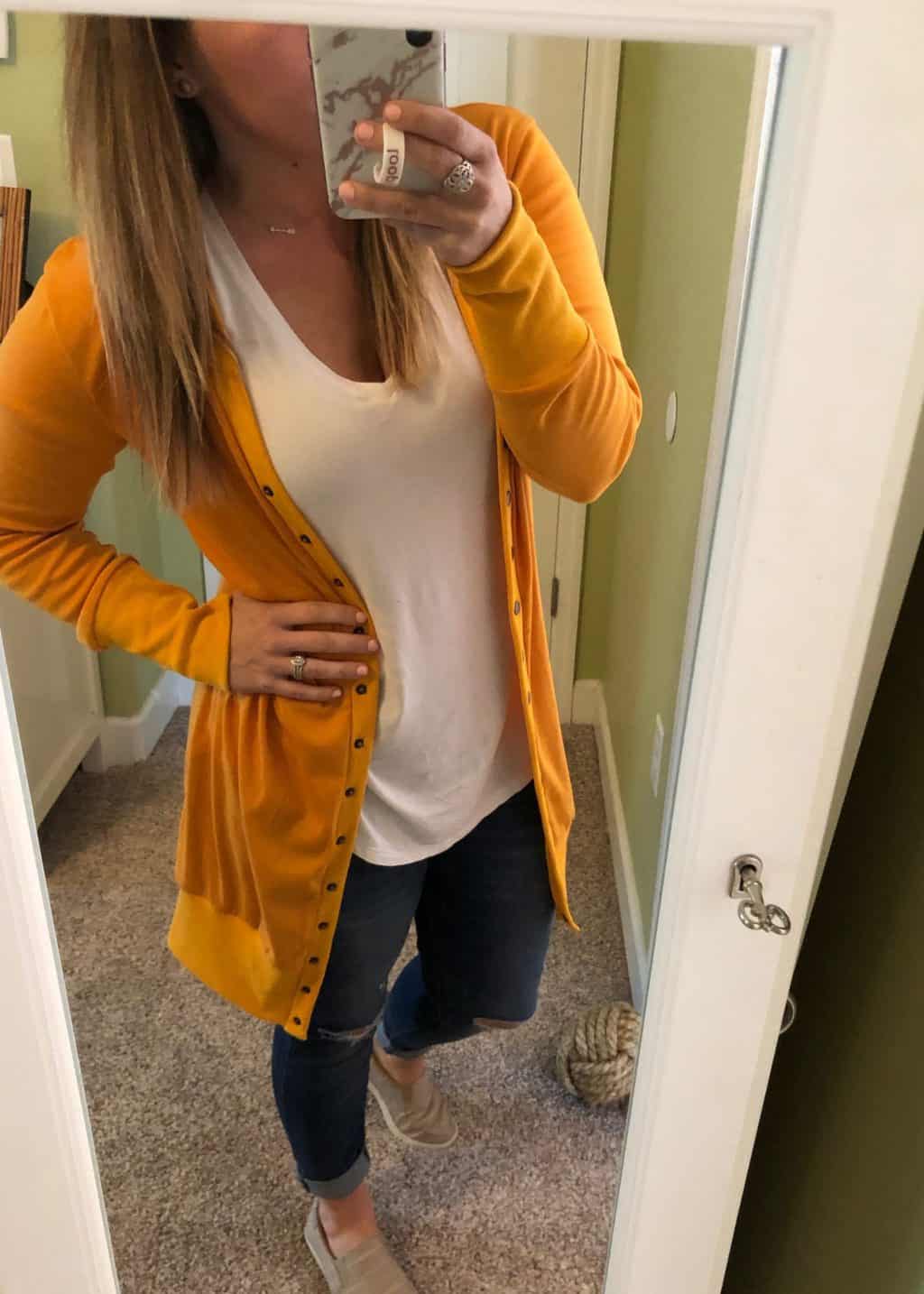 I wear this vest all the time! So easy to add to an outfit.
These are my favorite dresses and I own it in multiple colors 🙂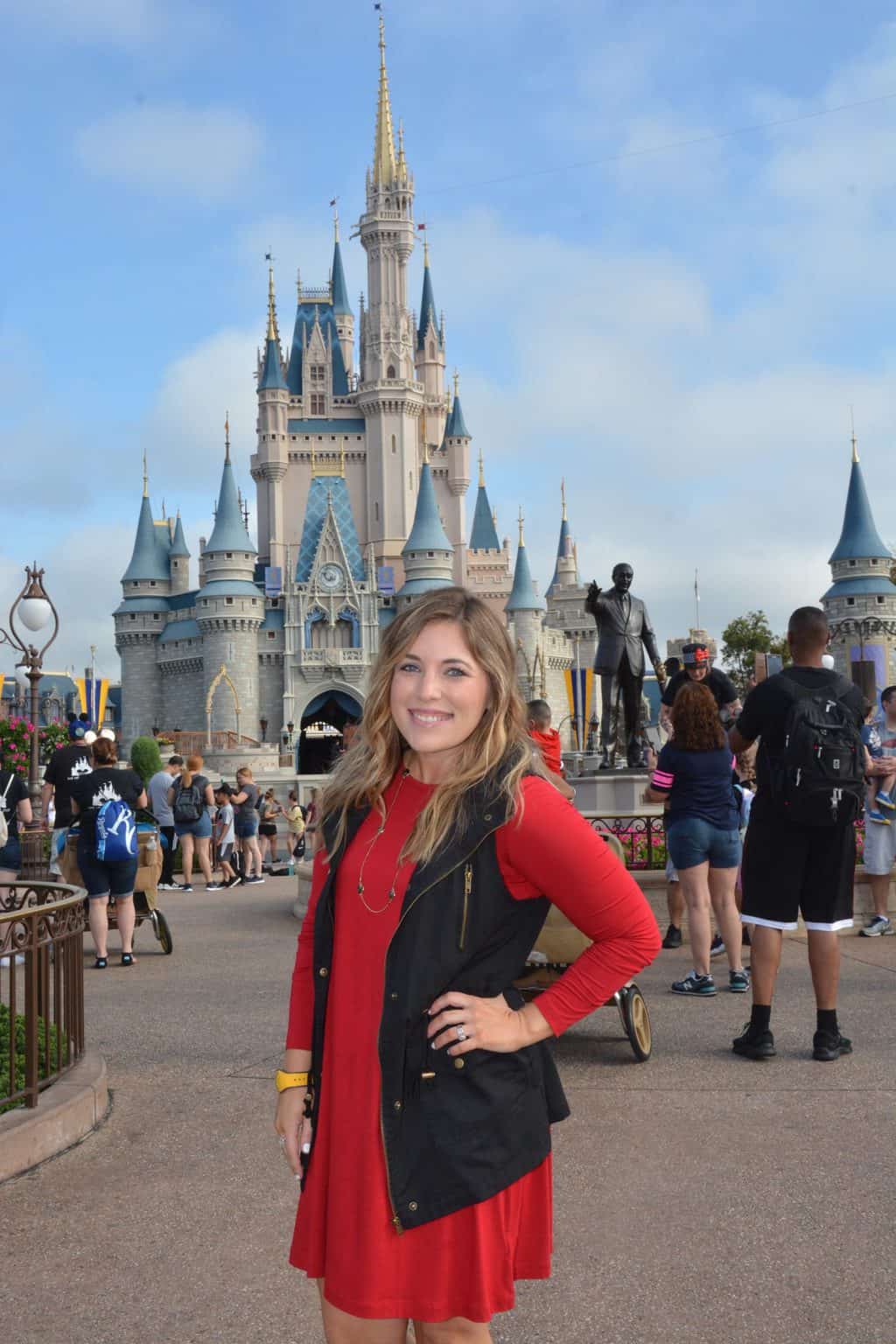 This is my go-to whenever I need a confidence booster! I LOVE it!
Perfect for spring as a great closed toed option. I didn't have a link to my exact shoes but I found similar ones on Amazon 🙂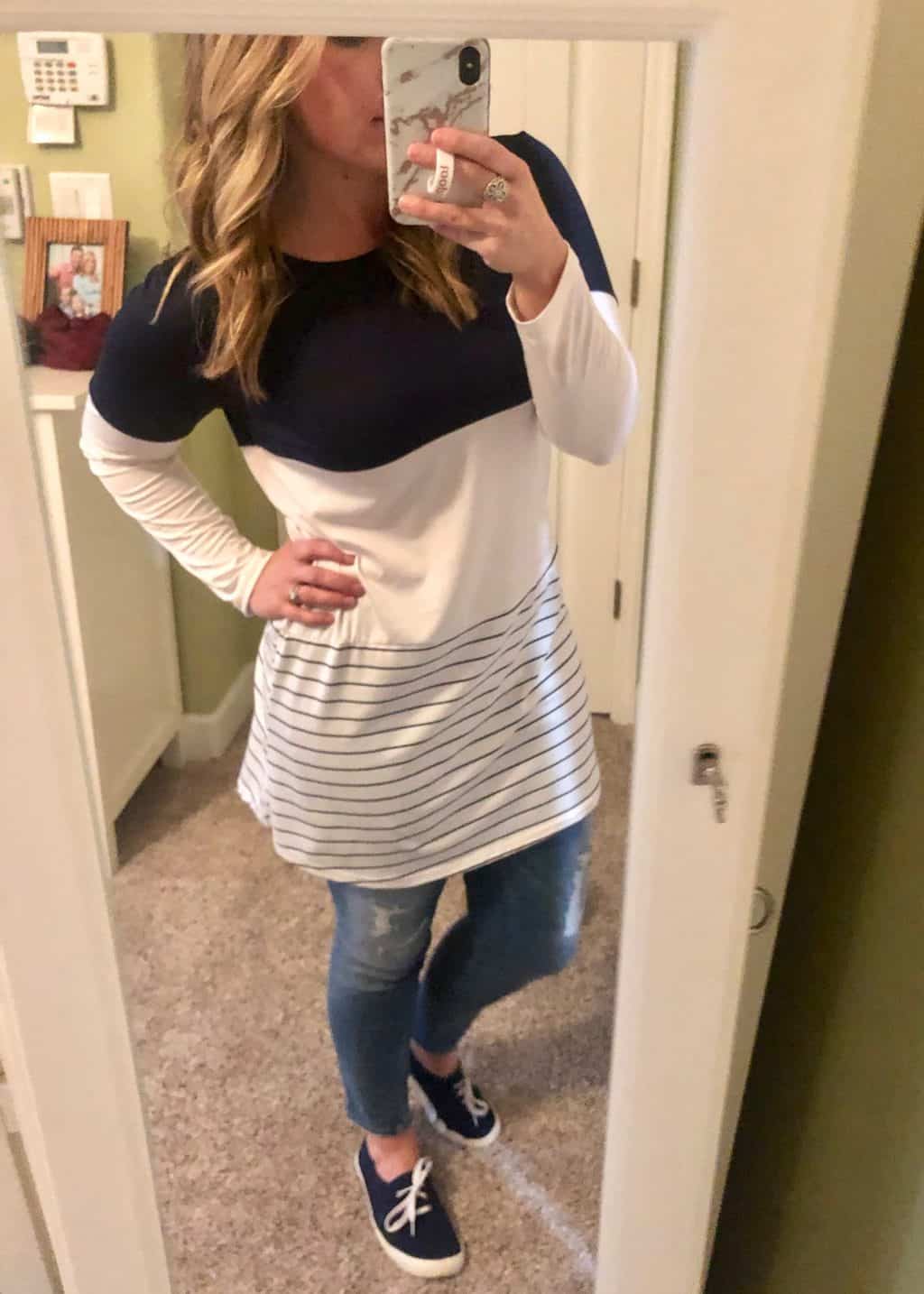 I adore this floral cardigan. Very lightweight so it's great transition piece for spring.
Same white shirt but a crew neck version rather than v-neck.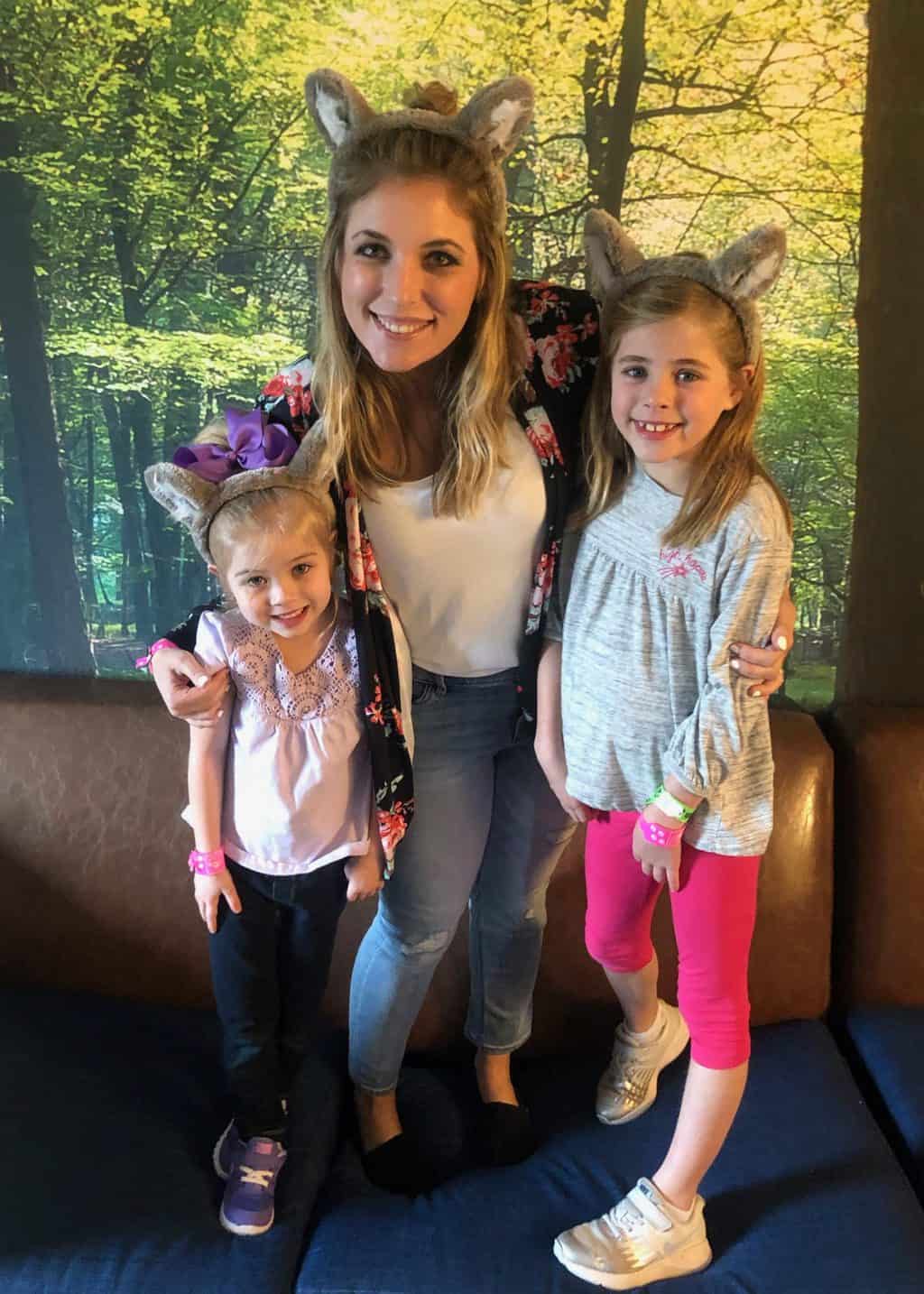 These are my new favorite travel pants! I'm adding a little camo to my life 😉
Hands down my favorite flip flops EVER. Pricey but well worth it. I wear them to Disney all the time with zero issues!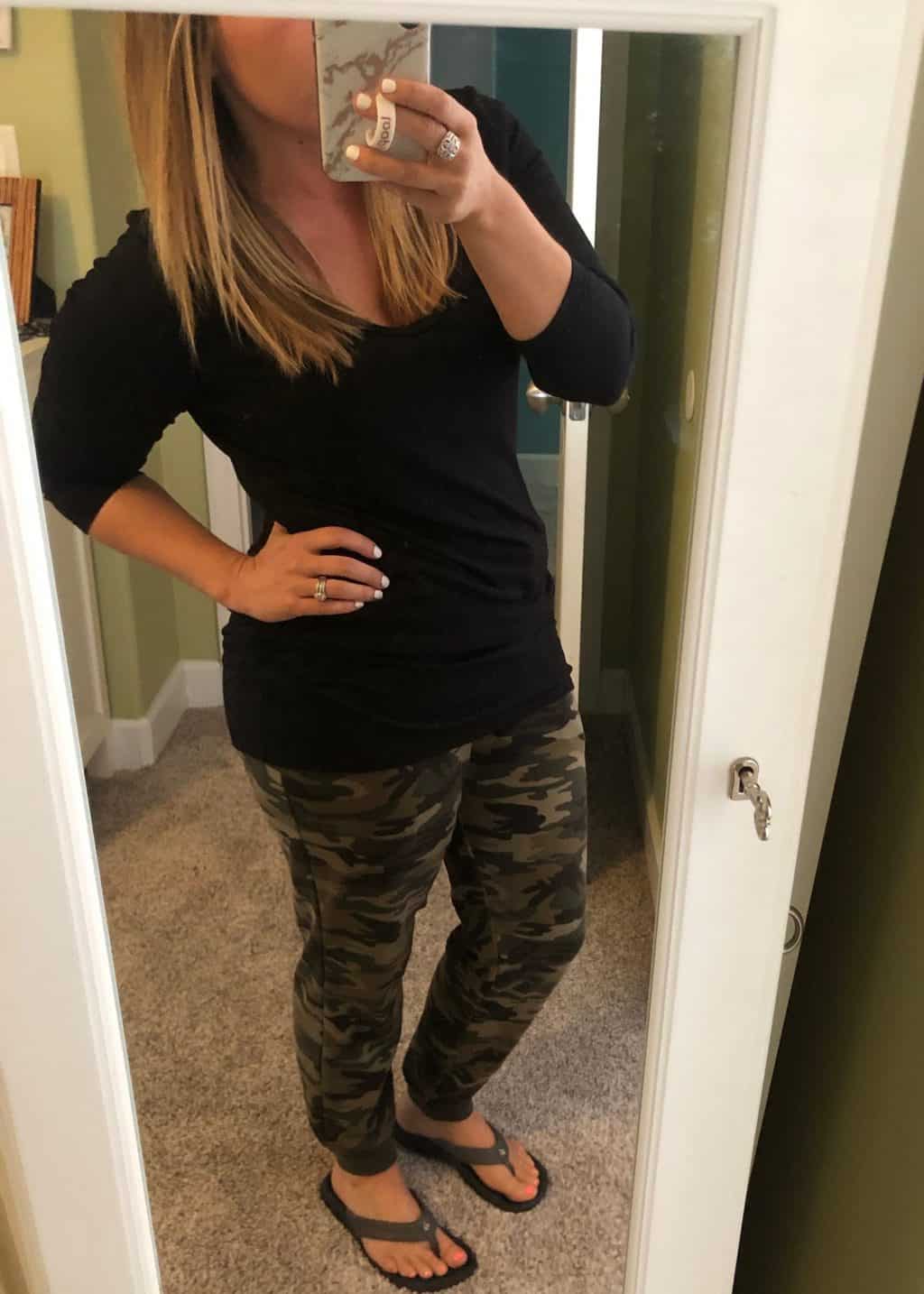 Shop Everything I Wore This Month Here:
What I Ordered in March 2019
In addition to all the things I wear I think it's fun to share what I've ordered each month!
I LOVED Girl, Wash Your Face and am excited to read Girl, Stop Apologizing. Have you read it yet?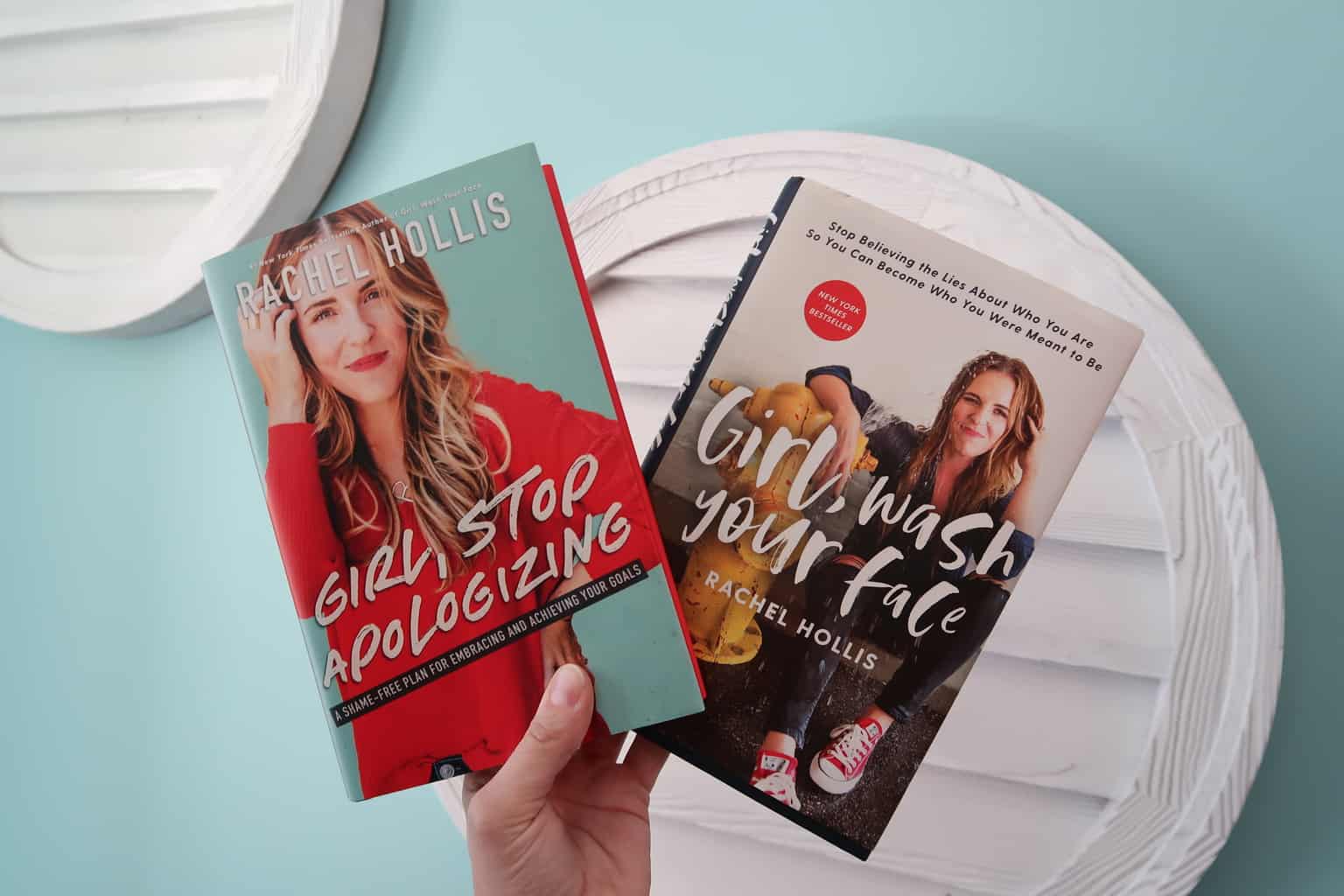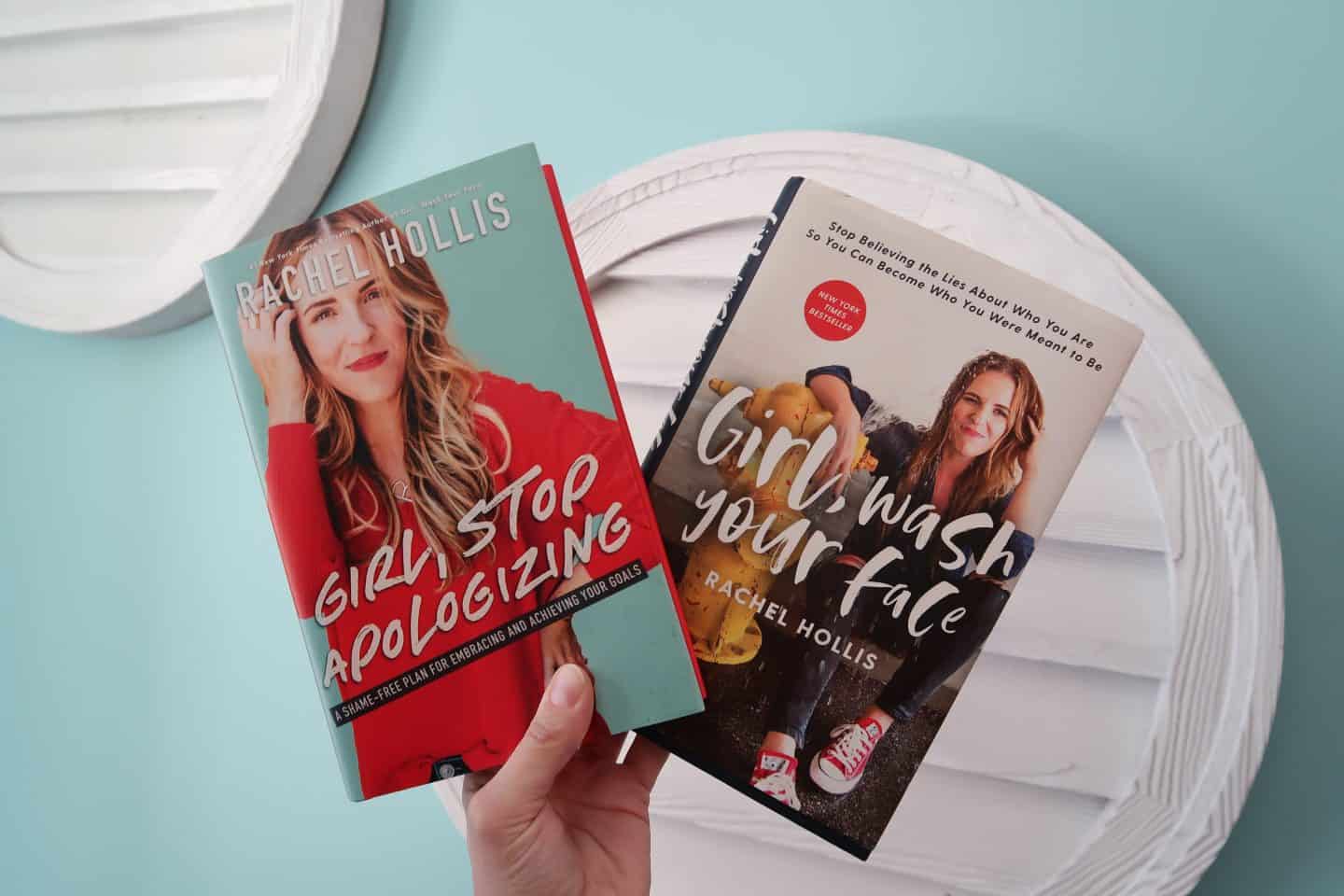 We are slowly making updates to our home decor. We got new carpet and Zach installed new flooring in our kitchen and dining.
We've been in our house for over 8 years now so it's time for some updating and I'm trying to really look around and think if I LIKE what we currently have or if I don't.
And if I don't, then I'm on the hunt for a replacement 🙂
First thing to change? Our dining room light.
I am in LOVE with our new one!!!
Zach accidentally dropped our coffee pot this month. Which wasn't a terrible thing as we've had the coffee pot since we got married 😉
So that meant we got to shop for a new coffee maker this month!
I appreciate all the input from everyone on Instagram and we ended up going with the Ninja Coffee Bar. So far I'm LOVING it!!!
While doing the Slim and Trim I like to use PB2 for a peanut butter boost to my shakes and smoothies! I ordered this set this month.
We are really trying to make our Disney Rental House the best it can be so a big part of that is making sure the beds are comfortable.
We ordered this mattress topper and it's super comfortable and soft!
We also ordered these pillows for the Disney Rental House and they are SO GREAT! We want to order some for our legit house too now 🙂
I think these sunglasses have been my FAVORITE Amazon purchase this entire year (I know we're only a few months in but still…I order from Amazon pretty dang often ha!).
I am in LOVE with these sunglasses and can't recommend them enough. They are comfortable…which is very hard for me to find with my big head.
Plus I love that they aren't shiny and have a nice large lens without a thick arm. Very stylish and the perfect pair of sunglasses to have by the pool this summer!
I have really, really loved these cups for Spear! I keep leaving them at my MIL's house so I just left one there for her permanently and ordered a new set this month.
Don't ask me how these cups work. I have NO CLUE. It's like dang MAGIC haha!
And I just discovered they make these lids for them! GENIUS for our traveling and bringing cups out to eat and such and not having to worry about spills 🙂
There you have it! All my orders from the month of March. I'm working on cutting back on the crazy deals and random Amazon purchases so I'm really trying to be super mindful of what I purchase and our spending.
Shop Everything I Ordered This Month Here:
Check Out My Past Favorites Here: