When Britt was four years old I took her on a little getaway for a one night stay at Disney's Port Orleans Riverside Resort.
That trip was SO magical for us both! (You can read about it here!)
I took Kye on a similar trip when he was six (you can read about our trip here) and much preferred going at the age of four so I knew with Tess that I wanted to go with her on our getaway before she turns five this July!
I booked us a one night stay at Port Orleans Riverside (in the Royal Room) and we headed down first thing the morning of Saturday, May 18th.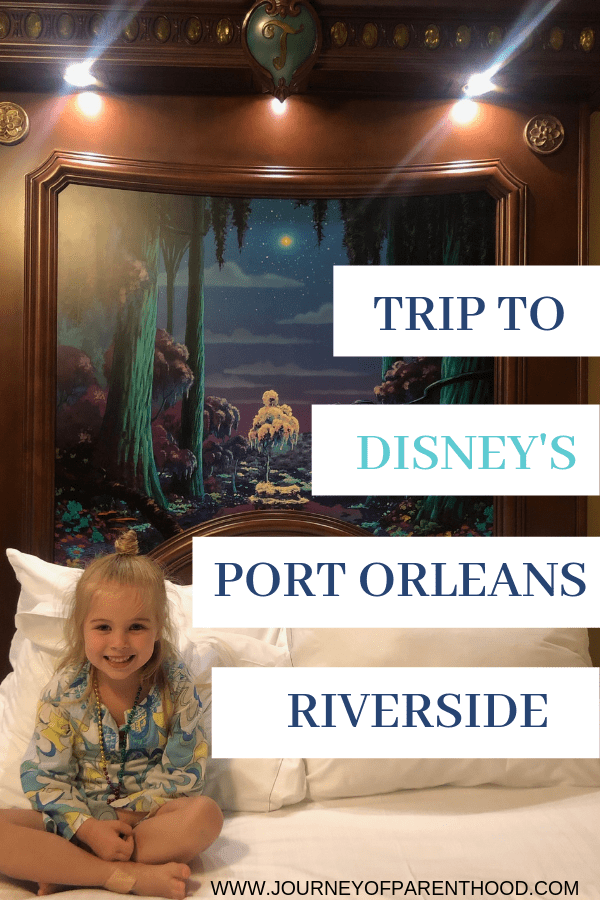 I debated about how to tell Tess about our trip. Britt and I talked through our getaway together and Kye was older so it was more fun to surprise him since he could read 😉
In the end I decided to tell Tess in advance rather than planning a surprise day of. I feel like she does best with some preparation with things and knew the anticipation leading up to the trip would be fun!
Since she can't yet read much and because we go to Disney so often I was a bit stumped on how to go about telling her…I lucked out when the Magic Bands arrived and it made it an easy surprise!
Here's the video:
Tess was PRECIOUS leading up to the trip with her excitement. But I was especially proud of Britt. She never ONCE showed any jealousy or hurt feelings over not getting to go.
And truthfully? I debated including her! But I think it's a nice solo Mommy time tradition and Britt helped get Tess super excited but showing her the Shutterfly book I made her from our trip together and telling her all about the hotel. She was truly and genuinely just so happy for her little sister and that made me just so, so proud!
Tess was extremely excited about staying in the fancy hotel and wanted to wear her special "Belle dress" in the car on the way down to the resort so she could be "fancy" when we arrived. She even wanted her hair in a bun 🙂 So cute!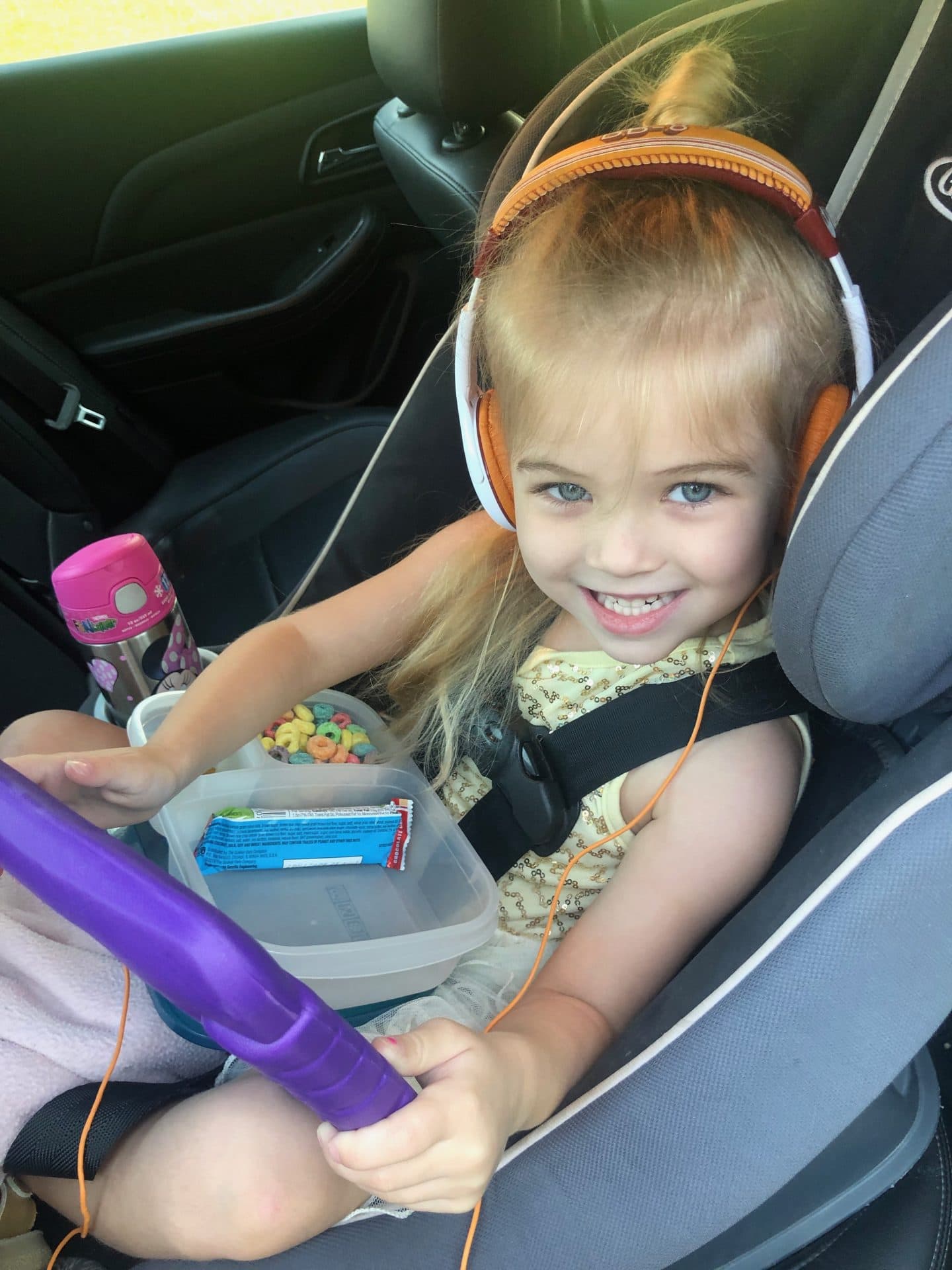 We hit the road first thing Saturday morning. I packed her a fun breakfast in a box and figured she'd be content to play on her "tableck" as she calls it the entire ride.
Well, that was dumb of me to assume.
Soon after we started our 3.5 hour drive she announced she didn't want to play her "tableck" anymore. And my plan of listening to a murder podcast went out the window 😉
We stopped halfway in Gainesville, Florida and got some road snacks and I made the call to hit up the Target too.
Tess was coughing a little bit on the drive and I did NOT want to be up all night with that junk so I figured I could grab some cough meds for her and figure out a few items to keep her happy and entertained for the rest of our road trip!
We hit up the dollar spot and got a felt board with animals and a little lap desk (which she's continued to use a ton at home after the trip too!) along with some of those mrkers that only color on the paper? Whatever they are called she loves em!
We were both so happy to arrive at our destination! But not so happy to see the MASSIVE line at check-in.
I had decided not to use online check-in option because when I went on my recent solo trip in February (you can read about my trip here!) I was given a room WAY in the back of the resort and heard it's often the case when doing the online check-in option.
So I hung out in line (and found Hidden Mickeys!) and she went and watched the little TV in the lobby 🙂
We got checked in but our room wasn't ready yet so we headed over to eat lunch and walk around the resort to check things out!
Tess is my emotional four year old. Decisions are tough for her. She will get upset easily and flustered.
She has a tough time making decisions and choosing something to eat for lunch was tough for her. She chose pizza and then immediately got upset that the pizza was a square shape rather than a round one.
I LOVE Disney but sometimes the eagerness of the cast members to please kids can be a bit frustrating as a parent.
The cast member felt bad that Tess was upset about the pizza and handed her a cookie.
Then she literally only ate one bite of each slice of her pizza and said she was full yet then got upset that I said no way to the cookie. She'd had all the car snacks and the breakfast box!
I had a talk with her and let her know this was a one time trip and that she could decide if we were going to have FUN or if we were going to be upset and look back and regret it.
I was very proud of how she turned things around and perked up!
I was a tad frustrated that our room wasn't ready and kept waiting on a text. I hoped after we walked around the resort a bit that it'd be ready!
We hit up the hammocks and the playground. At the playground I met this grandfather who was there with his wife and granddaughter. I thought it was SO SWEET that they were there just the three of them!
When we still hadn't gotten a text about the room I went ahead and decided we'd just go change into our suits and hit the pool as we'd planned on for the day.
The grandpa I'd talked with mentioned that the resort next door, Port Orleans French Quarter, had an awesome pool for kids as well as a younger kid play area.
Since we'd have to go to the car to get our suits and change anyway I figured why not venture next door and visit their pool!
Port Orleans French Quarter had a fun vibe and we changed in the lobby bathroom and then headed to the pool! The fun alligators greeted us 🙂
We went over to the little kid water park area first and it was PERFECT for Tess! I was able to just hang out and watch her do her thing.
There was a height restriction which I loved because it meant no big kids were taking over and even parents weren't allowed to do the water slides and play area. Truly just smaller children all running and having a blast!
Cast members were even walking around passing out fans to the parents 🙂
Once she had her fun in the water park area we headed over to the big pool to play together and use the big water slide! (She asked for the picture of her swimming – so cute)
Tess also got a break to eat her beloved cookie 😉
It was inching in on 4:00 and I STILL hadn't gotten a text notification. So I thought to check in on the My Disney Experience App and sure enough it showed our room number.
Pretty annoyed that no one ever contacted me but it all really did work out fine since we enjoyed the pool and it was nice for Tess to have a different experience than Britt had on her trip!
I have heard about the Mickey Beignets and decided we HAD to try them. I mean when in NOLA, right? 😉
They did NOT disappoint. I also loved that all the tables had powdered sugar on them…totally took me back to our trip to New Orleans (which you can read about here!)
I was so, so excited for Tess to see our room!
While our wait was a bit frustrating, they took such good care of us as we were located in an IDEAL spot. First floor, right by the parking lot.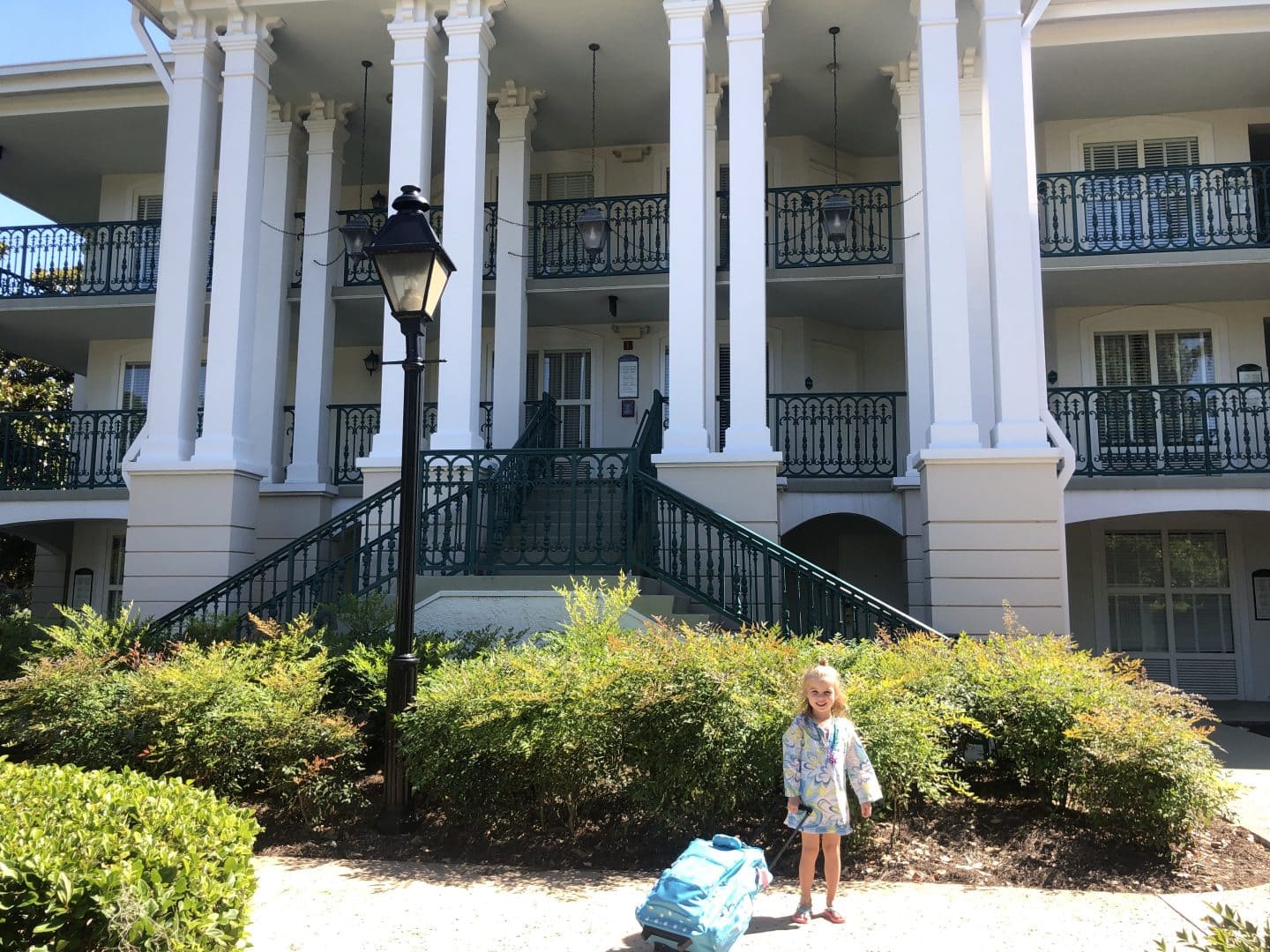 She loved getting to open the door with her Magic Band and was SO EXCITED about all the princess details in the room, especially the bed that lights up with fireworks (I LOVE IT).
We hung out in the room a little bit. I had to dry off and change and get ready for dinner so Tessie enjoyed a little Disney Jr. on the tv before we headed out.
The Royal Room at Port Orleans Riverside is located in a beautiful garden area where all the princesses are represented and Tessie loved seeing Belle 🙂
Neither of us were hungry so we decided to just eat s'mores for dinner 😉 I had a surprise for Tessie and she was thrilled to get to ride in a horse-drawn carriage!
We lucked out and had a great tour guide driver. He told some great stories about his time working at Disney.
Our horse was named Tyson and he's actually famous…he's the horse used in ALL advertising with Rapunzel and Flynn Ryder and is the real Maximus. 🙂
Our driver also does the Christmas parade every year and drives Elsa's and Anna's sleigh!
He wanted to use my phone to take photos so I totally let him 😉
We took the carriage ride through our resort as well as Port Orleans French Quarter.
I did this same ride with Britt but also with Zach on our romantic Disney Trip last year (You can read about that here).
I LOVE IT.
Tess and I both chose princess names – she went with Belle and I went with Ariel, duh. We spent the whole ride waving at our loyal subjects 😉
After our carriage ride it was perfect timing as we were the first ones at the campfire for the s'mores!
I know I've said this before but there is just something so nice about visiting a place for a second time. It's nice to already know the layout and how things go!
Don't get me wrong it's fun to explore a new place but there is just something so much more relaxing about already having familiarity with an area!
I brought our own s'mores kit with us as the marshmallows are free at the campfire but the s'mores supplies cost money. So we kept it cheap 😉
Tess saw the arcade on our way from the room and asked to go play some games (she gets it from her big brother!) and I wanted to go by the gift shop so we could get an ornament and a pin for her. I LOVE that they have resort specific merchandise!
We did our shopping and played a few games and even took a photo booth picture series together 🙂
It was a GORGEOUS evening and we were both in a great mood walking back to the room.
We'd originally planned to go to a swim party at the pool at 8:30 but it was before 8:00 and Tess was EXHAUSTED and said she just really wanted to get back to the room and snuggle with Mommy – so that's exactly what we did!
She loves leading the way and finding little creatures along our walk together. Her favorite though was the fountain and getting wet!
It's funny because at the same that we were having our s'mores, Kye and Britt were having theirs! Zach set up a campground in the backyard for them and they camped out that night and used our new outdoor pizza oven for the first time as well as our fire pit that Zach built!
We got ready for bed and got our cuddle on! Tessie was SO excited to sleep with Mommy!
I tried to make it fun with her but she got very nervous about staying in the hotel room and wanted to talk through how I knew for sure that no bad guys were going to get us.
It was so much like how I feel when I'm traveling alone or at home without Zach. I eased her fears but it really did show me that Tess and I are SO alike (which I mean we already knew haha). We def think similarly about things.
She asked to stop cuddling so she could fall asleep – it was like 9:30 by that point and I woke up at 6 am to a LOUD whisper in my ear "IT'S CUDDLEEEE TIMEEEE"
We had SUCH a fun day! I loved the chance to just spend quality time with Tess. Four is THE perfect age for a trip like this as she truly appreciated and enjoyed it to the fullest!
Tess had a bit of an advantage over Kye and Britt as she went on her trip after we became annual passholders at Disney 😉
I have this goal of visiting Disney World one time a month this year so the next morning Tessie and I headed to Magic Kingdom before driving home! Post is coming up 🙂