Mommy and Tess Trip: Morning at Magic Kingdom.
Tess and I had a GREAT first day on our solo trip together! You can read all about it here 🙂
I was woken up at 6 am by a precious little girl LOUDLY whispering in my ear "It's CUDDLE TIMEEE."
I'm a DEEP sleeper y'all so I kept rolling over and trying to ignore her and I'm pretty sure I accidentally elbowed her in the face like 4 times. #notacuddler
I finally went ahead and got up to get ready. Tessie loved getting to watch Disney Jr in the bed while I got ready for our day!
I'm not going to lie – just staying for one night was pretty dang exhausting. I drove the 3.5 hours down to Orlando the morning prior, had the busy day at the resort, then the not-so-great co-sleeping that night, the early morning wake up, hot morning at Magic Kingdom and then drove the 3.5 hours home.
Quite the crazy 24 hours!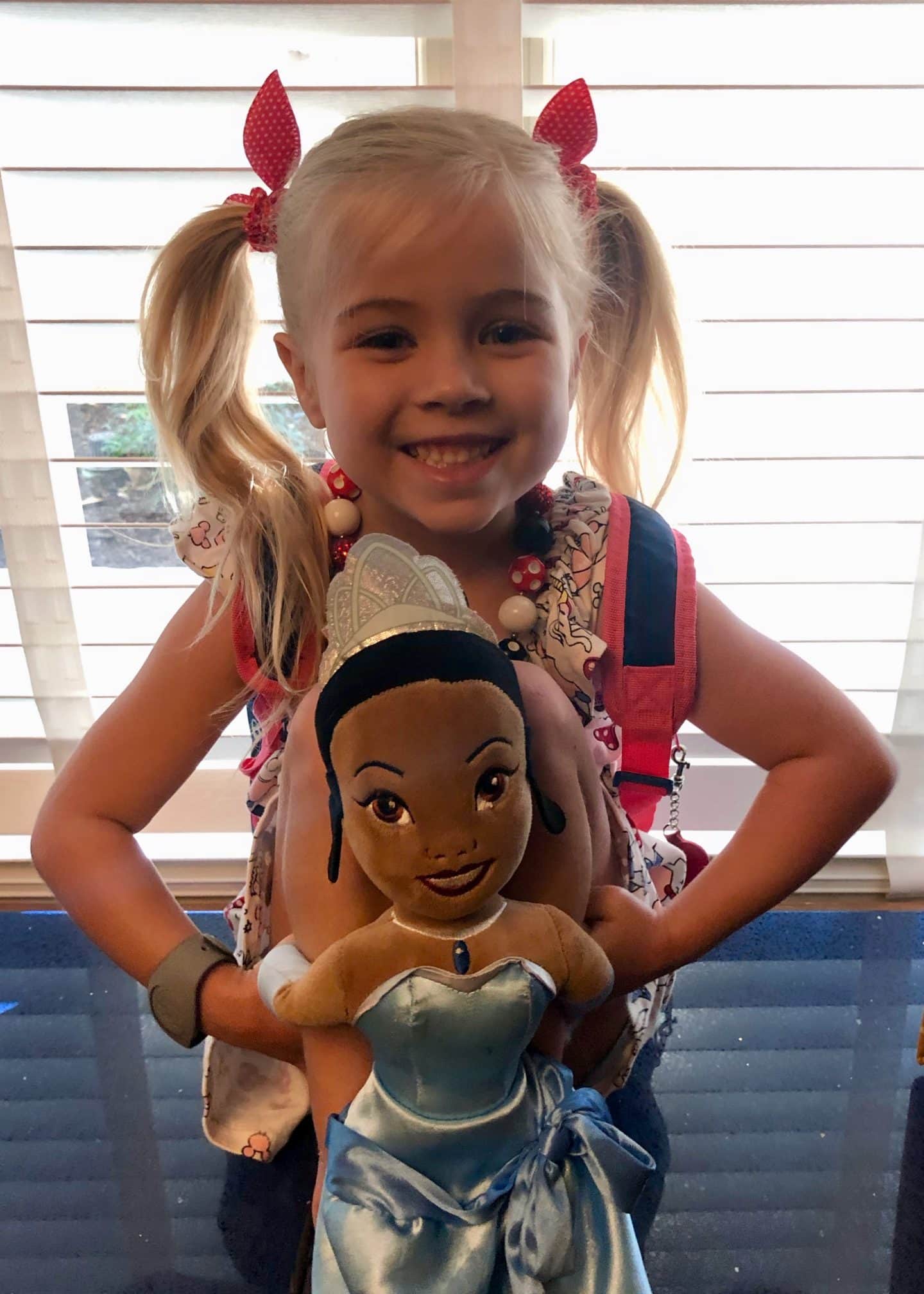 We took our time heading out as there was simply no need for us to rush to be at the park super early. Arriving slightly before park opening was great for me!
We did have to pack up and load the car before we headed out and it was so nice being on the first floor of the resort 🙂
I'm used to taking multiple kids solo to the parks and am ALWAYS pushing the MASSIVE double stroller. It felt A-MAZING to just have a single stroller!
Recently I've kinda started a little Magic Kingdom morning tradition when I take the kids solo – we stop by Joffrey's and grab a breakfast treat and then ride the ferry to the park.
I know the ferry is the slower path to the park in many cases, but it's consistent. It ain't gonna break down. And by riding the ferry, you avoid the MASSIVE incline up to the monorail.
Trust me. When it's a bazillion degrees and you are pushing a stroller with a kid or two in it a huge incline is a nightmare.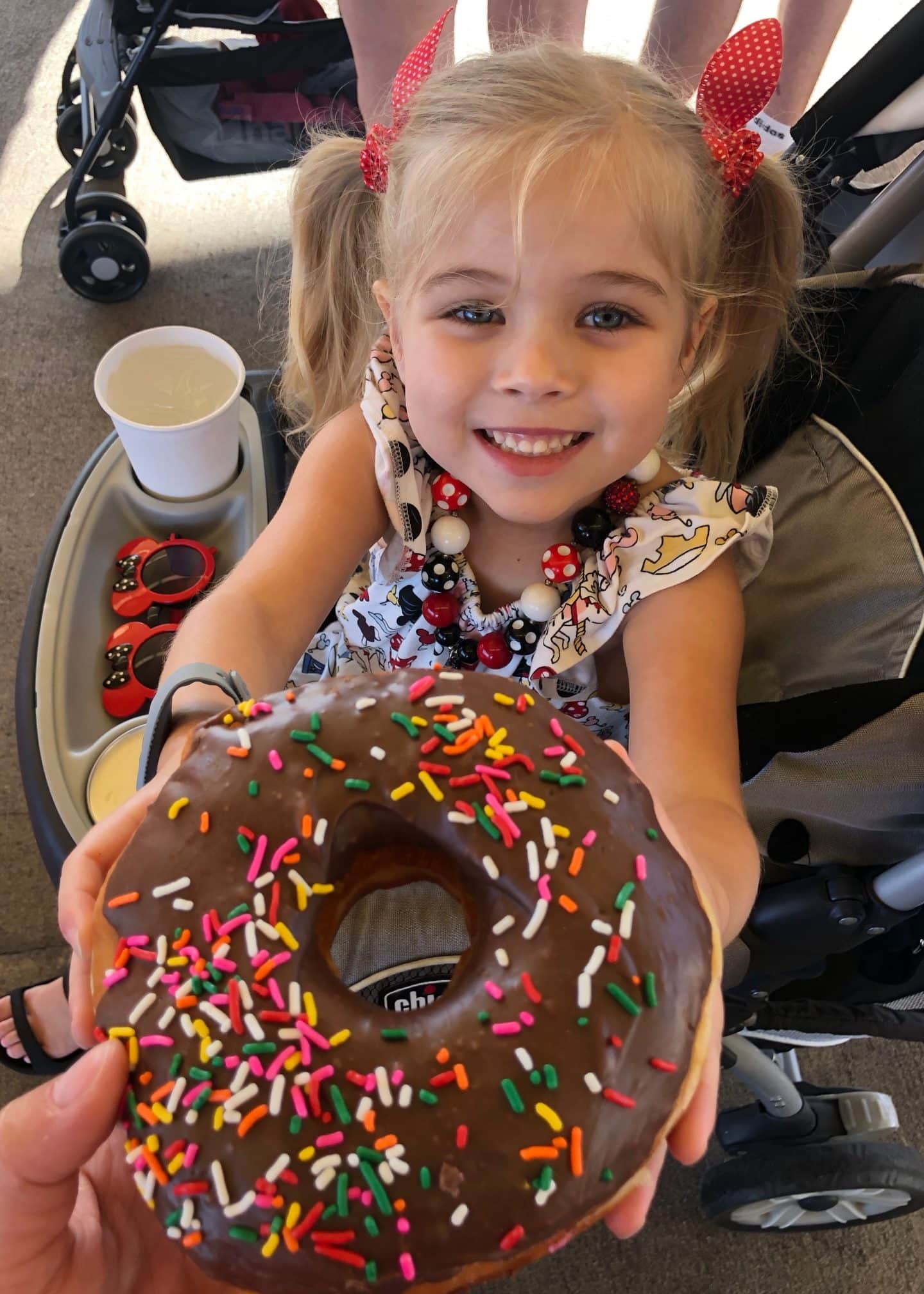 I finally made the investment into reusable straws to bring to the parks and it made my frozen coffee SO much more enjoyable without the dang cardboard straw!
You can purchase my reusable straws here!
And, by the way, here's the details for my outfit of the day:
Once we arrived at Magic Kingdom we went ahead and took our castle pics! I'm a HUGE fan of knocking out the castle pictures first thing in the morning before the park even opens. Less crowded and less HOT. Plus that means the makeup and hair are both still fresh 😉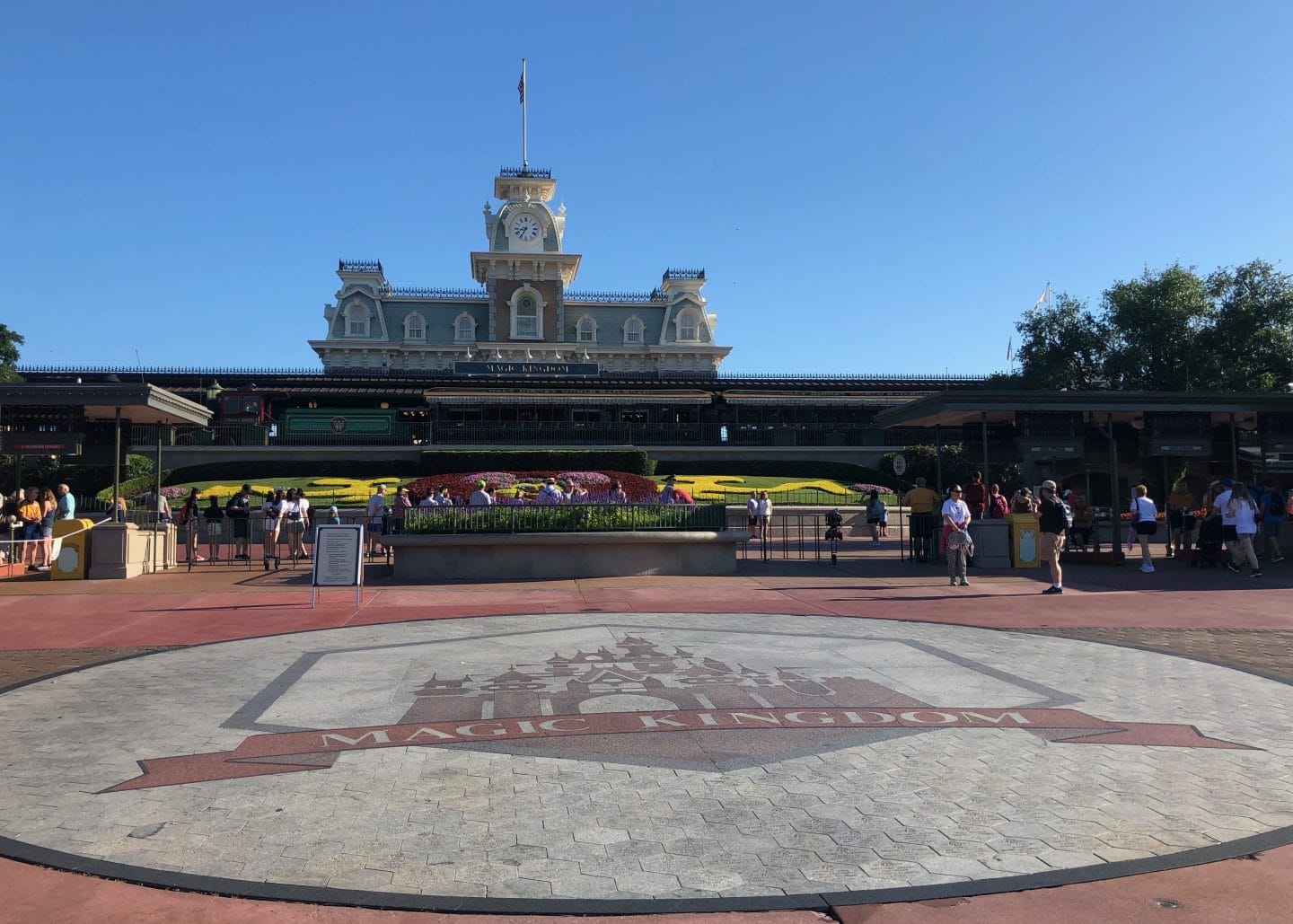 We decided to go up as close as possible to the castle to be able to watch the Welcome Show!
We've actually never seen it up close and it was a fun experience and you could really appreciate the characters so much better from that viewpoint (usually we're with the masses waiting to get into a specific land and watch from afar).
We chatted a bit about what we wanted to do that morning. I had pre-booked three fast passes for us so we had those too!
I love hitting up less popular rides at opening whenever possible because it's just SO CHILL.
Adventureland is usually DEAD when the park first opens so that's a great spot to go if you have ZERO hardcore plans!
On our way into the land Tessie spotted a cast member and wanted to stop to trade pins! Not too often that someone will tell you their first thing they did at Magic Kingdom was pin trading 😉
We headed to ride Aladdin's Magic Carpets and Daddy called while we were riding so we got to Facetime with him and the other kids on their way to church!
After the magic carpets we headed over to Fantasyland.
Our first stop was the carousel! Something we just don't ride often enough and yet always enjoy when we do 🙂
While in line Drizella and Anastasia joined us and were SO cute with the baby girl in front of us. I'm all about snapping pics of magical moments whenever possible as I know I'd love it if someone did the same for me 🙂
Afterward, we headed over to Winnie the Pooh but it was a super long line so we decided to hop on It's a Small World and then use our fastpass for Peter Pan!
Tessie was so cute waving at all the "people" during It's a Small World, like they were her loyal subjects 😉
We then headed down to ride The Little Mermaid (which is pretty much always a no-wait ride) and picked up a treat to help us cool off.
I didn't know they had a strawberry version of the frozen lemonade and the sweet cast member hooked me up with one to try for free! So refreshing!
On our way leaving Fantasyland I saw a random photopass photographer by Cinderella's Wishing Well so I figured, why not?
Y'all these were the worst pictures I've ever had by a Disney Photographer. I kept one for the memory but half of them were cropped SO WEIRD.
We then headed over to Adventureland and stopped by the castle to eat our treats and watch the Mickey's Royal Friendship Fare stage show for a bit! I LOVE the moment Elsa sings "Let It Go." Gets me EVERY TIME!
We had a Fastpass for both Jungle Cruise and Pirates and I got confused on the order so we were all crunk for Jungle and realized it was the time for Pirates – I was proud of Tess for rolling with it and not getting upset!
I LOVE that they have a "red head" doll now!
I live for a yolo moment at Disney. I know taking my kids to Disney is already "cool mom" enough of me but I mean why not just REALLY go for it, right?
Tessie really wanted to get wet so I told her to GO FOR IT. She was in heaven!
And other parents were in shock that I was letting my kid get soaked 😉
We had a bit of time before our Fastpass for Jungle Cruise so it was the perfect time to do a bit in Tomorrowland and grab some lunch.
We had time to do one experience in Tomorrowland before eating and at first Tess wanted to do Monsters Inc Laugh Floor but then when we got there she changed her mind and decided she wanted to visit the Carousel of Progress instead which was fine by me!
It was a nice relaxing experience and it was fun to see the hidden Mickey nutcracker in the last scene 😉
Lunch ended up being a bit of an issue. Originally Tess was excited for a Mickey Pretzel and I was eager to try one myself as the last time I had one it was SUPER disappointing and I was hoping to try it again in hopes that I'd enjoy it more!
While we were talking about lunch she said she really wanted french fries instead which was fine but I still wanted the pretzel 😉
While we waited for the pretzel I mobile ordered an order of fries for her from the nearby quick service restaurant.
Then came the issues.
Disney no longer does lids (I know, I know save the environment) which makes carrying things a dang struggle. I thought I was being smart balancing a tray on the stroller but then I went up an incline and the drinks totally spilt all over the stroller. Oops!
We grabbed the fries and found a seat and salvaged the slushees and had our lunch!
Sadly this was my LAST Mickey Pretzel. The cheese sauce is now more environmentally friendly too – meaning they get it from a serve machine in an open (again, no lid) container.
In the past they've had little single serving cheese cups and now the cheese is just SO disappointing and like makes the pretzel soggy and adds no excitement to them. Blah.
Tessie is my slowest eater and we needed to be heading over for our Fastpass reservation so she finished up eating in the stroller on our way!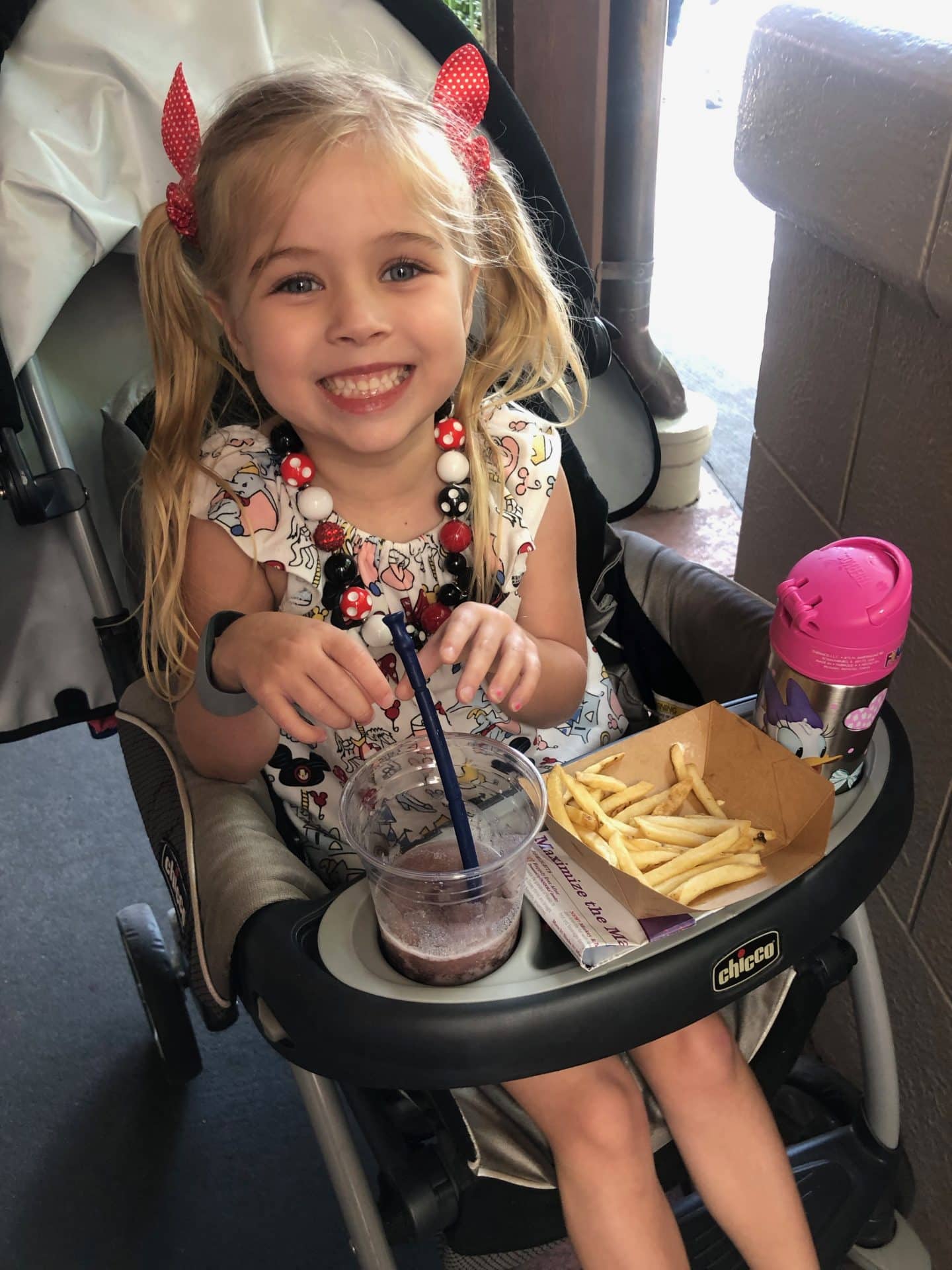 Jungle Cruise is so fun, especially with my animal lover 🙂 She loves seeing all the animals and we lucked out and got lucky to sit up close to the captain!
On our way out of the park we stopped by a random photo pass photographer hanging out in front of Adventureland! I've NEVER seen a photographer in this spot so DUH I was all about it 🙂
We had SUCH a fun (and FULL!) morning exploring Magic Kingdom together!
I know we visit Disney so often that all the Disney memories will kinda all mesh together into one big memory but the individual days are still so special in the moment and that quality time of just the two of us is something I think WILL stand out when she looks back on her childhood!
We did hit up the monorail for the ride back to the parking lot and then hit the road!
The Game of Thrones finale was on that night so I knew I needed LOTS of coffee and to get home nice and early to have time to mentally prepare 😉
Tessie took a nice solid nap while I drove and we got home in plenty of time for dinner and to be able to fill everyone in on our epic trip!
I have to brag again on Britt as she was SO supportive throughout the entire experience and was truly just SO excited for Tess to have this experience!
They sat together at the table and Tess talked Britt through all our pictures from the trip and they've continually talked about their "Mommy trips" together. Even though they traveled separately, their trips still bonded them!
SO thankful for these opportunities to have quality time with each of my children. I will forever cherish these precious moments and memories with each of them – I'm one blessed mama!