Family pictures are something I always highly value and I've learned over the years to schedule them as early in the month of November as possible. That way it leaves plenty of time to allow editing, getting them back, ordering Christmas cards, and having them mailed out prior to the holiday season rush. I've also found that having them scheduled earlier also means I'm knocking out figuring out our family outfits earlier too.
I'm alllll about creating white space on my plate throughout the year – but especially at the end of it when it feels like there are about a billion things going on at once that require my time and attention, right?
We once again worked with Lindsay from Captured by Colson for our fall family photos. I always try to let Lindsay know in advance what we're wearing for our session and what kinda vibe we're going for. Personally, I'm not huge on location and never really have any input on where we take them. I trust Lindsay completely and she's never led me wrong! She's got incredible talent across the board but I'm always impressed with her eye for a good background spot!
Zach and I both graduated from Valdosta State University. We have had one other family photo session on campus…but it hasn't been since Britt was a baby (see the pics here!). When Lindsay saw our outfits she suggested VSU and it was PERFECT.
Not only was it great for the photos, but it was also so fun to walk around campus with our entire family unit. We've never done that before and the kids LOVED it. Britt kept talking about how she now wants to go to VSU since she's seen the campus. Kye had already been planning to attend VSU and it was crazy to talk about how it's only 5 short years away!
I went into this session with low expectations. Our photos from last fall were SO awesome and had such a fun VIBE that I didn't think it'd be possible to come close to loving this year's as much. We've also taken so many family photos at this point that I'm completely out of outfit and color combination ideas. So I kept it simple and just stuck with neutrals. I LOVE the end result and feel like this session was one of the best EVER at getting incredible solo pics of each of the kids.
Lindsay is so great at working with our large family. She makes sure to get all the combinations of pictures we want, she knows what's important to me, and she's amazing at capturing the kids' natural personalities too! I am so incredibly thankful we started working with Lindsay wayyyyy back when Kye was just 18 months old.
Kids Individual Photos
Kye – 13 Years Old
This was the first time that Kye was embarrassed to be taking photos in a public place. We had a few college students stop and compliment us and I tried to remind Kye that NO ONE knew us and that IF they were watching/looking it was only because they were thinking positive things. But ya know, he's a teenager and I get it. I'm glad it didn't deter him from getting the shots and I cannot get over how many awesome ones we got of him this session!
My favorite look on Kye is when he wears an open dress shirt over another shirt. While on a daily basis he lives in athletic t-shirts and shorts, he is still very on board with wearing whatever I choose for him for family pics without complaining.
He's growing so fast at this point that I literally had to buy him an entire outfit! It's also the first time I bumped up to the men's section when looking for items for him. I know he's a teen in my head but it's moments like these where I can REALLY see the young man he's becoming. So handsome! I don't feel old enough for my baby to be looking THIS GROWN!
Top Shirt / Henley / Jeans / Boots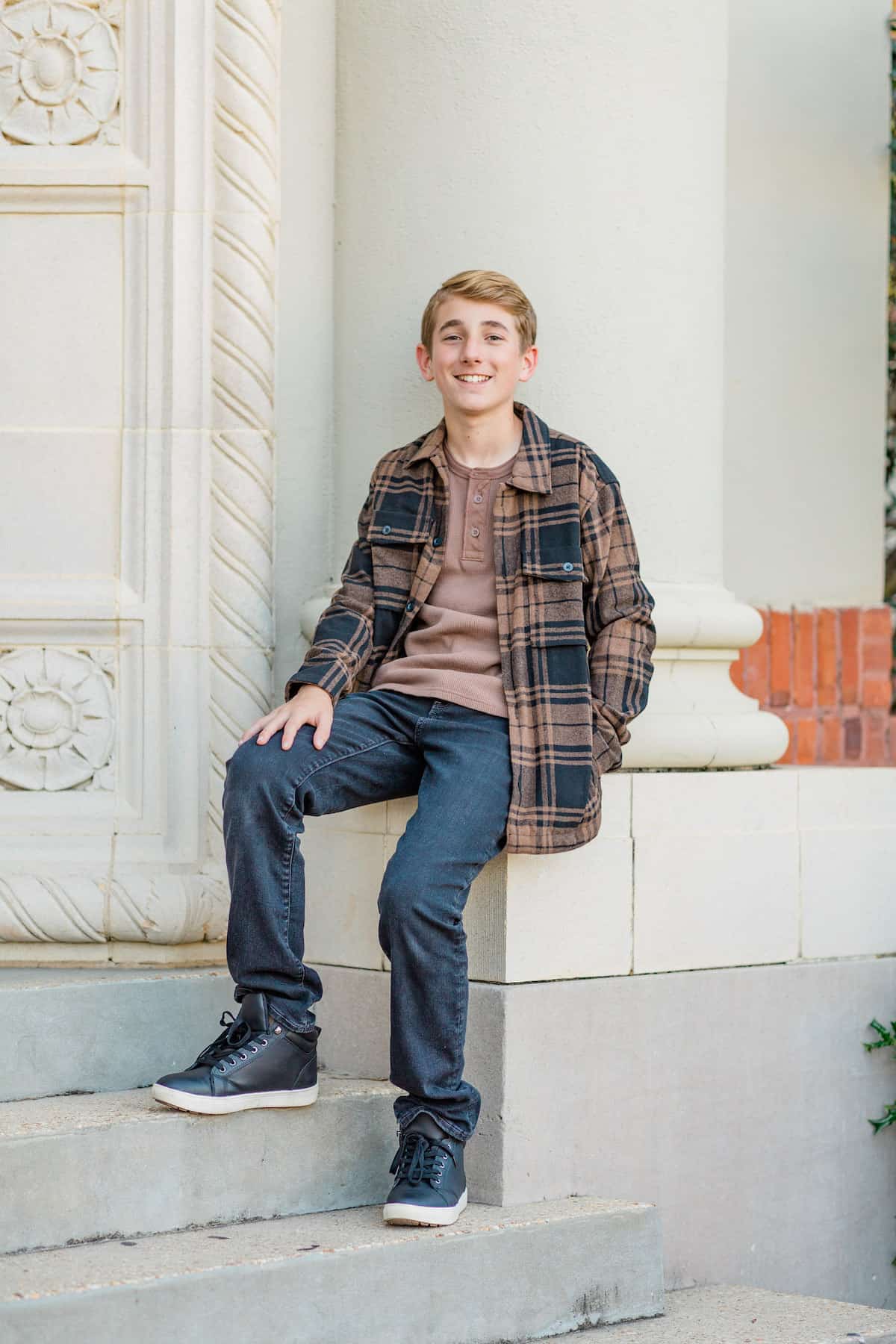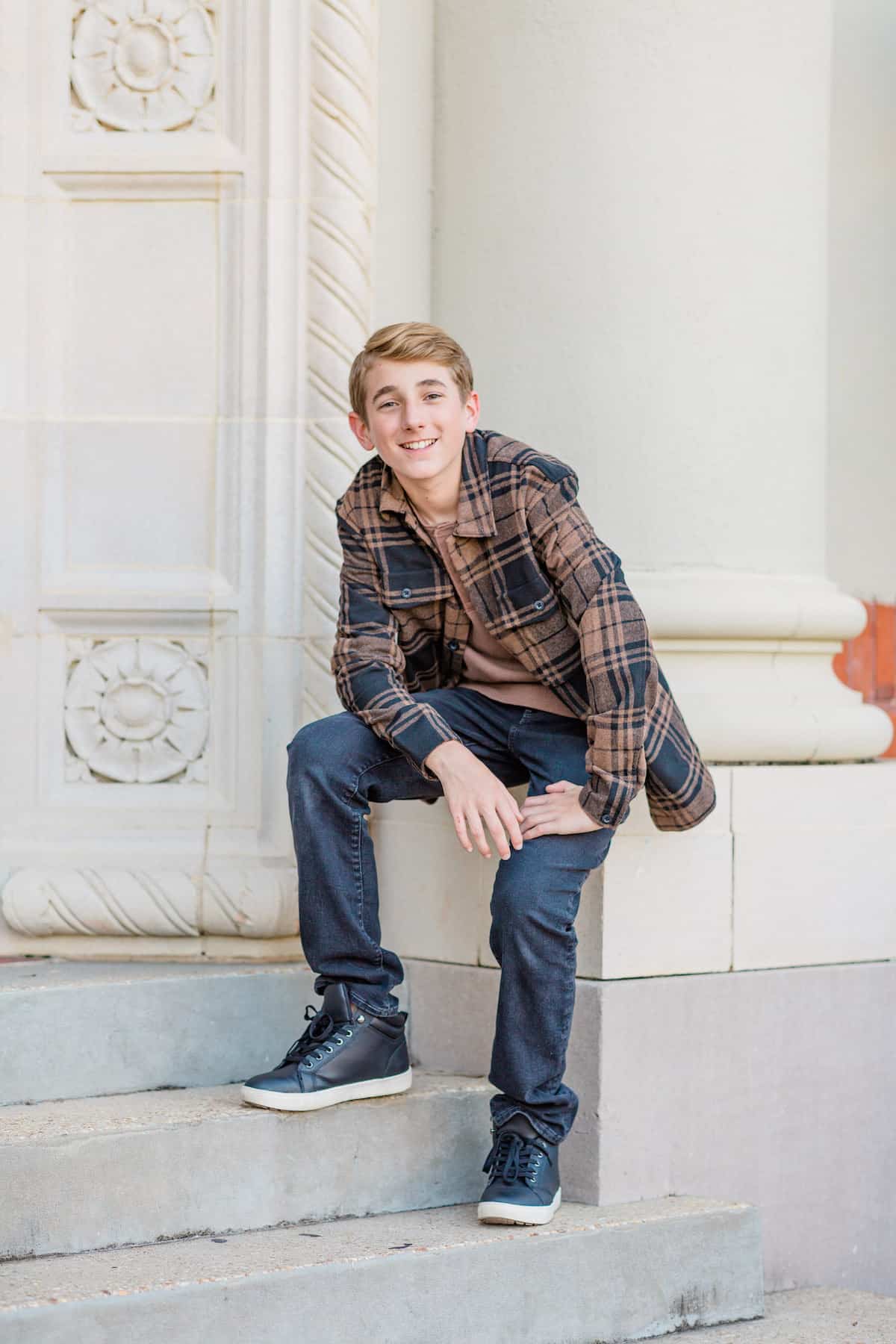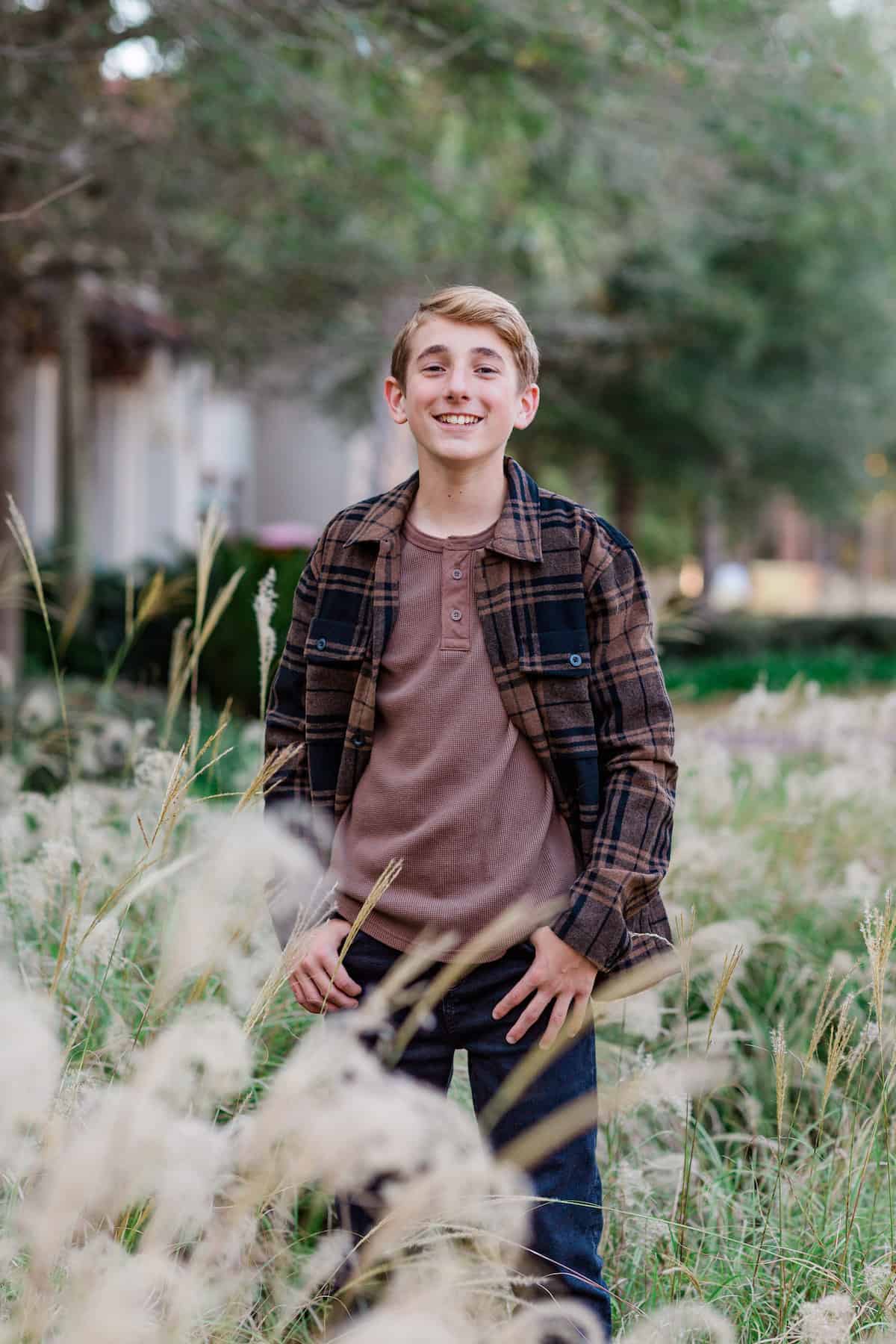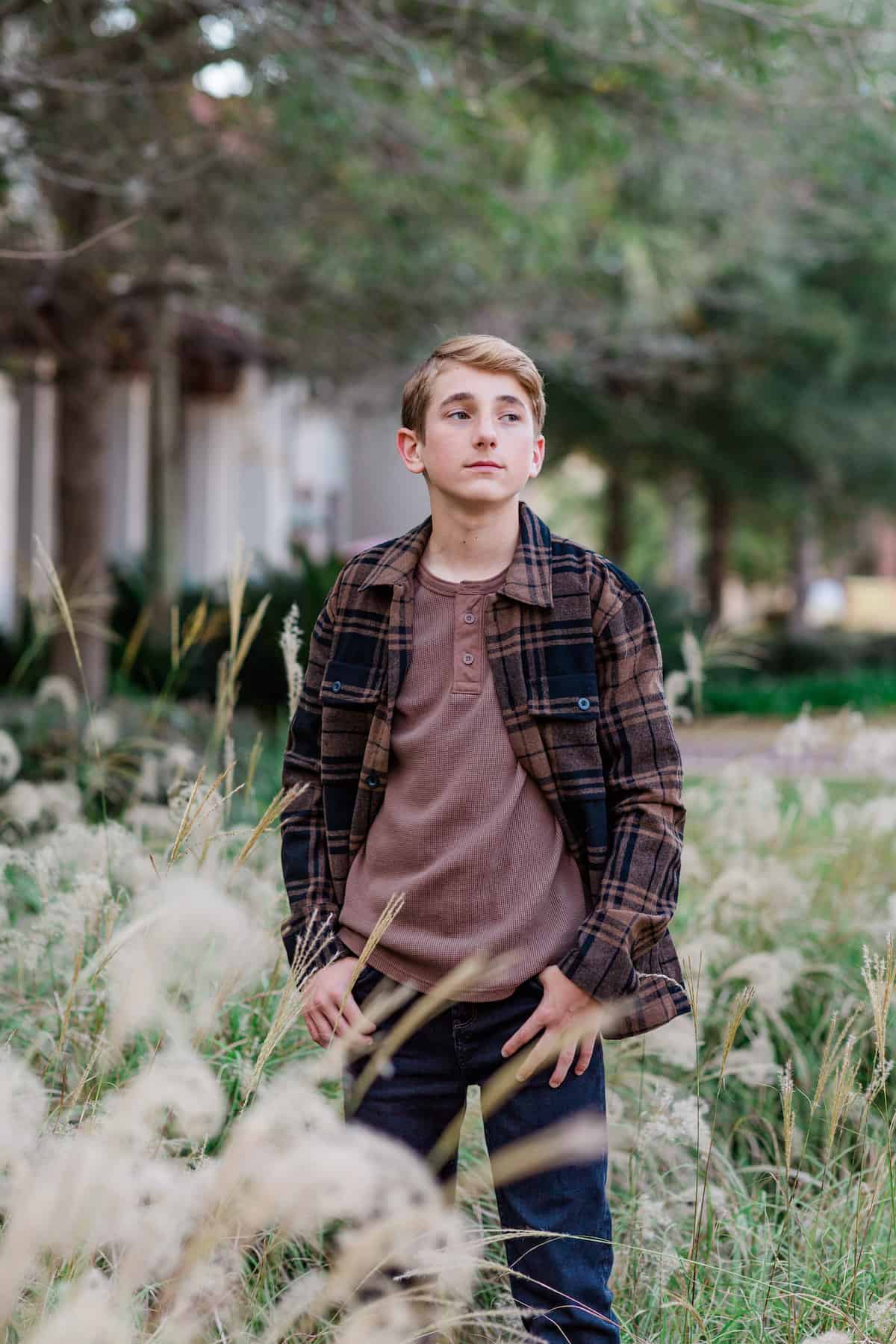 I love this so much! Embarrassed Kye is adorable 😉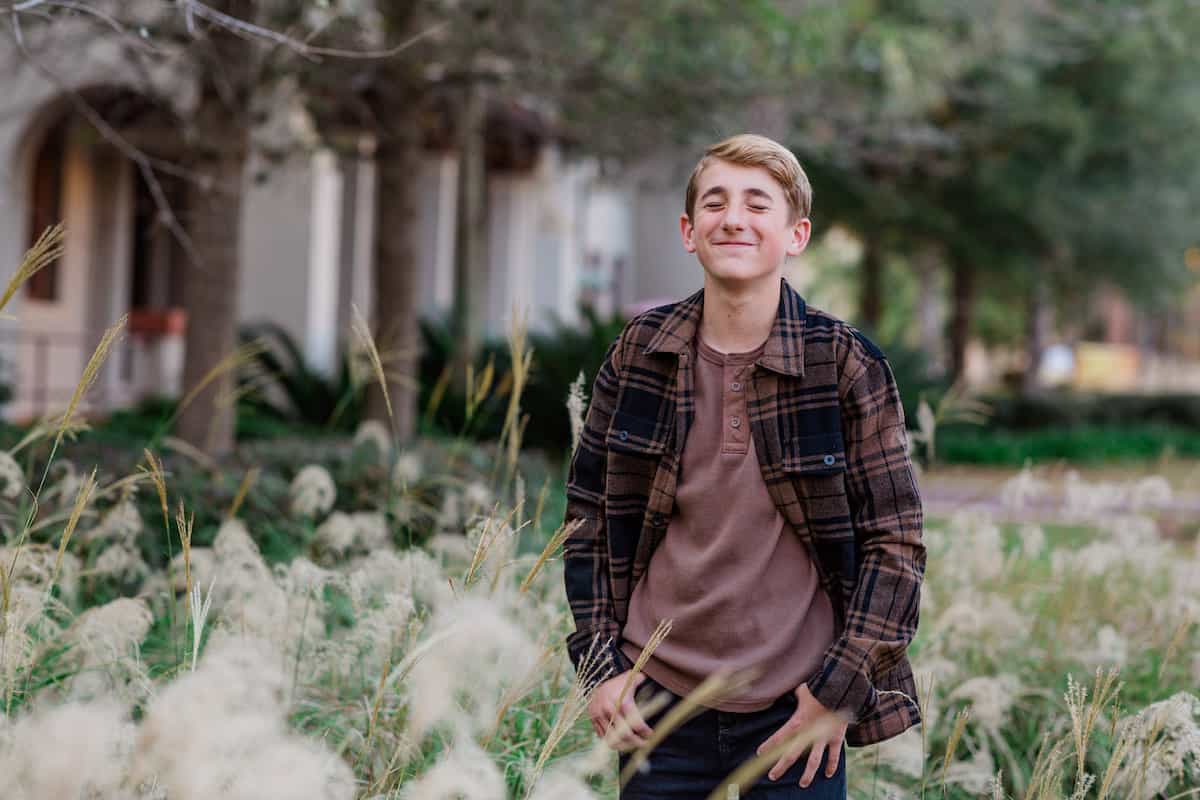 FAVORITE!!!! I've learned that with Kye the way to get his BEST (and most natural) smile is to embarrass him just enough to get him laughing. Love this!!!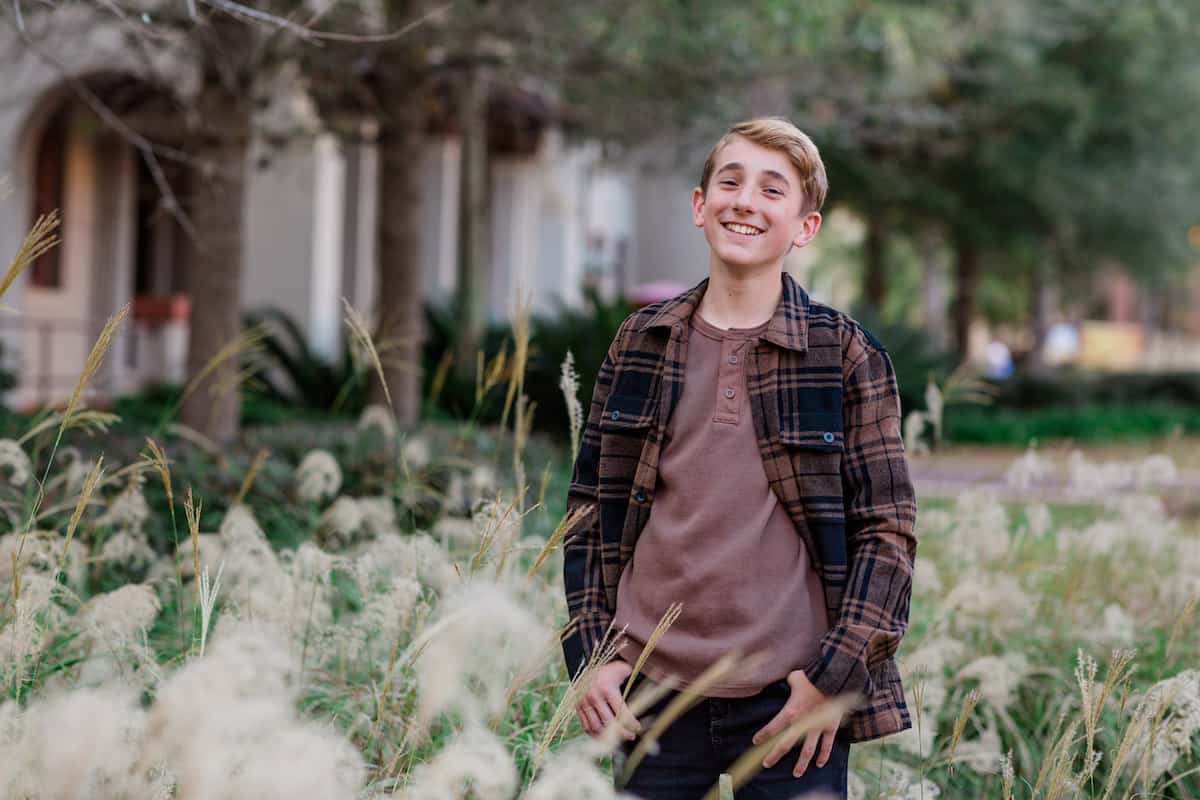 It's important to me to always get shots of Zach and me with each of the kids solo. I just think it's nice for them to have as many individual and one-on-one photos as possible. I know a common complaint of sibling groups with multiple siblings is that they don't feel seen as individual people so I try to be very mindful of that and to make sure each of my kids feels valued and adored for the unique, wonderful people they are.
There is no denying he's taller than me now huh? 😉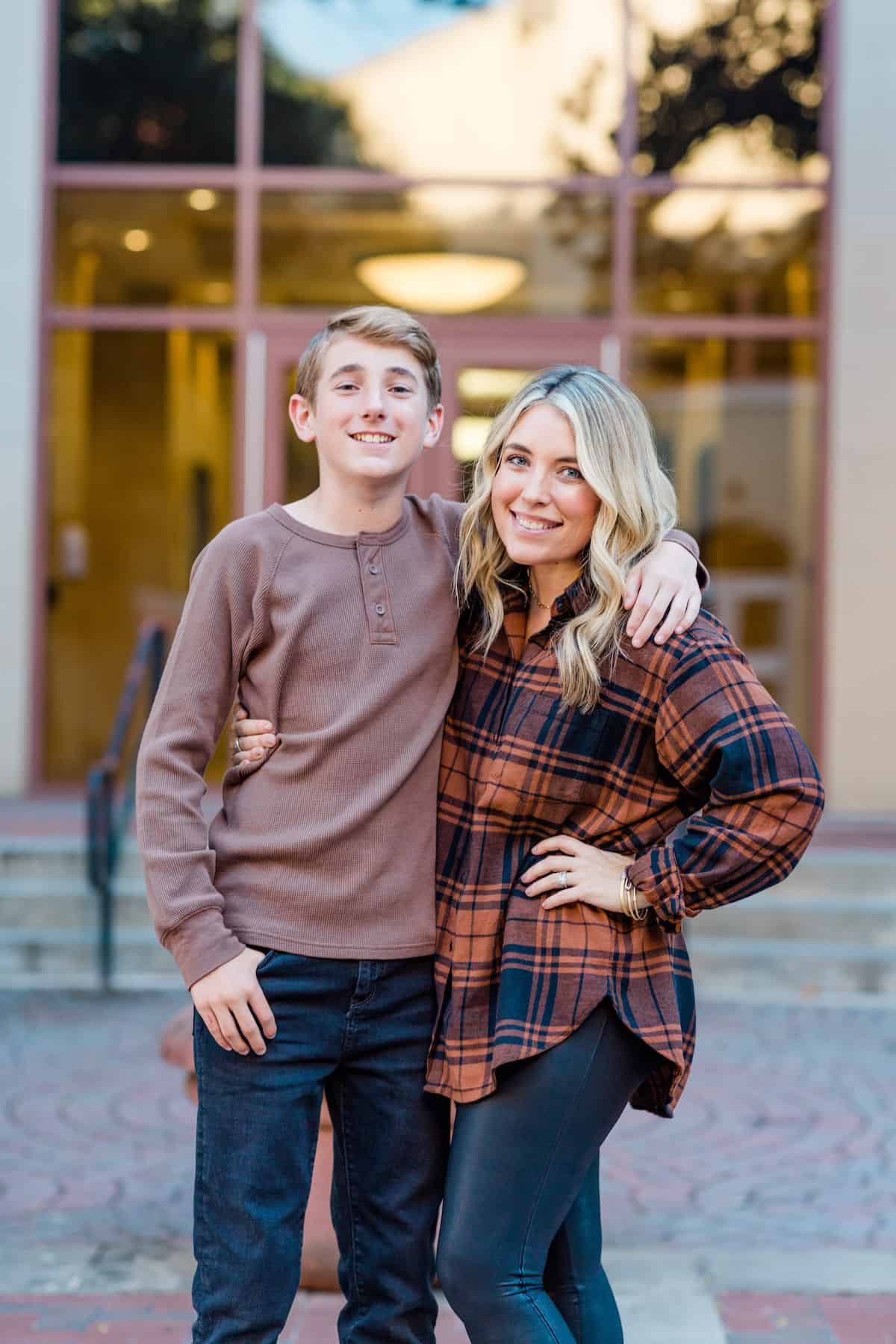 Looking more and more like Zach every day!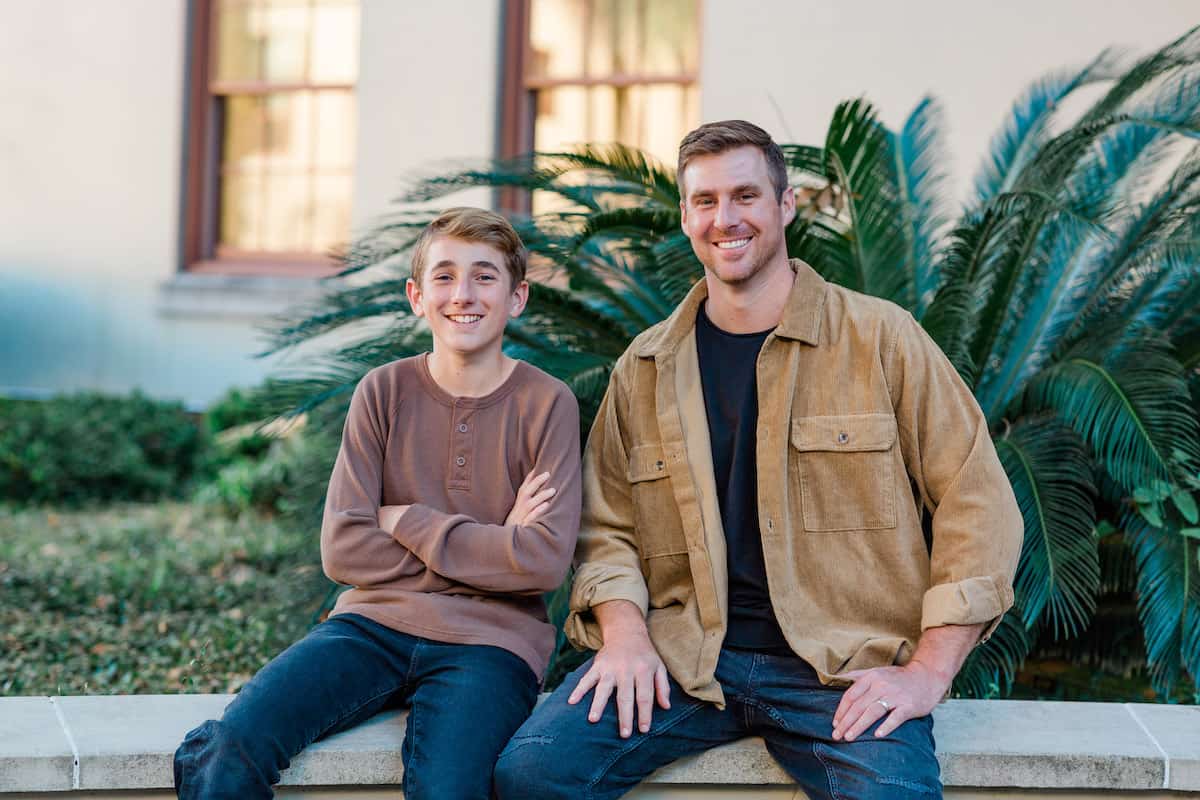 Britt – Almost 11 Years Old
Britt turned 11 just a month after we had these photos taken so they for sure count as her birthday photos!
While Kye just wears whatever I pick out and rolls with whatever the photo plans are, the girls are VERY into the entire process. They like to be hands-on in every part of their looks! I am mindful to order a few options for clothing choices for them to choose from and I try very hard to be easygoing with whatever they want to wear when it comes to jewelry and accessories and to let them have the freedom to style their hair how they'd like to as well.
I want our family photos to be a true snapshot in time of our family as we really are at this stage of life!
Britt found this shell necklace in the summer of 2021 and hasn't taken it off since! She also borrowed some of my earrings for these photos and wore another necklace she loves. She also asked me to put her hair half up and wanted to be sure to keep her tapered front pieces down.
I love Britt's confidence and how she jumps in with both feet to any situation and owns it. She wasn't the least bit shy about the public setting and was just so excited to get to be on a real college campus. It's hard to believe that she's right behind Kye in becoming a teenager.
Britt is always so fun to dress for these sessions – she has a very cool, chill vibe kinda style so I tried to find something that felt like her. I love how her look came together and the confidence you can feel in her smile in these photos!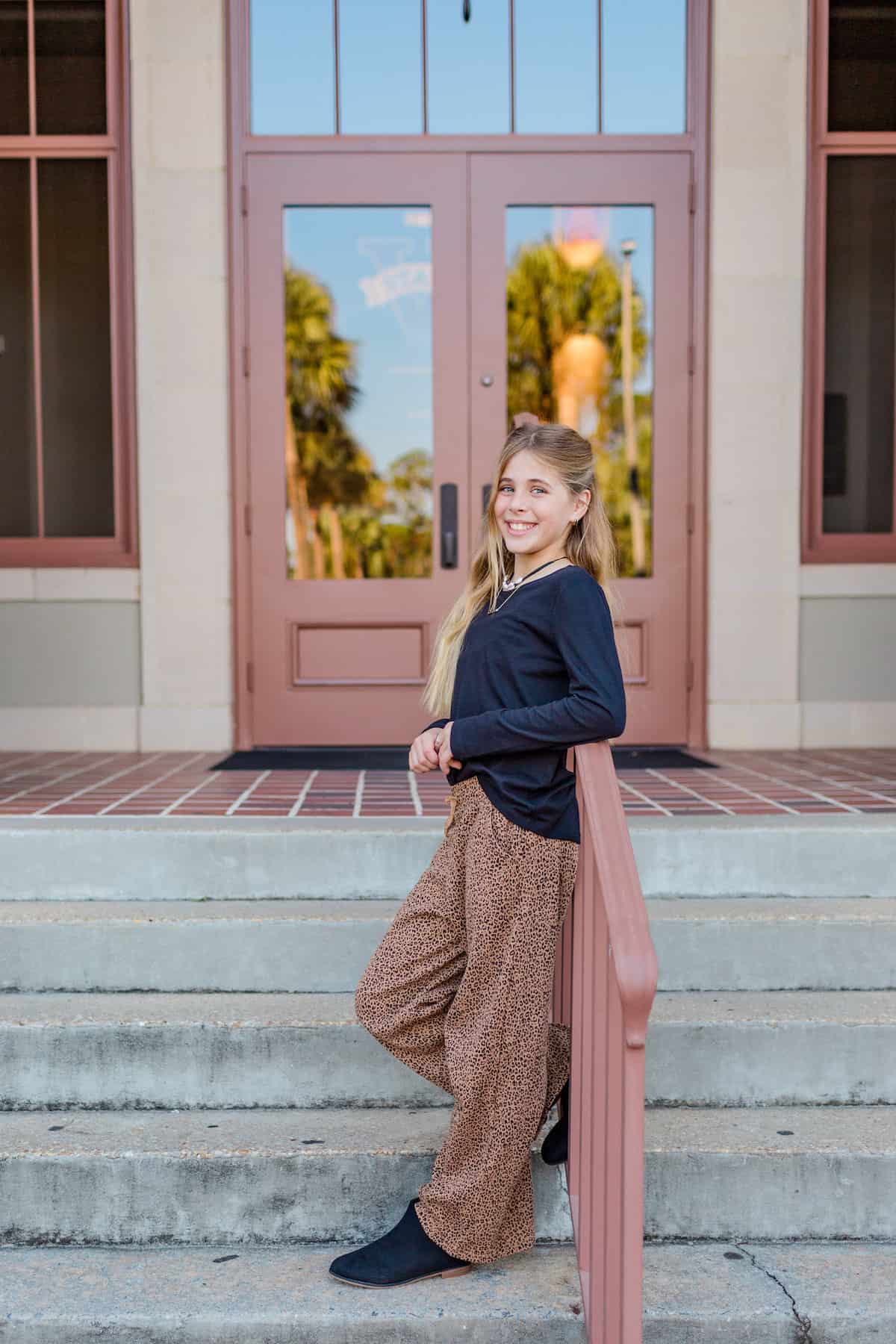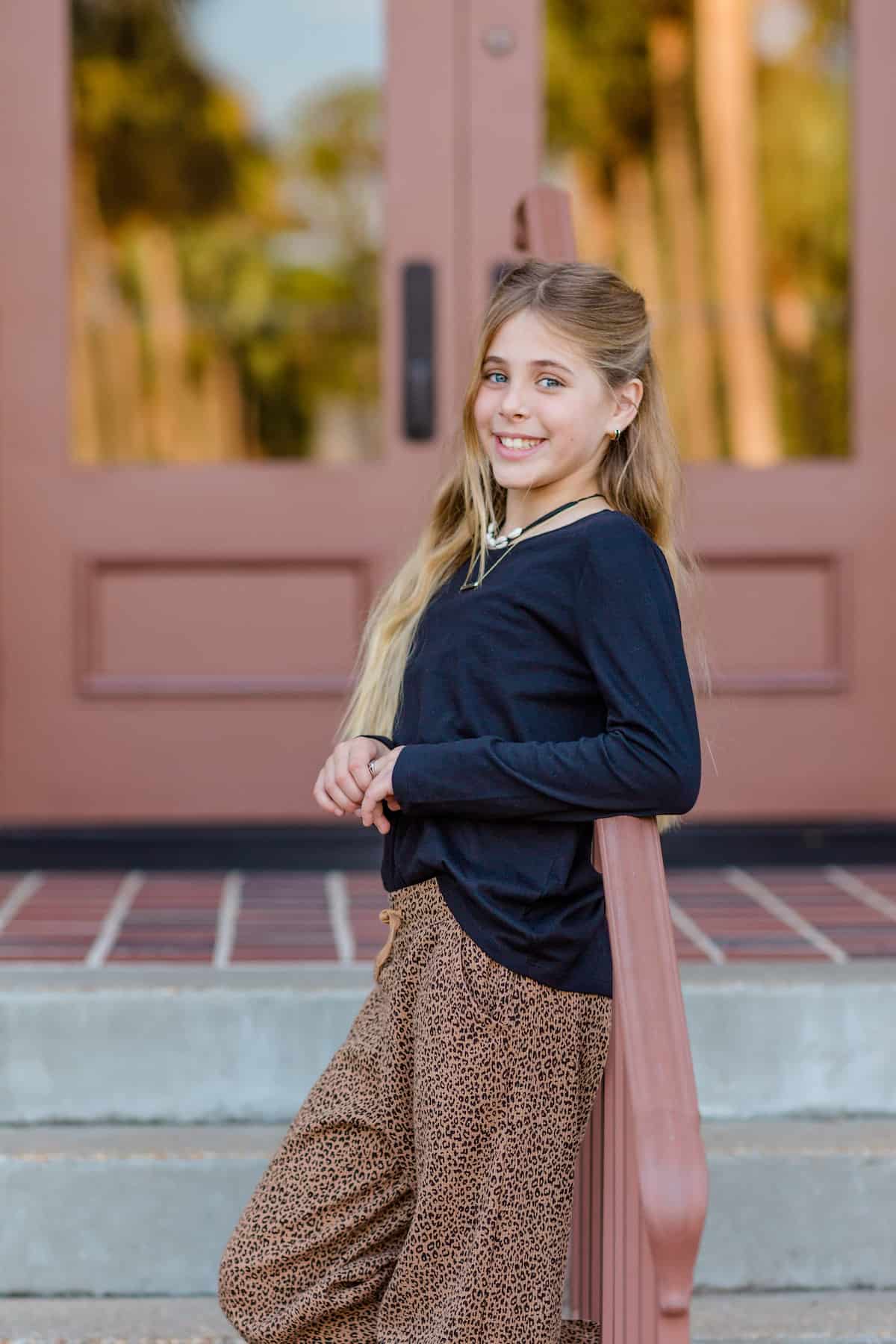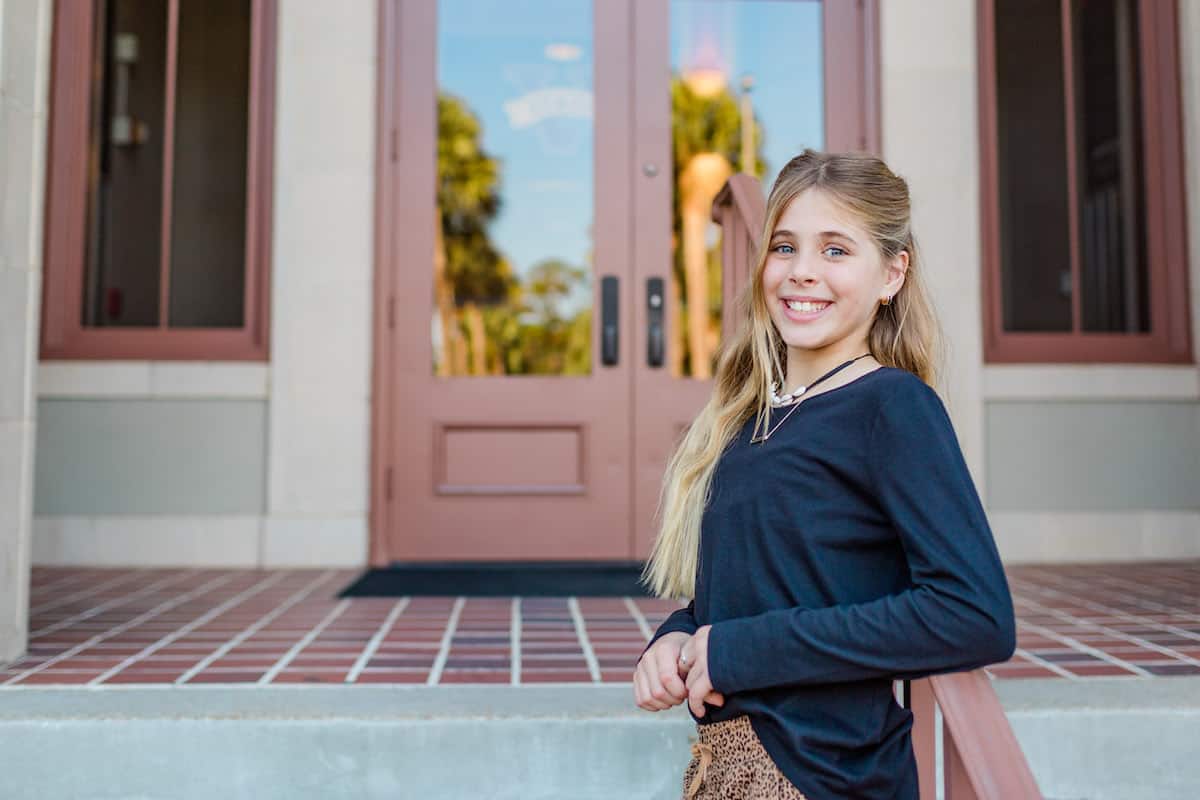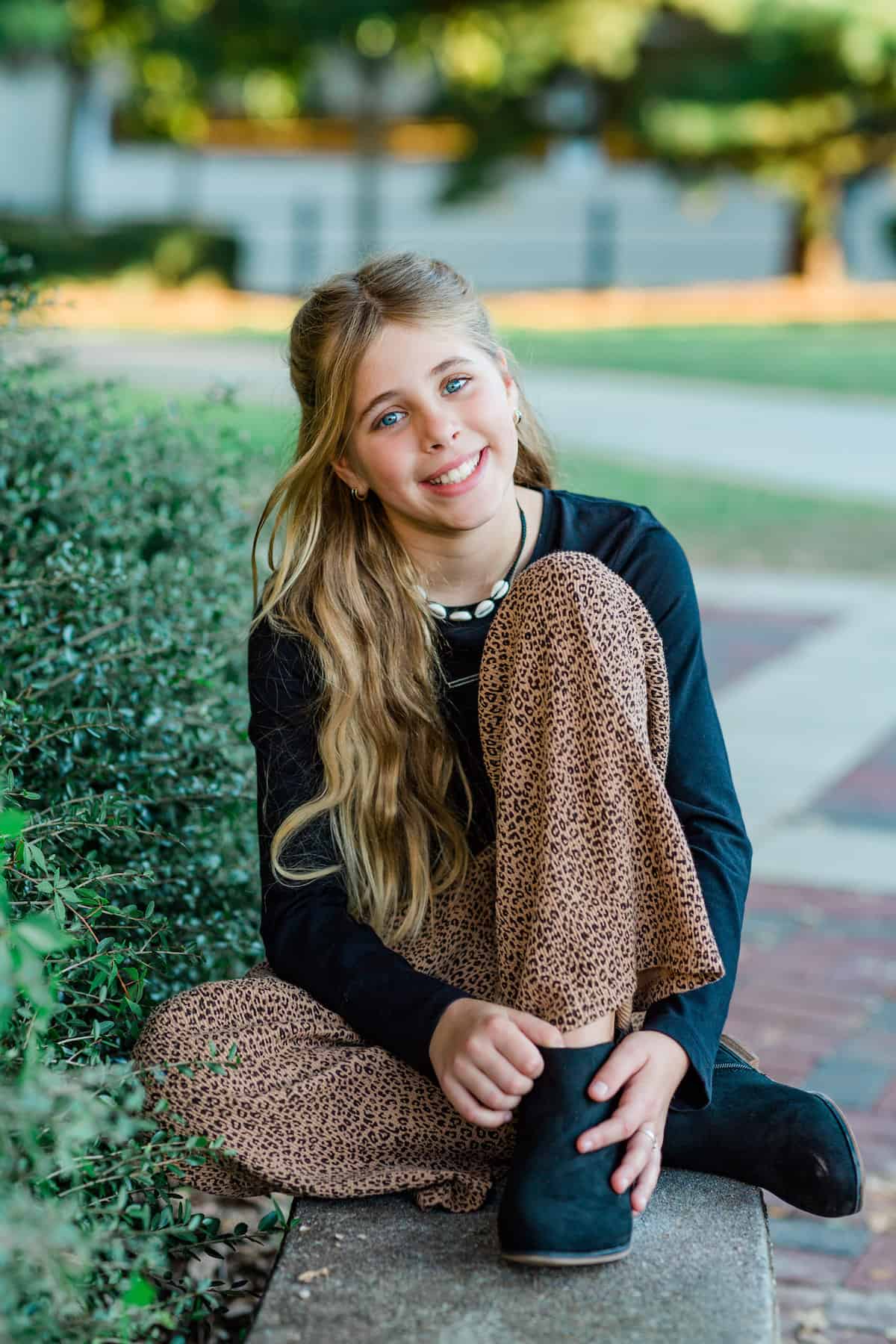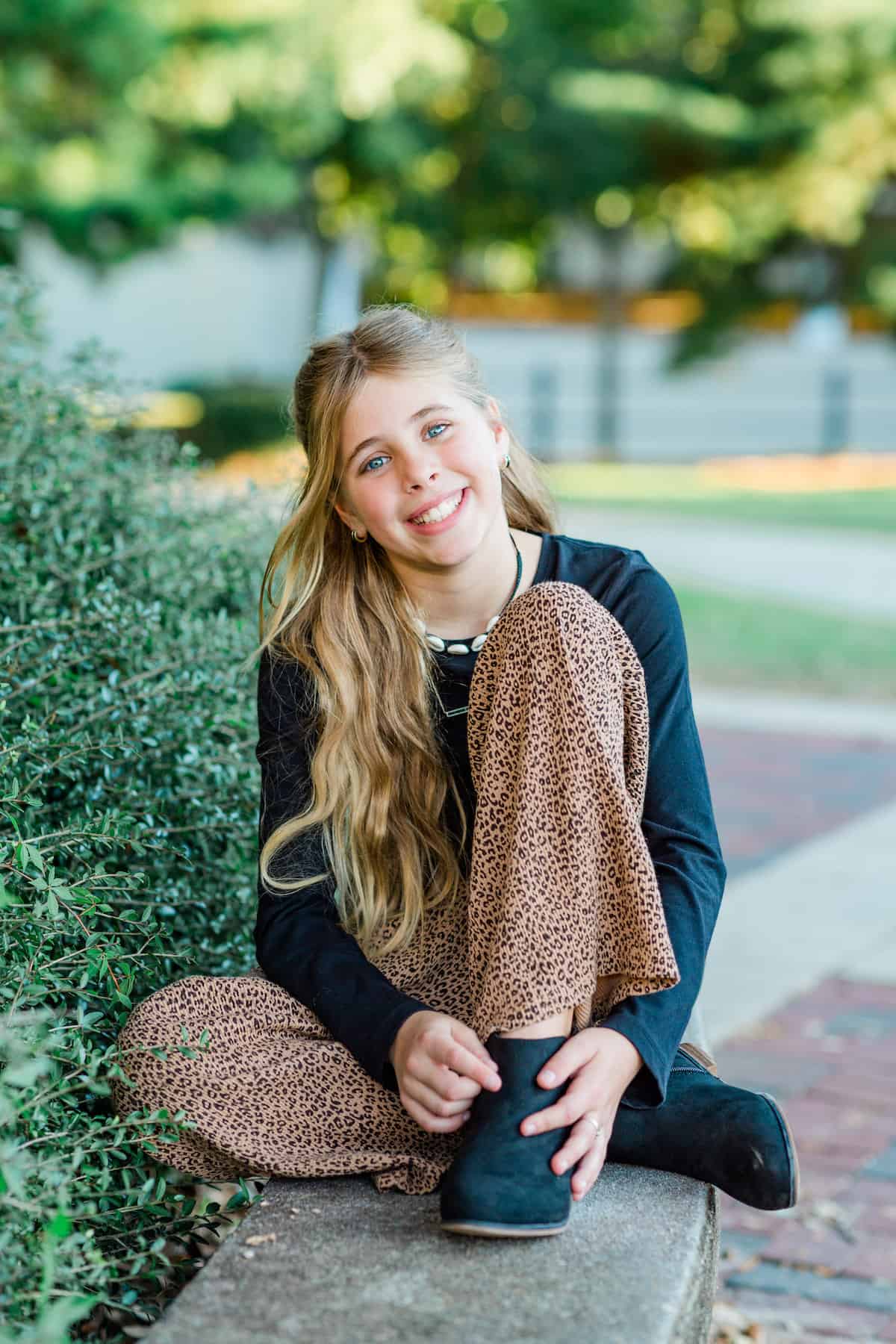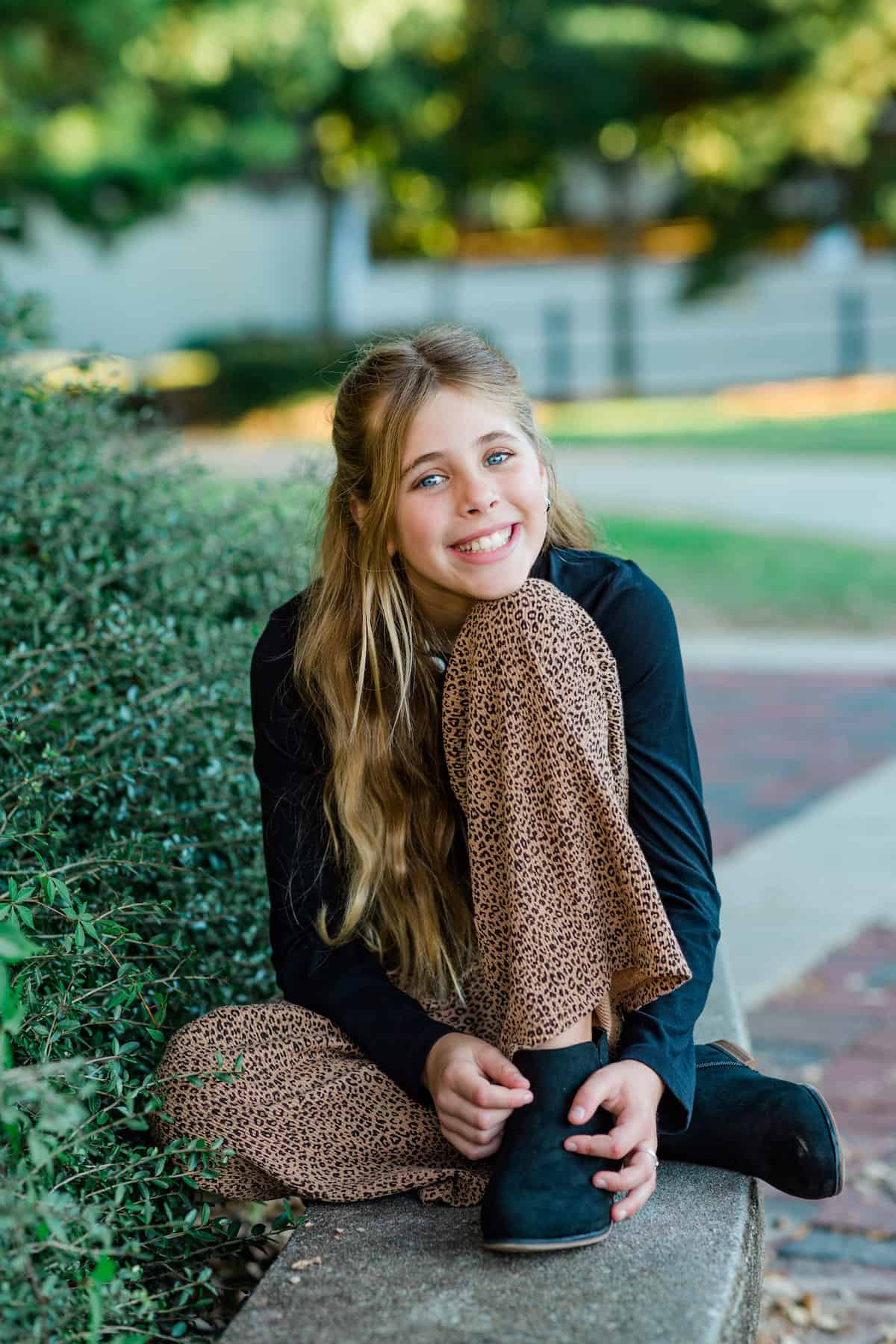 A little Blossom throwback look 😉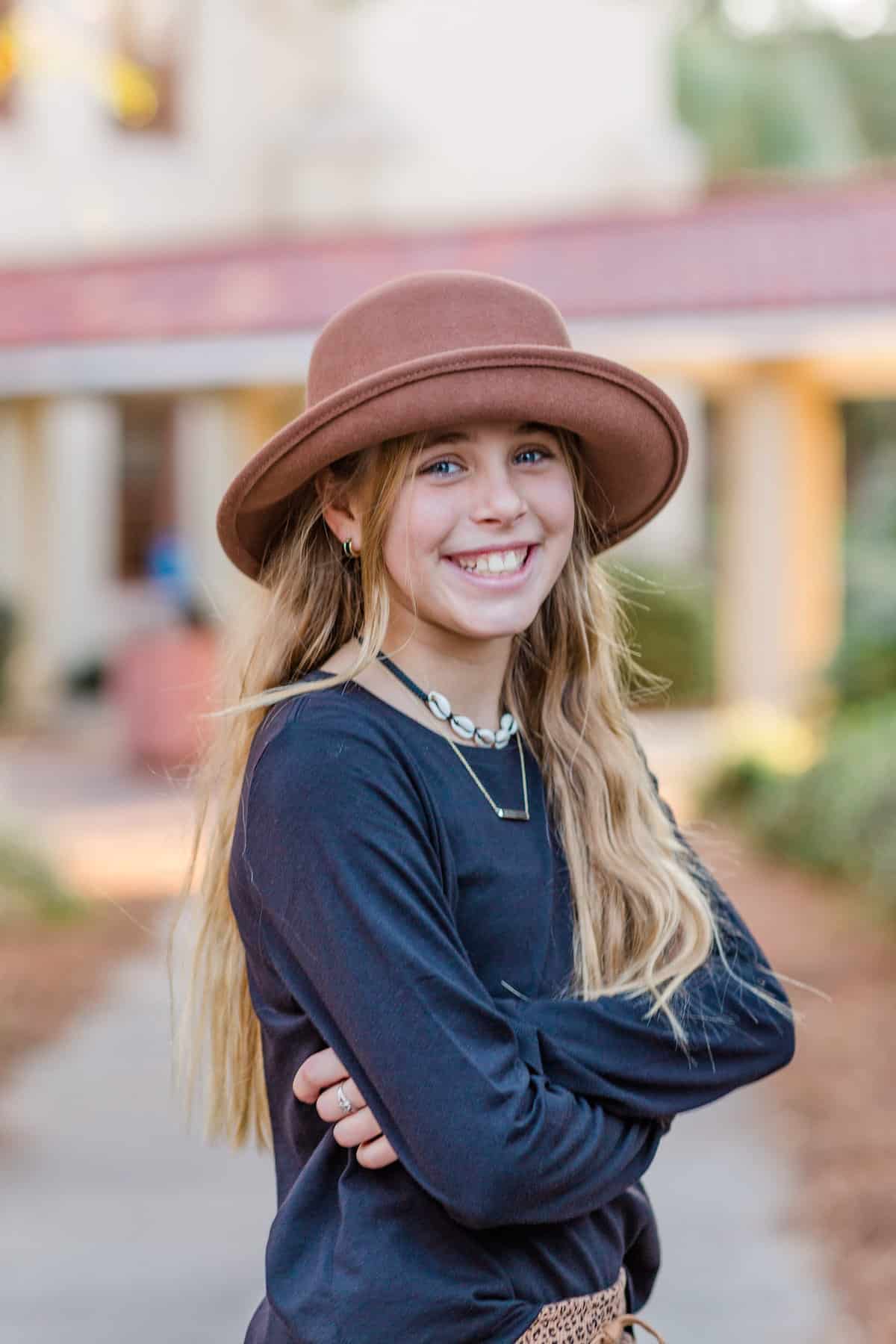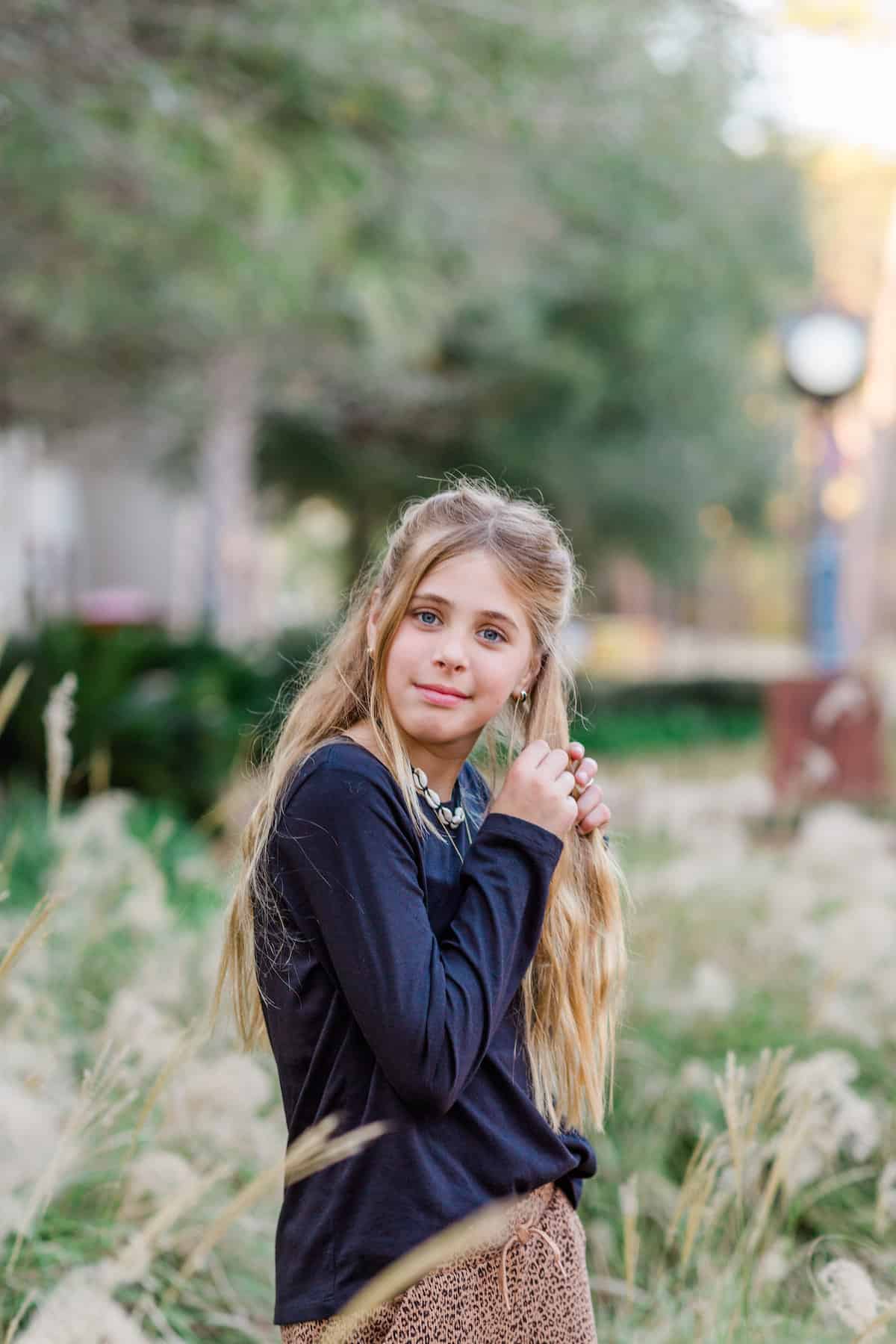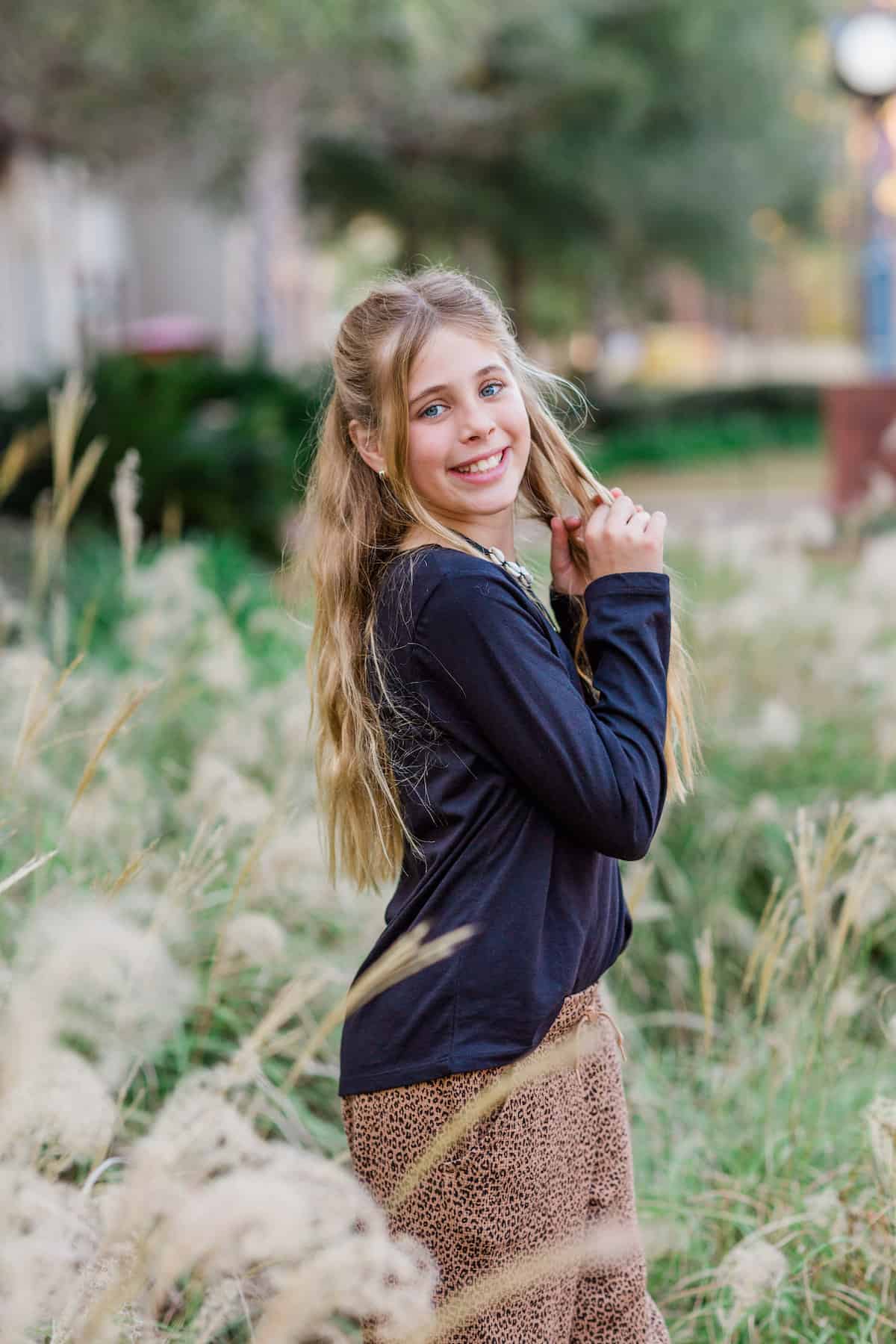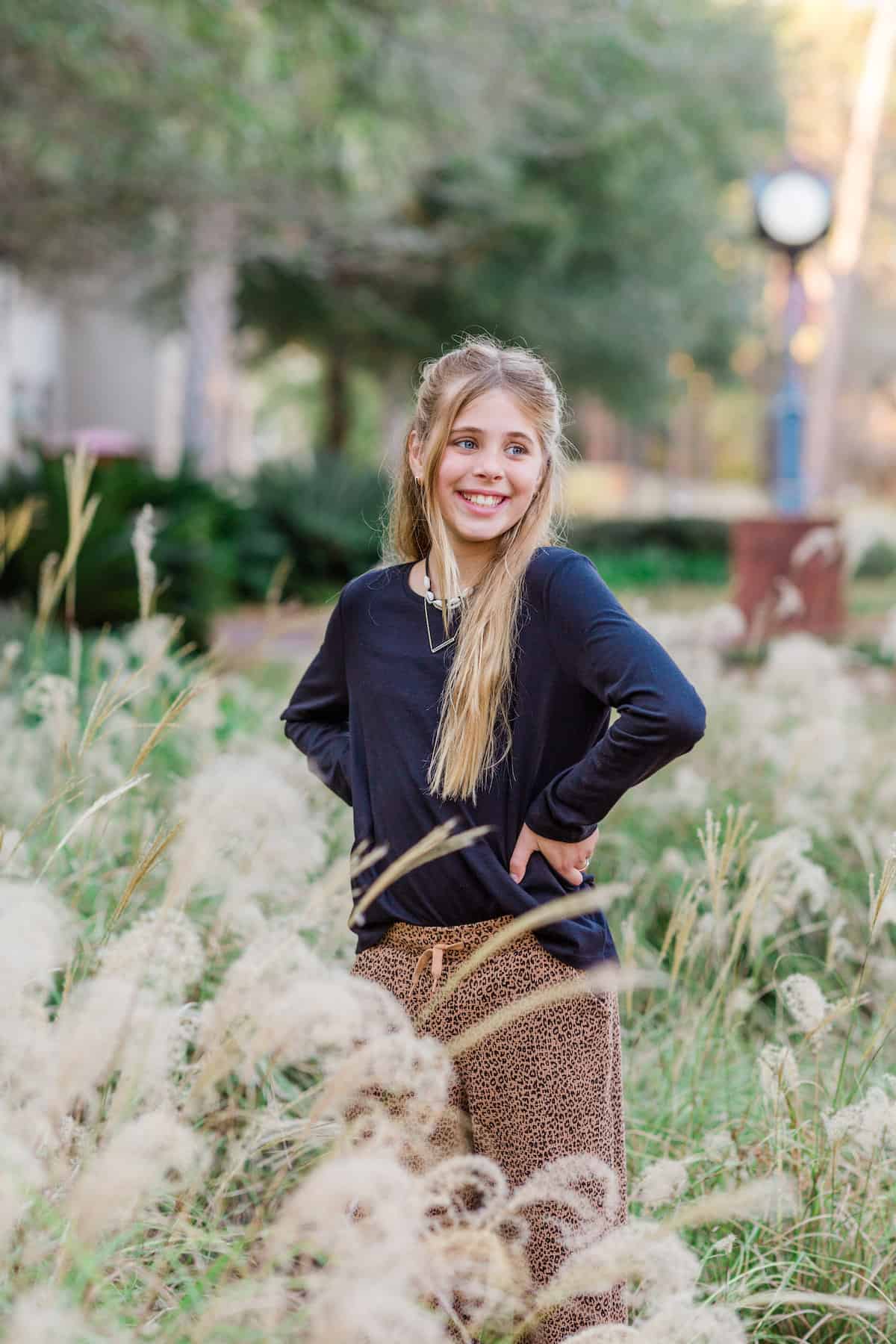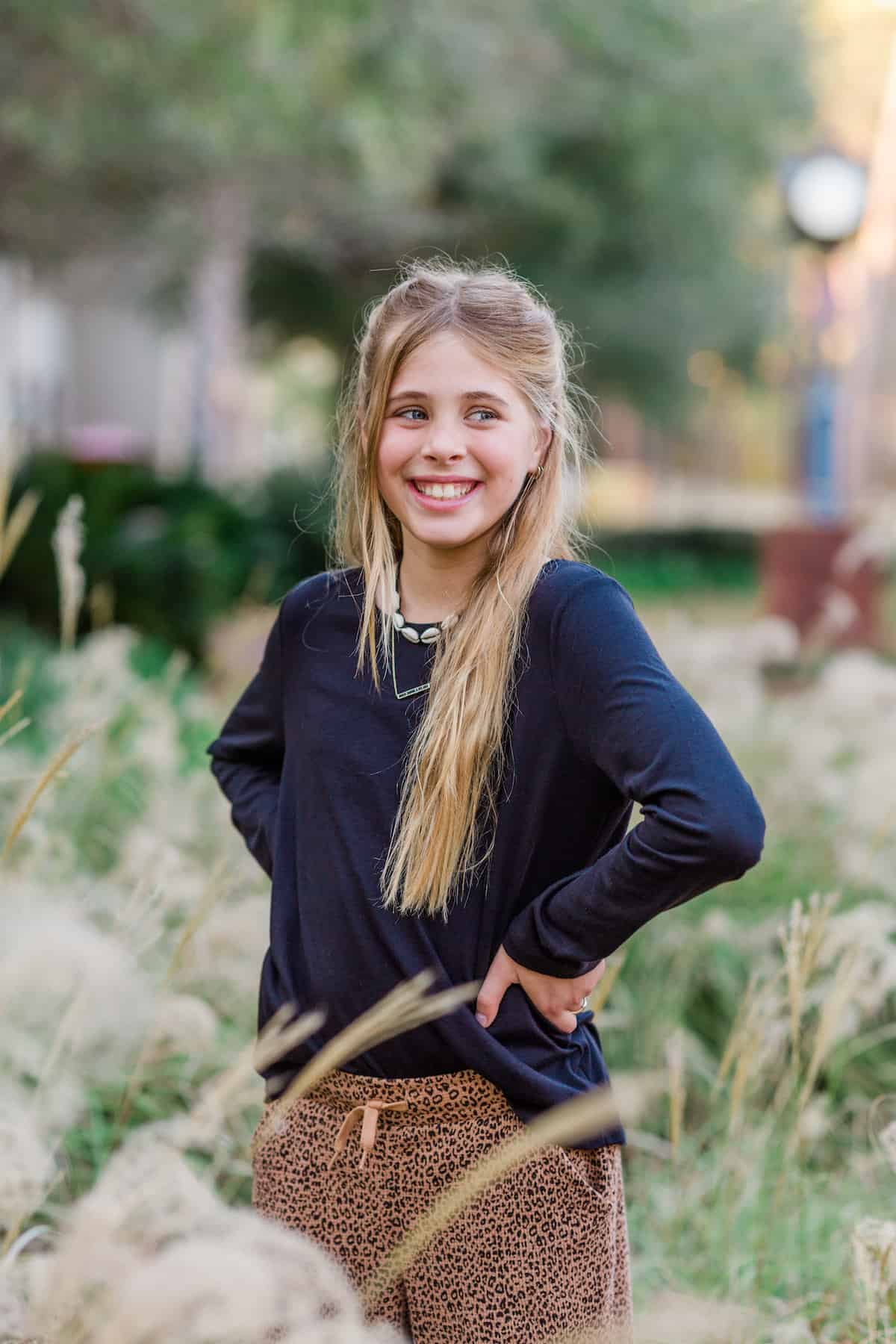 Favorite! I love my girl and LOVE this phase of parenting her – she's beautiful inside and out!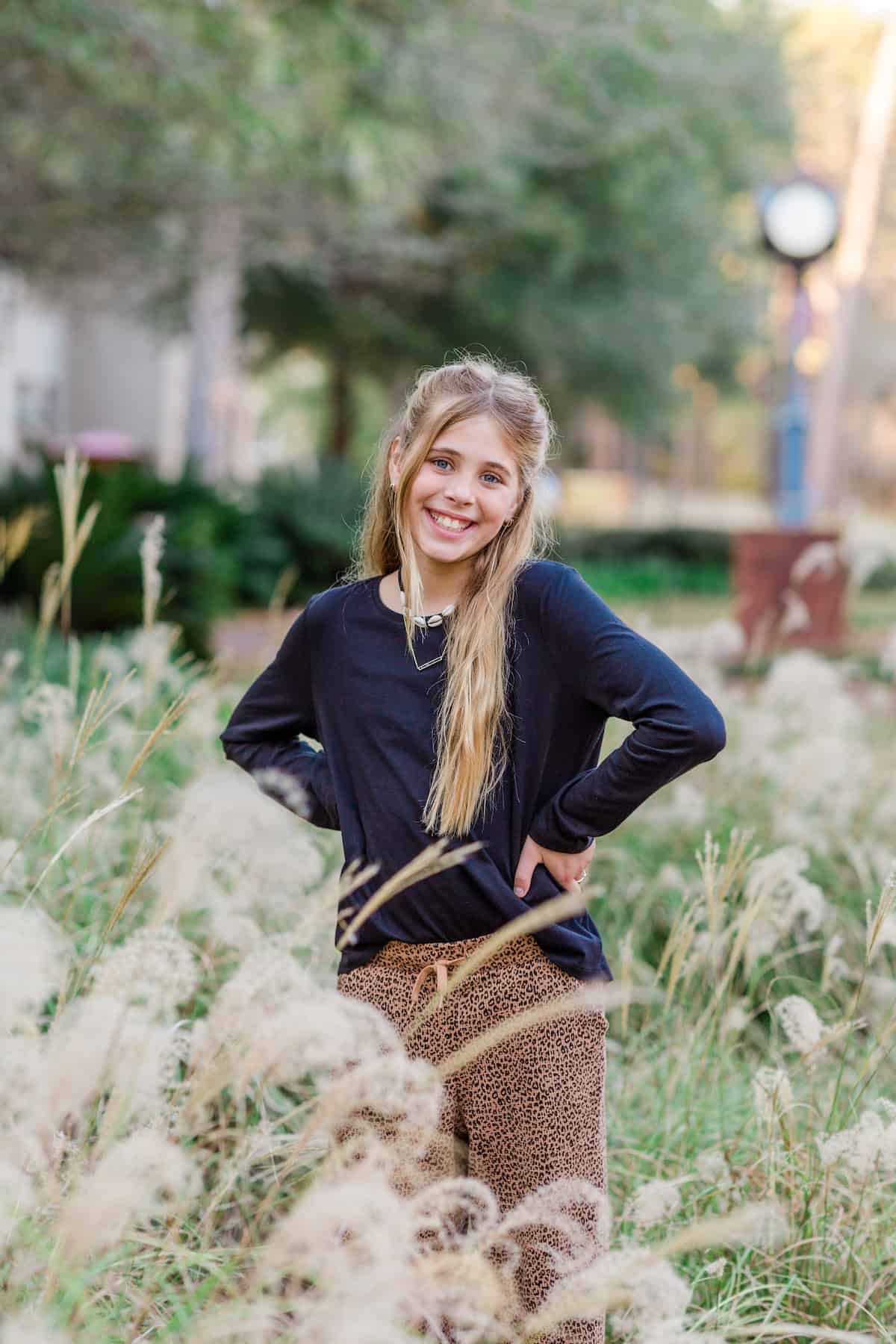 It surely won't be long until she passes me in height too!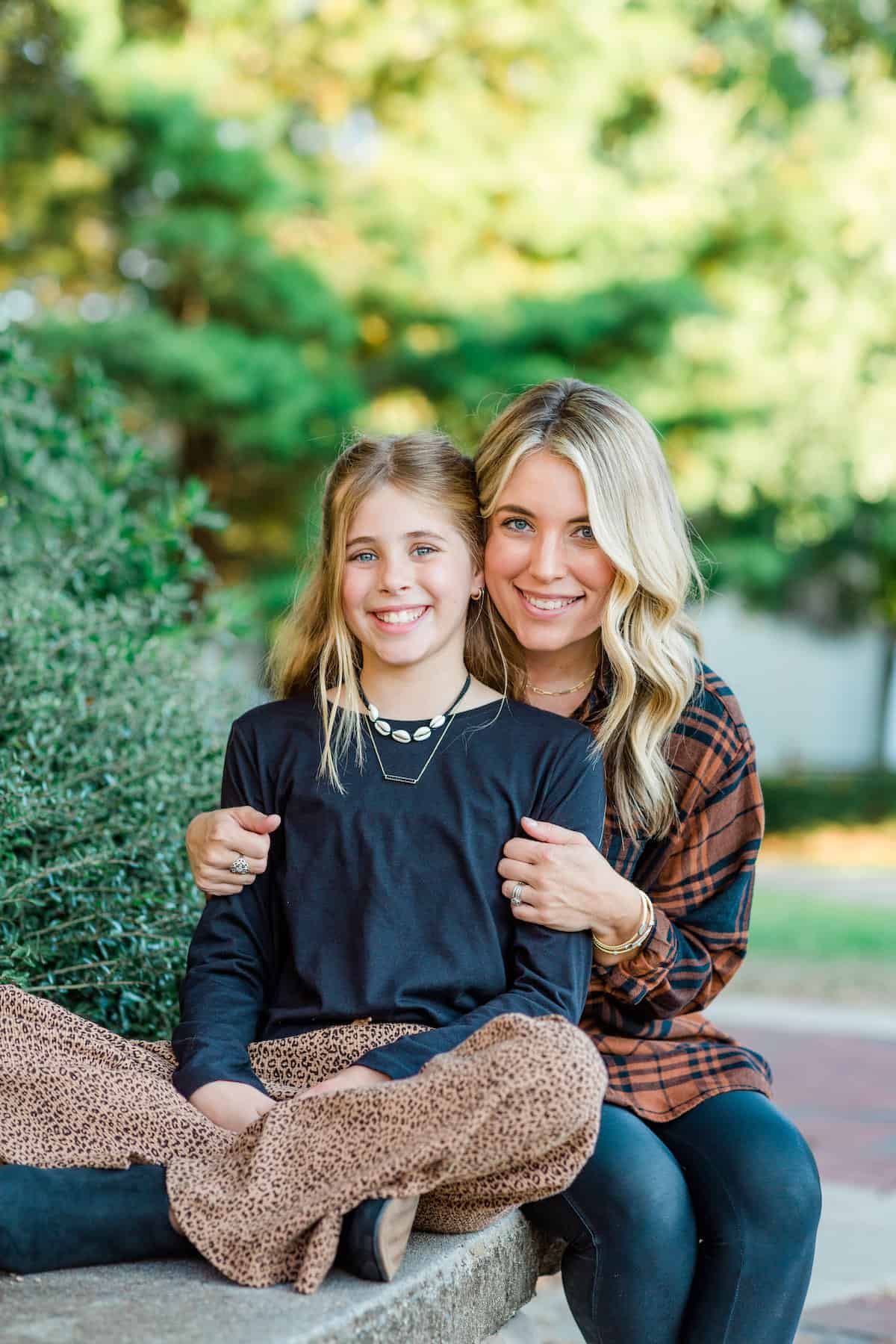 She loves her daddy!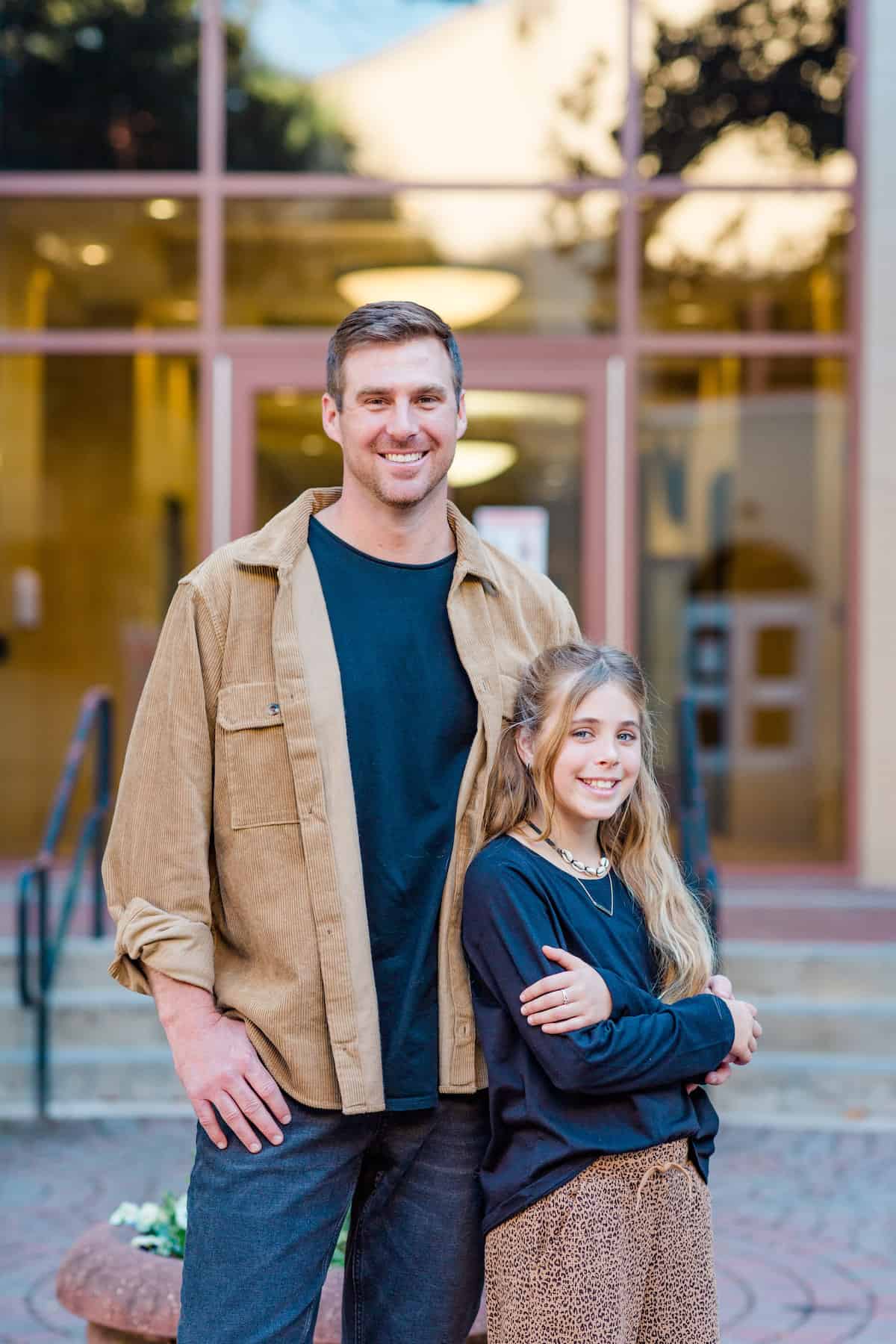 Tess – 8.5 Years Old
You would neeeeever guess that Tess was my kid who used to refuse to take photos. We have so many "family" pictures on trips without her in them because she didn't enjoy photo taking. And now? The child lives for the camera!
It was so funny during our session because Tess would strike a pose and then wait for someone to notice and snap her photo. She rocked the session for sure!
Tess has such a unique style and is very girlie and feminine so I was excited to find this adorable jumper skirtall thing for her to wear. I love how her look came together and how well it flowed with Britt's too. She was super excited for the session and was all about curling her hair and wearing a bit of makeup (by a bit I mean a tiny, tiny bit…as in you can zero percent tell she has anything on but it made her feel special and grown!).
For over a year now Tess has worn this random white sweatband headband on her ankle. She received it from a fundraiser at school and for some reason wrapped it around her ankle and has rarely taken it off since. I know it's kinda gross looking but it's something that is so much a part of HER right now and at this stage of her life that I was totally fine for her to wear it for our pics. In fact, I wanted her too! This way we'll never forget the sweatband era 😉
Shirt / Skirtall / Headband / Boots (sorry no link for the sweatband haha)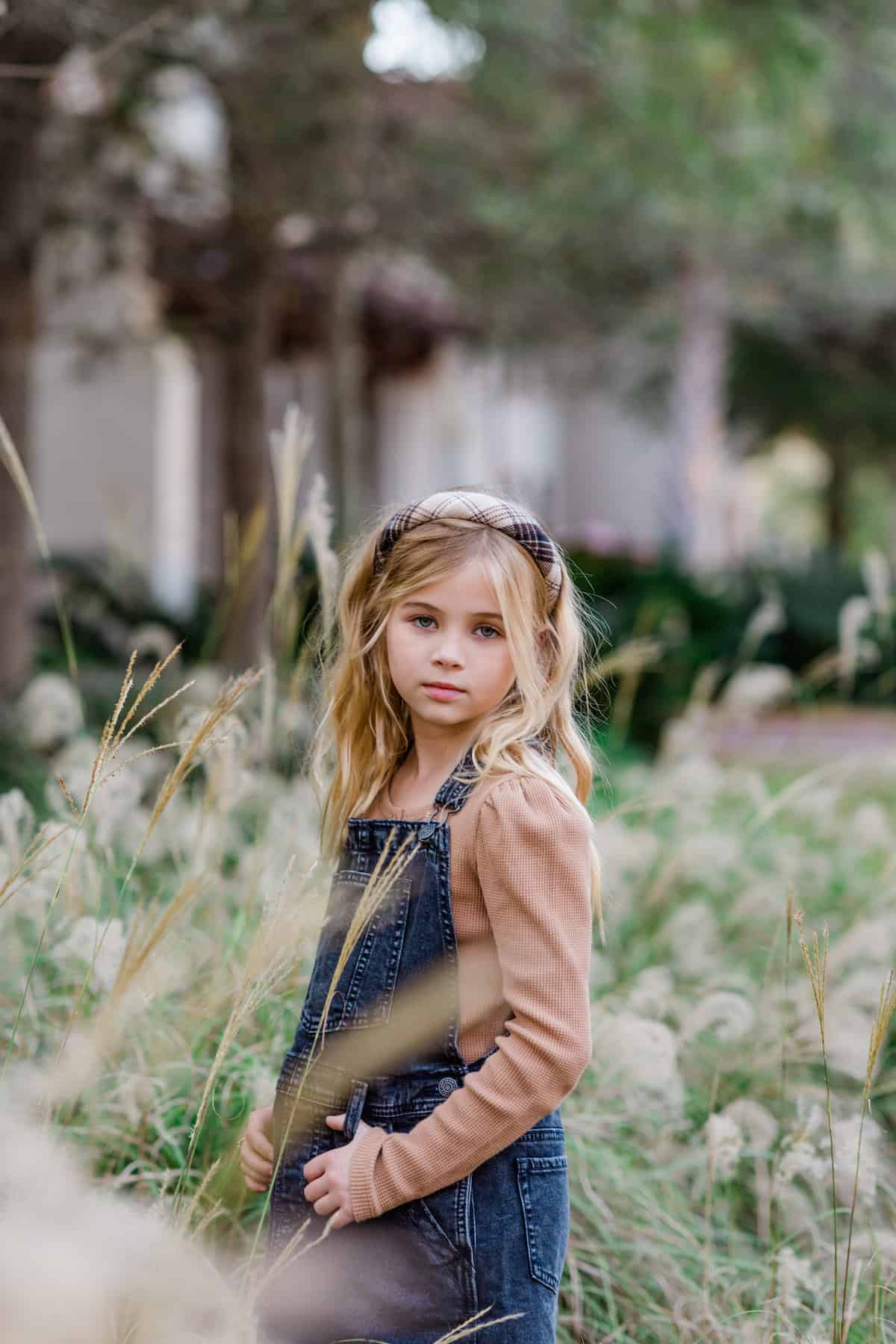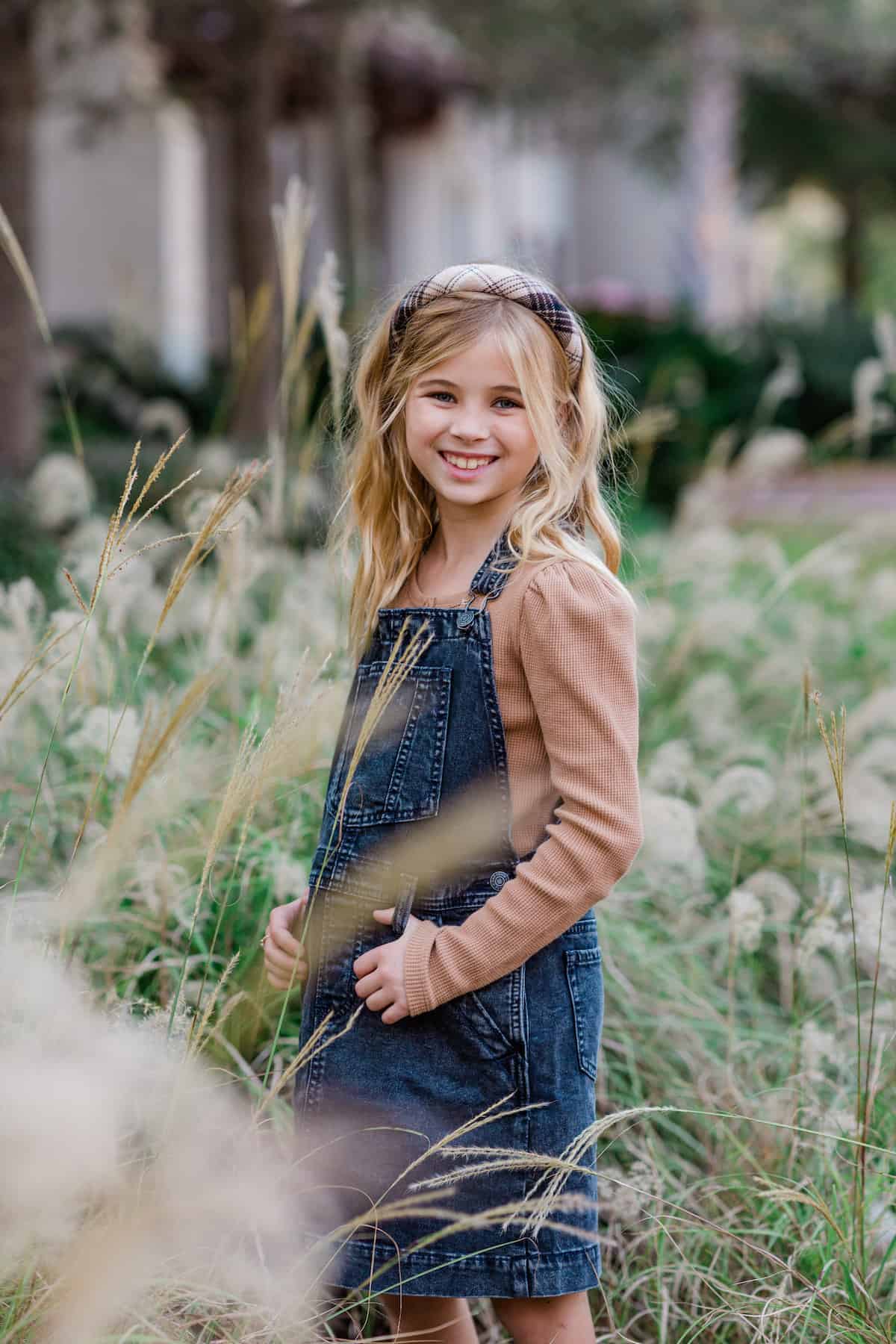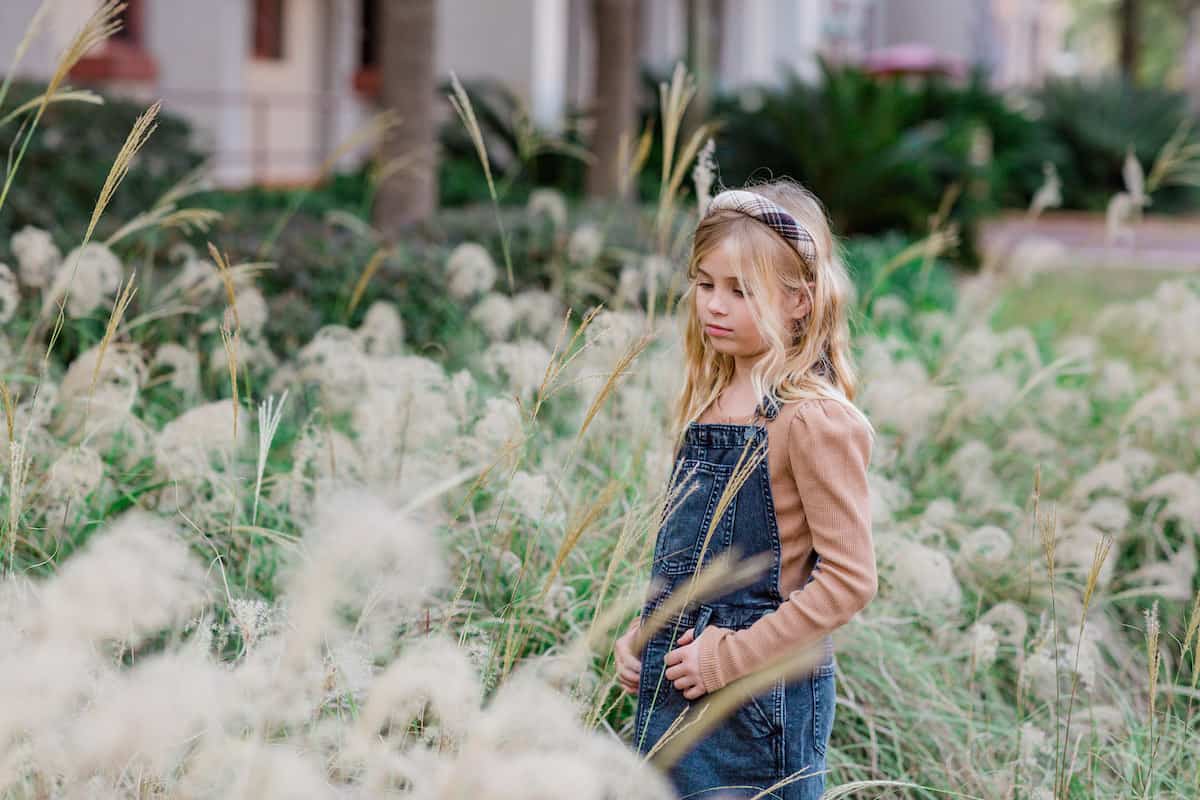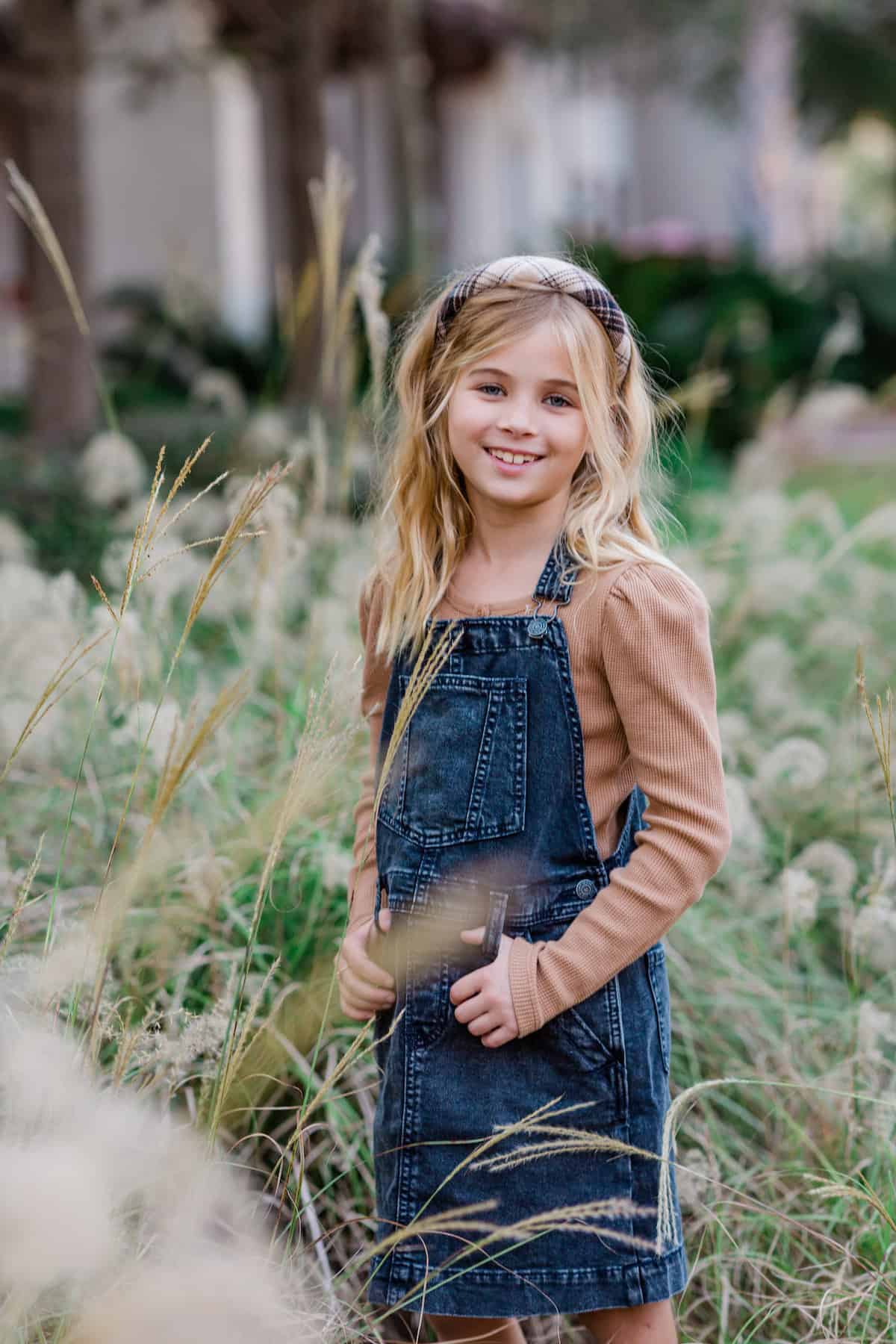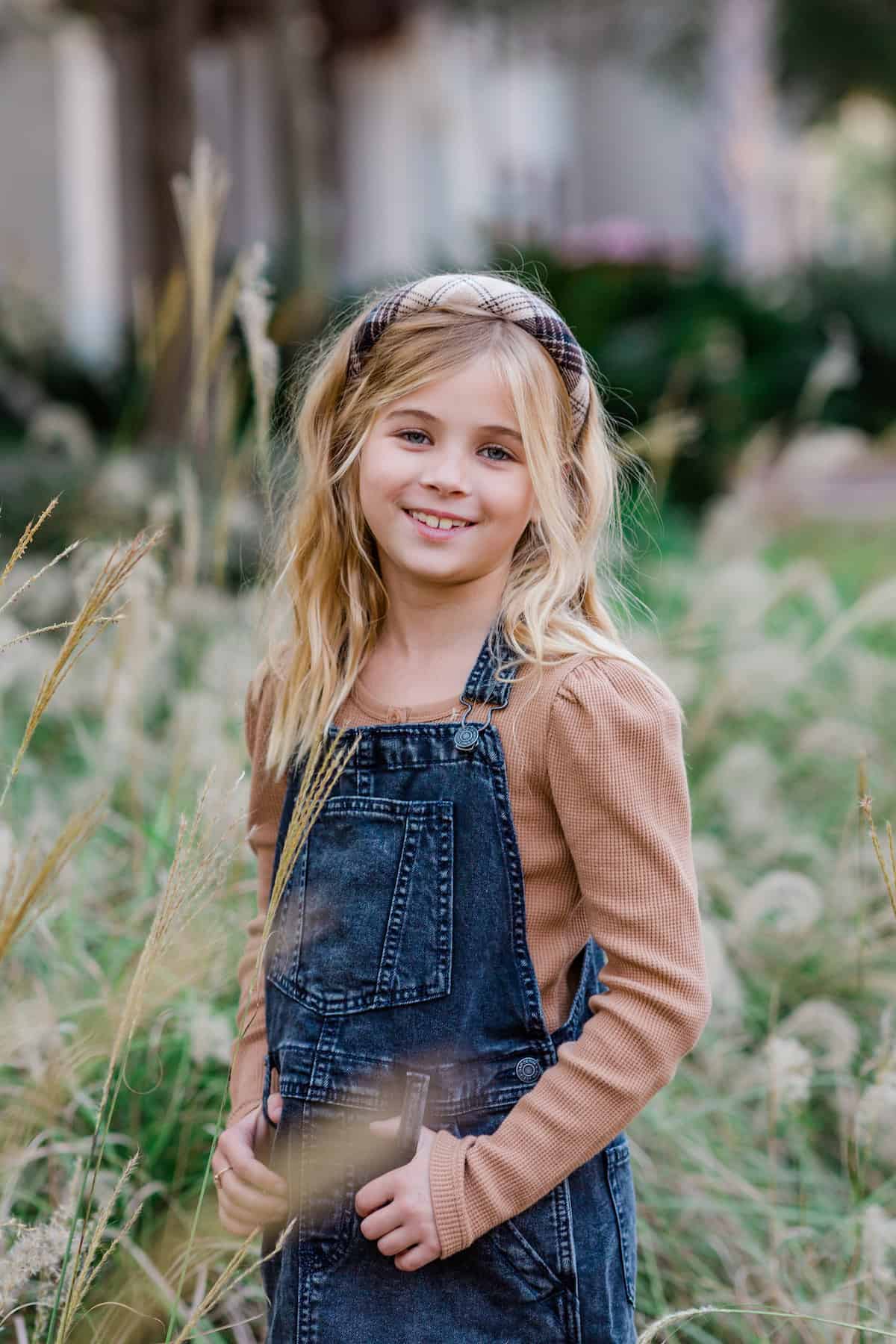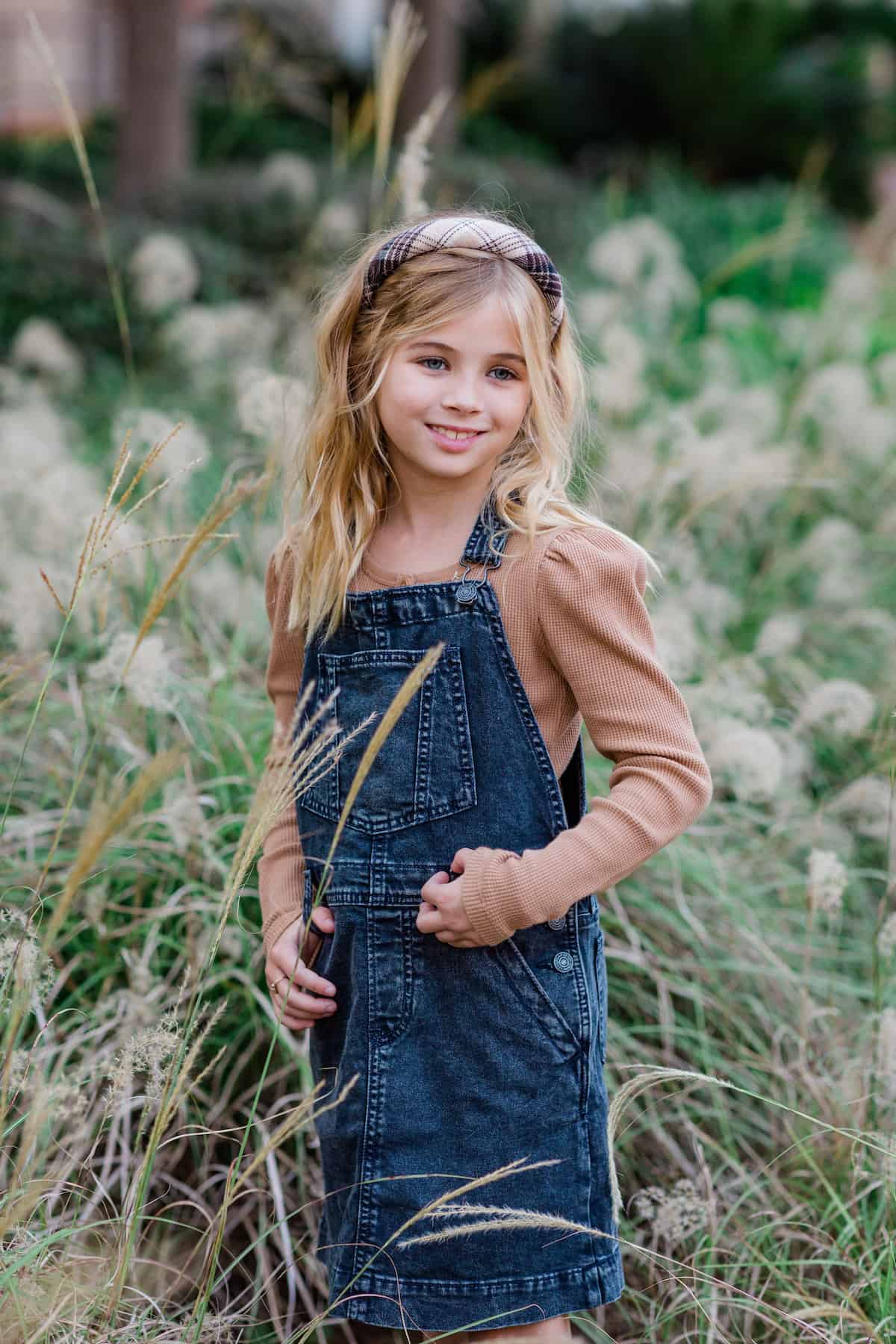 Can you even believe this is a college campus? I love her serious look too, so pretty!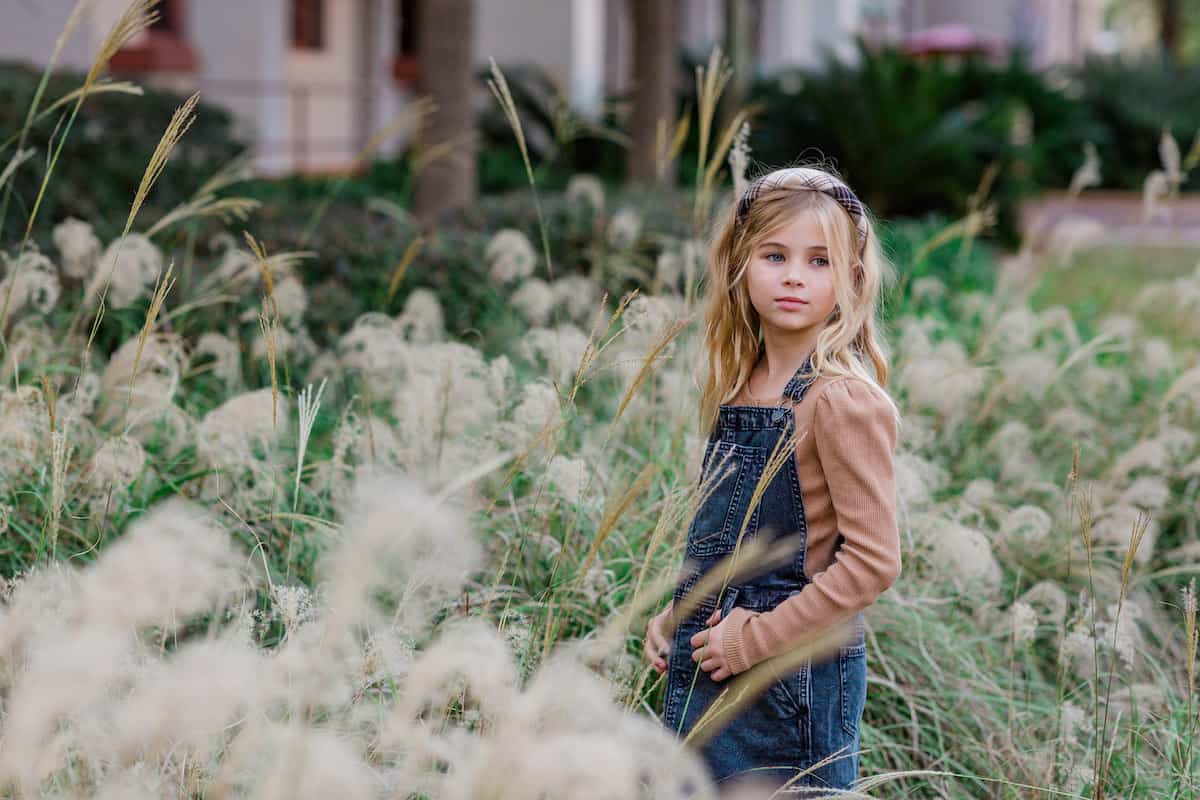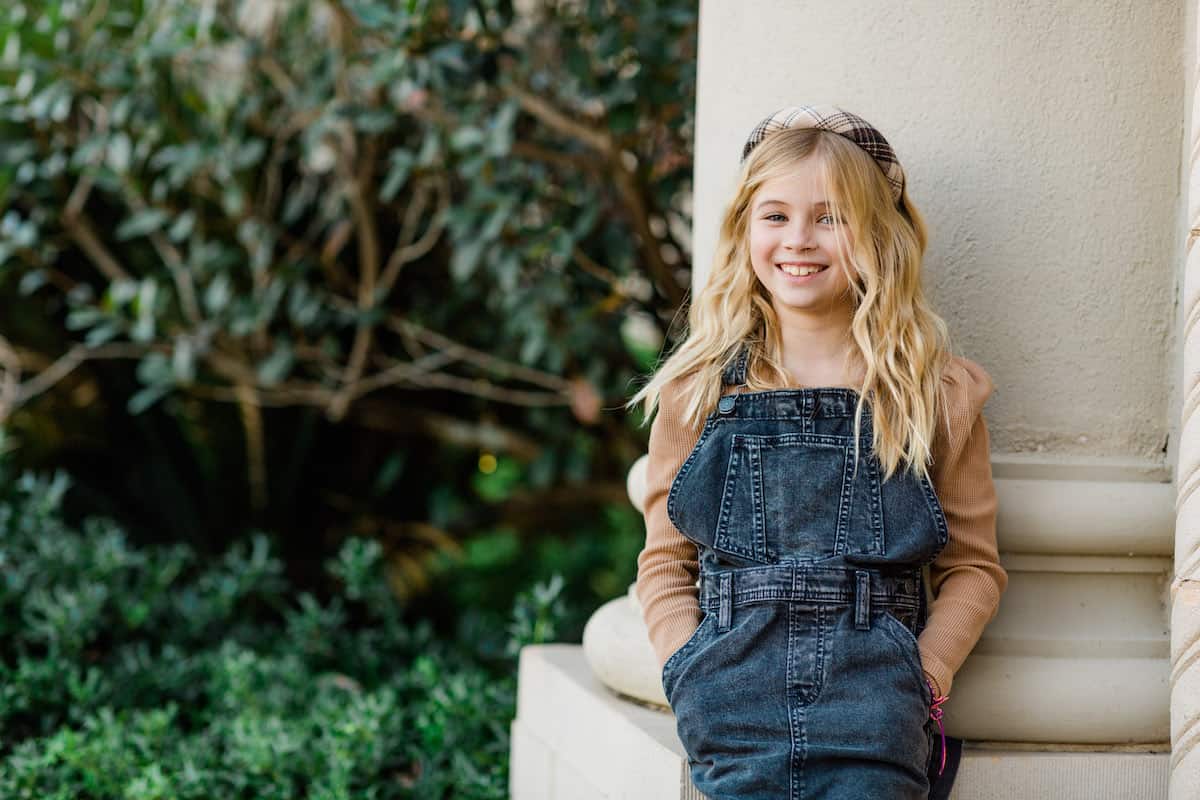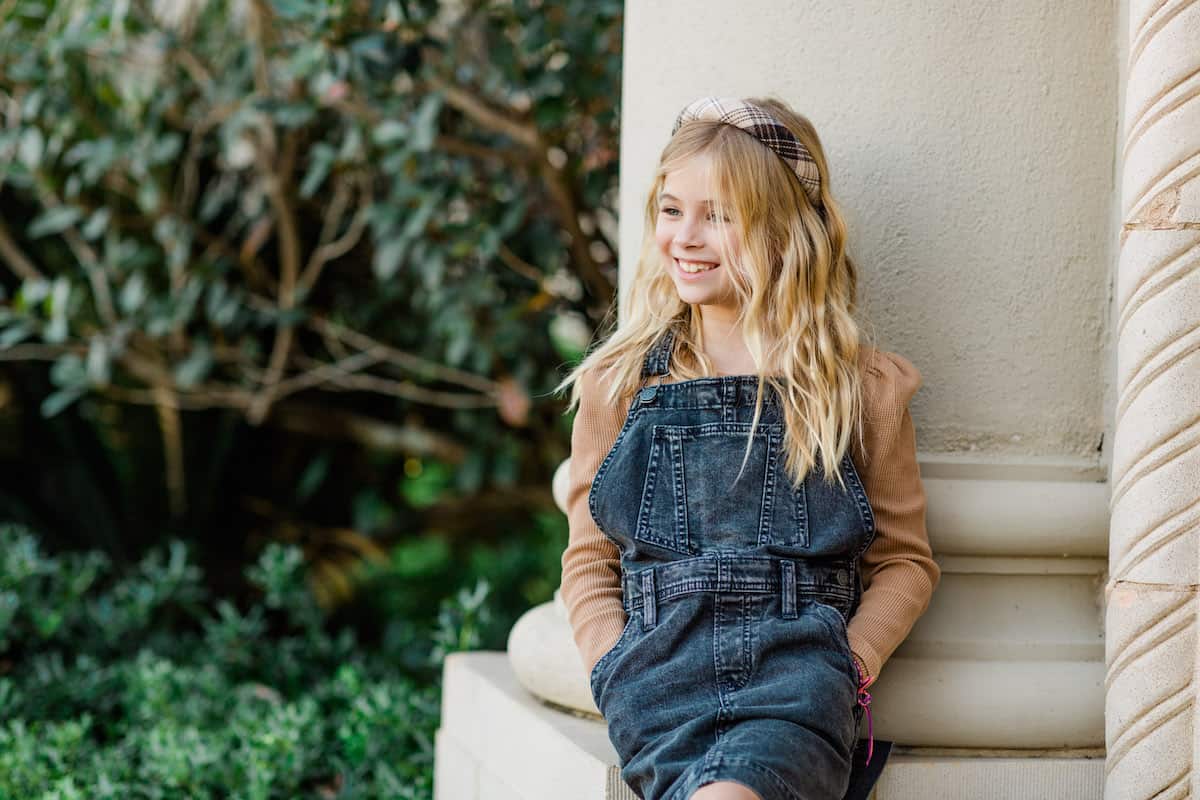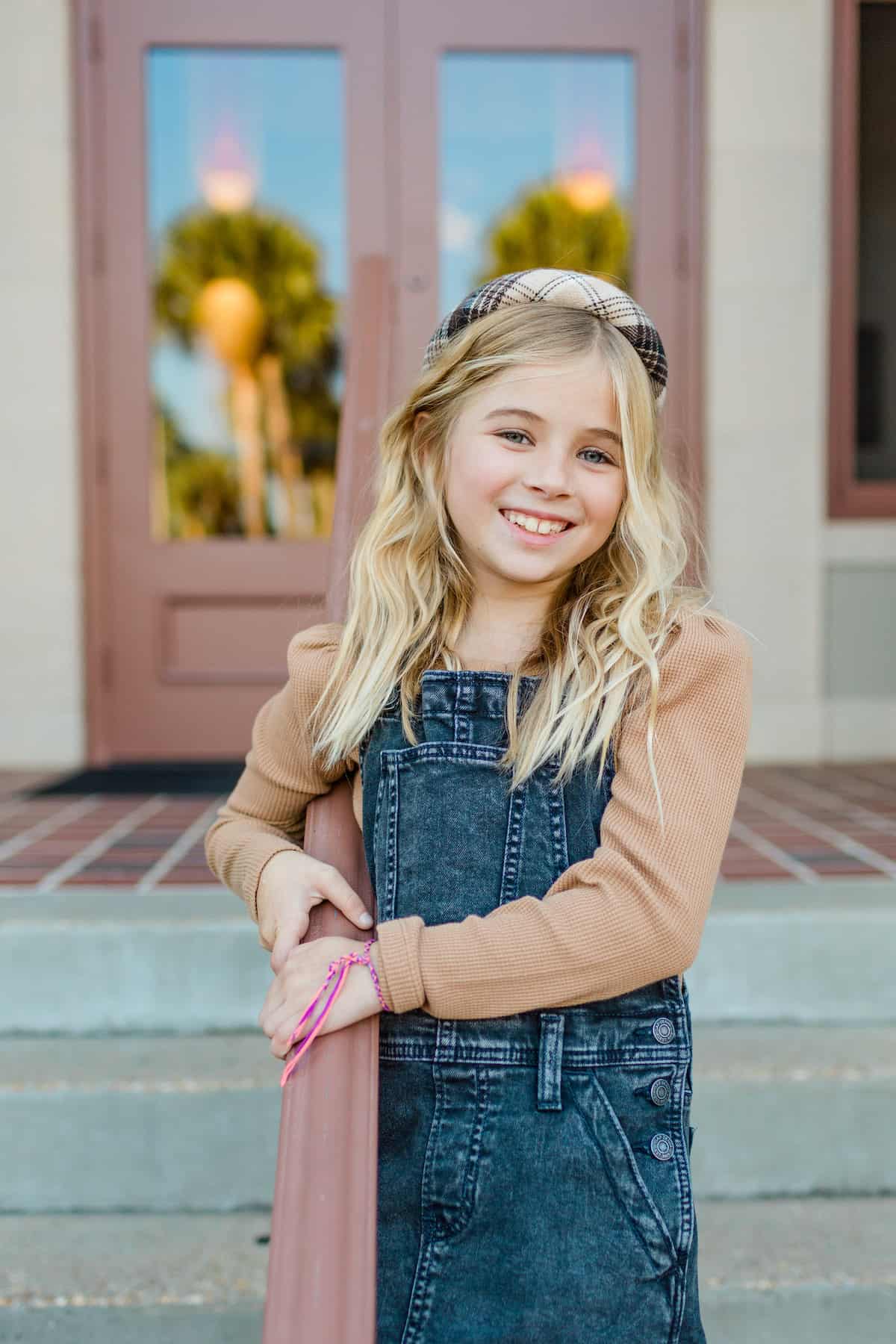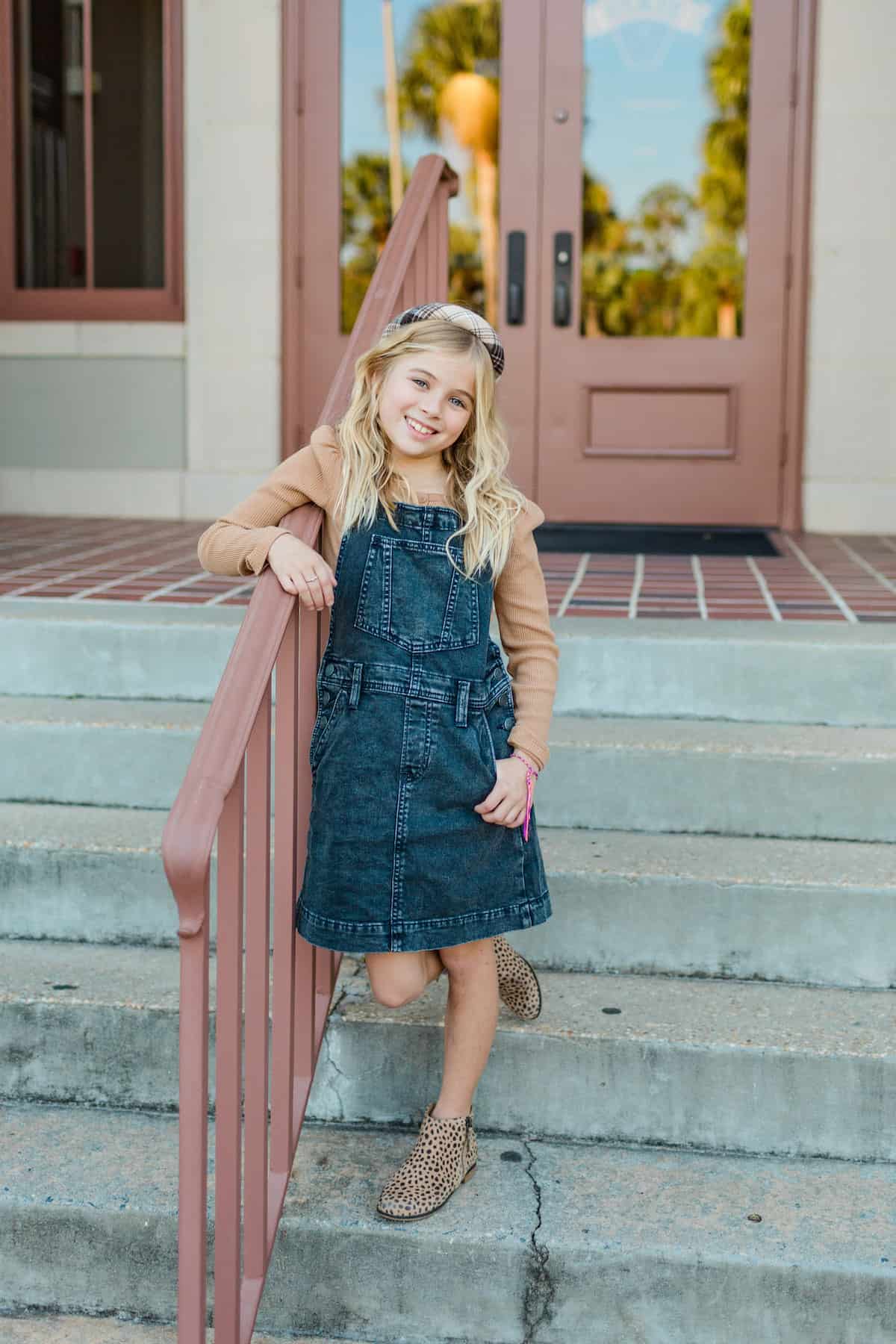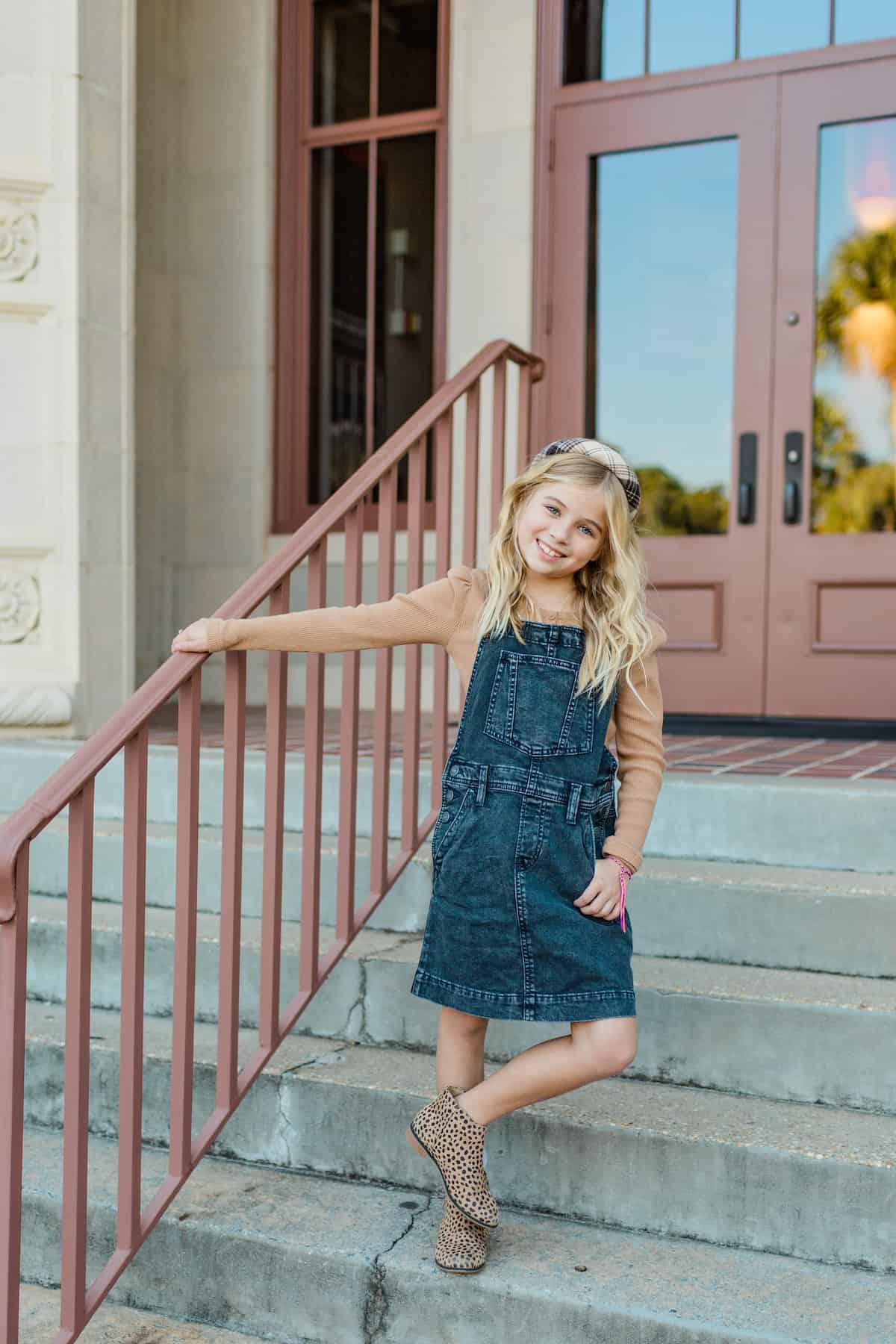 My fav! I also didn't realize she had the bracelet on until these pictures were being taken…she snuck that one by me 😉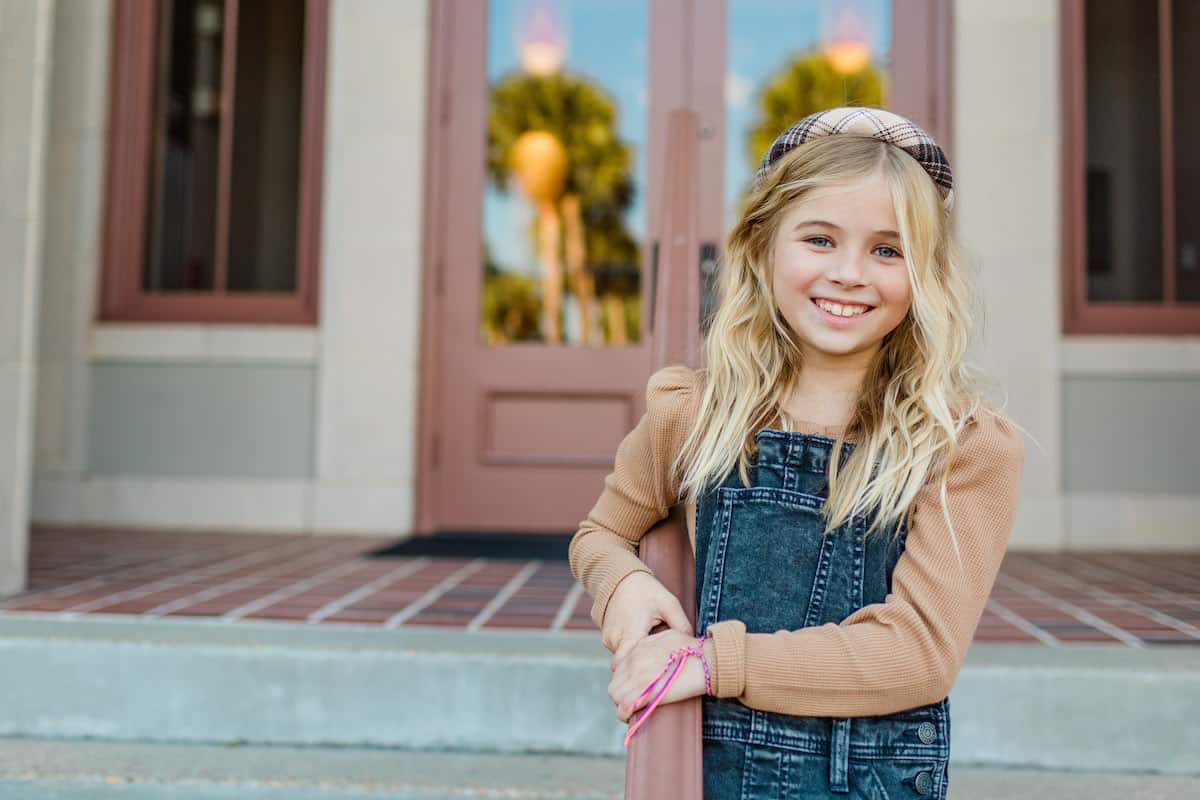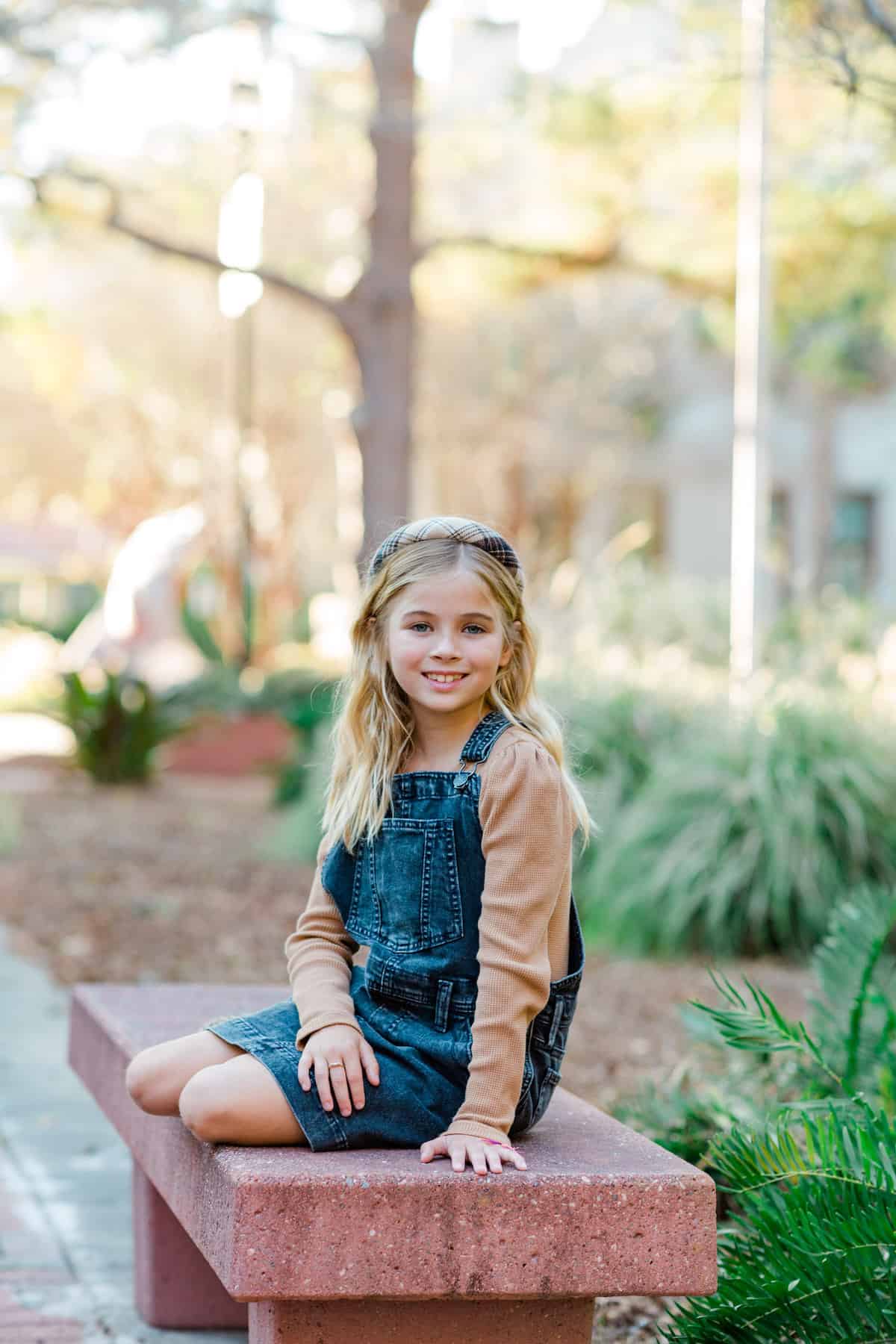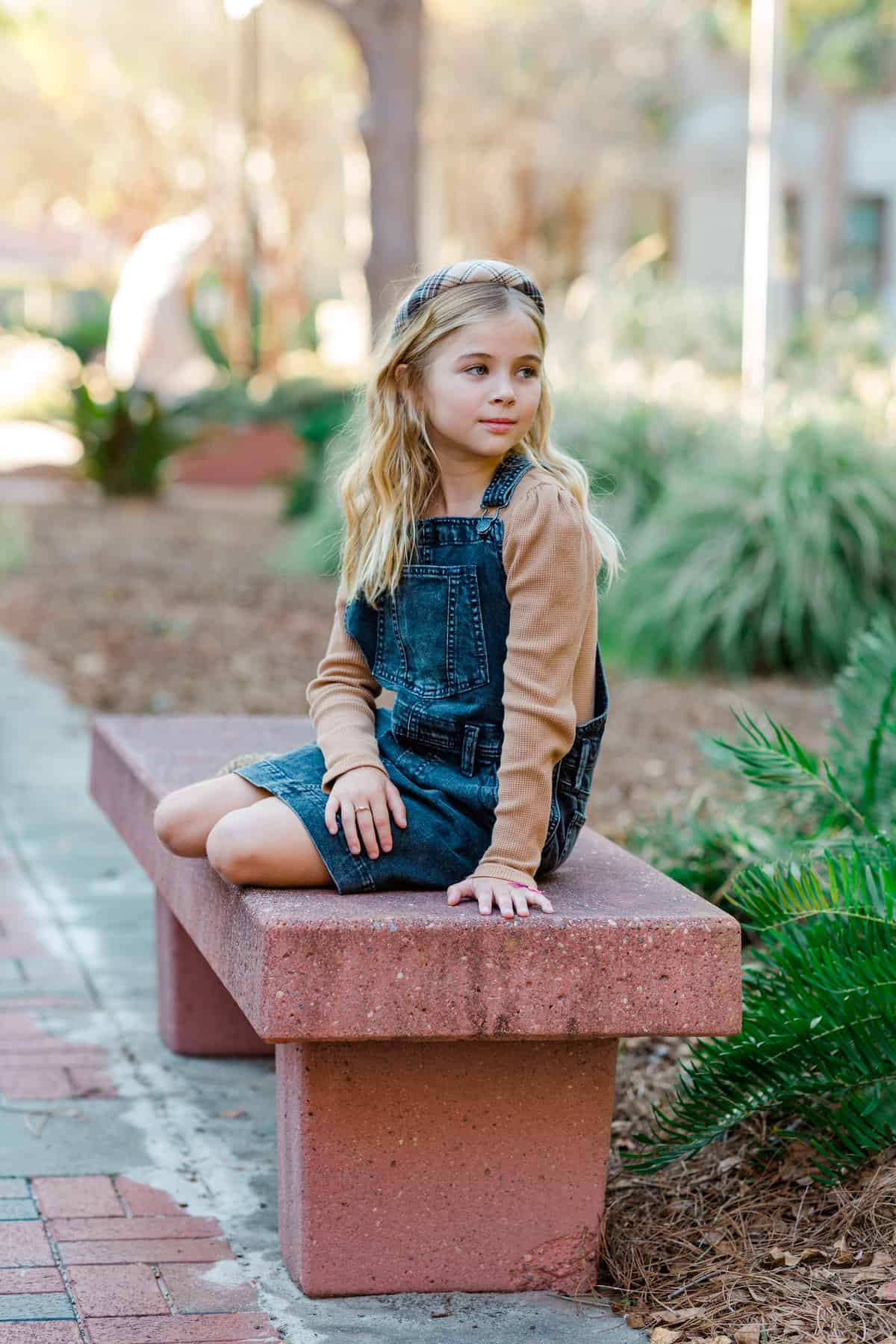 Another fav – looking TOO GROWN!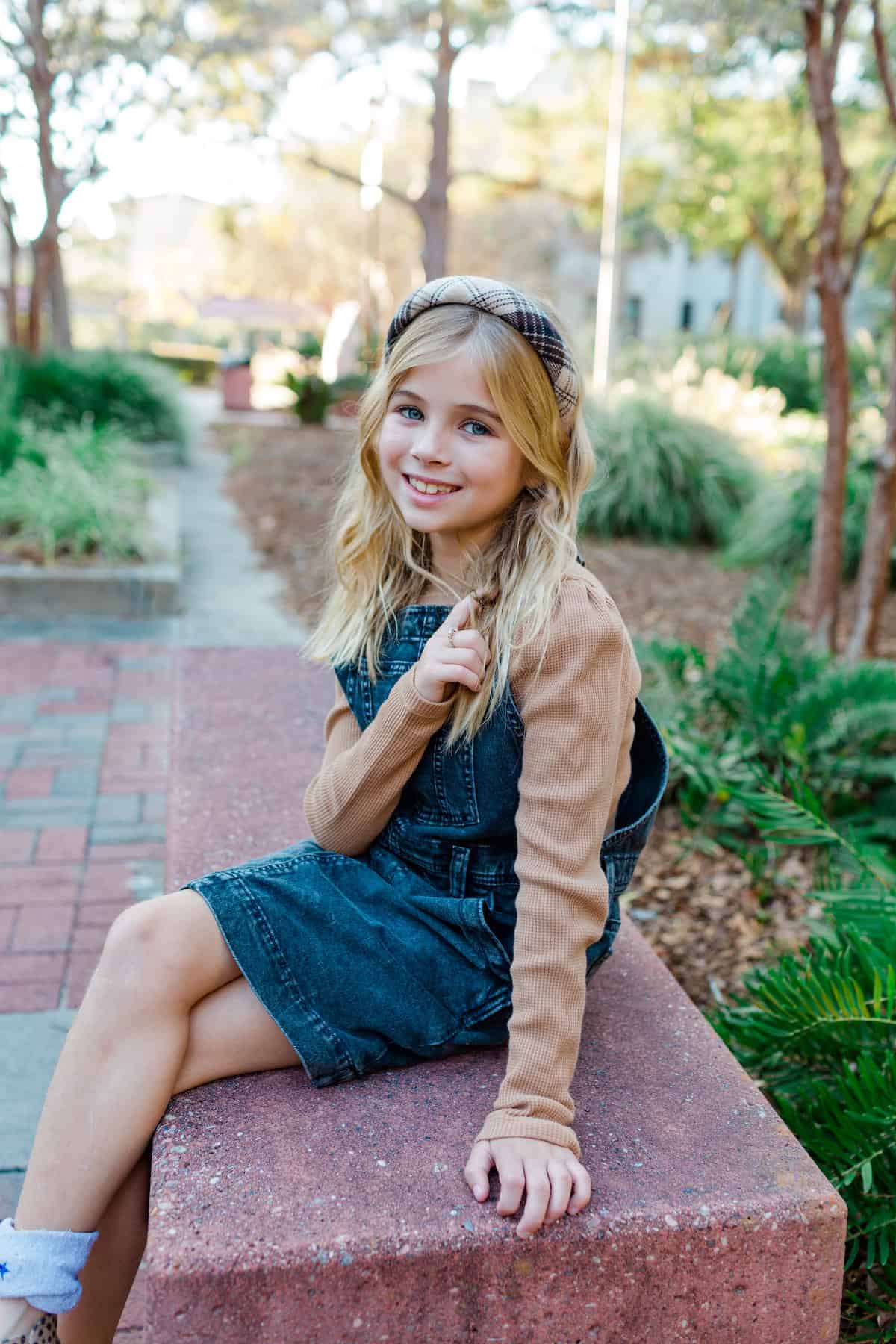 Love my little mini-me girl!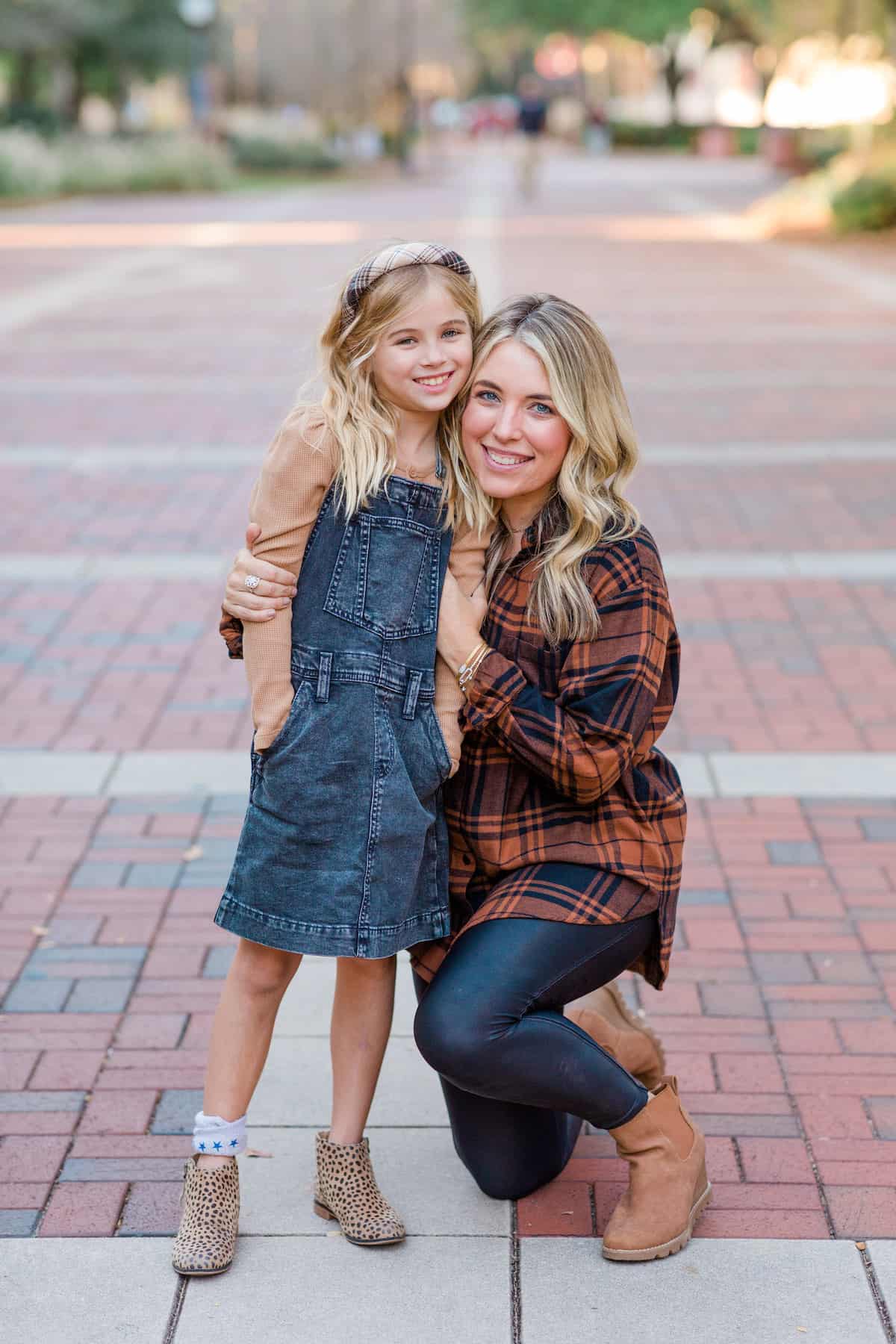 I love that Zach has such a special bond with each of his girls just as much as he does the boys! Tess is known for her epic high-fives and Zach wanted to capture her in action 🙂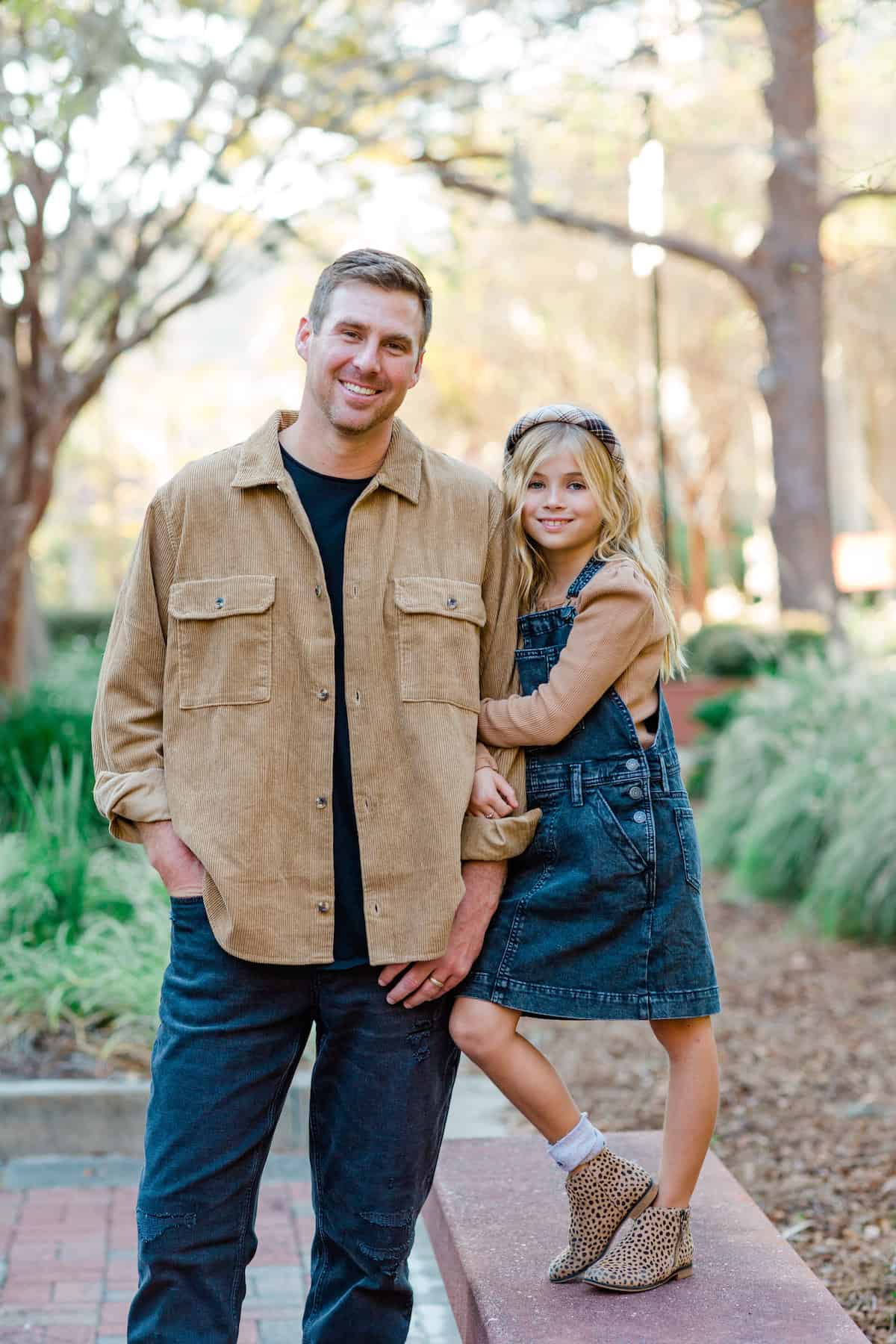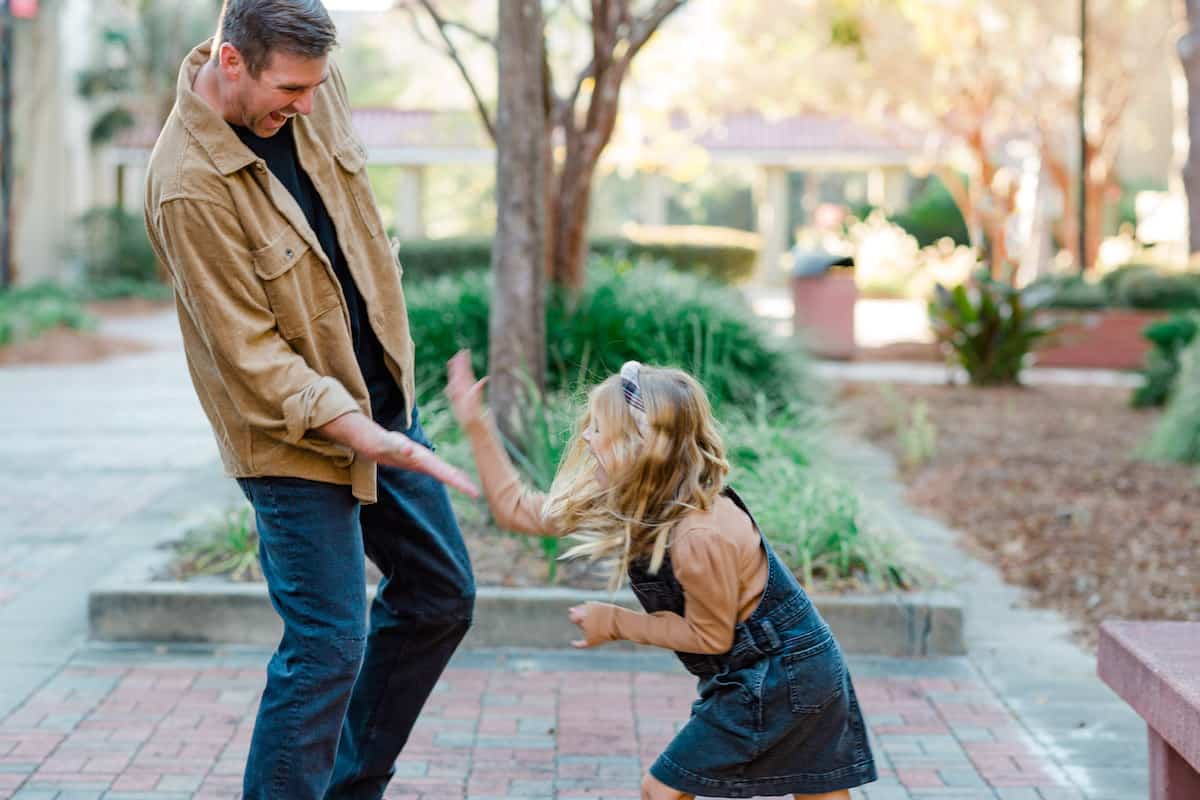 Spear – Just Shy of 5 Years Old
Spear turned 5 less than a month after these photos! Photo sessions continue to be quite the adventure with him as he's BUSY and isn't a fan of looking at the camera or of smiling on demand. It's always a HUGE win to have these professional photos taken because it's tough for me to ever get a truly GOOD picture of him solo!
Zach has been really loving Spear's hair a bit longer so we left it shaggy for these pics and while I can't stand his hair long 90% of the time (hanging in his eyes drives me nutttts), I do have to admit that these pics were that 10% where it really did look adorable!
I love Spear's sweet smile and I love that Lindsay so beautifully captured his precious personality. It's hard to believe he's already FIVE!!!
I feel like Spear is ALWAYS in a neutral for pics! I actually ordered his outfit for him to wear for Halloween (he was Abu the monkey) and ended up really loving the vibe of it and felt like it flowed well with the rest of our outfits!
Sweatshirt outfit (I decided last minute to do the jeans instead of the sweatpants) / Jeans / Boots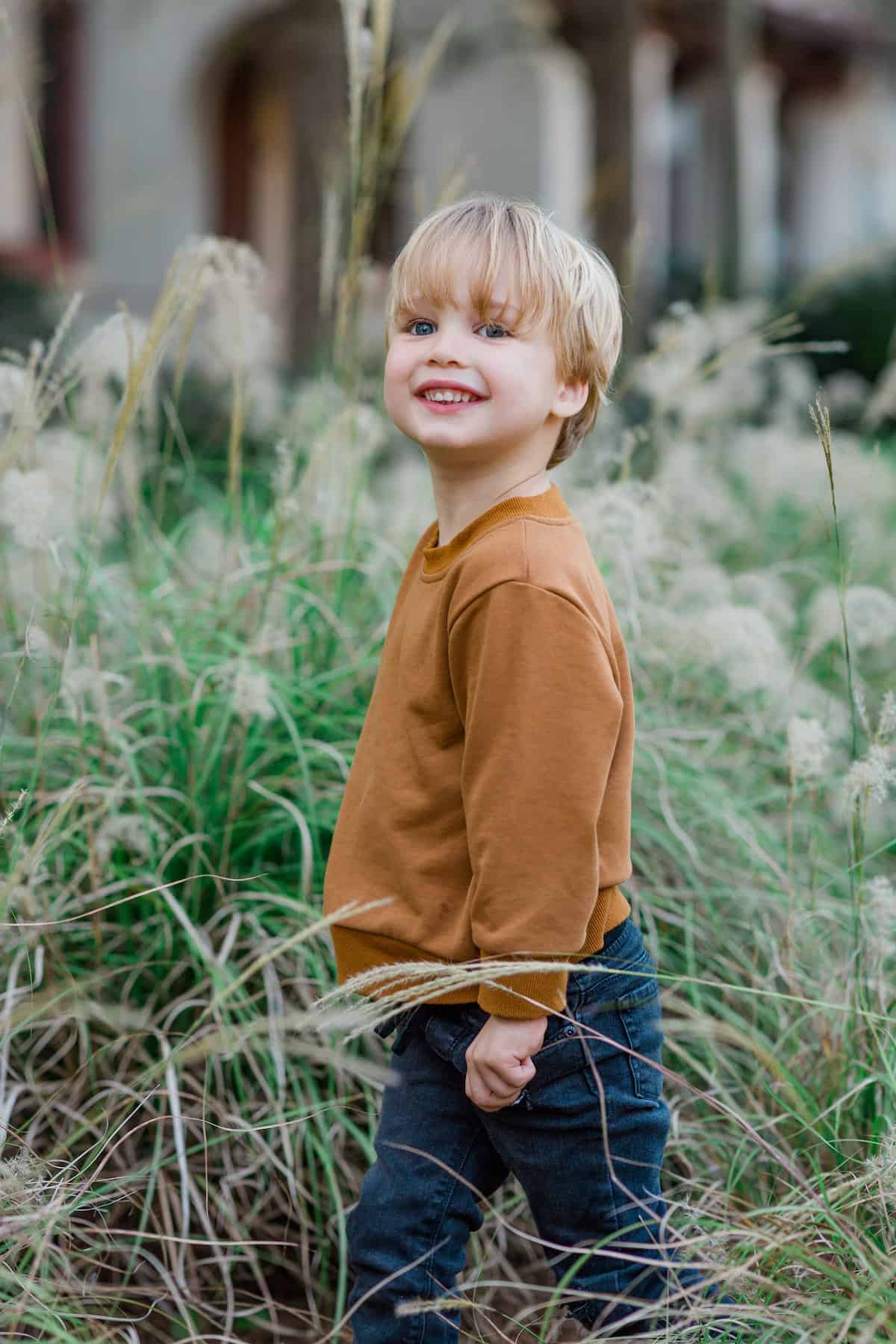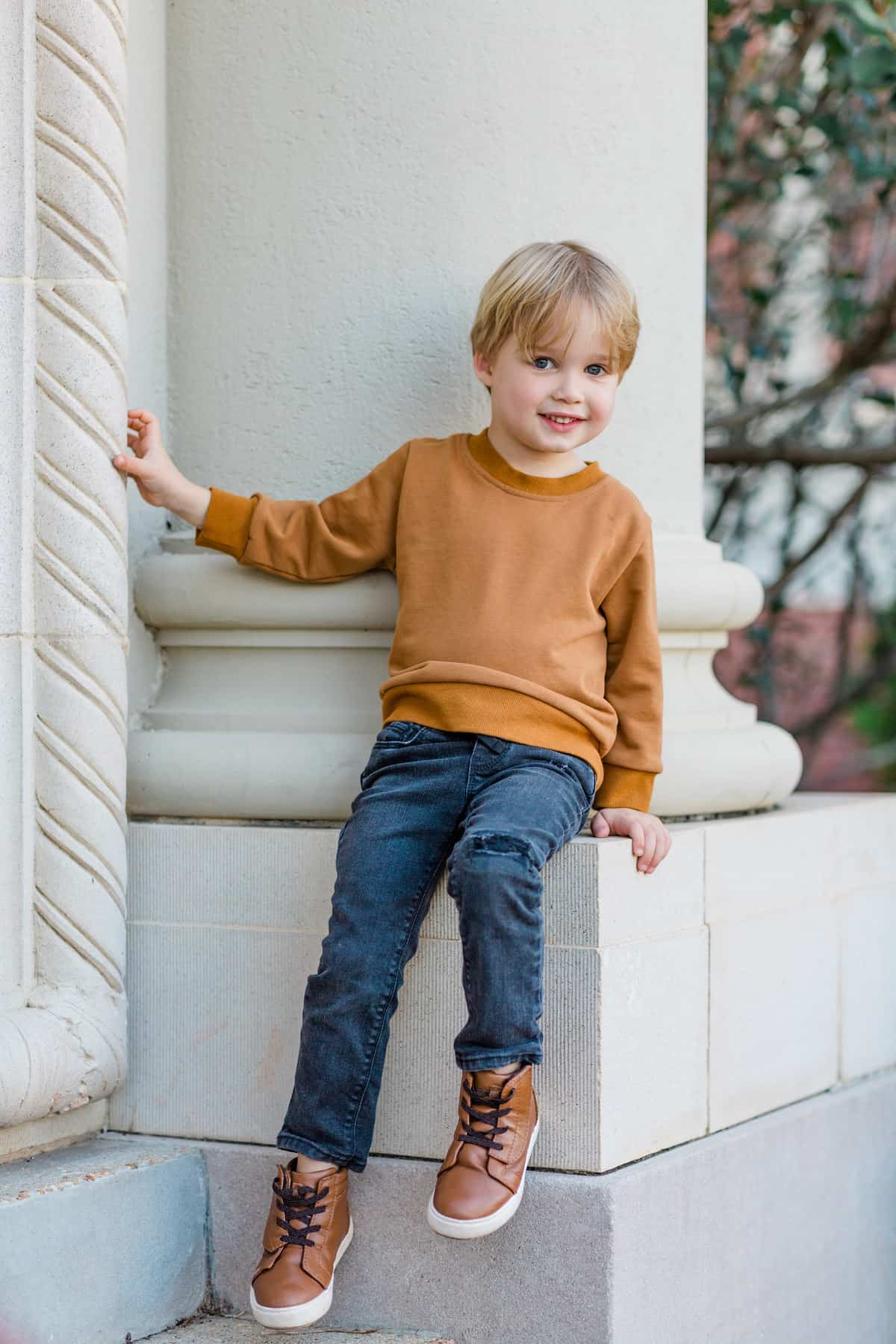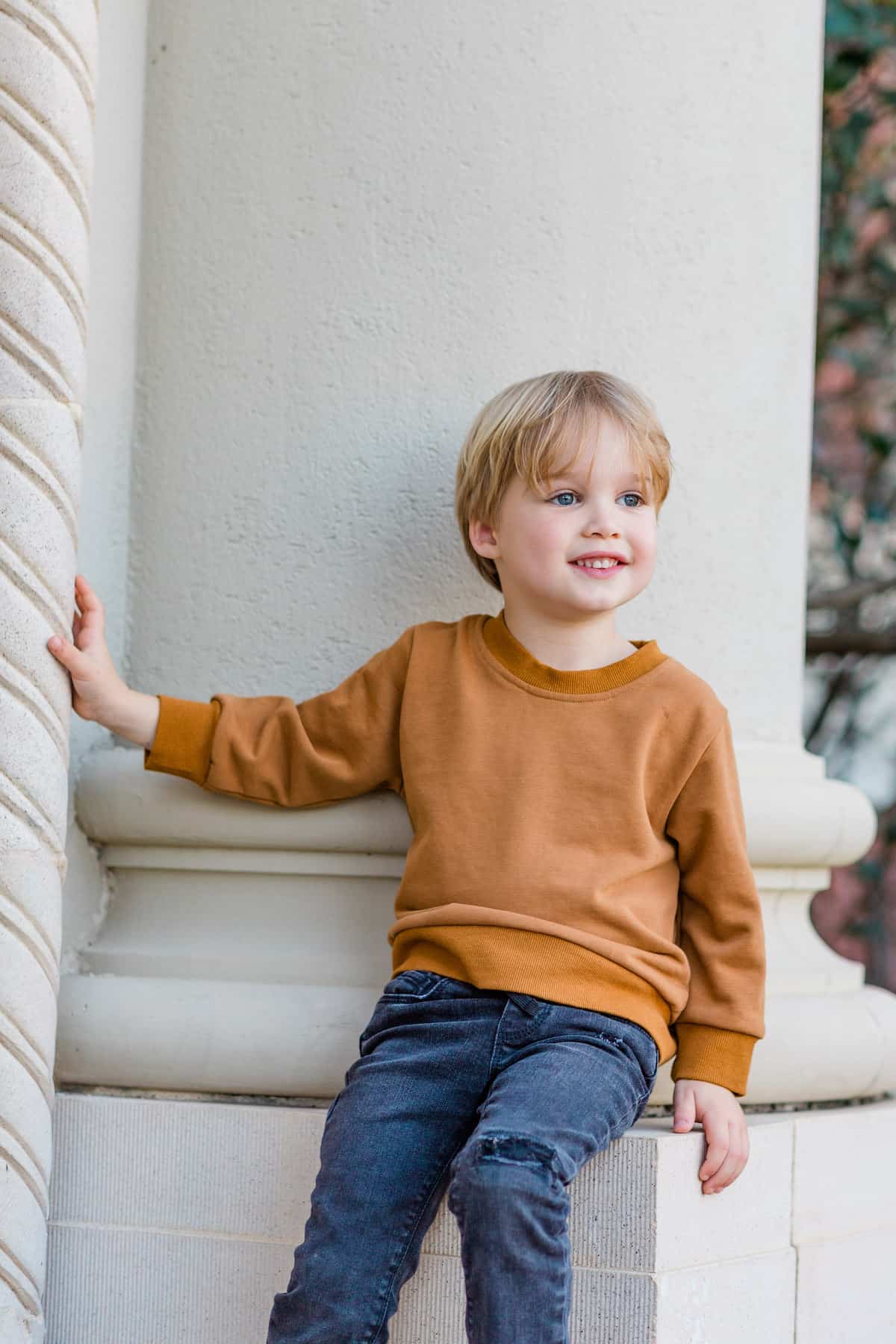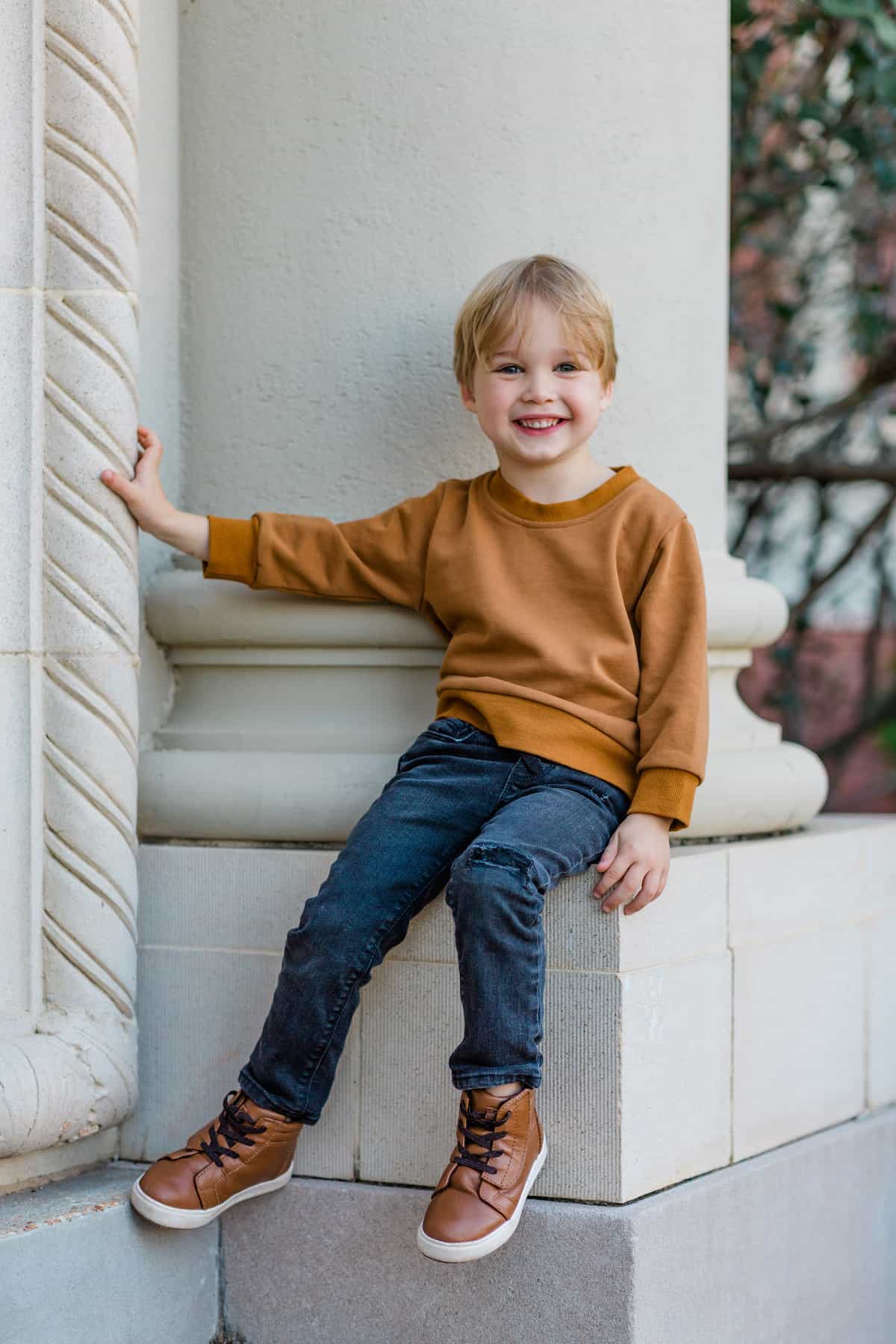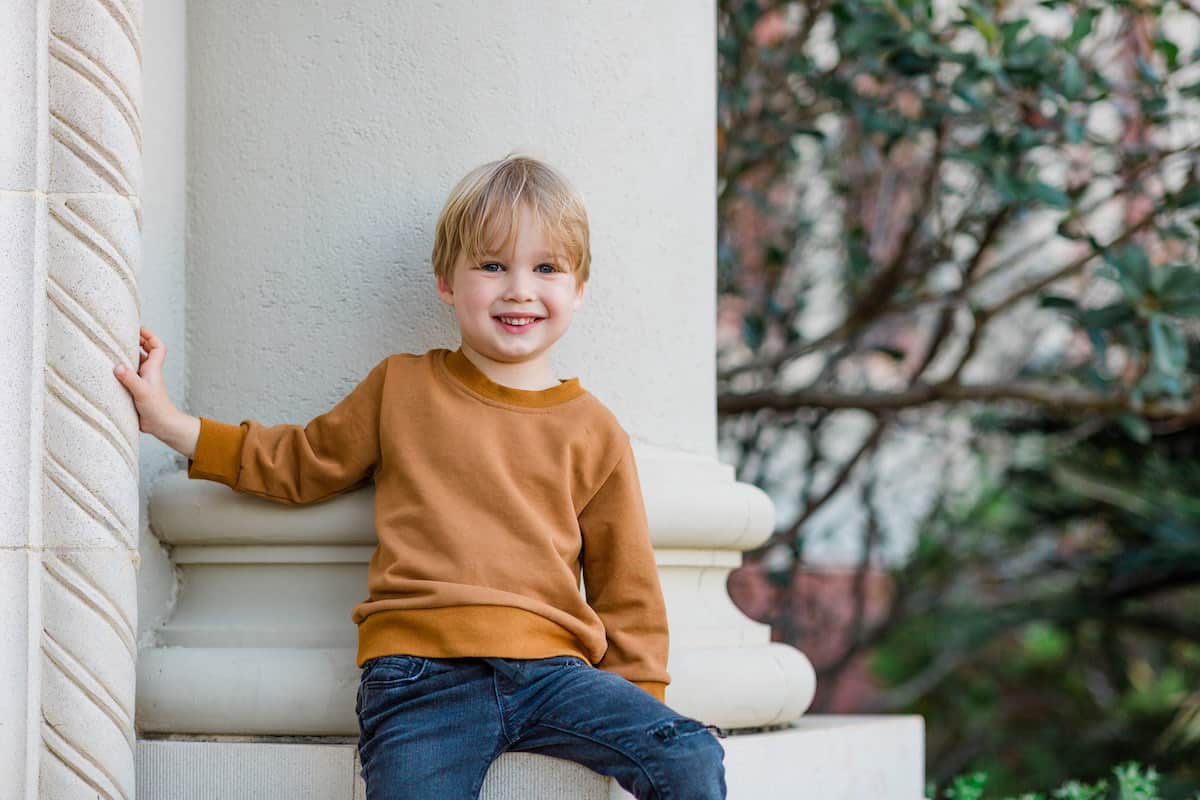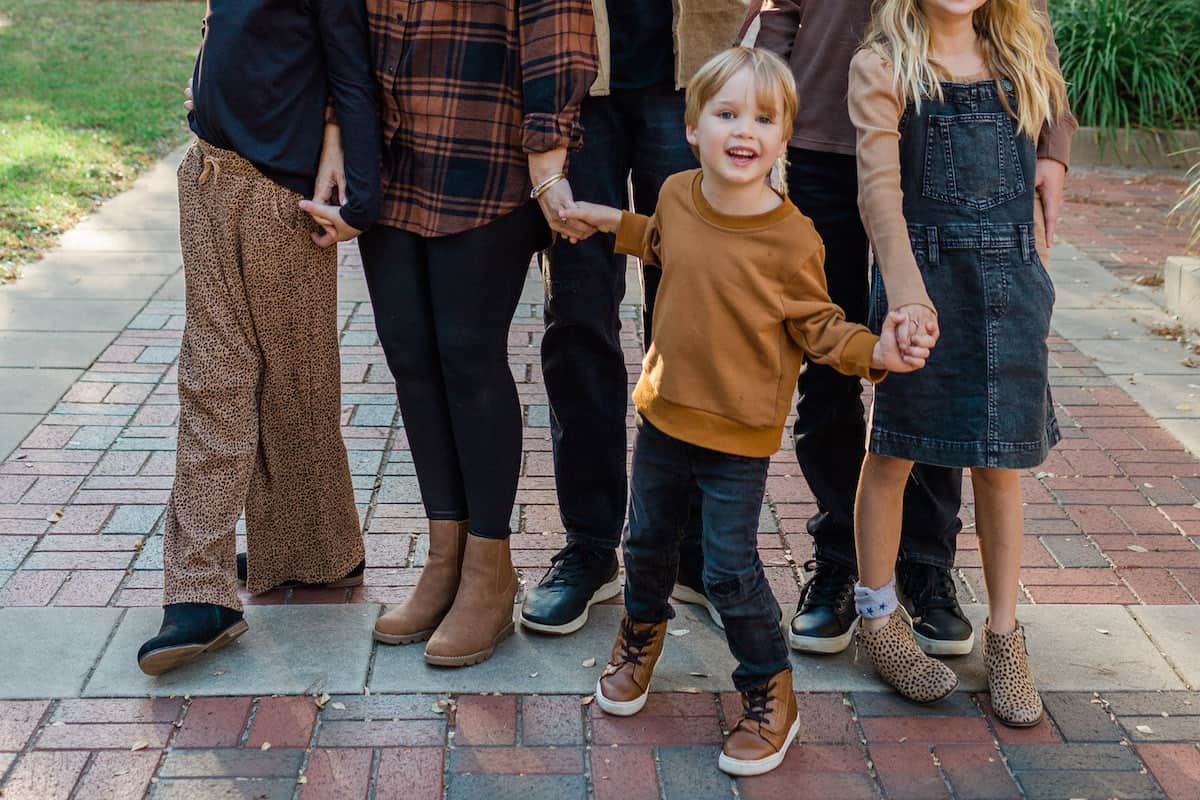 Gotta always have a truck or tractor on hand for family sessions 😉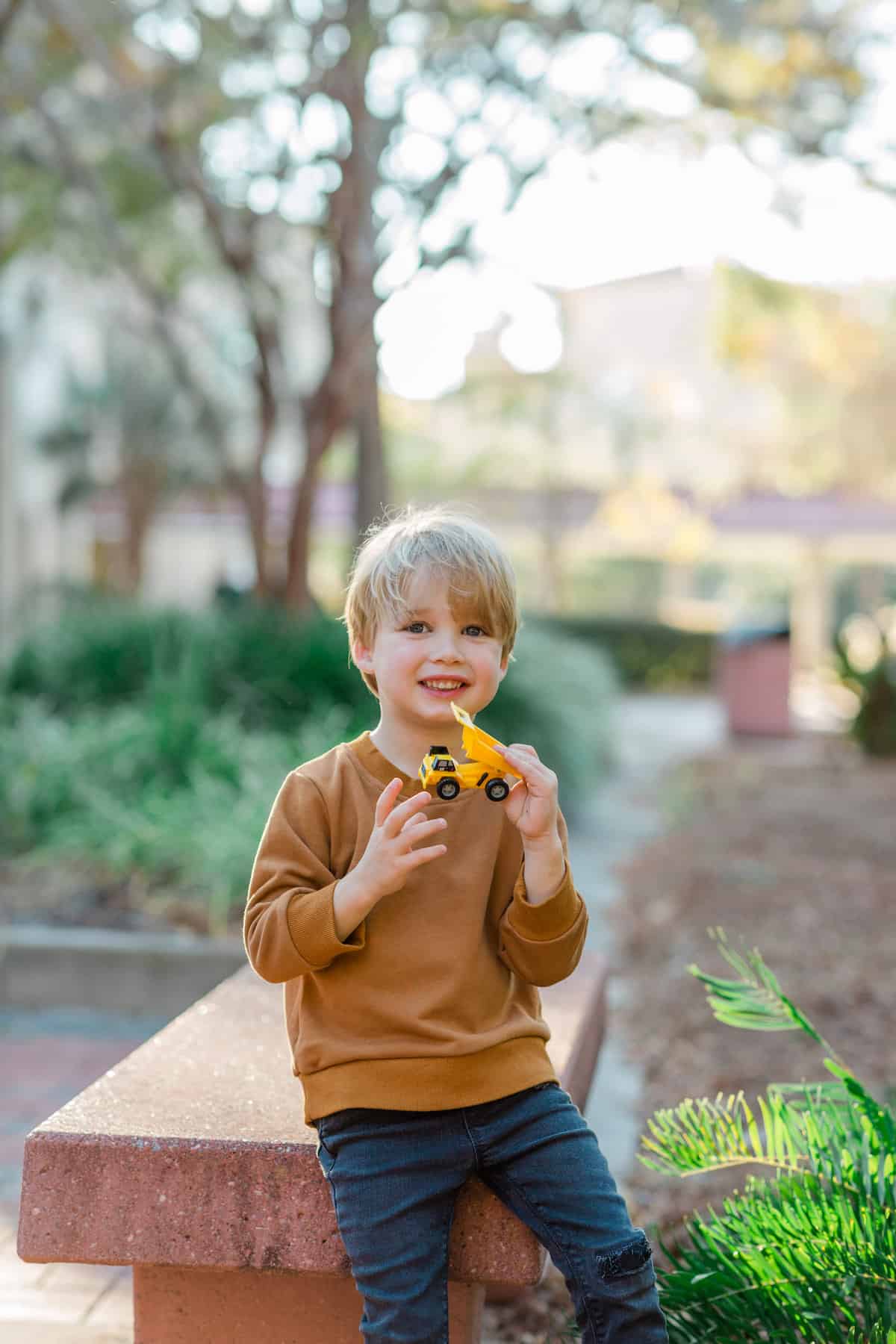 I cannot even DEAL with how ADORABLE these next three are. BEST PICS EVER!!!!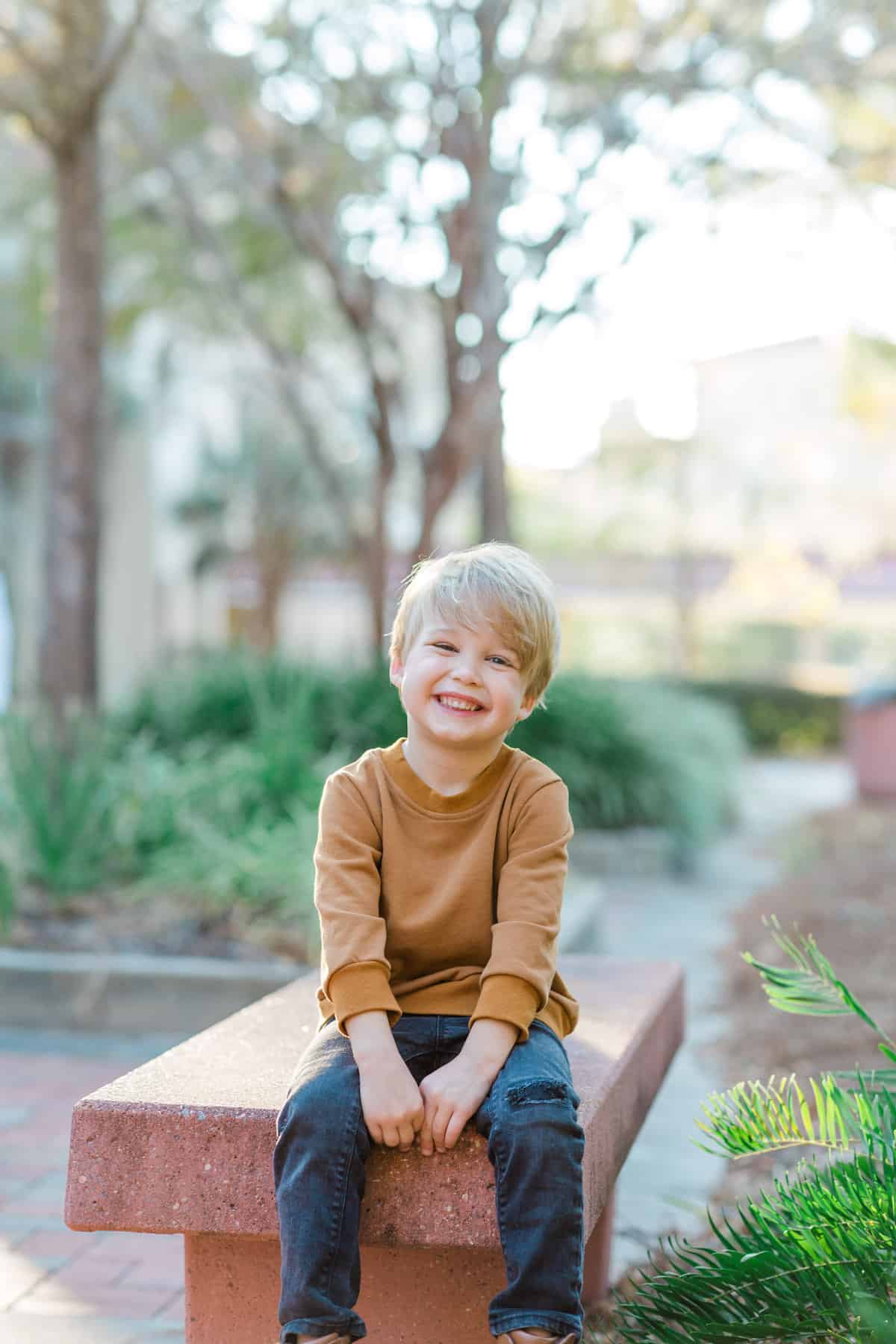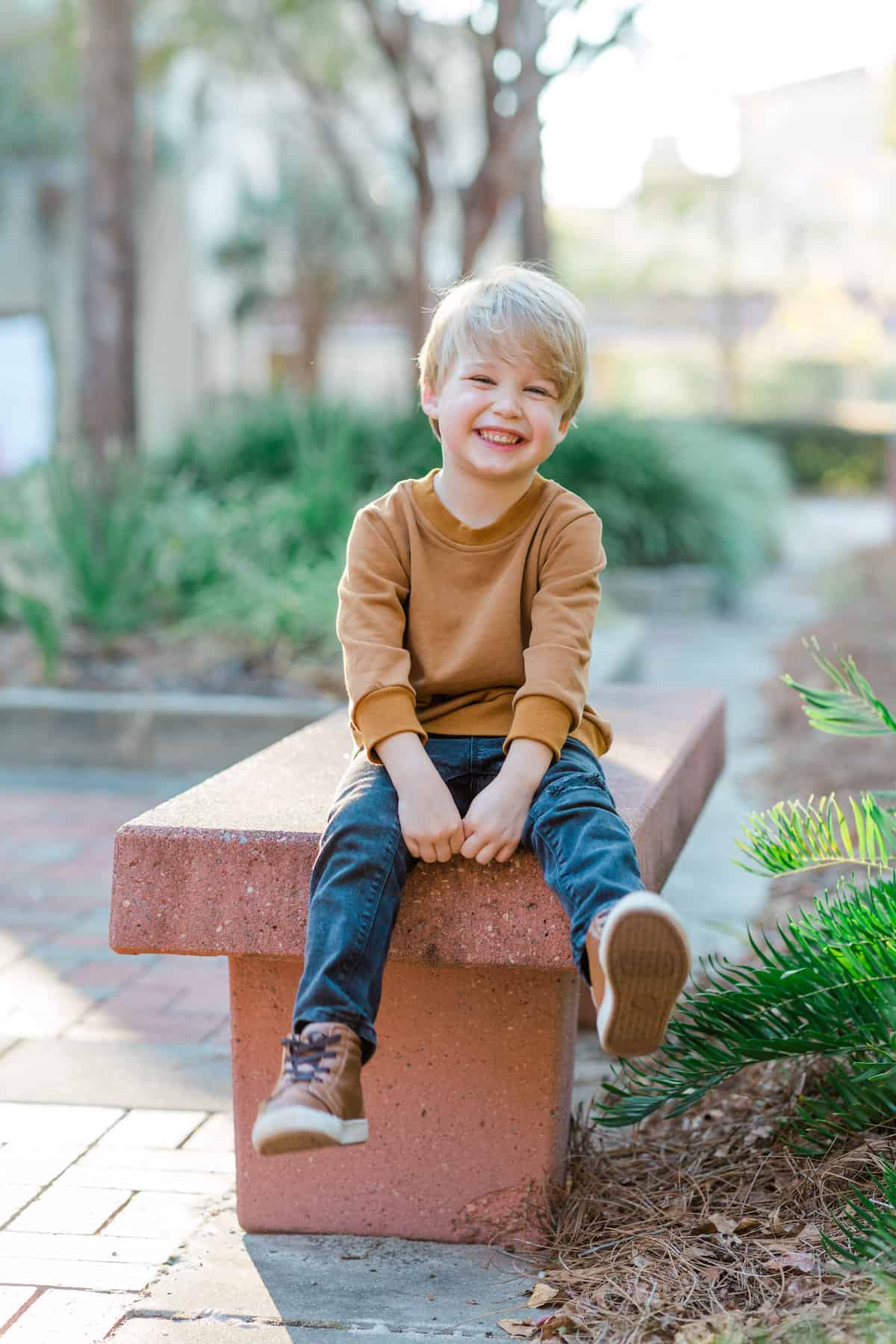 Stop. It. Right. Now.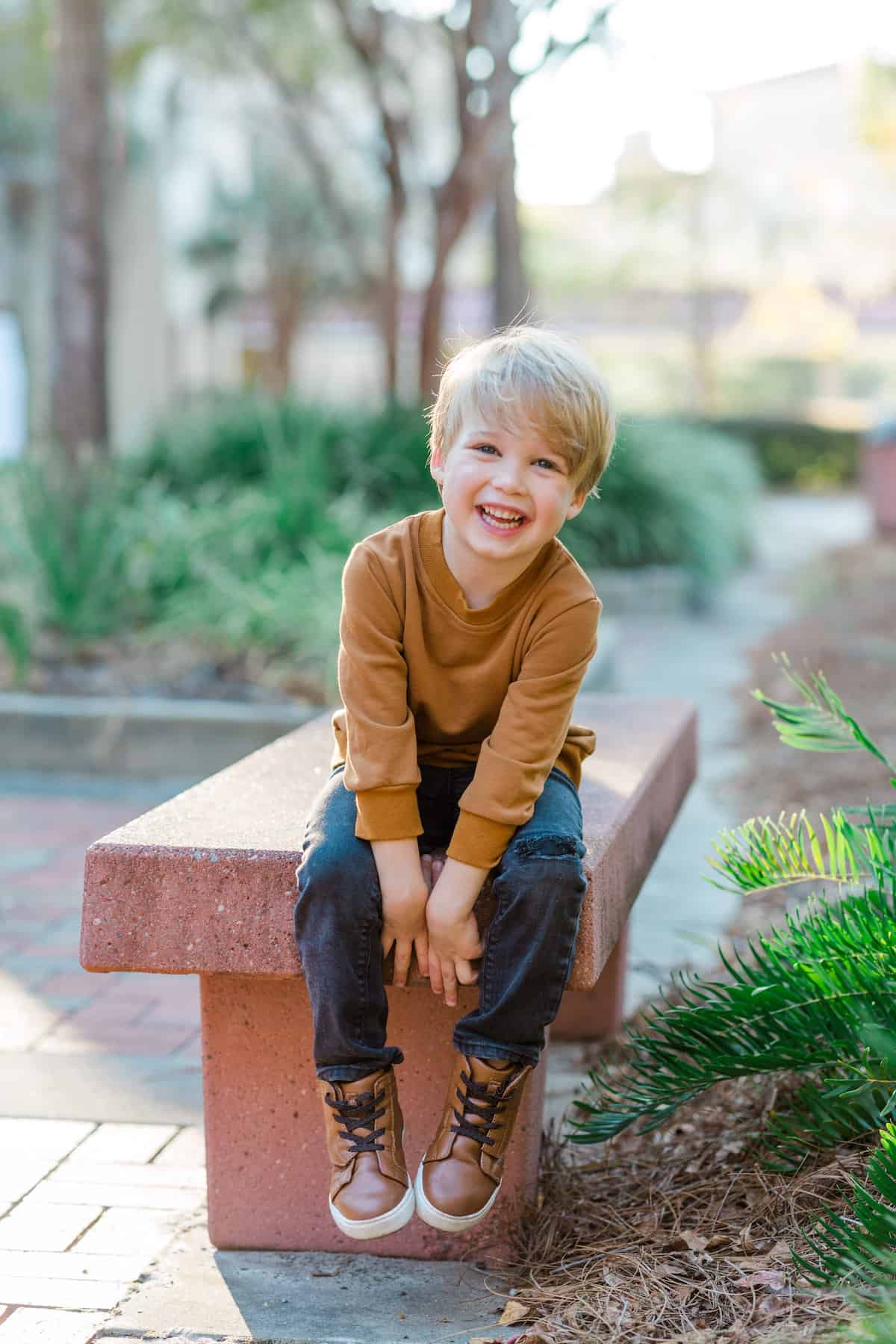 I also love, love, love these of Spear and I together. He's my last baby and will always be my baby!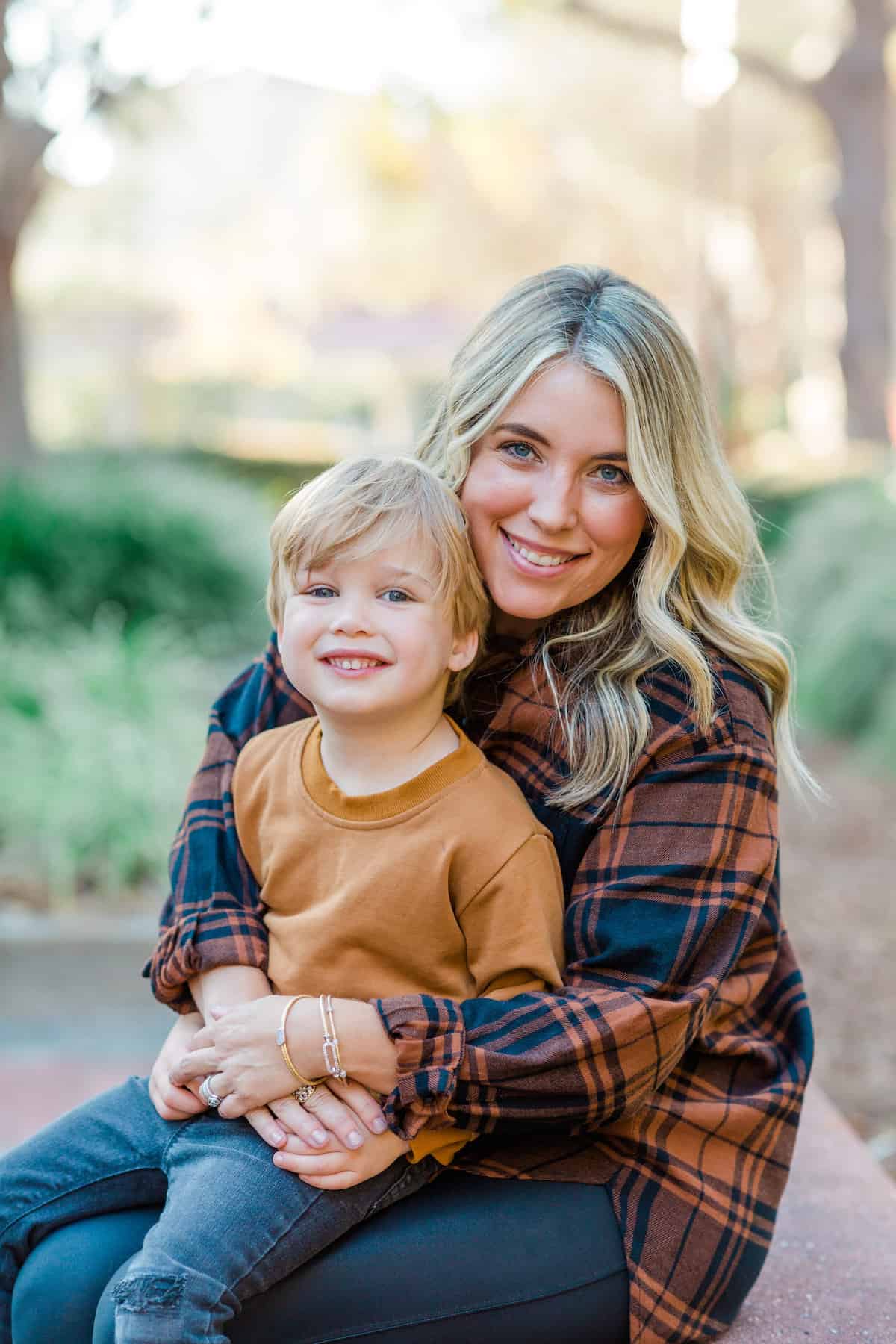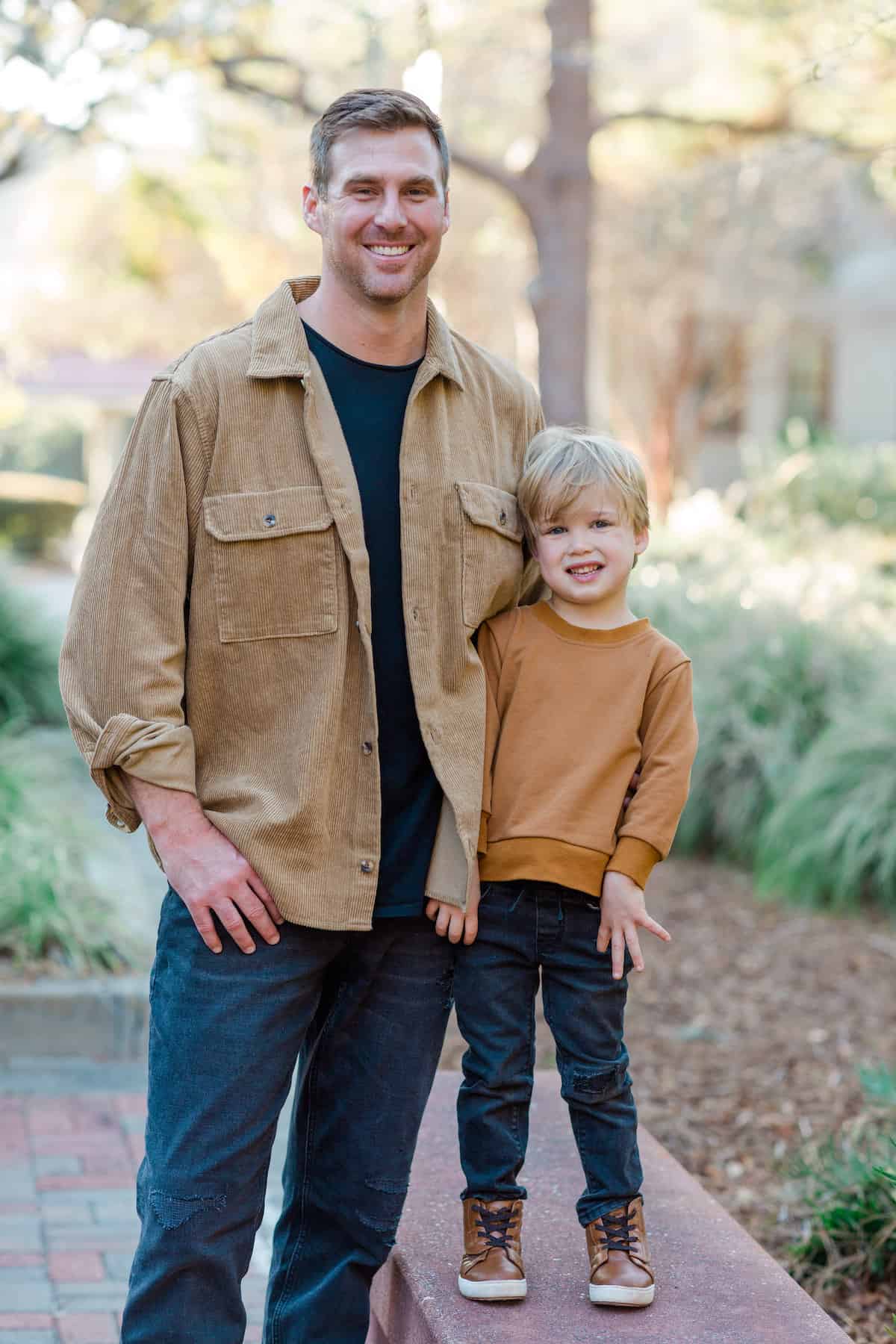 Siblings
I love the love my babies have for each other and love opportunities for any sibling combinations! The girls are the biggest fans of picture taking so naturally, we got the most shots of them together. They are built in bffs and the bond they share is so special!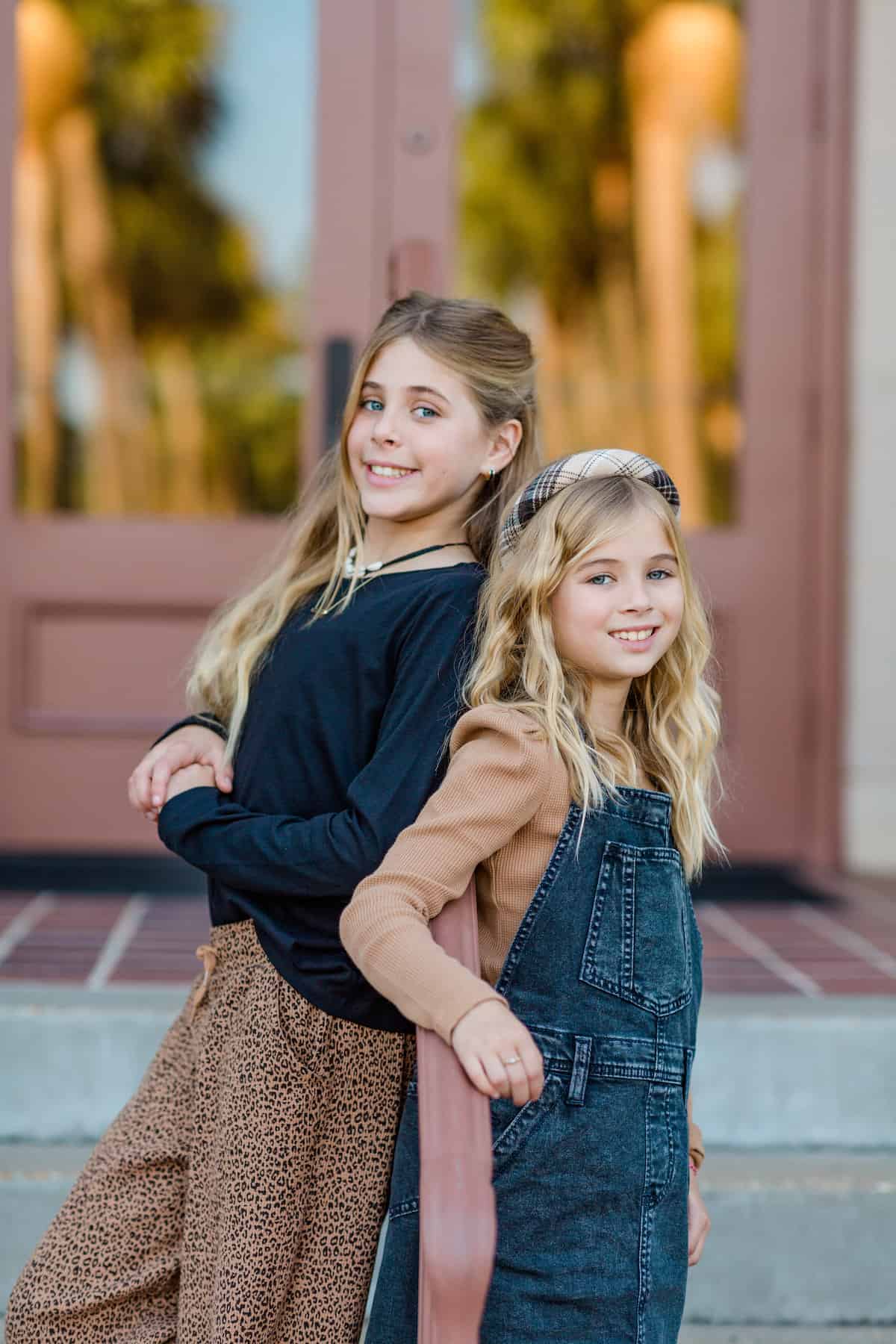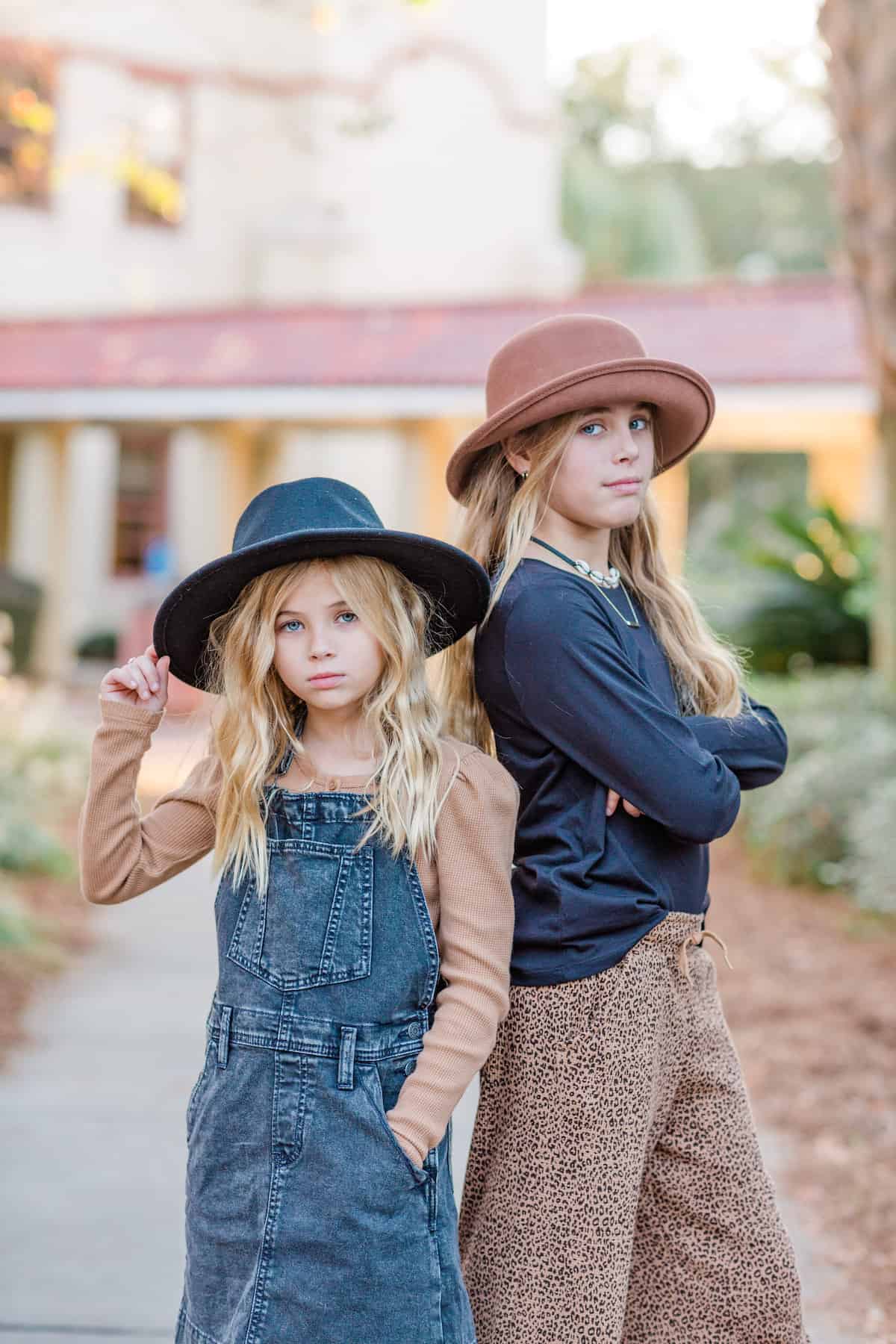 So stinking cute!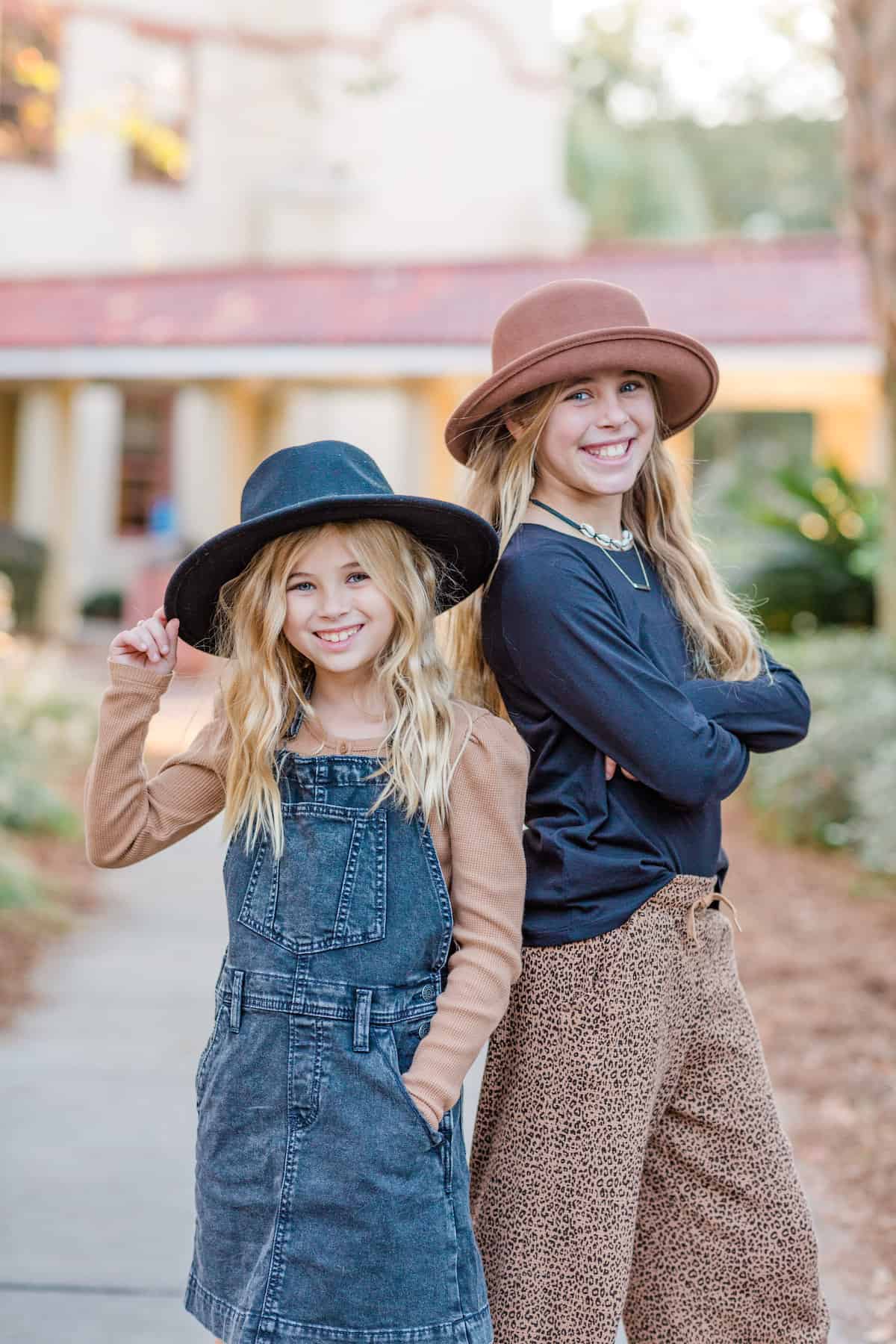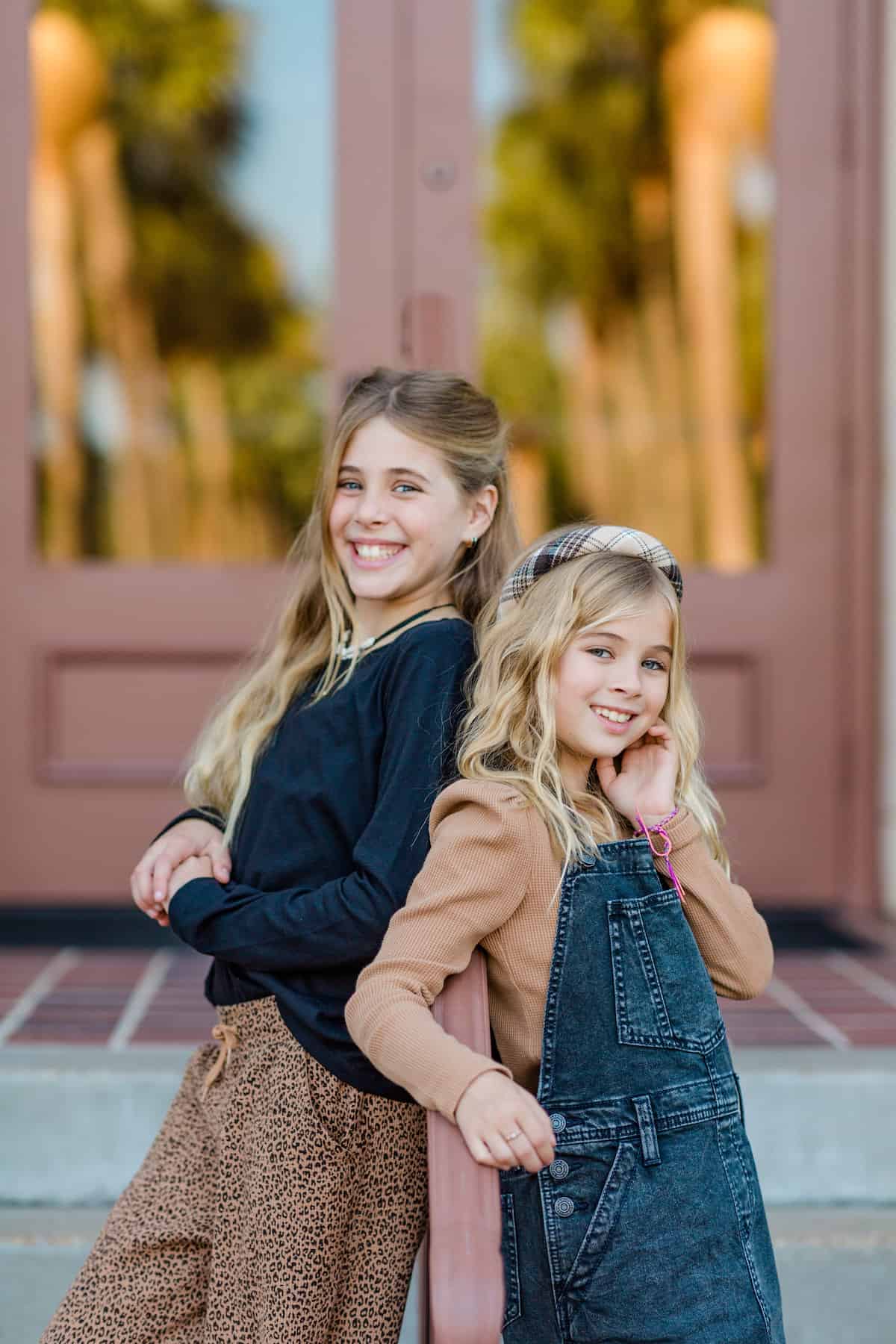 We love our girls!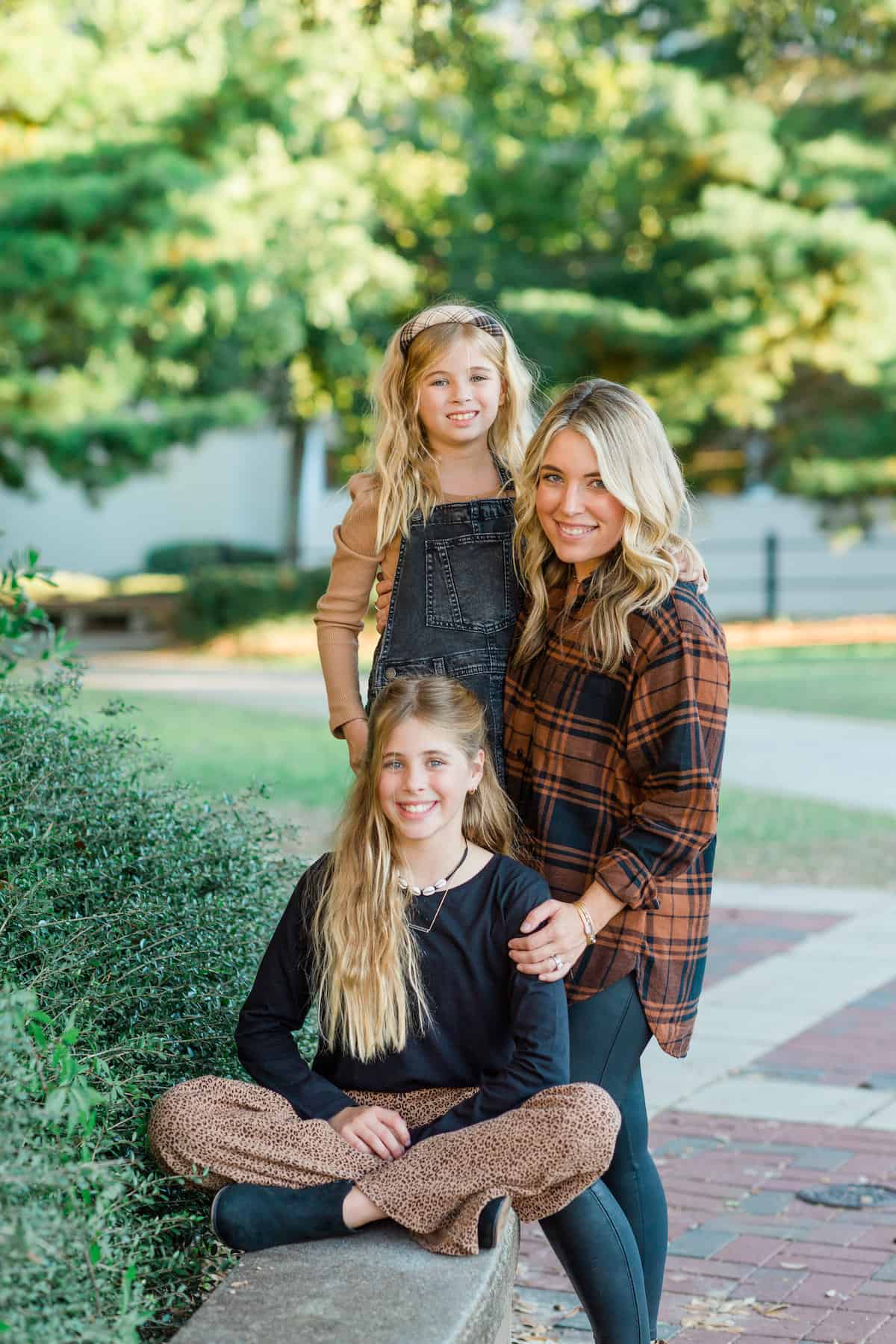 I am so, SO in love with these pics of the boys! I get pics of the girls together often but it's more rare for me to be able to capture shots of the boys – especially ones like THESE. I actually printed off one of these pictures for Kye to have hanging in his room as a constant reminder to him that his little brother ADORES him and is ALWAYS looking up to him!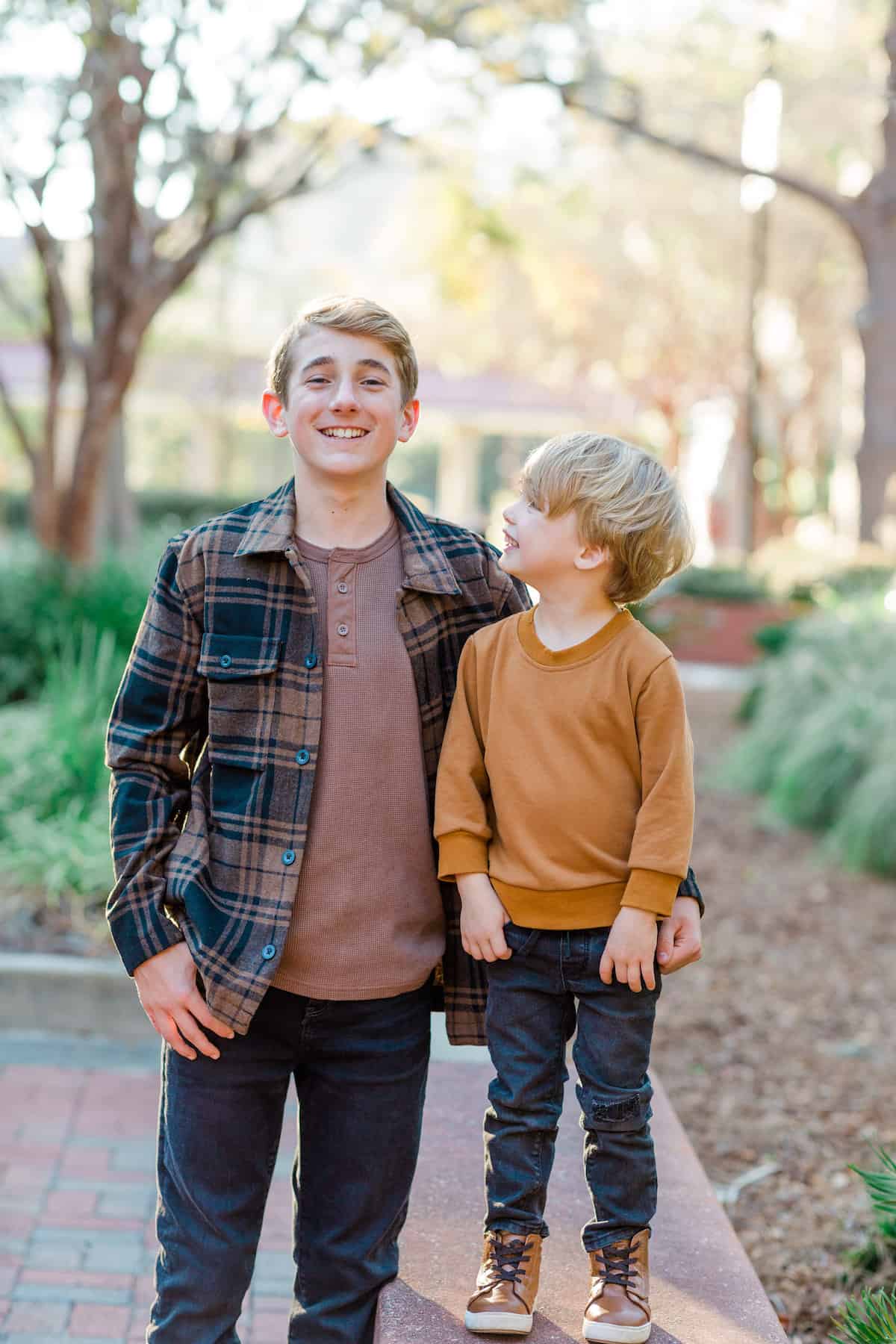 The sweetest!!!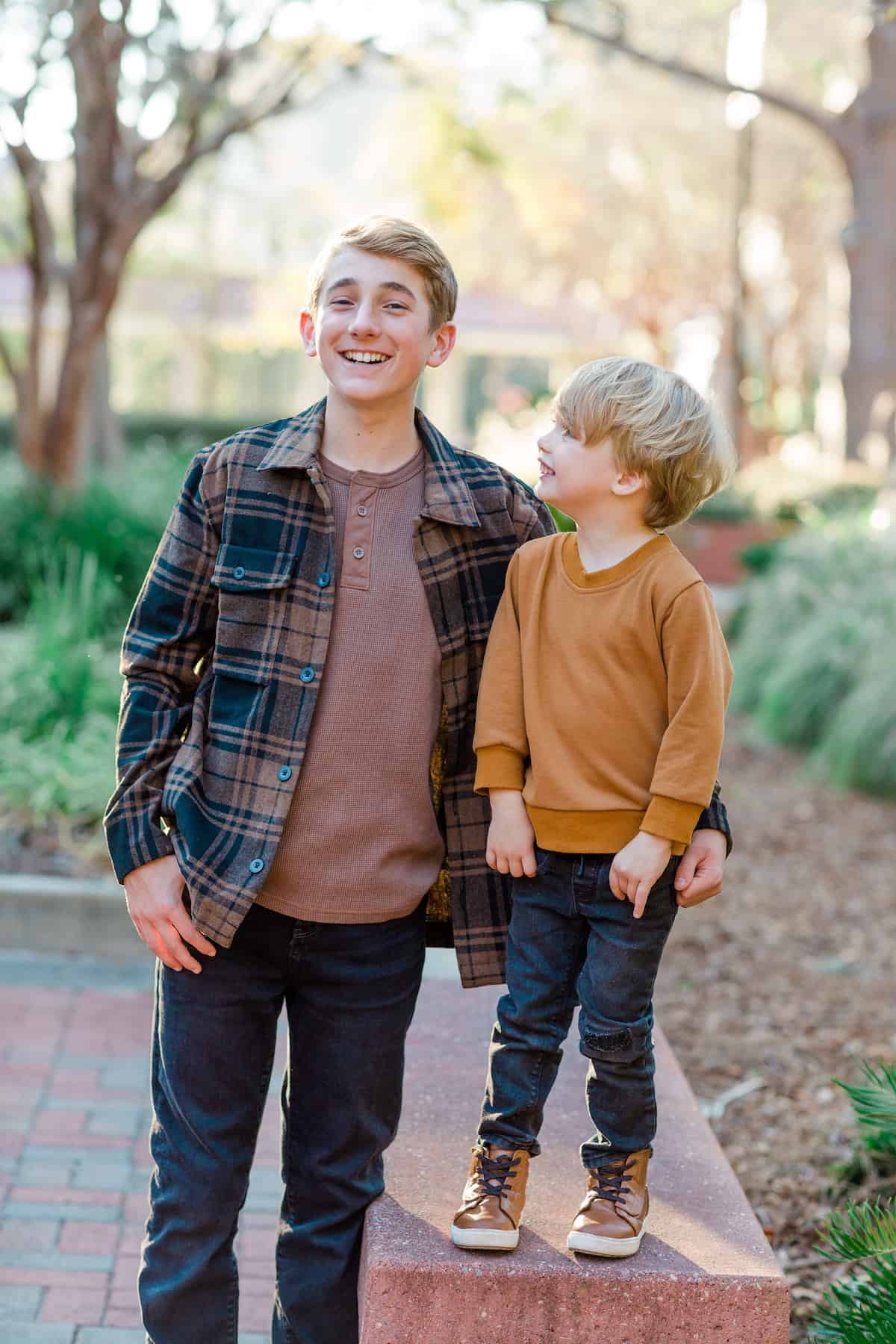 I also absolutely love the last pic of my three guys. So adorable!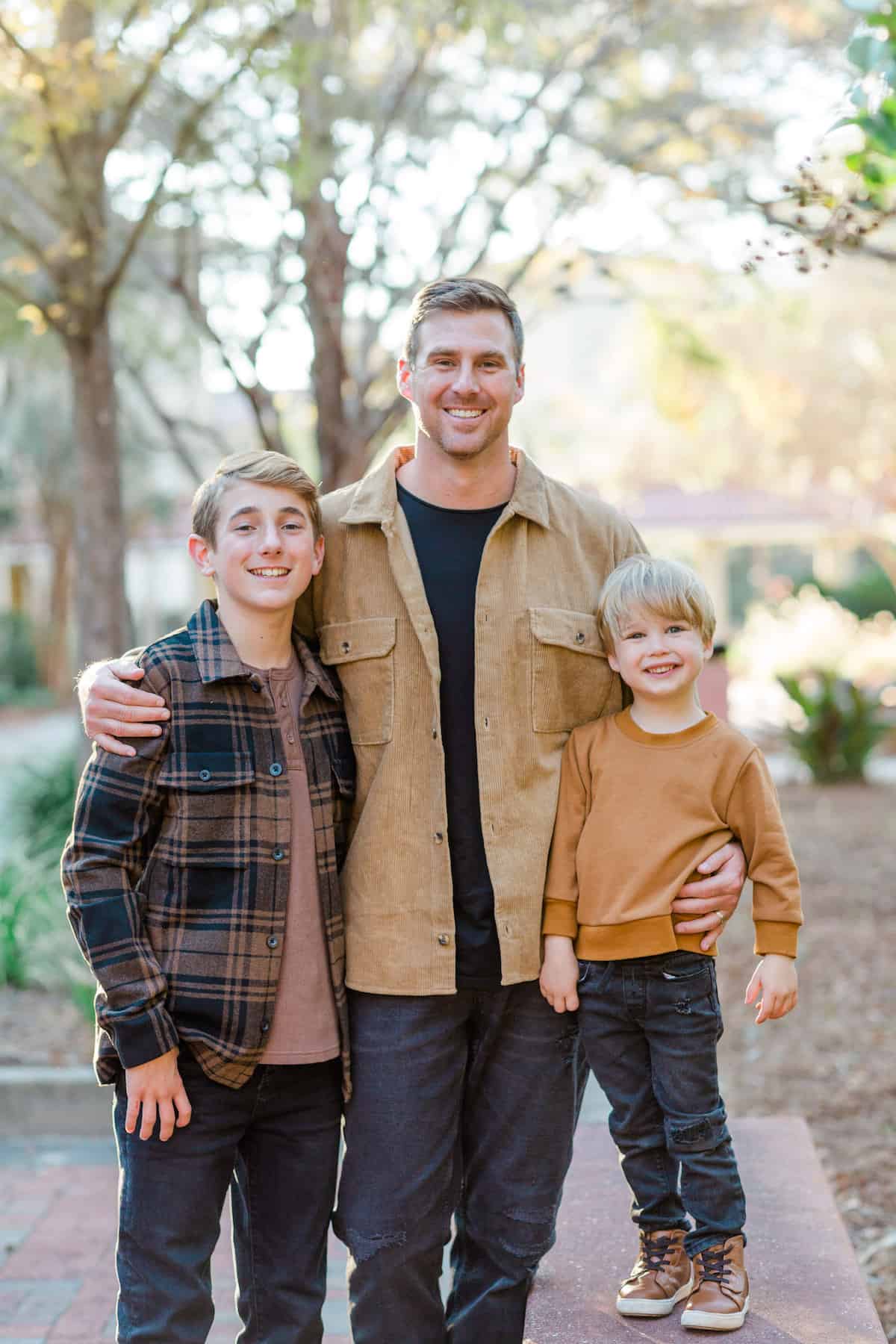 All our babies!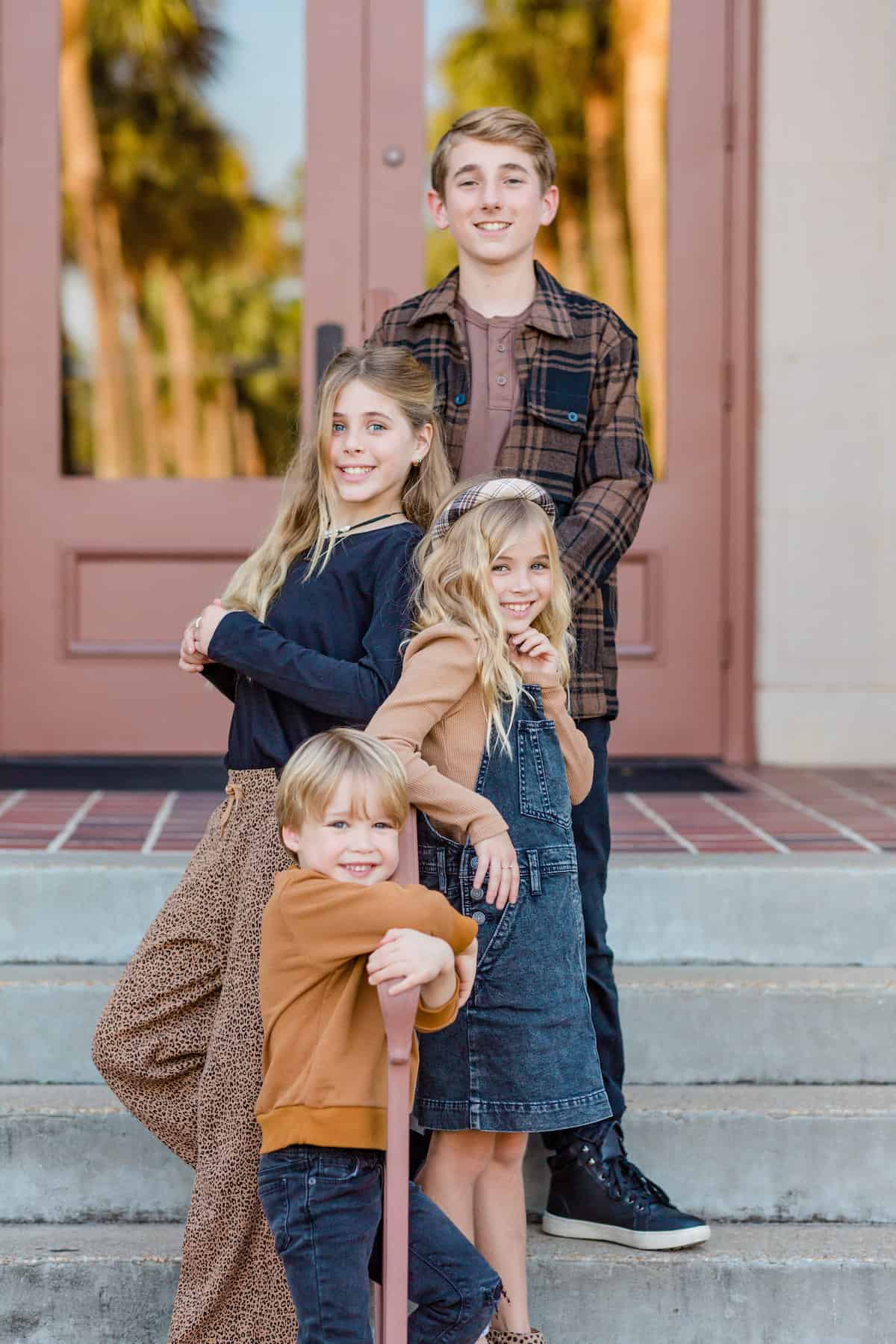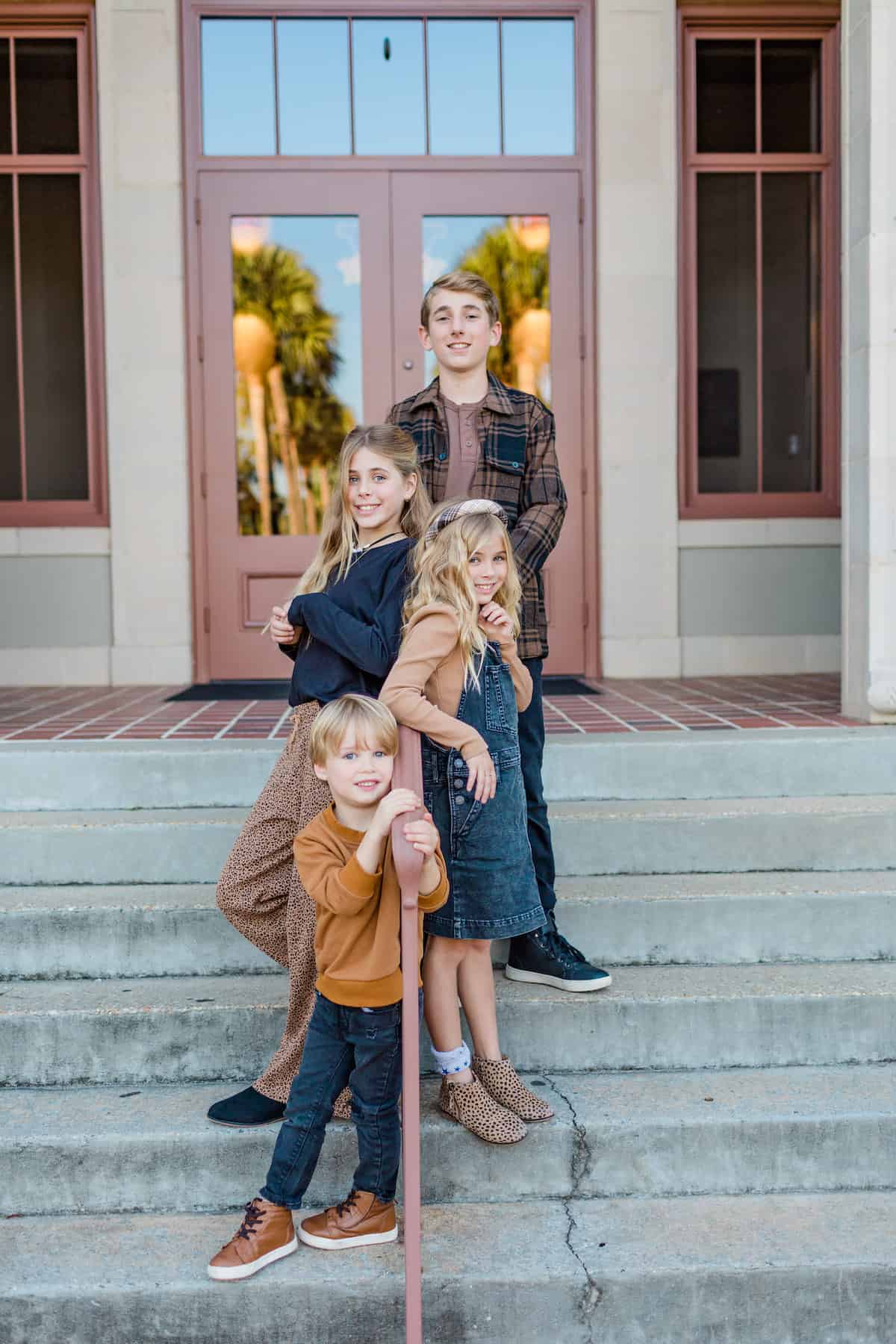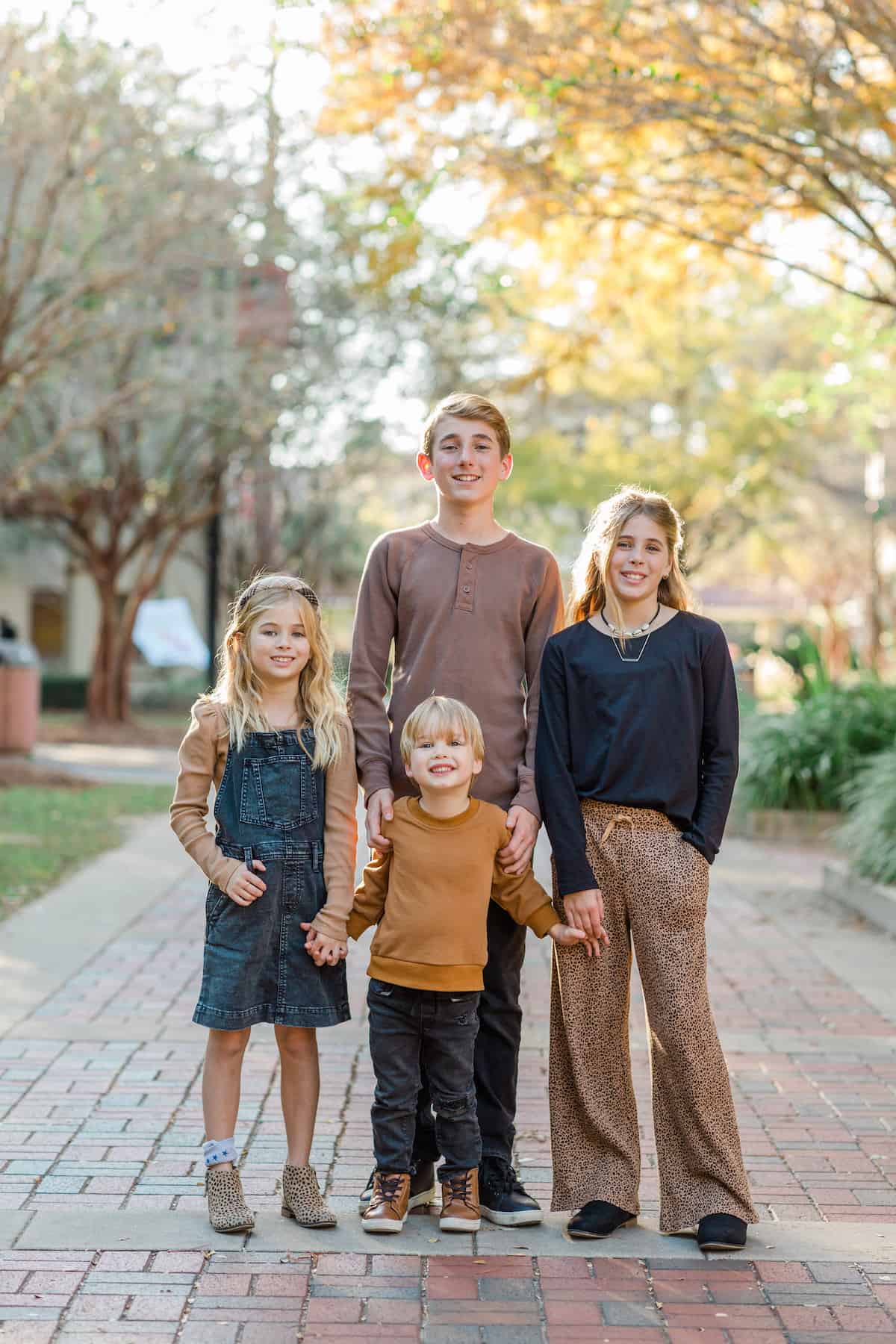 Mom and Dad
With my work being in social media and blogging it's always helpful to snap a few solo pics during our family sessions so I can use them as headshots for various projects! I always appreciate Lindsay for taking the time out to snap these for me!
I've really become more focused on COMFORT when it comes to my outfit choices for our family sessions. Let's be real – I'm spending most of the time chasing Spear and trying to get kids to stay on task and smile. I don't need to be wearing something constricting or complicated or that I have to be constantly adjusting!
I do wish I'd sized down one in the top as it was a bit boxier than I'd hoped for but I just rolled with it!
Hat / Shirt / Faux Leather Leggings / Boots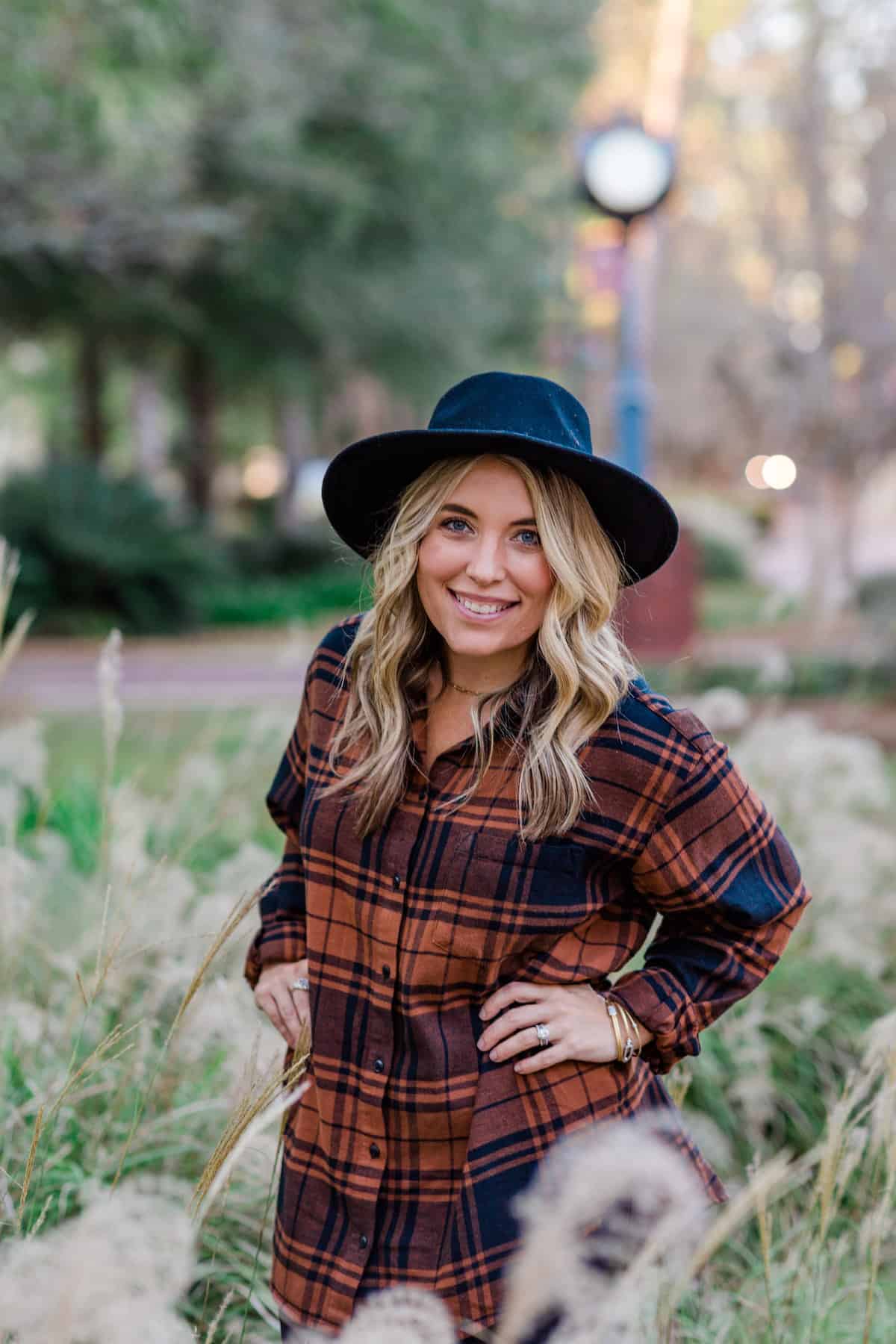 Lindsay is also super hardcore about getting pictures of JUST Zach and I together. Captured by Colson specializes in weddings so she's a pro at getting those couples shots and I appreciate that so much because how often are we really able to get photos of JUST us together?!?! I always love having these!
When I'm choosing outfits for our sessions I really aim to choose things we'll all wear again and I wanted to find something for Zach that was comfortable as well as re-wearable and truly his style. He loved this look and I love how it all came together!
Overshirt / T-Shirt / Jeans / Shoes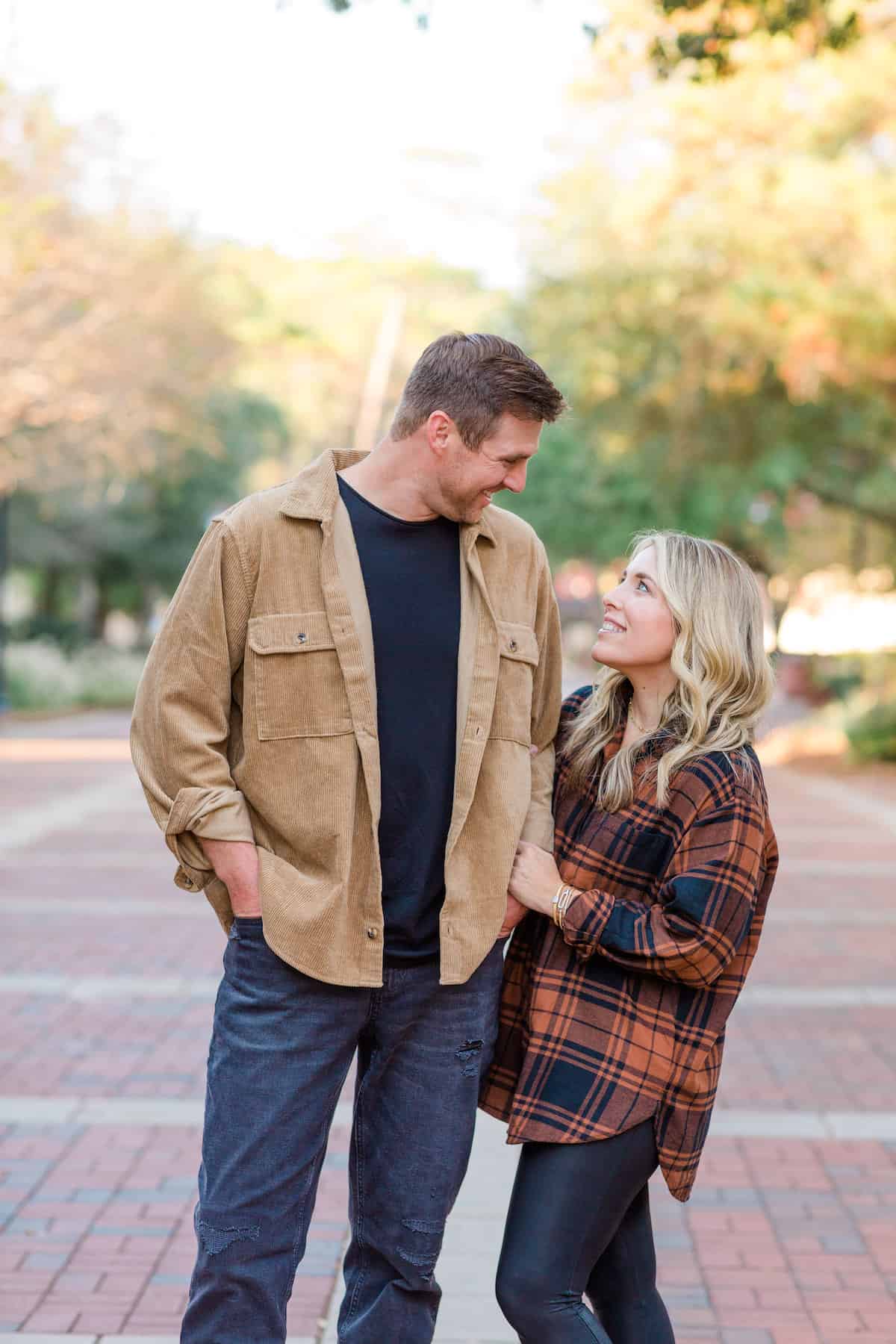 It's CRAZY to believe we walked this same campus together between classes over 15 years ago. We've almost known each other longer than we were old when we met! We met when we were both freshmen in college – he attended VSU and I attended FSU. We had a chance meeting when I brought my roommate up to Valdosta to hang out with some of my guy friends from high school. Little did I know that they had been scheming to introduce me to their friend, Zach!
Needless to say, I transferred to VSU that summer and the rest was history 🙂 I love our love and the incredible life we've created together.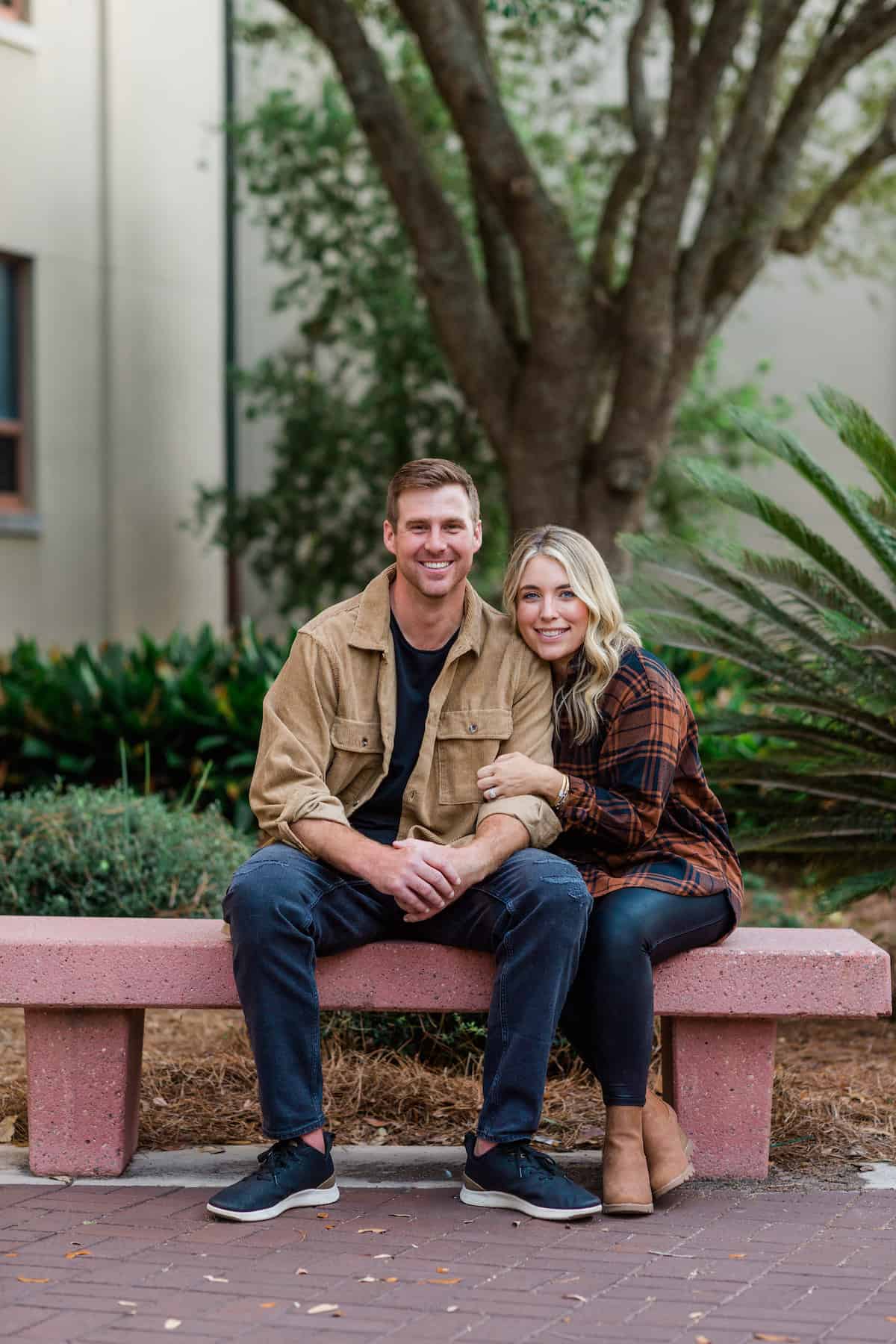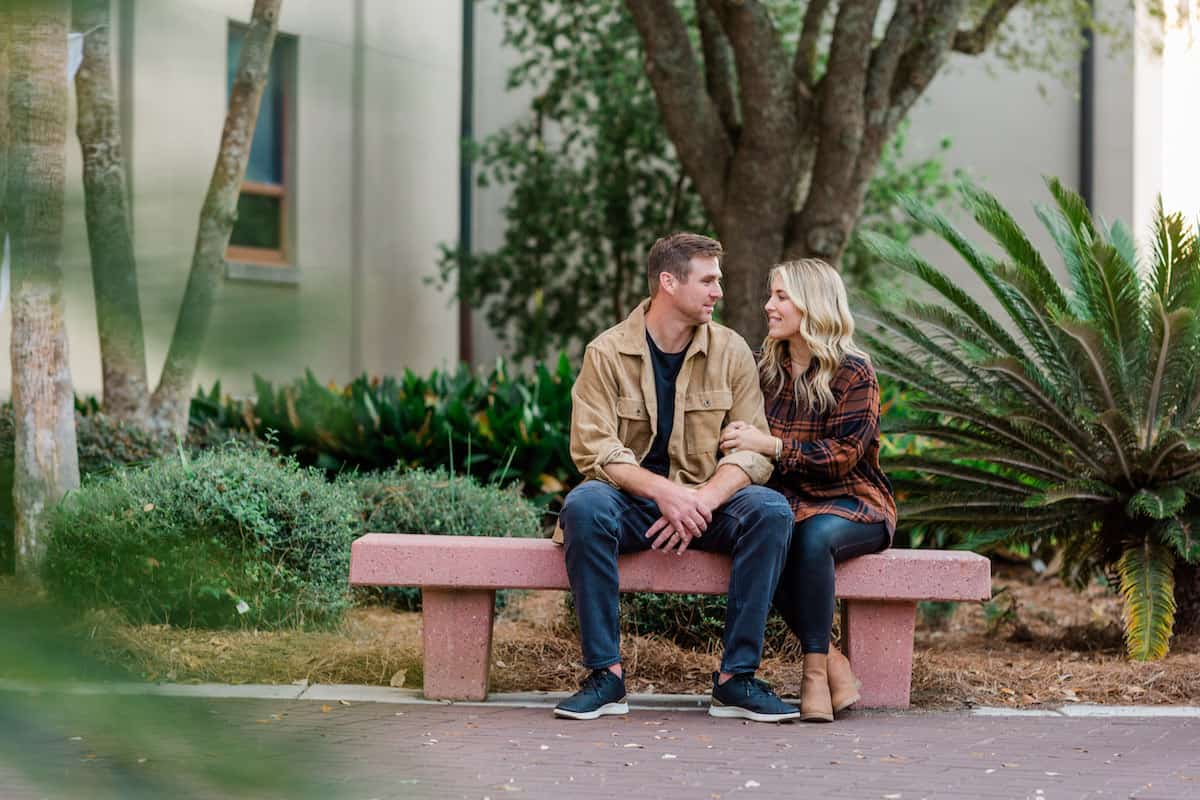 I also love to get a couple mommy solo pics with the kids! Another thing handy to have when you're a "mommy blogger." And this session Lindsay got a solo Daddy and kid pic too (perfect to have for Father's Day posts right?).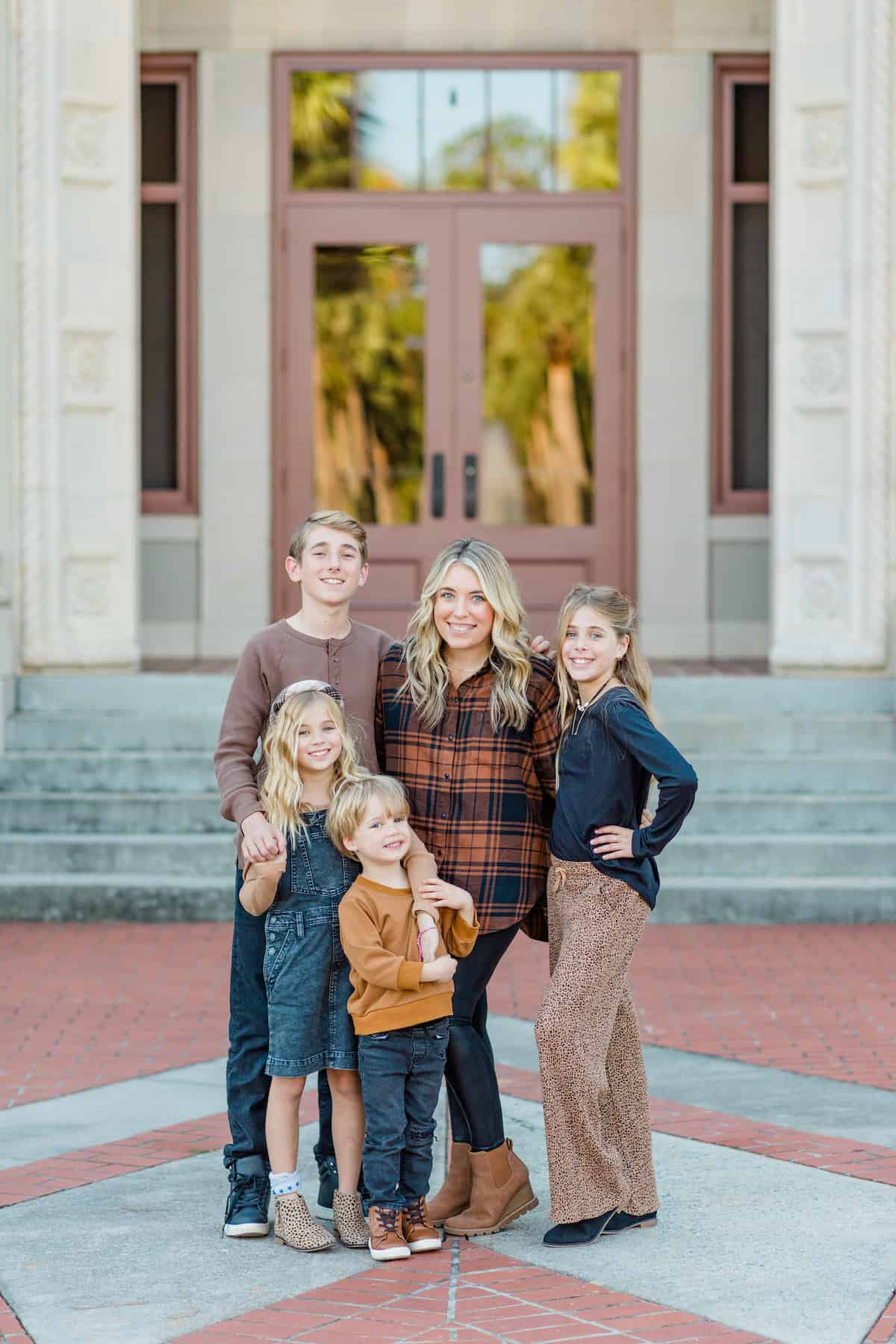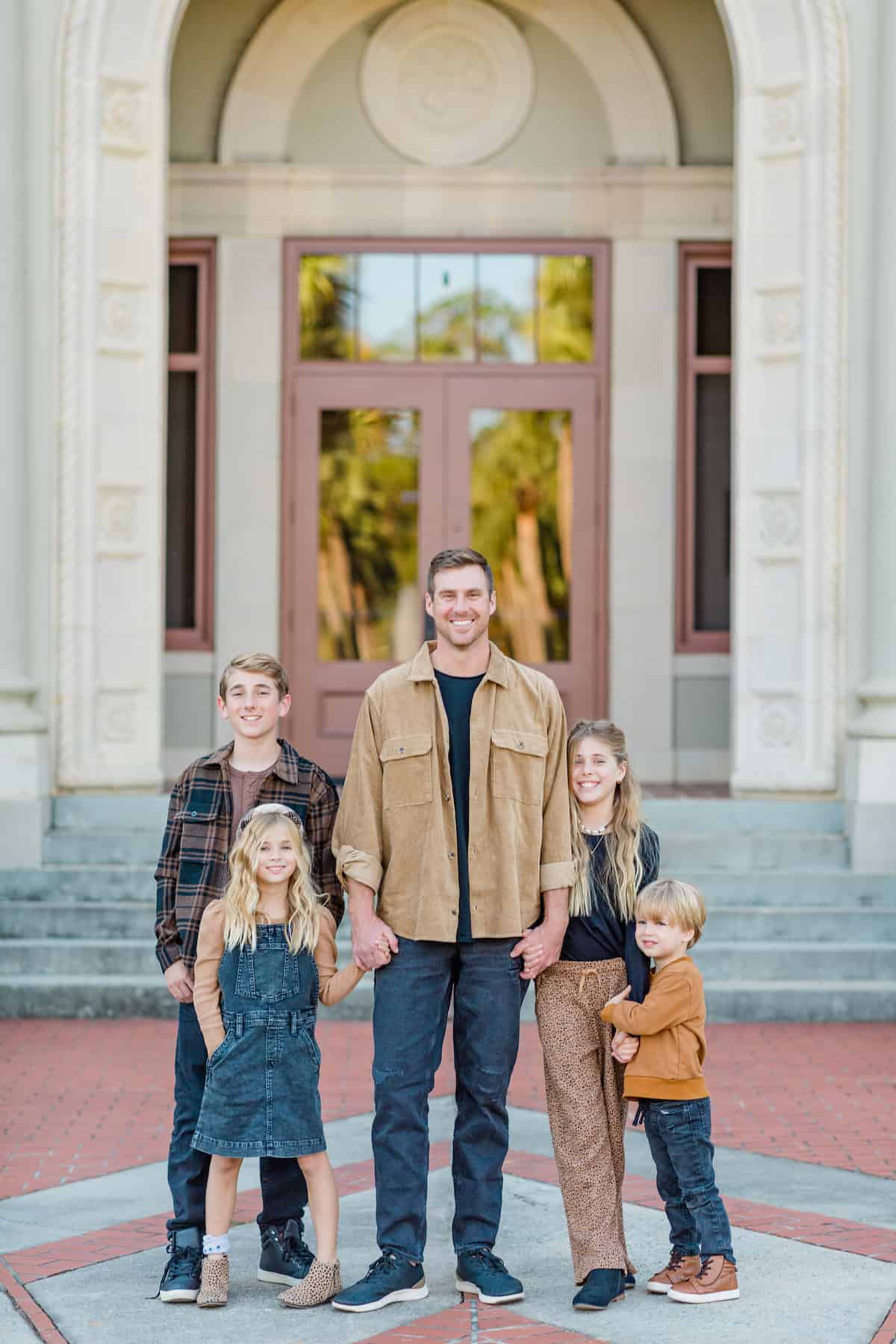 Family
The goal of any fall or winter family pictures is to get that perfect Christmas card photo! Lindsay always takes a variety of family poses and settings so we have plenty to choose from! It's hard to get a family picture where ALL six of us are smiling but somehow we always leave the sessions with her achieving that goal and I had a few great contenders for Christmas card pics this year! 😉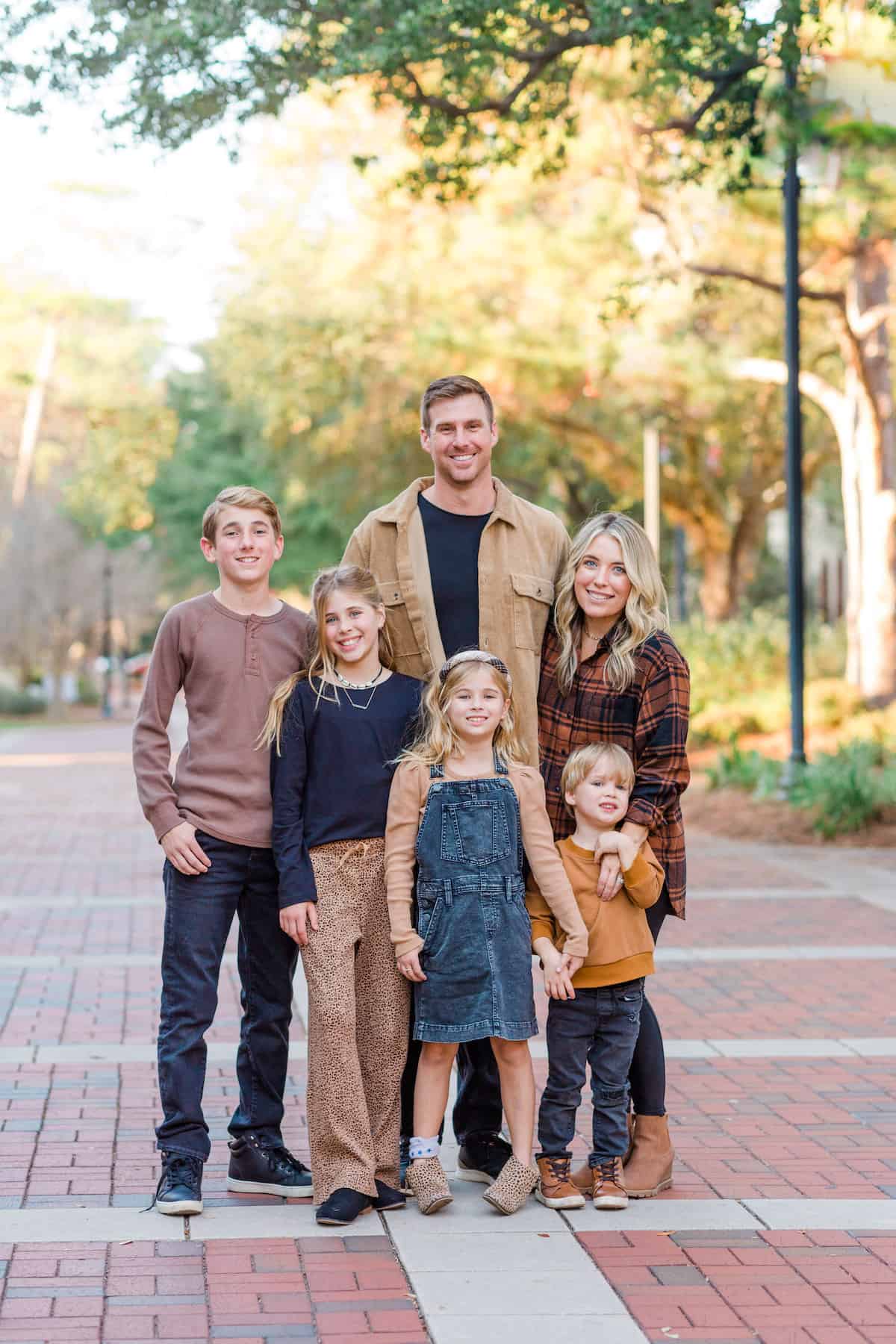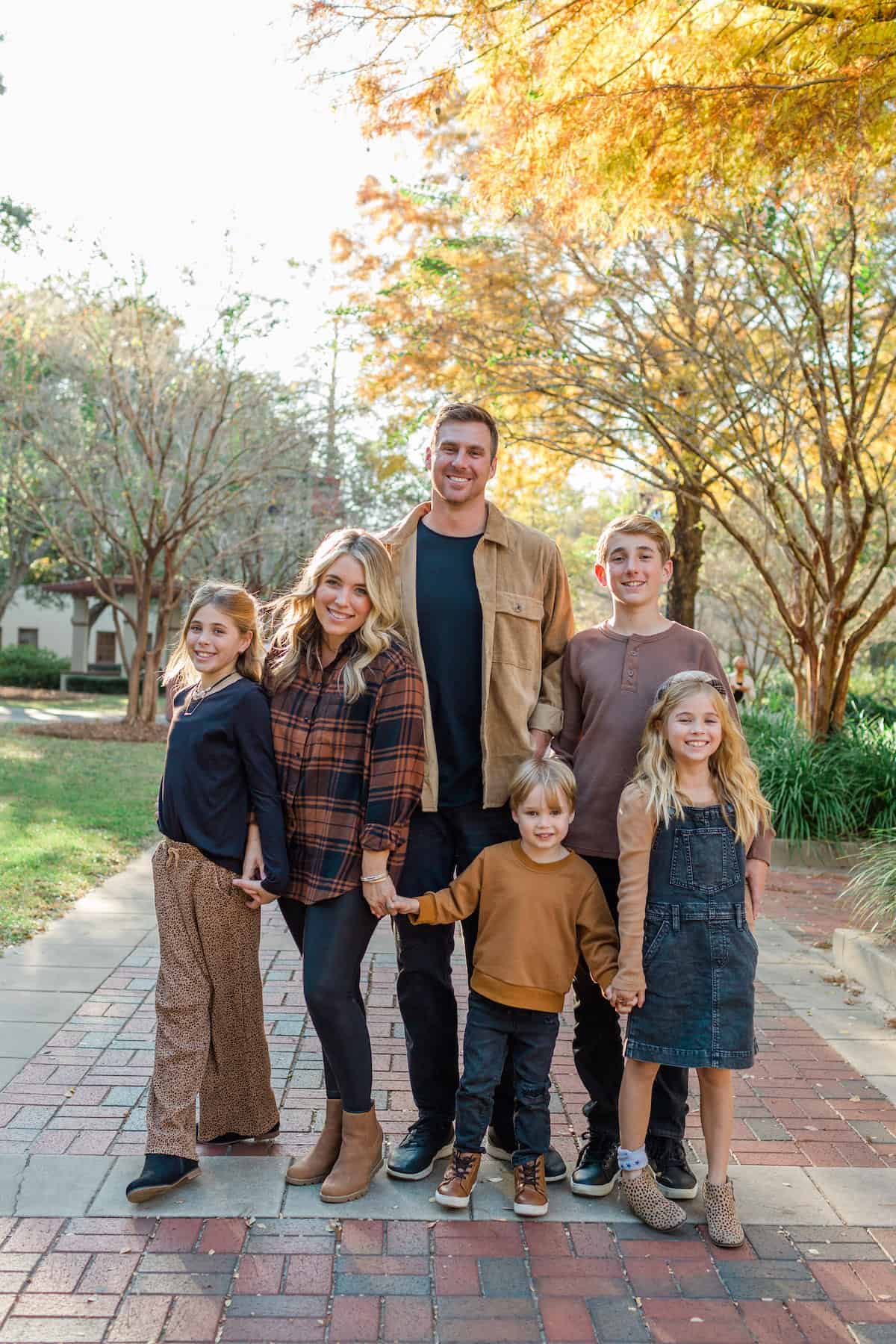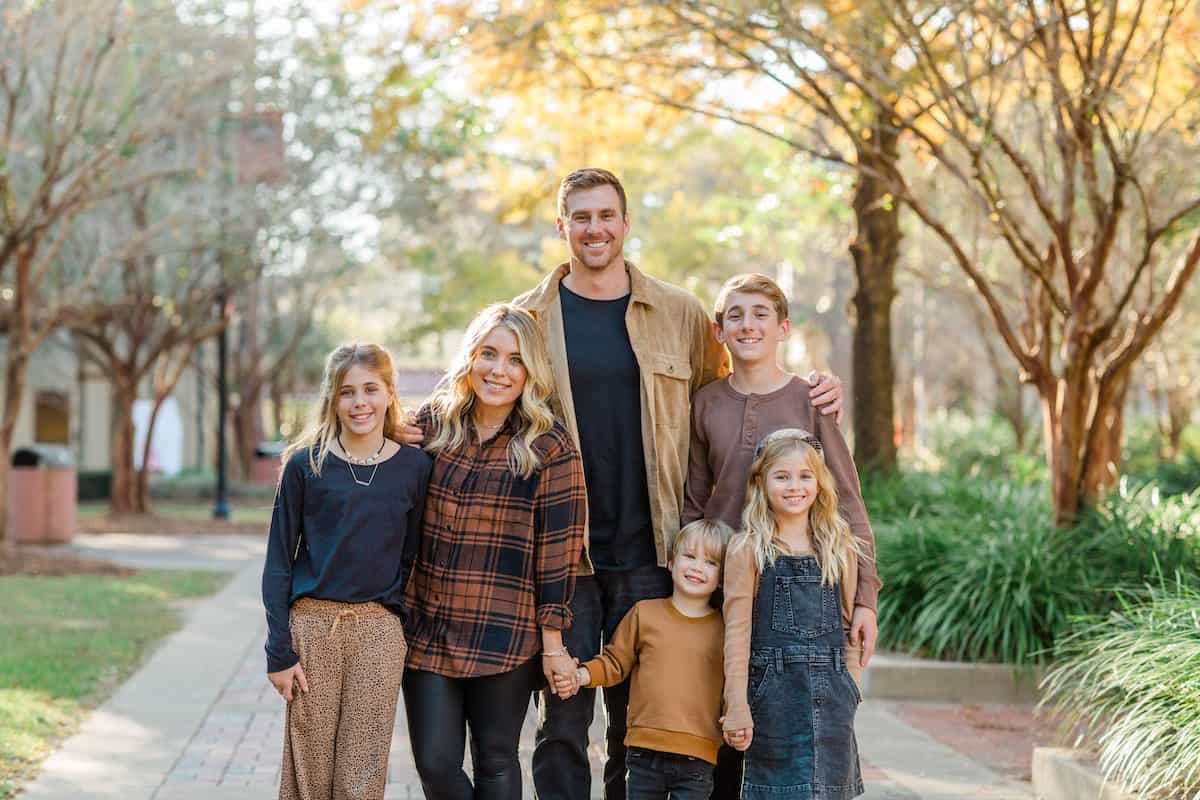 Tess's face and Spear with that leaf under his chin haha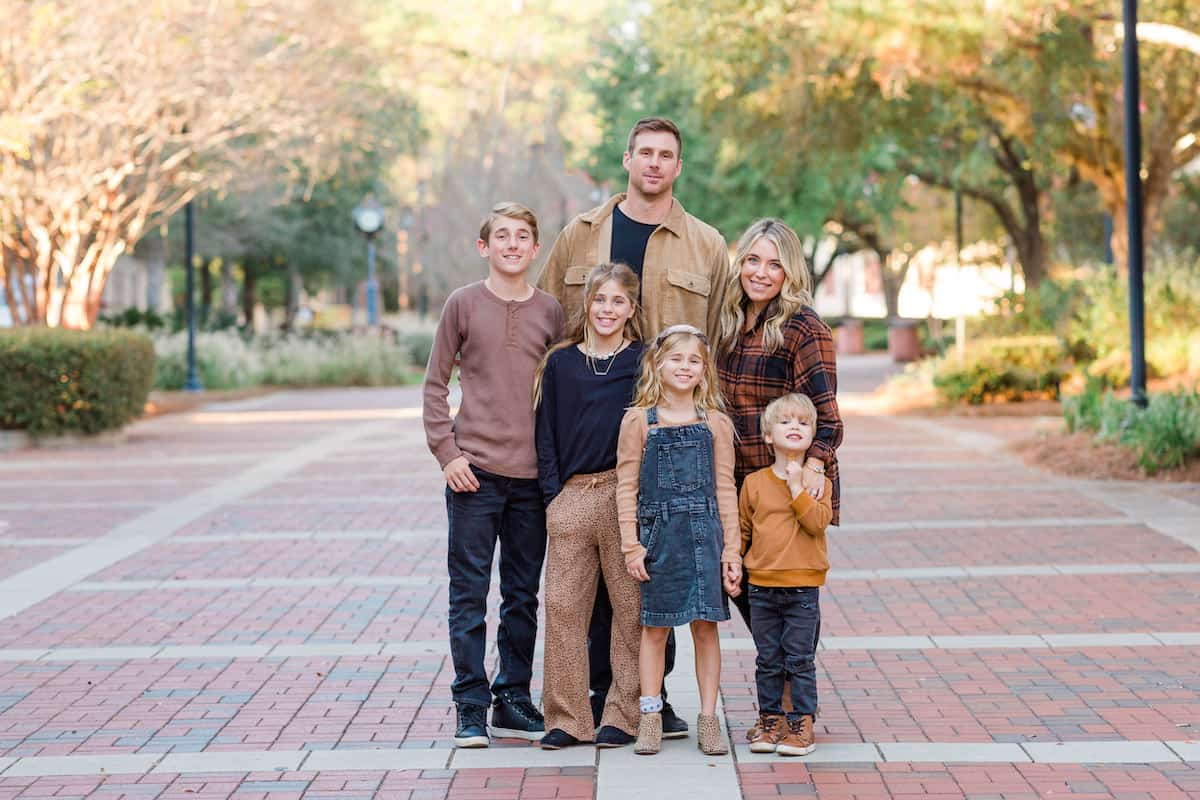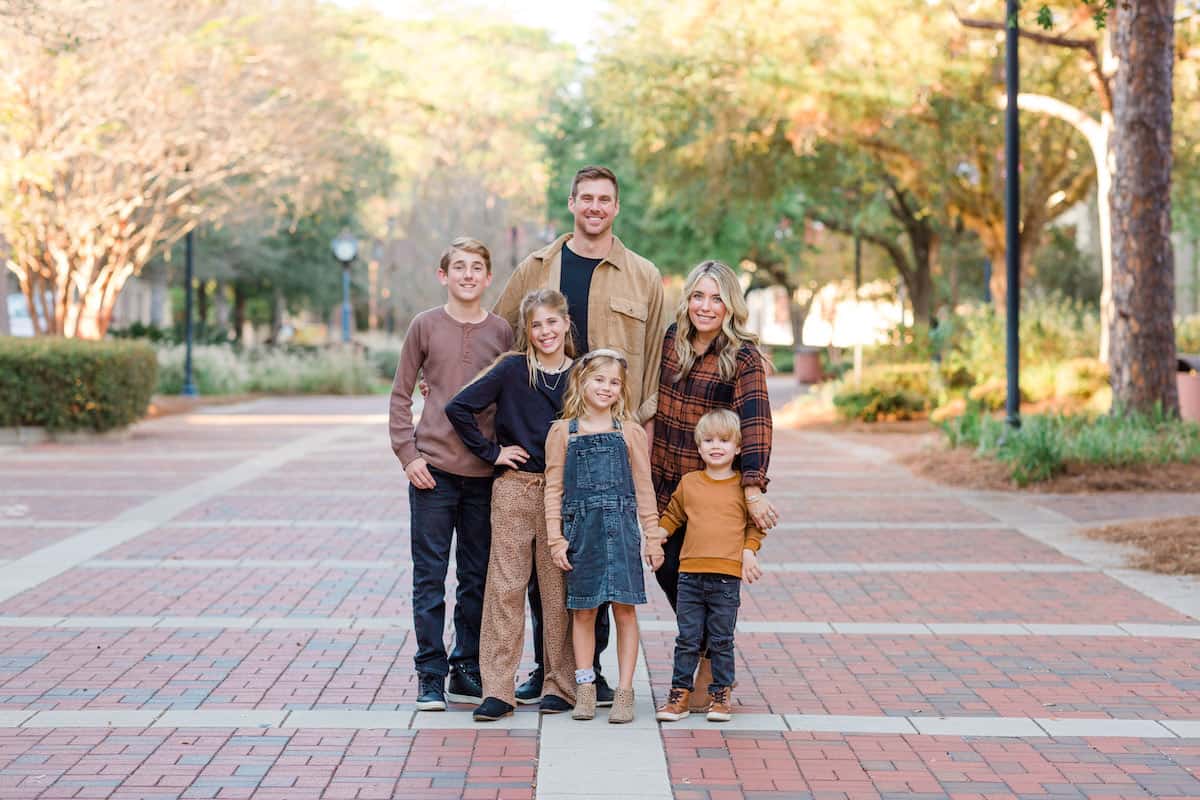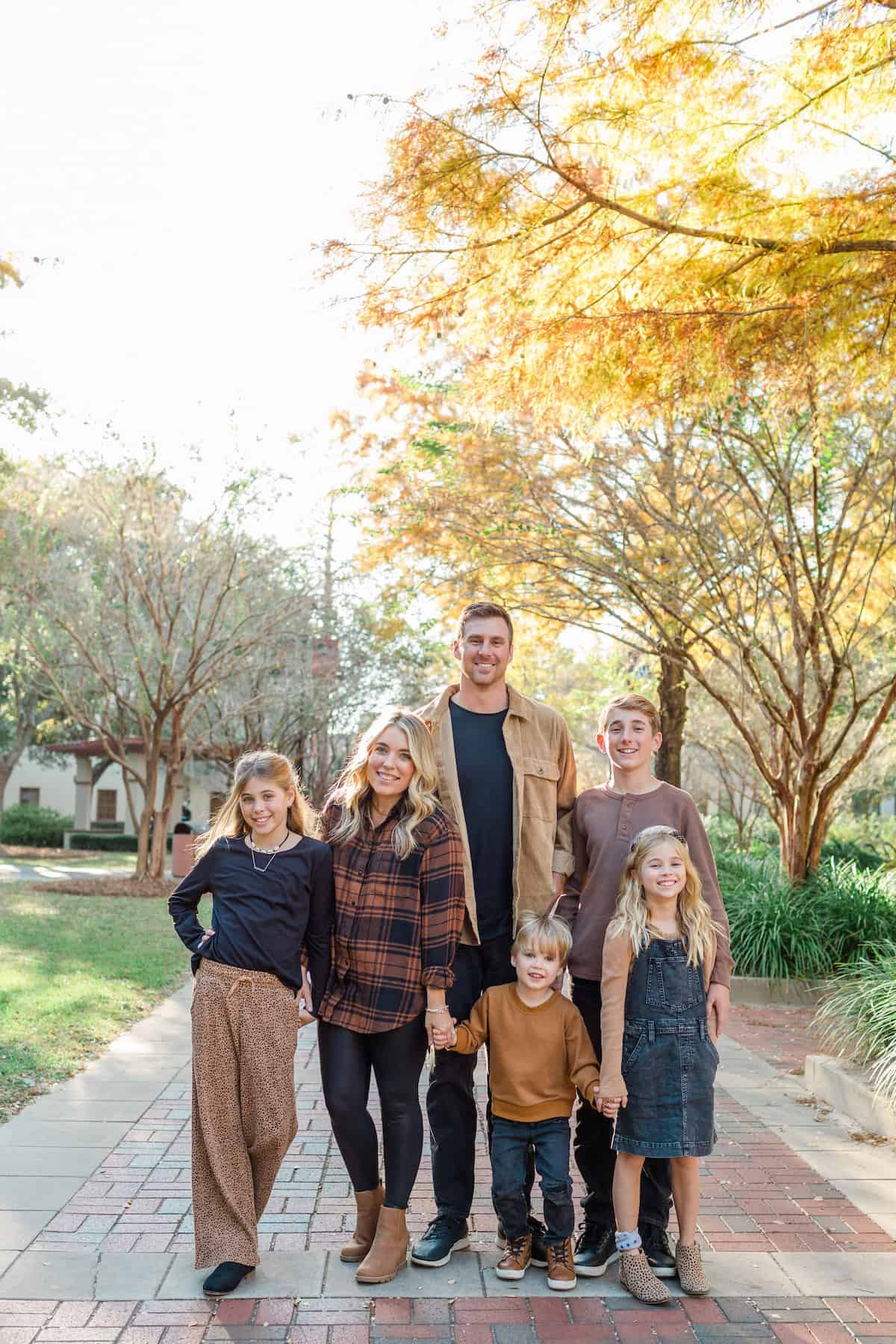 I also think it's super cool that our family pics are in front of the same building where Zach and I graduated in a special college graduation ceremony (you can read about it here). So much of our history and so neat to think about us as newly weds graduating college and to be sitting here now with our babies!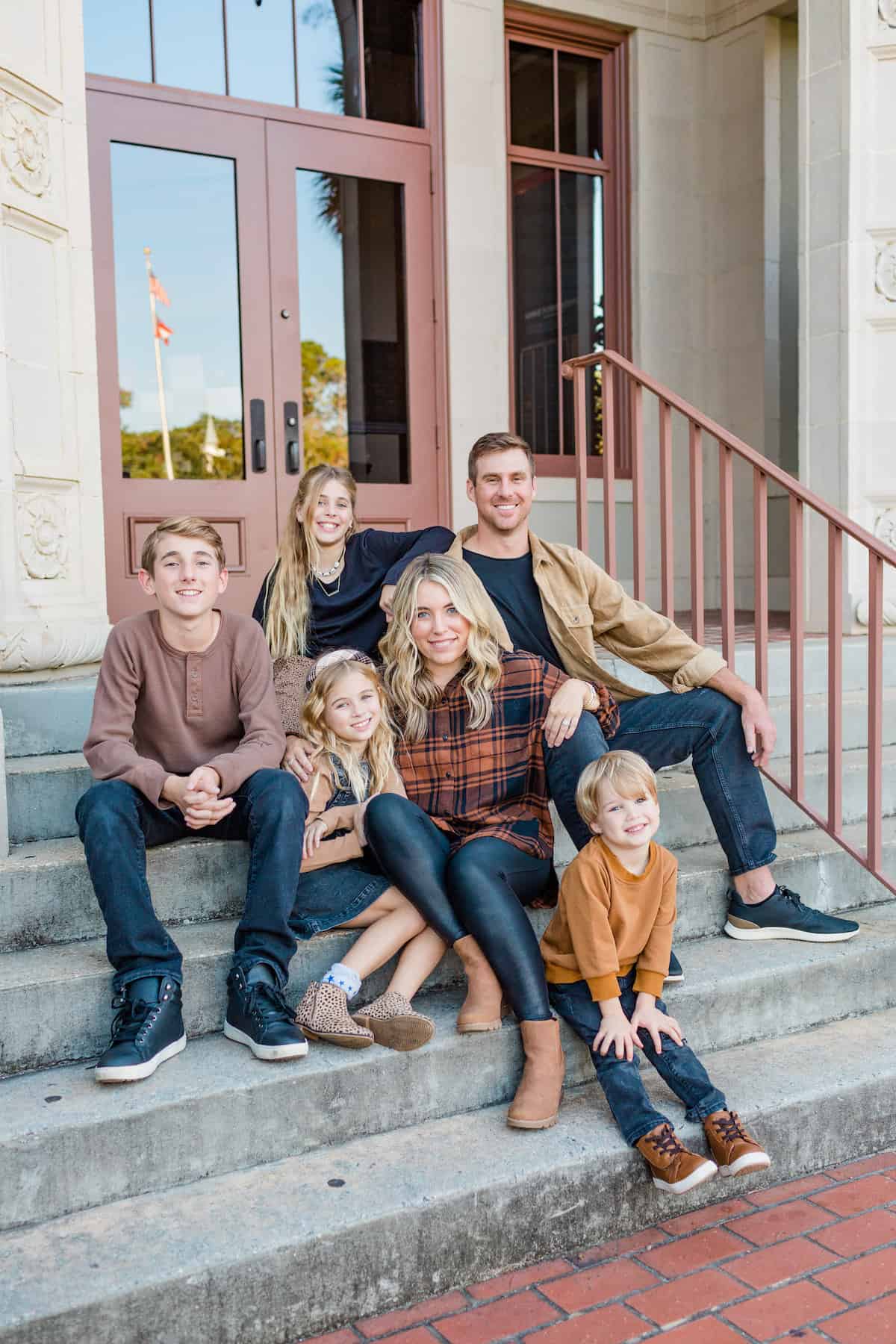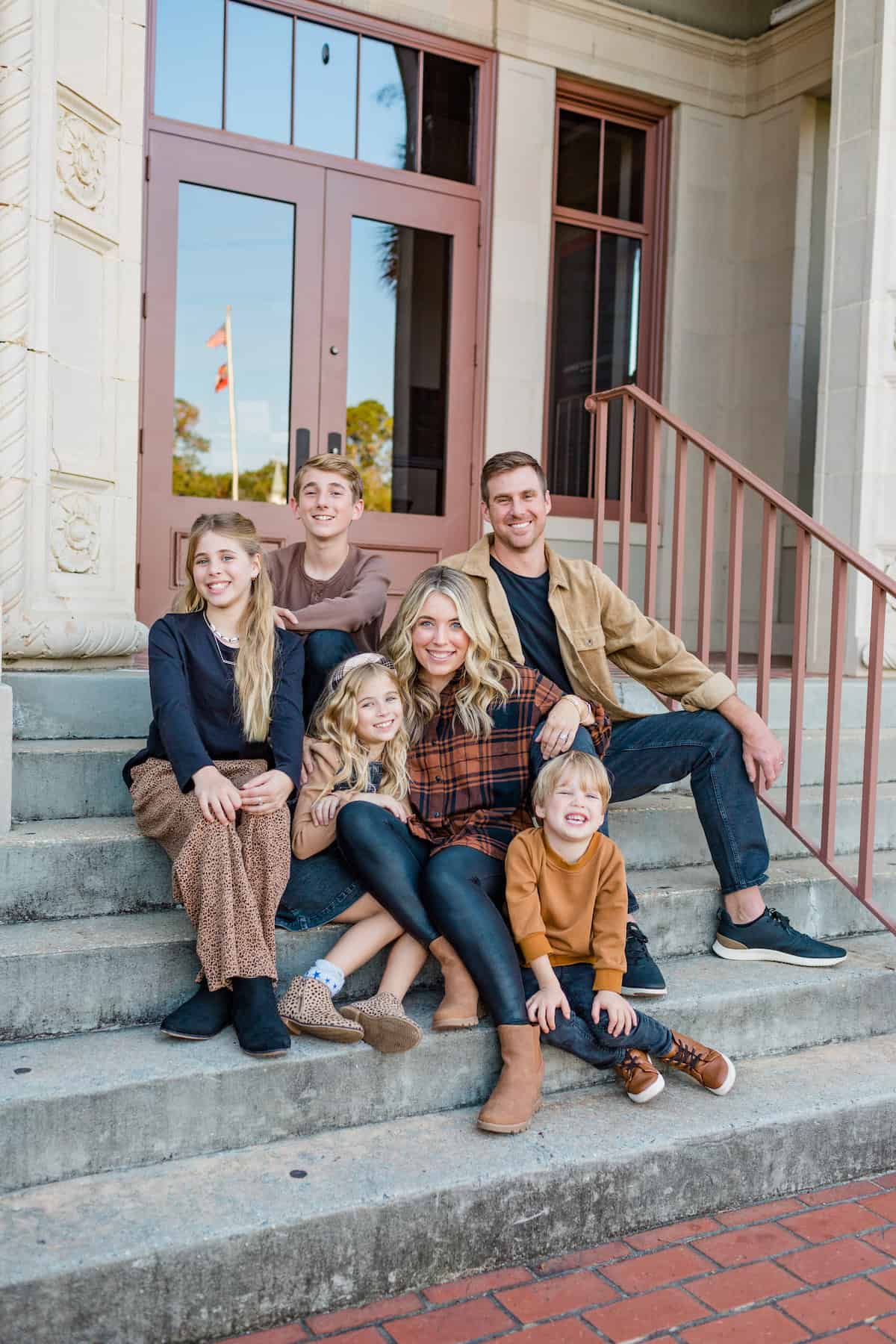 Def a contender! But we did a stairs pic for last year's card so I felt like we had to mix it up a bit this year!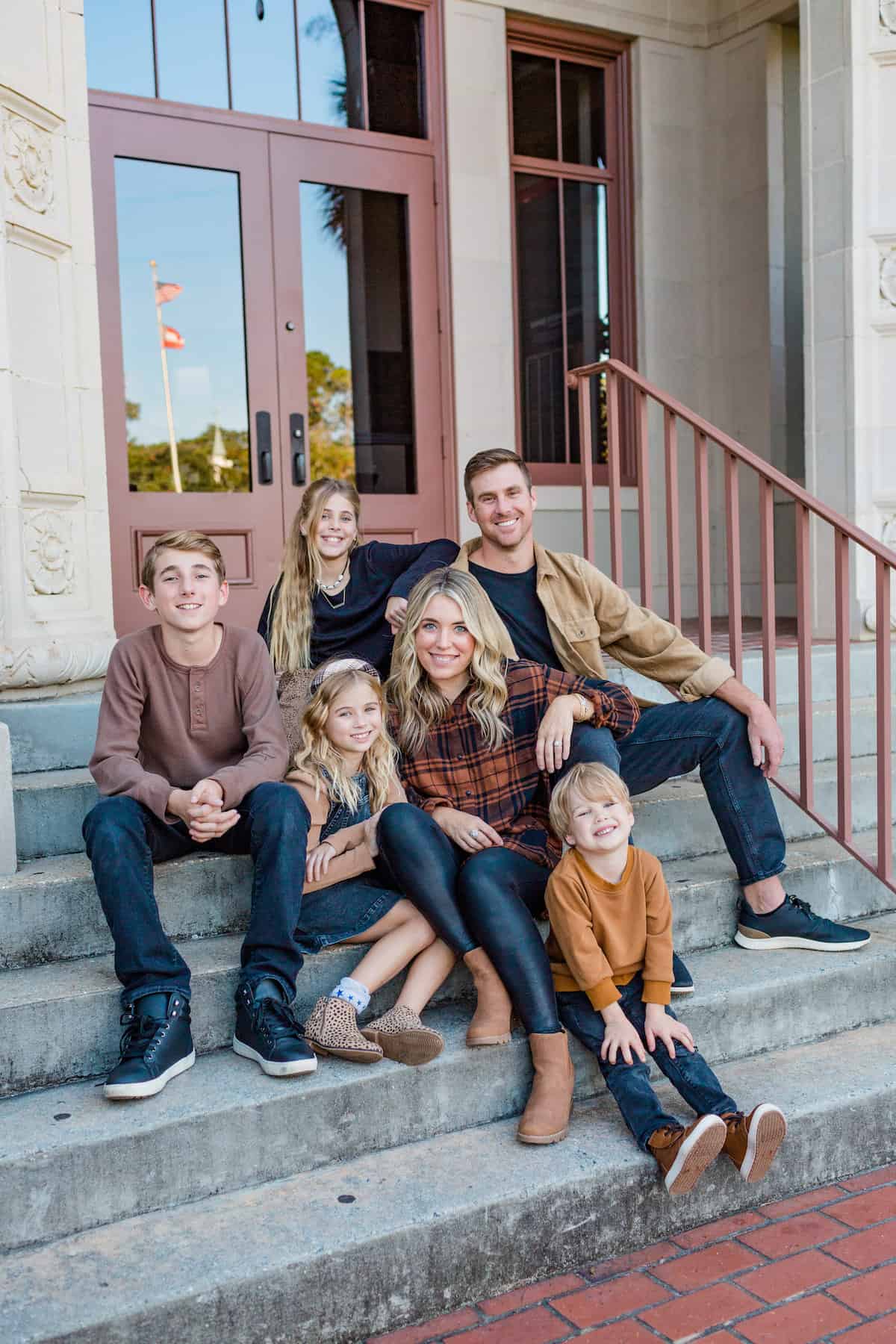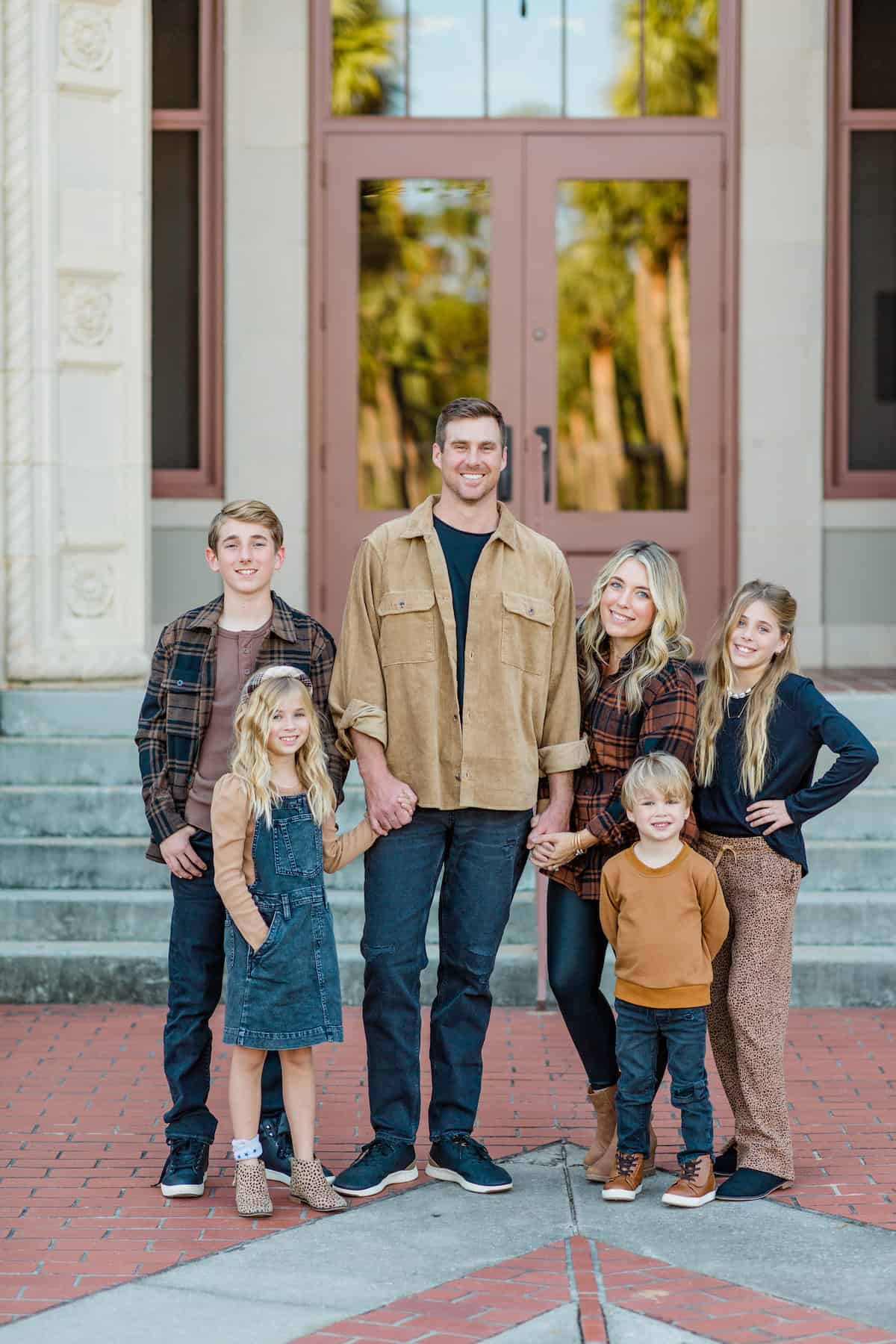 Winner!!!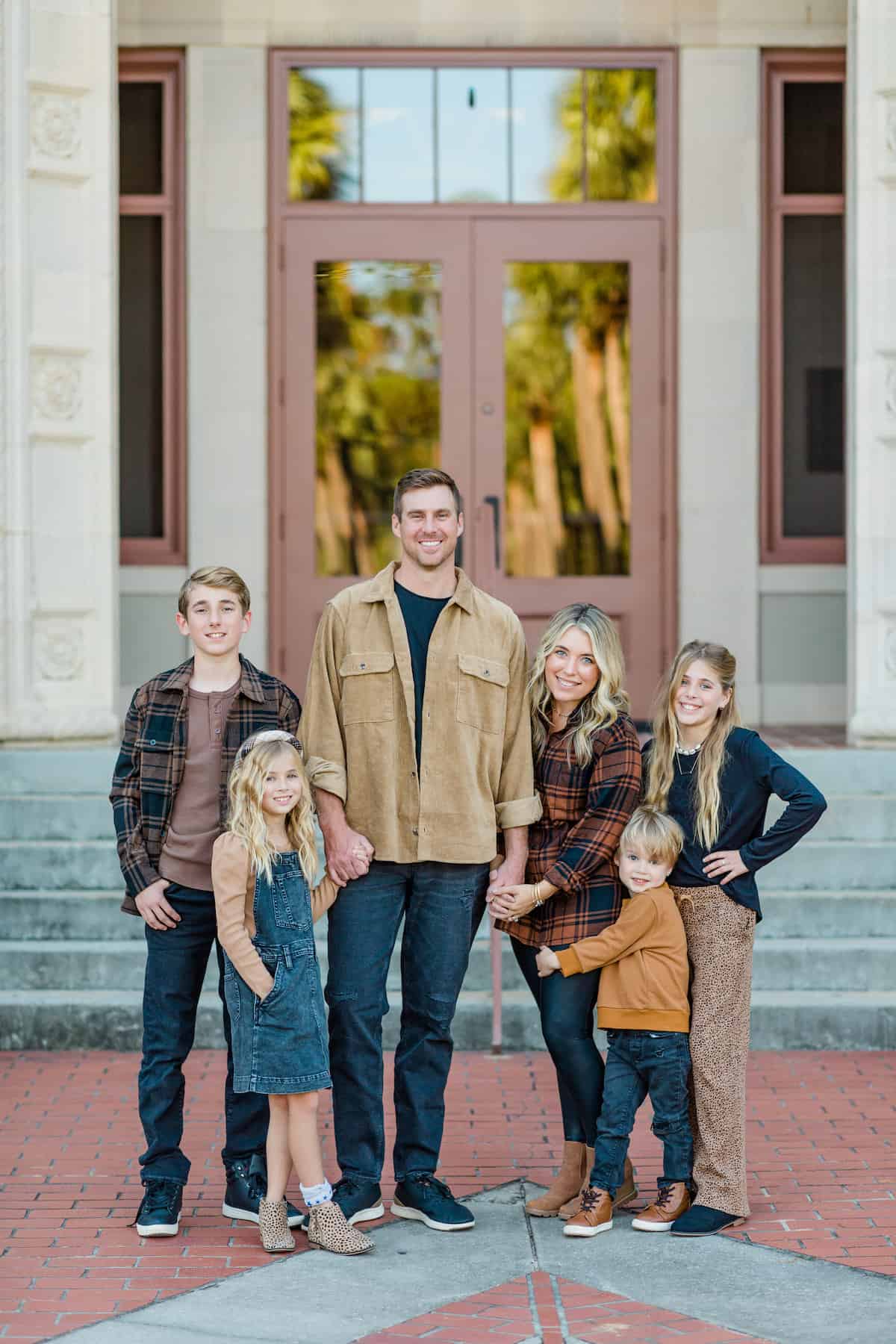 And presenting our 2022 Christmas Card! We are in the process of building our new home so I decided to FINALLY get a PO Box so I can now also have a publically shared address 🙂 If you'd ever like to send us mail bring it on!
Wishing you and your family a wonderful holiday season and a happy New Year! Thank YOU for being here with me and for following along with our family journey!
Cards are from Shutterfly!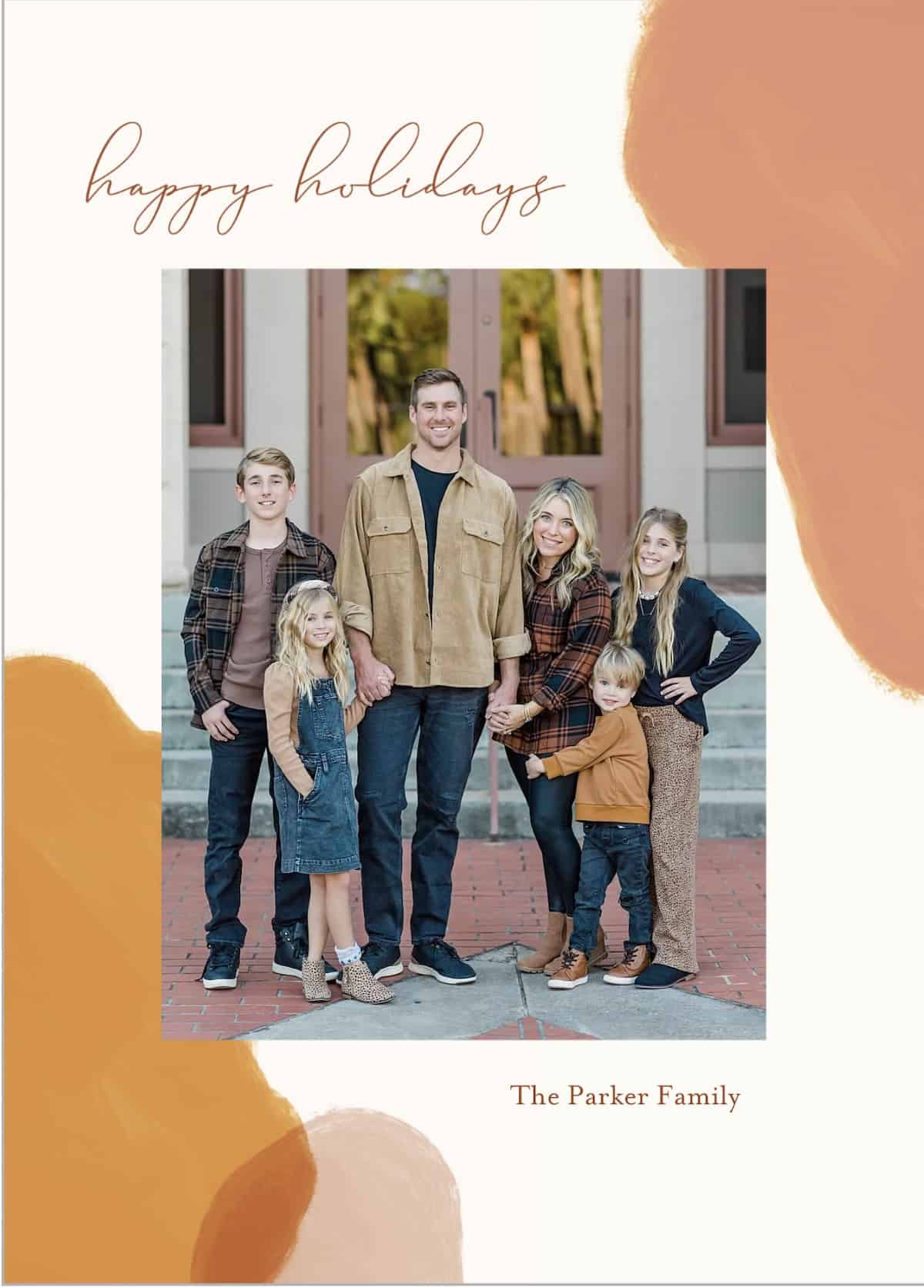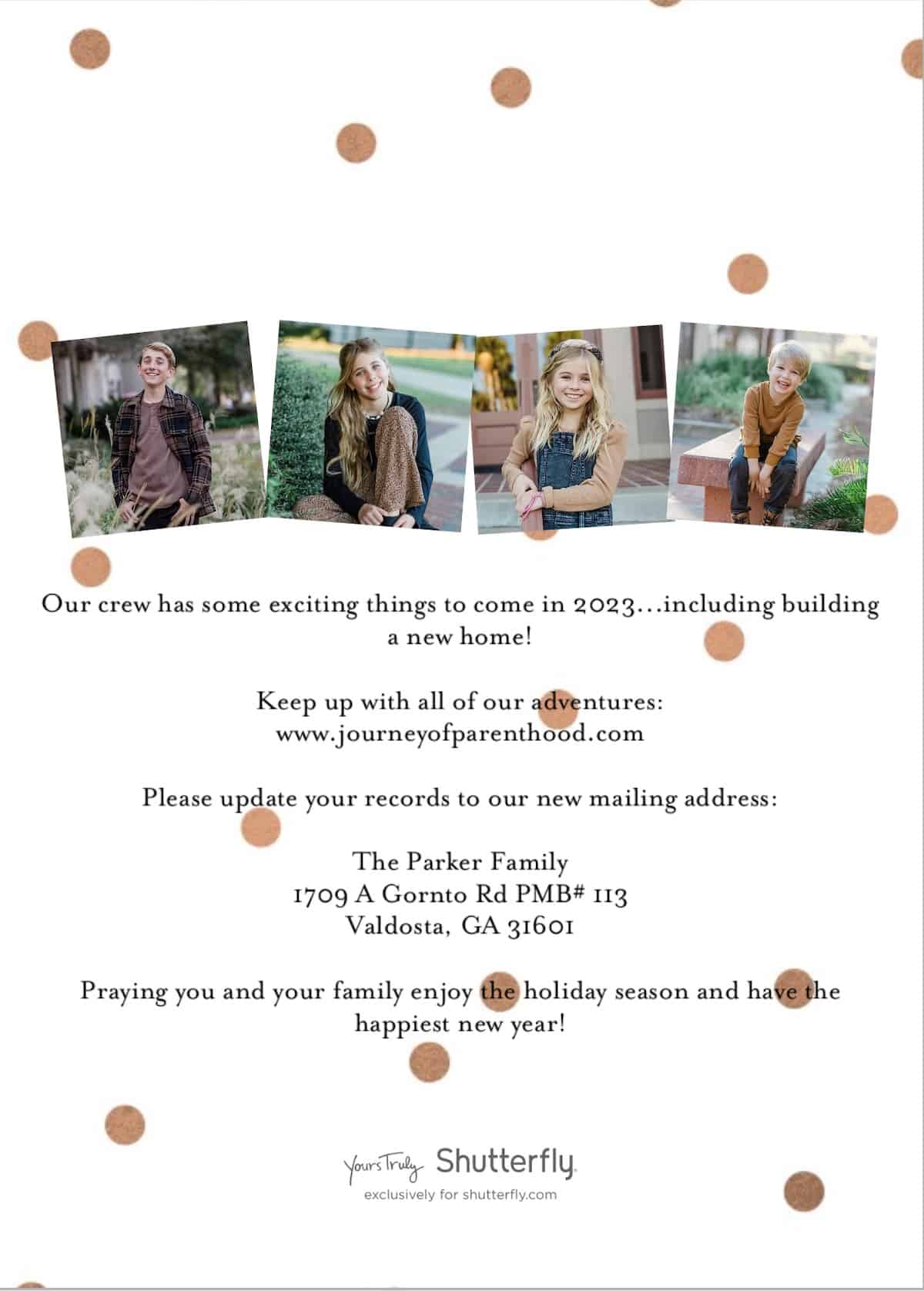 As always I cannot recommend Captured by Colson enough! She's not only professional and, obviously, very talented but she is also QUICK. Our sessions only last 45 min to an hour. She's awesome at keeping the pace while making it fun and getting a variety of shots! I am always so blown away by the end results and am so thankful for having these precious photos of our family!