I feel emotional as I begin to relive our incredible trip aboard the Halcyon on the Star Wars Galactic Starcruiser adventure. This experience was truly out of this world in every way. It was one of, if not the, best travel experiences of my life and one that our family will forever talk about, remember and cherish.
At the time of writing this Disney has announced that the Galactic Starcruiser will be no more. Its final voyage dates are coming up this September and it's just such heartbreaking news. I'm SO thankful we took our trip when we did!
When Disney first announced the fully immersive Star Wars experience Zach and I both knew it was a must-do for our family. Star Wars has been something our family has really bonded over.
It was also something we felt we needed to do as quickly as we could. Kye was approaching the teenage years and we knew we'd have a limited window where he'd FULLY appreciate the experience!
We had booked a Disney Cruise for April 2020. When the world shut down I kept pushing the cruise and rescheduling it over and over. I finally called it quits and took the refund.
Since I'd paid for the cruise using Disney Giftcards our refund was put on those gift cards. I'd originally paid for the Disney Cruise in Feb 2019! So it was money that had been spent literally years prior. This worked in my favor when it came to presenting the Star Cruiser to Zach. I had $5,000 in "free" money to spend 😉
I'll be upfront about it – this experience was VERY expensive. I'm so thankful for the timing of it all – the refund we had on the gift cards, the fact that Zach's 2021 work year was one of abundance and that we had not yet started building our new home.
All three aligned at the right time for this trip to be possible!
The cost for 5 people for the 2-night all-inclusive immersive experience was $7895.
I know. It's insane. And MANY people are saying the cost is the reason the Starcruiser "failed" (I hate saying "failed" because it was SUCH A WIN but Disney apparently deems it a fail since they are shutting it down).
We agreed that the money was SPENT. We'd go into the trip with the mindset of just soaking it all in. We were very upfront with the kids about it – this would be a ONE time thing (which sadly we're now forced for it to be a one time thing anyway since it's going awayyyyyy). We wanted them to fully appreciate it too!
Everything I read said that the experience was recommended for ages 7 and up. While I hate, hate, hate that Spear isn't part of this amazing memory the rest of us share – he was too young. He didn't even know anything about Star Wars and he would not have enjoyed or appreciated the experience.
The standard rooms also only slept 5 so it would have significantly added to the cost to have him come with us. I know as the youngest kid he will have PLENTY of experiences that the older ones may not get to have because they will be adults so I try not to feel too guilty about it.
I am VERY thankful to Tara in helping me book our Starcruiser trip. We originally booked it for one of the earliest sailing dates (April 2022) and had planned to gift it to the kids for Christmas in Dec 2021. However, masks were still a "thing" at that time at Disney and we weren't sure how that would impact the Starcruiser and didn't want to risk the trip being altered for rules and guidelines.
So we pushed it until August and waited to surprise the kids with the trip until July. We wanted to have plenty of time to plan our outfits and storylines!
Tara helped me come up with an epic way to surprise the big kids with a letter they had to decode!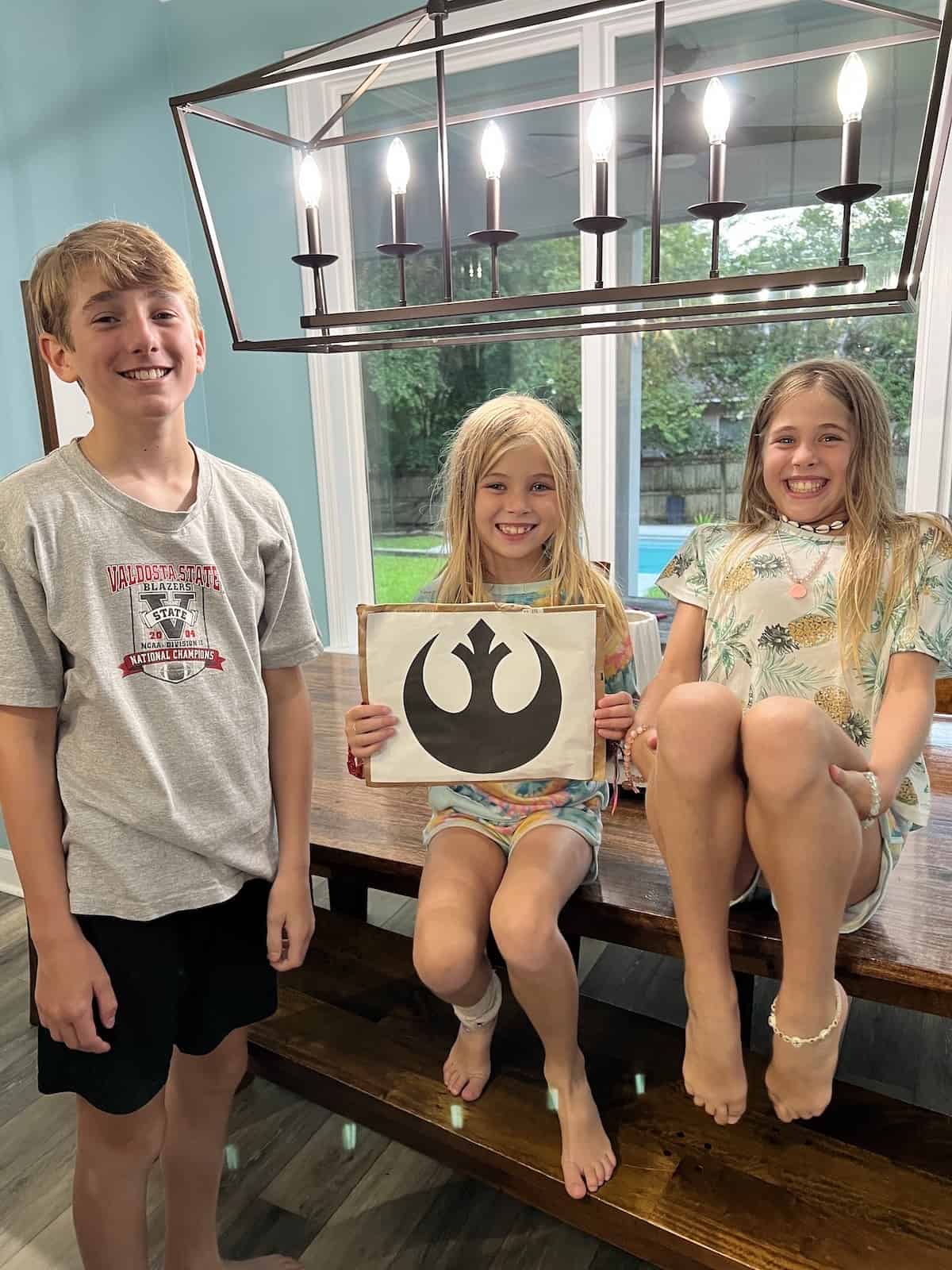 Our voyage was August 26, 2022 – August 28th (Fri – Sun). We dropped Spear at school and GMama and Big Papa picked him up that afternoon and he got to enjoy a weekend with them!
The rest of us did final costume adjustments then made our way down to Disney World!
It was SO exciting getting to follow the signs to the Star Wars: Galactic Starcruiser and to get to see it and feel like we were going behind the scenes at Disney!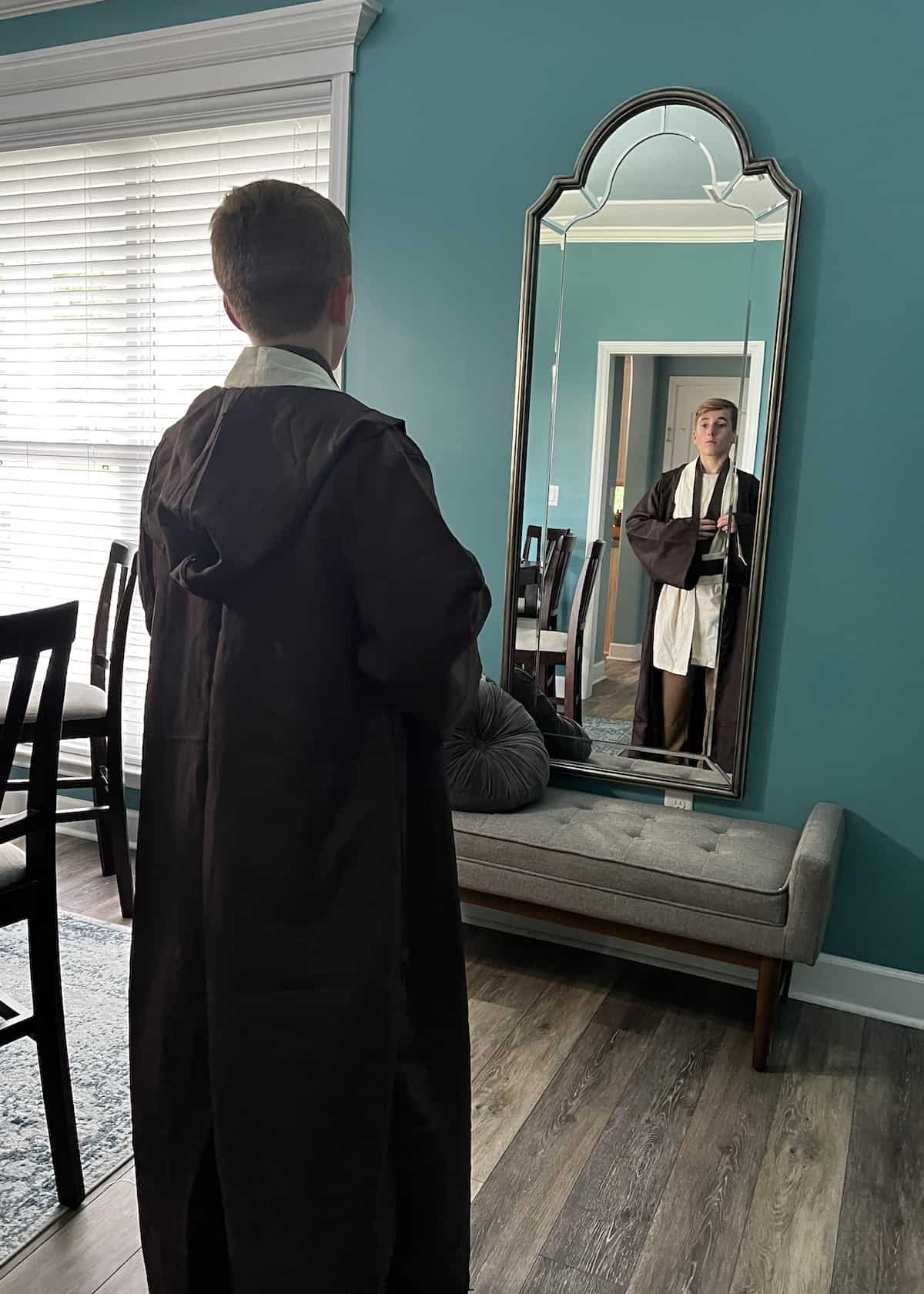 Check-in was officially at 1:00 but we know Disney so we arrived at 11:50. We were allowed into the parking area where we changed clothes in the car.
At noon they started taking luggage. We did have to wait in a line outdoors but they had fans and water bottles that they handed out. It was also a huge advantage to be there early because we were able to get the kids their "datapads" (iphones that Disney lets you borrow aboard the ship!).
Kye, Zach, and I were able to use our own phones but the girls had the datapads. Being in the line for a while allowed us to catch issues with them and catch an issue we had with Zach's magic band too (each guest received a special magic band at boarding). Once it was time to board we were smooth sailing 🙂
The Starcruiser is a fully immersive experience so the more into it you are, the more you get out of it.
We, naturally, went fully IN. We each chose a character name to go by along with a backstory.
Meet our Galactic Crew:
Zach as Mr. Crez. He was originally a Sith trooper and then he defected and became a street baller 😉 Here are the pieces we used to put together his look.
Britt as Bripa Sedval and Tess as Tespa Sedval. Both are orphans from the planet Labem who escaped from the Empeiral orphanage. They met resistance members who felt the force was strong within them.
For their outfits, we used regular black leggings and pieced together parts from various Star Wars costumes. It helped their looks flow together!
Kye as Canpar. He is from Corellia and his father dies so he took over the job as a ship mechanic. The resistance met him when he fixed a ship for them and they felt the force within him and asked him to join the cause. Kye typed up a multi-page document fully explaining his back story.
Lastly I'm Mel. I met Crez and fell in love and we adopted Bripa and Tespa and joined focuses with Canpar for this journey.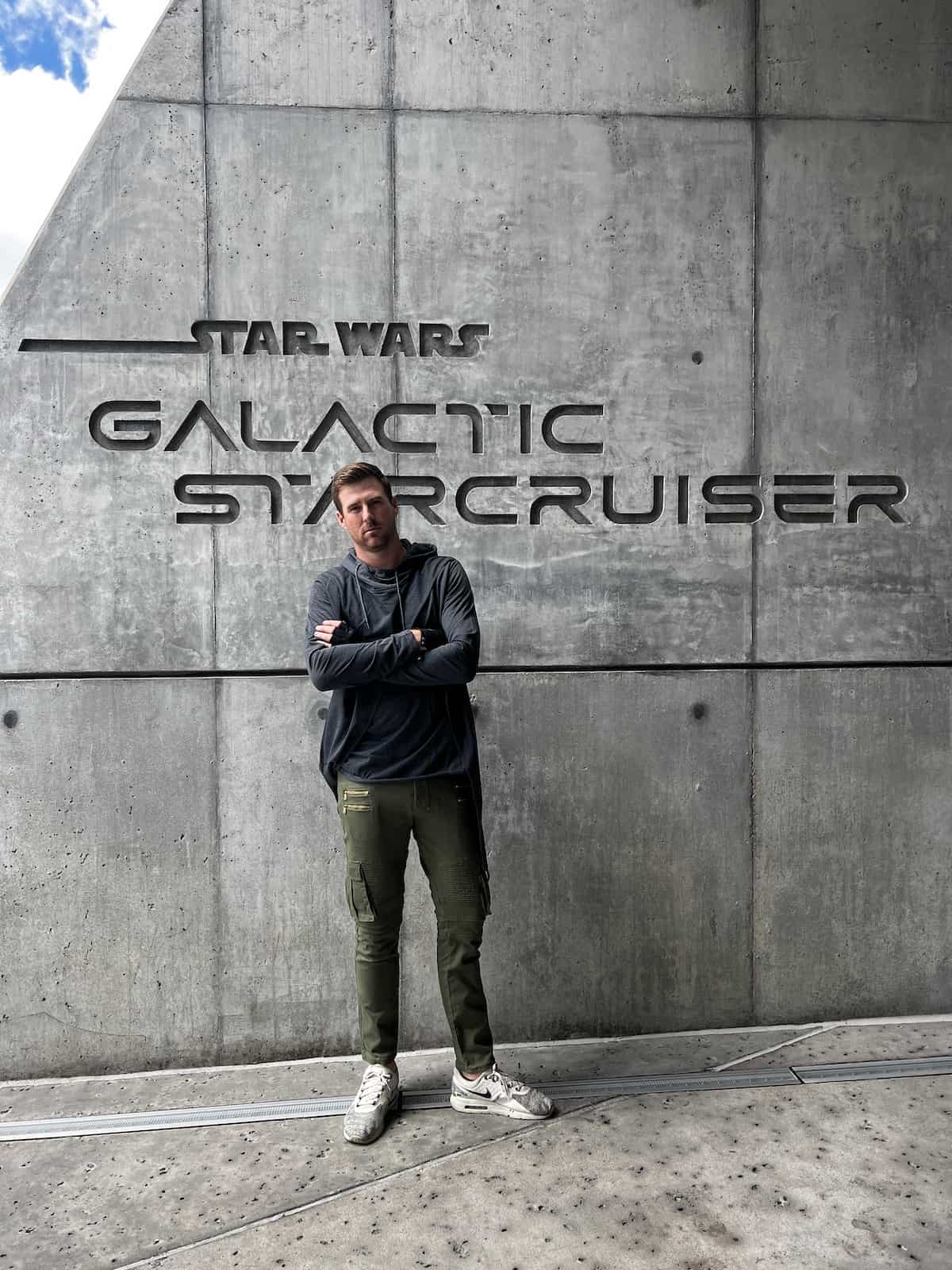 Britt and Tess were so excited about the "data pads". Each member in the traveling party has to have access to their own Disney Parks Play App account. Disney called me leading up to our trip and I was on the phone with them for a solid 90 minutes to get everything all set up.
The datapads the girls were given ONLY had access to the app. I regretted not packing our Apple Watch as it would have been so great to be able to stay in touch with Britt easier!
Once the outdoor line was full they did go ahead and let us start going through security, use the bathroom, and hang out in an AC waiting area to board. This all started about 15 min prior to official boarding time.
I screen shot what the Halcyon portion of the Play App looked like! It gave us alerts, communications, reminders of events and TONS of other stuff during out journey. It really was wise of us to take time to fully understand the app and features as they did come in handy.
We went through a safety video and then headed into the launch pod. The layout was very similar to Rise of Resistance where we were split into smaller groups and then taken through different sections. Be sure to watch the video in this post to see us leaving Earth!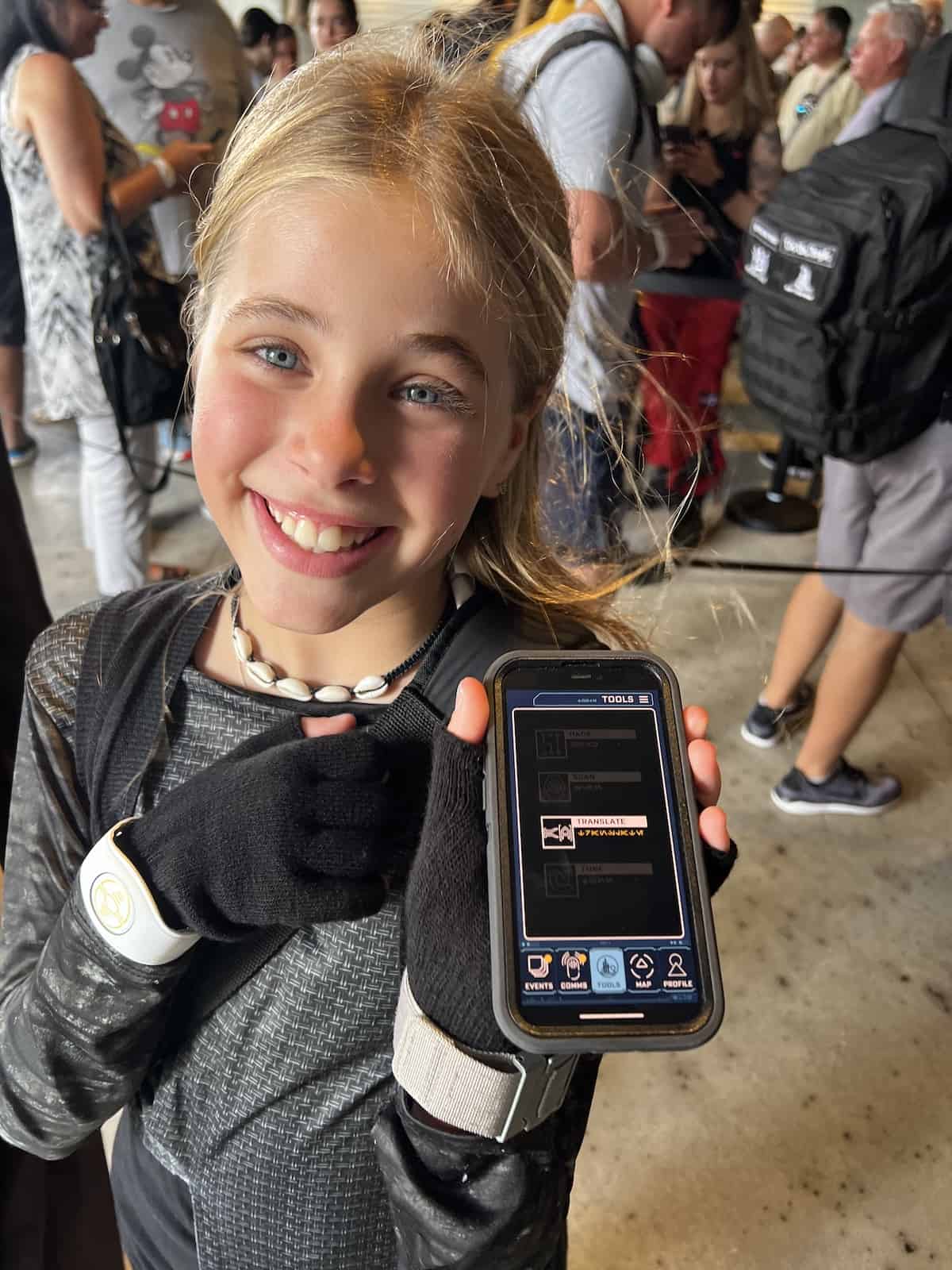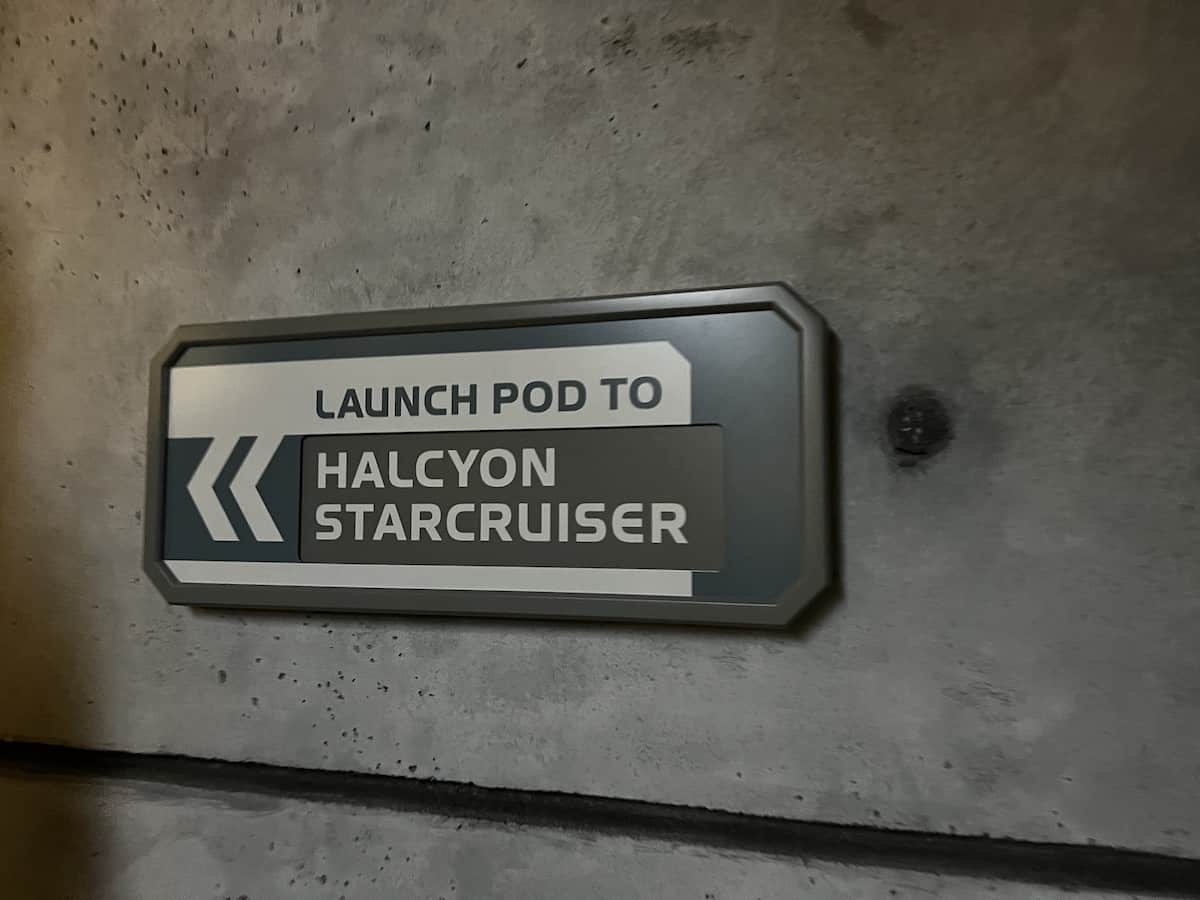 The atrium is the area where all the action happens! We were escorted by a Cast Member to our room. The Halcyon only had 100 rooms aboard the ship! It felt small and intimate while also still feeling spacious and not cramped or overly crowded!
We booked the standard room. It was bigger than we'd pictured it being after looking at pictures online. On the bed was an overview of the experience – really to help any guests who may not have fully understood what the whole thing was about!
I was a tad nervous that I'd feel claustrophobic aboard the ship since the only view out of the "window" was of space. But I felt great the entire time!
We were eager to check things out so we did a quick overview of the room and then headed to eat and explore!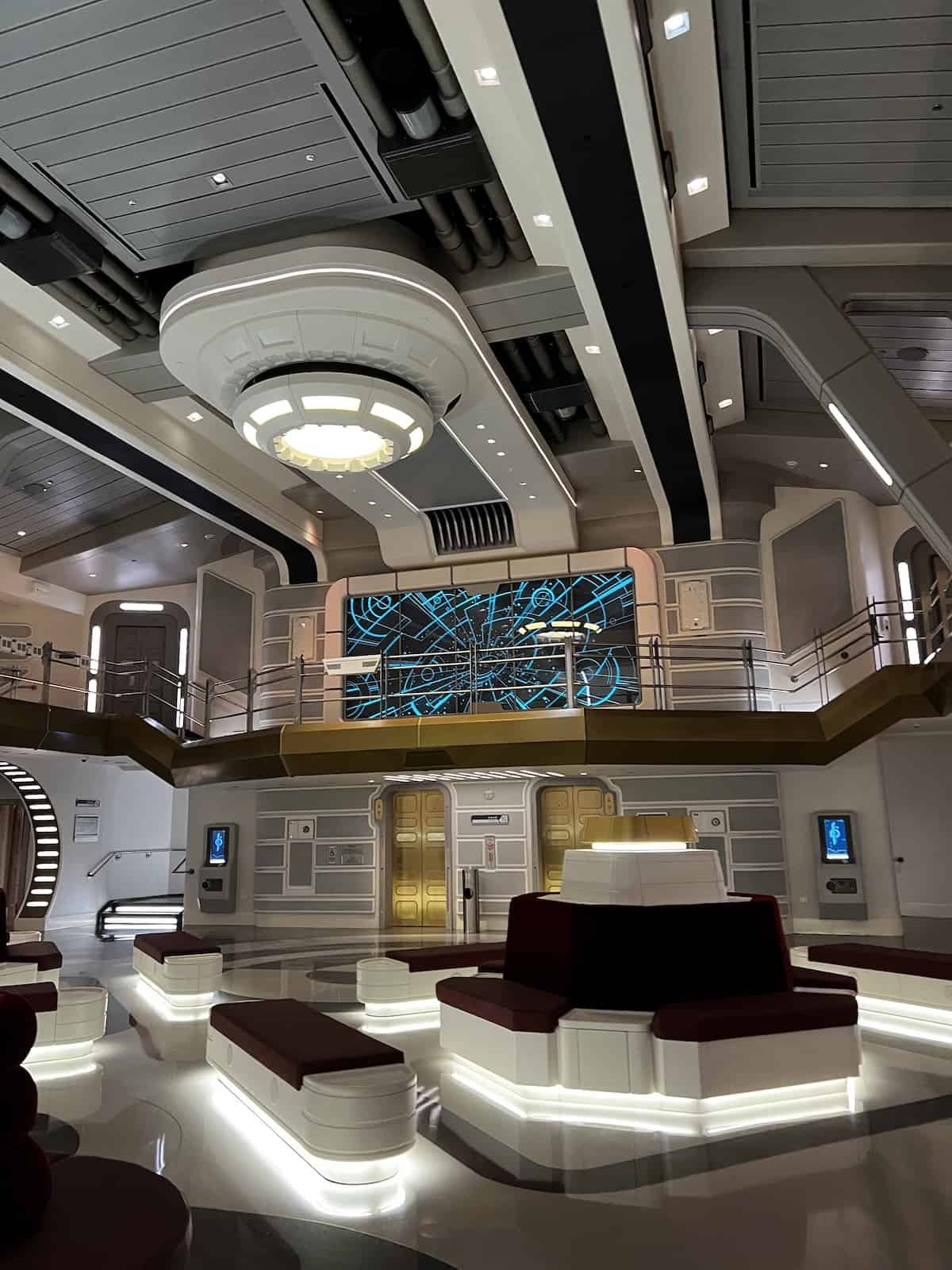 Our first stop was to get lunch! The Crown of Corellia was the location for all of the meals. Breakfast and lunch were buffet style and dinner was seated.
The kids were SO pumped about the "all-inclusive" element of the trip as they'd never had that sort of experience before. They had both blue and green milk on tap (none of us liked the green) and the trays were super heavy to help them not float away due to the lack of gravity in space!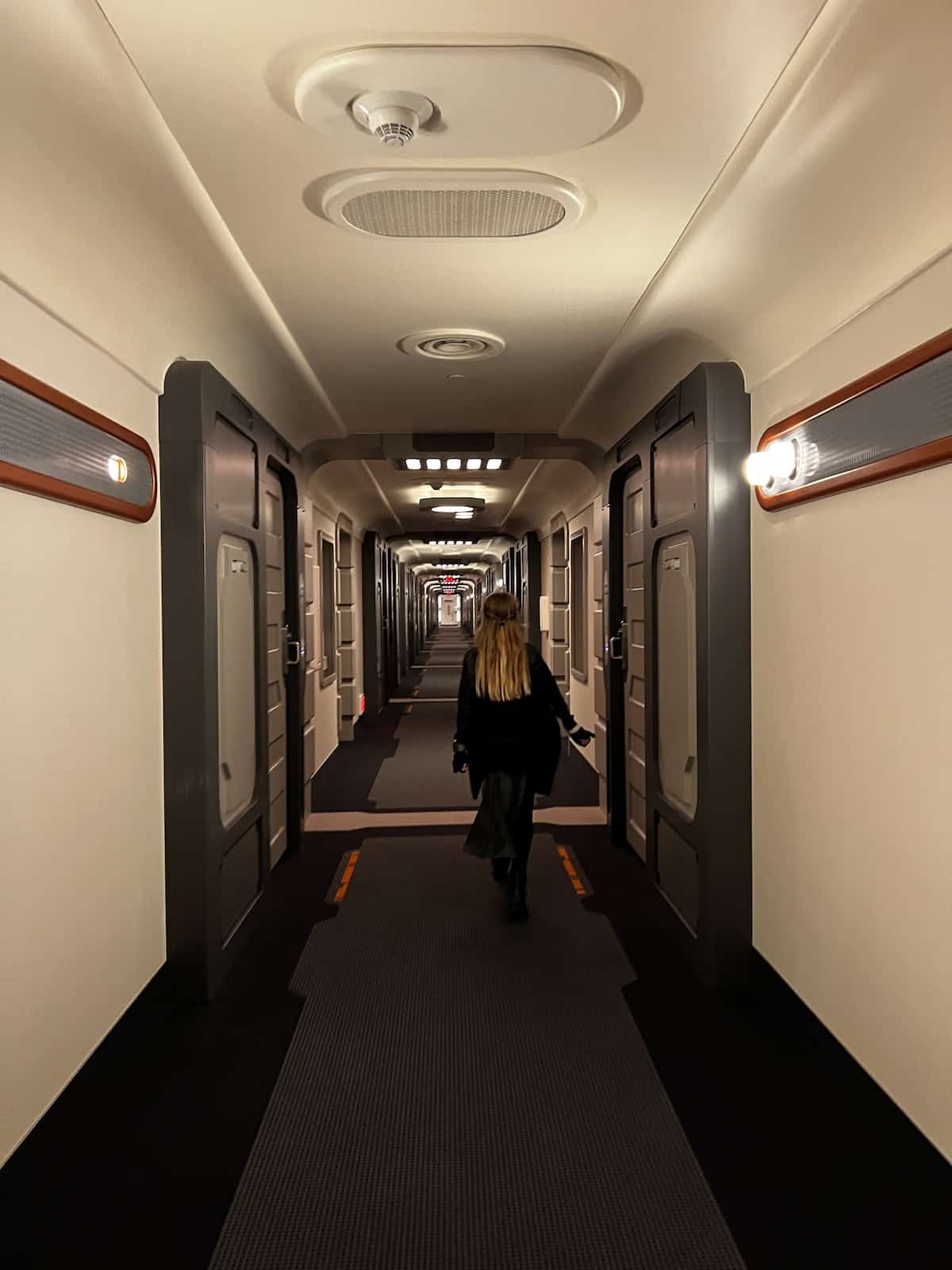 I read a lot of snark about the Starcruiser and how, due to the cost, it was only an experience "for the elite." I was very interested to interact with fellow guests and see their vibes. Aside from ONE rude guest, I never encountered a single rude or pretentious person.
Everyone was in awe and impressed and appreciative of the opportunity to be there. Yes, it was crazy expensive but the people who paid the money to be there were people who, for the most part, really savored the experience and didn't take it for granted.
On Earth the experience is referred to as the Star Wars Galactic Starcruiser but on board you ARE part of Star Wars and that universe. Therefore the ship itself is referred to as the Halcyon and it's part of a luxury cruise line called Chandrila Star Line.
The KEY of the experience was interaction. With cast, fellow guests but also with the ship itself. We were super glad that we'd gotten aboard early as we were ahead of later boarding passengers. We had more time to explore the ship uninterrupted and began unlocking some of the storylines!
I was also really glad we had developed our personalized back stories before traveling. There was NO "ease into it" or "instructions." Once you enter that line to board…you are IN the story right from the start. We were soooo glad we had created our "characters" for our journey!
I was also thankful for the water stations 😉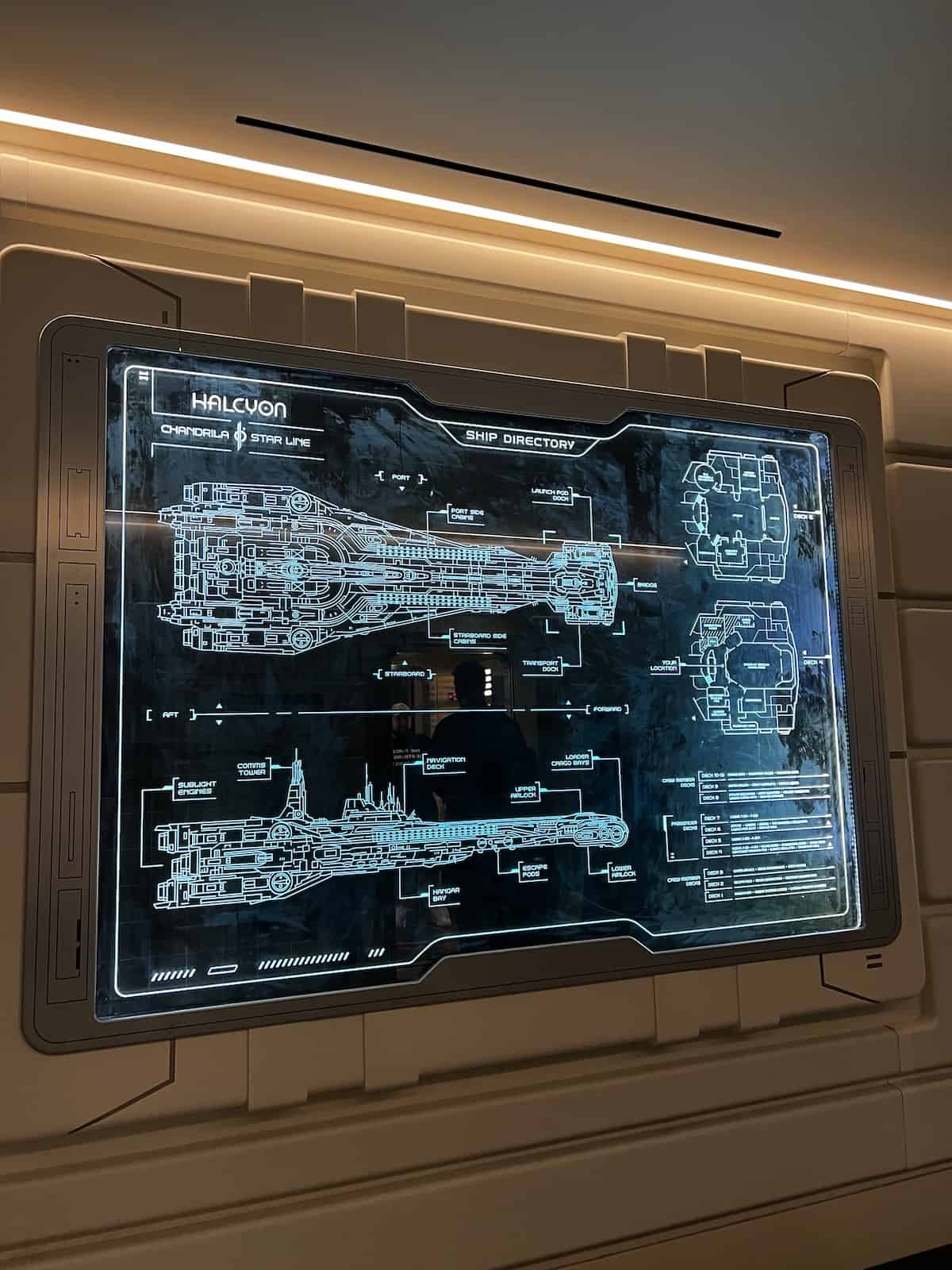 There was a lounge area and it included the Holo Sabacc Table! Kye was sooooo excited about this and anytime he had solo time on the trip he ALWAYS went to play a few Sabacc rounds. The table was really, really cool. I expected it to be super crowded all the time since there was only one table on the entire ship but the storylines kept guests so busy that Kye never had a hard time being able to play.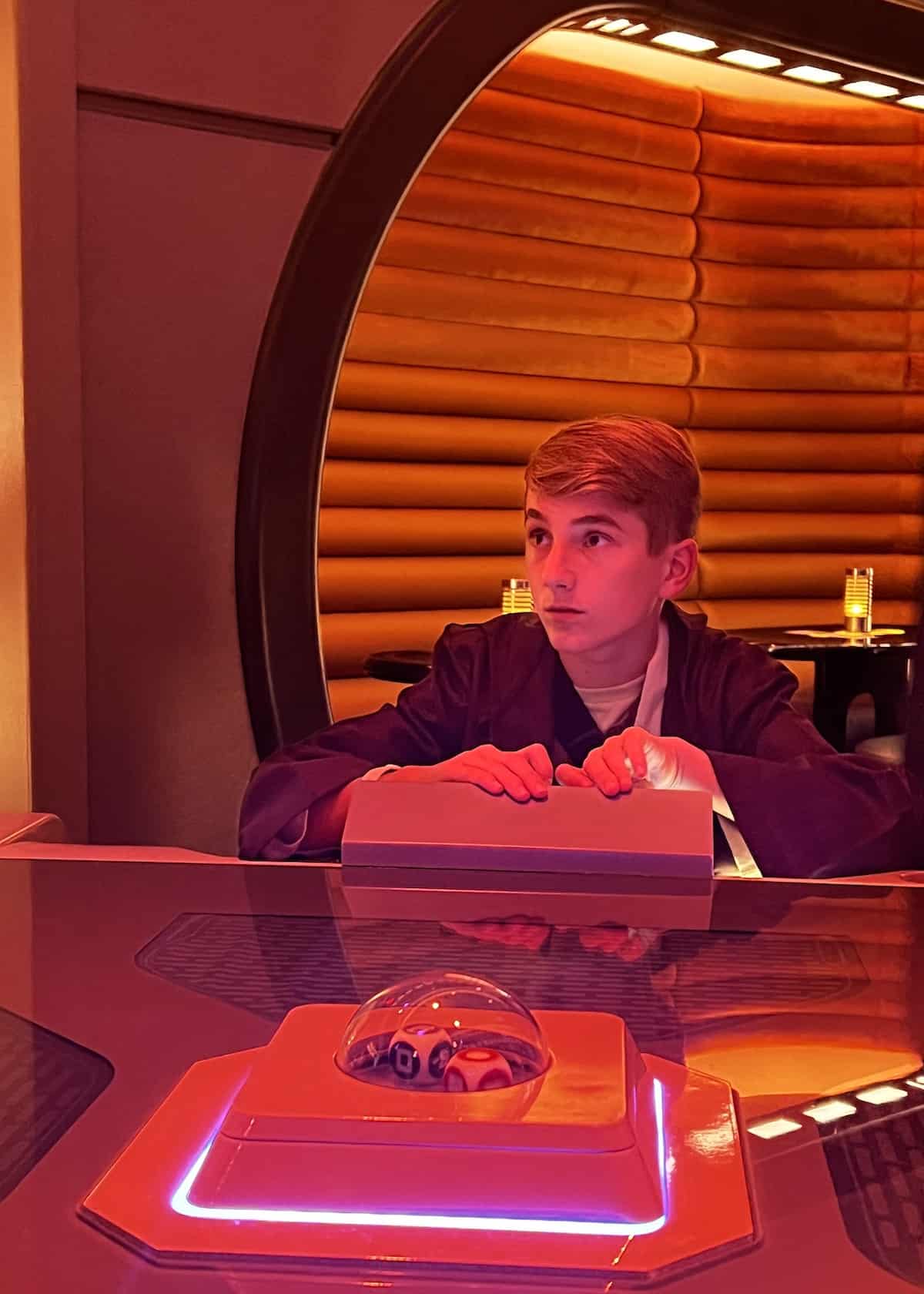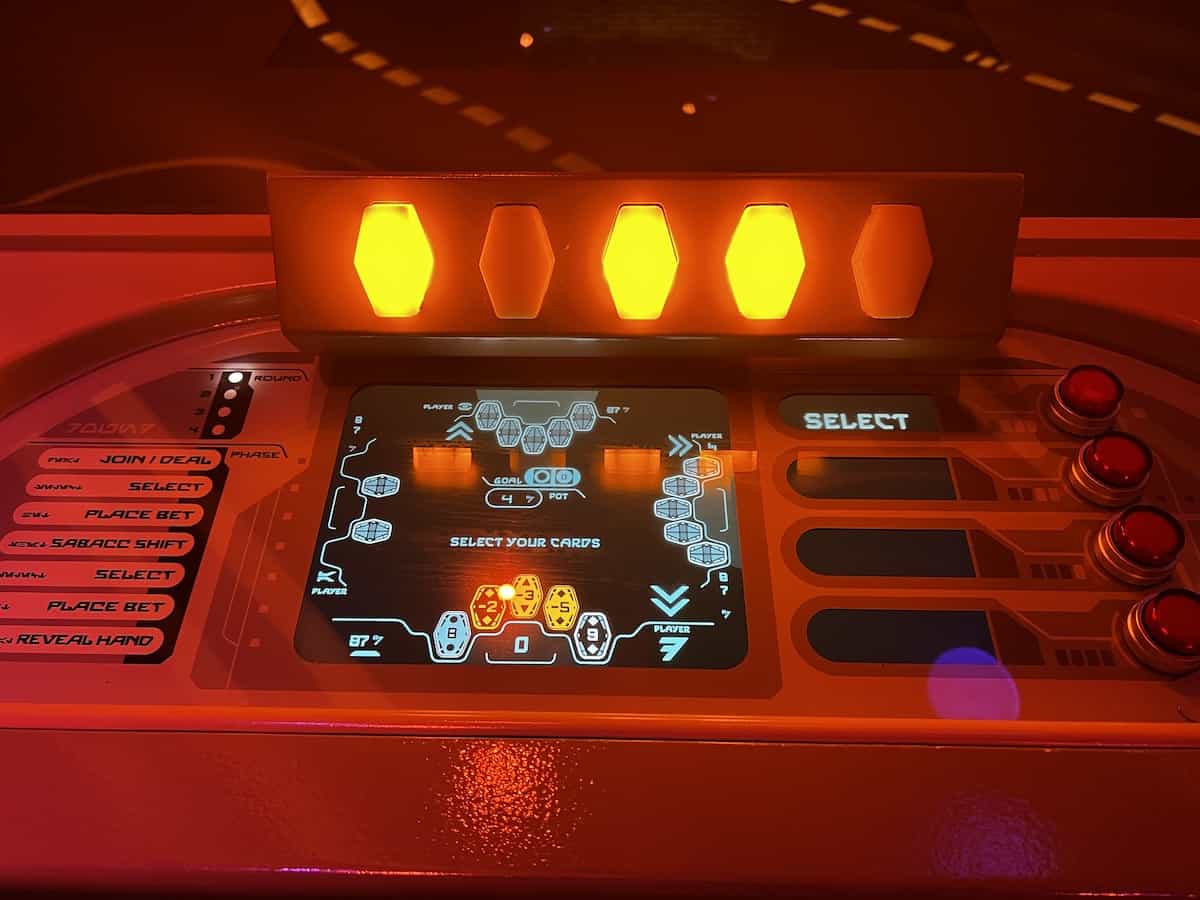 Zach realized a board on the wall was interactive and he and Kye were quick to break the code and give us authorized access!
Britt was a little frustrated and overwhelmed at first. The people interactions didn't start until 4 PM so the things we did prior to then were very tech-heavy which made her feel overwhelmed. And really, overall, the tech heavy missions never ended up being her jam – she's a peoply person like her mama 😉
Tess, on the other hand, ended up becoming our little hacker. She LOVED the tech side of things and was SO good at solving puzzles and hacking the systems!
Overall Britt and Kye were THE perfect ages for the experience. I was shocked at the number of babies and toddlers I saw. I think Disney was right on the money when they recommended ages 7+ Tess is Tess so she did awesome but I'd almost say age 10 and up would be ideal for the experience!
We gained access to the engineering room!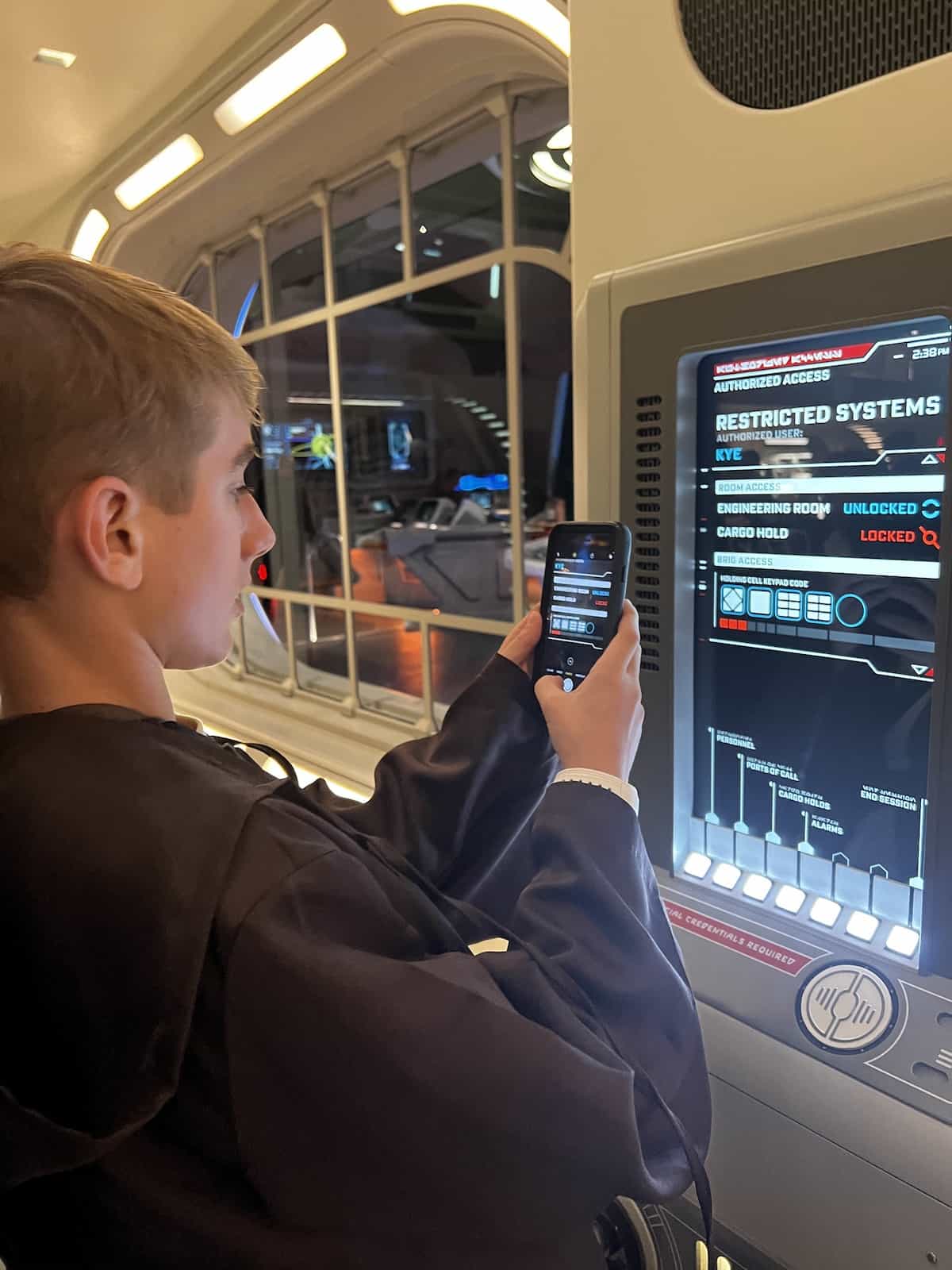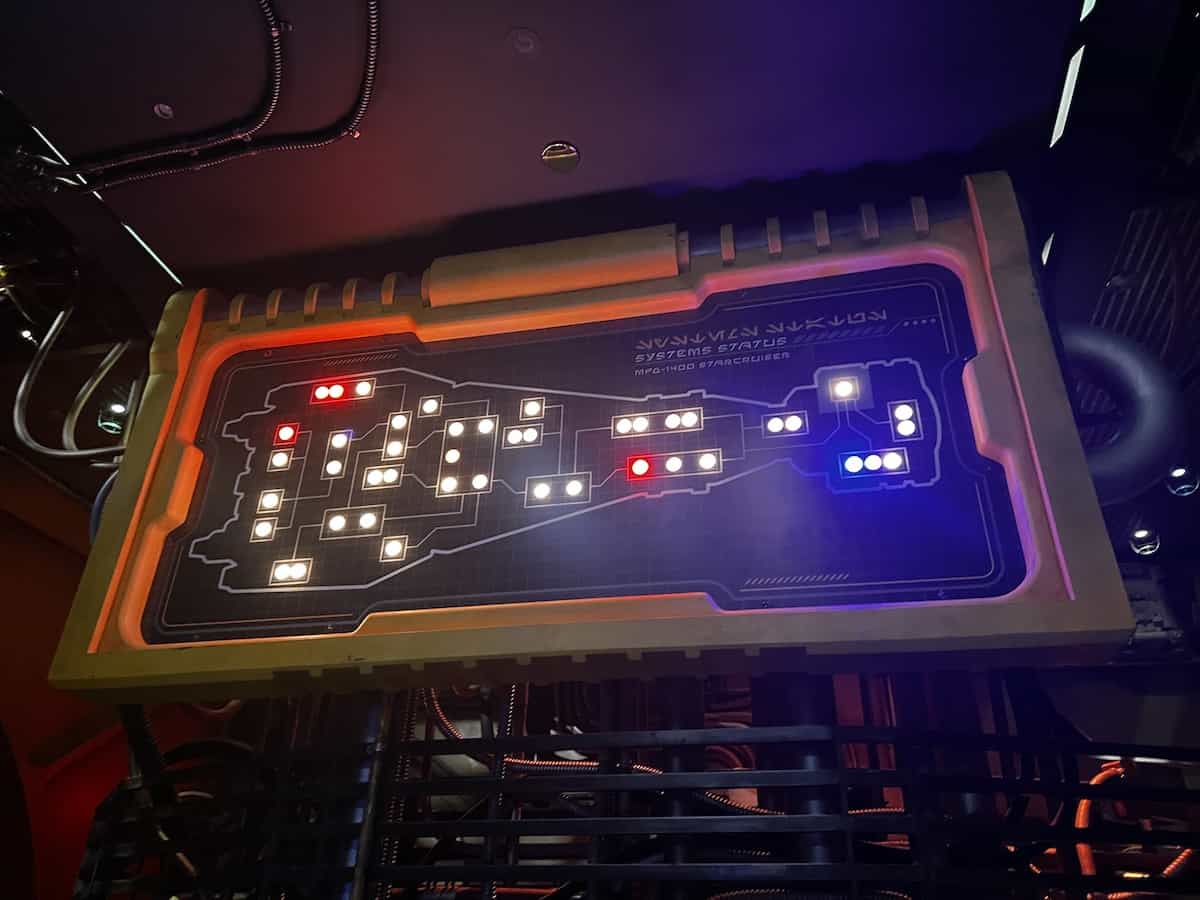 I do wish Disney had done a dress code for guests aboard the Starcruiser. Seeing guests in just random, regular clothes was SO annoying and came across like they were either clueless or just "too cool" to be into it.
We quickly noticed that the people who were in costume were THE most into it and received the most attention and interaction from the characters.
Leading up to the trip I assumed we'd stay together as an entire family the whole time but the free range areas were very limited and located very closely together. I regretted not packing the Apple Watch but still felt very comfortable letting the kids run and go and do their own missions. We did most things together but were also super comfortable letting them go have their own experiences.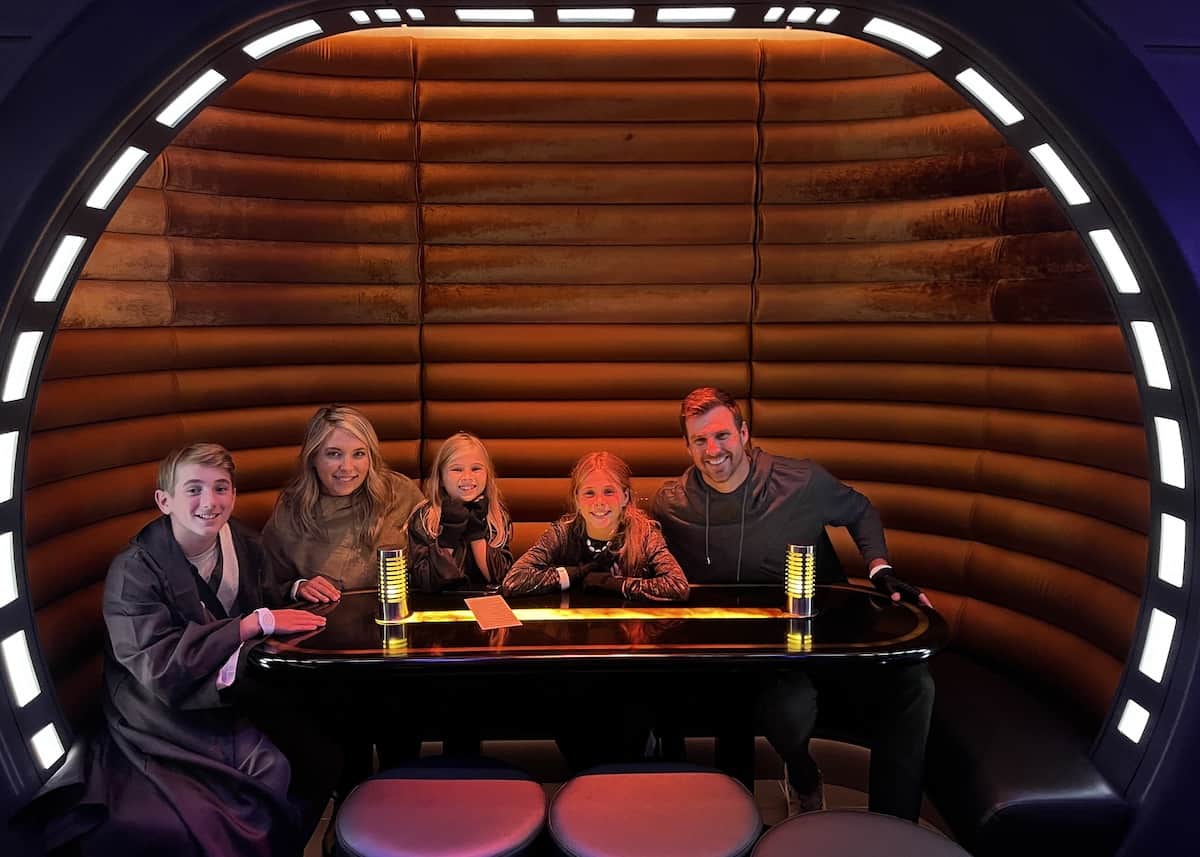 Kye hung out to play Sabaac a bit (and made a new friend!) while the rest of us went back to the room to check it out before the 4 pm start time!
So many cool details in the room – when we walked in we were surprised with comic books! It was SO sweet of the cast members to leave them for us…
When we first checked in the room we had QUITE the scare. Tess got LOCKED inside the water closet. Like it was legit stuck with her inside of it. To the point where we had to go find help to get her out.
Thankfully Zach was able to lift the door off the tracks and Tessie stayed calm the whole time – the cast member brought the comic books for her 🙂
While Zach wouldn't wanna sleep in the bunk – he did fit! (6 feet 5.75 inches tall). Also the remote was as big as Tess's calf!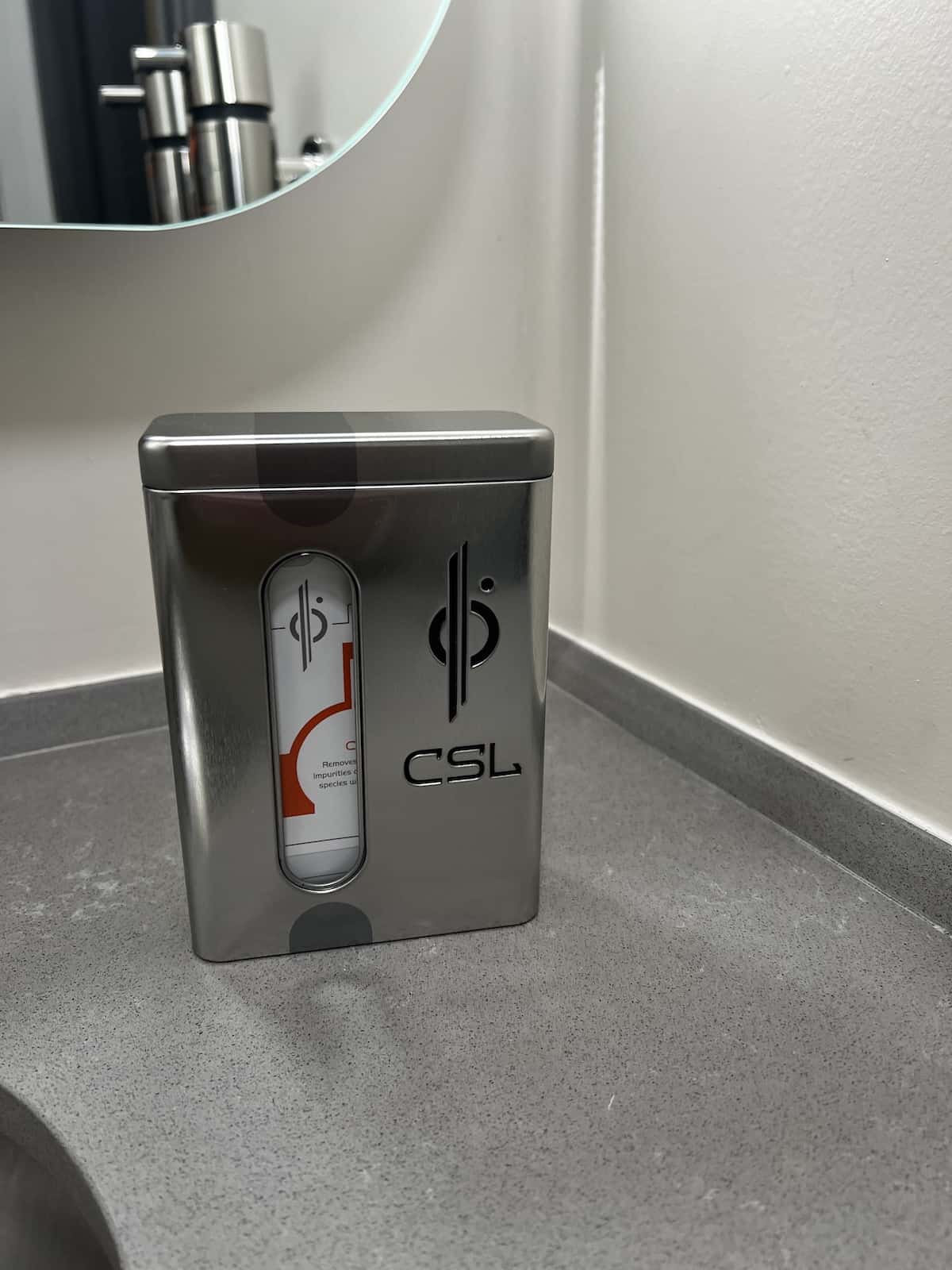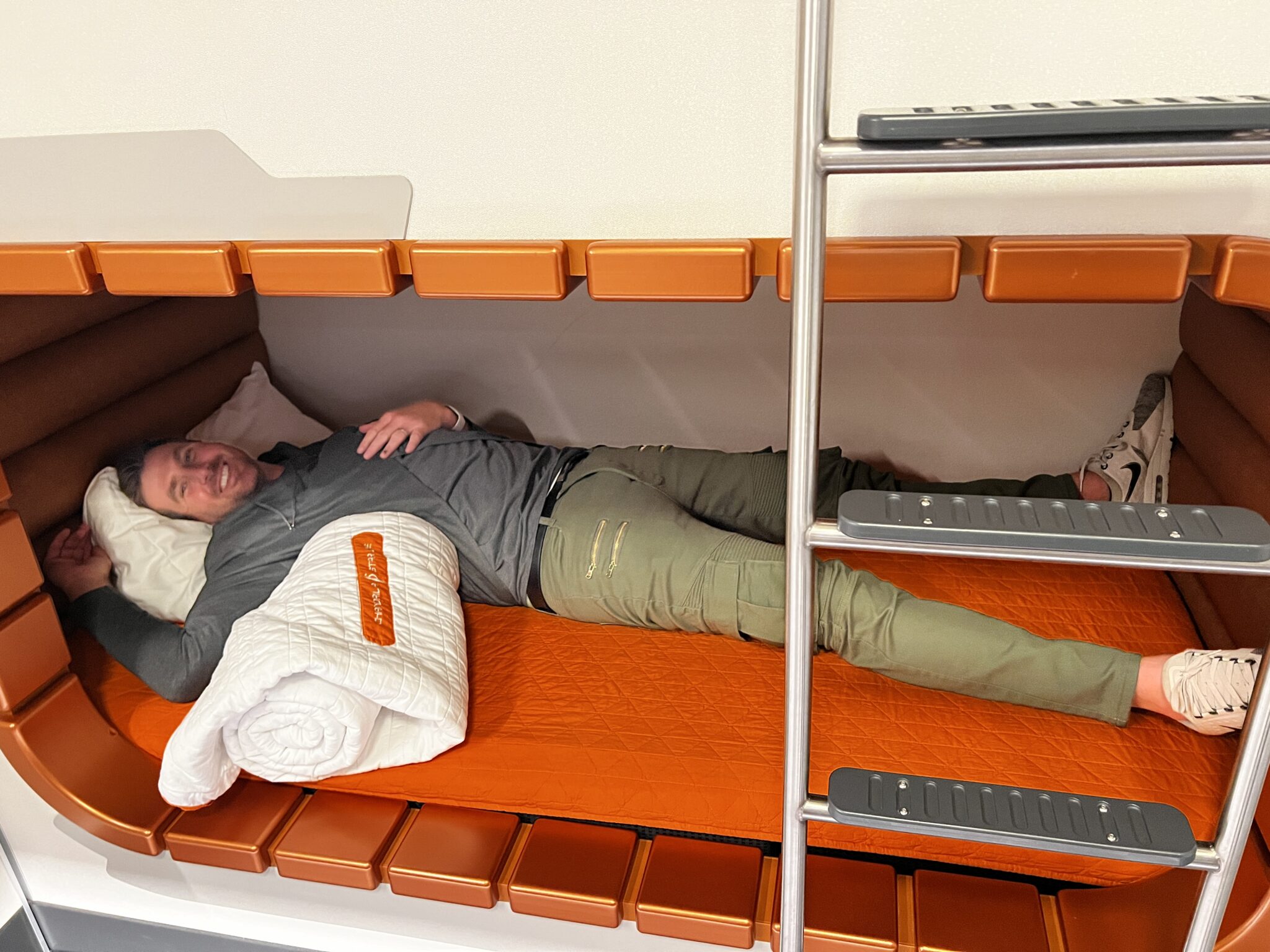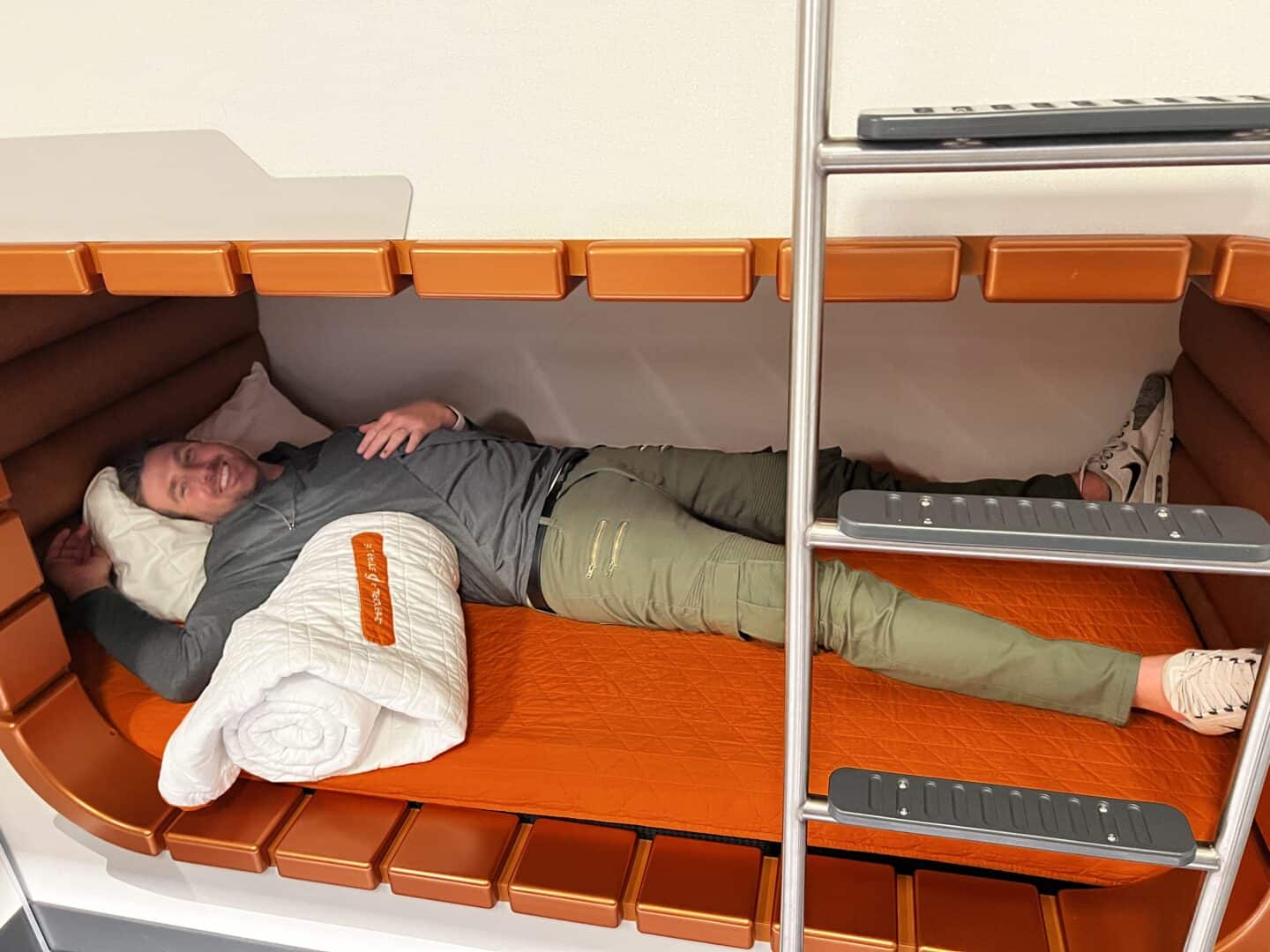 The muster drill was at 4 pm and it is when the story really started to unfold
We had to choose a muster station and in that station we met our section "captain", Sammie. We also made sure to talk and mingle with alllll the characters we could. Sometimes it was hard to tell who were characters and who were guests dressed up!
Ouannii was amazing – she is the green creature – but she only spoke her native tongue! We also met Captain Ryola Keevan (the blue lady with the hat) – the captain of our ship.
It was a bit of an overload at first – but just soft introductions and interactions to get things really rolling.
The storyline started with being in the muster drill groups and then announcements from the cruise director etc like what would happen during a normal cruise experience.
And thennnn the First Order boarded the ship. I love the kids reactions when it happened!
The girls also met SK, the droid, and ended up being part of a few missions rescuing him aboard the ship!
The entire point of the muster was to get introduced to storylines. There is not just ONE storyline on the ship but TONS of them. What you do and who you interact with and the choices you make lead you down certain paths.
We met Raithe Kole very quickly and could tell right away that he was a "Han Solo" type guy. The first mission we were part of was with him – the girls helped deliver Gaya's (the "famous" singer who would be performing on the ship) luggage.
I made sure to pay close attention and took lots of pics in case things came in handy later – like the luggage tags.
We told stormtroopers that we were delivering the luggage to one location but in actuality, we were gaining access to the cargo room – led by Sammie (who ended up being our FAV!)
The ship was all-inclusive but it wasn't unlimited food at all times – they did have snacks out but it was slim pickings.
Our family, obviously, stuck to helping the resistance anyway we could and really stayed within those storylines the entire time – we never had any "dark side" storylines.
We had lots of messages in our "comms" that kept us informed about missions, meeting times, etc.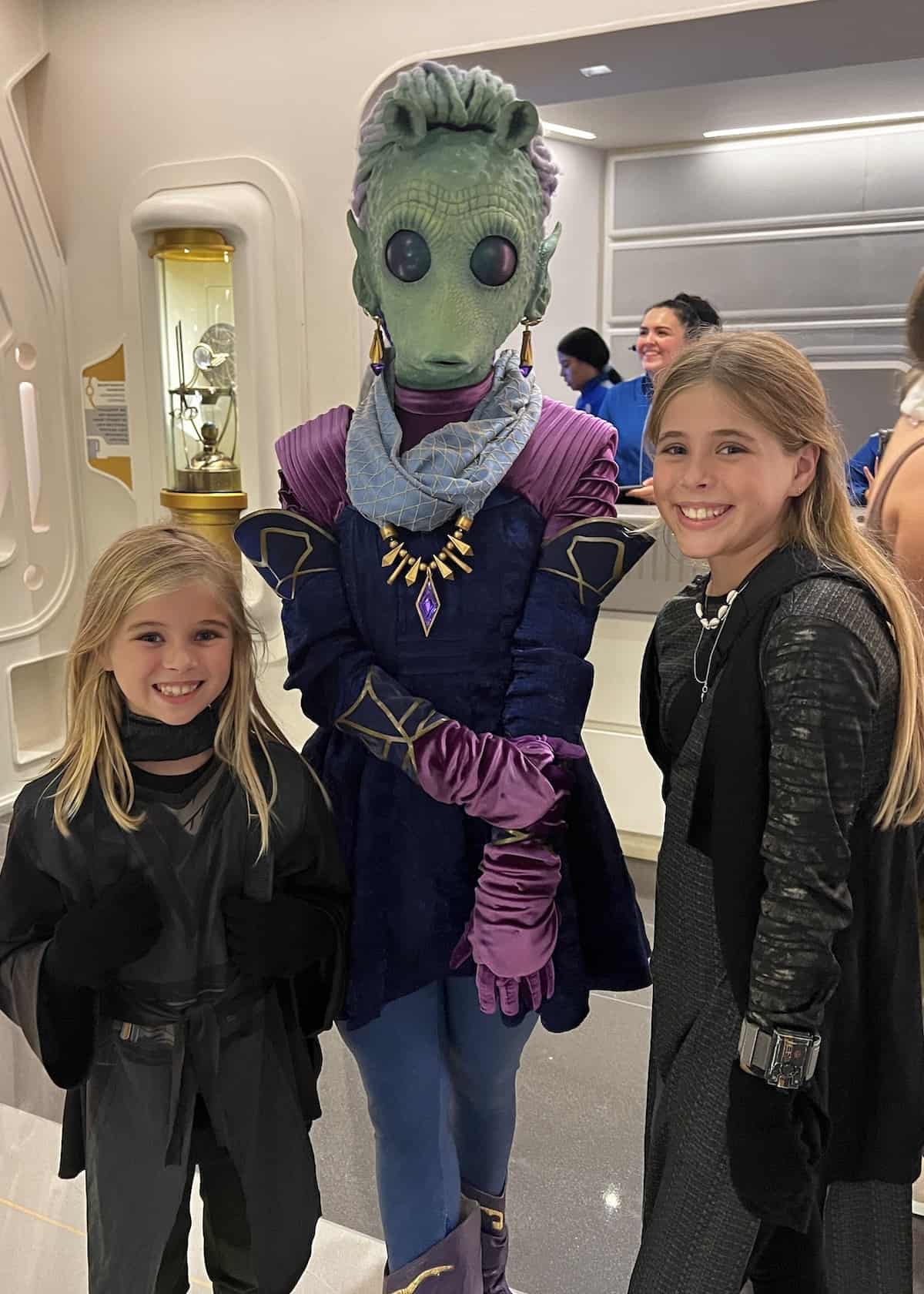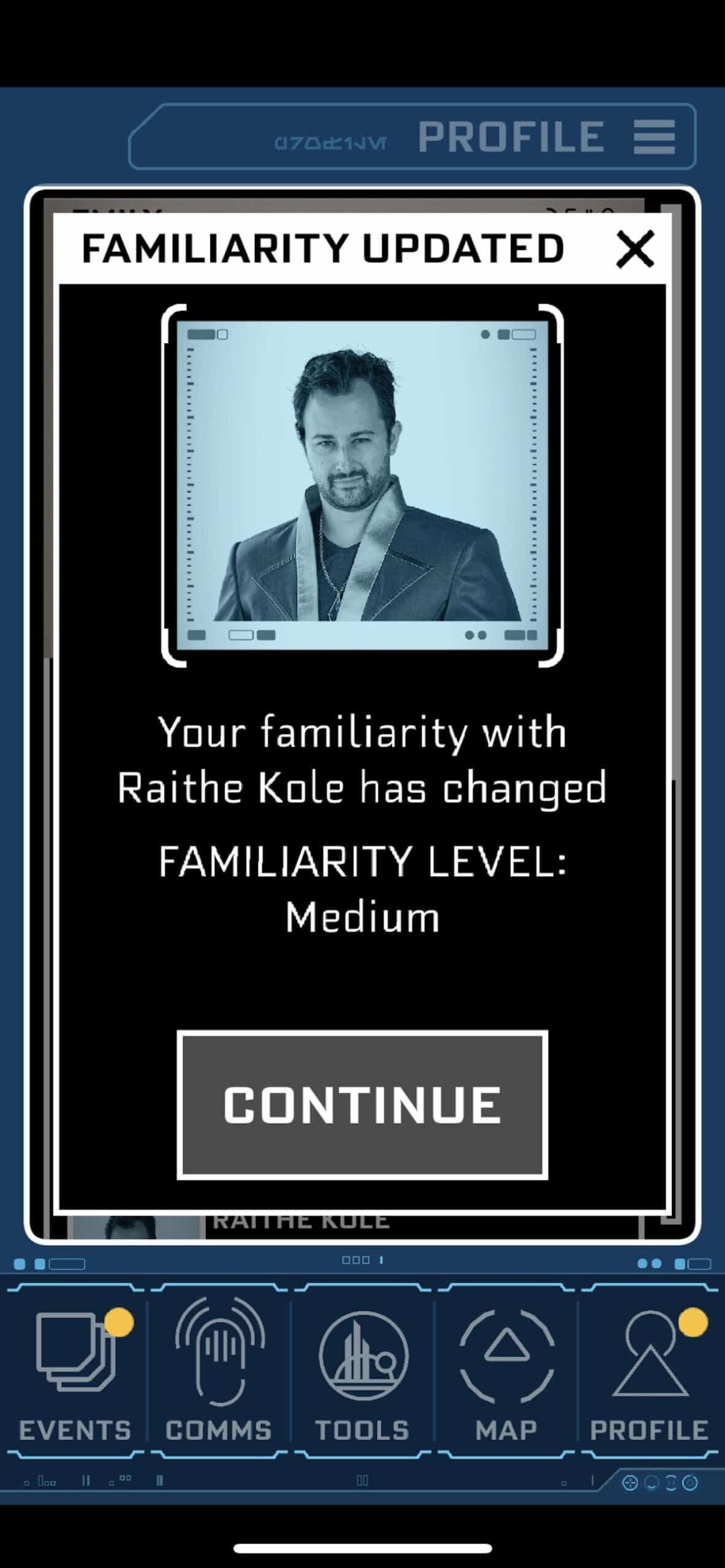 Our dinner was at 5:30 (the early seating) so we headed that way to be seated. We had the same table and server for each dinner!
The only thing that REALLY bugged me about the entire experience was that Disney tried to get more money out of us at dinner. Every time we were seated there was a list of super cool drinks that could be purchased. We'd already spent sooo much money that it would have been nice to never have to have a situation where we had to tell the kids "no" ya know? I get alcohol not being included – but the fun kids drinks being an upcharge bugged me!
Zach and I agreed leading up to the trip that the money had already been spent. So we didn't want to spend the whole time thinking about the money or picking apart things based on the cost of it all. The money was gone – just ENJOY! We didn't talk about the money at all or put any sort of pressure on things to be "worth it."
The food was very cool looking and interesting. However, it was the only letdown of the entire experience for us – it just wasn't great. There wasn't a single thing that we ate that any of us were like "oh man I wish they had that on our home planet!"
And, of course, I was also annoyed by the cardboard straws…space turtles need rescuing too I guess 😉
Tess barely ate anything other than treats at lunch so I asked about alternate food options. Space food is weird looking – especially for pickier eaters. At dinner they brought us fruit, cheese pizza, chicken nuggets and waffle fries 🙂
Gaya performed and she was both beautiful and talented! Her songs also had lots of secret messages to help in our missions. The First Order even loved a good Gaya jam!
My favorite Kye moment of the trip was watching him dance! It was PRECIOUS seeing him SO into it. He told me later that he'd been dancing just for me 😉
Our server handed us our receipt and tucked inside was also part of a secret note. We had part 2 and made friends with other guests pretty quickly for part 1! We finally eventually got a Part 3 but by the time we did we had already far passed that stage of things where it would have been helpful.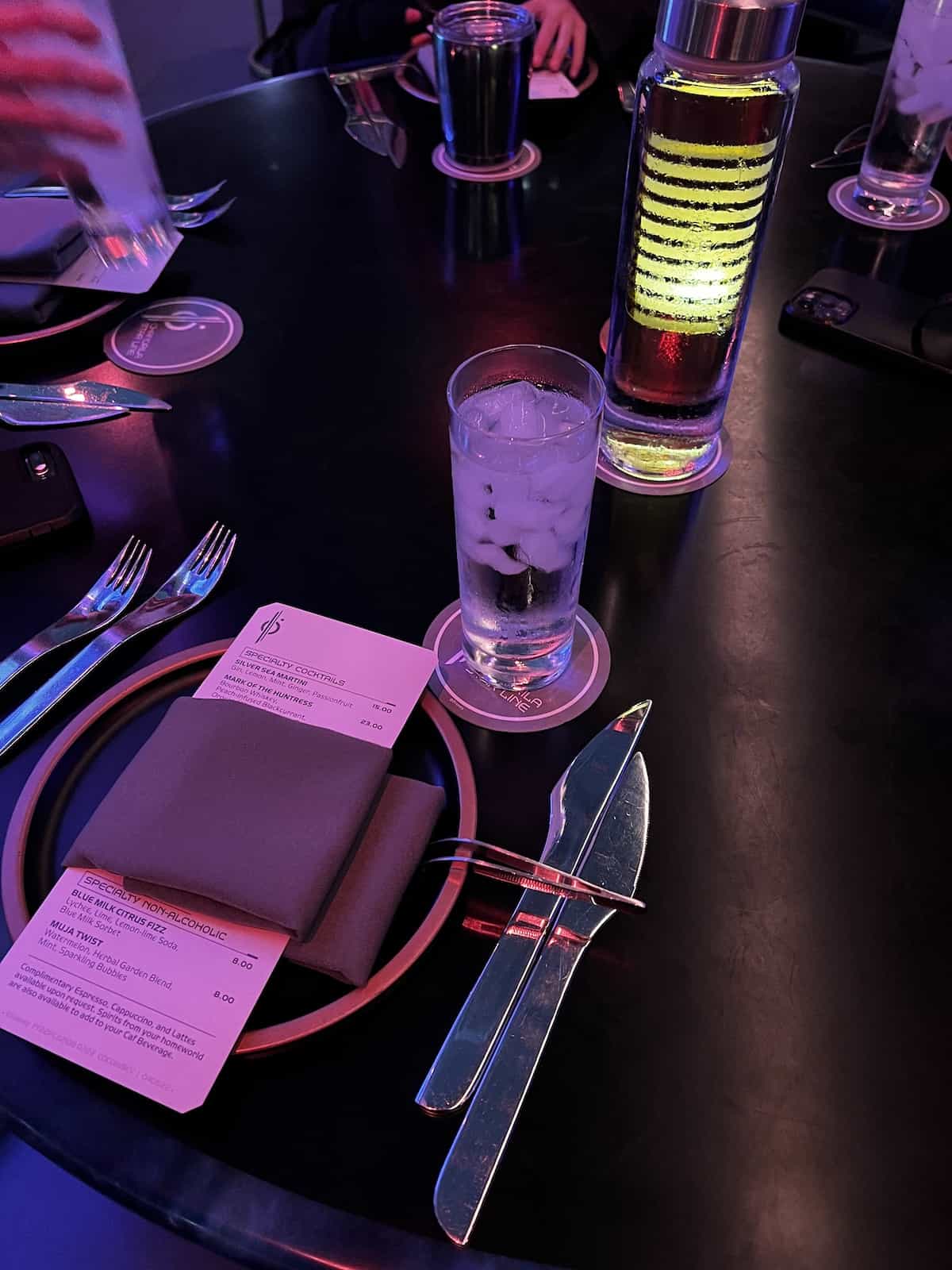 Dinner was very much still part of the active storylines and continued after we finished eating as well. We ran into the incredible performer, Gaya, in the lounge after dinner. A crucial thing for us was to establish trust with the characters we met.
We learned the secret was to say "Ignite the spark." If someone replied with "light the fire" we knew it was code for being members of the resistance.
It was awesome how effortlessly we all adjusted to this "world" being the norm. For example, with Gaya you look at her and think "wow that makeup is amazing" but we didn't even think about any of that sort of thing – she WAS Gaya!
It's not shocking that Team Parker is all good guys, all the time. We rarely interacted with Lt. Croy (from the First Order). At one point I did try to convince Tess to join the dark side and rat out Daddy and Kye but she refused 😉
There was one big main storyline going on throughout the ship that tied together all the smaller side storylines and missions. The kids LOVED the mini-missions. Some of which helped to advance the storylines but some were also clearly just filler missions.
I have no clue how Disney paced things so well but they did an incredible job! Based on others we met we were a bit ahead in some of the storylines so we also had more time for the fun smaller missions too!
We used taking pictures as a distraction tactic so we'd pose with the stormtroopers to allow others in our mission to sneak by undetected 😉
The snack bar in the evenings was much better than the daytime snacks. It was available from 5-11 with lots of goodies!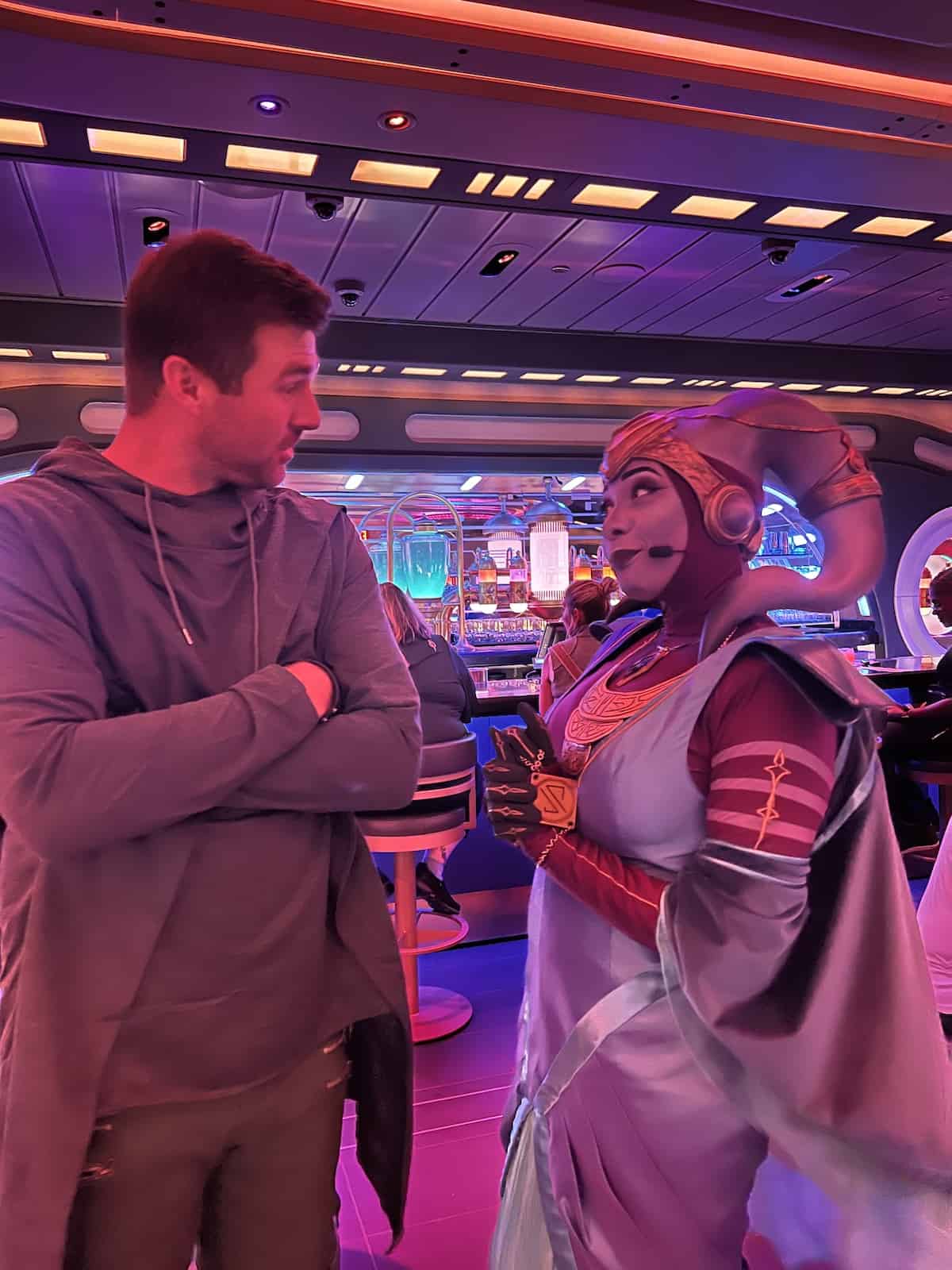 Within our datapads (apps) we had all sorts of useful tools that helped in our missions including the ability to scan and translate.
We took time to explore the ship and gather as much info as possible.
We briefly visited the climate simulator just to check it out and see if there were any clues…this area was outdoors and the only outdoor air space available on the ship.
Technically the Starcruiser is a building located behind Hollywood Studios. Which is why the only climate they could simulate was Batuu.
Since the Halycon was a cruise ship there were also regular cruise ship type of activities aboard. Tess partook in some dance lessons 😉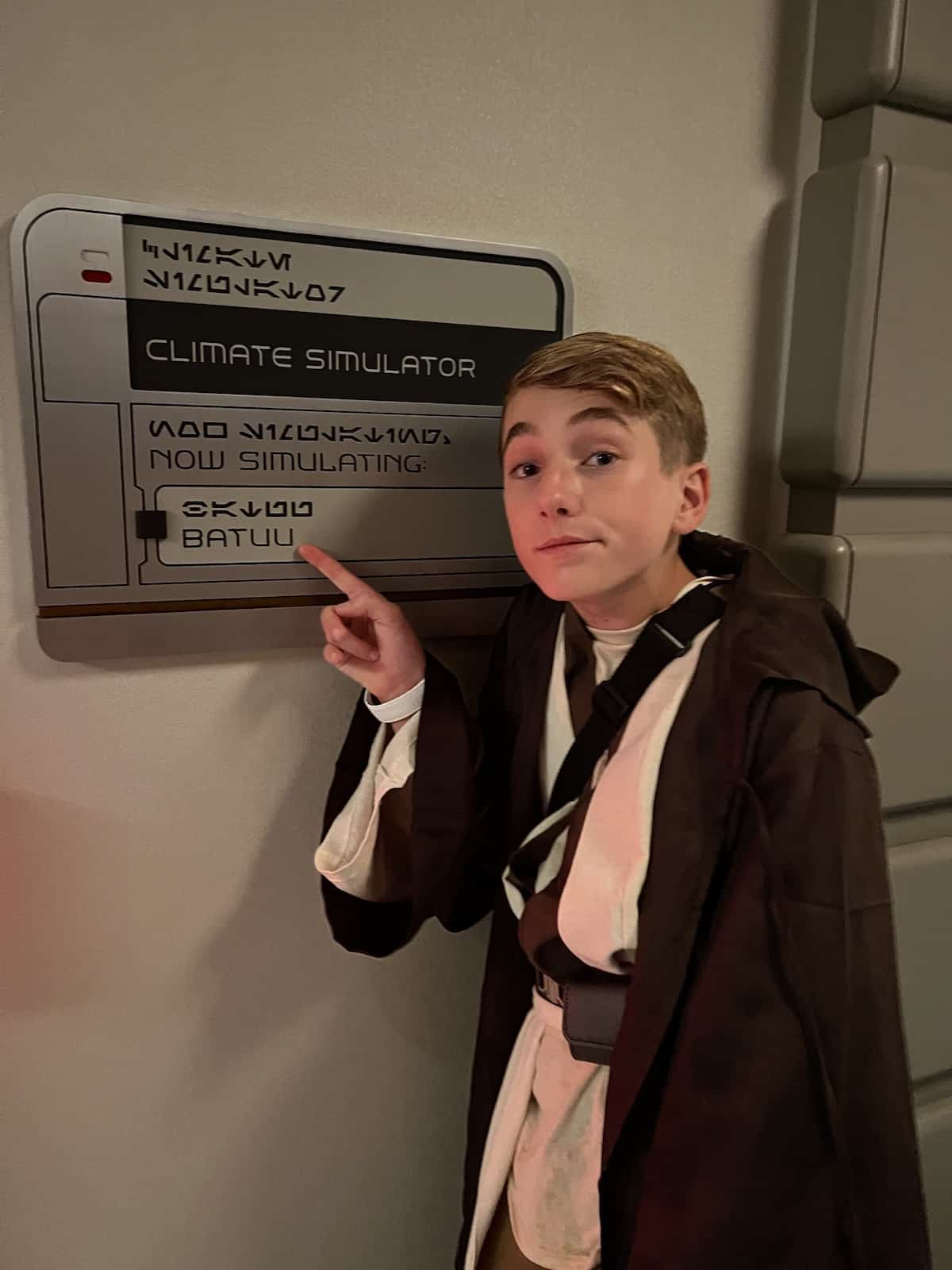 All guests had their own adventures. We'd meet people who had different plans on their event schedule than we did.
However, all guests had set times for both bridge and lightsaber training. Kye and I were partners for our bridge training 🙂 We had different stations and everyone got to have a turn at each station. It was very similar to a video game mixed with the smuggler's run ride in Batuu.
The arranged trainings were cool and were part of our storylines as well but the "chance" happenings and the "secret" meet-ups were THE best!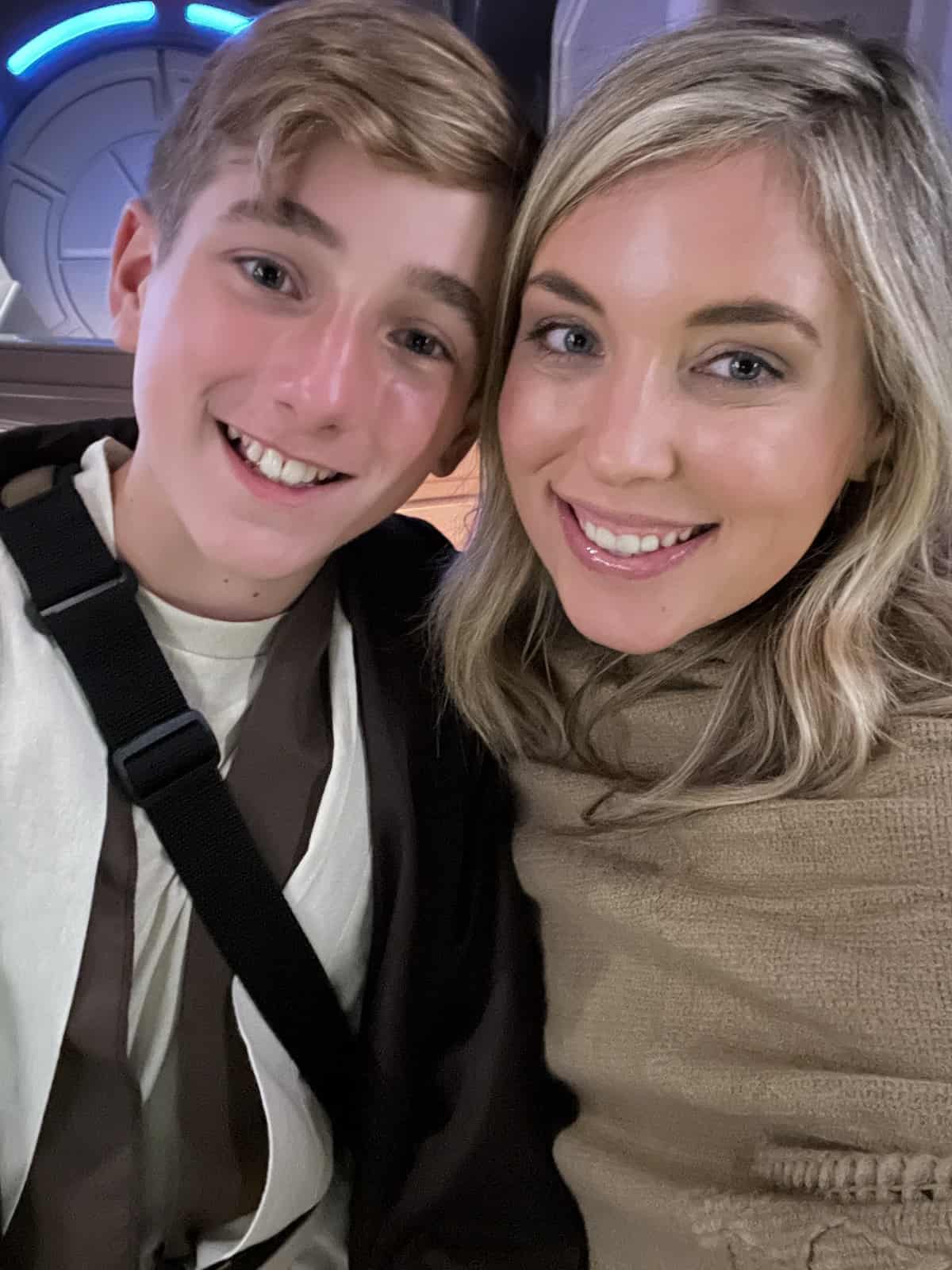 During our bridge training, Sammie was apprehended by the First Order so we went on a mission to rescue him!
We worked to gain access to the Brig where Sammie was being held and got in!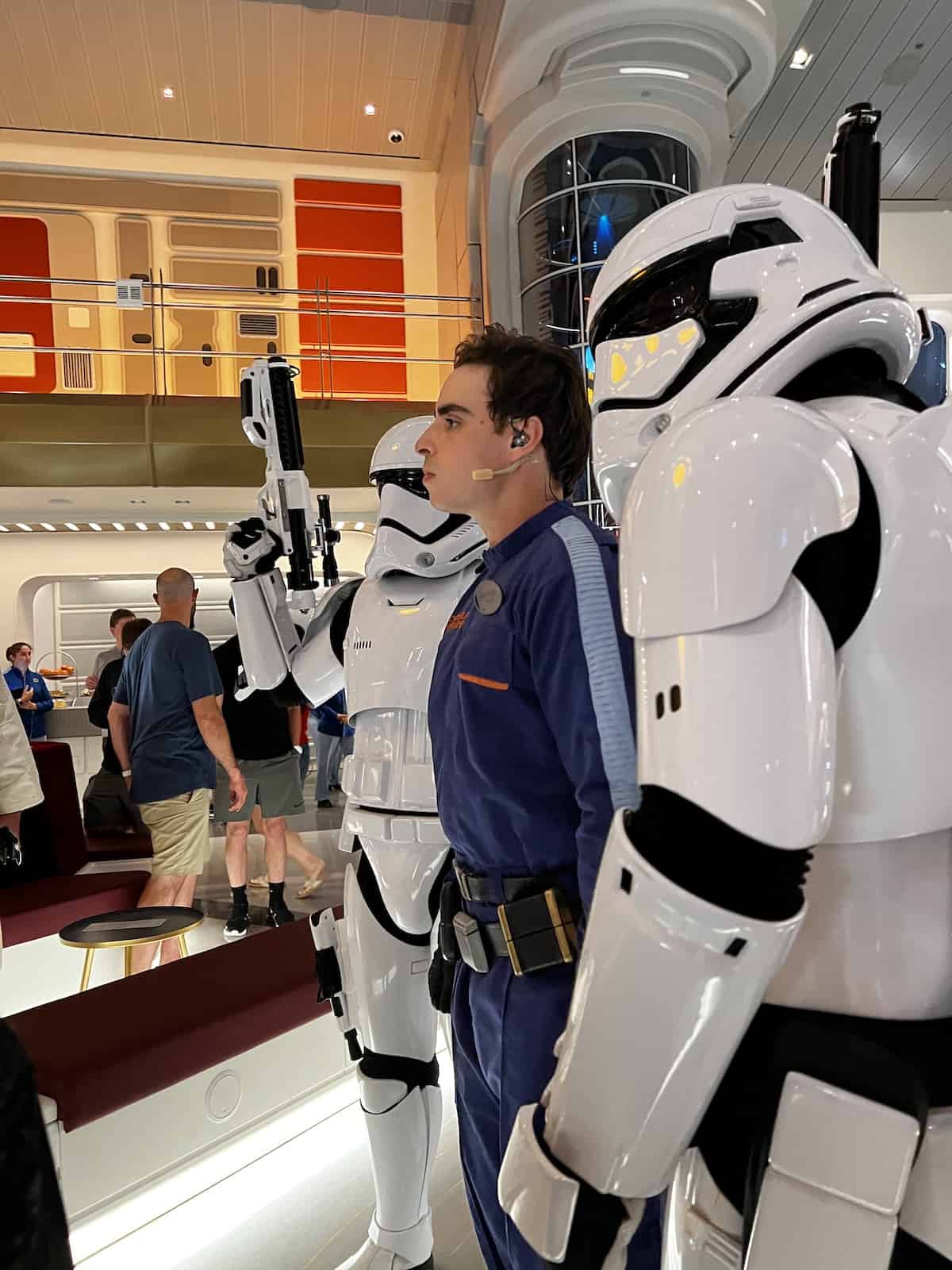 Then we got to meet CHEWBACCA!!! He was THE hit for all the younglings aboard. He was like a kid magnet and it was SO cool. It was just so magical to be casually interacting with him!
My favorite Britt moment of the trip was when she was put in charge of helping Chewy. She took it SO seriously and watching her and him together peeking around the corner on the lookout was just precious.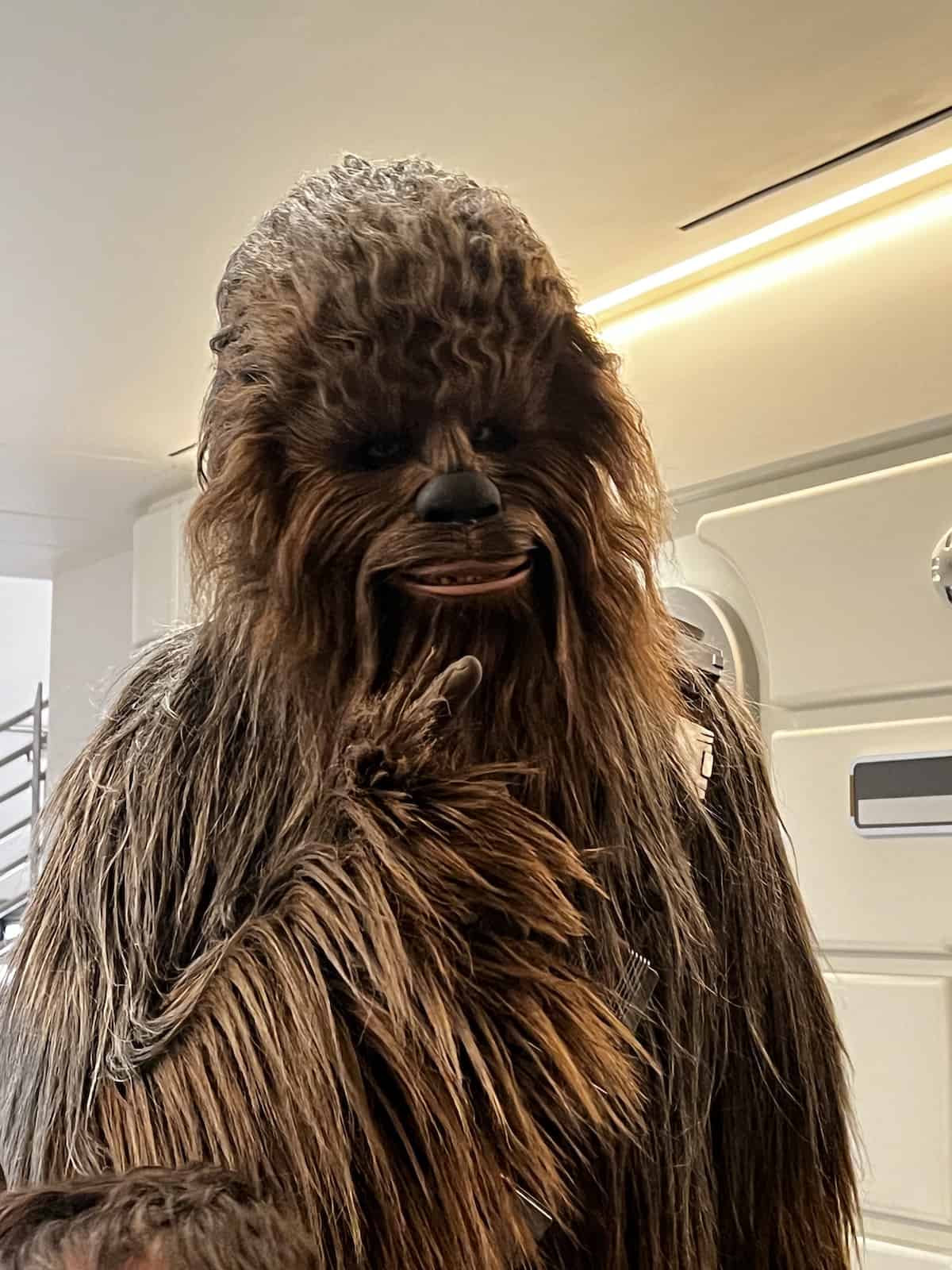 Zach had apparently been making buddies with Croy and at one point Croy interrogated Britt but she did NOT cave 😉
The activities aboard the ship were literally non-stop from 4-10. We didn't even get back to our room until 10:30ish!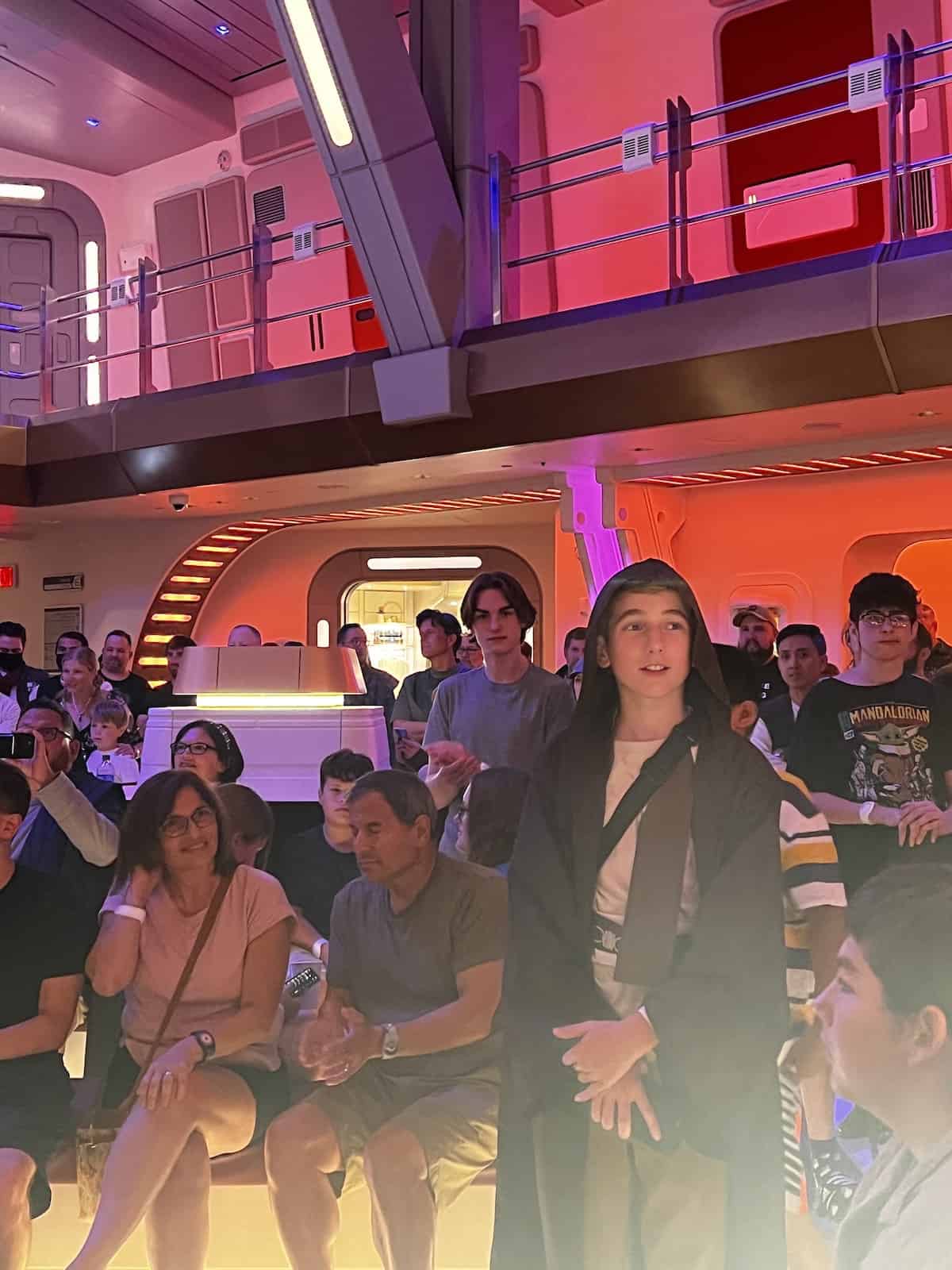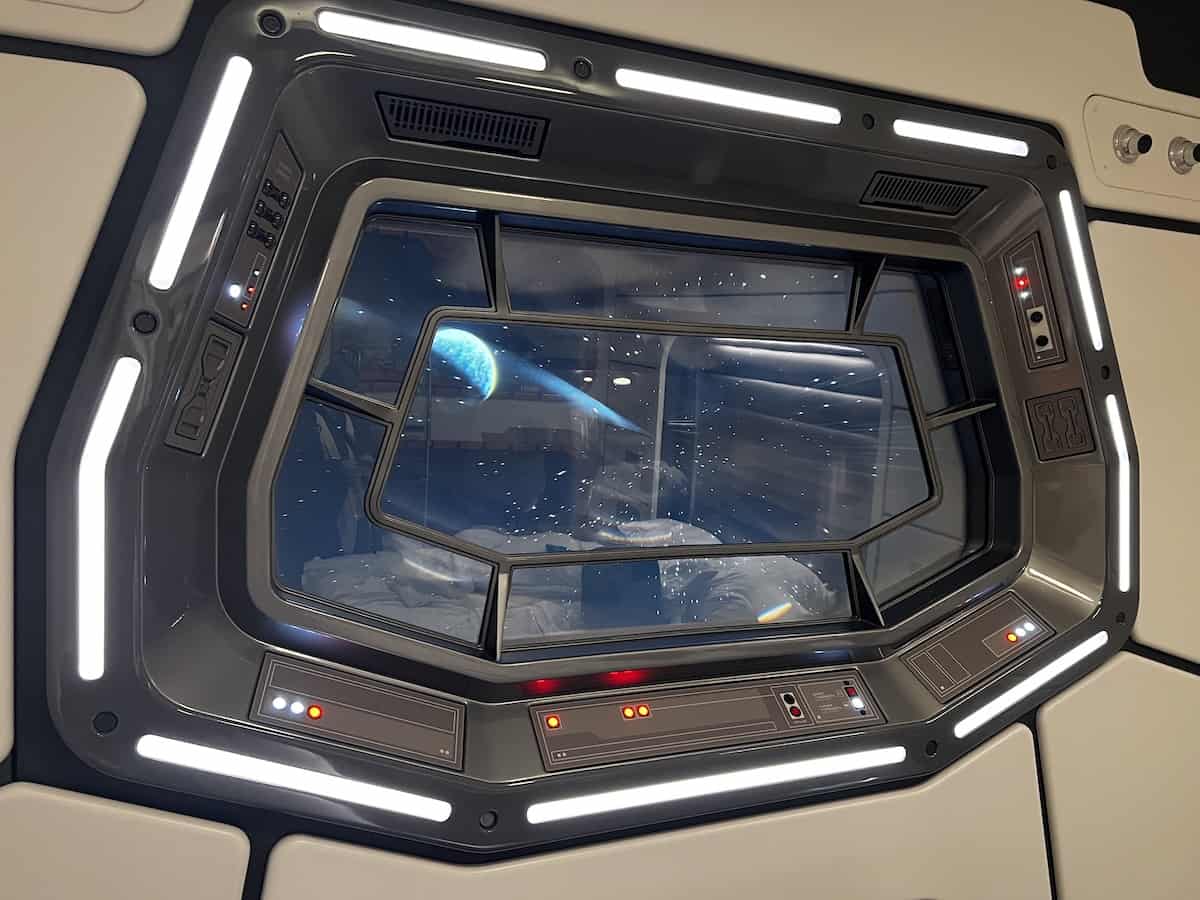 We woke up on Day 2 and saw that we were headed to planet Earth!
We saw lots of guests who had a variety of outfits but we opted to keep our same outfits throughout our trip and just had lower layers that we changed to stay fresh!
First thing we did was hit up breakfast! We wanted to get an early start to the day – anything Disney related it's always wise to be EARLY.
Tess really loved the cups (I'm shocked there wasn't an option to purchase them) and she also love getting to drink a bit of morning coffee like Daddy 😉 They even had space POG juice!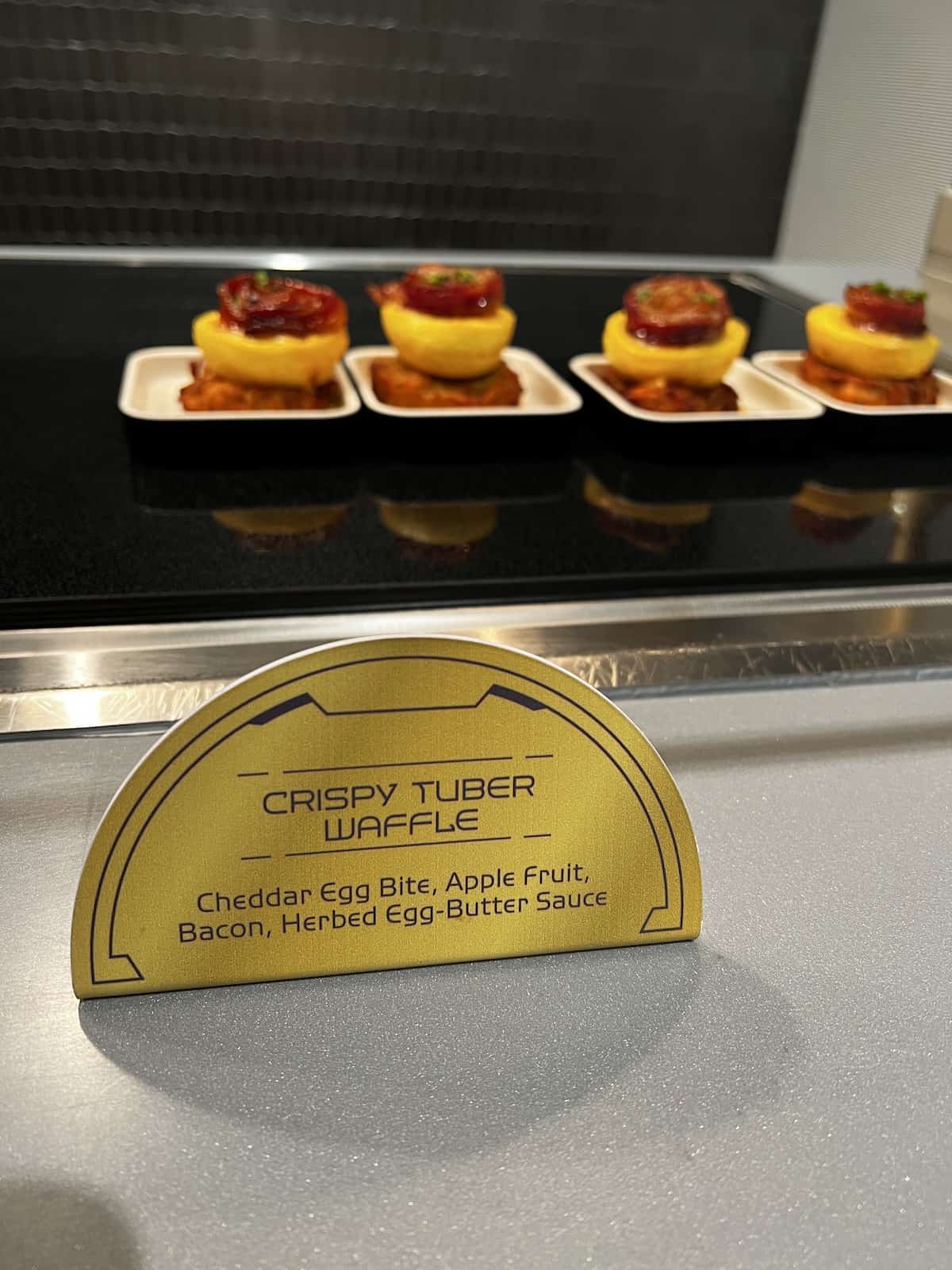 It was neat being up before the majority of the guests – made for some great photo moments and a chance for a little Sabaac.
The first transport to Batuu left at 8 so we went down to breakfast at 7:15 and had time to enjoy the empty ship!
We seamlessly transported from the Halcyon to Batuu via the transport shuttle (yes, they are actually big trucks!)
Then we walked a bit through a passage from the transport to enter Batuu!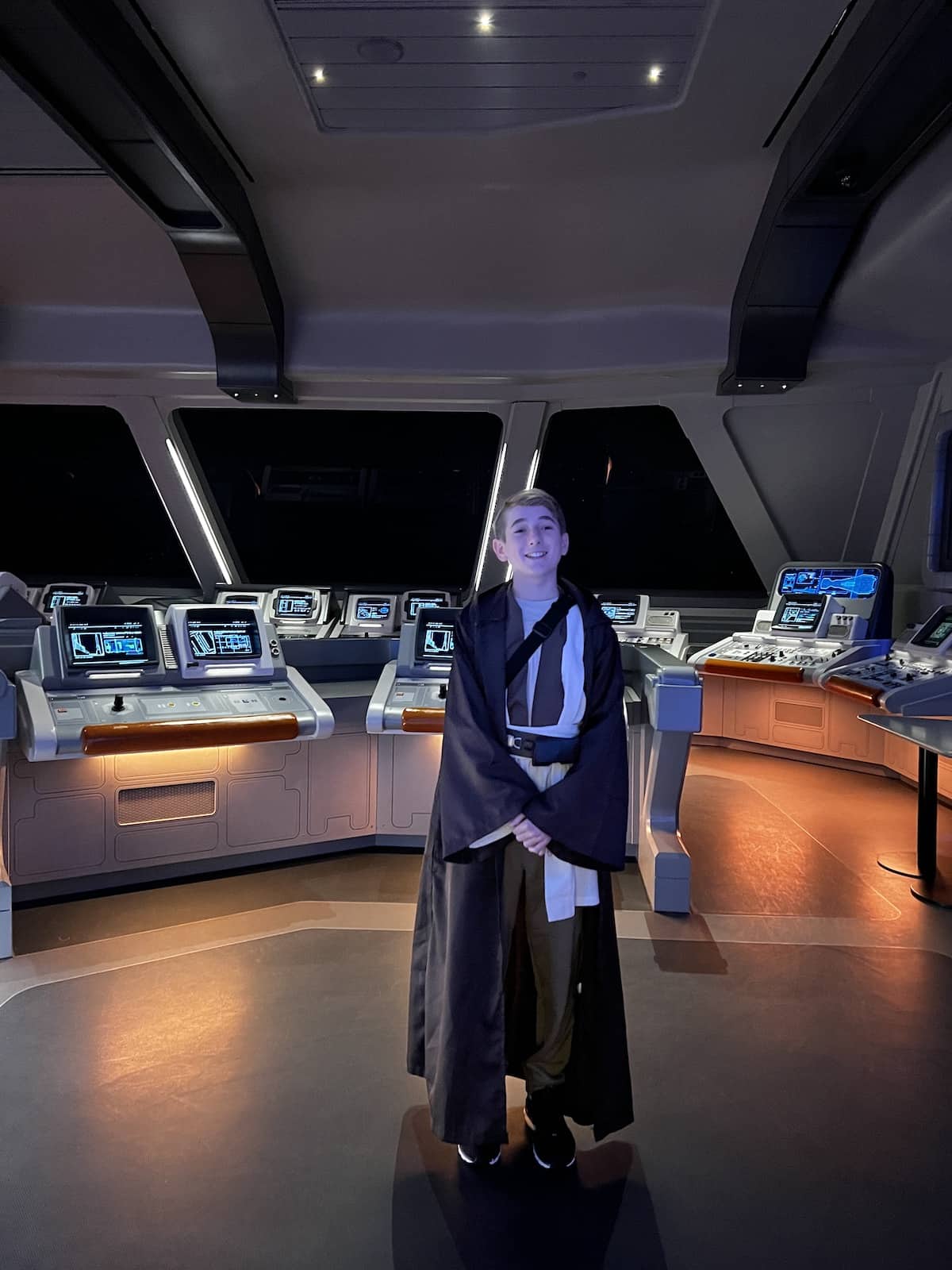 We were given as many water bottles as desired and could come by and check in to receive more throughout our stay on Batuu. When we went to reboard we were also given refreshing chilled towels.
We hadn't seen Batuu (Galaxy's Edge) this empty since our Passholder Preview event before they officially opened.
Being Passholders we have visited Batuu a TON however it was part of the storyline so we wanted to make sure to go. We also wanted to go first thing so we'd avoid the heat and crowds and so we could knock out our tasks and get back onboard the ship.
Some guests had never visited Batuu and the ship provided transport from 8-3 without any big activities taking place on board the ship until 4 which gave guests plenty of time to explore and enjoy their day on Batuu if desired.
Guests also had the option to exit Batuu and explore all of Hollywood Studios, if desired, however it would break the immersive experience. I overheard some families who rarely get to visit Disney World and their child really wanted to ride things at Hollywood Studios so they did opt to go that route.
Our visit to Batuu included lightning lanes for both Rise of Resistance and Smuggler's Run.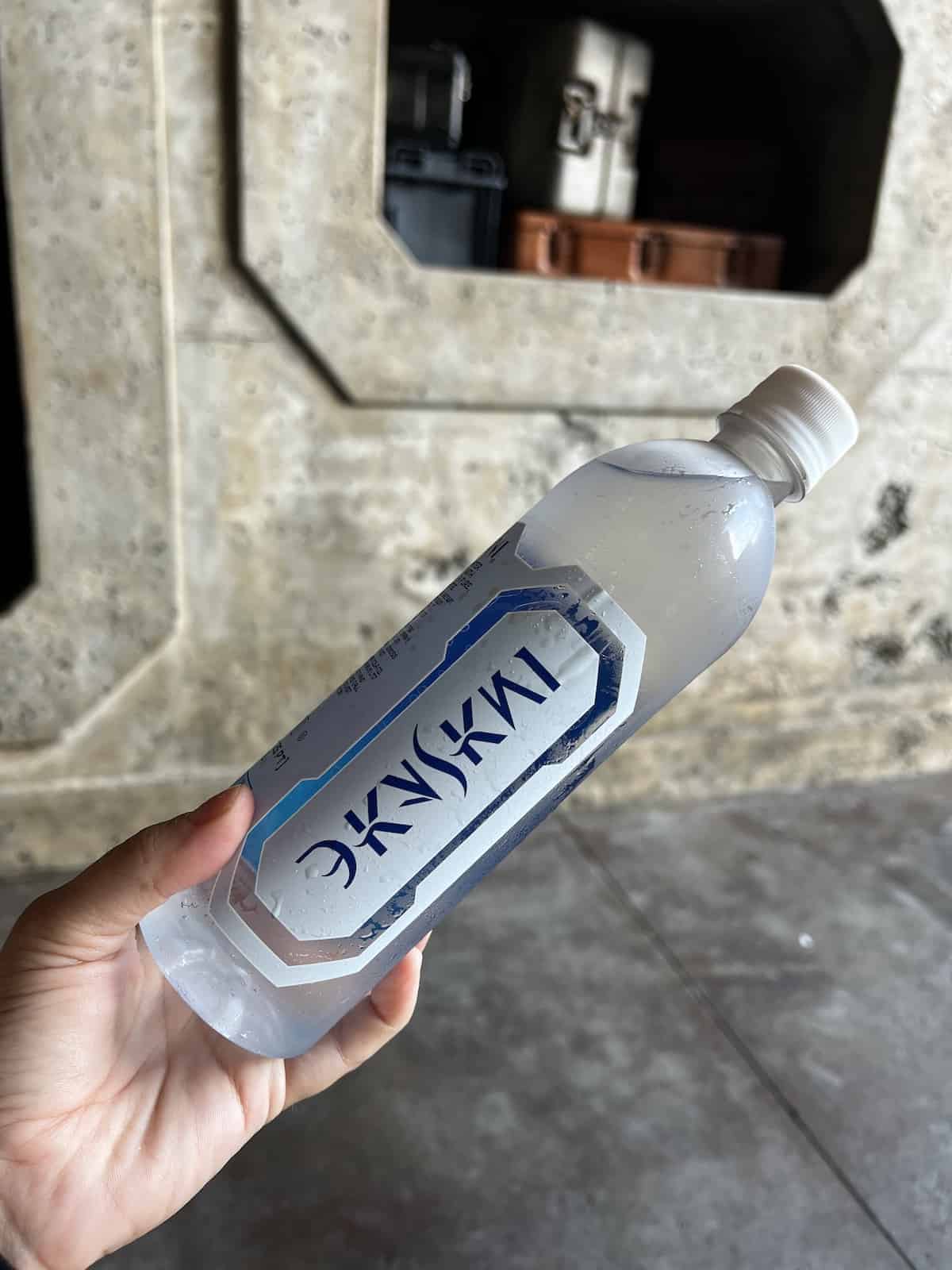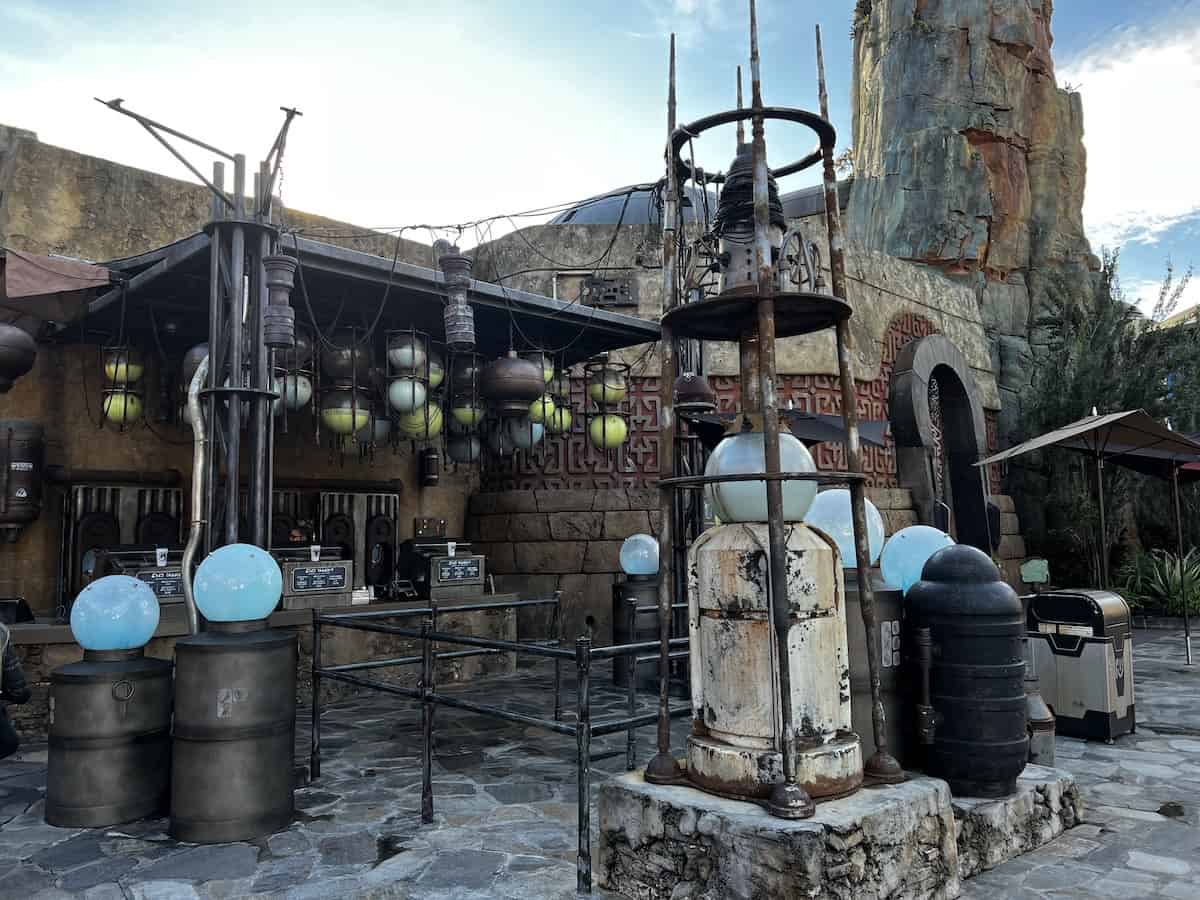 Most of the looks we got were probably "why are those crazy people dressed liked that in August at Disney World?"
Lots of guests from the Halycon didn't wear costume attire to Batuu but being in costume made it more fun and got us SO much more fun attention too!
Part of our missions on Batuu did actually involve riding the rides.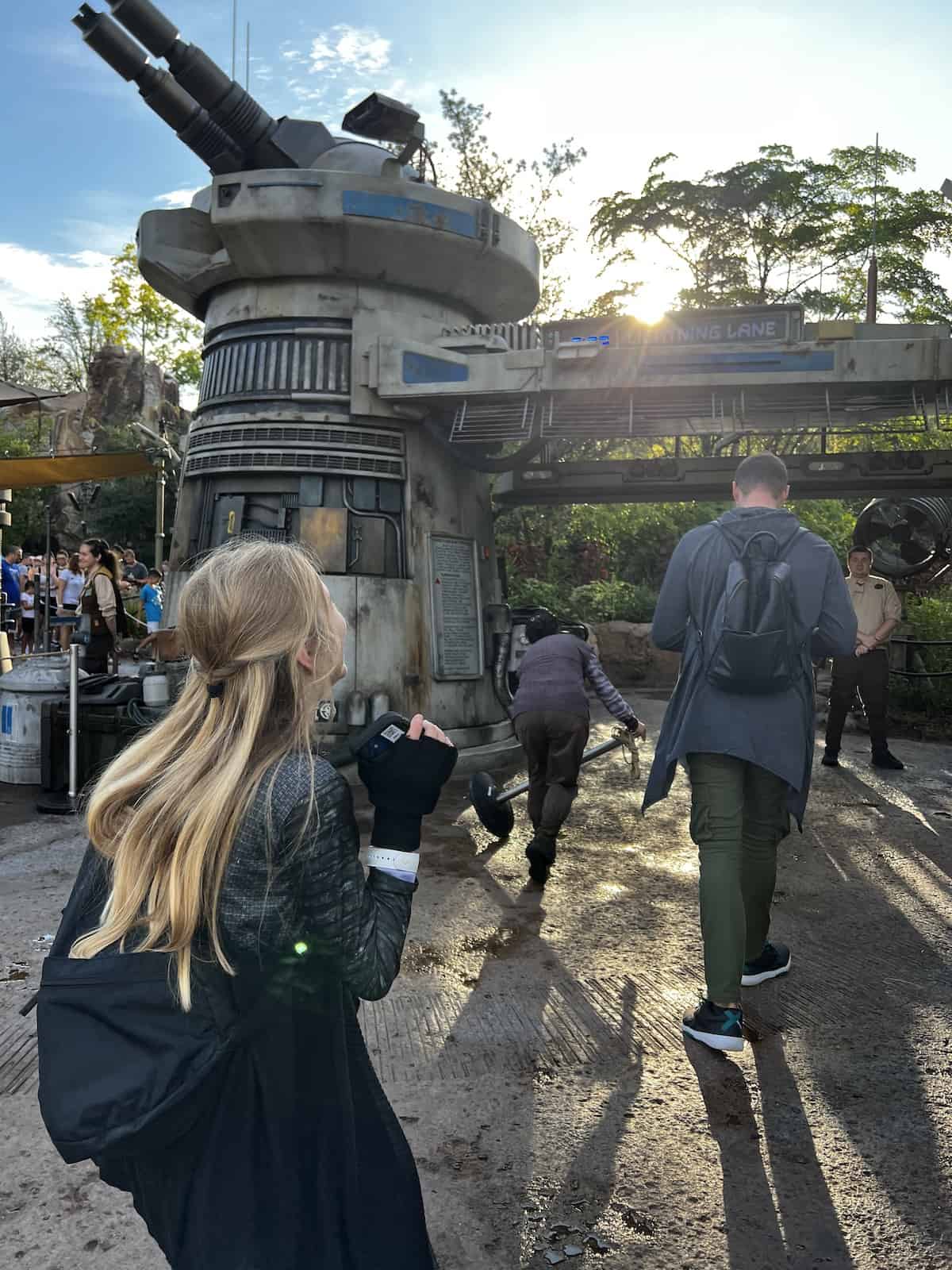 We were each given a pin upon arrival to Batuu. It alerted Cast Members that we were guests on board the Halcyon. It also saved us money from buying the kids each a pin on the trip 😉
This was the point in the trip when "Tespa" became a hacking pro. Zach and Ky would be way ahead of us on the mission parts and Britt and I would be scrambling to catch up. While Tess was just happily scanning everything in sight and solving all the puzzles and hacking all the systems.
Britt had more fun once she stopped worrying so much about keeping up with the boys and just did her own thing a bit!
My only two regrets of the trip were not bringing the Apple Watch and not wearing comfortable shoes. I wish I'd incorporated comfortable shoes into my costume look – thankfully I'd stuck some flip flops in my bag at the last second.
We were very involved on the ship so we had several different storylines we were part of and therefore had several missions while on Batuu. One included a stop at Oga's where we picked up a secret coaster to scan.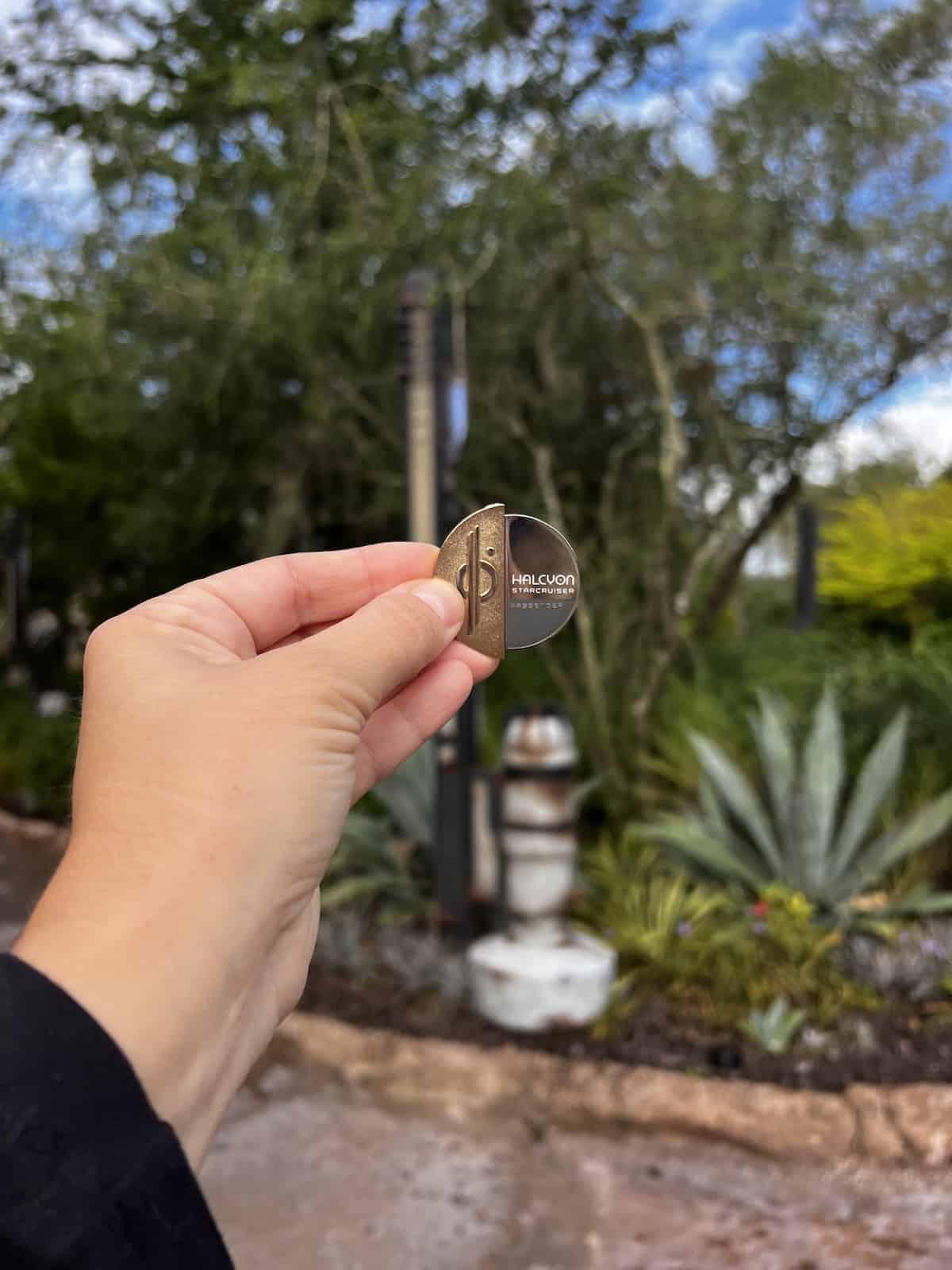 We decided to start at Rise and work our way back to Smuggler's. I'm so glad we saved Smuggler's for last because they had lots of little details that added to our experience that incorporated the Halcyon. You could even SEE the ship on the ride!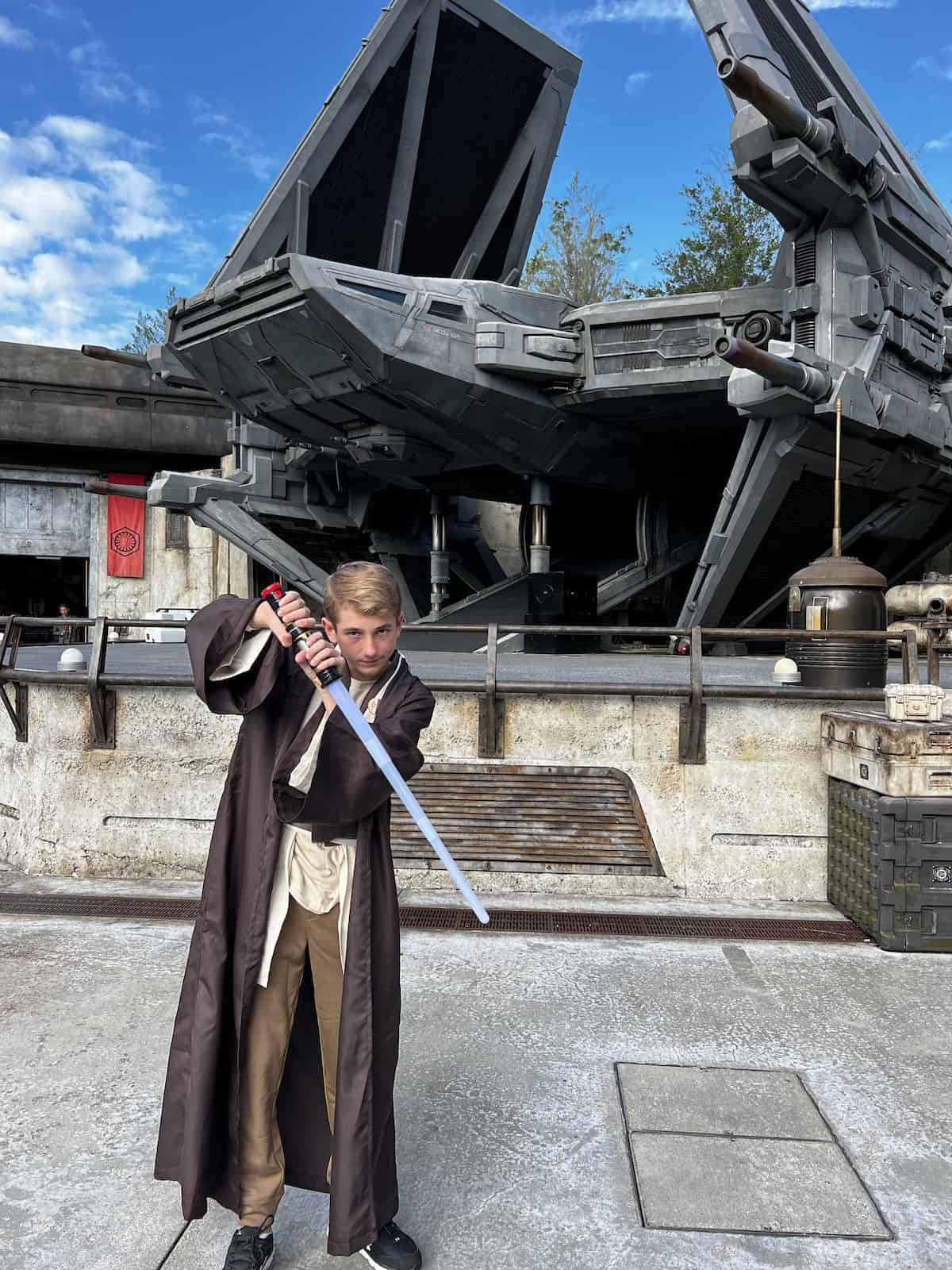 Hondo even sent us messages after we exited the ride too. We noticed the pre-boarding room had messages specific to the Halcyon and loved see the ship while we were in flight and it was mentioned again before we exited the ride.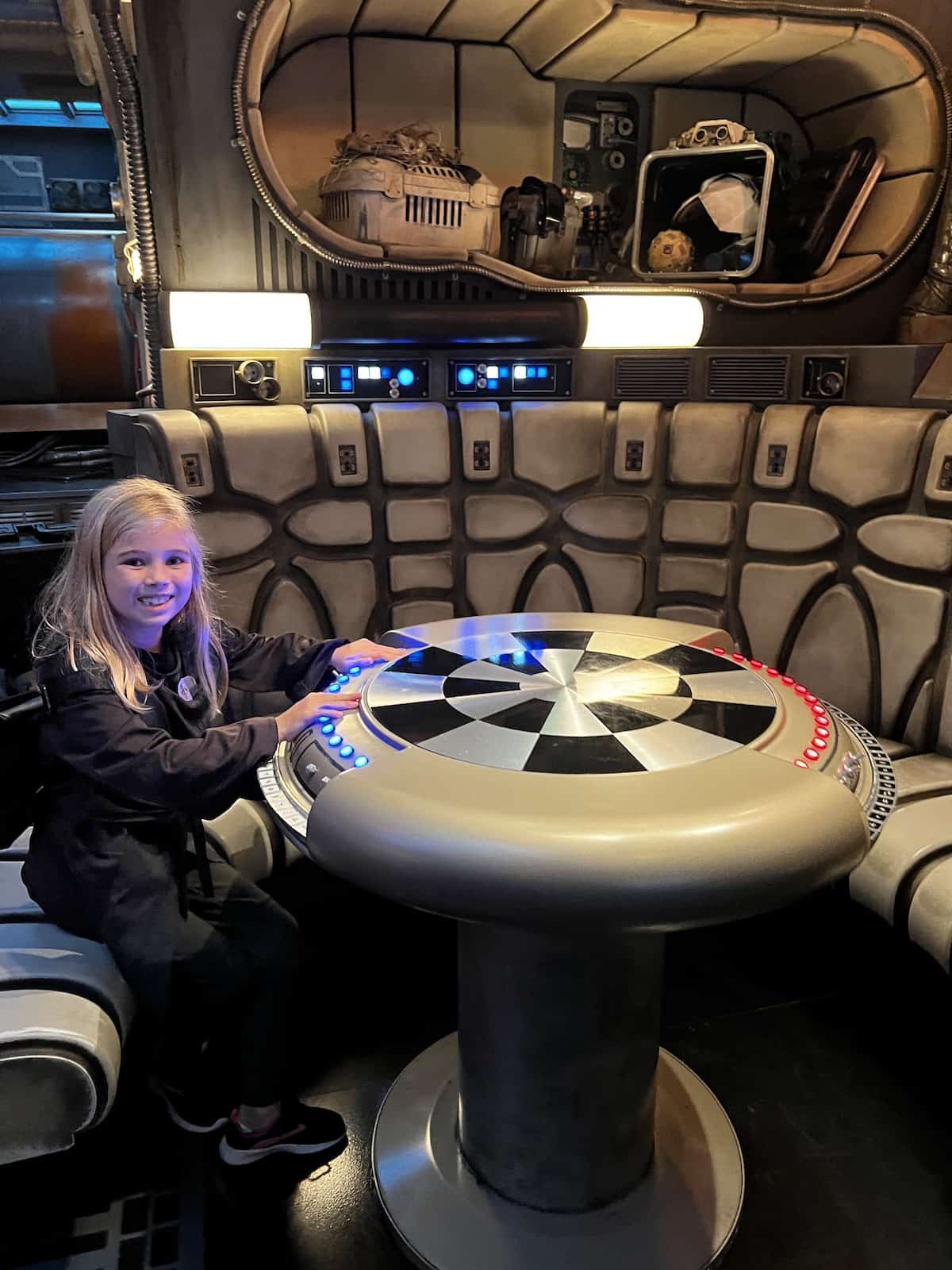 While waiting I screen shot some of the events in our datapad for the memories!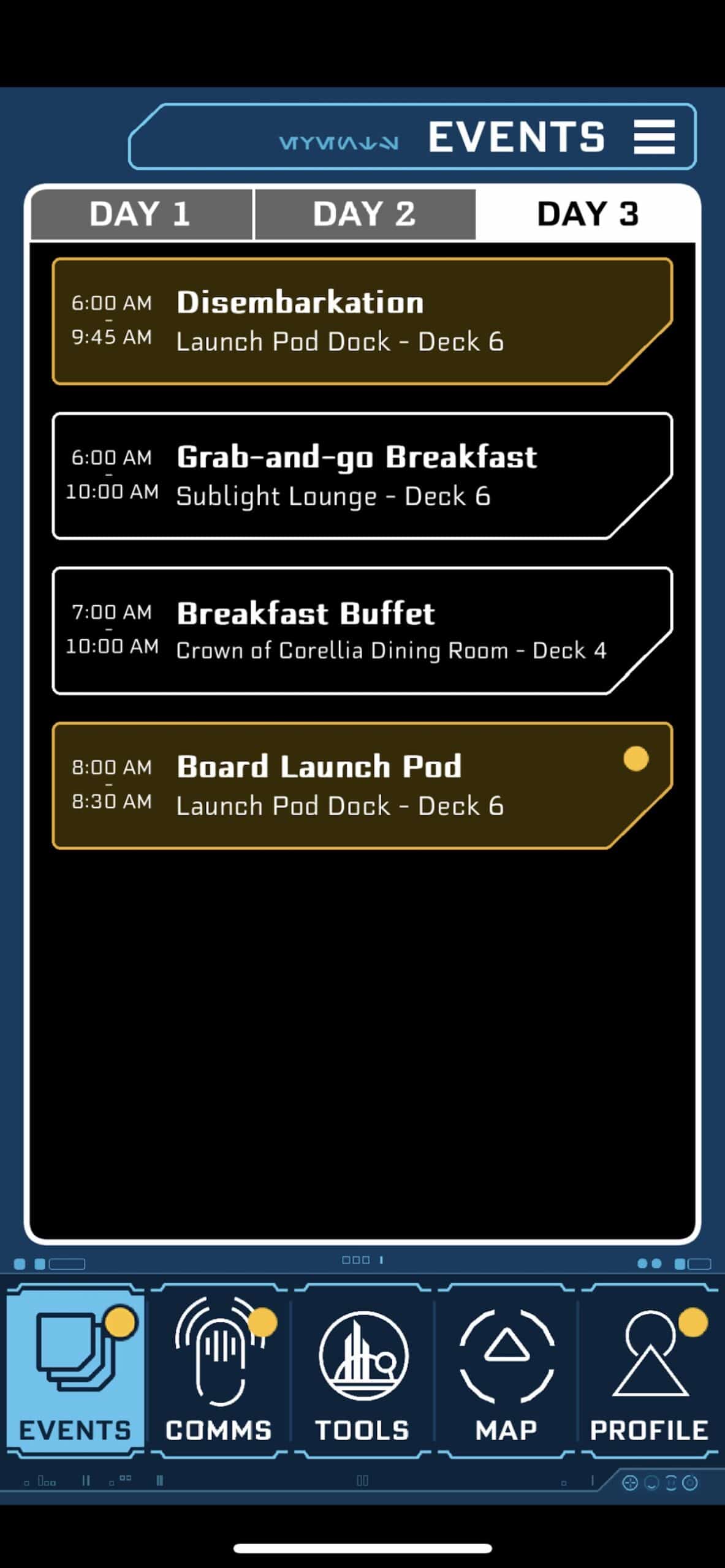 We were able to ride both rides, complete all of our missions (I believe we had 4 of them. on Batuu) and do all sorts of extra item scanning in right about 2 hours total.
It was SUCH a fun morning!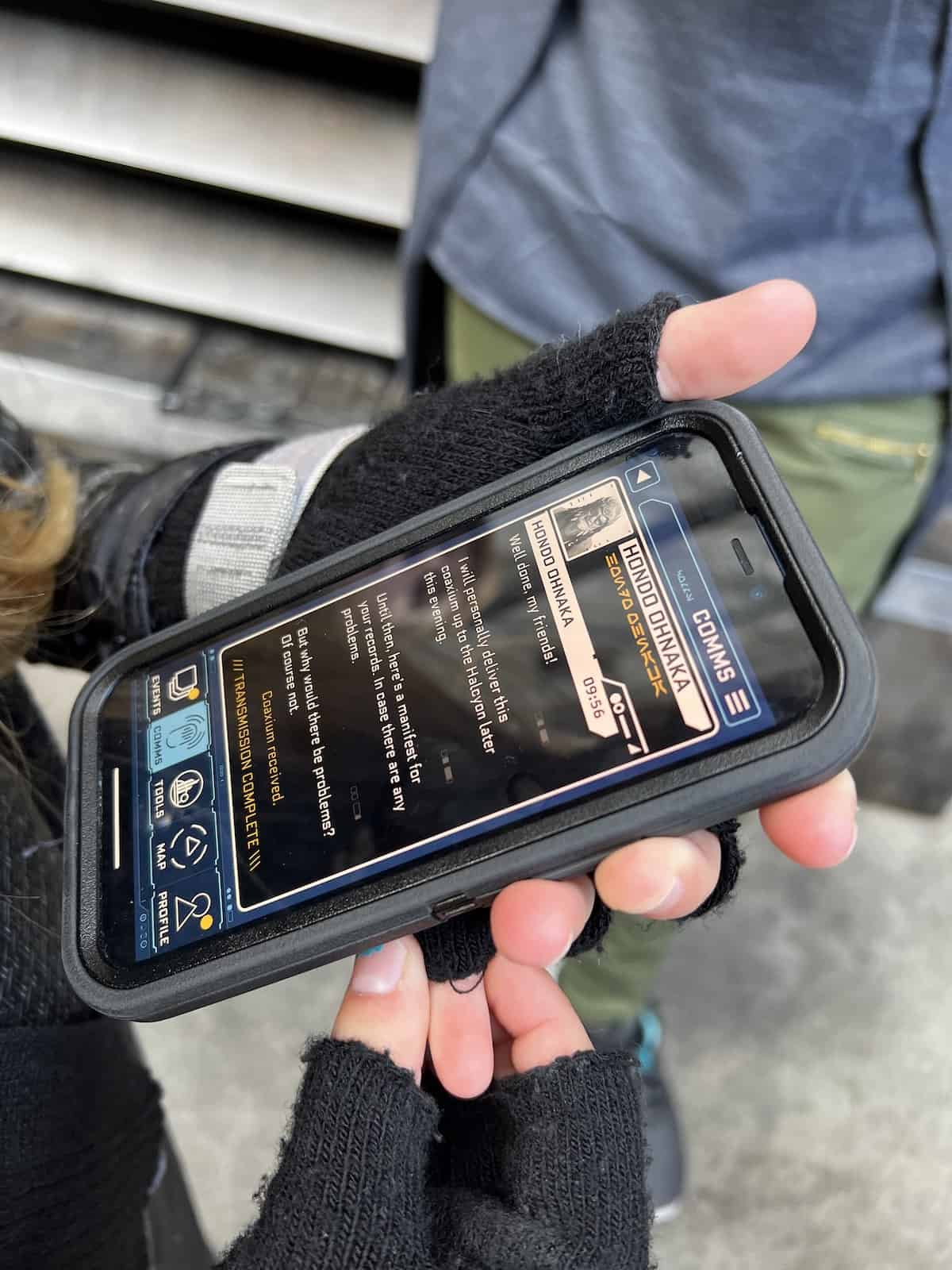 Secret fact: the entrance to the Halcyon from Batuu is across from the milk cart! We'd always wondered what the area was for and now we got to have the full experience ourselves!
All the back stories paid off as we were asked to make a special delivery to the ship when we departed Batuu.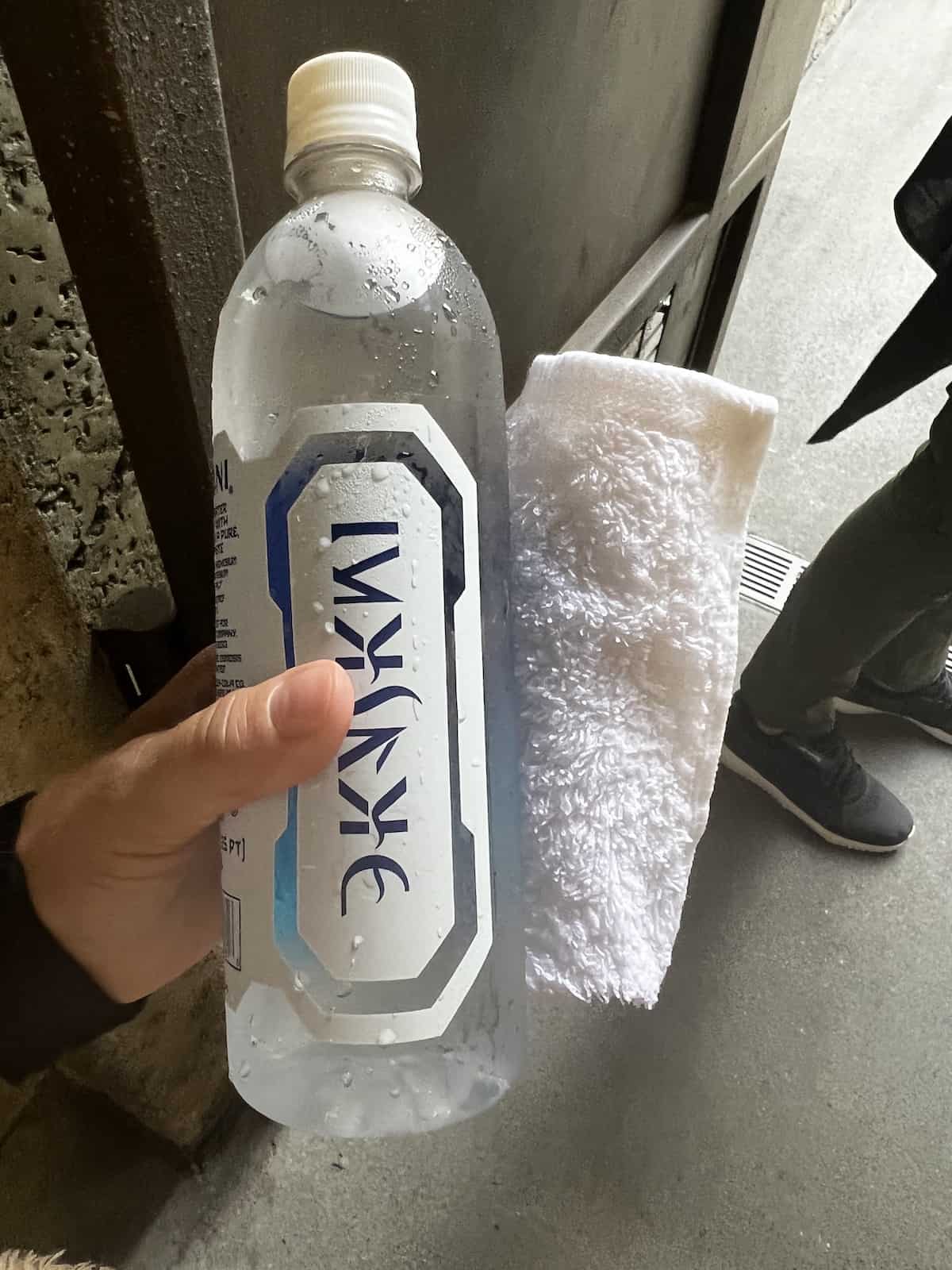 We were back on board before 10:30. I'd originally scheduled a photo session for us at 1 but I talked to crew members who were able to work some magic and get them bumped up earlier at 11:30 for us 🙂
It worked out so great because it meant we had a practically empty ship for our photos!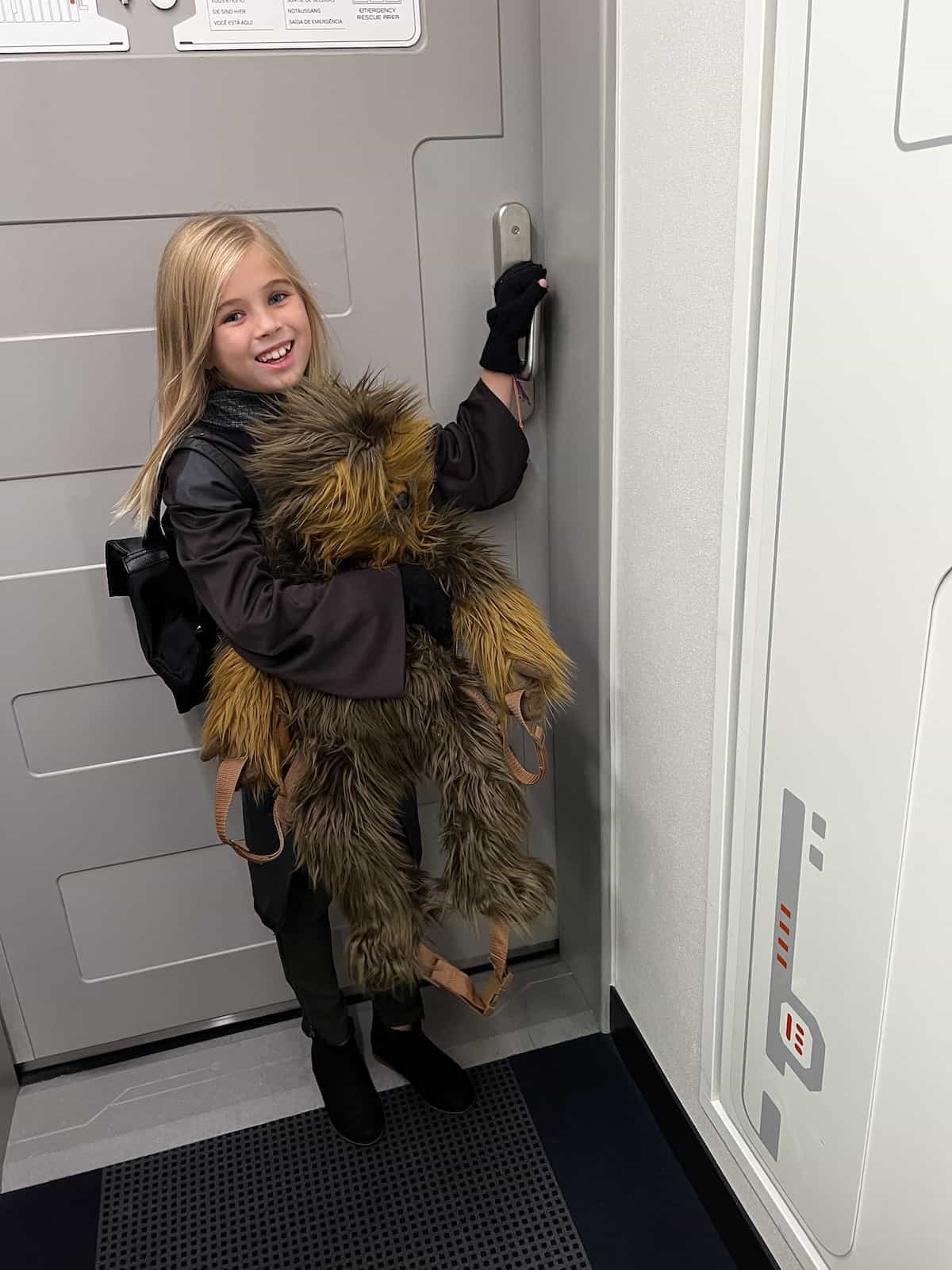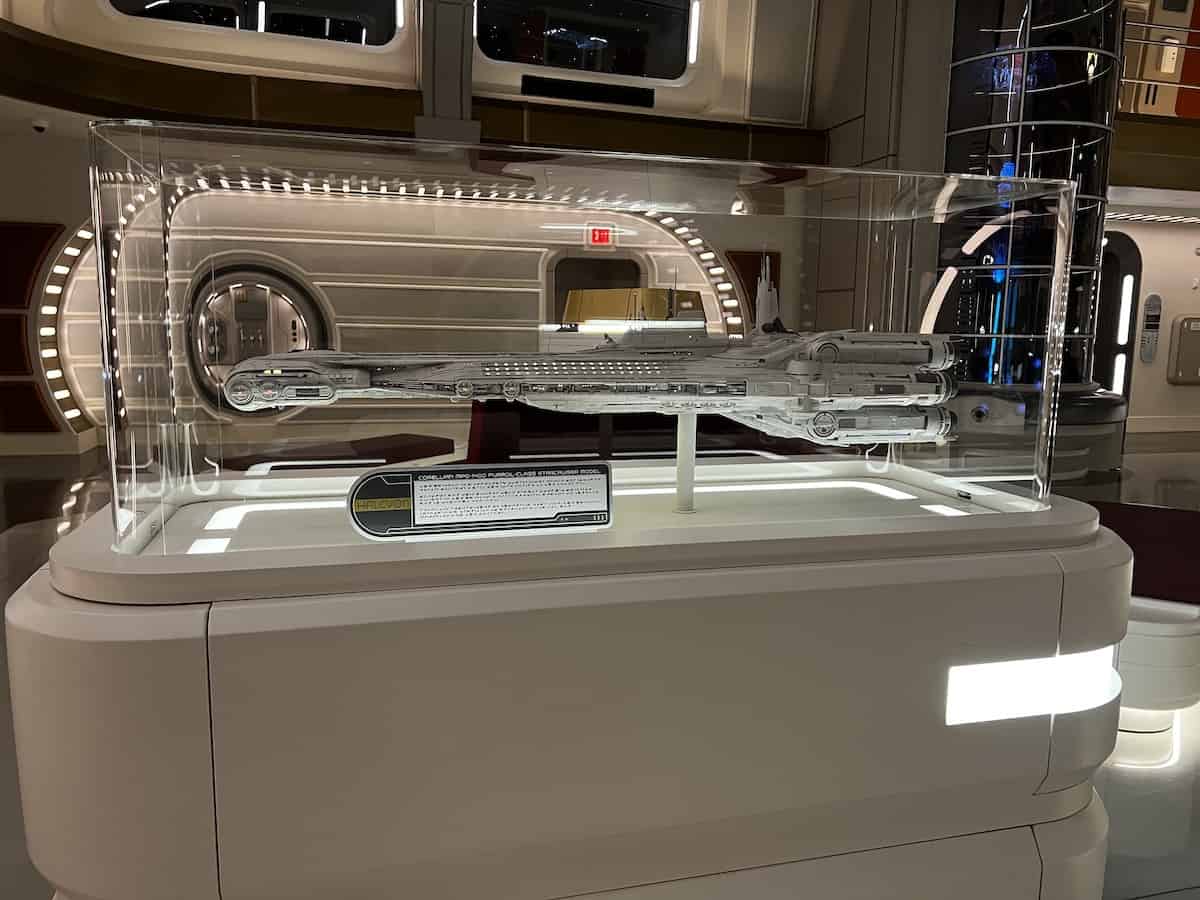 The visit to Batuu included a food voucher for Docking Bay 7 but they didn't open until 11 so we opted to just go back to the ship and each lunch there after our photo session.
The kids favorite food part of the trip was the unlimited blue milk! We also had some cute lunch dates along 😉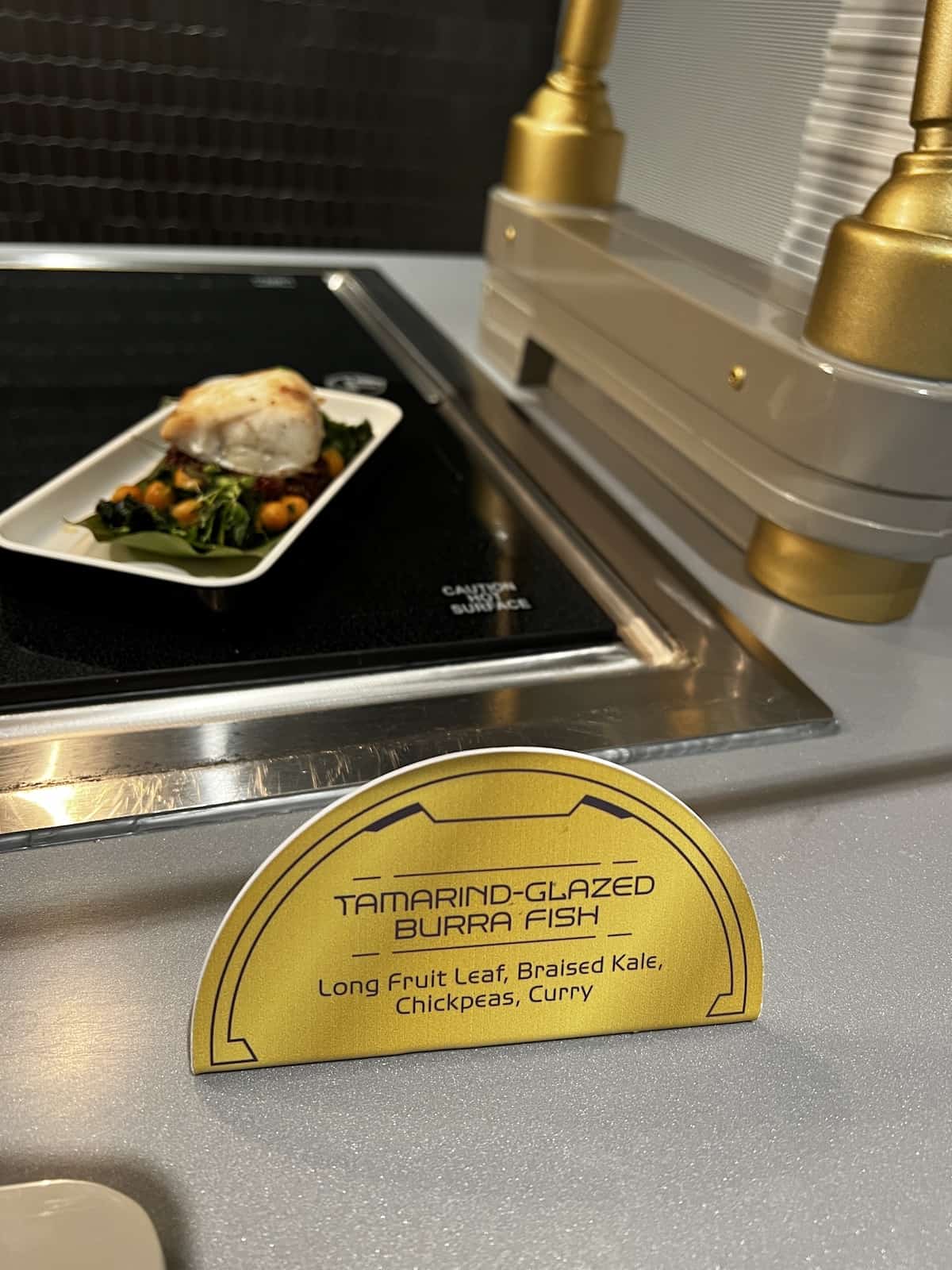 I read TONS of blogs and reviews before we traveled and several said they never gained access to all the restricted areas – but we got all three before the activities even started on Day 2!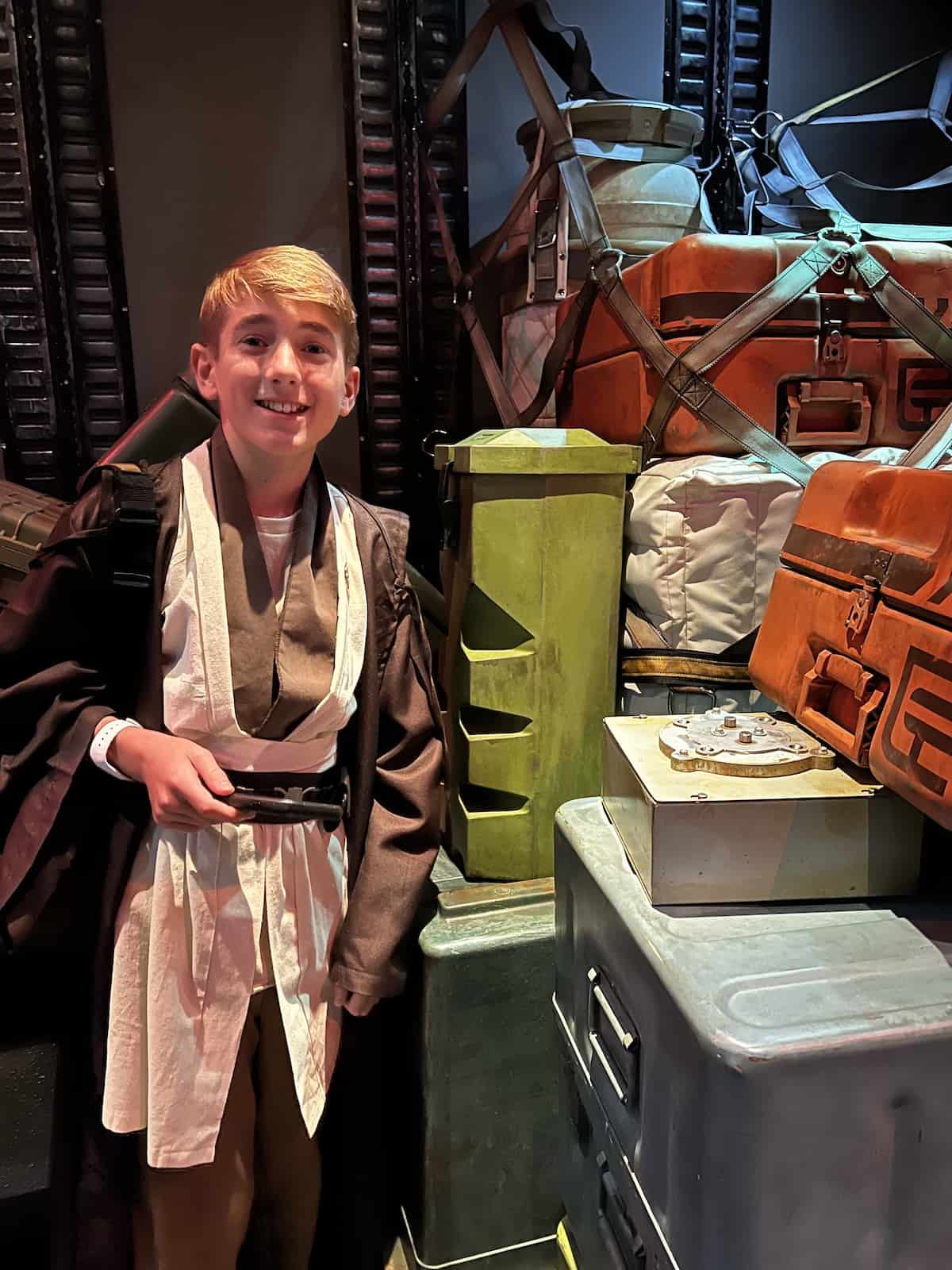 At this point we had never done a Disney Cruise (or any cruise as a family) but I loved how the kid could go do their own things and it was all very confined and I could just say "meet me in the atrium" and then see their cute selves running from the elevator to meet me 🙂
We did bring our own droid for the droid racing but should have left it at home as it was better to use the droids provided. Britt was excited to get to operate R2!
While I was watching Kye race another parent came over to me and said "your little girl is crying in the corner" She was fine she just had gotten really flustered and upset with all the competitive element of the races.
Kye will make the most adorable grandpa someday. The girls ran off to play in the engineering room while Kye opted to play Bingo. He really wanted to do as many experiences as possible on the ship – he understood this was truly a one time thing!
Meanwhile Hacker Tess rescued SK (the droid) by unlocking him from where he was captured!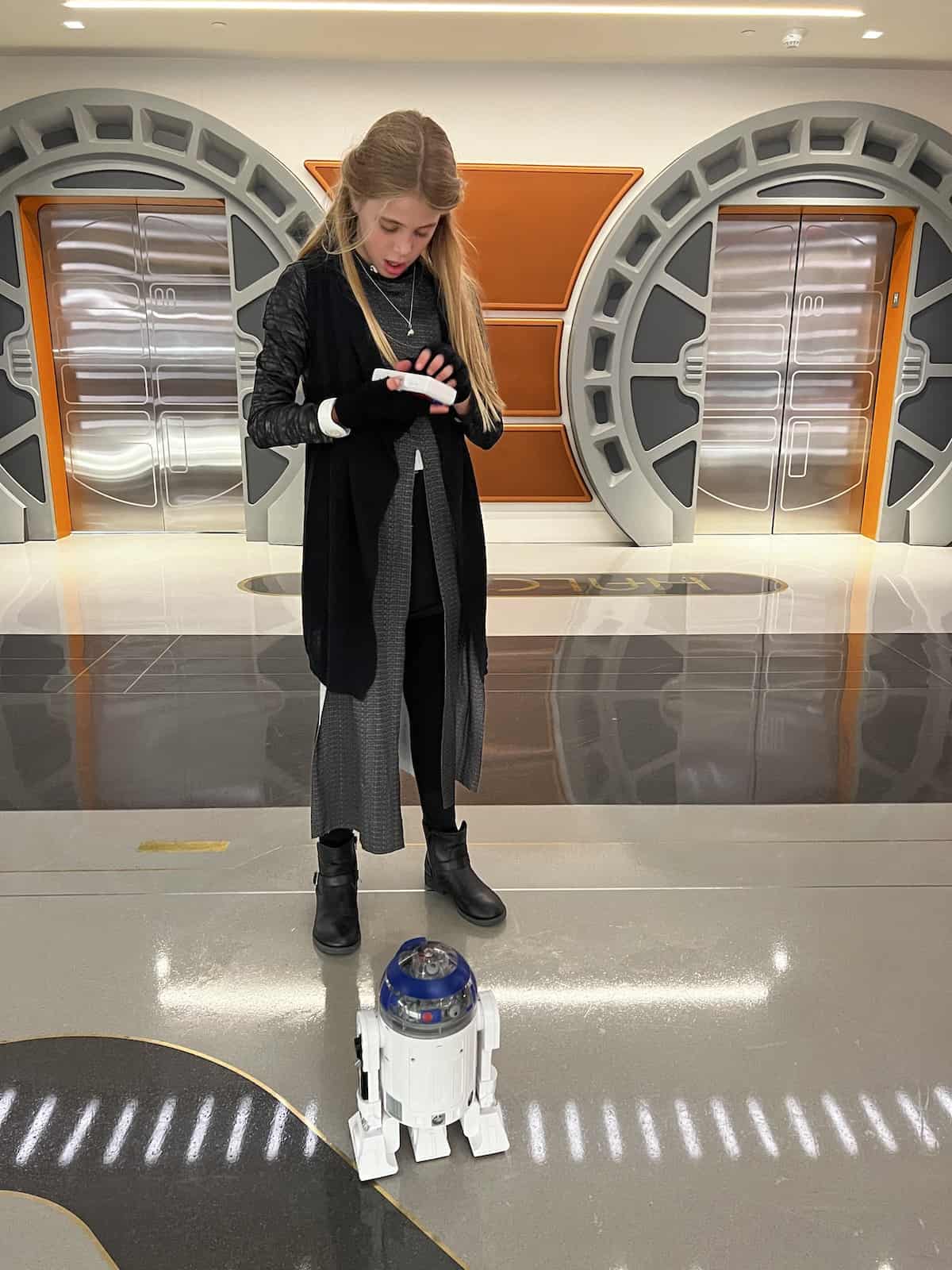 We were pleasantly surprised by the pricing in the gift shop – it was on par with regular parks pricing and had the perk of 20% off for AP. We let the kids each choose something (and now that the experience is permanently closing I wish I'd gotten more merch!).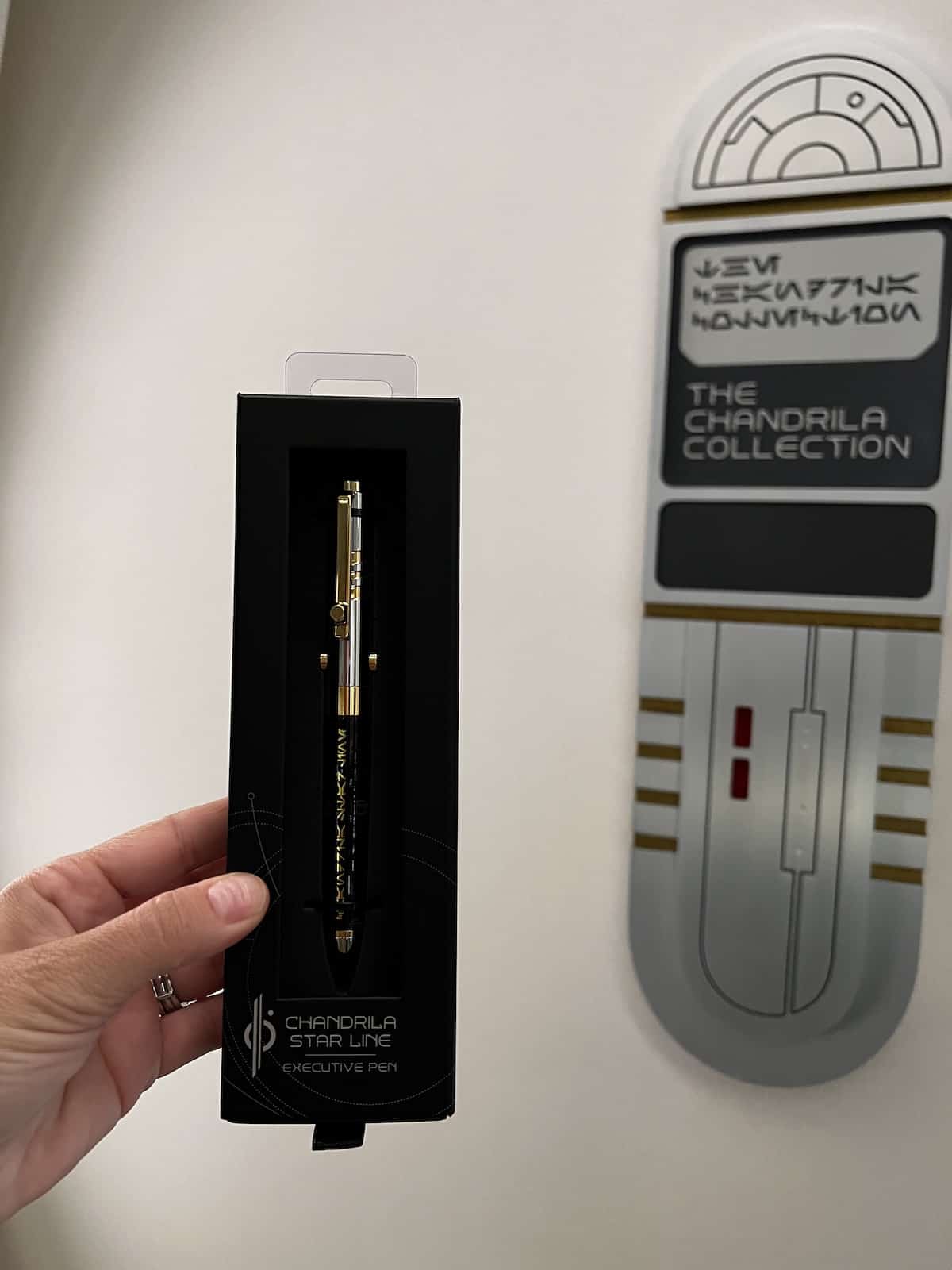 Kye was very excited about the Sabacc tournament and was the first to arrive 🙂
One of my favorite pics of the trip is the one I captured of the Storm Trooper overseeing their game. SO COOL.
Tess quit the game pretty early on because we all know milk and cookies beats a card game anyday 😉
A HUGE part of the overall experience for the kids was getting to interact with so many other younglings. They made TONS of friends who they were so sad to leave at the end.
One little boy was an only child and he was having the time of his LIFE getting to be so involved with so many other kids in such a personal way. We talked to many parents who agreed that those interactions were so special for the kids to experience.
On Day 2 we stepped back a bit and let all of our kids have that experience together!
My favorite Tess memory from the trip was, hands down, Sandro. He was a supporting character who had his own side storyline that wasn't really part of the main overall storyline.
I noticed that Tespa kept looking for Sandro and I asked what she thought about him and she said "I wish I could marry him but I can't because he is too old." I explained to her that the feeling she was having was a "crush." A girl never forgets her first crush! I made sure to get a pic of them together for her 🙂
She was his little sidekick helping him write a song.
While all the other kids were running around on missions she didn't want to leave his side. Other guests even commented to me how precious it was to watch!
Britt and I both didn't wear our boots on Day 2! We were MUCH more comfortable and noticed most guests had swapped footwear by that point.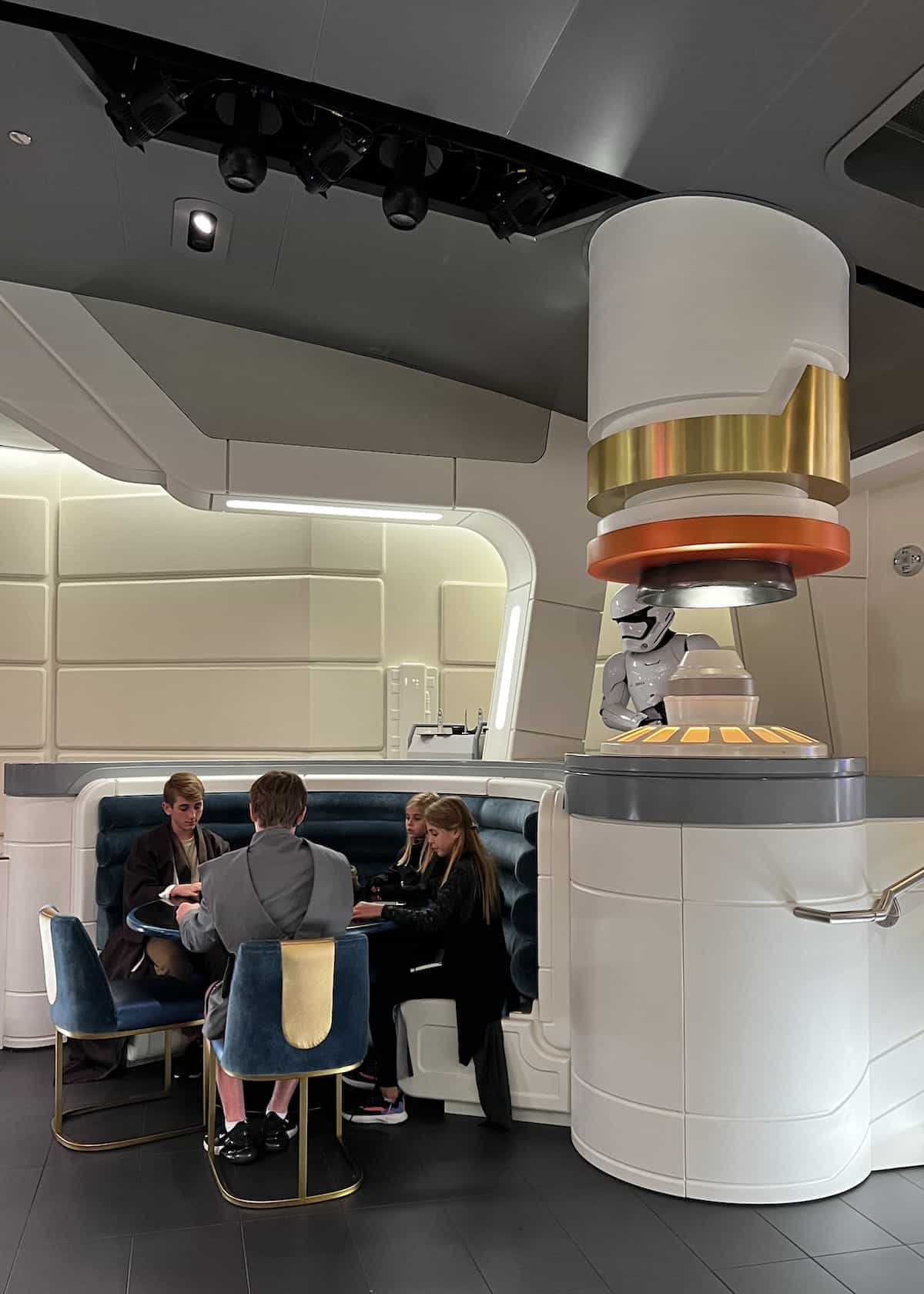 Mr. Crez was def my cruise crush 😉 I wasn't mad about Zach's costume for sure!
A big thing that was highly advertised was the light saber training – and it was neat! But it was also disappointing overall when compared to what we'd expected based on the advertising and the level of authenticity we experienced elsewhere on the ship.
It speaks to the overall experience when you lightsaber training is low on the list of epicness!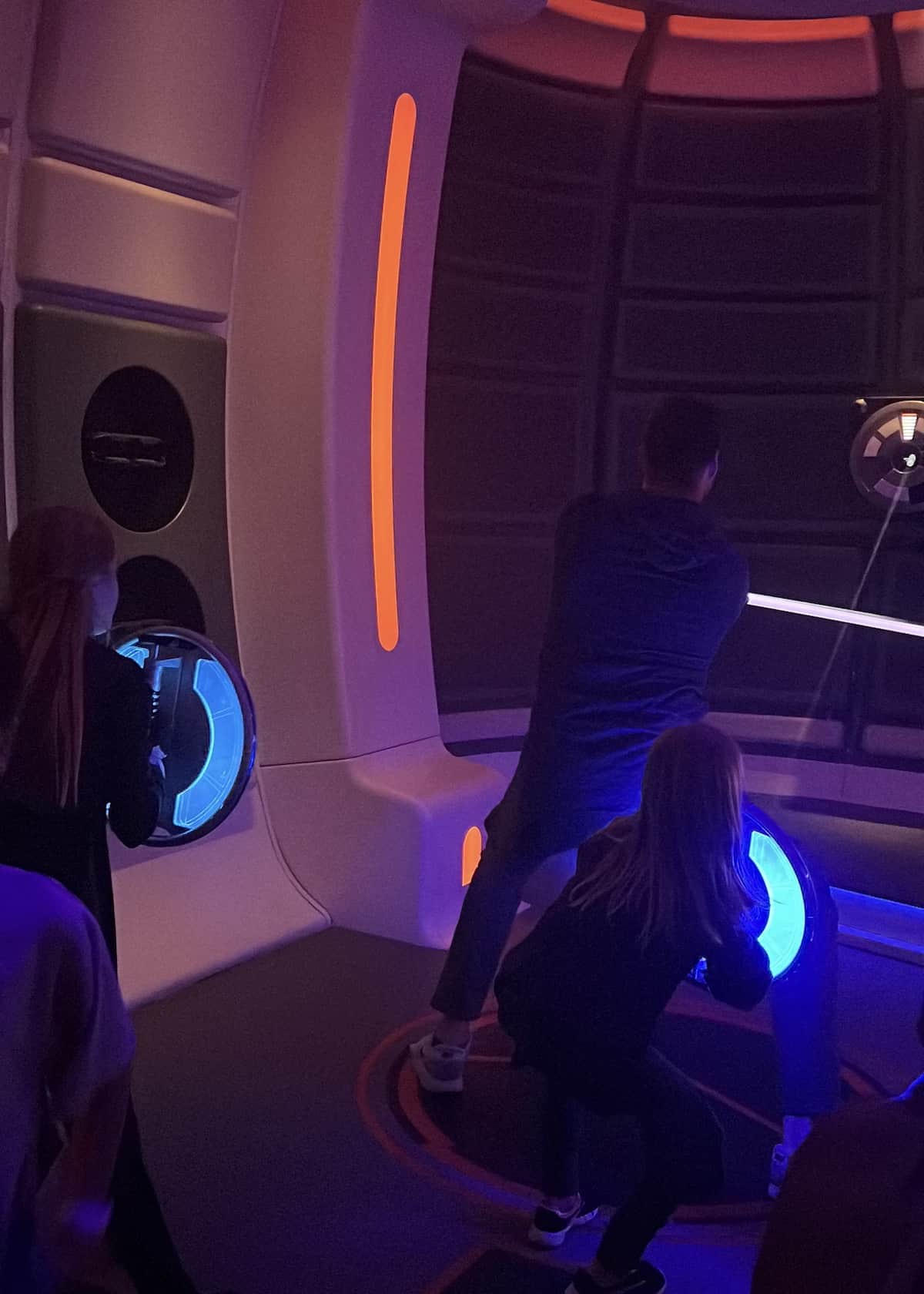 The scheduling of events and missions were beautifully timed out where we never missed anything during dinner.
As a hardcore Disney planning person it was SO nice NOT having to plan a single thing!
The food was super fun to look at – not as tasty to eat! Our favorite was the cheese dip and the bantha (aka steak/ribs). The food was all-inclusive. So we got multiple servings of it both nights.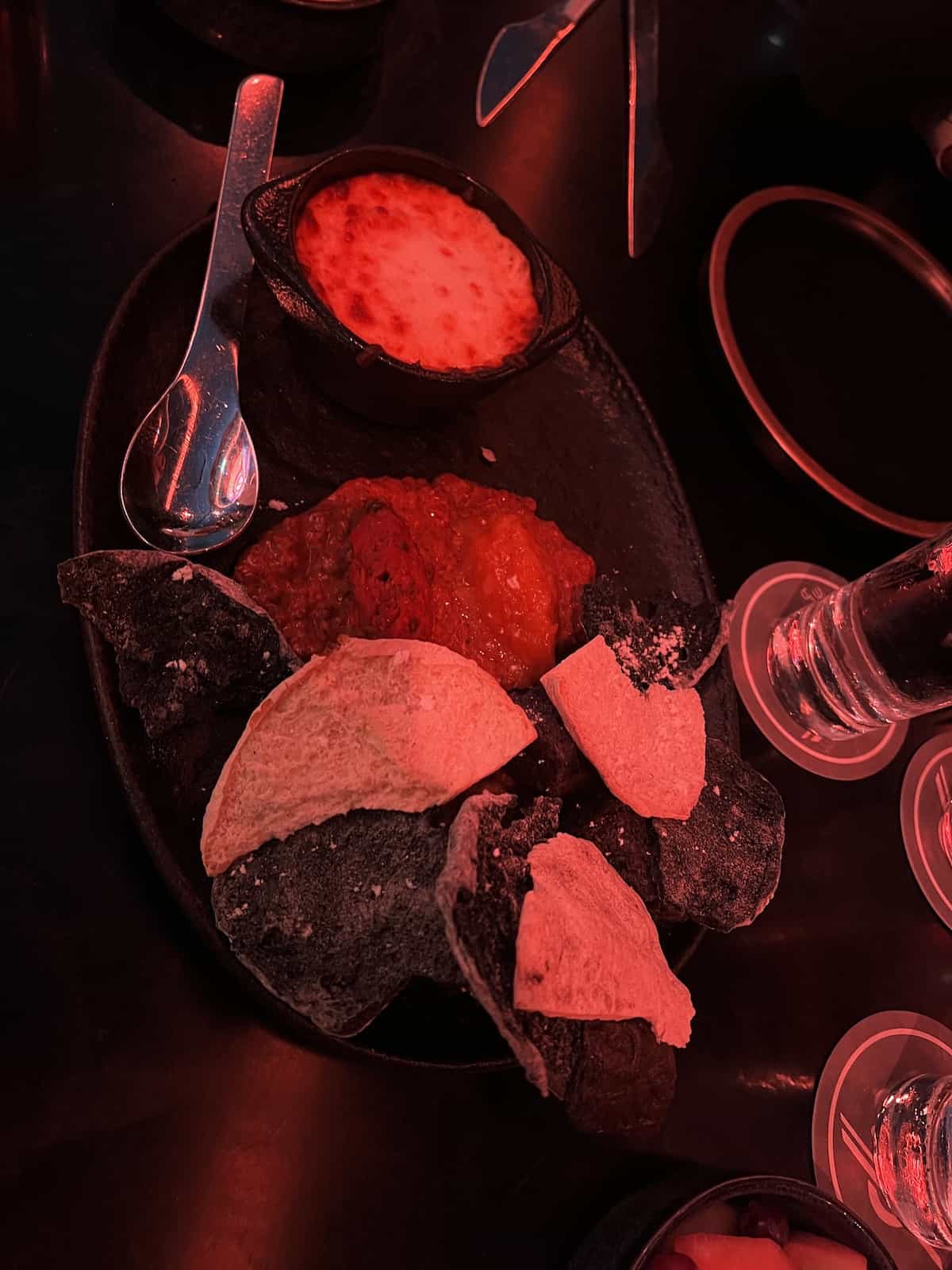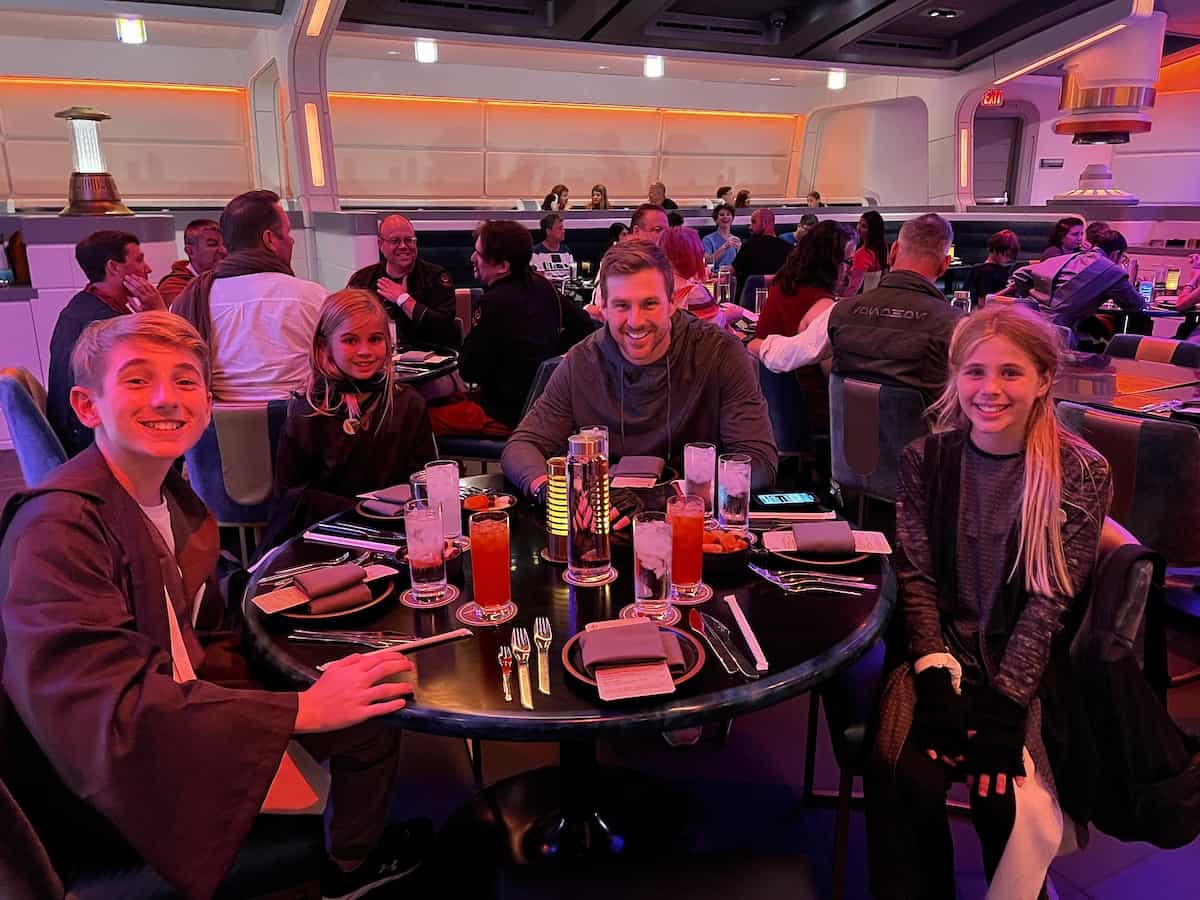 After dinner I was heading back to our room solo to meet Zach and the girls (who needed to SHOWER ha!) when I ran into Rey! It was another surreal moment!
The evening of night 2 was a bit chaotic with all the missions taking place and the storylines beginning to merge and build to the climax of the story!
The kids had several areas of interest and I just tried to keep up with them as much as I could. Tess had her own mission to help find Ouannii to reunite her with Sandro!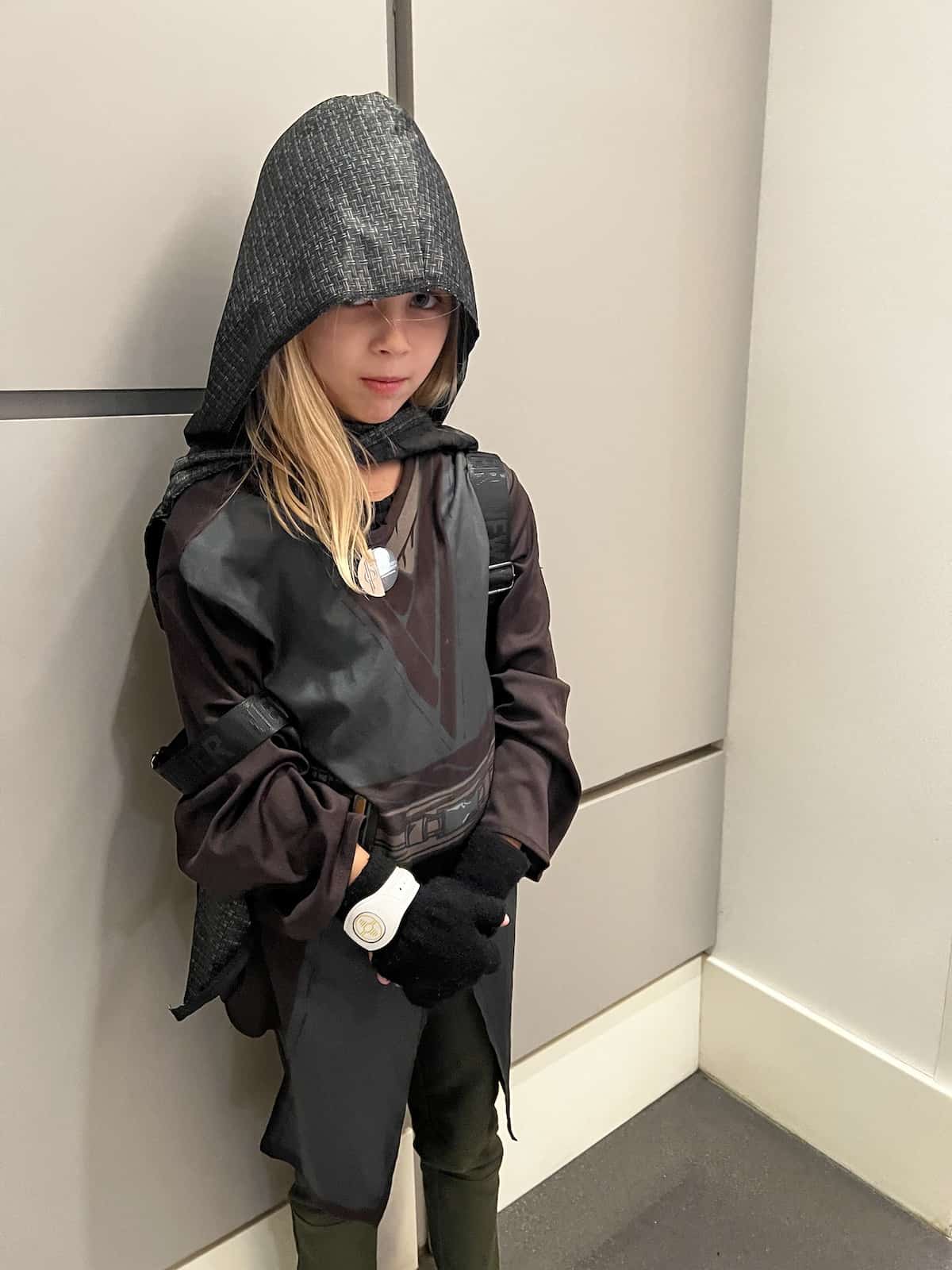 All of side missions quickly escalated to us needing to help protect the ship and save the day!
I just love all these pictures of Kye. He was THE perfect age. I'm so thankful we took this trip when we did. He was old enough to appreciate it and young enough to still be SUPER into it!
The cast really monitored involvement and made sure everyone got to play a part – they even pulled me in and had me do an essential task of pressing an important button 😉
The finale took place in the atrium (back in our muster stations) and every character and crew member were involved in the finale. Even Yoda made a cameo!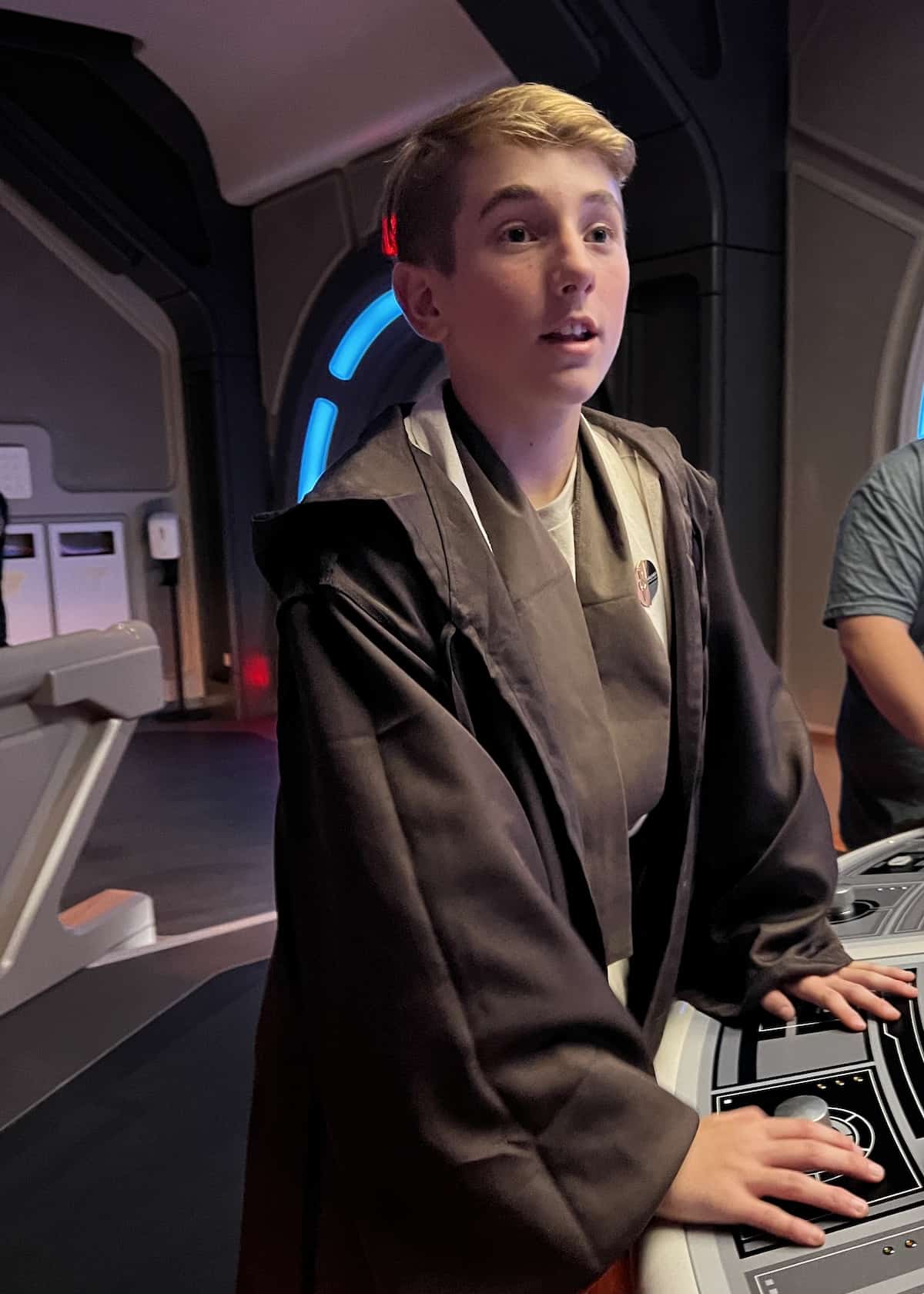 Per usual good conquered evil and it was all wrapped up in a perfect Disney bow – complete with fireworks!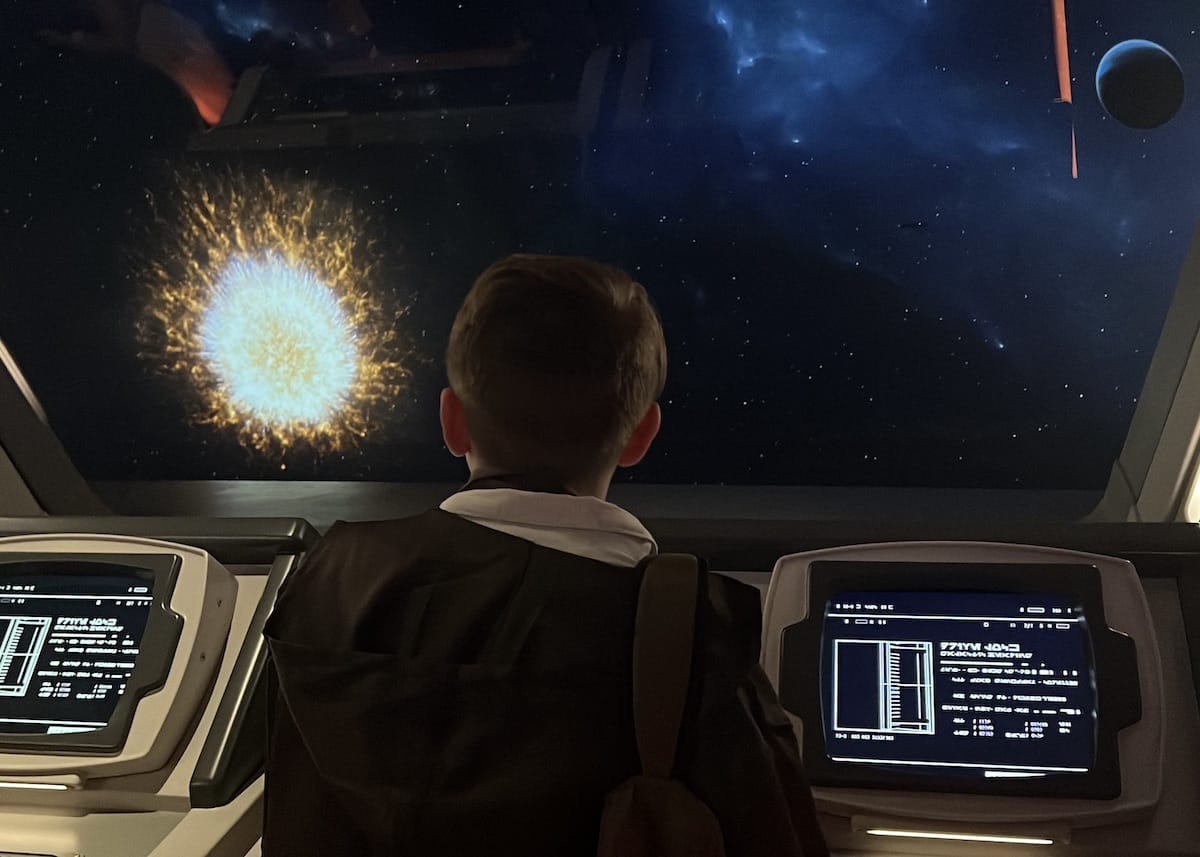 The night ended with sweets and treats at 10 pm – it was a VERY full day but the kids and I did not want it to end!
Sandro was able to fulfill his dream of getting to perform and Tess realized she wouldn't be able to see him from our seats. A sweet crew member happened to walk by and escorted Sandro's #1 fan to the front row – def my favorite Tess moment of the trip!
Kylo damaged the ship! The girls did NOT want to go to bed. Tess said "can't yall just go to sleep and I will walk around some more?"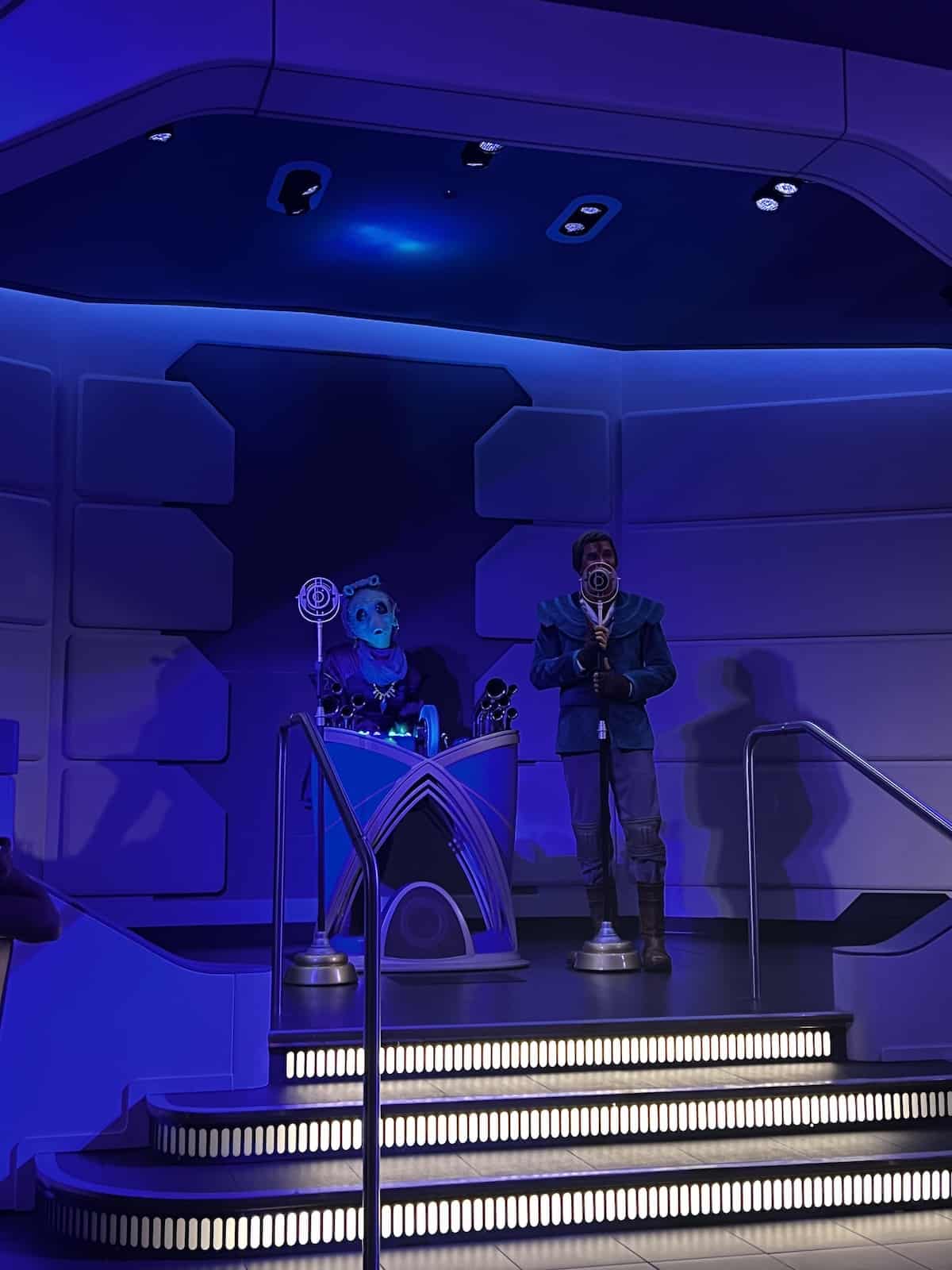 The kids and Zach watched football at 11:30 while I packed up and Tess ended the night with writing in her journal.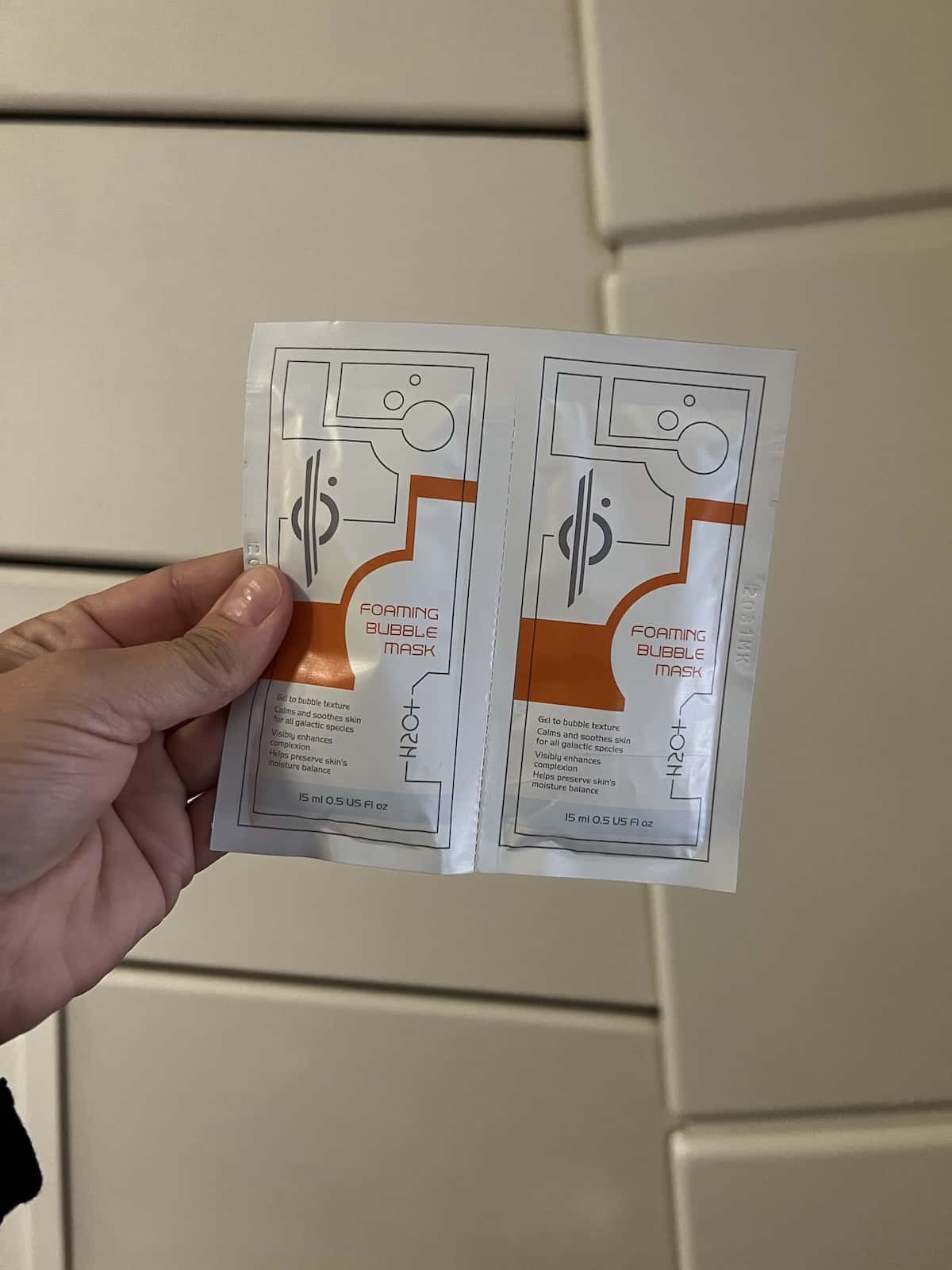 Our datapads would be automatically deleted the next day so Kye and I screenshot things to remember!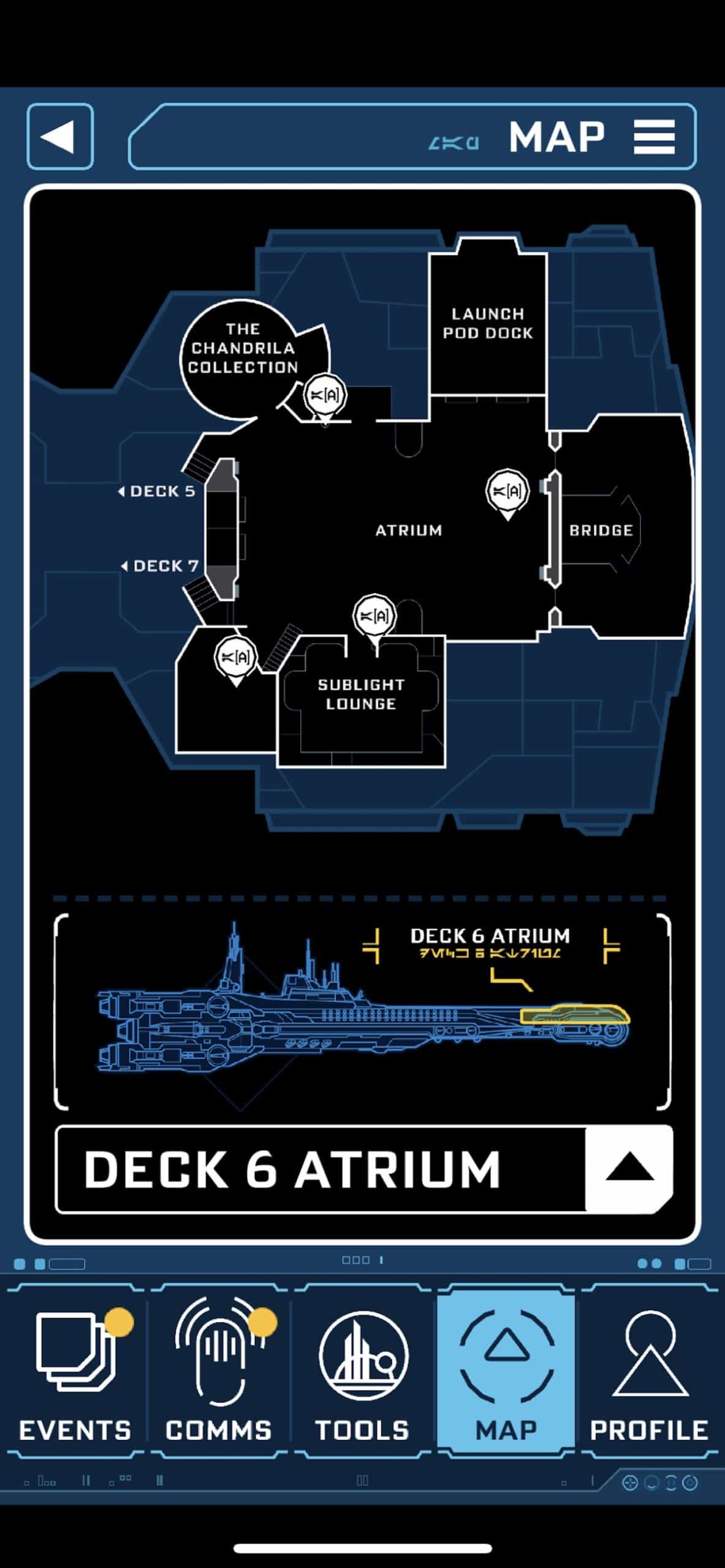 Heading back to Earth!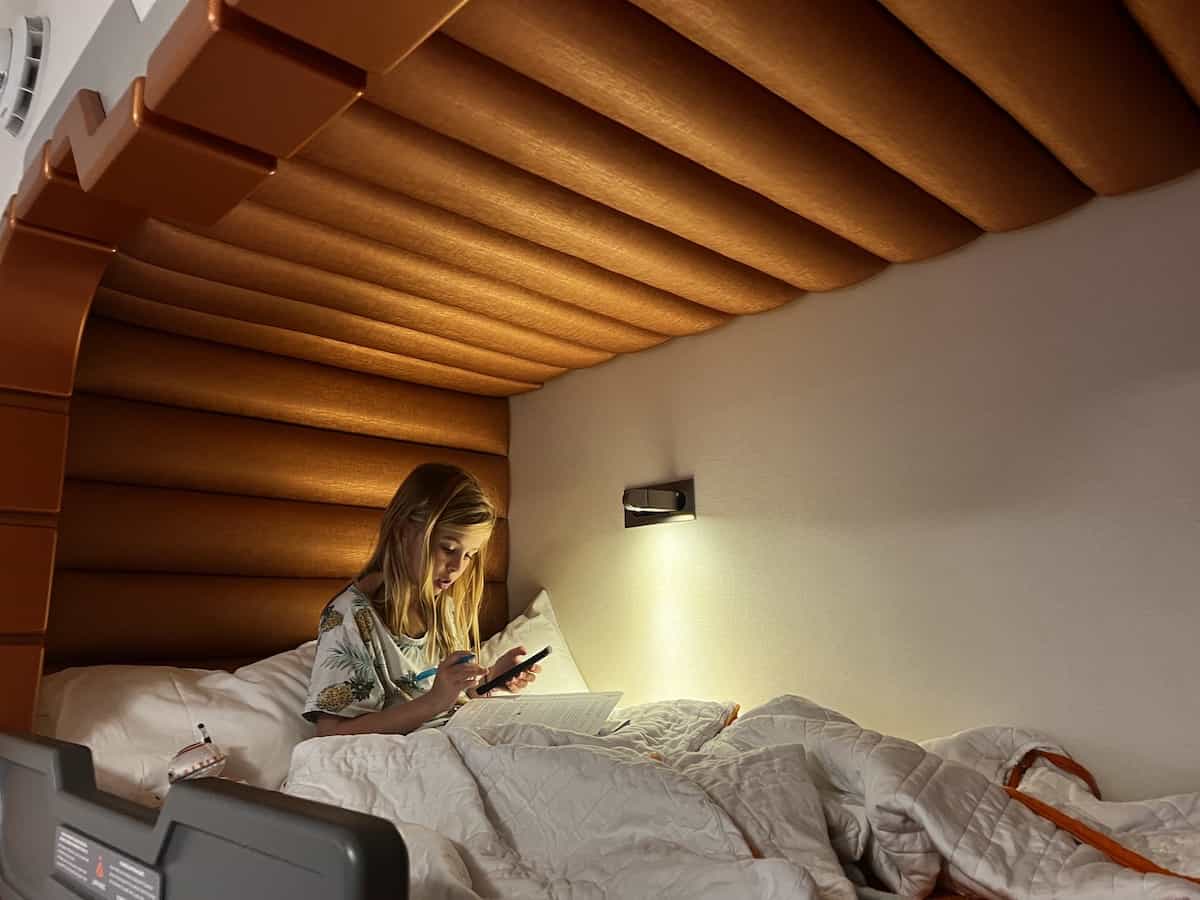 Depature day was JUST depature. All activities and missions and such concluded during Day 2. We took our TIME. Loaded up on breakfast and all the blue milk! There were grab and go options in the lounge but we enjoyed taking our time and saying goodbye to lots of our friends during breakfast.
We also enjoyed going through our datepads together and sharing the different items we'd collected, statuses we'd earned, and reading over final messages from the characters we'd interacted with.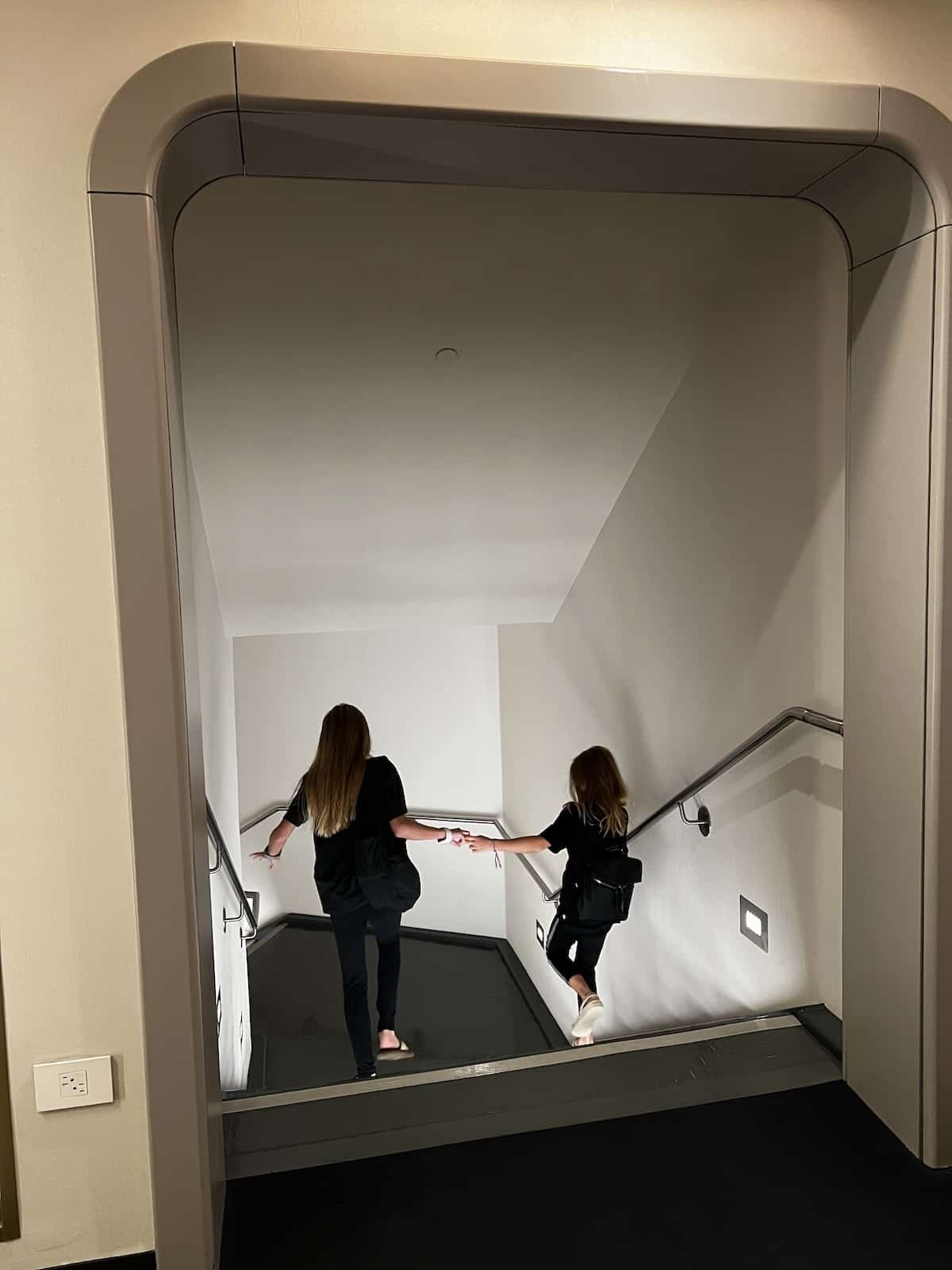 Taking our time allowed for a couple of last hands of Sabacc and lots of cool pics! Kye, Tess and I wanted to linger as long as possible to make it last but Britt and Zach wanted to hurry and leave. Britt said if she left quickly she wouldn't get as upset.
I will forever cherish this trip for so many reasons but especially for the opportunity it gave me to see Kye in those "childhood" kinda moments. As a mama we want to remember those forever, especially at the age where we see them less and less.
The latest departure time was 10 am and we were among the last passengers to leave!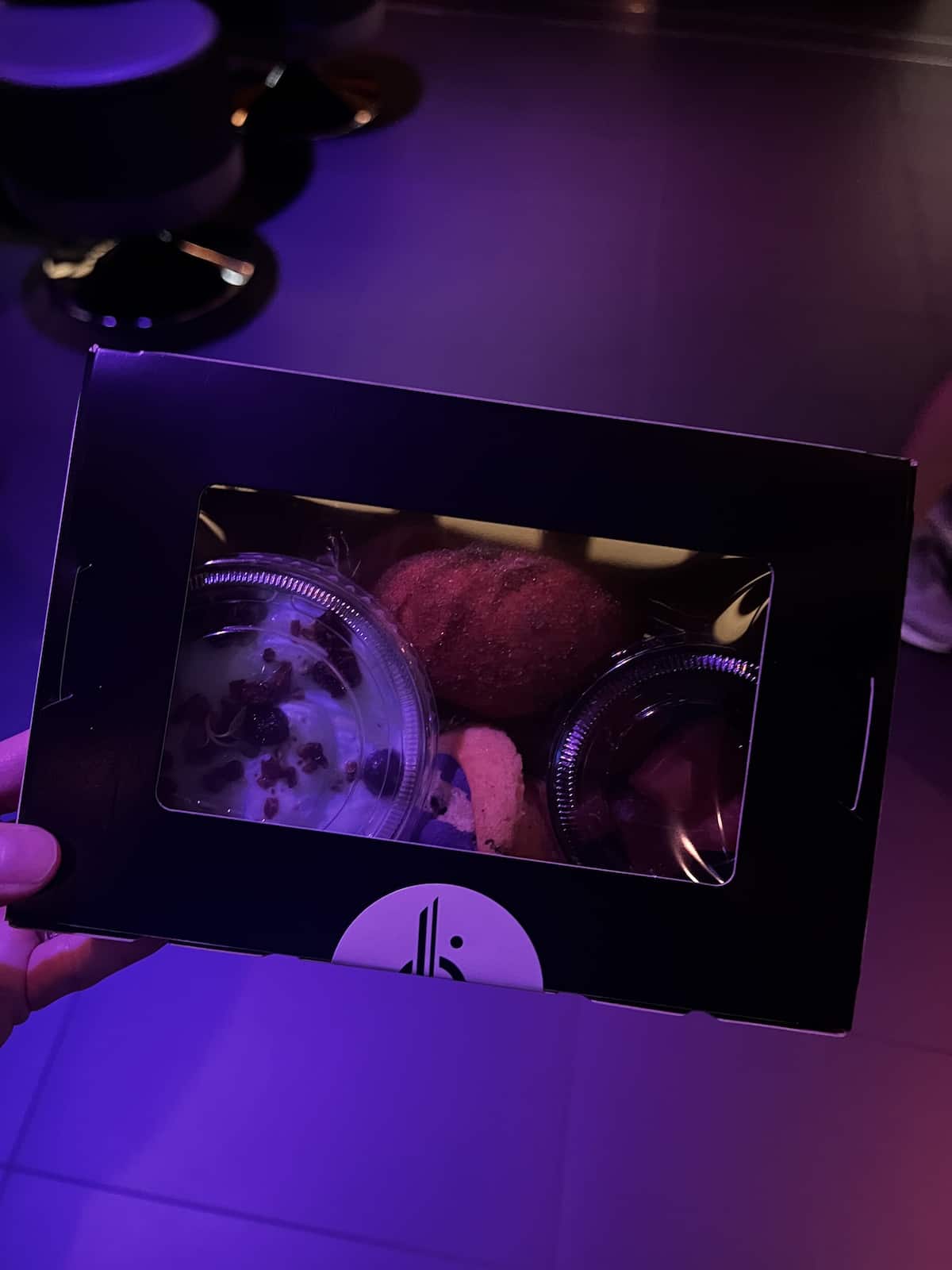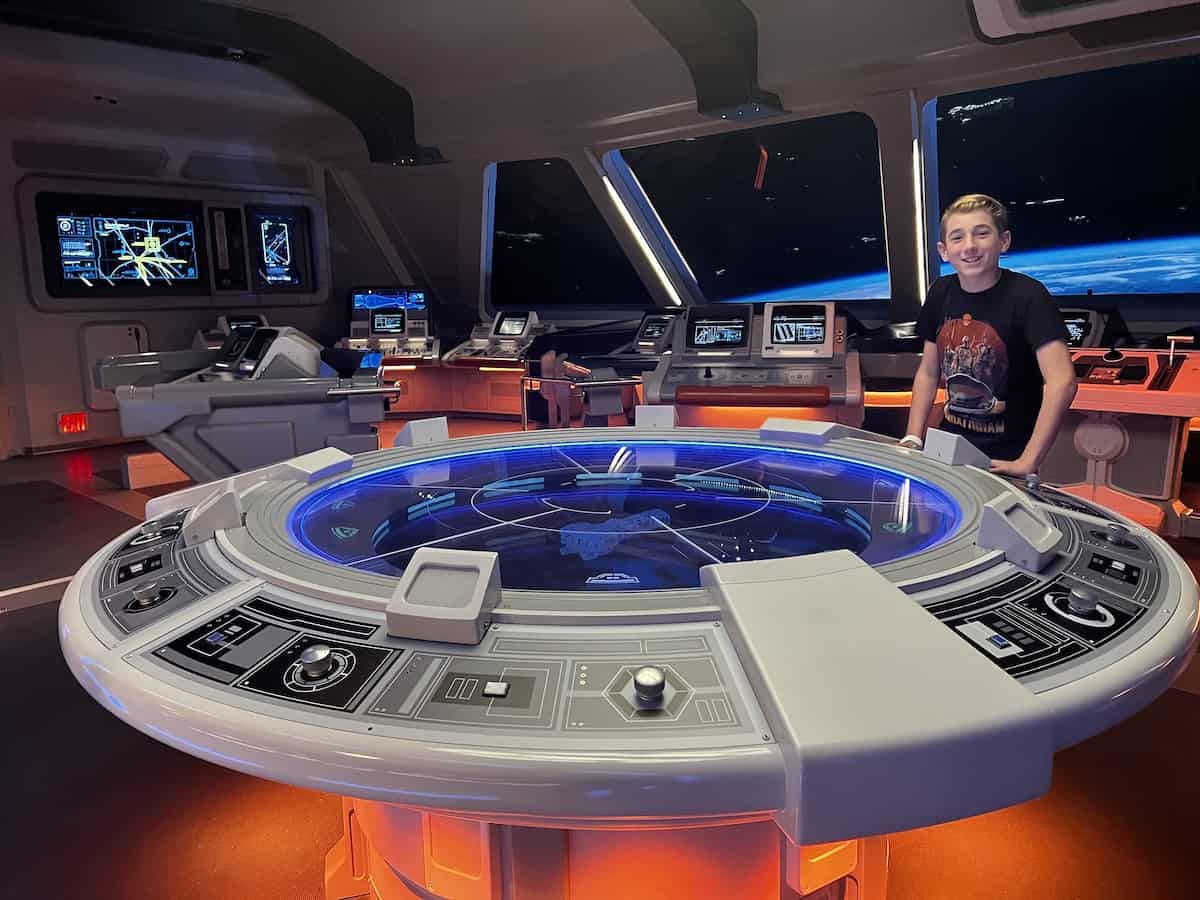 It was a 2 night stay but with such a full itinerary it surprisingly felt like plenty of time. We left exhausted and cast said to allow decompression time which I agree with – I was glad we weren't going to Disney World after!
Tess decided to get another pin as her treasure on our way out!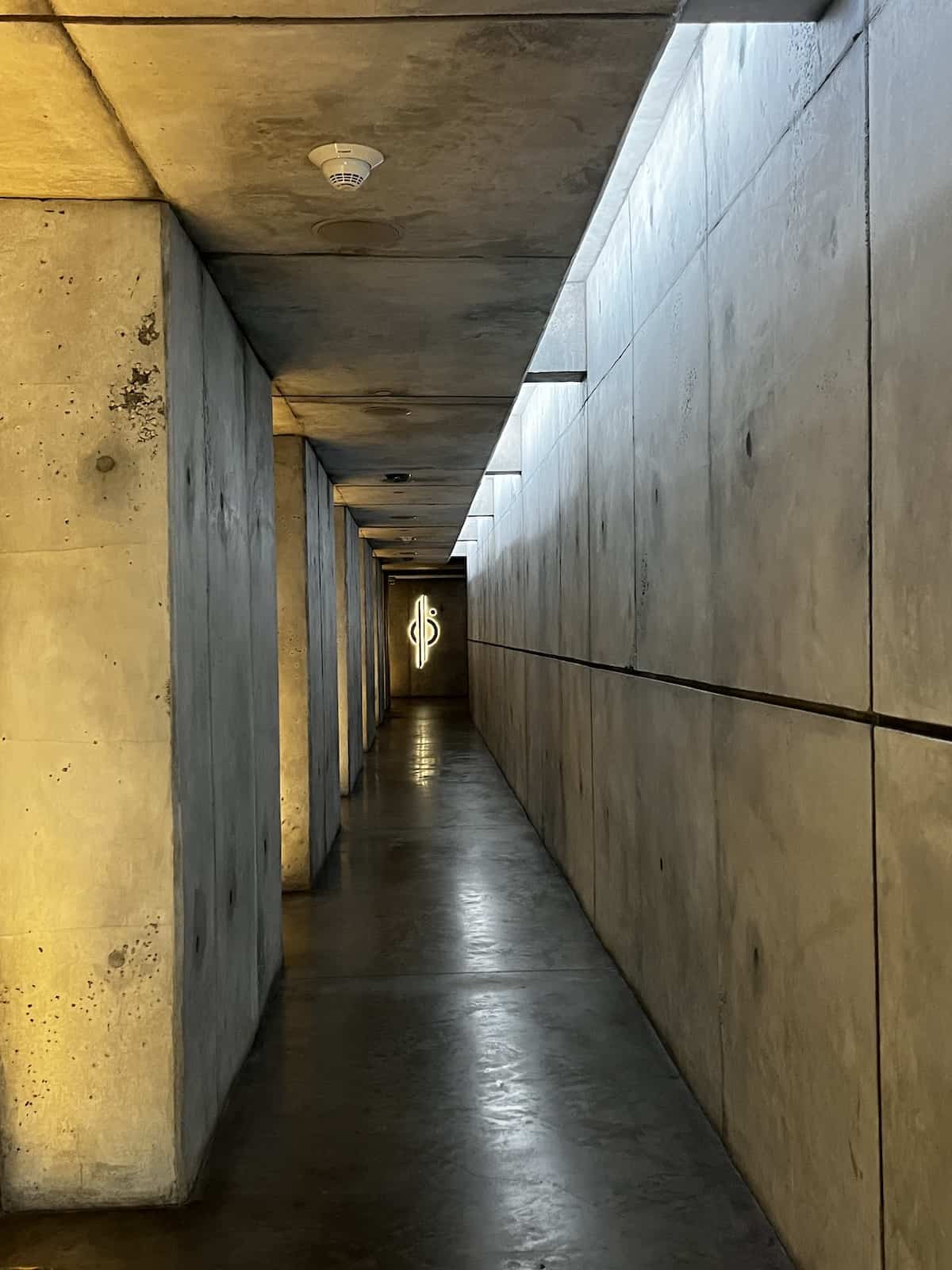 First stop: EARTH FOOD! The girls had slept in a twin bed together both nights and then still sat literally on top of each other in the booth at the restaurant – I absolutely LOVE their bond!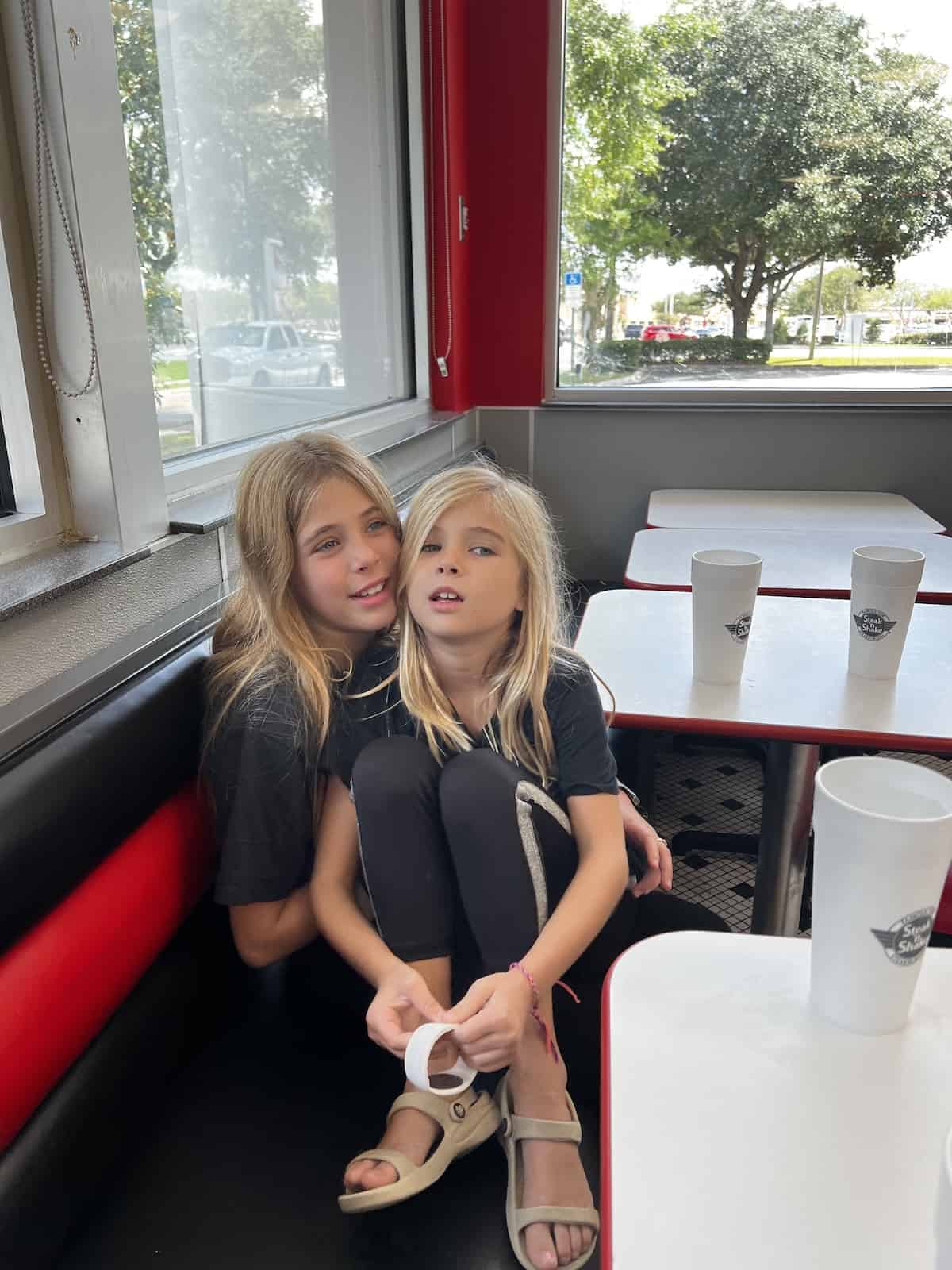 We got our professional images back a few days later. I love them!
It was truly a trip of a lifetime. I'm so incredibly thankful we made it happen when we did. Zero regrets.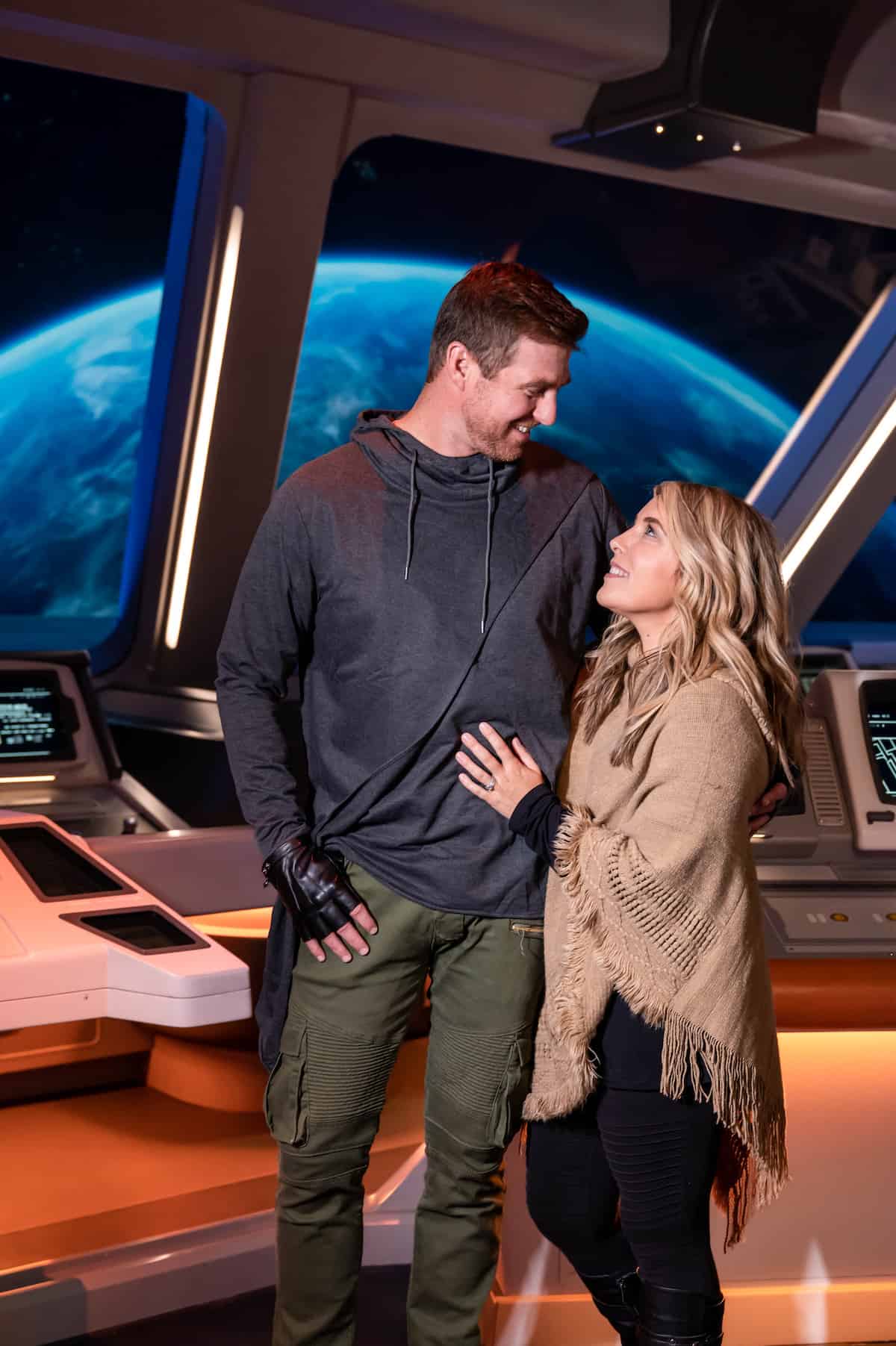 Crez and Mrs Crez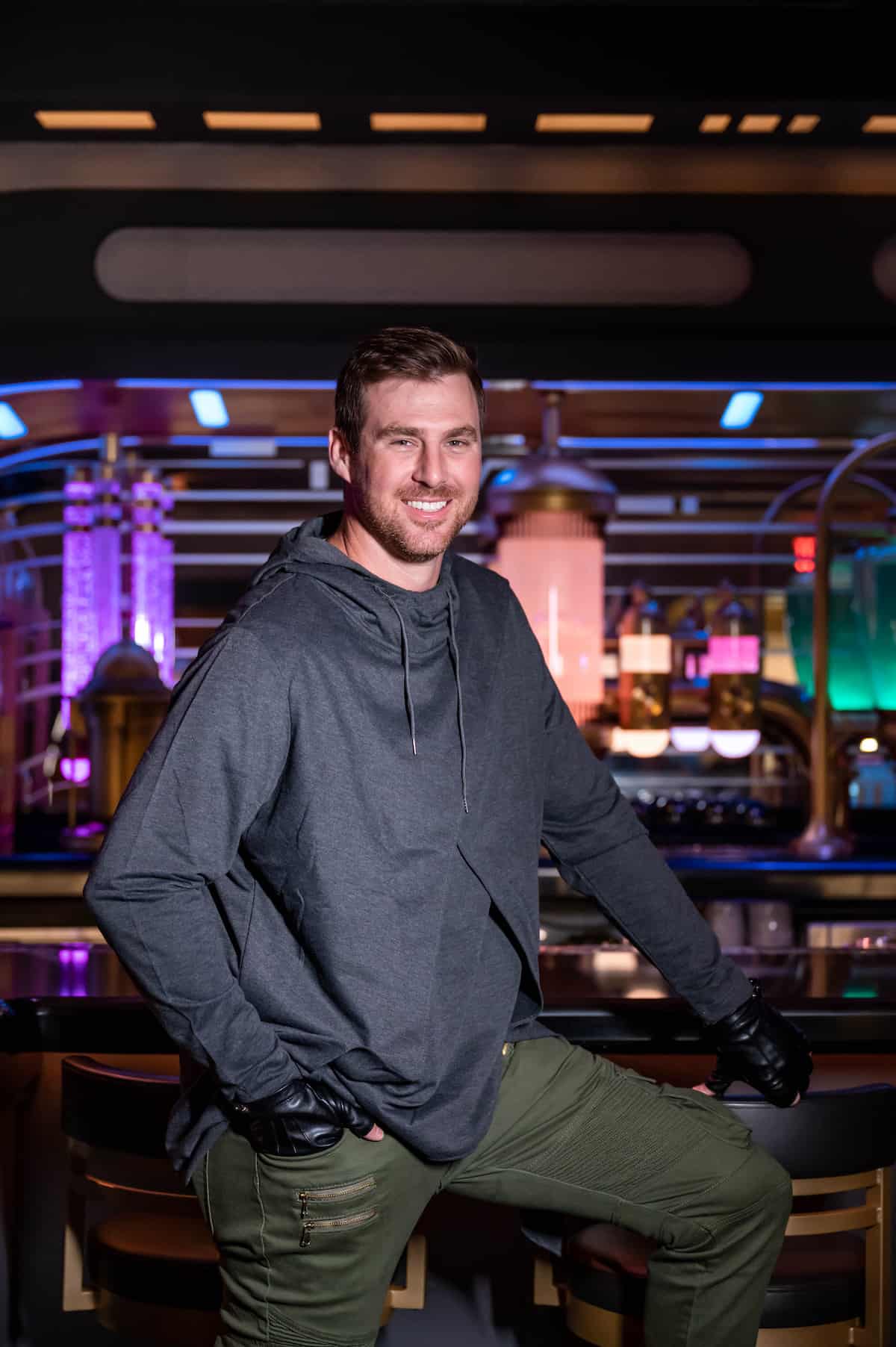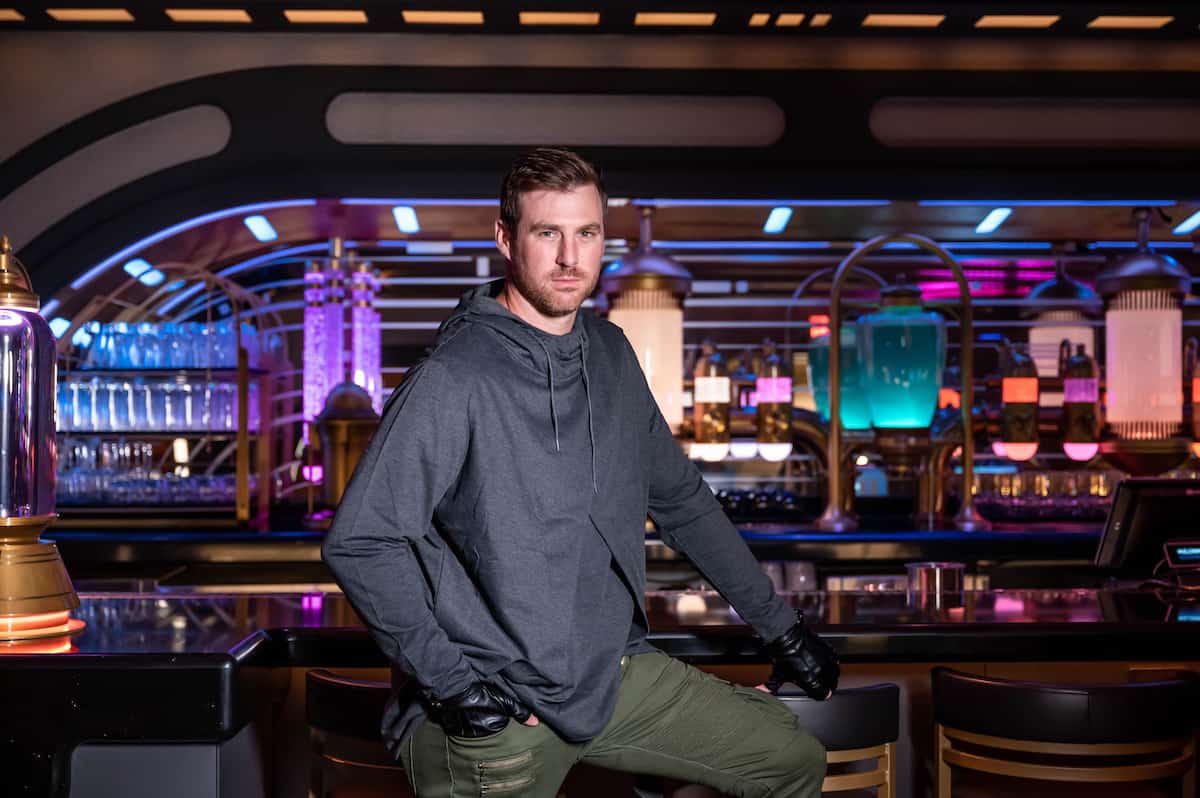 The engineering room was a fav for the kids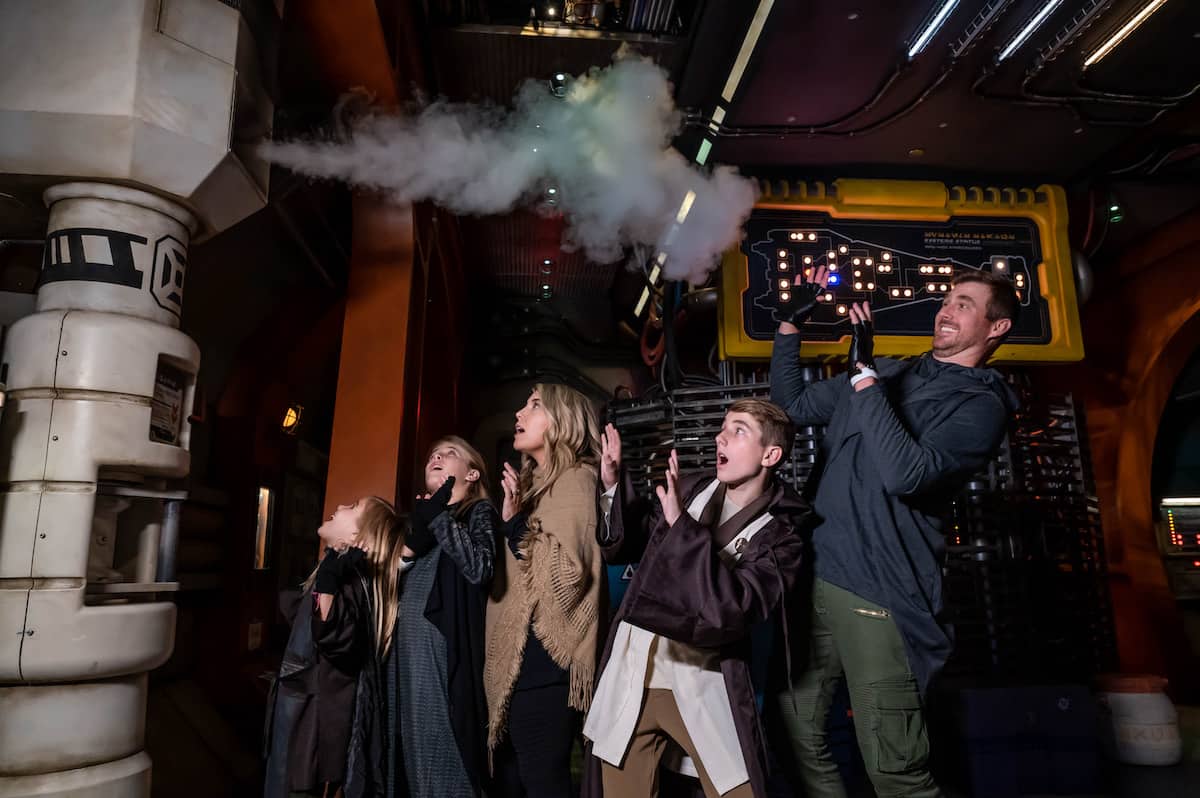 Hacker Tespa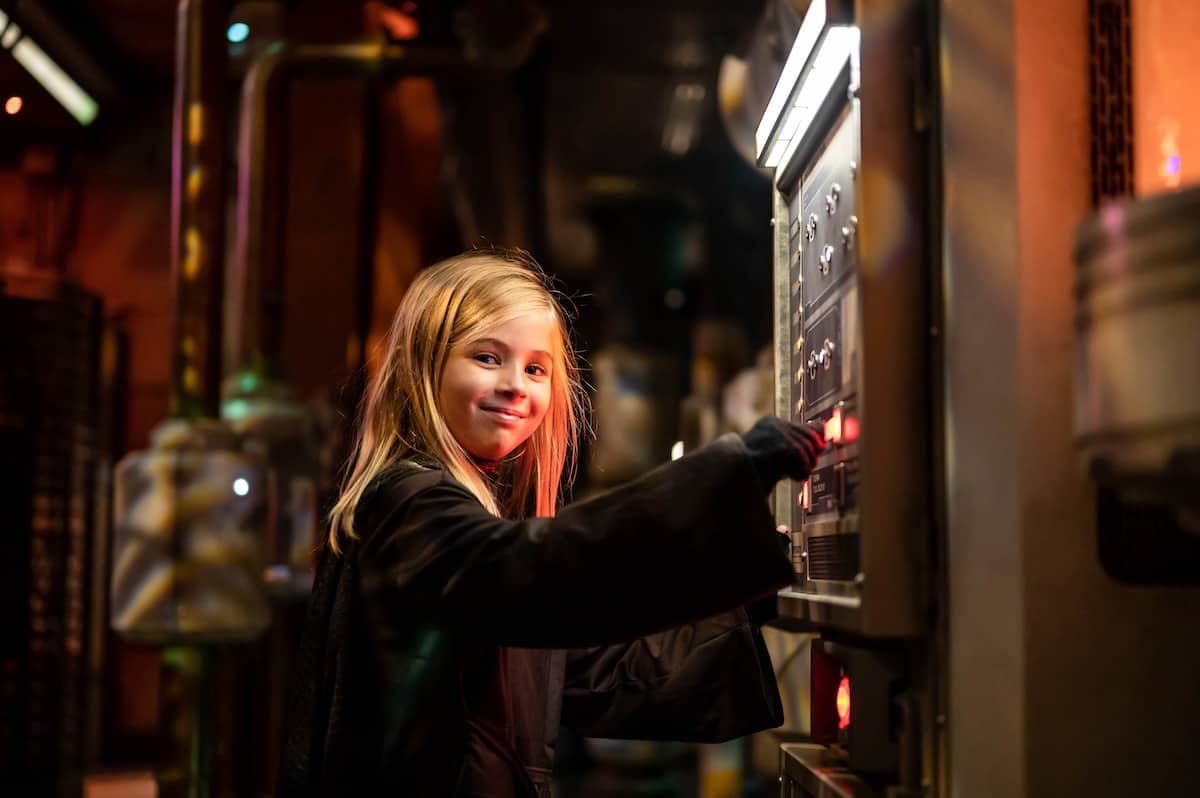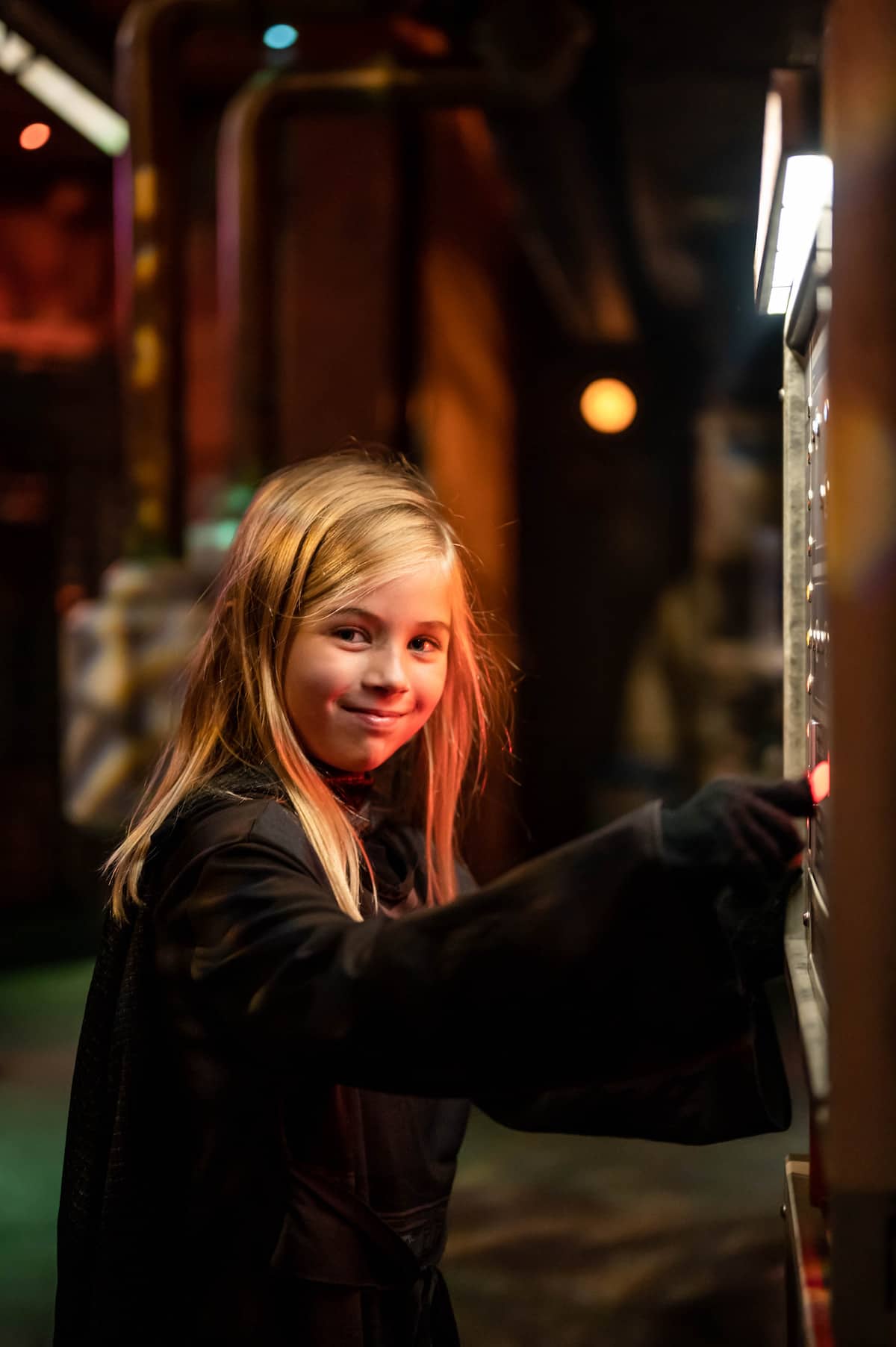 Beautiful Britpa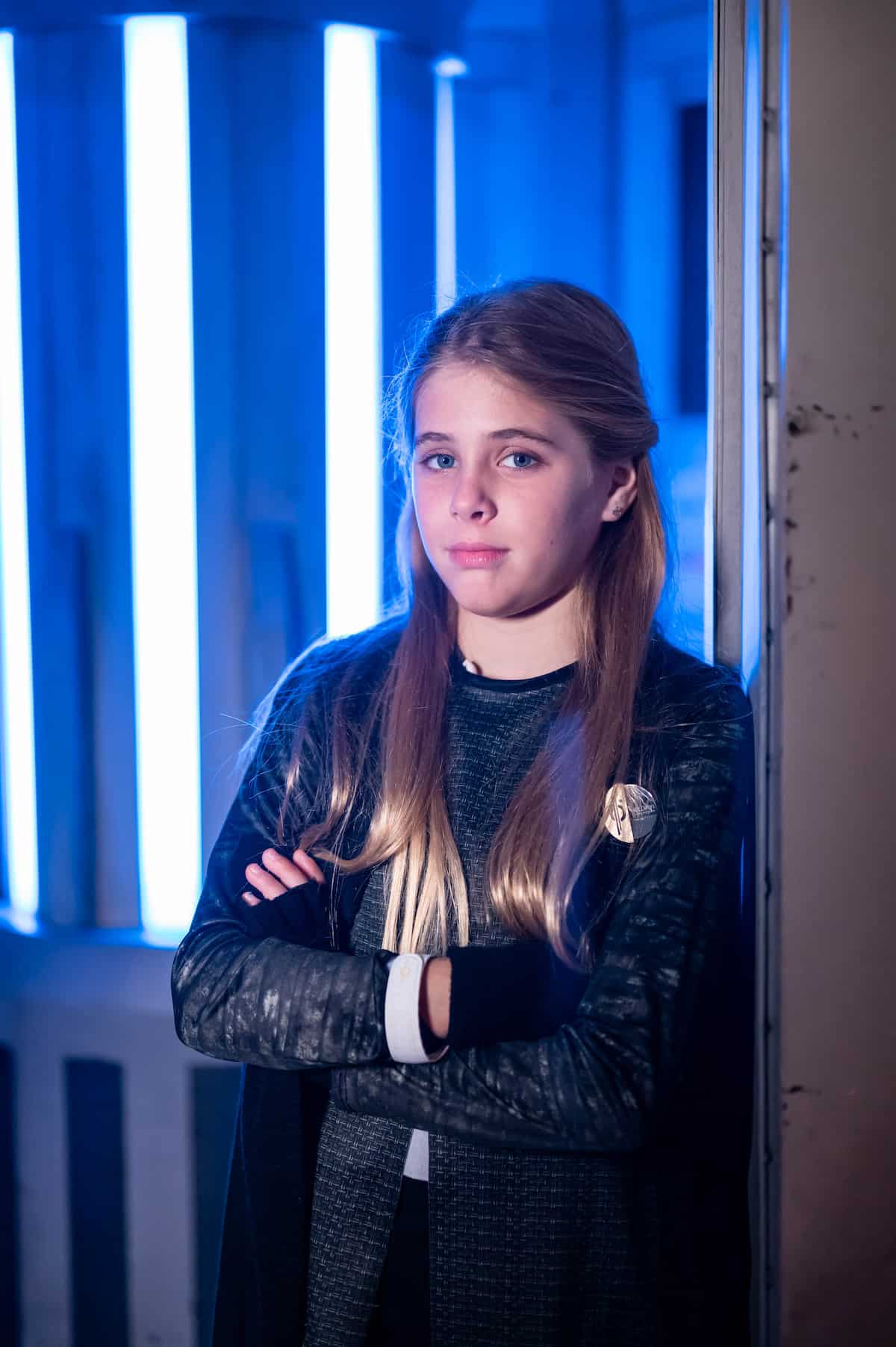 Canpar 🙂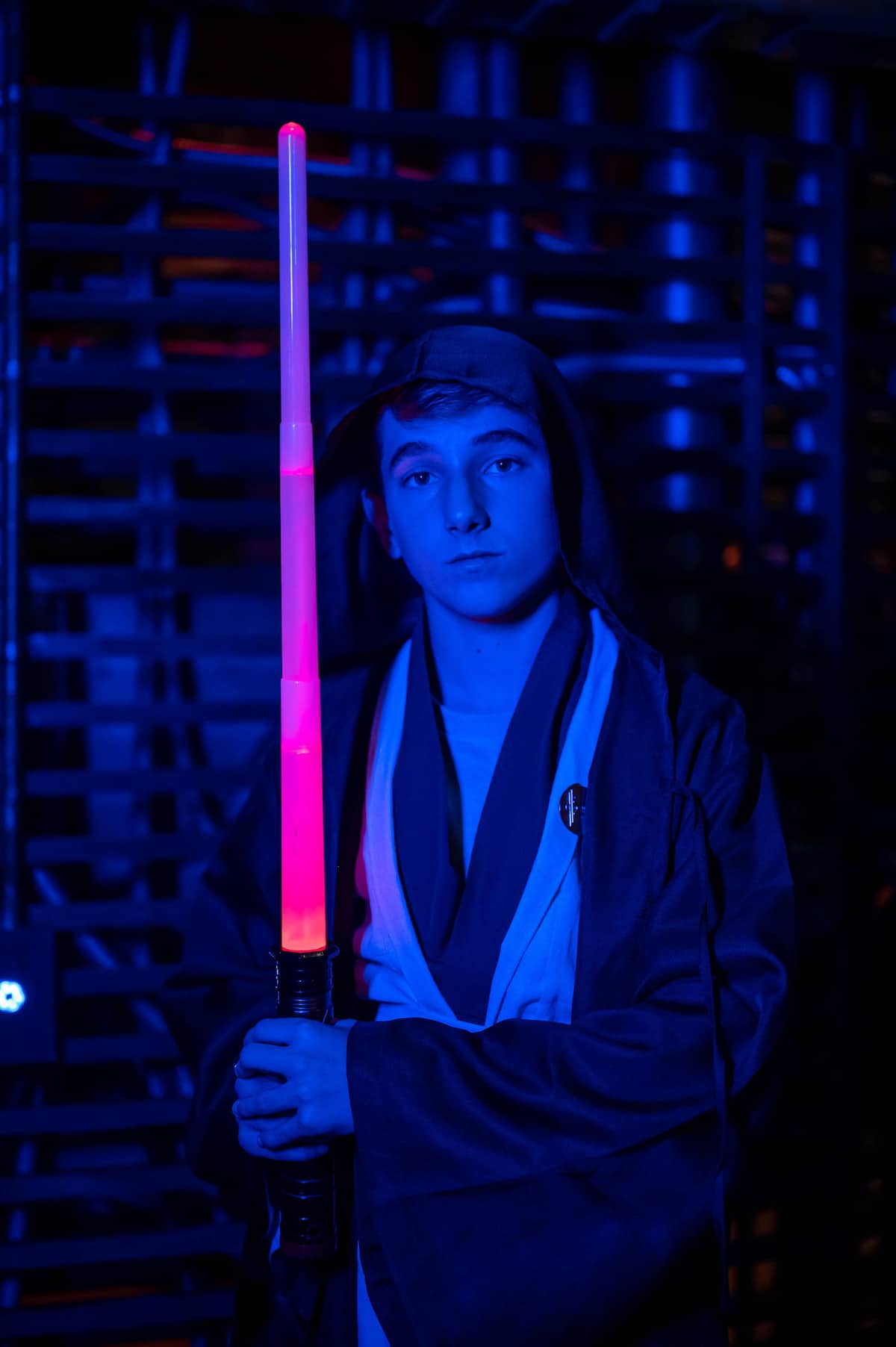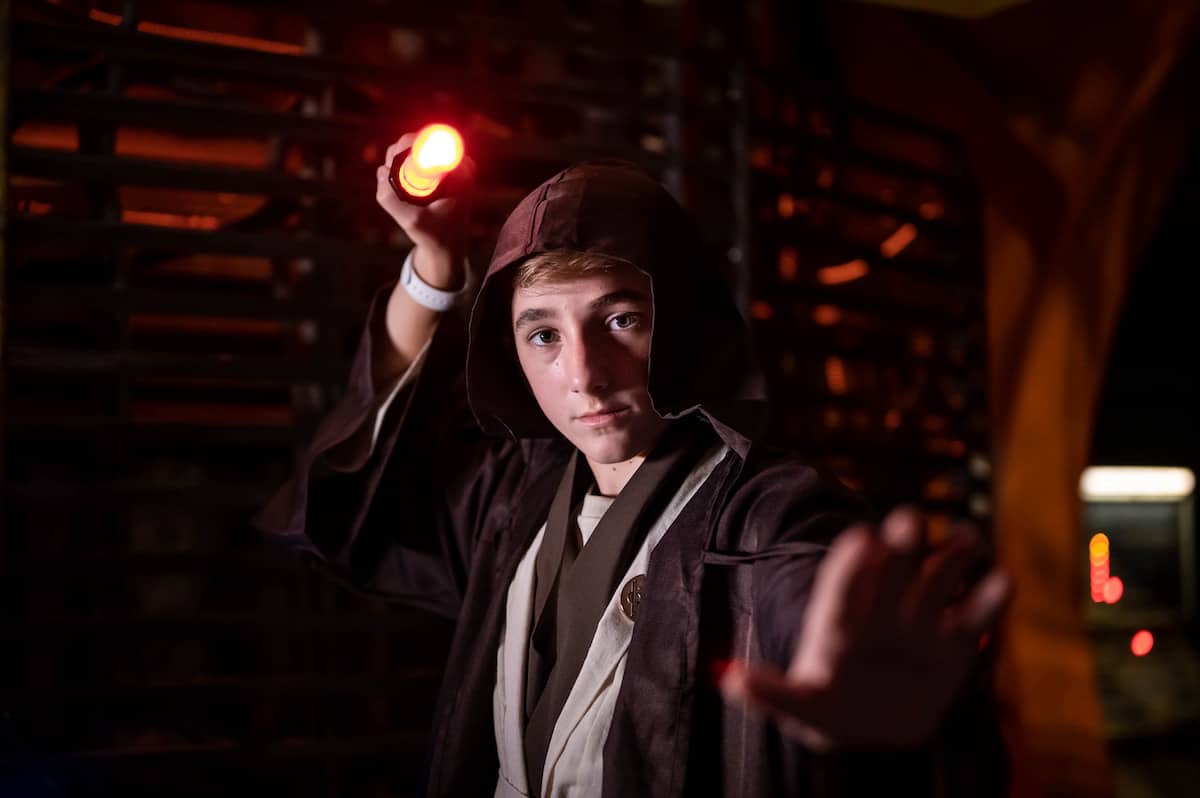 My top favorite memories: