This car sick kit for kids will help you on roadtrips or long car rides when your children experience car sickness! This is all the survival gear you need for traveling with kids.
Anyone else totally struggle with car sickness for like your entire life?
I've been a sufferer of travel sickness and motion sickness in general for as long as I can remember.
When we travel I have to sit in the front seat or else I'm guaranteed to feel nauseous.
When we ride theme park rides I have to be mindful of where I sit or skip riding all together as if I start feeling sick I am DONE.
I've lucked out in parenting that we travel ALL THE TIME and I've never had a child suffer with car sickness even with ALL the road trips we take!
My kids handle long car trips. They love thrill rides. They never ever complain of nausea or feeling sick when traveling.
Disclaimer: this post contains affiliate links.
Child Car Sickness Realization
Then we added our fourth child to our family.
Ironically, we adopted him at birth and he's the one who seems to have inherited my issues with car sickness!
Even from an early infant age I had times when my son would throw up in the car. Even just when driving around town on short car trips.
As he's gotten older it's become more apparent that it is truly motion sickness.
Babies spit up randomly. Puke on occasion.
But toddlers?
Over the summer we drove a couple of hours from home to the beach and we were just ten minutes away from our destination when he threw up.
I knew in that moment that I officially have a car sick prone kid on my hands and that I'd need to figure out some kind of car sick kit to bring with us!
Child Car Sickness: Preparation
There is nothing quite like driving in the car and hearing THAT SOUND.
That sound that you KNOW means you are about to have an epic mess to deal with.
It's shocking to me that I've gone through three kids and have not had to have any sort of car sickness struggle but now that I'm dealing with it I have learned that the key to battling it is being PREPARED.
Having a puke covered child is never fun, but it can be a nightmare or a simple quickly-handled mess depending on how well prepared you are.
And trust me, up until now I've been the battling-the-nightmare mom every time it happens!
I have learned a few things and am sure I will learn more along the way but I wanted to share them here for other moms who are looking for ways to prevent and be prepared for moments of travel sickness with their children. A car sick kit is definitely a must!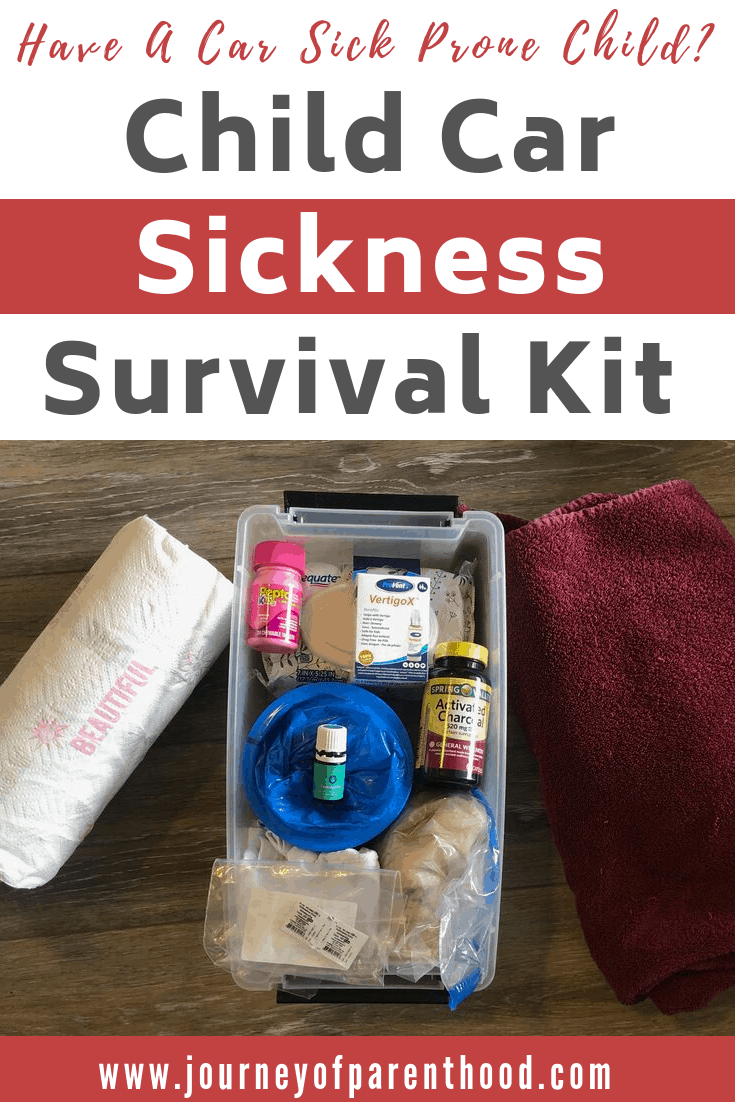 Child Car Sickness: Prevention
Obviously the best way to avoid car sickness is to not be in a car.
I don't get sick on rides anymore. Because I don't ride thrill rides that could cause me to get sick. Easy solution!
If you don't want your motion sickness prone child puking in the car… then don't take them anywhere.
But that's not practical. My child has thrown up driving the 10 minutes to take his sibling to basketball practice.
Especially being a fourth baby he's in the car A LOT and it's just one of those things that we will have to deal with.
Another thing that TONS of people recommended to me when it comes to preventing car sickness for kids is to turn the car seat from rear facing to forward facing.
Y'all. HARD NO ON THAT.
I would 100% rather clean up a puke covered child than have a dead child. Period.
Rear facing is THE safest way to ride in a car seat and it's crucial to keep your child rear facing for as long as possible. Yes, well beyond age two.
I currently have a 5 year old who is still rear facing and will be probably until age 7 based on the height limits of her seat. Team extended rear-facing for life over here!
—–> You can read my thoughts on car seat safety after age 2 here
—–> You can also read more car seat safety tips you may not be aware of here!
Basically we have to drive in a car and my toddler has to be rear-facing in his car seat when traveling in the car.
That means I have to find other ways to prevent car sickness for him.
The best tip I've learned so far in preventing car sickness?
Avoid eating prior to or during travel times. Traveling on an empty stomach is the best way to ensure if he does feel sick on our road trip that he won't throw up.
When we travel we make sure we feed him at least an hour or so prior to leaving for the trip.
We are also mindful as to what we feed him.
We stick to very bland foods and avoid milk.
When traveling in the car we avoid snacks and drinks as much as we can and when we stop to eat a meal while traveling we make sure to leave PLENTY of time to eat inside a restaurant and allow for playtime after the meal for the food to settle and to allow him to burn off energy.
Our son tends to get sick when he's really upset. We have had to make adjustments to how we travel in the car.
If he gets fussy, we do whatever we can to help calm him in order to avoid puking.
We turn on a movie. We hand him toys. We open the windows to allow fresh air.
Child Car Sickness Survival Kit
No matter what steps you take to prepare for and prevent car sickness, it may still happen.
I have put together a Mommy Emergency Car Sick Kit to keep in my car!
It not only provides all the must-have items should car sickness occur, but it also gives me peace of mind knowing I have everything I need just in case.
My husband always says that when you bring the rain gear to a theme park it won't ever rain and my hope is the same with this… have everything you need on hand to clean up puke and hopefully that means puke won't happen 😉
Here is everything in my car sickness survival kit!
This list is easy to print if desired as well to take to the store to stock up on all the items or you can also shop the links and easily add to cart without leaving home too!
Before sharing the items you can purchase online… I also wanted to mention a few you can't!
Zofran: Zofran is a prescription medication that comes in multiple forms for both adults and children. It is best to get the dissolvable option if possible as it dissolves quickly in the child's mouth and actually works faster than the pill version.
Grocery Bags: Ask for plastic when checking out at the grocery store and keep a few of those bags handy! SO easy to toss in the puke-covered items and tie up in the bag until you're able to wash/throw things away.
Child Car Sick Kit Essentials
This baby car sick kit is great to keep in the car to have on hand anytime a child (or adult) may struggle with travel sickness and is everything you need to clean up throw up on the side of the road:
5 Quart Stack & Pull Box
I own and love this set of storage boxes! I use them for many purposes around our home and they are great for storing arts and crafts.
However, they are also great for storing must-have items in the car. Such as car sickness survival items and family travel emergency kit items too!
Check Price For 5 Quart Stack & Pull Box Here!
Disposable Vomit Bags
These bags are GENIUS.
I keep several in my kit as well as just at home for stomach bugs to let the kids use in their rooms for times when they can't make it to the toilet.
Check price For Disposable Vomit Bags Here!
ProVent Vertigo X Relief
Many people swear by essential oils for all of life's ailments. and I have heard firsthand from several friends that essential oils work well in helping to prevent car sickness in toddlers and kids.
It contains both lavender and peppermint and the reviews are great so it's worth trying and having on hand whenever traveling on a road trip or going somewhere with thrill rides or other activities that may cause motion sickness.
Check Price For ProVent Vertigo X Relief Here!
Pepto Bismol Kids
Does Pepto Bismol help motion sickness? It can! Along with motion sickness can also often come upset stomach and I have found that having Pepto chewables on hand for my kids can make a big difference and help settle their tummies, even after vomiting.
Check Price For Pepto Bismol Kids Here!
Dramamine Motion Sickness Relief for Kids
My car sick prone child is not yet 2 but once he reaches that age I will be adding Dramamine for kids to my emergency kit!
I know for me using Dramamine always makes me tired and sleeping in the car can help prevent motion sickness too so that side effect will be welcome when it comes to helping my sweet boy avoid sickness when traveling!
Check Price For Dramamine Motion Sickness Relief for Kids Here!
Flex-a-Size Paper Towels
I think you know you've entered real Mom-Status when you ALWAYS have a roll of toilet paper on hand in your vehicle.
It's one of those things that your husband WILL tease you about but then will say you are a GENIUS when your kid pukes in the car because you have an ENTIRE roll of paper towels ready for action.
Check Price For Flex-a-Size Paper Towels Here!
Quick-Dry Bath Towels
Just like with the paper towels… having a legit bath towel on hand also comes in crazy handy super often.
If we have thrown up in the car we will use a towel for the child to sit on in the car seat until we're able to get to the destination and properly clean the car seat.
No, this is NOT car seat safety-approved however in those desperate moments when a car seat is covered in puke you just have to do what you can with what you can until you can get it clean!
Check Price For Quick-Dry Bath Towels Here!
Boys' Short Sleeve Tee
I know all sorts of pro-moms who keep extra clothes in their diaper bags and in the kids school book bags but kids change sizes SO frequently and it's so annoying to me to have to make sure to change out the spare clothes for each season or new size.
So I keep a single larger sized t-shirt in my car sickness kit.
If the kid pukes everywhere, he can rock the oversized t-shirt until we're able to get him bathed and in proper clothes!
Check Price For Boys' Short Sleeve Tee Here!
Baby Wipes
Baby wipes are an item I will NEVER stop using and always, always having with me – even when my kids are grown.
They are great for quick clean-ups of any type but when specifically talking about throw up they are awesome for getting the child wiped off AND for cleaning off the car seat straps and buckles.
Check Price For Baby Wipes Here!
Gallon Sized Storage Bags
Yes, I like to have grocery store bags on hand in my kit but I also like to have gallon size storage bags especially with the glider close as it makes it super simple to toss stuff in and shut it quickly!
I use the bag to store extra bags as well as the grocery bags (or trash bags if you have them in your kit as well) to keep them stored nicely!
Check Price For Gallon Sized Storage Bags Here!
Activated Charcoal
Activated Charcoal was recommended to me by a friend to help prevent stomach viruses when exposed and to help in stopping puking when it occurs.
When my kids have had a tummy bug I take some as a preventative measure for myself against catching it and will open the capsules into some water and have them drink it to help ease their sick bellies.
I keep this on hand in my carsick kit because it can't hurt to have on hand in case someone starts throwing up and needs help in stopping or in case other people start feeling sick after seeing/smelling/hearing another person in the car throwing up.
Check Price For Activated Charcoal Here!
KidScents TummyGize
I personally use Young Living essential oils but am not what I'd call an "oily person" by any means.
However, I'm of the opinion that it can't hurt to use 'em!
I love the kid's line and use many of the oils and the Tummygize is one that my kids swear helps when their bellies hurt. It has both peppermint and ginger in it and is a blend of several helpful, gentle oils.
I put some drops on my hand and rub them on the tummy. This can be great to do as a routine while buckling the car seat buckles and can help prevent car sickness from happening too!
You can also learn more about my favorite oils here!
Check Price For KidScents TummyGize Here!
Car Sick Kit for Kids: Final Thoughts
Having this child car sickness survival kit on hand in your car at all times can be huge in helping to prevent car sickness and helping to make it easier to deal with when those times do occur.
I've listed my items in this post and have also created an Amazon list with them all to make ordering a breeze and you can access the list here!