The first part of our trip to Charleston was SO PERFECT that the second half has a lot to live up to 😉
We had a bit of a longer trip this time than usual, typically we getaway for 3 nights but this time we did four nights in Charleston plus the one night in Savannah. We wanted to make up for the long lull in our traveling together and give us a chance to really explore the area without rushing.
I get an itch to get home after a few days away and three nights is usually my perfect amount of time – but I really didn't get that same "omg I gotta get home" feeling this trip! And having the extra time really allowed us to RELAX and feel like it was both a trip of exploring a new place but also a vacation where we could sleep in and lounge and not feel rushed or like we HAD TO cram a bunch of stuff in.
Zach's big must-do when visiting Charleston was to check out Fort Sumter. Zach LOVES history (hence our traditional tour of historic places) and Fort Sumter is a must-visit when in Charleston for sure!
In order to reach Fort Sumter you have to ride a ferry boat and we wanted to be on the first boat out of the day. I love to sleep in but will ALWAYS opt for an early morning tour or experience to beat the crowds and the heat. It's the #disneymom in me 😉
It was another beautiful morning!
I did not realize it was a solid 30 min ride on the boat out to the fort. I get motion sickness but honestly don't think about it often since I've adjusted my life so well to not have it be an issue (basically I just avoid thrill rides at theme parks and make sure I sit up front when traveling). I didn't even think about bringing any sort of anti nausea meds with me for the boat ride and I wish I had!
The water was a bit choppy and I just would have fully enjoyed the experience more if I'd taken something prior to help my stomach feel settled. The crew was fantastic and were legit rangers which were neat. Very knowledgeable about the fort and the history of the area and handed out fun activity books as part of the Junior Ranger Program.
I would have taken mine more seriously if I knew you got a pin at the end for completing it! Apparently, you can collect them at all of the different state fort locations – I still enjoyed listening to the fun facts on the ride over.
We passed by a small island on the way (first photo) and it's actually owned by the Sons of Confederacy which is a neat fact!
Fort Sumter was the perfect historical visit for me…it was a great mix of things! 30 minute boat ride followed by an EXTREMELY well done 15 min Ranger lesson about the fort followed by 35 minutes to explore the fort on our own and then a 20 minute ride back.
This would be a great thing with kids too as the different blocks of time are perfect for shorter attention spans. Meaning children and adults like me who aren't HUGE into history 😉
We sat inside for the ride back and I did much better sickness wise and Zach was able to complete his Ranger Activity Book.
Once we docked we headed back to the Charleston Market area to grab some lunch and stooped in Market Street on a whim. OMG THE SALAD. It was soooo amazing. Whenever we were debating what to eat the rest of the trip I kept saying "I could totally go back and get that salad again."
When we were exploring the marketplace the day prior I found a jewelry booth that I was instantly drawn to and impressed by the designs. The pieces are SO dainty and just beautiful.
Fun fact but I've been a mom of four for almost four years now and don't own anything to represent all my babies. Growing up my mom had one of those motherhood necklaces that was a gold figure of a mother holding children with our birthstones.
I've seen cute stacking rings with the kids names and lots of a variety of gemstone designs but I HAVE FOUR KIDS. Four rings stacked up is a lotta rings. And their birthdays being March, Dec, July and Dec makes for a weird color combo of stones. (3 blues and a RED).
This jeweler had really unique birthstone combinations in a super simple design that I thought would be PERFECT for my anniversary fun-money purchase and as an item I will both wear and cherish of my babies!
They designed the necklace for me and Zach and I were able to design the entire thing from scratch (choosing elements from some of the other designs) and were even able to name the necklace design too "The Parker" You can learn more about their custom designs here
We opted to pick up the finished product in their store, JK Designs Jewelry and were able to meet the couple behind the brand as well. I LOVE the end result!!!
We did the December babies at the top and bottom with the March and July in the middle even though it's not birth order 😉
When we planned out the trip we were able to buy a combo ticket to visit both Fort Sumter and Boone Hall Plantation and made the decision to visit both in one day. Boone Hall is about a 20 minute drive from where we were staying in the historic area of Charleston.
It is BEAUTIFUL and is THE most photographed plantation in the country! I can totally see why!
We drove up and were able to explore things at our own pace and also join in on the many different tours being offered during the afternoon.
Top right photo is of the oldest cotton gin left standing.
The grounds were super pretty and we were right on time to hop on a hayride tour of the entire property! We then grabbed some popsicles to cool off while we walked around a bit. Of course seeing the tractors made me miss my tractor loving boy back home!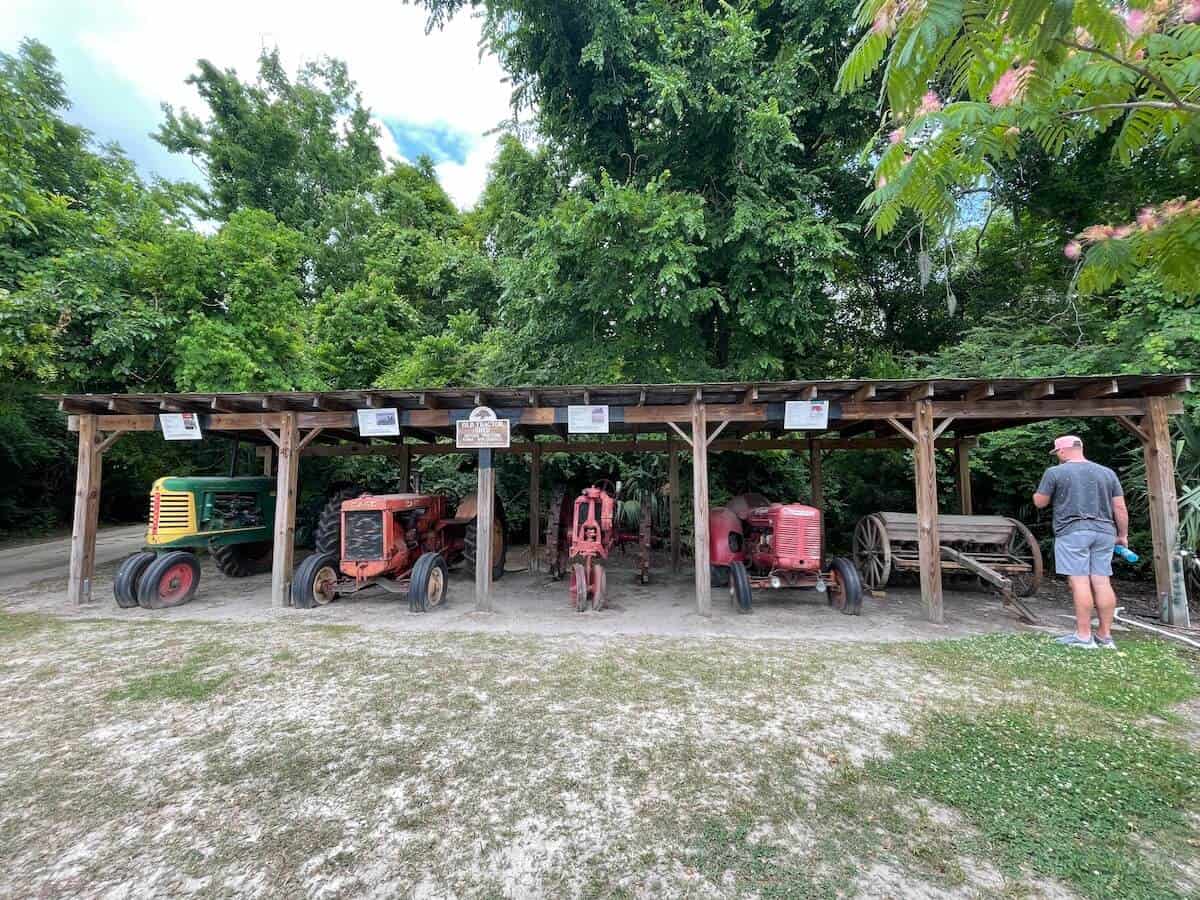 THE must-see exhibit at Boone Hall Plantation is the Gullah presentation. It was SO cool (I think I got some of it on video and will share in this post) and Zach and I even got to go up front since we were celebrating our anniversary and were able to help translate some of the Gullah Bible to the audience.
It was super cool to look through the Bible afterwards and very interesting to see the different areas where the slaves would work and live on the plantation. Both Boone and Fort Sumter did a wonderful job of appreciating history while also respecting the elements of history that are important to be mindful of not repeating. We were very impressed with how tastefully sensitive topics were discussed and the value of sharing history to avoid repeating it and to ensure the lessons learned from it are the legacy remembered.
We were able to jump in another tour of the home on the property and all of the bricks used in any of the buildings on the property were also MADE there. Really neat fact!
Boone Hall Plantation hosts many weddings and events (can you even IMAGINE how beautiful!) and has had many films and tv shows filmed there (including The Notebook). We loved walking around and seeing all the gorgeous oak trees.
The tours ended at 4 and you are able to use your ticket to return to see more if desired but we felt like we hit the major highlights in an afternoon and wouldn't make the 20 min drive back out to see more. It was a very easy property to tour and a great afternoon activity rich in history as well as beauty!
On our way out we were able to spend more time in the slave quarters to learn more about their way of life and their history.
We got back to town and ended up eating dinner right by the marketplace again just around the corner from our hotel (I'm telling yall our location was pretty epic!). We both had shrimp and grits on our must-eat list and the time had come! We kept trying to get into the BEST kinda restaurants but the whole reservation situation and our inability to be back into the area early enough for opening left us just kinda stuck doing a walk in at a more touristy spot.
Which was FINE and worked out AWESOME and the shrimp and grits was fabulous! We'd totally go back to Charleston Crab House
Whew it was a LONG day but I am totally team cram all the touristy stuff into one day if possible! We ended the night with a ghost tour of the jail! The Charleston Haunted Jail Tour was 1,000 times better than the depth and depravity tour we did a few nights prior. We were SO glad we had booked both tours!
This time the stories WERE creepy and the location alone was EPIC. The Old City Jail was in operation from 1802 until 1939 and we were able to walk through the entire jail and our tour guide had one of those soft, spooky sounding voices that added to the effects.
The area of town where the jail is located also helped the vibe because a police officer was literally patrolling the homes right across the street and some people started letting off fireworks that sounded like gunshots so we got to watch the police officer in action a bit too as he handled that situation.
Real life spooky stuff right there! When we left Zach said he felt a short, intense headache in one of the rooms. People have legit reported leaving the jail and having scratches down their backs!
We didn't have any real set plans for our last full day. Which truly does go to show that if you're planning a trip to just about any destination that 3 nights is PLENTY. We have found that you need at least 1-2 additional nights if going through a time change but otherwise we've never left a location after 3 nights feeling like we didn't have enough time.
We for sure didn't mind the extra day! I was able to sleep in again and Zach went over to the other part of our hotel to enjoy the free breakfast and gorgeous views.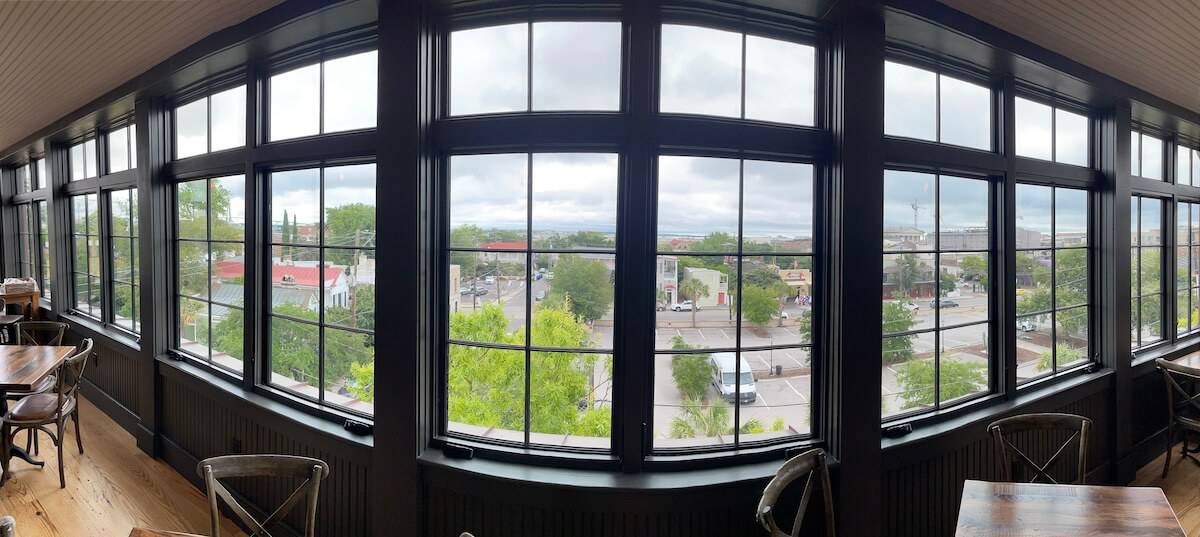 We decided to do some more walking around town that morning (another solid 4 miles). We wanted a chance to walk through some of the graveyards and check out The Battery and Rainbow Road a bit more as well as finish up the shopping to make sure we got a little something for all the kids and Zach's parents too!
A BIG reason why Zach and I choose historical locations for our anniversary trips is that they are older areas that require a lot of walking and often have less than ideal terrain for that walking. While we do NOT focus on Zach's MS diagnosis in our everyday lives, it doesn't mean it's not still a very real disease and we do try to plan accordingly for what our future MAY look like. We do everything we can to keep his health the way it is now, but we also are mindful in our planning for the future. Bring on all the walking tours we can take now!
We walked through Washington Square (love the shout out to Andrew Jackson's mama!).
The old cemeteries are SO cool and it's incredible how well the tombstones have held up over the centuries. It was a Sunday so church was actually in session at St Michaels so we were super careful to be respectful and quiet as we walked around a bit. It was actually a good time to look through cemeteries since they are located at active churches and many of the ones we'd seen closed during the days prior were open for services.
It was also neat that it's still a growing cemetery and that people are even still buried there! One of the oldest tomb we saw was from 1809 and was still in awesome shape!
The trees are beautiful but it's crazy what the root systems will do to the sidewalks! It was a very quiet (and, again, gorgeous) morning and we loved walking down the residential streets and passing people who were on their way to church dressed in their Sunday best.
Getting to walk along The Battery was beautiful. The homes are incredible! When we got home we learned that a lot of the homes do in home tours so that's def something to plan for when we visit again post-Covid when things are back up and running for those tours.
We also happened to be walking by our first ever protest experience. During our tour of the city Neil did tell us that there have been a lot of protests in the area about many of the statues and monuments. I have no clue specifically what this protest was about but some guys were gathered with confederate flags and a group of women were across the street with Black Lives Matter posters.
Of course when we walked by it just happened to be at the same time that one of the BLM supporters were also crossing our path directly beside the, what we assume were monument protestors. We both felt awkward and made sure to say hello to EVERYONE equally as to not show any favoritism or anything!
We did NOT want to get involved in any of that kinda thing so we were just our kind normal selves to everyone in both groups. Really while we were there at least EVERYONE was being very kind. It wasn't ugliness or rudeness or anything like that. I honestly don't really get the point of the whole thing at all because it was just a group of people waving flags looking at another group of people holding posters. I highly doubt either of their minds were changed on things that day?!
We loved seeing all the old homes! One was for sale so, duh, we called just to see about it. It was 7 bedrooms, 7000 square feet, directly across the water. Only $4.4 million 😉 We decided not to put in an offer though because ya know may wanna hold out for something a little bigger 😉
Sunday brunch in Charleston is a THING for SURE. And I mean who doesn't love brunch? If we were to plan a trip again we'd get reservations for the gospel-style brunch at Hall's. But instead, we walked down to Millers All Day and put our names on the NINETY MINUTE waitlist!
We spent the wait walking around a bit through the shopping area but, as we've found to be true of Charleston, nothing was open. It seems like there is a VERY small window if you like to shop. After 11 am and before 4 pm ha!
Miller's All Day was ADORABLE and also had awesome food. It also had an epically long line for the bathroom. I'm talking a solid 15 minutes or so. And, of course, it was another unisex situation which we also found to be the case just about everywhere in Charleston.
I don't mind the single room unisex bathrooms BUT dudes not putting the seat down are the worsssst in those situations. Like I literally just passed by you. You held the door open for me. AND LEFT THE SEAT UP.
Miller's is famous for their pink unicorn grits and they didn't disappoint!
We FINALLY finished up the shopping. And when I say shopping I really mean buying gifts for everyone back home. It's TOUGH to buy something that every kid will enjoy and find something worthy of being a thank you gift to Zach's parents for keeping our babies. Yes, they love having the grandkids for a few days but we still always, always want them to feel appreciated for it!
We opted to have a total chill night to end the trip (also something we tend to do when traveling). We watched a movie (The Woman in the Window) and Zach picked up a pizza and we ate it in bed while watching. Perfect end to a perfect trip!
We left early to head back to Georgia to have some time to stop in the outlet stores in Savannah area so Zach could finally spend his anniversary gift money since he didn't spend it all on our Charleston trip (don't worry, I had NO ISSUES finding stuff to spend mine on ha!).
We were SO HAPPY to be back to our gender specific bathrooms haha! We stopped in Chipotle which was my first time having it and it was pretty good – we're actually getting one in Valdosta which will be nice. Zach spent his money on some new swag from Express (his fav store) and I found the cutest boutique that had a prayer area to ask for prayers and share prayers and even had toy soldiers to write the name of a soldier on to be praying for too. SUPER impressed – the boutique is BoldSoul Boutique – a great shop to support!
From start to finish our trip was AWESOME. We loved the vibe of the town and getting to have that quality time with each other. I'm so thankful for our 14 years of marriage!!!
Next year is a BIG anniversary milestone. For our 5th wedding anniversary we went to Italy and our plan has been to go to Greece for our 15th. BUT the beauty to come from the pandemic is that we're much more flexible and know that we'd rather wait and have the world heal so we're okay with keeping 15 smaller and doing it big once international travel is a thing again 😉