This year Zach and I were super pumped to take a legit trip for our 14th wedding anniversary! Last year we still made the best of things and had a great time at the beach in Jacksonville but it was refreshing to plan a trip to a new-to-us-place.
Our main goal in planning our trip was to choose a place we felt CONFIDENT would NOT get canceled on us. We decided to visit Charleston, South Carolina because it's on our list of historic places we'd like to visit and it's within driving distance so we didn't have to worry about flying and dealing with all those restrictions and possible cancelations.
Savannah is on the way to Charleston and is a town we LOVE (and don't visit frequently enough!) so we decided to stop there on the way and spend one night.
It was enough time to walk down River Street a bit, enjoy a delicious burger and get massages!
We stayed the night at the Desoto and it was a gorgeous hotel but not within walking distance of the River Street fun but did have GORGEOUS views!
Zach had visited Savannah a few months prior and had eaten at an awesome hamburger place that he wanted to take me to. We also love the tradition of getting a couples massage on our trips away together. However, it ended up being THE worst massages EVER.
I was freezing the whole time and the girl massaging me kept doing these odd breathing techniques that made it hard to relax and her hands were soooo cold too. Zach's was super aggressive and was basically slapping on lotion the whole time.
It was funny because on our walk to the car neither of us wanted to be negative about the experience and it took us awhile to both share how we didn't really enjoy it and then we were cracking up about how awful it was. It was so bad that it was funny!
I love me some solid hotel sleep and it was wonderful to have that night to chill and get a taste of Savannah before hitting the road the next morning towards Charleston!
It was our first time going over the bridge and first time for us both to enter the historic town. We stopped at Juanita Greenberg's for lunch (delicious taco salad!) and then headed over to the Charleston Welcome Center to meet our tour guide.
We both love to book an around the town kinda tour when we first arrive in a new city. It gives us a chance to learn the history behind the area and the insider scoop of the must visit spots!
We about DIED when we walked in to the go to the bathroom and realized it was a UNISEX BATHROOM. It shocked us both!
I have visited ONE unisex bathroom and it was in NYC which I mean makes sense. But in CHARLESTON?!?! Like the SOUTH? Especially in a Welcome Center like that? Truly shocked!
It was a hilarious experience because everyone else in the bathroom was just as shocked. I could have sat all day and just watched people's reactions as they walked up and realized what was up with the bathroom.
I came out of my stall at the same time as a man and we caught each others eyes in the mirror and both started cracking up.
I'm not hating on the whole concept. Honestly, I think we should have ALWAYS had unisex bathrooms from the beginning. Somewhere along the way we made something super natural that literally every single person does and made it taboo and awkward and this private thing that we should be ashamed of. But now that it IS a private thing I also don't get why we are trying to backtrack on it.
Zach was SUPER uncomfortable with it all. I mean guys in general hate to even admit women poop at all let alone have to hear it happening in a stall beside them hahaha
We may not have had the best massage luck but MAN we LUCKED OUT with our tour! We booked the Pineapple Tour Group. AMAZING experience from start to finish. Neil was our guide (the fact that I remember his name from MAY and I'm writing this post in August speaks VOLUMES.)
He is not only from Charleston but his family goes back generations. His knowledge of the area and personal connection to it, as well as his ability to tell a great story made for a tour we'll never forget and made it impossible not to fall in love with the city ourselves!
Neil had this whole book of all the history of his family in the area. I am probably getting it wrong but his family land dates back to the Revolutionary War and was a gift to his ancestor as an appreciation for his battle skills agains the British attack. Pretty amazing!
He also made us feel really confident in the epic food we'd be eating while visiting the area. Charleston is apparently a FOOD TOWN (who knew?). He told us you can't go wrong with just about anywhere to eat! I'm super glad we booked this tour on our arrival day in the city – it set the tone for a fantastic vacation!
Once the tour wrapped up, we hit up that family style bathroom one more time and then headed over to our hotel for the next few nights.
Zach LOVES a bed and breakfast and a historical type room. Which we stayed in during our trip to Williamsburg. But, whew, they just aren't my jam. I LOVE a good hotel. I love hotel beds. Hotel lighting. Hotel cleaning services (at least pre-covid). When we travel as a family we have to stay in non-hotels because we have so many people. When I travel with friends we typically try to travel cheap so it means we stay in not so nice hotels or larger VRBO type places.
But a trip with JUST my husband and I? I want a comfortable, nice, relaxing hotel experience.
We found a place that was on the more affordable side but still within walking distance of all the shops and historical area. The Andrew Pickney Inn had great character and charm and was the PERFECT hotel for our trip! The staff were SUPER nice and the parking was a huge perk plus we were just minutes from the Charleston Market! We LOVED it and I'd totally stay there again in a heartbeat!
Our anniversary is on Memorial Day weekend which always works out so well (and yes, we planned it that way!) since it's a holiday and the kids are out of school so it's easier for Zach's parents to keep them for our anniversary trip. The downside is that Memorial Day is a holiday weekend so everyone is traveling.
We didn't realize at ALL that Charleston is such a foodie town and apparently we should have secured reservations WEEKS in advance. Oops.
Lucky for us we are early eaters anyway and we quickly learned that if you arrive at the restaurants RIGHT at opening they usually have a few tables reserved for walk ins.
THE best steakhouse is supposed to be Hall's Chophouse so we arrived at 4 PM! I was actually the third in line for the walk-ins and right when they opened at 4 all the walk in seats were filled. It was an adrenaline rush to get a table 😉
And YUP the steak was AMAZING. I also tried the She Crab soup because it's a staple in Charleston. It was GOOD! Heck, everything was good!
The owner came over and told us a bit about the history of the family owned restaurant and congratulated us on our anniversary and brought us Champagne. It was SO awkward for us because it was so nice of him and we felt bad rejecting it but we offered it to a table beside us who were celebrating a birthday so it worked out! And the owner then surprised us with an AMAZING dessert. SO GOOD.
After our early dinner we had some time to kill before our scheduled ghost tour of the city. We went back to the hotel and watched a bit of our current show – Arrested Development – and then got dressed for the walking tour!
We had driven by the Rainbow Road area on our tour of the town but it was nice to be able to see it in the evening and walk around a bit!
It was a BEAUTIFUL night and perfect for the outdoor tour! The tour met in Pineapple Park so it was a great chance to check that visit off our must-stop list!
I was also super thankful that the world is slowly getting back to a place where it's totally appropriate to offer to take pics for people and have them offer to take pics for you too! I am the QUEEN of offering to people because I just don't love a selfie ya know? But, duh, I'm also quick to accept it when offered as well!
We booked the Death and Depravity tour because we both love a good ghost tour and thought it would be very legit scary with some gruesome stories that they usually don't tell at kid friendly ones. It also was advertised as adults-only so that upped our level of excitement.
Yall. WORST TOUR EXPERIENCE OF OUR LIVES.
I never, ever leave reviews but this trip resulted in both a super mega glowing review for the town tour and a terrible review for the ghost tour. The tour is hosted by Ghost City Tours and we will NEVER do a tour with them again.
The woman doing the tour knew nothing. Nothing. She was frazzled and basically just rambled a bunch. Pointing out her inability to use technology more than her stories about ghosts. Zero percent scary. But even worse, zero percent interesting. It was truly awful.
We've done quite a few tours in our days and both agreed it was AWFUL. She actually even gave a plug for the competition in town so we knew next time to try Bulldog Tours!
I did snap a few pics that looked pretty eery. That's the best I've got haha!
Our 2nd day of our trip was our actual anniversary! When Zach asked what I wanted to do for our anniversary I told him….SLEEP IN and walk around exploring the town.
My FAVORITE Bachelor Dates are the "explore a new city together" dates! I just think it's so romantic and fun and that is all I wanted to do! Walk around hand in hand with my husband 🙂
So that's what we did! We got our sleep on ("we" meaning I because Zach can't sleep like I can) then we went hunting some brunch (can we all also agree that brunch is the JAM?).
We found this place called Another Broken Egg and it was SO GOOD! Best omelet ever for sure!
We then walked over to the Charleston City Market. A MUST visit if you're in the area. So many cute vendors and so much to see! We have great memories from visiting the markets in the Bahamas wayyyy back in college so any sort of market setup gives me a nostalgic vibe.
We had SO much fun walking and browsing and shopping our way through the market. We found the most precious little ring for Tess (she lost her former ring that was mine from childhood) as a birthday gift and we found these really neat hair wrap things that I knew the girls would LOVE.
I think we had the most fun though in the Kendra Scott store. We made quick friends with EVERYONE who worked there and spent like 2 hours debating what I should buy!
Instead of doing anniversary gifts this year we did "anniversary fun money" and went shopping! It was fun to have money to buy things without having any guilt and I do think a fun spin on it would be shopping for each other instead of for ourselves! I'm too practical with my purchases ha!
We stopped in an adorable coffee bar called The Rise for a break and then got back to it! I was on a mission for some white pants and FOUND SOME and thennnnn when I got home yall the button came off. I was so annoyed!
Zach found some good stuff at Quiksilver too and it was more fun that we was finally spending some money with me 😉
This dress is hands down my FAV dress…I loved wearing it all day and got lots of compliments and it was perfect for that "Bachelor explore the town date vibe"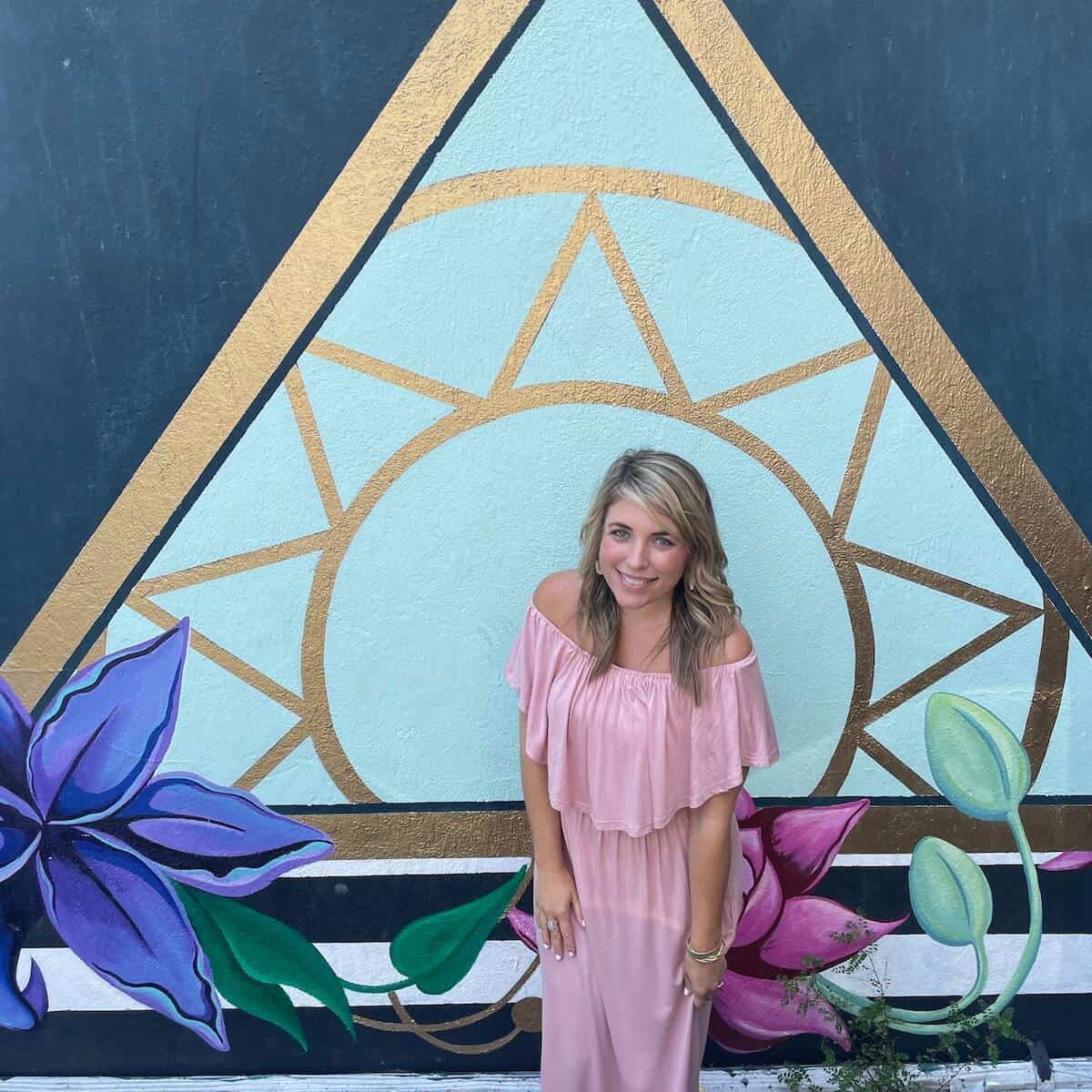 It was a GORGEOUS day and we loved shopping and exploring all the cute spots along King Street. We were bummed that everywhere closed SO EARLY. It was so, so odd. And really stunk because we DID sleep in so late it meant we really didn't have a super long time to shop like we would have liked. Like every single place closed between 5-6!
We tried our luck at Husk for dinner since we got lucky with the steak place the day prior but we did NOT have luck this time around. Turns out it's not just about getting to the restaurant AT opening…but you really need to arrive a solid 20 min prior at a lot of the popular spots in order to grab a walk-in seat.
We did, however, have our bad luck work out for good as we went to another spot next door (82 Queen) and were able to walk in and get a seat with no issues. And it was AMAZING.
The vibe was SO perfect for our anniversary dinner together. It was SUCH pretty weather. Perfect for outdoor dining. The foot was fantastic and the vibe was romantic and we both LOVED it. Crab cakes are my favvvvv and they were AMAZING!
We took our time walking back to the hotel because we truly didn't want the day to end! We had so much fun and loved exploring and it was such a pretty evening!
We stopped by the Circle Cemetery to look around a bit on our way and then headed back to the room for more binge watching of Arrested Development. And my sweet husband even surprised me by washing my feet for me 🙂 True romance!
We fell in love with Charleston right from the start. It is an adorable little city, super easy to navigate with just the right amount of places to explore but small enough to feel comfortable rather than overwhelmed.
Our anniversary day was def my favorite because I just loved exploring together and laughing as we went from shop to shop!
Part 2 of our trip is coming up next 🙂