The Pirate's League: Mermaid Makeover at Disney World. Tess's Disney Birthday 2019.
We have had a few experiences with Disney's Bibbidi Bobbidi Boutique at Walt Disney World and both of my girls LOVE the options there, both at Magic Kingdom and at Disney Springs.
I've known about The Pirate's League for a long time.
We actually had Kye signed up for the experience several years ago but he didn't like the idea of face paint so we left without experiencing it.
Tess enjoyed BBB but didn't LOVE it and mentioned that she'd like to dress up like a mermaid for her birthday this year so I looked into The Pirate's League for her.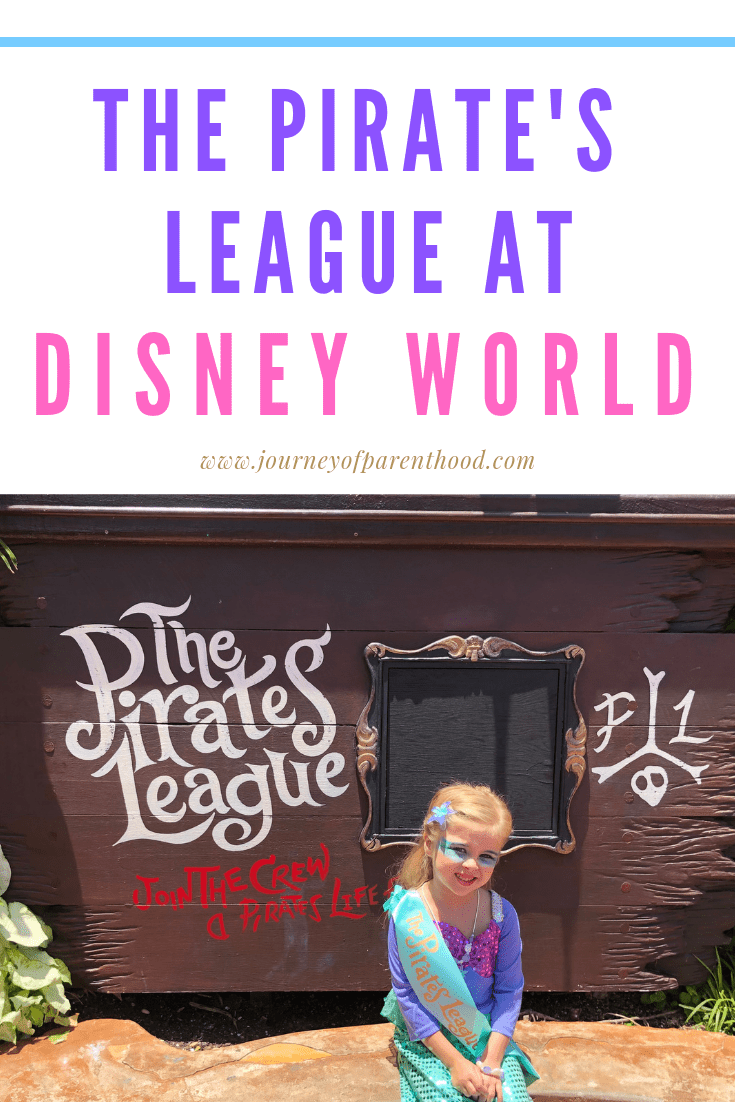 What is The Pirate's League
The Pirate's League is located inside Magic Kingdom at Walt Disney World.
So, yes, park admission IS required for this experience.
It is basically the pirate version of Bibbidi Bobbidi Boutique.
Originally the only makeover options were for pirates and the experience was geared more towards the boy crowd.
Now additional options for mermaids and female pirates have also been added to the experience.
What is the Cost for the Pirate or Mermaid Makeover?
While park admission IS required, the experience itself is much less expensive than BBB.
Packages start at $30.
Just like with BBB, I HIGHLY recommend that you bring your OWN costume and accessories. That way you can stick to the most basic makeover package.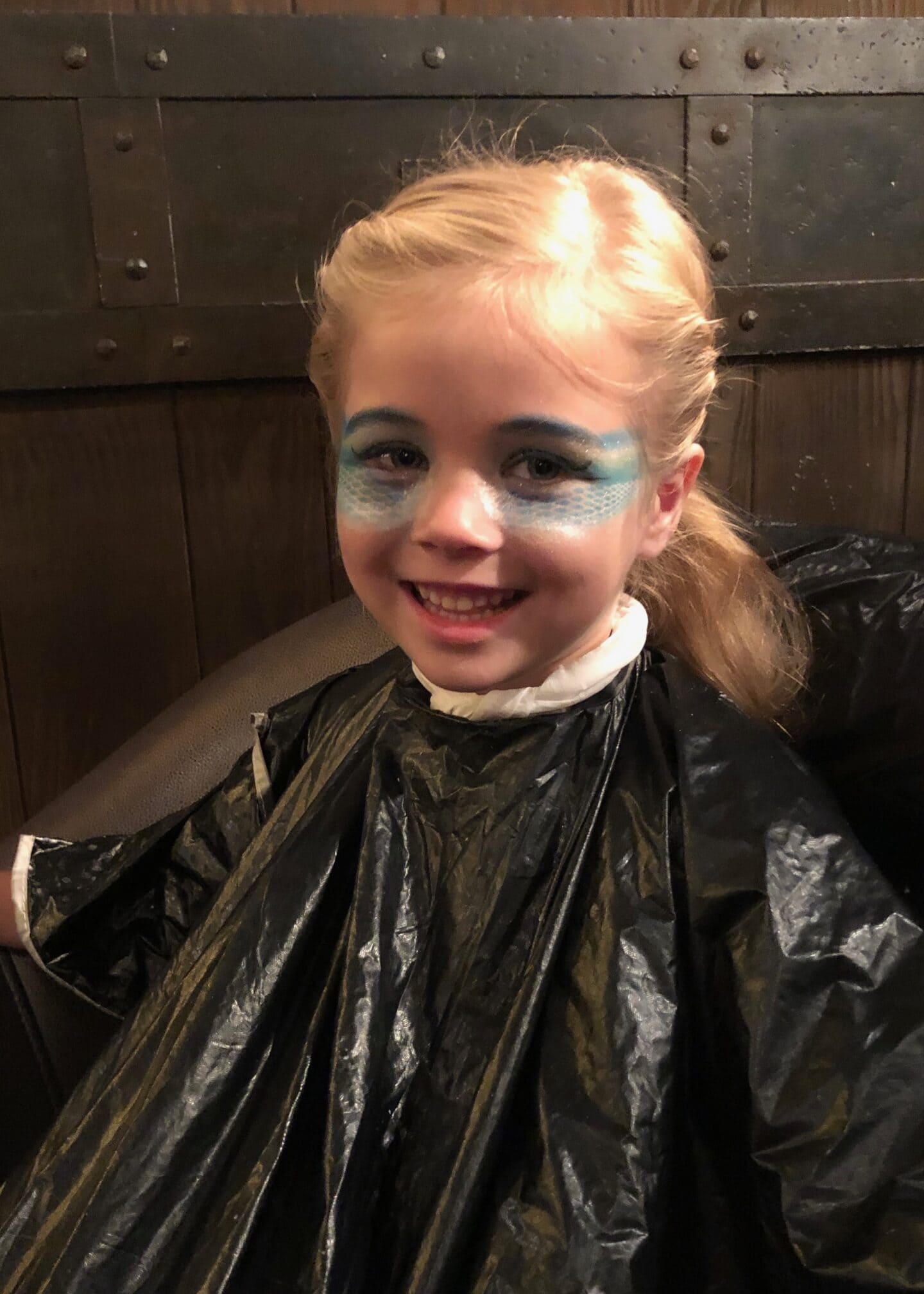 What are the age requirments?
Children must be ages 3 and up.
There is NO age LIMIT.
Which is another big plus for Pirate's League in comparing to BBB. BBB ends at age 12.
With Pirate's League, your older kids can still get a makeover AND you could also do a fun family makeover for the whole family!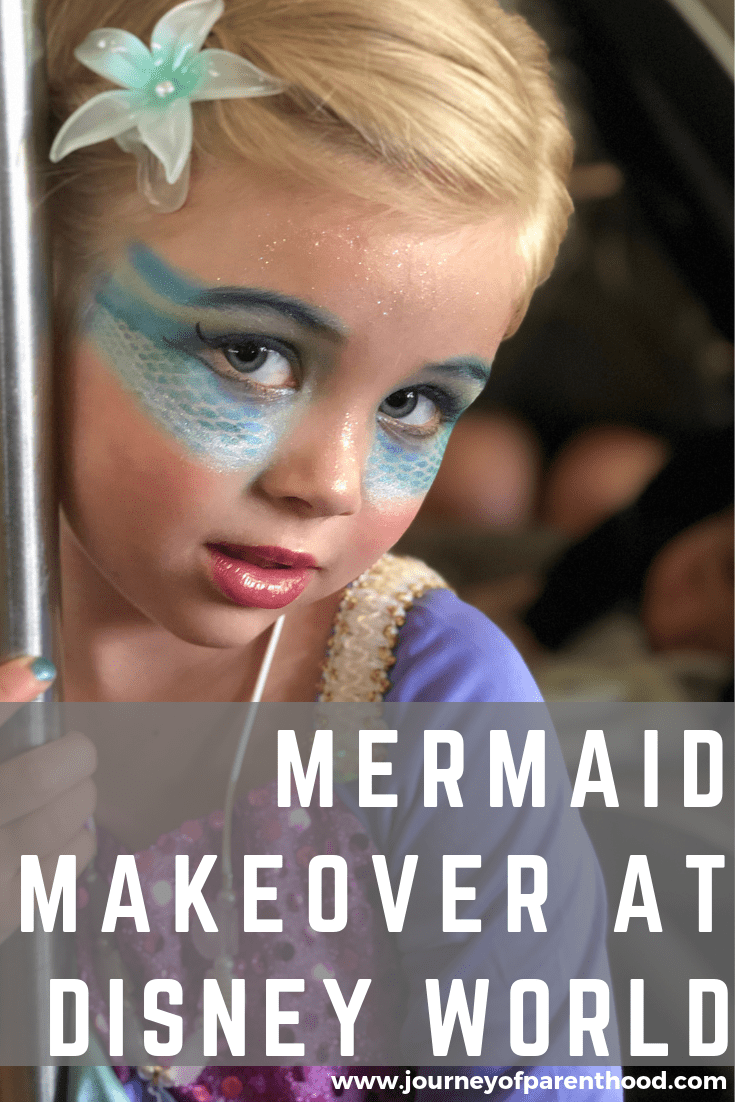 Need Help Planning Your Disney Trip?
How to Book The Pirate's League Experience:
Appointments may be made 180 days in advance.
Disney has now made it possible to book online for this experience!
You may want to plan for this first thing during your day at Magic Kingdom to allow the maximum enjoyment of the makeover for your child.
Or you may want to book it a little later in your day to allow for the maximum enjoyment of the parks with the least long lines!
We opted for a noon reservation time, it gave us a full morning in the park and the rest of the day to enjoy the makeover!
It's important to arrive 15 min prior to the appointment but be warned that you will still probably wait a bit before getting in as we had a good bit of a wait for ours.
ALL of your family will be able to share the experience together. There is plenty of room in the makeover area and the entire experience is super well themed with views of all the piratey things everywhere you look!
What to Expect During the Pirate Makeover or Mermaid Makeover
During your wait your child will be giving the chance to look over the packages and choose which makeover they want.
Again, BRING YOUR OWN OUTFIT.
With the mermaid makeover the outfit options weren't even cute!
For the mermaid makeover they do a simple twist hairstyle, nail polish and the focus is mostly on the makeup.
It's a very upbeat, fun vibe with lots of lighthearted jokes and even a special visitor!
Once the makeover is finished you get to enter a special secret room and be announced as a pirate/mermaid.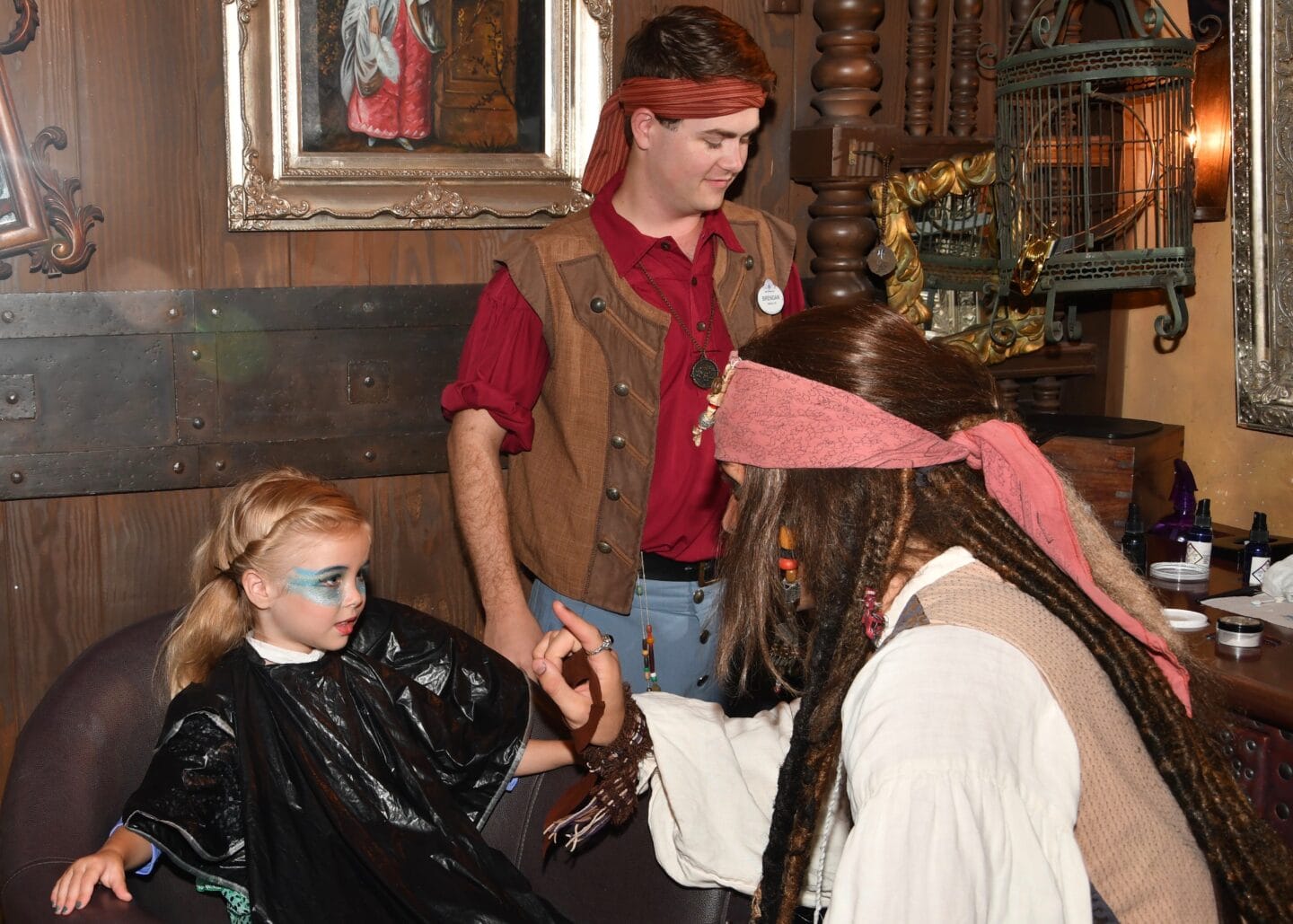 More Disney Planning Tips:
Our Experience at The Pirate's League
We had lunch prior to our 12:30 appointment time but saved Spear's lunch to eat DURING the experience.
We knew a toddler would be a little bit too wild to sit still!
While we waited Tess got to choose her package (we'd already decided in advance on the Mermaid Package, it's $44.99).
We were led in and she signed a special Mermaid book (the pirate package, I believe, has the new pirate choose a pirate name) and then got to go in and change into her mermaid dress.
The dress I got was PERFECT for this experience and y'all it was under $25! You can see it yourself here!
Once she had her dress on the makeover started!
We had a super fun cast member who joked around a TON with us all and really kept the other kids entertained just as much as Tess.
He did a great job making her feel special too!
The pirate makeovers are full on face paint so it didn't shock me that it was the focus of the experience.
Quick, easy, simple hair. Quick swipe of some nail polish then a TON of detail on the face.
Tess did awesome sitting still (which is something to heavily consider before booking this) and the work he did was incredible!!! We were all in AWE!
During the mermaid makeup makeover process the event was interrupted by CAPTAIN JACK SPARROW!
I had seen photos of him visiting the room but it's not listed anywhere online that he is part of the package…so I didn't mention it to the kids and would highly recommend not assuming he'll be there, but I have a hunch that he does frequent visits!
Captain Jack's visit was the only time that the photo pass photographer came around for photos.
With BBB they do a great job capturing ALL the moments but that wasn't the same way here, again, it's much more casual.
I'd recommend making sure to take all the pics but also be warned the lighting is VERY dark!
Captain Jack's visit was VERY interactive and upbeat and QUICK. He was more putting on a show than he was there to meet and greet.
But it was awesome and we all loved it and it only added to the super fun vibe at the experience!
Once the makeover was complete we were lead into a secret room where Tess received her mermaid sash, necklace, makeup pallet, and bracelet (in addition to getting to keep the nail polish and being given a color changing hair clip)
The mermaid necklace and bracelet also change colors with the hair clip. We felt like these three items were really great quality and such a nice touch!
None of us could get over how INCREDIBLE Tess looked and she LOVED her makeover.
Britt has already decided she too wants to do the mermaid makeover at Pirate's League rather than the princess makeover at Bibbidi Bobbidi on her birthday visit to Walt Disney World Resort theme park!
I always tend to love all things Disney, no matter the cost, but Zach even agreed that this experience was WELL worth the price!
It's over $20 less than BBB and such a fun vibe and awesome experience from start to finish and is a new favorite on our list!
We even almost had Kye convinced to give it another try 😉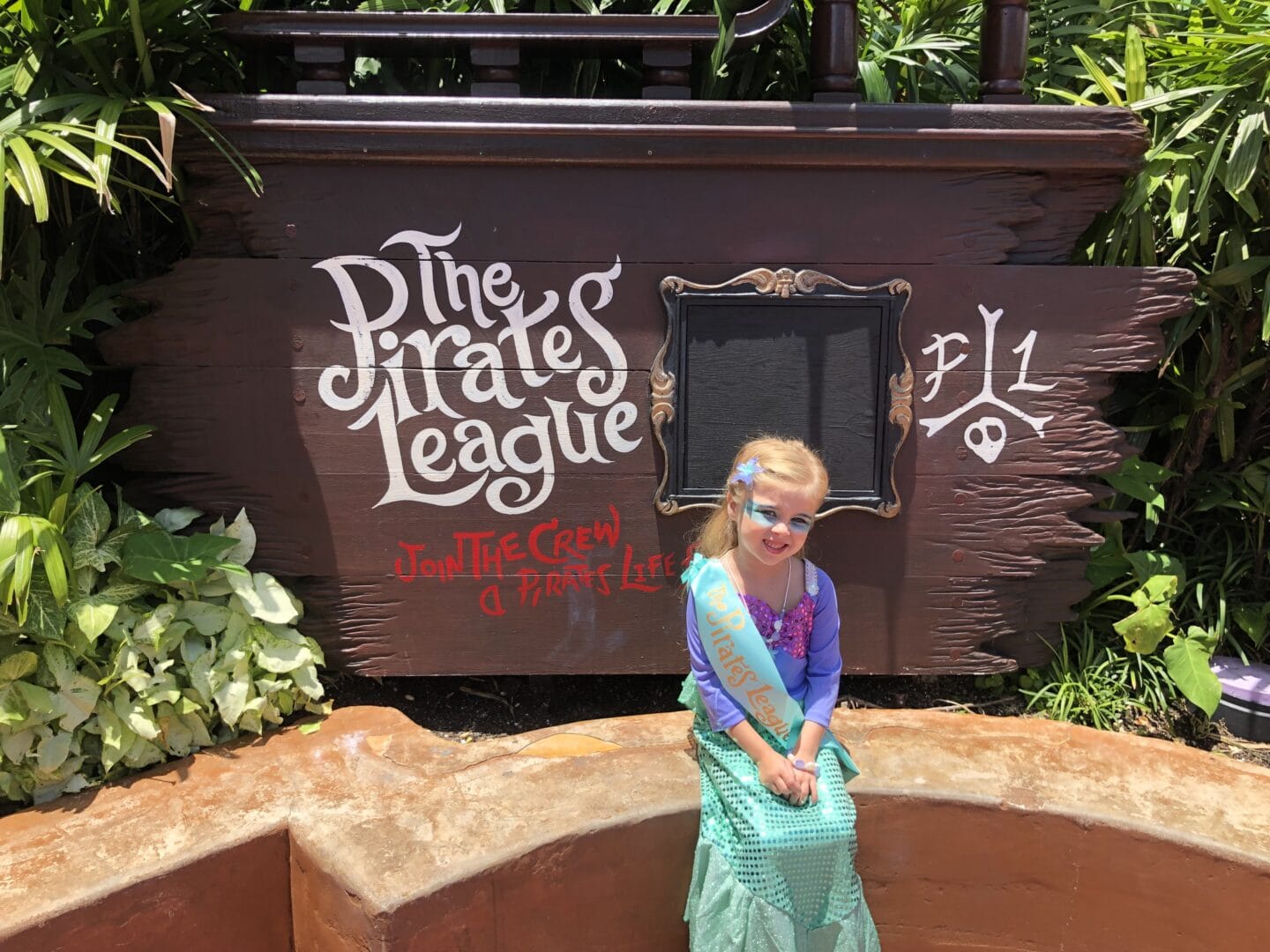 Tess felt so pretty and had SO MUCH FUN!
I love that the hairstyle is easy to replicate and the makeup lasted great all day long.
They include make up wipes to remove the face paint. We did have a bit of a hard time with her eyes and I had my own eye makeup remover that did the trick!
But I'd rather it be hard to take off then melt off right after, right?
I cannot recommend this experience enough and can't wait to go back! If you travel to the theme parks in Orlando then be sure to add it to your list 🙂
My stunning mermaid:
Planning a Disney World Vacation?
My favorite planning tool for Walt Disney World parks is Touring Plans. Being a member of their site allows you access to crowd calendars and daily itineraries to avoid waiting in lines! Learn more here!
The Must-Book Fastpasses for Each Park: